Seeing the Man-made Wonders of Lake Powell and Glen Canyon Dam
It's not one of the more popular areas in the Grand Circle of parks such as the Grand Canyon, Zion, Arches and Bryce. With over 1.2 million acres, Glen Canyon National Recreation Area (NRA) offers diverse attractions and activities unrivaled by its neighboring parks. This is home to Lake Powell, a huge dam, geologic marvels and a myriad of other unique features. See why millions of visitors explore this area every year and why we can't wait to go back.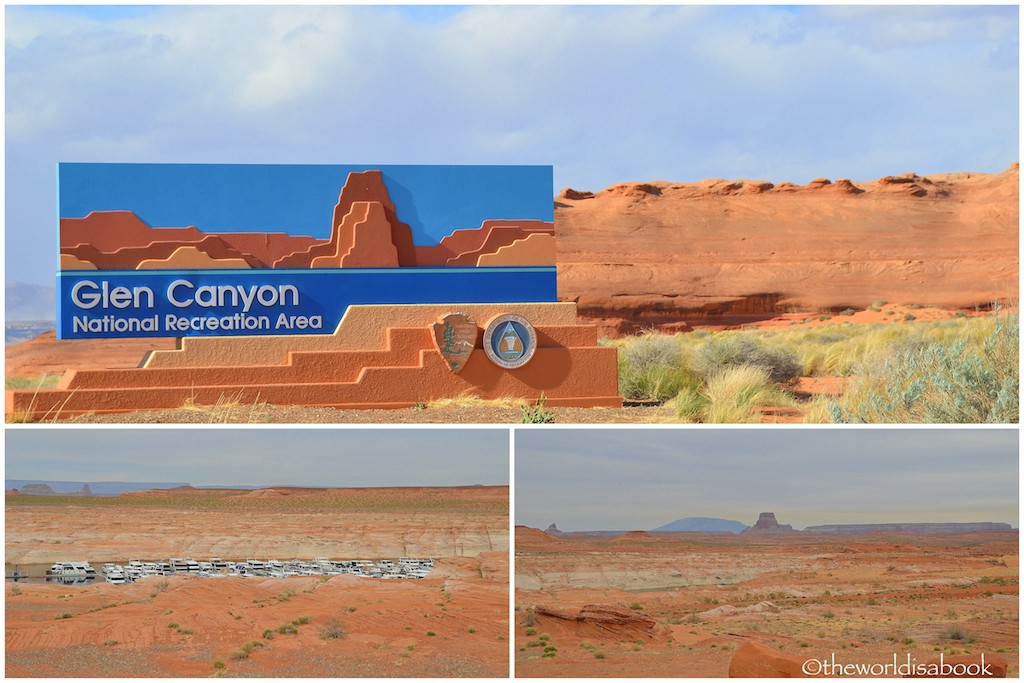 This is one of the Southwest's most scenic areas filled with red sandstone canyons, cliffs and unique rock formations. As we drove through Highway 89 a couple of months ago in late March, it was hard not to miss the glistening blue water of Lake Powell amidst the red and orange rocks.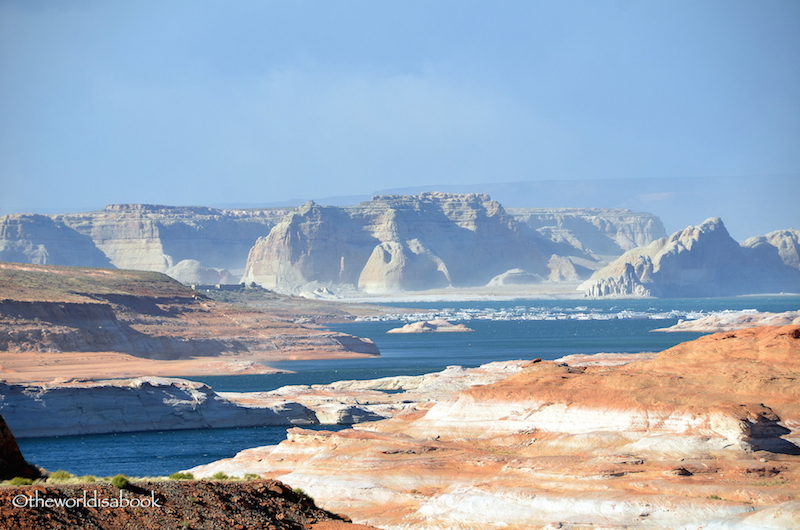 The lake lies in Arizona and mostly in Utah and only makes up about 13% of the Glen Canyon NRA but is the most used area. It is over 500 feet (152 m) deep in some places. Lake Powell is 186 miles (299 km) long with over 1,900 miles (3,058 km) of shoreline. There is plenty to explore with its 96 major canyons and the advantage of being surrounded by stunning sceneries. And all of this was a result of a DAM.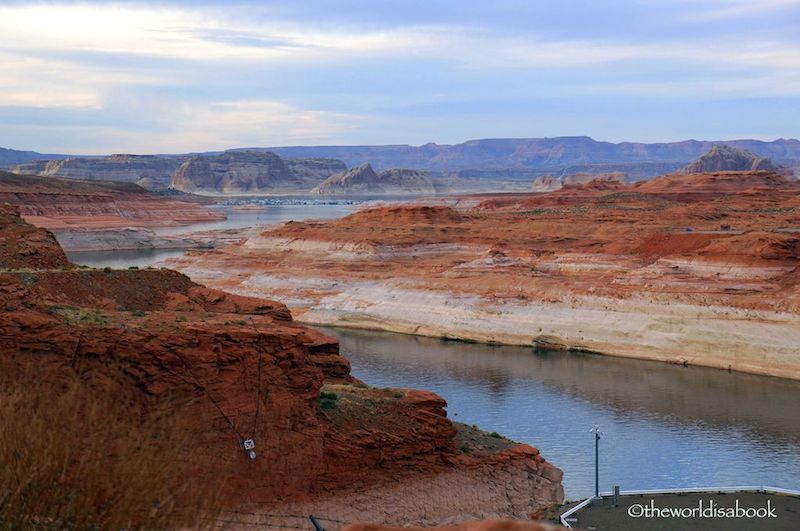 Glen Canyon Dam was created for water storage for most of the surrounding states and generates electrical power for most of the southwestern part of the country. The 710 feet concrete dam was completed on September 1963 and is a magnificent engineering marvel rising out of the Colorado River.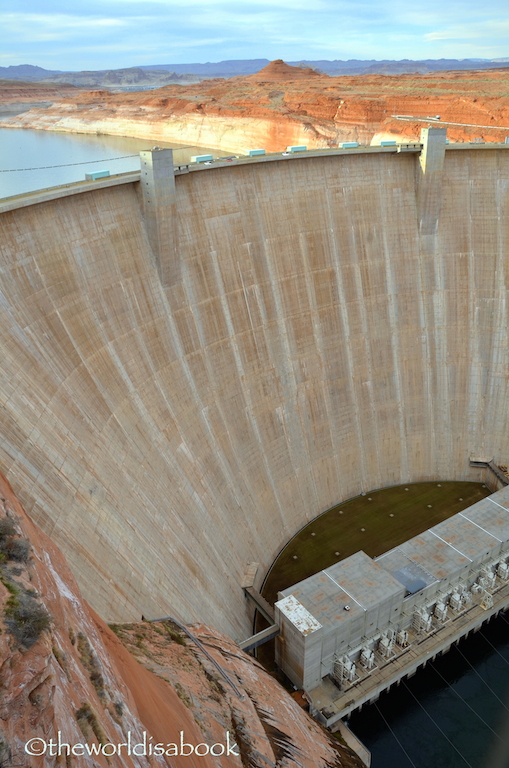 The dam flooded Glen Canyon which was the area above it now and where the Colorado, Escalante and San Juan Rivers merged. This created the country's second largest man-made reservoir after Lake Mead in Nevada. It took 17 years (until 1980) for Lake Powell to rise and store 9 trillion gallons or the planned 3,700 feet above sea level capacity.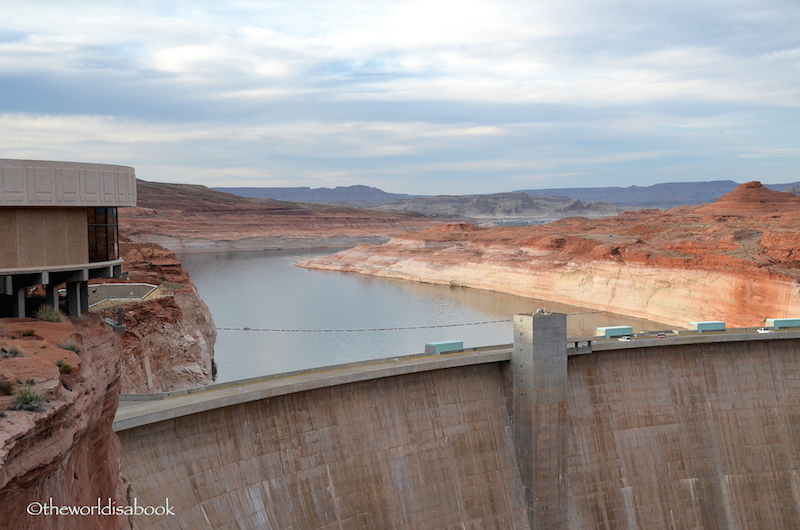 Lake Powell's water levels fluctuate depending on the nearby mountains' spring runoff, changing seasons and water releases needed to produce electricity. Today, the reservoir is at historic lows. We saw the difference in water levels through the years from these color changes on the canyon walls. Unfortunately, water shortage is imminent.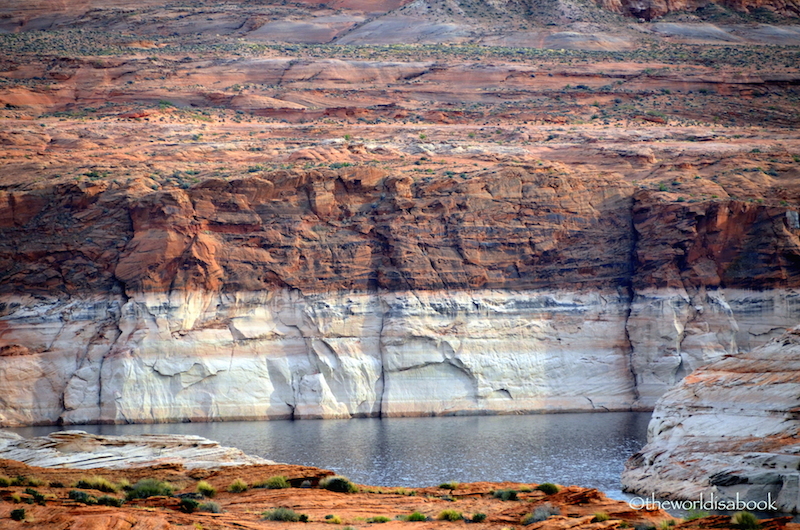 The Glen Canyon Dam has been plagued with controversy since its inception. Many were opposed to the dam flooding Glen Canyon and changing the three rivers' ecology. Unfortunately, the dam also flooded Native American's ancient burial grounds and sacred sites.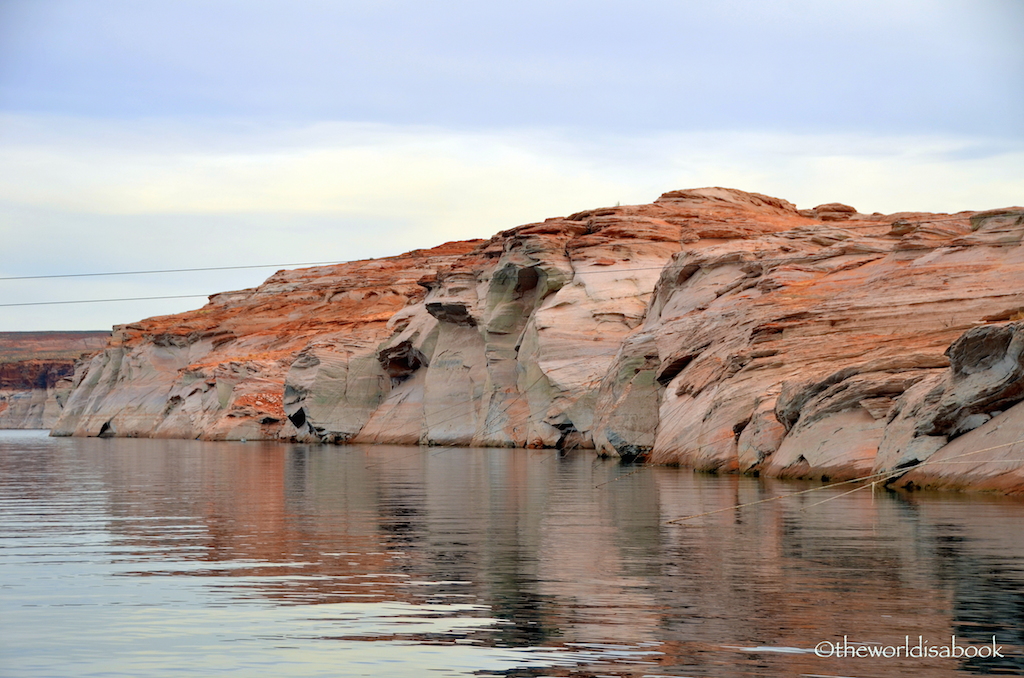 Glen Canyon was home to prehistoric Indians and was also an area frequented by ranchers, miners, explorers, homesteaders and Indian tribes until Lake Powell's waters drowned it out.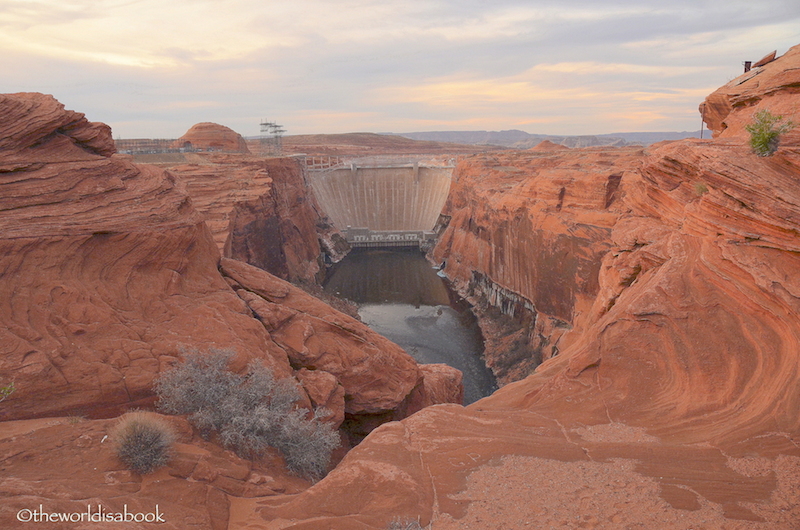 Lake Powell also became a hotspot for fishing, water recreation activities and a premiere house boating destination. With drastic changes to the water levels, docks and marinas have to move or keep lengthening boat ramps to be closer to the changing shorelines.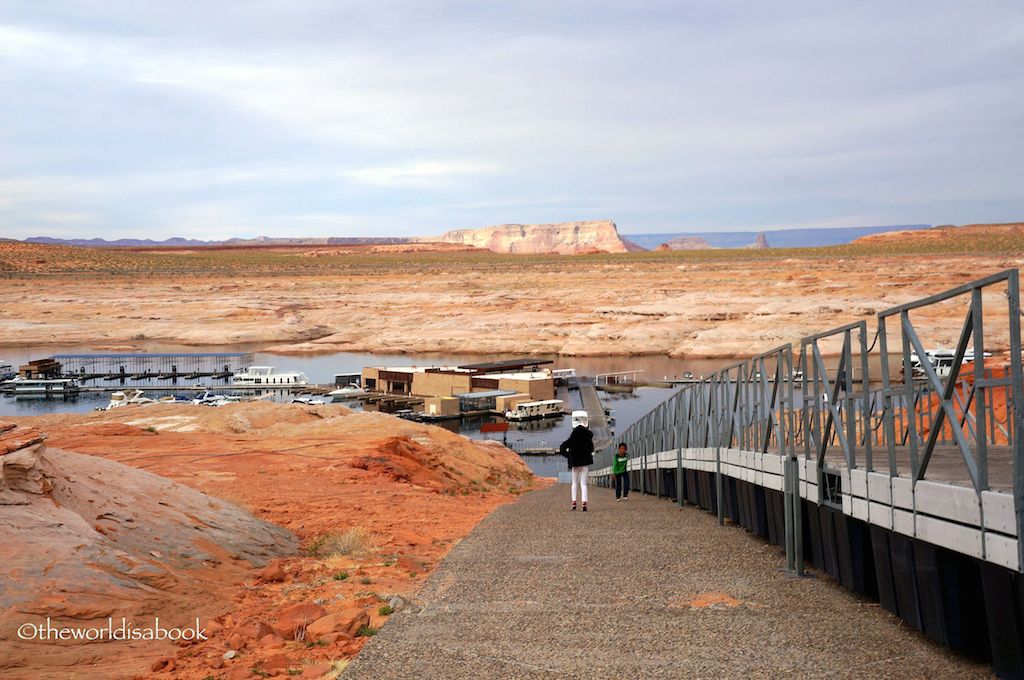 Lake Powell has four marinas and our first stop was the Antelope Point Marina. It was one of the best places to see the numerous houseboats docked here. I had always wanted to go on a houseboat and slowly float through these canyons. But, my husband (the pragmatic one) wanted to check out the area before committing to being in charge of this huge equipment for a few days.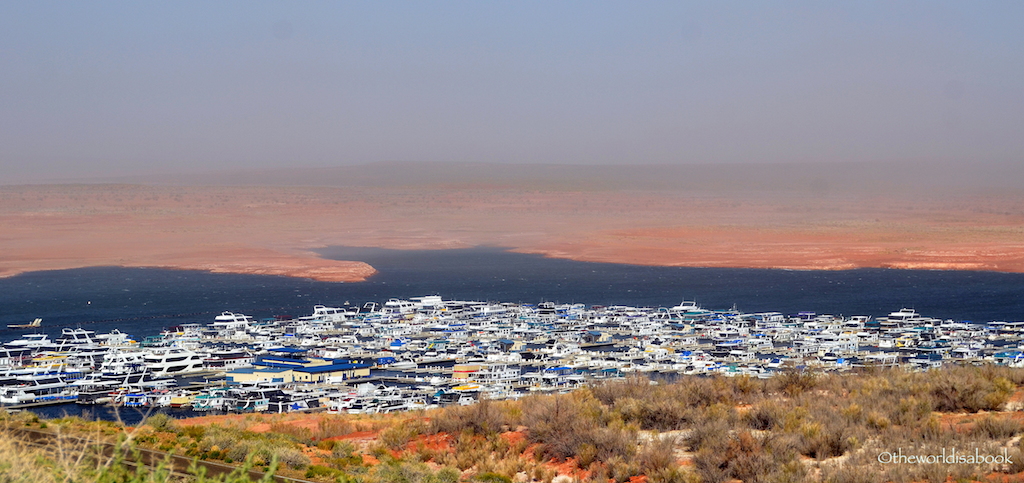 I think he's convinced and we're hoping to give it a try in the off-season. Of course, my kids were all for it after seeing all the slides on these houseboats.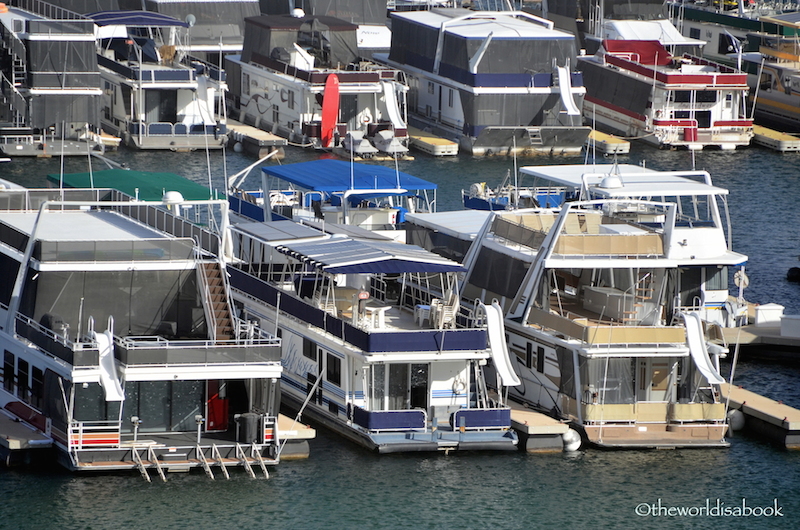 Some of the guided boat tours also depart from this marina. It would have made for a great orientation before renting a houseboat and an ideal way to explore the canyon and see the scenery. Unfortunately, there was a high wind advisory during our two days there that all Lake Powell tours were canceled.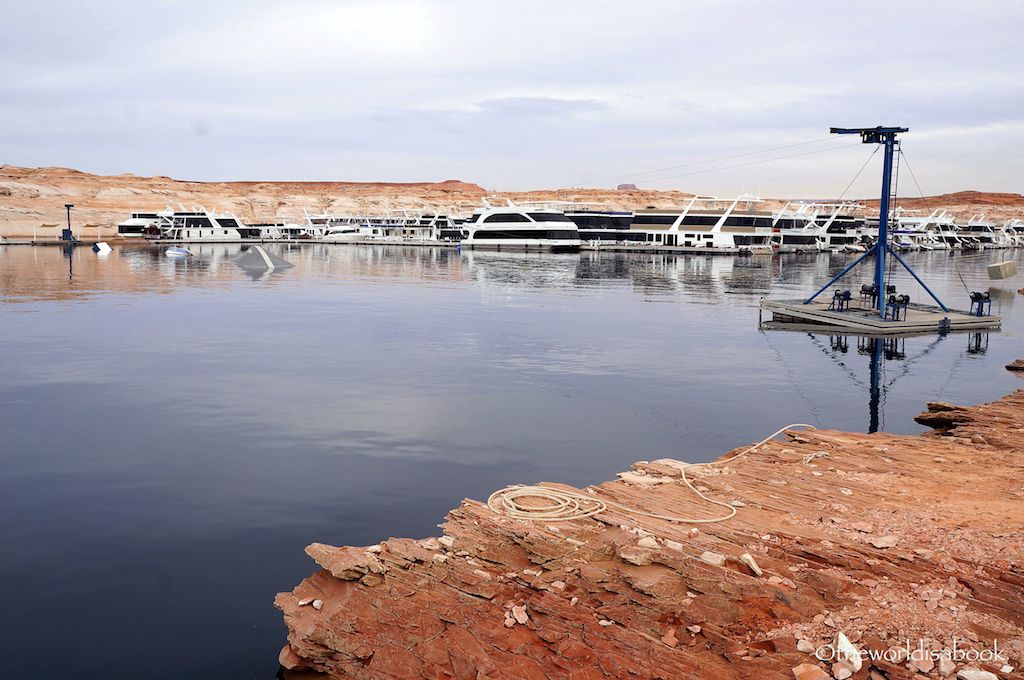 Glen Canyon NRA's Other Attractions
One of the most striking landmarks in the area is the Glen Canyon Bridge that crosses over the Colorado River. This was completed in 1959 to help transport people and materials across the river during the dam's construction. This is North America's third highest arch bridge. It was interesting to see how this bridge was attached to the red canyon walls using cableway towers.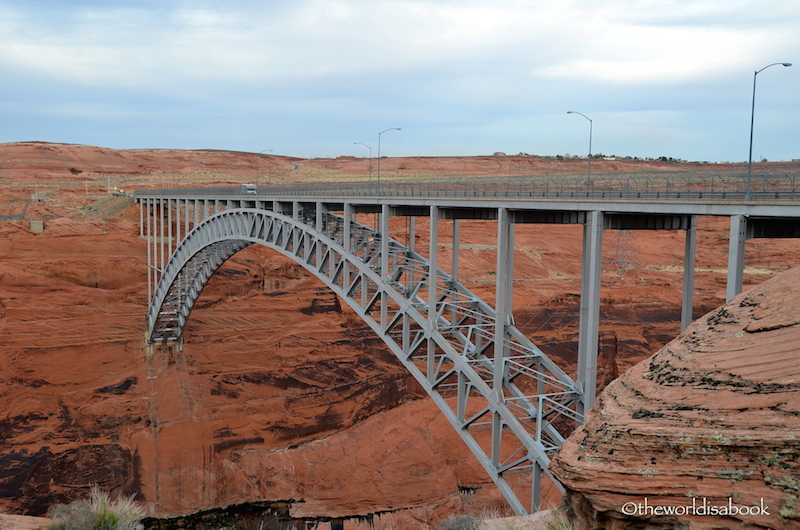 Visitors can walk on the side of the bridge and even safe enough for active kids. We like that there were high fences and cut-outs to see the dam and surrounding canyons.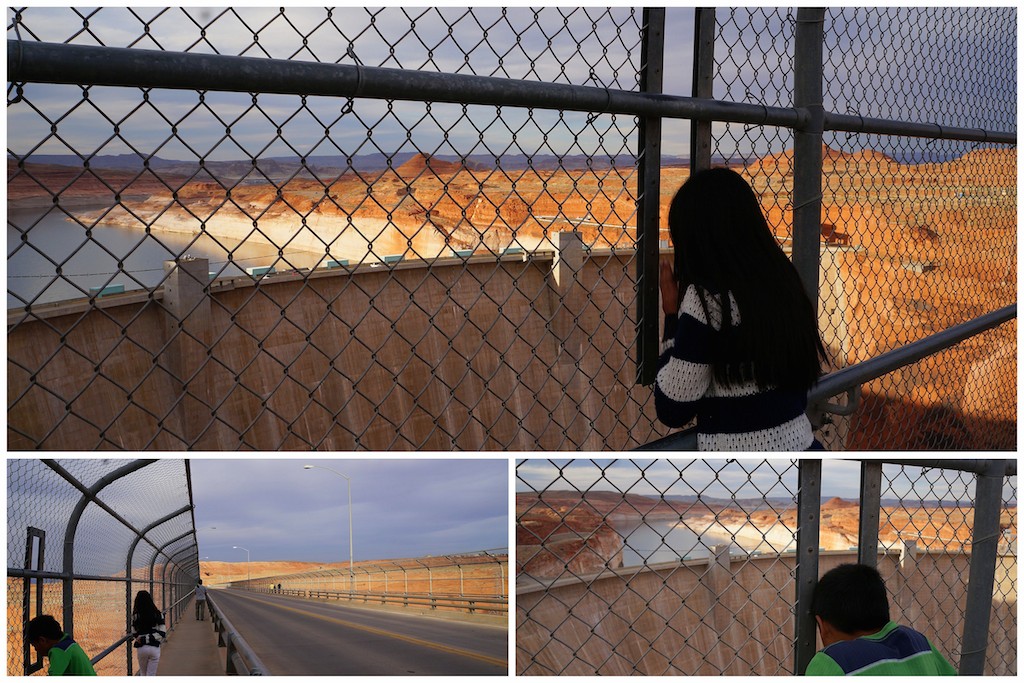 While the dam on one side was impressive, the view on the other side of the bridge is just as spectacular. The Navajo sandstone was prevalent on the canyon walls and Lake Powell's basin. The whole Glen Canyon was carved by the Colorado River through the forces of erosion and wind.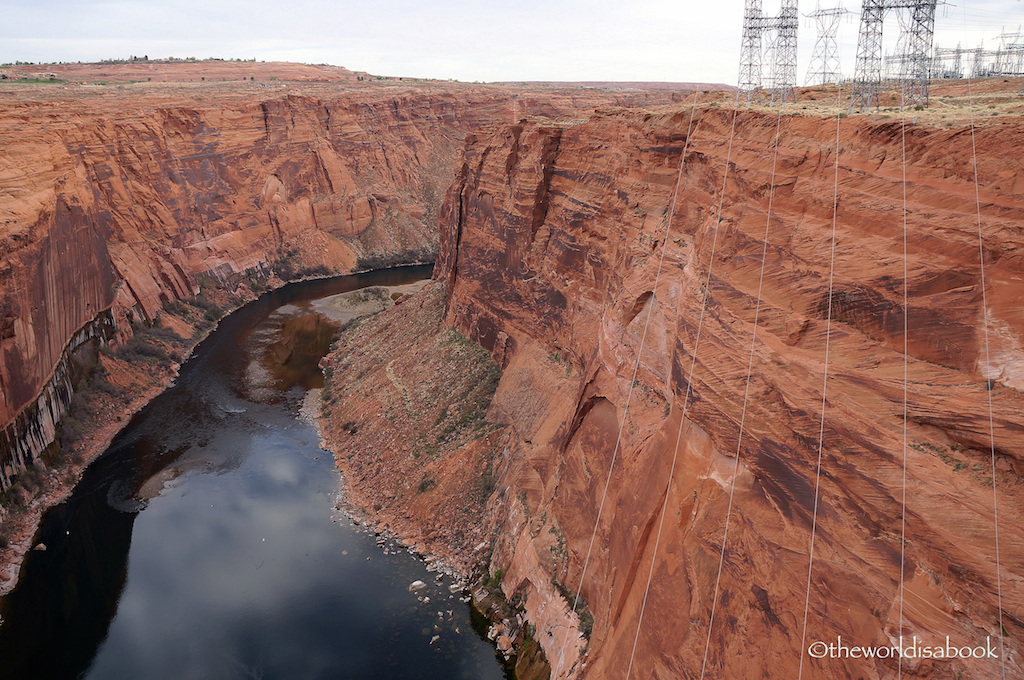 To add to another interesting geologic formation in the area, don't miss the aptly named Lone Rock in Wahweap Bay. It rises out of the lake and looks a bit out of place. This rock was huge and you can see its size relative to the cars and RVs parked on the beach. Lone Rock Beach was one of the locations where visitors can drive right to the lake's edge and also has campgrounds.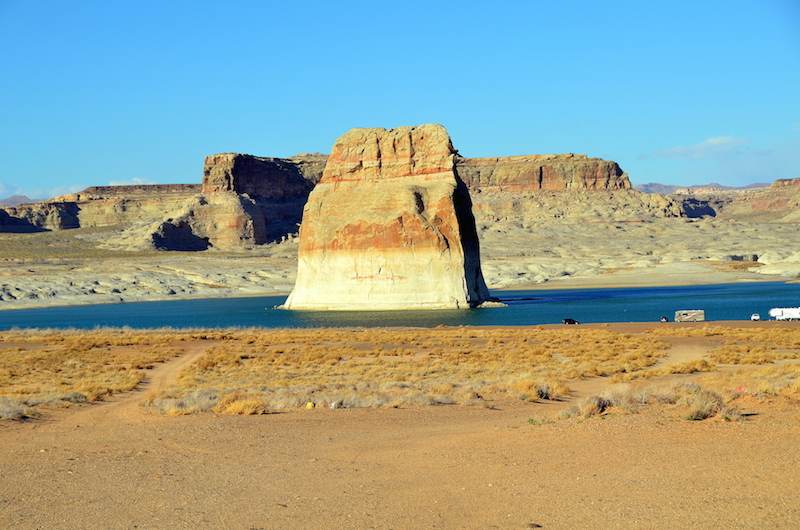 We couldn't get enough of the dam and the panoramic views. So, we sought out one of the most popular overlooks in the area. It was a short hike down to the viewpoint. The trails were well marked with steps carved into rocks and easy enough for kids to navigate down.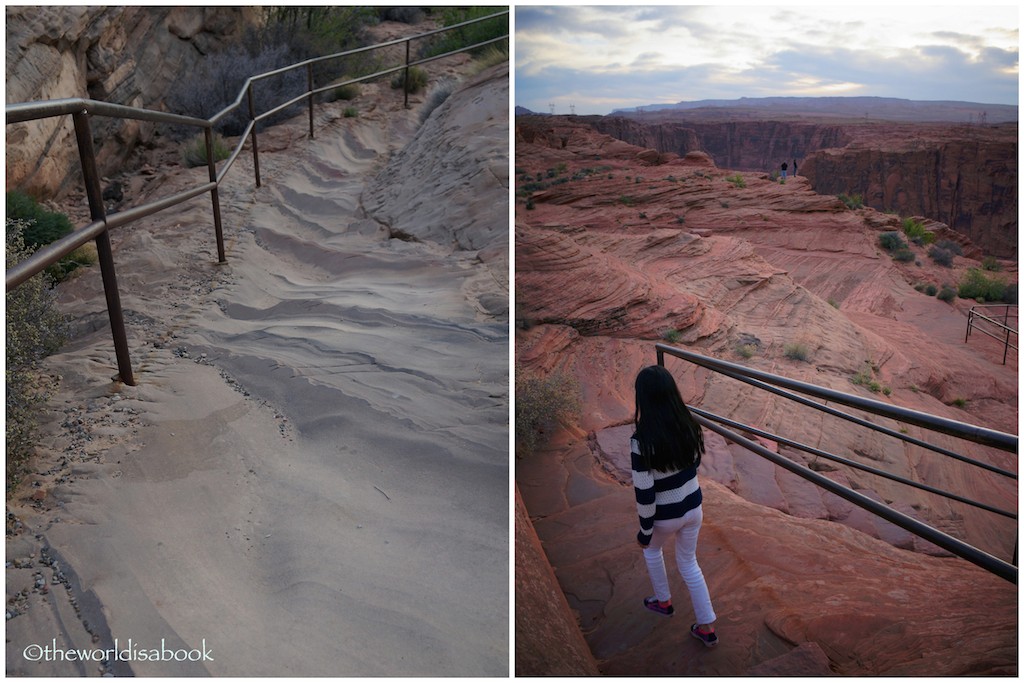 We liked that there were wide areas to see the scenic vistas and didn't need to be dangerously close the cliff's edge.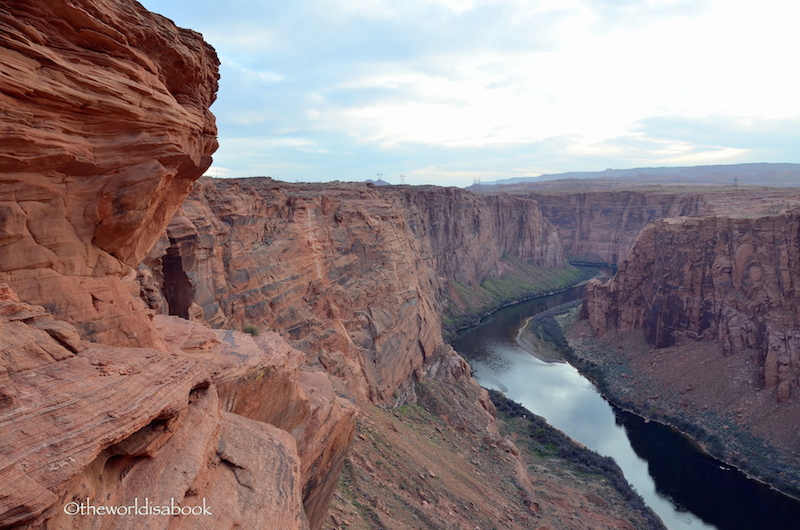 We loved seeing the rock formations and layers up close here.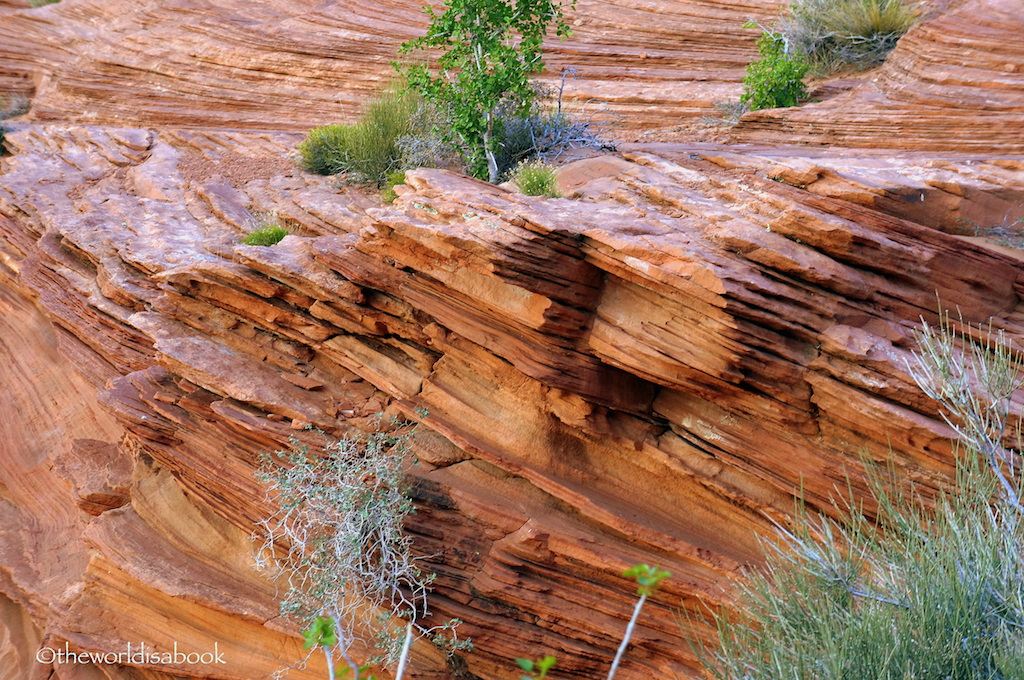 It's a great vantage point of Glen Canyon Dam.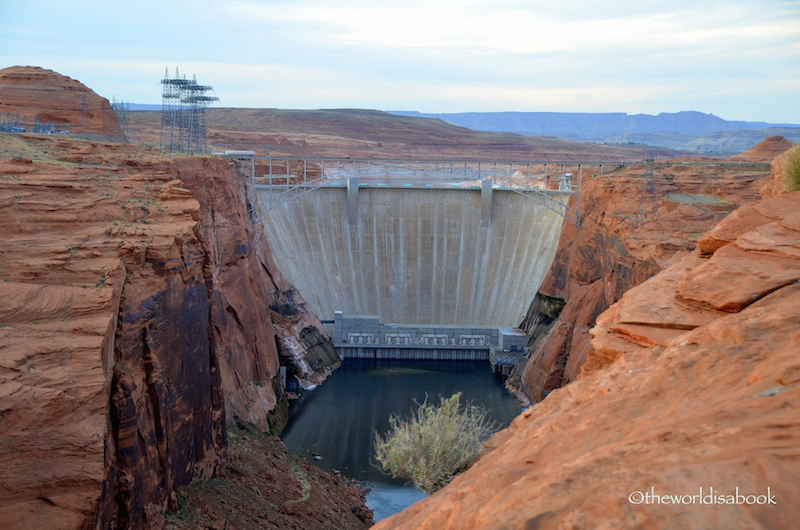 I can't even begin to imagine how crowded this whole area is during the summer. Apparently, high heat doesn't detract hordes of visitors from coming here. Glen Canyon National Recreation Area is a great and family-friendly destination. Lake Powell offers plenty of water related activities for everyone whether you're staying in a houseboat or not. But, there's also so much to the area to enjoy beyond the lake and dam.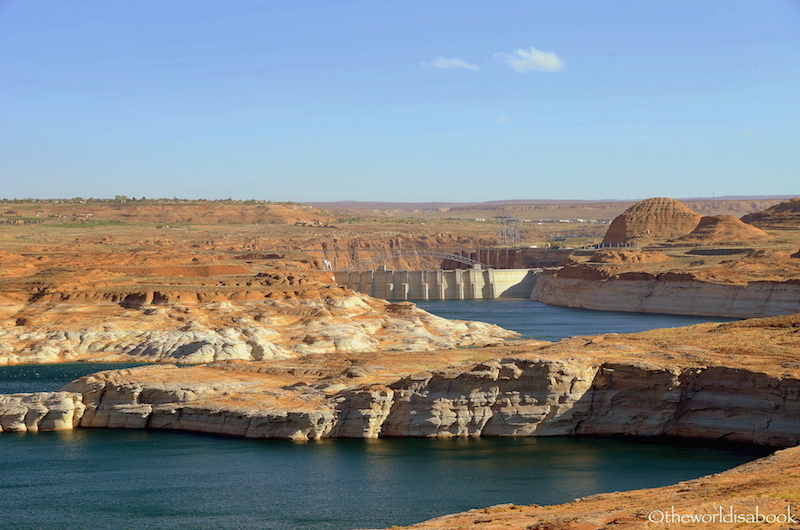 Visiting Glen Canyon National Recreational Area Basics and Tips
Admission Price: $15 Vehicle Pass for 1-7 days (good for all passengers in single car); Free for America the Beautiful National Park Pass
Don't miss the Glen Canyon Dam Visitor's Center that was on one end of the bridge. There are some stunning views of the dam and canyons from inside. It's also an educational center on the dam's history and an informational center on the area's activities.
Kids can participate in the Junior Ranger program and earn a badge inside the dam's visitor center. The booklet was easy and my kids finished them easily without going outdoors.
Depending on your phone company, cellular and Internet reception throughout the whole area was spotty. Wi-fi wasn't any better. FYI, we have AT&T and we barely had service to use our phones.
There are plenty of hotels, restaurants and businesses to sign up for tours in Page, Arizona.
Other attractions not to miss in the area include Grand Staircase Escalante National Monument, L

ower Antelope Canyon

and

Horseshoe Bend

.
Have you explored the Lake Powell area? Would you go on a houseboat?
Pin it for later!