Exploring the Underground World of Boyden Cavern
Kings Canyon National Park in California doesn't usually get the recognition it deserves compared to its famous neighbors, Sequoia and Yosemite. We were exploring these parks last weekend and found one of its hidden gems. We're fascinated with caves so we couldn't pass up a visit to this underground wonder and it was one of our weekend highlights.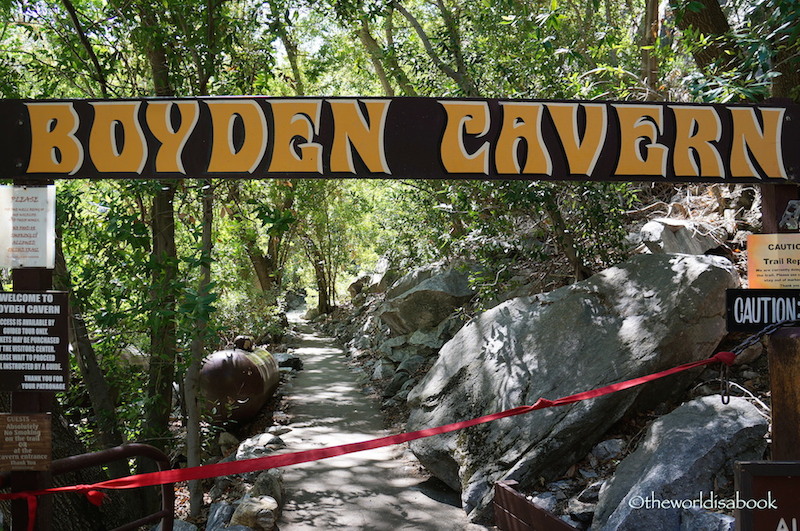 Surveyors discovered the cave in the late 1800s. J.P. Boyden, a logger and namesake of the cave, looked for the cavern and explored it extensively. He lived inside the cave for 10 years while working at nearby Hume Lake. He was getting the cave ready for public tours but died of hypothermia before completion. Can you imagine living in a cave for that long?
We drove down the twisty, scenic road of the stunning Kings River Canyon towards the canyon floor. At 8,000 feet (2.43 km) deep, this is the deepest canyon in the United States. Yes, even deeper than the mighty Grand Canyon.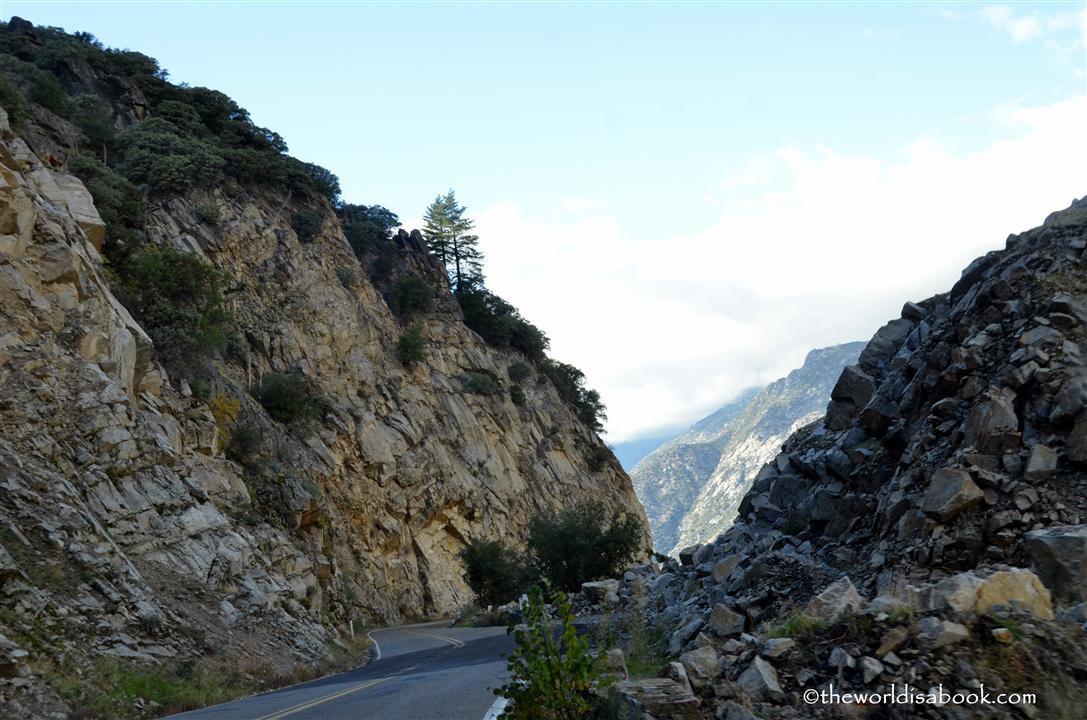 The cavern is located under the "massive" 2,000 feet (610 m) high marble boulders known as Kings Gates with its parking area by a gorge. It is right off the Kings Canyon Scenic Byway road and along the Kings River. Although, this isn't part of the National Park system but privately owned.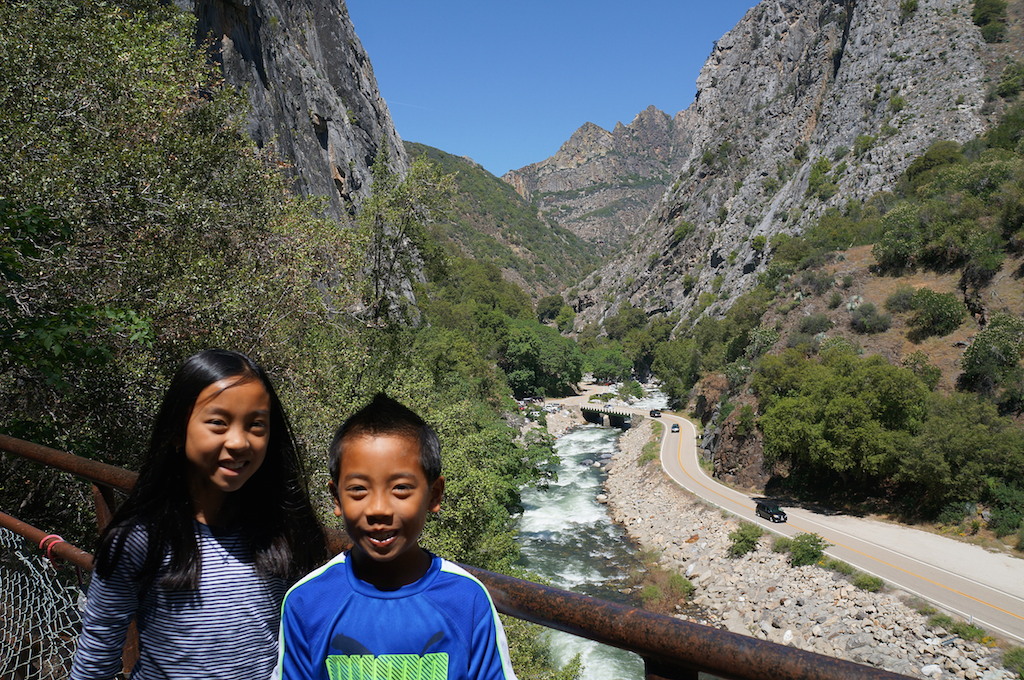 Our tour started on a short but steep, uphill walk along a scenic paved trail to the cavern's entrance from the gift shop shack. It's such a beautiful climb along the Kings River with the roaring river as background sounds we don't usually hear.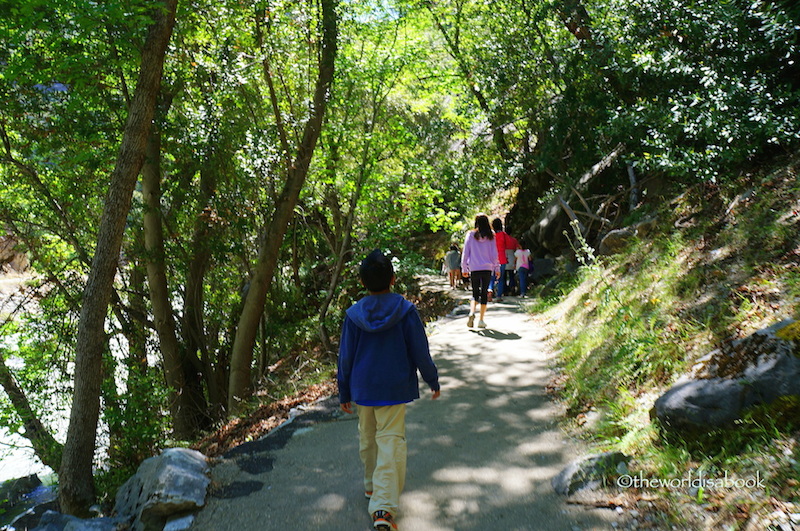 This definitely looked less touristy with only this gate separating us from the cave. Its main passageway is 1,000 feet (305 m) long with only 750 feet open for public tours. The other 250 feet is open for exploration but requires crawling and a lot of scrambling. Though, it will probably make for some great adventures.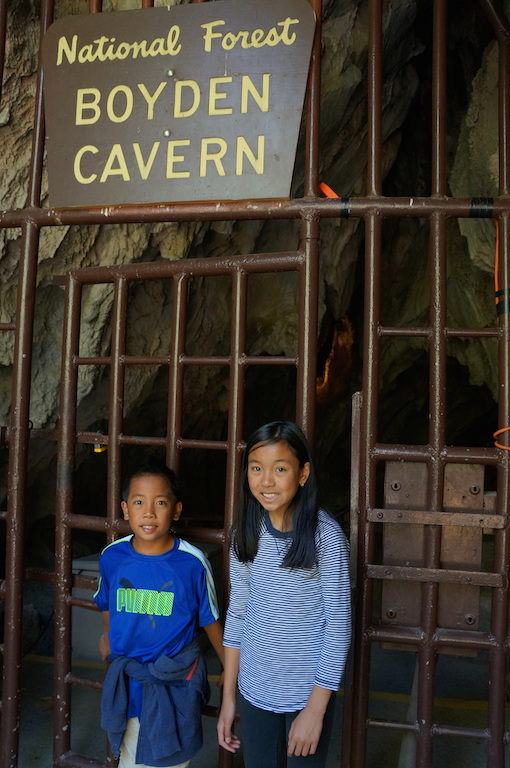 The cave is a constant 55 °F (13 °C) but felt warmer at times. We followed the paved paths into the caves which were well-lit with handrails. Our guide was an enthusiastic young lady who started pointing out diverse natural formations right away.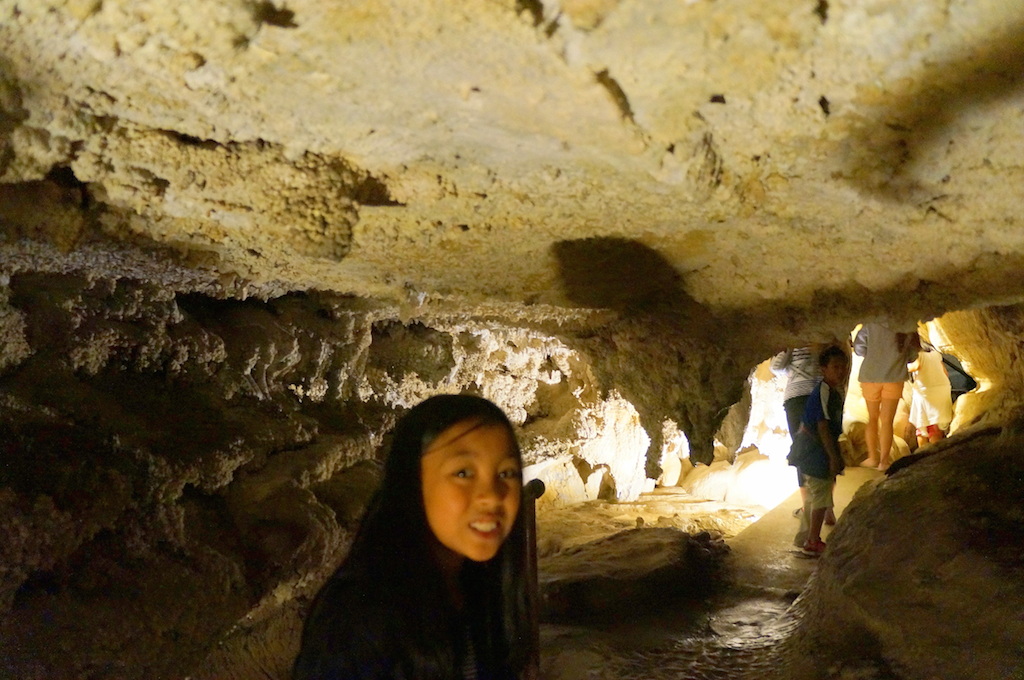 The cave is thought to be about 100,000 years old and carved out of marble. This cavern is part of a longer Church Cave system that was about five miles long. It's hard not to be impressed with stalactites, stalagmites and other rock formations that have thousands of years of geologic history tied to them.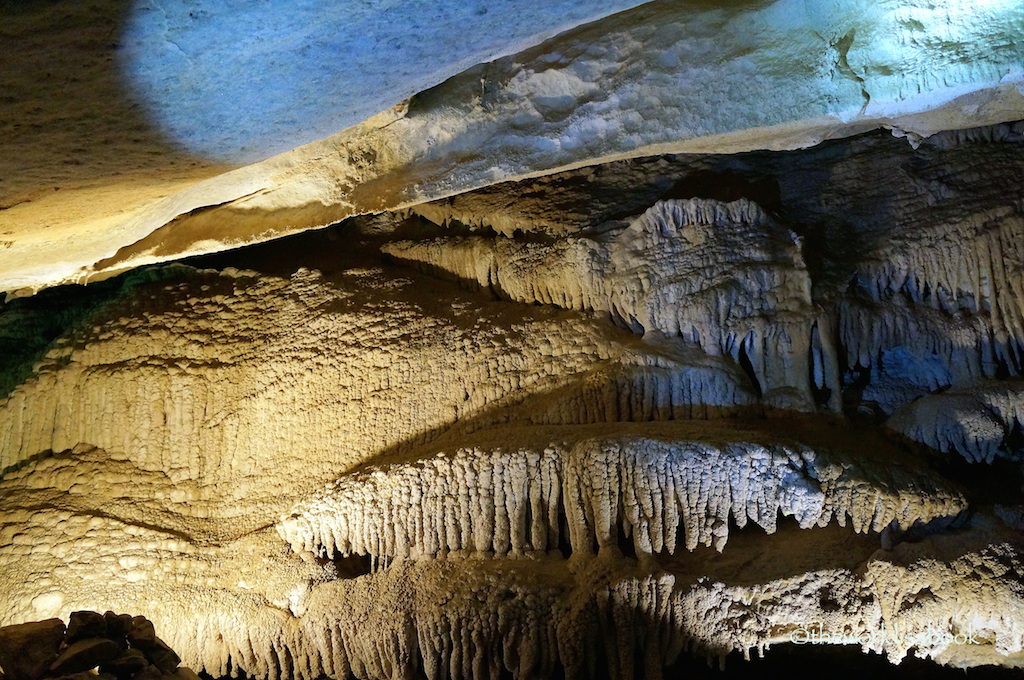 Our guide pointed out popular formations like The Pancakes. Can you see stacks of pancakes with syrup dripping over it?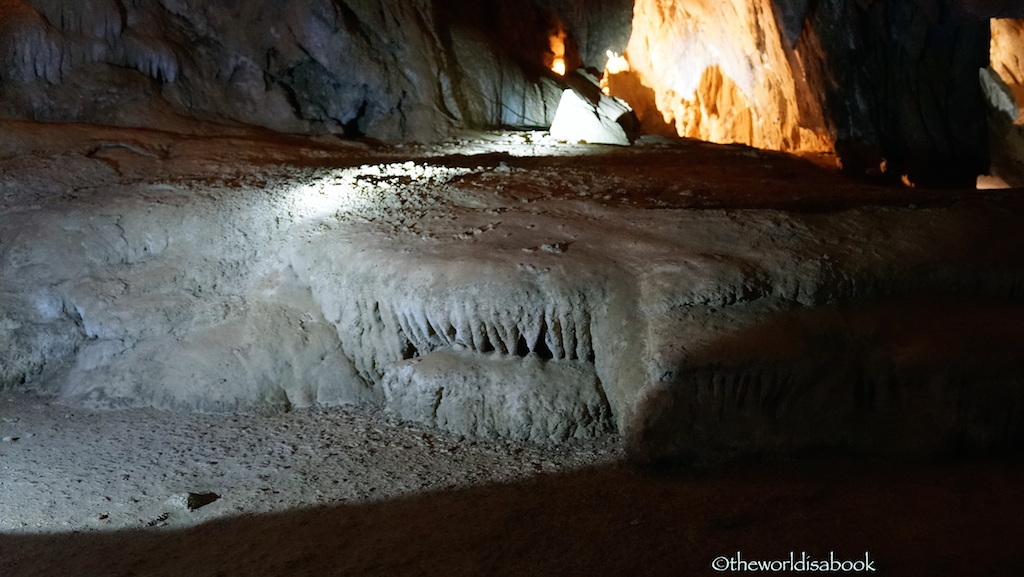 Nearby was a group of stalactites called the Upside Down City. If you look close enough, you can envision a collection of skyscrapers hanging from the rock.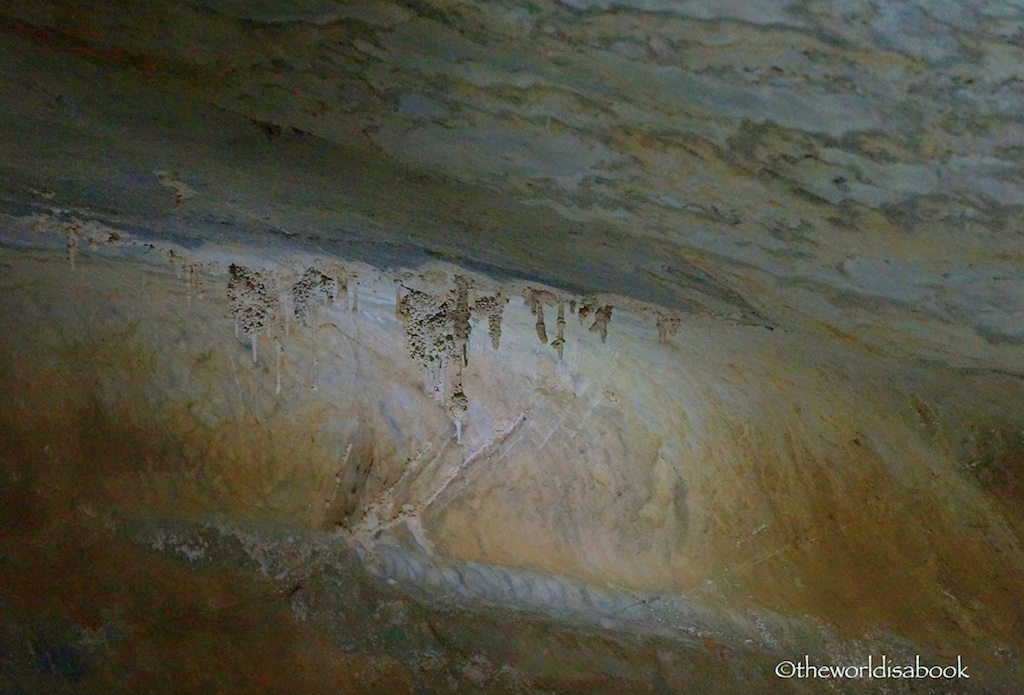 One of the most impressive areas was the Drapery Room. These were stalactites that resembled hanging curtain drapes. It was amazing to see how they almost looked like they were painstakingly ironed.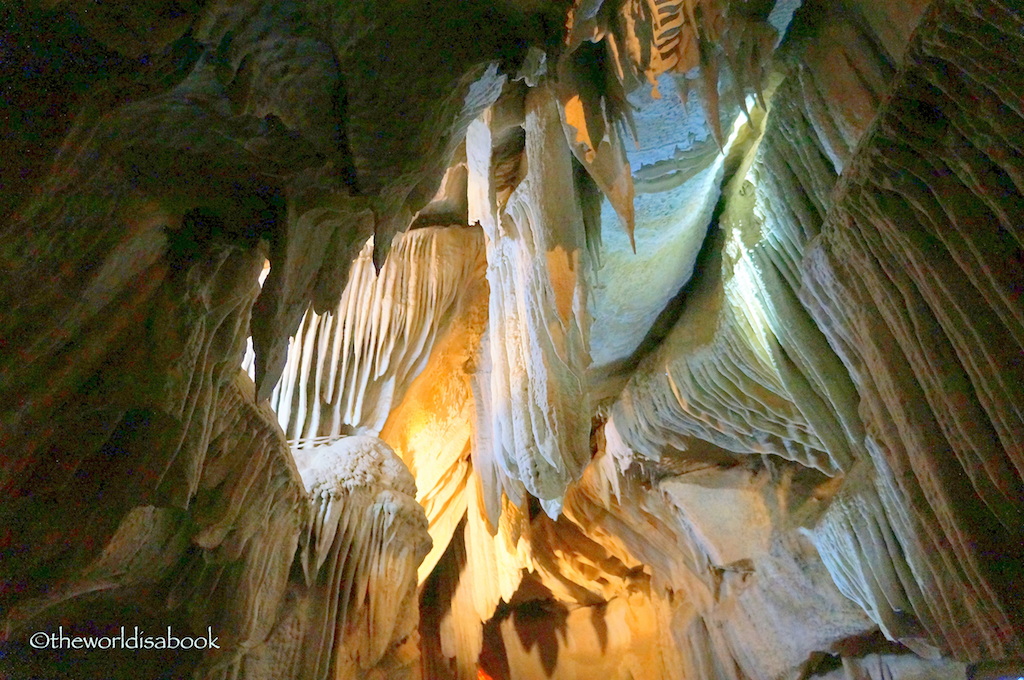 We were strongly warned not to touch any of the formations including numerous signs throughout the cave. This was still a living cave with formations continuously growing. Once these formations are touched, chemicals from our body make them stop growing.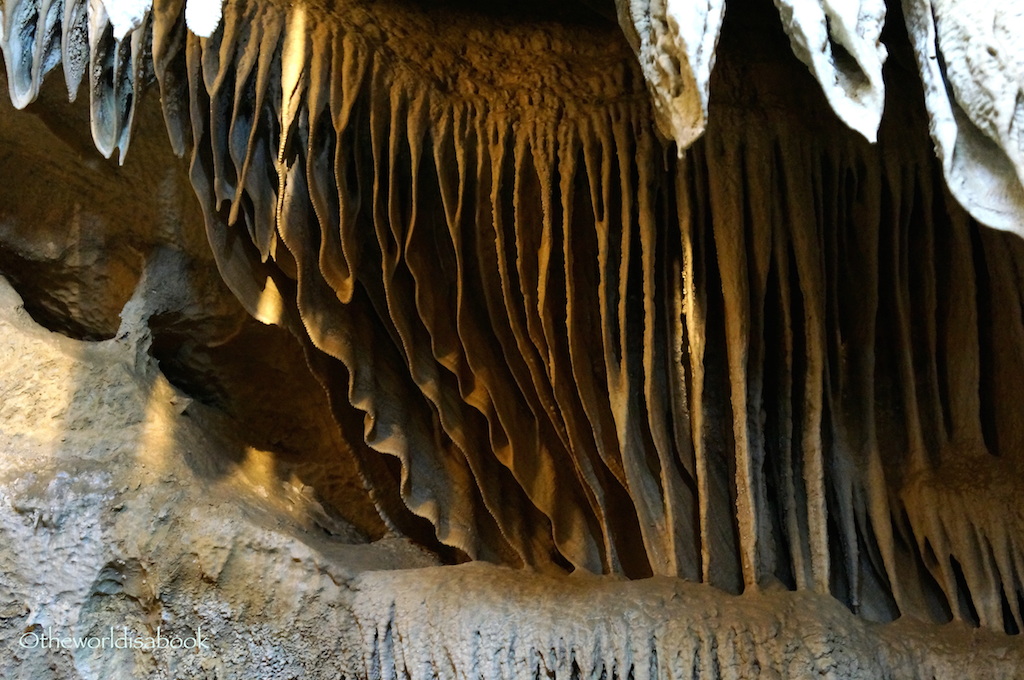 It was also sad to see that some prospectors and construction workers felt the need to tear off some of the drapery stalactites and other formations as souvenirs. Much to my kids' disappointment, we didn't see any bats during our visit despite there being a Bat Grotto here for the bats to sleep.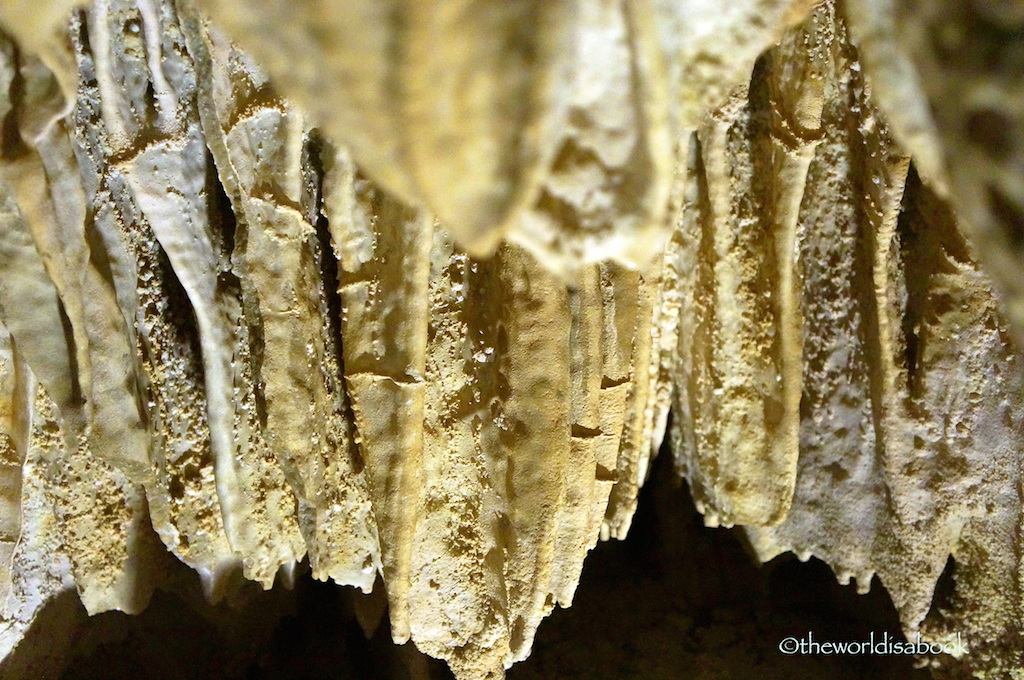 We loved the flowstone formation called Mother Nature's Wedding Cake or also their Christmas Tree.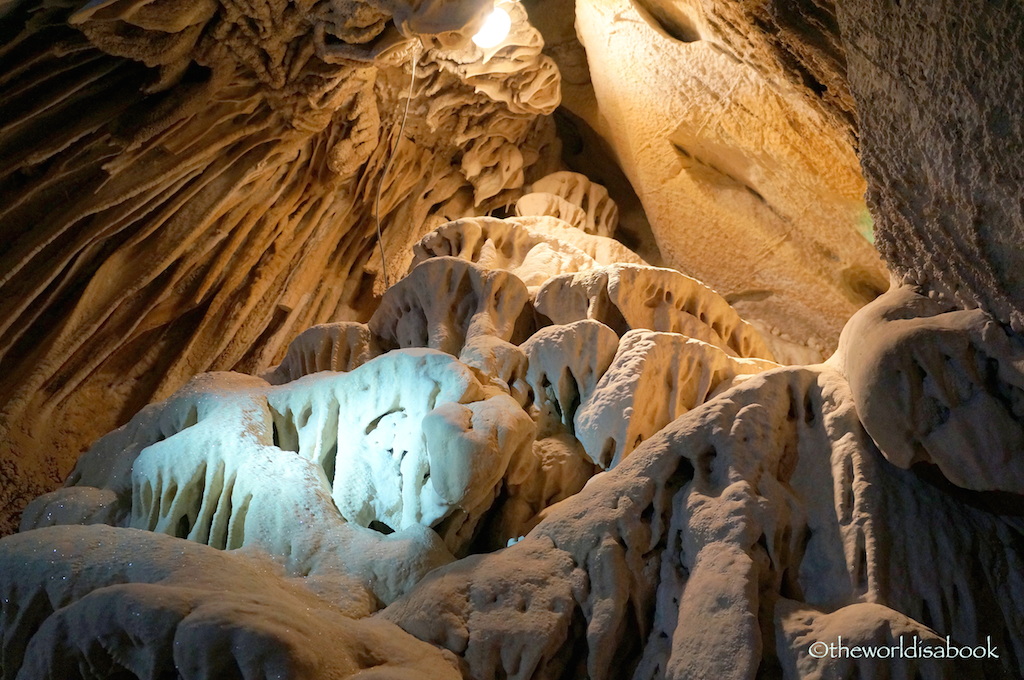 It was beautiful and a popular spot for pictures.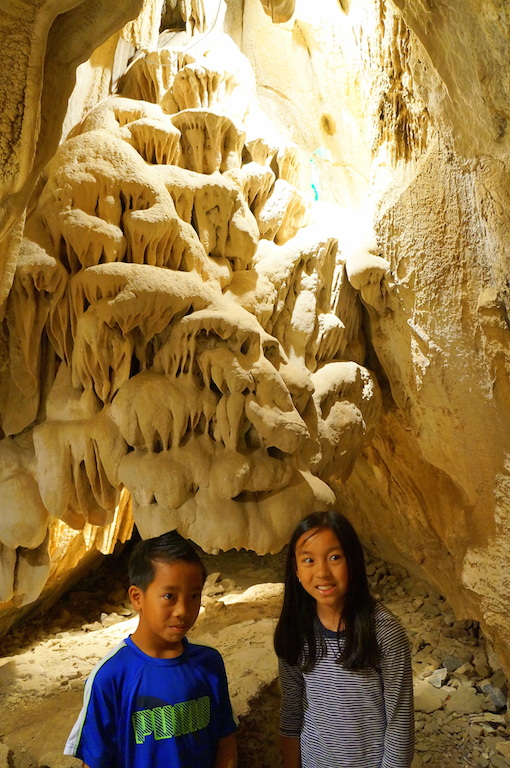 This was supposed to resemble a bacon strip. Do you see it?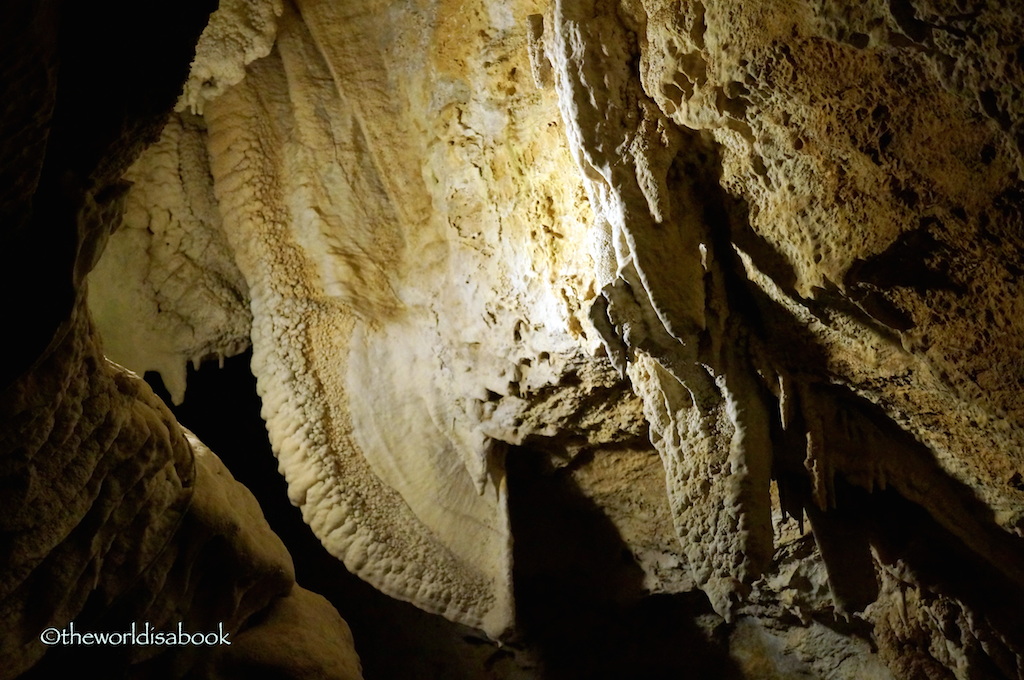 We found plenty of popcorn and cauliflower like formations throughout the cavern. It was also interesting how many of them seemed to resemble food.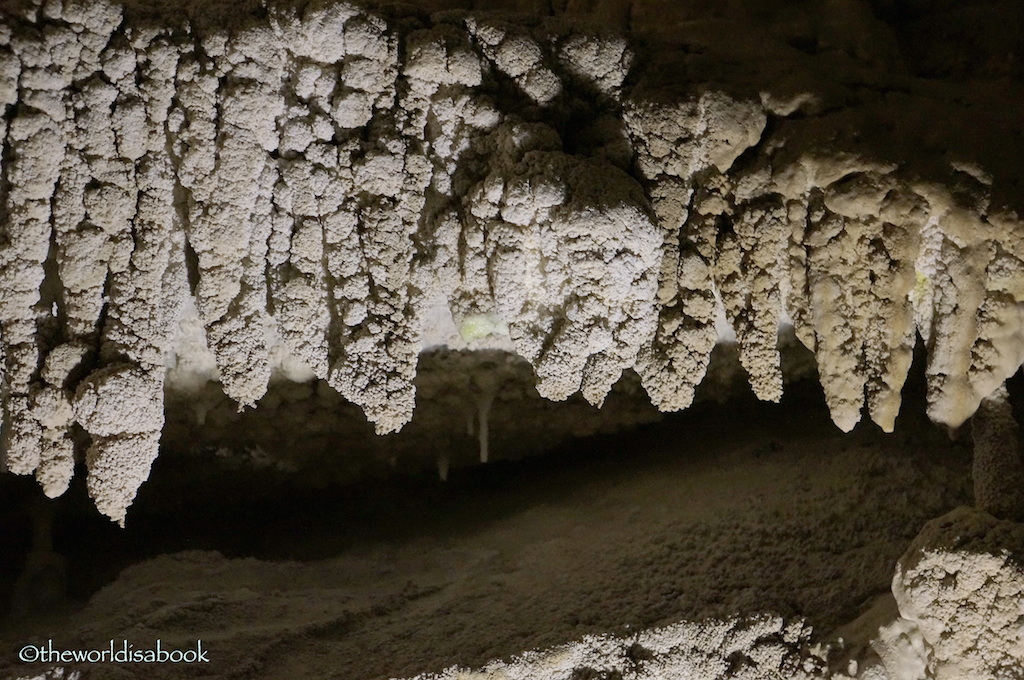 One of our unforgettable moments was when the guide turned off all the lights to experience total darkness. It was a bit eerie during the 5-10 seconds of absolute blackness. She probably would have left it on longer but a toddler in our group started to cry. So, be warned if you're planning to take anyone afraid of the dark in here.
It was a way for us to relate to how Mr. Boyden may have experienced this cave when his lantern went out while exploring. He found his way out by following the flow of the riverbed. My kids actually enjoyed this little exercise which was surprising considering they sleep with night lights on.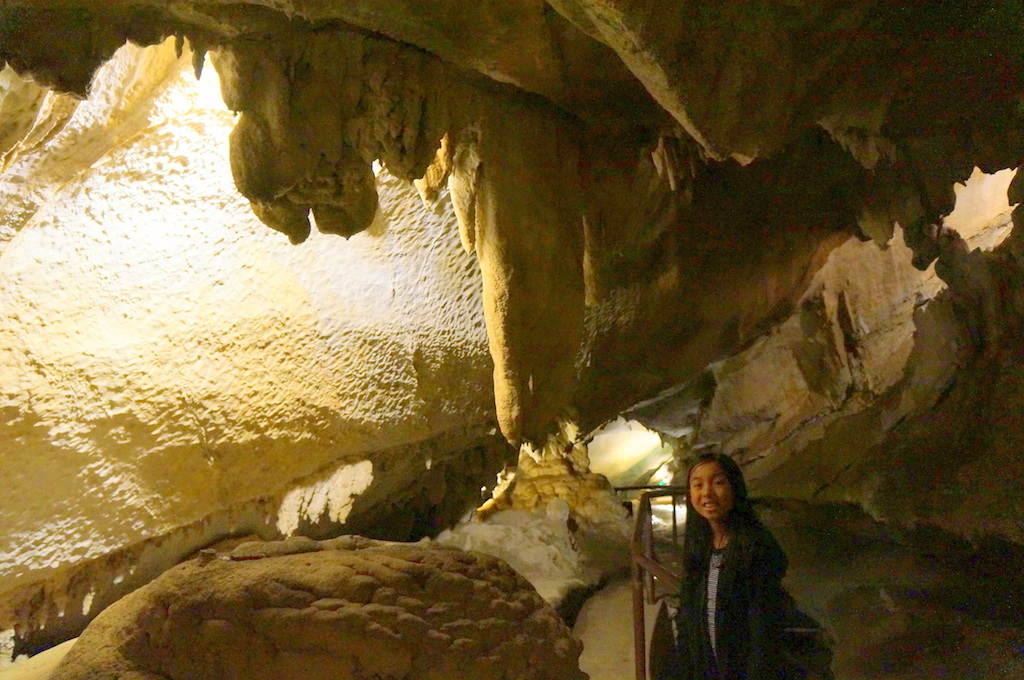 As we were finishing our 45 minute tour, one of the workers came to tell us that the "adventure trail" was now open for those who wished to go out of the cave in a more challenging journey. Of course, we didn't hesitate to go this way. We were the first group of the season to go on this trail.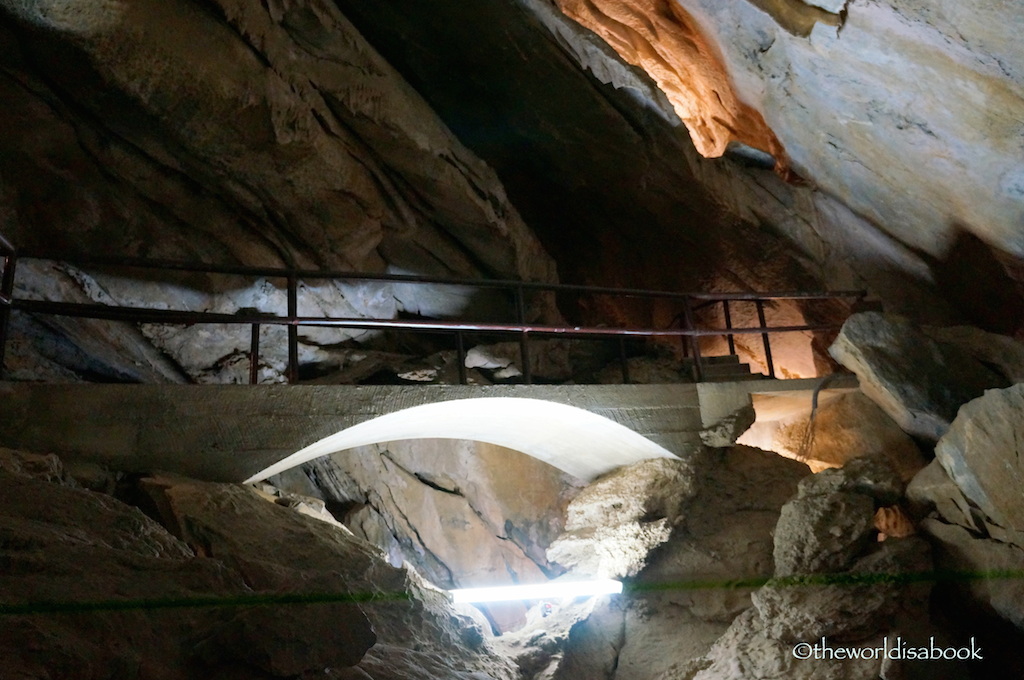 We followed the dry riverbed path that was below the main visitors path and how we entered. This stream bed was darker and required a lot more scrambling and being agile in some areas. My kids loved it.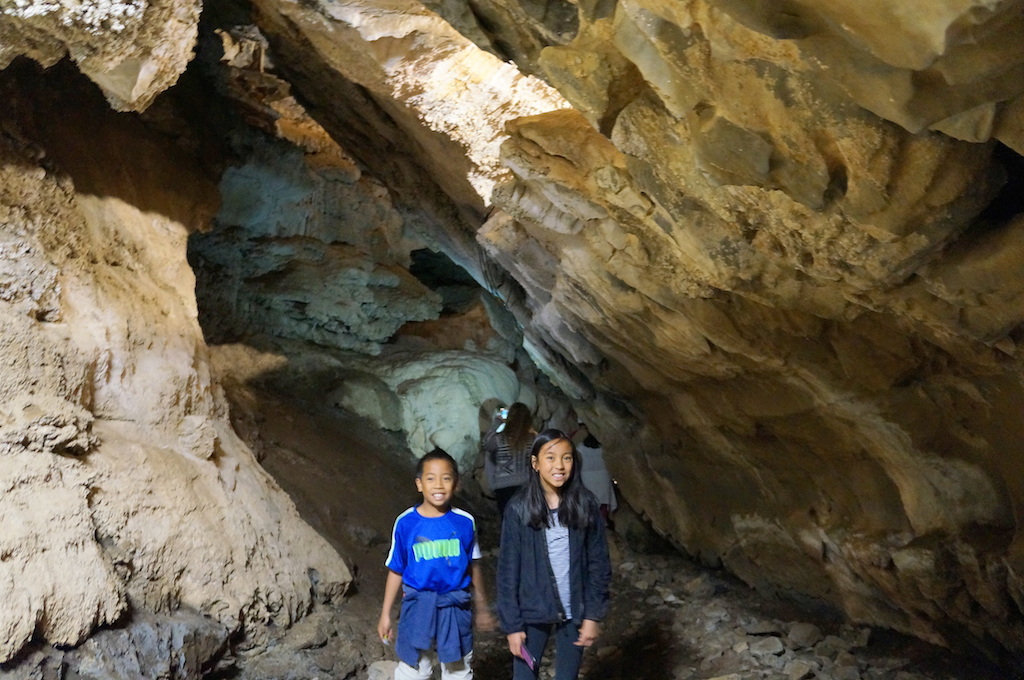 It was a tight squeeze in some areas but made for a fun and much better journey back to the entrance. Please don't hesitate to take this alternate route out. We ended up back at the cavern entrance after climbing some steps. It wasn't that much longer than the regular paved trail but made the tour more memorable.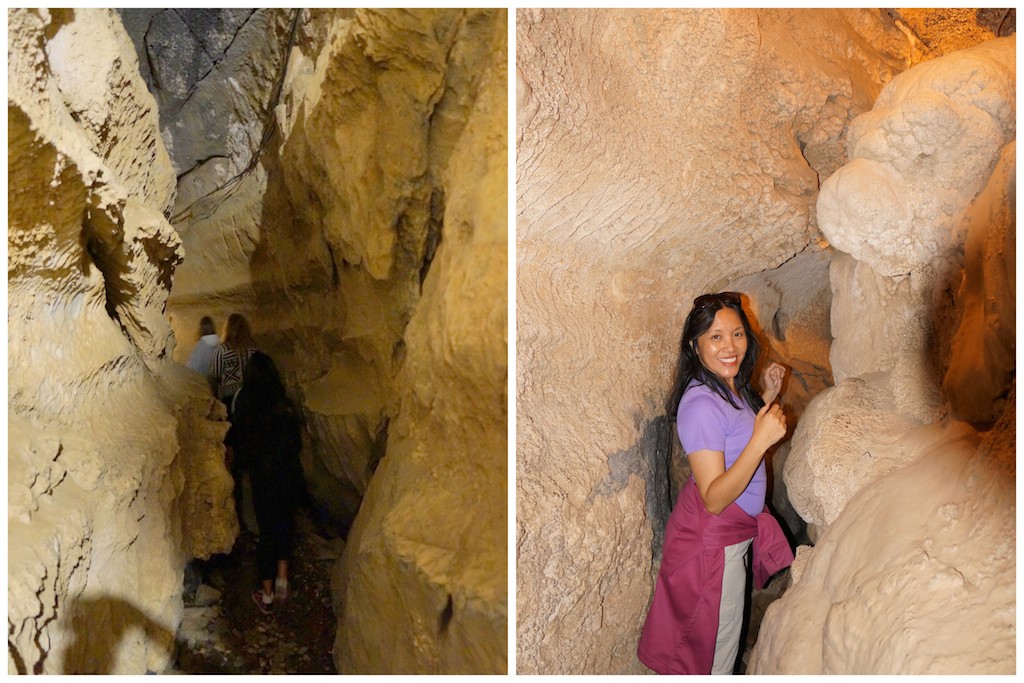 We visited the extensive Carlsbad Caverns National Park last year. This wasn't as awe-inspiring or diverse but this cave felt more intimate, peaceful and less touristy. Boyden Cavern was easily accessible, has a shorter tour and much less crowded than the more popular Crystal Cave in Sequoia National Park. It was an interesting tour and the formations were captivating. Visit Kings Canyon National Park but make a stop here to marvel at the underground formations.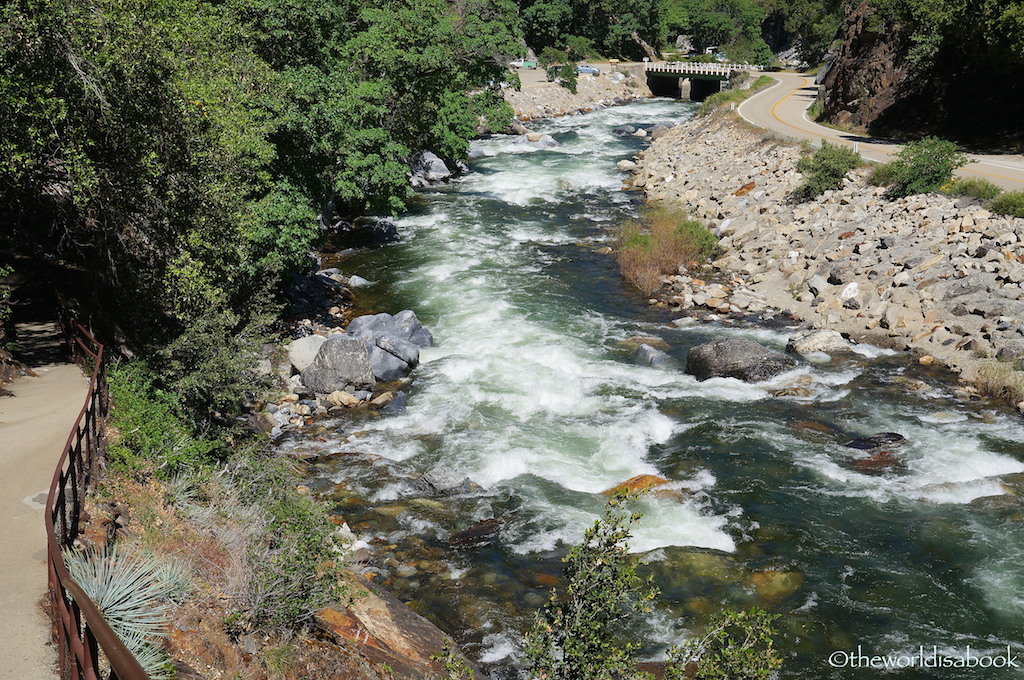 Visiting Boyden Cavern Basics and Tips
Tickets sold on cavern site and not at Kings Canyon Visitor's Center (18 miles away)
Cost: Adults $14.95 / Children (ages 3-12) $7.95
Picnic benches and pit restrooms are available along with gift and snack shop before the cavern entrance along the parking lot. Tickets can be purchased at the gift shop.
Reservations for cave tours are not required, unless you have a group of 15 people or more.
Tours leave approximately every hour on the hour daily from April to mid-November.
Varying levels of

rappelling and canyoneering tours

are available for half and full days. Reservations are necessary.
Caverns are not wheelchair accessible.
Children are not allowed to be carried in backpacks. Only babies in front facing slings are allowed.
Do you like exploring caves? What are your favorite ones?
Pin it for later!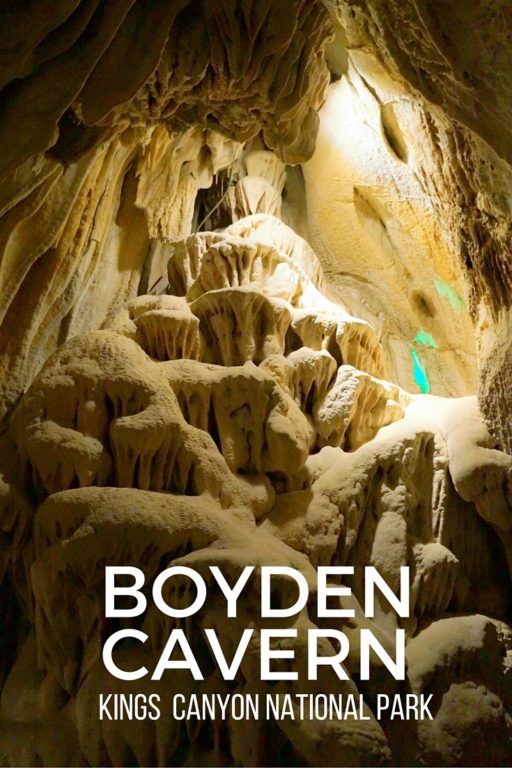 Check out these related posts: