South Bank Parklands: The Playground of Brisbane
We started off our island hopping around the Pacific in Brisbane, Australia (Brissy to the locals) last month. To adapt to the major 17 hour time change, we tried to stay awake by walking around the city. Crossing the International Date Line can play tricks on your mind and body. Located in the south bank of the Brisbane River opposite the Central Business District (CBD), this is Brisbane's cultural and recreational center with grassy areas, promenades, restaurants, shops and even a city beach. Take a stroll with us through Brisbane's playground.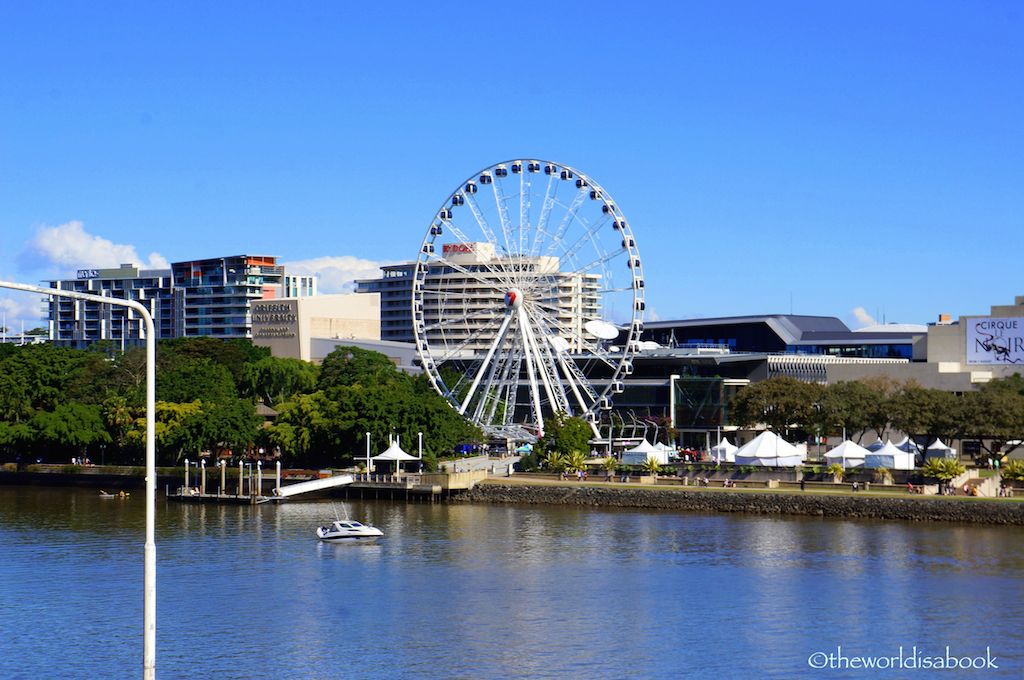 The South Bank started out as landowners' meeting area and evolved into a European settlement. It hosted the Brisbane World Exposition in 1988 and was filled with entertainment and events. Those 17 hectares (42 acres) became public parkland and South Bank Parklands officially opened in June 1992. This became Brisbane's cultural hub where many festivals and events regularly take place year round and is also close enough to many museums.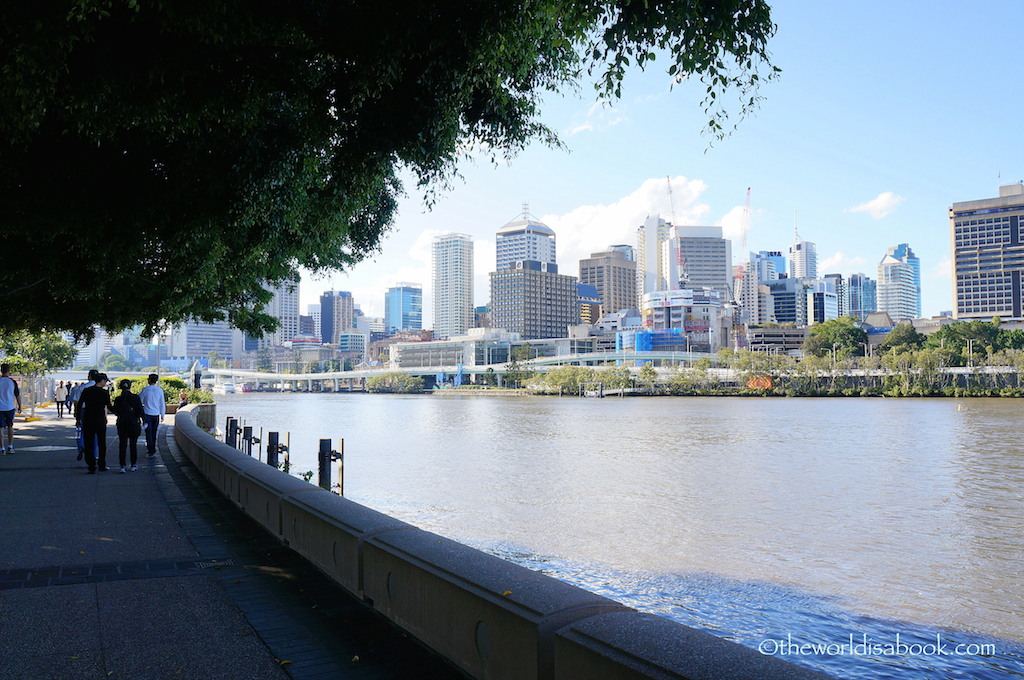 One of the first things that caught our eye from across the river was the Wheel of Brisbane. The ferris wheel was similar to many attractions popping up in many cities around the world like the London Eye. It looked like a unique way to see Brisbane from above with 42 gondolas. We didn't go on it since we wanted to do a bit more exploring but I'm sure the panoramic views of the river and the city were wonderful during the 15 minute ride. Prices were reasonable at $42 AUS for a family pass (2 adults/2 children) or $15 adults and $10 kids (12 years old and under) and unlike other places, everyone can just walk up with no advance reservations.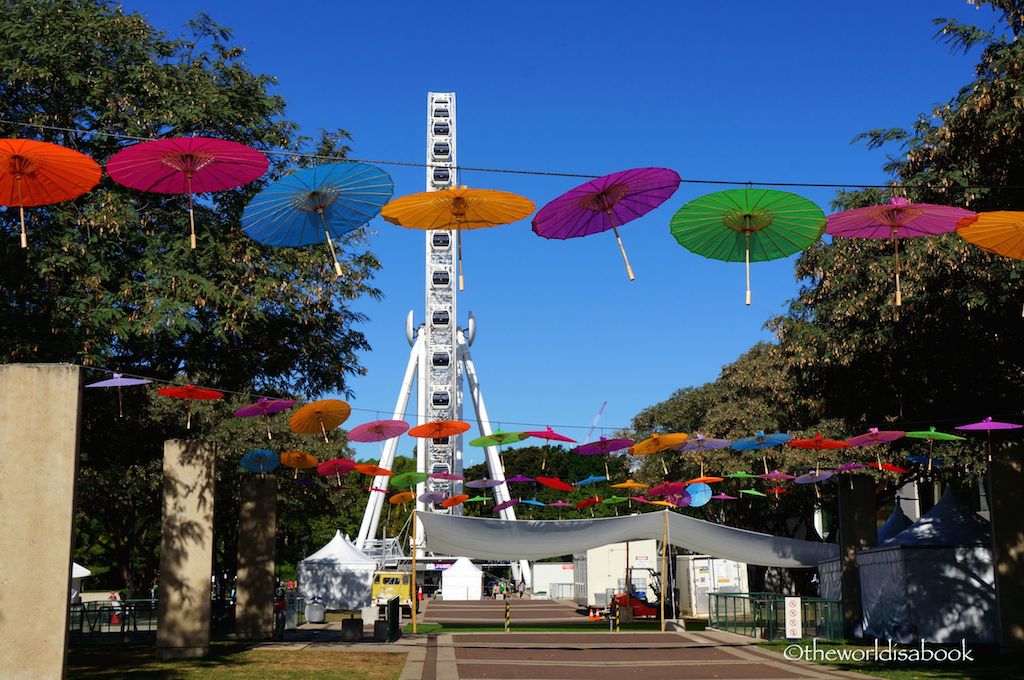 A hub for many of the outdoor activities was the The Clem Jones Promenade which was the riverside walk that extends through most of the parklands. It was wide enough to pass each other in both directions but we liked that they also had seats on the walls to people watch or see the river activities.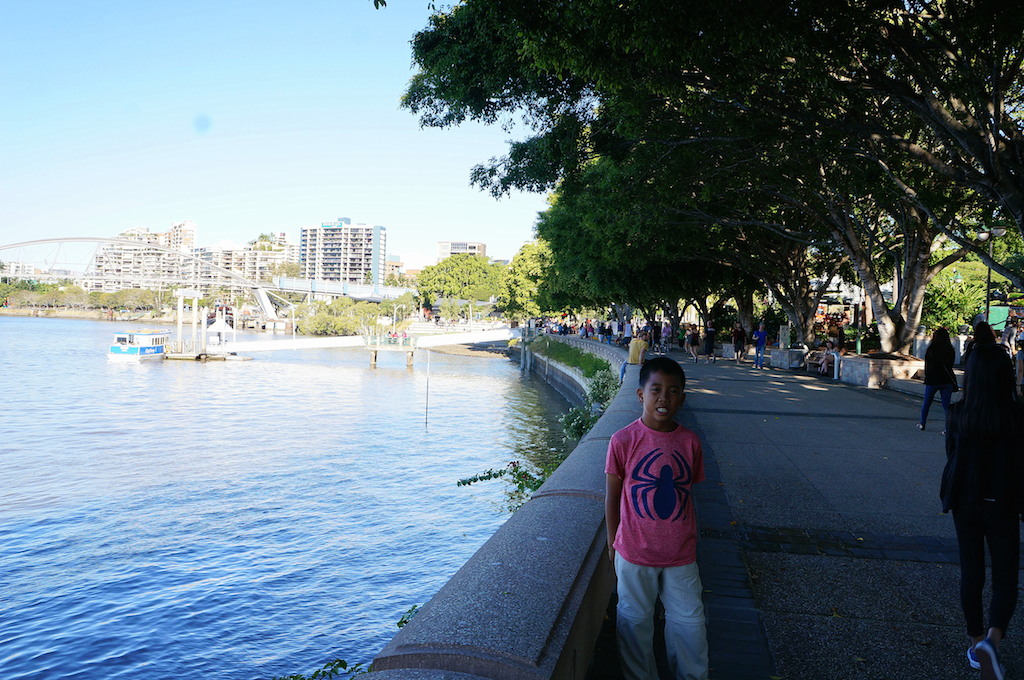 Along the promenade were these colorful mosaics on the ground that added some color to the sidewalks. Is it just me or does the clown look a bit like Ronald McDonald with different hair?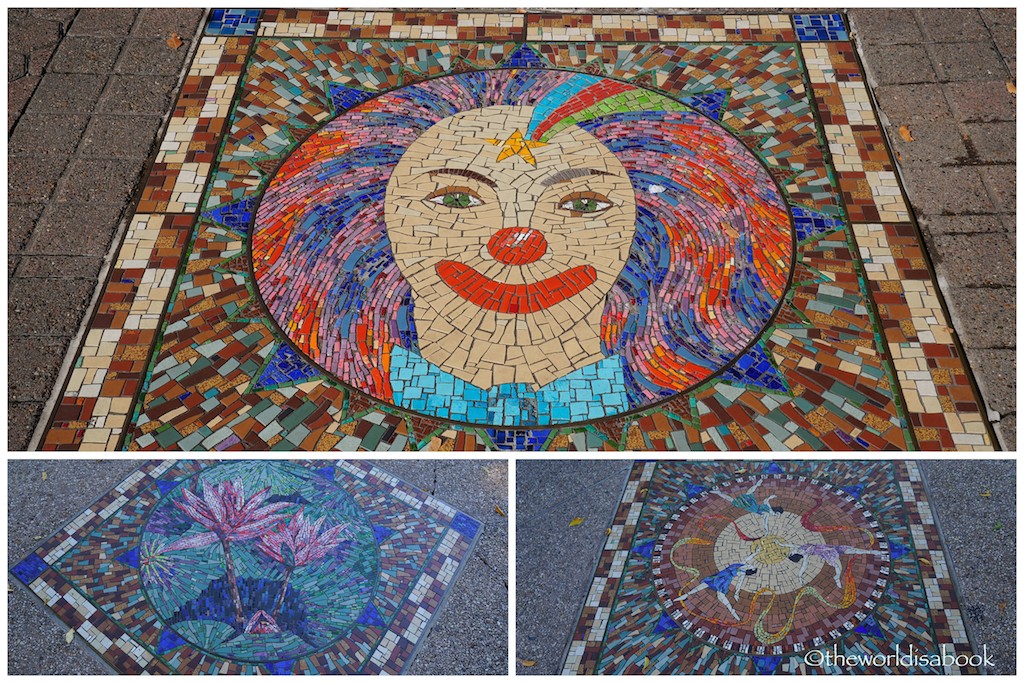 We also found one of the remnants of the human factor sculptures from the World Expo. This unicyclist, made of coated fiberglass, was high above Stanley Street and almost looked real.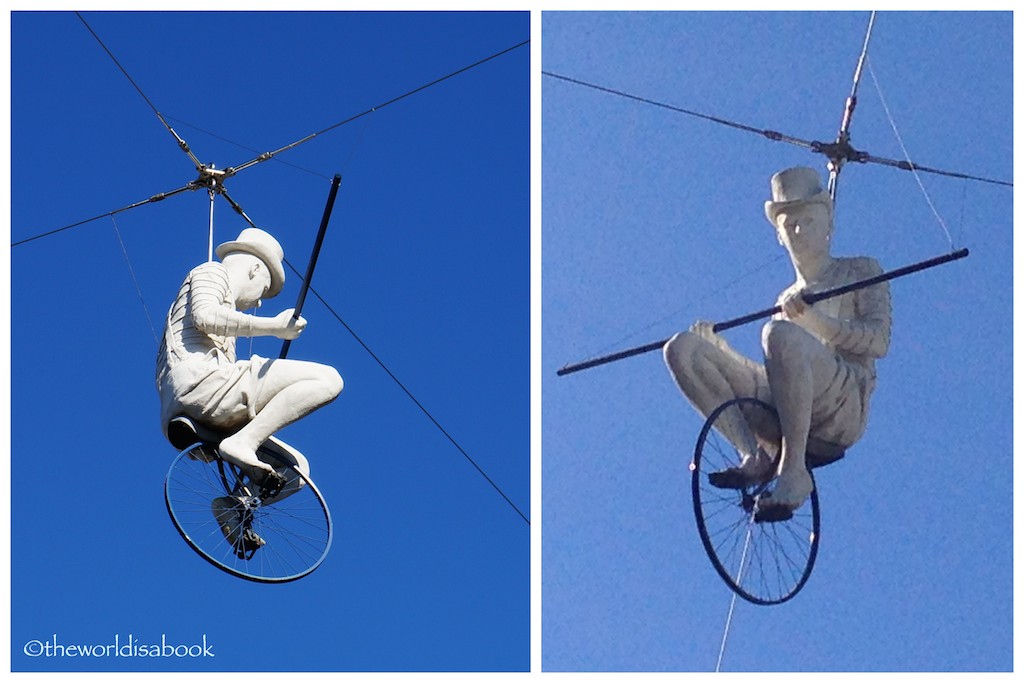 It was hard to miss the dazzling display of purple and pink bougainvillea gracing the archways. The Arbour is about a one kilometer (.6 miles) long walkway with 443 curling steel posts covered with flowers. I can just imagine how dazzling these flowers look during Spring and Summer. Although, the winter time showing was still beautiful.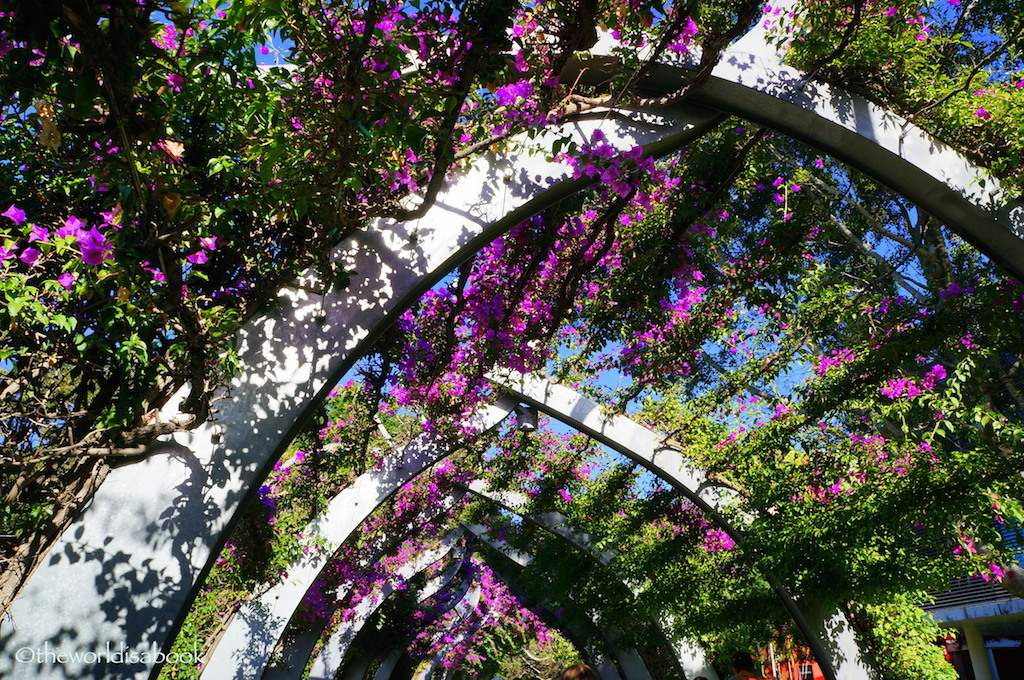 This is another addition to our tacky tourist photos collection. As you can see, these kids got over the time change pretty quickly.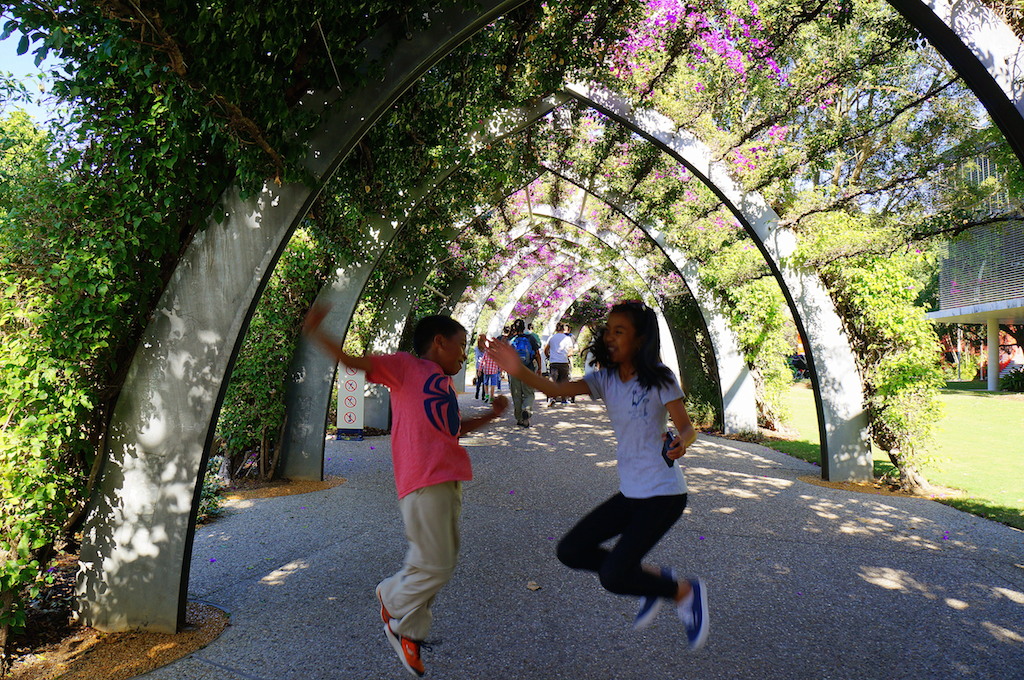 It was a pleasant surprise to find this Nepalese Peace Pagoda within the parklands. This was initially the Kingdom of Nepal's contribution to the World Expo in 1988 but has become one of the park's most popular attractions.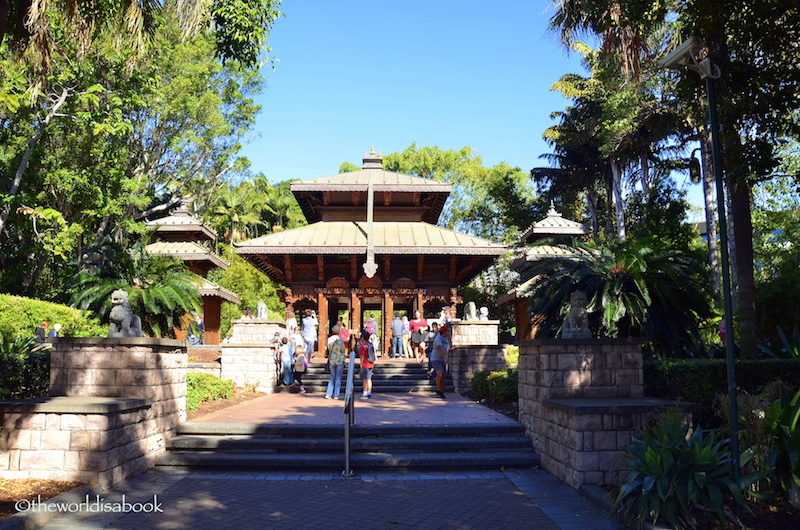 The three-story pagoda was an impressive structure with 80 tons of hand-carved Nepalese timber. The details were mesmerizing especially after finding out that it took over 160 Nepalese families over a span of two years to build it. It is currently one of three Nepalese peace pagodas outside of Nepal.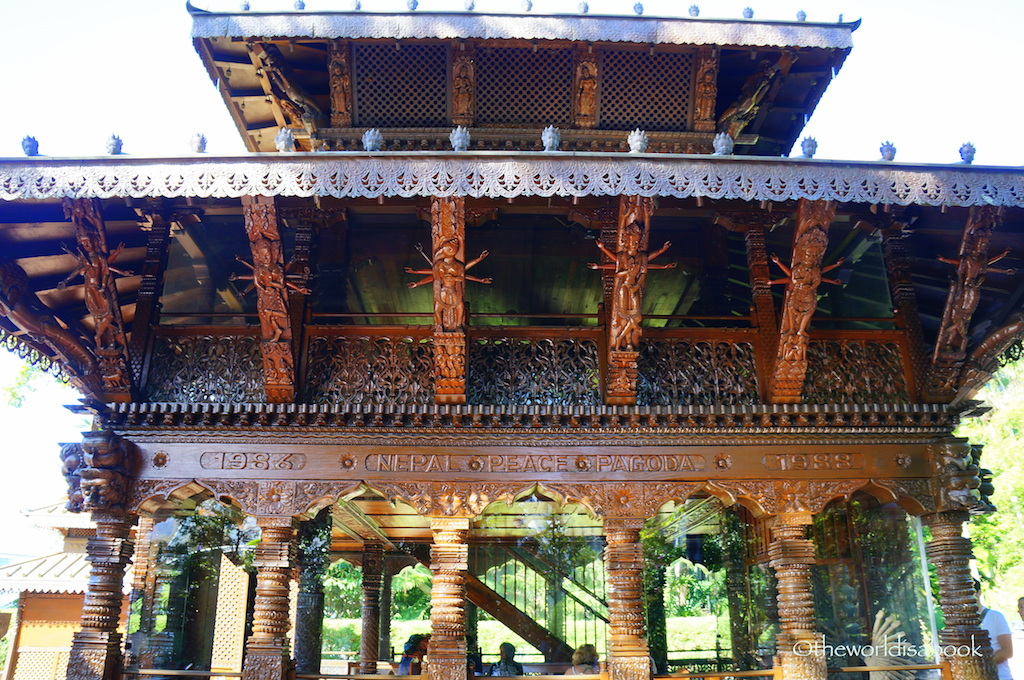 I couldn't get over the amazing details and craftsmanship of this structure. It was supposed to be a "creation of peace, love, fertility and harmony".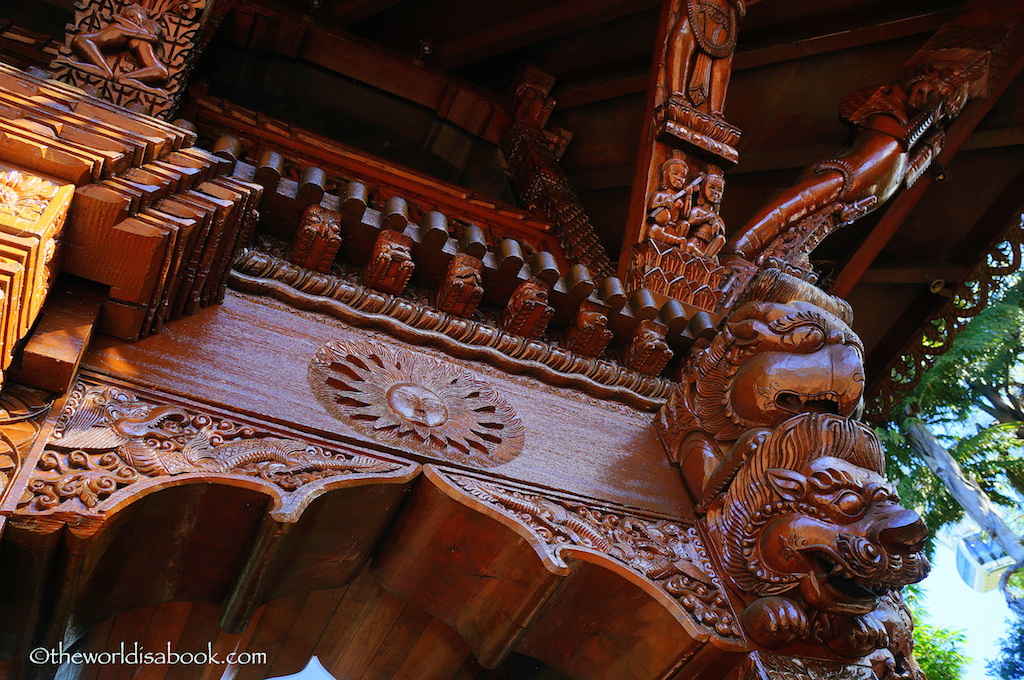 Perhaps, one of the more unique features of the SouthBank Parklands is the South Bank Pools and man-made Streets Beach. This was "Australia's  only inner city, man-made beach." It was in the middle of the city and was a popular area for locals and tourists. Lucky for them, Brisbane is blessed with great weather year round. We loved their winter weather which felt very similar to our winter at home in San Diego.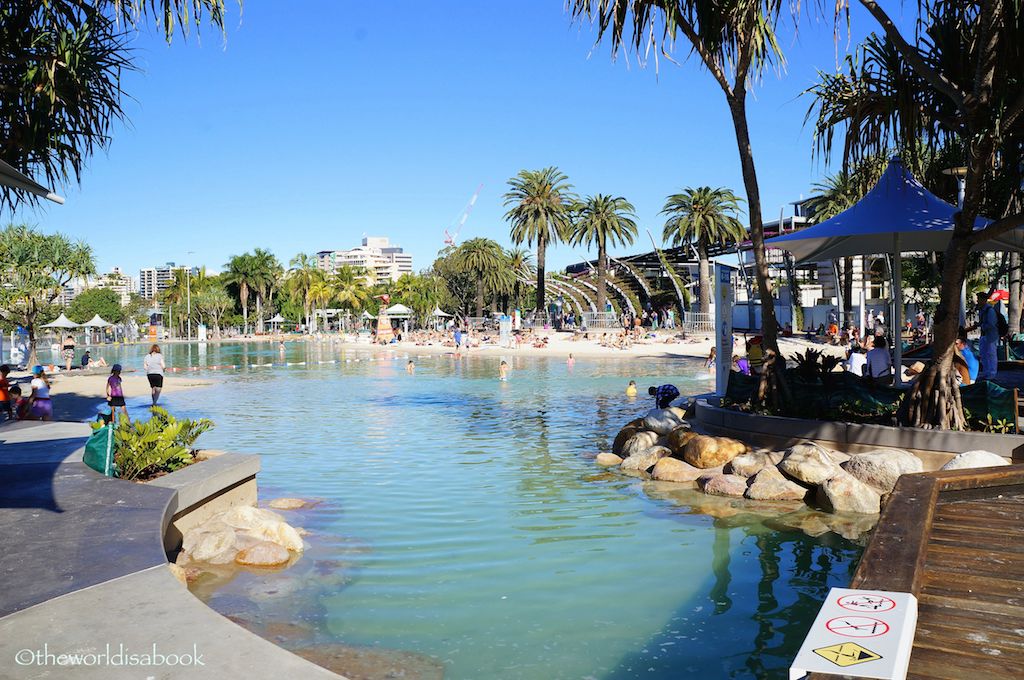 The beach is actually a 2,000 square meter concrete with 4,000 cubic meters of sand from Moreton Bay. 70 tons of sand is added every year to this artificial beach to keep it looking bit more natural. The water was a bit murky and cold but I guess if you want a sun tan then this is one of the best places to go.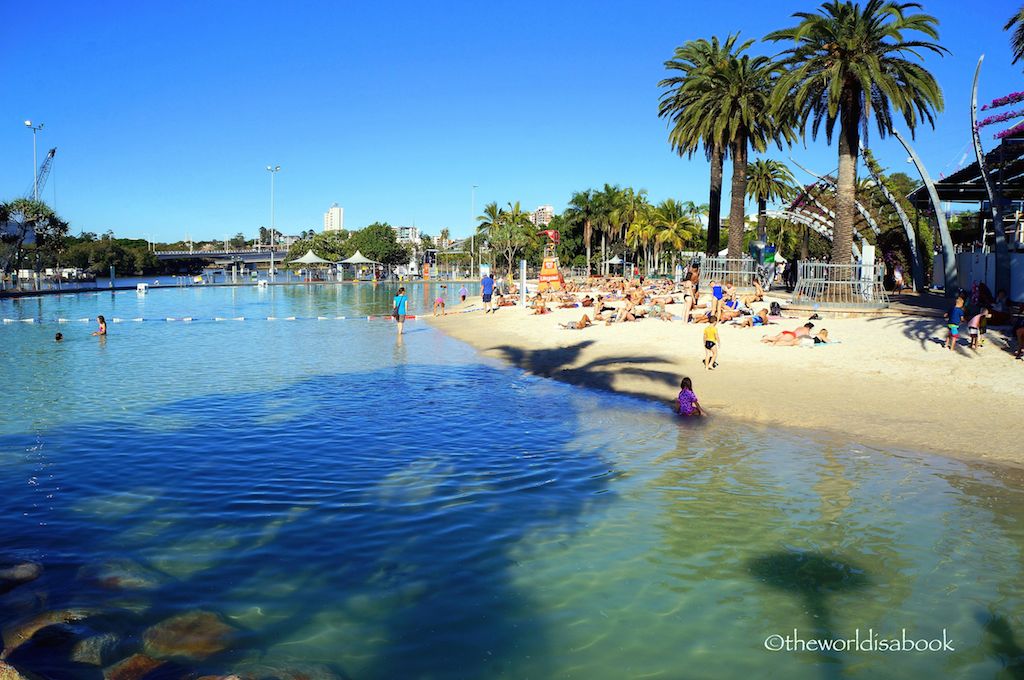 We liked that the pools catered to different age groups. There was an adventure pool or aquitivity for infants and toddlers with some interactive water features to keep them entertained. But, there was also a rock pool for adults to enjoy while looking out into the city.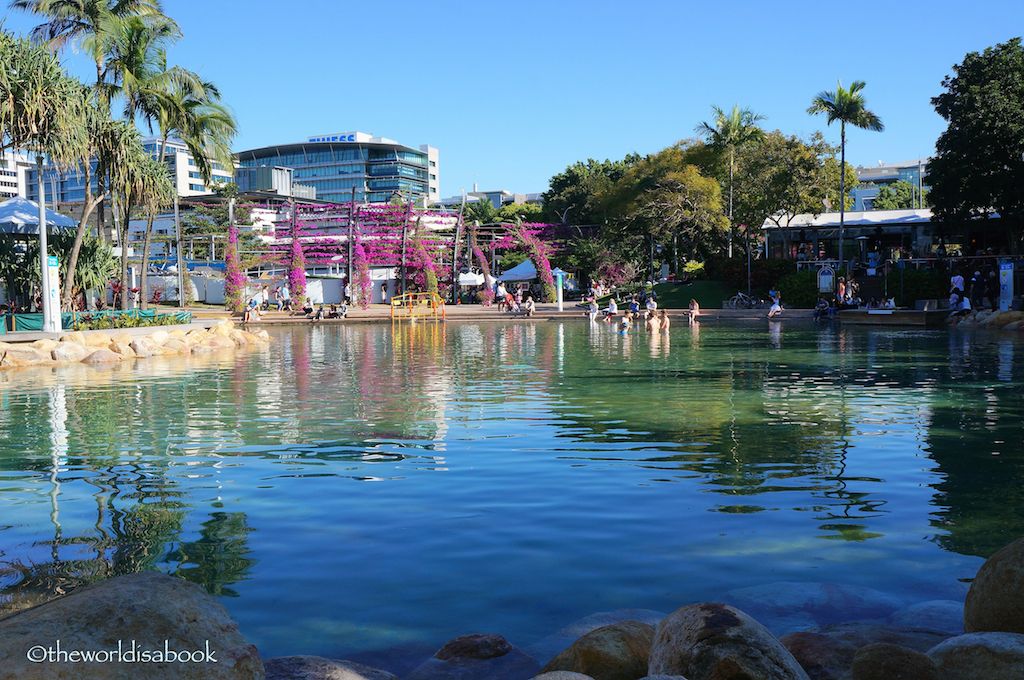 We were lucky enough to catch the Southbank market while we were there on Stanley Street Plaza. The street was filled with many market stalls selling clothes, gourmet food and handmade arts and crafts.It's always fun to be in places where the locals hang out. It's too bad we missed the night market on Fridays which was probably more lively. The markets are open on Saturday from 11AM- 5 PM and on Sundays from 9AM-5PM.
Street markets also mean some fantastic street food. We found this tornado potato as a snack. It was delicious with a hint of garlic salt.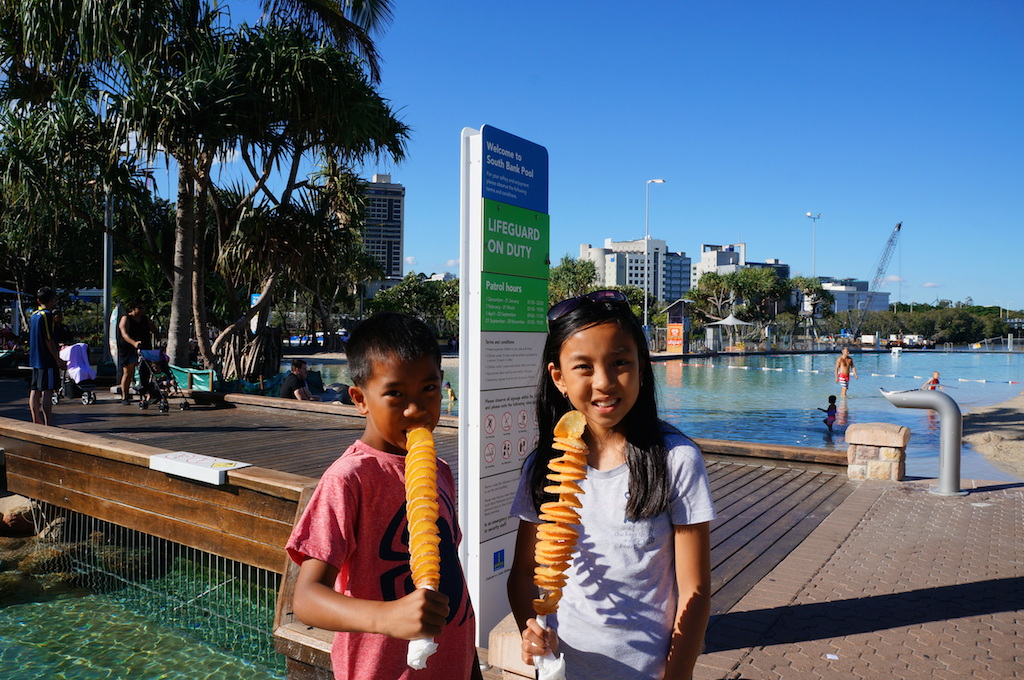 There was something going on at each corner of the park during our visit. We even found a few of these Australian White Ibis roaming the park and they were quite friendly.
We liked that there were grassy patches in between shops and restaurants for everyone to enjoy whether you're on a family picnic or a group of friends playing ball. Sunday Sessions on the Greens gave us an opportunity to rest our feet and enjoy some live music along with many of the Brissy locals. There was a wonderful atmosphere of camaraderie and community as we watched people enjoying the wide open spaces in various ways.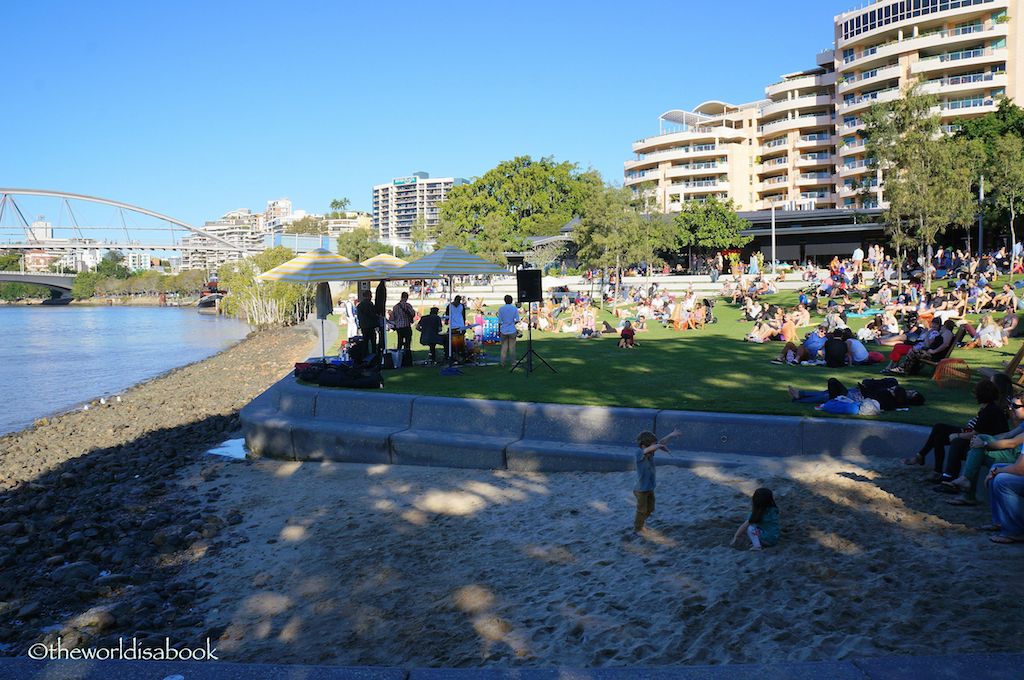 This area was truly a wonderful place to stroll or spend the day. It provided a great place to experience some of what Brisbane had to offer whether you preferred an active or laid back activity. We preferred a short Segway tour around the promenade for a different perspective.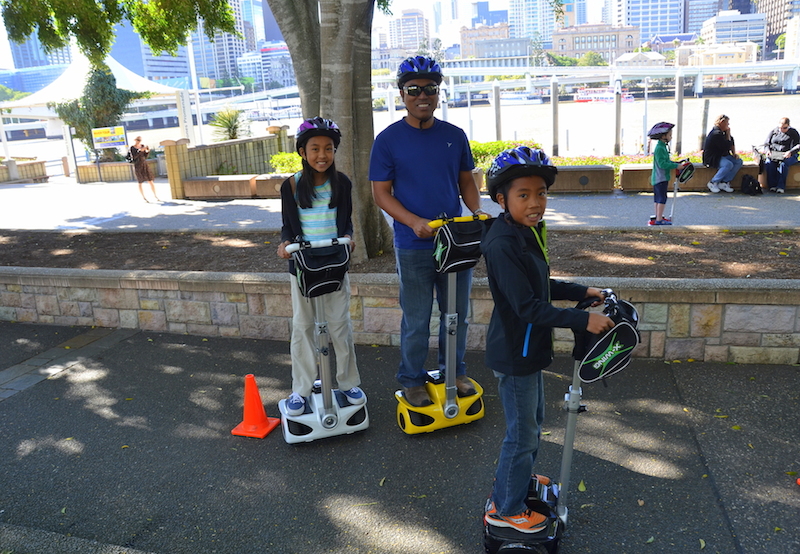 The South Bank Parklands provided plenty of entertainment for the whole family. It was clean, safe and very family-friendly. It's a marvelous public area to visit throughout the year and fun for all ages. Don't miss this fun and free attraction when visiting Brisbane, Australia.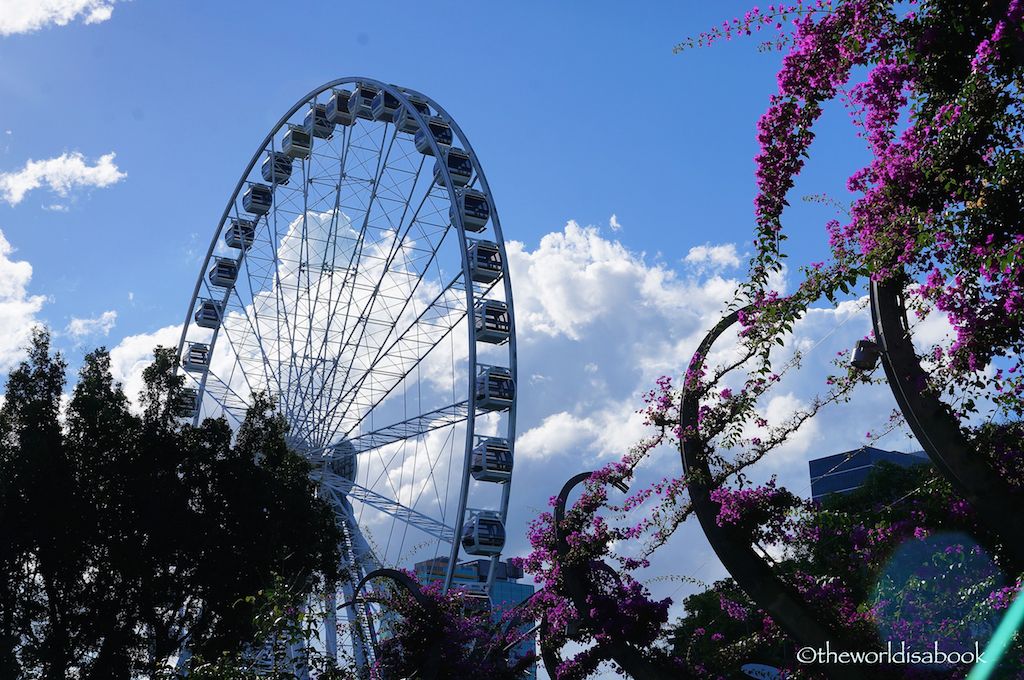 South Bank Parklands Basics and Tips
We were here during a weekday and a weekend and there were more activities during the weekend.
Bring swimsuits and sunscreen for the kids if they want to splash around the pools.
Free wi-fi around the area which made my tween very happy.
It was a short 15-minute walk across the Victoria bridge from the Central Business District and Queen Street Mall to the parklands.
Try to go back to the CBD via the pedestrianized Goodwill Bridge that will lead to the Botanical Gardens. This was by the Maritime museum.
Have you explored the South Bank Parklands or similar cultural hubs like this?
Did you know that you need a tourist visa in Australia if you're traveling from the USA or Canada? Get your Australia ETA (tourist visa) in a few steps with iVisa (it's an electronic process!).
Pin it for later!