Koala Cuddling and Kangaroo Feeding at Lone Pine Koala Sanctuary
Koala cuddling and kangaroo feeding are travel bucket list items when visiting Australia, especially with kids in tow. These were two experiences all of us were excited in doing during our island-hopping trip last month. There are only a few places in Australia that allow visitors to do this so we were lucky enough to visit Lone Pine Koala Sanctuary in Brisbane – touted as the "world's first and largest koala sanctuary". Warning: Plenty of adorable wildlife photos ahead.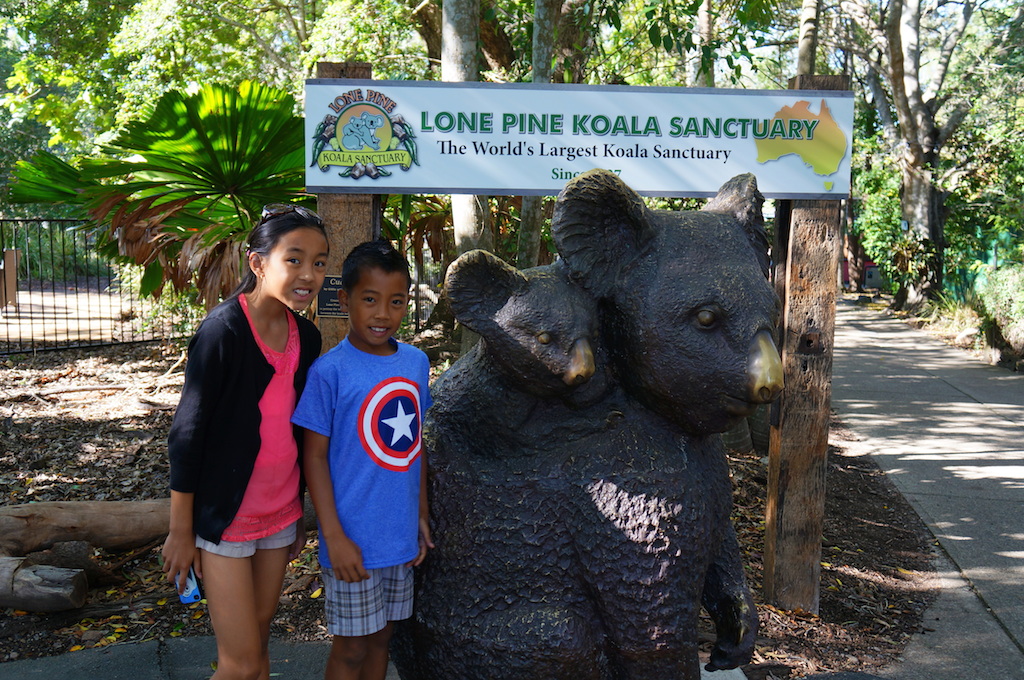 Lone Pine Koala Sanctuary started off with only two koalas (named Jack & Jill) in 1927. Its name came from the lone hoop pine tree planted by the original family owners, the Clarksons, along the Brisbane River banks. The sanctuary has dedicated itself over the years to the conservation of koalas and Australian native animals. The sanctuary now has about 130 koalas plus 40 babies (joeys) on the way and more than 100 Australian native animal species.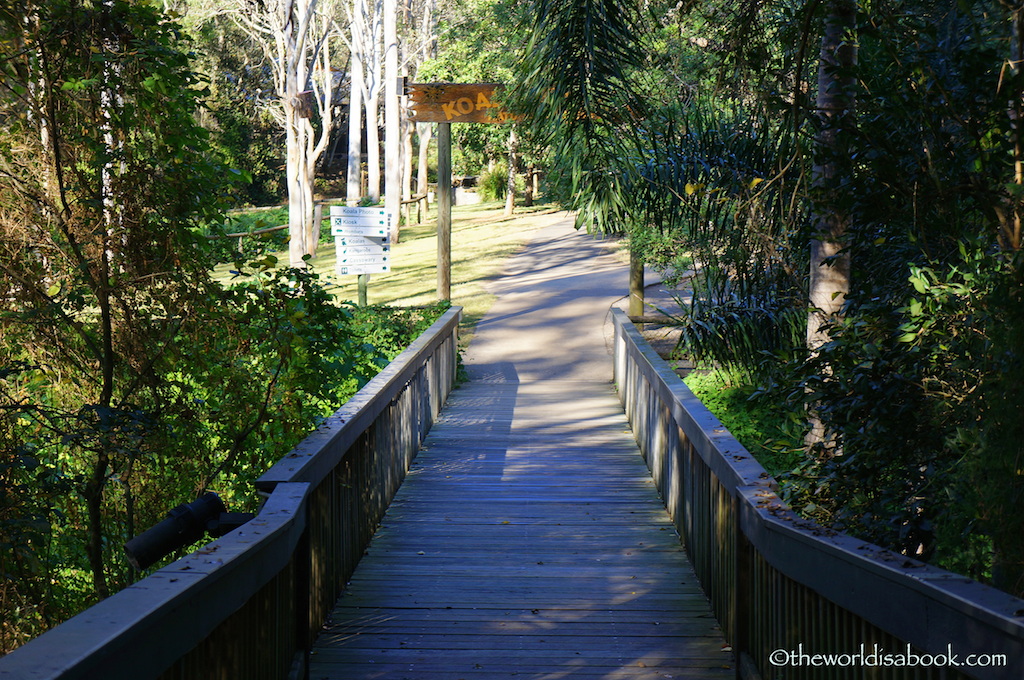 Lone Pine didn't look very big but we ended up staying the whole day here making use of the scheduled shows. We got here a little after it opened at 9 AM a day after we landed. Yes, we got over that jet lag and 17-hour time change pretty quickly for unique experiences like these.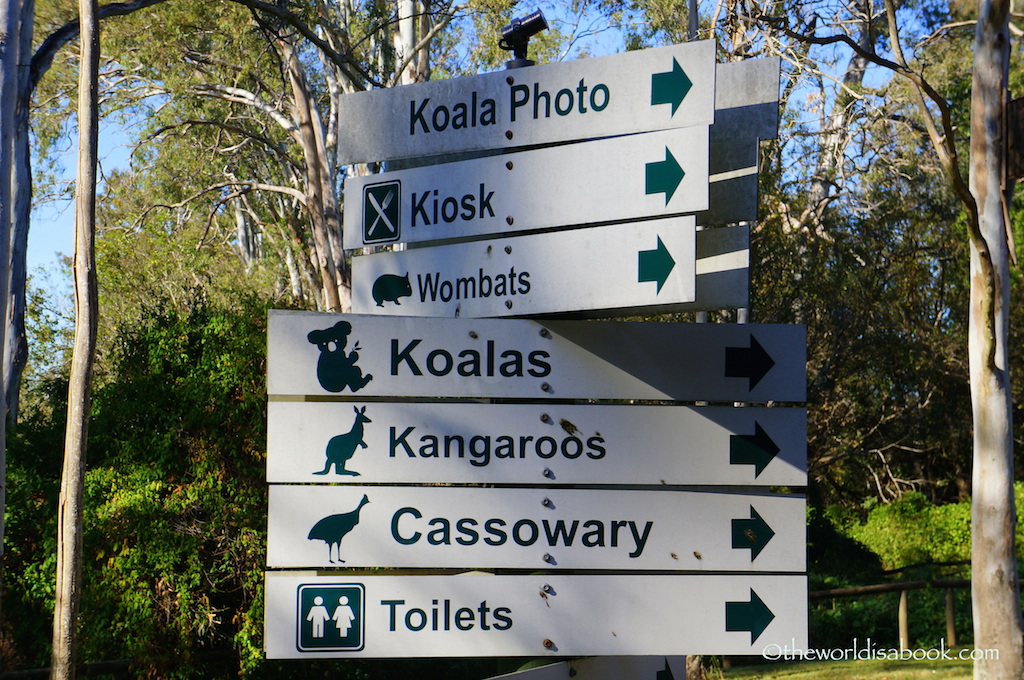 We were trying to head to the koalas first but got sidetracked by loud bird noises. These wild lorikeets perched on a pole were quite a sight. It was lorikeet-feeding time. Lorikeets are unique Australian parrots. They were loud but these rainbow ones were beautiful. The worker was filling up these bird feeders with specially prepared nectar mix. They had handles and visitors were encouraged to take them to feed the birds.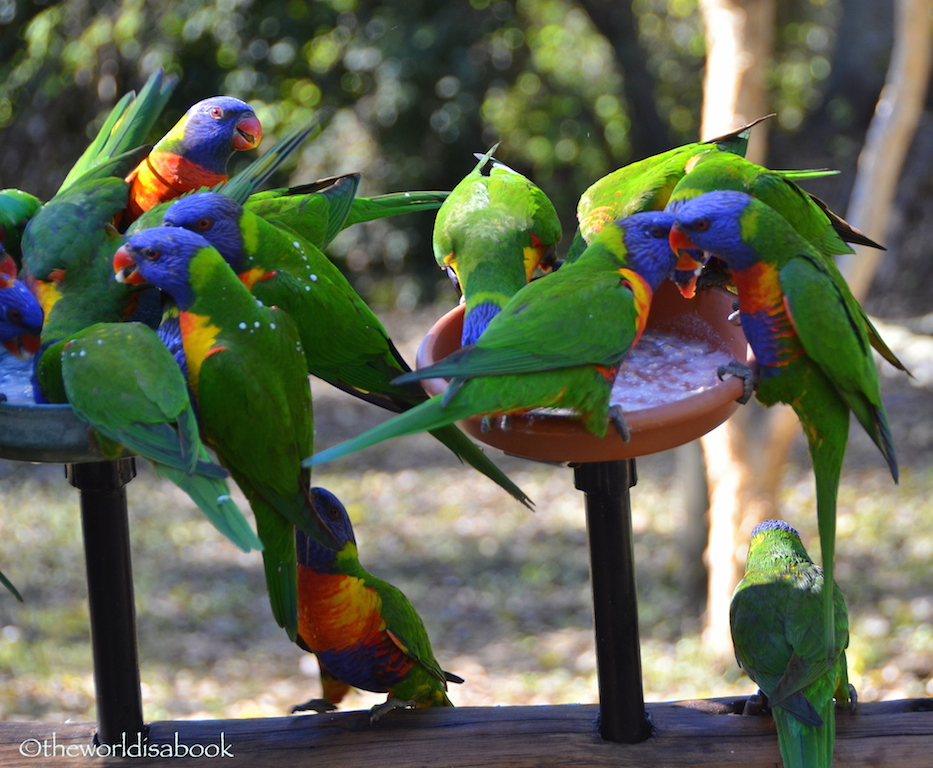 My husband happily took one. This look of surprise was when some lorikeets tried to land on his head. The lorikeets jumped from one container to the other and it was such a chaotic scene. They were flying everywhere and seemed to love people's arms and heads. The rest of us were too worried about being pecked or pooped on to feed the lorikeets.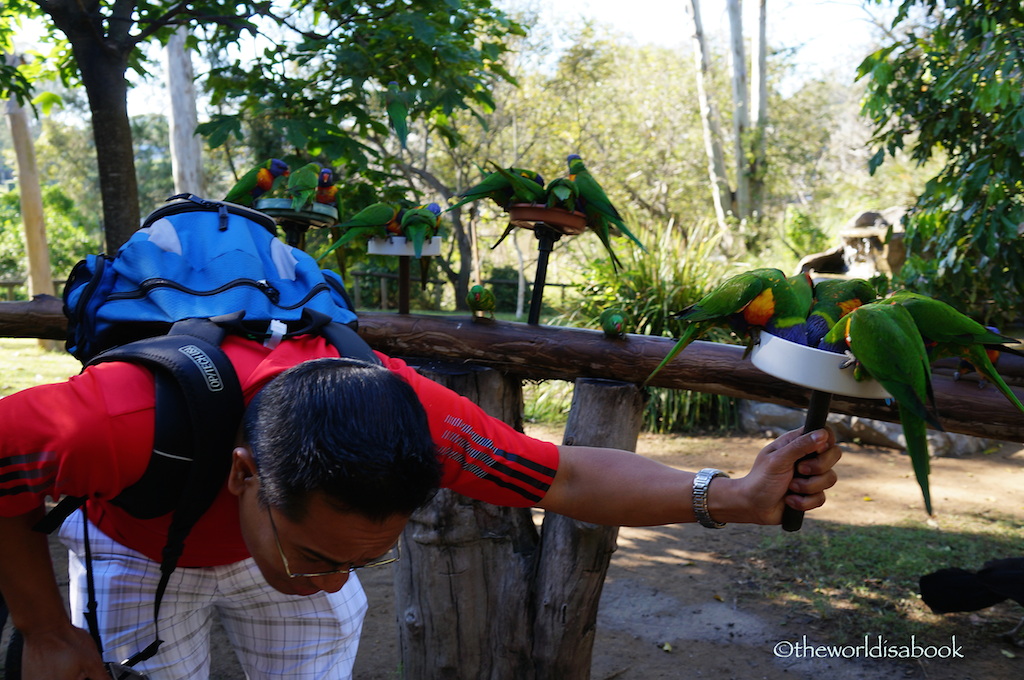 Cuddling Koalas
My kids have always been fascinated with koalas and they practically ran to the koala enclosures to see them and of course, hold one. Cuddling koalas is banned in some parts of Australia. The state of Queensland, where Brisbane is located, still allows them but with rules and guidelines for the safety and well being of the koalas.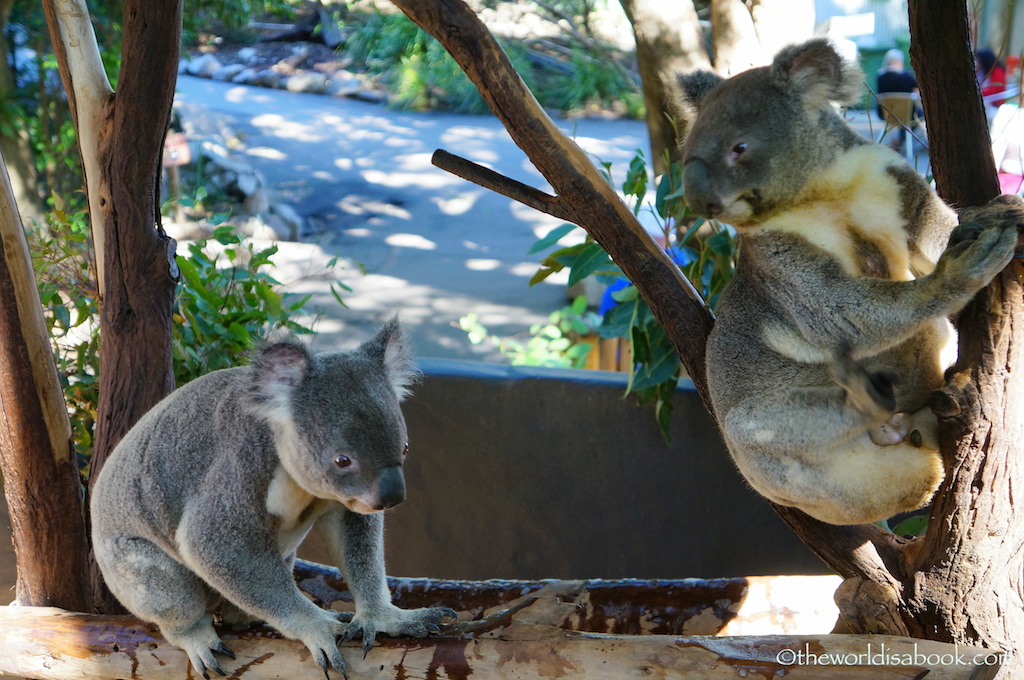 Koalas here can only be cuddled less than 30 minutes per day and must have every third day off. Koalas sleep up to 18-20 hours per day (to conserve energy) and are mostly nocturnal. The Lone Pine koalas are on a "clock on" and "clock off" schedule when they are at the koala cuddling station. We were lucky enough to see many more awake than asleep.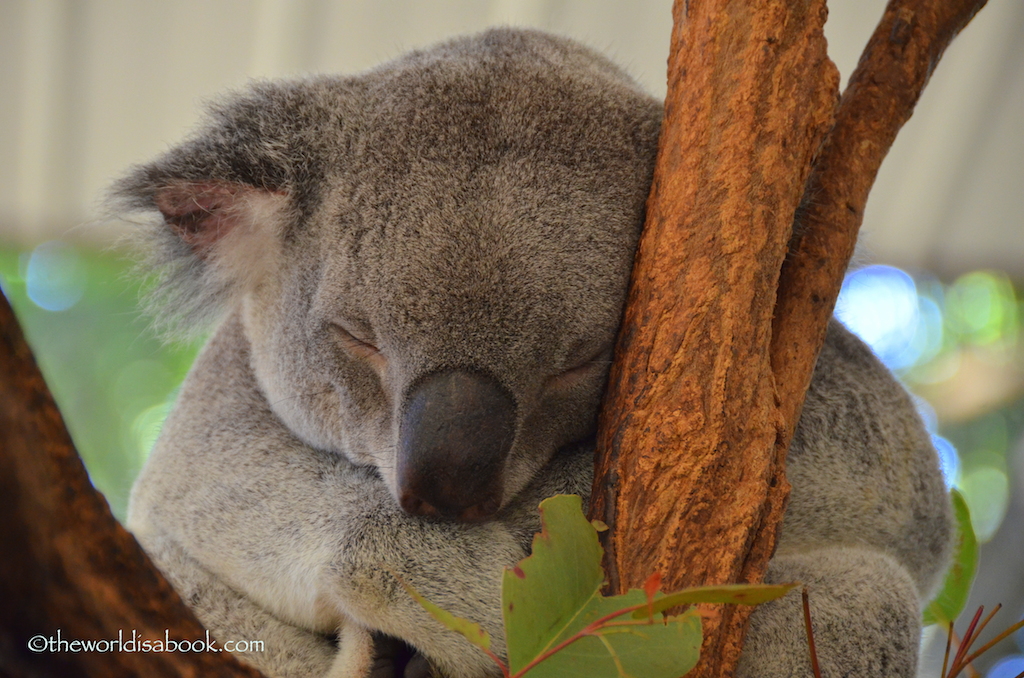 Visitors have to pick which photo package they want for the koala cuddle pictures on self-service machines. Photos start from $16 AUS but proceeds do go back to help the koalas. We first had to pay for our photos at the gift shop nearby and then it was time for the much-anticipated moment. The photographer took a couple of shots of us and my daughter eagerly volunteered to be the koala holder in our souvenir family photo.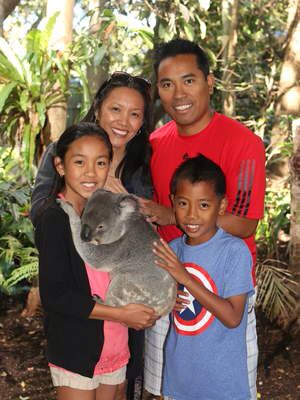 But, we were able to take as many photos with our own camera as we each took turns holding the koala. We had to put our hands in a holding position (palms face up) below our waist area and faced the handler to hold the koalas. We were then handed the koala to hold. My kids' expressions and little squeals of joy were priceless during this unforgettable experience.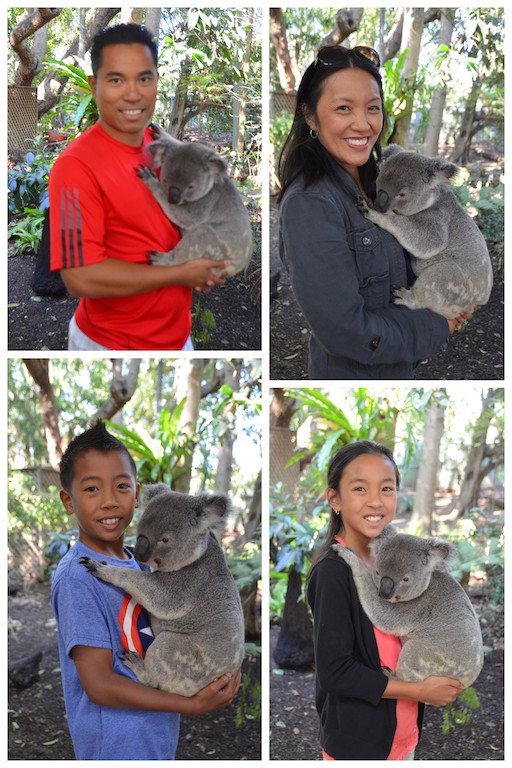 We were supposed to act like a tree and stand still. The koala didn't move much. I was expecting a soft fur but surprisingly, found his fur a bit coarse. I also noticed a distinct odor. Apparently, male koalas, especially the mature ones, have a scent gland on their chest and use it to rub against a trunk or branch to mark their territory. I'm just relieved he didn't start rubbing on us!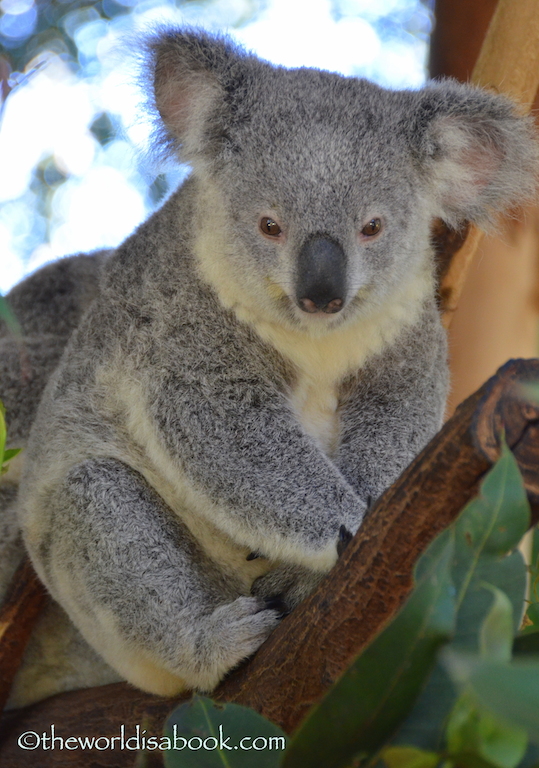 Our little guy was about 10 years old. Koalas in the wild have a life expectancy of eight to 10 years. But, koalas in captivity live between 12-15 years old. In our excitement, we forgot his name but at least remembered it was a male. Lone Pine has enough koalas for guests to cuddle and pose with throughout the day. They also have two keeper talks twice a day to learn more about them. There were various enclosures to see the koalas up close and observe them.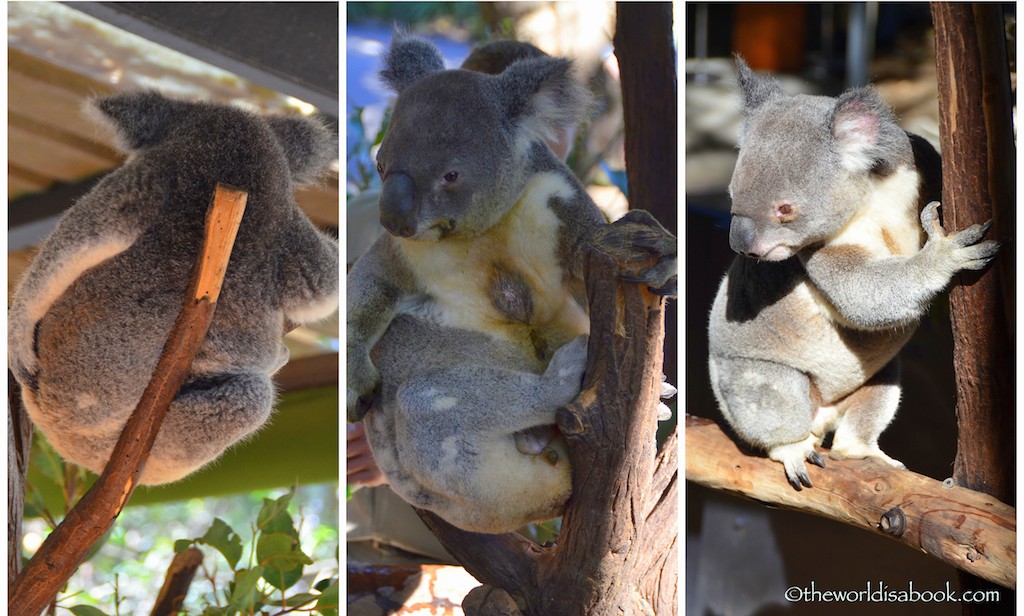 We loved the mother and koala joeys' area. We spent some time here until we saw one of the joeys pop out. Can you see the joey peeking out? Koalas have a gestation period of 33-35 days and the joeys come out looking like pink jellybeans. We learned that newborn koala joeys climb into the mother's pouch and stay there for five months.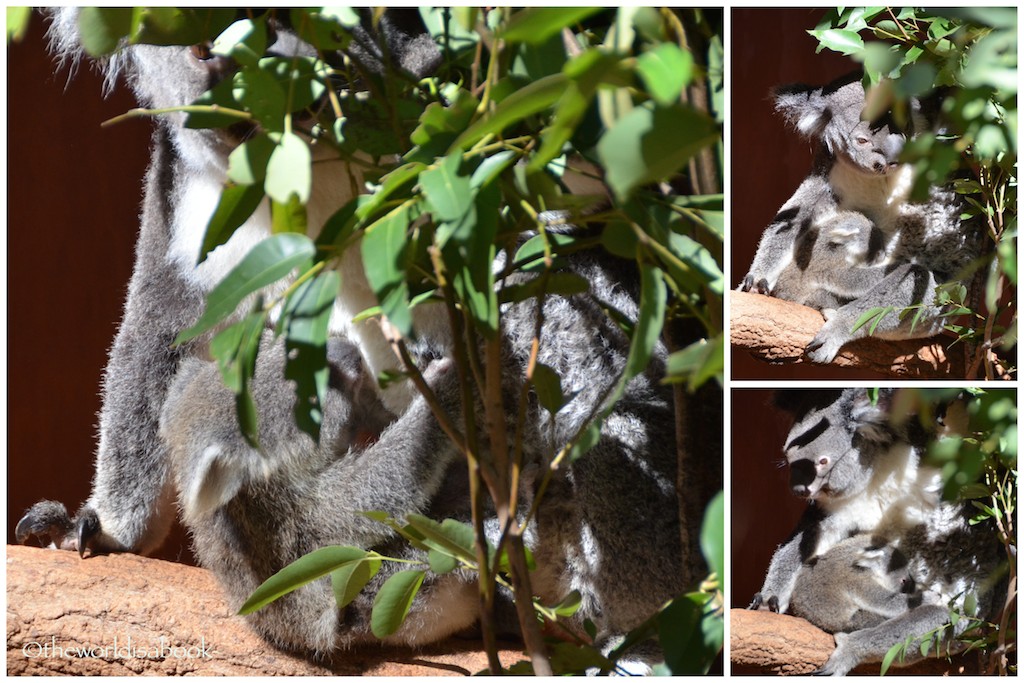 There was even a koala enclosure for those in their retirement age. Since these were koalas in captivity, they actually lived longer than those in the wild due to better food supplies, veterinary care, and protection from predators. It's the seniors' area and they required a bit more special care and attention from the staff, which I'm glad to see they were happily getting.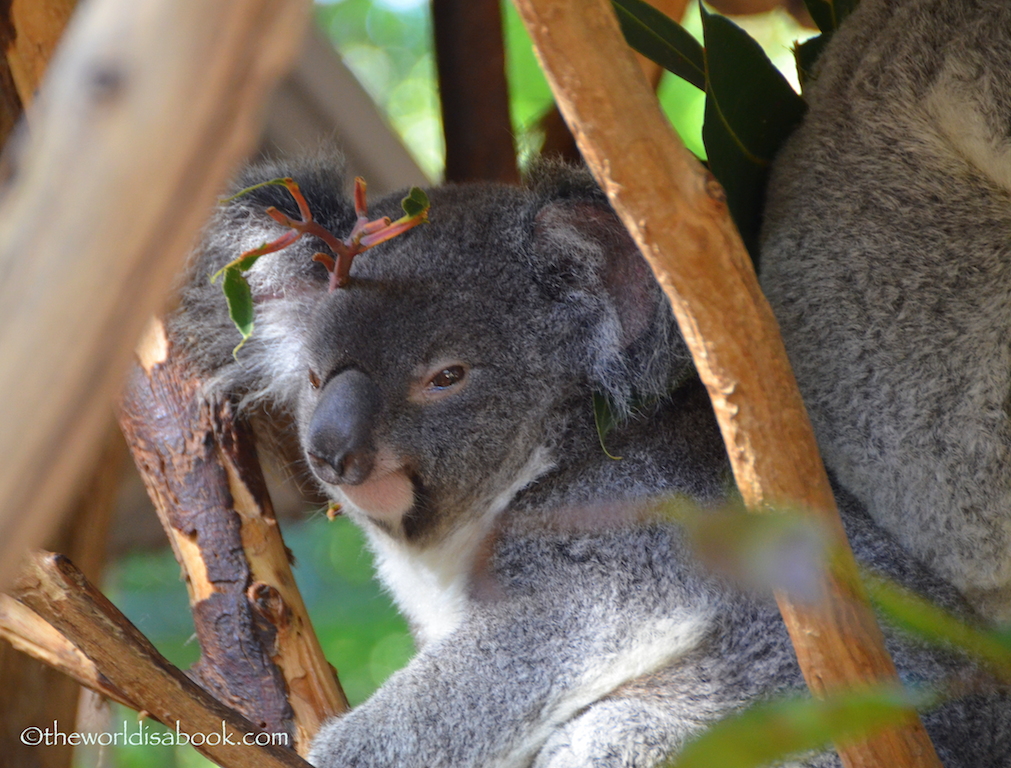 Feeding kangaroos
Our other highlight here was feeding kangaroos and wallabies at the 5 acre (2 hectare) Kangaroo reserve. This was where we spent most of our time. The reserve was fenced in and had gates for entering and exiting.  There were over 130 kangaroos and wallabies hopping and hanging around the wide-open fields. The reserve has five different species of Eastern Grey Kangaroo, Red Kangaroo, Swamp wallaby and Red neck wallaby.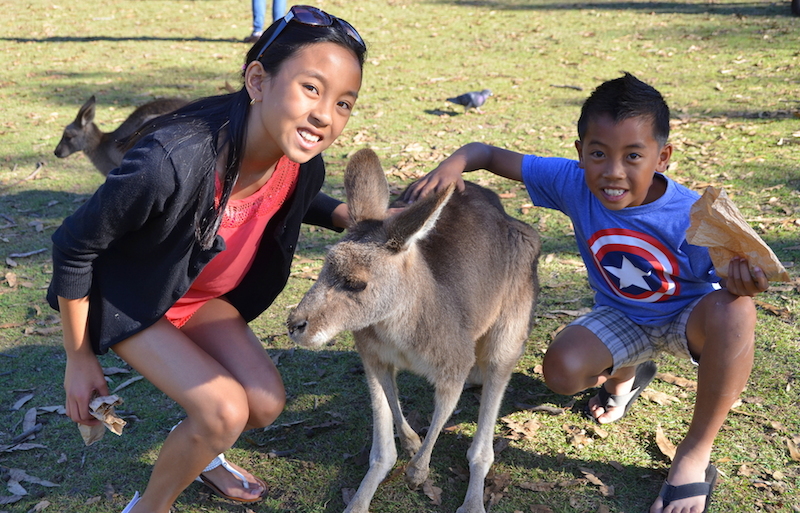 There were a few rules before entering the reserve like holding your hands down low and flat, not holding the food up high and no touching the baby kangaroos (joeys). Kangaroos are known to be very protective of their joeys. We liked that there were hand washing and sanitizing stations at the entrance and exit. For only $2 per bag (available at the general store), everyone can go inside and feed the kangaroos and wallabies.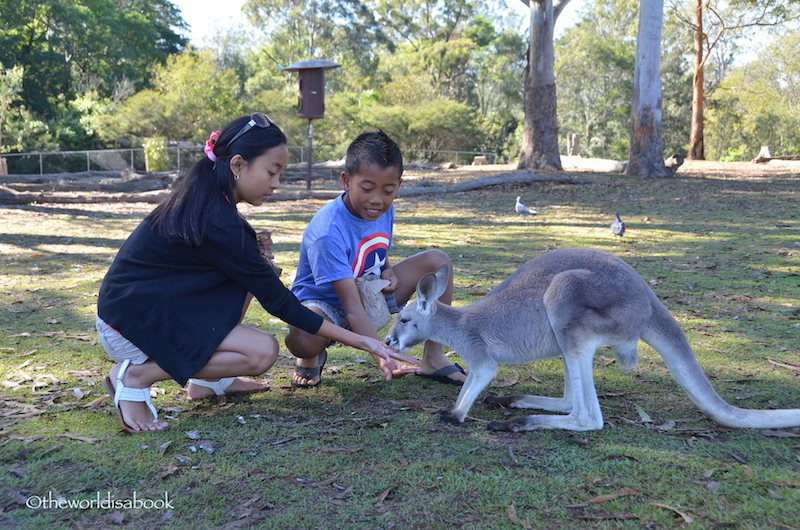 The food looked like little pellets, which were similar to what we've used to feed ducks at zoos. It's no wonder that the ducks and pigeons kept following us and tried to steal the food from our hands. Those ducks were aggressive and were like little vultures. Luckily, those kangaroos have learned to deal with them.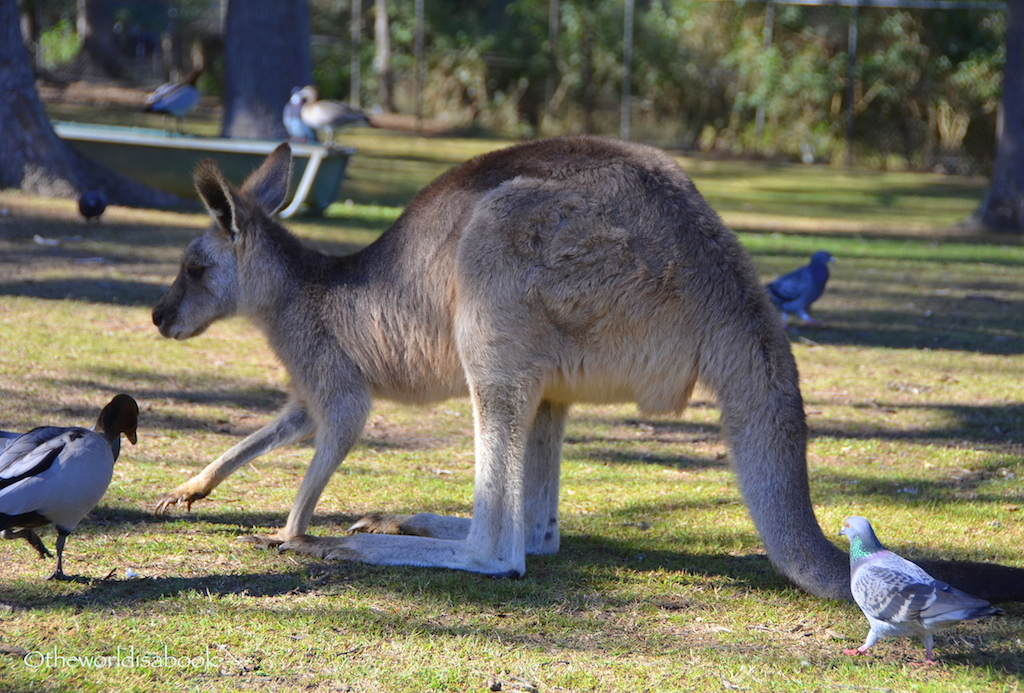 Despite our delightful looking photos and the smiling faces, I feel I must warn future visitors. There are plenty of marsupials here along with ducks and pigeons. So, be prepared for plenty of feces, dung, poop, doo-doo (insert your version here) on the ground. You and most likely the kids will eventually step on it despite trying to avoid it.  It was unavoidable and gross but incredible experiences like these sometimes come with a price.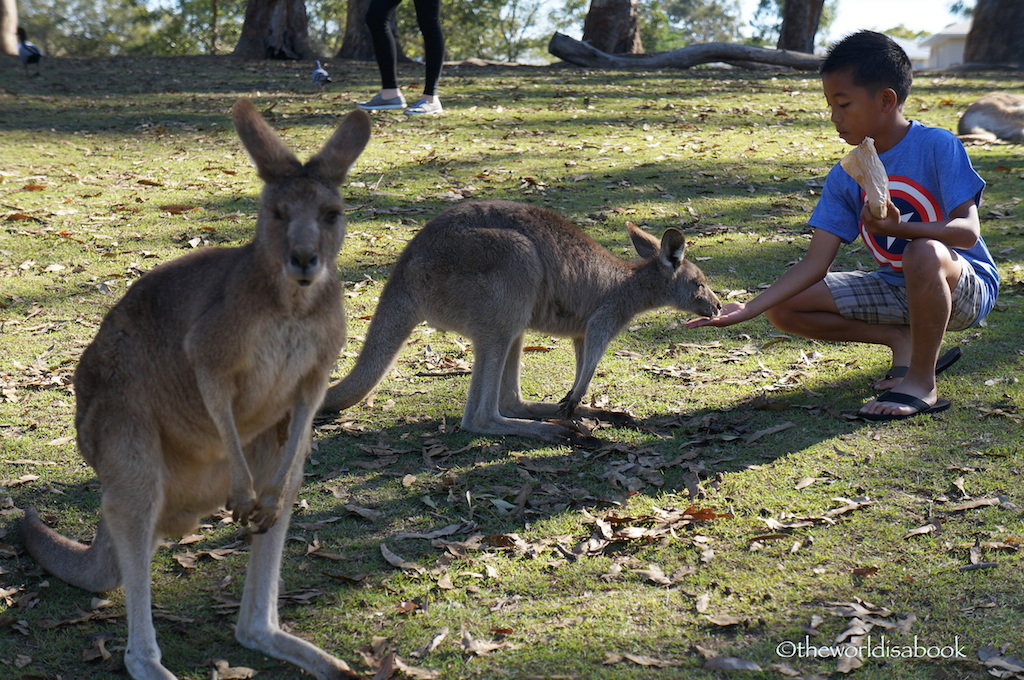 After awhile, we got used to it especially after seeing the babies. We found this mama with her joey's legs sticking out which looked pretty awkward and uncomfortable for both of them.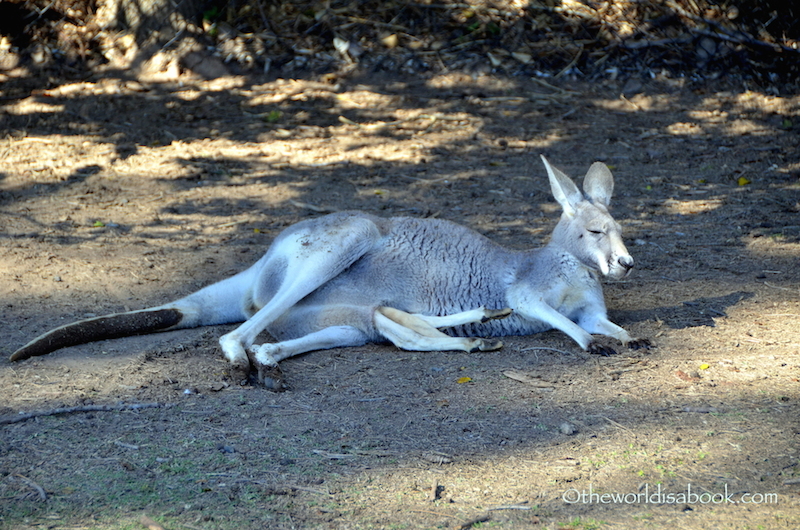 Kangaroo joeys nurse and develop in the pouches for 120 to 400 days. They also have about a month of gestation and newborns can range in size from a rice grain to a jellybean.
My kids kept their eyes open for emerging joeys and found this other one peeking out. We watched it scamper out and tried to stand up. It was adorable and such a joy to see.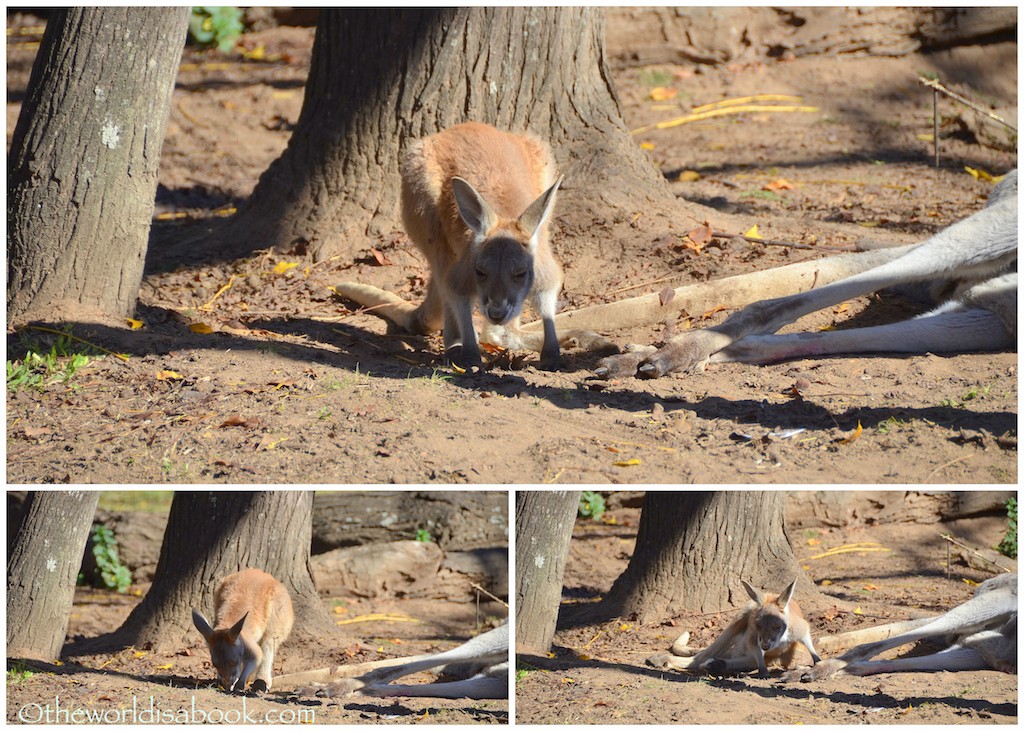 Near the Nature Kingdom and by the Birds of Prey show was an open field of kangaroos and wallabies. There weren't as many of them here. These were bigger than the ones inside the reserve and looked so intimidating. My husband was even nervous feeding them. This photo below was when he felt that kangaroo's teeth during feeding time. It was also probably because he didn't follow the rules and held the food too high.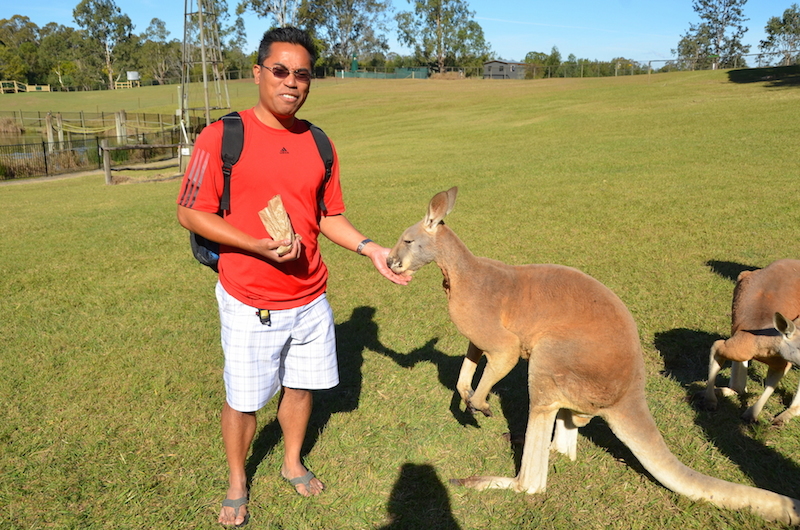 It's not only marsupials here though. We also found other fascinating Australian native animals. Emus greeted visitors at the entrance of the kangaroo reserve too. They looked too unapproachable so we didn't get anywhere near them. Did you know that emus are Australia's largest bird? They can run up to 30 miles (48 km) per hour and are also strong swimmers.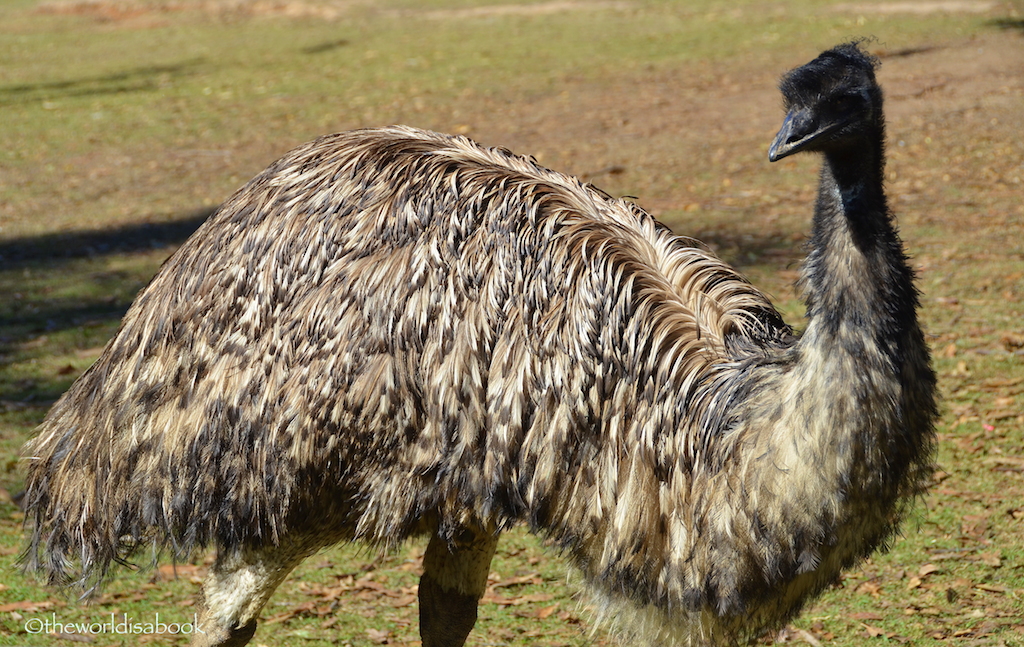 Wombats are also marsupials like koalas and kangaroos. This was our first wombat encounter and we thought it wasn't the most attractive animal but adorable in its own unique way. They are known as "nature's bulldozers" and can dig major burrow systems. They're mostly nocturnal so we were lucky enough to see this one. It was so fun to see this one walking around his enclosure.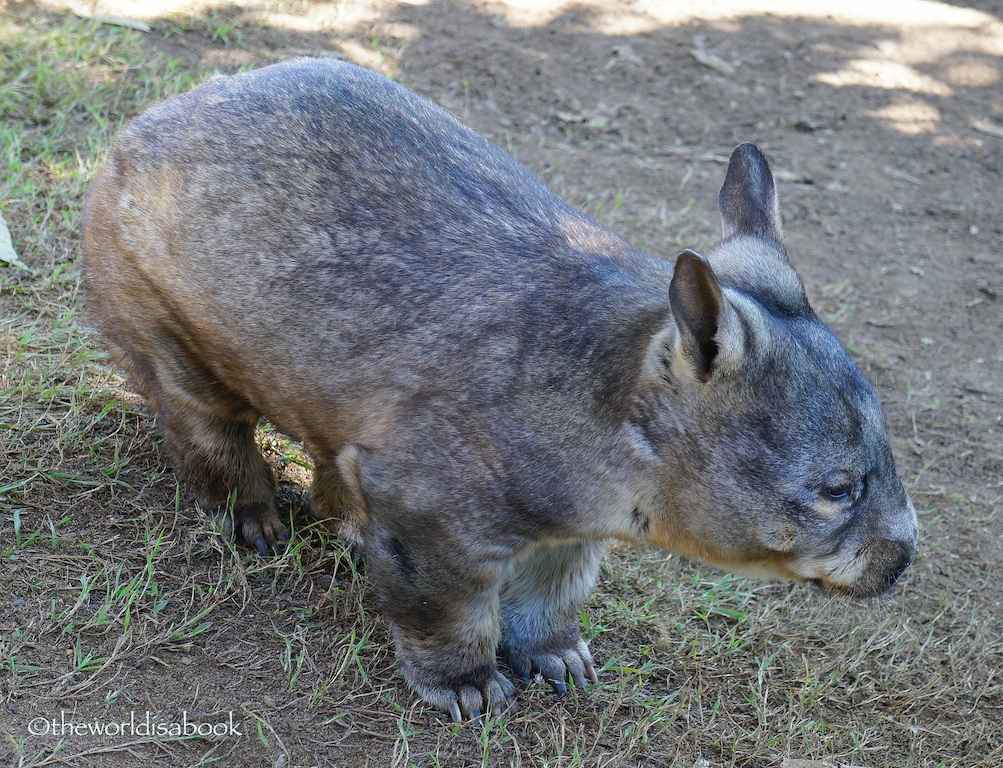 Our visit wouldn't have been complete without seeing the Tasmanian devil – the world's largest carnivorous marsupial. We were able to catch this guy during feeding time.  These creatures are an asset to the environment and act as "natural vacuum cleaners" eating carcasses.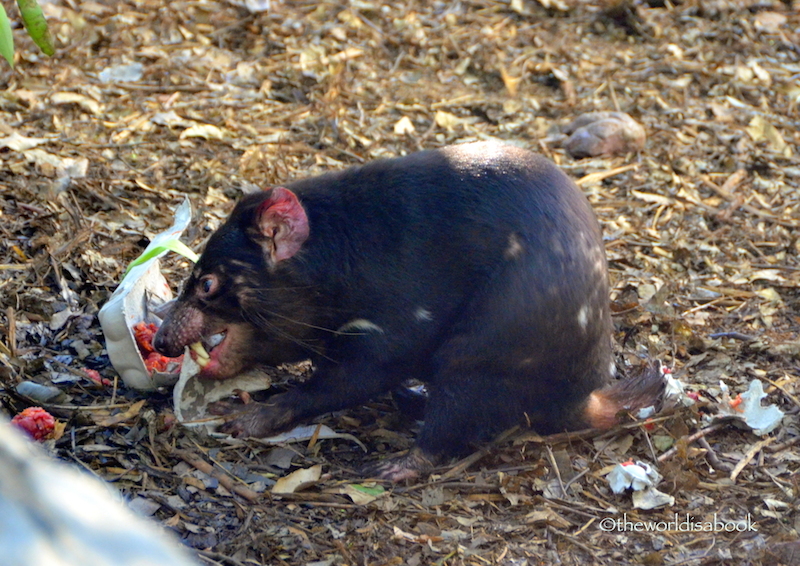 We also saw this Southern Cassowary, which is Australia's heaviest bird (though flightless) and largest land animal. They make for great "rainforest gardeners" since seeds pass through their bodies intact and can help scatter a large amount of seeds of various rainforest plants. Unfortunately, it is now on the endangered species list.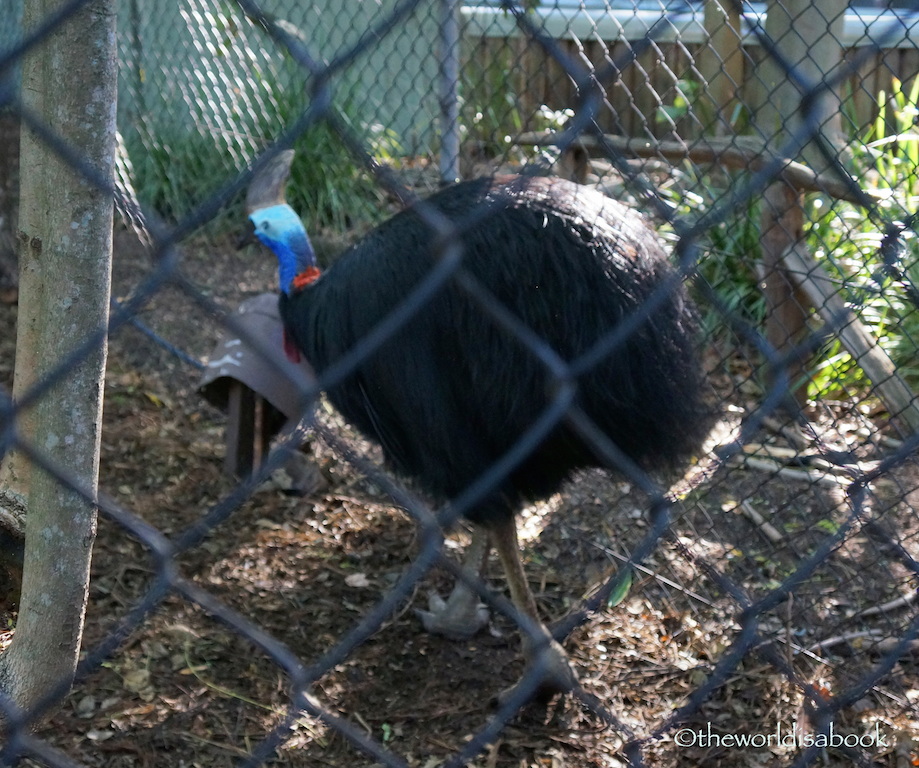 The old nursery rhyme of "Kookaburra sits in the old gum tree…" came to mind when we encountered the laughing kookaburra. Look at that beak! It is known as a "bushman's alarm clock" due to its loud calls that sound like a shrieking "laugh" used to announce its territory. They mate for life and use the same nest hole in trunks and branches each year. I wish we could have heard its call but that usually only happens during dawn and dusk.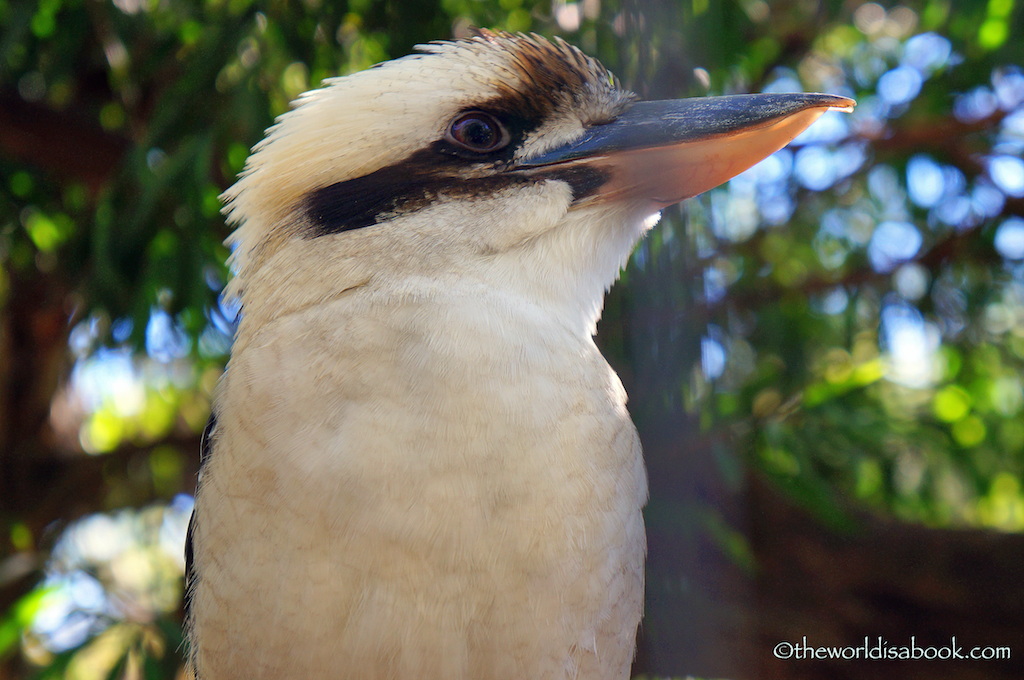 We ended our day by watching the Australian sheep dog show. There are three daily shows but the last two include sheep shearing demonstrations. We saw two outback sheep dogs follow their masters' commands. They were amazing as they herded the sheep through platforms and around the grounds.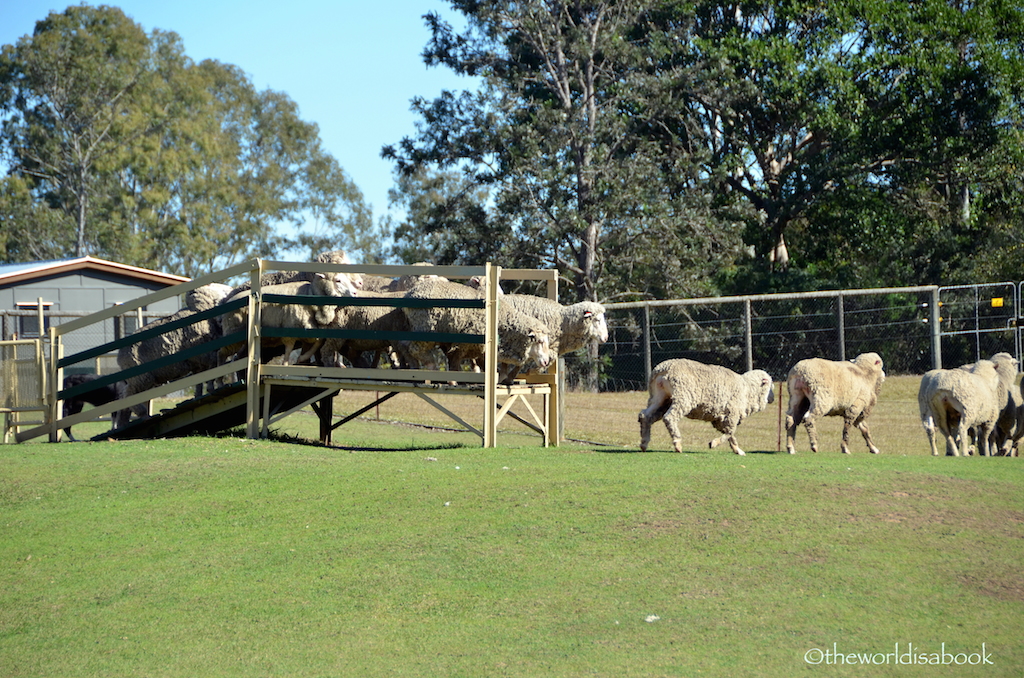 The sheep were eventually led into this very crowded gated area. We couldn't believe how they managed to squeeze all the sheep in here and how those dogs eventually ended on top of the sheep. What a sight!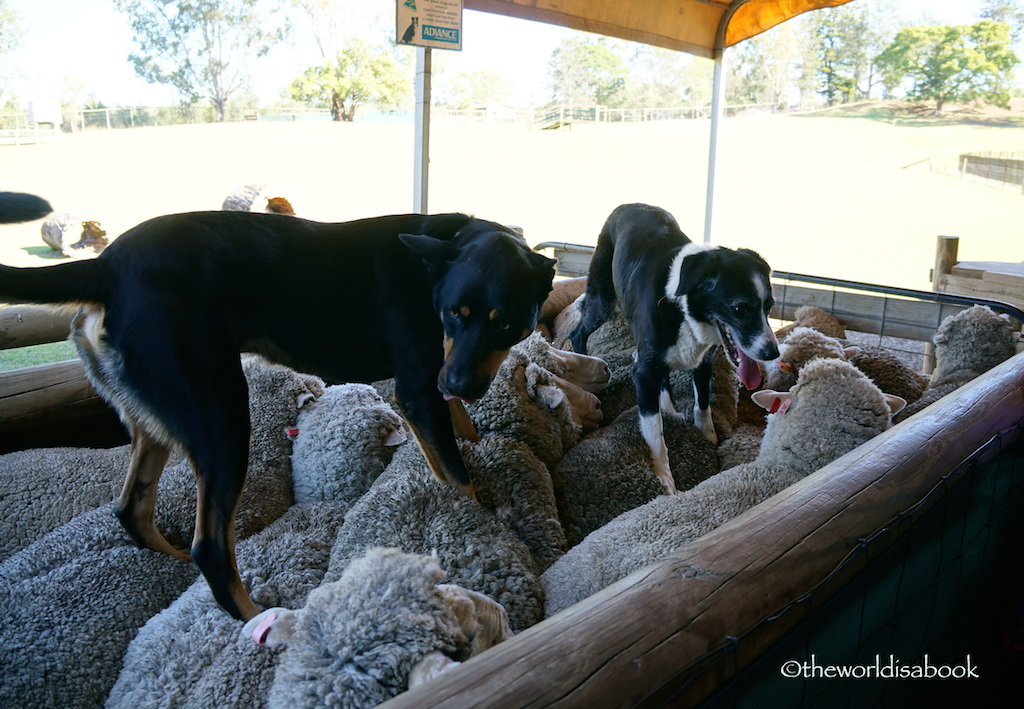 We've never seen a sheep being sheared before so this was a great and educational demonstration to watch. Here's a glimpse of the show.
It was incredible to see how skilled and fast it took to shear this sheep. The oh-so-very-soft woolen fleece was laid out afterwards for everyone to feel.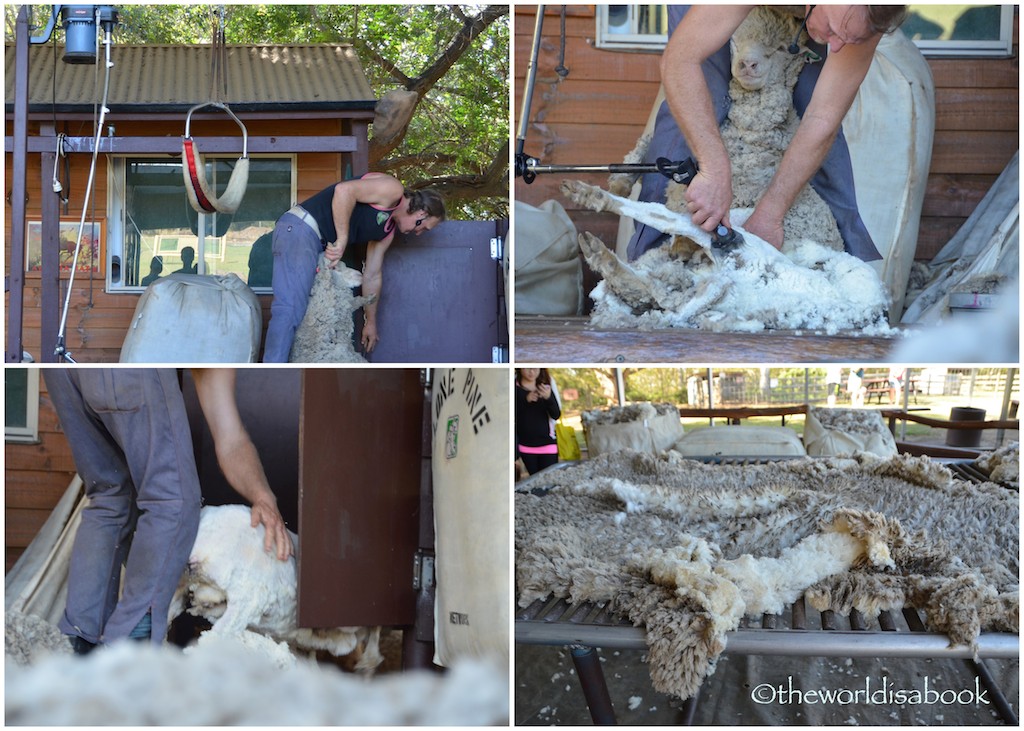 Lone Pine Koala Sanctuary is the perfect place for animal lovers and families. There were many more exhibits here including snakes, crocodiles, dingoes, platypuses and a birds of prey show. We learned so much about some of Australia's native animals but koala cuddling and kangaroo feeding were two unforgettable experiences. Our visit here was one of our best travel highlights. We highly recommend visiting if you find yourself in Brisbane and spend as much time as you can here.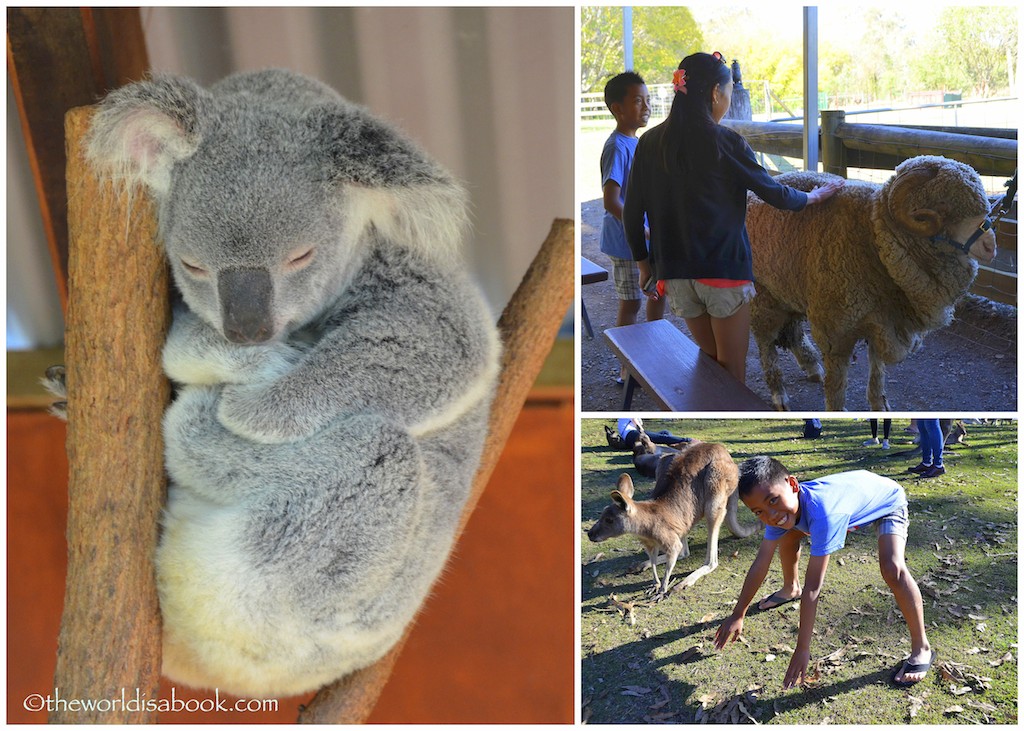 Visiting Lone Pine Koala Sanctuary Basics and Tips
Ticket Prices (in AUS dollars as of July 2014):  $33 adults; Kids (3-13 yrs old) $22; Family (2 adults, 3 children) $80; Check their

website

for updates.
Getting there: Visitors can drive here and they had plenty of parking spaces. Mirimar Cruises is a scenic way to get here through the Brisbane River but limited to 2.5 hours here; We took the bus (either Bus 430 or 445) from downtown Brisbane which was a great way to see the surrounding areas. It was about a 50-minute ride. Check their website for the latest bus information.
Food (sandwiches, chips, salads) are available for purchase at the General Store. You can also bring your own picnic items since there were plenty of tables and chairs.
Bring snacks and water for the kids to minimize costs. Running around here can make them very hungry.
Wear close-toed shoes. It may not be a good idea to wear open toe shoes or slippers with all the poop on the ground.
Get the show activity schedule when you enter and plan your day accordingly.
Bring a lot of hand sanitizer even if they provide them at entrances. You never know where yours or your kids' hands end up during feeding time. Baby wipes are great too.
Check out the new Wild Experience for an intimate and interactive experience.
Some ways to help the Australian animals:

Adopt a Koala

and

Save the Cassowary

.
Have you cuddled a koala or fed a kangaroo? What are your favorite wildlife experiences?
Related Posts:
Pin it for later on Pinterest