Soaring on the Skyrail Rainforest Cableway
It has been publicized as "The world's most beautiful rainforest experience". Sometimes, one gets a little skeptical of marketing taglines. But, we were pleasantly surprised there was some truth to this when we rode the Skyrail Rainforest Cableway near Cairns, Australia during our visit last month. Glide over the rainforest canopy, rivers and waterfalls with us for this unique experience.
The Skyrail Rainforest Cableway is one of Tropical North Queensland's major attractions. The cableway is 4.7 mile (7.5 km) long and soars above the lush, tropical rainforest and Barron Gorge National Park. The tropical rainforests in Australia are considered the "oldest continually surviving tropical rainforest" and the most diverse in the country. Hence, it is protected and a part of the Wet Tropics of Queensland World Heritage Site.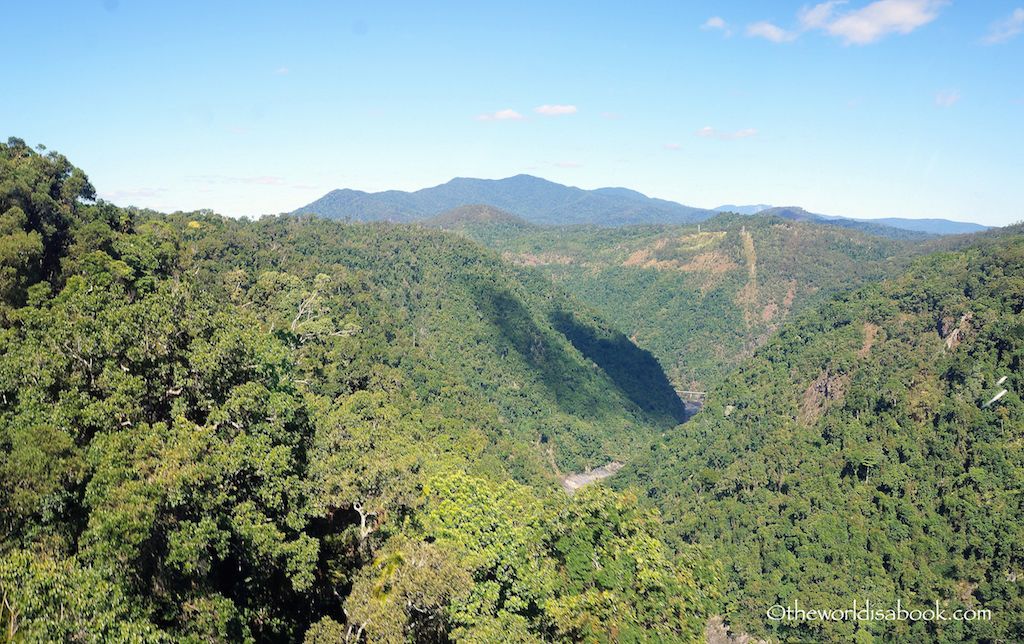 We boarded the Skyrail Rainforest Cableway at their Smithfield Terminal after a few hours of cultural immersion at Tjapukai Aboriginal Cultural Park which was conveniently located next door. The gondolas pass through the Tjapukai park so we got a great view of the park from above.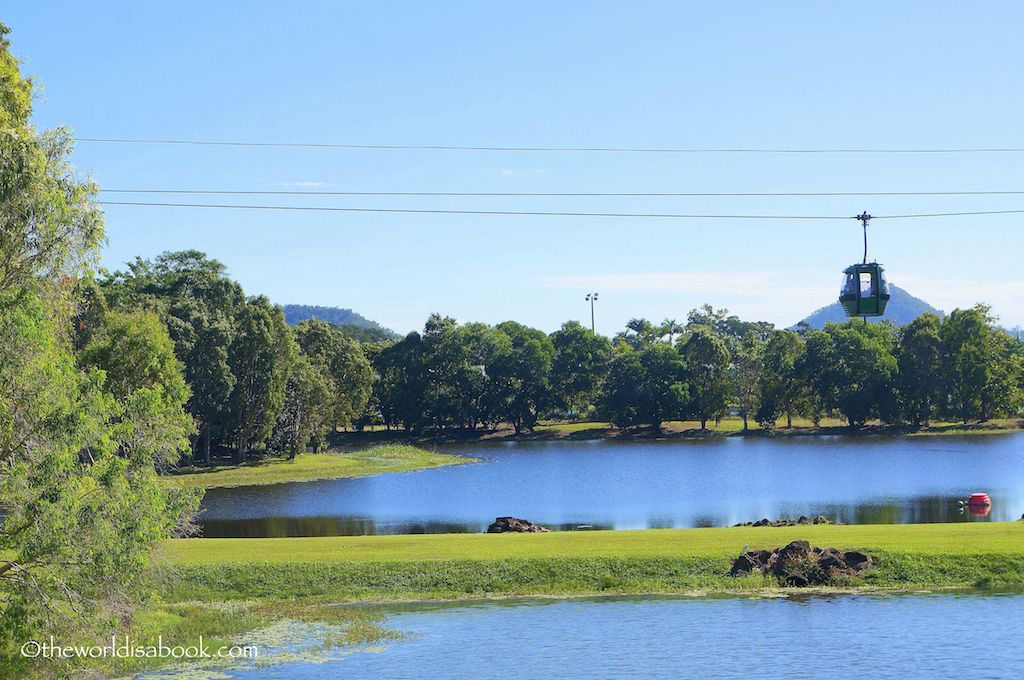 The gondolas move continuously with helpful attendants. With 114 gondola cabins and each occupying a max of 6 people, there shouldn't be any worries of crowds and queues here. The Skyrail goes from Smithfield to the mountain village of Kuranda. Along the way, it stops at two rainforest stations where visitors could get off, learn and admire the surrounding views.
We got here a little after noon and there were barely any lines. We may have missed the tour buses or everyone was eating. So, come here really early or around lunchtime. Our gondola slowly glided up to the first station and went up pretty quickly. The ride was smooth for us but may not be for anyone afraid of heights.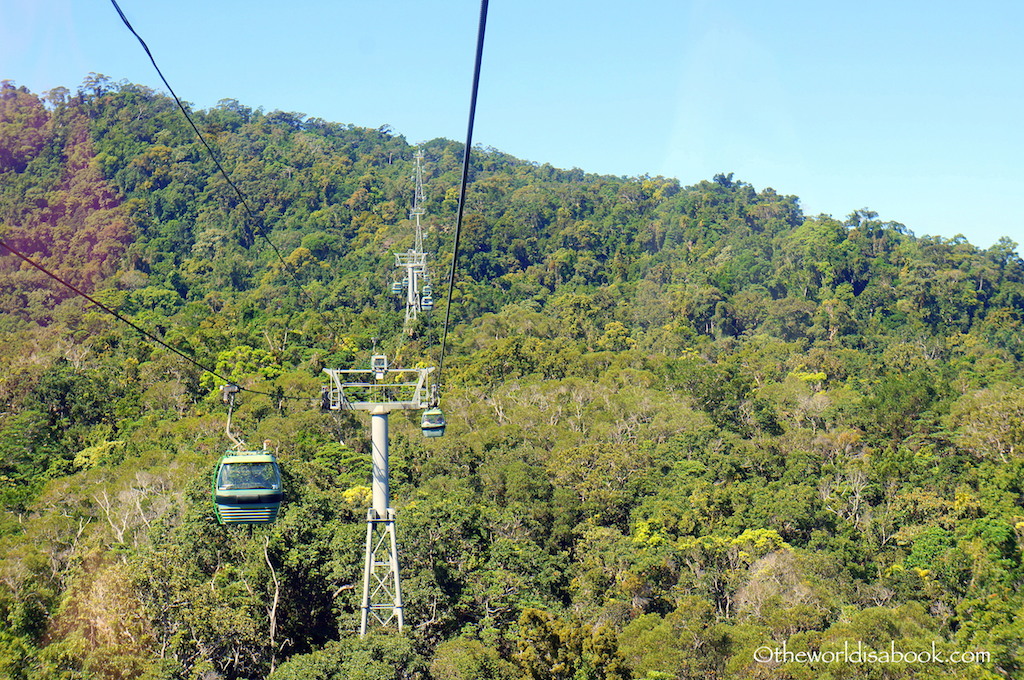 The panoramic views were spectacular as we ascended over the rainforest canopy. We had stunning views of the surrounding towns including Coral Sea. It really gave us a different perspective of the whole area. Being that it was the rainforest, we were lucky enough to be here on a bright, sunny day. It helped that we were visiting during their winter, yet dry season.

Red Peak Station
Our first stop was at the Red Peak station, which had a 175 meter (0.1 mile) rainforest boardwalk. Visitors can do a self-guided tour or go on ranger-guided tours held throughout the day. Our guide was informative but also entertaining and interacted well with the kids. Thanks Phil!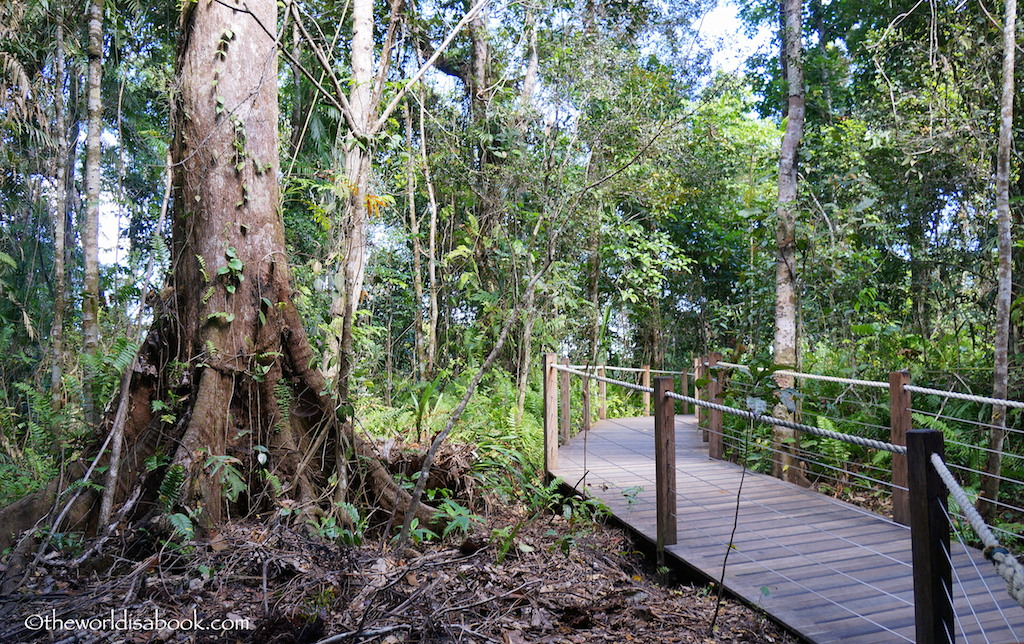 Since this was our first venture into an Australian wet tropical rainforest, most of the plants looked unfamiliar. So, it was a good idea to tag along with the rangers. The tour took about 20 minutes but you can wander off and explore more and walk around the rainforest at your own pace afterwards to look at the plants closely. Trust me, they're worth a second look.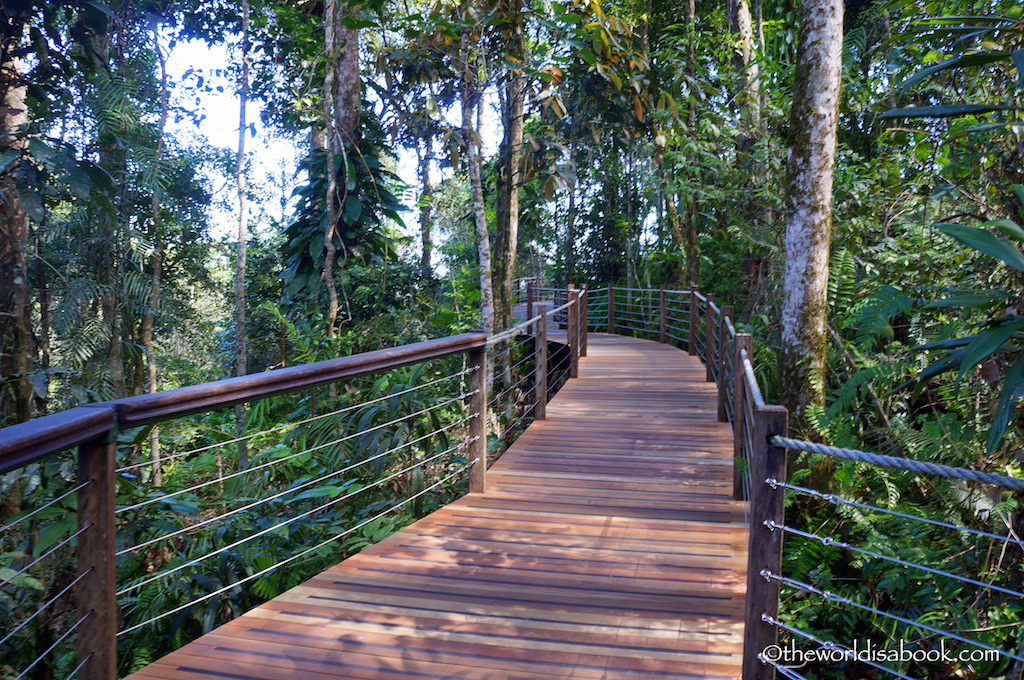 One of the most striking trees we saw was the Kauri Pine. Sometimes, some plants, called emergents,  become taller than the rainforest canopy. This particular tree was one of them and is Queensland's (the Australian state where this is located) tallest tree species. These rainforest giants tower at 164 feet (50 meters). It was interesting to see that it didn't have any lower branches and had a flaky bark.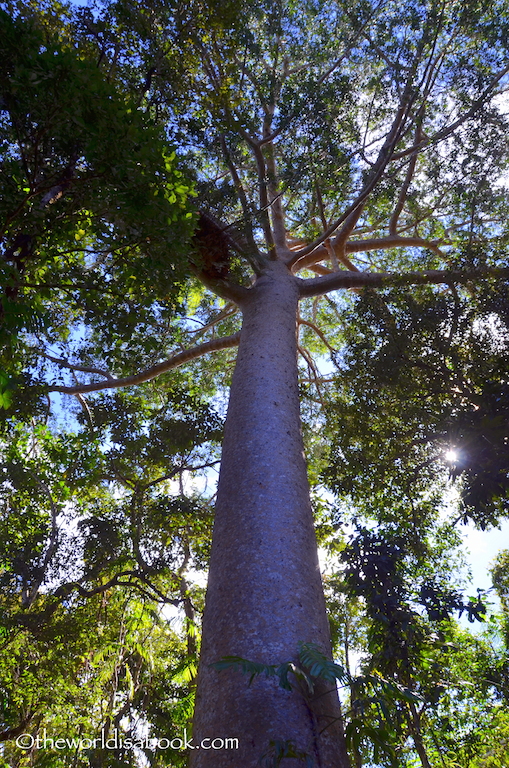 We learned that everything is recycled in the rainforest and plants must conserve their nutrients. The ever present rainforest canopy of leaves provides shade to the forest floor but results to only 1% of the light making it all the way down. As a result, plants must compete for light in the varying forest layers.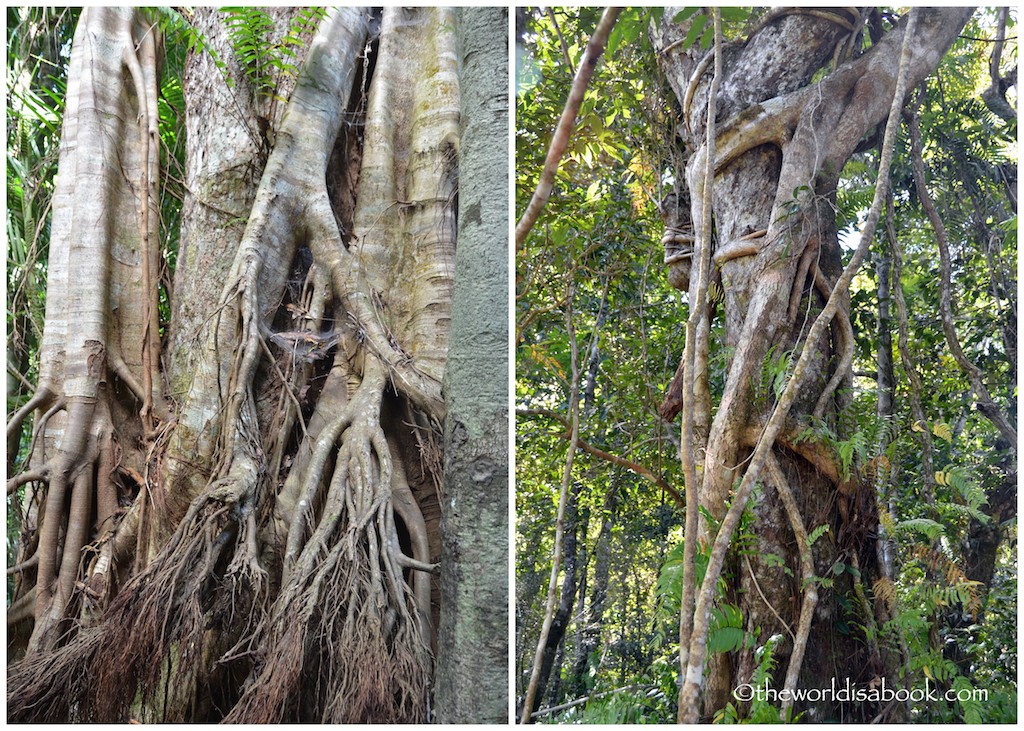 While some plants are able to survive on the forest floor with little light, some have adapted ways to be a bit more determined to get closer to the surface and the sun. This form of adaptation ultimately determines each rainforest plant's shape. The ranger pointed out varying plants and how they use different techniques to get close to the sun. We found plenty of vines and some plants that almost looked like they latched on to and took over the other plants to get to the top of the canopy and the light source.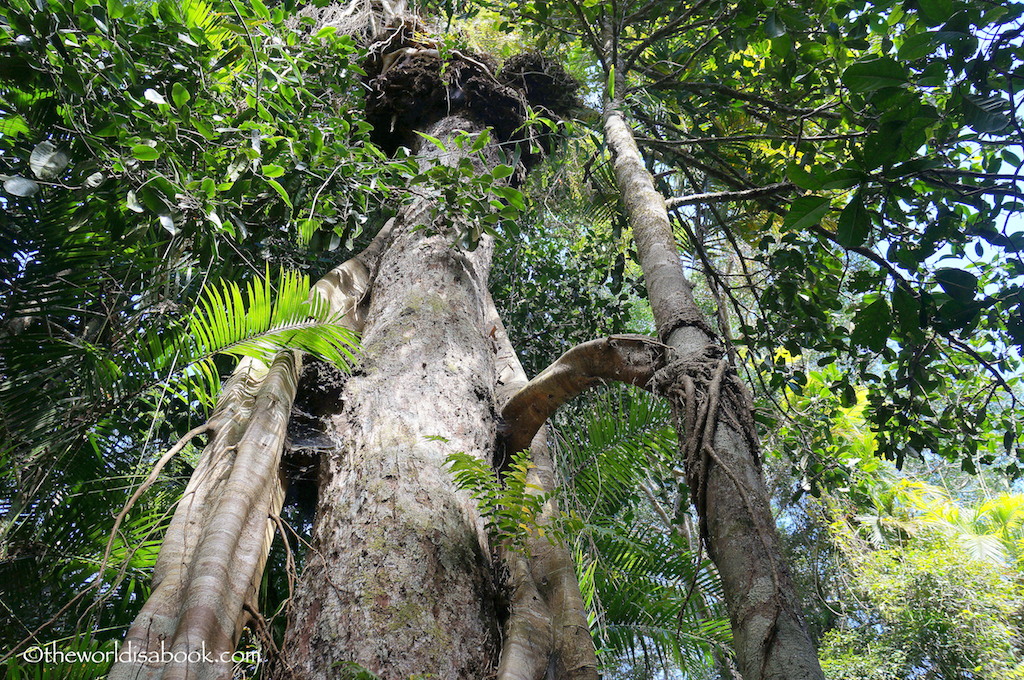 We also saw a few gaps in the rainforest canopy. Unfortunately, vines and weeds tend to overrun the gaps as they seek for more light. One plant was called, lawyer cane or 'Wait-a-while palm', which tend to close off these gaps of light as it attached itself, using its large thorns, to other plants to reach the canopy.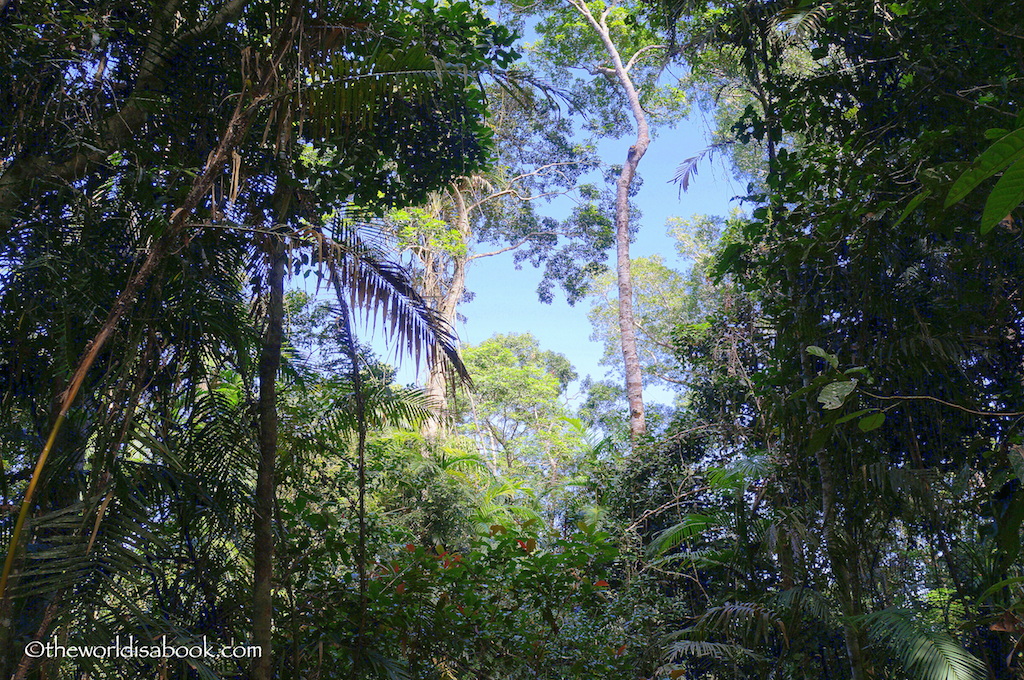 We also learned about an Australian native animal, the cassowary, and its important role as "ancient gardeners" in the rainforest. The cassowaries have such mild digestive systems that seeds from fruits they've eaten aren't harmed and are deposited back into the forest.
They have been the essential "seed dispersers" for more than 100 various rainforest plants for millions of years. Unfortunately, they are on the endangered species list with road fatalities as its most single cause of recorded deaths. We didn't encounter any cassowaries here but lucky enough to have seen one a few weeks earlier during our visit to a koala sanctuary.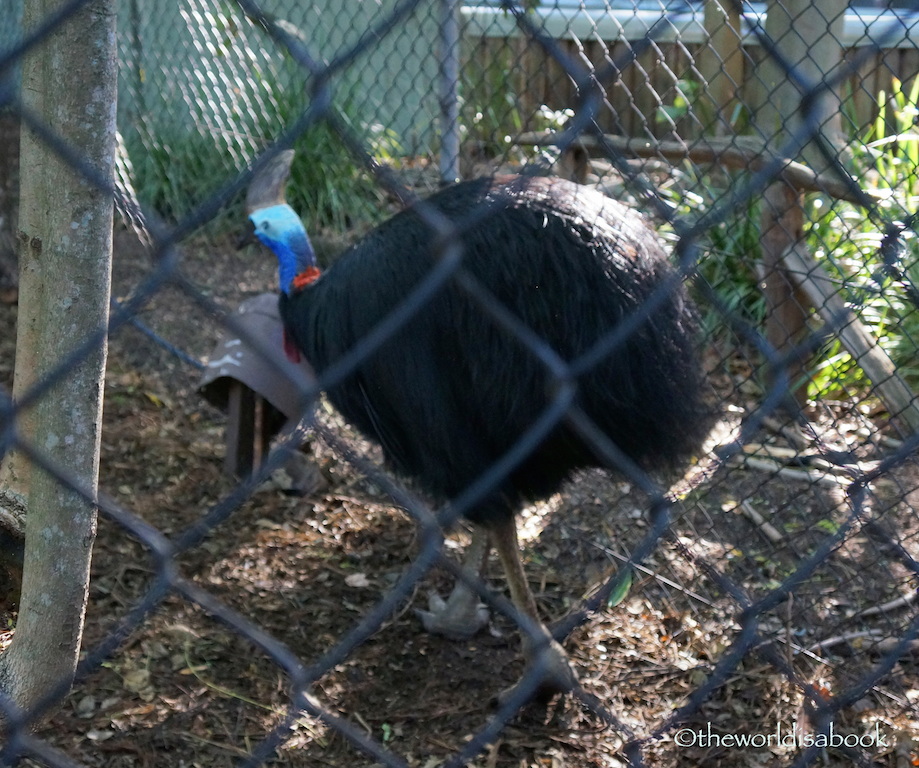 We found out that there were animals here too like the tree kangaroos and flying foxes. Who knew? The rainforest also has wildlife like the cockatoos and Ulysses butterflies. Unfortunately, we didn't get to see any of the birds and butterflies that frequented the area. We spotted this bird that looked like a turkey though.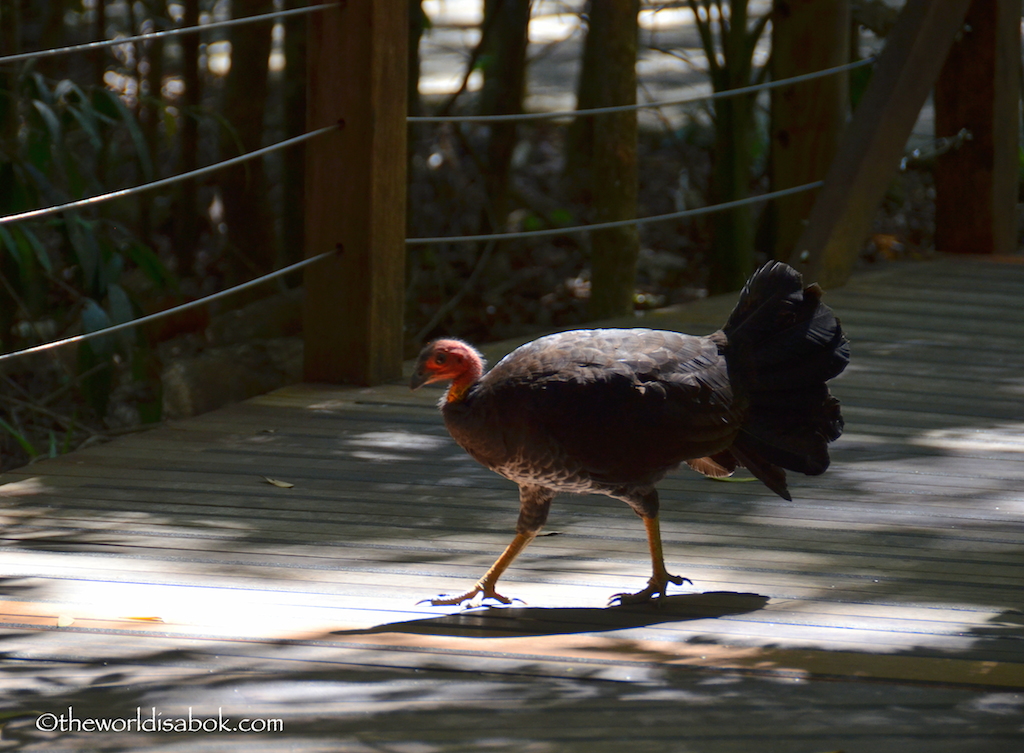 After our stop at the Red Peak Station, we were lucky enough to get on the glass bottom Diamond Gondolas. There are only a few of these special 5-passenger gondolas. Visitors have to wait for them about every seven minutes. We highly recommend going on the Diamond gondolas and for just an added upgrade to the tickets, it is worth the price. It gave us a unique perspective of looking down the trees. My kids loved it! We had a hard time convincing them to look up and around. They were convinced they were going to spot a bird or nests (which we never did).
For the more daring and adventurous travelers, we also saw the fairly new Glider Gondolas. These were the open air gondolas that only allowed four people. I was nervous imagining myself in these gondolas but I can imagine the thrill of the experience and the stunning photos without the glass barrier. I just hope that's stable enough during windy days. My kids declared they would love to try this the next time we come back here.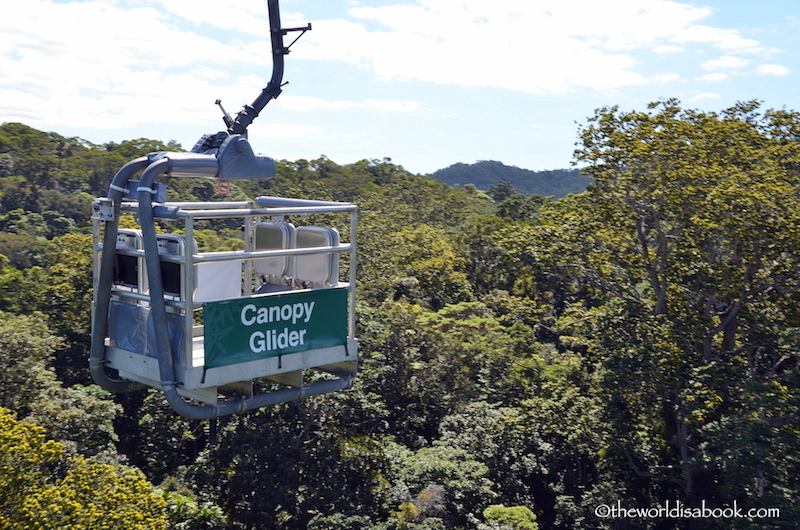 Barron Falls
Our last and favorite station stop was Barron Falls. It was amazing to see parts of it from above while on the skyrail.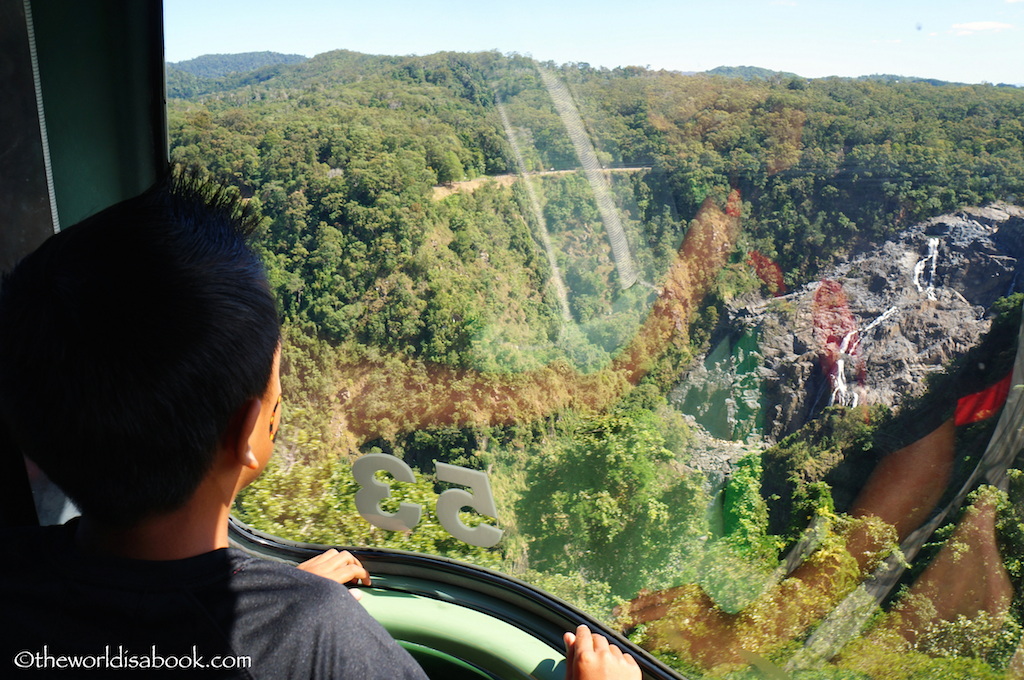 There were three lookouts along the boardwalk to get different vantage points of the gorge and the most visited waterfall in this part of Australia. Barron Falls is 853 feet tall (260 meters) and cascades down Barron Gorge towards Cairns.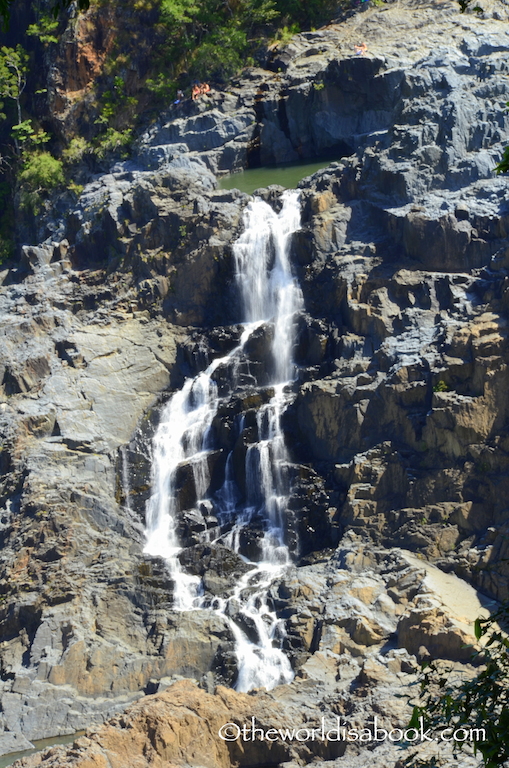 Unfortunately, the water wasn't flowing rapidly or in full force. This usually occurs during their Wet Season (January – March ) and after heavy rains. It was interesting to see the bedrocks behind the waterfalls though and how the water flowed through them.
Even though some parts of the waterfall were only a trickle, it was still a beautiful scenery. The sounds of the water flowing and the whole backdrop was such a tranquil setting.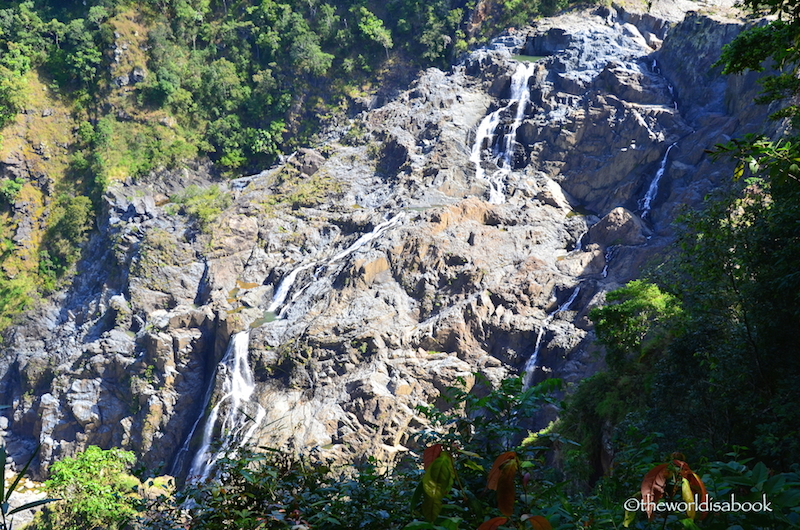 The trails and boardwalks were also lovely walks. We even spotted these purple berries in one area.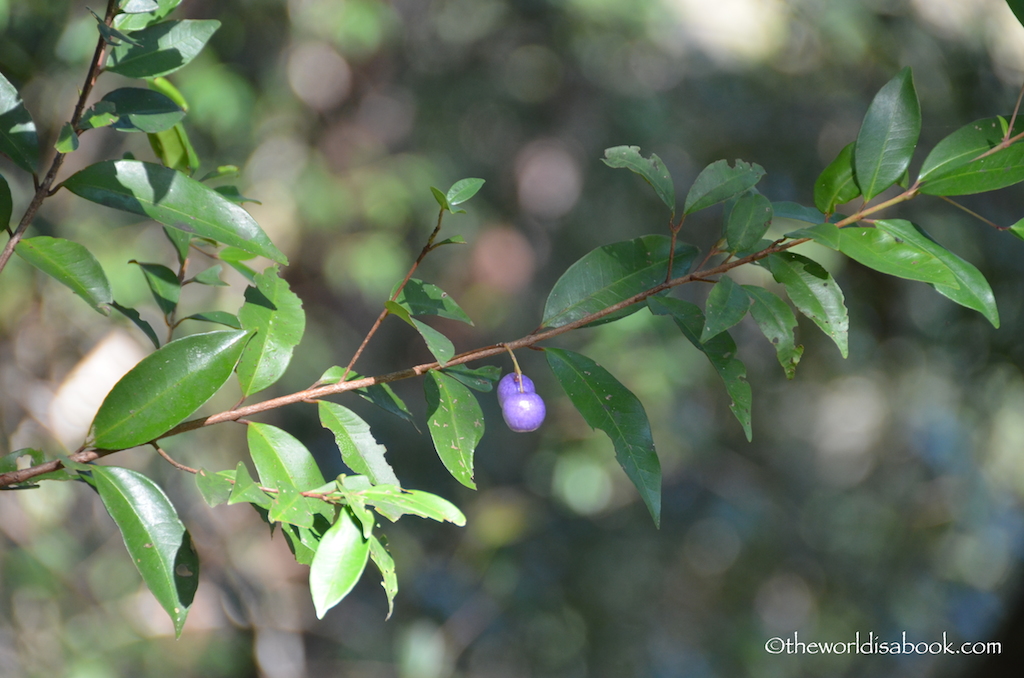 We also spotted this group enjoying a small natural pool by the waterfalls. It looked so refreshing and inviting considering it was a bit warm outside.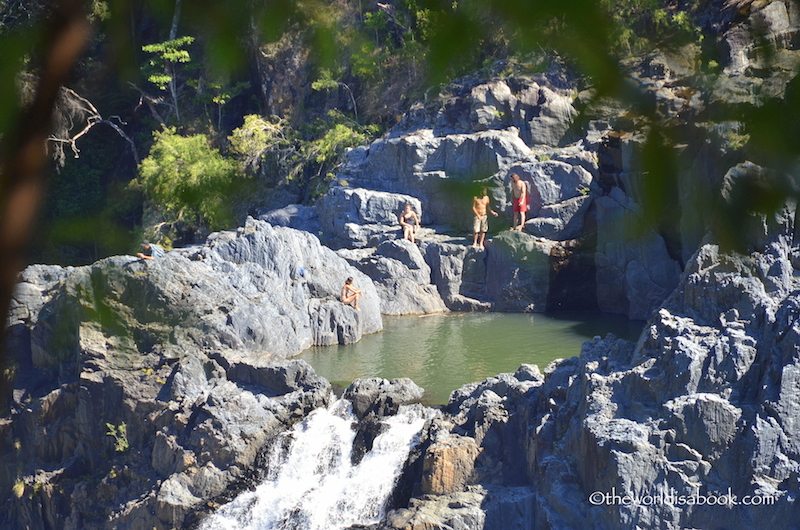 Parts of the Barron Gorge hydroelectric power station on the gorge could be seen from one of the lookouts. Building this station altered the falls since waters from the Barron River were harnessed and some of the water was diverted into a tunnel. This was Australia's first underground power station.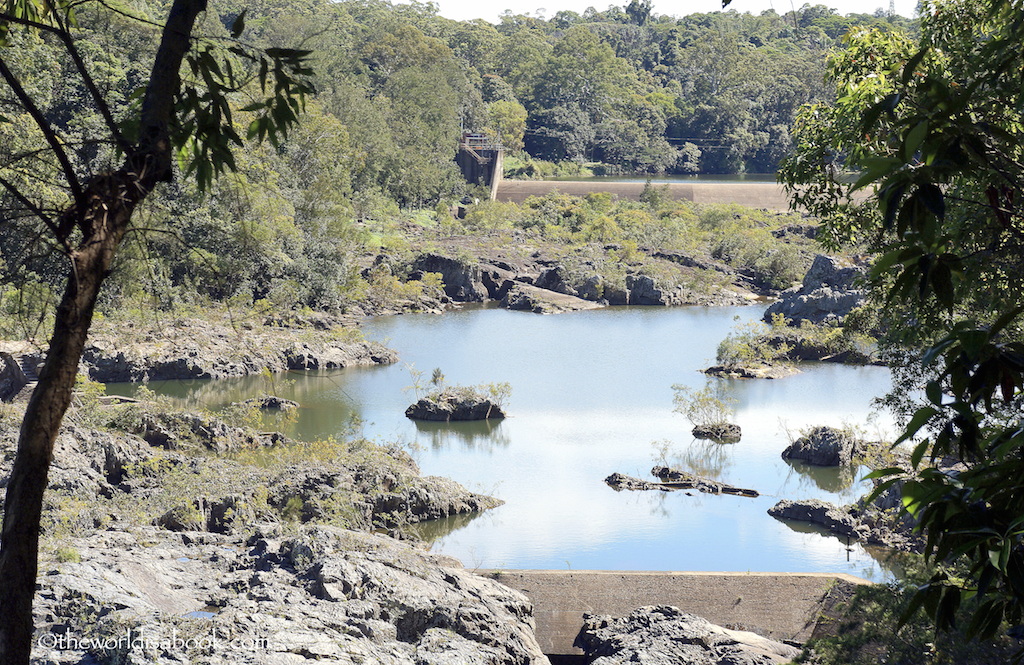 Before boarding the Skyrail for our destination, we visited the indoor Rainforest Interpretation Centre. My kids loved the touch screen computers, microscopes, videos and the other interactive activities that helped us learn a bit more about the tropical rainforest and its ecosystem.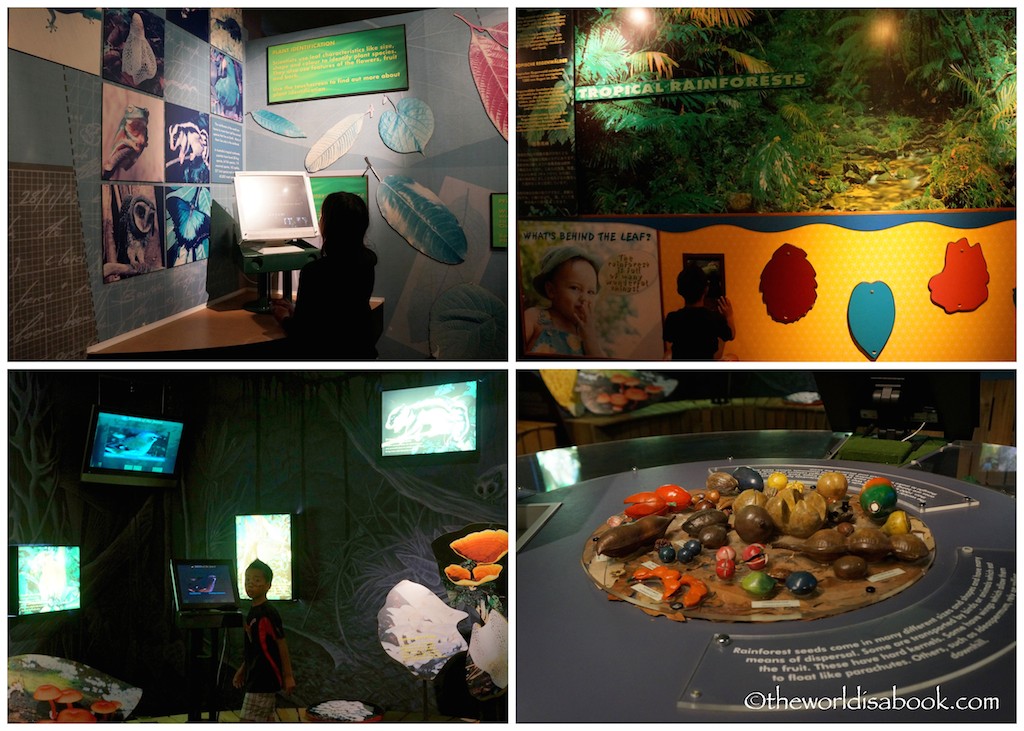 Can you tell my kids loved being on the Skyrail? They also found it entertaining to see who would wave back at them from the other gondolas. We're happy to say that mostly everyone did.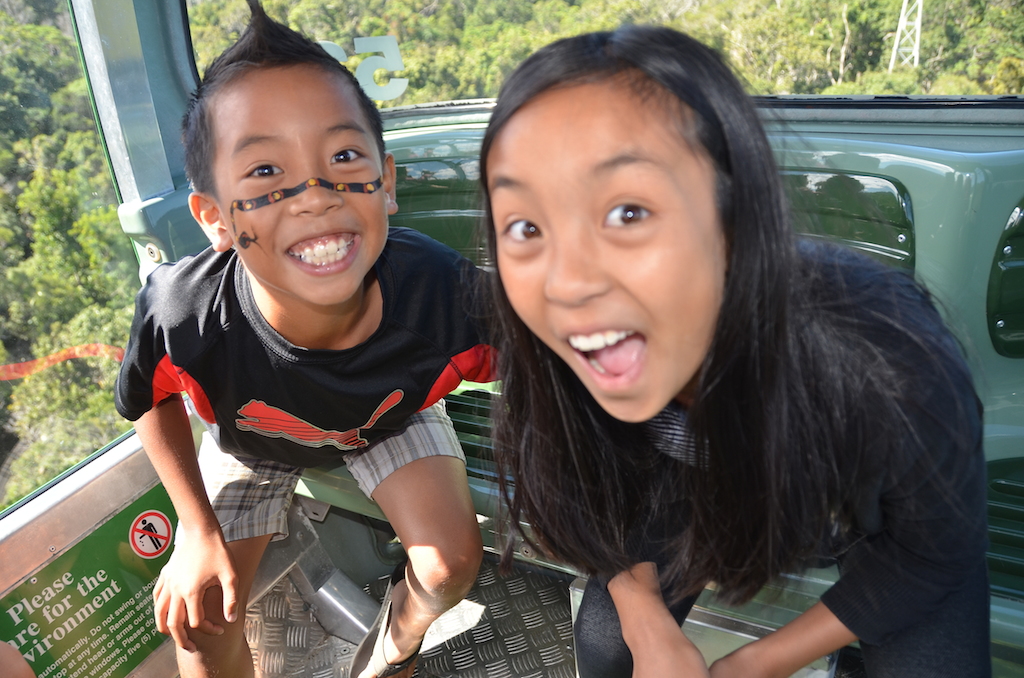 Our trip ended at the Kuranda Terminal which was the "gateway to the village in the rainforest". Kuranda was such a charming town to visit. Yes, it got a bit touristy but was still a wonderful place to stroll around. Our brief but pleasant time here deserves its own future post. This was the Kuranda River which offered boat tours.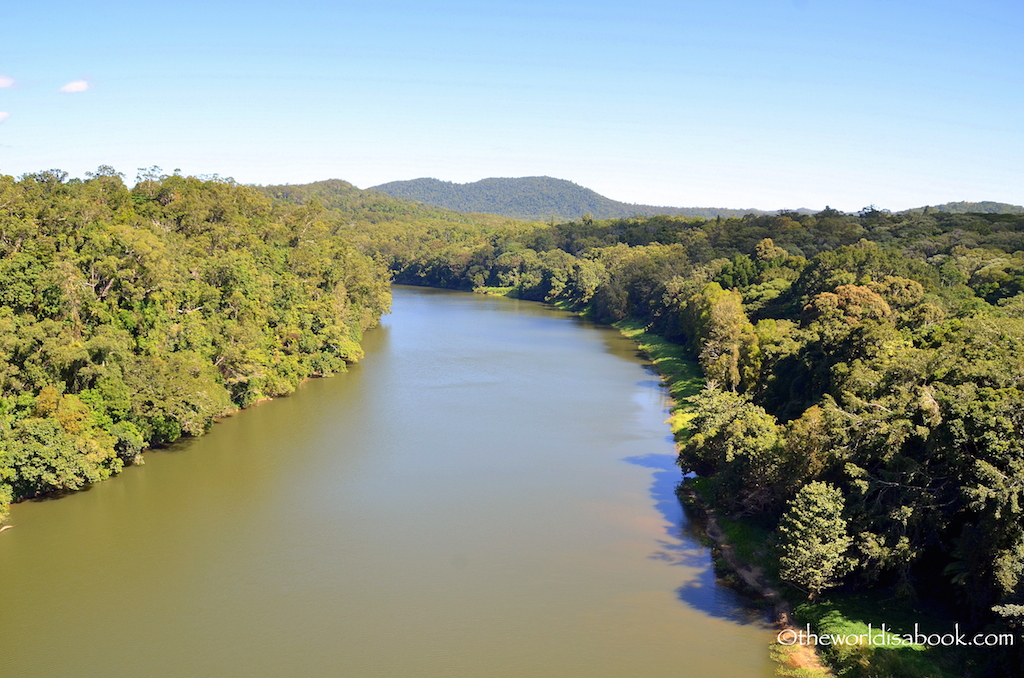 The Skyrail Rainforest Cableway provided an amazing way to see and experience this Australian tropical rainforest. It was relaxing and such an enjoyable journey. One never knows what you'll see on each ride. It's not often we get to see the tree tops. We really liked the two rainforest station stops which broke up the ride but were also informative and educational for the whole family. Don't miss this ride!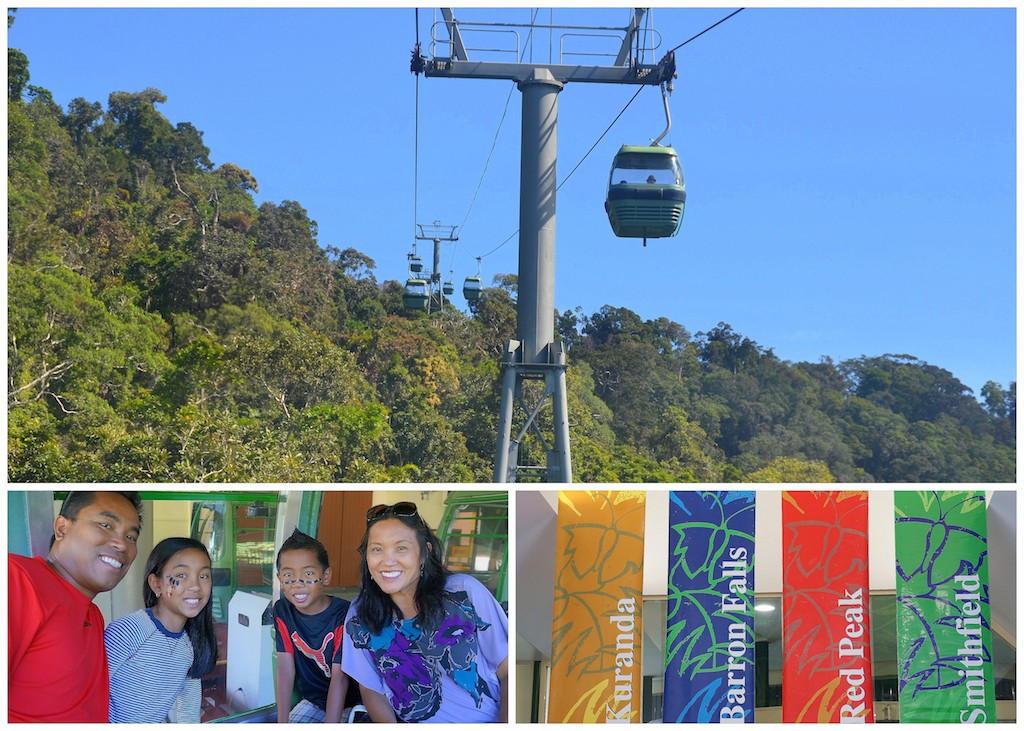 Skyrail Rainforest Cableway Basics & Tips
Getting There: It is located 15 minutes north of Cairns in the town of

Caravonica

 and next to Tjapukai Aboriginal Cultural Park. Shuttle pickups from the hotels can be booked in advance or together with your ticket purchase. We rented a car and drove there.
Check the

Skyrail website

for the latest prices which vary from one way to return trips.Combine this with other attractions like the neighboring Tjapukai Aboriginal Cultural Park and the Kuranda Scenic Railway. One way fares start at $49 adult; $24.50 child or $122.50 per family (as of July 2014)
Upgrade to the Diamond gondola(additional fares to Skyrail tickets): One Way -Family $25; Adult $10/Kids $5; Return ticket $37.50 for family; $15 Adults/$7.50 Kids
It is about 1.5 hours for the one-way Skyrail experience taking into account 20 minutes for each station stop. Although, we took longer since we spent a bit more time at the stations. Visitors have ptions of taking it one way up or down the mountain or round trip.
Don't forget to shop. The company donates sale percentage from merchandise to foundations that help with rainforest research and education.
Fold-up baby strollers can be taken into the gondolas as well as standard wheelchairs.
They're open everyday except Christmas.
Look into the 40-minute walk with a local guide – the Djabugay Aboriginal Guided Walking Tours. We wish we had more time to do this one since it looked so intresting.
Have you gone on this Skyrail or similar rides like this?
Did you know that you need a tourist visa in Australia if you're traveling from the USA or Canada? Get your Australia ETA (tourist visa) in a few steps with iVisa (it's an electronic process!).
Pin it for later!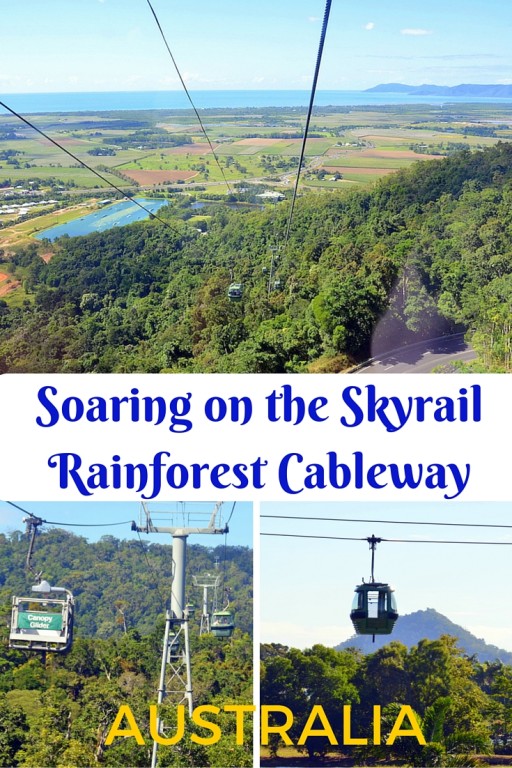 *Disclosure: We were graciously hosted by the Skyrail Rainforest Cableway. However, all opinions on our wonderful experience are solely our own.