All Aboard the Kuranda Scenic Railway Australia
We showed you how we got to the mountain top village of Kuranda near Cairns, Australia a few weeks ago via a spectacular ride through the rainforest on the Skyrail Rainforest Cableway. We could have taken the Skyrail back down but we decided to go with another popular route which was the train ride on the Kuranda Scenic Railway. Hop aboard with us on this historic and scenic ride through tropical rainforest, tunnels, gorges and waterfalls.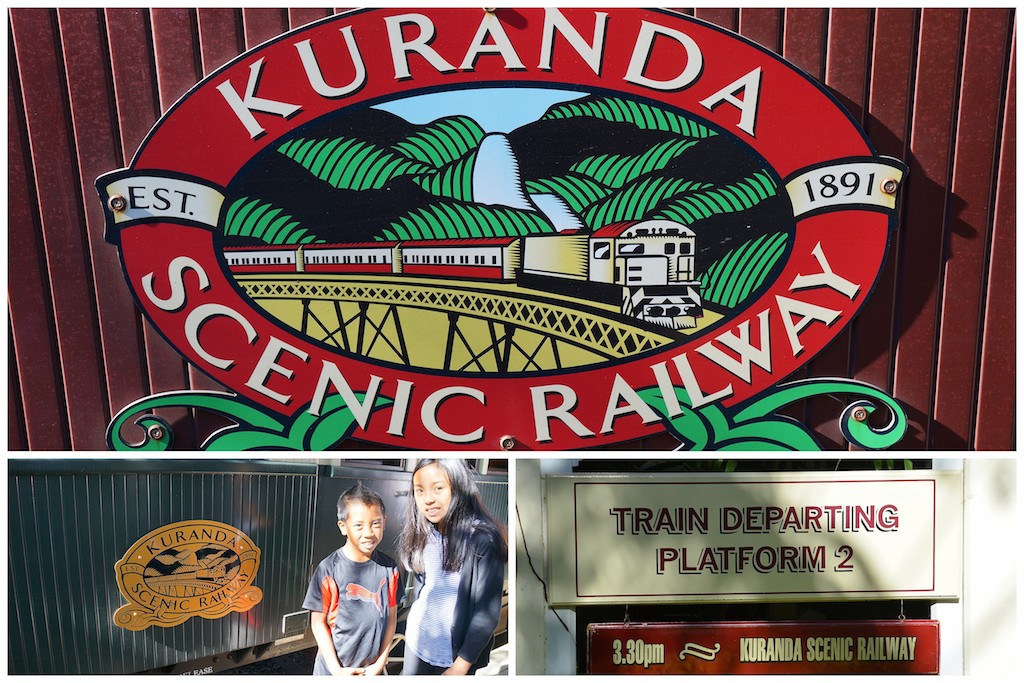 The Cairns- Kuranda Railway was an engineering accomplishment. It took thousands of men to construct and some who lost their lives while building this 75.1 km railway line. It was built in three separate phases with the middle being the hardest due to its topography that included waterfalls, jungles and ravines. This particular section had 93 curves and 15 tunnels. It was even more extraordinary to lnow that this wasn't done with modern equipment but with the workers' hands, hand tools and dynamite.
The Kuranda railway was opened for passenger travel on June 25, 1891. Can you imagine the thousands of passengers who have ridden this train and railway for various purposes throughout the years? These days, passengers have an option to take a round-trip on the train or go on the way or on the way down from the mountaintop village of Kuranda.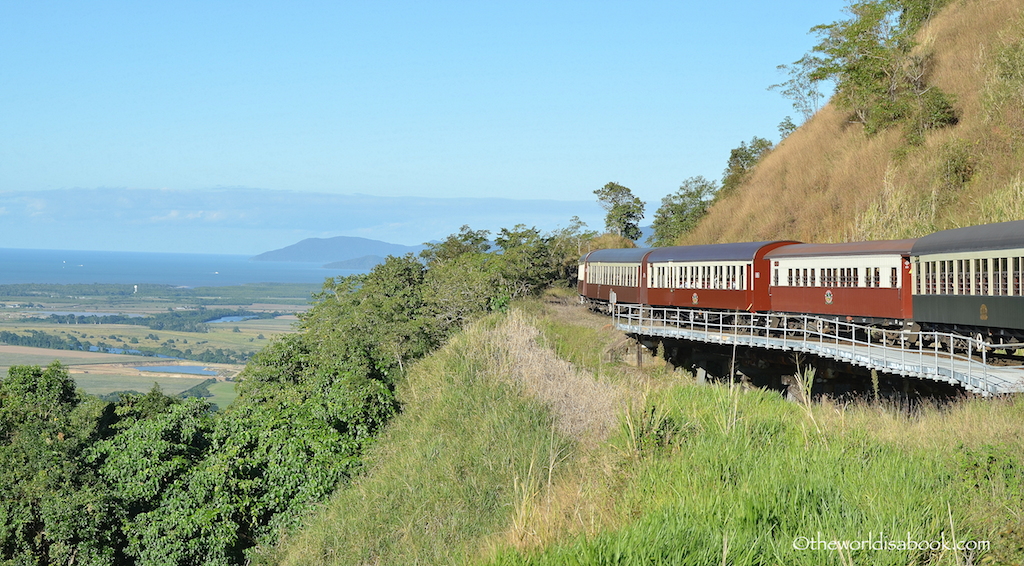 Passengers embark and disembark in the beautiful Kuranda Station just outside of the rainforest village. This historical train station was constructed in 1914 and was supposed to look like a modified Swiss Chalet.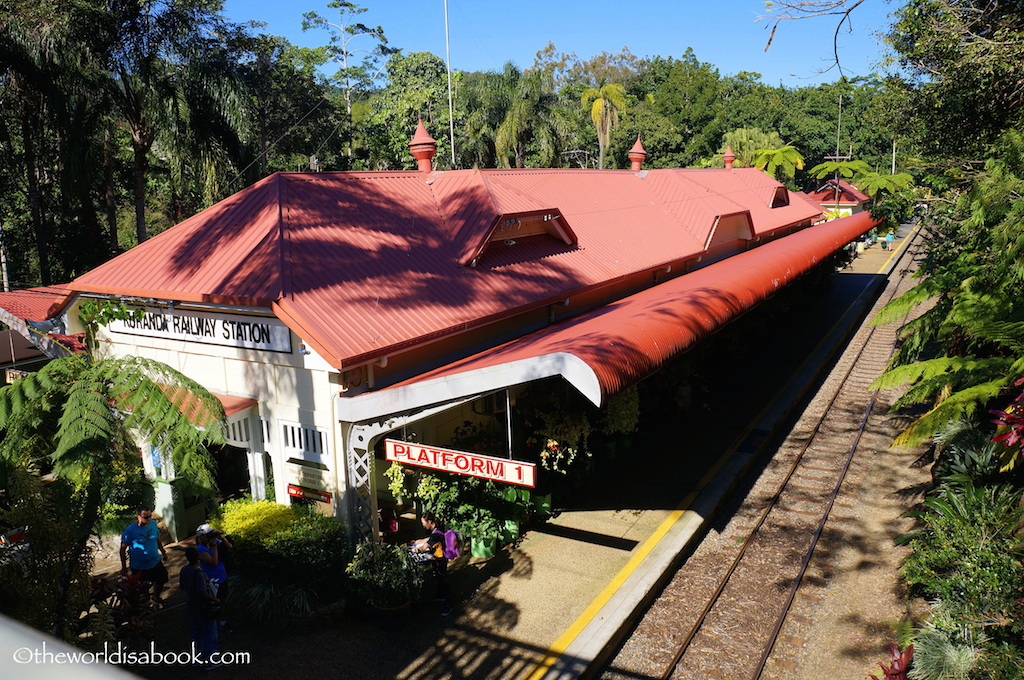 The station today is a quaint one that includes a tea room, refreshments and gift shop. It is surrounded with so much greenery and a variety of tropical plants. We enjoyed walking around before boarding the train. Our train stations in California never looked this lush!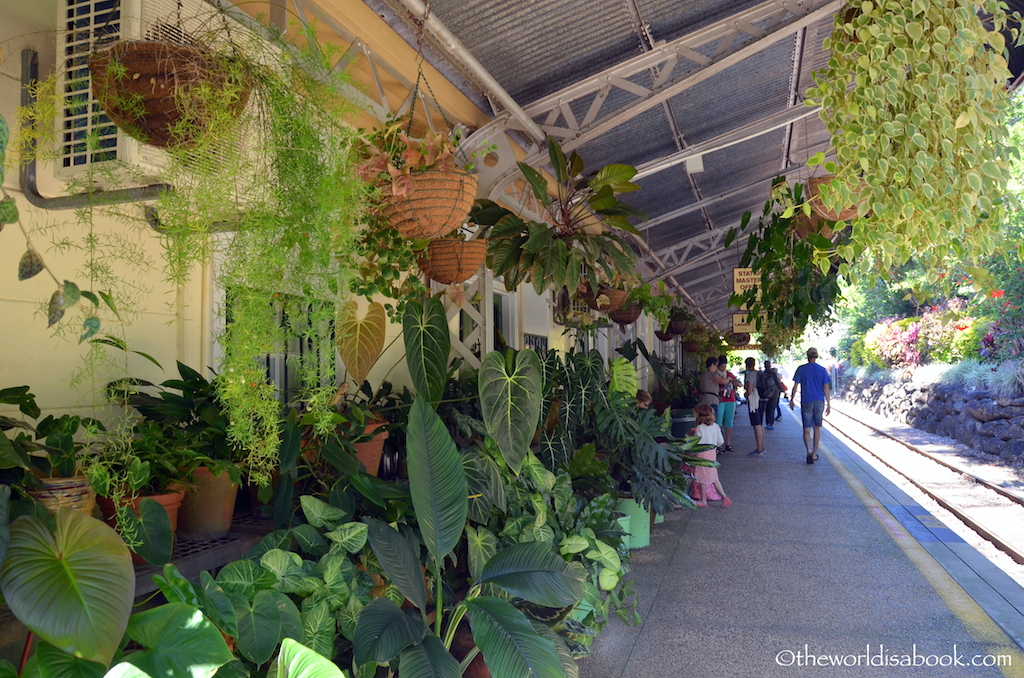 Don't miss going all the way to the front to see the engine pulling the carriages. It was very colorful and was wonderfully decorated with what looked like aboriginal art.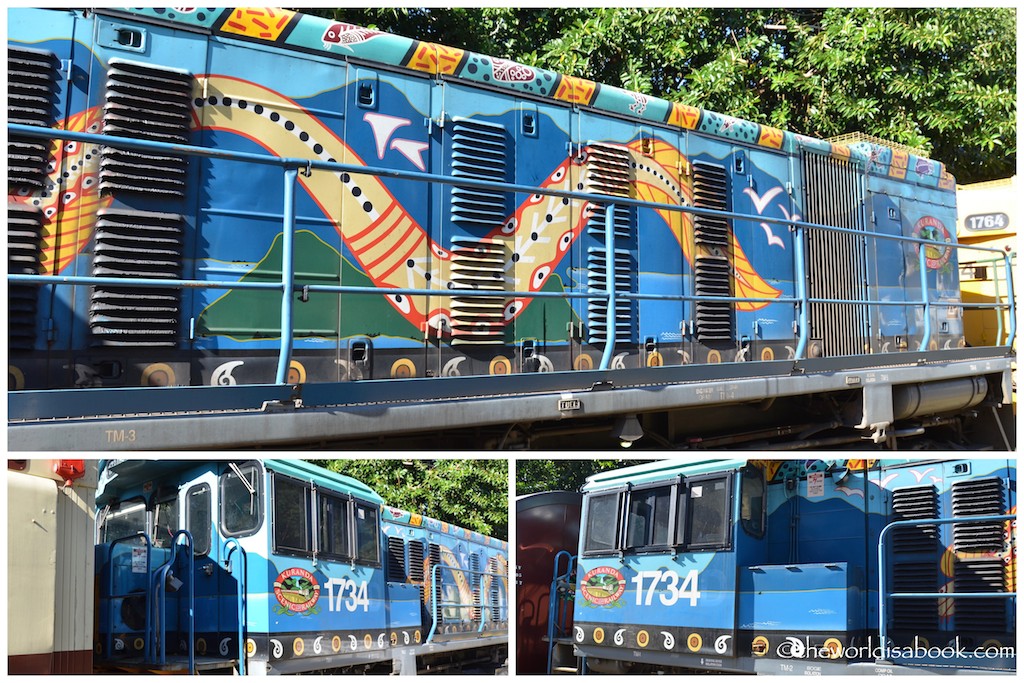 We were excited to ride and go aboard these "old world" trains. These carriages were the original ones from the 1930s and beautifully restored with its "hand crafted Victorian inspired decor". We admired the simplicity and craftsmanship in the carriages which had a very nostalgic feel but were in great condition and very clean.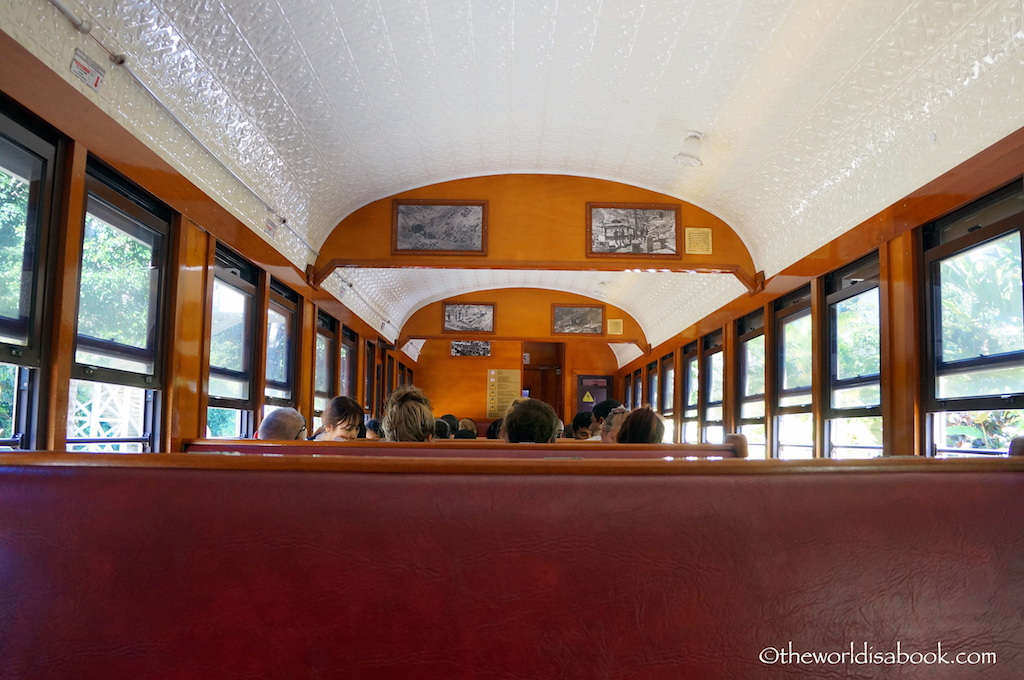 The carriages were surrounded by wood panels and cedar interior. There were several black and white photos of the railway's construction and its workers thoughout the train. It felt like we stepped back in time to that era of classy train travel.
Each passenger was assigned by carriage and bench/seat numbers. Most of the seats were facing each other which meant that some passengers were riding backwards. I didn't mind it but my kids didn't like it at all and thought it felt a bit awkward. Although, we saw the staff move some people to empty window seats.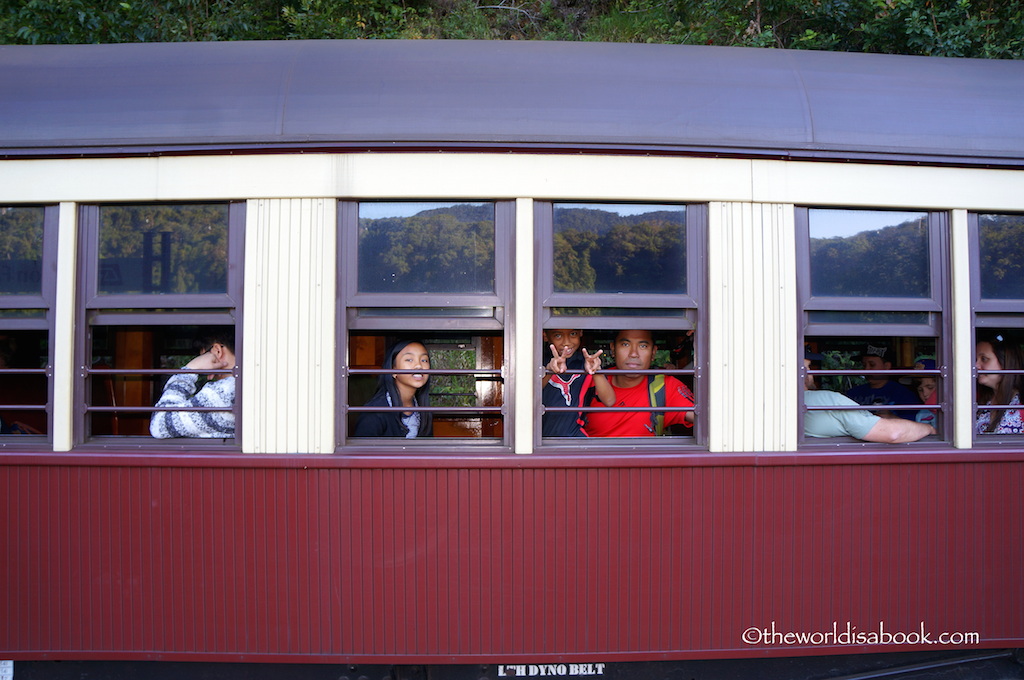 The train stopped and let the passengers disembark at a lookout into Barron Falls for 10 minutes which provided a different vantage point of the falls. Considering it was the dry season, there wasn't that much for us to see at that time. Though, this provided a closer look to the falls than the one we saw from the Skyrail Rainforest Cableway Barron Falls station.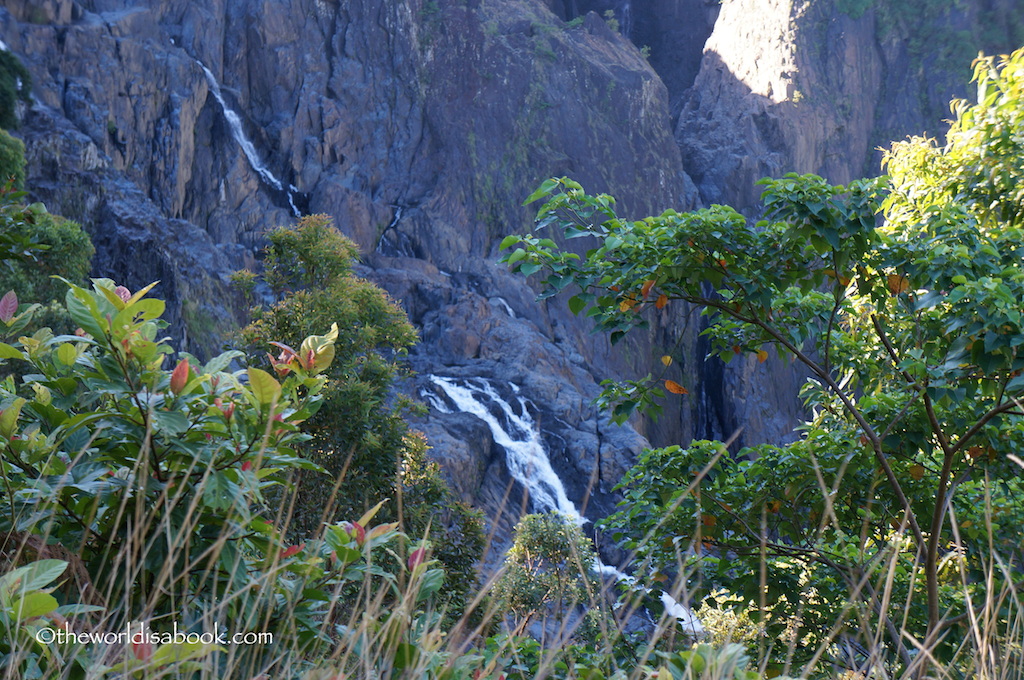 Throughout the train ride, we heard narrations of each upcoming attraction or historical area the train was approaching. It was both interesting and educational. Although, it was sometimes hard to understand the narrator when he was drowned out by the train noise or other passengers talking.
We learned about the adversities the workers faced in constructing the railway that stretched for miles inluding a complicated series of tunnels. At some point, families lived on the train line during construction. Camps and townships flourished by the tunnel construction areas.
The train went through several tunnels, with varying lengths, during this journey. Going through these tunnels and seeing its surroundings really makes one appreciate the hardships the workers endured. There was such a rich history to how this railway was developed.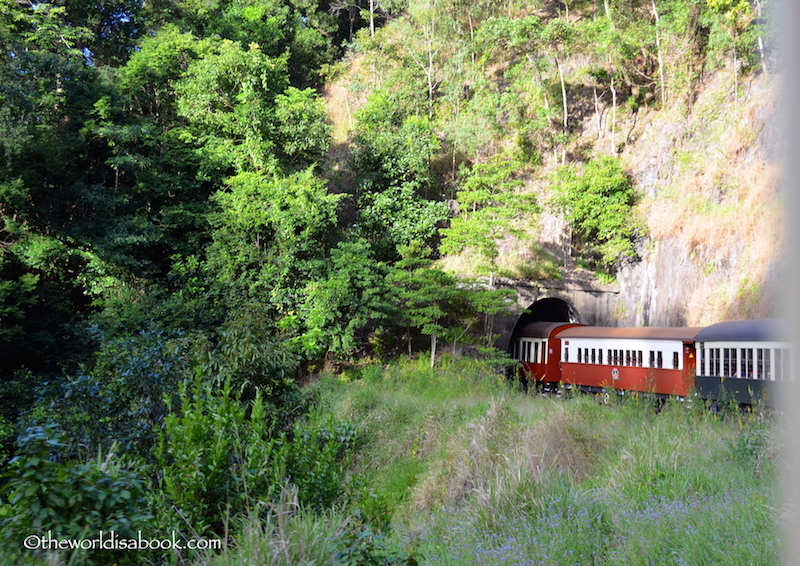 The train meandered down through a tropical rainforest along mountain sides, ravines and rivers. At times, all we saw were the mountain rocks on one side and trees and shrubs on the other side.
The train slowed down at the waterfall on Stony Creek bridge. It was quite a sight to see this waterfall flowing at the side of the mountain beside the railway and the train.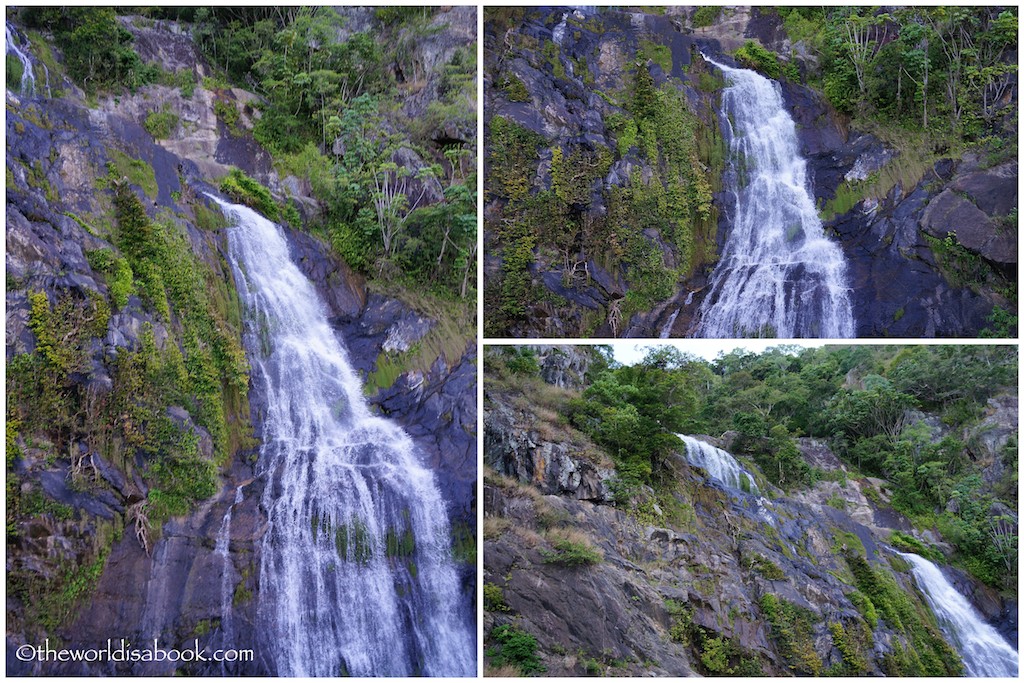 One of my favorite sceneries was seing the city below spread out before us with the sea in the distance. I liked the suspense that built up as we saw parts of it in between trees and shrubs until we came to an open area to see this panoramic view as we descended down the mountain.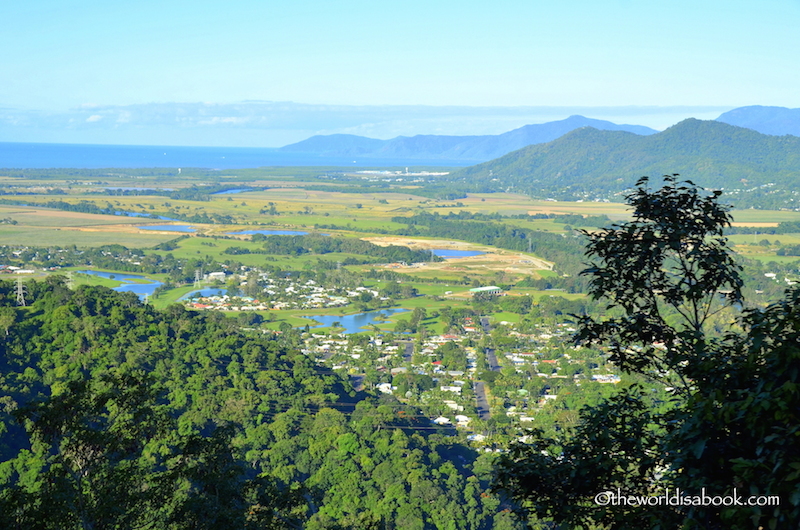 As we neared the Freshwater train station, we passed along many of the houses and farmlands in the Cairns suburbs. It was a delight to see people sitting on their porches or stopping what they were doing to wave to our passing train.
The train ride takes about two hours to travel to and from Kuranda. One can choose to do a roundtrip train or go one one way and do the Skyrail the other way. We highly recommend experiencing the train and the Skyrail on the same trip for the full experience of traveling through a world-heritage rainforest. The Kuranda Scenic Railway provided a pleasant and relaxing way to travel from Cairns or Kuranda. The views were spectacular and was an educational and enjoyable ride.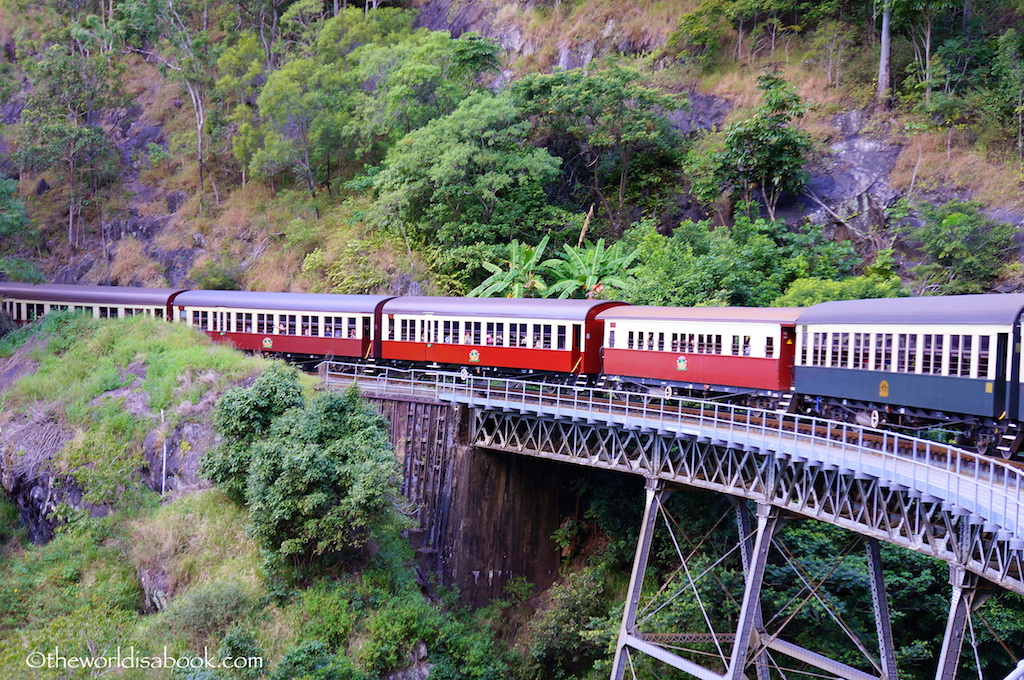 Kuranda Scenic Railway Basics and Tips
Visit the

railway's website

to book the various ticket options and times to go up or down Kuranda. Ticket prices (in Australian dollar as of Aug 2014) start from $48 Adults; $24 children or $120 for Family (2 adults 2 kids) one-way . The earliest train to go up is at 8:30 AM from Cairns. The last train going down from Kuranda to Cairns is at 3:30 PM daily.
Determine which station is better if you're heading down to Cairns – the Freshwater station in the suburbs or one in the city center. Those who parked at the Skyrail terminal (like we did) can take the free shuttle bus that comes with the package or you can book a specific transfer to/from your hotel.
Gold Class option is available for "extra comfort and little bit of luxury" an for an extra cost per person. Passengers are served drinks and locally produced food. We decided not to do this option.
Get food at the station (hot and cold food and beverages) or bring snacks. There's complimentary water aboard the train.
Watch children carefully to ensure they don't stick their hands or heads out. There are several warnings and should be taken seriously. Some areas are particularly narrow and lined with a lot of branches or a cliff face.
Bring something to entertain the kids. While I found the whole ride fascinating, its slow pace and focus on scenery and history cannot fully hold the kids' interest (no matter what age they may be). Bring activity books, books or electronic devices to keep them occupied for times when there's not much to see out the window.
Don't turn down the friendly staff who will come around towards the end of the journey and offer to take pictures of your group. I love that they do this! Unfortunately, my son fell asleep which explains why we don't have a family picture.
Be aware that there is no air conditioning and just open windows. We were here on a nice day with a breeze during their winter season. During their summer season, this may be stifling hot and humid. It may be better then to ride it in the morning.
Have you ridden the Kuranda Scenic Railway or similar trains with stunning sceneries?
Did you know that you need a tourist visa in Australia if you're traveling from the USA or Canada? Get your Australia ETA (tourist visa) in a few steps with iVisa (it's an electronic process!).
Pin it for later!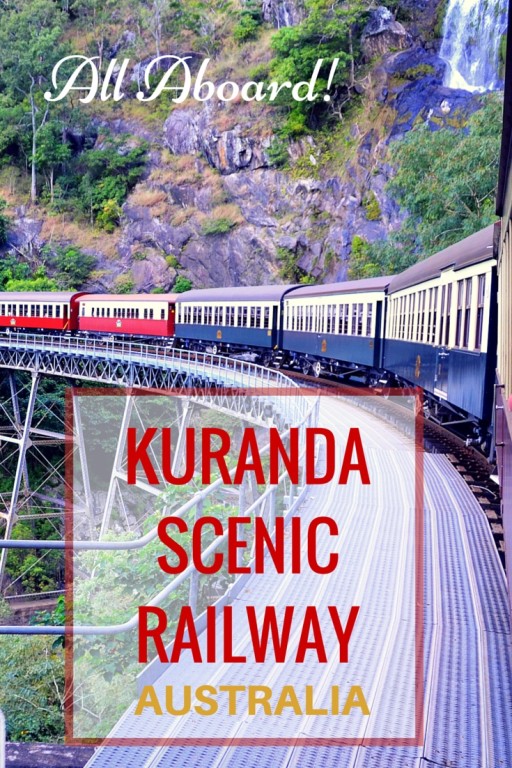 *Disclosure: Queensland Rail graciously provided our family with Heritage Class train tickets for our scenic ride from Kuranda to Cairns. As always, all opinions about our experience are our own.