Strolling through the Golden Pavilion Kyoto
Kyoto, Japan is a city filled with over 2,000 temples and shrines. It's hard to stand out but Kinkakuji or the Golden Pavilion in the northwestern part of the city was unique and unforgettable. This UNESCO World Heritage site and one of the Buddhist temple's main buildings is famous for its top two floors completely covered in gold leaf overlooking a pond and surrounded by a beautiful garden.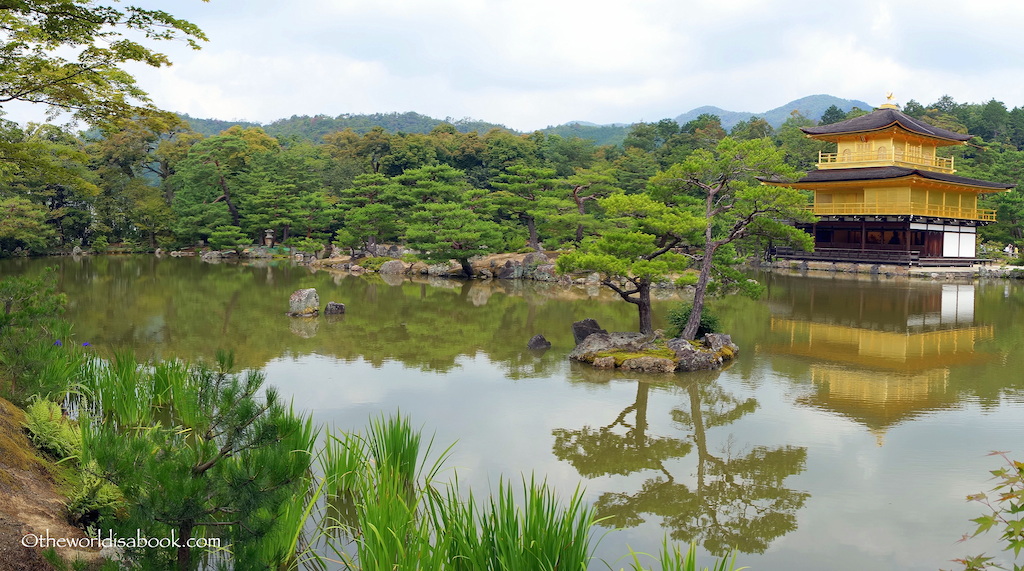 We were here on a hot and humid weekday morning last June. The path was a walk through a quiet residential street leading to the complex in a nondescript entrance known as the First Gate.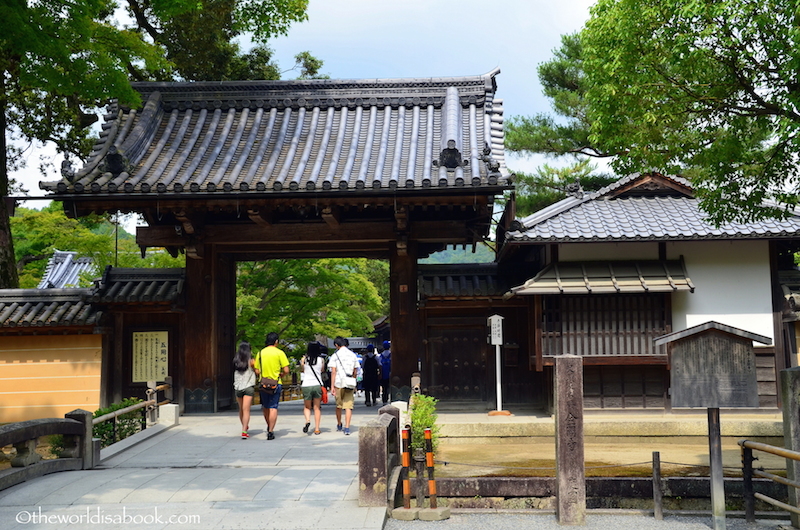 We made our way past tour groups and a ton of school children on field trips and found ourselves in a clearing that opened into the stunning Kinkakuji gleaming in the middle of the pond and its surrounding gardens.  It was a true testament to the Japanese high standards of meticulously placed stones, and well manicured plants and trees that blended perfectly.
It wasn't a very large structure, which was a bit surprising to me. The pavilion stood at 42 feet (12.8 m) high and 33 feet (10 m) wide.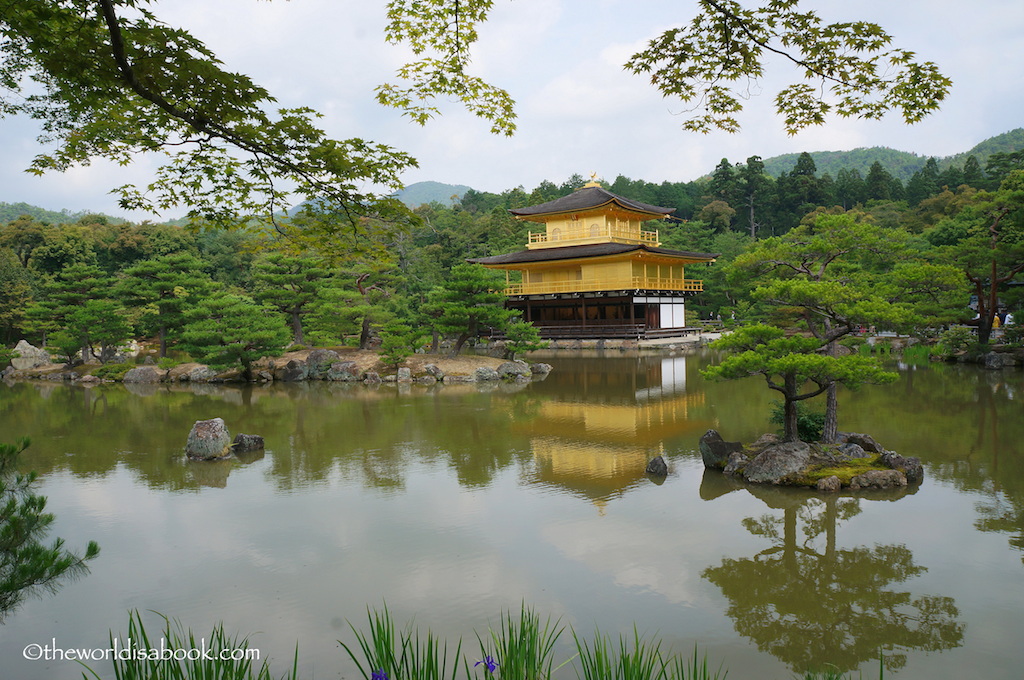 The pond was appropriately called Kyoko-chi (Mirror pond) and had several small islands on it. We couldn't stop taking pictures of its reflection on the calm pond and frankly, you can't take a bad picture here. As we moved around the walkway, we were greeted with different viewpoints and the islands and rocks took on different shapes.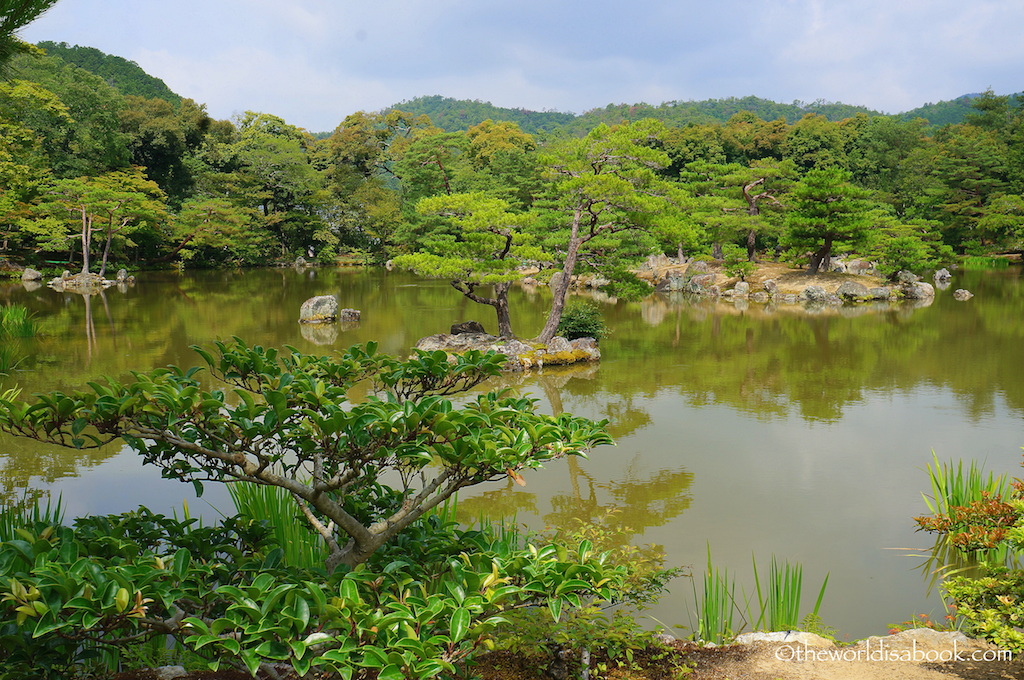 It was such a contrast to an image of a Zen temple with gardens for serenity and meditation. You won't get that tranquil setting here with hordes of tourists crowded in the walking paths all trying to pose or take a picture. Though, it was perfectly understandable why this was such a crowded and popular attraction. We just learned to push our way in to capture some of these photos without the crowds.
Kinkakuji History
While this present structure was built in 1955, the original Kinkakuji dates back to its first structure in 1393. It was built as Shogun Yoshimitsu Ashikaga's retirement villa. His opulent lifestyle included intentions to cover this building's exterior with gold but only got to covering the third floor ceiling.
His son turned it into a Zen temple and formally called Rokuon-ji or Deer Garden Temple after Ashikaga's death. Many of Kyoto's temples were actually first established as retirement villas.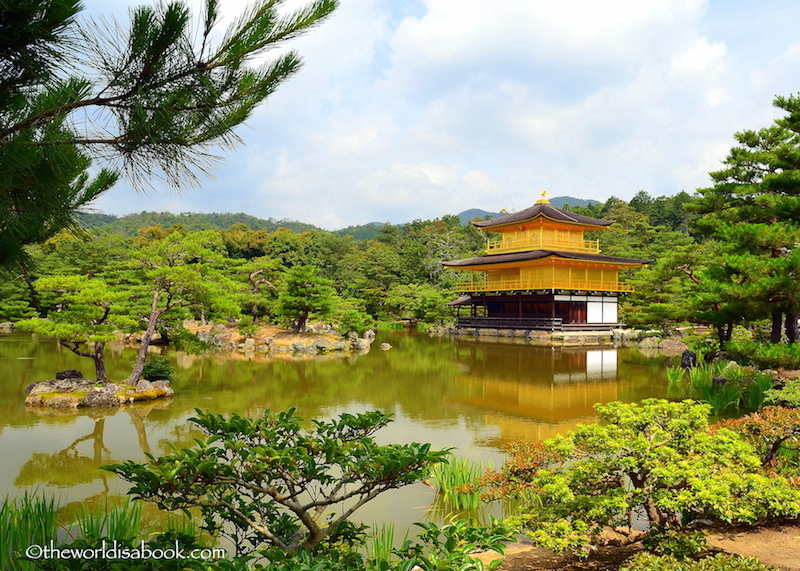 The Golden Pavilion structure was the only one left from that retirement complex. Unfortunately, it has burned down several times from wars and most recently in 1950 by a suicidal monk. The splendid structure we see here today was rebuilt in 1955 but the garden stayed true to its former glory of a Japanese garden exuding beauty and symbolism.
It was built true to the original structure except they decided to cover the top two floors in gold leaf to honor Ashikaga's original plans. The temple was covered with even more gold leaf (5 times thicker than the original) in 1987. There were some clouds during our morning visit so it wasn't as blinding as I would imagine it in the mid-afternoon with the sun shining brightly on it.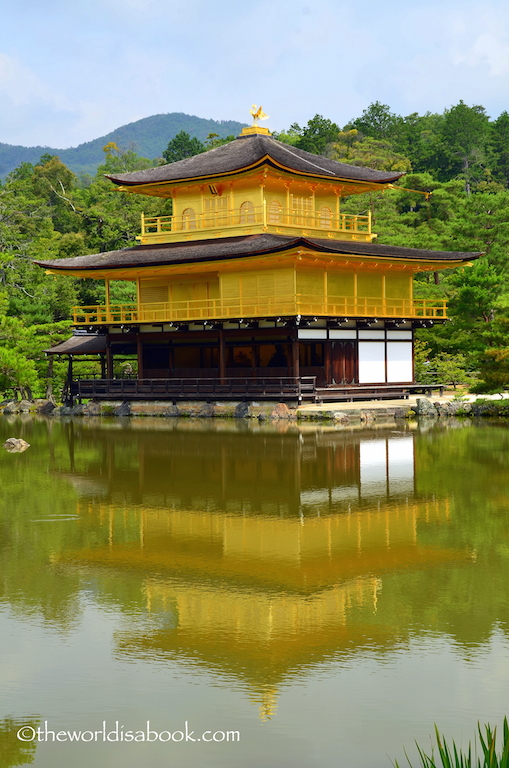 Kinkakuji's three floors were built with varying architectural styles with surrounding balconies. Unfortunately, no one was allowed to go inside the pavilion these days.
The first floor is the only one not covered in gold leaf and known as Hôsuiin (Temple of Dharma Water). The wood pillars and plaster walls were Shinden style from the 11th-century Heian nobility period. Since the front windows were open, we were able to zoom in and see some statues. One was supposed to be the historical Buddha and the founder himself, Yoshimitsu Ashikaga.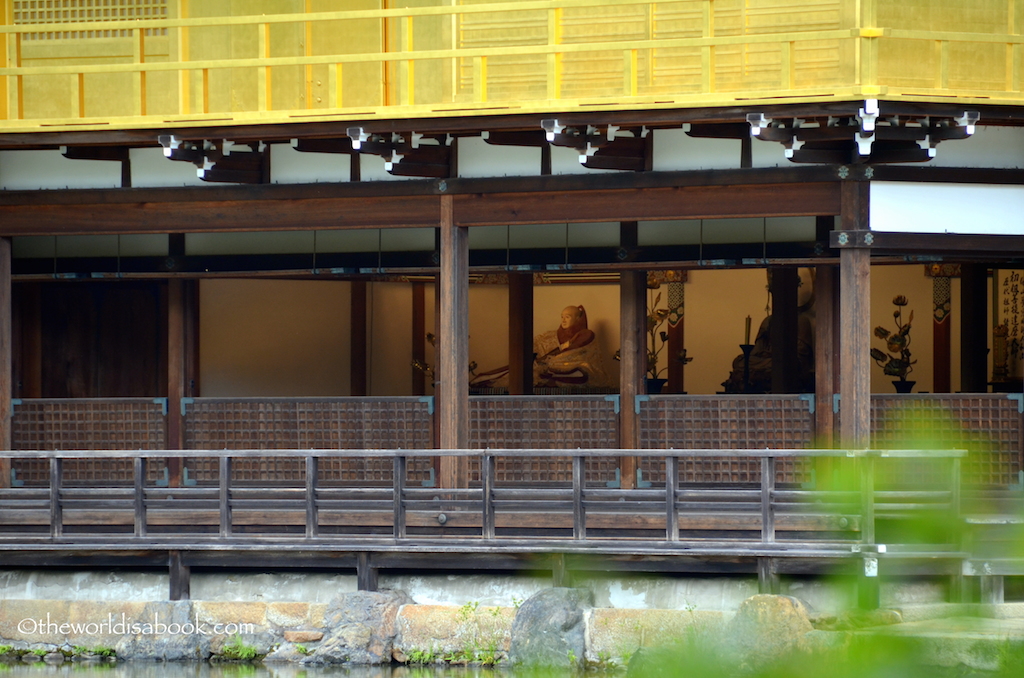 The pavilion's second and middle floor was one of the two covered on gold leaf and built in the Bukke style that was used for samurai houses and called Chôondô (Tower of Sound Waves).  The interior was supposed to house more Buddha statues and the Four Heavenly Kings and some Buddha relics.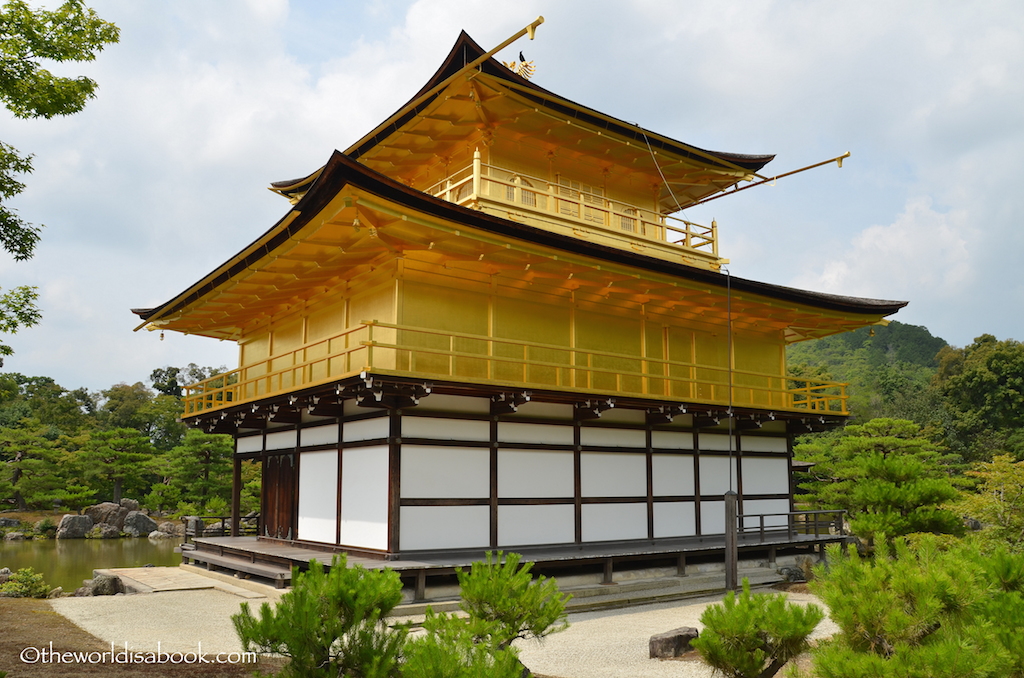 The top floor was supposed to be a Buddhist Zen Hall and known as Kukkyôchô (Superb Apex).  Its interior and exterior were covered in gold leaf and seemed fancier than the bottom with its rounded windows. On the rooftop was a golden Chinese mythical phoenix, which probably stood for this structure rising from the ashes multiple times.
Golden Pavilion's other attractions
While the Golden Pavilion was the star attraction here, there were also other structures around the area worth mentioning. Everyone goes through a one-way path that went behind the temple that led to a stairway to exit. It helped control the traffic.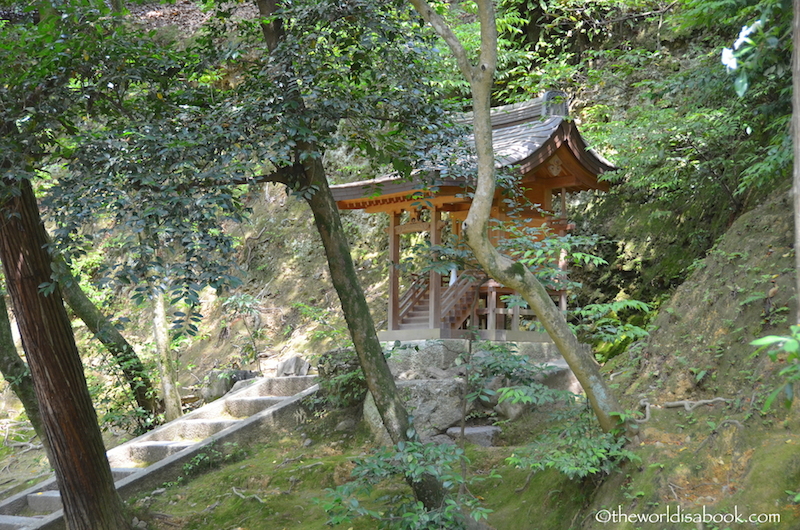 We passed by the hojo or the head priest's former residence complex. It was known for its painted sliding doors and what looked like a sand garden. It did look so peaceful though and we could only imagine how it looked inside.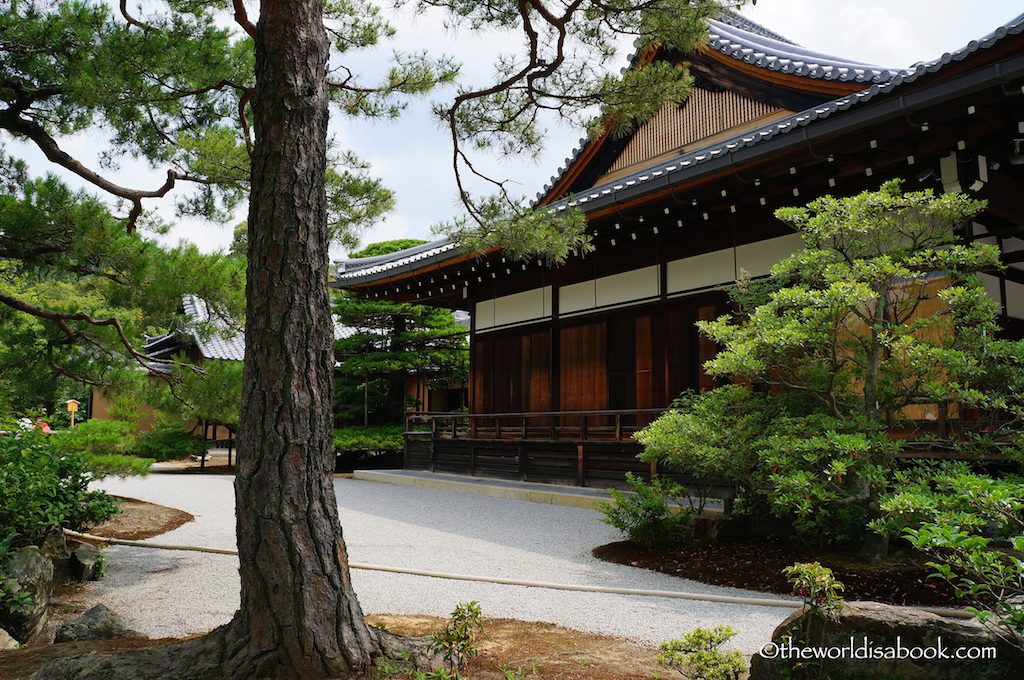 The back area of the pavilion gave us a closer look at the structure. From the back, we saw a small wooden patio that extended from it. We found plenty of carp (freshwater fish) here to entertain the kids.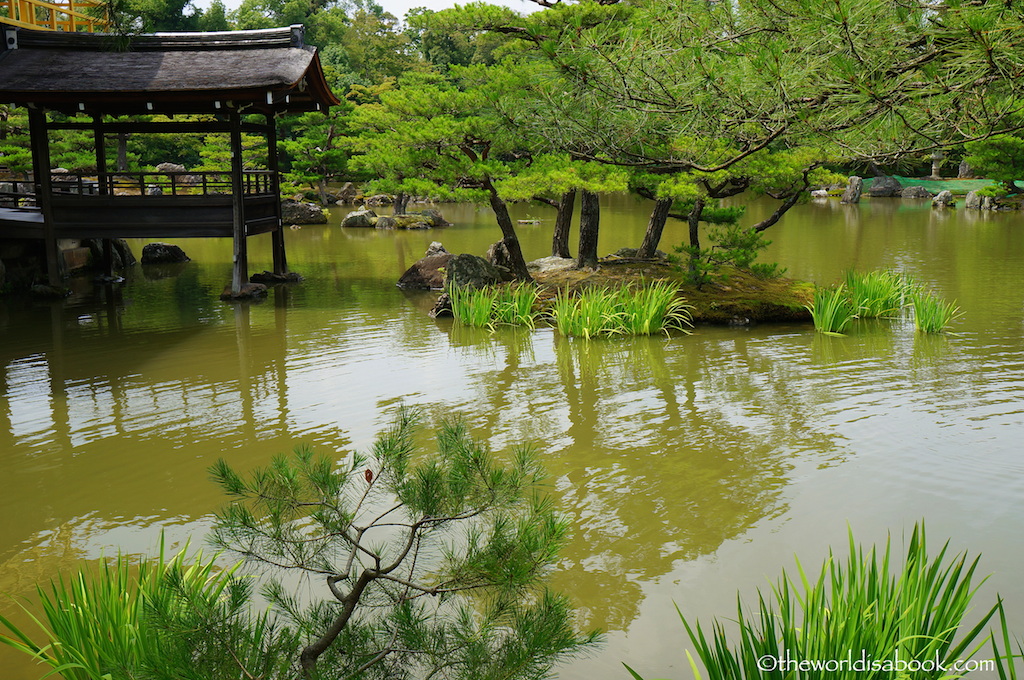 In an almost hidden spot in the gardens was the small An-min-taku Pond which has never dried up. Hakuja-no-tsuka (white snake mound) was the island with a small stone pagoda standing on it. The pagoda has images of the four Buddhas on its base and was dedicated to the legendary white snake that supposedly controlled the ground's water supply.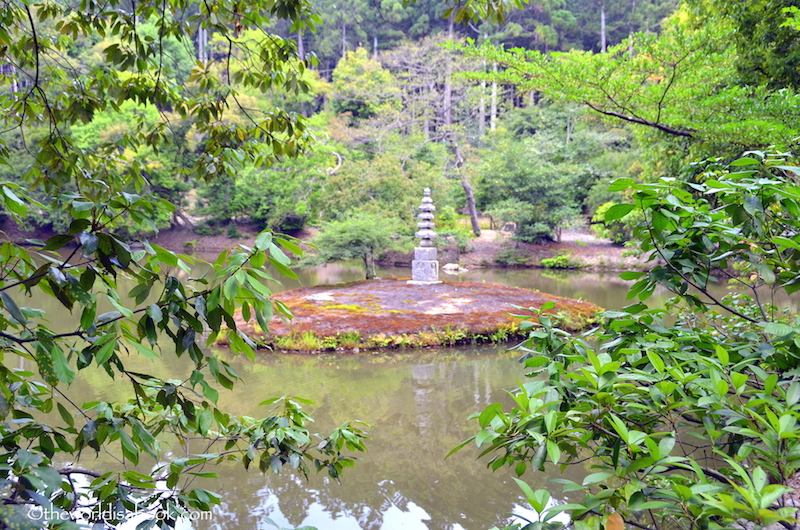 Along the garden path was a small waterfall (Ryūmon Taki waterfall). The water current falls on a Rigyo-seki or carp stone meant to resemble a carp swimming upstream and symbolizing strength.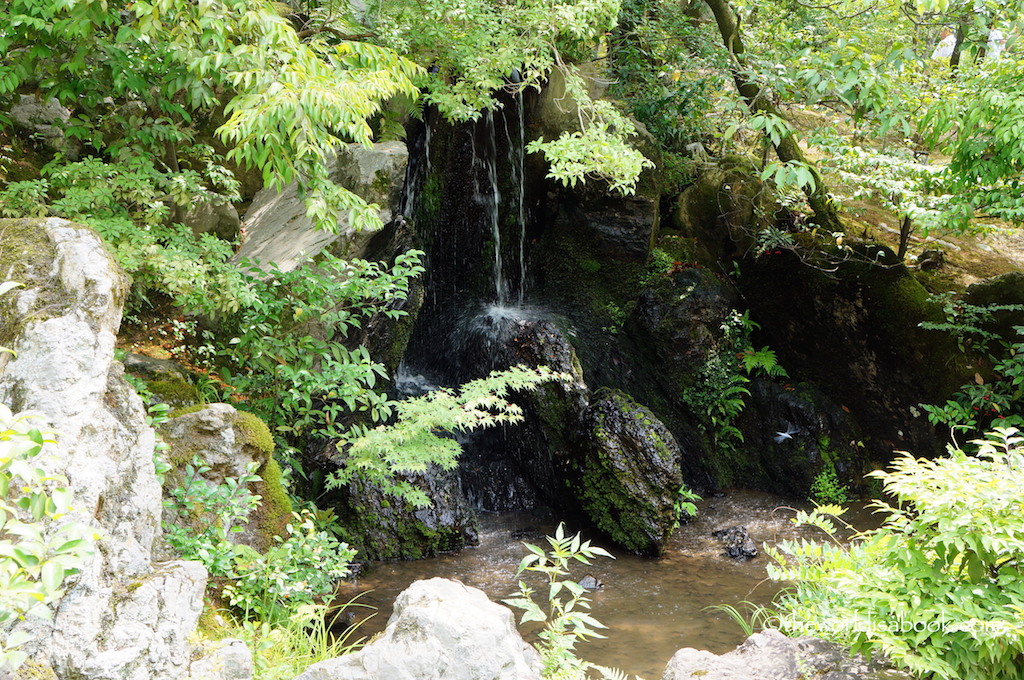 We found this small collection of stone carvings where everyone threw coins in for good luck. Of course, my kids tried it. Though, it felt more like those carnival games where you're trying to toss rings into bottlenecks. We weren't exactly sure if we were supposed to aim at the bowls but just followed the other kids who seemed to be aiming for it. This was a popular spot for the students. Who says temples can't be fun for kids?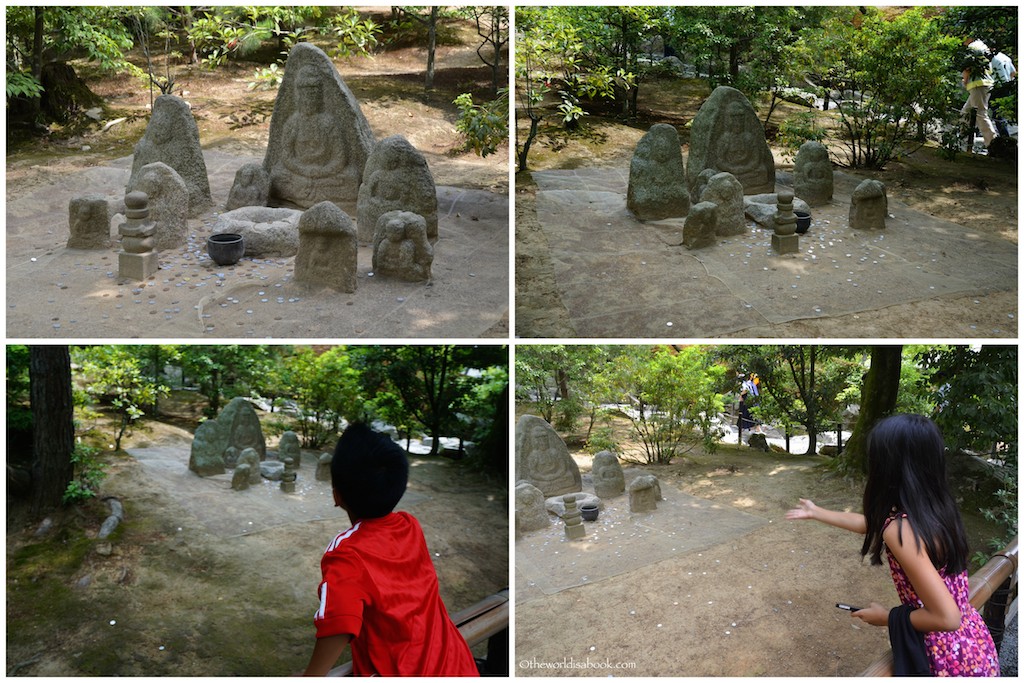 At the top of the hill was the small Sekka-tei Teahouse that was rebuilt in 1884 after a fire. Compared to the other structures here, this teahouse was very simple and lacked color. Its simplicity was meant to emphasize the importance of the tea ceremony instead of the building itself.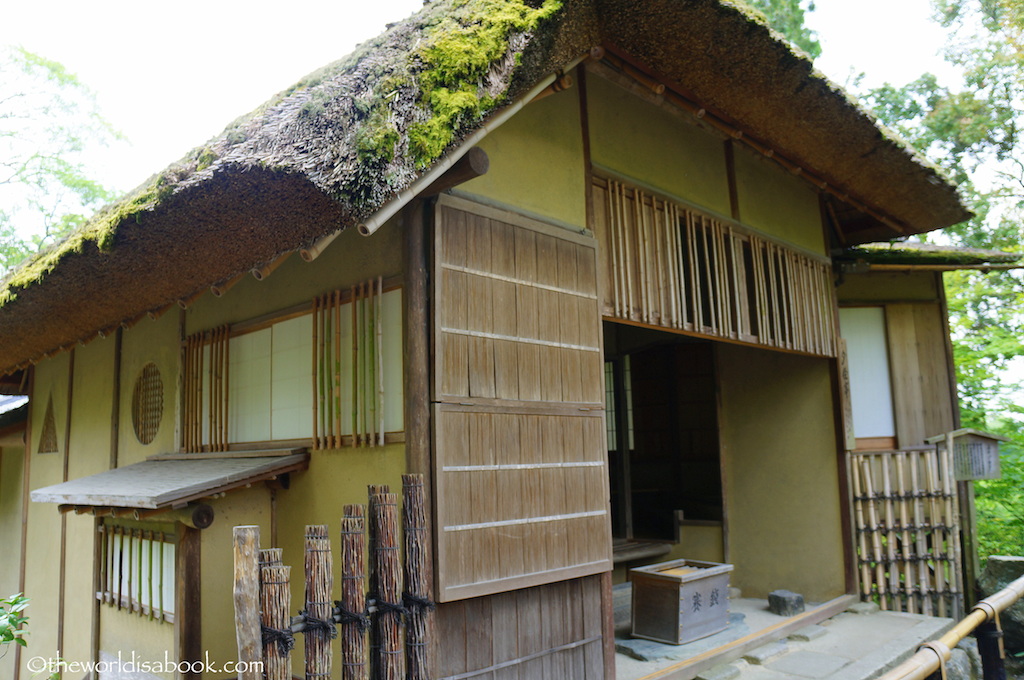 The teahouse was displayed like an exhibit. There was a stone lantern and basin and a stool in the front. If you look deep enough inside, there's a crooked pillar made of rare Nandin wood that supports the alcove. This was a rare size for this tree that grows very slowly.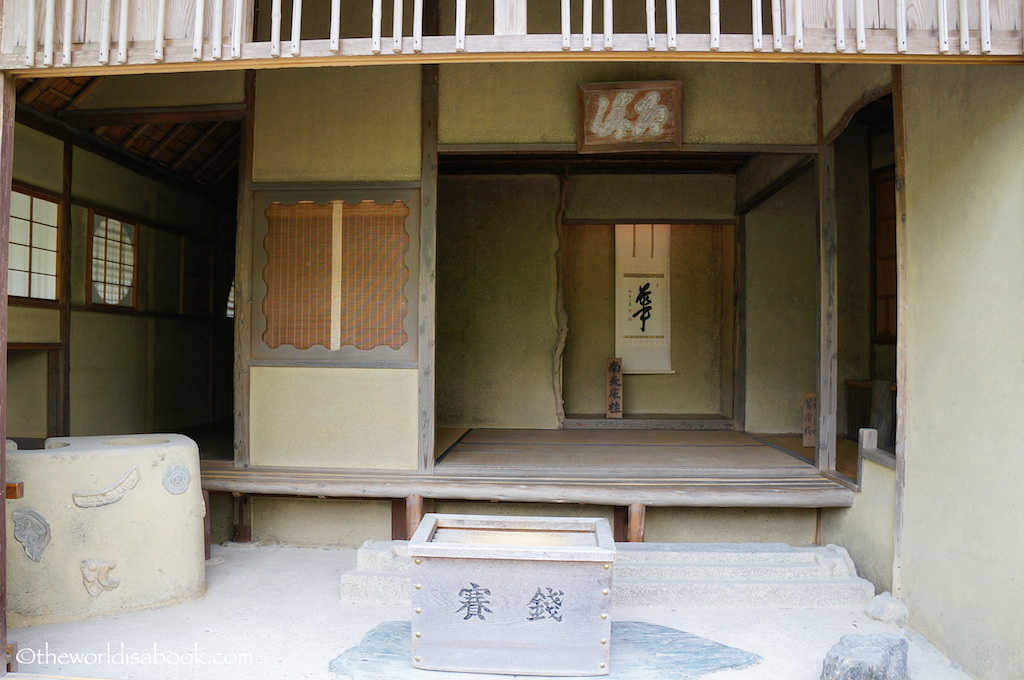 We also came across this tranquil garden setting used for tea and snacks.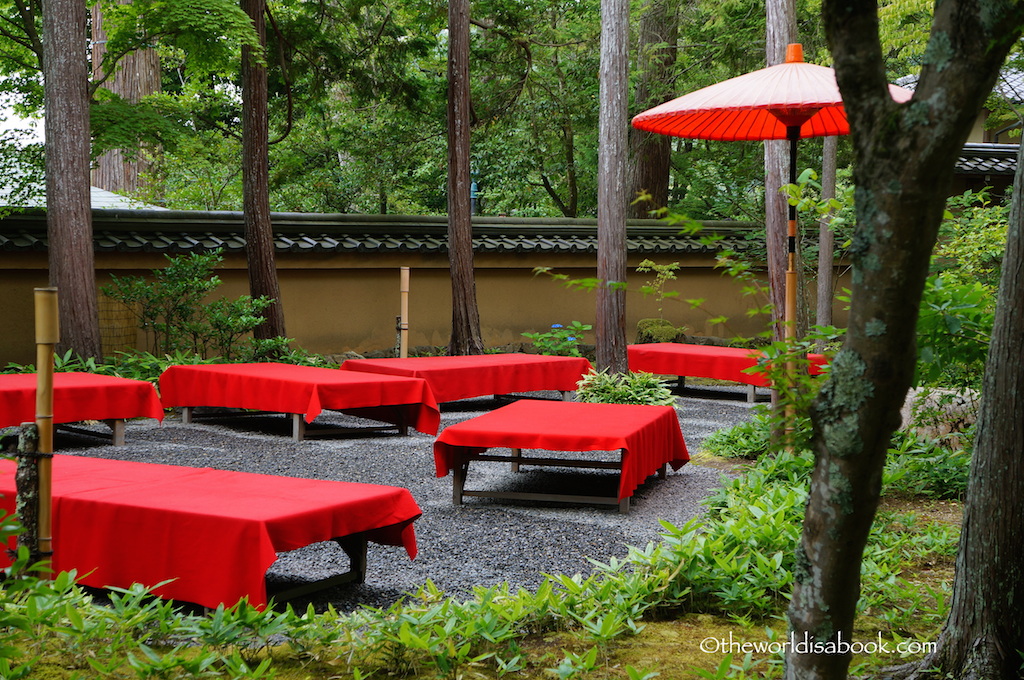 The path towards the exit was lined with halls and stalls selling prayer candles and ema prayer tablets (wooden plaques used for leaving wishes).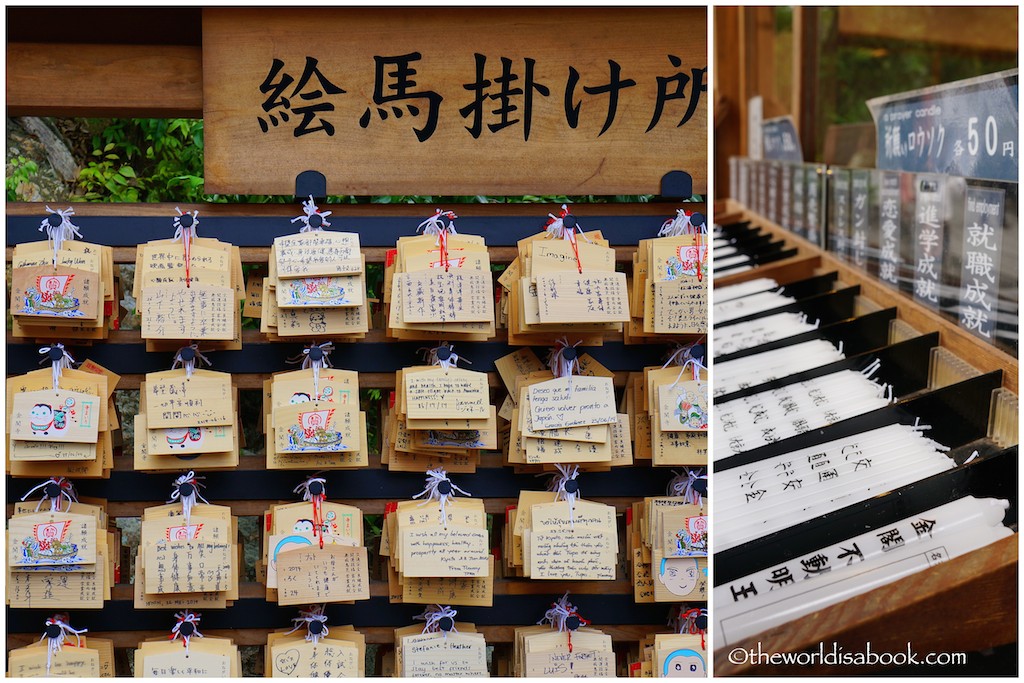 Fudodo or Fudo Hall was a small shrine that housed Fudo Myoo's statue (one of the Wisdom Kings and Buddhism protector). It was a popular stop for people to ring the temple bells, light incense and ask for blessings.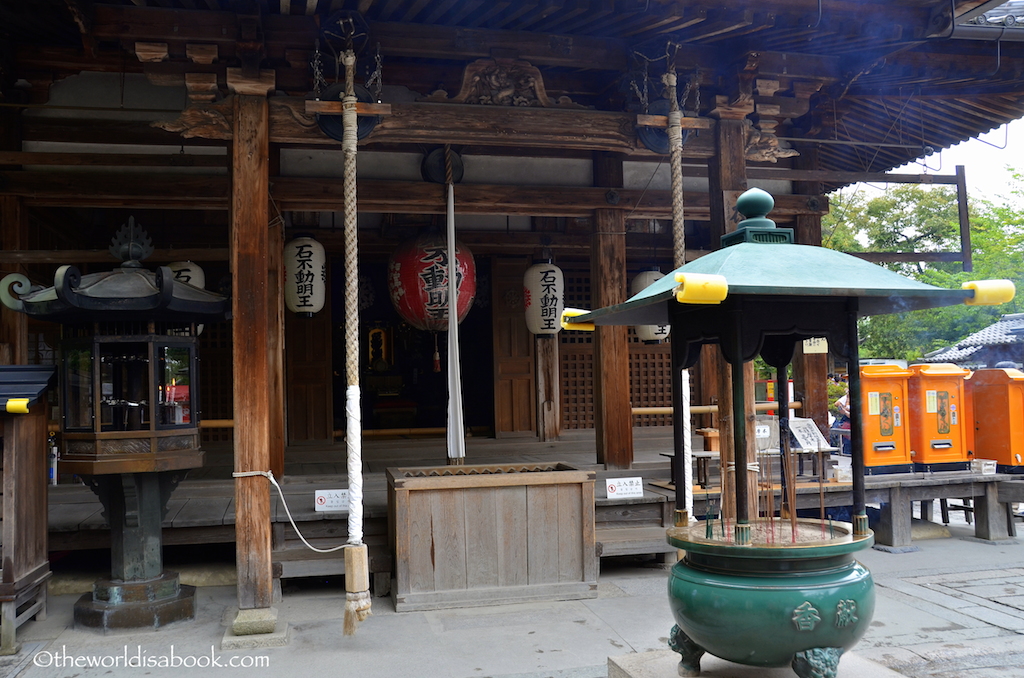 The exit of the temple complex was a steep walk alongside trees and a golden wall which seemed fitting.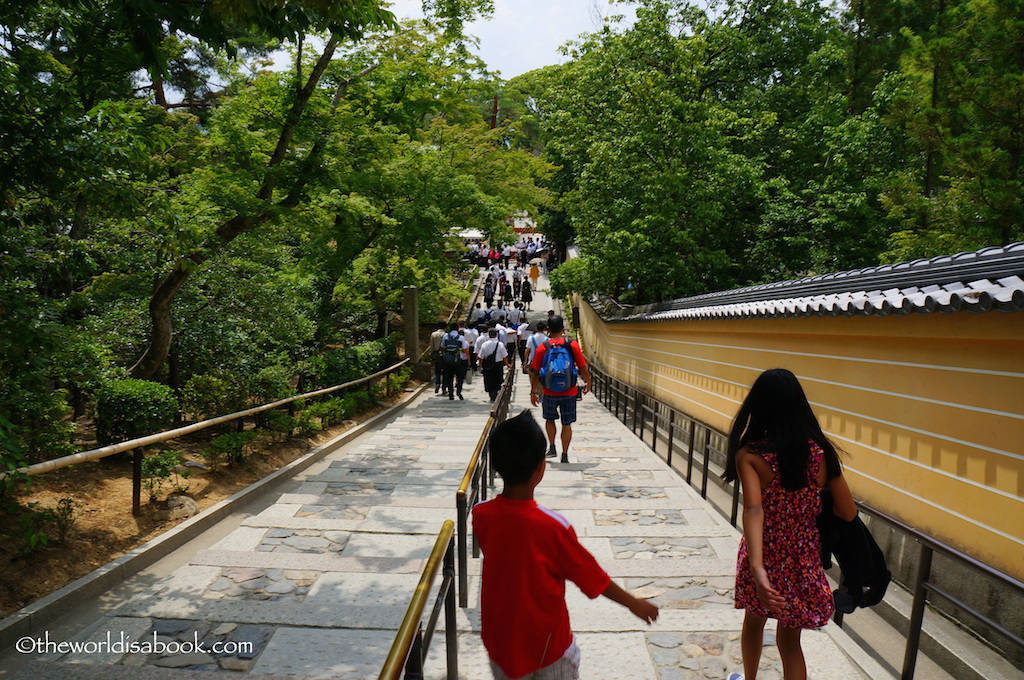 Of course, we couldn't walk out of here without souvenirs and some treats. Kyoto is known for their cinnamon cookies and sweet treats called yatsuhashi made of rice flour, sugar and cinnamon. There were different flavors and the vendors offered samples and chocolate was our winner.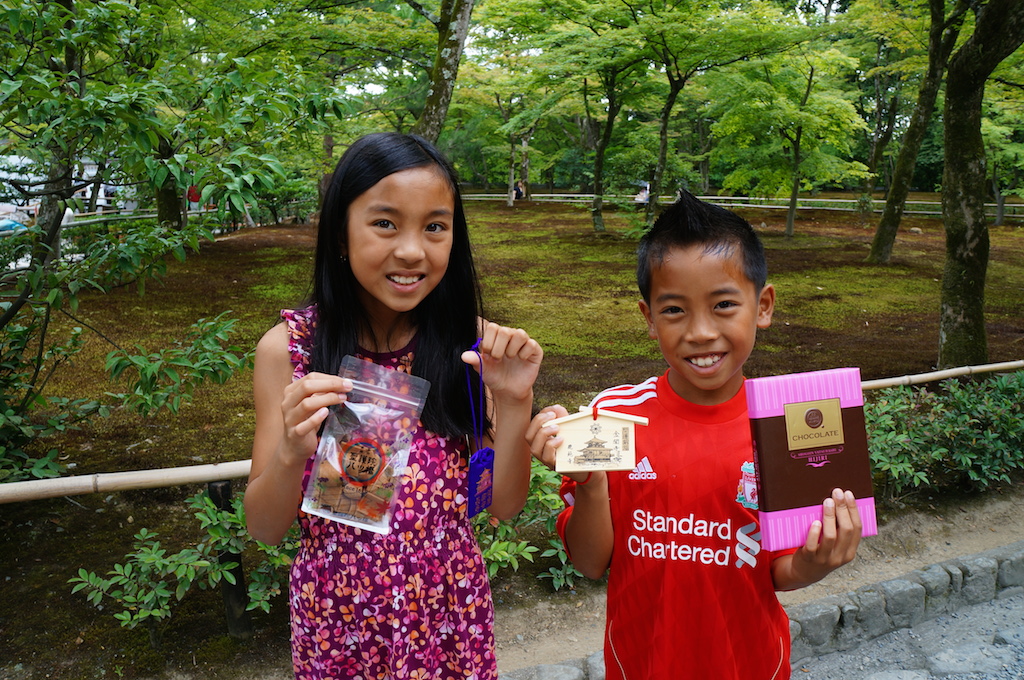 In a city full of temples and reminiscent of ancient Japan, Kinkakuji and its setting in a reflecting pond and garden was one of the most beautiful temples we've ever seen. This doesn't exude a relaxing atmosphere with the number of tourists it attracts.  But, it is a spectacular sight, in addition to its paths and structures, and it shouldn't be missed no matter how short a time you have in Kyoto.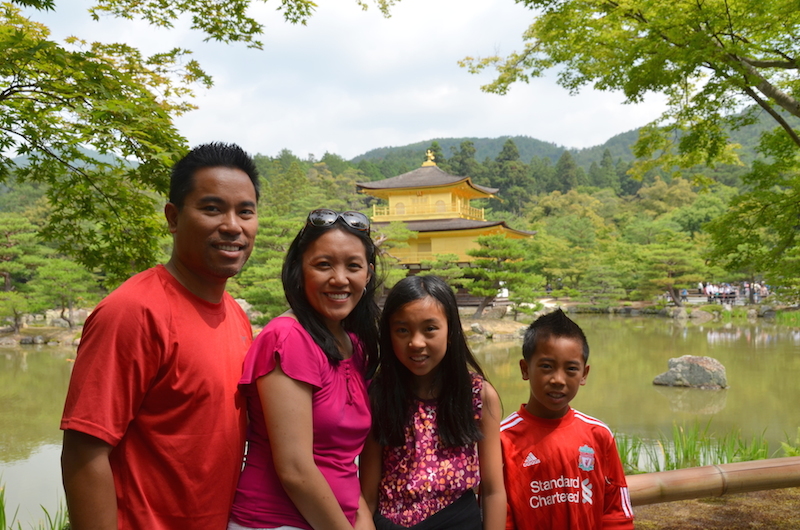 Visiting the Golden Pavilion Tips and Basics
Admission price: 500 yen ($5 US)
How to get here: We purchased the Kyoto daily buss pass from the visitors center inside Kyoto station and took the bus here. It was a short walk from the bus stop. Kyoto City Bus number 101 or 205 took about 40 minutes from the Kyoto station.
It's also accessible through the Karasuma Subway Line to Kitaoji Station from Kyoto Station and takes about 15 minutes and then take a bus or taxi.
There are plenty of vending machines towards the exit for drinks and ice cream.
It's not a very big complex and one should probably allocate about 60-90 minutes here depending on the crowds and how closely you want to examine the structures or pleasantly stroll around the gardens.
Have you strolled the grounds of the Golden Pavilion?
Where to stay in Kyoto
Save up to 50% on Value Deals in Kyoto through Booking.com!
See the best hotel prices from the major travel sites on

HotelsCombined

.
Find the best Kyoto hotels and read reviews on TripAdvisor.
Flights/Vacation Packages
Compare and book cheap flights to Japan through Vayama.