Hiking the Redwood National Park's Fern Canyon
Redwood National and its three California State Parks are known for the majestic and tallest trees on earth. I showed you last week our short hike through Stout Grove Memorial Trail among these ancient giants. But, this park system also has a variety of natural wonders waiting to be explored. One of the most unique trails we've ever seen was Fern Canyon at Prairie Creek Redwoods State Park in coastal Northern California. Come along with us on an adventure through fern-covered walls, elk on the beach and an unforgettable sighting.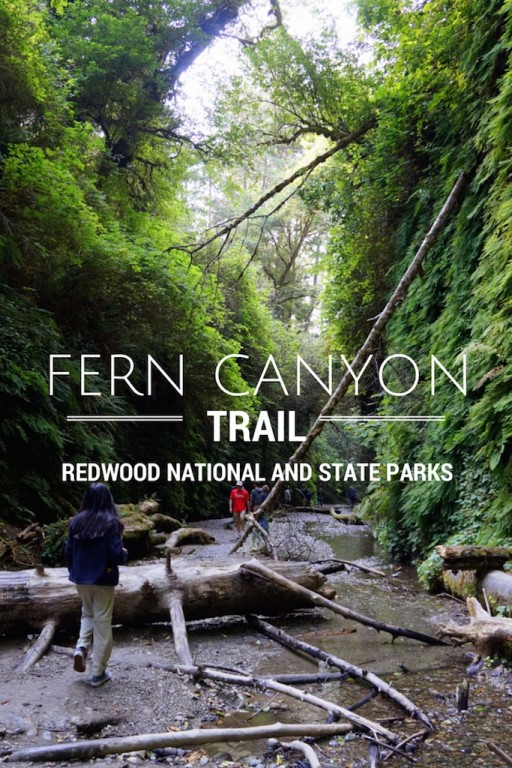 It's not the easiest trail to reach but worth the drive and hassle especially with the kids constantly asking "Are we almost there yet?" We went through six miles of narrow, bumpy, dirt and gravel forest road crossing a couple of small streams.  Most of the foliage and branches along the road were gray from all the dust clouds from the passing cars as you can see from the picture below.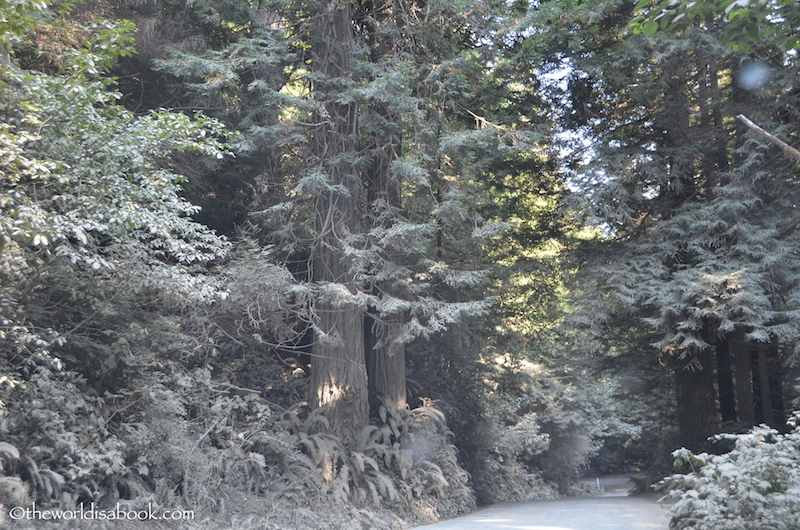 The drive descended into the shoreline and Gold Bluff's Beach where gold flakes were once found on the sand and became a site for a small gold rush.  The coastal bluffs were covered in mist when we got there which made it look very mysterious. From the parking lot, it was an easy .1 mile trail to Fern Canyon Trail along a creek.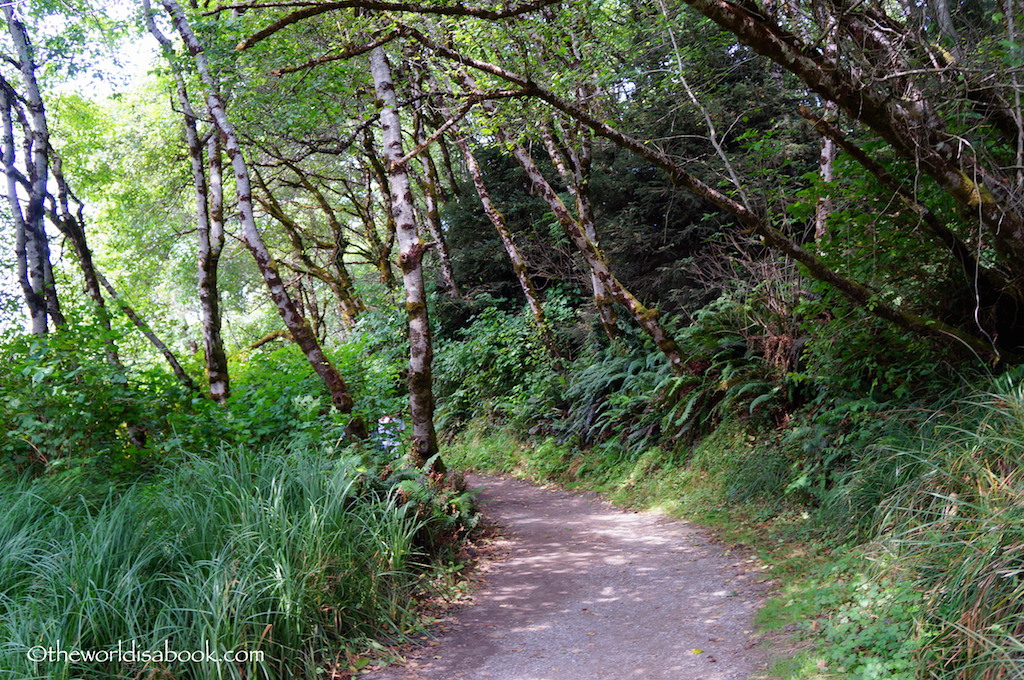 Once we turned on the path, we were greeted with tall canyon walls completely covered with varied ferns and mosses. It was an impressive sight!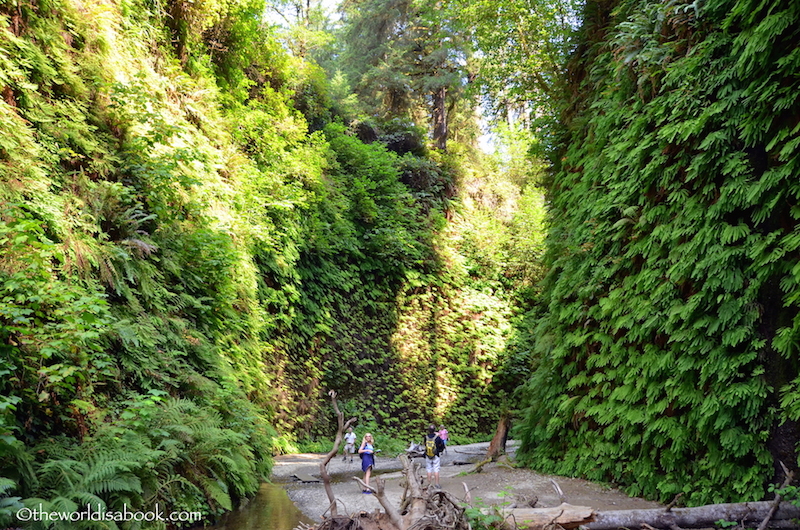 Clinging to the walls were five varied ferns we had never heard of before like five-finger, deer, lady, sword, and chain ferns. Fern Canyon's steep walls were created and sculpted millions of years ago by water draining into the ocean the sea in this area retreated. Some of these ferns were ancient species from prehistoric times.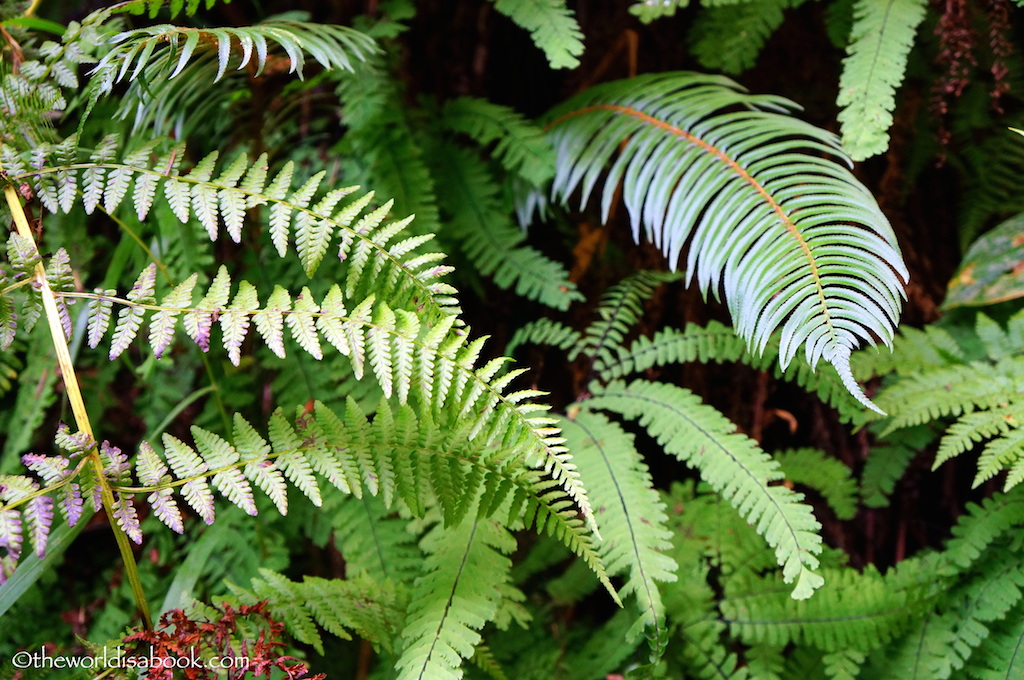 We followed the path along the creek while walking on pebbles and a couple of inches of water in some areas as it curved through the canyon. We were here during an early August weekend so water levels may vary by season. If you have kids (or those young at heart) who like to jump in puddles or splash in stream beds, this is an ideal place to enjoy it.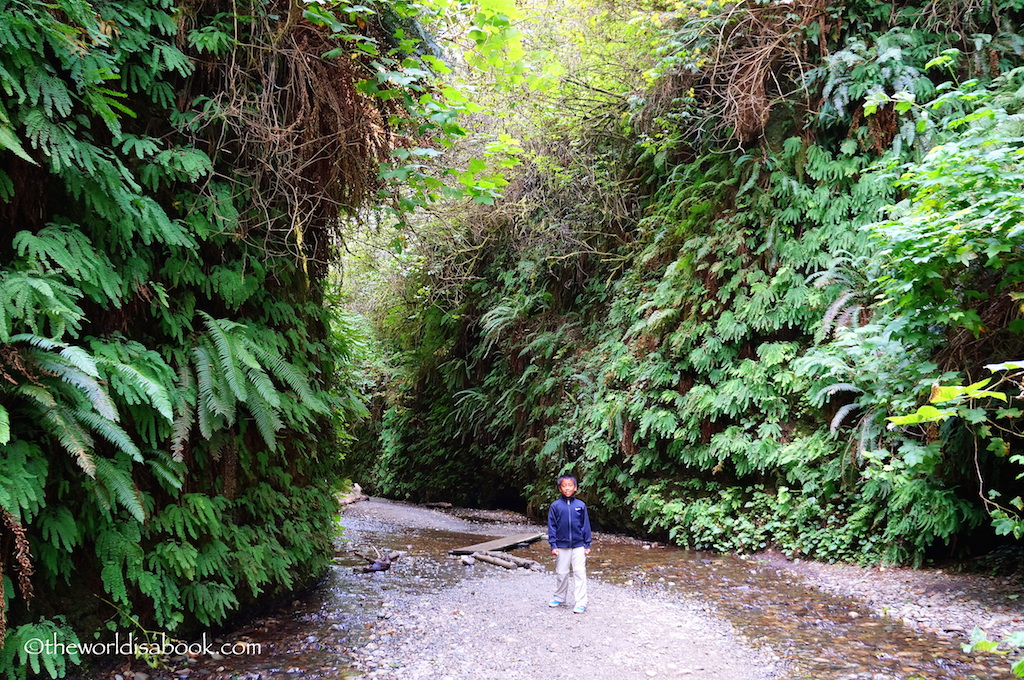 Fern Canyon ranged from 15-30 feet wide and with 30-50 foot walls and was so green and lush. We felt like we were transported back to thousands of years ago or in a fantasy world of elves and fairies. Walking between these tall fern walls was an amazing experience and was such a memorable hike.

The whole trail was about half a mile one way and ended at  some steps to climb out of the canyon. This led to the James Irvine Trail. We decided not to venture further and just returned via the path we came in. The walk back was a different perspective but just as beautiful.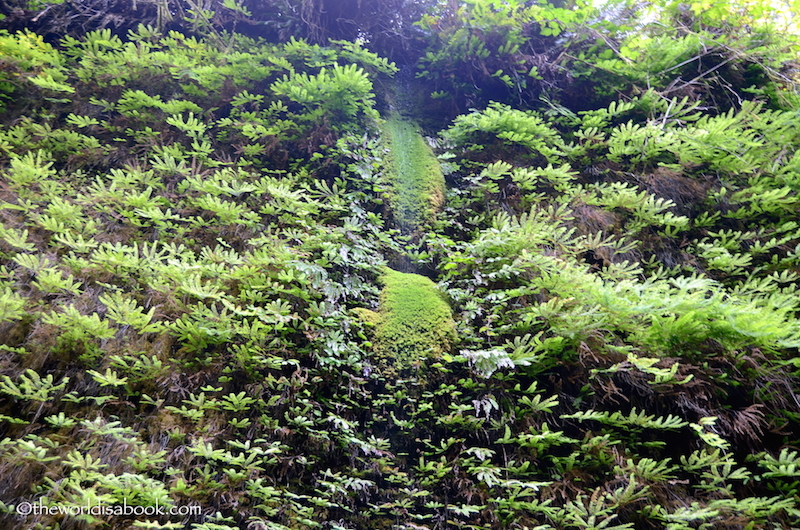 We found some water seeping and flowing down the canyon walls. Some were tiny drips and others were mini waterfalls. It was very relaxing to stand there and try to trace its path down.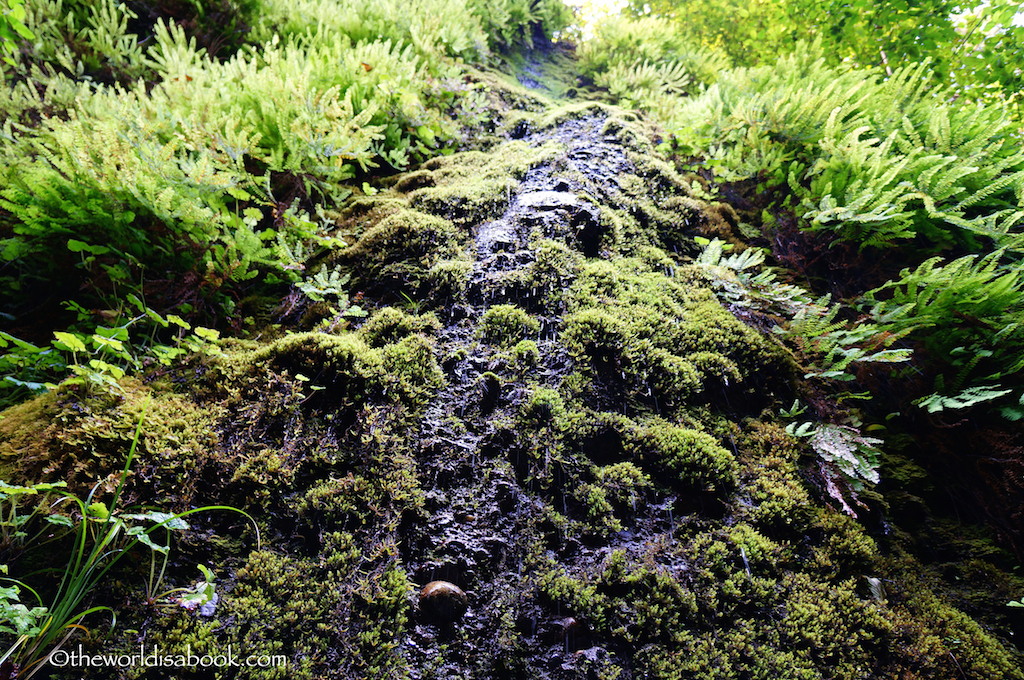 Much like the redwoods, there was something primitive, calming and mystical about this place. It was incredible to be surrounded with so much fern and greenery than we've ever seen. There weren't that many people here during our late afternoon visit. Most of the time all we heard was the sound of running water from the creek.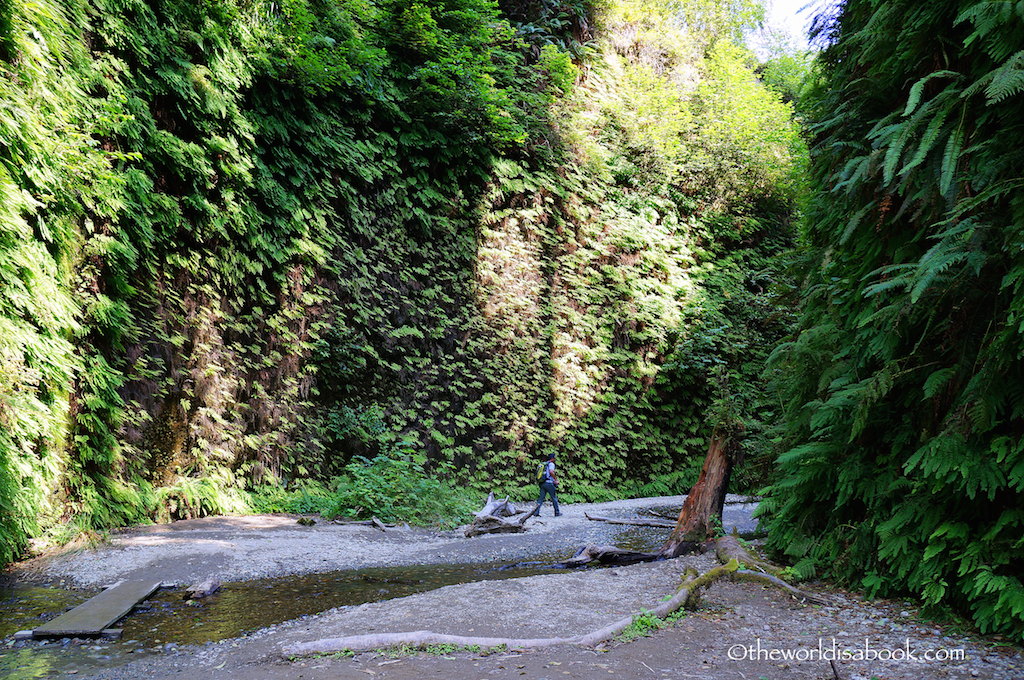 My kids really enjoyed wandering through the creek and trail. In some areas, we passed through some wooden planks used for footbridges to cross the creek.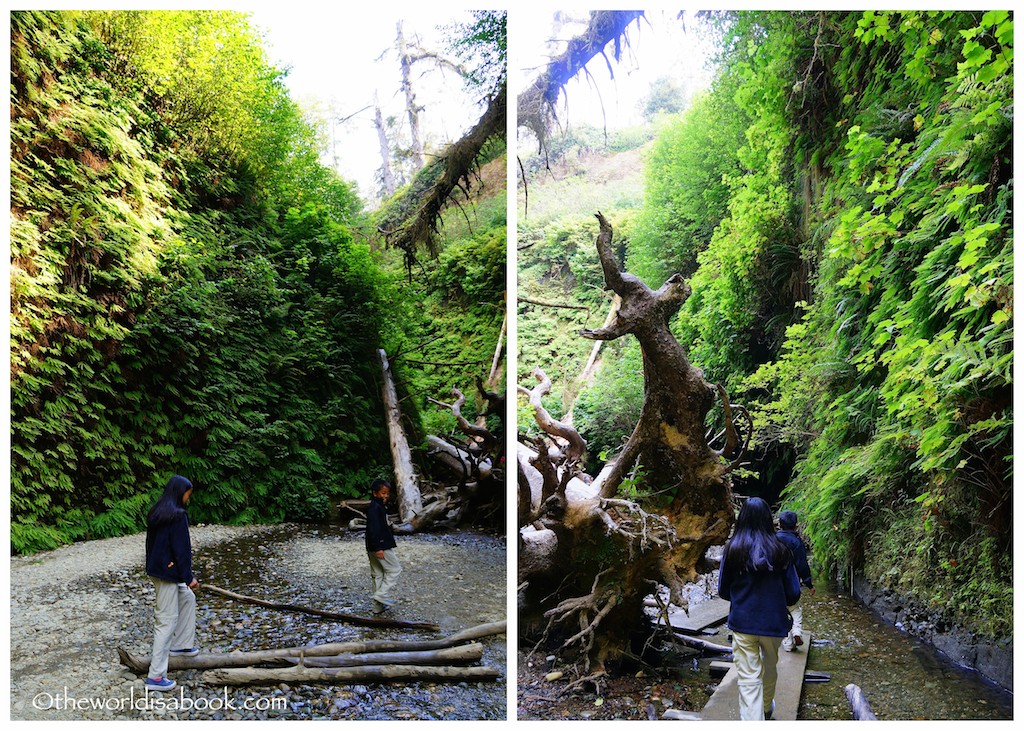 I think my kids liked climbing and scrambling over these fallen trees along the canyon trail the best. Mother Nature's outdoor playground at its finest. We actually had to navigate around or climb on some of these trees to pass through some blocked paths. It made the hike more adventurous.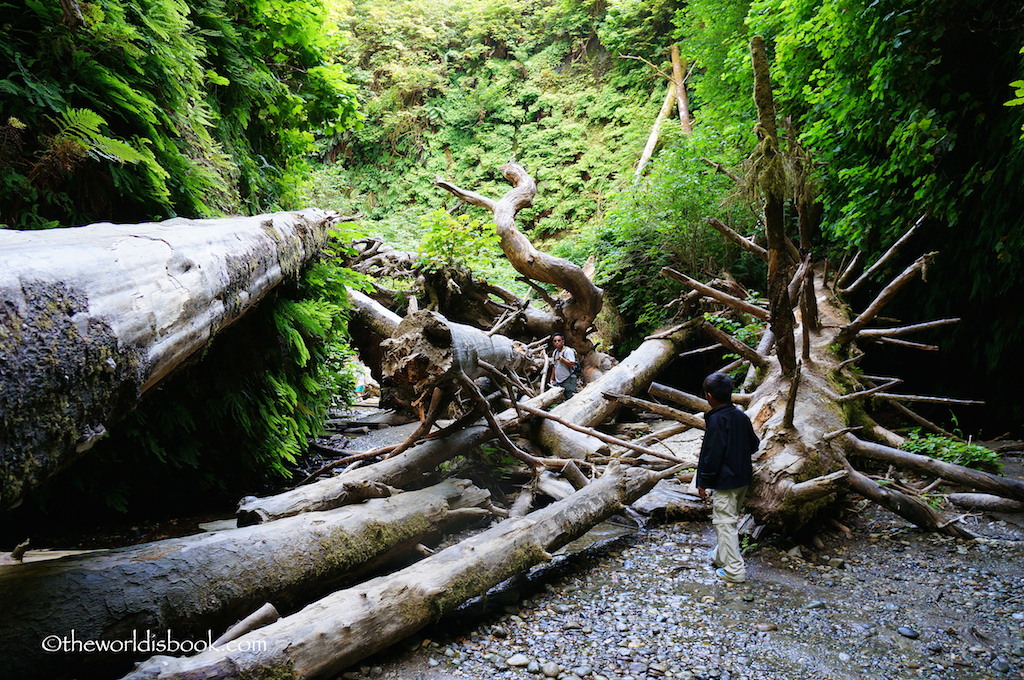 It would probably be a quick half hour to get through the canyon but we took our time to see the ferns closer, took many photos and looked for animals the information board told us lived here too. While we didn't see the green tree frog or the Oregon salamander (despite my kids thoroughly looking at the fern walls and shrubbery), we did spot this garter snake. Can you see it?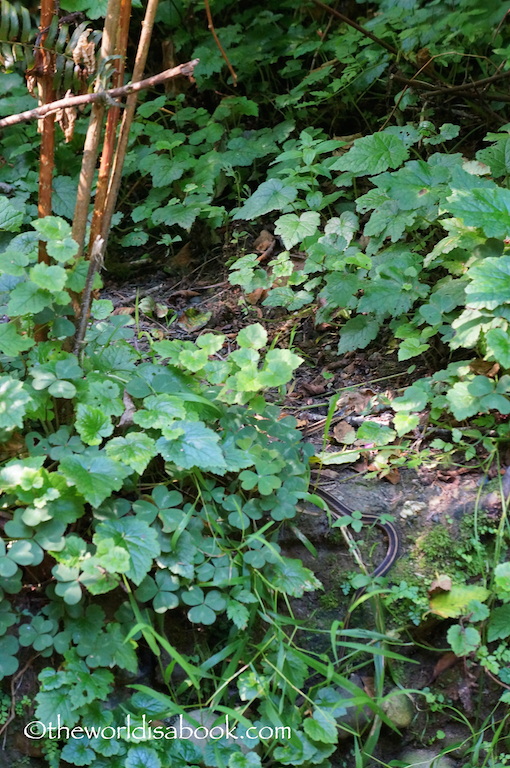 There were some logs along the walls that we sat on. Resting wasn't necessary but this was one of those places you had to stop and take in your surroundings. It was an amazing feeling to sit there and look up at these fern-covered walls and the trees on the ridge.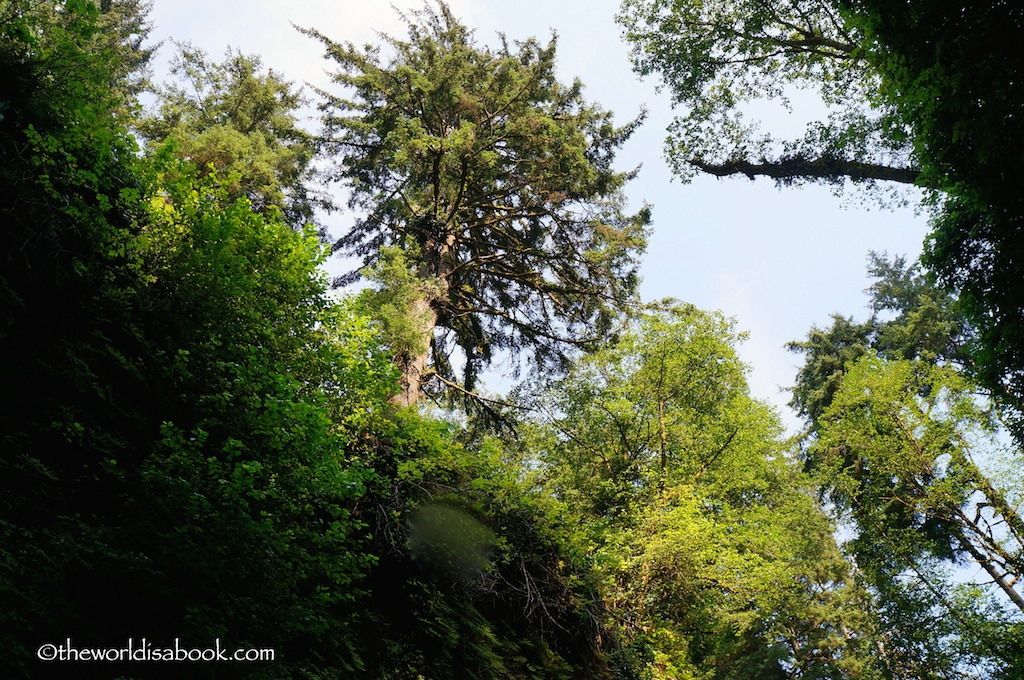 We read before coming here that this location was used in the dinosaur movie, Jurassic Park 2: The Lost World. It wasn't hard to see why this was chosen and we could almost picture the dinosaurs walking through this canyon.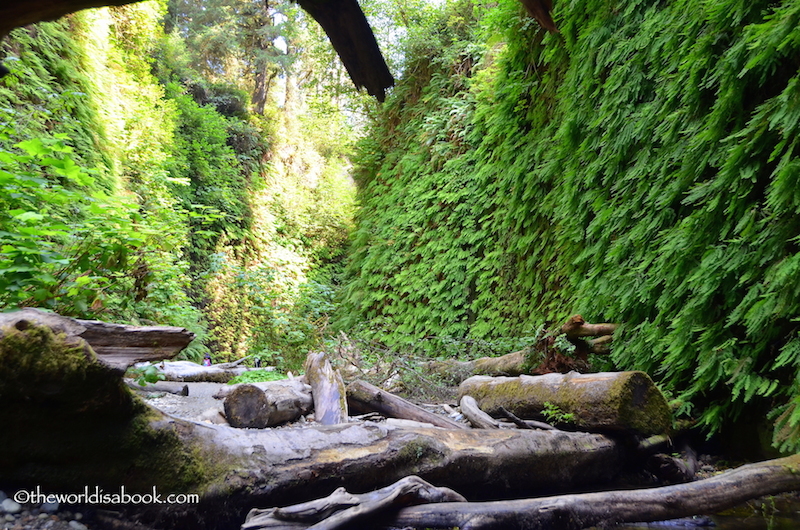 There is more to this area beyond the redwoods and Fern Canyon. Head to the beach from the parking lot for some of the best animal sightings. We spotted this herd of Roosevelt elk lounging on the sand.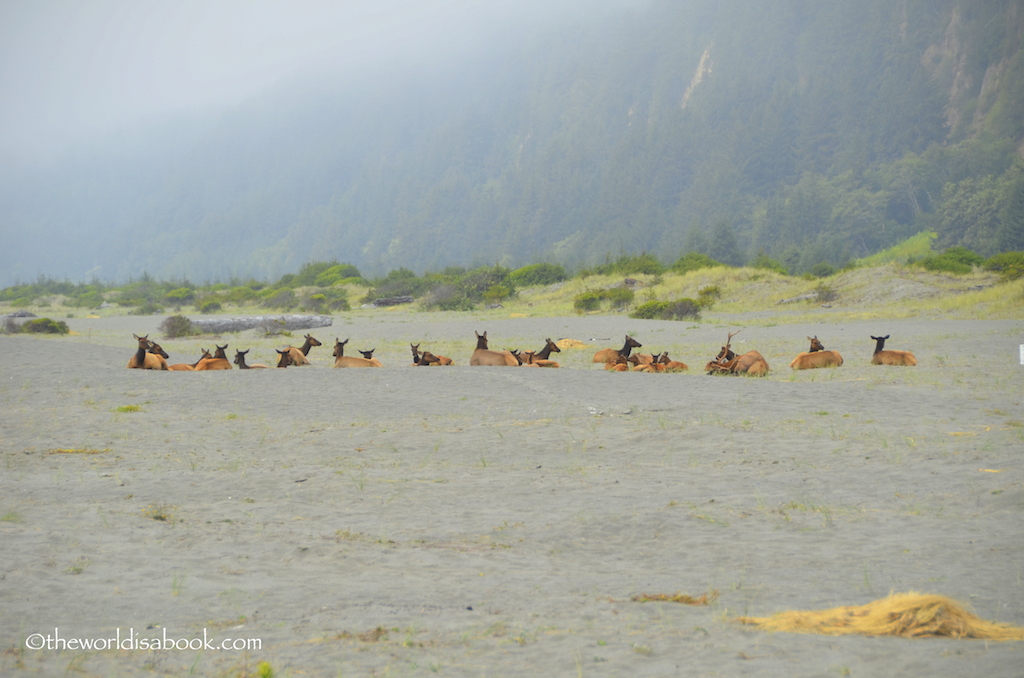 They've been described as a cross between a "South American llama and a deer". They roamed freely throughout the parks. Roosevelt elk are the largest of the last remaining North American elk subspecies. They eventually moved to their grazing areas. We all kept our distance but were fascinated with their every move.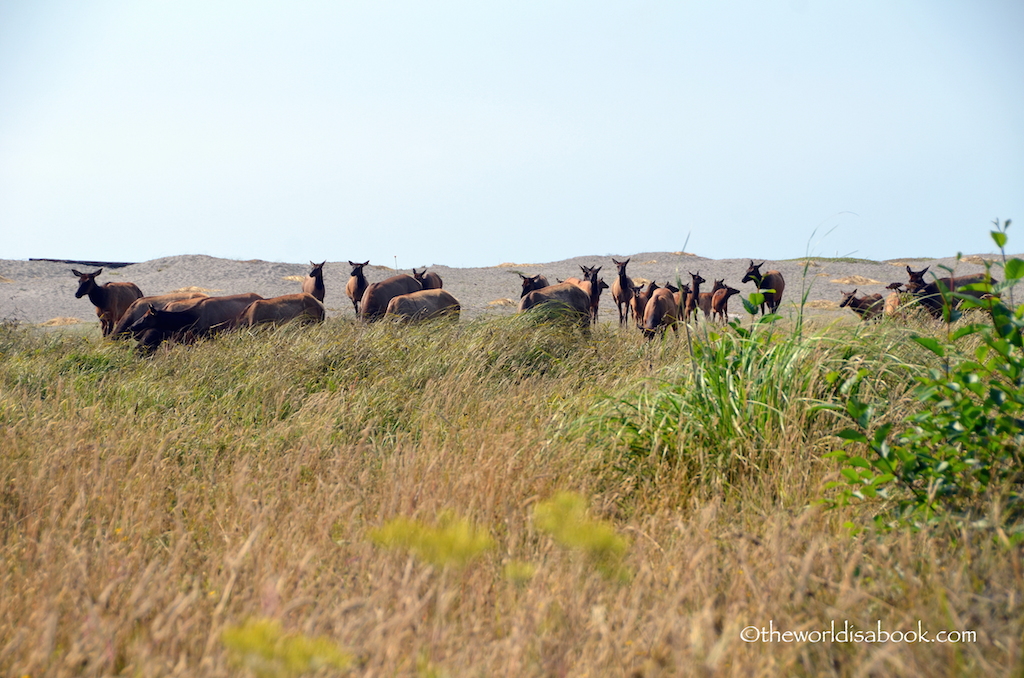 Most were females and there were even a few calves. But, the most impressive ones were the males or bulls. They average about 875 pounds and looked very intimidating. Those antlers looked scary!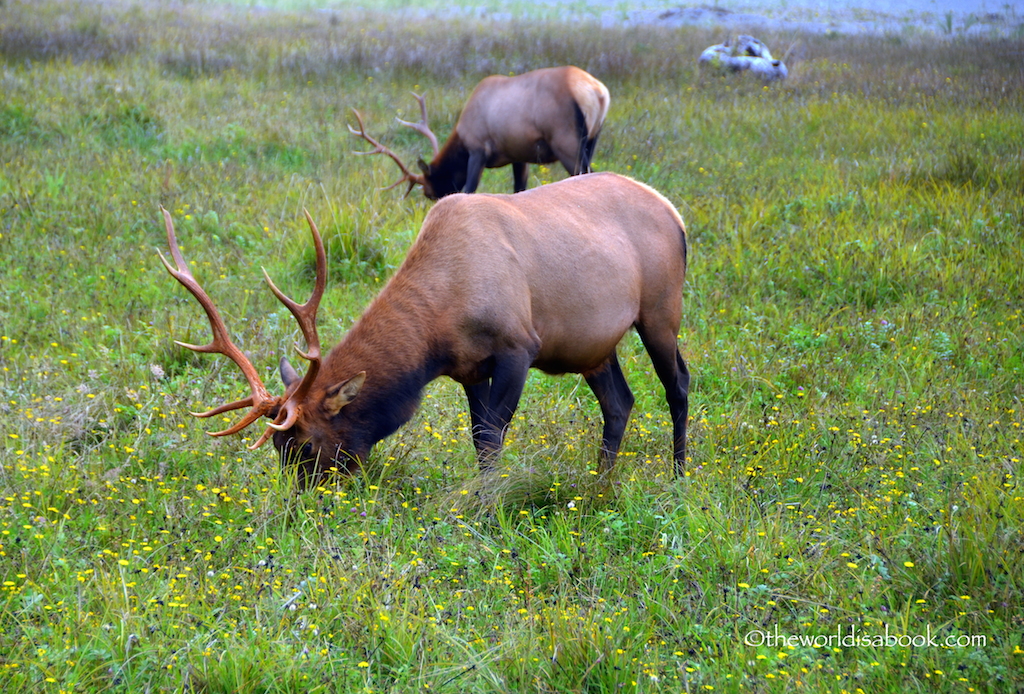 It just goes to show that you sometimes see some strange things on the road. Unicorn man was certainly unforgettable. He told us he wore it to "have a little fun" and he enjoyed seeing people's reactions. He certainly made quite an impact on us and the crowd there. I did say this place was magical, right?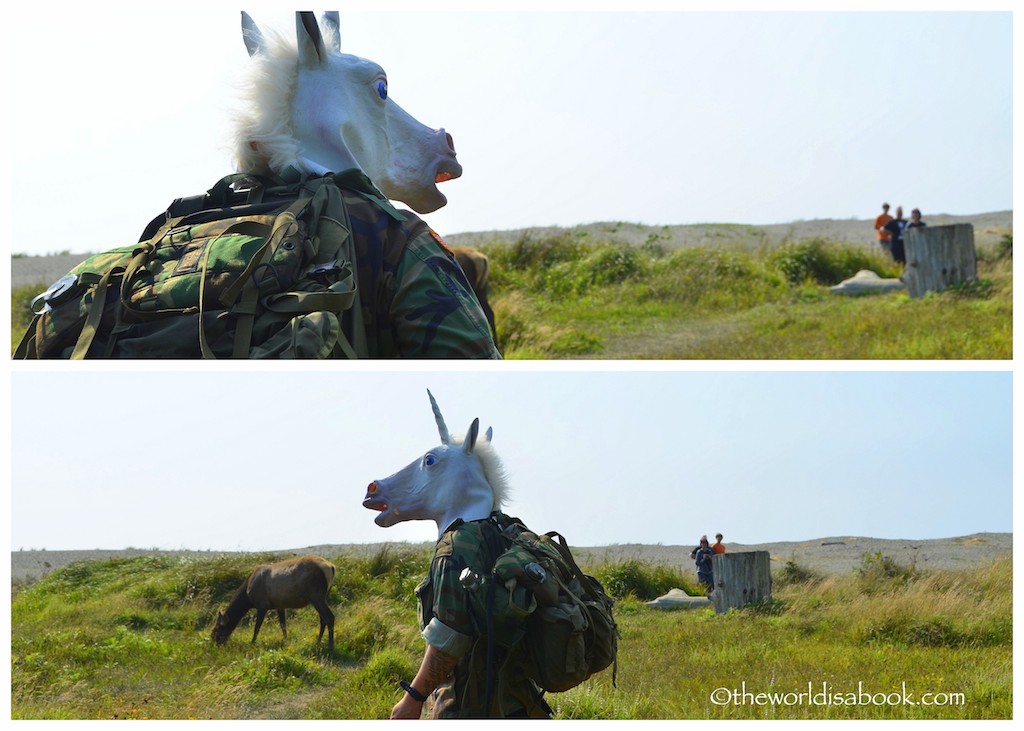 Fern Canyon was a short and unique hike on an easy and scenic trail for all ages. It may not be famous or huge but it was still an amazing place to visit. It really was a hidden gem within the redwood forests. If you make it to this part of California, power through the dirt roads and make your way to Fern Canyon and its surrounding beach for a memorable experience. Who knows what you may run into.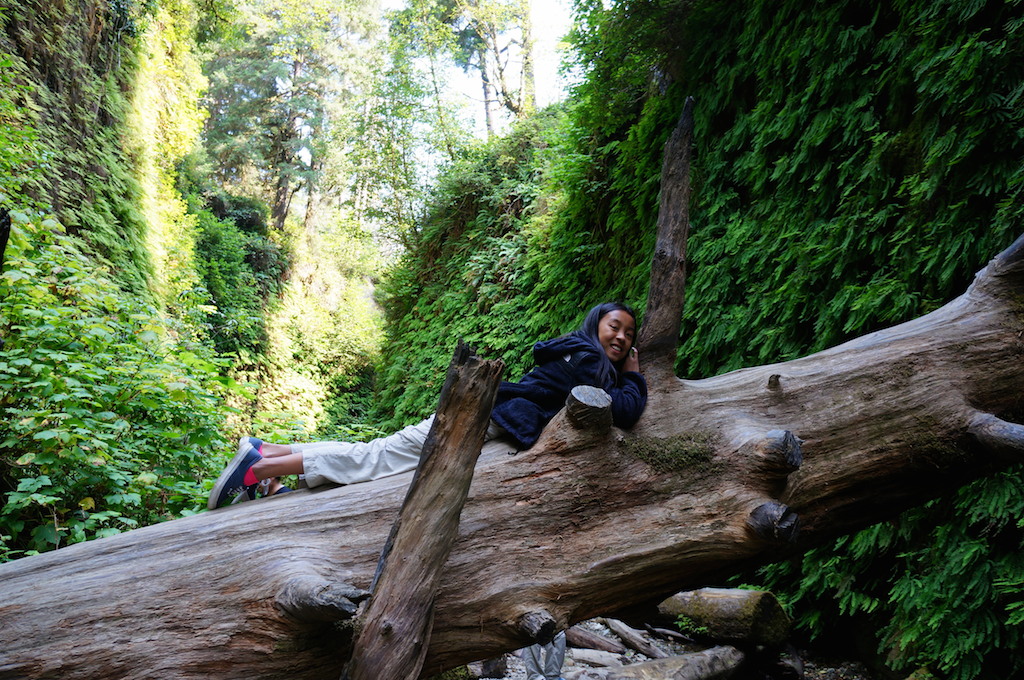 Hiking Fern Canyon Basics and Tips
Cost: $8 day use entrance fee (cash or check only) unless you have a California State Park or National Park Service pass. It's collected at a fee station before reaching the beach.
Getting here: Head west on Davison Road from Highway 101 which is about three miles from the town of Orick. Follow the Elk Meadow road for about six miles to Gold Bluffs Beach and continues for about 1.5 miles and ends at the Fern Canyon Trailhead and parking lot. Only vehicles under 24 feet long and motorhomes and trailers are not allowed on this road.
It can also be reached by hiking the five-mile James Irvine Trail that starts at Prairie Creek Redwoods State Park visitor center.
Wear water shoes if you can but closed toe is preferable with small pebbles possibly getting into sandals and slippers.
There were bathrooms (port-o-potties with no flushing or sinks). Bring hand sanitizers or wipes.
There were some picnic tables around the beach area and if you get lucky, you may have unobstructed views of the elk.
There were no food concession stands or vending machines here so bring plenty of food, snacks and drinks.
Despite the road being rough and feeling like you're on an off-road adventure including the creek crossings, we had a four-door standard rental car and we made it intact. The car was very dirty and dusty but had no issues of getting stuck
Have you visited Fern Canyon or the Redwood National and State Parks?
Check out these related posts: