Paradise Found at South Sea Island Fiji
It's been far too busy in our household with work, school and too many of the kids' activities even for weekend getaways these past few weeks. So, I've been reminiscing a lot about our whirlwind trip last summer and felt it's about time I shared some of Fiji with you. It's also timely as Fiji will be celebrating their 44th year of independence from Britain on Oct. 10. Fiji has over 300 islands; about 100 of them are inhabited. This was our day at one of Fiji's island paradise.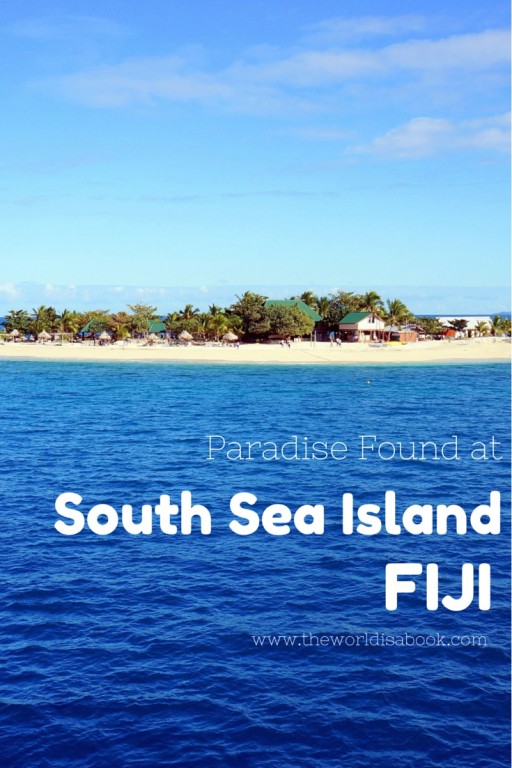 South Sea Island is a tiny island located about 30 minutes from Port Denarau on Denarau Island where many of the resorts were located. South Sea Cruises is the main ferry that transports visitors for day trips to some of Fiji's idyllic isles. We chose South Sea Island, one of the Mamanuca Islands, since it was the closest one from the port and our hotel.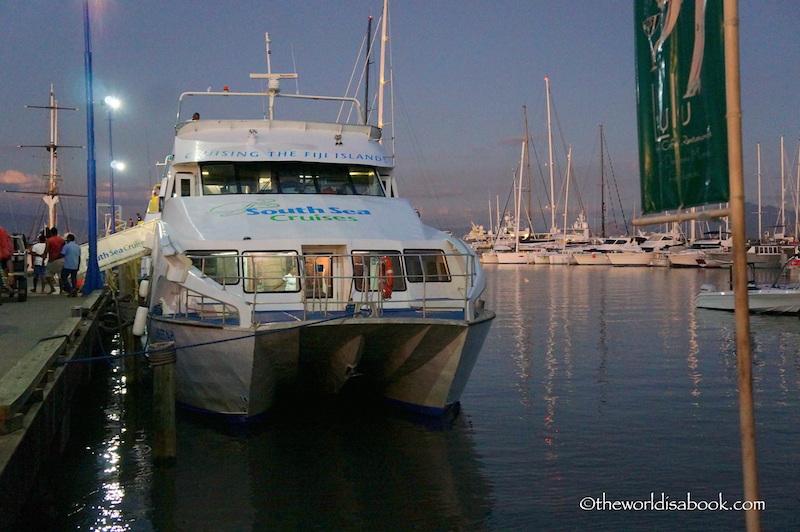 South Sea Cruises was a huge catamaran with two decks, a bar, TVs even Wi-Fi. It was a very smooth ride even for those prone to seasickness. We stopped near the island and all of us going to the island transferred to a smaller boat. As soon as we stepped on to the boat, my kids exclaimed about spotting schools of fish on the clear water.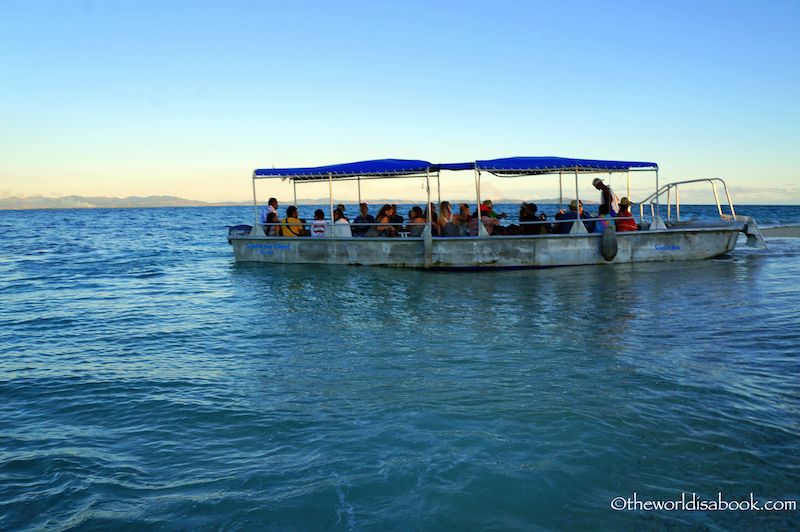 There was no dock here so we just simply walked off the boat on to the island. A friendly local warmly greeted us and asked us to gather for an orientation. The briefing outlined all the activities available on the island including free use of all non-motorized water sports equipment and free drinks including beer, soft drinks and wine all day. There were some cheers for that one and you know why some people never wanted to leave.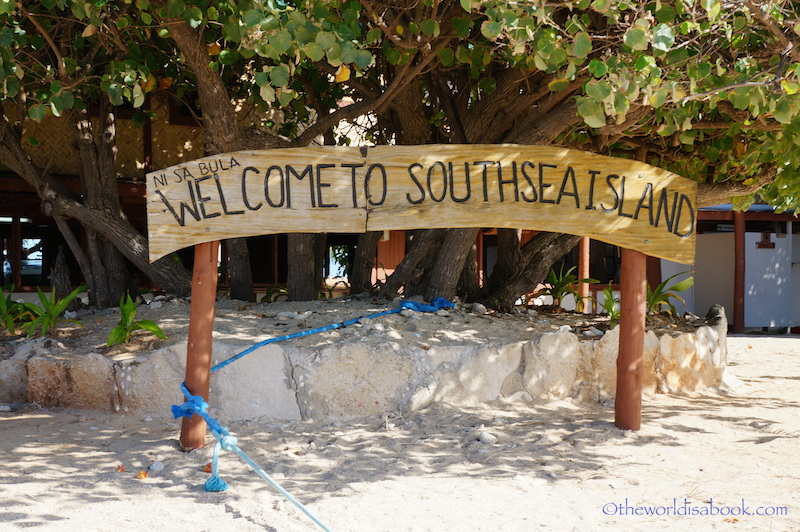 This island was so small that we could walk across it in one minute or go around it in less than 10 minutes non-stop. There was only one building here which housed overnight accommodations for some guests.

What it may lack in size, it made up for its postcard perfect setting of a remote island paradise. No Internet, no TV, no outside distractions.  It almost felt like we were on our own private island.  We probably got lucky. I've read that there could be upwards of a hundred or so people here during the day but there were only about forty of us who got off. The water was so inviting and crystal clear. Everyone was excited to get into the water and what an added bonus to find it warm too.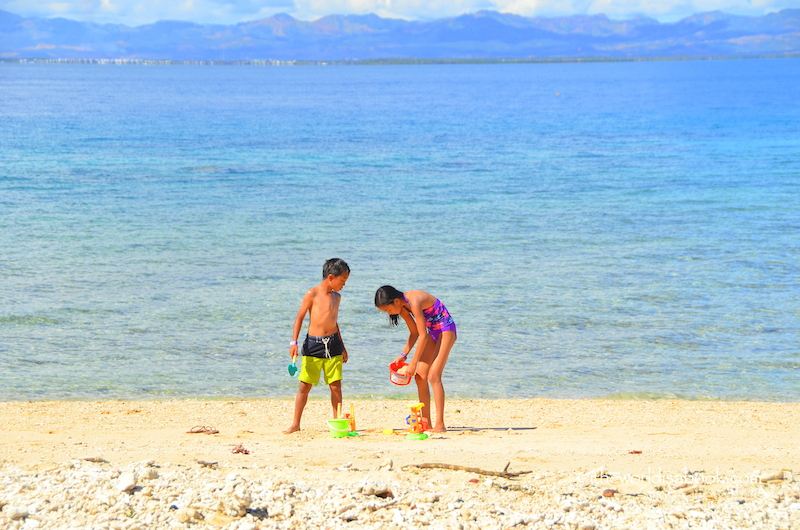 There were beach umbrellas with mats, beanbags set up along the sand and thatched palapas. We claimed our spot for the day and the kids went off swimming. After a hectic travel itinerary, this felt so relaxing and nice. We're not much for laying around the beach the whole day type of family but heck, we were in Fiji so why not.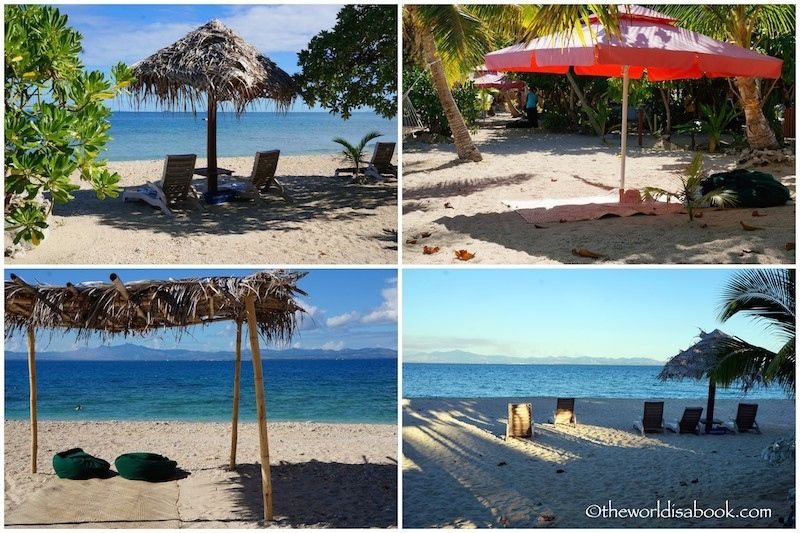 We were treated to coconut tree climbers who also demonstrated how to break and husk a coconut. And it was all done with ease. There were also some weaving of coconut leaves into hats and baskets.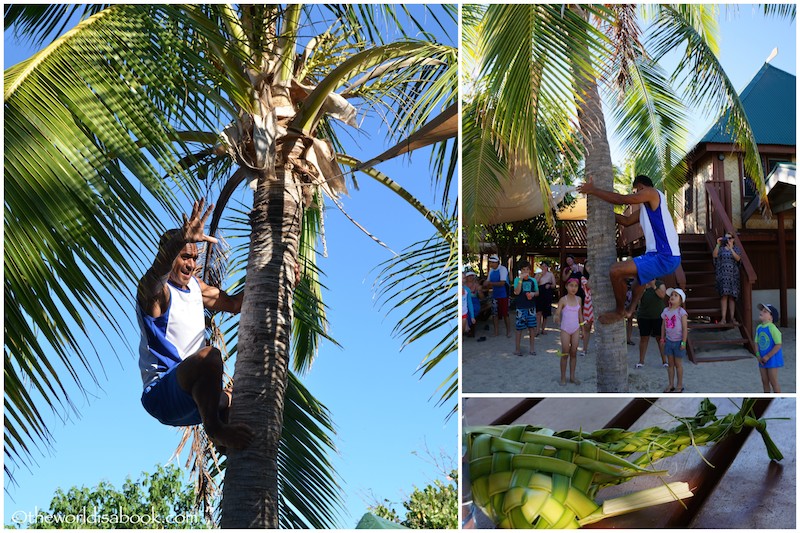 There was also an option of a salt-water pool perfect for younger kids.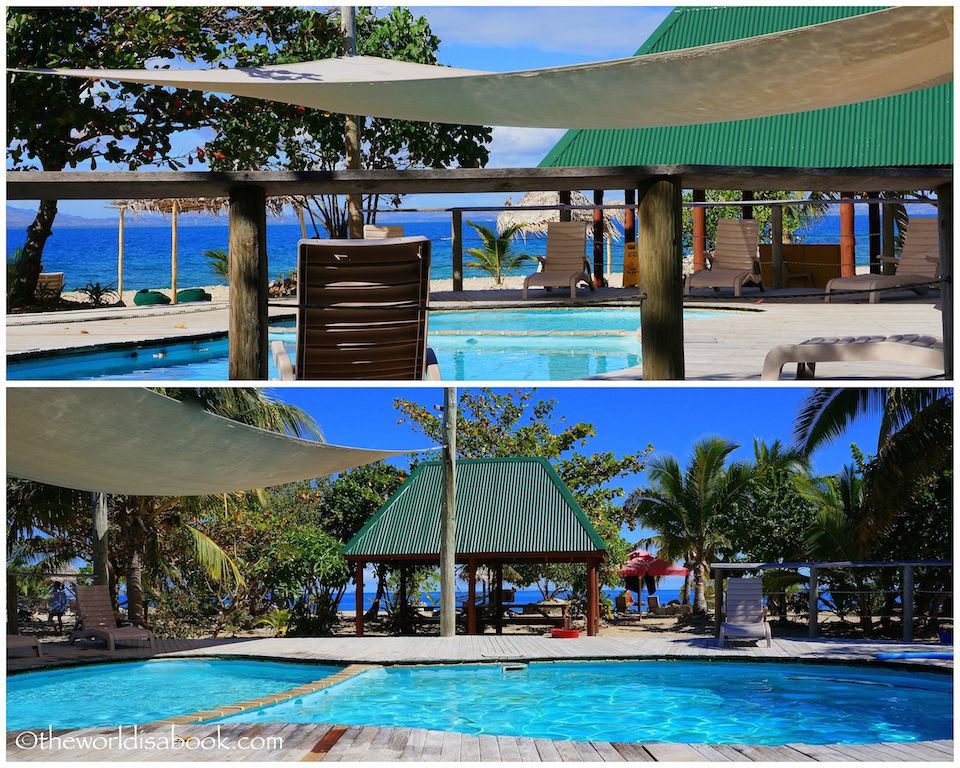 For parents that wanted to enjoy some adult-oriented activities or needed a little break, a complimentary kids club was offered for children ages 3-12. Activities ranged from face painting, weaving, painting, drawing to shell collecting. For the first time, my kids weren't interested in joining the fun since the water activities were too much to pass up.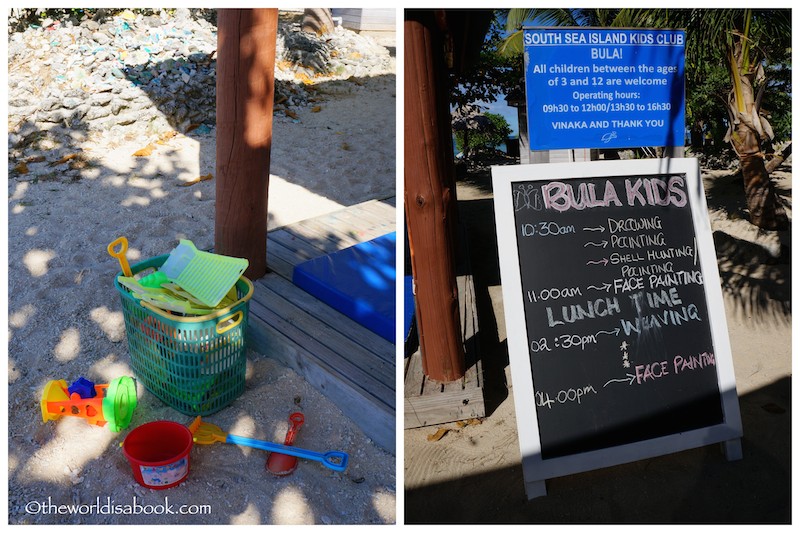 Lunch was served in a buffet style. We were treated to some local dishes, salads, fruits, barbecued fish, meat, chicken and sausages.  A Meke performance of traditional Fijian songs and dance is performed from Monday to Saturday during lunchtime. Unfortunately, we were here on a Sunday but we were still serenaded with some beautiful island music.
So, what can you do on a tiny island? Surprisingly, plenty enough that you'll probably never hear the kids utter they're bored. The staff also did a wonderful job of making announcements for upcoming activities throughout the day.
Snorkeling was available practically anywhere on the island with free gear to use. It may not have much variety of coral but it had plenty of colorful, tropical fish. I'm not much of a snorkeling fan (more points being taken out from my island girl credentials) but I actually enjoyed it here. The water was warm, clear and there was hardly anyone around to bump into or scare the fish away.
There was also a snorkeling tour with staff at designated times. A motorized boat took visitors to another area a little bit further from the island.  There were also introductory scuba diving and diving tours available but weren't free. Though, it was pretty reasonably priced at about $100 US more for a full day ticket.
The yellow, semi-submersible Subsea Adventure vessel had two tours throughout the day for coral viewing through panoramic windows.  It was a great way to discover the treasures in the surrounding coral lagoon and Marine Sanctuary around the island without getting wet. The afternoon tour was less crowded than the morning tour.
Kayaking in the ocean is usually a bit challenging with kids. The water here was calm enough that my then 8-year old son was fine on this kayaking trip halfway around the island.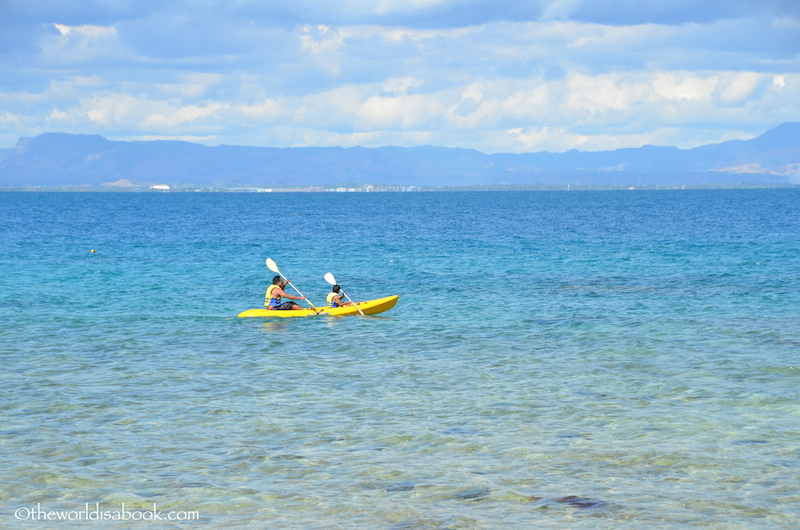 There were also stand-up paddleboards, windsailing and even a game of beach volleyball between the staff and guests.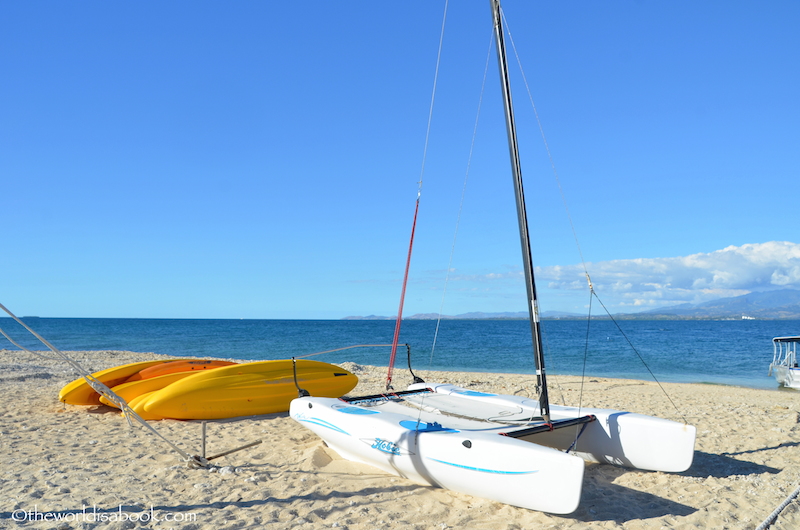 We also had the opportunity to see what was beneath the clear waters here. Low tide revealed some organisms and sadly, a lot of dead coral. A lot of the coral here was destroyed after a recent typhoon.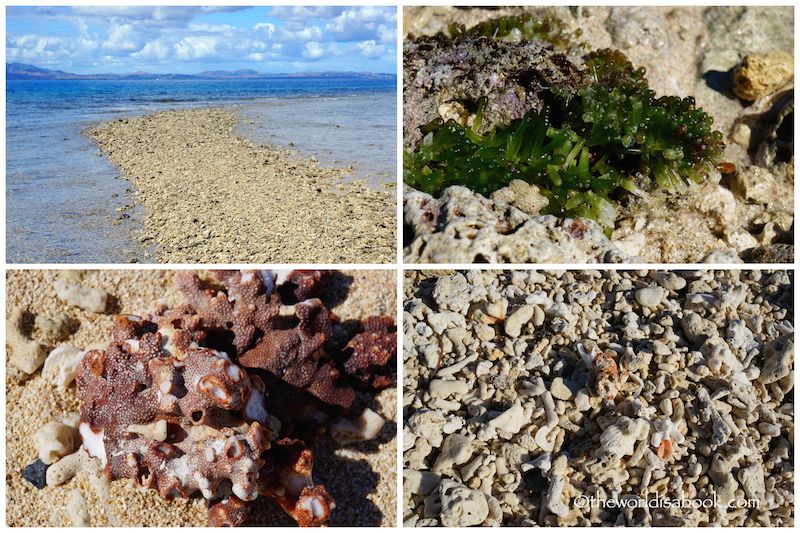 Care for a beachside massage? This little hut had two massage tables with the sound of the ocean waves crashing as the perfect backdrop. We were too busy with everything else that we never got around to enjoying this bit of luxury.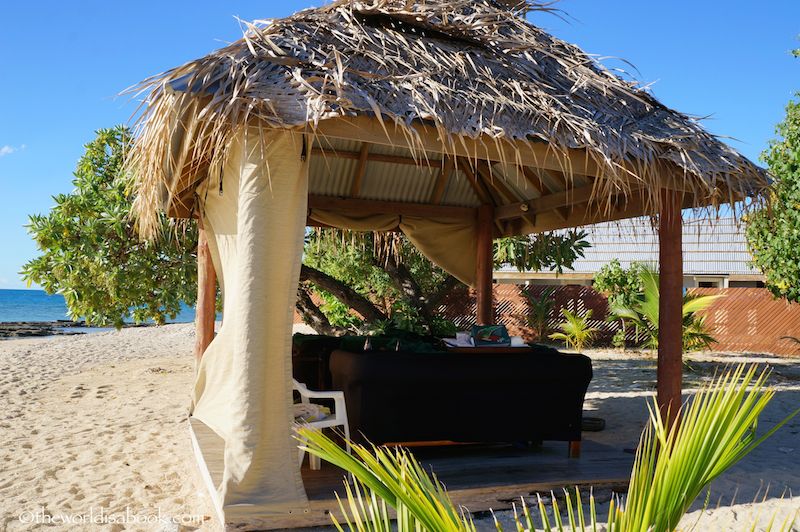 Our favorite hangout areas throughout the day were these hammocks tucked under palm trees. With an almost perfect weather and a nice sea breeze, it was the ideal place for an afternoon nap.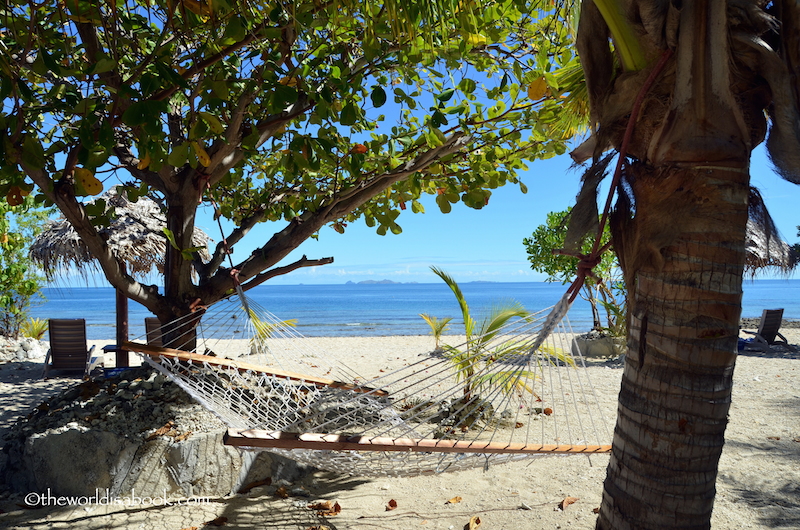 Spending the day at South Sea Island was one of the highlights of our vacation. The staff did a great job entertaining and catering to guests and the activities were well organized. We liked that we had options to do as little or as much as we wanted on the island. Considering all the amenities that came with it such as the free lunch, drinks and the non-motorized water sports equipment, this was one of the best values in Fiji and one we highly recommend.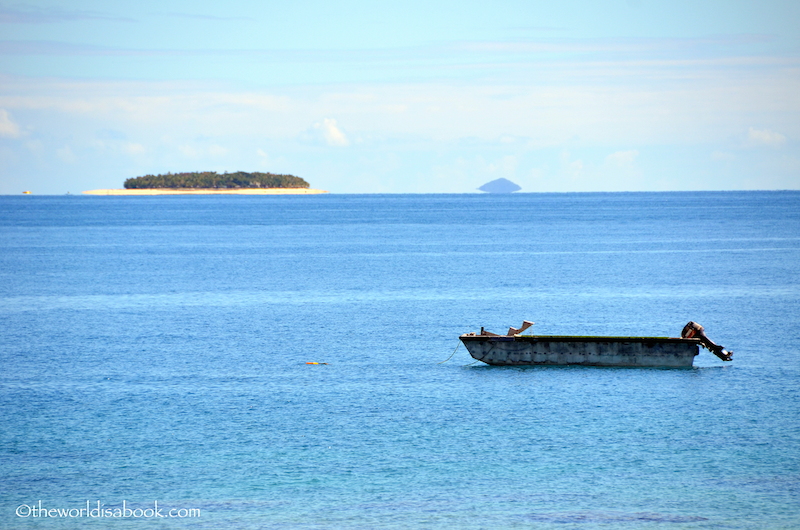 Visiting South Sea Island Basics and Tips
Tours to South Sea Island can be half-day, full-day, combo cruise for three hours here and island hop or the Finding Nemo one with two hours on the island. Prices range from $159 US per family for the two hours to $286 US per family for the whole day. The Family pass includes two adults and three children. Adult prices ranged from $86 US for half-day to $106 US for the full day tour. Check the

South Sea Cruises

website for updated information.
The earliest ferry leaves at 9:30 AM everyday from Port Denarau.
There are overnight accomodations on the island. We caught a glimpse of bunk beds arranged in one open room. It may be well suited for backpackers but not much for family travelers.
Wear water shoes! There were a lot of broken coral on the sand and they hurt!
If there are a lot of people getting off the island, have someone in your group reserve your covered spot as soon as you get off the boat while everyone is led to the orientation. We liked the side where the boat came in but later in the afternoon moved to the other side for shade.
Fresh water shower is available out in the open and came from a big water drum.
Bring plenty of sunscreen. There aren't many shaded areas here.
Free pickup and drop-off at hotels in downtown Nadi and Denarau resorts.
Have you visited any of the Fijian islands? Where is your island paradise?
Disclosure: South Sea Cruises graciously hosted our family on this full day trip to South Sea Island. As always, all opinions about our experience are our own.
Check out these related posts: