Maui Lodging: Maui Seaside Hotel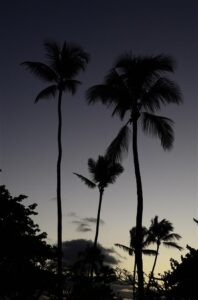 Maui Seaside Hotel – Kahului
We arrived late at night from a flight and didn't want to drive further to the beach resort areas at night with kids in tow so we stayed closer to the airport.  We had two options for a one night stay in Kahului. This hotel was rated higher with a few of the travel sites than its neighboring Beach Hotel so we booked it.  We didn't expect too much even after booking a "superior" room for $10 more than their standard room and knowing this was an older hotel.
However, even with low expectations, it was still disappointing.  The rooms weren't the cleanest and were in dire need of upgrades. It was definitely more of a motel.  The hallway was dingy and dark. We were in the "tower" section which was really just a three-story building.  We caught a glimpse of the rooms overlooking the pool and it had the same décor and furniture as ours. There were no ironing boards in the rooms but were available at a room next to the restaurant with the washers and dryers.  We had to use it and those ironing boards had certainly been used a lot and needed replacements. Parking was an extra $5 or free if parking on the dirt lot a building away.  We decided to pay the $5 and parked in their lot although it was pretty crowded when we got there and the security guard had to help us find a spot.
The best thing about this hotel had to be the location.  It was across from the Queen Kaamana mall (Maui's largest mall) and was also on a street with the Maui mall nearby for plenty of restaurants and stores including Long's Drugs and Whole Foods.  The major stores (i.e. Costco, Wal-Mart, and Kmart) were all nearby to stock up on supplies and souvenirs. There was a small strip of beach behind it good enough to walk around but wasn't too inviting for a swim.
The staff we encountered was all friendly and courteous.  Another good thing was the complimentary breakfast for 2 adults at the Coconut Grill restaurant within the hotel.  We probably would only stay here again if were stranded at the airport.  In hindsight, we should have driven to the Kihei area for another 30-40 minutes for better lodging selections.
Website:http://seasidehotelshawaii.com/
Contact: 808. 877.3311   Address: 100 W Kaahumanu Ave, Kahului, HI
Our other Maui family lodging reviews:: Royal Lahaina Resort Kaanapali Beach Hotel
Related Links:
Check out these related posts: