Postcards from a Venice Gondola Ride
Venice has captured my heart again. We just came back from another whirlwind trip last week through Spain and Italy. One of the highlights was our family gondola ride throughout Venice's canals. My husband and I visited Venice four years ago without the kids and didn't get around to doing the gondola ride for several reasons. But, we did vow to return to Venice with the kids and ensure we ride a gondola with them. Cruise with us through the City of Canals.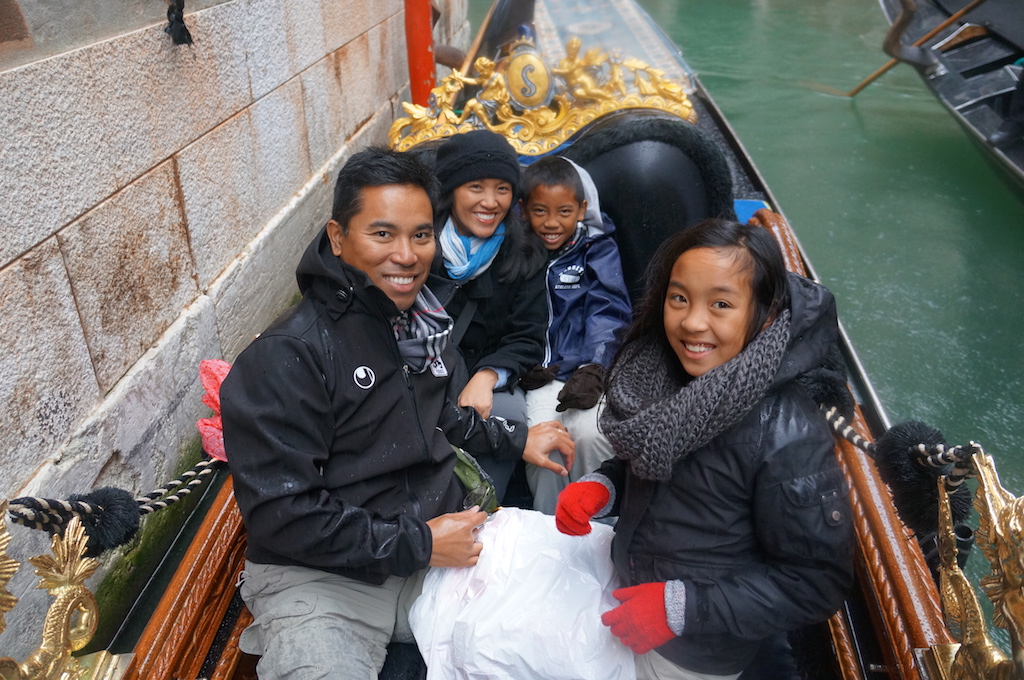 Gondolas have been a part of Venice's rich history since around the 1100s. Although, it started out as privileged transportation means for the upper class, these unique, rowing boats were once the main forms of transportation throughout Venice's canals and waterways. It was a comfortable, silent way to travel especially under the bridges.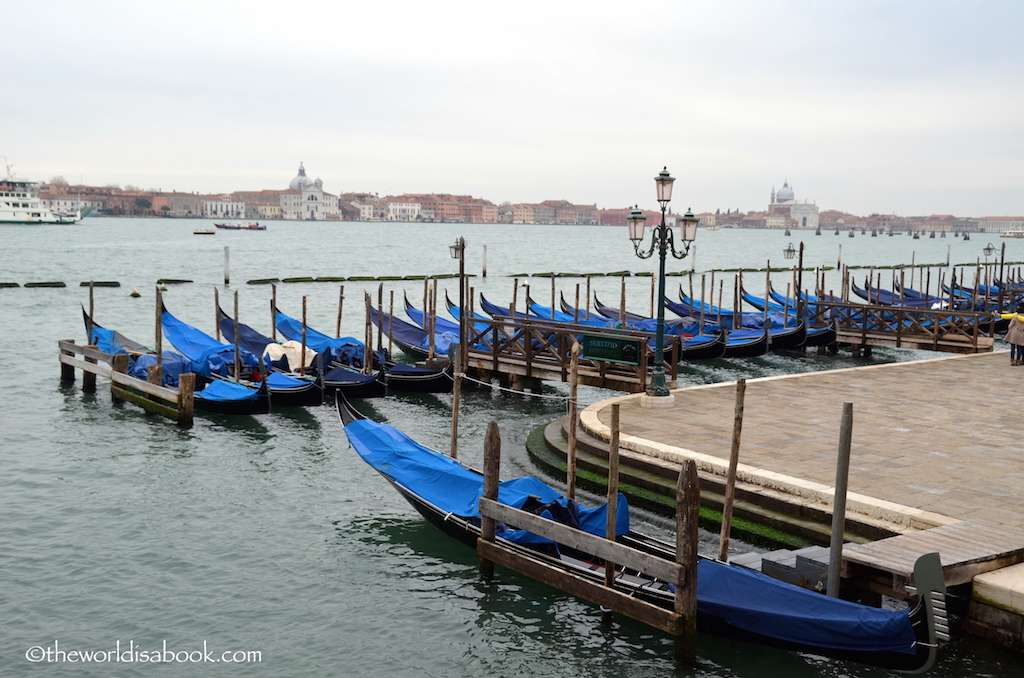 Nowadays, Venetian gondolas are primarily used by tourists for sightseeing through the canals and always considered a must-do attraction while visiting this romantic city.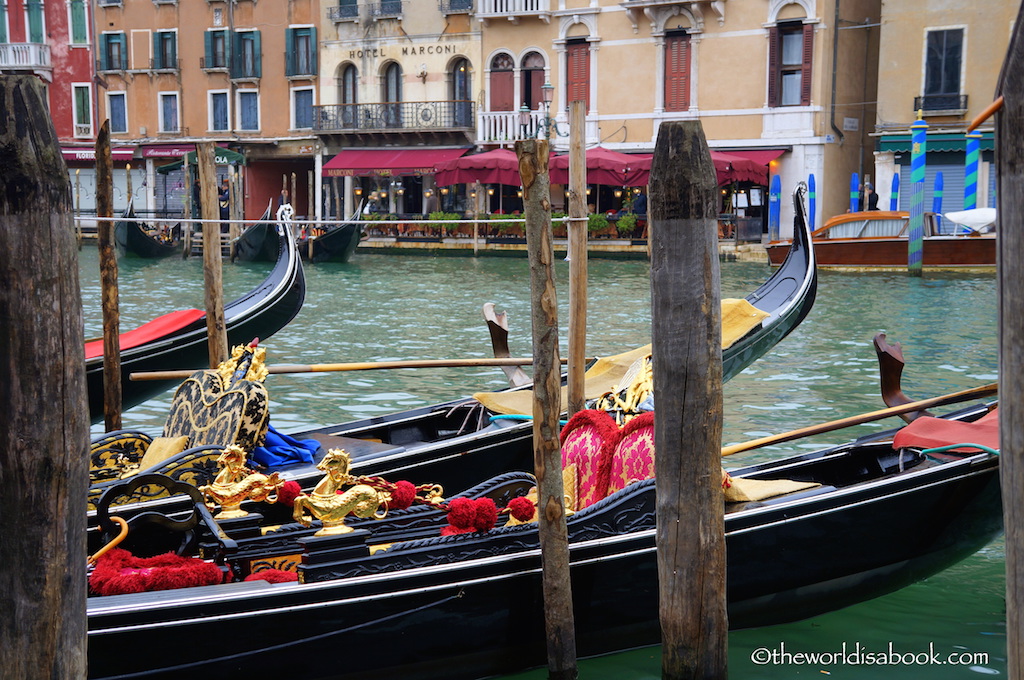 There are only three remaining boatyards or special workshops that build or repair gondolas these days and all done by experienced builders. Squero di San Trovasco is the most famous one but closed to the public. It was believed that there were once about 10,000 gondolas a few centuries ago but there are now only about 400.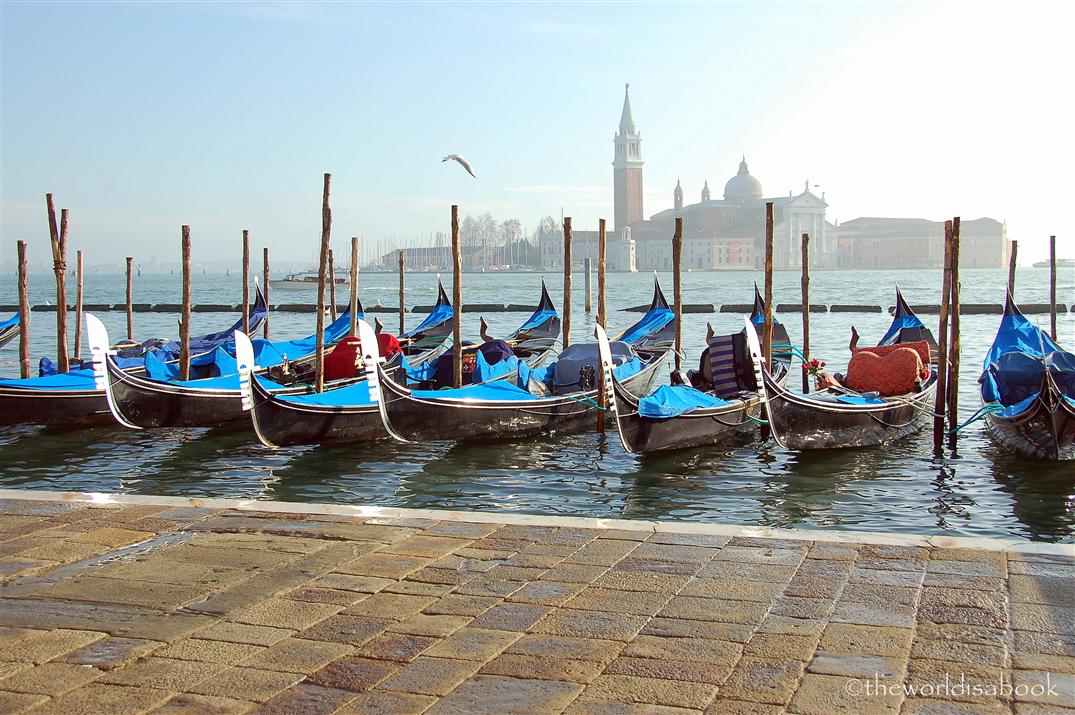 Gondolas are 36 feet (11 meters) long, flat and made of wood. Black is the official color but most were ornately decorated including plush seats. It was so interesting to see some of the color schemes used in some of these gondolas. Its asymmetrical design makes it easier for gondoliers to steer it with one oar. The gondolas have 280 separate pieces. Its left side is longer than the right side to help avoid its inclination to turn to the left when the gondolier is doing a forward stroke.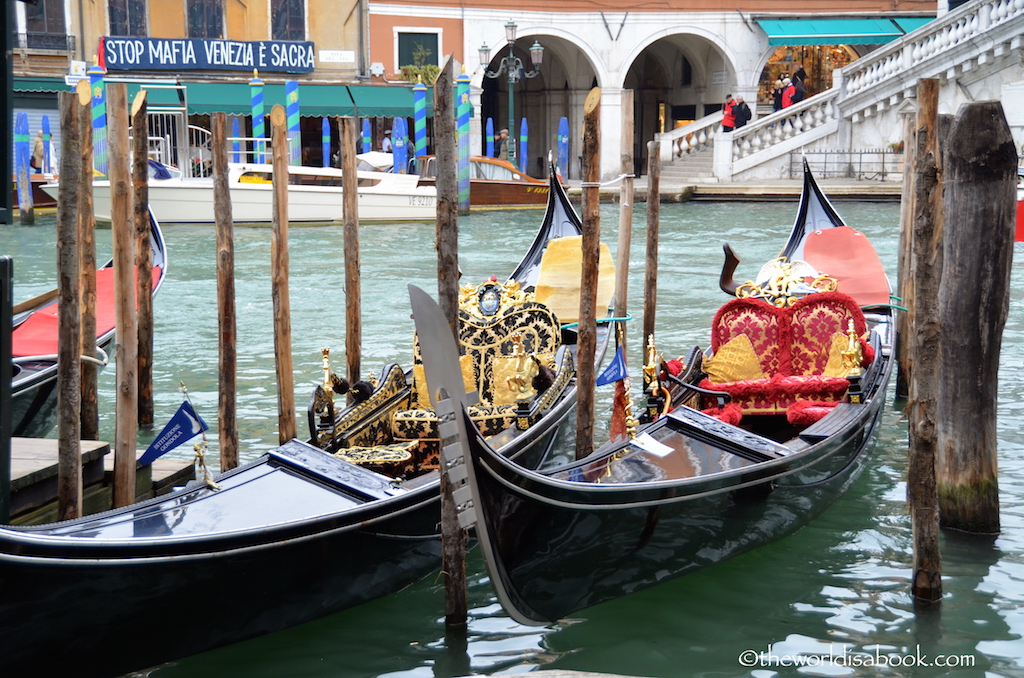 There are many gondola stations and routes to choose from throughout the city. Many of the gondolas were parked along the Grand Canal and near famous sites like San Marco Square and the Rialto Bridge including near the vaporetti (water taxi) stations. The San Marco ones are a pretty popular route since they go under the Bridge of Sighs. According to a local legend, lovers are granted eternal love if they kiss while cruising under the bridge during sunset.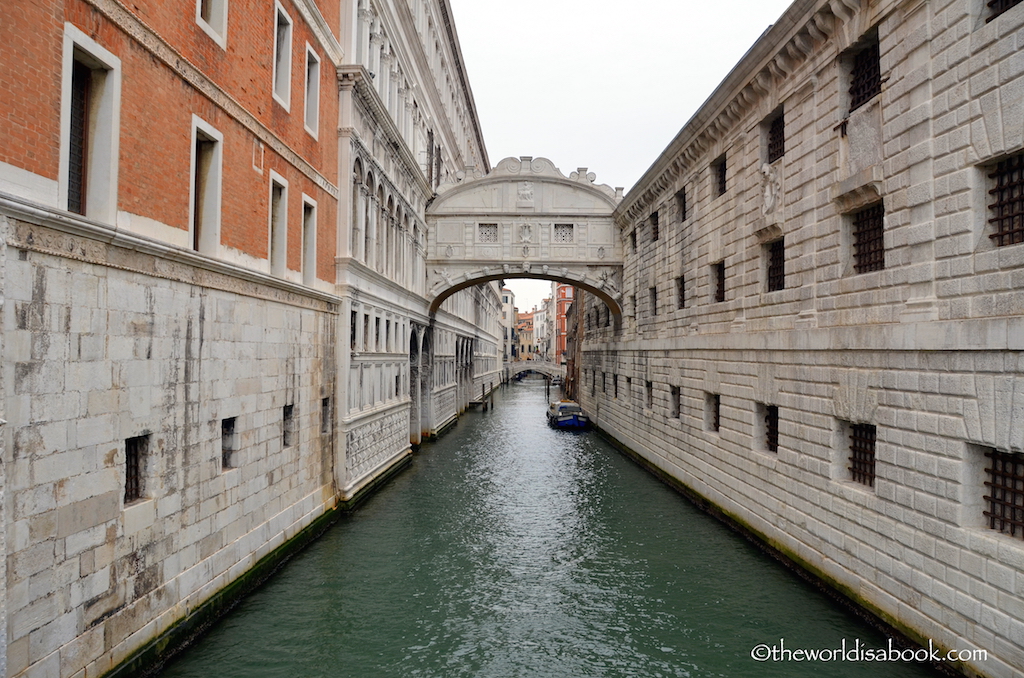 Our family decided to take a ride in one of the quieter side and back canals. The lagoon waters by the Grand Canal didn't look very calm. We also didn't want to be caught up in all the traffic and chaos with the other gondolas, delivery boats and vaporettos (water taxis).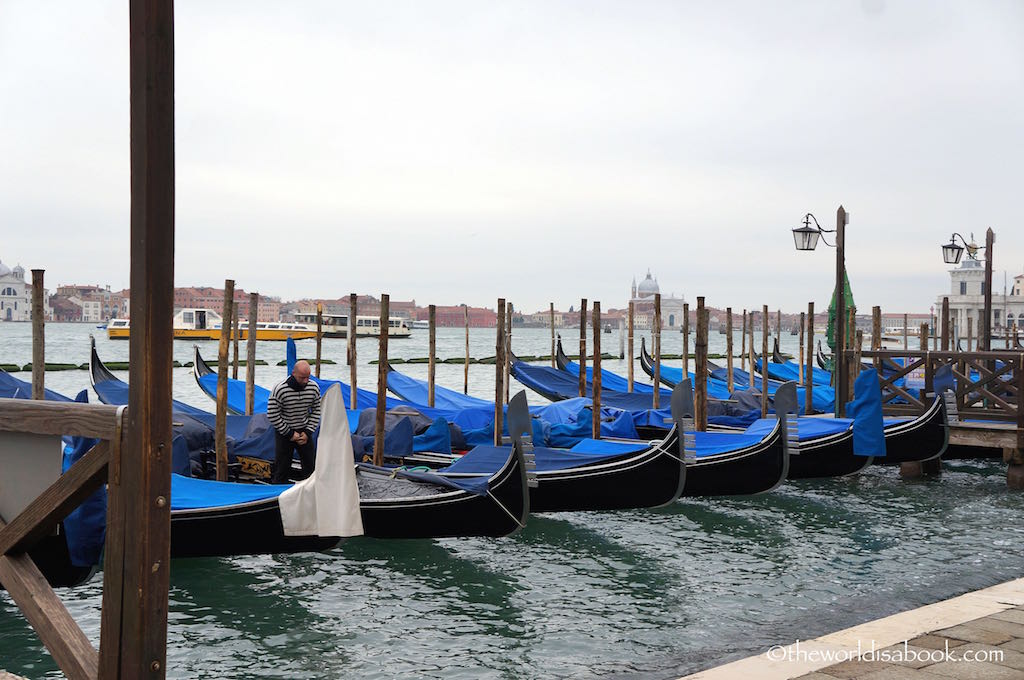 We found our gondola at one of Venice's back alleys. I wish I could tell you the nearest street but we didn't use maps. Instead, we aimlessly wandered around which I think is the best way to explore it. There was no particular reason we chose our gondola other than it was there when we needed one. By the way, that's not our gondola parked below.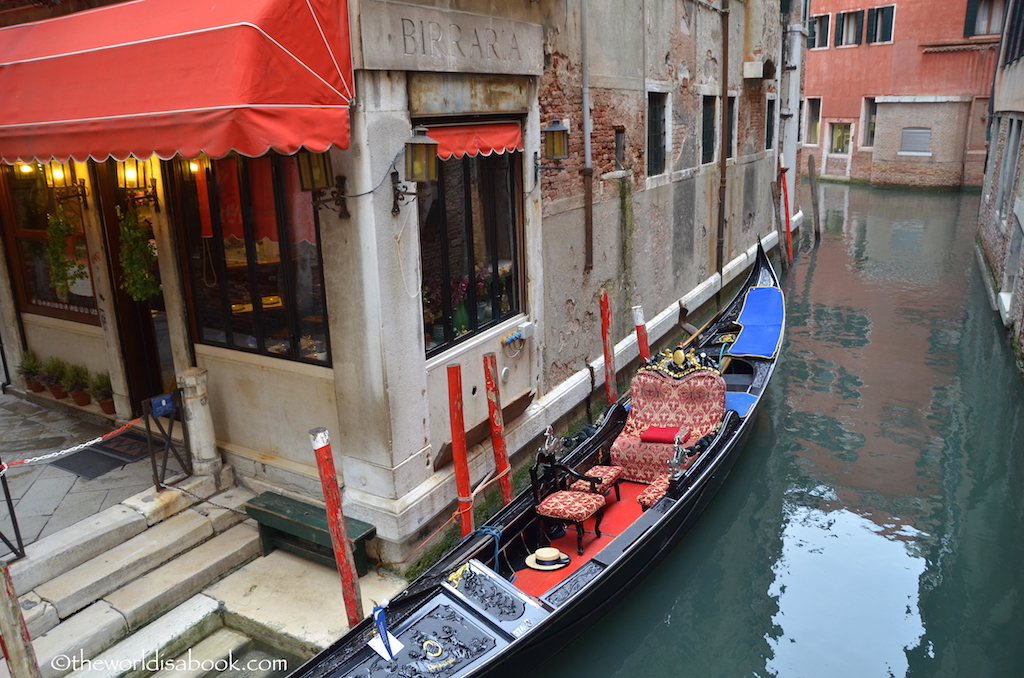 As touristy as it may seem to many people, riding the gondola in Venice has been on my travel wish list for a long time. I almost felt giddy as we hopped onboard the unsteady gondola. The gondolier made my husband and me sit on the right side and the kids on the left while he steered from the back using only one oar.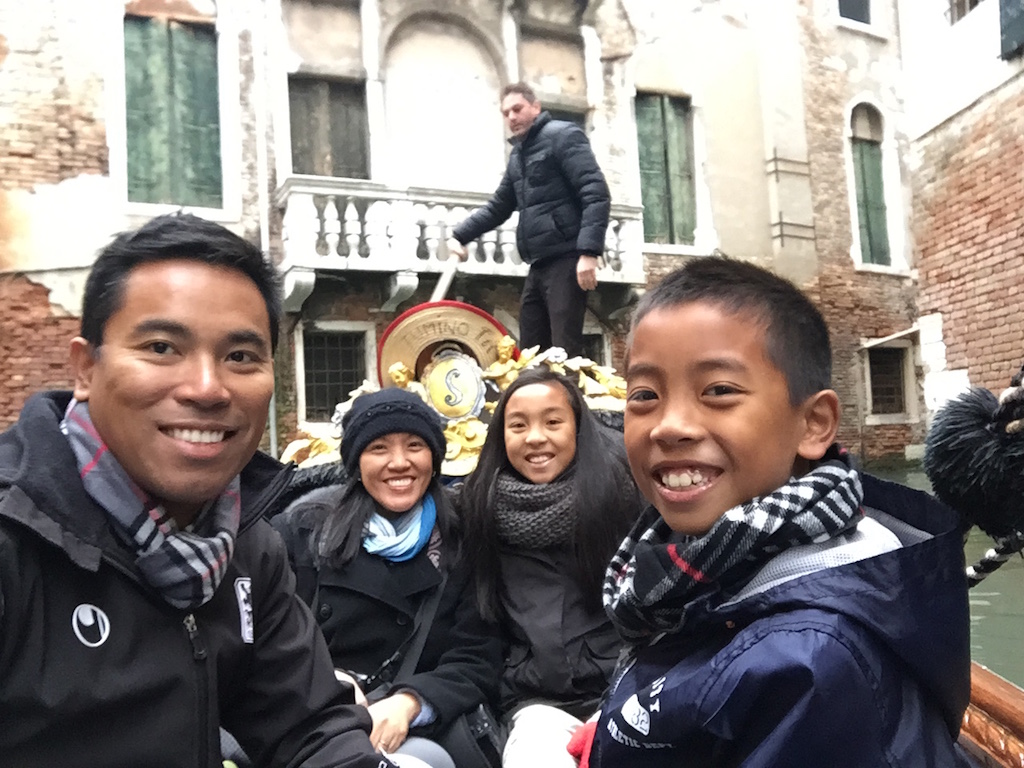 As we started silently gliding through these back alleys, it almost felt surreal and like a dream sequence. It was fascinating to see the back alleys of these houses, shops, restaurants and hotels.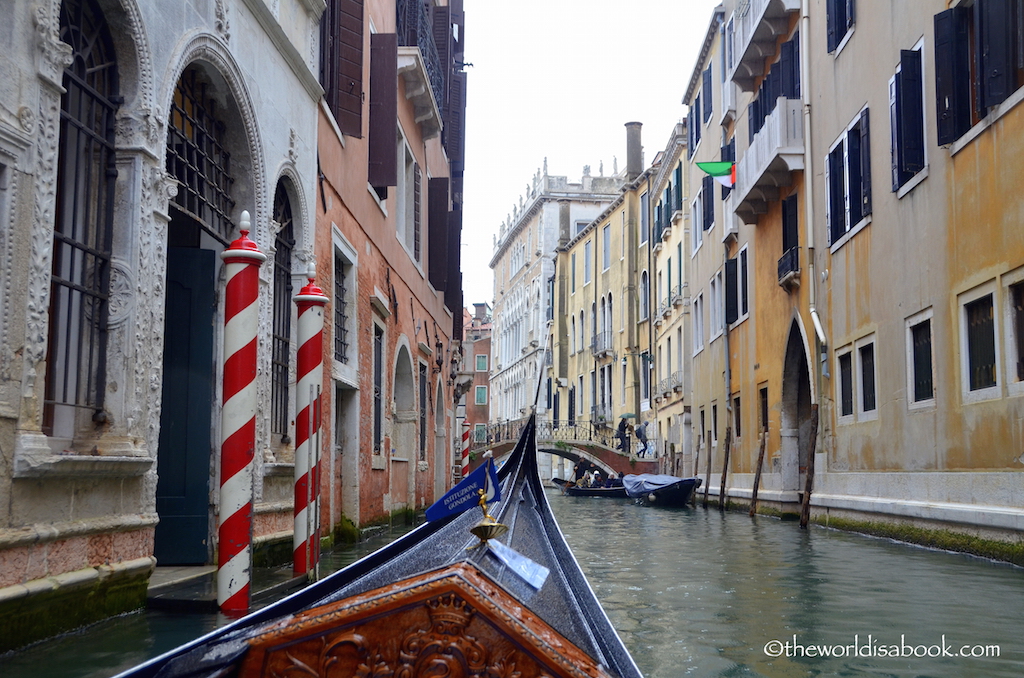 While looking up at the buildings, one gets a semblance of residence life instead of the many things that seem to cater to the tourists. It's a different perspective from the fast-paced trip through the Grand Canal on the vaporettos.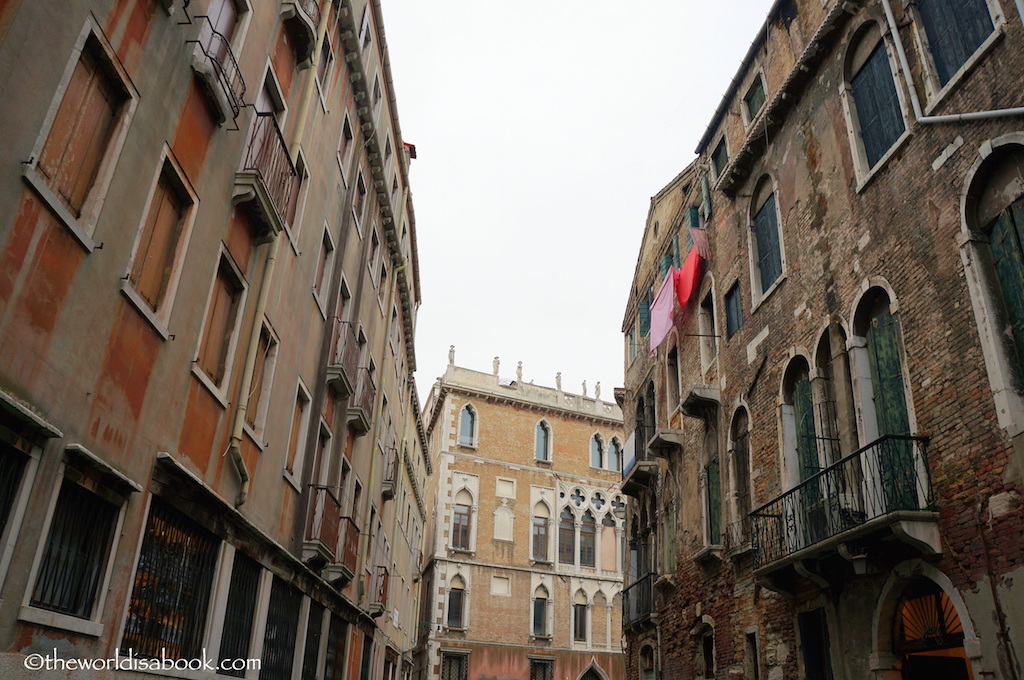 We enjoyed seeing how the gondoliers expertly navigated the narrow canals and especially going under the low and narrow bridges.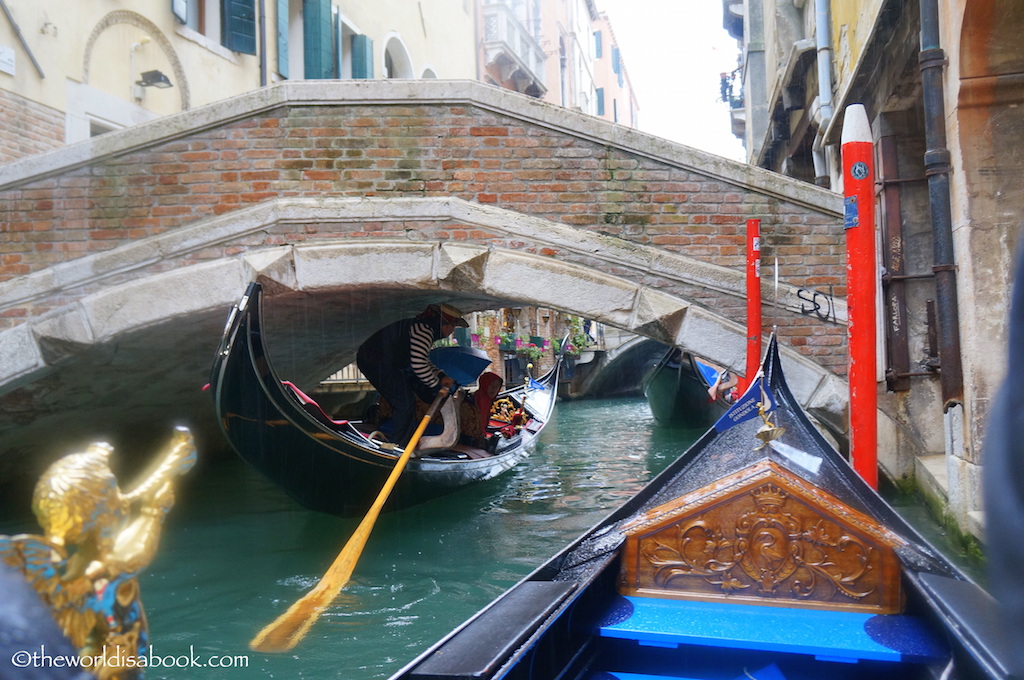 My kids thought that was the most amazing part of the gondola ride. Every time our gondolier successfully maneuvered us under the bridges, he earned a whole lot more admiration points from the kids.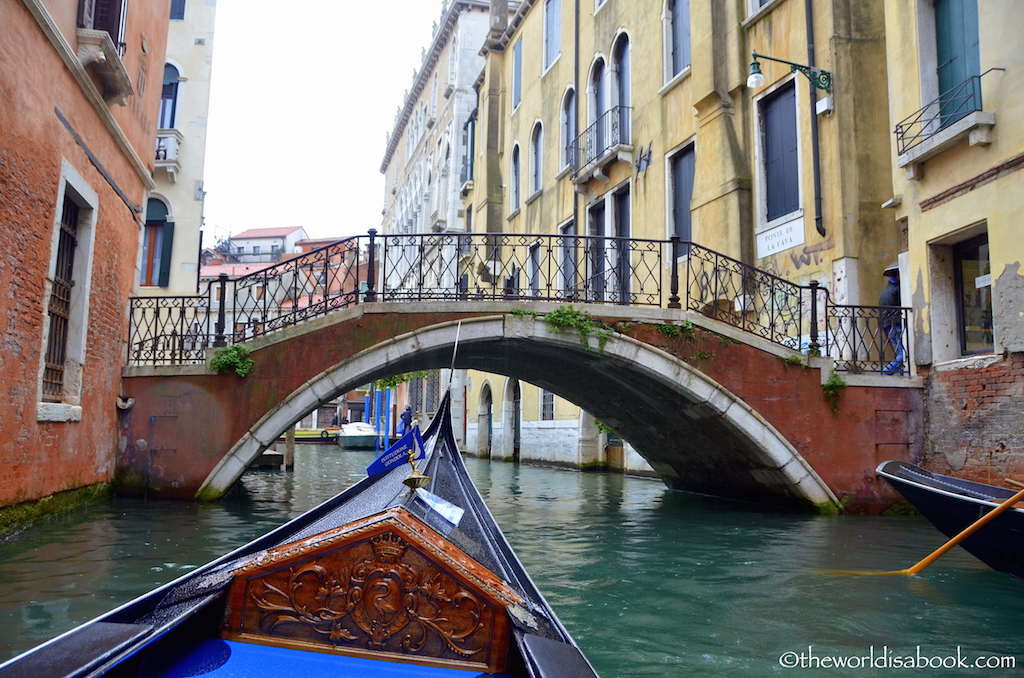 Gondoliers are officially licensed and part of centuries old, exclusive guild. It's a noble profession that one is either born into or brought into by another gondolier and passed down for many generations.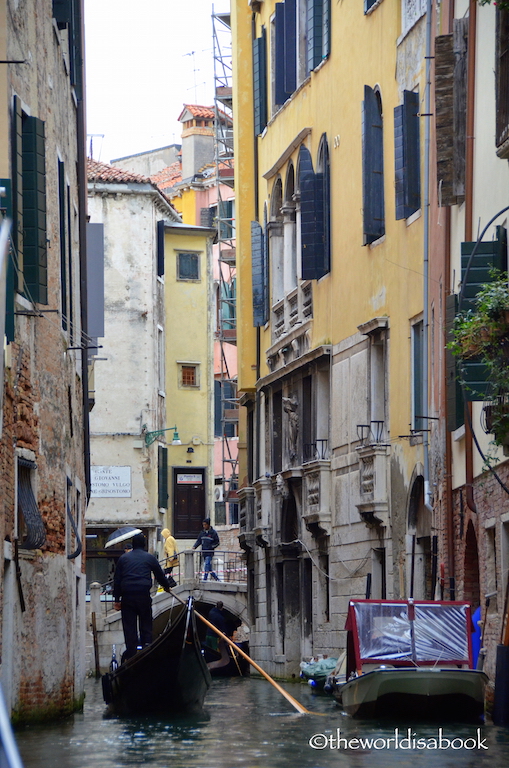 They must go through years of apprenticeship, pass several exams that include boating tests and schooling on art, history and linguistics. They're required to speak three languages! Their official uniform includes black pants, a striped shirt and closed-toe dark shoes. Some also have the special hats. Although, many of the ones we saw during our cruise were bundled up in black jackets.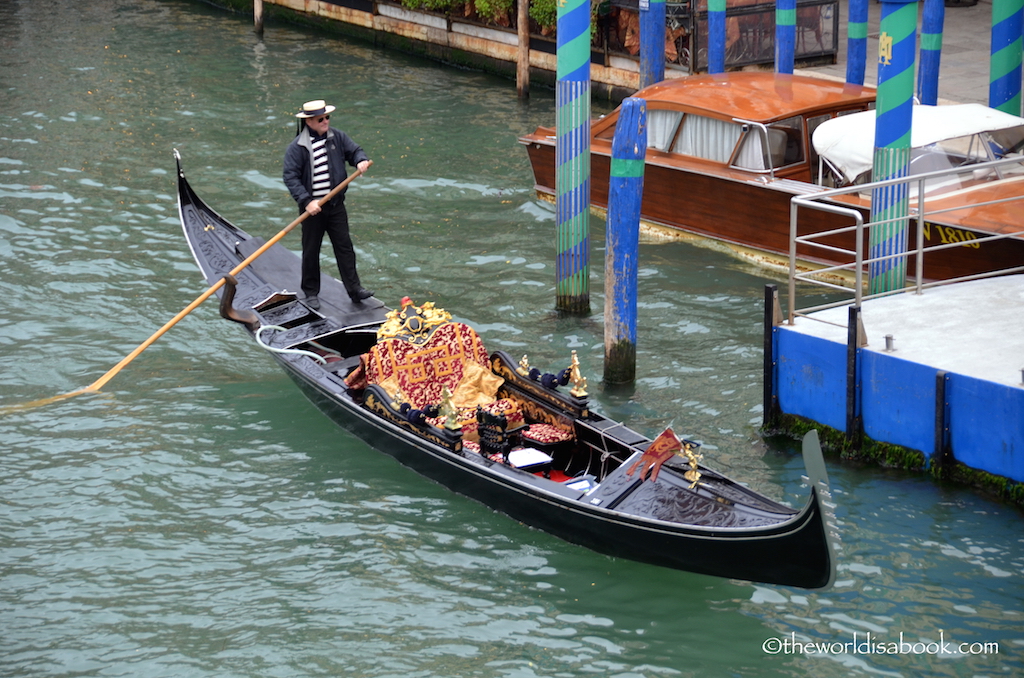 Despite prayers and some wishful thinking, it eventually sprinkled during our gondola ride – enough that we had to bring out the umbrellas. Cruising the canals in the rain wasn't what we had envisioned but it added another memorable moment. It's hard to be unhappy about anything, including rain, when in Venice.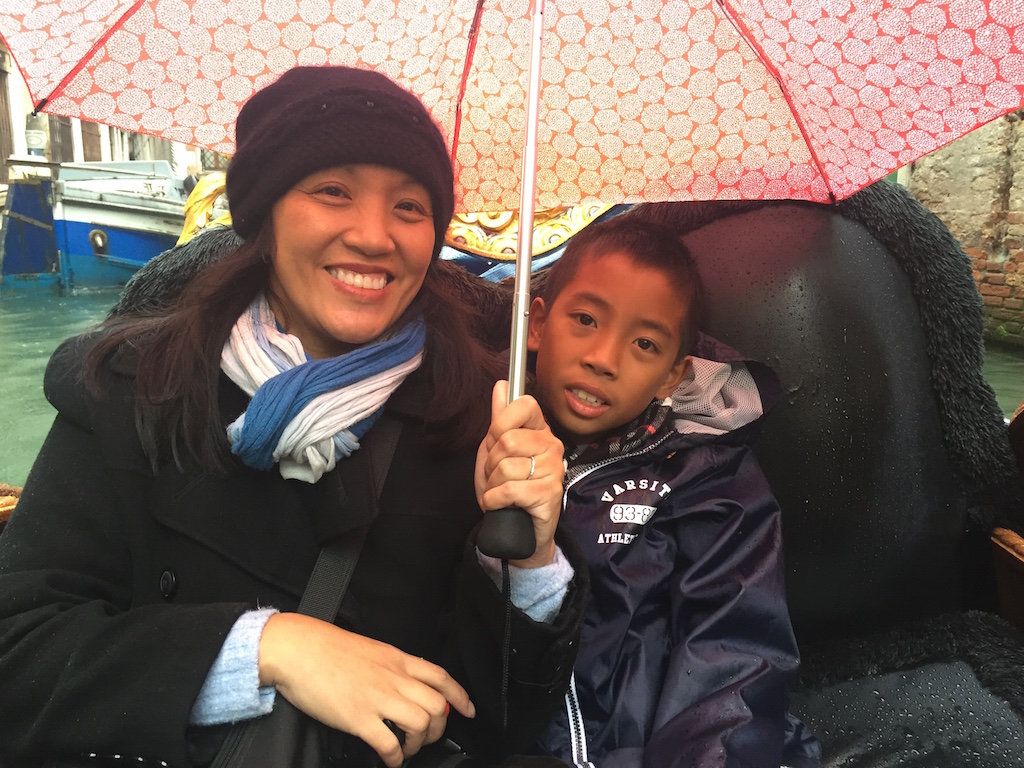 Our gondolier didn't really talk. In a way, it was good because we could focus on the sights but it would have been nice to get an insight or some facts here and there. Despite what they show on many travel shows and advertisements, gondoliers aren't required to sing so it's best not to expect them to. We didn't hear other gondoliers singing either during our trip and we passed quite a few.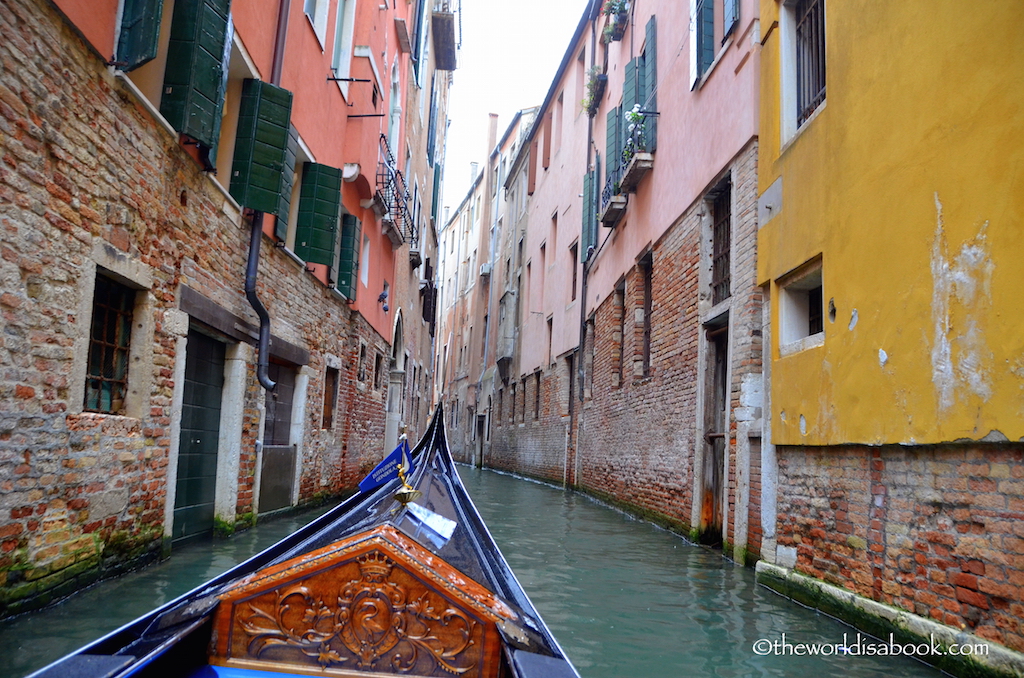 He did point out Marco Polo's house. Marco Polo was a Venetian merchant traveller. Apparently, my kids need some world history lessons. They thought he invented the swimming pool tag game "Marco Polo". The chosen "It" player tries to find the other players by shouting "Marco" and the others shout "Polo". The game was, in fact, named after the explorer because he didn't always know where he was going. My husband and I could only shake our heads with our kids' thought process. We're going to have a lesson in explorers soon and venture beyond Columbus and Magellan.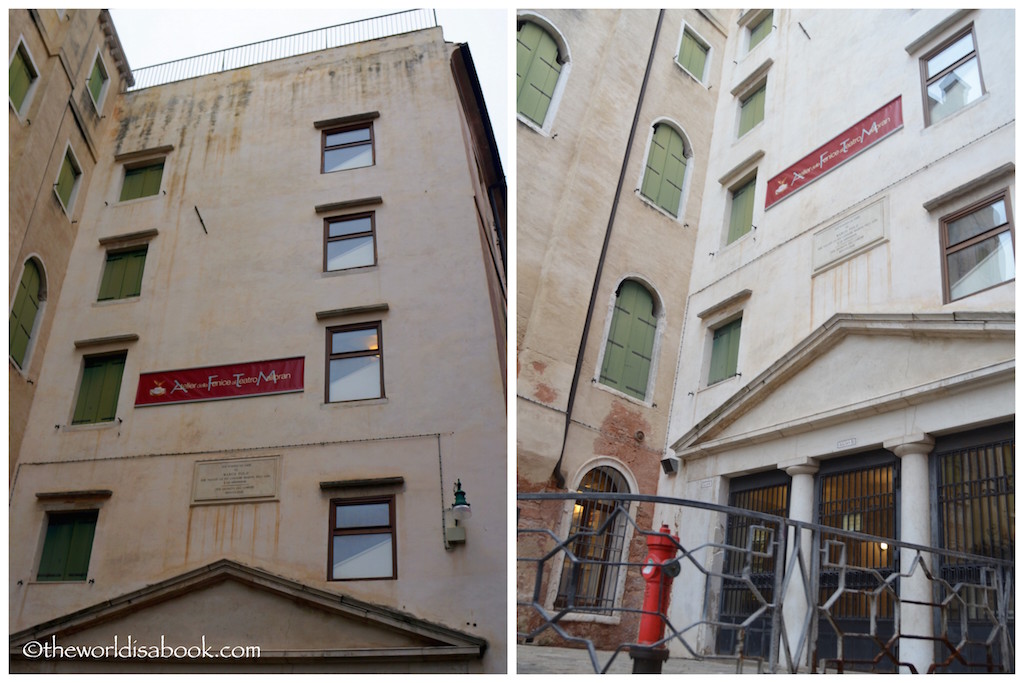 Our route took us briefly into the busy Grand Canal. We shared it with the huge vaporetti, speed boats and other gondolas which was a little unnerving. But, I'm glad we got a taste of what it was like to be in Venice's most famous canal from the vantage point of a gondola instead of the water taxis we used.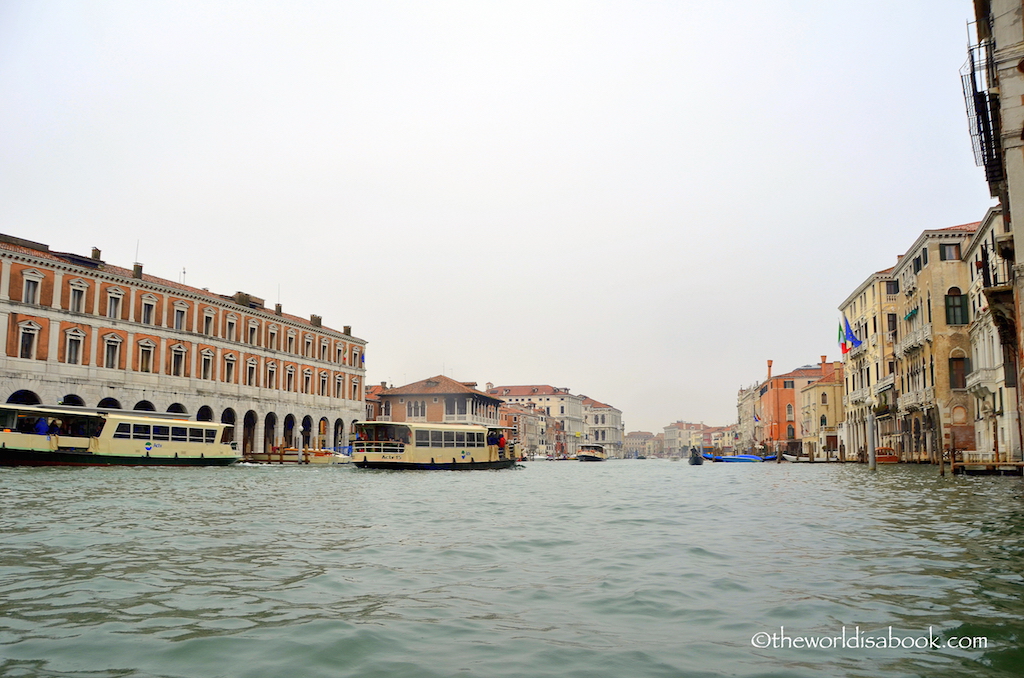 We caught a glimpse of the Rialto Bridge before turning into a quiet canal. Ponte di Rialto is one of Venice's most popular attractions and the oldest of the four bridges that span the Grand Canal. This has been here since 1591.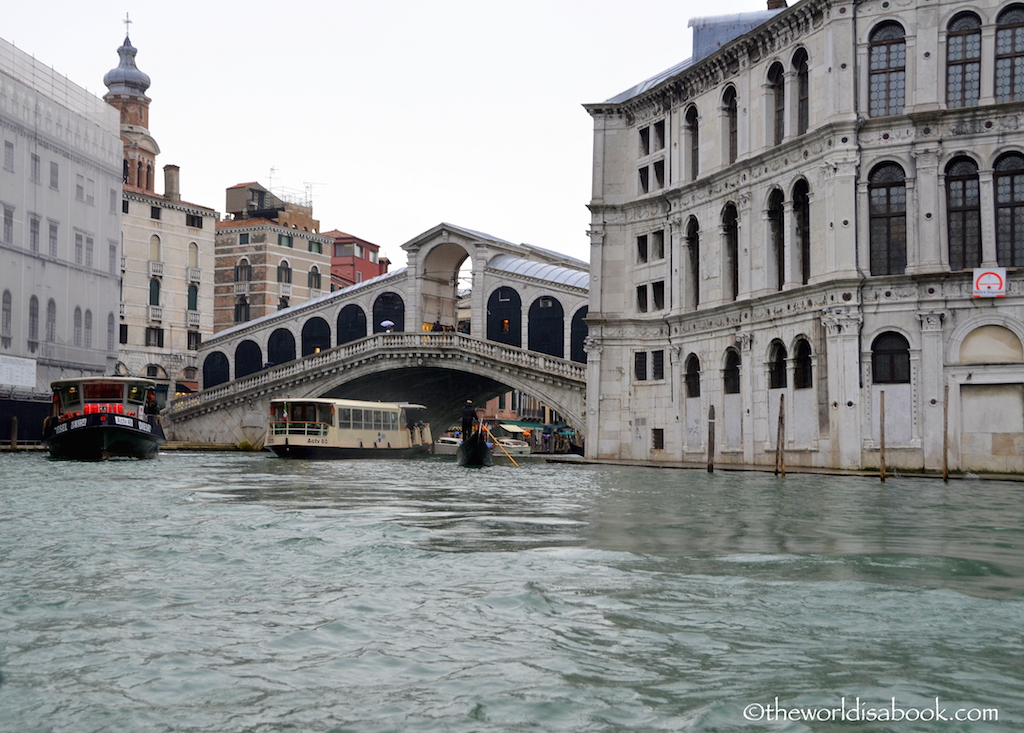 We did encounter a bit of a gondola traffic jam in a couple of areas including sharing a canal with a speed boat or two which sometimes made for a tight squeeze.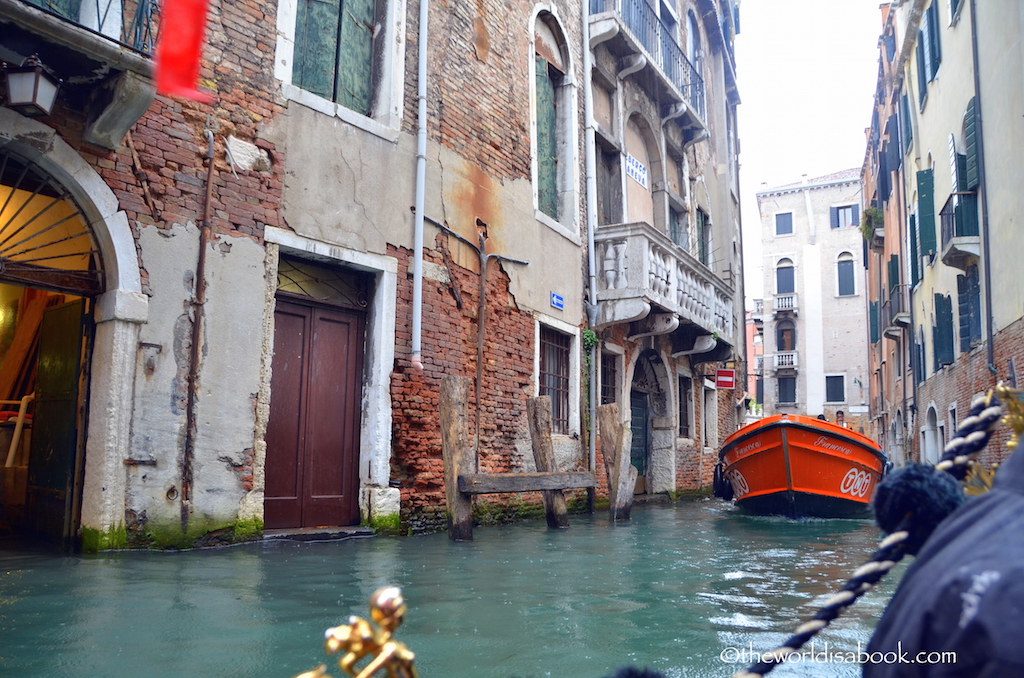 One of the wonderful things about revisiting a place but one that's a first for my kids is seeing the city through their eyes. It was so fun to see them get excited at almost everything Venice had to offer from the buildings to the food to the unique store displays. Though, they really loved watching the gondolas slowly glide through the canals and stopped every time we passed by a canal.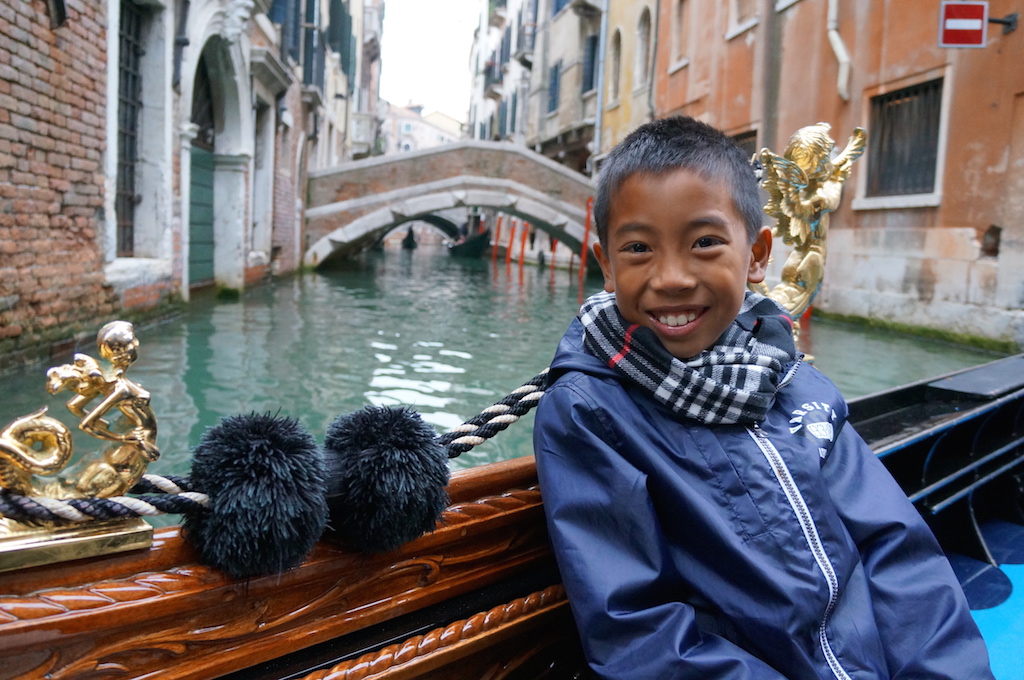 Some may call a gondola ride in Venice overrated and expensive. In the end, you can't really put a price on experiences and memories but this was definitely worth it. Our family really enjoyed cruising Venice's canals in these historic row boats. We all agreed that it's something one should at least do once when visiting this beautiful city.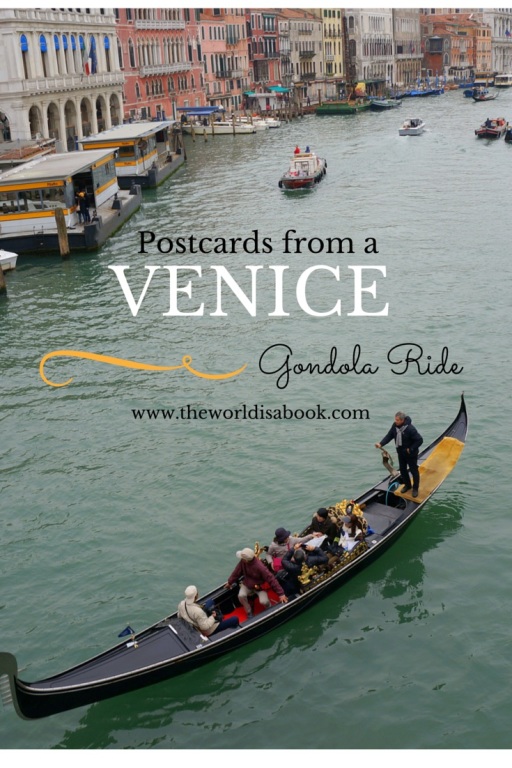 Venice Gondola Ride Basics and Tips
Prices are regulated and officially set by the city government at 80 euros for 40 minutes per gondola with a max of six passengers. So, a couple will pay the same as a family with four kids.
This is the minimum fare. It cost 20 more euro for rides after 7 PM. Negotiate prices and trip lengths with the gondolier before the trip to ensure there is no misunderstanding. Most gondoliers speak some English.
Tips are not mandatory but very much appreciated.
Look for gondola stations near the tourist sites you want to visit. The ones that go through the back canals require a bit of walking away from San Marco square or Rialto Bridge.
For a different, cheap and short gondola experience, visitors can also take a traghetto across the Grand Canal. This gondola is used to ferry passengers across the canal for about 2 euro. The ones we saw always looked crowded. I'm not sure I'd be brave enough to stand on those gondolas while crossing the busy canal but it sure would make for a great story and adventure.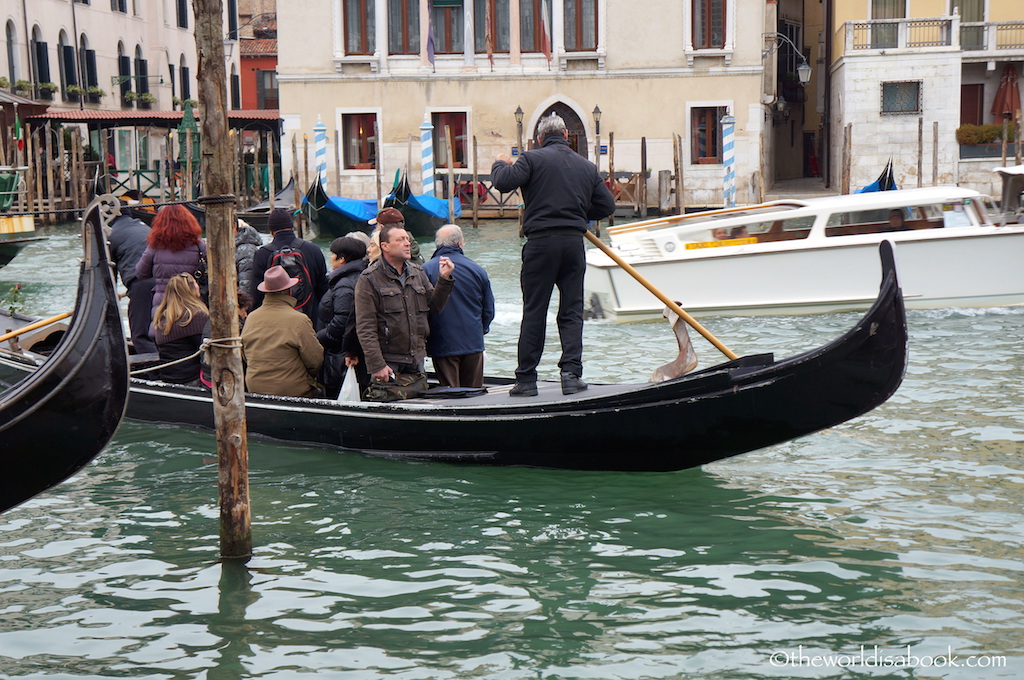 Have you gone on Venice's gondolas? Is it on your travel wish list?
Check out these related posts: