A Gastronomic Experience at Mercado de San Miguel Madrid
Food markets are always a joy to visit. It's a great way to get a sense of the local culture and food. Mercado de San Miguel is one of Madrid's top attractions and a favorite among tourists and locals. We were in Madrid five years ago and couldn't get enough of this market. We ate there everyday during our stay. During our brief return a couple of weeks ago, we had to make another stop and soak in the food, drinks and everything else this wonderful place had to offer. Warning: some of the upcoming photos will make you hungry!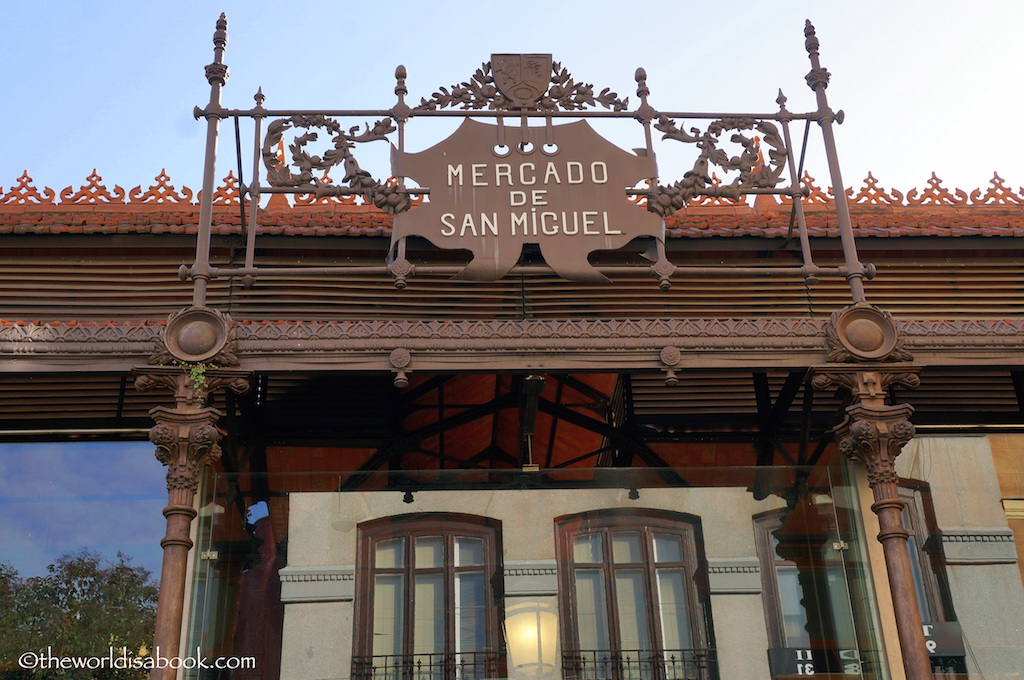 The market was named for the 13th century church that was once located here – Iglesia de San Miguel de los Octoes.The church was demolished in 1809 after the building was declared unsafe. It became a fish market and finally a covered market with an iron frame and wood roof in 1916.
This is Madrid's last iron covered market and offered plenty of history and charm. One of its main draws is that it is centrally located and near attractions like Plaza Mayor and the El Palacio Real. It was revitalized in 2009 to modernize it and bring it into the 21st century. Floor to ceiling glass windows give it a bright, welcoming atmosphere.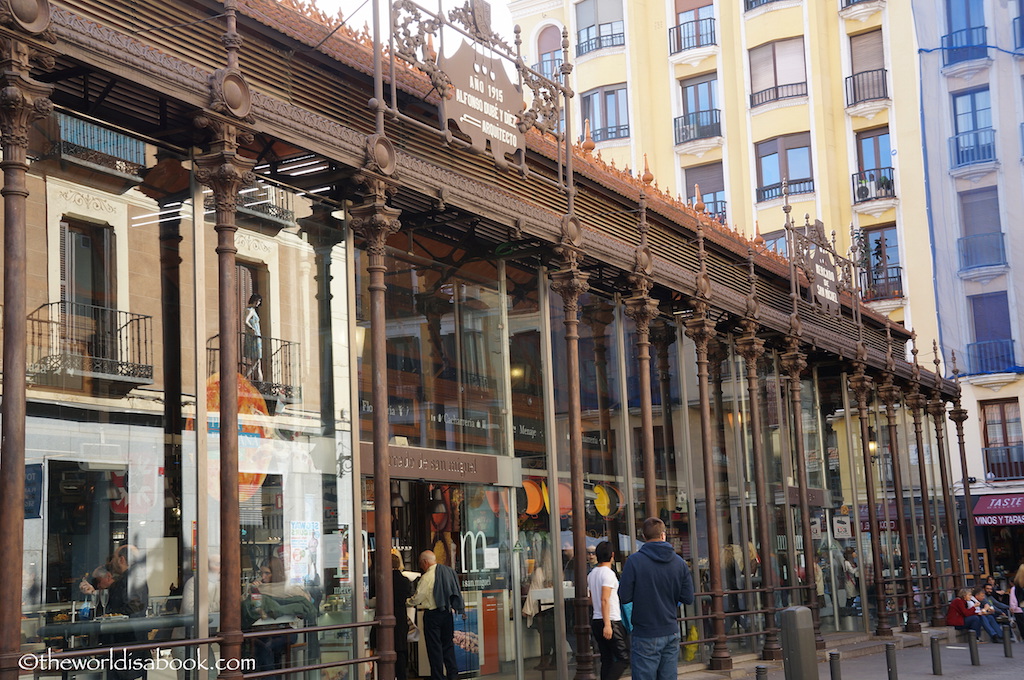 The 33 vendors inside the building sell a variety of items that range from fresh produce, desserts, seafood and meat. There are also small shops selling so many delicious prepared food from Spanish staples to international cuisine. There's no shortage of bars and coffee places here too.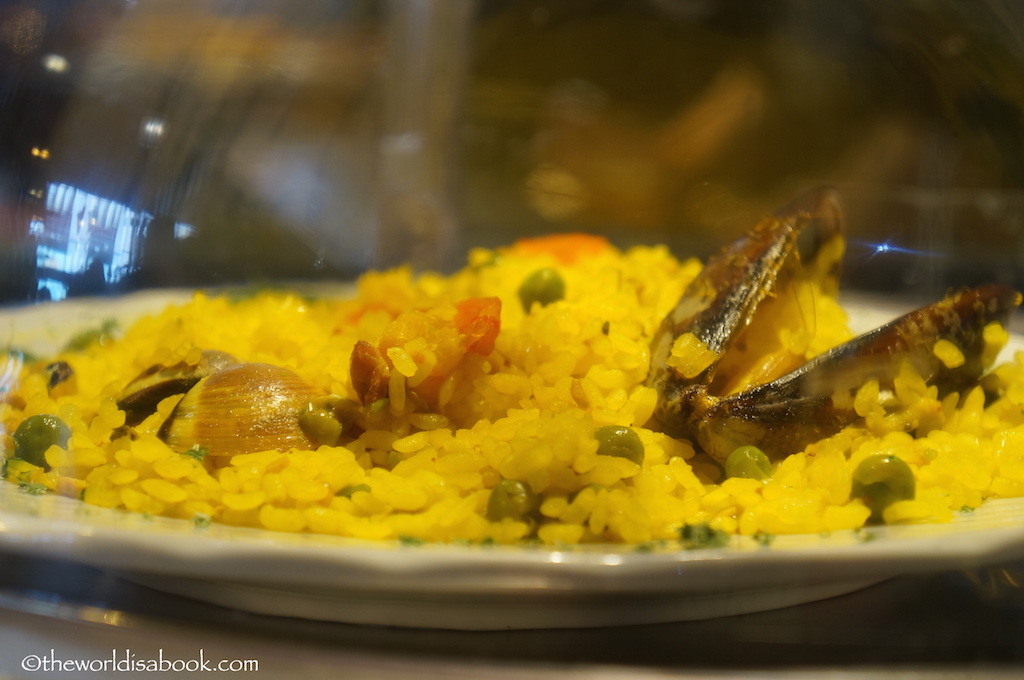 It's very lively here though it does feel a bit touristy sometimes especially during the lunch hour. Prices are also a bit more expensive than some of the local eateries nearby. But, everyone seems so happy eating, drinking and socializing. We've never gone here late at night (the kids do have a bedtime curfew even on vacation) so I can just imagine the energy radiating from this place until the wee hours of the morning.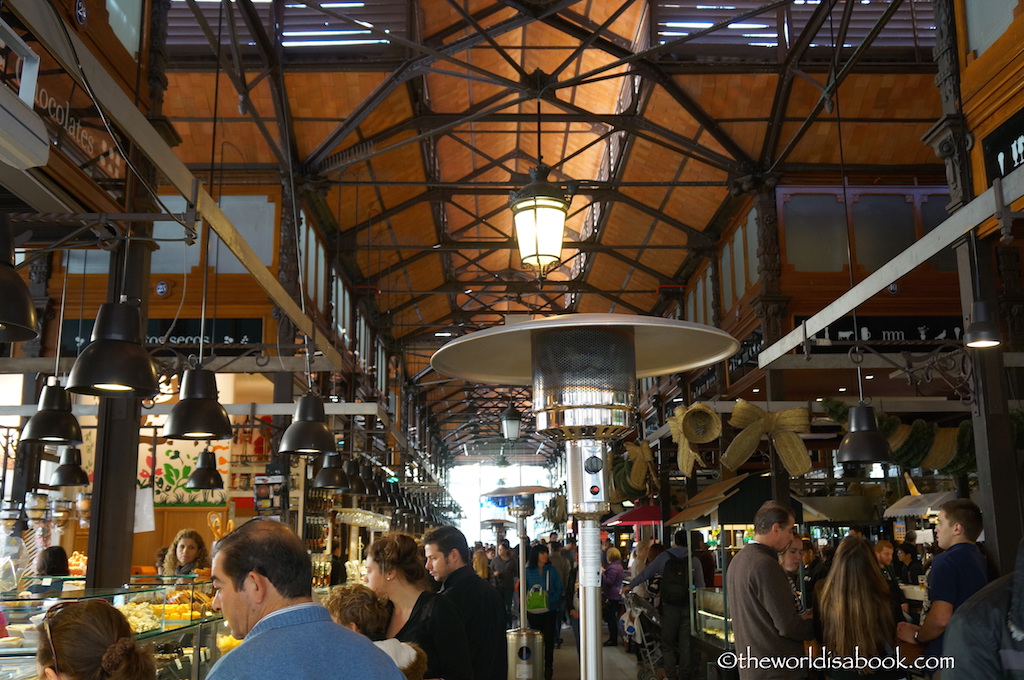 This is such a great place to walk around especially if you're hungry. It's probably best to stroll through the whole market and scope out all the vendors before settling on the first vendor you see. We did that during our first visit and quickly regretted it.
The open atmosphere with tables and chairs scattered around is very inviting. It does get pretty crowded and makes it difficult to find a place to hang out. We have never sat down here and always took advantage of their take away/to-go items and ate elsewhere.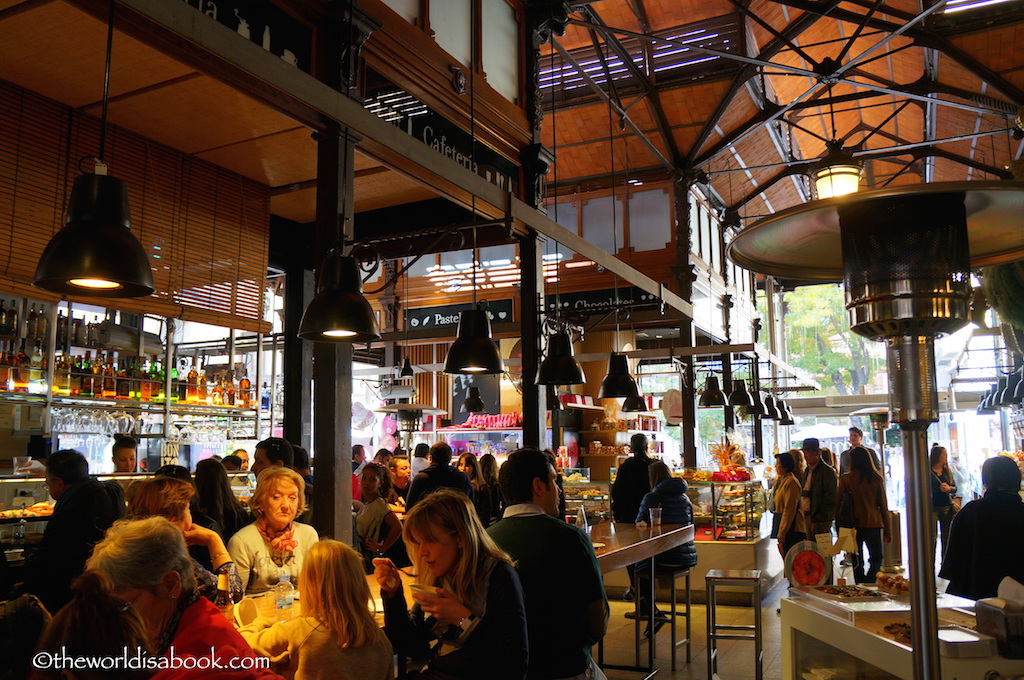 Ham or jamon (ha-mon) is a Spanish cuisine staple. Traditions and the curing process that date back to thousands of years make dried and cured ham a revered food here and it is delicious. One of the most popular vendors in the market is, of course, the one with all the ham legs hanging. It's actually quite a sight to see.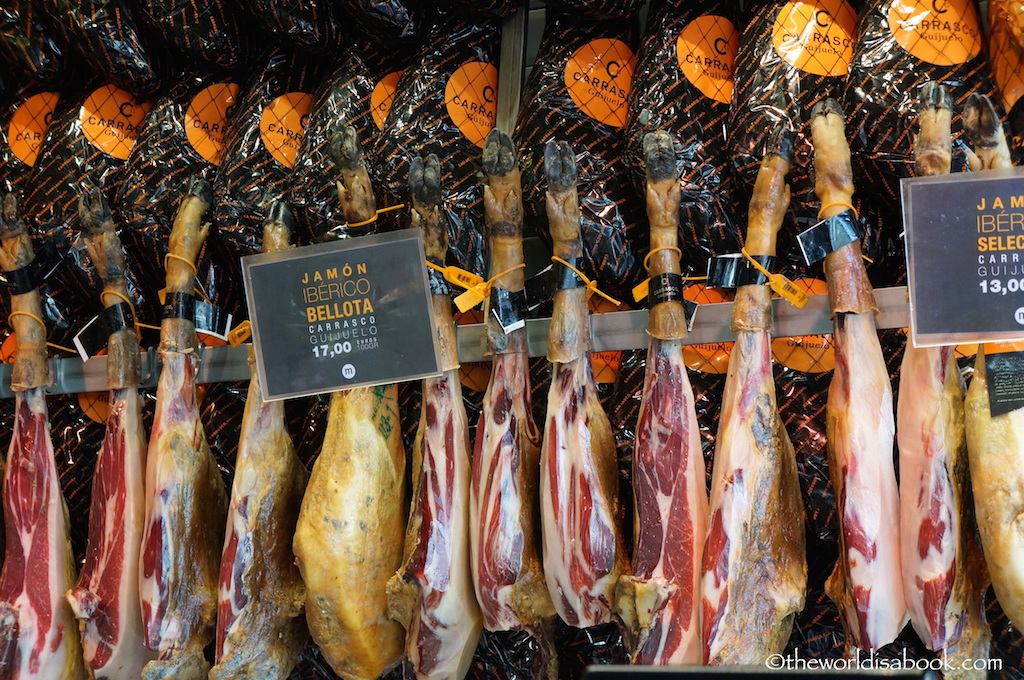 The two types of Spanish cured ham are jamón serrano or "mountain ham," and jamón ibérico or "Iberian ham." The Serrano ham is made from various white pig breeds which consume cereals. The ham is cured for 7-16 months. On the other hand, the Iberian ham comes only from the black Ibérico pig bred in southwest Spain and southeast Portugal. The pig mostly eats acorns but the curing process takes between 14 to 36 months. Patience comes with a steeper price tag too.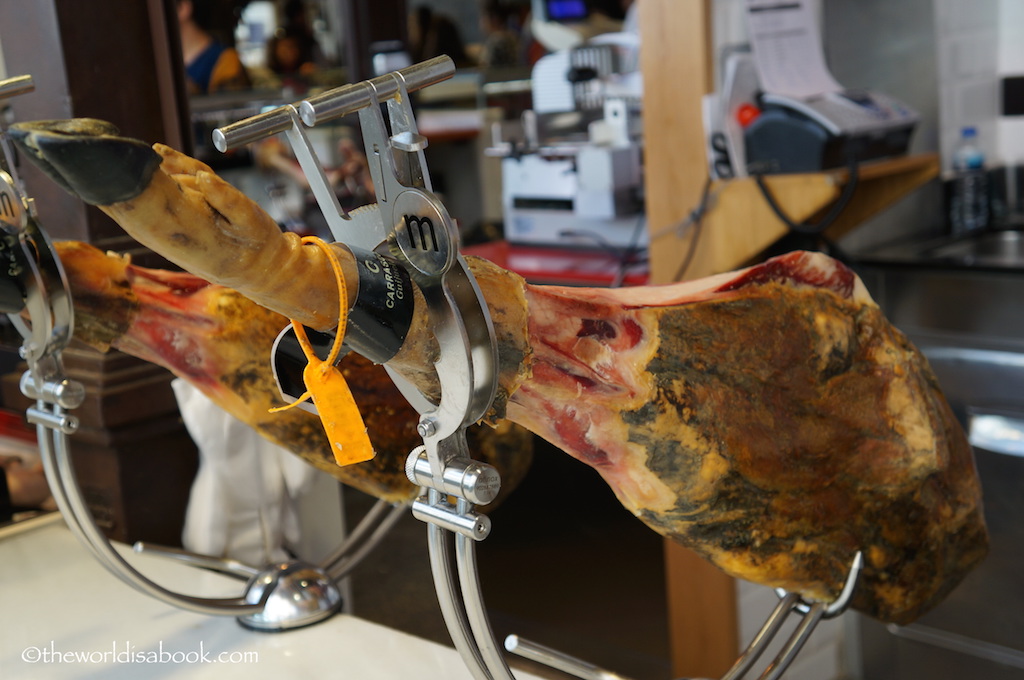 The ham comes in various forms. The packaged ones are very popular along with sandwiches. We like the paper cone versions that make it easy to eat while strolling.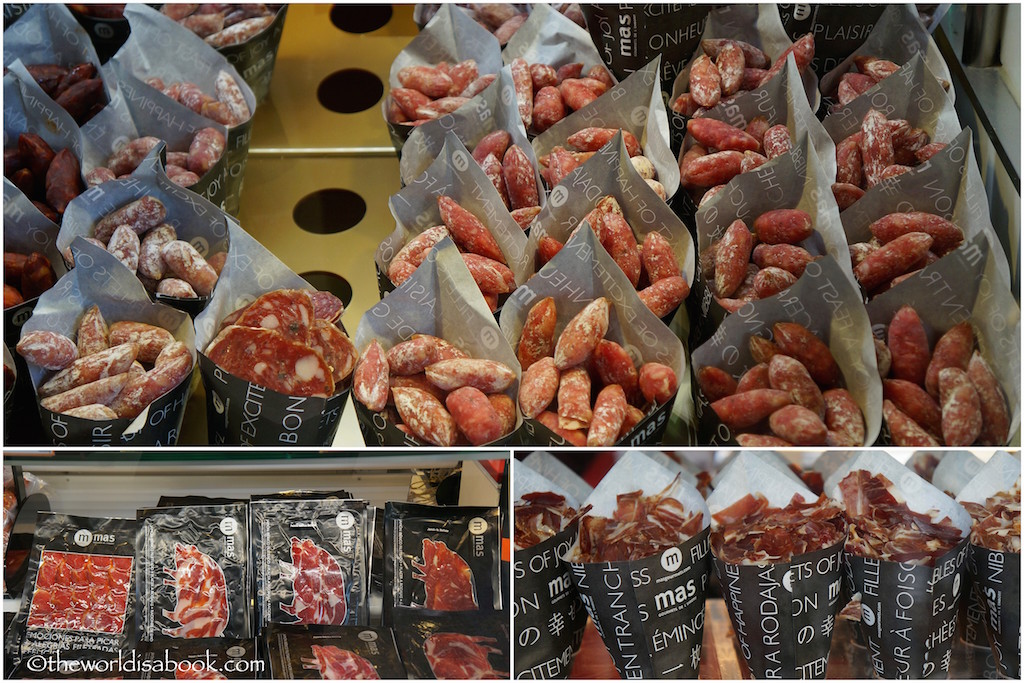 Madrid may be inland but there were quite some delectable seafood selections here including oysters, fish and urchins. There was even a sushi vendor too. It was a quite surprising to find that big fish head there on display. I'm not sure if they cook the food for you or if this is more for the locals to shop at.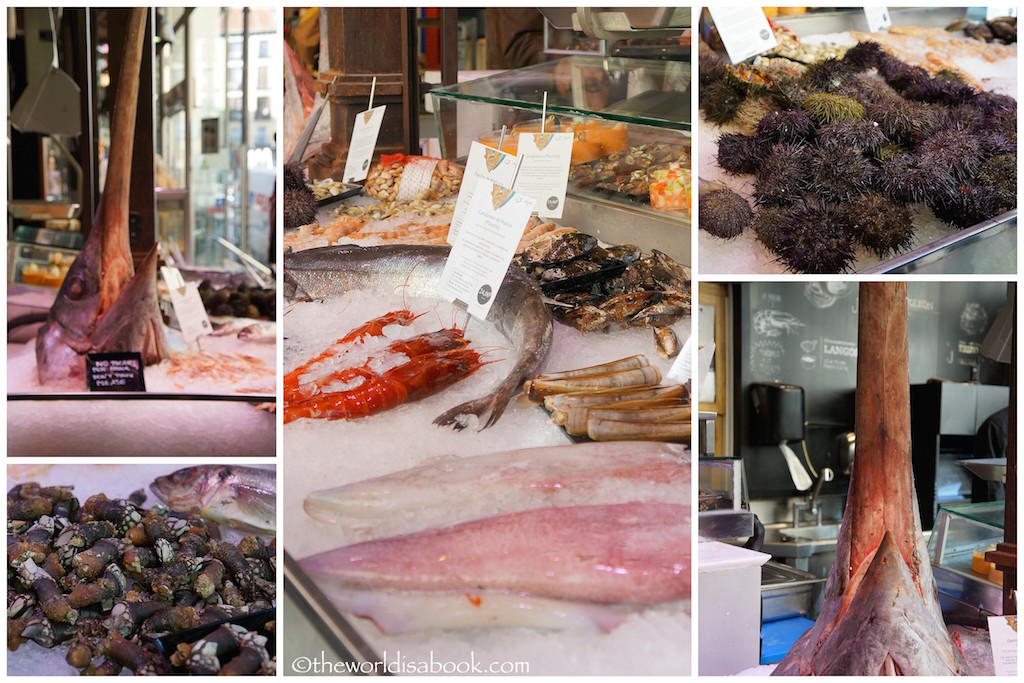 I love seeing fruits and vegetables from all over the world. It's always interesting to see the fresh, local produce and see how much they cost. It was a bit of a sticker shock to see some of the prices with the Euro to dollar conversion. It's easy to take for granted living in Southern California with our affordable fruits and vegetables. I had to do a double take on that Pitahaya or Dragon Fruit price. Yikes!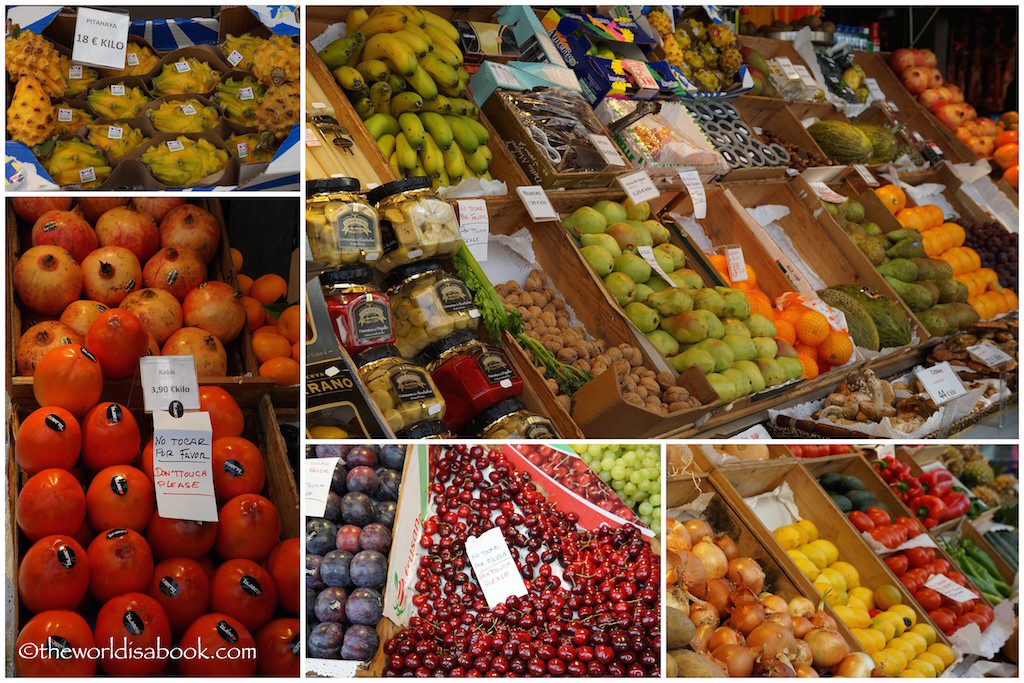 Tapas or Spanish snacks and appetizers were one of the biggest enticements at Mercado de San Miguel. Walking around here with its diverse selection was like being in an eternal buffet line offering so many choices. The good thing about these little plates was one can sample quite a variety of food and make it an entire meal.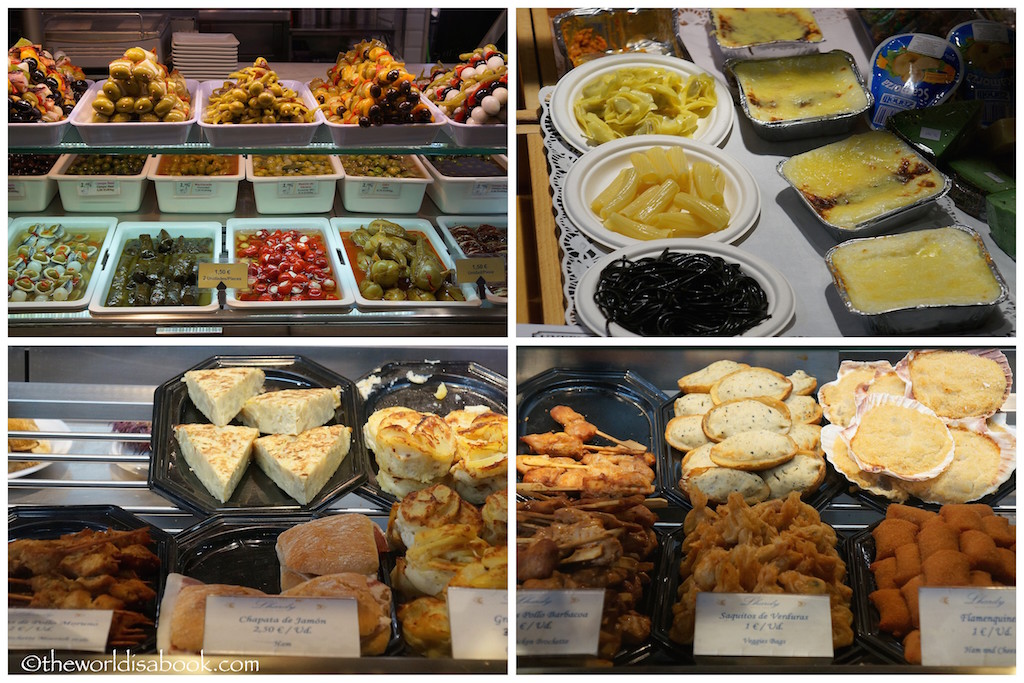 Anyone craving some cheese? I wish I could have taken some of these home.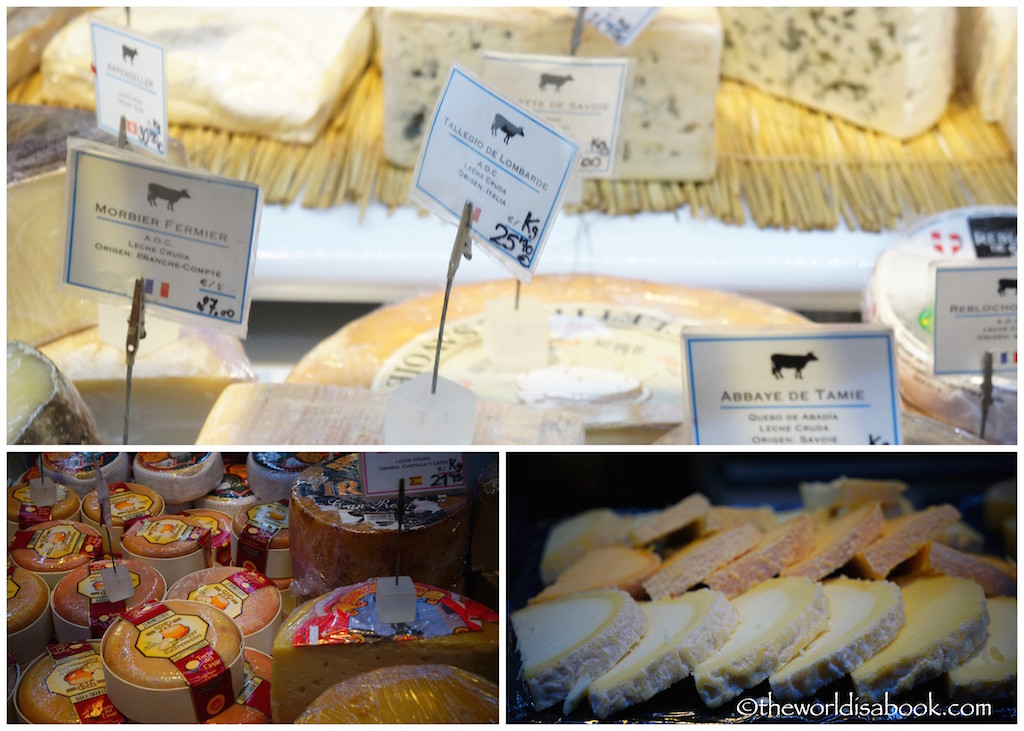 If you're thirsty or need something to go with all the food, there are plenty of vendors selling beer, wine and sangria.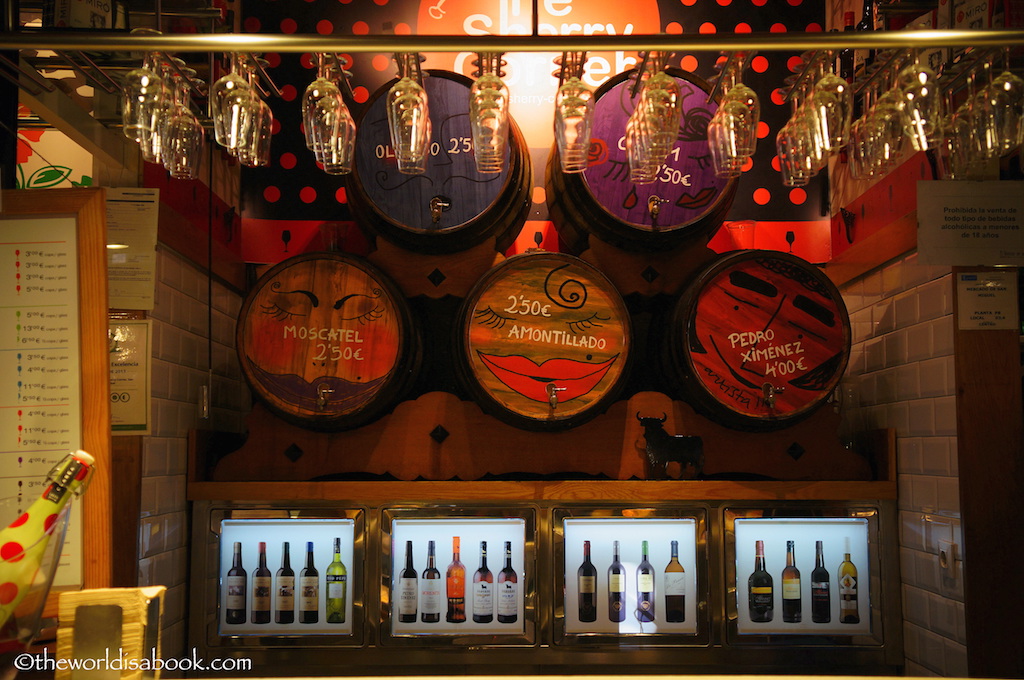 We even found this stand selling these refreshing fruit drinks. Mojitos de frutas, anyone?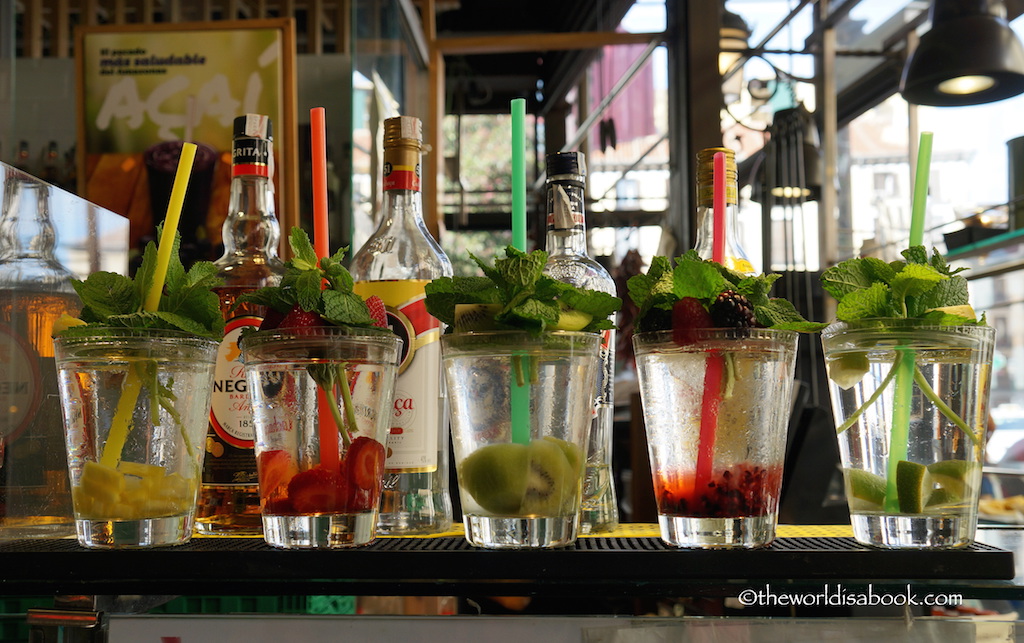 My daughter and I are big sweets and chocolate fans and this place was heaven for us. There were some options but our favorite is Horno de San Onofre (HSO). We spent a lot of time here trying to decide what to buy.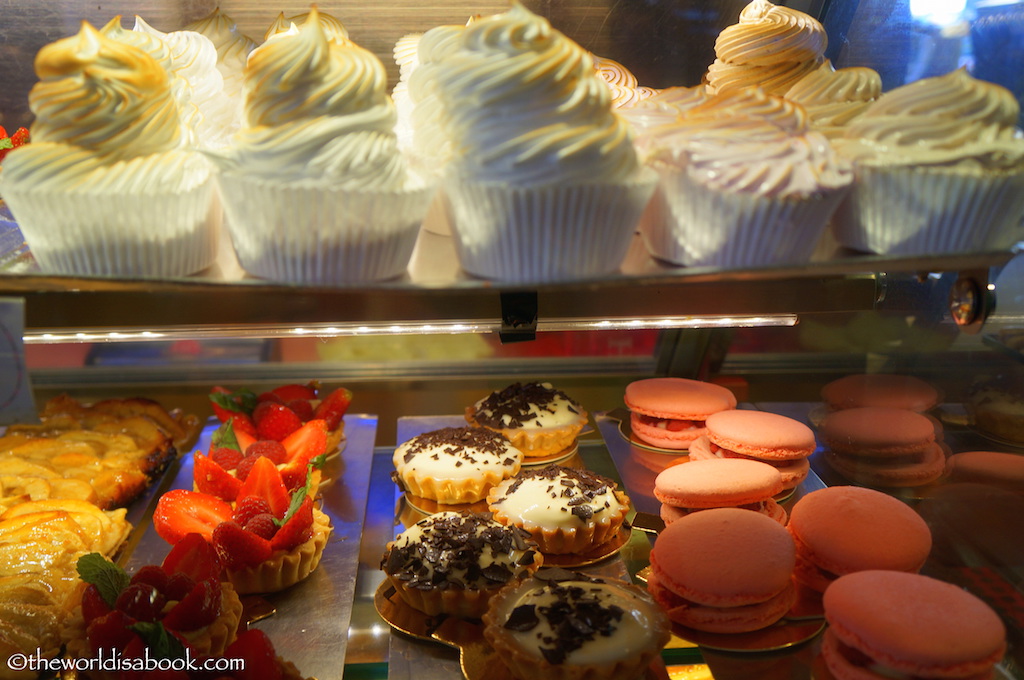 The counters were filled with so many delicious treats. There were some familiar ones and some local favorites that we simply had to try.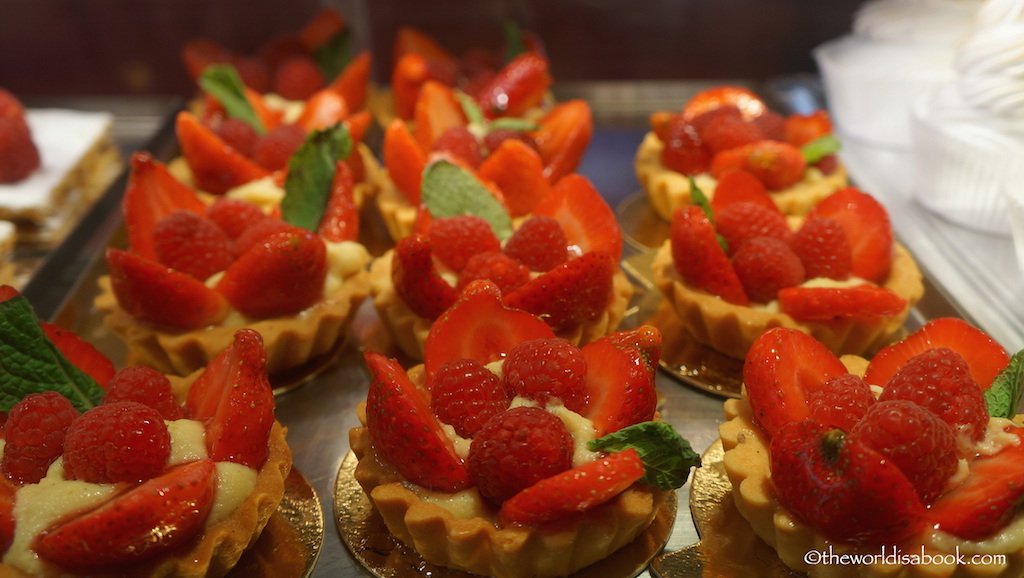 My daughter loved practicing her Spanish while ordering items. Who says markets can't be fun and educational for kids?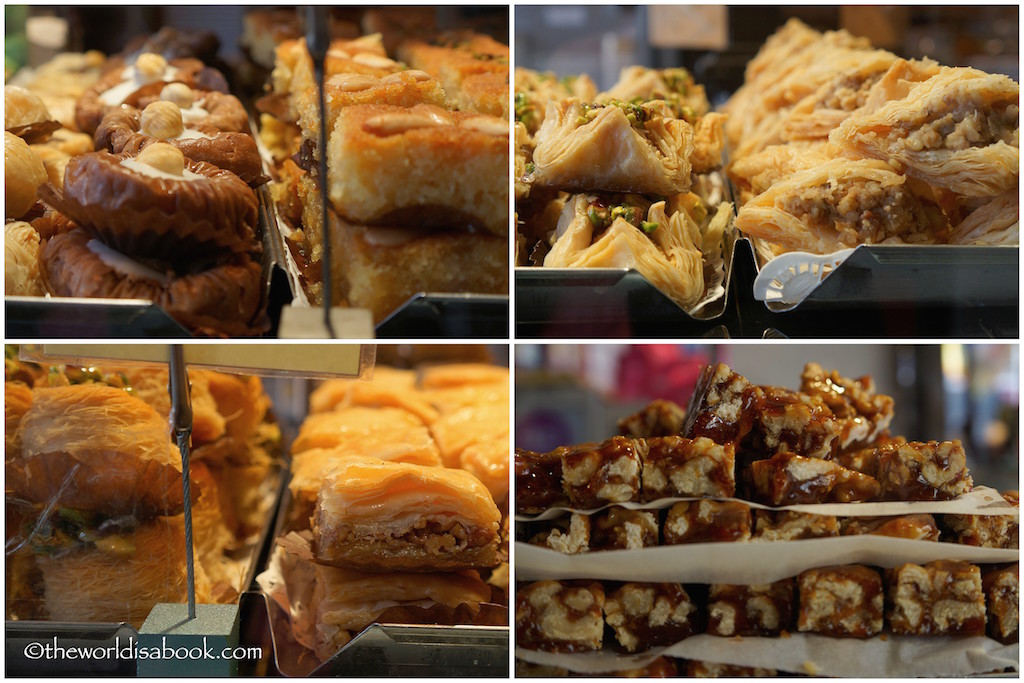 Churros con chocolate is an essential part of a Spanish meal and normally eaten during breakfast. Those golden beauties, also known as a Spanish doughnut, are dunked into a cup of rich, hot, melted chocolate for some mouth watering goodness. If you've got chocolate leftover, it's perfectly acceptable to drink it. My kids cannot get enough of this dish.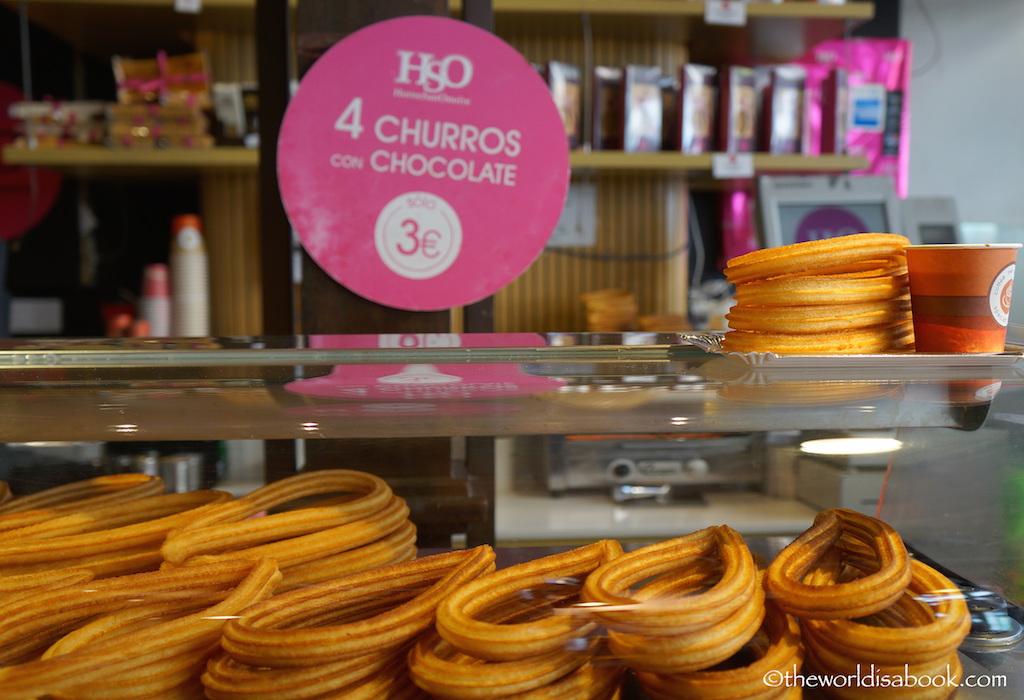 Mercado de San Miguel is a wonderful place to visit, hang out and shop. There is something there for all ages with varied palates. It will satisfy everyone from the the foodie to the picky eaters. Whether you're looking for dessert, fruits or your next meal, it's a must visit in Madrid. Don't forget to put this on your itinerary when you're in the Spanish capital.
Visiting Mercado de San Miguel Tips and Basics
Mercado de San Miguel is located within a block from Plaza Mayor in the Plaza de San Miguel square.
Hours of Operation: Monday, Tuesday, Wednesday and Sunday: 10 AM – midnight; Thursday to Saturday: 10 AM – 2 AM
Go around the market to see what each vendor offers before settling on the stalls by the entrance. You never know what you'll find.
If you're set on eating here, have someone in your group save a table and chair while someone gets and orders the food.
Have you visited Mercado de San Miguel? Where are your favorite food markets?