Maui Tropical Plantation and Iao Valley
Maui Tropical Plantation – This plantation was a quick stop and another re-visit for us.  Our main reason for stopping by was to recreate a picture of our kids on the same spot 4.5 years ago. We thought it would be fun to see how much they've grown since they didn't remember being here last time.  Lucky for us, the same coconut tree was still there.  Here's the result…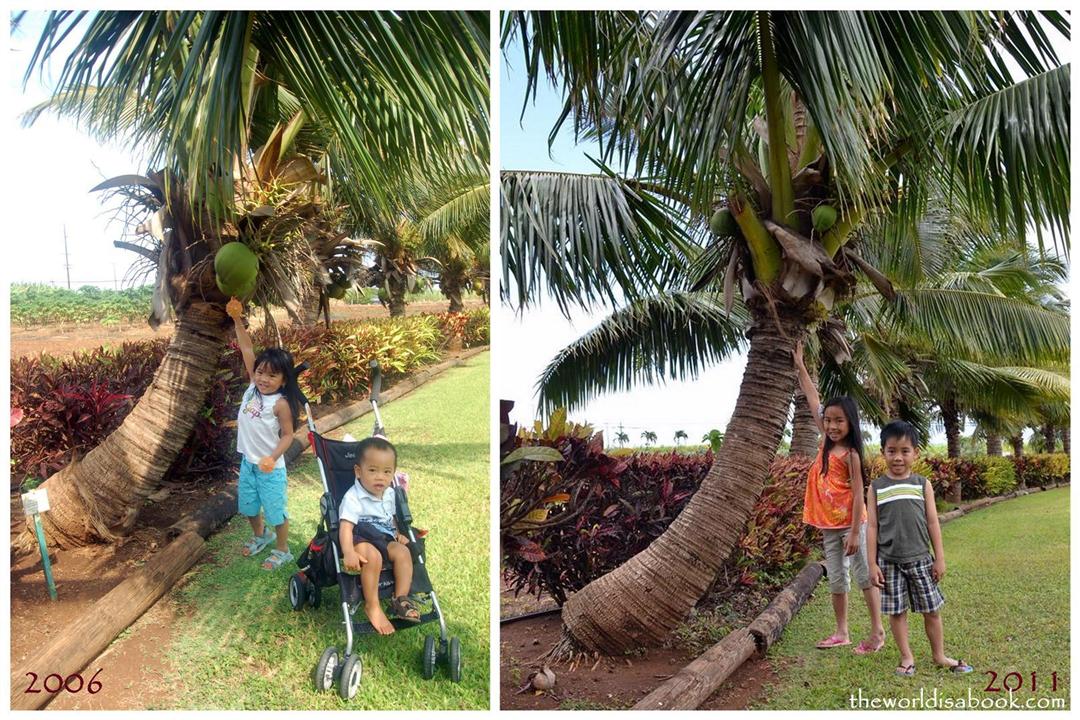 This was an actual 60 acre working plantation and admission to the beautiful, spacious grounds was free.  They offered tram tours throughout the property and could be reserved online.   We didn't take the tour and just decided to enjoy the scenery and the grounds.  It was a great place to walk around and introduce the kids to tropical fruits and see how they're grown.  My daughter was fascinated with all the plumeria trees and taro patch.  I like going here because it reminds me of growing up in the islands.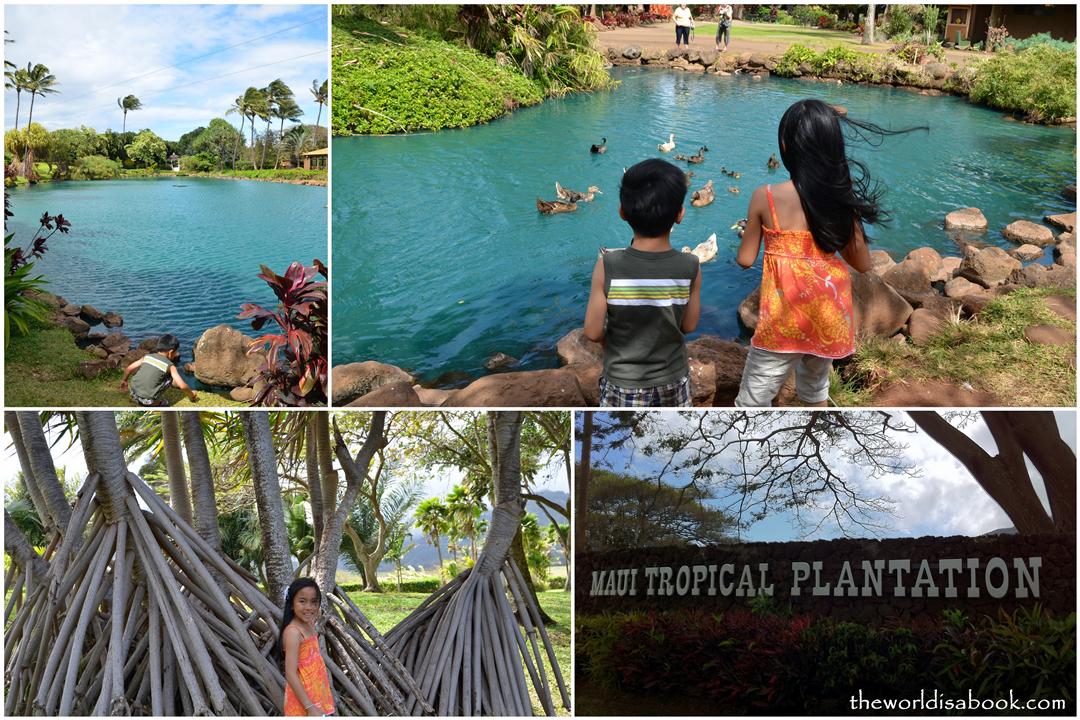 There was a lagoon in the plantation with a gazebo surrounded by beautiful tropical flowers and trees.  There were plenty of ducks for the kids to watch and feed.  They strategically placed benches to enjoy the plantation and  mountain views.  There was also a gallery on the grounds for Maui based artist, Rebecca Lowell.  The prices were pretty reasonable for beautiful Maui photographs and art and were great souvenirs to display at home. There was also a country store that sold made in Hawaii items here along with a couple of restaurants.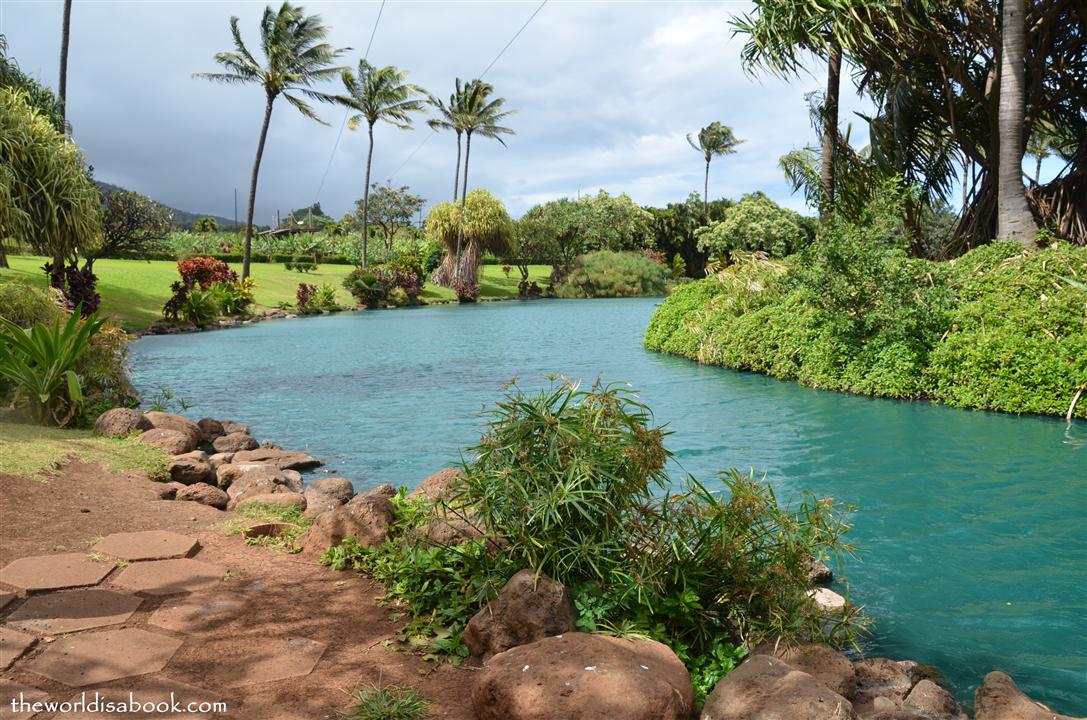 Something new here was the zip line.  We saw plenty of families on an orientation and getting ready with their gear.   It seemed more suited for children since it didn't seem very high.   Surprisingly, children as young as 5 years old could do this.  This adventure though came with a price tag of $90 per person plus tax.  We passed on this one for now.  Here is the link for more information on the zip line.
Website: http://www.mauitropicalplantation.com/ Address: 1670 Honoapiilani Highway Wailuku, HI 96793   Contact: 1-800-451-6805
_____________________________________________________
Iao Valley State Monument – We decided to revisit this park too and explore the other trails.  This site was where one of the famous battles in Maui occurred and has become a spiritual place as well as a tranquil setting surrounded by jagged cliffs and scenic vistas.    Parking was $5.00 via a machine that didn't give out change and took awhile when paying with a credit or debit card. There were restrooms before the path to explore the park.  There were chickens roaming around the park too which was a joy to many of the kids.
It was a beautiful day for a short hike so we went down to the river area passing the bridge over it and a clear view of the Iao Needle looming over us.  The centerpiece here is Iao Needle which  was a rock formation covered with foliage rising high above the park.   There were paved paths shaded with many guava trees to the riverbed and other trails.
We climbed the 100+ steps to the lookout to get the best view of the Iao Needle.  At the top, we were rewarded with magnificent views of the mountain, valley and the ocean. There was also a small covered pavilion with benches for resting and enjoying the scenery.  Near the entrance downhill was a small botanical garden with a taro patch, tropical flowers and banana trees as well as an old village site with a hut.  There were some benches for relaxation.  This was a good place for a family hike and something different beyond the beaches.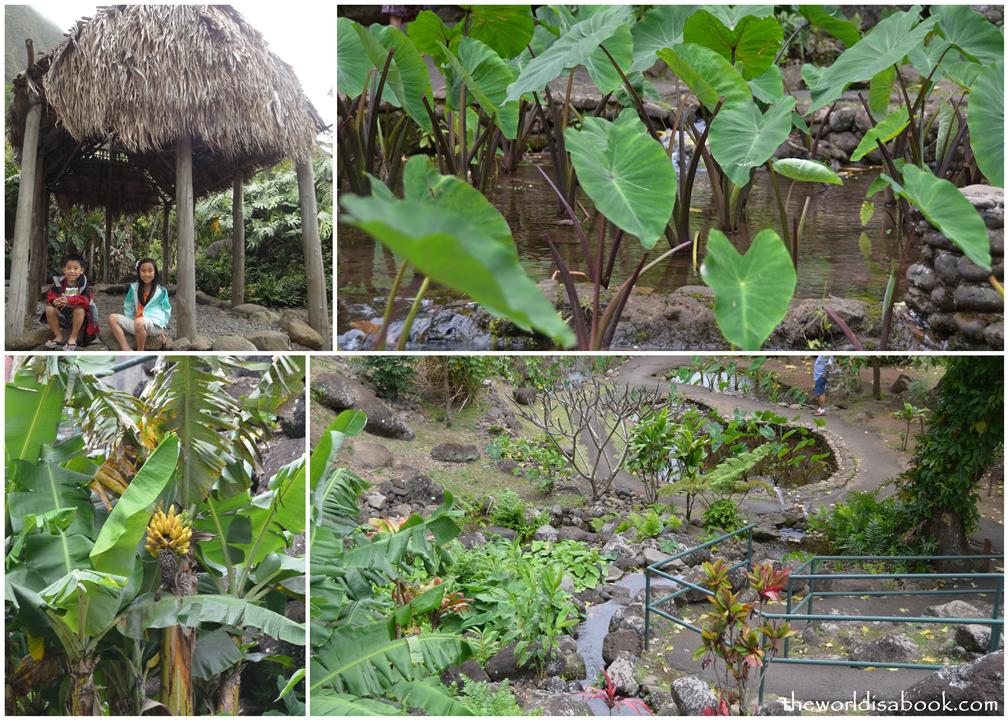 Related Links:
Check out these related posts: