Visiting Kiyomizu-dera in Kyoto
There is no shortage of temples and shrines in Kyoto. But, one of the most visited temples is the hilltop complex of Kiyomizu-dera or "Pure Water Temple". Located on the halfway point of eastern Kyoto's Otowa Mountain, it is rich in history, beauty and architecture. See why pilgrims and visitors have made the trek here for centuries.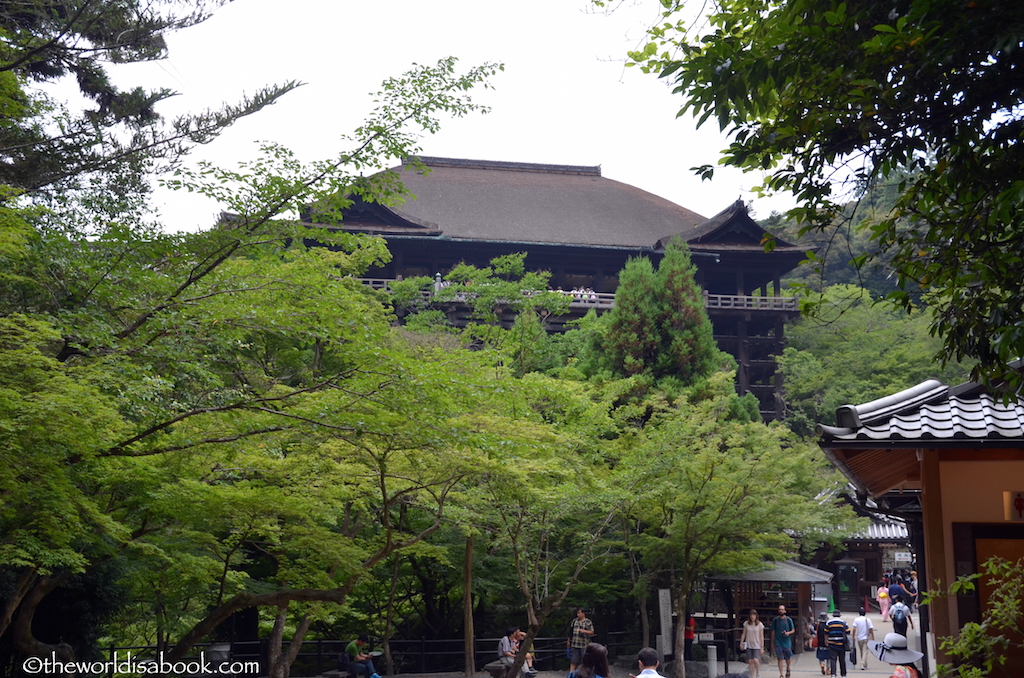 The temple was named after the Otowa Waterfall's pure waters that came from the mountain spring. It was believed that Enchin, a buddhist priest from the city of Nara, stumbled upon this forest with a waterfall at Mt. Otowa's base after having a vision to "Look for the clear water origin of the Yodo river".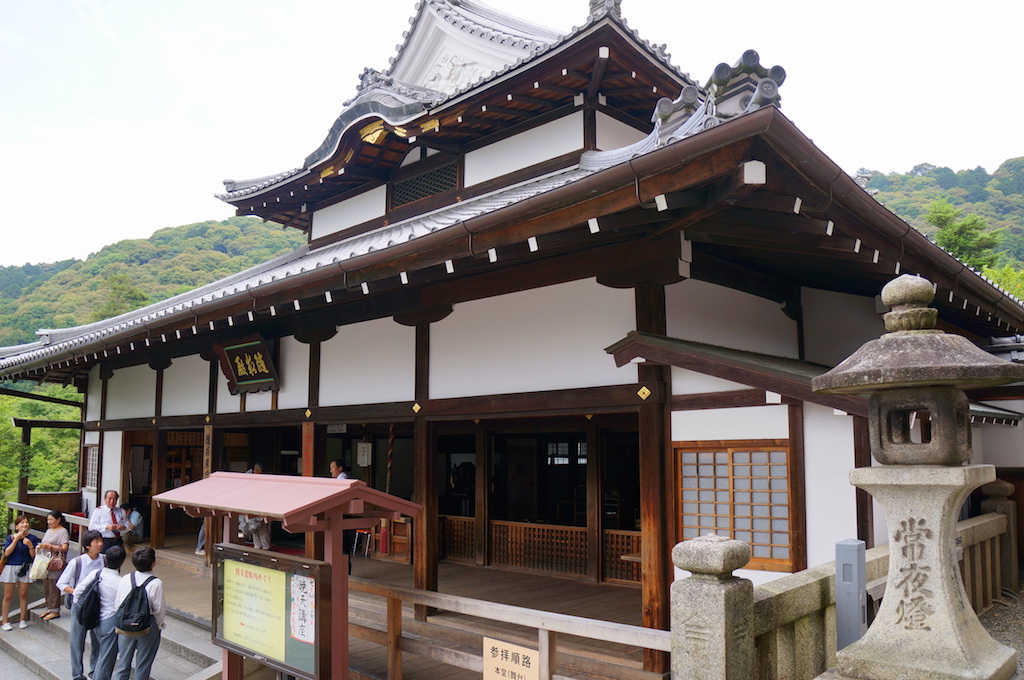 Kiyomizu-dera was established in 778 and was built in honor of the Goddess of Mercy and Compassion. Unfortunately, the temple has burned down several times over the centuries. Many of the existing buildings in the complex were rebuilt between 1631 and 1633. There are 15 colorful halls that were dedicated to various deities and pagodas around the temple complex. Some were more vibrant than the others but all made of wood. Kiyomizu-dera was declared a UNESCO World Heritage site in 1994.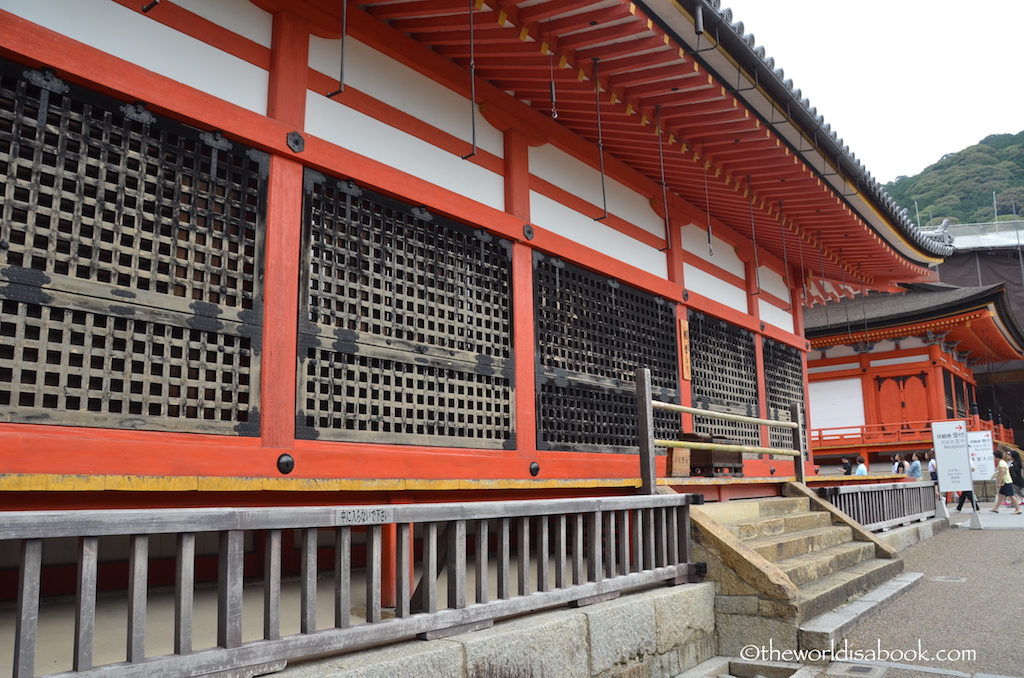 After our stroll through the historic Higashiyama district, the street led up to the Kiyomizu-dera grounds. We had to get through a busy street flanked on both sides by many shops and restaurants. It was hard not to stop at each store which sold so many unique and interesting souvenirs.
It got a bit crowded between the worshippers, tourists and kids on fieldtrips on a June weekday. We saw many women here dressed in traditional attires with their colorful kimonos, yukatas (the cotton ones worn during summer) and getas (Japanese footwear).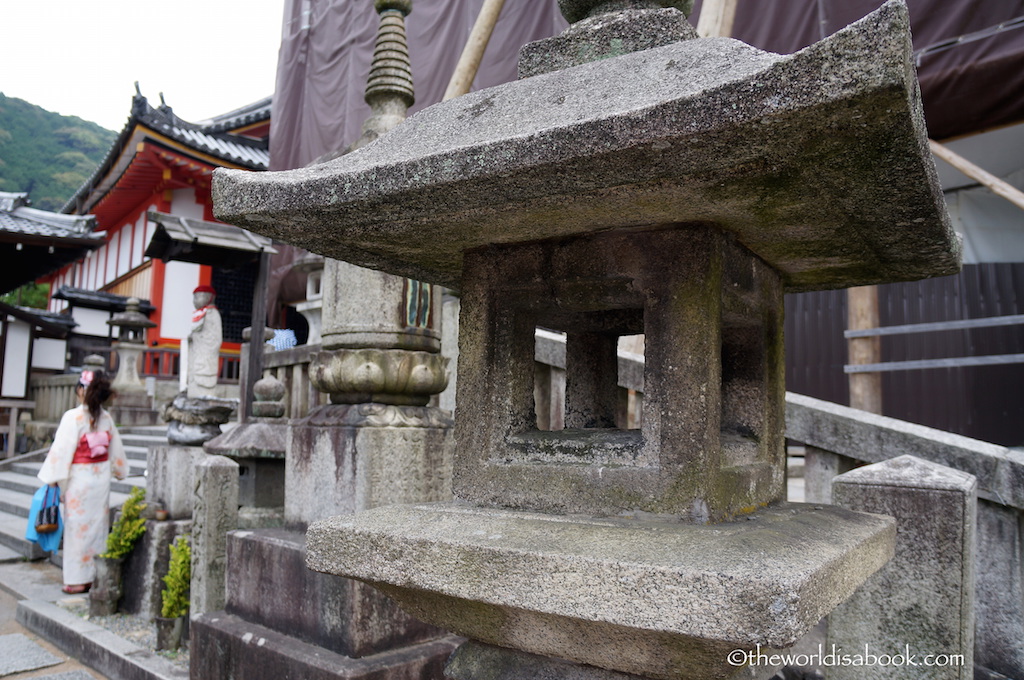 The Niomon or Deva Gate was the first structure that greeted us. This was the main entrance into the temple grounds. The Deva-Kings and the Korean lion-dogs or koma-inu statues here were supposed to ward off evil from entering the temple grounds.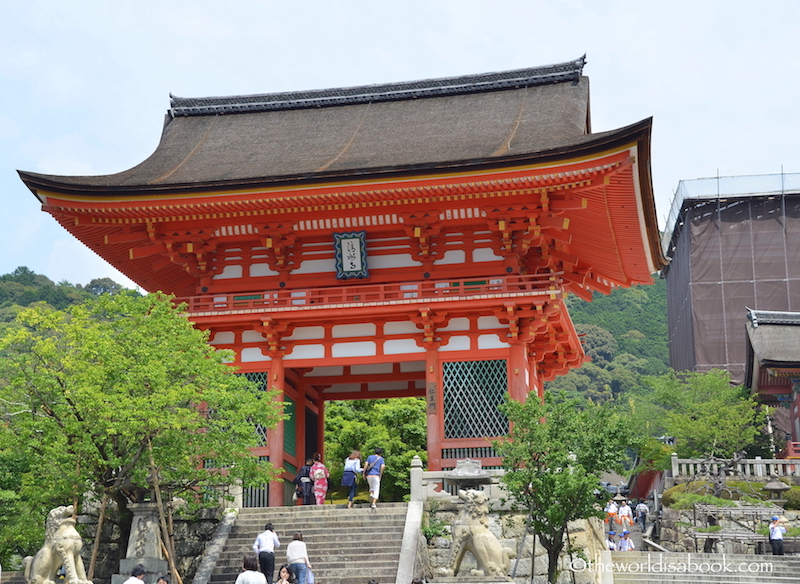 This bell tower was next to the Deva Gate.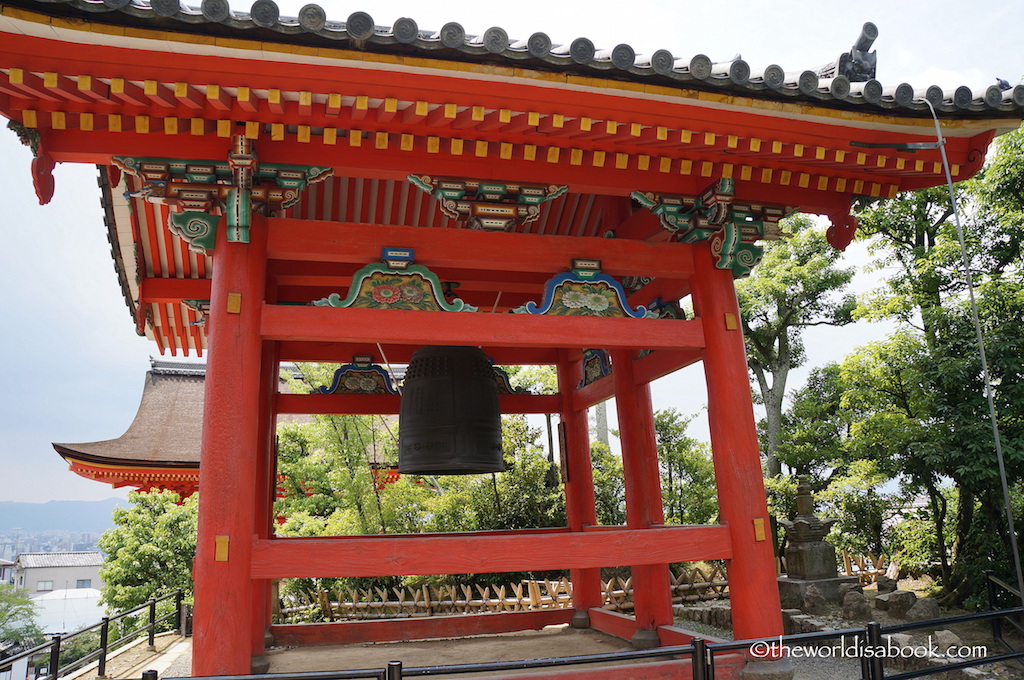 This was the cleansing station near the entrance for washing hands to purify one's self before entering the sacred grounds. My kids always enjoy and look forward to doing this ritual.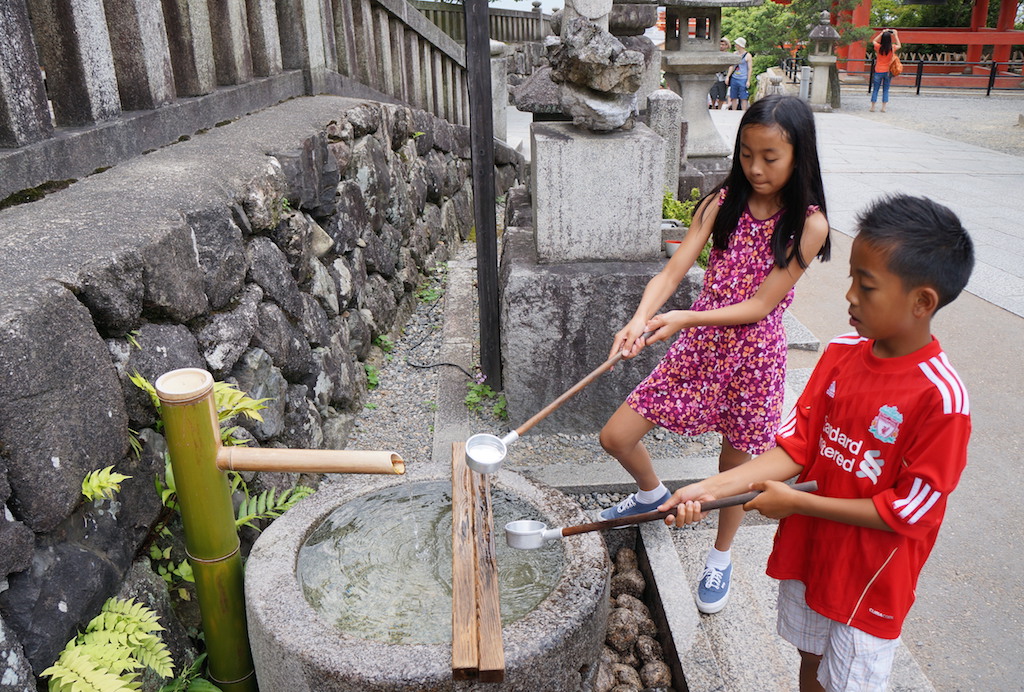 We always love seeing these ema votive tablets hanging at temples and shrines. The worshippers use these wooden plaques to leave their prayers and wishes. Since 2014 was the year of the horse, it was prevalent on the tablets.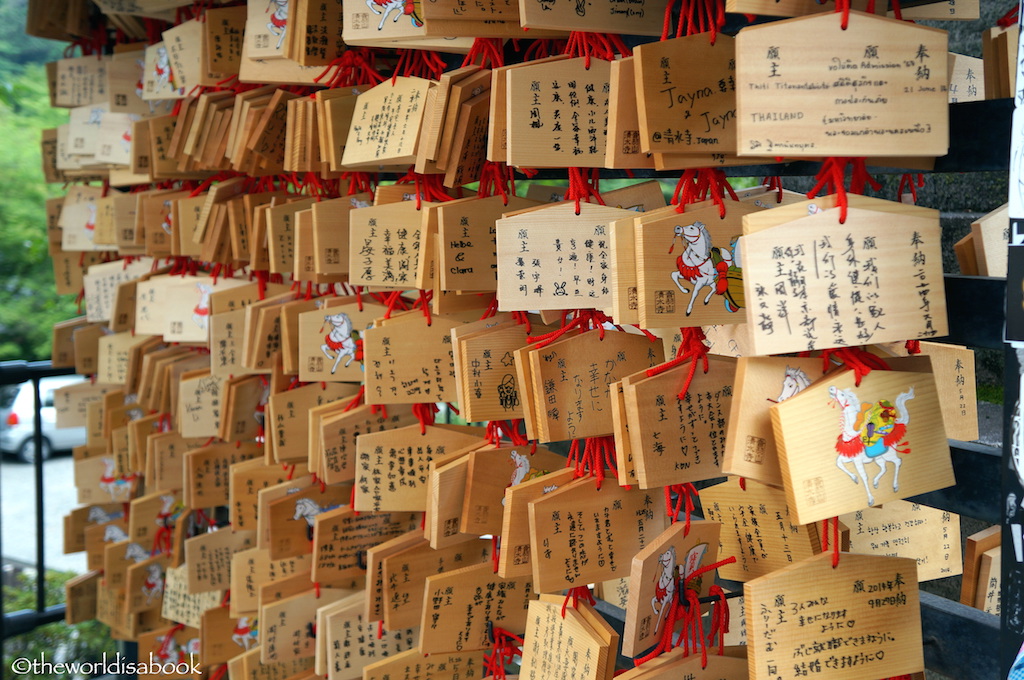 The star attraction here is the Main Hall or Hondo and is considered a national treasure. It is devoted to the Eleven Headed and Thousand Armed Kannon Bodhisattva, known for answering prayers and granting wishes. The small statue was enshrined here and who many primarily worship. The Kannon is hidden and only shown to the public every 33 years. The last showing was in 2010.
Though, most of the visitors flock towards the Kiyomizu Stage which is the wooden veranda that extends from the main hall and 43 feet (13 m) above the hillside. It was large enough to accommodate all the visitors that we didn't feel like our private spaces were being violated.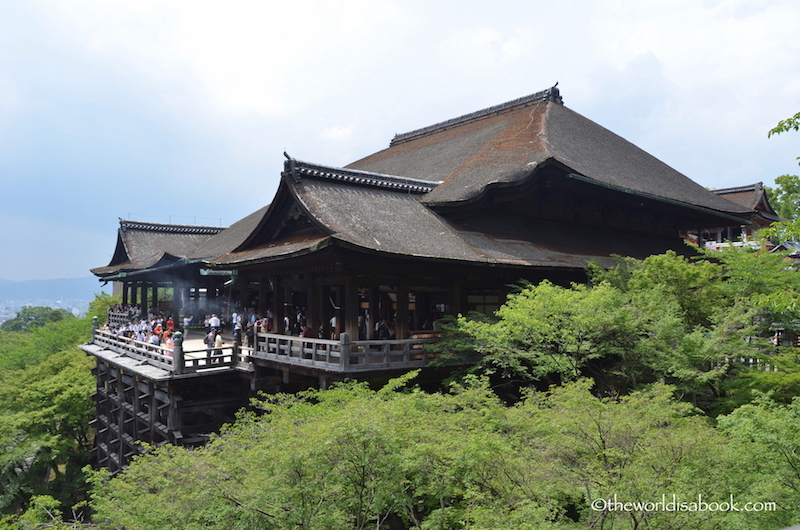 The stage was the best place to see views of Kyoto and the surrounding area. It was a little smoggy during our summer visit but still beautiful including the prominent Kyoto Tower.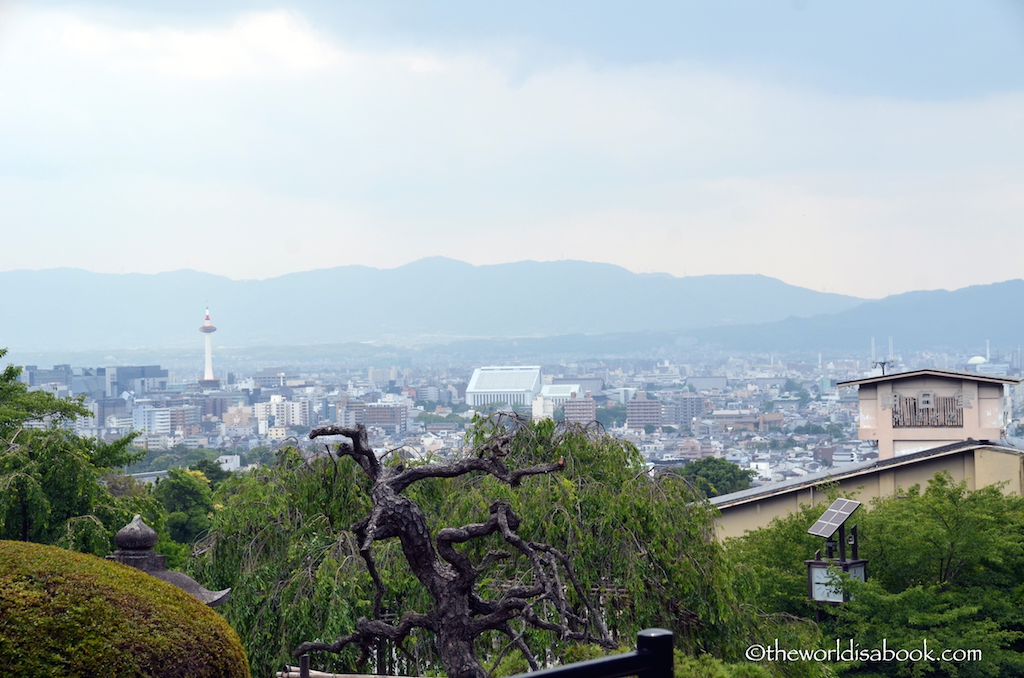 It was also amazing to find out that the stage and Main Hall were built without using a single nail. These 45 feet (12 m) high pillars and crossbeams were made from keyaki or Japanese zelkova tree. The floors were made of over 410 cypress boards.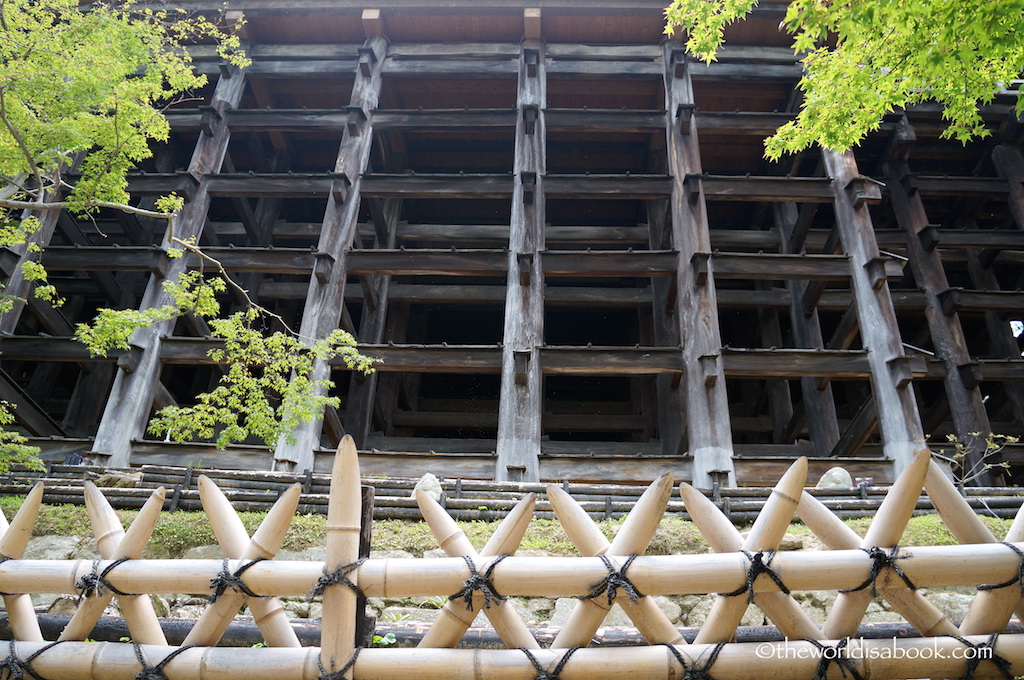 We found some small isolated spots like this area. It was a nice respite from the crowd and heat. These Kyoto temples might exude zen and peacefulness but we found them too crowded and distracting to enjoy it in peace. I don't know how some people were able to pray with the constant chatter and picture clicking.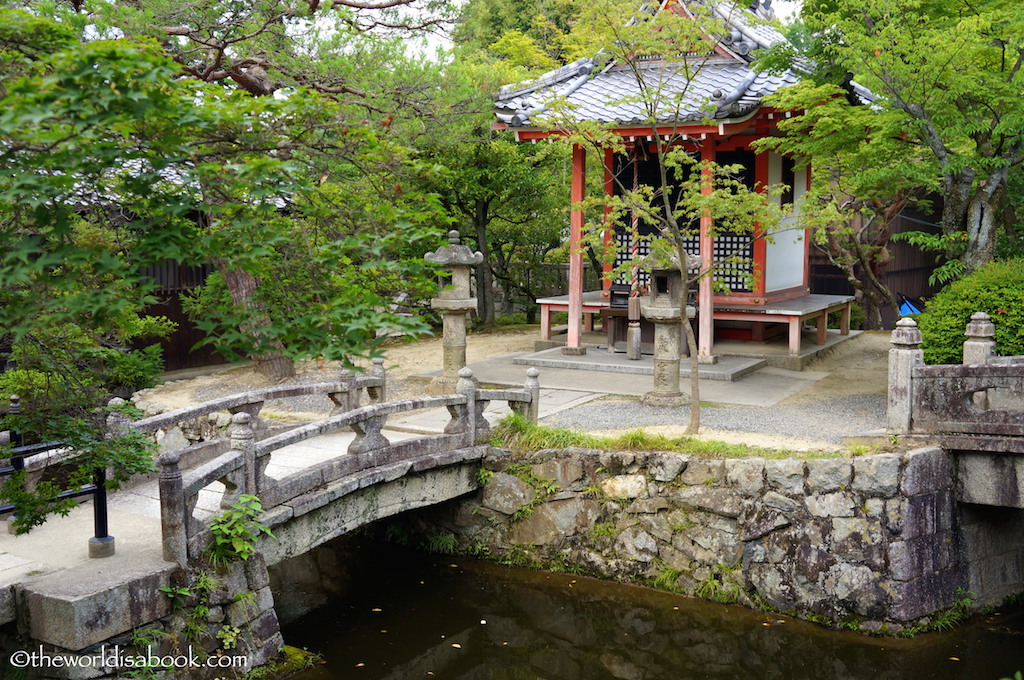 Located across from the Main Hall and veranda, the three-storied, vermillion Koyasu pagoda was quite a sight to see nestled among the greenery. This place gets quite busy during Spring and Autumn when the area's cherry blossoms and maple trees put on a stunning display of blooms and colors. I can just imagine how beautiful these trees transform into.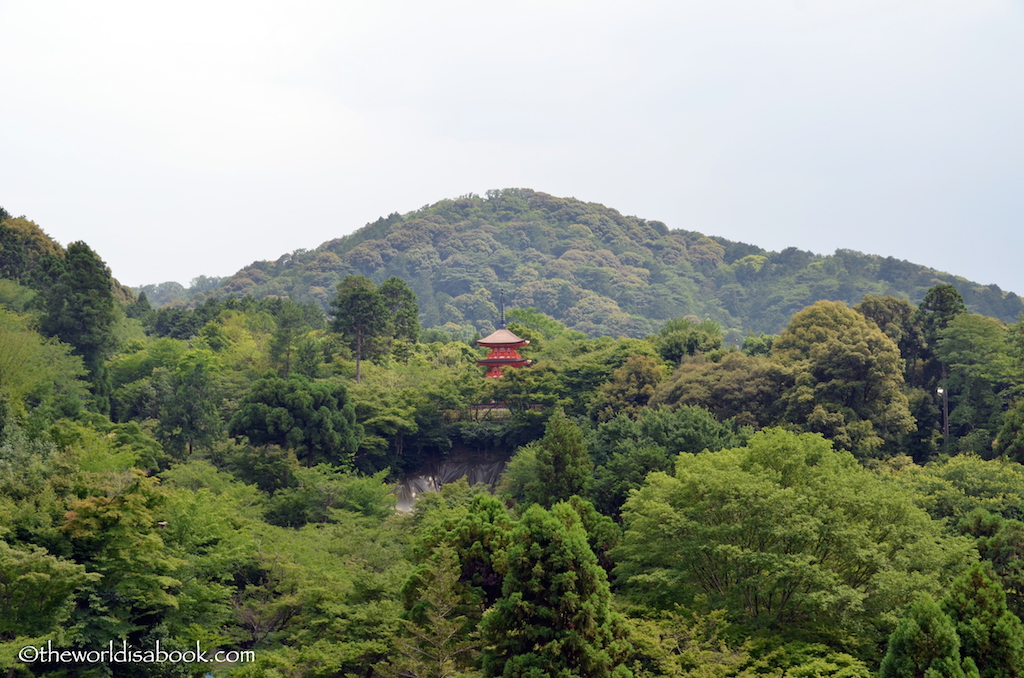 It took us awhile to walk across to get a closer look at this pagoda. But, it was a pleasant stroll through the shade and some gardens. It was one of the few places that offered a serene spot and experience.
Along the way we passed by these Jizo statues which were the protector of women, children and travelers. Statues were adorned with red bibs by parents who were grateful for saving a sick child or to ask for the Jizo's protection of a child who has died in the afterlife. Red was believed to banish demons and illnesses.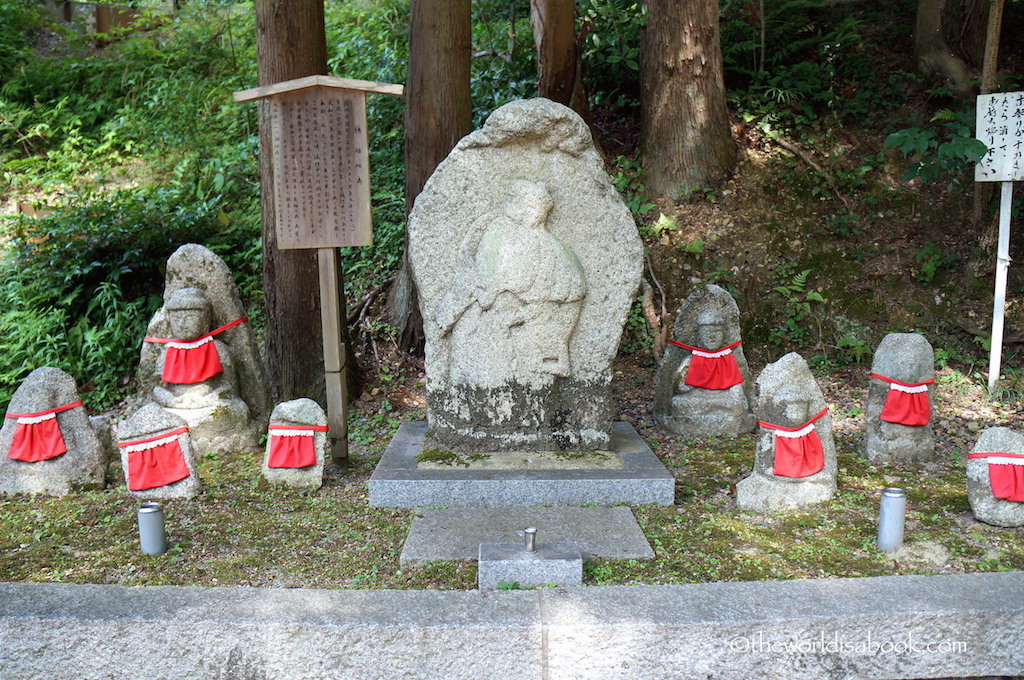 Visiting the Koyasu pagoda is said to bring pregnant or prospective mothers an easy and safe childbirth. My visit here was a few years late. I could have really used the easy childbirth benefit. It's a beautifully constructed pagoda wand was so vibrant. It wasn't open so I'm not sure if visitors were allowed inside.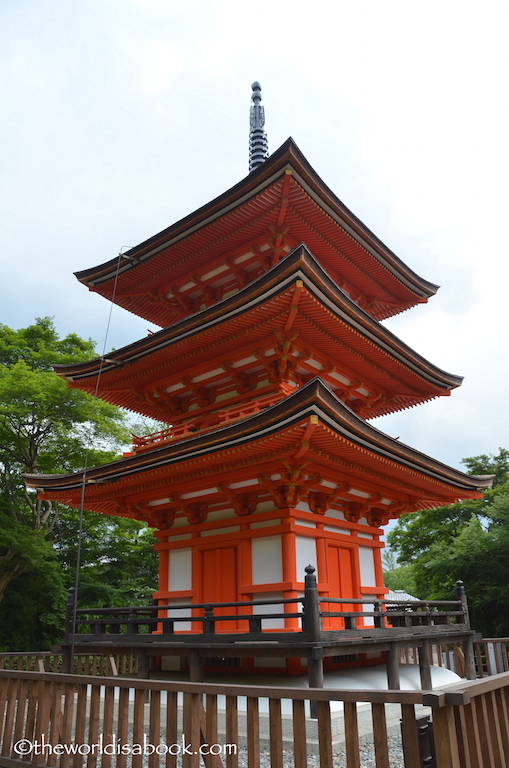 There wasn't much around this area but one can really get a sense of the size of the main prayer hall and veranda across the way from this vantage point.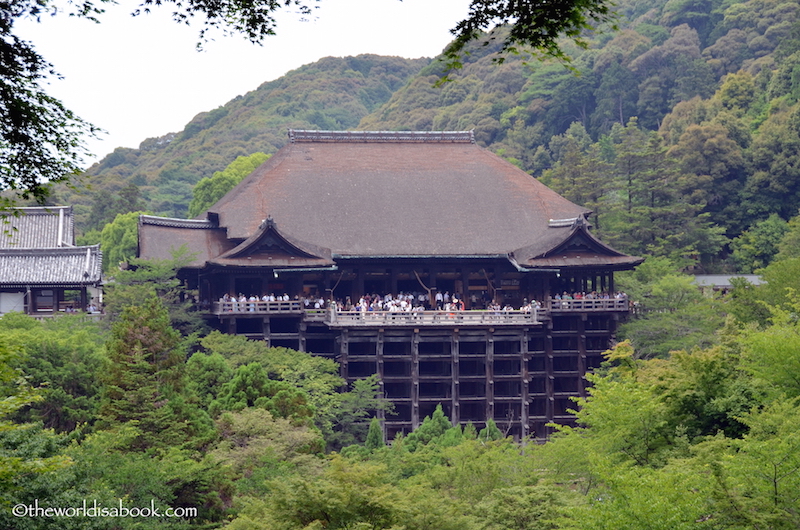 One can't miss the flowing Otowa Waterfall below Kiyomizudera's main hall base. It's not a gushing waterfall but was actually three separate streams of sacred Otowa Water. We found a long line of people here who were drinking from the overhead streams using a ladle.
Drinking from each stream yields different advantages which were success at school, luck in love or a long life. One must pick from the three since drinking from all of them is thought to be too greedy. The kids didn't want to line up in the heat and the semi-germaphobe in me wasn't too thrilled with drinking and sharing a cup that thousands of strangers have sipped on.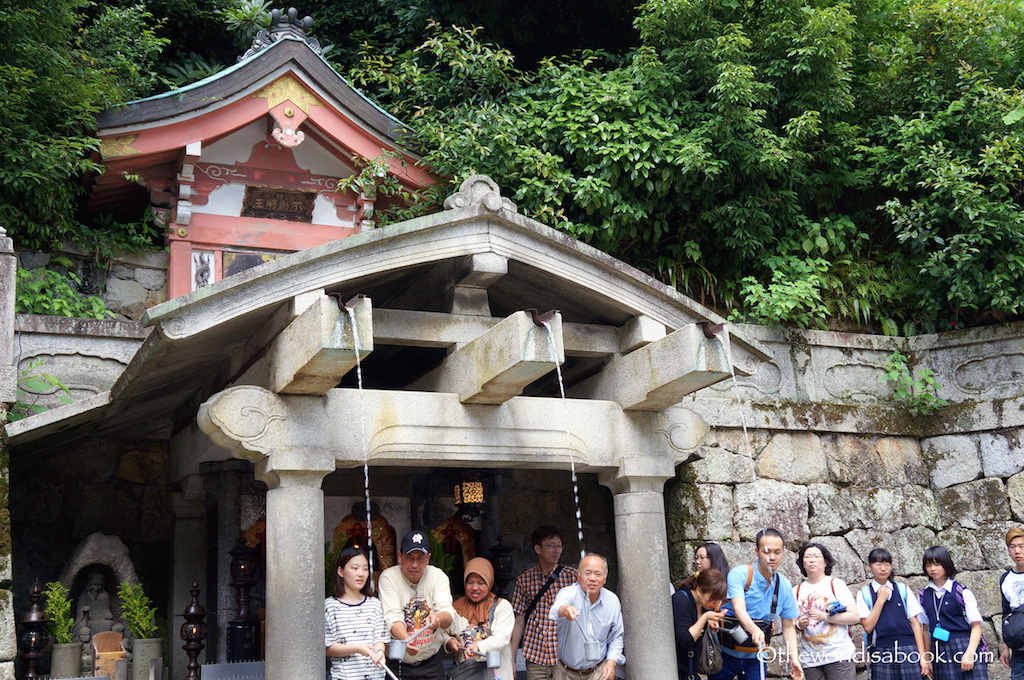 It was easy to see why visitors flock to Kiyomizu-dera temple everyday. The grounds and structures were beautiful, clean and well maintained. Despite the heat and crowd, we had a wonderful few hours here admiring the structures, enjoying the views and learning a bit about Buddhism. It's worth making the trip here no matter how limited your time may be in Kyoto.
Visiting Kiyomizu-dera Basics and Tips
Admission Prices (as of Jan. 2015): Adults: 300 yen ($2.50 US)/ Students 200 yen ($1.70 US)
Opening hours: 6:00 AM everyday; closing time varies based on seasons but the latest is at 6:30 PM during April – September.
Getting There: Take Bus 100 or 206 from Kyoto Station. The bus stops are Kiyomizu-michi or Gojo-zaka. It's an uphill 15-minute walk to the temple. We got here after our walk through Higashiyama District and then took the bus back to Kyoto station.
The street leading up to the temple was the best place to sample and buy Kyoto's famous sweet treats called Yatsuhashi. They're made from rice flour, cinnamon and sugar. Allocate some time in this bustling street to browse the shops.
Have you visited this Kyoto temple?
Where to stay in Kyoto
Save up to 50% on Value Deals in Kyoto through Booking.com!
See the best hotel prices from the major travel sites on

HotelsCombined

.
Find the best Kyoto hotels and read reviews on TripAdvisor.
Flights/Vacation Packages
Compare and book cheap flights to Japan through Vayama.