Snapshots from Sigatoka River Safari Fiji
Fiji's tropical islands and its countless activities and adventures are enough make a trip there unforgettable. But, one of the best experiences we've ever had was during our jet-boat safari to one of Fiji's villages along the Sigatoka River. I decided to focus on our journey aboard the jet-boat boat this week and can't wait to tell you all about our memorable village experience next week. So, come along with us for this exciting and scenic ride.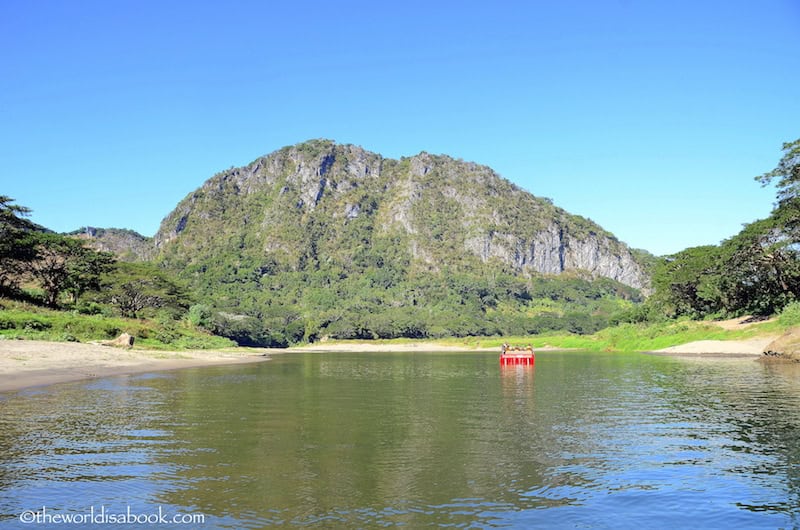 This jet-boat river safari and village visit originated in 2006. The company works with 15 villages on a rotational visit every two weeks. It's a wonderful way to for the Fijians to share their village life and for visitors around the world to learn about their culture and traditions.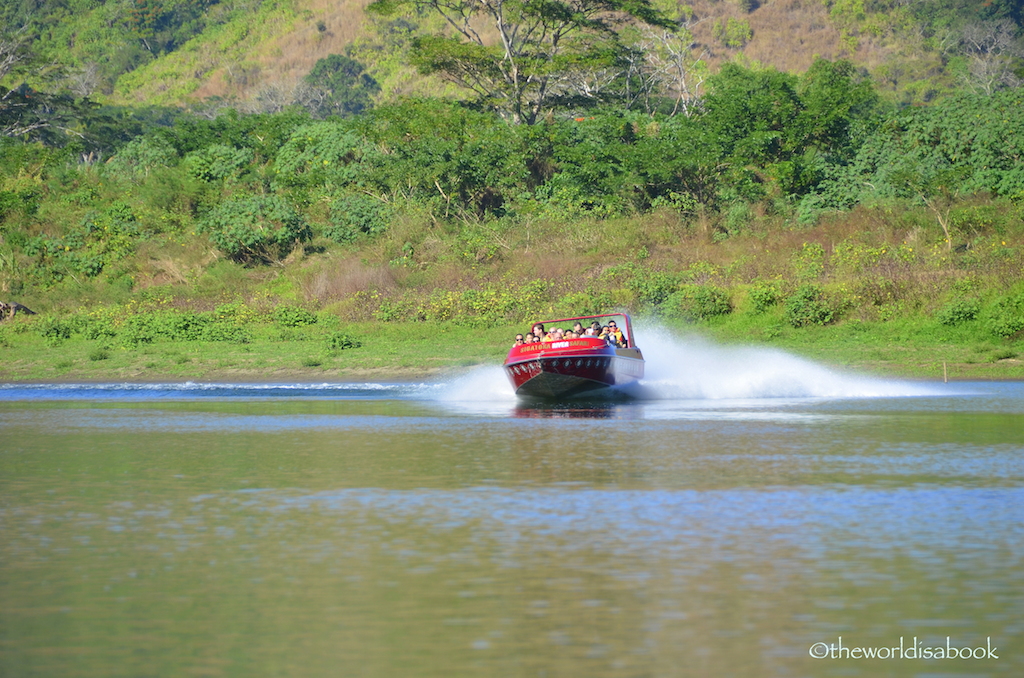 Our half-day adventure started when the tour bus picked us up at our hotel located on Denarau Island. We drove past the inland villages and got to see more of Fiji's rural life. We were at Sigatoka Town over an hour later to check-in and sign paperwork. All the women were given colorful sulus or sarongs to wear and cover our legs for the village visit. They made for lovely souvenirs too.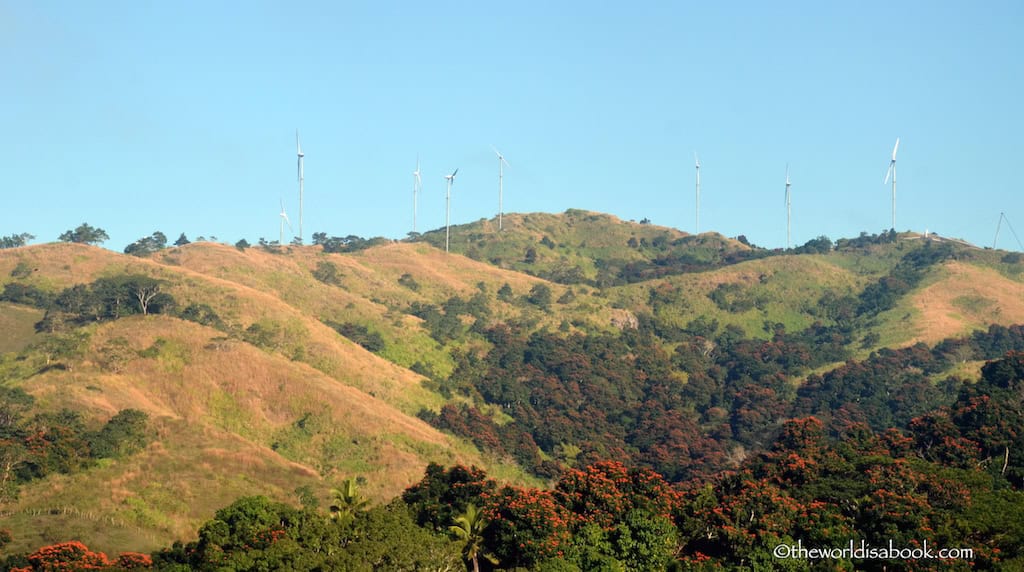 We were then driven to the river safari jetty where we met our jet-boat captains and saw the custom-built jet boats that would take us down the river.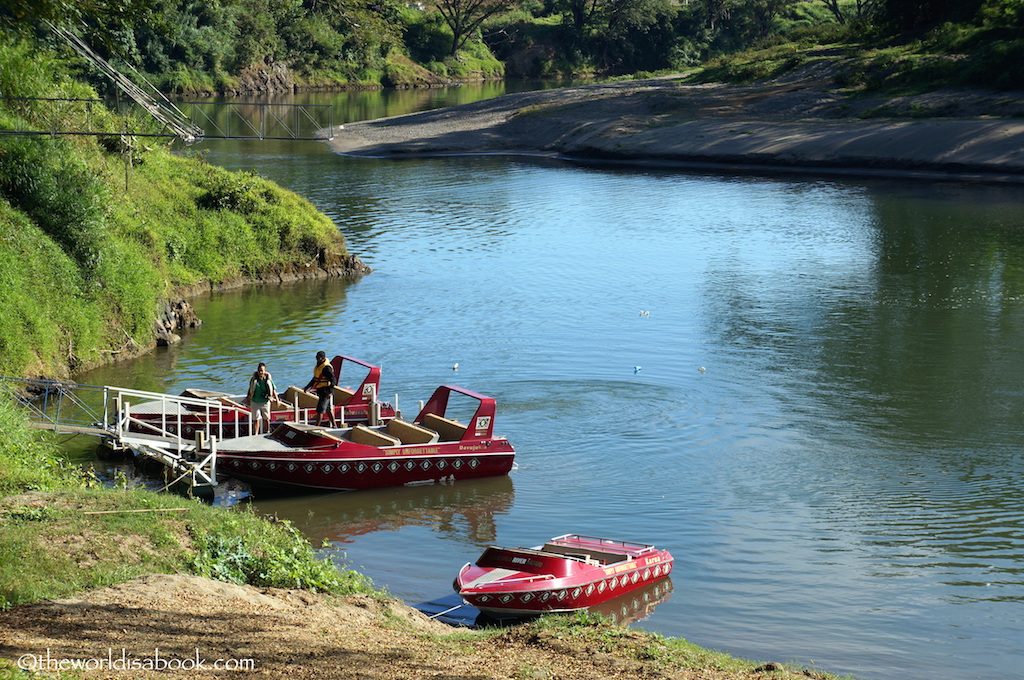 The Sigatoka River is a life source for many of Fiji's villages on the main island of Viti Levu. The Sigatoka Valley produces 70% of Fiji's produce and is considered the island's "salad bowl".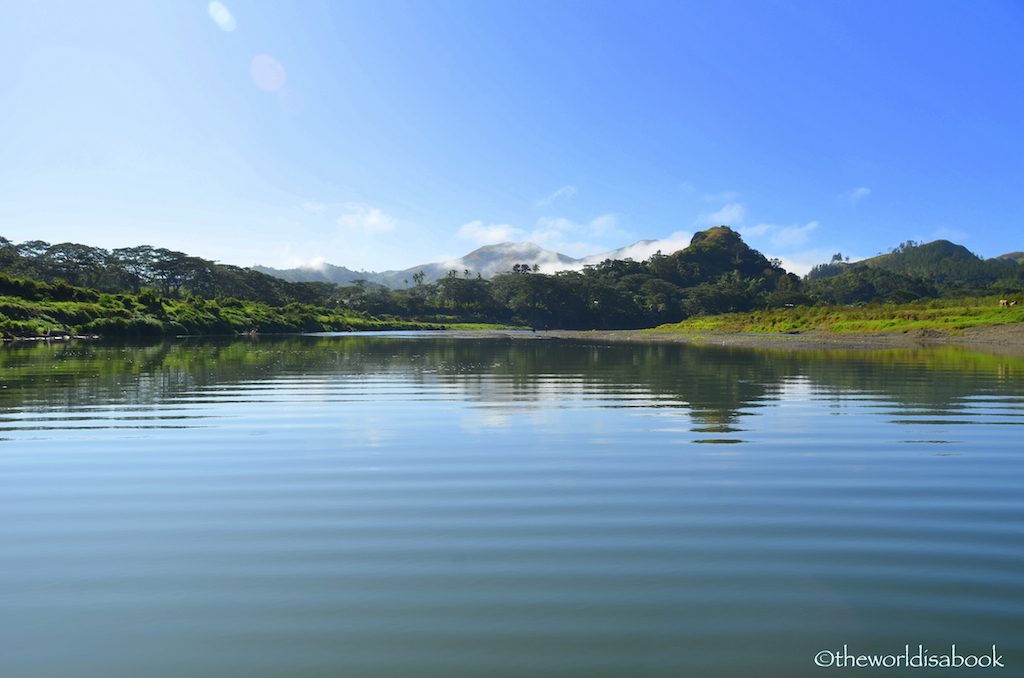 Each jet boat carried between 10-19 passengers. We were assigned our captain and our boat and then given life vests and safety instructions. I desperately wanted to sit in the front of the boat but since we had kids we were delegated to the back. Kids are very much welcomed here. There were only nine kids here in a group of about 70 with the four youngest including mine, in our boat.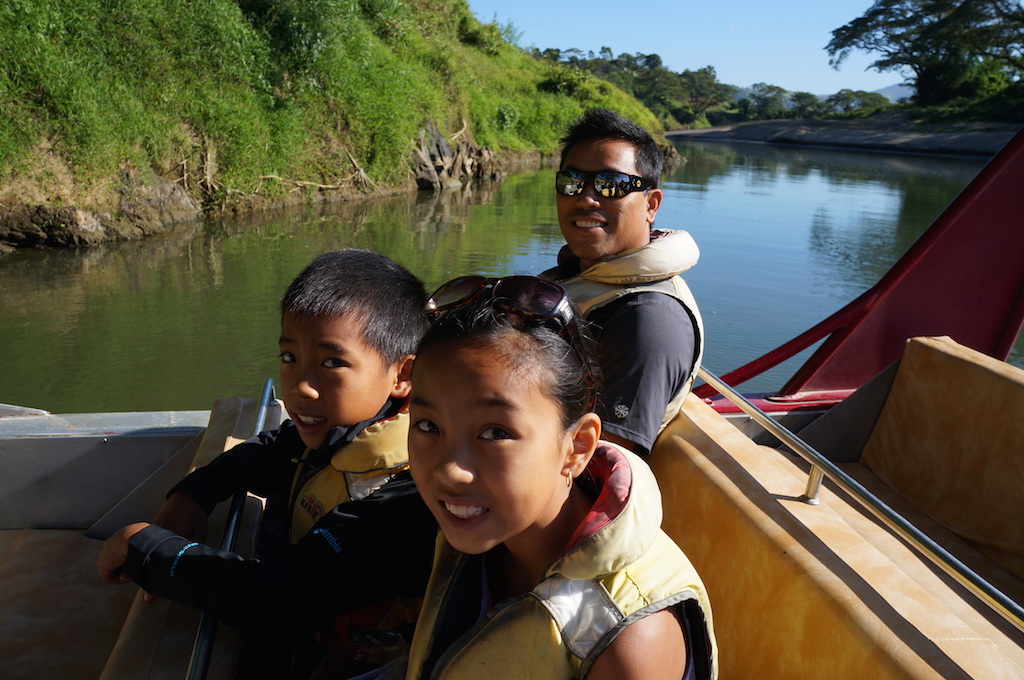 It was reassuring to know that each jet boat driver was specially trained in New Zealand for these specific boats. We were surprised to see that some parts of the river were actually very shallow. These boats were able to soar over those waters, which were as low as six inches.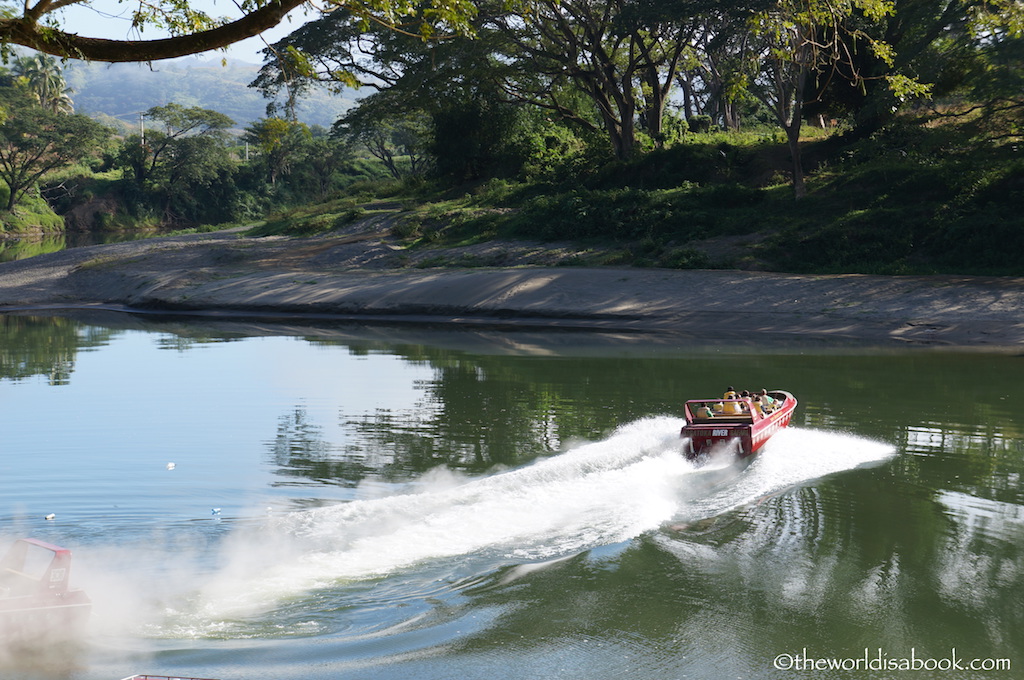 The engine noise was quite loud but what a fun ride. The boats went very fast down the river zigzagging in some parts. It was amazing how expertly our driver maneuvered the jet boat through branches and small patches of water.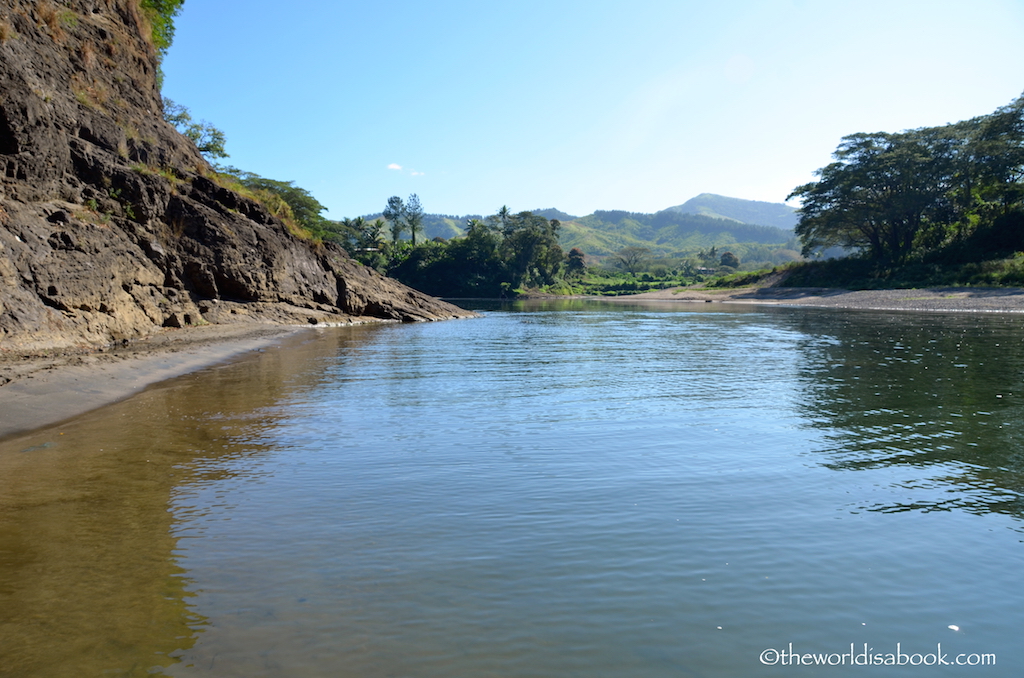 This video will give you a glimpse of a portion of our ride. Just imagine the fresh air blowing too.
We really liked that our driver also served as our guide. He stopped the boat along some scenic areas and told us about Fiji's complicated past that included cannibalism. We learned about customs and life along the river and were free to ask him questions. Many of the things we learned I covered in the 21 interesting things about Fiji post.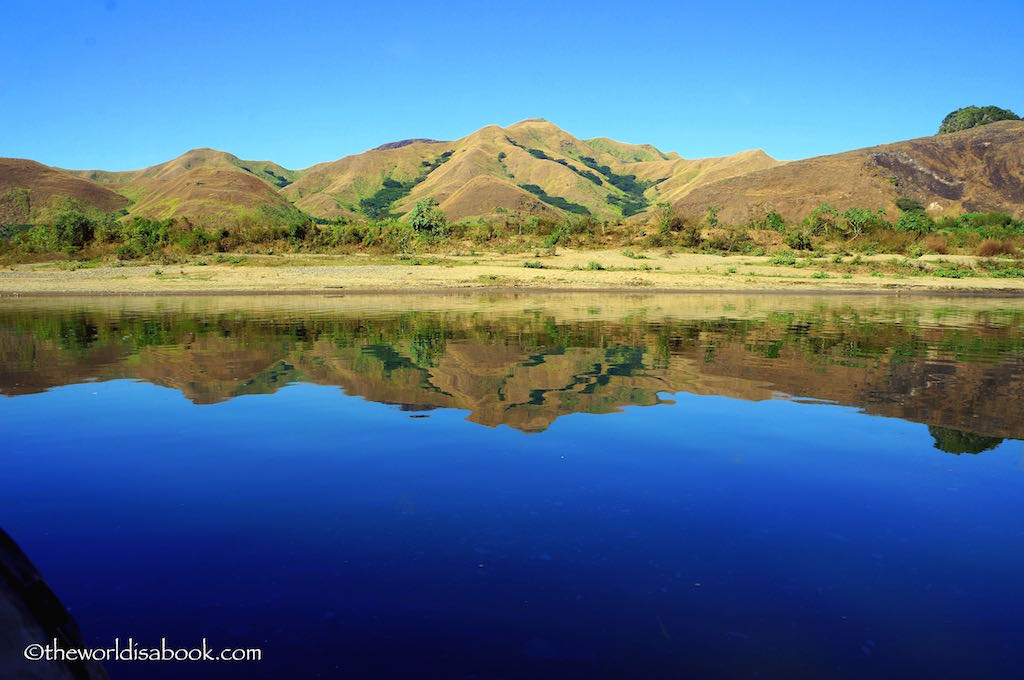 The Sigatoka Valley was just so lush and verdant. It was absolutely beautiful and serene. Fiji is known for its beaches but it was really wonderful to see its inland areas too. And it was just as impressive!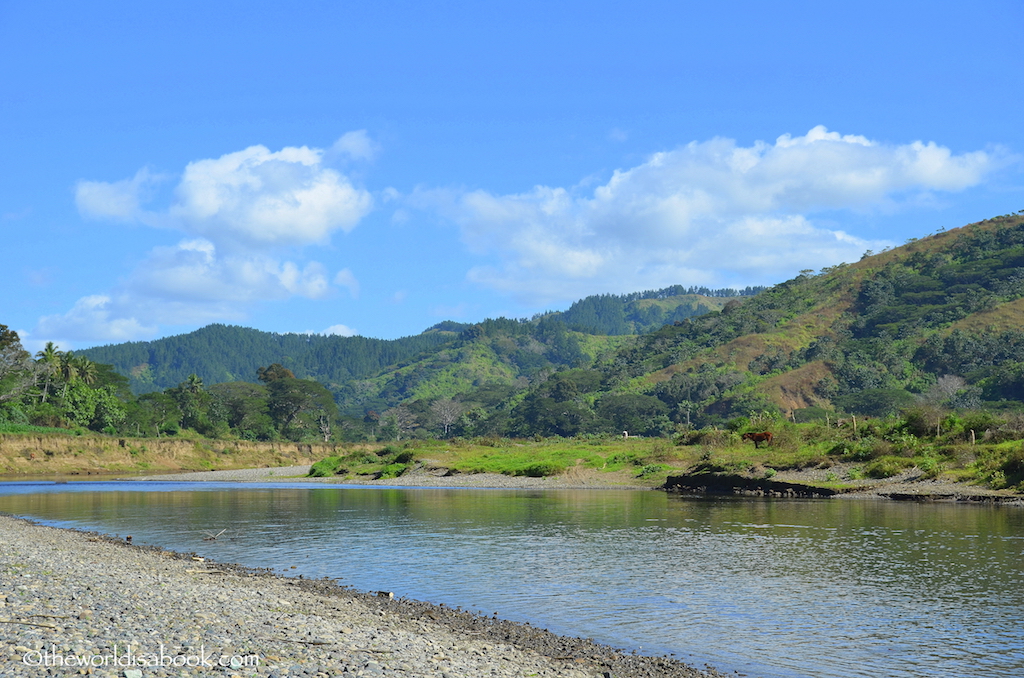 We loved seeing the villagers swimming or playing along the river especially the children. It was also a stark reminder that these rural villagers still pretty much rely on the river for chores we take for granted like doing laundry.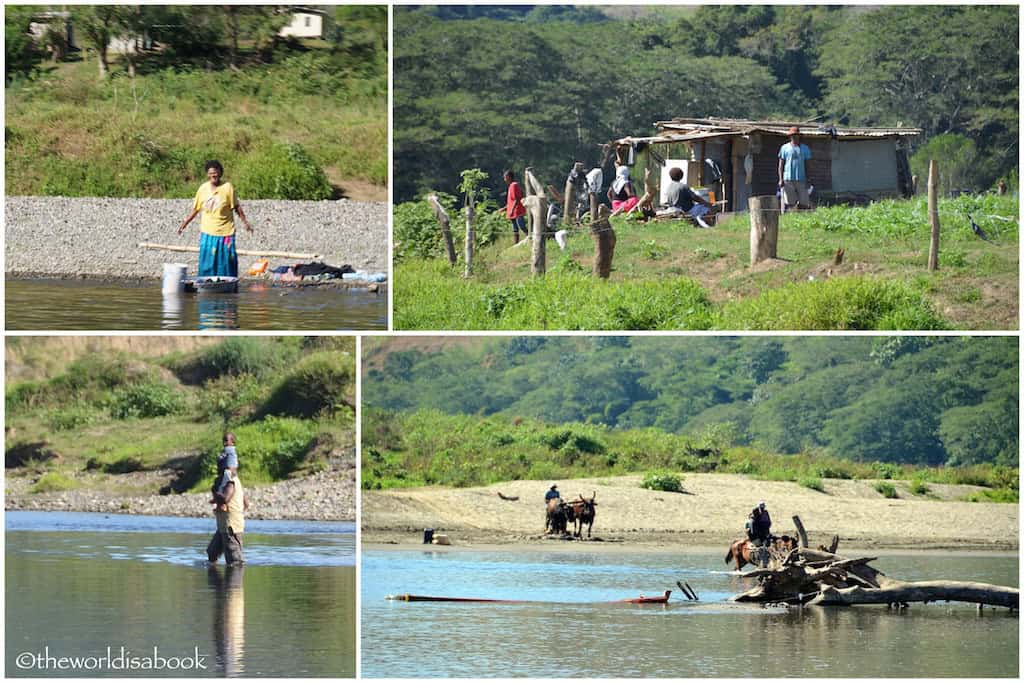 No matter what they were doing, they made an effort to wave happily. It's a testament just to how friendly and welcoming they are of visitors.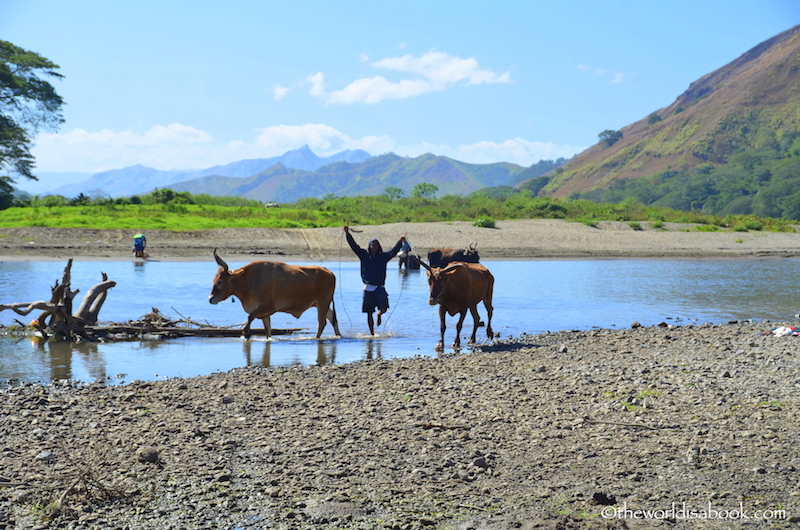 My kids enjoyed spotting the locals and looking for animals along the river banks. It was a highlight for these Southern California suburban kids to see all these goats and cows.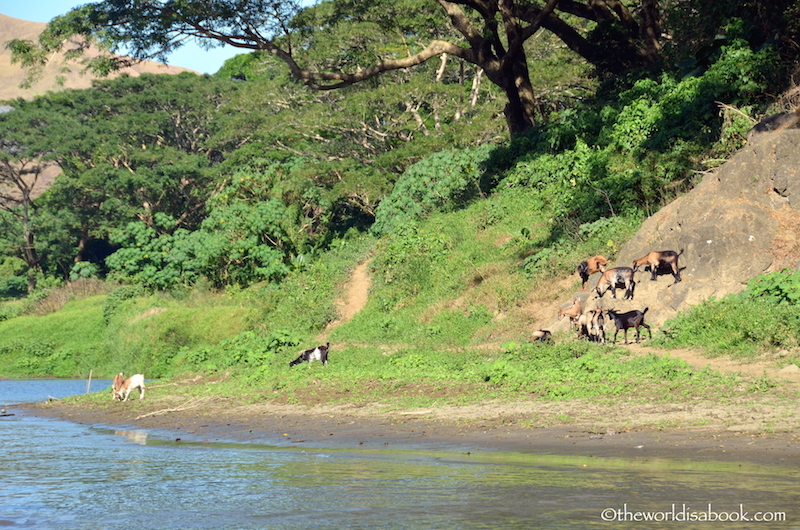 We stayed for about two hours at the village. But, who knew the return trip would be even more fun. Our driver had asked us if we were all open to doing the Sigatoka spins which are 360 degree spins on the water. We all enthusiastically yelled "YES!" But, if guests aren't comfortable, they are dropped off at the jetty.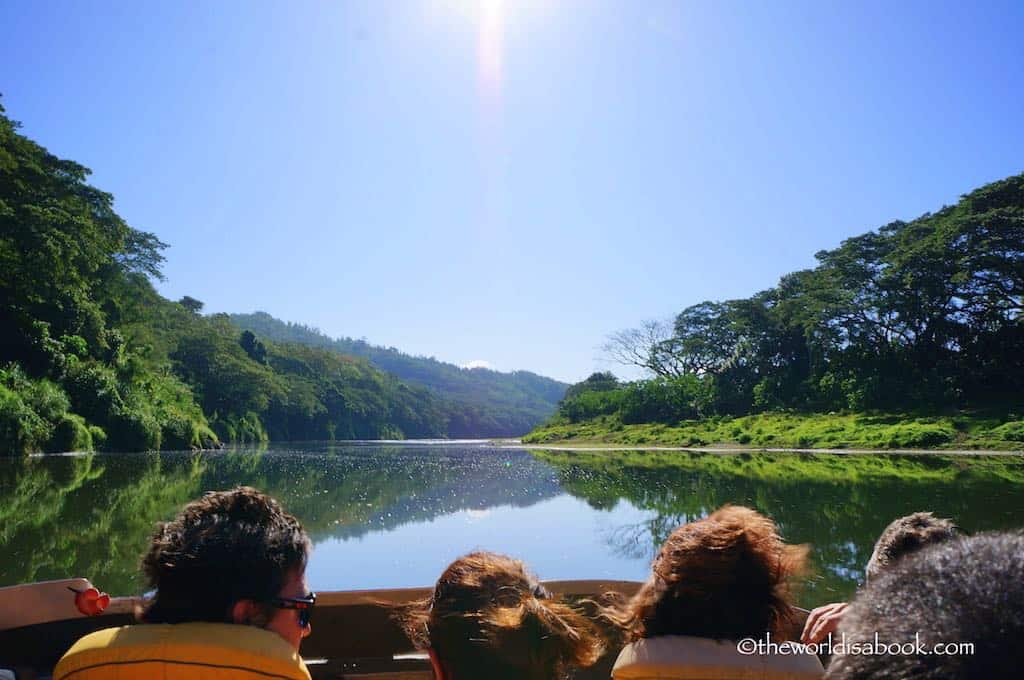 It was such a thrilling experience but we did get soaked despite my daughter's best efforts to cover herself with the sarongs. Our driver twirled his index finger as a signal of an impending spin. I think we did about four spins. Of course, the kids loved it. Here's a video of one of our spins that shows what it was all about.
My kids still talk about this trip so fondly. The Sigatoka River jet boat safari was such a great adventure. We felt safe throughout the ride despite the speed. It was memorable and a lot of fun. It's not cheap especially for families but it was still good value since the village visit is included and they consider the jet boat ride as an added bonus. If you're visiting Fiji, we highly recommend doing this tour and it's great for all ages.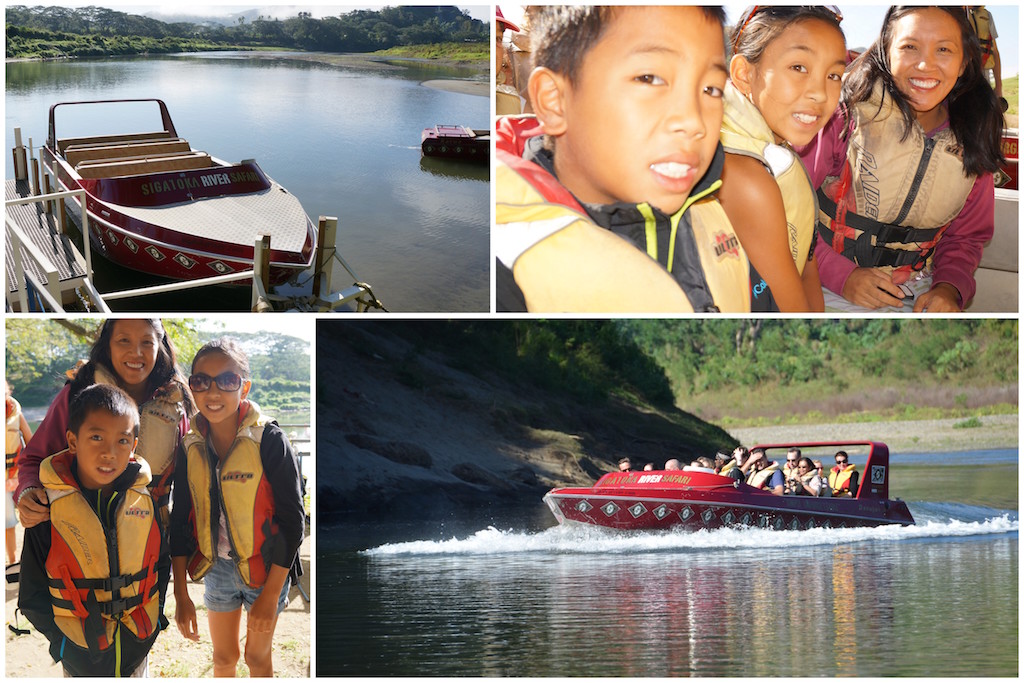 Sigatoka River Safari Basics and Tips
Prices vary depending on where your hotel is located for pickup. This is pricing sample for pick-up in Denarau (where most of the resorts are located). Adults $299 FJD ($146 USD)  Children (4-15) $150 FJD ($73 USD); Family Pass (2 adults, 2 kids) $850 FJD ($415 US); Kids under three years old are free. It's not cheap but definitely worth it.
There is a morning tour and an afternoon tour.
Visitors can drive to Sigatoka town to save a bit of money. Tickets will be discounted since you won't get picked up at your lodging.
Tours Include: Round-trip transportation from lodging, Fijian lunch at the village visit, contribution to the village, bottled water, sarong for women, 10% discount at Fiji Market & Tappos store in Sigatoka.
Pick-up times from lodging will depend on how far your resort is located from Sigatoka Town. They were great with communicating all the necessary information through email.
There were lockers and restrooms at the jetty.
Bring a change of clothes and towel. You will get wet no matter where you sit during the spins.
Don't bring anything valuable that will get wet.
Apply Sunscreen and bring some for re-application.
There is a wet weather policy.
Bring a large container for extra water. It can get quite hot.
Pictures with your driver and some action shots of the boat are available for purchase in various packages.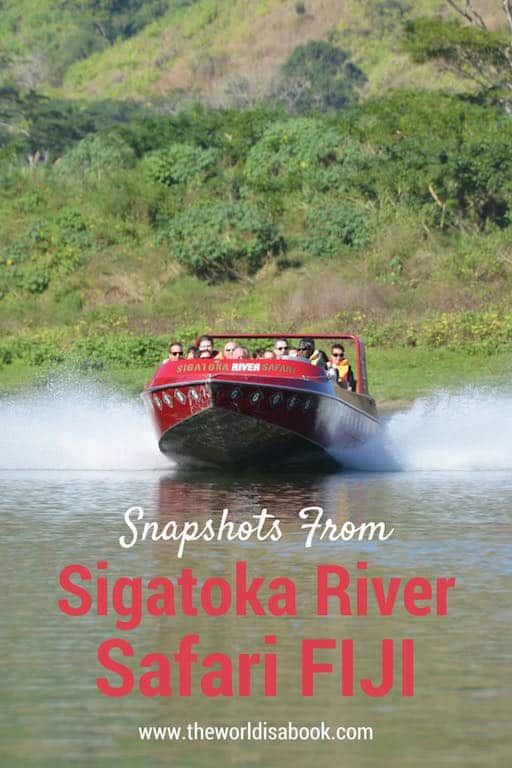 Have you gone on river safaris like this? Would you go?
Check out these related posts: