Visiting A Sigatoka River Village in FIJI
Sometimes it really is about the destination and the journey is just a bonus. I wrote about our exhilarating journey on a jet boat down the Sigatoka River in Fiji last week. But, the main reason we went on this tour was to visit an authentic Fijian village. Fiji evokes beaches and resorts but it is also a developing nation and its rural life inland is also worth exploring. See why this village visit left such a lasting impression on us.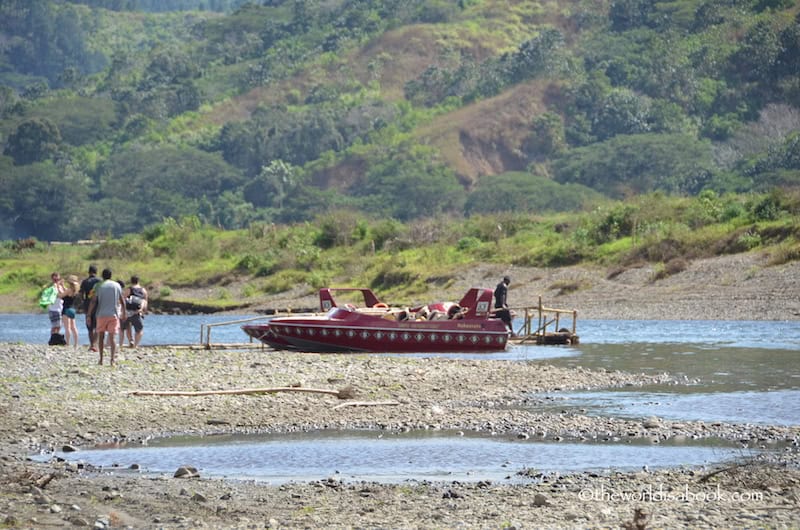 Sigatoka River Safari works with and visits 15 villages along the river. The tour is rotated so most villages receive visitors once a week for six consecutive months. Some portion of the tour tickets go to help villages. This made it easier for us to pay the high ticket price knowing the villages will also benefit. The villages have used these funds for projects that ranged from building footpaths, renovating community halls and improving schools.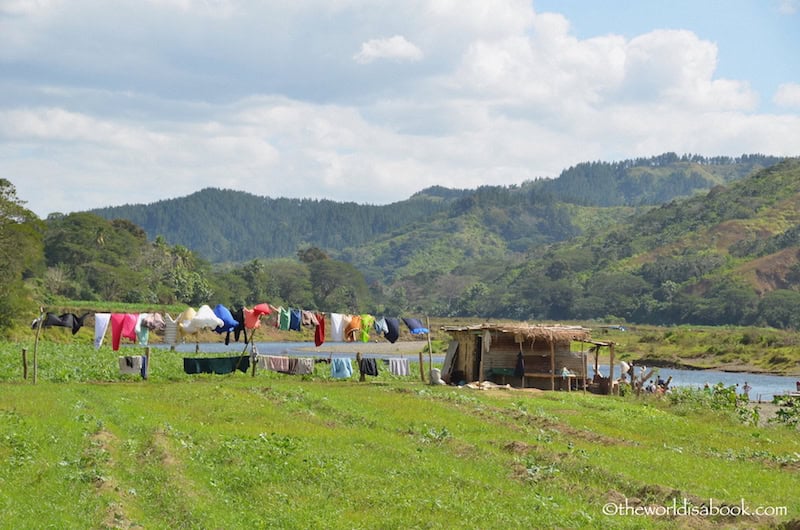 After our scenic cruise down the river for about 30 minutes, we stopped to cross the makeshift bridge to the rocky shores of Natawatawadi Village . There were a few children who gathered to welcome us. We were warmly welcomed by Aggie, our village hostess, with an enthusiastic Bula! (hello).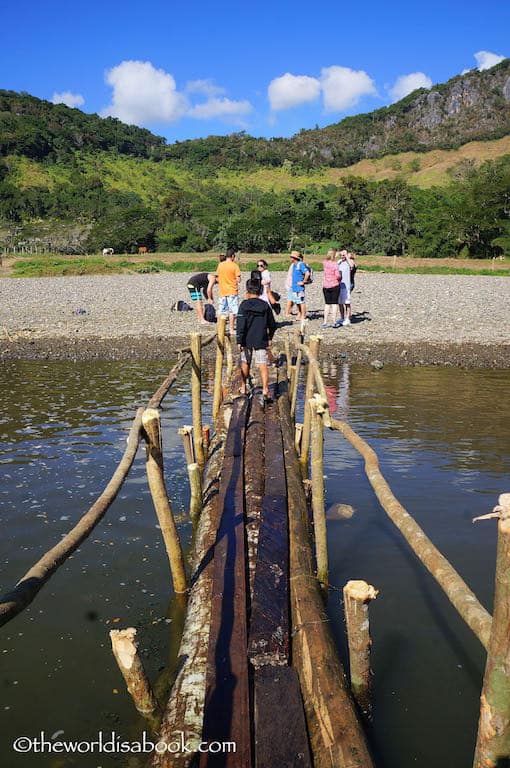 She instructed us to remove any hats and for the ladies to wear the sulu or sarongs we were given earlier and wrap it around our lower halves for coverage and as a sign of respect. It was a pleasant walk along the pathway up to the village. We saw plants and gardens but didn't see many animals except for a few cows and a couple of horses.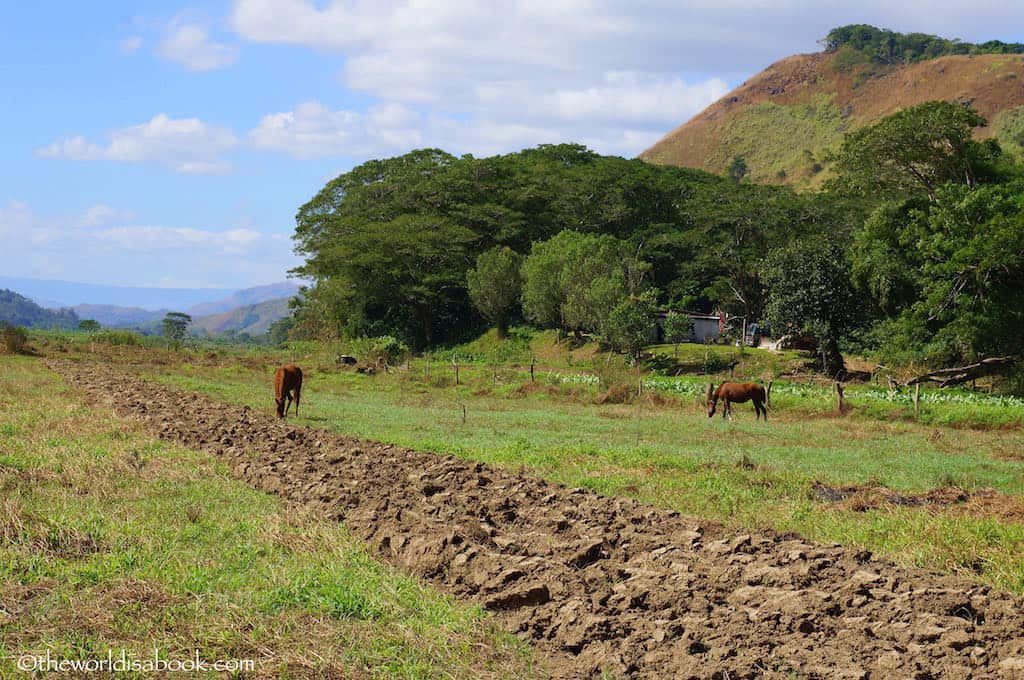 We were welcomed at the village by more locals with genuine smiles. A few of the kids approached us and hung garlands made of leaves and flowers around our neck. They were beautiful and the flowers smelled very nice.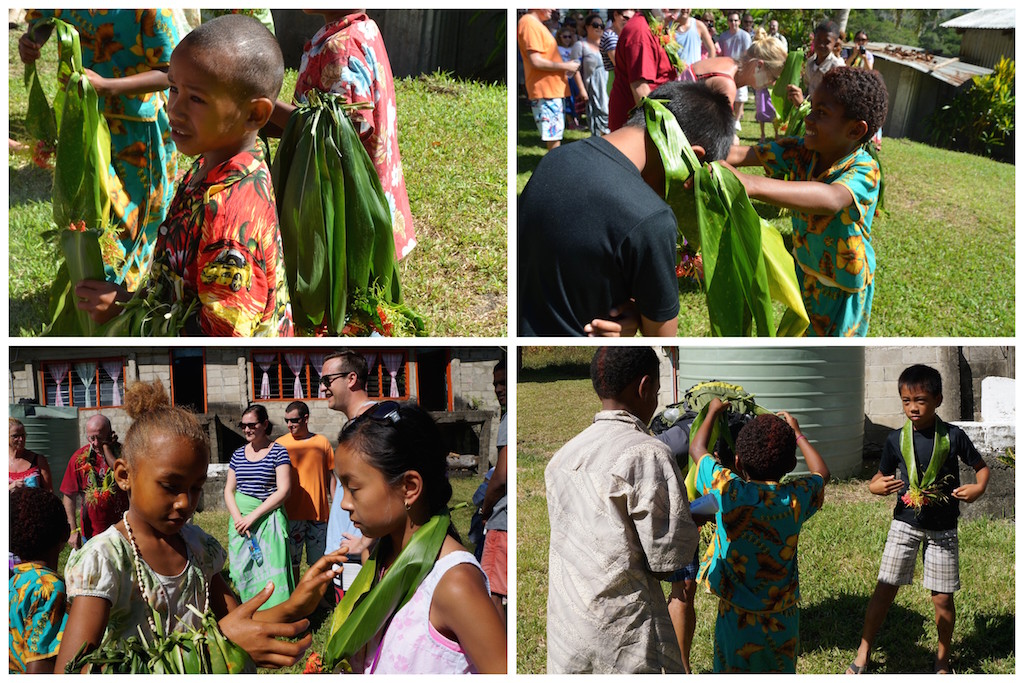 We were caught off guard when they put white talc powder on our cheeks. Yes, it was the actual Johnson's & Johnson's type baby powder. I never did catch what this was for.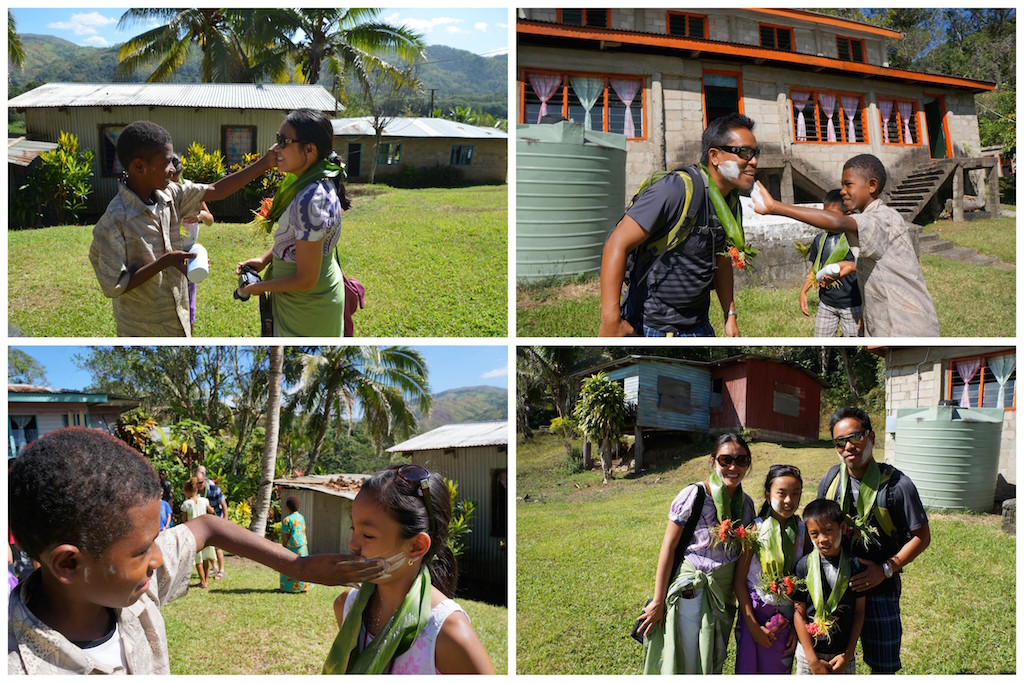 These villages are self-sustaining and have a chief or leader. Many of the houses were made of tin and some brick with tin roofs. I was instantly brought back to visiting farms in the Philippines as a child with rural scenes very similar to this village. It was simple and modest and it did look like they had electricity.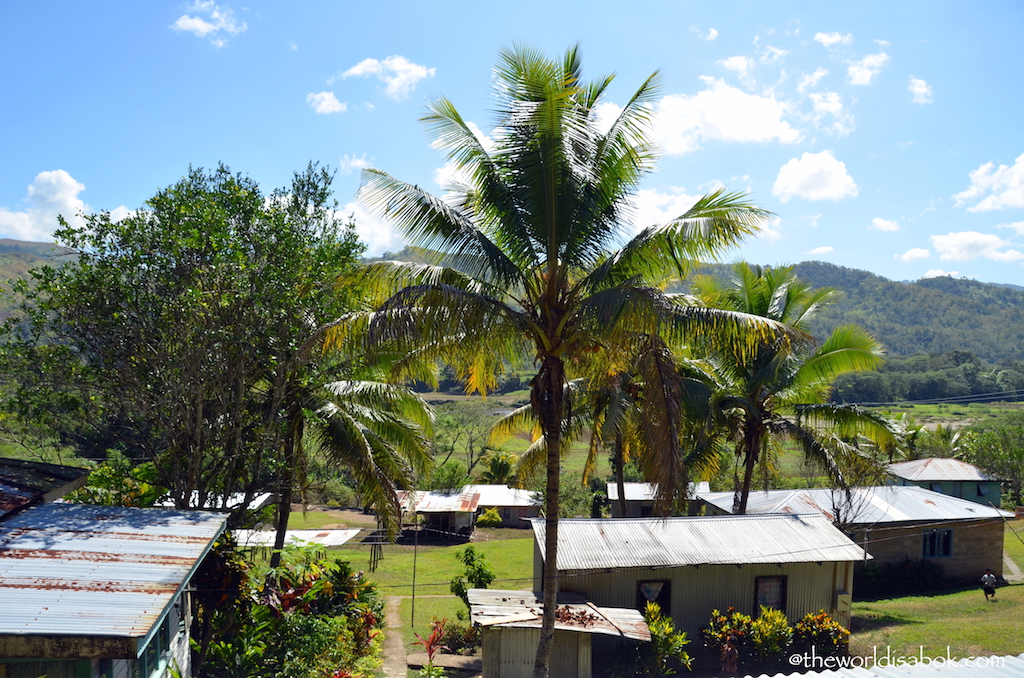 This was a real eye-opener especially for anyone who has never really set foot in a rural village including my kids. It was humbling and makes one reflect on what we have and appreciate what we take for granted like running water, food and modern appliances among many other things. This was authentic with no signs of commercialization or tourist traps.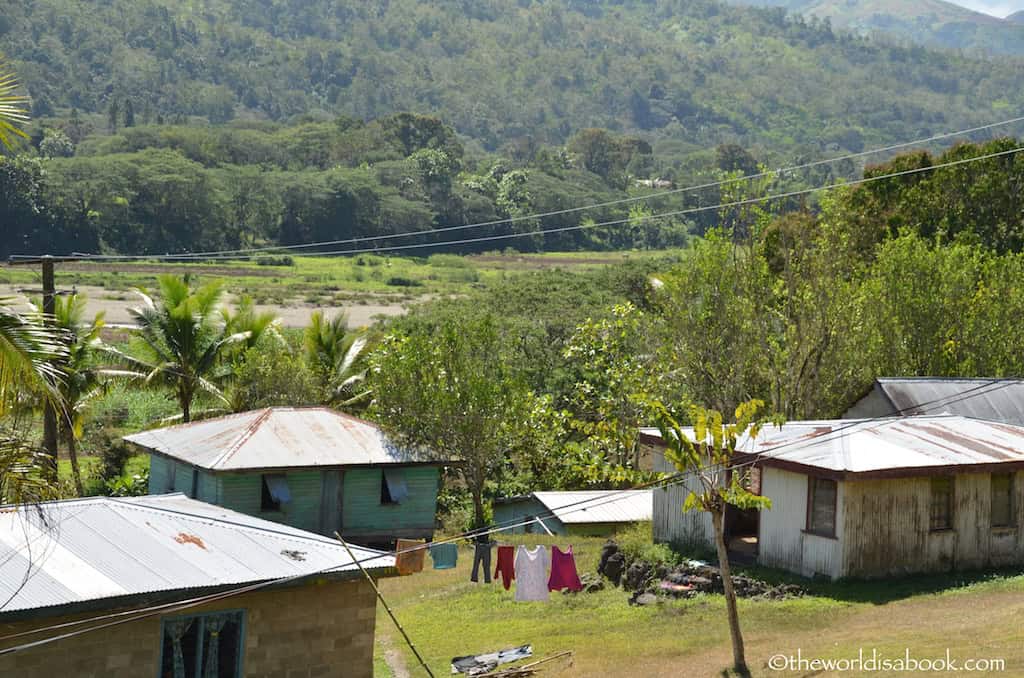 The two-story concrete structure that stood on top of the hill was the community center where the villagers gathered. We were ushered in and took our shoes off to enter. There were grass mats scattered around the room for us to sit on. The village chief faced us with the villagers sitting behind him. There seemed to be a whole lot more people here than the houses we saw outside.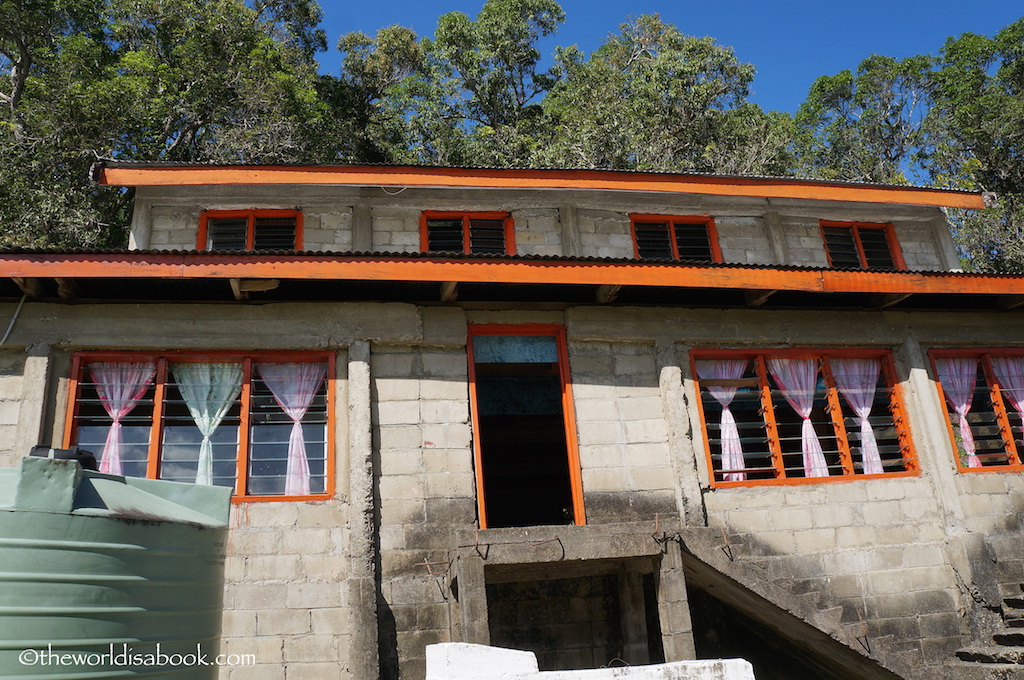 The traditional "sevu sevu" welcome ceremony started when our designated chief (the oldest male in our tour group) gave the village chief our gift of kava root or Yaqona. Kava is Fiji's national drink and there's a whole ceremony to preparing and drinking it. One of the jet boat drivers actually presented it to the chief talking in Fijian language. We then watched the men mix and strain through a cloth the plant's powdered root with water in the traditional tanoa bowl.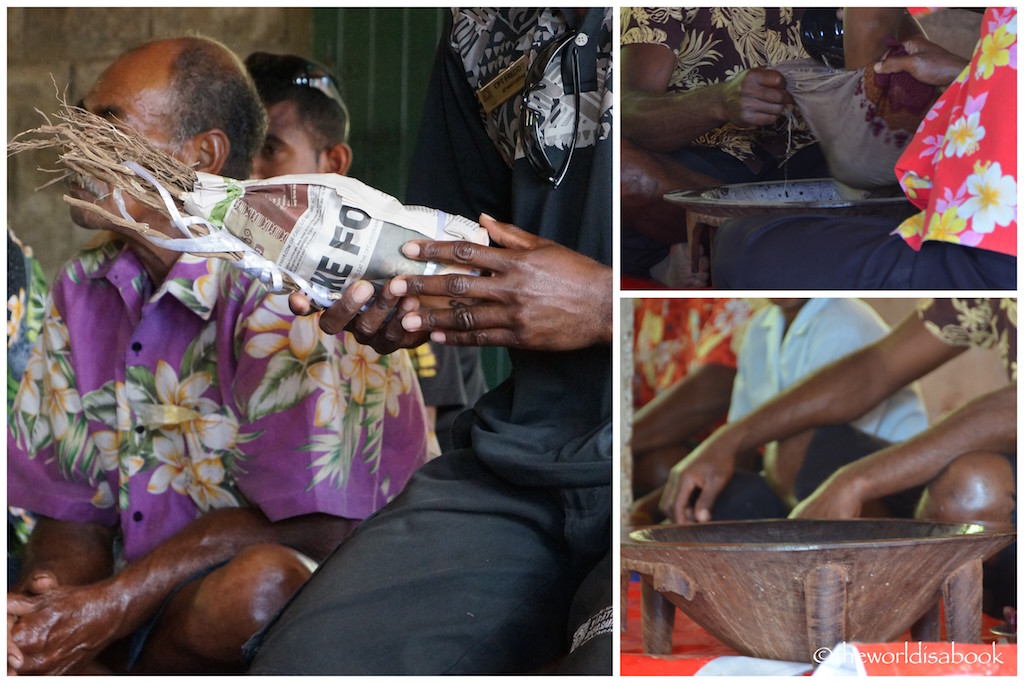 The kava mix is poured into a half coconut shell or bilo. It was offered to our designated chief and followed by the village chief. It was then passed around to the guests who wanted a drink including the kids. Each guest had to clap once, yell Bula!, drink all of it at once and clap again three times after drinking. It was quite interesting to see the other visitors' reactions after tasting it for the first time.
Our whole family participated in a kava ceremony in downtown Nadi the day before so we knew the ritual and what kava tasted like. The kava plant is from the pepper family and the drink is a brown, muddy-looking concoction, which resembles its taste. There's a strong, earthy, bitter aftertaste. My kids and I opted out of this one and they said it was okay to refuse. But, my husband eagerly drank the kava again and he said this mix was a lot stronger. Kava is believed to be good treatments for anxiety, stress, insomnia, and headaches. So, don't let its appearance deter you.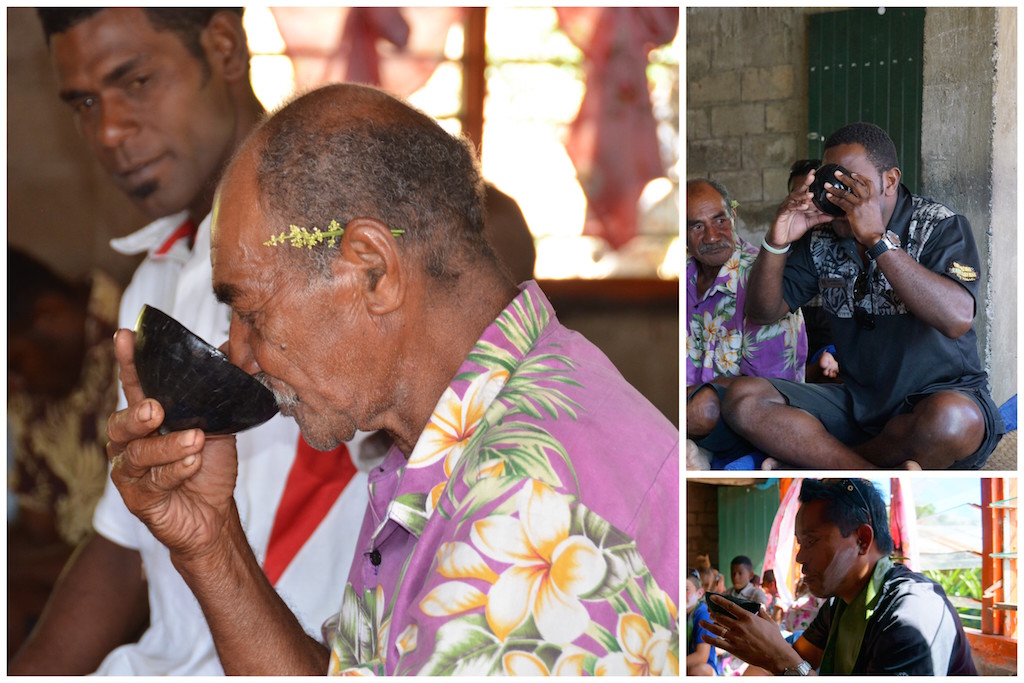 Introductions were made and we met the village chief. I really liked that they started with saying we were honorary members of their village now so they wanted to get to know all of us. All of the tourists went around the room and introduced ourselves including where we lived and what we did.
We were the only Americans there. A majority was Australians, which was no surprise considering Fiji was only a few hours flight from most of their major cities. Our group was quite an interesting mix of professions that ranged from dairy farmers to physicians.
Aggie led us upstairs for some sort of Q & A. She told us a little bit of what our visit would entail and about village life. We learned that the kids in this village went to school on a neighboring village and had to cross the Sigatoka river everyday. There are no bridges or boats so they do have to wade into the river even when it's high. They brought a change of clothes. The bigger kids sometimes carried the smaller kids.
It was heartbreaking to hear how much they have to go through just to get an education. We also learned that the chief of the village is determined by lineage instead of age or other factors. Women are still considered part of their village even if they move outside after marriage.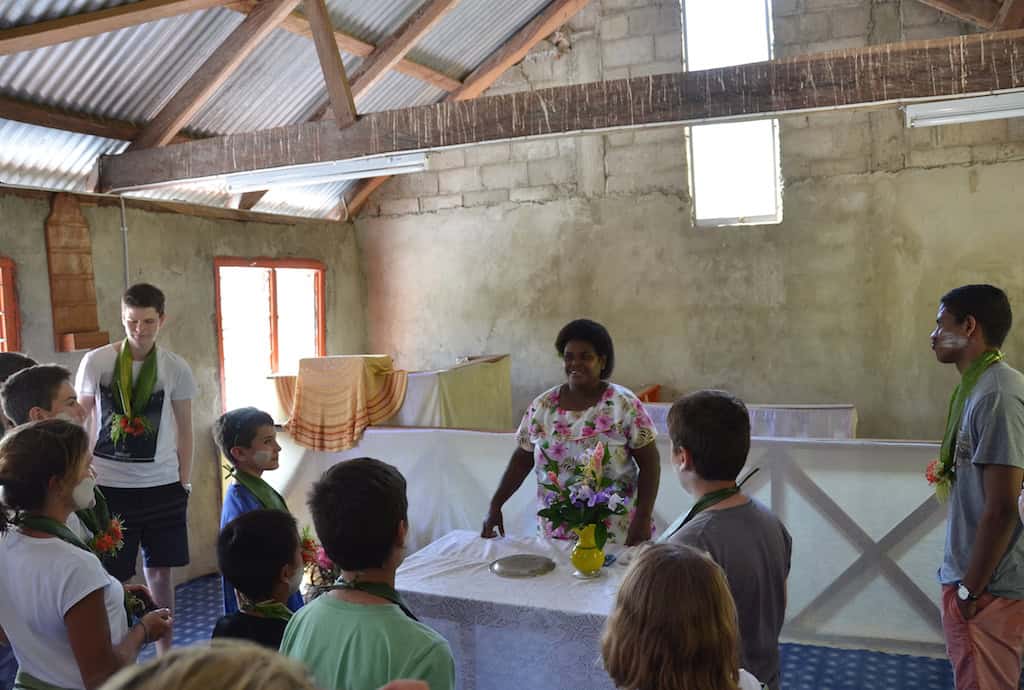 It was such a pleasant surprise to come downstairs afterwards and find a feast spread out for us. The villagers had set up a long cloth mat filled with plates, glasses and many individual Fijian dishes and fresh fruits. Many of the unfamiliar and homemade dishes all looked so delicious. We took a small portion from every dish which I highly recommend doing. You never know which one will appeal to you. I loved the cassava and the flatbread-wrapped dish.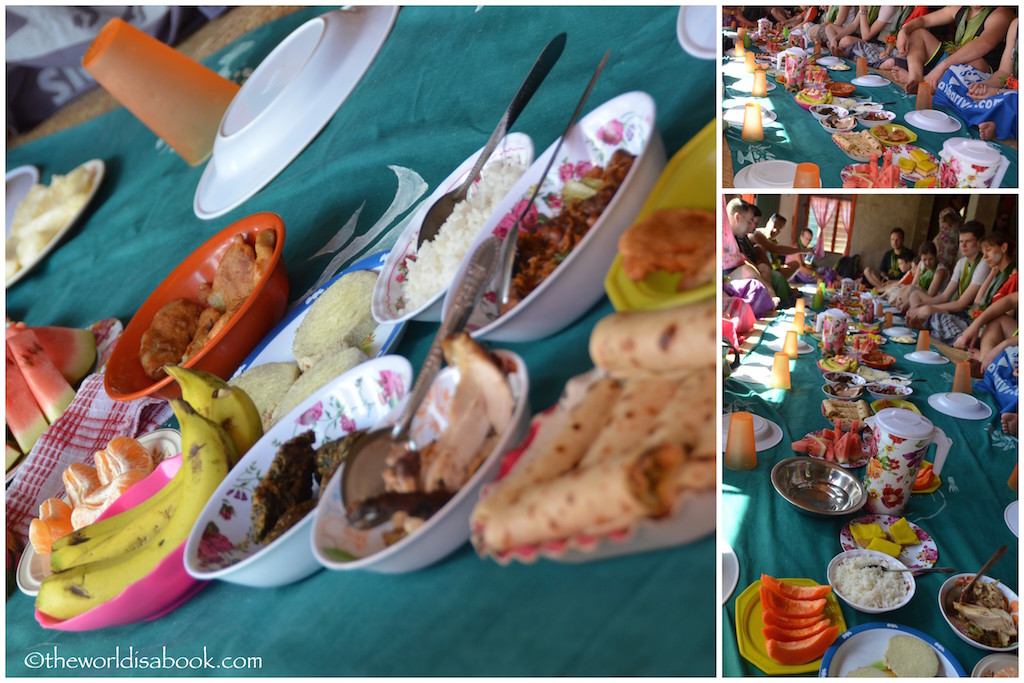 I was surprised to see my usually picky eater daughter trying out dishes and actually eating them. She loved the fruits especially the papaya which was probably picked just a few minutes before it was served.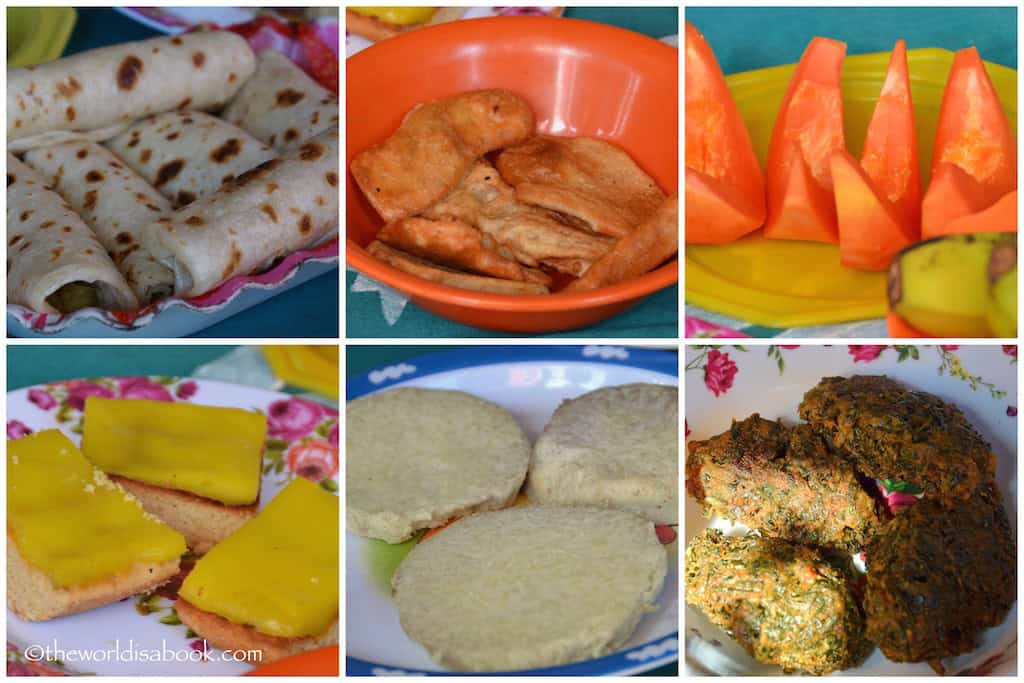 As much as we loved the feast laid out before us, it was also a bit uncomfortable as we all ate and the villagers watched us from the other side of the room. It was even more disturbing to watch the kids looking at us. My husband and I (and probably the other visitors too) wanted to offer our food but was unsure if were supposed to or if that was against some sort of rule.
In hindsight, I wish we had asked one of the locals. It was probably a cultural practice to let the visitors eat first but it probably would have been more fun if the villagers joined us and explained what the food was and showed us how to eat some of them properly.
As we were digesting our food, the village musicians sang for us. It was so uplifting to hear the children join in. We were then encouraged to stand up and form some sort of line dance. The villagers took our hands and led us around the hall in some sort of choreographed traditional dance. We just went with the flow and it was so much fun and festive.
As we were saying our goodbyes, I turned around and found my husband enjoying another round of kava with the villagers. He couldn't pass up their last offer. He said it's not like he'll have another opportunity to drink kava in a Fijian village with its chief anytime soon. He does have a point.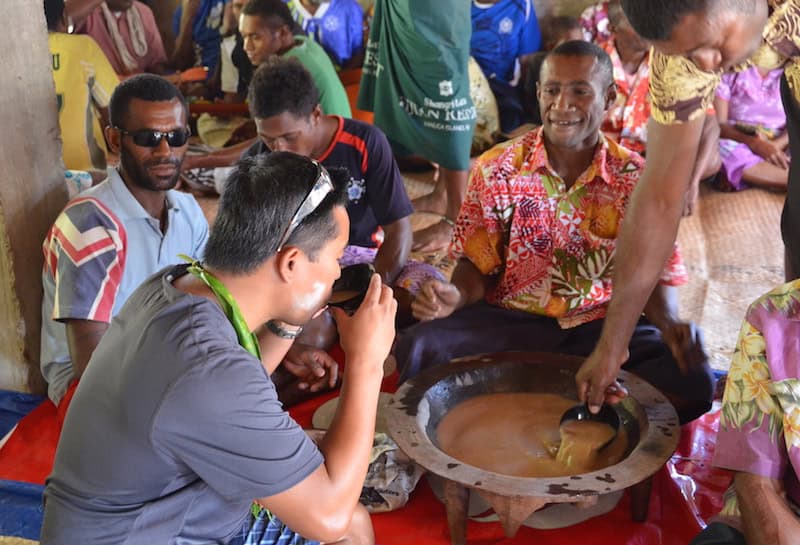 We loved how friendly the kids were and how they enjoyed posing for pictures and readily whisked out the "V" or peace sign with their fingers. The Fijian kids gravitated towards the kids in our group including mine and happily posed with them. They also made sure to include everyone during the dance. One of my kids' favorite moments on this trip was meeting the village children.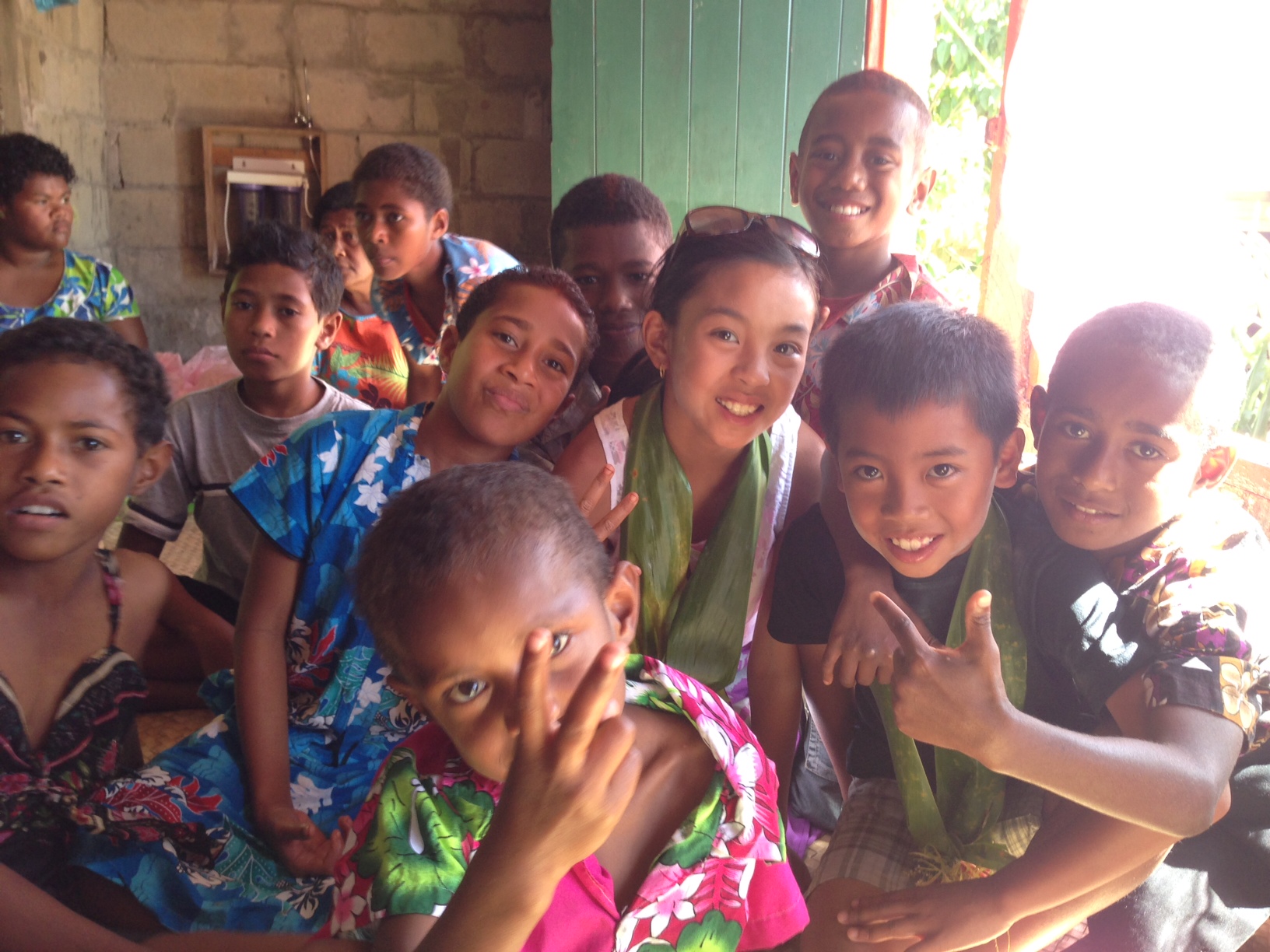 We've been guilty of choosing destinations that were commercialized and never included a traditional village visit in another country until now. We're looking at some destinations and tours from a new perspective now. This experience has made my kids appreciate what they have and not take what they're lucky to have for granted. They tend to look at things, especially their food, a little differently after this visit. They've also learned that there is a world out there where kids are happy and are having fun without an electronic gadget in sight. Travel is always a learning experience.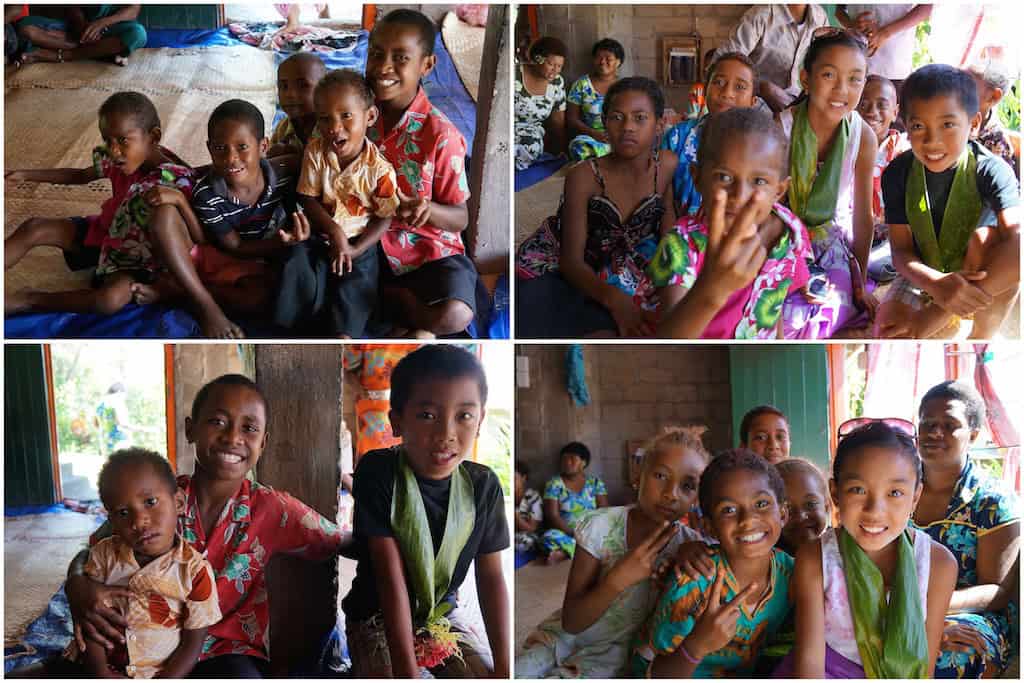 On some occasions, I've countered my kids' complaints with "Remember those Fijian kids…'" and that seems to bring them down a notch. I'm still trying to figure it out and it's on my long list of things to do to send some school supplies and books back to the village. Sometime after we got home, my 9-year-old looked through his things and said, "I think the kids from Fiji will like this. Can we send it to them?" Bless his heart!
Interacting with the villagers reinforced what we've experienced during our short visit in Fiji. The Fijians are some of the friendliest and welcoming people we've ever met during our travels.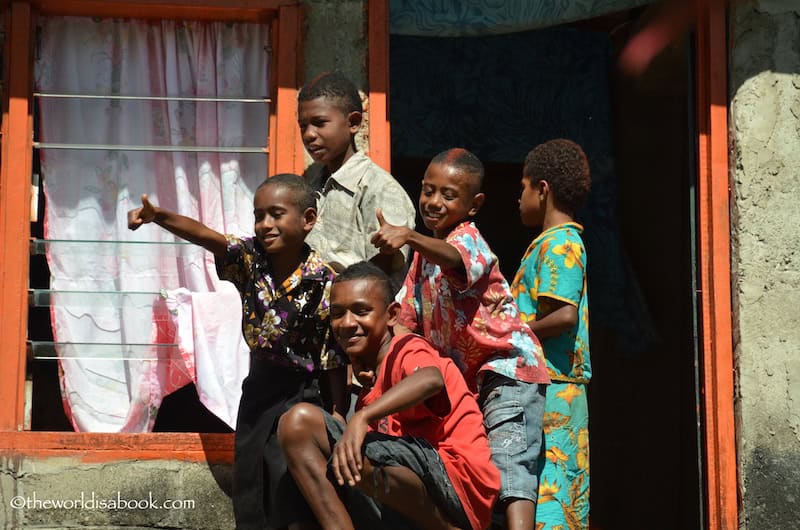 It was a privilege to share a few hours with the villagers and learn a little bit about their lives and culture. We were so touched with their hospitality. For those few hours, we really did feel like we were a part of their village. It was an unforgettable, priceless and rewarding experience for our whole family. Many of my fellow tourists shared the same sentiment as we walked back to our jet boats. Don't miss this tour to experience Fiji, its people and its culture.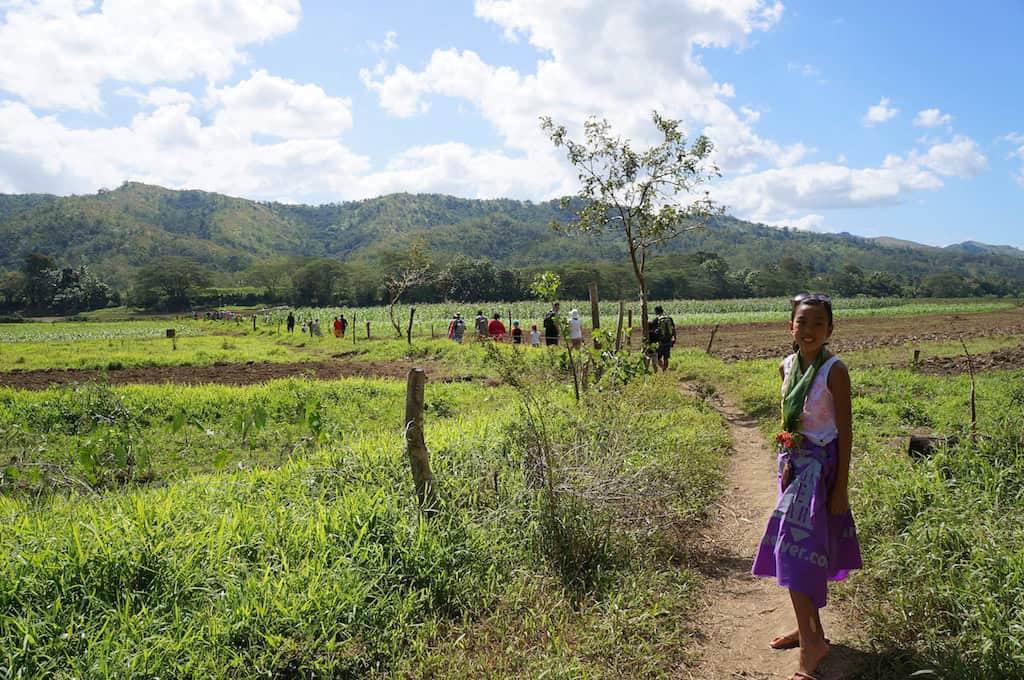 Village Visit Tips and Basics
This tour was included with the jet boat safari and round-trip transportation from your lodging. There is a morning and an afternoon tour. Prices vary depending on hotel location for pickup.
Pricing sample for pick-up in Denarau (where most of the resorts are located): Adults $299 FJD ($146 USD)  Children (4-15) $150 FJD ($73 USD); Family Pass (2 adults, 2 kids) $850 FJD ($415 US); Kids under three years old are free. It's not cheap but definitely worth it. Check the Sigatoka River Safari website for the latest prices.
There is an outhouse but don't expect modern conveniences you'll find in the western world.
It may be a good idea to bring your own water for hygiene purposes and if your stomach is sensitive. For the record, we drank the juice and ate a lot of food and we didn't get sick.
Bring school supplies, toys, books, games, balls, etc. for the kids. There were only a few of us who did this so it wasn't widely advertised by the company. I found out from reading Trip Advisor reviews. All the gifts are gathered by the hostess and shouldn't be distributed to each child. Bring cash too if you want to donate. They set aside time at the end to collect everything.
Have you visited a village like this before? What was your experience?