Strolling Through The Venice Rialto Market
Venice is known for its canals and bridges but there are some hidden gems here that are also worth exploring including the Rialto Market or Mercato del Rialto. We were at the Rialto Bridge which is one of Venice's famous attraction and photo spot. The bridge is always a bustle of activity with all the souvenir stands. A few yards away from the bridge is the market with the fresh produce and seafood. We love outdoor markets so it was a treat to visit. See why the locals and tourists flock here.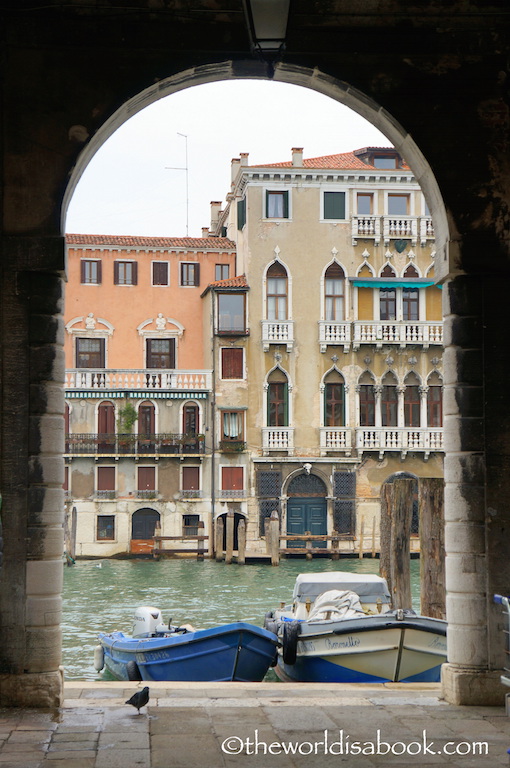 The Rialto district was one of the first parts that was developed in Venice. The squares and entryways were built around the 16th century. Venetians have been buying their food at the fruit and vegetable market and the nearby fish market for centuries here. This is a centerpiece to many of the Venetian's daily lives. Many of the restaurant chefs also shop here for the freshest produce and seafood for lower prices.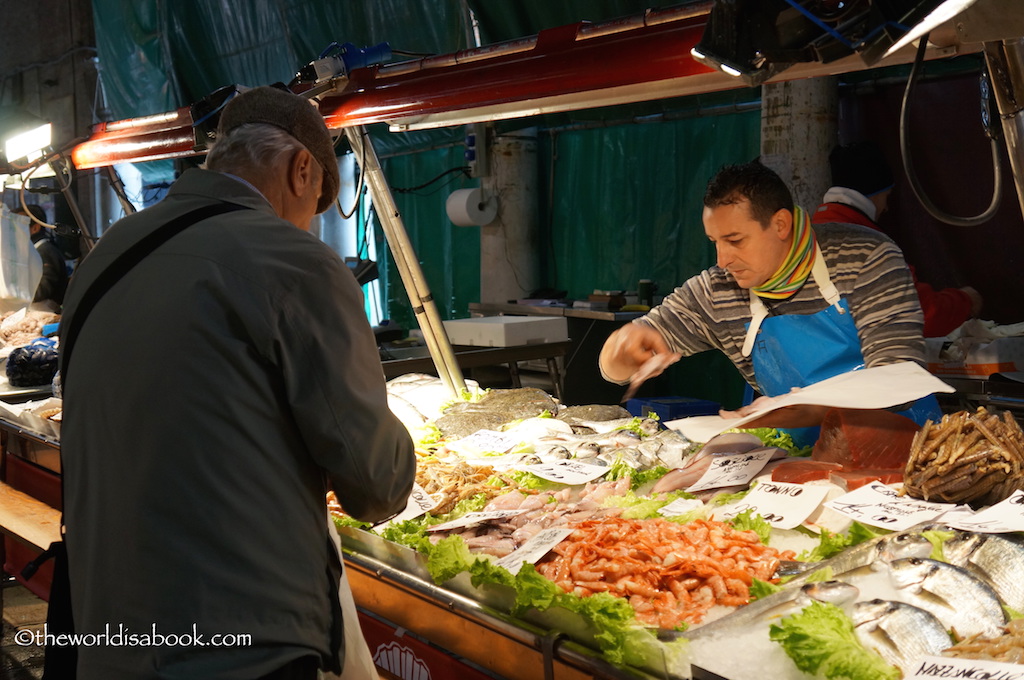 It was alongside the Grand Canal so a few steps took us to an area where we could watch the gondoliers and see the small traghetto transport people across the canal. This was a cheaper way to travel the canal but it also meant standing for the duration of the ride.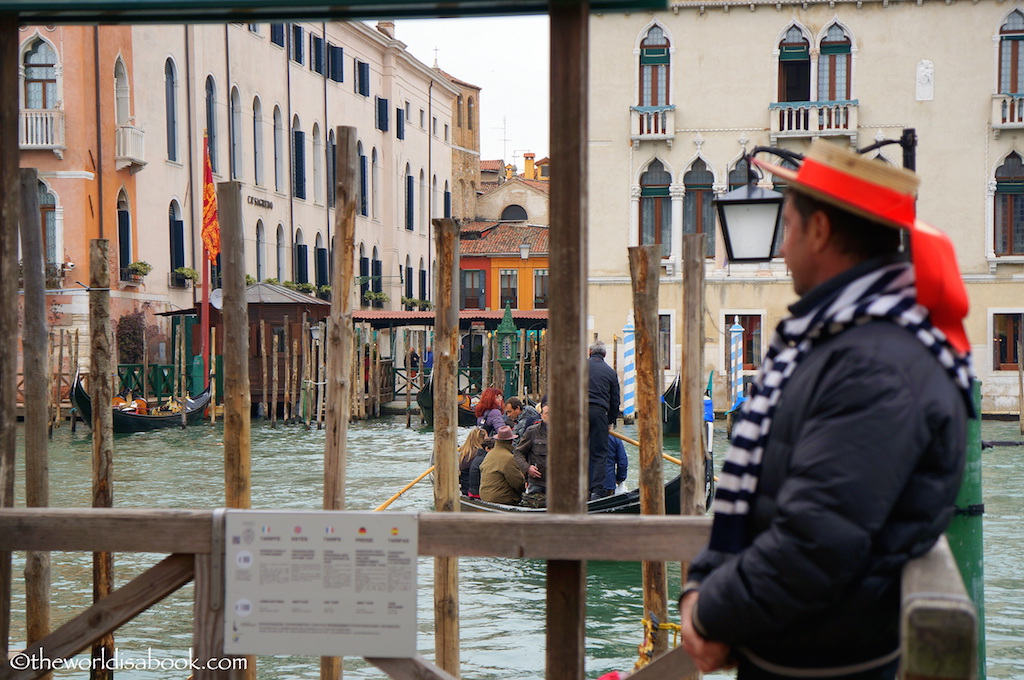 We got here around 10 AM on a Thursday in late November. There were still quite a number of people and many of the merchants haven't packed up yet. Though, I can imagine this is much busier in the early morning hours and especially during the weekends. We enjoyed seeing many of the locals with their shopping trolleys and interacting with the vendors. My curious kids were more interested in trying to get a peek of what was in their baskets.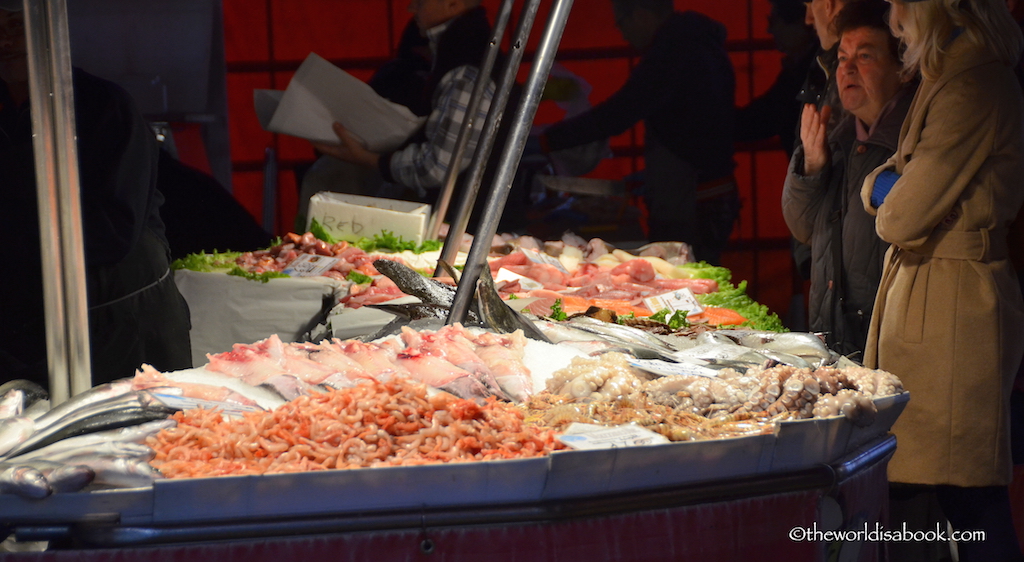 We saw the Erberia or fruit and vegetable market first. Rows and rows of colorful stalls filled with a variety of fresh produce under covered tents met us. It was so lively as camera touting tourists, like us, mingled with locals who were food shopping for their meals and provisions.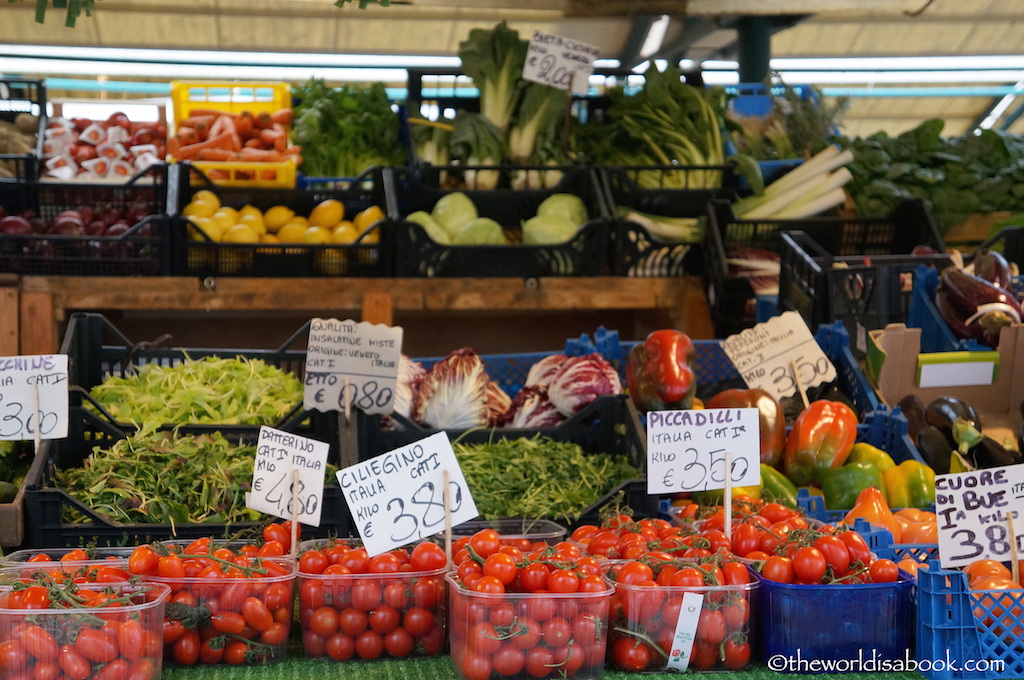 These vibrant chile peppers immediately caught our eyes. It looked very similar to the chile strings that we've seen hanging all over the place in New Mexico. I love these and wish I could have taken one home.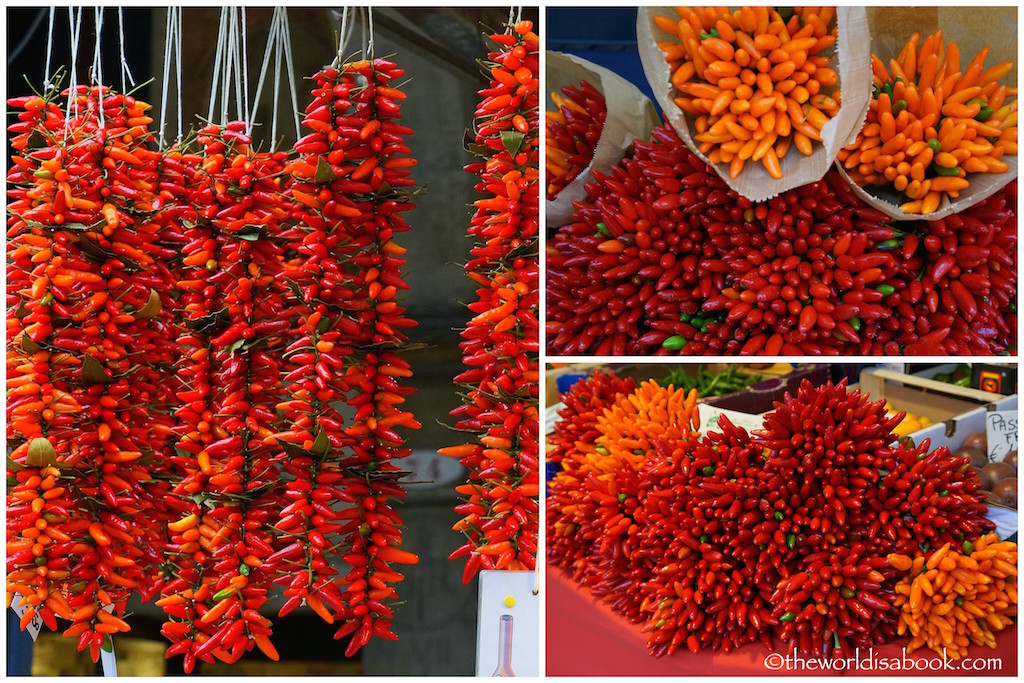 It was so interesting to wander around and see how much familiar fruits and vegetables cost at this part of the world. We loved looking to see what familiar produce was called here. My daughter loved spotting fruits and vegetables that were unfamiliar to us. I've never seen those spiny looking vegetable before. I'd appreciate it if anyone can tell us what they are.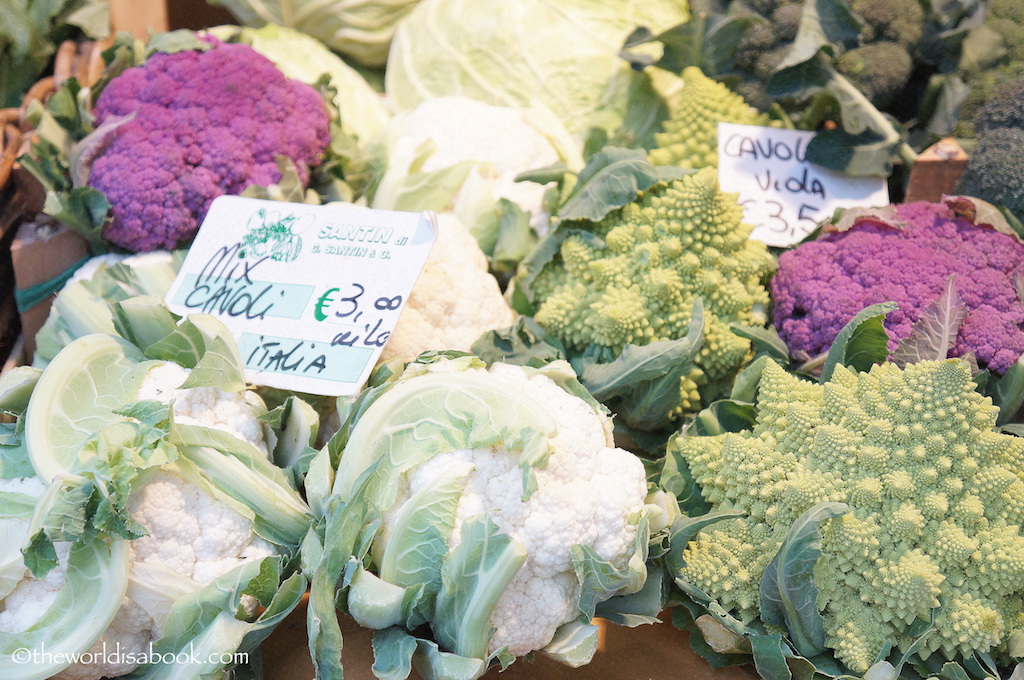 Many of the fresh fruits and vegetables here come from the nearby Isola di Sant'Erasmo (St. Erasmus island). Sant'Erasmo was the Venetian lagoon's largest island and its agricultural hub. Their artichokes are one of the most popular produce. Some had labels to show which part of the region the produce came from. As expected, they all came here by boats. It made me appreciate looking at all of these fresh produce even more knowing it took quite a bit of effort to get them here.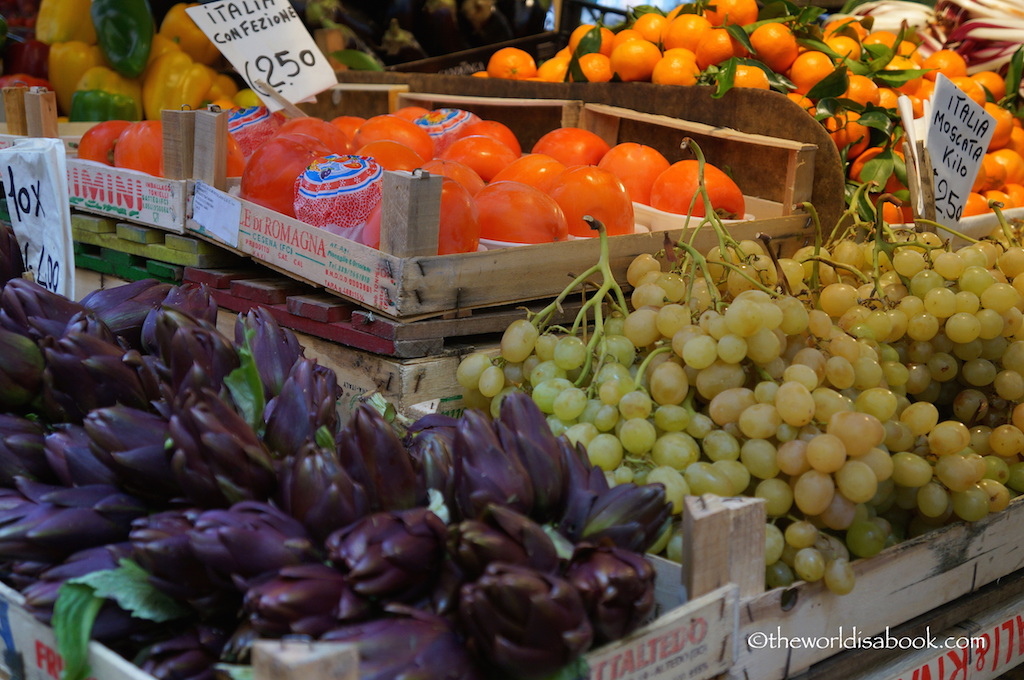 We couldn't resist and bought these perfect looking of what we know as persimmons. We were so used to picking our own produce at the grocery stores and even at farmer's markets here that we didn't think not to touch them. We were lightly admonished not to touch the produce. The lady asked us in English to tell her which ones we'd like and she'll get it. We pointed and she bagged them. So, take note when you're here, don't touch anything without asking for permission first.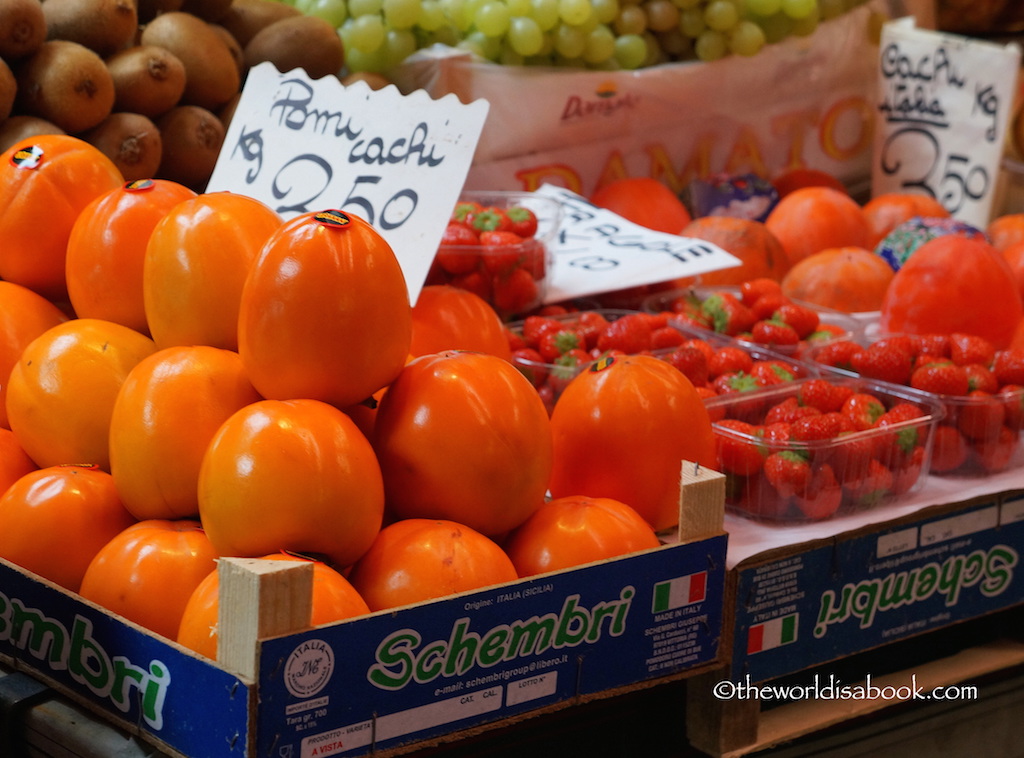 The Pescheria or the fish market was next to the produce market. It was located in a large Neo-Gothic hall with columns. It's hard to miss with a flying banner like this one. I'm glad this was a covered building or the seagulls and pigeons would have a field day here.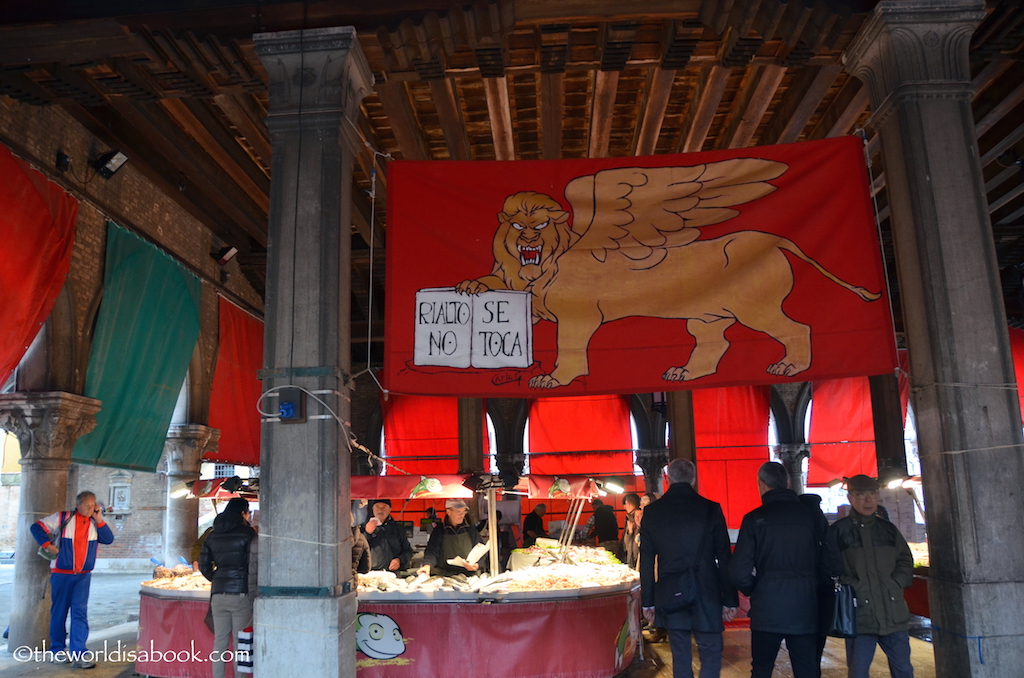 The fish market was an even more fascinating place to walk around. I love seafood so it was a delight to see so much variety here as expected. We were staying at a hotel and a stroll through here made me almost wish we had a kitchen to try out some of the fresh catch here. We made up for it by mostly ordering pasta with seafood for our meals.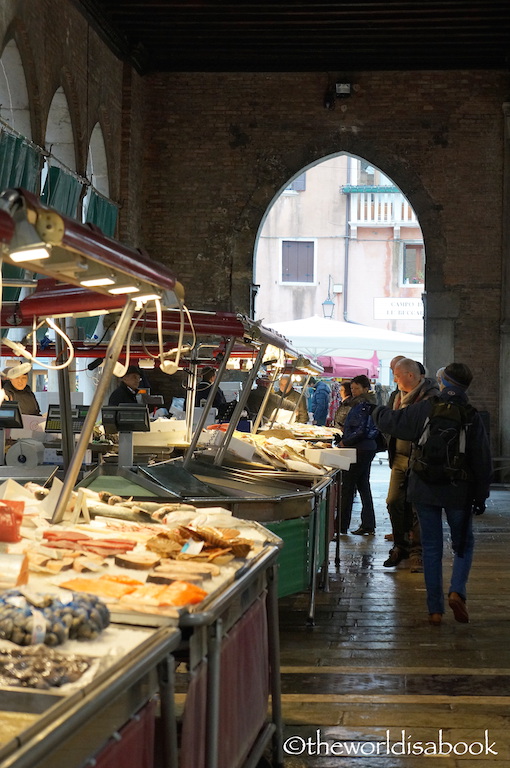 The market wasn't very big but it was quite charming. We liked that it was in an open space and where the fresh air could offset any of the seafood odor. That's always a good thing for those who are sensitive to any fishy smell (like my kids).
Fresh seafood ranged from octopus, squid, crab, eel and shrimp that were caught from the Venetian lagoon and nearby waters. My husband and I thought some of the seafood prices were a bit higher than what we were used to even with the Euro exchange rate.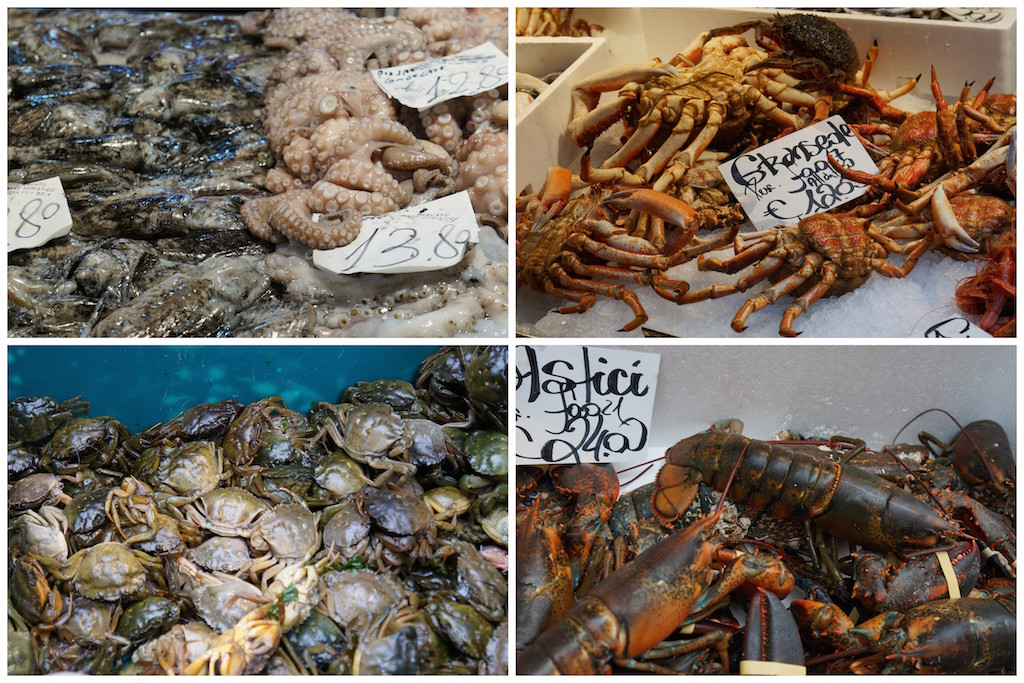 Of course, there were loads of fish cooling off above layers of ice. It's been a long time since I've visited a fish market with this much selection and so much freshness. The fish scales were luminous and the eyes all bright and clear.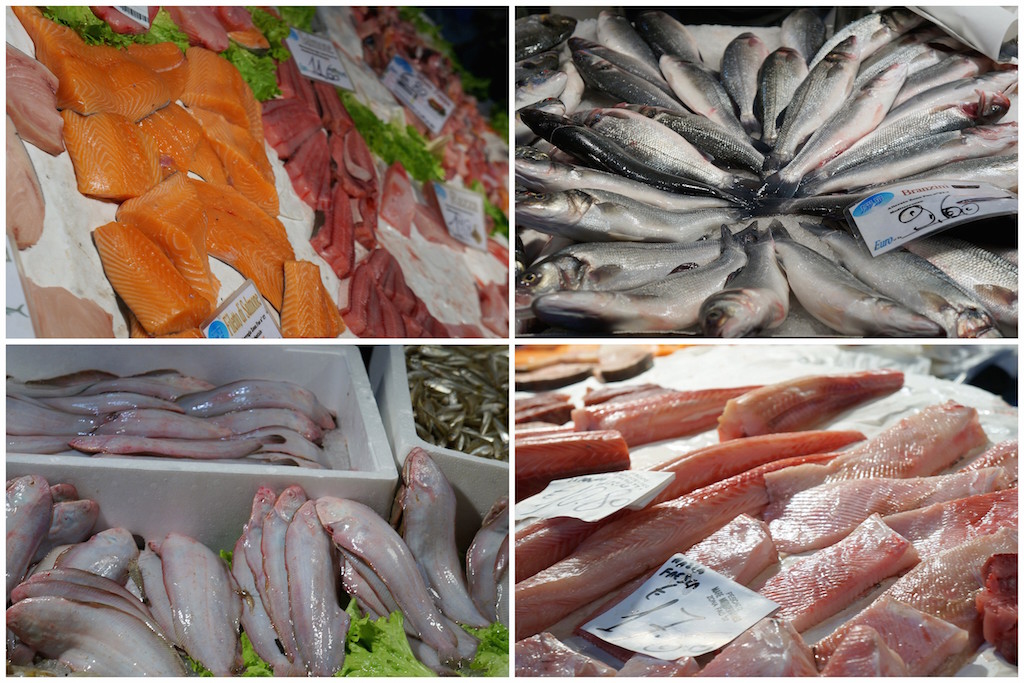 We saw a couple of stalls with huge fish and one with this very large swordfish. I wonder how many people they were able to feed with that creature.
The kids were captivated with watching the fishmongers skillfully slice the fish with ease and speed. I really liked that this market was also relatively clean, laid out well and was easy to move around.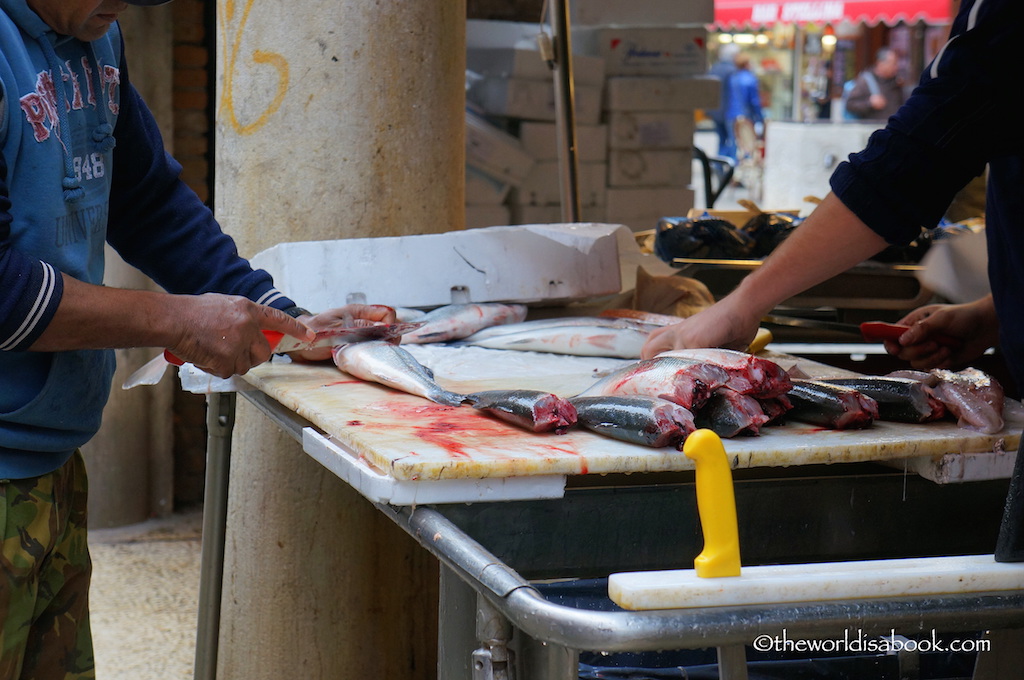 I don't know what these clams were called but they looked wonderful. I was ready to buy one if they had any cooked ones.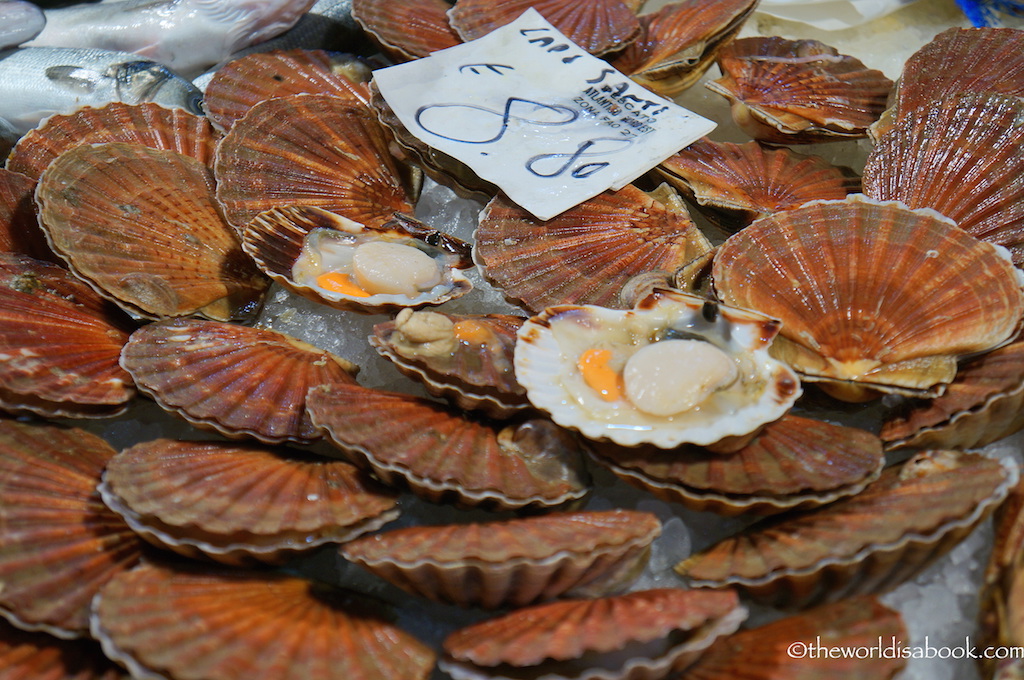 We had these shrimp in the neighboring and colorful island of Burano for lunch the following day. It was so delicious that we had to order seconds. There was a sweetness to it and unlike any other shrimp we've tasted before.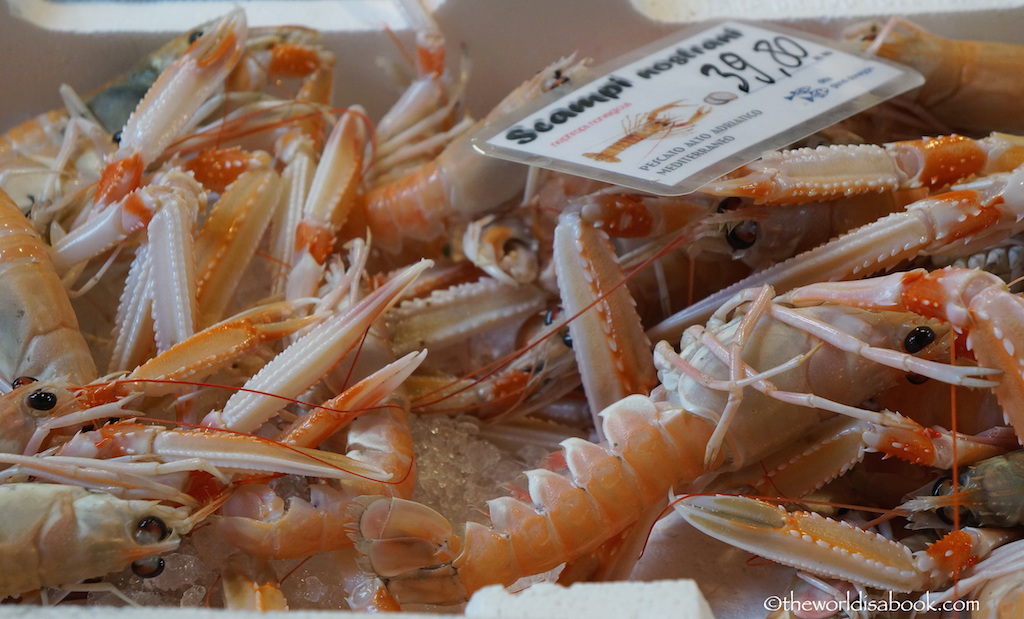 The market itself didn't sell ready made food. But, walk a few steps and there were a variety of stores and restaurants around the area. Looking at all this freshness is bound to make anyone hungry. We found stores filled with pasta, cheese and meats that would have made a great picnic basket.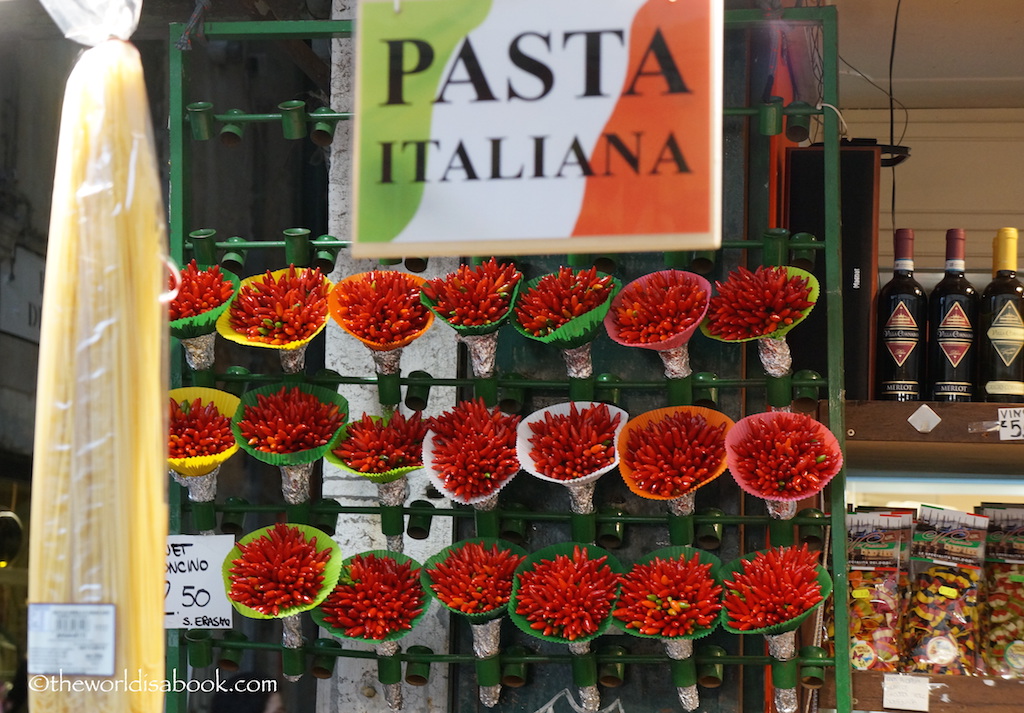 In hindsight, this would have been a much better experience if we did a tour of this market with a local foodie or as a part of a cooking tour. I'm not sure my kids would have been too keen on that though. But, it would have been nice to find out some insider information on produce and seafood we weren't familiar with or what they were used for. We're definitely doing a tour next time!
The Rialto Market may not be on many tourists' radar when visiting Venice. But, if you have time and are in the Rialto Bridge area, we recommend a stop here especially before 10 AM. One can really get a sense of how the locals shop and what Venice had to offer. It was a cultural experience just wandering around the lively and colorful stalls here.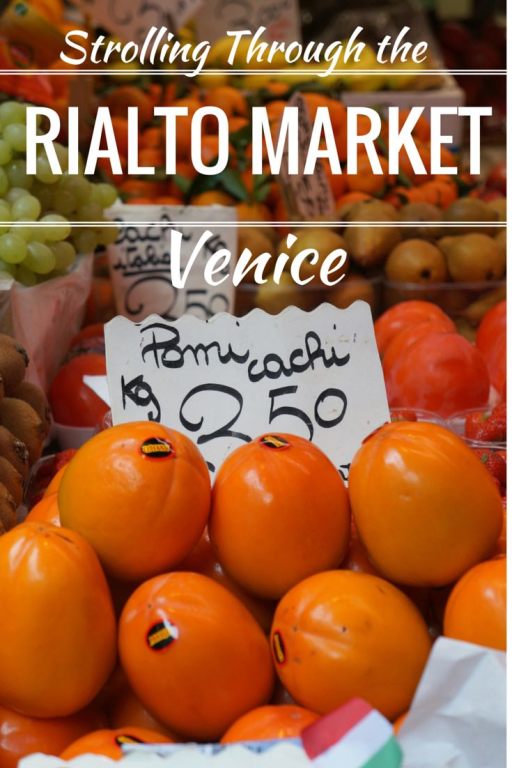 Tips for Visiting the Venice Rialto Market
The markets are open in the mornings from Monday to Saturday except the fish market is closed on Mondays.
Go early to see the market at its liveliest times. Stalls close by 1 PM.
Getting Here: The markets are located along the Grand Canal northwest of the Rialto Bridge which is on the opposite bank of San Marco. Go past the souvenir stands and towards the right side following the canal.
By water: On weekdays, take the vaporetto Line #1 and stop at Rialto Mercato. One can also take the Line #2 to the Rialto station and walk across the bridge. There was also a gondola traghetto that goes across the canal to Campo Santa Sofia on Strada Nova.
No ready-made foods are sold at the market other than the fruits you can munch on. Check the stores and cafes around the alleys. Look for neighborhood bars too that will cook your fish with a glass of wine.
There are no readymade foods at the market, so have a snack in a bar in one of the alleys nearby.
Try to visit the market with a cook or a local to get the best perspective and insight or through one of the foodie or culinary tours.
Do you visit markets like this one during your travels?
Check out these related posts: