Scenic and Cultural Tour at Monument Valley Navajo Tribal Park
Monument Valley is one of America's most photographed and recognizable landscapes. I shared some photos of our self-guided drive tour through the 17-mile loop inside the park last week. Many visitors usually do this drive but our 2.5-hour cultural and scenic safari tour with one of the Navajo people, who knows this land well, was such a great complement and shouldn't be missed.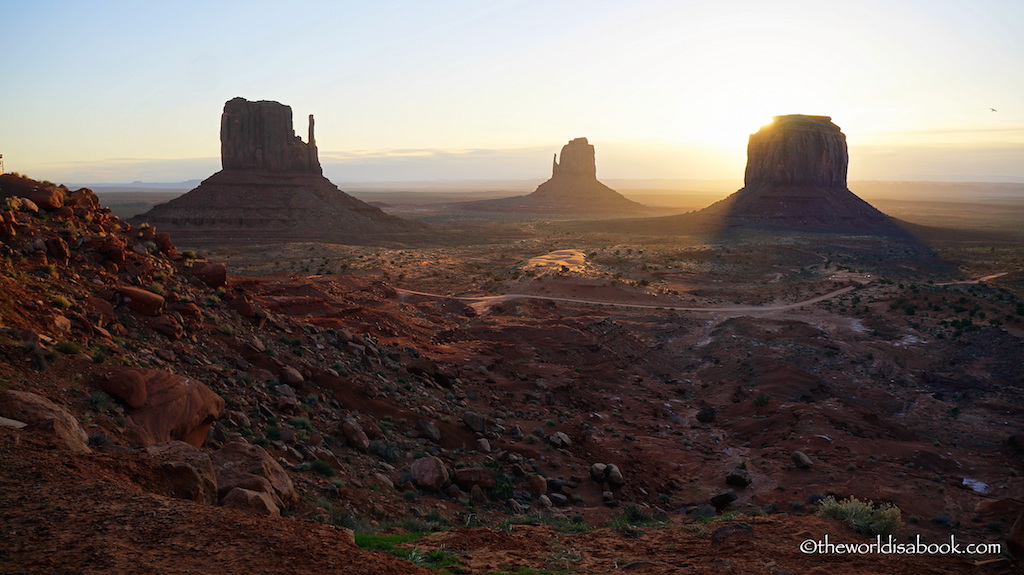 Our scenic and cultural tour was with Monument Valley Safari who is one of the leading tour operators within the park. We met Duffy, our guide, at The View hotel lobby and we were taken to a converted truck with elevated passengers seats behind it. There were seat belts and it felt perfectly safe. It was a bumpy ride but it was fun.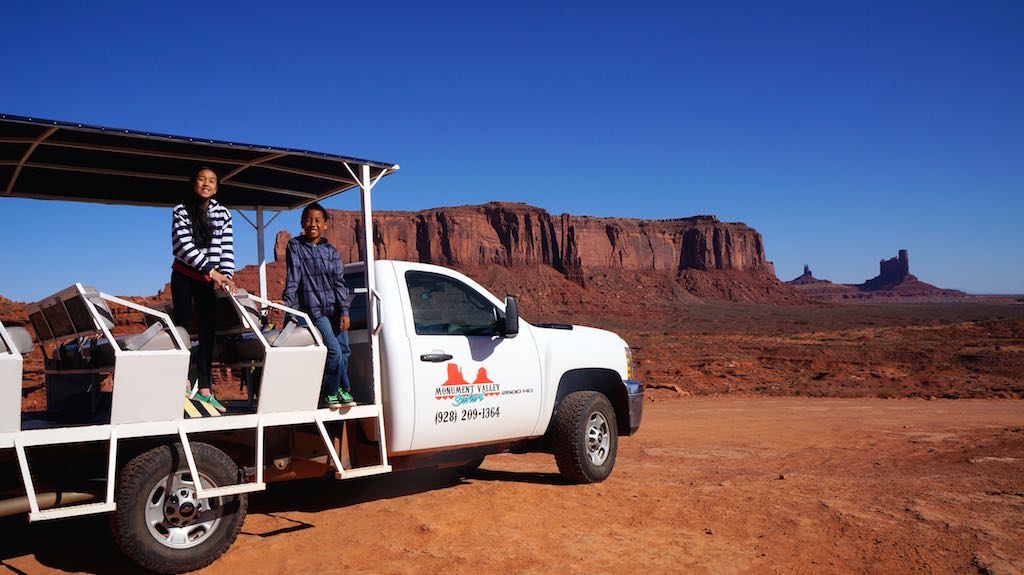 There was only one road to access the park so our tour started in the familiar landscape we saw the day before. But, Duffy brought us to a side road we bypassed and got these shots. We felt a little closer to the Mitten Buttes. He reiterated what we've read that the Navajo people considered this valley a sacred place and those rock formations as their altar.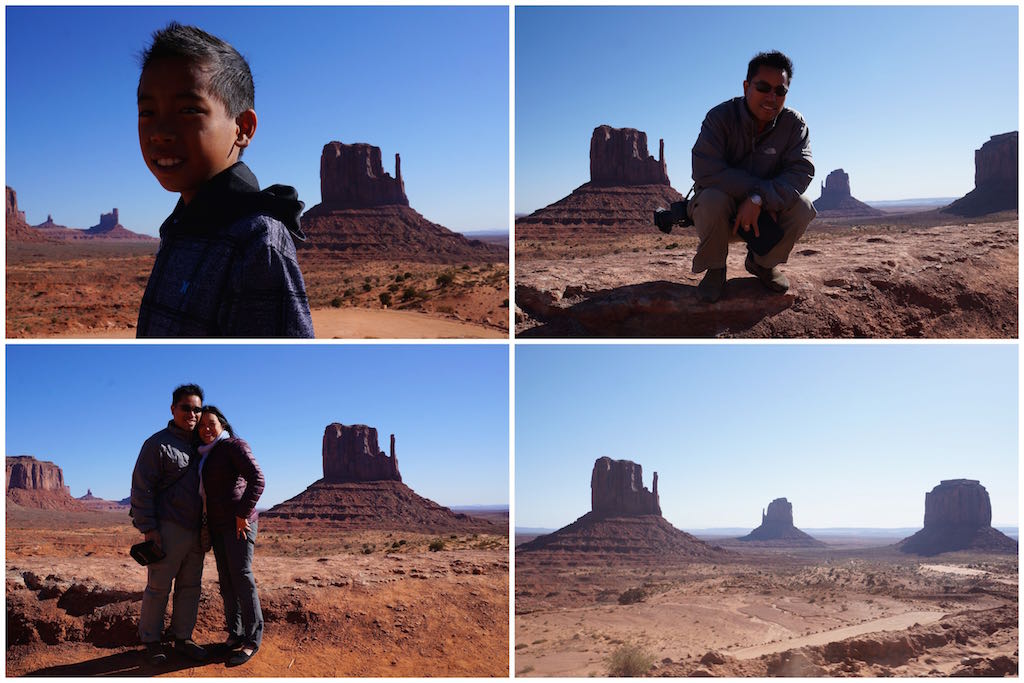 We stopped at another lookout to see the Three Sisters and this rock formation that looked like Snoopy the dog lying down. Can you see it when you reverse cartoon Snoopy?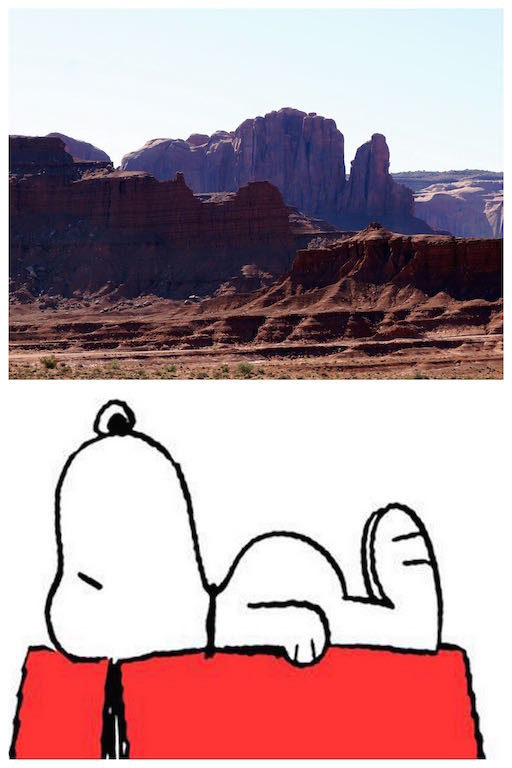 My kids also decided to add to the growing number of rock cairns in this area. Cairns are piles of stones/rocks to mark paths or memorials. I don't think these served any special purpose other than for the enjoyment of tourists. Duffy told us the guides take them down but they always pop up.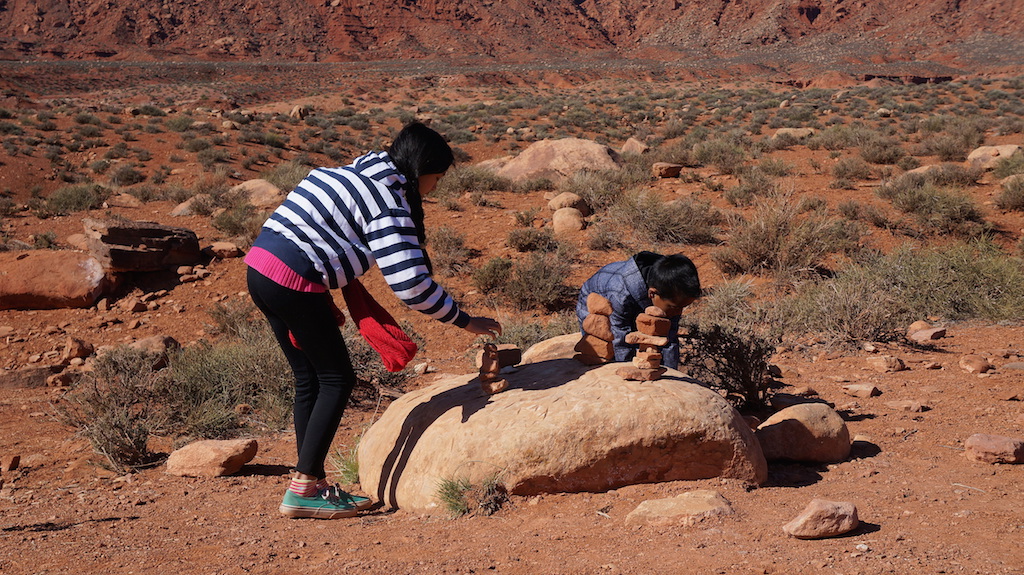 We went back to the John Ford's Point lookout. Many of the western movies with cowboys looking out into the valley were filmed here. Unfortunately, the cowboy/Indian we saw here the day before wasn't around. But, it was the perfect spot for more jumping shots.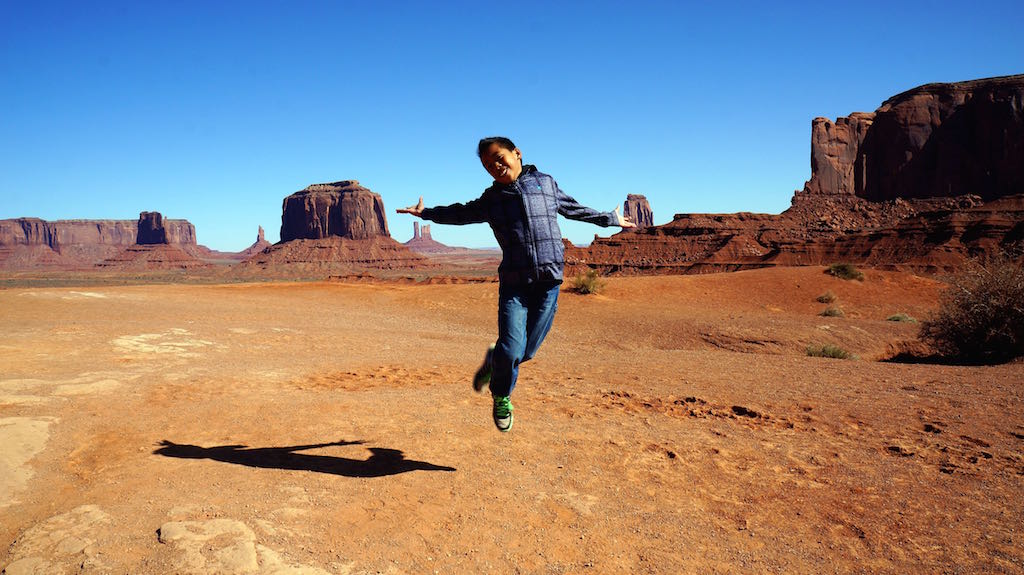 After our visit to the point was where our cultural tour got really interesting. We entered a restricted access road that's only open to these types of tours. The road opened up to some horses and sheep wandering around and to a couple of Hogans or the Navajo's traditional dwelling.
We saw the hogans here along with a modern house a few feet away. Nowadays, hogans are used for ceremonies. Cone-shaped hogans were called Male Hogans and meant to be temporary homes. The round-shaped Hogans were called Female/Woman Hogans since they were more the permanent homes.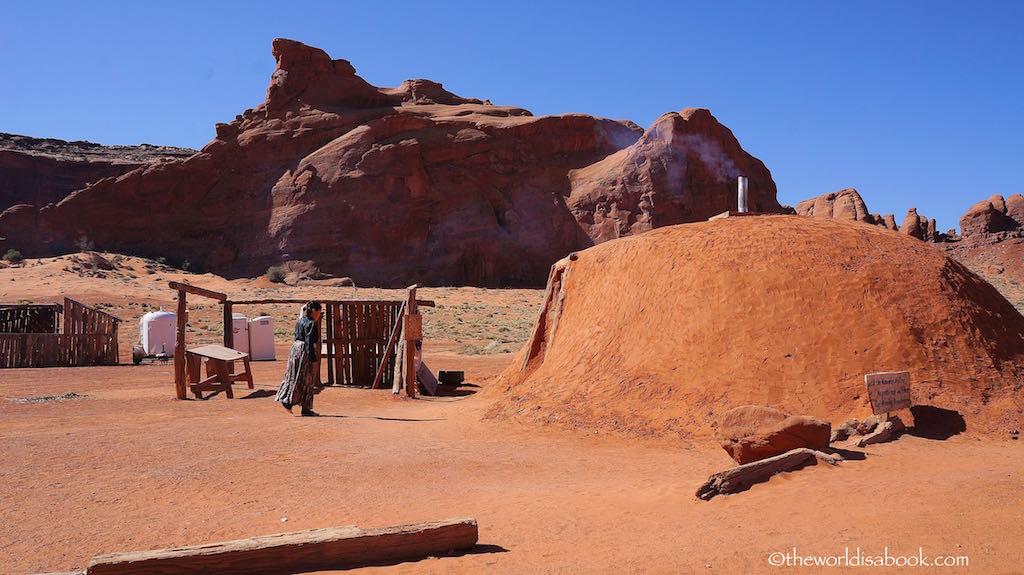 These hogans were made of all natural materials like tree bark, wooden and covered with mud, grass, leaves and branches. Female hogans were usually built using horizontal logs and the male hogans had vertical log walls. Each hogan's door faced east to receive the morning sun and for good vibes and blessings.
We entered one of the female hogans which was exactly like the ones at the Hogan Village near the Visitor's Center. There was a an elevated fire pit in the middle of the room with its smokestack opening through the center of the hogan's roof. We were told it took a few months to build hogans since nails weren't used. But, it's a lot faster now by using modern and electrical tools especially for cutting logs.
We were greeted by one of the Navajo women inside. There were also tables set up filled with crafts, rugs, souvenirs and jewelry for sale. The prices were really reasonable and the turquoise jewelry was just beautiful.
The Hogans have no floors. The natives used sheepskin here to lie down or sit on. My daughter thought it was very comfortable.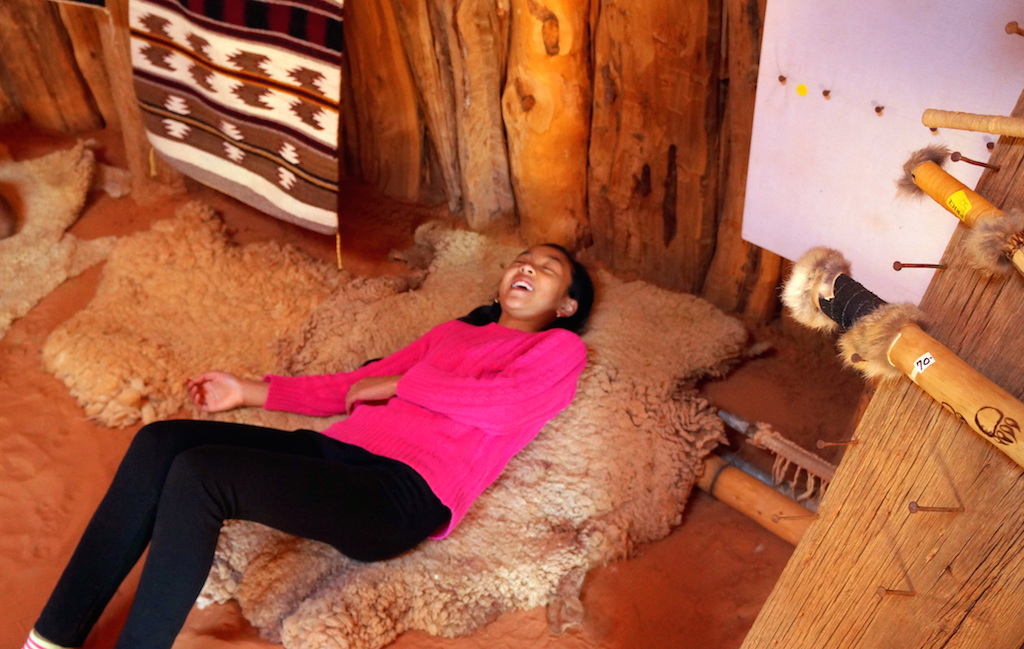 It was just my family and an English couple with us on this tour. For some reason, I ended up being the one to demonstrate a Navajo tradition. I sat in front of the Navajo woman (I apologize that I didn't catch her name) where she proceeded to brush my hair with an item called a be'ezo which was made of some type of stiff grass.
My hair looked very neat and smooth and no hairspray needed. I want one of these brushes! She proceeded to tie my hair with yarn made from sheep's wool and into a traditional bun called tsiiyéél. This was how women's hair was arranged for their weddings. It was an honor to be momentarily part of this Navajo tradition.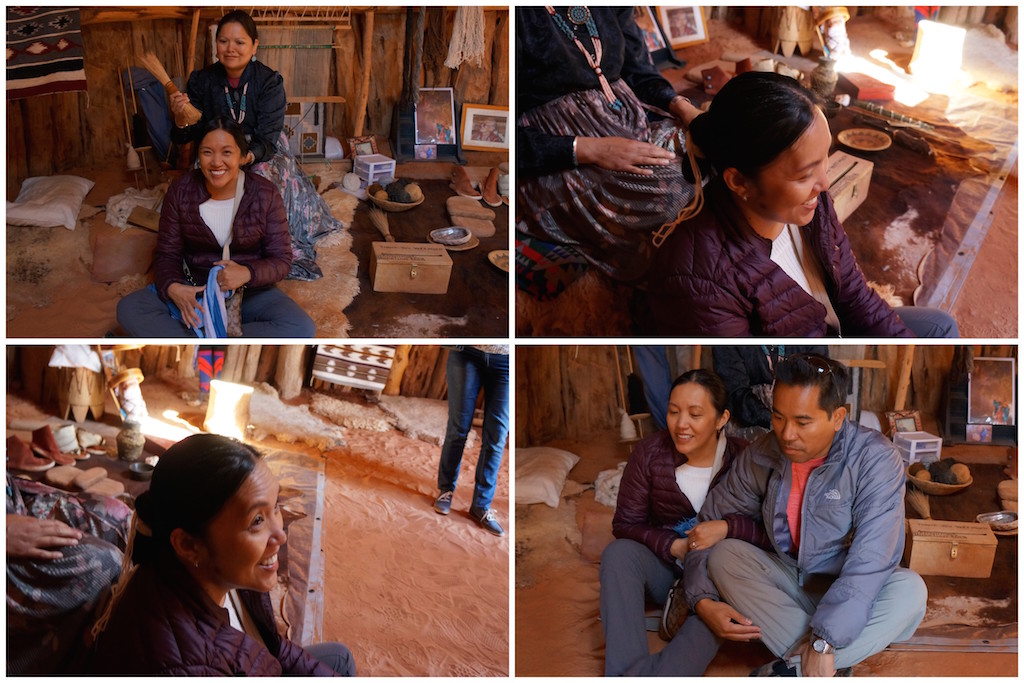 Our first stop after the Hogans was an arch called Big Hogan that somehow resembled the dwellings we had just visited. If you're a fan of the Indiana Jones' movie series, this was used in one of the scenes where Indy went through the hole. We loved how the sun seemed to shine right through the gaping hole.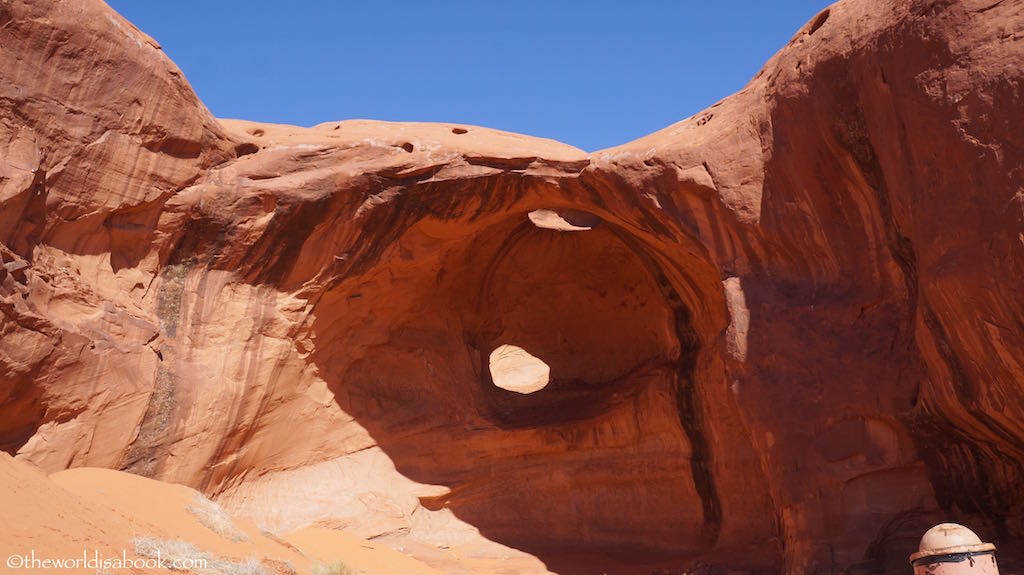 Duffy asked us to walk behind him as he played the flute and led us closer to the rock formations. There was a mystical feel to the echoes and was very fitting to our surroundings in this natural amphitheater.
Along the way, we spotted this dark horse on the sand dunes which made my kids very excited. It was a beautiful sight!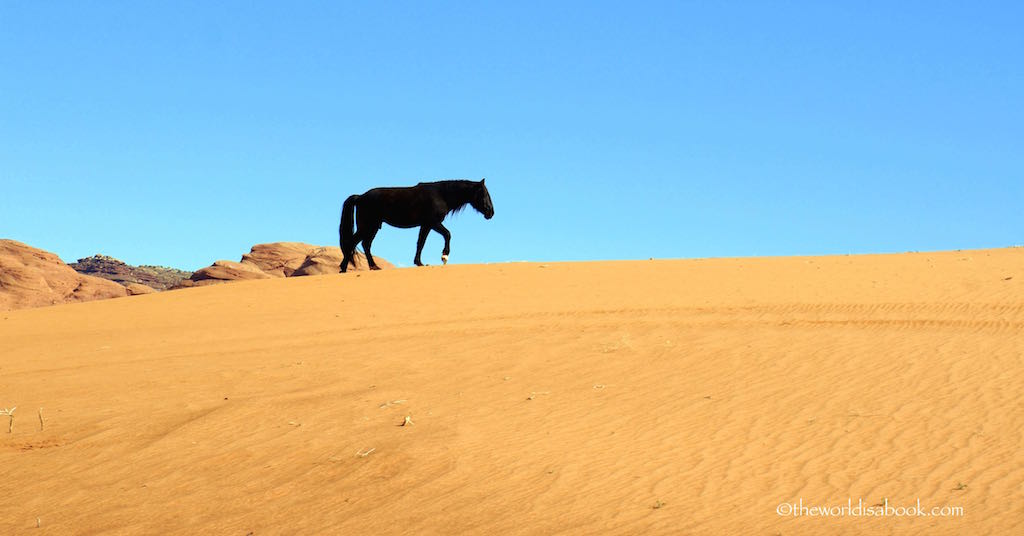 Though, the area my children were really looking forward to was playing in the red orange sand dunes. These weren't as high as the Great Sand Dunes National Park but similar in color. They were just as smooth and what a comforting feeling to walk in them.
Some perks when visiting here during the off-season and on a weekday was we had this to ourselves. It was the perfect temperature for walking barefoot in the sand. My kids standing on the sand dunes here gives you some perspective on how big these rock formations were.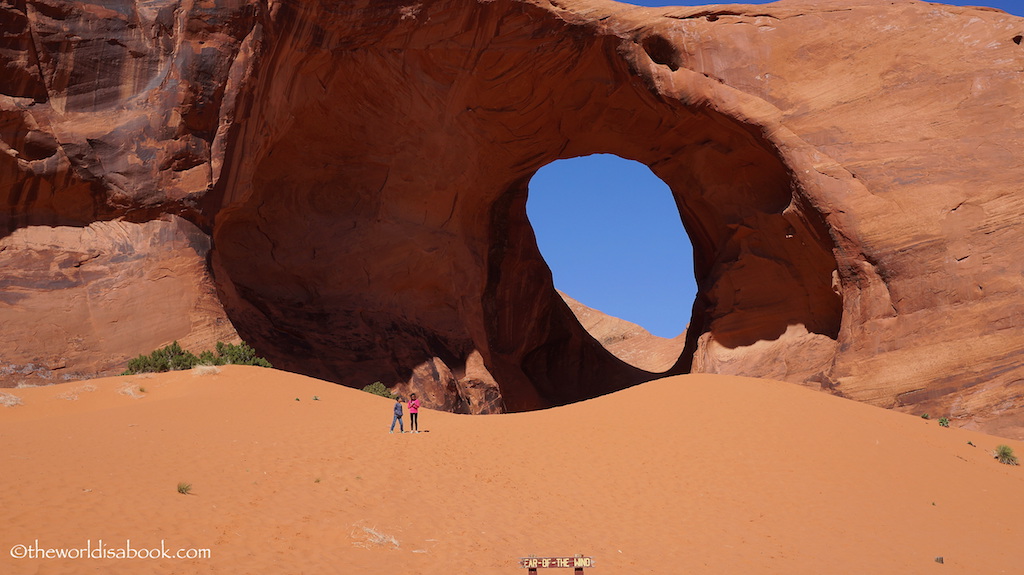 This was a sandstone rock formation and a type of arch is called the Ear of the Wind. Can you make out the shape of an ear here? There was something very spiritual being in this area.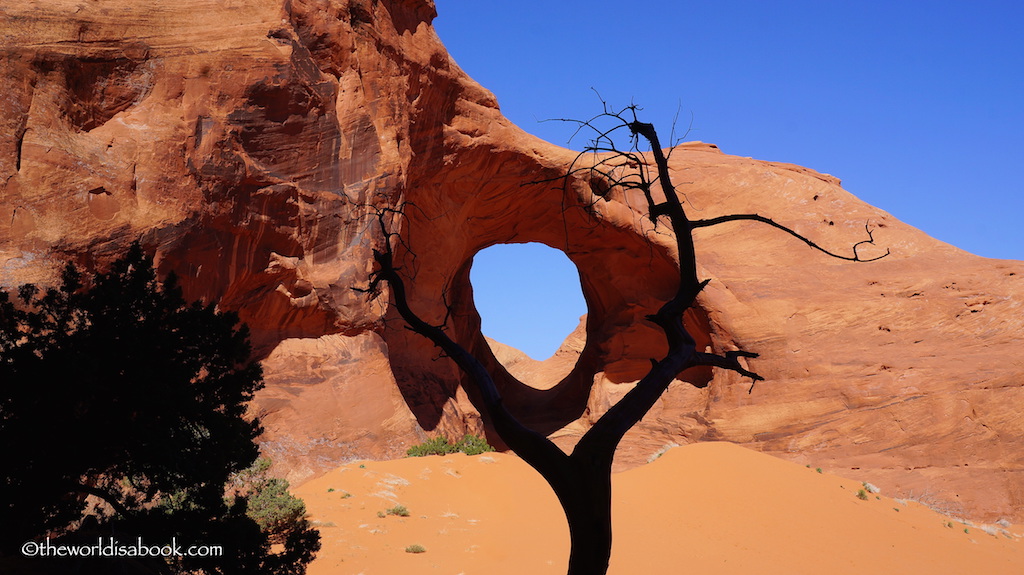 This was our view of the Totem Poles spire. It was the other side from our self-guided tour.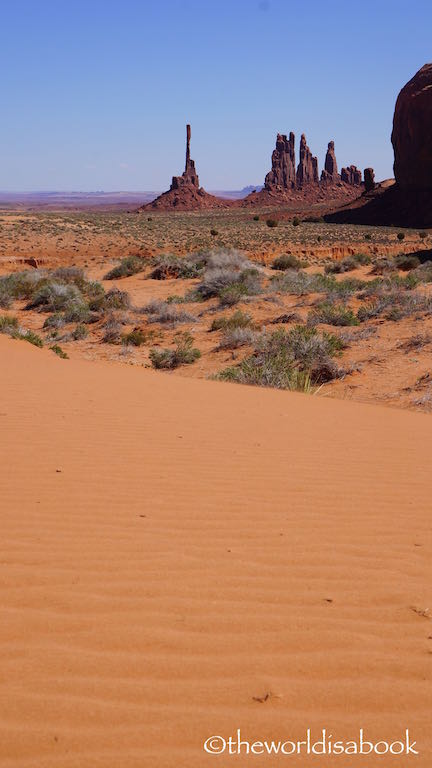 We cut across and passed by the North Window but saw it from afar. This was one of those times where the self-drive gave us better views and more time to explore this area.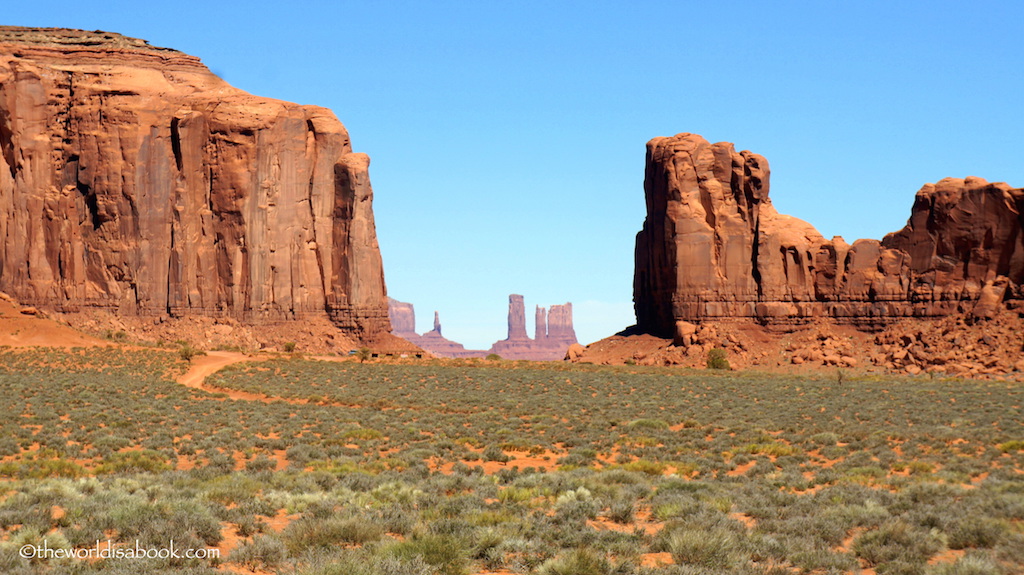 If you find yourself in the Monument Valley area, don't just pass by along Highway 163. Please do the self-guided drive tour around the loop. But, also try to fit in a cultural and scenic tour. The access to restricted areas and cultural experience and the opportunity to tour this sacred land with a Navajo guide was priceless.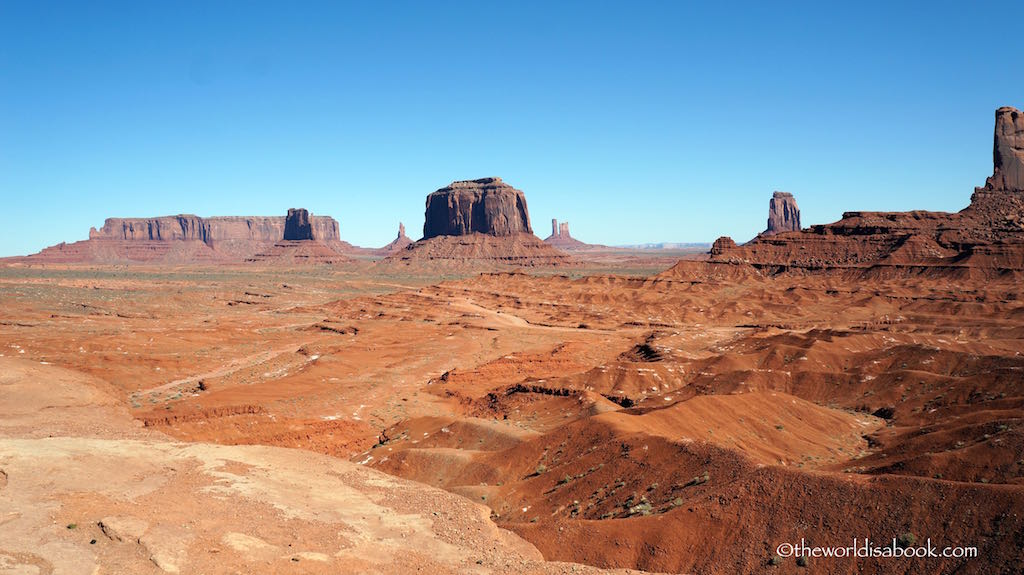 We really appreciated Duffy sharing his insights and history on the land and his people and he was a great guide. There was only a small portion of the tour that overlapped the self-drive so we highly recommend doing both for an enriching experience.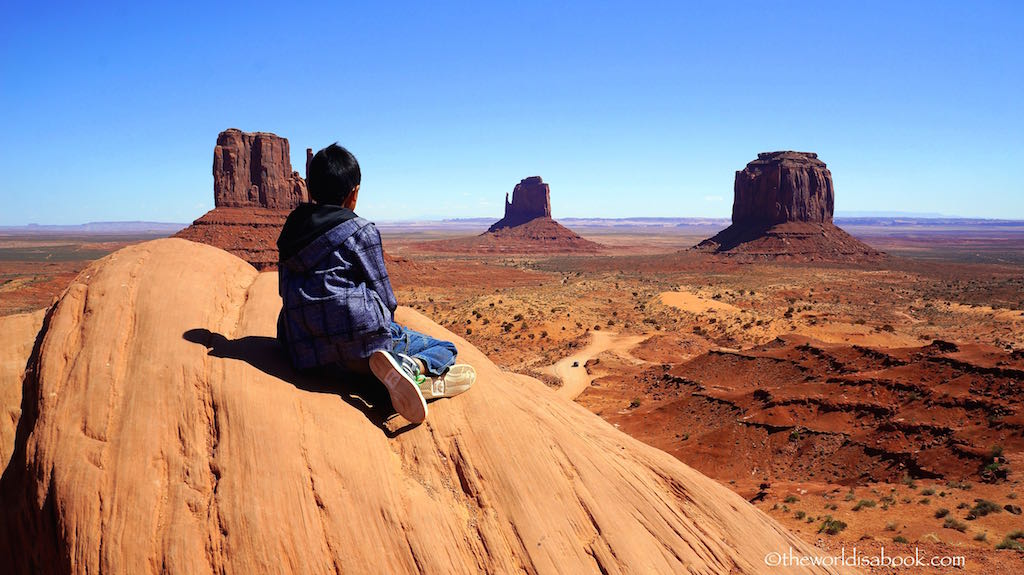 Monument Valley Scenic and Cultural Tour Basic Tips
Book your trip here and in advance to get the time you want. Tours are every two hours everyday. Many tour options are available including night tours .
Bring sunglasses, water and bandana or something to cover your face. It does get dusty in some areas especially when passing other cars.
Everyone is required to pay $20 per car (good for 4 days) entrance fee regardless of tour or The View Hotel reservation.
Getting to Monument Valley: The nearest airports to this area are in Flagstaff, Arizona and Durango, Colorado. We flew into Durango and it was a three-hour easy road trip. Many people also pass through here using Highway 163.
Disclosure: Monument Valley Safari gave our children complimentary passes for our 2.5-hour tour but all opinions about this wonderful experience are our own.
Have you visited Monument Valley or done a similar tour?