Visiting David at Accademia Gallery Florence
We only had a day and a half in Florence, Italy last November but at the top of our list was seeing quite possibly the world's most famous statue, Michelangelo's David. David is everywhere in Florence from his face on souvenirs to namesake restaurants and hotels. Did the statue live up to the hype? Come along with us and learn all about this sculpture and see what other works of art surround it at the Accademia Gallery.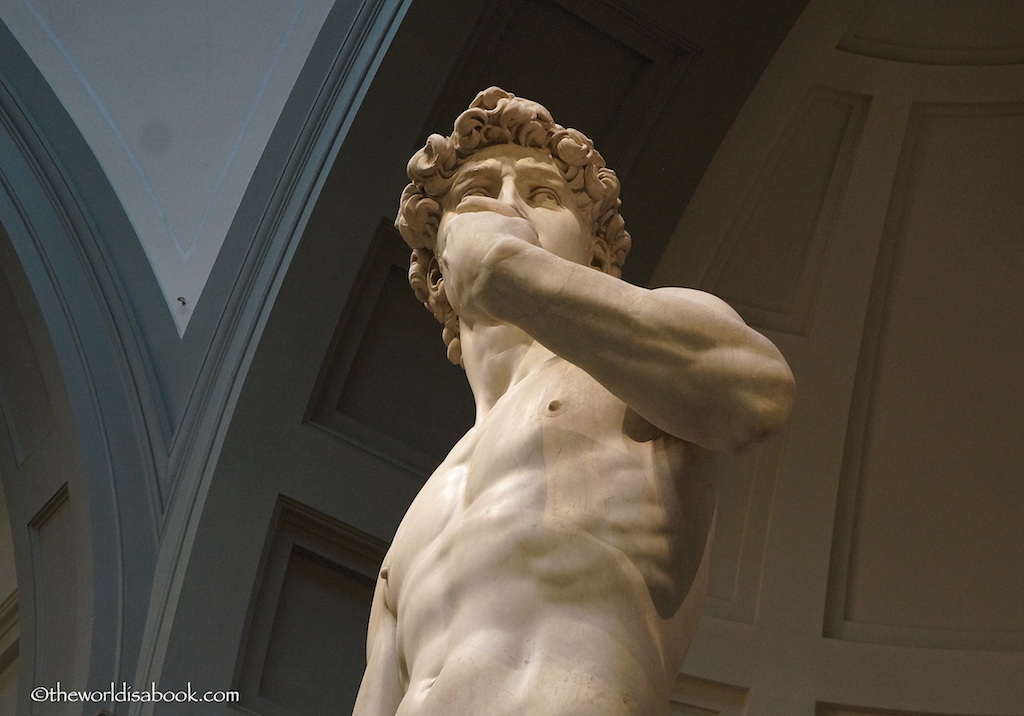 We got here a few minutes after they opened to avoid the crowds. Granted it was a weekday in late November but being an early bird paid off when there were only a couple of people in front of us in line to buy tickets.
This was our first glimpse of David as we rounded the corner. He was located at the long end of the gallery underneath a round skylight further illuminating his presence. It really was an indescribable feeling seeing this magnificent statue in person. Our first impressions and words that came out of our mouths were "He's huge!"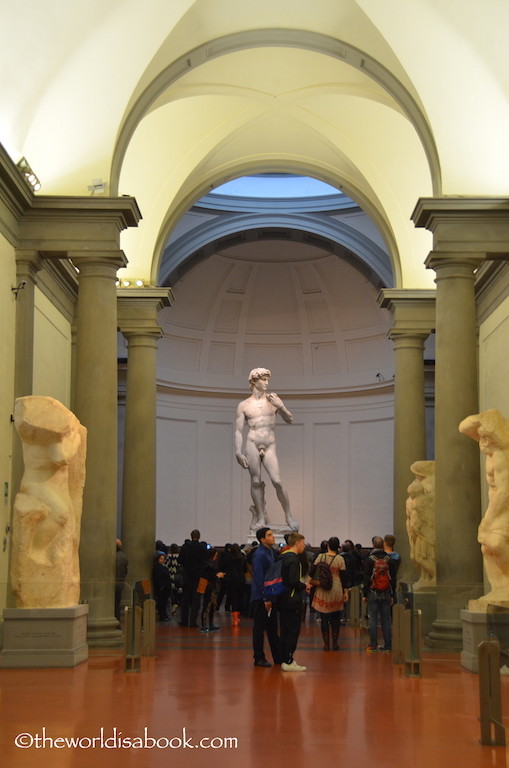 This Renaissance sculpture stood at over 14 ft (4.3 m) or 17 ft (5.17 m) with his carved rock pedestal. It was completely made of solid white marble. He really was "larger than life" and he captivated us. We walked around a few times just to marvel at this impressive masterpiece. Of course, we took pictures from all angles.
Michelangelo was only 26 years old when he was commissioned by the Cathedral Works Committee to sculpt a large scale statue of David, the Biblical hero, in 1501. They gave him a leftover and neglected single marble block from the Carrara mountain quarries in Tuscany, Italy. The area produced one of the world's whitest marbles. David was supposed to be one of the large statues to go 262 ft (80 m) up on the Florence Duomo's cupola outside.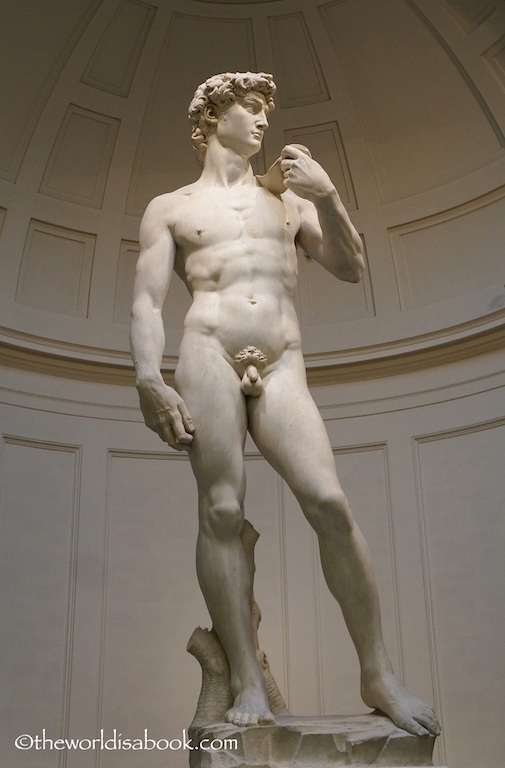 Michelangelo worked on it for almost three years in secret and completed it in 1504. It was presented as the "Giant" and the committee agreed it was too magnificent to put high up in the Cathedral and almost hidden from the public. The statue was eventually put in the city's main square – Piazza della Signoria.
Forty men moved the statue using a large wooden cart. It took over four days from Michelangelo's workshop to the piazza half a mile away. It was later moved to its permanent location here at the Accademia Gallery in 1873 to protect it from weather elements and vandals.
The statue became Florence's symbol for independence, courage and strength, which were major characteristics they wanted to embody. During the early 1500s, the city was at odds with the Medicis, who were once Florence's ruling family and considered as tyrants.
David Up Close
Many traditional portrayals of David had been after he defeated the giant, Goliath, with his sling and stones and triumphantly standing with Goliath's cut off head. Michelangelo decided to portray David before his epic battle – tense but ready. He was the first artist to show David this way and it was widely received well.
Since he was initially meant to be displayed up high in the cathedral and seen from below, Michelangelo purposely scaled some body parts to not be proportional. It's not as obvious in pictures. The head, arms and his right hand were much larger and were emphasized since these were supposed to be seen from far away.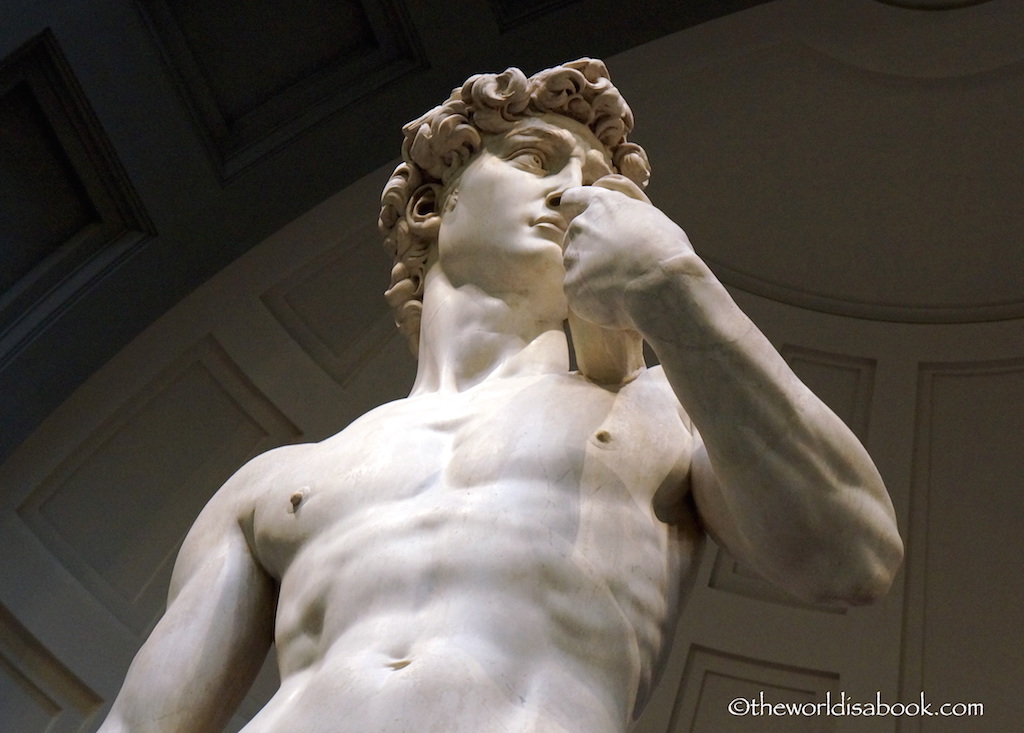 His slingshot almost blended in with his skin. Michelangelo covered the sling and tree trunk stump next to his feet with gold leaf after he was done. Unfortunately, the gilded parts were washed away and disappeared after being on display outdoors all those years at the piazza.
We stared in amazement at those throbbing veins at the back of his hand clutching that stone. It looked so real! Michelangelo clearly loved human anatomy and studied it well with all the extraordinary details he included like how the muscles are shaped based on his stance.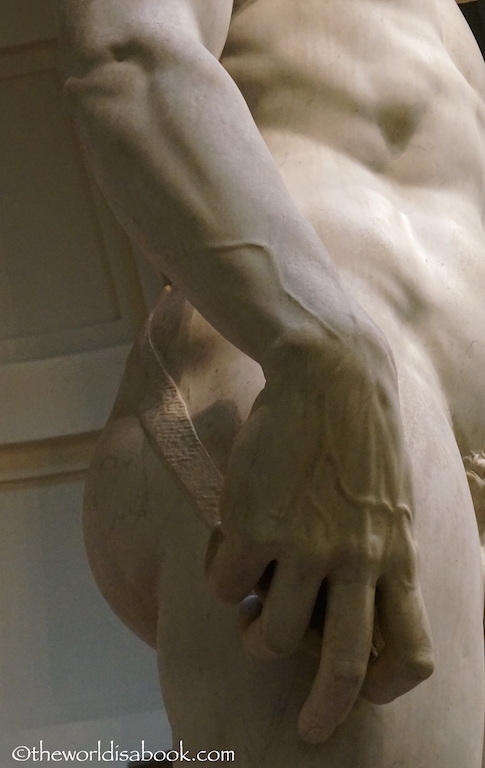 Here's a closer look at his head, the details of his eyes and furrowed brow. It was remarkable how David displayed such a determined and confident look here.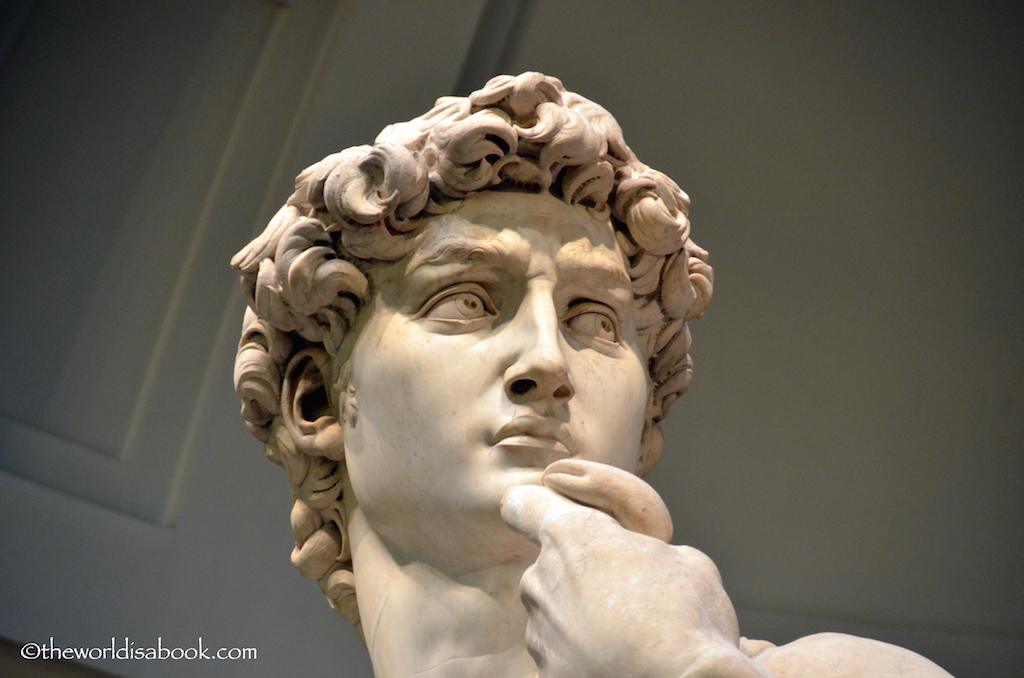 I don't usually pay attention to statue's feet but I had to marvel at this one too. This statue was so life like even though he was so huge.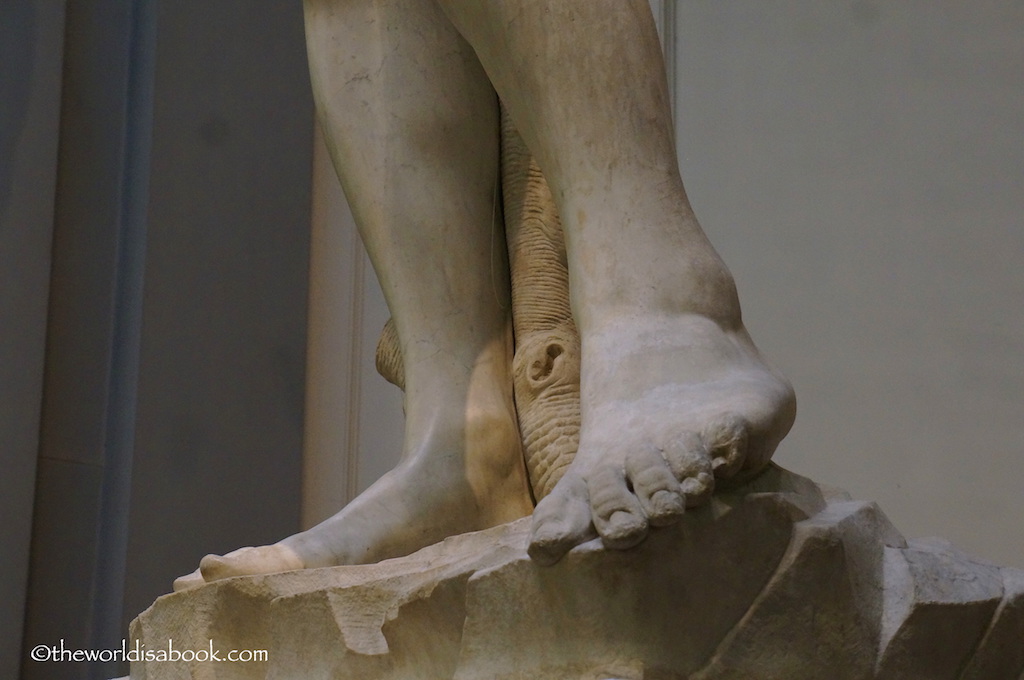 Other Attractions at the Accademia Gallery
Sure, David gets all the attention here. But, there are also other beautiful art pieces worth checking out at the Accademia. It's also a great way to get away from the crowds.
Michelangelo's four unfinished sculpture pieces of male nudes called "The Prisoners" or Slaves/Captives flanked the gallery's Hall of Prisoners on the way to the David Tribune. The big slabs of marble had sculptures looking like they were trying to break free from the mold. It was supposed to depict the souls trying to escape from their flesh.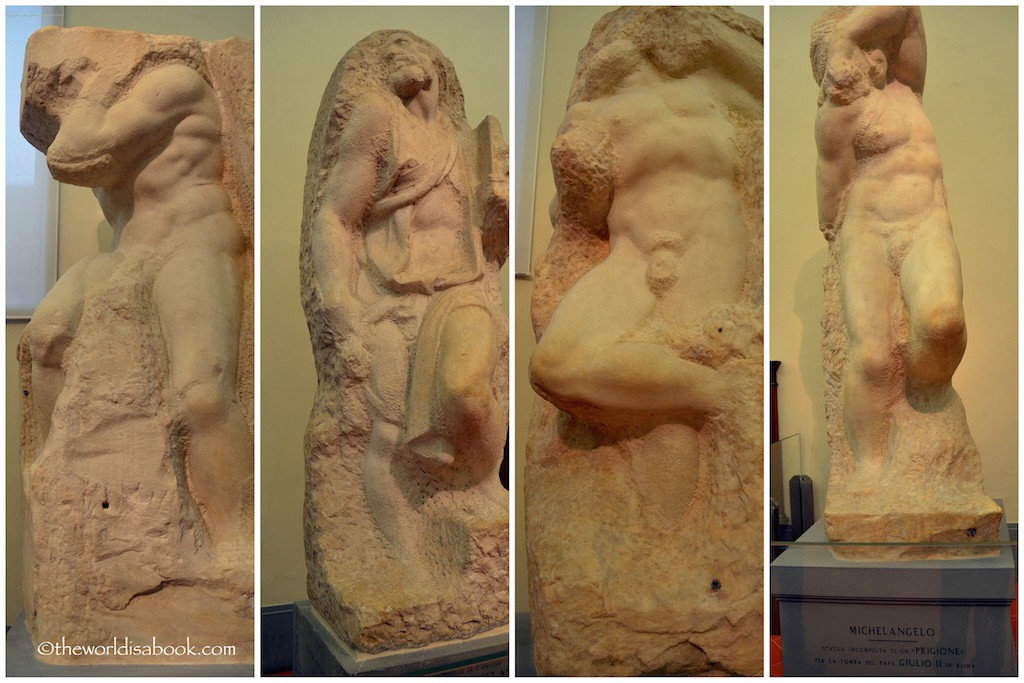 They were initially commissioned as part of Pope Julius II della Rovere's lavish tomb inside St Peter's Basilica at the Vatican. But, the pope told Michelangelo to stop work on it due to lack of funds. One can only imagine what Michelangelo would have done with these pieces.
Michelangelo said it best to describe his view on sculpting.
"Every block of stone has a statue inside it and it is the task of the sculptor to discover it."
Don't miss the Gipsoteca Bartolini (Hall of Models) room a few steps from David that contained a collection of many 19th century plaster cast models by local sculptor Lorenzo Bartolini. This was a reproduction of Bartolini's art studio. We enjoyed watching the video showing how these plaster casts were made. Sculptors used these models before carving the sculptures in marble blocks.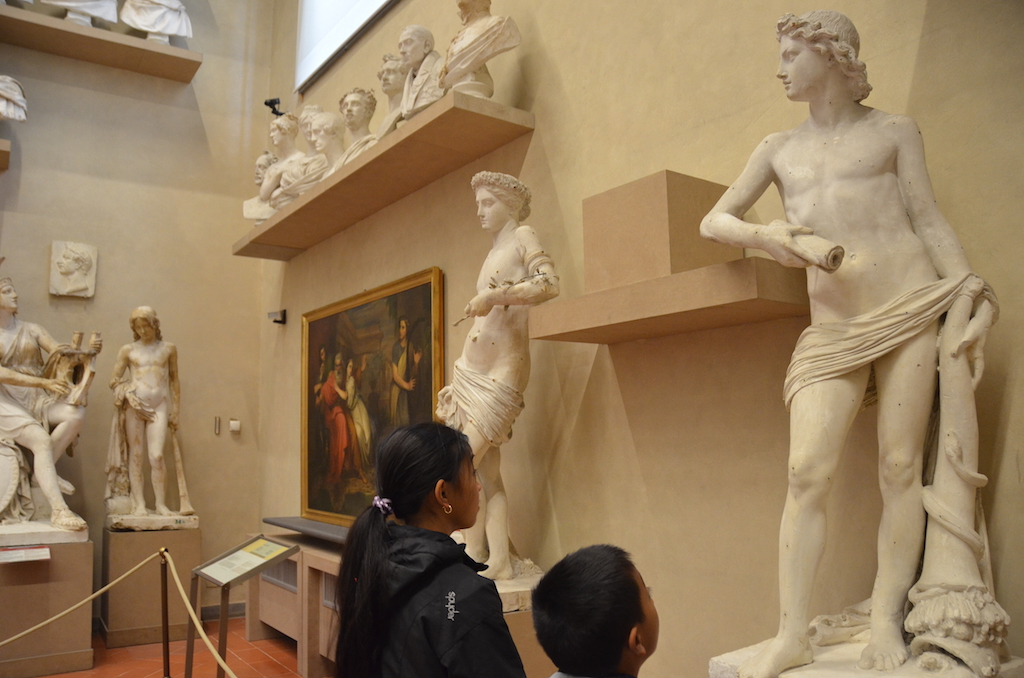 The plaster cast and marble statue of Nymph of the Arno was displayed side by side here. This was one of Bartolini's first full-length sculpture.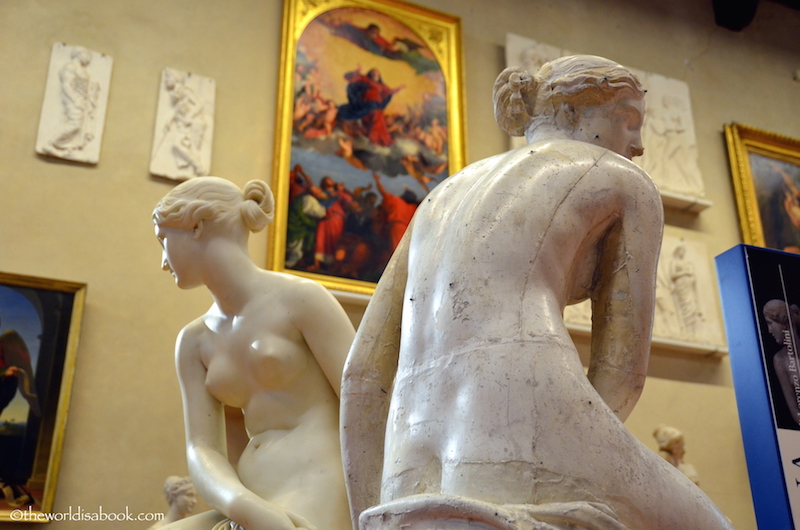 The Hall of Colossus was by the gallery entrance and showcased The Rape of the Sabine Women plaster model by Giambologna. The intertwined three figures were eventually carved using a single marble block using this model. We saw the actual marble sculpture, considered Giambologna's masterpiece, at the Piazza della Signoria.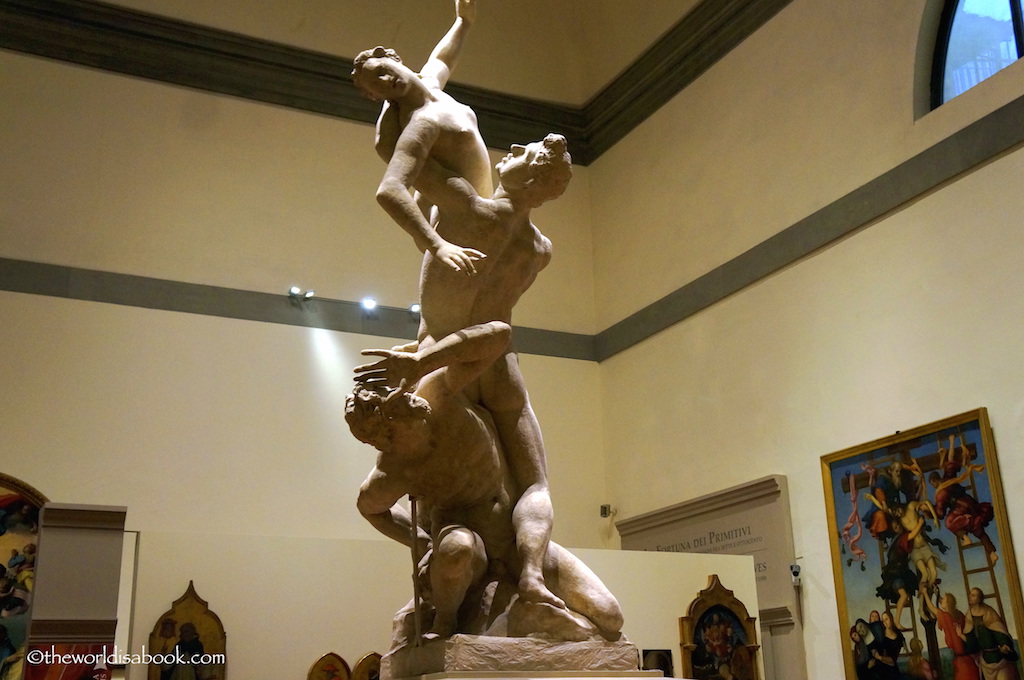 My other favorite area here was the Florentine Gothic paintings gallery that occupied three rooms. There were beautiful and colorful gold altarpieces and crosses displayed here. Many of the pieces came from some churches and convents.
Visiting with Kids
Museums can be a hit or a miss with children. My kids knew the story of David and Goliath and we showed them pictures of the sculpture before visiting here. The sheer size of David really magnifies every body part. I'm not sure about other kids but mine snicker at nude sculptures every time they see one. So, imagine the giggles and comments here. Thankfully, they got past that quickly. David mesmerized them and they spent some time walking around admiring the details and took pictures with our phones.
There are seats behind David to admire the statue. Bring some art paper and ask them to draw their David interpretation. Younger kids may not get the concept of this statue's significance so maybe a coloring David sheet may work too.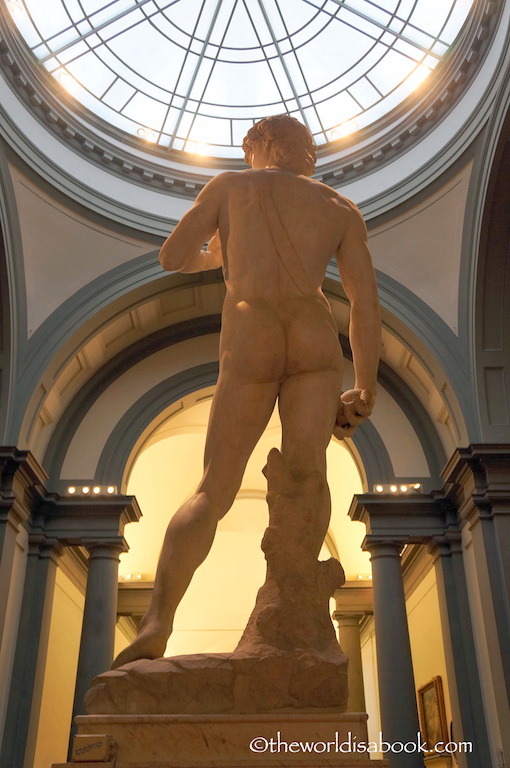 It was incredible to think that the awe-inspiring masterpiece of David came out of a leftover marble block. He was extraordinary and shouldn't be missed when visiting Florence no matter how short of a time you may have. Take some time to see the other works of art around the Accademia too. The museum was small but definitely worth the admission price and time.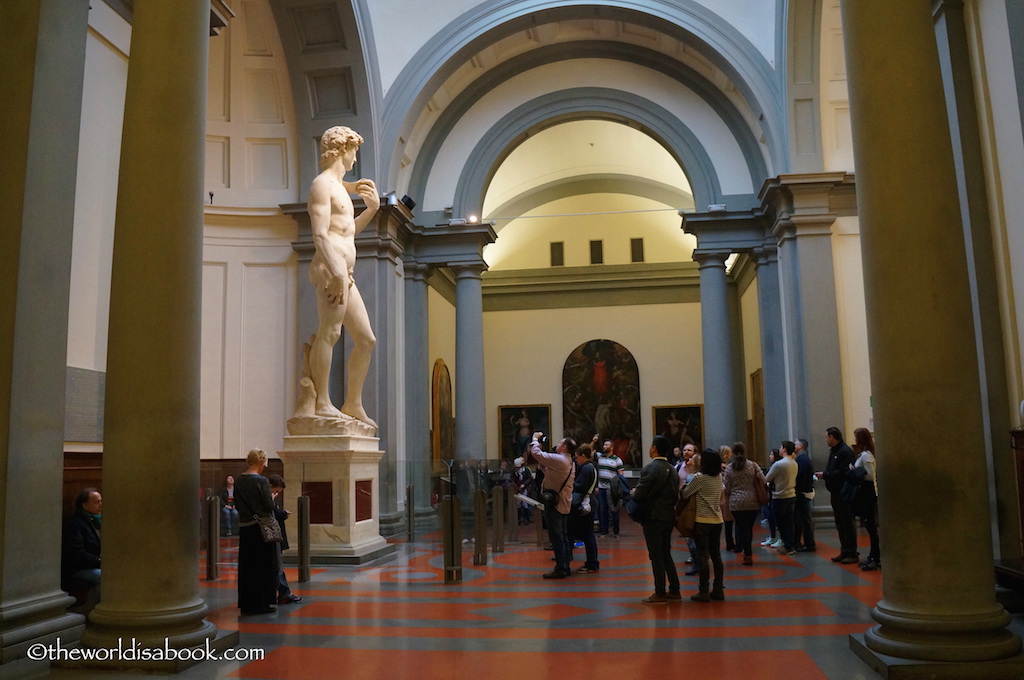 Visiting Florence's Accademia Tips and Basics
The Accademia is notorious for having very long lines especially during holidays and the summer. Tickets can be bought in advance at this site (may cost extra) or book a private tour to bypass the lines.We got lucky since we were here during low season but we also came very early.
Free admission to children under 18 years old.
Hours: The Accademia is closed on Mondays. It is open Tuesday – Sunday from 8:15 AM – 6:50 PM. Entry is available until 45 minutes before closing time.
Come very early or later in the afternoon to beat the crowds. It makes a huge difference trying to see David past the crowds and trying to take a picture without other people around.
Buy the

Firenze Card

if you're going to be in Florence for at least 3 days. You have free admission to many museums and attractions for a 72-hour period and get to bypass lines including here.
There were airport security type screenings before entering the galleries including passing through a metal detector and screening bags through a conveyor.
Audio Guides are available at the ticket office and start at 6 Euros.
There are copies of the David statue around Florence. One is at Piazza della Signoria where the original once stood for years. The other is at Piazzale Michelangelo but is made of bronze.
Have you visited David in Florence? What are your favorite sculptures?
*Haven't booked your Florence hotel yet?  See the best prices from the major travel sites on HotelsCombined.
Pin it for later!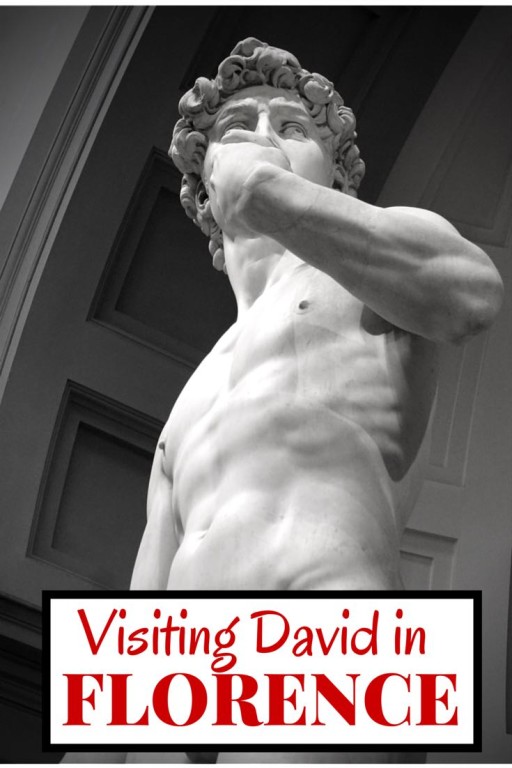 *There are affiliate links in this post to help support this website.