Eating at Botin in Madrid: The World's Oldest Restaurant
Having the distinction of being the world's oldest restaurant draws curiosity. How could one not visit this historic place for some bragging rights and unique dining experience while in the Spanish capital? We passed up visiting Sobrino de Botin during our first visit to Madrid several years ago and regretted it. So, we made sure to eat here during our last visit in November. Virtually dine with us and find out if it lived up to the hype.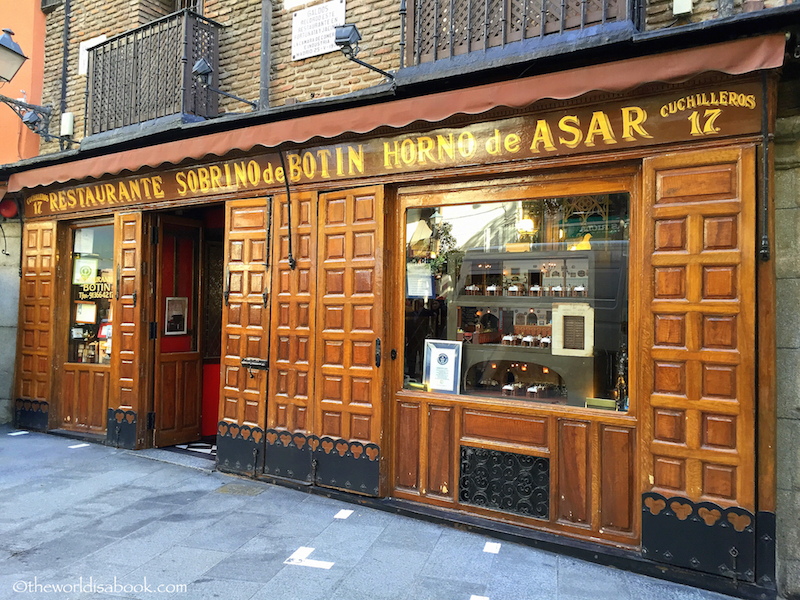 History
Sobrino de Botin was actually founded by a French cook named Jean Botin. It was called Casa Botin and dates way back to 1725. There are some notable guests with ties to this restaurant including Spanish painter, Goya, who supposedly used to work here. Ernest Hemingway, the famed author, was also said to visit the restaurant frequently.
The restaurant was eventually inherited by the founder's nephew (Candido Remis) and renamed it to what eventually became its permanent name – "Sobrino de Botin" meaning Botin's nephew in Spanish. It has continually been owned and operated by the Gonzalez family for four generations now since the early 20th century.
The Guinness Book of World Records declared this as the world's oldest restaurant in 1987. There were various plaques around the restaurant displaying this designation.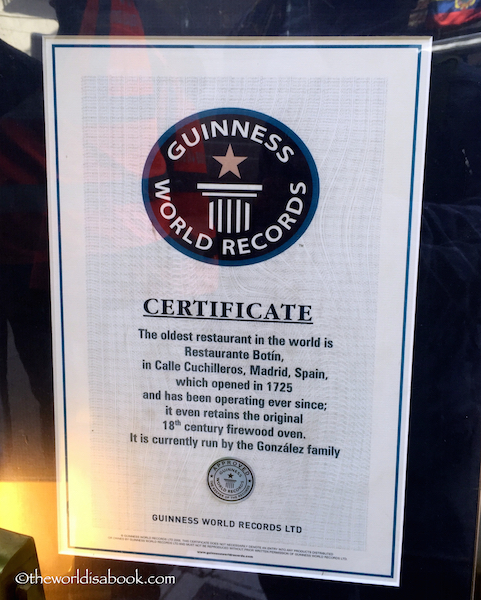 The Restaurant
This was located at a central area near many and very easy to find. It was on a 16th century building down the small side street from Plaza Mayor and Mercado de San Miguel. We loved the small model displayed in the window that showed the restaurant's interior.
Sobrino de Botin is listed on many "where to eat in Madrid" list and for good reason. So, it's no surprise for it to be crowded at certain times and very appealing to tourists. It is a tourist hotspot but also popular with locals.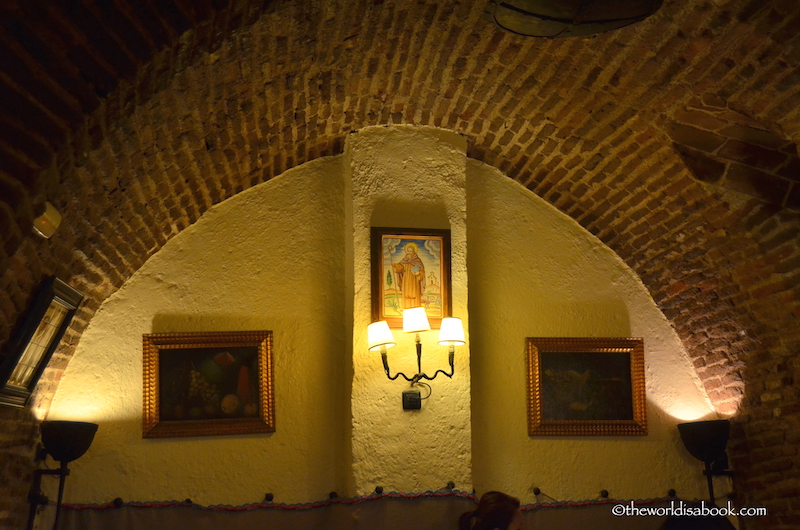 We made reservations online weeks before we got here. Our reservation was for their earliest time on the day we arrived. It was a great way to combat jet lag at around 1 PM. There weren't that many people waiting with us for the restaurant to be opened. Luckily, there were some interesting stores for browsing nearby.
The restaurant has four floors inside. We weren't sure what to expect but it seemed a bit cramped but also felt homey. The restaurant had different rooms with a running theme for each one (some more obvious than others). The colorful tiles around the restaurant were very interesting and beautiful. The wood beams definitely added to the restaurant's charm and ambience.
My kids gravitated right away to a little opening by the entrance. Many roasted piglets were propped on a table ready to be served inside this little area. The old wood-fired cast iron oven, which dated back to the 18th century, was blazing ready to roast many more dishes.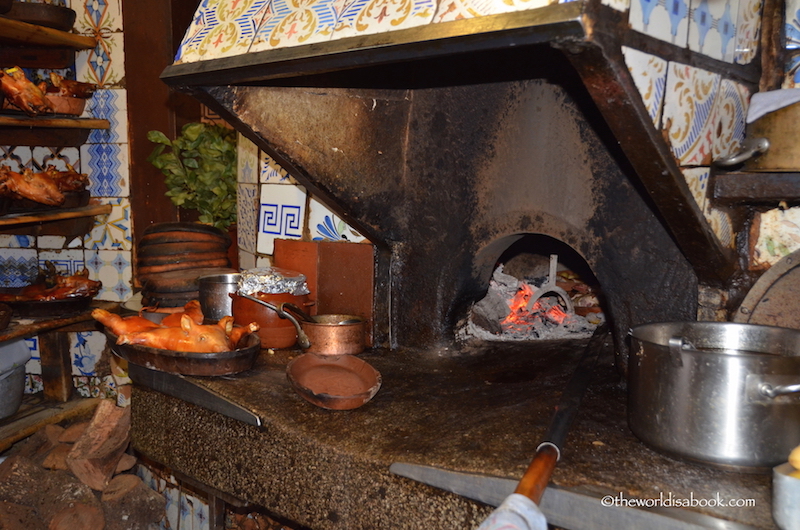 This was a sight to behold but would probably make any vegetarian's head spin. Roasted suckling pig (cochinillo asado) and roasted lamb (cordero asado) were two of the restaurant's most popular dishes.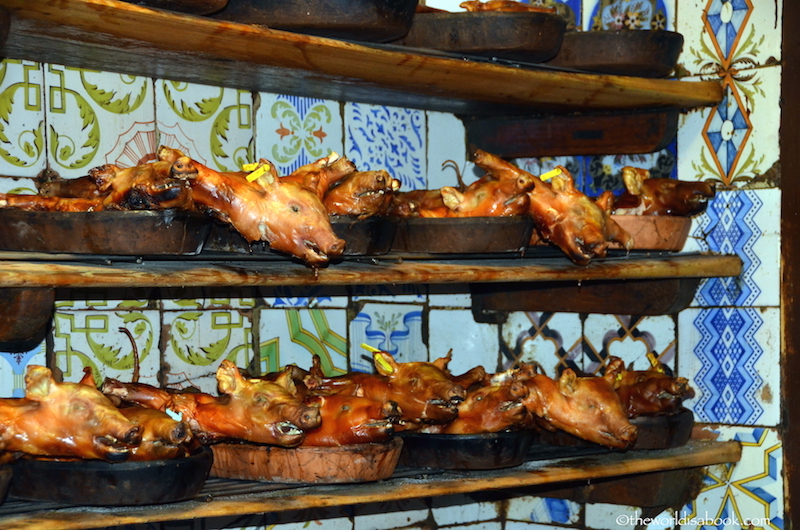 As Filipinos, we can usually spot our fellow countrymen anywhere in the world. The man roasting the pigs diligently was a Filipino who has been working here for almost 15 years and we chatted with him for a couple of minutes. It just seemed fitting since one of the Philippines' national dishes is a roasted pig called "lechon" cooked over an open fire. It was a dish that originated from Spain, a country that ruled the Philippines for 300 years.
We were led to the lowest floor. The stairway was narrow and it opened into a cozy and old room. Yes, it had that musty odor but it wasn't overwhelming. There was something special about sitting in this basement that probably still held some of the original stones from almost 300 years ago.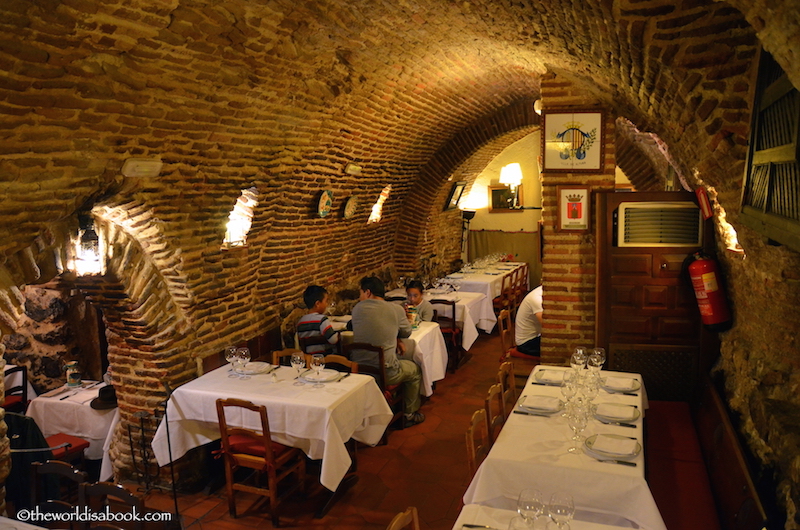 There was a little doorway that led to a wine cellar. My kids were a little spooked about going down here but my husband and I thought it was fascinating to see where they stored hundreds of wines. Some of them were untouched for years with the amount of dust on them. I can just imagine how old and expensive some of the wines were.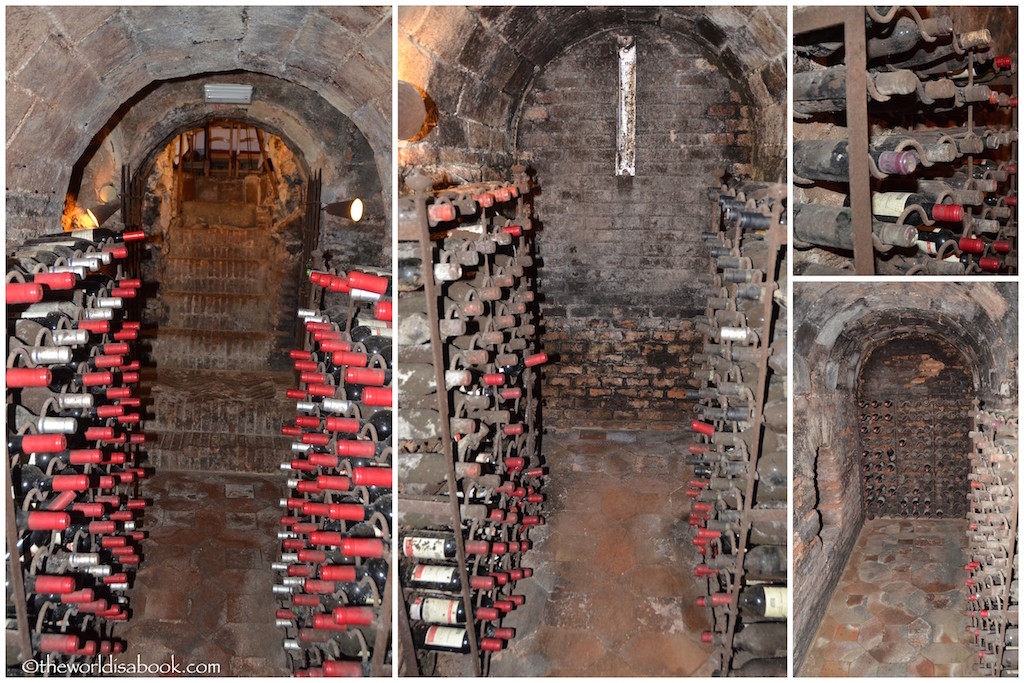 The Food
Botin offers traditional Spanish and Castilian cuisine specialties. It's not cheap especially when compared to the nearby food stalls inside the Mercado de San Miguel. Main course dishes averaged between 20-25 Euros. They didn't look like big portions but were actually quite filling. The menu was extensive so there was something there to satisfy everyone.
Of course, my husband ordered the popular suckling pig. He didn't get the whole pig but portions of it along with some roasted potatoes. We didn't want to know how many euros that whole pig will set one back. He said it was delicious with a lot of flavor but preferred the skin to be crunchier. He remembers the suckling pig we had in the city of Segovia to be better.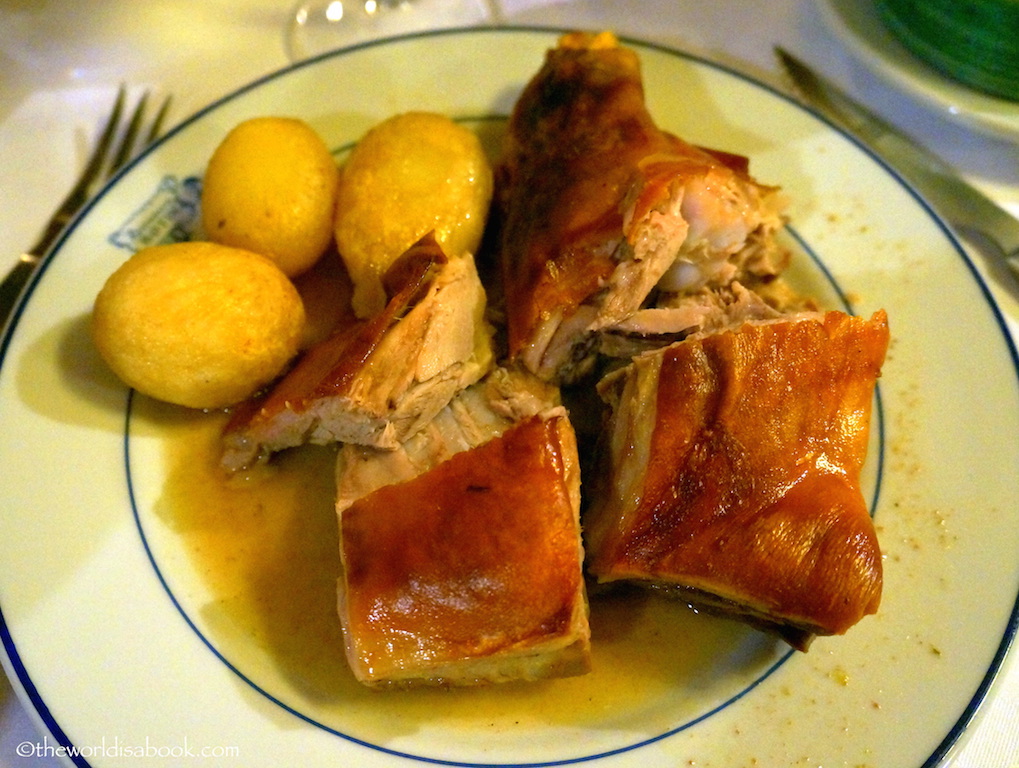 I had the garlic prawns and the kids had fried squid rings. There was no children's meals menu which was a bit disappointing for my kids. They also charged for bread which they don't tell you about. It wasn't that much but bread was just something we're used to getting for free in many of the American restaurants so it was a bit surprising. Since we were in Spain, Sangria was a must. It was good but a little too strong for me.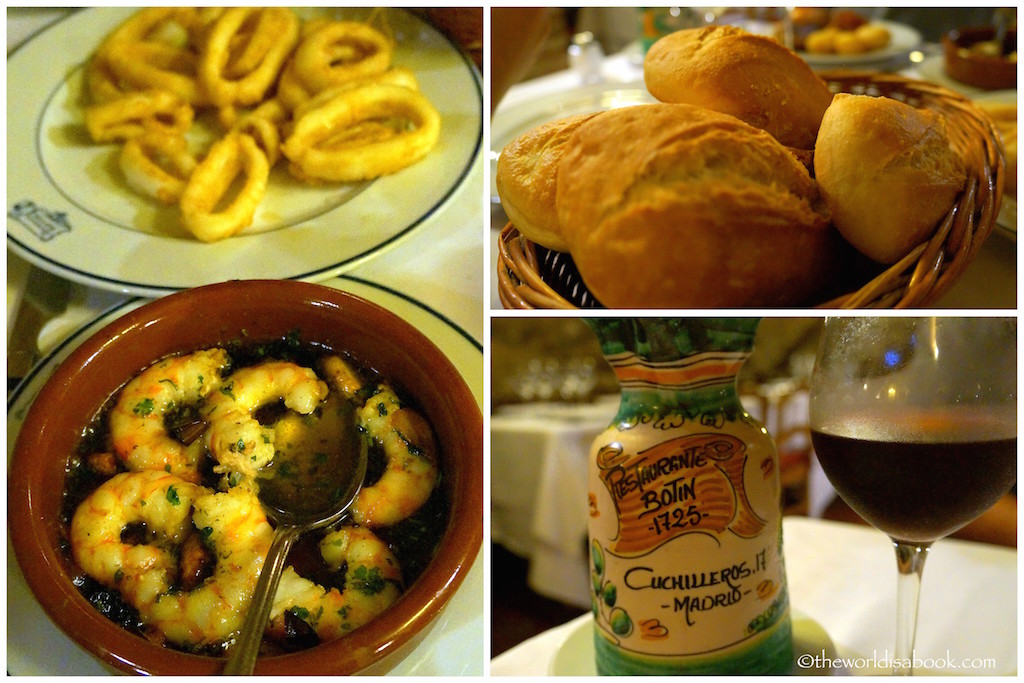 The restaurant isn't known as a foodie's paradise. But, we did have a very nice meal albeit a little pricier than we'd usually pay for lunch at almost 100 Euros. I guess they can upcharge with their historical status and people will still come.
They had quite a few wait staff so service was great. Since there weren't that many customers yet, it was great to have a very attentive waiter. They spoke English well and were efficient and quick. Our waiter was very friendly and even took pictures of us. I'm assuming service has to be faster than most Spanish restaurants since they needed quick table turnarounds during busy periods.
Was this our best meal in Spain? No, but it certainly was the most memorable restaurant for us. The food was good but nothing to rave about considering its prices. But, it was worth it for the whole experience of eating at the oldest/earliest restaurant in the world. It was charming and we appreciated its history and status. Many restaurants come and go nowadays so it was impressive for Botin to be around for centuries. Don't miss this historic dining experience if you're visiting Madrid.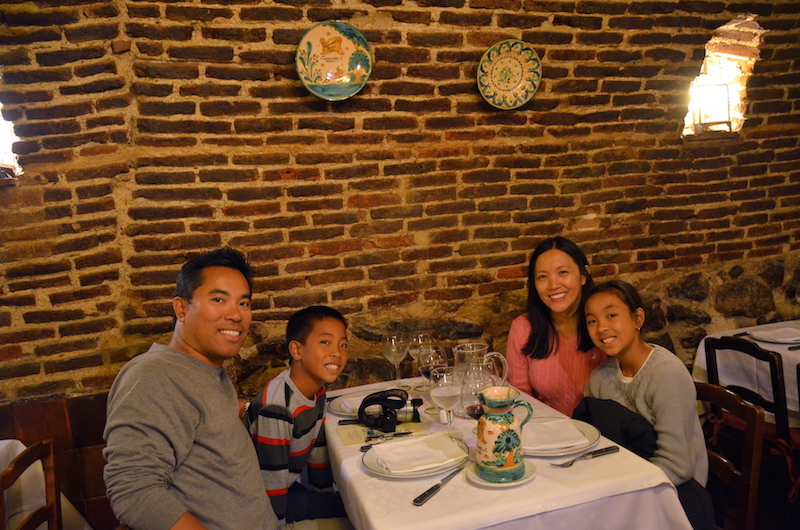 Eating at Sobrino de Botin Tips
Make reservations early since it gets pretty busy especially during dinner. Reserve from their website which was powered by The Fork. We were emailed a booking number and reminder with no issues at the restaurant.
They are open everyday. Lunch is served from 1 – 4 PM; Dinner is served from 8 PM to midnight.
No matter where you're seated, take time to walk around the entire restaurant and see what's displayed on walls and admire the tile work and decorations.
Address: Cuchilleros 17 28005 Madrid
Visitors can also do The Botin Experience that provides a guided tour of the restaurant and eating a variety of dishes with Insiders Madrid.
The Madrid Card gives visitors several perks that include skipping lines, discounts to attractions including a 7% discount on lunch Monday-Friday at Botin.
Have you eaten at Botin or any other interesting restaurants?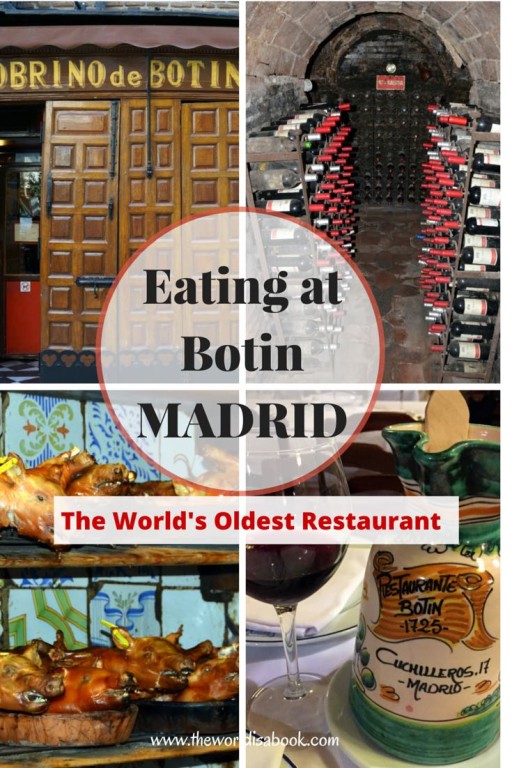 Check out these related posts: