50 Fun Things to Do In San Diego With Kids
San Diego is known as "America's Finest City". It offers so many activities and the area has consistently ranked in the top family-friendly destinations. We've lived in San Diego County for 14 years. This is the only home my kids have ever known.
The county is comprised of 18 cities and over 50 communities. With summer coming up, I've often been asked for things to do here beyond the amusement parks and beaches.
I hope this list of things to do in San Diego, broken down by interests, will help those planning to visit with or without kids as well as inspire locals to explore this beautiful region throughout the year.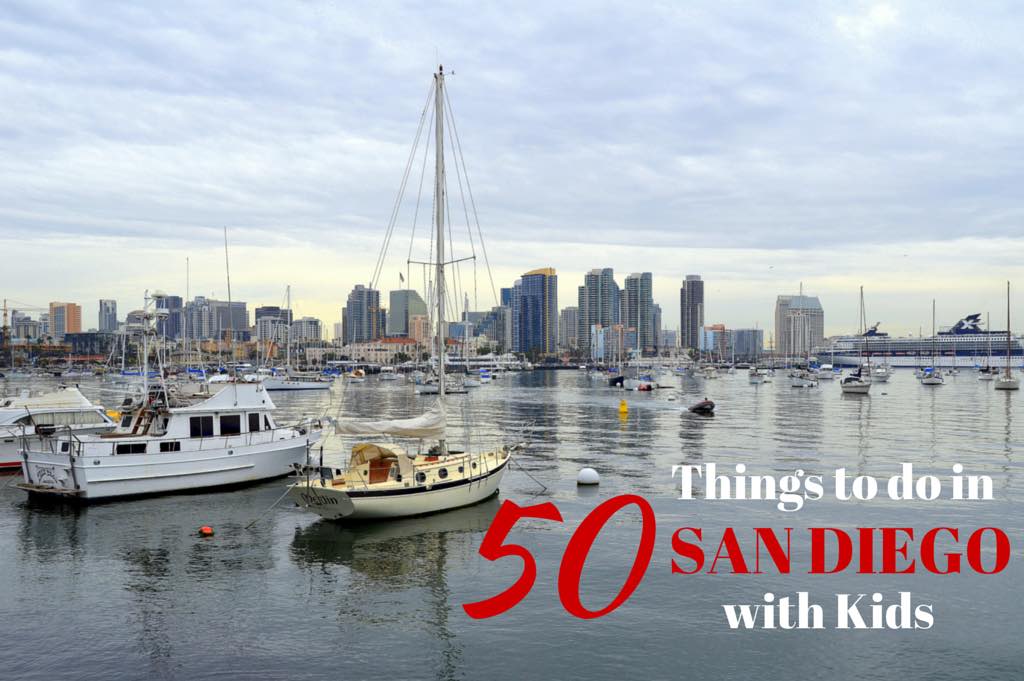 GETTING IN TOUCH WITH NATURE
1. Visit the pandas and pet some animals at the world famous San Diego Zoo. The zoo has over 3,700 animals from over 650 species including some rare and endangered animals. The hop-on, hop-off guided bus tour is a great way to explore the zoo with little ones.
The Skyfari Aerial Tram is also a popular way to see the zoo from above. Don't miss the Children's Zoo with 30 animal exhibits and a chance for the kids to interact with some animals.
Some of our family favorite areas are the Elephant Odyssey, the Australian Outback (with over 20 koalas), Panda Canyon and the Lost Forest. Various visitor experiences range from early morning panda tours, behind the scenes tours on how animals are taken care of or breakfast with the koalas.
2. Ride the tram through the heart of simulated Africa at the San Diego Zoo Safari Park. This unique park takes visitors to an open area where giraffes, zebras and antelopes among other animals roam together. This has always been my kids' favorite part of the park.
There are over 2,600 animals from over 300 species around the park.The Flightline Safari gives visitors the chance to zipline over these exotic creatures.
Several animal encounters are scheduled throughout the day. Don't miss unique experiences like the Caravan Safari to feed giraffes and rhinos, behind the scenes tours with the tigers, lions or cheetahs. Kids can also have sleepover adventures with guided walks and various activities.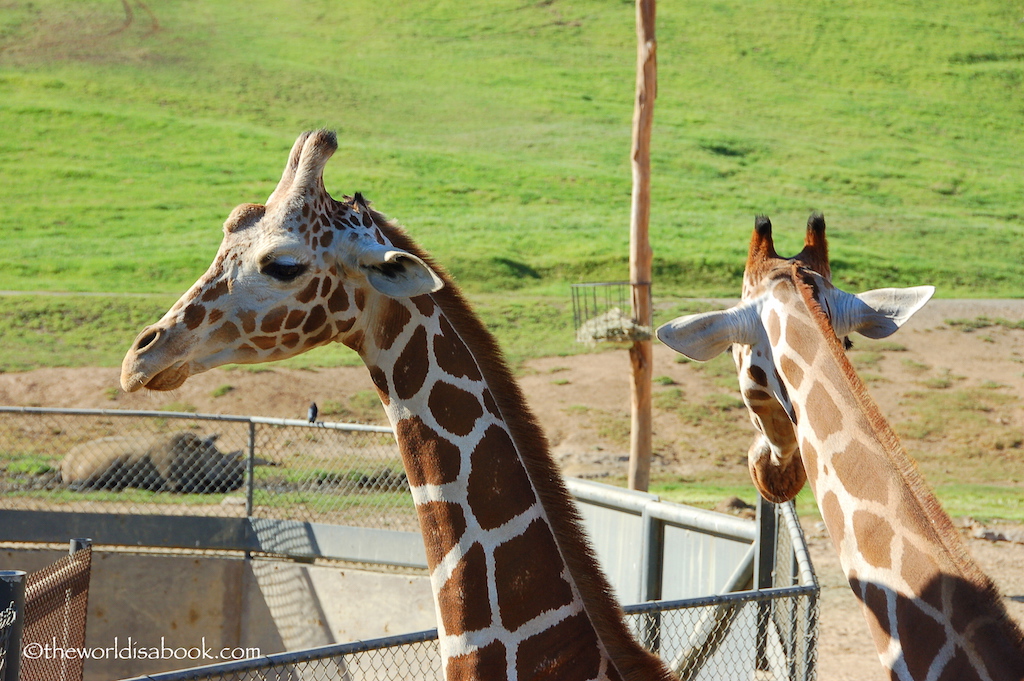 3. See Shamu at Seaworld San Diego. The park offers a myriad of shows, exhibits and attractions revolving around dolphins, sea lions, turtles, sharks, penguins and the killer whales, including Shamu, among many other animals.
They also have several aquariums and visiting SeaWorld has always been a learning experience. It's not only about the animals here though but also the rides. Rides like Manta, Journey to Atlantis and Shipwreck Rapids provide enough excitement for the thrill-seeking kids.
The younger kids can also have their version of fun at the Sesame Street Bay of Play Kids to watch shows, interact with characters and go on rides. SeaWorld also offers unique experiences like dolphin and beluga whale interactions, behind the scenes tours and dining with Shamu.
4. Explore Cabrillo National Monument. There's more to this park than its Spanish explorer namesake implies. My kids love seeing the different marine animals and plants at the tide pools here. Check this site for low tide times before heading to the tide pools.
San Diego's only entry in the National Park Service system also has a lighthouse kids can climb on and learn what life was like to maintain it. The Bayside trail offers scenic views and Whale Overlook allows for watching gray whales migrating during winter season.
Don't miss the Visitor's Center for some interactive displays and film about the Spanish explorers and local Indians. Kids can also earn their Junior Ranger badges here.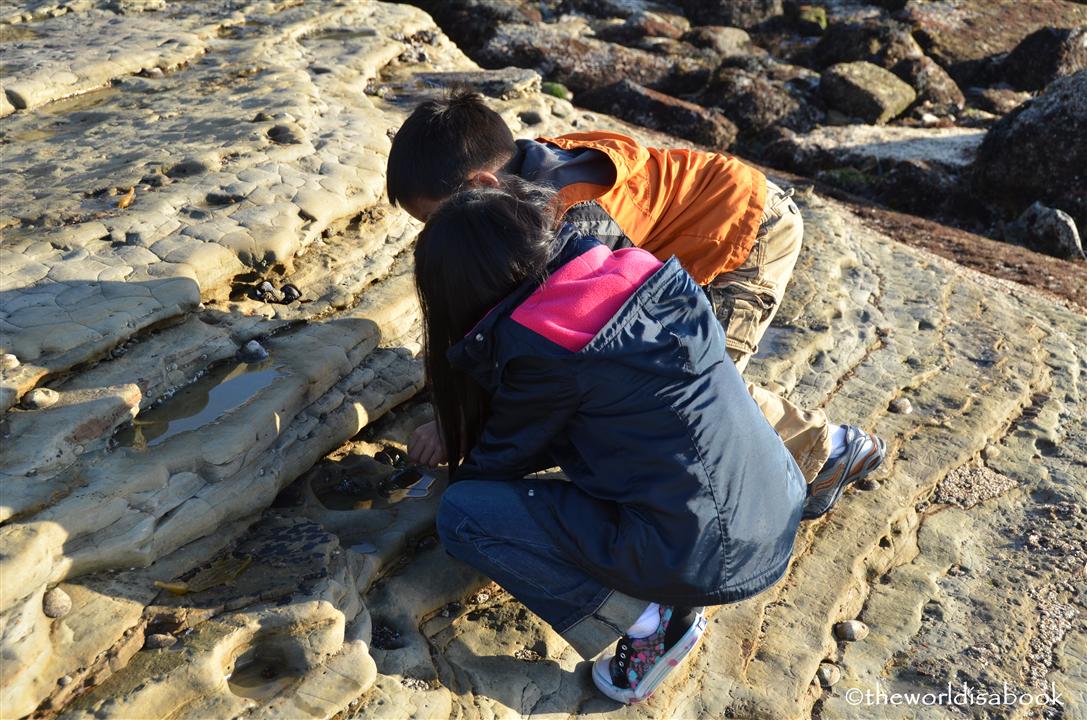 5. Go Hiking. There are many trails for various ability levels around San Diego and the great weather year-round helps a lot. See the unique Torrey pine (one of the rarest in the world) along sweeping panoramic ocean views and eight miles of trails at Torrey Pines State Natural Reserve.
Cowles Mountain is worth the hike for some great views from the city's highest point. One of San Diego's most popular trails is to Mount Woodson to pose at "Potato Chip Rock". Be prepared to wait for photo ops on this granite rock sticking out.
Hike the numerous trails at one of America's largest urban park – Mission Trails Regional Park with over 40 miles of trails, lakes and recreational areas.
6. Kayak at La Jolla sea caves. Go on one of the kayak tours to explore the incredible sea caves the ocean has carved. It's easy to spot wildlife like seals, dolphins, sea lions, leopard sharks and pelicans along the way in this marine ecological reserve that includes kelp forests and stunning cliffs.
7. Visit Birch Aquarium at Scripps Institution of Oceanography. Discover the underwater world of Pacific marine life in over 60 habitats. Check the animal feeding schedule and two-story kelp forest which is sure to entertain the kids.
8. Go snorkeling. La Jolla Cove, Tide Beach Park and Mission Point Beach are popular spots to see the underwater world. Guided tours are available including swimming with the harmless leopard sharks. They're great spots to see California's state fish, the orange Garibaldi.
9. Watch Whales. Go on whale watching cruises to catch a glimpse of the over 20,000 Pacific gray whales that do their round-trip annual migration from Alaska to Baja California and back. We highly recommend this cruise and it also gave us opportunities to see dolphins and sea lions.
Naturalists come on board for an educational experience. Many of the tour companies offer guarantees of seeing whales or you go on another tour for free. SDWhalewatch offers this cruise all year but the most popular months are between December and April. Blue whales can also be found along the coast from June to September.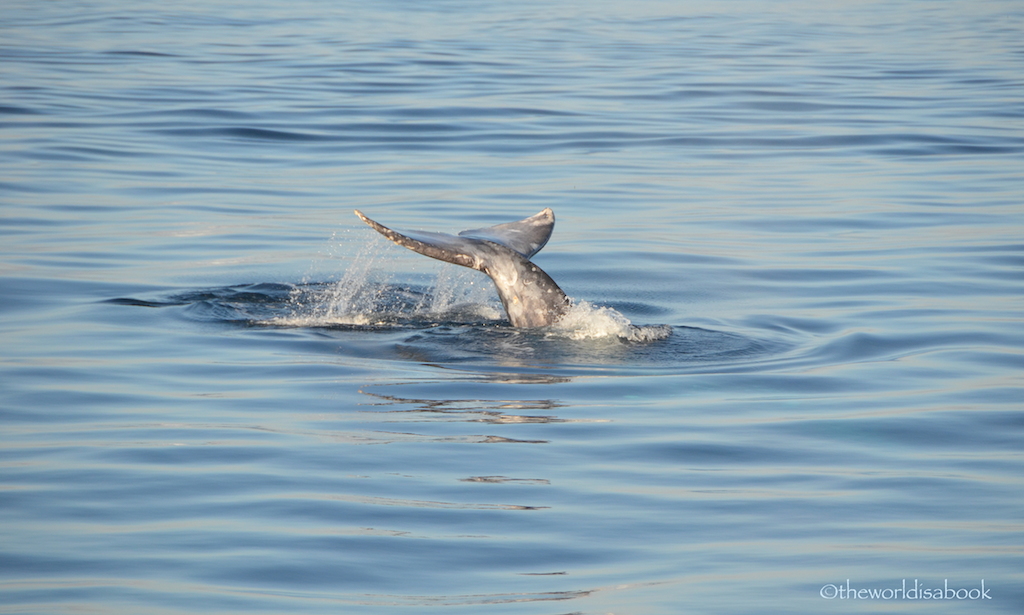 10. See Batiquitos Lagoon. This coastal wetland has a two-mile public walking and hiking trail. It is easy and safe enough for kids of all ages including wheelchair and stroller access. Don't miss the Nature Center or the guided nature walks focusing on the lagoon wildlife. This is also a great place for bird watching.
11. Explore Anza Borrego Desert State Park, California's largest state park. This desert park located about two hours from the city is a wonderful day trip.
With 12 wilderness areas and numerous hiking trails, there are plenty of areas for families to explore. Our favorite time to visit is during Spring for an explosion of colors with the wildflowers in bloom and when the temperatures aren't in the triple digits yet.
12. Meet Camels. Families can pet, ride and take pictures with camels at the Oasis Camel Dairy Farm. There are also shows, shopping for camel products and camel milk tasting. They're not open everyday but have specific farm tour dates. Private tours are also available.
13. Stroll the San Diego Botanical Garden. This beautiful and tranquil garden has four miles of trails and America's largest bamboo collection. My kids love the Children's Garden here which is also the largest interactive children's garden on the West Coast. Don't miss the alphabet garden and the large tree house.
ACTIVE AND OUTDOOR ADVENTURES
14. Hit the Beaches. San Diego boasts over 70 miles of coastline from Imperial Beach to Oceanside. Pack some sand toys, sunscreen, a picnic basket and enjoy a day at the beach.
Don't forget to walk on some of the iconic boardwalks and piers like Ocean Beach and Oceanside which has the longest wooden pier on the West Coast. Some family-friendly beaches are La Jolla Shores, Coronado Beach, Sunset Beach and Carlsbad State Beach.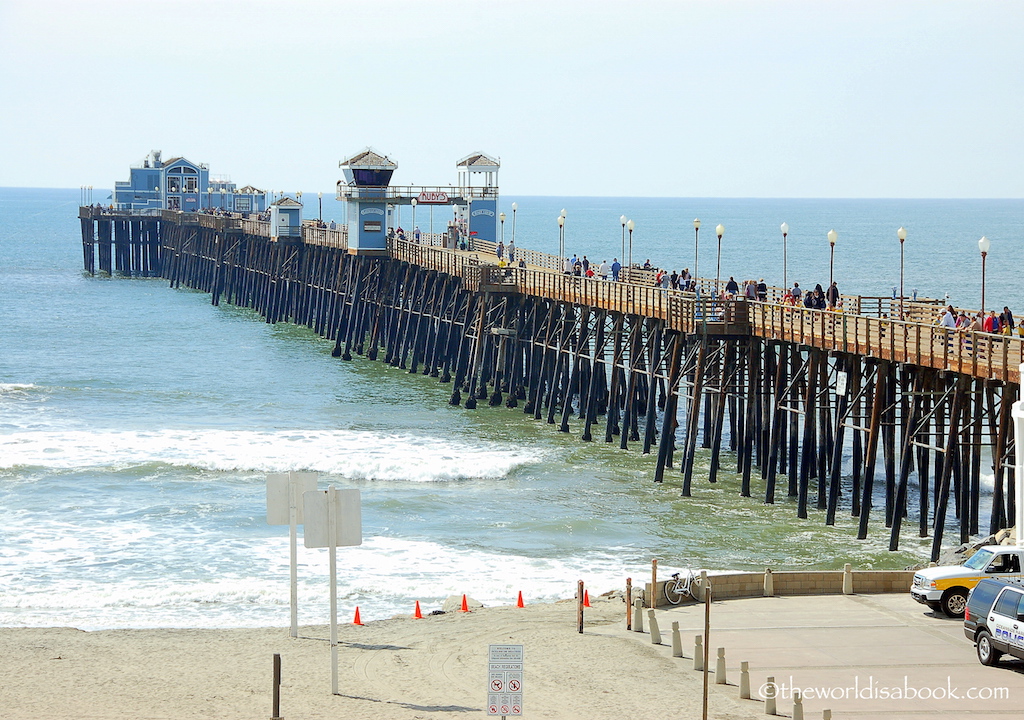 15. Go surfing. Southern California's surf culture is world-renowned and there are always surfers to watch along the coast. Kids will love getting surfing lessons from the pros at many of the beaches. There's even a surf museum in Oceanside for the surfer fanatics.
16. Try water sports. Whether you want to jet ski, kayak, boat, sail, wakeboard, kiteboard or stand-up paddle board, there's someplace in San Diego for them. Rentals and lessons are provided by many vendors around Carlsbad Lagoon and Mission Bay.
17. See Legos. Legoland California is paradise for Lego-loving families with over 60 rides, shows and attractions for kids of all ages. See famous attractions from America's seven areas, made of 20 million Lego bricks, at Miniland USA.
There's also a LEGO Star Wars Miniland. My kids' favorites here are the Driving School, The Dragon and Lost Kingdom Adventure. Don't miss Granny's apple fries, which are Granny Smith apples with cinnamon and sugar with a vanilla cream sauce dip. The SEA LIFE Aquarium is also worth visiting for a unique view into the marine world.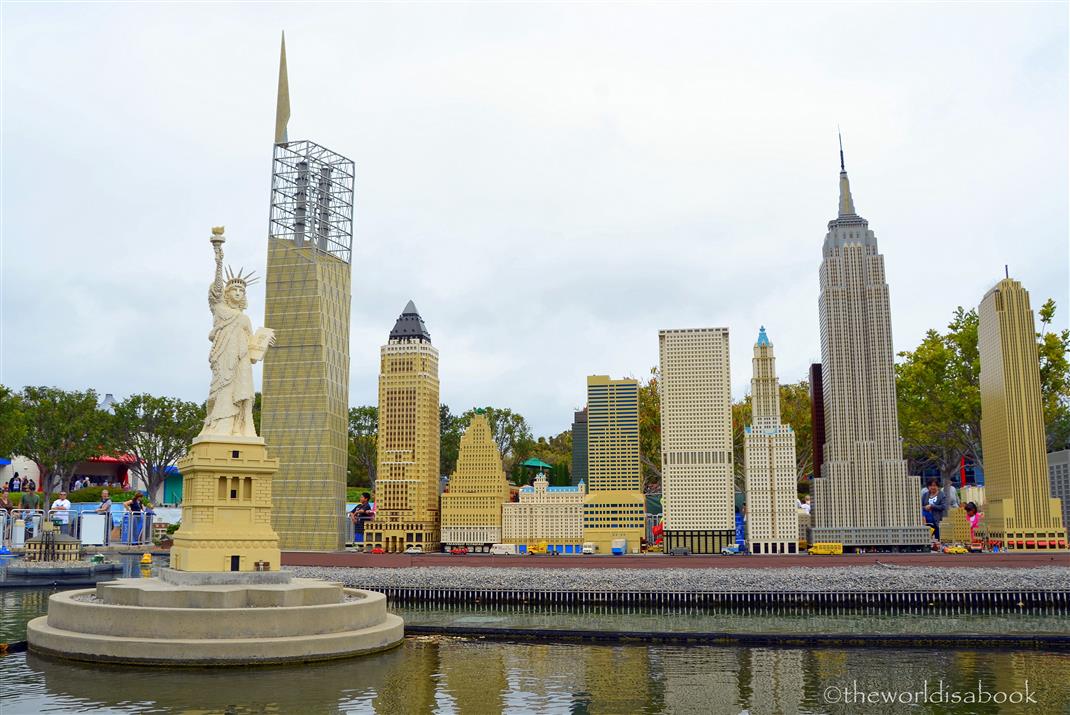 18. Race Karts. For a thrilling experience, families can ride and race go-karts safely in an indoor track.Check out K-1 Speed in Carlsbad or Miramar Speed Circuit.
19. Ride hot air balloons. The balloon rides offer panoramic and ocean views or along the vineyards of Temecula (an hour north of the city) for sunrise or sunset. You can see them floating along Interstate 5 in Del Mar most days.
20. Splish-splash at the Water Parks. Spend some time sliding down the water slides or floating on lazy rivers at Sea World's Aquatica, The Wave Waterpark or the Legoland Water Parks. Unfortunately, these parks aren't open all year despite our nice weather. Their operating season varies. Cabana rentals are available at the parks. Family and season passes are also available.
21. Ride at Belmont Park. This old-fashioned beachfront amusement park offers thrilling rides including the Giant Dipper Roller Coaster that's been operating since 1925. Bumper cars, carousels and a tame race car Speedway are also available for those not into wild rides.
Attractions are pay as you ride but unlimited one day ride passes are also sold. Don't miss having a refreshing Dole Whip under the Sky Ropes Adventure. For a unique take on surfing and artificial wave machines, try riding the FlowRider and Flow Barrel at the nearby WaveHouse Beach Cub.
22. Cruise the Bay. See the city from a different perspective by going on a cruise around San Diego Bay. It's a relaxing way to spend an afternoon and see some of the sights. We recommend doing the two-hour trip for a better value.
The cruise highlights include seeing adorable seals, sea lions and crossing under the Coronado Bridge. My kids love seeing the variety of military ships docked along the Navy shipyard. Seal tours on amphibious vehicles, that go on land and water, are also fun alternatives.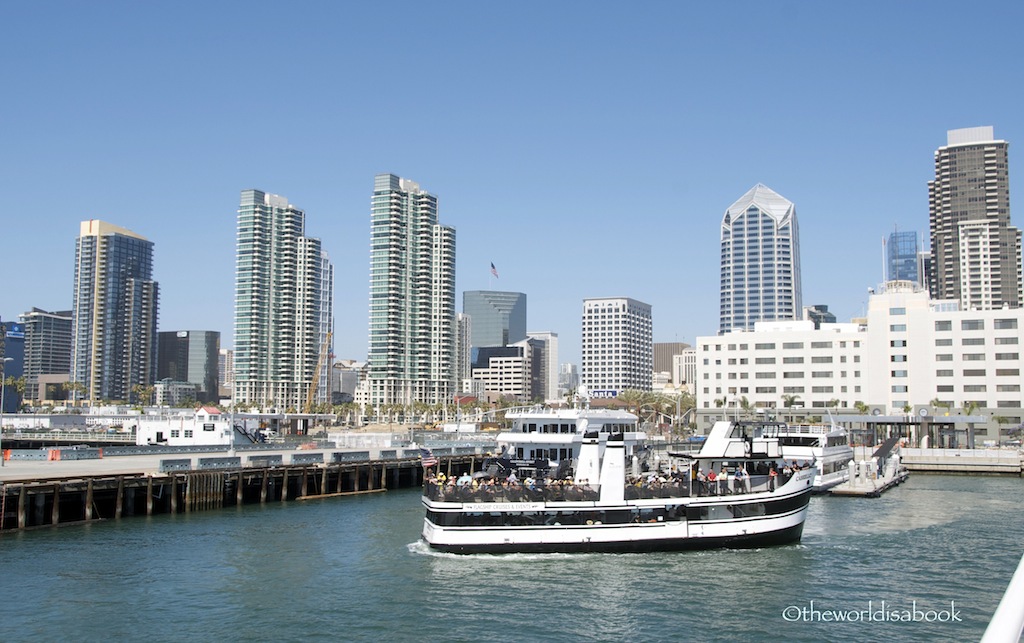 23. Go soaring. Torrey Pines Gliderport offers everyone the chance to go tandem paragliding or hang gliding from along La Jolla's cliffs. There are no age restrictions.
If you're not the thrill seeking type, it's free to watch the daredevils soar and it's quite a sight. It's a wonderful fun stop along the coast for the whole family. There's a cafe onsite to watch all the action. The views are lovely and there are pathways to the beach below.
24. Splash Around. The recently opened Waterfront Park in downtown San Diego has been a wonderful place to hang out for families. It has an interactive fountain, children's play area, themed gardens and picnic areas.
HISTORICAL/CULTURAL/EDUCATIONAL
25. Explore Balboa Park. This "jewel of San Diego" is also the country's largest urban cultural park. It's filled with gardens, pavilions, theaters and 15 museums housed in Spanish colonial architecture buildings.
Don't miss the nearby Spanish Art Village with over 200 artists in 37 working studios. Some family favorites are the Museum of Man, the Botanical Building, Fleet Science Center and the Natural History. Check each museum for many interactive children's activities. Look into the different types of Explorer Pass.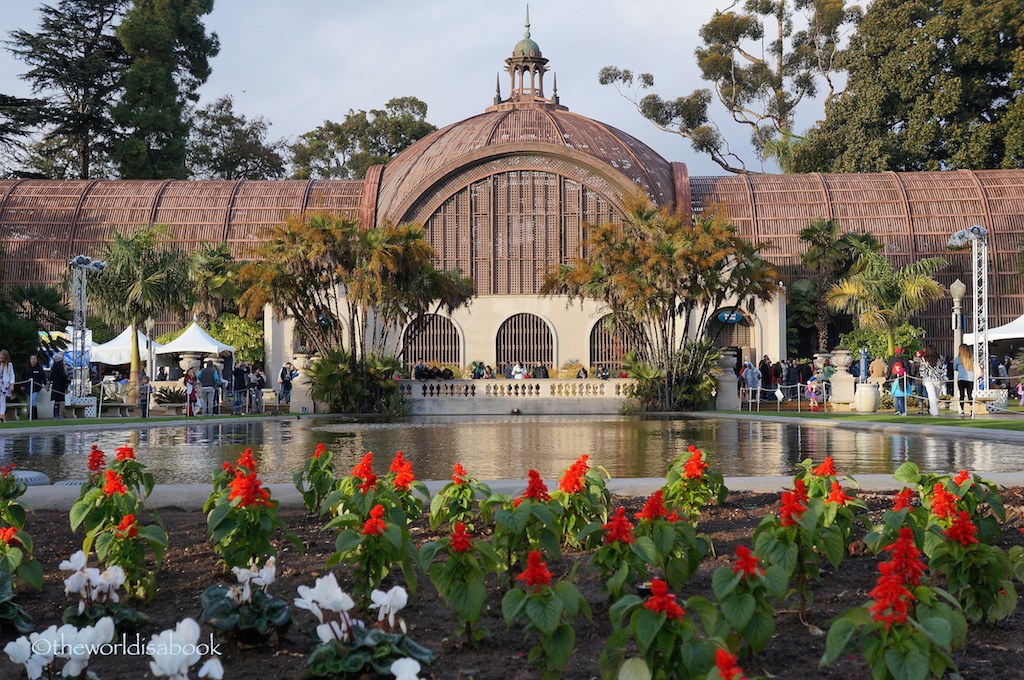 26. Get Nautical. Public tours are available aboard a collection of historic ships and vessels at The Maritime Museum of San Diego daily including the Star Of India which is the world's oldest active ship.
Several maritime history exhibits are available plus touring a steam ferry, steam yacht and Families can also go on various tours and cruises on historic military vessels or a three-hour history cruise on The Californian known as the state's official Tall Ship.
Kids will learn what it's like to sail this ship and have opportunities to help the crew while learning about some interesting maritime history and life aboard the ship during the gold rush era.
27. Visit Old Town San Diego. This state historic park is considered California's "birthplace" since it was the first permanent Spanish settlement site. History comes alive here through original and reconstructed buildings and sites including 5 original adobe homes.
There are a variety of restaurants, museums and unique shops to keep everyone busy. My kids never miss going into the candy store for freshly made taffy. There's a park in the middle for kids to enjoy including some cannons for climbing.
Go inside for a ghost tour at the Whaley House which is considered by many as America's most haunted house. Don't miss the adjacent Heritage Park Victorian Village with seven beautifully restored Victorian homes.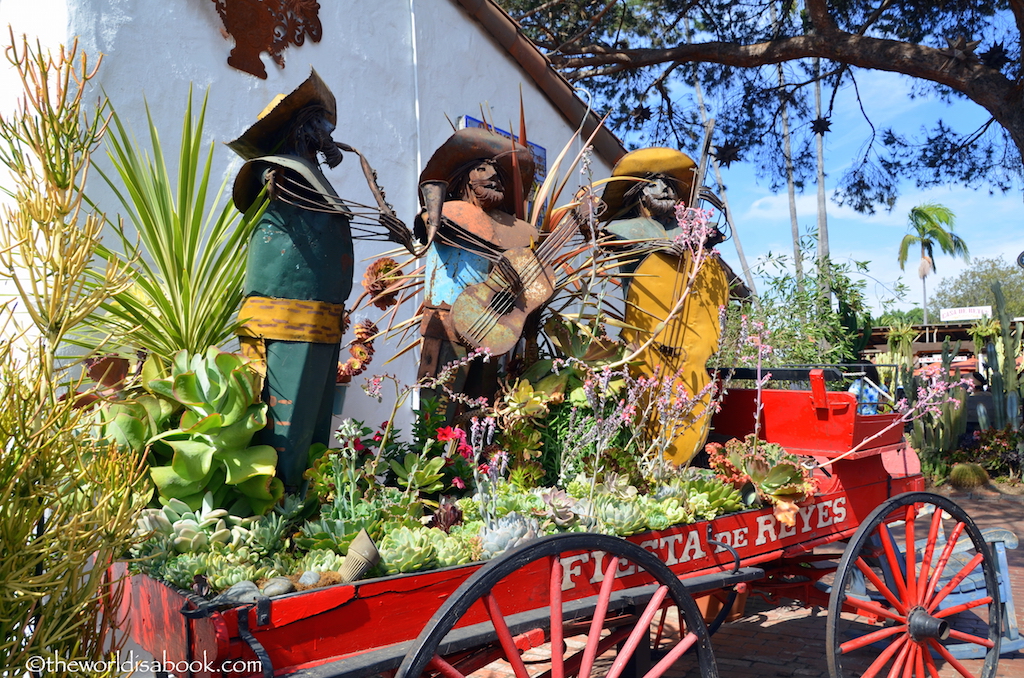 28. Explore The New Children's Museum. This arts-based museum is great for families to work on projects together or for kids to find their inner Picassos in Art Studio spaces. Teaching Artists guide the children in using different mediums.
There are many free play areas and hands-on activities for kids to finger paint, blow bubbles, pet live chickens, make music and model clays plus a jumpy house sure to be a hit. This is ideal for kids under 6 years old.
29. Stroll Seaport Village. This quarter-mile boardwalk is filled with some unique shops and restaurants. It's a wonderful walk with stunning waterfront views along the San Diego Bay.
Check their Entertainment ine-up because there's always something happening here. Kids will love the carousel. There's a park next door perfect for flying kites.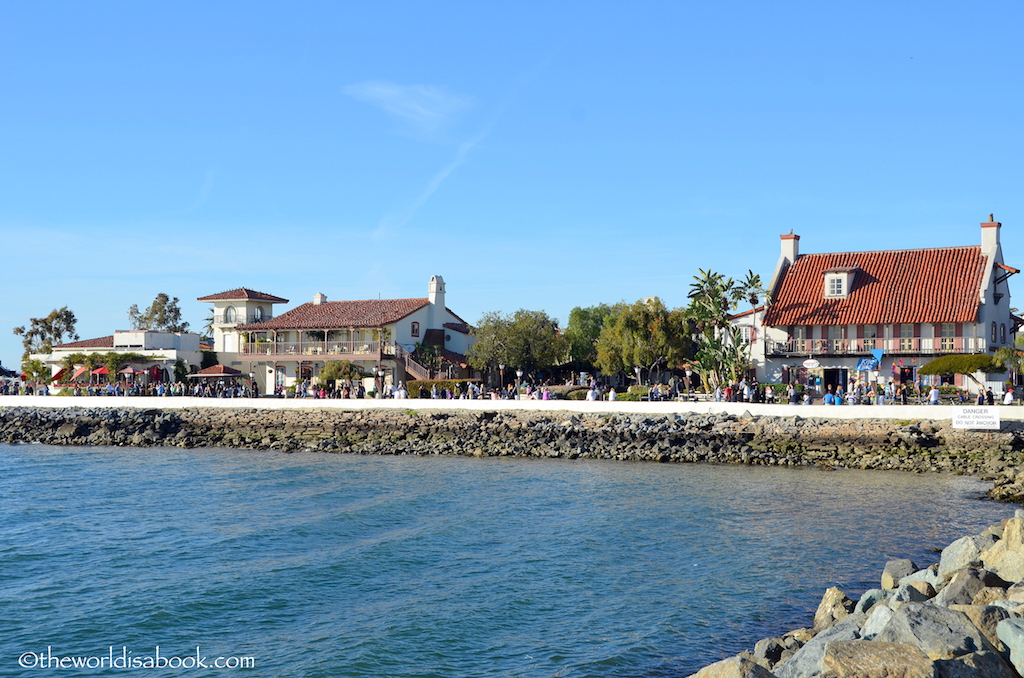 30. Stargaze at Palomar Observatory. A scenic drive to Palomar Mountain leads to an interesting and unique observatory and museum the whole family can enjoy. This houses several active research telescopes including the famous 200 inch (5.1 m) Hale Telescope.
There are guided tours to learn about the Observatory's history and discoveries and the world of astronomy. Films, interactive exhibits and educational displays are also available. The views from up here are beautiful with picnic areas.
31. Ride a Gondola. Get a taste of riding the Venetian gondolas through Coronado Cays' canals. These 50-minute cruises on a relaxing ride aboard a private gondola can whisk couples and families to an Italian dream right here in San Diego. Each gondola holds up to six people.
The Gondola Company provides blankets, glassware and ice buckets and guests can bring their own beverages. Reservations are required and children under three years old ride free. Gondoliers may or may not sing during the cruise. My kids loved our gondola ride in Venice and we are looking forward to doing this cruise soon.
32. Visit the USS Midway Museum. This once "floating city at sea" was the 20th century's longest serving US Navy aircraft carrier. It has 60 exhibits and 25 restored aircraft to help educate visitors on aviation and military history.
Get the free, self-guided, audio tour guide that shows how the sailors lived and how this ship functioned. We love climbing aboard some planes here. My kids enjoyed participating in the Junior Pilot Program and completing educational activities to earn their Junior Pilot's Wings.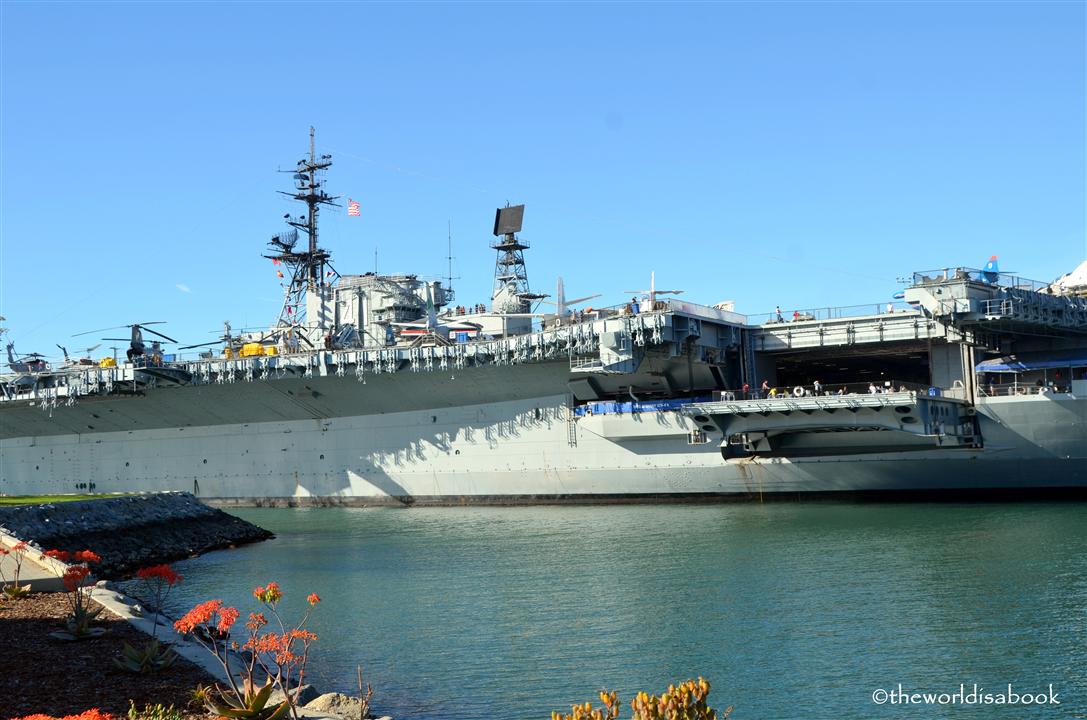 33. Tour the Chula Vista Olympic Training Center. This 155-acre sports complex has various training facilities, including archery, cycling, field hockey and rowing, to support future American Olympic and Paralympic athletes. Visitors can do daily self-guided tours of the facilities. One-hour guided tours are available every Saturday at 11 AM on a walk-in basis up to 50 people. It's an inspiring and heartwarming place.
34. Explore Little Italy. This scenic neighborhood has some of the best places to have some pizza, pasta and gelato with the kids. They have many festivals throughout the year and a weekly farmer's market. If you have budding chefs or foodies, various food tours and cooking classes are available.
35. Visit California Missions. There are 21 missions in California which were mainly used by the Spaniards to convert the Native Americans to Christianity. They're currently used as parishes and museums featuring artifacts and wonderful exhibits showing how the missionaries and Indians lived.
There are two in San Diego worth visiting. Mission San Diego de Alcala was the first one established. Mission San Luis Rey de Francia was considered "King of the Missions" because it was the most successful and biggest. It has great architecture, the old laundry area and California's oldest pepper tree.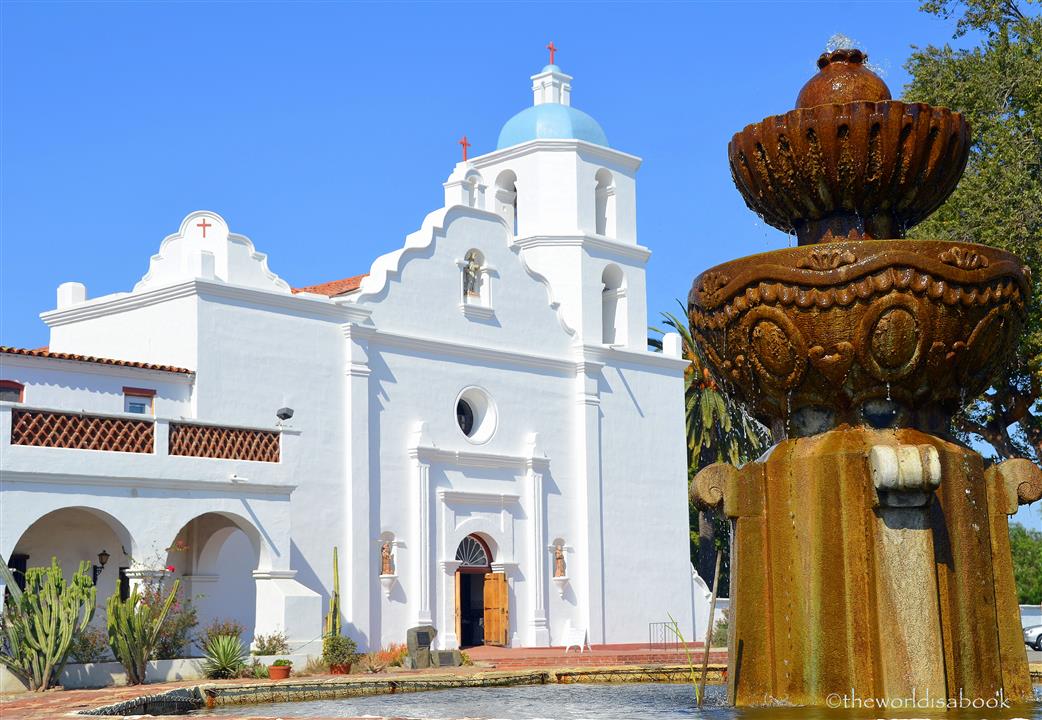 36. Flying Leatherneck Museum. This unique museum is dedicated to the Marine Corps aviators and has free admission. It's a great place for kids interested in aviation with rotating exhibits of it over 48 aircraft in its collection. Closed on Mondays.
37. Take a Trolley tour. One of the best ways to see San Diego's attractions is through a narrated tour with one of the green and orange trolleys. There are 11 stops around the city to hop on or hop off for some self-exploration along over 100 points of interest. There is also a 24-mile, beach shuttle trolley to explore the area's beach hotspots.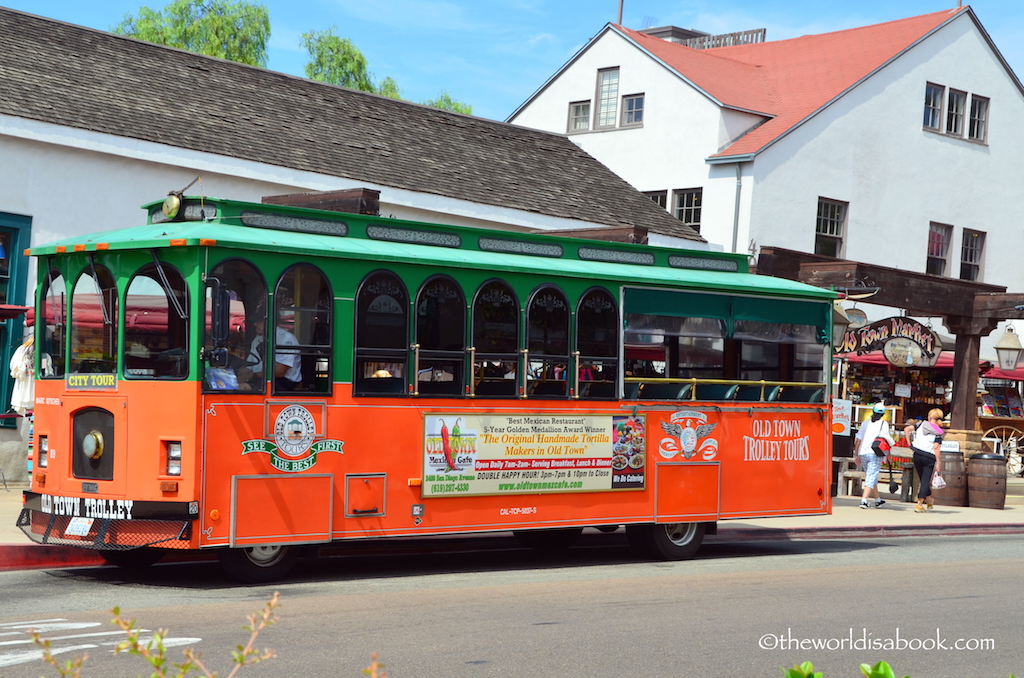 SEASONAL ACTIVITIES
The weather is mostly nice and sunny throughout the year but some events only happen at certain times.
SUMMER
38. Go to the fair. The San Diego County Fair around June brings the whole region together for games, rides, entertainments and plenty of fried food options. There's a different theme every year but fried Oreos and fried Kool-Aid are usually there for the kids.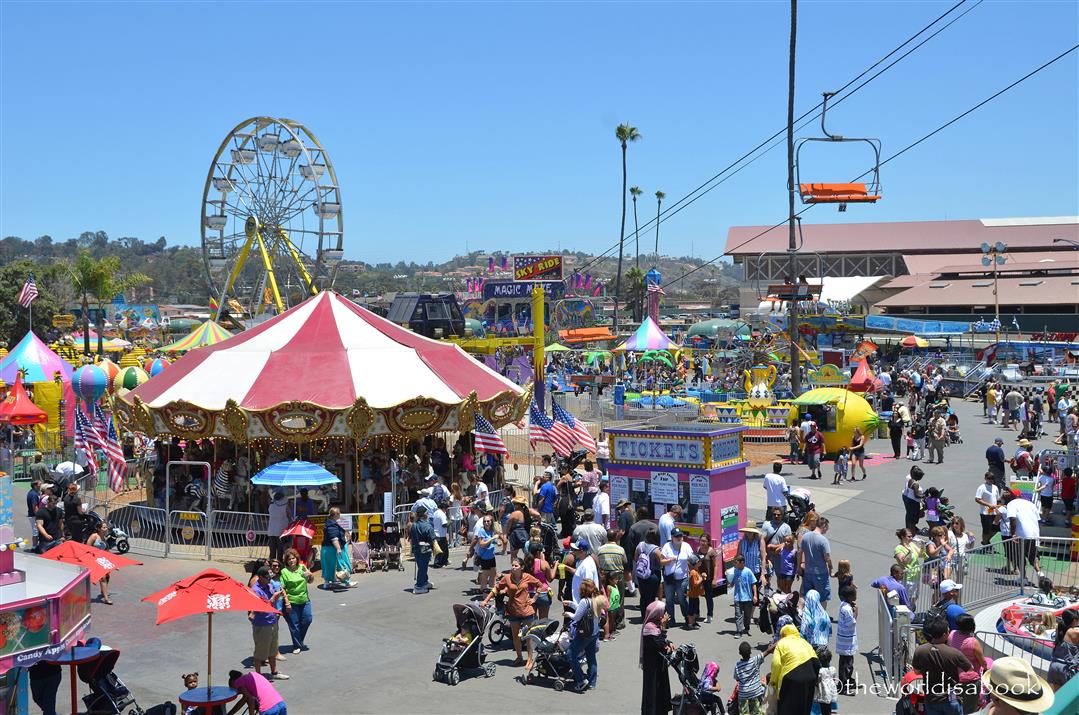 39. Attend Comic-Con. Thousands come during July for the world of comic books and pop culture convention. Many events, panels, seminars are held including collectible sales and autograph sessions with celebrities.
It's very interesting to walk around downtown during the event with various entertainment options and prime time to see people dressed up in costumes. Tickets sell out extremely fast so plan accordingly.
40. See Sandcastles. Imperial Beach hosts the Sun and Sea Festival featuring amazing sandcastle creations, children activities, entertainment and food fair in July. Kids in teams get the chance to build sand sculptures too.
41. Go to the Festival of Sail. This is the west coast's largest Tall Ship festival where historic ships from around the world parade into San Diego Bay. This event during Labor Day weekend includes entertainment, kids activities, a street festival, sand sculpting contests and a 3D Art Exposition.
FALL
42. Visit Bates Nut Farm. One of the best places to visit during Fall is this historic and sprawling farm in October.  The Pumpkin Patch is the largest, oldest and most popular in all of San Diego County. It's one of the best places to get your pumpkins.
There are tractor hayrides, straw maze, and pony rides. Kids can also feed the animals at the Farm Zoo that include emus, llamas and mini-donkeys among others. My kids used to have field trips here during Fall. Though, the farm is open year round and hosts several events and has a great store.
43. Go apple picking. Julian is a charming alpine town that is worth a day trip especially during the Fall. The orchards welcome visitors for some apple picking.
It's also a historic gold rush town with quaint shops and horse drawn carriages for the family. Guided tours of mines and gold panning are popular activities. Don't forget to sample its famous apple pies.You can smell its enticing aroma walking around town.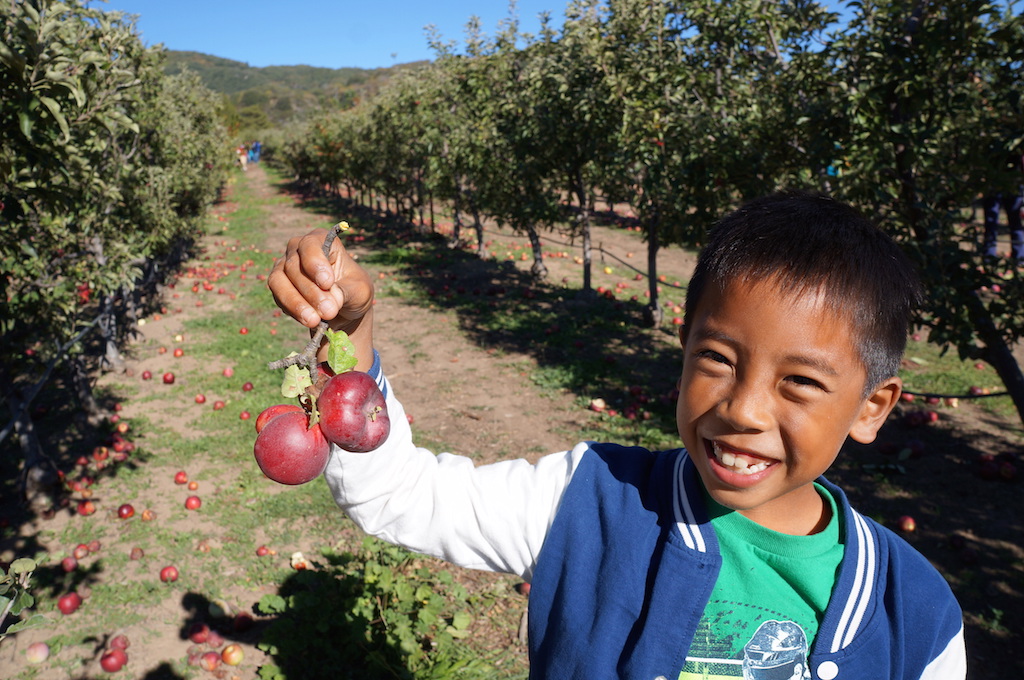 44. See the Miramar Air Show. This annual event in October is the country's largest air show. There are aircraft displays and entertainment. Thrilling aerial performers and demonstrations including the amazing Blue Angels are the highlights here. Admission, parking and seating on open paved areas are FREE but preferred seating areas are paid.
WINTER
45. Ice skate at the beach. Hotel del Coronado puts an ice skating rink on their lawn right by the beach in December. It's quite a sight and an experience and makes for a fun few hours during the holidays.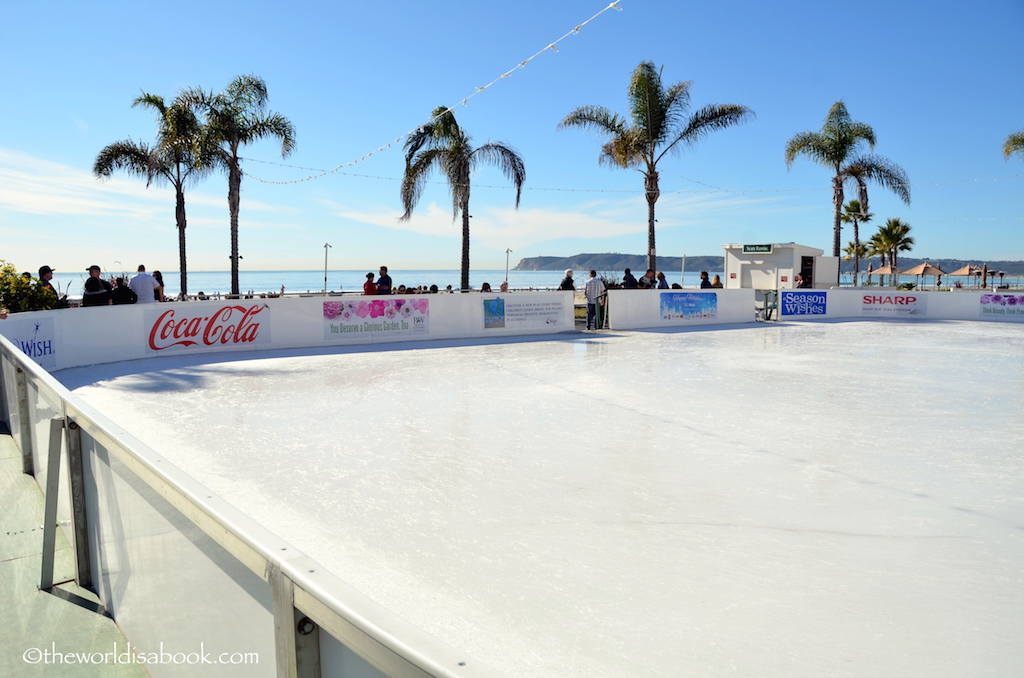 46. Play with snow. Our winters are very mild but yes, we do get snow sometimes in the mountain area an hour from San Diego at areas like Julian and Mt. Laguna. If you're here around that time, one can have winter wonderland in the morning and go to the beach in the afternoon – not a bad way to spend winter.
47. Attend December Nights. This annual celebration in Balboa Park kicks off the holiday season during the first weekend of December. It's San Diego's largest free community festival and our version of a Christmas market.
We mainly go to eat diverse food from around the world at the International Christmas Festival at the House of Pacific Relations Cottages. The cottages welcome visitors with food, spirits and entertainment from their home countries. Admissions to varied museums are free at designated times.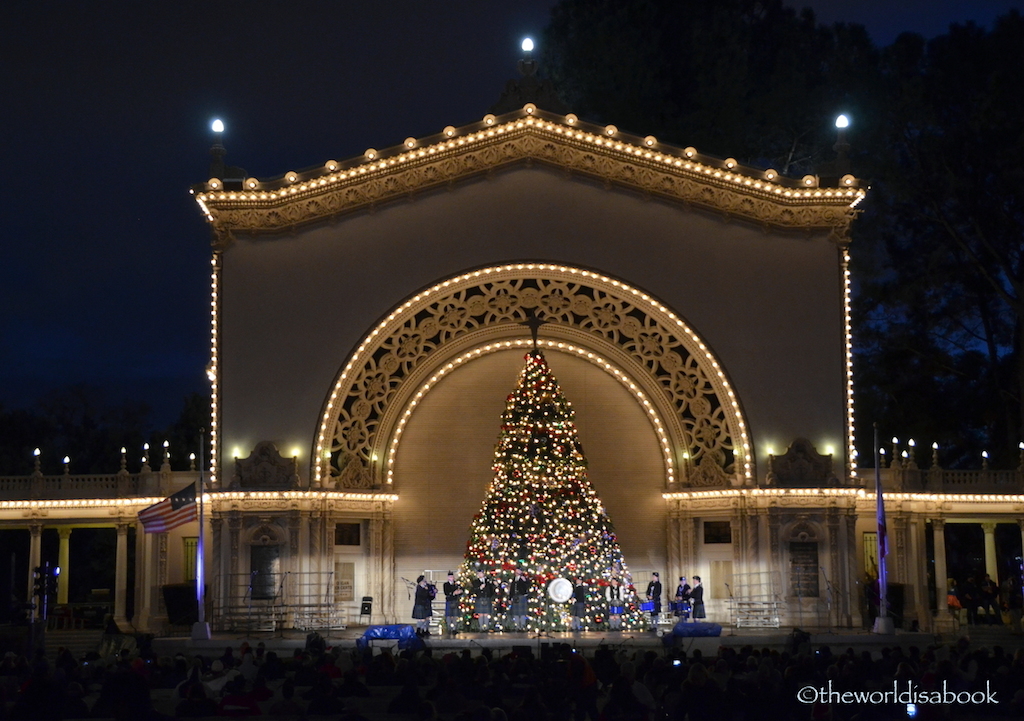 SPRING
48. Pick Strawberries. The Carlsbad Strawberry Company, is perfect for families to pick strawberries during the Spring. We also love Kenny's Strawberry Farm for their hydroponic growing. It's a great way to show kids how fruits are grown and reap the rewards of their labor.
49. Watch Baseball. Petco Park is a beautiful stadium to catch the San Diego Padres, with great views. Guided, behind-the-scenes tours are available year round.
The 2.7 acre Park in the Park is ideal for families to hang out when watching the game and a great bargain. Kids love The Beach sand area for playing. The season is from March until October.
50. See the Flower Fields. The Carlsbad hillside, with an ocean view, erupts in color with ranunculus flowers from March to May. It's quite a sight to see and really brings Spring to life. There are also other gardens, tractor rides through the fields and a children's area with whimsical houses and many activities.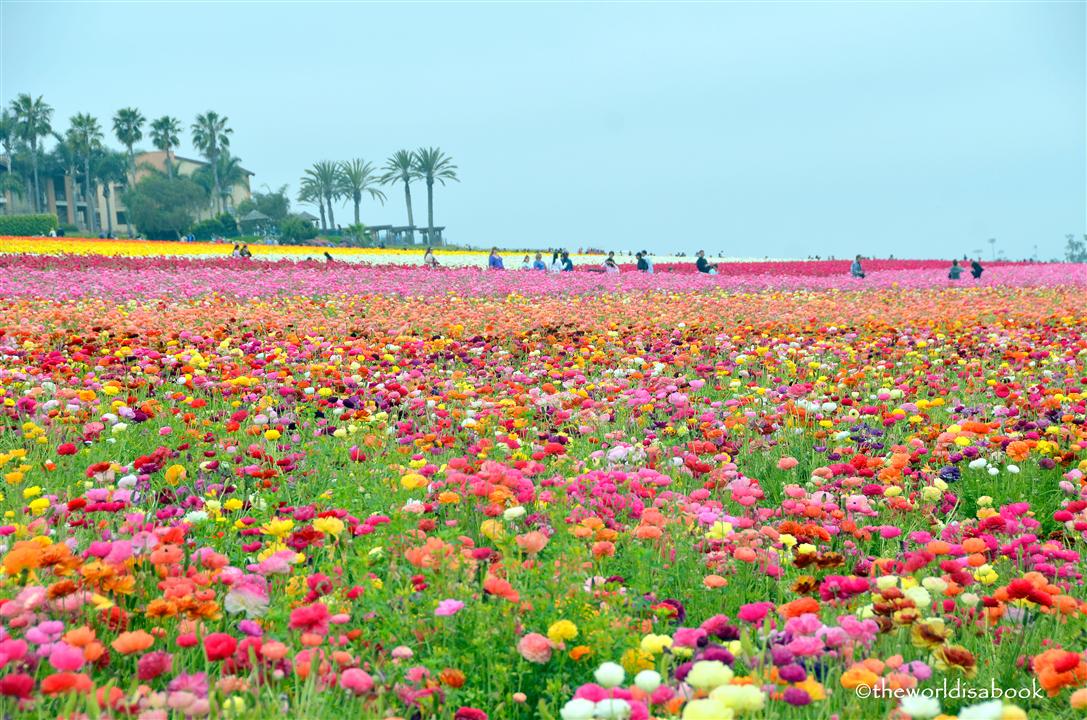 Tips to save money when visiting San Diego
If you have memberships at your museum, zoo or botanical garden, check to see if you are able to use the reciprocal benefits with some of the local attractions.
Look for discounts on activities and attractions by using AAA memberships or sites like Amazon Local,

Groupon

and Living Social.

The Entertainment Book

is also a great resource for discounts and worth the price if you're spending quite some time here.
*What are your favorite things to do in San Diego with kids?
Lodging (Where to Stay in San Diego)
For the Bucket List:
Legoland California Hotel – This is perfect for Lego lovers and those staying in Legoland. There is plenty of space for families with bunk beds. We also love their various four themed rooms. They offer free buffet breakfast and nightly kids entertainment.
Hotel del Coronado – This iconic and beachfront San Diego hotel is worth the splurge. The grounds are beautiful and they offer first class amenities. There are many reasons why this has been a favorite among former presidents and movie stars.
North San Diego 
Springhill Suites, Oceanside – We recommend this hotel for family and friends visiting us. It's an all-suite hotel offering plenty of room for guests. It is a block from the beach and pier and near all the great places to eat in Oceanside. Guests can also enjoy free hot breakfast and can relax in the rooftop pool.
West Inn & Suites, Carlsbad – We always love walking into this boutique hotel. It's understated elegance and has a signature fragrance. It's close to the beaches and Legoland. Kids stay free in spacious rooms and will love daily cookie hour. The hotel offers fantastic amenities.
Downtown Area 
Embassy Suites San Diego Bay – This hotel has a great location downtown and steps from Seaport Village and the Embarcadero. Families can spread out in any of the two-room suites. They have a great cooked-to-order, buffet breakfast and an evening reception.
Hilton San Diego Bayfront – The views from this 30-story hotel overlooking the bay and the skyline are beautiful. It's a convenient location to all the downtown festivities and the convention center.The rooms are spacious and they offer great amenities.
Manchester Grand Hyatt

– This waterfront hotel is huge and has a convenient location by the boardwalk and adjacent to Seaport Village and the convention center. There are over 1,600 rooms and suites. Amenities include the pool and sun deck with whirlpools and fire pits.
Omni San Diego Hotel – This 500+ room hotel is perfect for a game at PETCO park or to explore downtown. We've stayed here and overlooked the ballpark which was quite special.
Save up to 50% on San Diego hotels on

Booking.com

See the best prices from the major travel sites on HotelsCombined.
Find the best San Diego hotels and read reviews on TripAdvisor.
Packages
Save up to 50% on your next Southern California vacation package with Get Away Today. 

You can also u

se

promo code: *WorldBook* to get an extra $10 off any 2-night or longer Southern California package (hotel and 2 ticket minimum)
Attractions
Save Money on San Diego and Southern California's top attractions by using CityPASS. 
Flights/Vacation Packages
Compare airlines, dates and prices all in one place with Skyscanner
Pin it for later!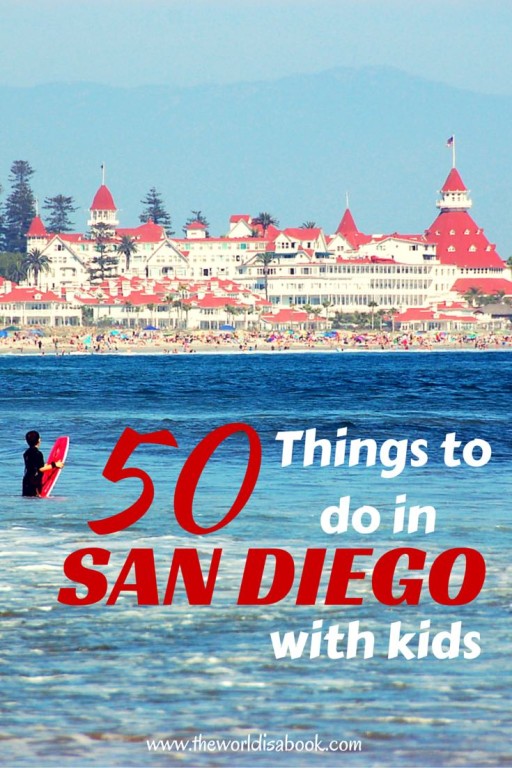 *There are affiliate links in this post to help support this website.