10 Things Not to Miss at Legoland California Resort
A world of thousands of LEGO Bricks sounds intriguing enough but Legoland California Resort also offers many unique moments and attractions for the entire family. In addition to the amusement park, it also includes the hotel, waterpark and aquarium. We live about 15 minutes away and have really enjoyed seeing its transformation over the years. My kids never tire of going here. There are over 60 rides, shows and attractions and it's hard to cover them in a day. This is our mini-guide on what not to miss while visiting the resort.

1 . Stroll through Miniland USA
If you go to Legoland and can only see one thing, this is it! Miniland USA is my absolute favorite area of the park. It's a reproduction and collection of seven American cities made with 20 million LEGO bricks in 1:20 scale. Some cities included are New York, Las Vegas, Washington, DC and San Francisco. Some even have animated and interactive parts. It's always fun to see the details they have included in each of the area. One can walk around or relax in some seating areas.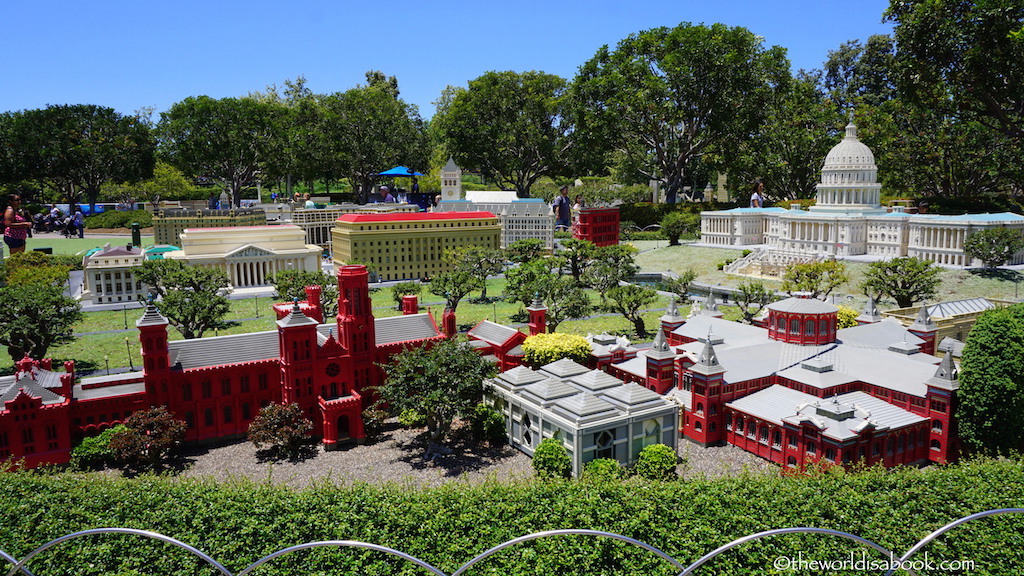 For any Star Wars fans, the mini land dedicated to this popular and iconic franchise should not be missed. They replicated seven scenes from the movies using 1.5 million LEGO bricks in 1:20 scale. Kids always enjoy posing next to the life-size models of Darth Vader, Chewbacca and R2-D2.
2. Make a Splash at Legoland Water Park
This is my kids' favorite part of the resort. They could probably stay here all day. There are actually two parks – the original water park and the newly added Lego CHIMA area. The parks are filled with interactive water play areas, wade pools, sandy beaches and slides for various ages. The Lion Temple Wave Pool and the Build-A-Raft River where they customize their raft with LEGOs as they float on the lazy river are their personal favorites. Bring plenty of sunscreen and this is guaranteed to be a fun time for the whole family.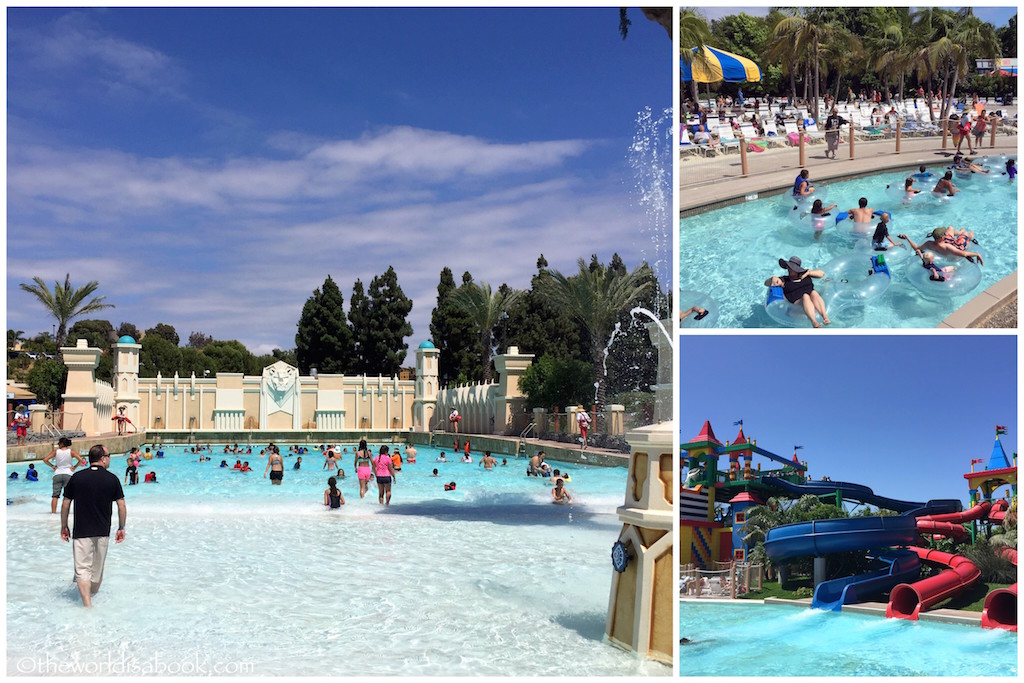 3. Visit Sea Life Aquarium
This isn't very big but offers over 5,000 marine creatures that range from jellyfish to sharks and stingrays. My kids always enjoy doing the quiz trail to make the visit a little bit more fun but educational too. We always love walking through the 35-foot tunnel with the animals swimming around us. The interactive rock pool is always a big hit for the kids to interact with and touch some of the sea creatures. Get a schedule of the varied Animal Encounter shows and feedings throughout the day. It's a fun way to learn about the various creatures here.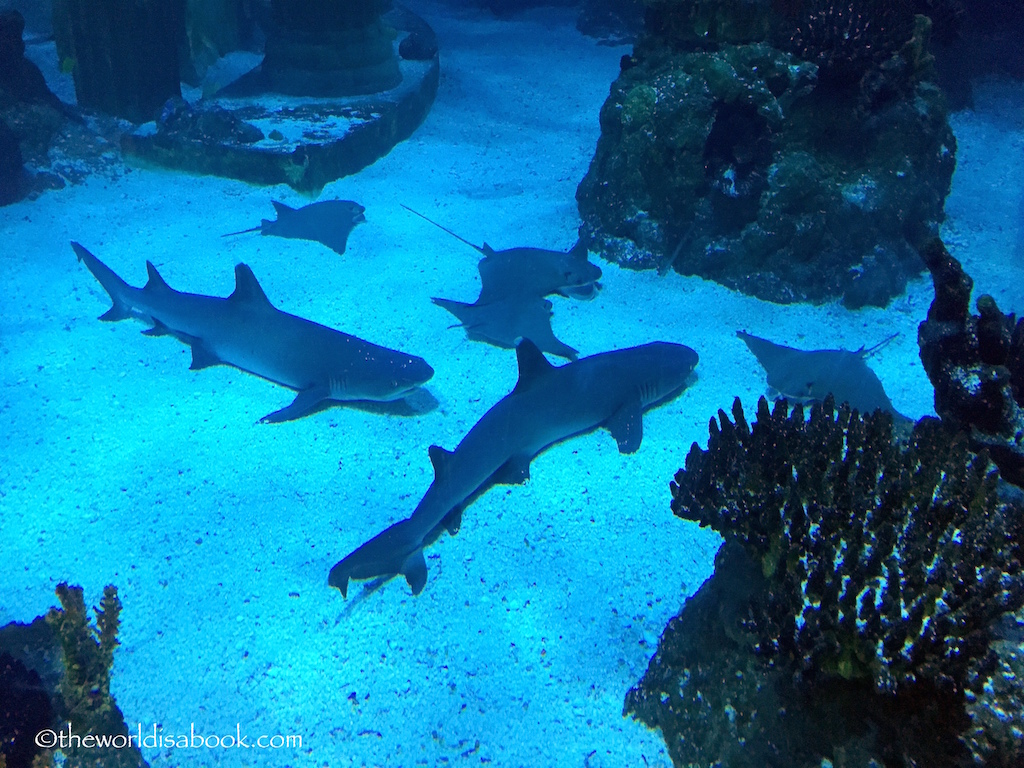 4. Eat Granny's Apple Fries
One can't leave the resort without trying some of these delicious treats. They're fried Granny Smith apple slices lightly dusted with sugar and cinnamon and topped with vanilla whip cream. They are addicting! This is the only time we eat the tart Granny Smith apples. The kiosk is located near the Hideaways (the large play structure on Castle Hill).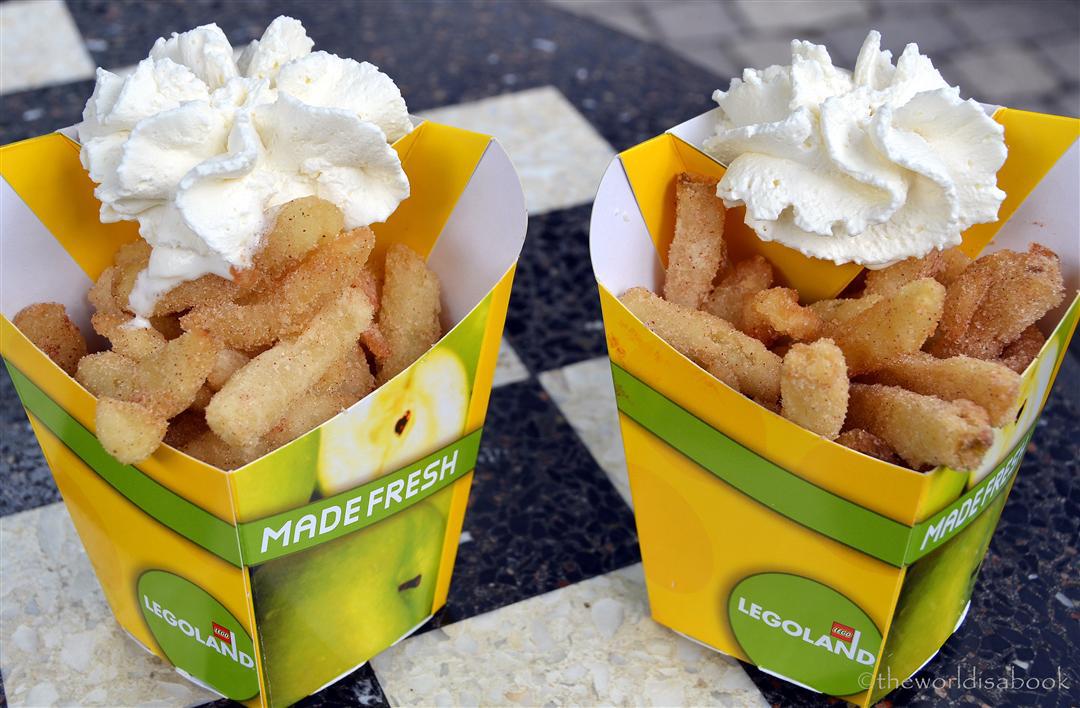 5. Go to Driving School
Where else can kids get their own driver's license? My kids never miss going for a drive here every time we visit. They each get their own electric car while learning basic lessons in driving. Kids ages 6-13 have their own big area for driving while kids ages 3-5 also take their turn in a neighboring area. The driving school is located in Fun Town.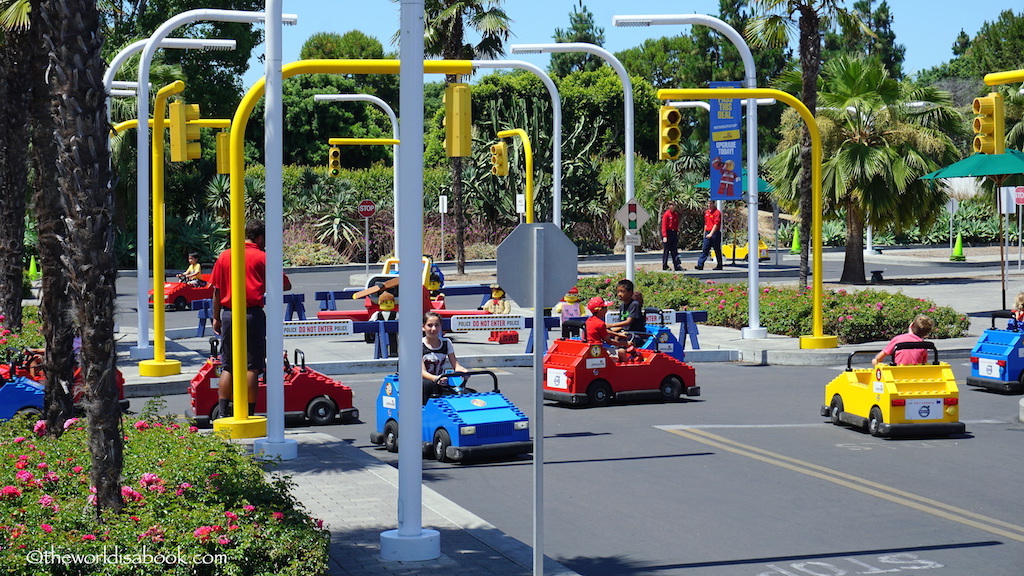 6. See how Legos Are Made
Take a tour through the Lego Factory in Fun Town. It gives a great insight into how the LEGO bricks are turned from plastic, molded and decorated into one of the world's most popular toys. It's a great behind the scenes tour and always fun to show kids how things are made .
7. Catch a Show
Sometimes, you just need to sit down and unwind after all the rides and walking around. Luckily, some of the park's shows are worth watching and attending. For all the little girls who adore the LEGO Friends from Heartlake City, the interactive musical will surely be a hit at the newly opened Heartlake City area. Experience the Legends of Chima and Clutch Powers movies in 4-D which were quite entertaining. Buddy's Dance Party Weekend is always worth watching for a fun-packed show with The LEGO Friends. If you're visiting during the summer, fireworks light up the sky on July 4 and during the holidays from Dec 26 -31 with a huge display for New Year's Eve. See the Shows and Events page for schedules and any changes.
8. Go On Coast Cruise
This cruise around the many famous landmarks around the world always ignites my wanderlust. Sail past Mt Rushmore, Taj Mahal, Sydney Opera house and Eiffel tower entirely made of thousands of LEGO Bricks. It is amazing to think what they could create with Legos. This is also very relaxing ride and the lines move quickly here. It's one of the best ways to rest those tired feet.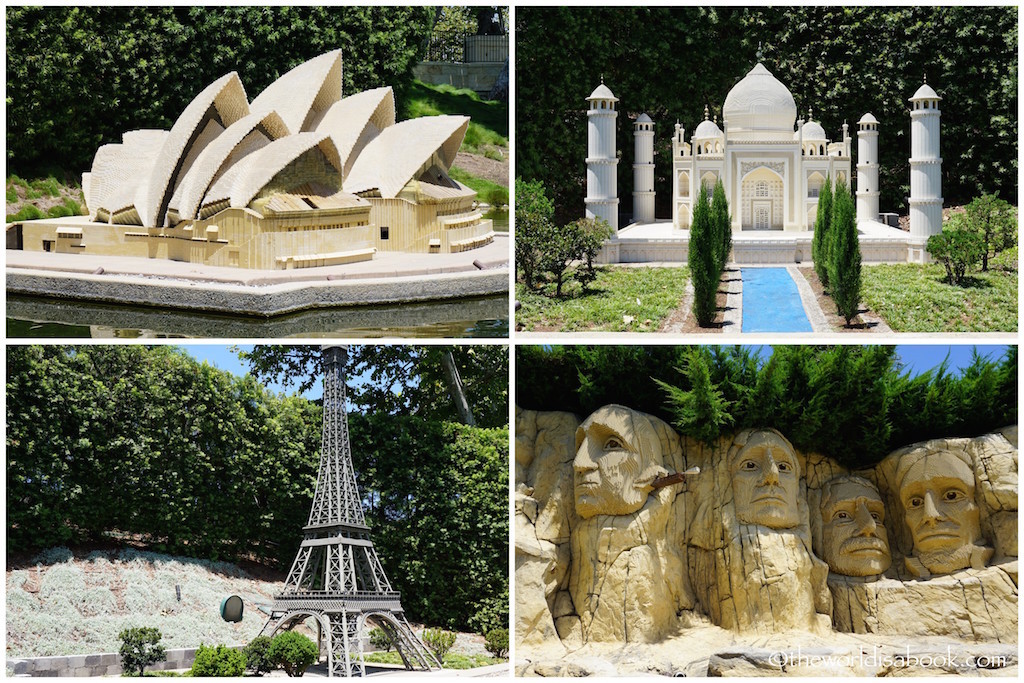 9. Get Creative at Imagination Zone
No place in the park ignites creativity more than the Imagination Zone . We've spent countless hours at the Build & Test room over the years while the kids played and built cars to race on the track. There's also a DUPLO playroom for the younger set to play with thousands of the larger DUPLO LEGO bricks.
LEGO Mindstorms offers robotic classes and tutorials throughout the day to learn all about these computerized robots for kids ages nine and up. Reserve your time slot as soon as you enter the park. Kids can also create their own version of heroes at The Lego Hero Factory. Look beyond the rides at the Imagination Zone and you'll find a great place for kids of all ages to visit and learn something new.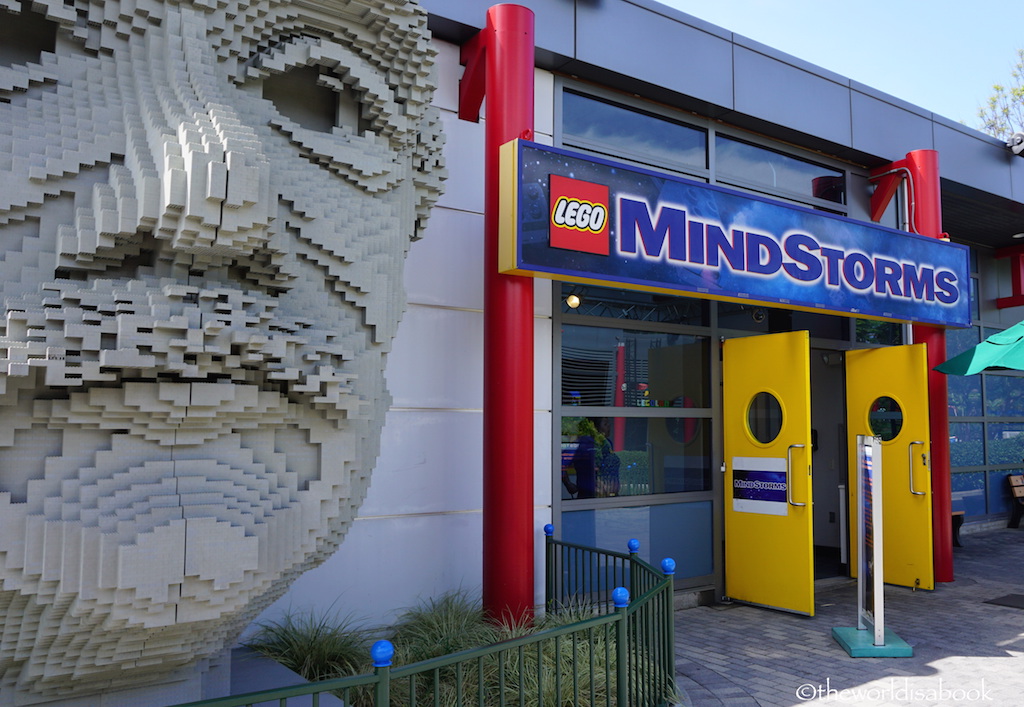 10. Go for a Thrill Ride
The park may not be known for its high thrilling rides but there are some to entertain the kids. I'm not a fan of roller coasters as I've gotten older. But, my kids highly recommend going on these rides if you want some adrenaline rush especially for the tweens and pre-teen age group. The Knight's Tournament allows guests to customize their ride experience and intensity level aboard a large robotic claw. Based on my husband's experience, Level 5 can cause whiplash for adults but major fun for the kids as you're turned every which way.
They also enjoy Coastersaurus for a ride among the huge LEGO dinoaurs and the Dragon coaster which winds through the Legoland castle. The park also has a variety of other rides that meet many kids' height requirements or adults' tolerance level.
Tips for Visiting Legoland California Resort 
Check the latest prices and various ticket options at the Legoland California page. Tickets to Sea Life Aquarium or the Water Parks are extra. Discounts can be found at Lego Magazine or also use your AAA card for discounts. Discounted tickets are also sold at Costco.
Come early especially if you're visiting during the summer and if you're visiting the Water Parks.
*What are your favorite attractions at Legoland California?
Where to Stay in North San Diego (near Legoland)
Legoland California Hotel – This is perfect for Lego lovers and those staying in Legoland. There is plenty of space for families with bunk beds. We also love their various four themed rooms. They offer free buffet breakfast and nightly kids entertainment.
West Inn & Suites, Carlsbad – We always love walking into this boutique hotel. It's understated elegance and has a signature fragrance. It's close to the beaches and Legoland. Kids stay free in spacious rooms and will love daily cookie hour. The hotel offers fantastic amenities.
Homewood Suites, Carlsbad – This all-suite hotel down the street from Legoland offers plenty of room for the whole family. There's complimentary hot full breakfast and complimentary evening dinner and drinks  on Monday through Thursday. The location is also within easy driving distance from stores and restaurants.
Sheraton Carlsbad Resort & Spa – This 250 room and suites has a private entrance to Legoland. They offer complimentary shuttle service within a five mile radius and a beach trolley during summer. The rooms are spacious and the pool area is great.
Springhill Suites, Oceanside – We recommend this hotel for family and friends visiting us. It's an all-suite hotel offering plenty of room for guests. It is a block from the beach and pier and near all the great places to eat in Oceanside. Guests can also enjoy free hot breakfast and can relax in the rooftop pool. It's also within a short driving distance from Legoland.
Save up to 50% on Value Deals in San Diego on Booking.com!
See the best prices from the major travel sites on HotelsCombined.
Find the best San Diego hotels and read reviews on TripAdvisor.
Packages
Save up to 50% on your next Southern California vacation package with Get Away Today. 

You can also u

se

promo code: *WorldBook* to get an extra $10 off any 2-night or longer Southern California package (hotel and 2 ticket minimum)
Attractions
Save Money on San Diego and Southern California's top attractions by using CityPASS. 
Flights/Vacation Packages
Compare airlines, dates and prices all in one place with Skyscanner
Disclosure: My family and I were provided One Day Hopper tickets to experience Legoland California Resort. All opinions and photos about our visit and experience through the years are our own.
PIN IT FOR LATER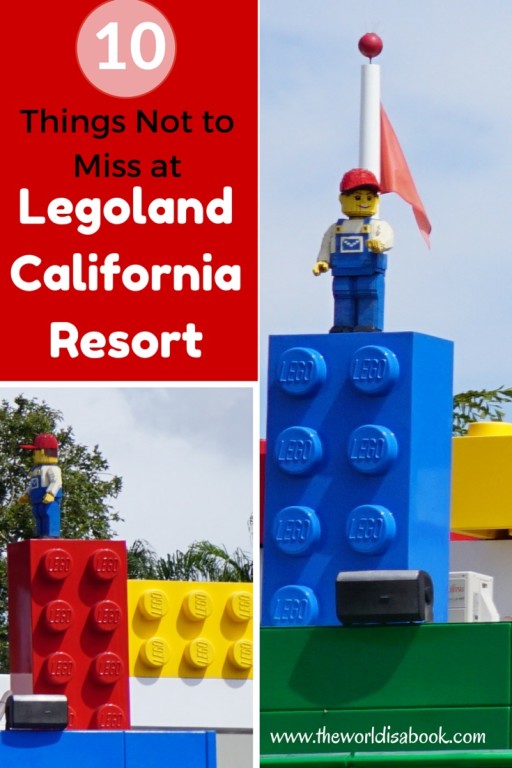 *There are affiliate links in this post to help support this website.