Adventures with Pink Jeep Tours Sedona
Sedona, Arizona is known as "Red Rock Country". What better way to see these giant red rocks up close than a 4×4 off road adventure? The Pink Jeep Tour Company is an ubiquitous presence in Sedona and we were excited to go on the Broken Arrow Tour during our visit a couple of weeks ago. But, Mother Nature had other plans for us. Our tour started with almost 100° F (37.7° C) sunny weather and ended with Arizona's version of a monsoon with heavy rain, thunder and lightning. Come along for the ride and see how we fared under the circumstances.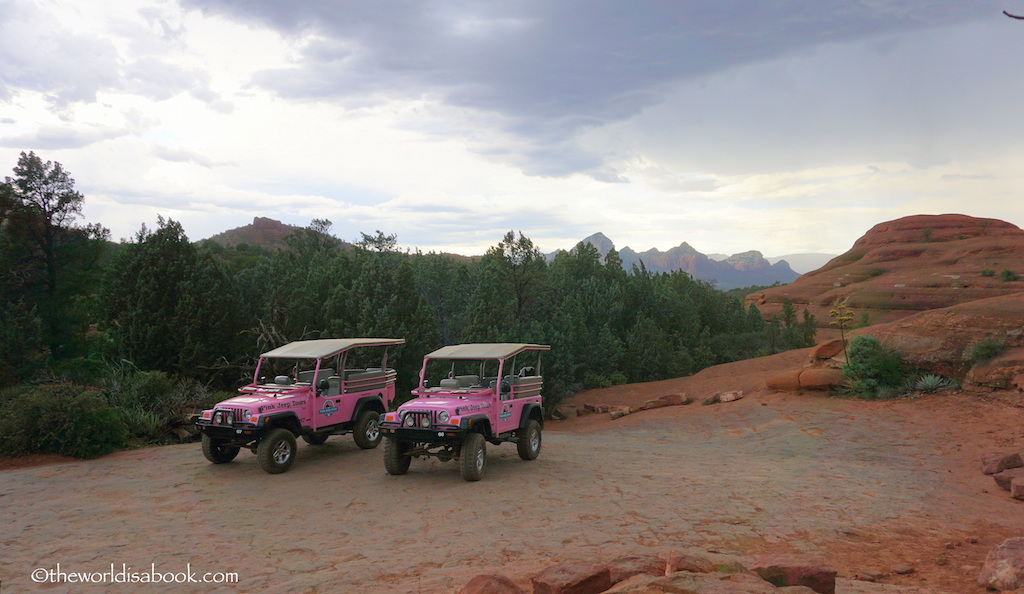 We chose the 5 PM time slot thinking our two-hour tour would end right around dinner time and it wouldn't be as hot. Our tour started in downtown Sedona at Pink Jeep's tour office. They have a prime location with beautful views in the back wating area. My daughter loved seeing all these parked pink jeeps.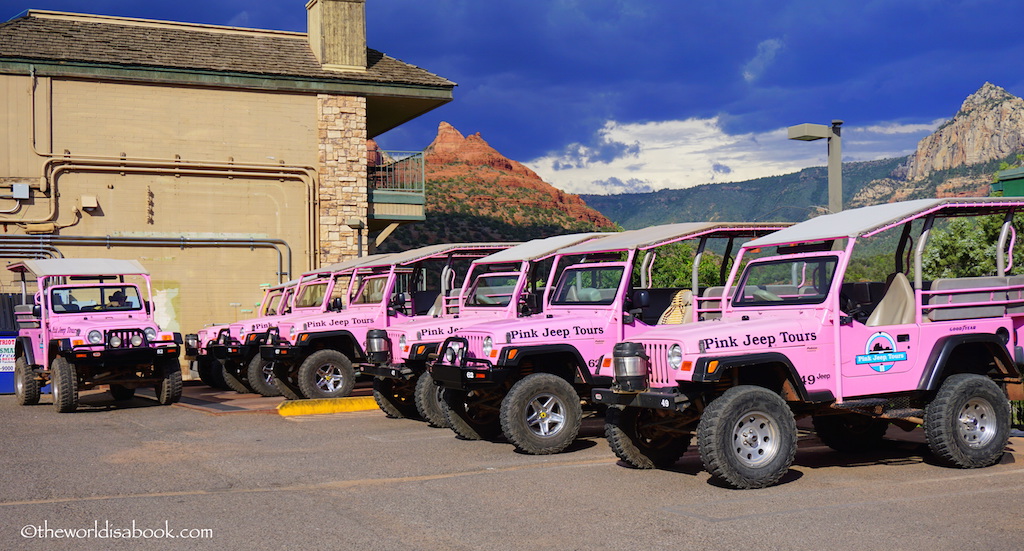 These were customized Jeep Wranglers with cushioned seats in the back that accommodated about eight people. The seat configurations gave a great vantage point of our scenic surroundings. It was a relief to have seatbelts and straps on top. Those hand straps were so helpful when we were off-roading. David, our guide, was entertaining and helped us learn more about Sedona's history and geology.
The city was named after Sedona Schnebly. Her husband, T.C. Schnebly, organized the first post office here and submitted Sedona as the community's name and was approved by the Postmaster. The Schneblys were one of the homesteading families here in the early 1900s.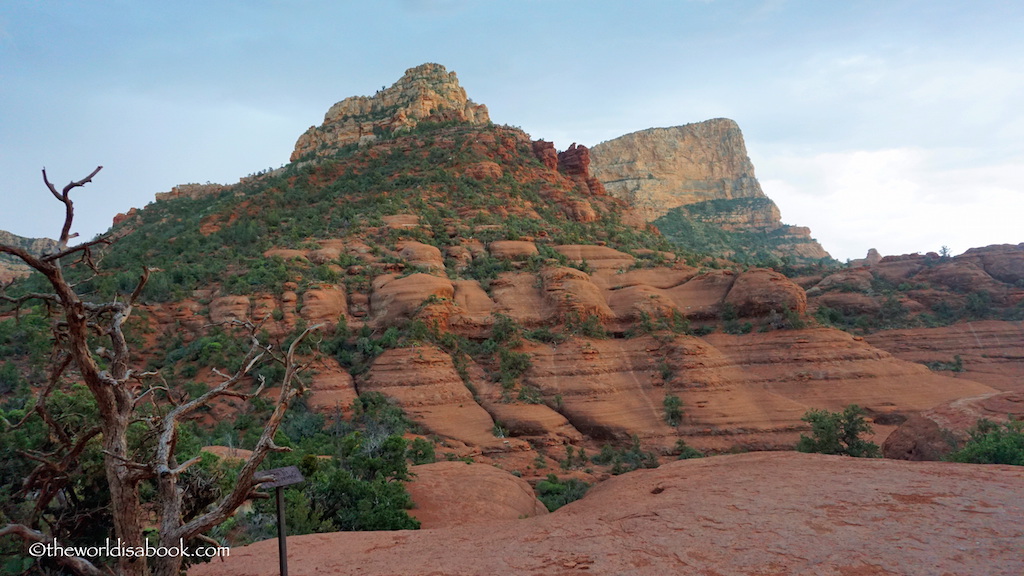 We passed through a residential area on our way to the Broken Arrow Trailhead. Sedona's stunning scenery has been featured in many movies throughout the years. Broken Arrow was based on a 1950 Western movie starring Jimmy Stewart that was filmed here.
The National Forest Service protects this whole area. Tour operators must have permits to enter this area and the much needed 4-wheel drive. Though, hikers and mountain bikers are allowed here too. Part of our tour fees goes to the National Parks to help preserve this area. The trail turns from pavement to red dirt road as the division between public and protected land.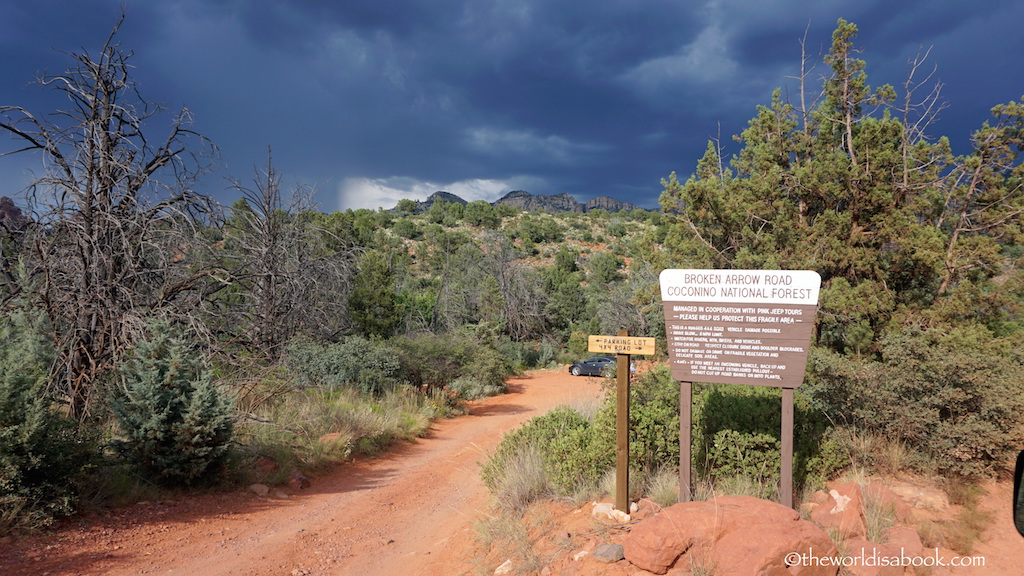 Our ride was bumpy and rough. We got bounced around a lot but it's also a lot of fun. My kids were squealing with joy almost the entire time. We also always felt safe. I don't think this is for anyone who suffers from motion sickness.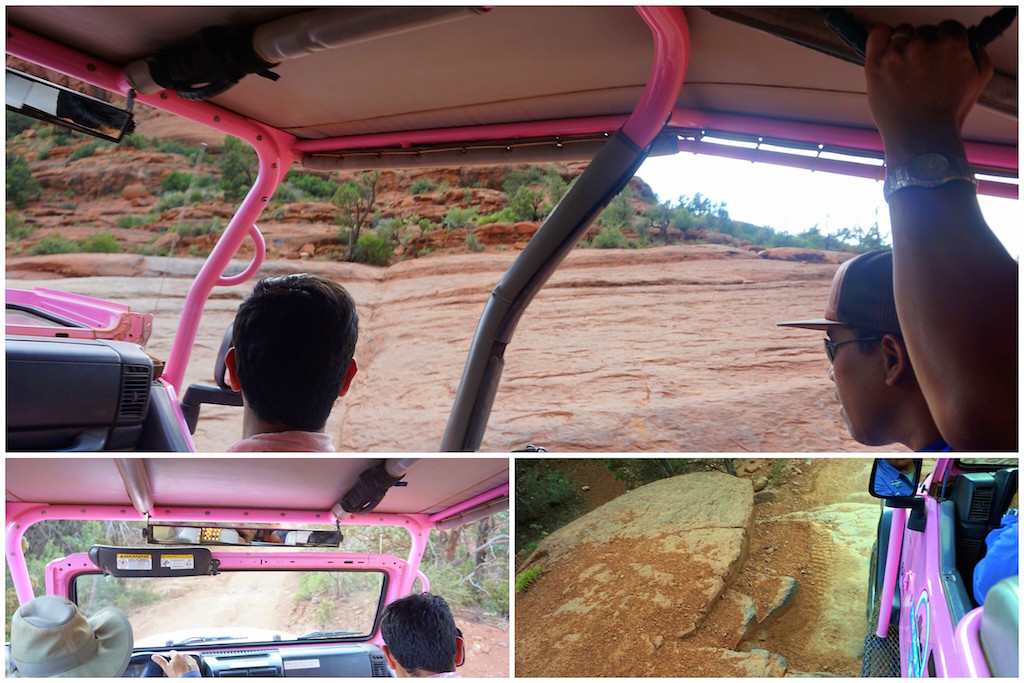 Dark clouds were already looming on the horizon as soon as we left the downtown area. David was hoping the slight wind would blow it out of our way but it was looking ominous. We then started hearing and lightning. Rain and possible thunderstorm in Arizona in the summer? Honestly, we didn't even bother checking the weather before we came here or thought to pack ponchos and umbrellas. We found out that July was the start of Arizona's monsoon season. Who knew?!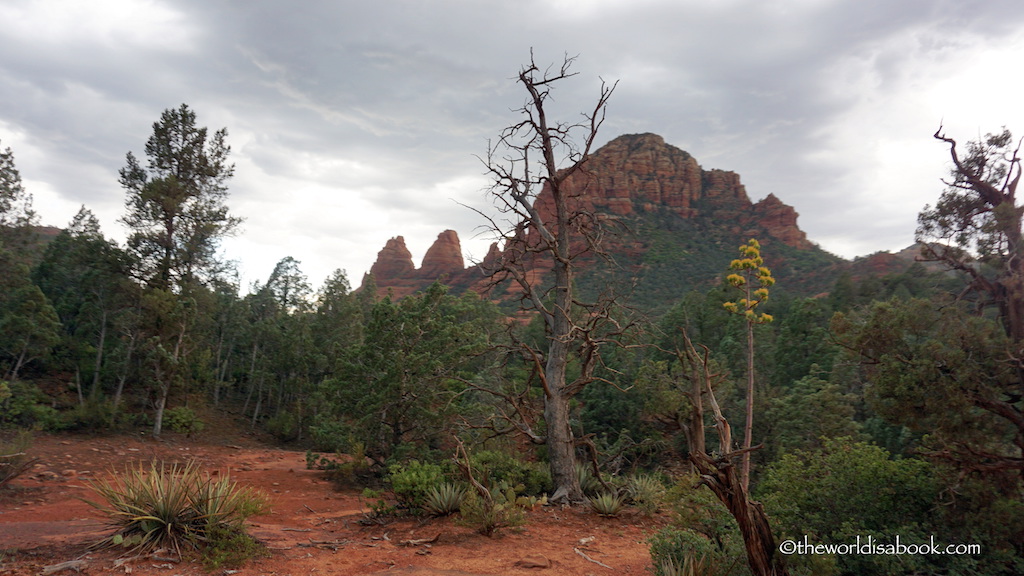 The occasional thunder and lightning in the distance didn't deter our off roading adventure into our first stop which was the large sandstone formation known as Submarine Rock. It was supposed to resemble a submarine and we saw that from a distance. We climbed to the flat surface and had one of the best views of Sedona. We were surrounded by giant red boulders, mountains and a green valley. The deep red colors of the rocks is due to iron oxide or rust.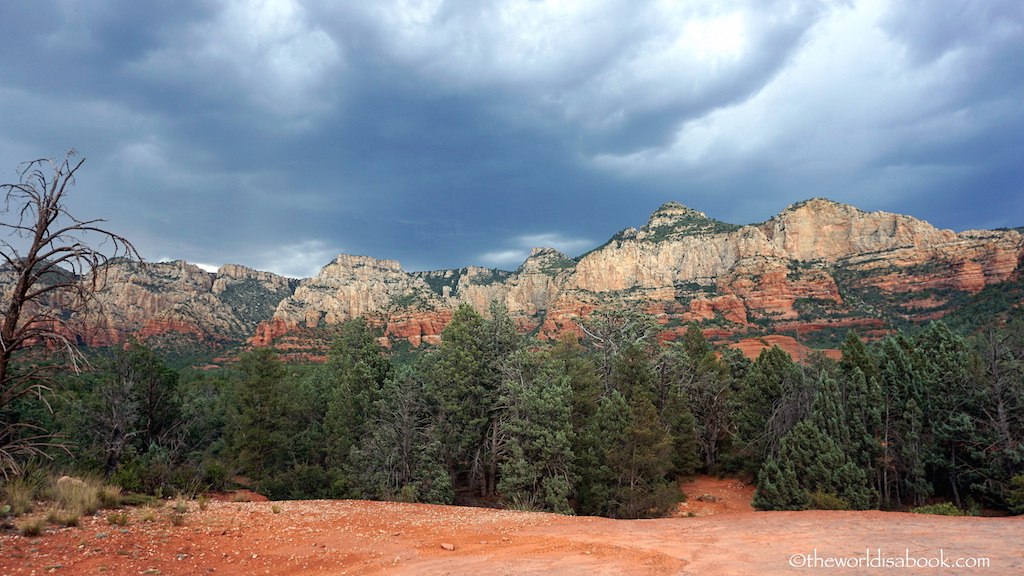 Lightning and thunder seemed a whole lot closer from this overlook. It was so peaceful and beautiful up here. It's no wonder visitors flock to Sedona throughout the year.
Mother Nature certainly knew how to put on a show for us. My kids were so fascinated with the thunder and lightning getting so close. They kept waiting to capture a lightning photo. Unfortunately, they just weren't quick enough. But, I did get one on video.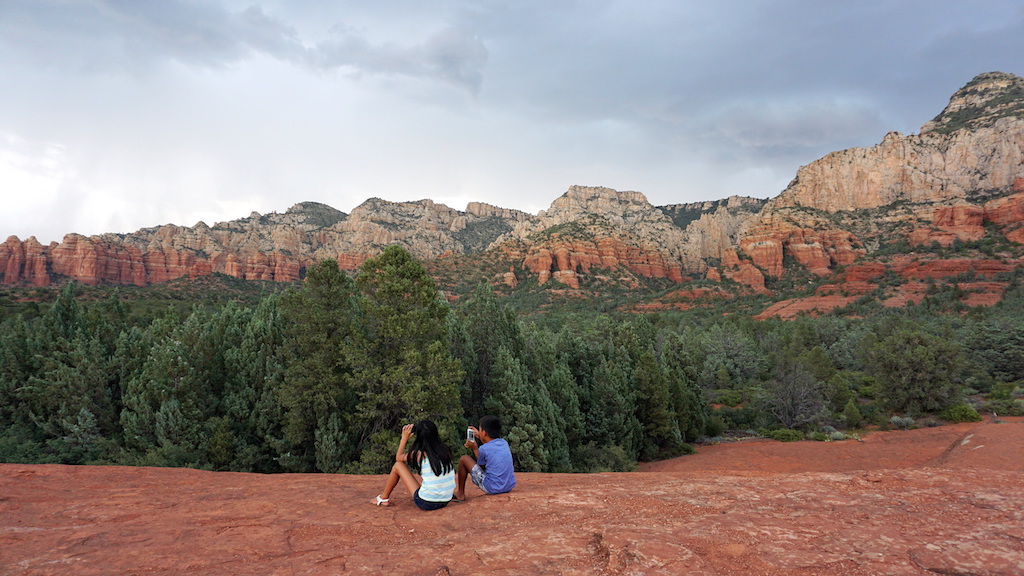 We left as soon as we felt the raindrops. Luckily, they provided ponchos (in pink, of course). After a bit of sprinkling, the rain and wind really started to pick up. It was surprising and was so sudden. Lightning and thunder also sounded so close.
Our last stop was at Chicken Point. Its name was derived from the locals calling those unwilling to drive their jeeps or motorcycles to a precarious part of the point "Chickens". This was supposed to be an overlook over the canyon but the rain and wind had already descended that it was hard to see anything here. It was surrounded with some stunning rock formations though.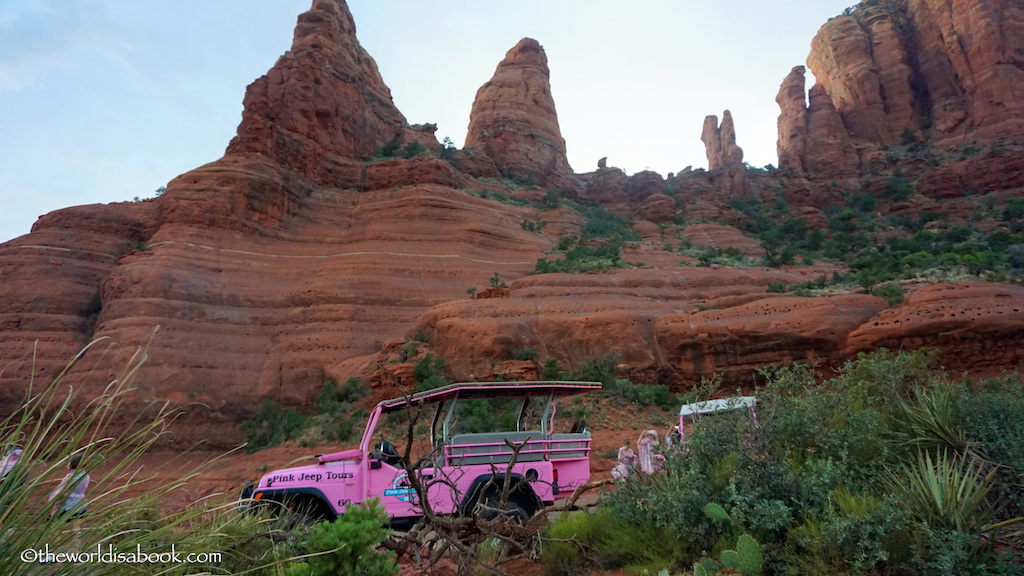 This was the best family picture we could get at Chicken Point – a little wet and cold.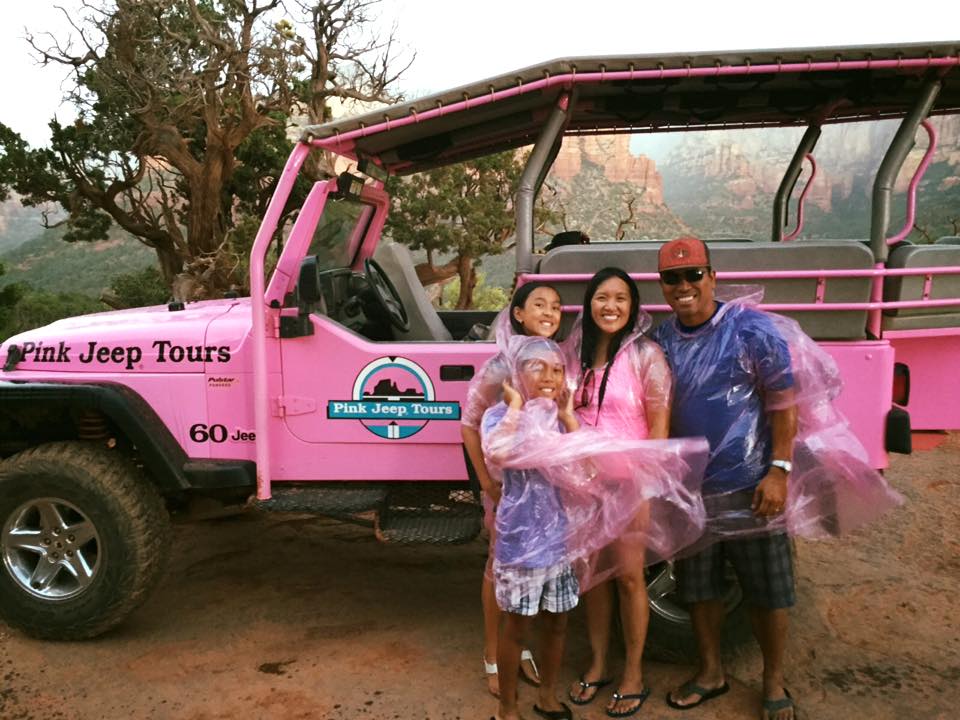 Unfortunately, we had to make our way out of the trailhead and back into town in the heavy rain and wind with thunder and lightning all around us. I was worried about getting struck by lightning or a lightning hitting a tree and hitting us. It was futile to try and stay dry even with the ponchos. David did such an amazing job driving through all the terrain and those elements considering our road had become a muddy mess.
Here's a little video we put together of our tour that morphed from sunshine to monsoon in minutes. There was screaming but also a lot of laughter.We could hear my nine-year old son shouting, "This is awesome!" as he kept sticking his head out to feel the rain on our bumpy ride down. I clearly need to make my kids play in the rain more. Sometimes, you just have to make the most of a situation.
Thank goodness that the rain didn't start until after our first stop allowing us to see some of the picturesque canyons and mountains. This was definitely a tour we'd love to do again minus the monsoon part. It did make for a very memorable and wild ride. This tour was the highlight of our trip. Pink Jeep tours offered a fantastic, educational and unique way to see Sedona. Check the weather before you go, buckle up and enjoy the ride. .

Tips for Taking the  Pink Jeep Tours
Check the Pink Jeep Tours website and book a variety of tours in Sedona. They're open everyday except during Christmas. They're great with communicating via email on payments and where to check-in. We even got a reminder call about our tour since we were running late checking in.
Wear comfortable shoes. You will be walking along some uneven red rocks and red dirt.
Bring cash for tips. The guides work hard navigating through the rough terrain in addition to trying to entertain and educate you.
Bring a water bottle or water container. They can refill water.
Bring a hat and sunscreen especially if you're here during the summer.
If you're here during the summer, choose time slots during the early morning hours or early evenings to escape the brunt of the desert heat
*Have you done an off-road adventure like this?
Where to Stay/Lodging
Hilton Sedona Resort at Bell Rock

– We stayed at this resort for a few nights and loved it. It was adjacent to a golf course but also had great views of the surrounding red rocks. The rooms were spacious and each had a patio or balcony.  It had great breakfast selection and my kids loved the pool area. It is located near many scenic hiking trails and plenty of restaurants and shops nearby.
Save up to 50% on Value Deals in Sedona through Booking.com!
See the best prices from the major travel sites on

HotelsCombined

.
Find the best Sedona hotels and read reviews on TripAdvisor.
Flights/Vacation Packages
Compare airlines, dates and prices all in one place with Skyscanner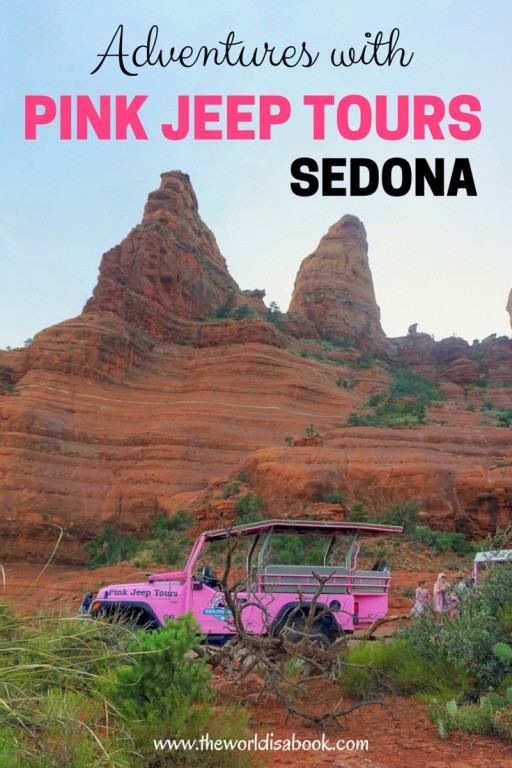 Disclosure: Pink Jeep Tours provided a complimentary ticket for me and discounted tickets for my family. However, all opinions and photos of our adventures and experience on the tour are solely our own.

*This post contains affiliate links that help support this website.