25 Things to do in California Central Coast with Kids
San Francisco, Los Angeles and San Diego usually come to mind when visiting the great state of California. Though, there are so many other parts of the Golden State worth exploring including its State and National Parks, coastline, mountains and desert.
One of our favorite areas to visit is the California Central Coast. This is the stretch of coastal land between Los Angeles and San Francisco from the southern county of Ventura to the northern area of Monterey. Here are some things to do in the central coast with kids (perfectly doable too without any kids in tow).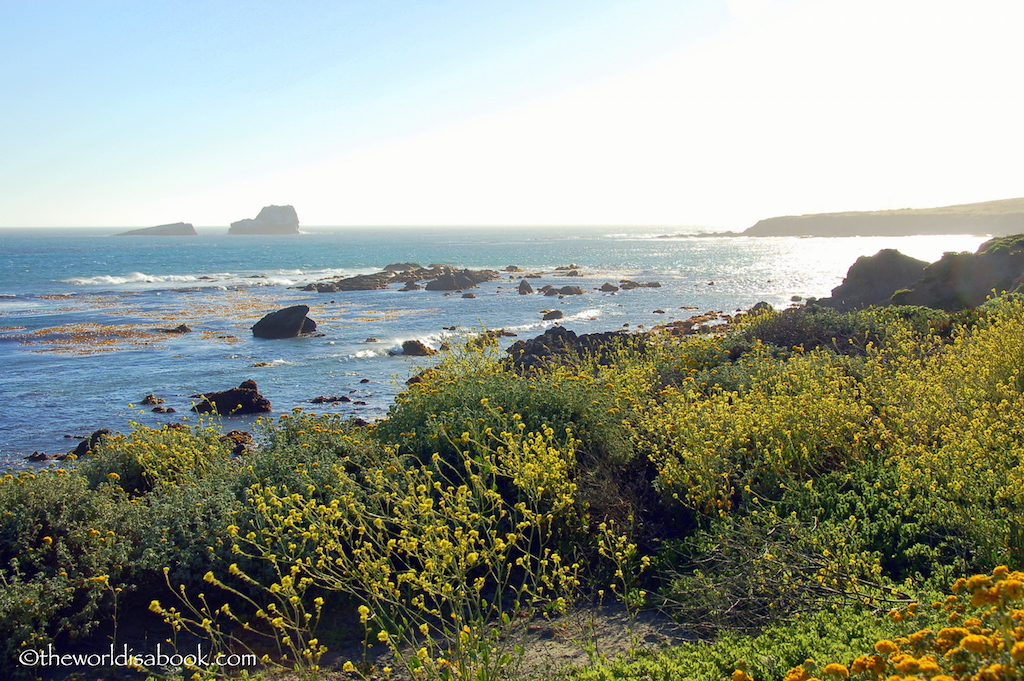 UNIQUE ATTRACTIONS
1. Explore Solvang. This charming town traces its roots back to 1911 when Danish immigrants and settlers bought land and moved here. Over the years, it has become the "Danish Capital of America". Yes, it's a bit touristy but it is a wonderful place to walk around what feels like a small European village.
There are small replicas of the Little Mermaid, windmills (although we never saw one in Denmark) and the Round Tower. There is also a free Hans Christian Andersen museum to learn about his life and his fairy tales.
Families can ride horse-drawn trolleys or surrey bicycles to explore the town. There are several bakeries filled with delicious Danish pastries so be sure to visit one of them. Tubs of butter cookies are popular souvenirs. Don't forget to try an Aebliskiver which are pastry balls with raspberry jam and powdered sugar.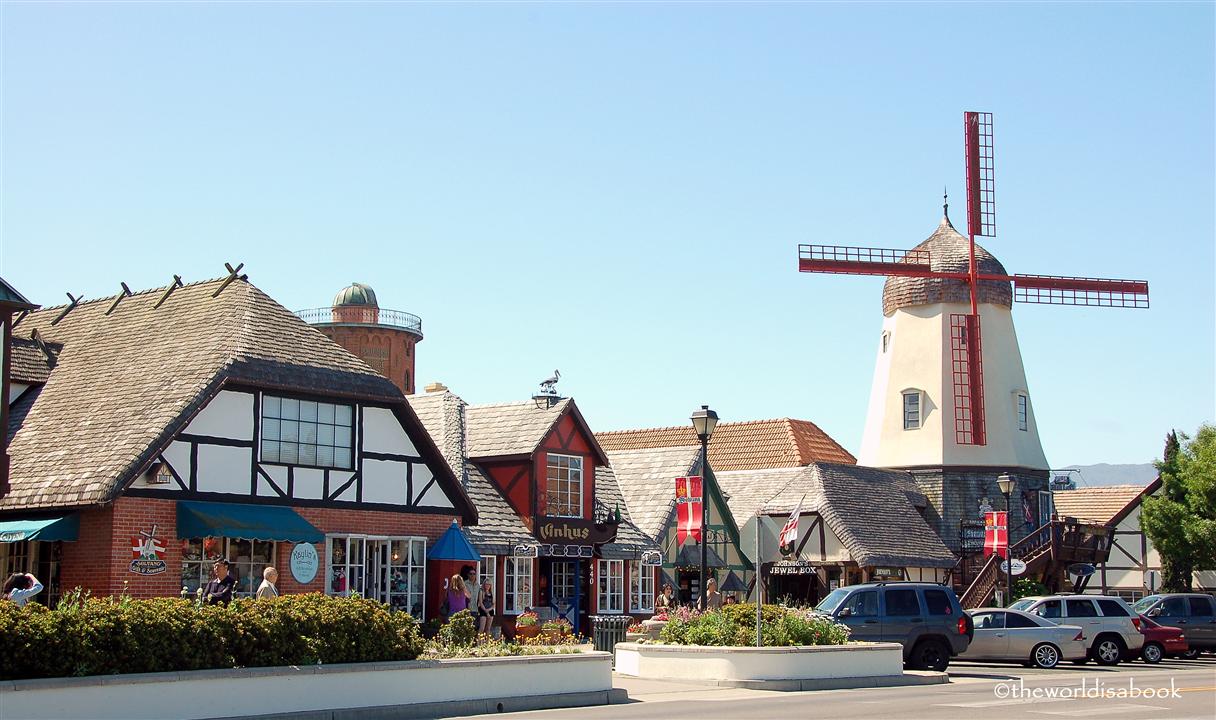 2. Stroll the Santa Cruz Beach Boardwalk. This historic boardwalk is also a seaside amusement park with over 34 rides and attractions. It's California's version of New York's Coney Island and has been here since 1907. Strolls along the boardwalk are always free. But, tickets must be purchased for each ride. Season passes and an all-day pass are also available.
The beach is an ideal backdrop for some of the classic rides and historical landmarks like the Giant Dipper wooden roller coaster and the 1911 Looff Carousel. There are various rides for all ages as well as arcade games, miniature golf and laser tag. If you're into fair food like deep fried Twinkies and chocolate covered bacon, they have those too. Look online for coupons.
3. Leave your mark at Bubblegum Alley. Want to see a really unique attraction and be all grossed out? Visit Bubblegum Alley on Higuera Street in downtown San Luis Obispo and leave your used gum too.
This gum filled alley was started by high school students in the 1950s and has become a popular stop. The 70 feet long and 15 feet high alley is filled with thousands of chewed gum stuck to both sides of the walls. Some have even attempted to create art or spell out their name with their used gum.
My family left their used gum here and the germaphobe in me needed a really hot shower after our visit. Of course, My kids thought this was a very cool attraction. If you're into quirky attractions and in the San Luis Obispo area, then have a quick walk through. The historic downtown area is also a great place for a stroll.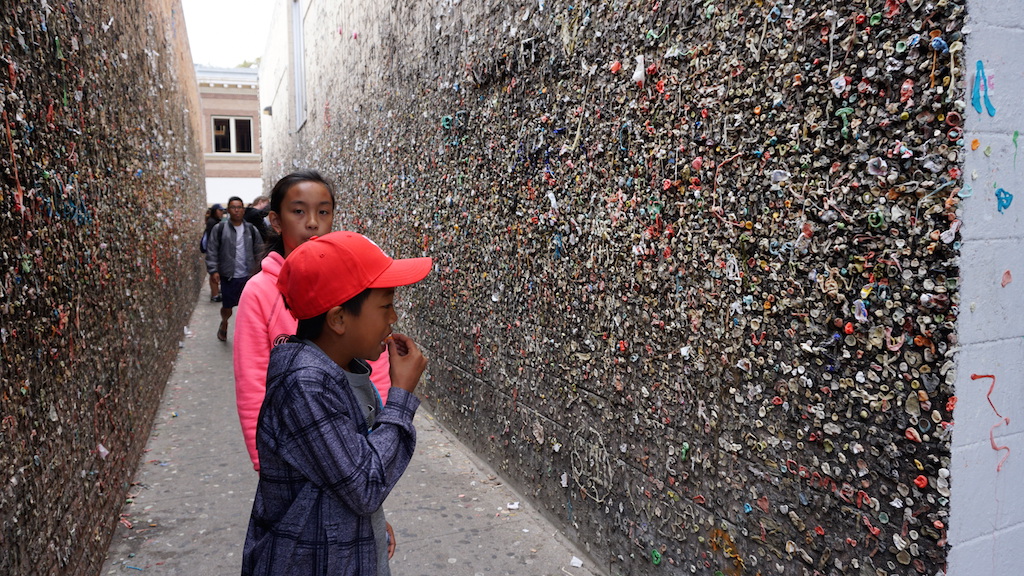 4. Stop for Garlic. Attention Garlic lovers! If you love garlic, Gilroy, the garlic capital of the world, is the place to be. Try some garlic ice cream (it's not as gross as it sounds) or some of their garlic infused goodies.
My kids aren't garlic fans but they actually enjoy stops here to wander through the interesting garlic related merchandise. We particularly love their garlic wines for cooking with seafood. Depending on the time of year, the smell of garlic fills the air as you drive by. The annual Garlic Festival is usually held in July.
5. Ride on the Sand Dunes. The Oceano Sand Dunes State Vehicular Recreation area, near Pismo Beach, has eight miles of sand dunes along the coast that sometimes almost looked like a mirage. The dunes offer plenty of activities that include camping, hiking, horseback riding, All Terrain Vehicle (ATV) riding and even swimming and surfing at the adjacent beach after a day at the dunes.
These sand dunes are considered California's largest coastal dunes. The sand came from rivers and creeks via ocean currents. The coastal wind has shaped it into sand valleys and hills and created this giant sandbox.
We visited a few months ago and had so much fun riding ATVs along the dunes. There were several companies along the dunes that rented out ATVs and other four-wheelers for the entire family on an hourly basis.
It was pricey but worth the memorable experience of navigating the dunes and having some great panoramic ocean views. They did a great job with safety demonstrations and providing us with all the safety equipment.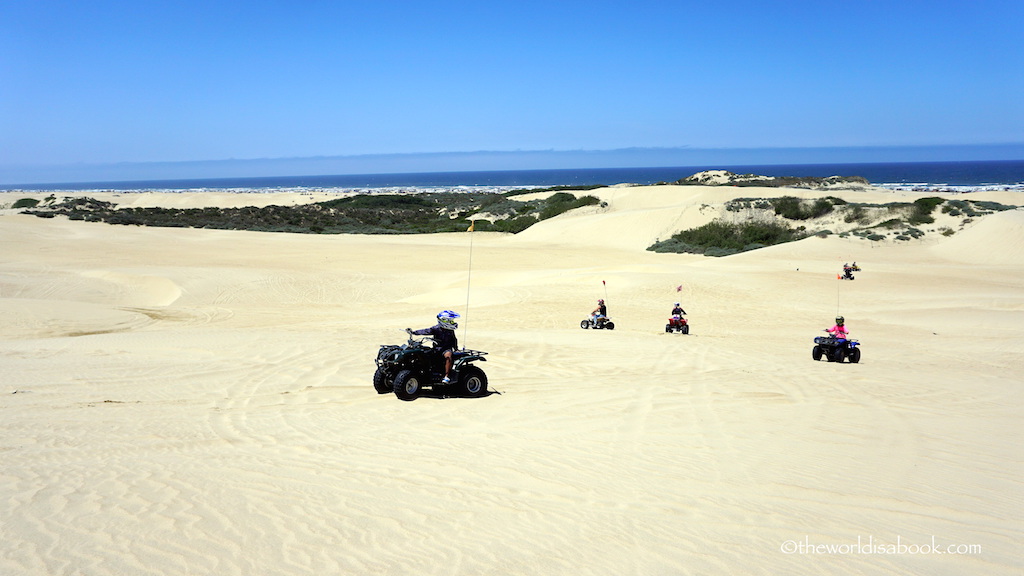 6. Hunt for Lighthouses. Six of the California coastline's 30 lighthouses are located along the central coast and some are available for touring. Lighthouse visits are a wonderful way to learn about their importance and history. Some even offer unique tours. Piedras Blancas near San Simeon offers twilight and whale watching tours during particular months while Point Sur Historic Park has full moon an ghost tours during October.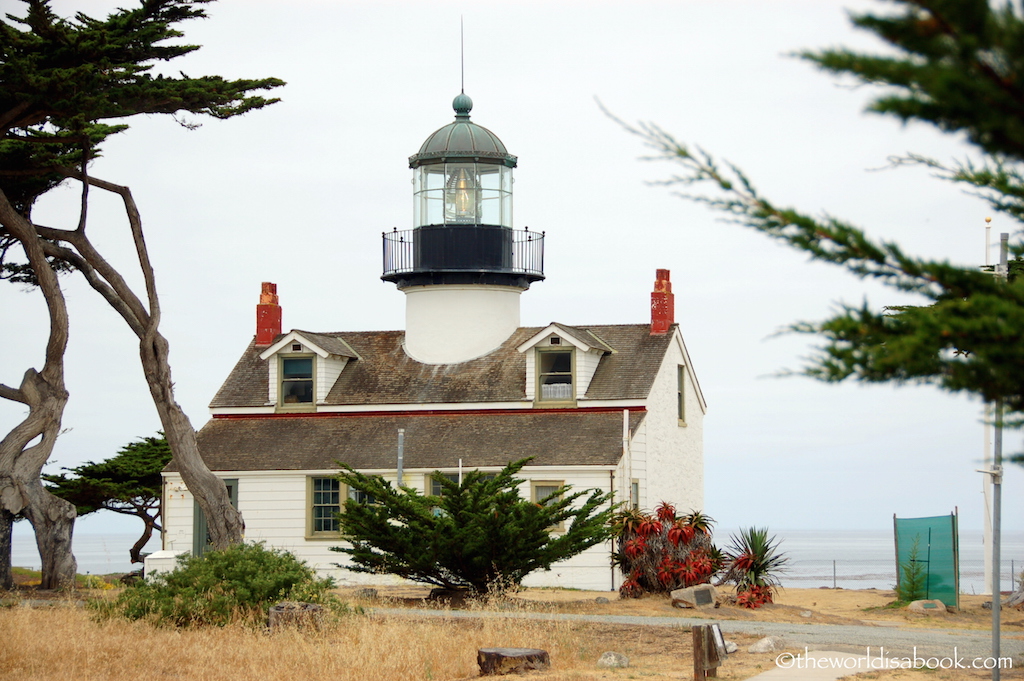 7. Explore Hearst Castle. This hilltop mansion in San Simeon is one of California's gems and a National Historical Landmark. This was the former retreat of media mogul William Randolph Hearst where Hollywood celebrities were often invited.
No royalty ever lived here but it is very grand, opulent and filled with some of the best antiques. It is now part of the California State Park system and is a fantastic place to visit with the family.
Several tours based on varying interests and for different parts of the castle are available daily including an evening tour during Spring and Fall. We really enjoyed the 45-minute Grand Rooms tour which gives a great overview of the property.
This is what they recommend for first-time visitors. It is almost like a museum tour but it is interesting and my kids actually enjoyed it. Visitors are also free to explore the grounds including the pools, gardens and various areas for beautiful panoramic ocean views after the tours.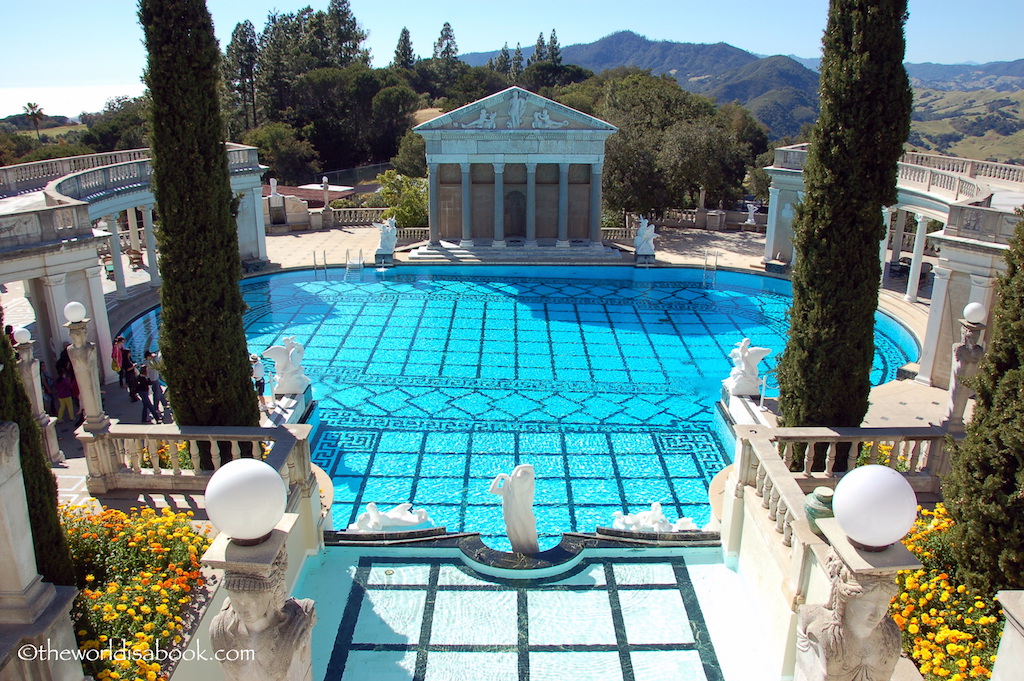 Reserve tickets in advance online. Admission includes the narrated, 5-minute ride to the top and mansion from the Visitor's Center. Watch the documentary on how the castle was built and about Mr. Hearst is very interesting to watch before the tour at the visitor's center theater. It provides a great orientation. Look out for the zebras on the fields by the visitor's center!
ANIMAL ADVENTURES
8. Marvel at the Elephant Seal Colony. This one area of the Pacific Coast Highway is worth a stop especially for animal-loving kids. Down the road from Hearst Castle in San Simeon is the largest hangout for the elephant seal colony.
It's free to observe hundreds of seals sunbathing on the shoreline. You may even get lucky and see a few of the new pups. There are informative posts around the area for kids to learn all about these fascinating creatures.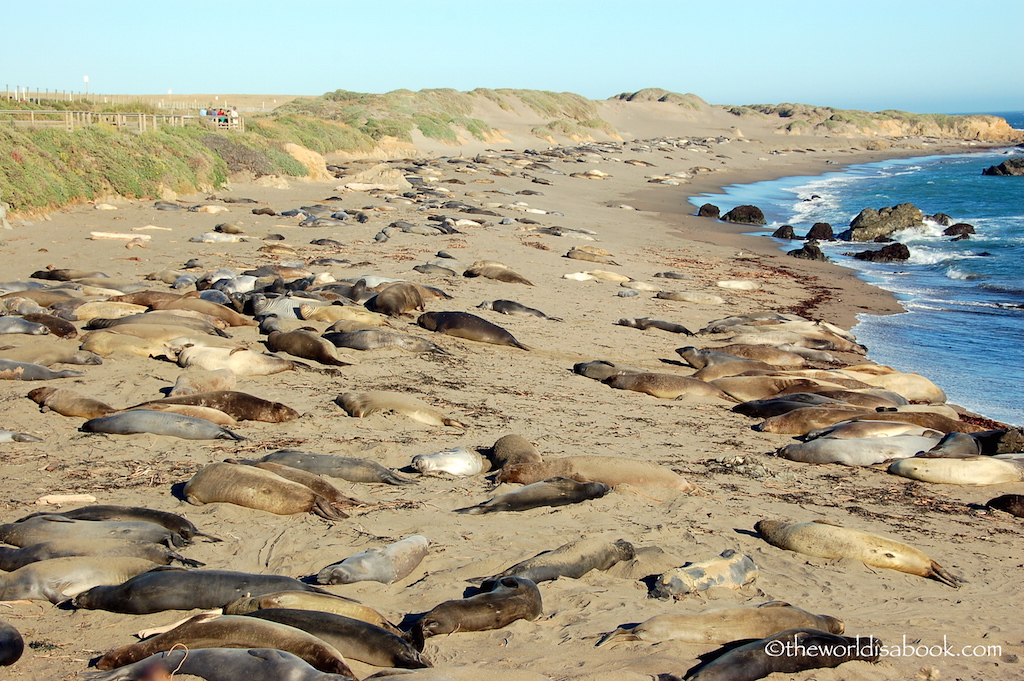 9. Visit Monterey Bay Aquarium
This world famous aquarium is a favorite attraction for many families. Its diverse exhibits range from a vast jellyfish collection, a 28 feet Kelp Forest to a large aquarium that looks into the world of sharks, fish and turtles. There are feedings throughout the day for everyone to learn more about these marine creatures including otters, penguins and sharks.
Interactive and hands on exhibits are always a big hit with everyone. Kids also love the enclosed play area with a structure and even costumes for dress up. There is also a water play area perfect for cooling off especially during the summer. Don't miss a stroll along Cannery Row when visiting the aquarium too.
1o. Feed Emu and Ostrich. Ostrichland USA in Solvang breeds ostrich and emu. Families can stop by to watch these interesting animals roam around in an enclosed area. But, the most fun part is the chance to feed them.
They look a bit intimidating and the warning signs of the animals biting don't help much. But, they do provide pans for the animals to eat on. My kids were nervous at first but really enjoyed this experience.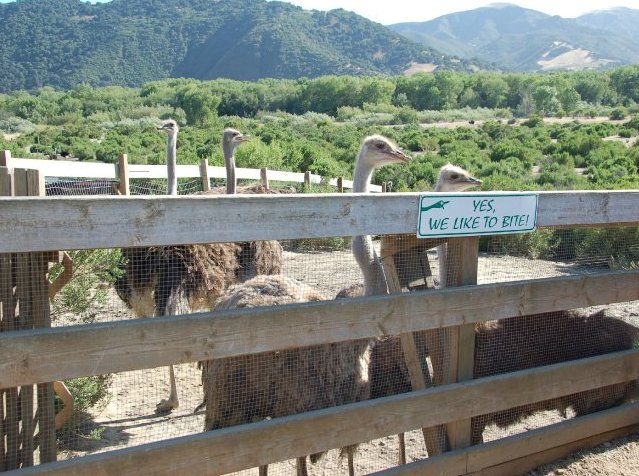 11. Observe the Miniature Horses.  Quicksilver Miniature Horse Ranch near Solvang is a unique place that breeds 34-inch and under horses. We love this ranch and have visited several times over the years and my kids always have a hard time leaving.
The horses are adorable and everyone always enjoys admiring these interesting creatures. Some look like large stuffed animals. The miniature horses aren't available for riding or petting but you could spend as long as you wanted to watch and observe them closely for free. The ranch is closed on Sundays.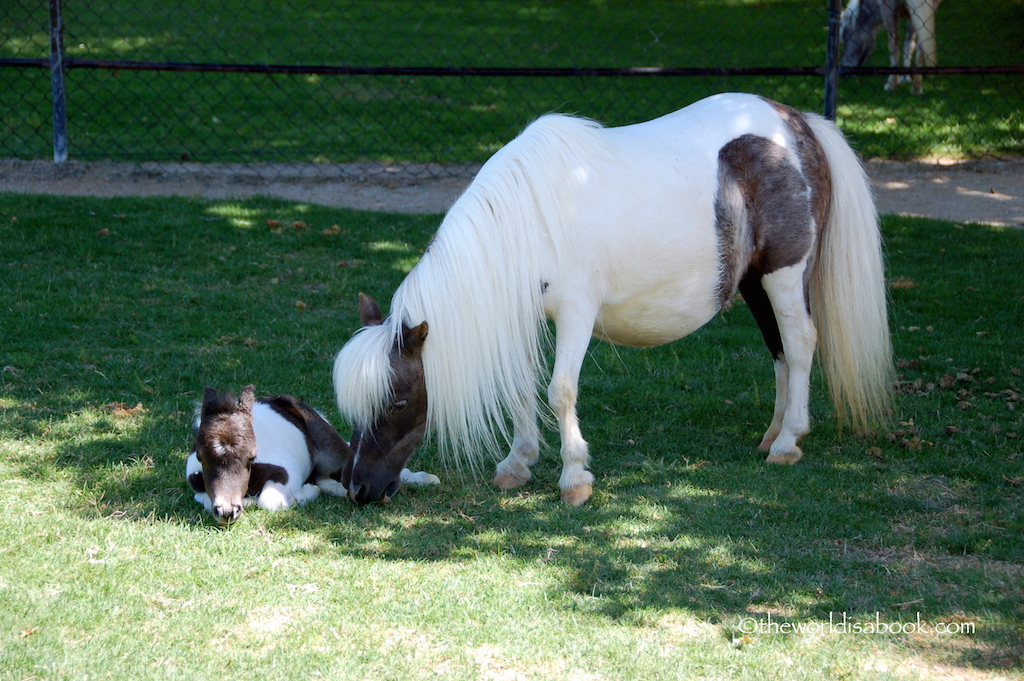 12. See Butterflies at Monarch Grove Sanctuary.  If you're going to be visiting the area between mid-October and mid-February, Pacific Grove is a must visit. Nicknamed "Butterfly Town, USA", thousands of monarch butterflies migrate and spend their winter here every year to escape the cold and survive.
These butterflies come from west of the Rocky Mountains and as far north as Canada and travel thousands of miles to get here and seek shelter in the city's pine forest. The sanctuary is open during the monarch migration to see these colorful insects. The seaside town has embraced the monarch butterflies and even has a Butterfly Parade to welcome them in October.
13. Explore the Monterey Bay National Marine Sanctuary. This protected marine environment, spanning 276 miles along the coast, is also known as the "Serengeti of the Sea" for its diverse marine life. It has the country's largest kelp forests and includes 34 marine mammals species, 180 seabird species and 525 fish species.
There are plenty of activities here to get up close to its residents which include diving, kayaking, tide pooling and boating. There are several whale watching tours that operate throughout the year.
The sanctuary also has two free interpretive centers in San Simeon and Santa Cruz for visitors to learn more about the rich marine life through varied displays, educational programs and interactive exhibits.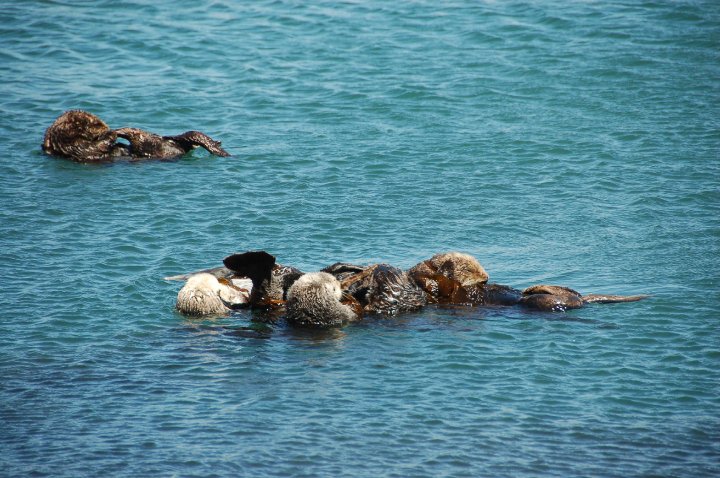 EDUCATIONAL ATTRACTIONS
14. Go back in time at the California Missions. The state has 21 missions established by the Spaniards and missionaries to convert the Native Americans into Christians. These were functioning communities for years and are a wonderful lesson in state history. Many are now used as parishes and museums. The Central Coast has some of the best missions worth visiting.
We loved Mission La Purisima which is considered the most restored and authentic of the missions. Self-guided tours are available to see how the missionaries, soldiers and Native Americans lived in this once thriving community.
Weave shops, candle making rooms and the chapel offered an interesting glimpse into daily functions. We liked that the rooms were not behind glass windows and was a better educational and cultural experience especially for the kids. Don't miss visiting the animals outside or the Indians' straw huts.
Mission Santa Barbara is called the Queen of the Missions and is a classic beauty with wonderful exhibits. The large lawn is great for picnics and for kids to run around. Mission San Luis Obispo, Santa Inez and Carmel are also delightful missions to visit.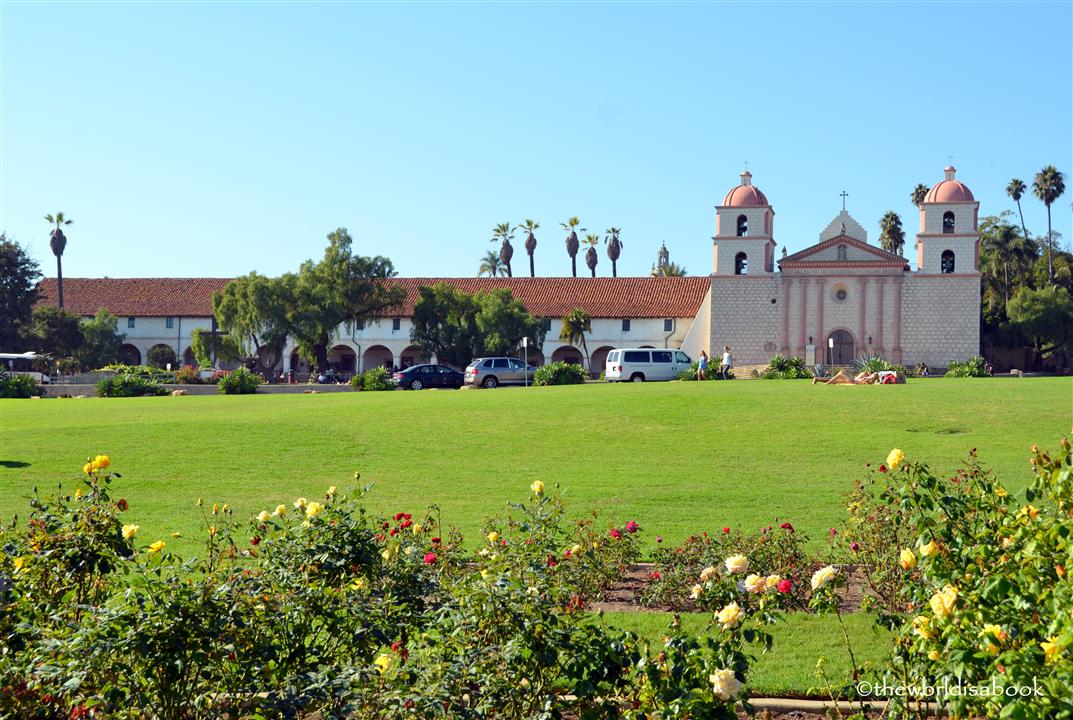 15. Discover Museums. With several cities lining the central coast, there's an assortment of museums certain to meet each family member's interest. Some interesting ones to visit include the Santa Cruz Surfing Museum (the world's first surfing museum), the South Coast Railroad Museum in Goleta, which offers miniature train and handcar rides and the Santa Maria Museum of Flight with its wonderful collection of aircraft and models and a docent tour usually led by veterans.
Many cities, like Paso Robles, Oxnard, Monterey and San Luis Obispo, have their own Children's museums with varied interactive exhibits to learn and play. Don't forget the historical museums at the various Missions too.
NATURAL AND SCENIC ATTRACTIONS
16. Stop at the Overlooks. The coastal drives along Pacific Coast Highway and even Hwy 101 are some of the best in the world. Put your windows down, feel the ocean breeze and enjoy the stunning scenery of the Pacific Ocean hugging the rugged coastline.
There are plenty of lookouts along the highway to stop and enjoy the views and take some memorable photos. The kids will welcome the chance to stretch their legs. Who knows, they may even spot some wildlife along the way.
17. Go on the 17-Mile Drive Tour. This privately maintained, two-lane road is one of the most beautiful and picturesque drives in the country. Fees are collected among the five gate entrances and cost $10 per car.
Maps with points of interest are provided. It is worth every penny. There are scenic overlooks and stops along the way to see panoramic shoreline views, magnificent trees and wildlife like deer grazing on the fields or the harbor seals sunbathing on the rocks. We've always enjoyed trying to catch a glimpse of the extravagant and multi-million dollar homes along the way beyond the gates and hedges.
Perhaps, the most famous attraction along this drive is the Lone Cypress which has also become the symbol of Pebble Beach and the Monterey coastline. Located on a granite perch, it has withstood the test of time and elements for over 250 years.
The drive leads to The Lodge at Pebble Beach and its famous golf course. A picture on the greens is a must for golf enthusiasts. There are various shops and dining options here. It's a very peaceful and relaxing drive. Gas up and bring snacks and drinks for the family since there isn't any concession stands along the way.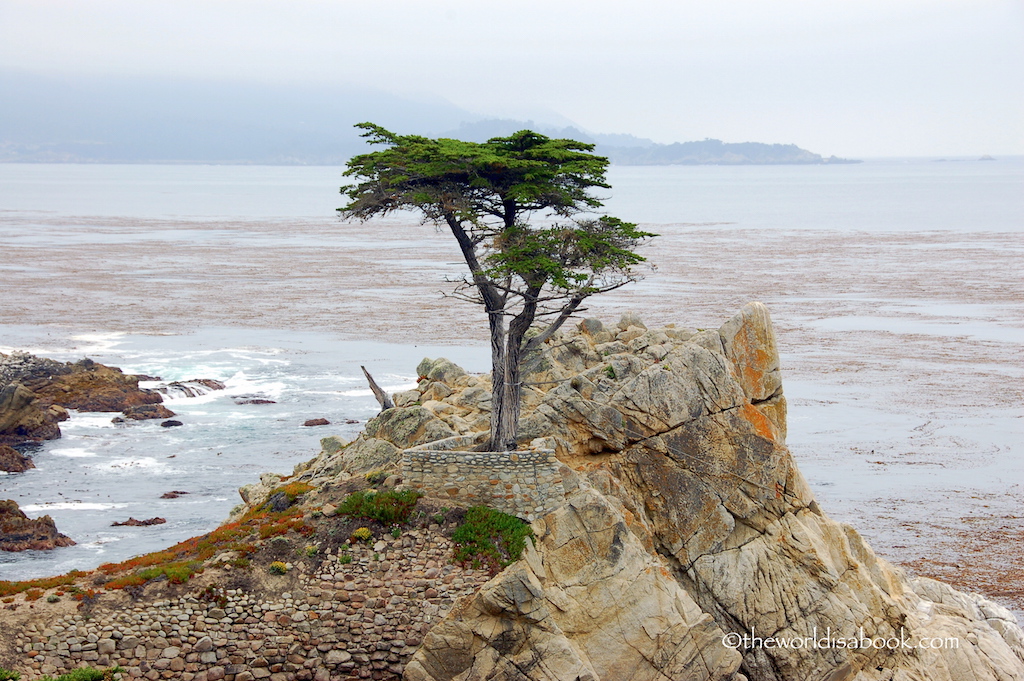 18. Camp at Cachuma Lake Recreation Area. This man-made lake, surrounded by mountains in the Santa Barbara area, is a popular place for camping and weekend getaways. A variety of cabins and yurts are available to rent plus some campsites.
The area also has several hiking trails and boat and kayak rentals. Two-hour Nature cruises with the park naturalists make are offered year-round to learn more about the wildlife here. Reserve in advance. Kids can also earn special badges as Junior Rangers during Saturday programs year-round.
19. Tour Channel Islands National Park. These five islands off the central coast by Ventura are one of the National Park system's most underrated parks. Known as the Galapagos of the , there are over 2,000 plant and animal species that make their home here. 145 of these species can only be found on these islands.
The islands are only accessible to the public through Island Packers(the park's concessionaire), plane or private boats.There are various activities around the islands such as kayaking, hiking, camping, bird watching, diving and snorkeling. The most popular islands to visit are Santa Cruz (the largest) and Anacapa.
If you can't make it to the islands, the Visitor's Centers located in Ventura Harbor and in Santa Barbara Harbor are also worth visiting. The centers offer exhibits and displays to learn more about the islands and the animals and plants found there.
"A Treasure in the Sea" is a wonderful 25-minute movie about the park shown throughout the day. Ranger led programs are offered on weekends. Check the events page to see what's going on at the visitor center during your visit.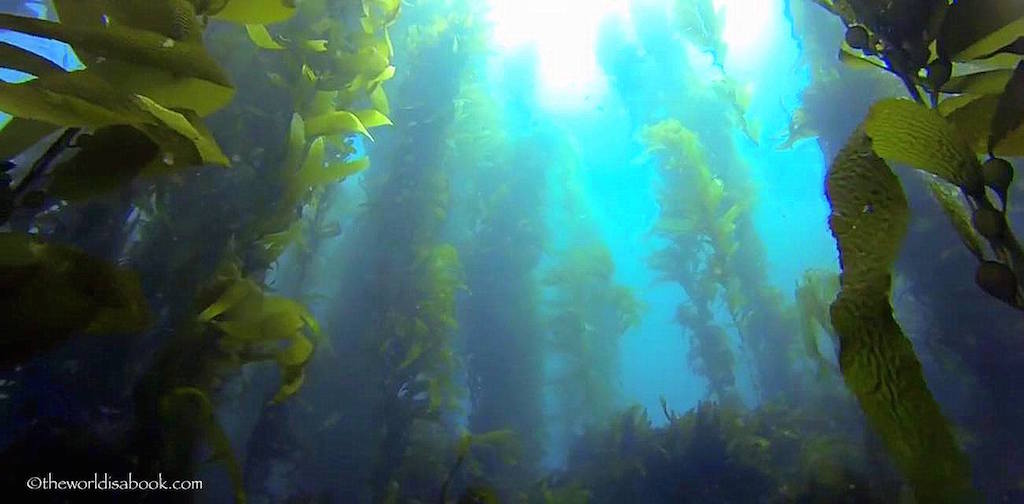 20. Explore Point Lobos State Natural Reserve. This beautiful area is a must stop along California's Highway 1 near Carmel and Monterey. The reserve offers stunning ocean views, wildlife sightings and colorful wildflowers.
Several docent-led walks, covering various themes and interests, are available and can be quite an educational experience for the whole family. Several scenic trails make it easy to explore the area. There are observation points to see whales migrating, pine forest and quiet coves to see seals and sea otters.
Kids can get an Observation Checklist to help them spot one of the hundreds of plant and animal species here. The Information Station at Sea Lion Point provides a fantastic orientation of the area like trail conditions and animal sightings.
Various exhibits like marine animals' skulls are sure to intrigue some kids. The Whalers Cabin and Whaling Station Museums offer varied exhibits on artifacts, photos and tools related to the whaling history in Point Lobos. Don't miss the yard filled with whale bones!
21. Visit Morro Rock and Beach. This famous rock jutting out of the ocean was formed about 23 million years ago from extinct volcanoes and known as plugs. It is 576 feet tall, a state historic landmark and often called the "Gibraltar of the Pacific". It is also a designated bird sanctuary.
We love driving to the beautiful, wide beach around its base. My kids love playing on the sand dunes here. This area is also a great place to spot the sea otters floating along the bay. There are also cruises from the town to the rock. Don't miss visiting the town of Morro Bay too with its many seafood restaurants and quaint shops.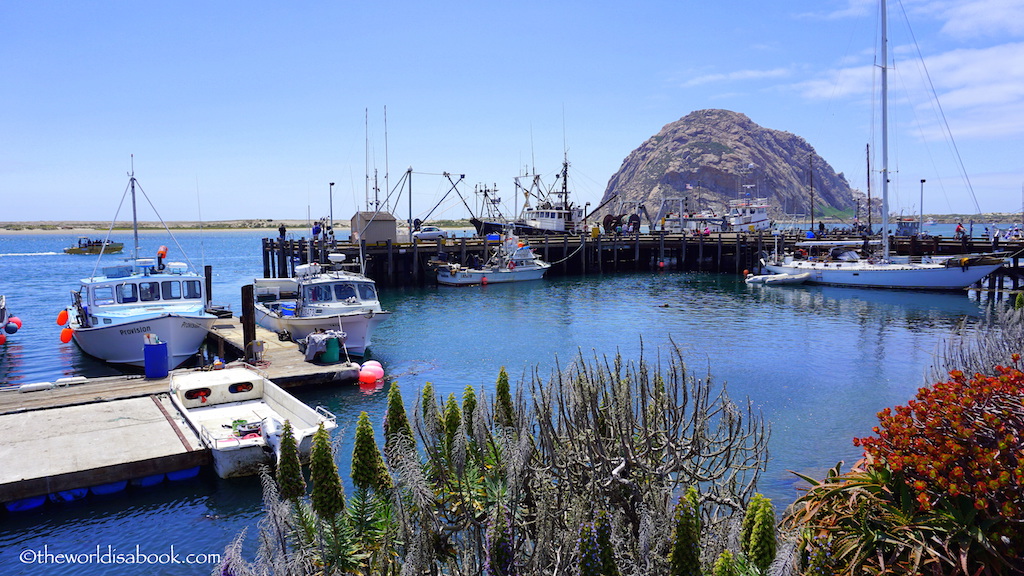 22. Relax at the Wineries. It may not be as famous as Napa Valley a few hours away, but the central California coast wineries are some of our favorites. They're much less crowded, less commercialized and many are family-owned withe authentic personal experiences. We love the Santa Ynez and Paso Robles wine countries.
We've brought our kids to some of these wineries and they've enjoyed playing in the open spaces, having picnics and touring the wineries especially seeing the barrel rooms. Beautiful rolling hills and vineyards along country roads surround most of these wineries. Download these wine region maps of Santa Ynez and Paso Robles and start your wine trail tour.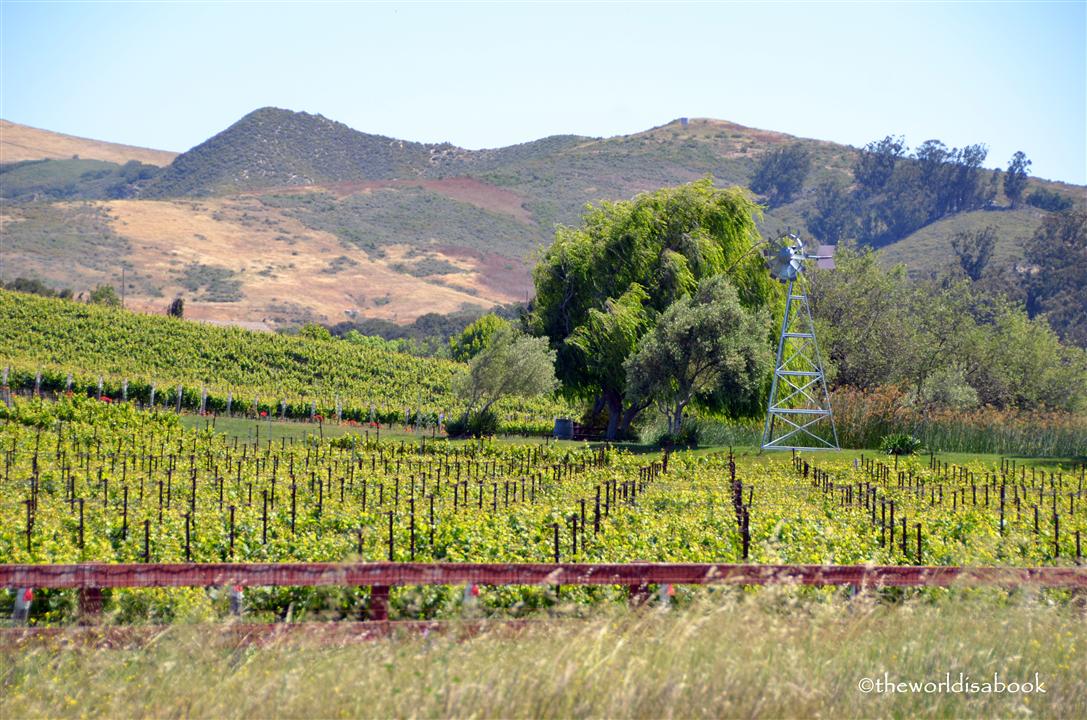 23. Discover Big Sur and its State Parks. This picturesque area between San Simeon and Carmel is one of the best places for whale watching, bird watching and wildlife viewing. Driving across the historic and iconic Bixby Creek Bridge is a California road trip must do. It's no wonder that Highway 1 through Big Sur has been designated an American National Scenic Byway and one of the most popular and beautiful coastline drives in the world.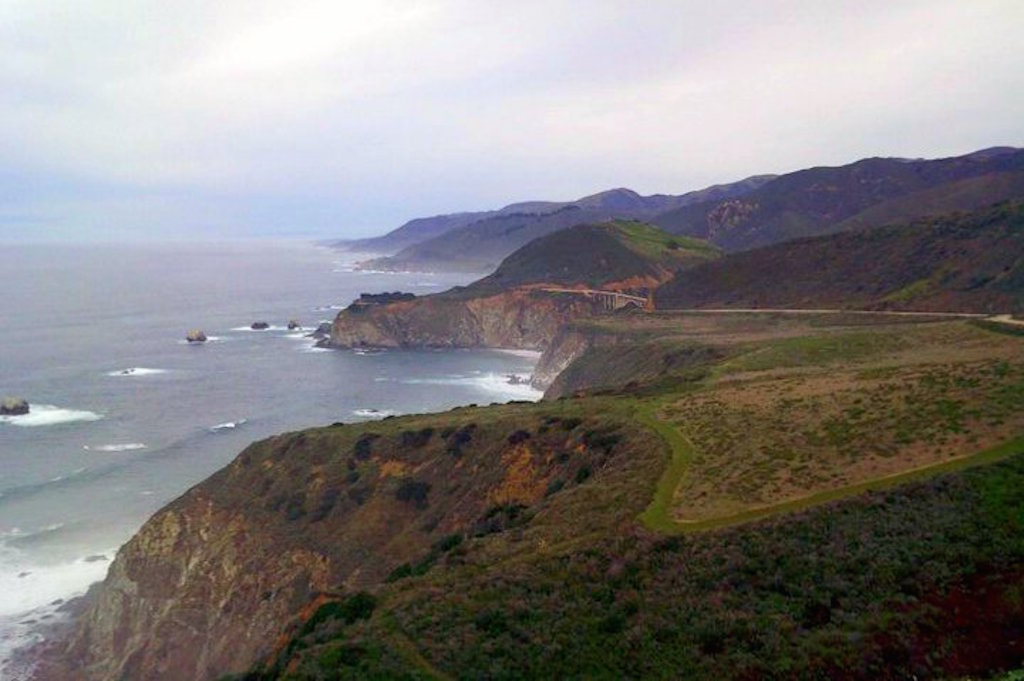 Big Sur has nine state parks that offer various activities and scenic trails. One of the most visited state parks here is Julia Pfeiffer Burns State Park with some stunning coastline views, verdant meadows and majestic trees.
But, the most photographed area may be of the 80 feet McWay Falls flowing into a beachside cove. This is a terrific park for hiking and camping. Pfeiffer Big Sur State Park offers ranger programs, games, storytelling and interactive activities for kids during the summer months. The Andrew Molera State Park has a Discovery Center to learn more about the wildlife and in particular, the California condors.
24. Hit the Beaches. It wouldn't be a California visit without exploring some of the central coast's beaches so follow the signs while driving down the highway. Many of beachside communities are the gateway to some of the state's best beaches and water sports adventures. They're prime spots for surfing, stand-up paddle boarding, swimming and kayaking.
Grab a picnic basket and blanket and enjoy a day at the beach. The many beaches along the cities of Santa Barbara and Pismo Beach are some of the most popular. Don't forget the famous and award-winning clam chowder at Splash Cafe in Pismo Beach. The lines may be long but their food is worth the wait.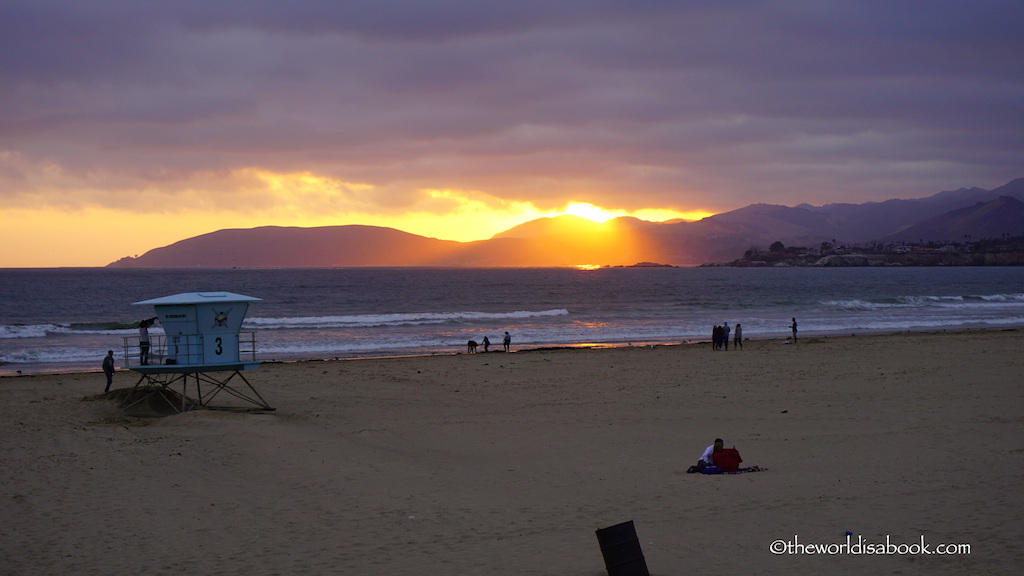 25. Walk the Piers and Wharfs. Iconic scenes of beach boardwalks and piers have long been associated with Southern California. But, the central coast also has some fantastic boardwalks, wharfs and piers including the popular Santa Cruz boardwalk.
Most of California's piers provide free fishing (subject to some local rules and regulations). They're great places for entertainment, sunset strolls, wildlife and people watching.
Some of the most popular ones include the Pismo Beach wooden pier, Port Hueneme's historic pier, Avila Beach's two public piers, Ventura's busy pier and Santa Barbara's popular Stearns Wharf which is the oldest working wharf in California. Many of the piers and wharfs also have various food stands and shops surrounding them.
*Have you visited the California Central Coast? Any attraction you'd like to add?
Where to Stay/Lodging
The Fess Parker A Doubletree by Hilton Resort

– This iconic 24-acre is located along the coast and a few blocks from downtown. The rooms are spacious with balconies or patios overlooking the ocean and amenities include an olympic-sized pool. 

Hilton Garden Inn, San Luis Obispo/Pismo Beach – We have stayed at this hotel and recommend it for its location (1 mile from the beach) and spacious rooms.
Hampton Inn & Suites Paso Robles – This was one of the best Hampton Inns we've stayed at. It's in a great location with easy access to over 200 wineries plus many of the central coast attractions. Rooms are spacious and they offer complimentary daily Hampton "On Us" Hot Breakfast and a wine reception Monday through Thursday.
Ventura Timeshare Rentals  –  These inviting and spacious suites are available within many of Ventura's most popular resorts like Harbortown Point Marina Resort & Club. Amenities include in-suite full kitchens, cozy fireplaces, multiple bedrooms, and stunning views of California's central coastline. You'll find heated pools, snack bars, and boat docks on-site. These accommodations are perfect for weeklong family trips to Ventura.
Save up to 50% on  hotels on

Booking.com

See the best prices from the major travel sites on HotelsCombined.
Find the best Central California Coast hotels and read reviews on Tripadvisor.
Flights/Vacation Packages
Compare airlines, dates and prices all in one place with Skyscanner
Pin it for later!