Lobster Fishing Adventures in Maine
Over 80% of the United States lobsters are harvested in Maine. It's a multi-million dollar industry that produces what's been dubbed as "America's favorite crustacean". We were in Maine last Labor Day Weekend here in the USA for our last goodbye to summer. It was also to celebrate our last three day weekend before Fall sports start and take over our weekends. We're seafood lovers and knew we had to do the experience of being on a boat with a lobster fisherman and catching our own lobster. Come along with us on this unique cruise excursion and see what we learned along the way.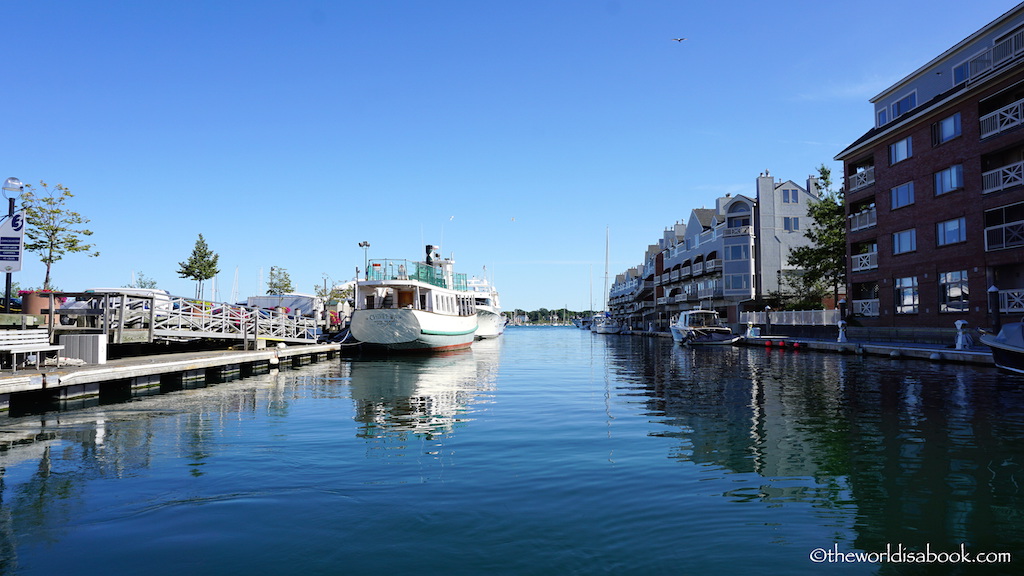 Lucky Catch Cruises has various tours throughout the day with different routes that can include lighthouses or seals. We went on the last tour of the day at 3:45 PM which lasted for about 90 minutes – just in time for early dinner afterwards.
We boarded the boat along the Long Wharf in downtown Portland alongside many of the boats, yachts and other harbor excursions. Casco Bay was brimming with activities on a beautiful and sunny day. Cruises are always a great and relaxing way to see cities from a different perspective.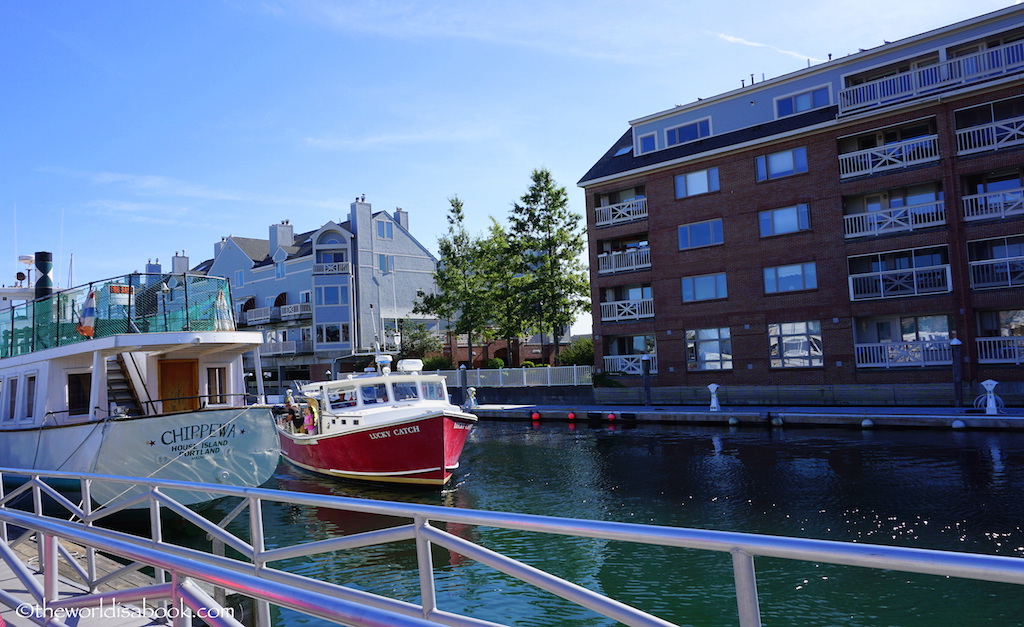 We were among the twenty people on board the small boat along with Captain Tom and his two assistants. There were seven kids including a couple of toddlers and even a dog. It really is that family friendly! The crew didn't waste any time getting us ready. Each of us were handed overalls and gloves to wear to prepare for our tasks. They had many different sizes and we loved how adorable the toddlers looked on their uniforms.
Our cruise stopped at four different locations. The locations had colorful and specially marked buoys used to identify the lobster traps' owners throughout the bay. Our first task was to put herring in the bait containers. The herring came from one of the large fishing boats we saw along the port who specialize in gathering these fish in large quantities.
The boat brought up two lobster traps for each stop. The kids were tasked to put as much herring as they could fit into the bait basket which they all absolutely loved doing despite the smell.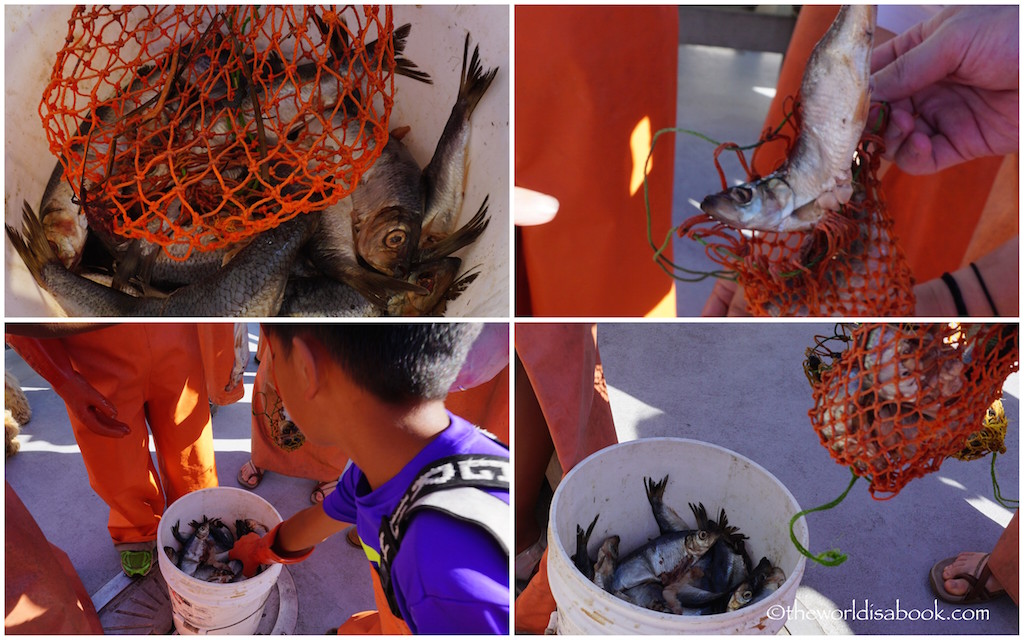 Captain Tom brought up the lobster traps via a pulley. They were large, wire boxes with two compartments. The lobsters crawl into the first area where the bait is located. They then crawl into another area via a net walkway where they stay trapped.  Lobster traps must also have an opening or escape hatch for smaller lobsters to escape.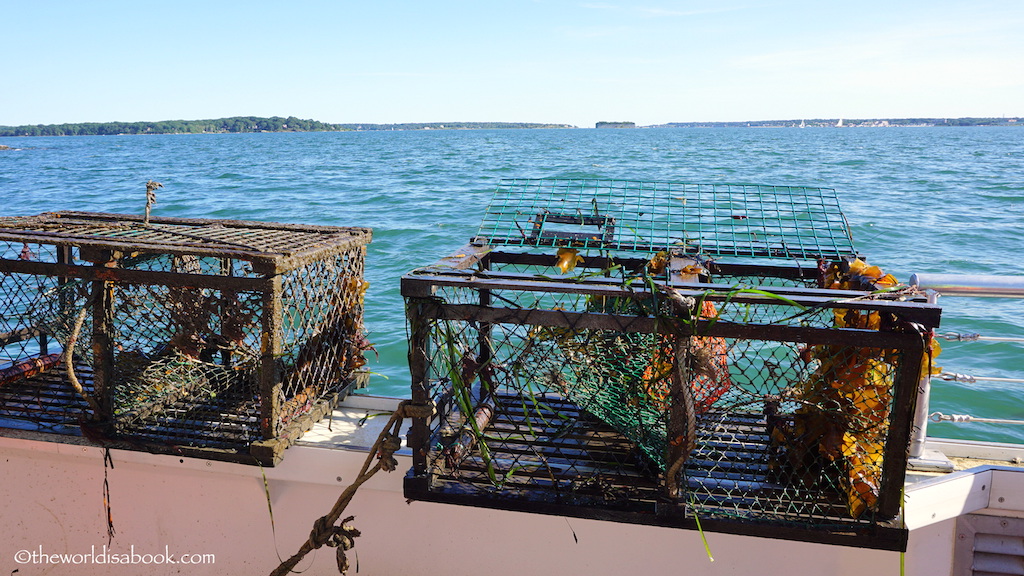 We also learned that each commercial trap cost about $80 but the ones we were seeing cost about $50 to make.  After the sea plants and other debris were removed, the newly filled bait bag was put in place and the lobster traps were lowered again. Maine enacted a law that lobster traps could not be hauled up on Sundays or after 4PM on Saturdays between June 1 and September 1. There are no other restrictions beyond these dates.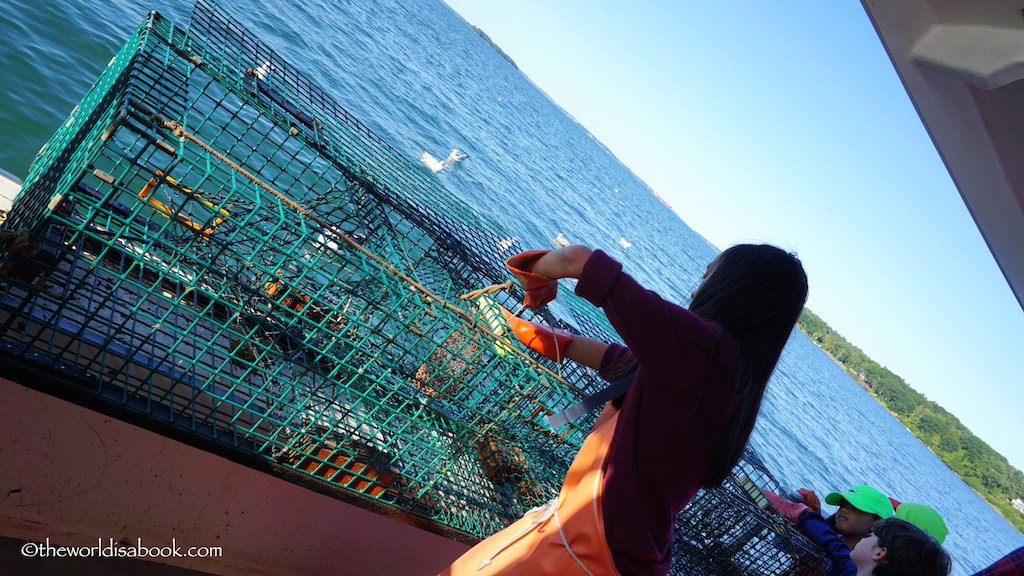 Each lobster was measured to check if they fell under the guidelines. Maine has enforced many lobster laws. Lobsters are only kept if they are within a certain size. The minimum length of keeping a lobster is 3 1/4 inches and a maximun length of 5 inches from the rear of its eye socket to the beginning of its tail. We took turns measuring each lobster's carapace or body using a special gauge to see if they're "keepers" or if we needed to put them back in the water. Many of Maine's lobsters usually average about 1.5 lbs.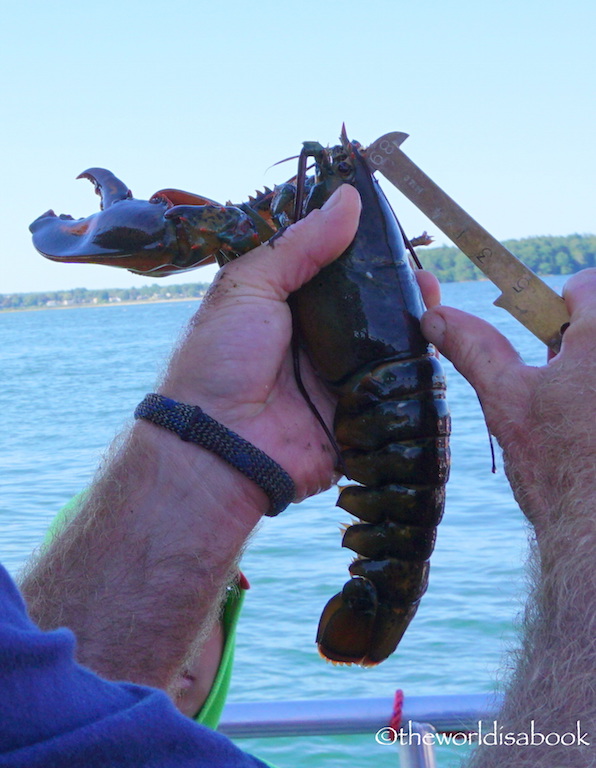 The minimum size was put in place to ensure the lobsters have the opportunity to breed at least once. We also saw one of the female lobsters with her eggs. One of Maine's other laws protects the female lobsters by enforcing fishermen to put a V-shaped notch on the lobster's right tail flipper before putting her back in the water. The one we saw already had a V-shape on it indicating she was trapped before. She was released again ensuring that this lobster kept reproducing.
We also learned how to put on the yellow rubber band to tie the lobsters' claws for everyone's safety. Banding the lobsters also makes sure they don't harm each other while in close quarters inside the tank. The kids particularly enjoyed doing the banding and was a lot easier than it looked.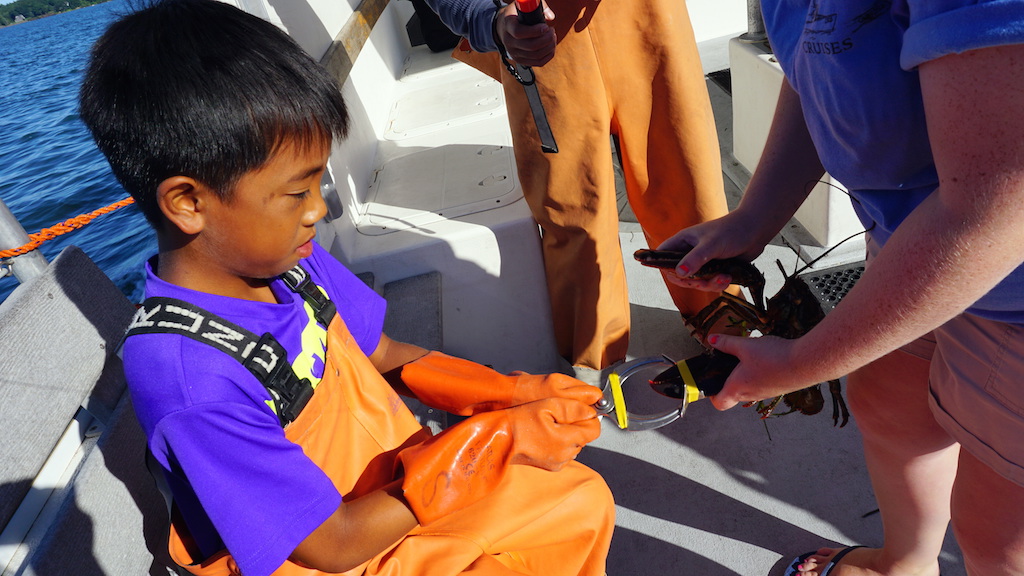 This educational experience continued as we learned how to distinguish between males and females. We looked at and touched the top pair or swimmerets or feelers. Males have hard and bony swimmerets that point upwards while the females have soft ones and crossed at the tips.  The females also have wider and flatter tails useful for carrying the eggs.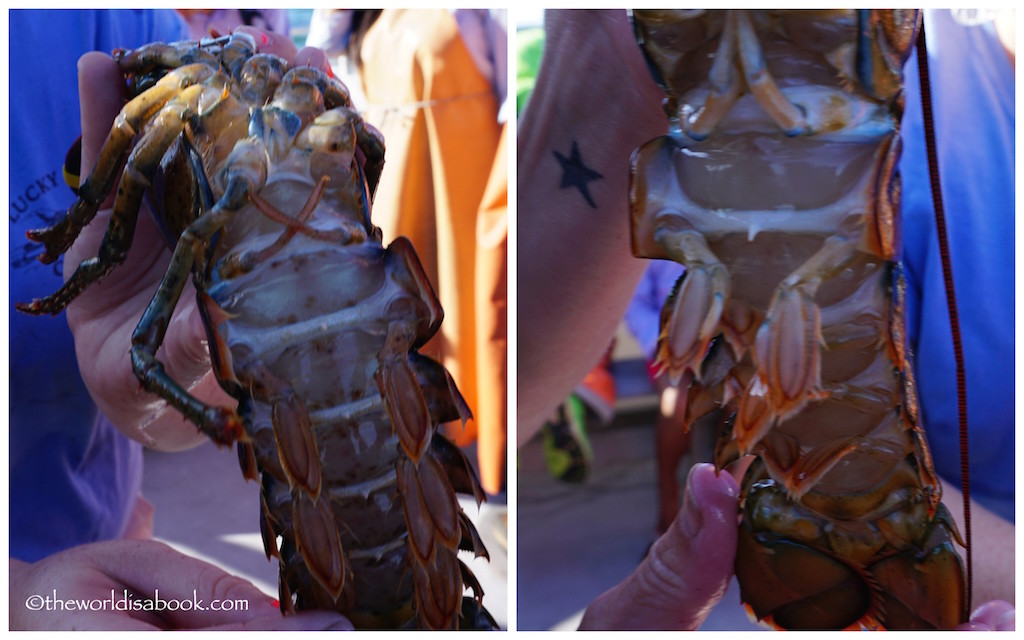 Lobsters also have the power to regenerate their legs, claws, and antennae. We saw one with its legs growing again. It was interesting to find out that lobsters grow by molting or shedding their shells. The shells are softened with enzyme secretions. They grow by about 20% with every molt. They average about 20-25 molts over 5-7 years to grow to the minimum size to keep at about a pound. This made me appreciate eating those lobsters even more,
We really liked that we had the chance to see some parts of the bay in between hauling the traps. One of the places we stopped was near a rock filled with birds and a few seals. These birds were the double-breasted cormorants.
Cormorants are black birds with yellow-orange faces. They are known for diving deep into the water to hunt for their main food source of small fish. Unlike some other birds, their feathers tend to soak more water than shed it. It was interesting to watch them spreading their wings out to dry looking like they were about to take off. The kids also enjoyed watching a few seals crawl up to the rock.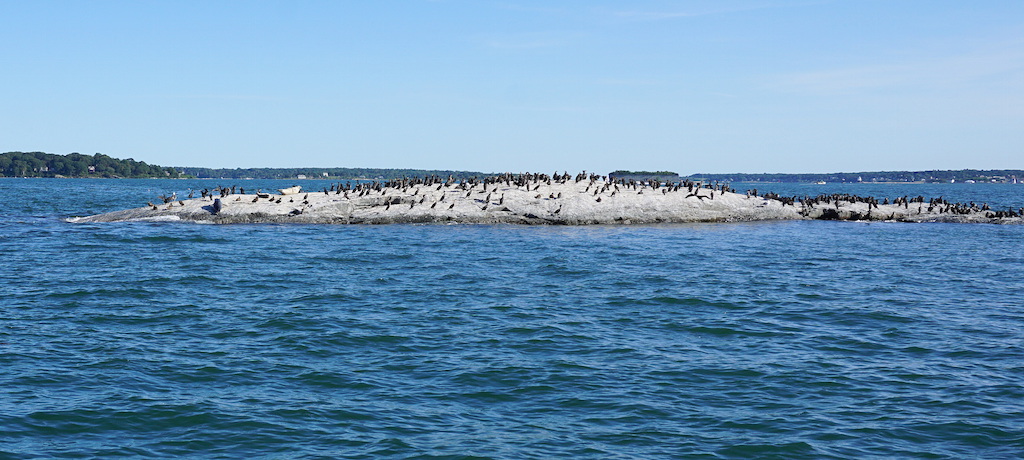 The boat also passed near Fort Gorges which was a building rising out of an island. The island was only accessible by boats and kayaks or through private excusions. This fort was completed in 1865 to protect the northeast area of Portland harbor. It had at most 34 guns mounted around it at one time but a shot was never fired. The guns are gone since it is now a park and historic landmark. The crew showed us some pictures of the fort and it looked like a very interesting place to visit.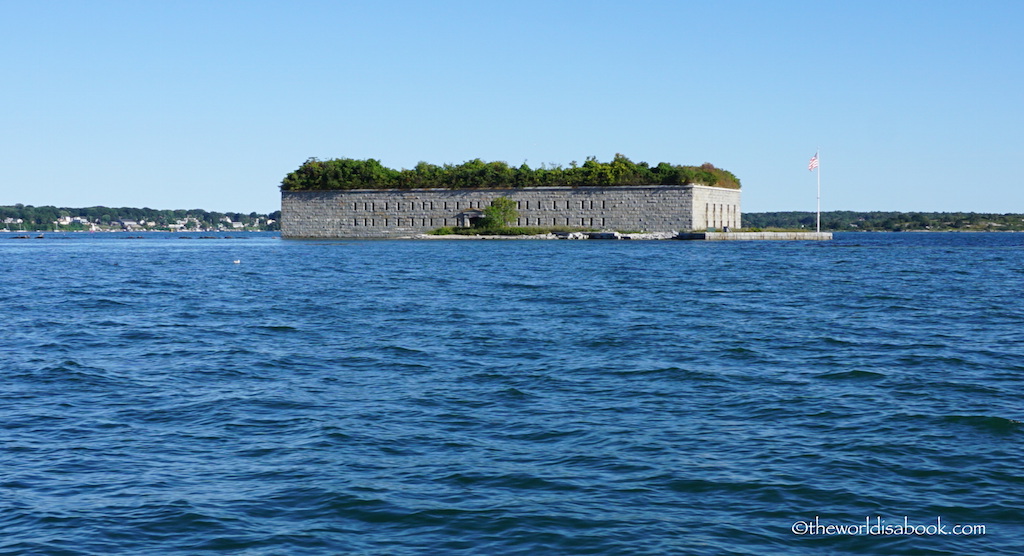 We were given the opportunity to purchase the lobsters we caught along with the live ones they already had in the tank from previous cruises at wholesale prices. Of course, we jumped at this deal. We each chose a lobster and they came out to about $6 a piece. Lobsters were averaging about $4.20 a pound during our visit. Maine lobsters in Southern California average about $12/lb.
Portland Lobster Company was a restaurant across from where Lucky Catch docks. We brought our lobsters to the restaurant and they cooked them for $10 that included corn, potatoes and cole slaw. This was a delicious meal that also came with a beautiful ocean view. Did you know that lobsters are also healthy with less calories and cholesterol than lean meat and chicken plus a great source of protein?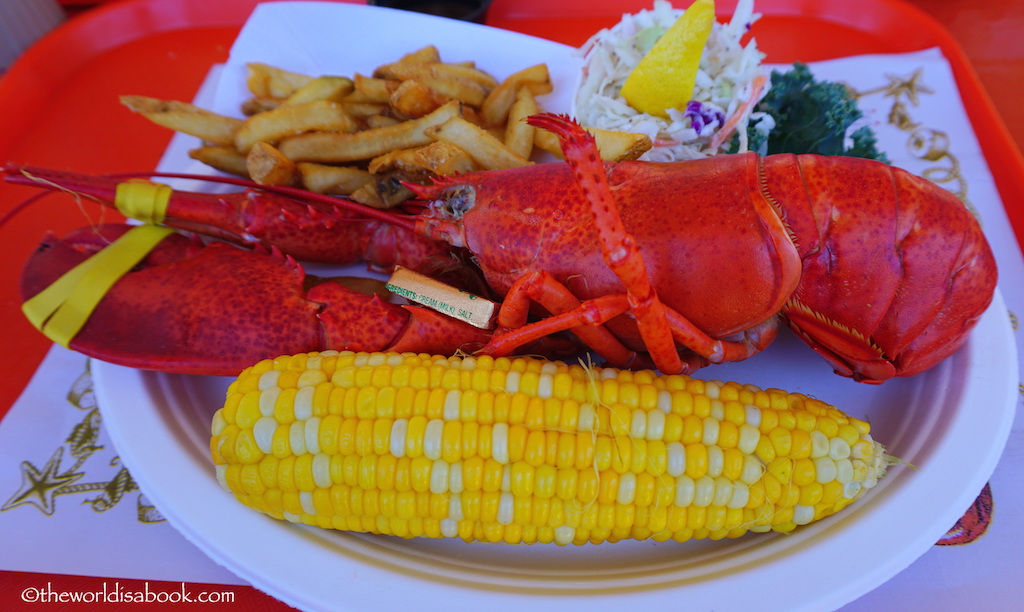 This cruise excursion was a wonderful tour for sightseeing and learning all about lobster trapping and lobsters. We really liked that they made sure everyone participated at least once doing different roles. The guides were friendly and ensured we were learning and having fun. It's not often we get to catch what we eat. We highly recommend this tour for anyone visiting Portland, Maine during the summer. We'll never look at lobsters the same way again.
Lobstering Excursion Basics and Tips
Check Lucky Catch Cruises website for more information and updates on their excursions.
Tours run from Long Wharf in Portland, Maine from May to October and run for about 80-90 minutes.
Prices (as of Sept. 2015): Adults $30; Children ages 2-12 $20; Juniors (13-18) $28; Kids under two are free.
Only cash or checks are accepted for payment.
Reserve in advance to get the times you want. They don't have online reservations so be sure to call them at 207.761.0941.
There are no restrooms on board. Use one of the restrooms in nearby restaurants before boarding.
Bring water or other beverages especially for the kids. Doing some of that work will make one thirsty.
Wear layers or bring a light jacket. It was pretty hot when we left the dock and got pretty cold within an hour.
If you or your travel companions are prone to seasickness, you may want to take some motion sickness medicine or wear sea bands.
*Have you gone on a lobster fishing excursion? Would you go on one?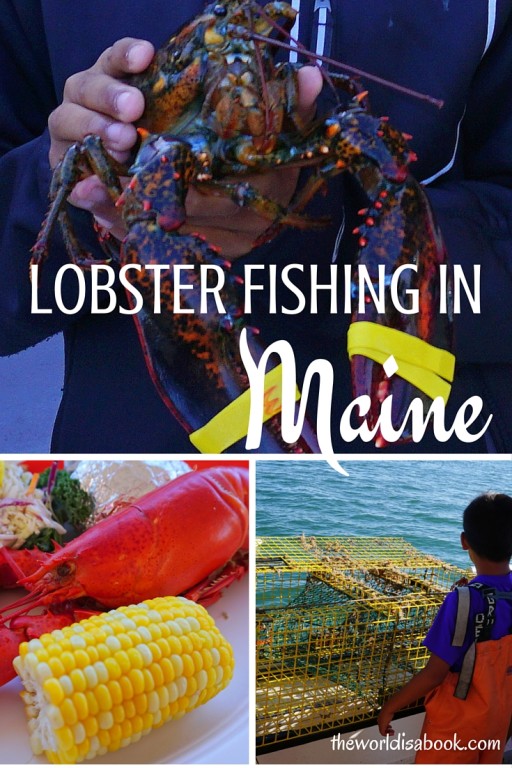 Check out these related posts: