History Comes Alive at Plymouth Rock and the Mayflower II
Many of us who have studied American History learned the importance of Plymouth Rock and the Pilgrims who sailed on the Mayflower from England to America early. For anyone outside the US, I hope this post will be a learning experience too. We were in the Boston area last week and decided to do a spontaneous trip to see Plymouth Rock and the Mayflower II . Many consider the seaside town of Plymouth, (pronounced pliməTH), Massachusetts as the place where America's roots began. This Pilgrim colony was one of the first of the 13 colonies that later became the USA.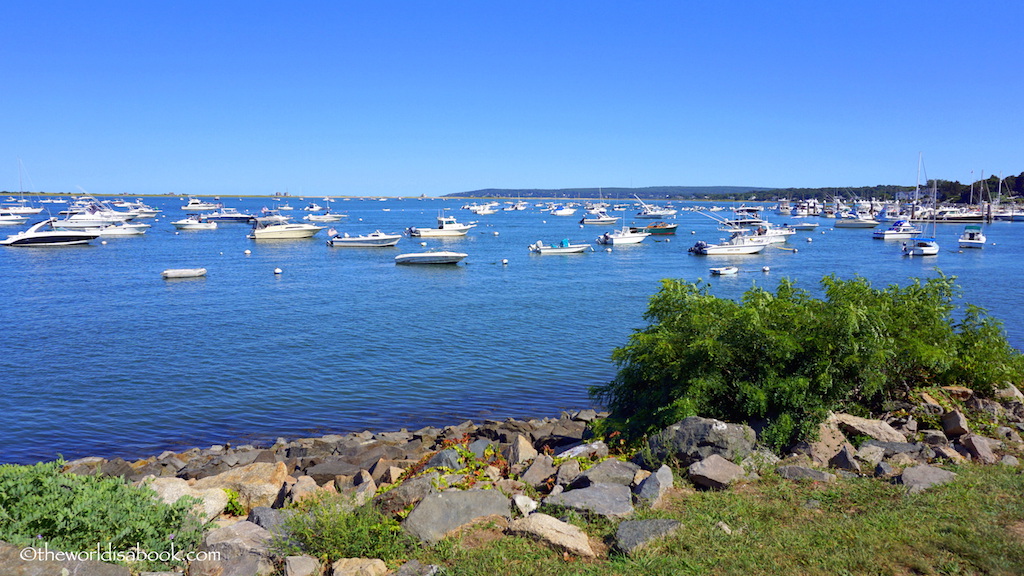 Our first stop was to see the famous Plymouth Rock located at Pilgrim Memorial State Park. Stories over the years have indicated the Pilgrims landing and stepping on this rock as they set foot on the new land. Contrary to this, two major sources, including a journal, from the Pilgrims themselves never mentioned a rock during their landing.
It was in 1741, over a century after the Pilgrims landed, when a 94-year-old church elder named Thomas Faunce claimed that the rock was the Pilgrim's landing spot based on his father's and some of the original Mayflower passengers account. His claim came about after a wharf was supposed to be built over the rock. Its origins may be a bit sketchy but Plymouth Rock has come to symbolize liberty and freedom when the Pilgrims founded the first colony. This unique and treasured relic is visited by over a million people annually.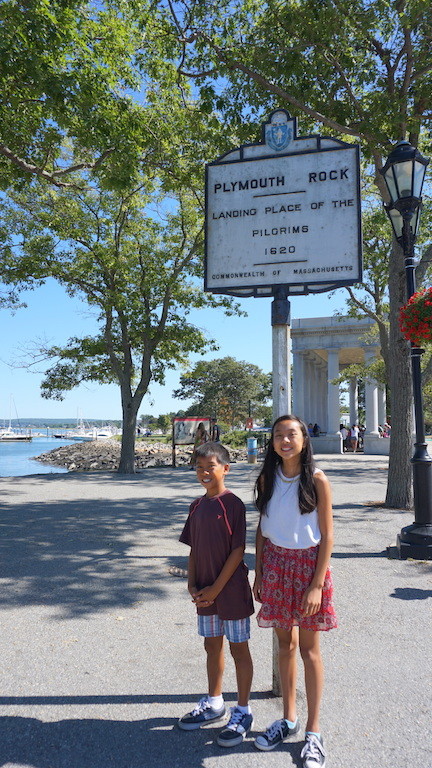 I've read enough material to know not to expect too much when seeing Plymouth Rock. As we looked over the rock below, I couldn't help but also feel underwhelmed. This was it?! I'm not sure what I expected. Maybe a bit more protection or some showcase lights surrounding it or maybe for the rock to be a little bigger. It was also quite hard to take a picture of it. There were always shadows of people or the bars. Maybe we should have come back at night. My kids were a little more in tune with this rock and seemed more interested  than another set of rocks we've visited – Stonehenge.
In its defense, the actual size of the rock here looks deceiving. We were only actually seeing the top part of it, which was a third of the actual rock. The rest and the bottom part were buried in an enclosure 5 feet below street level under the sand.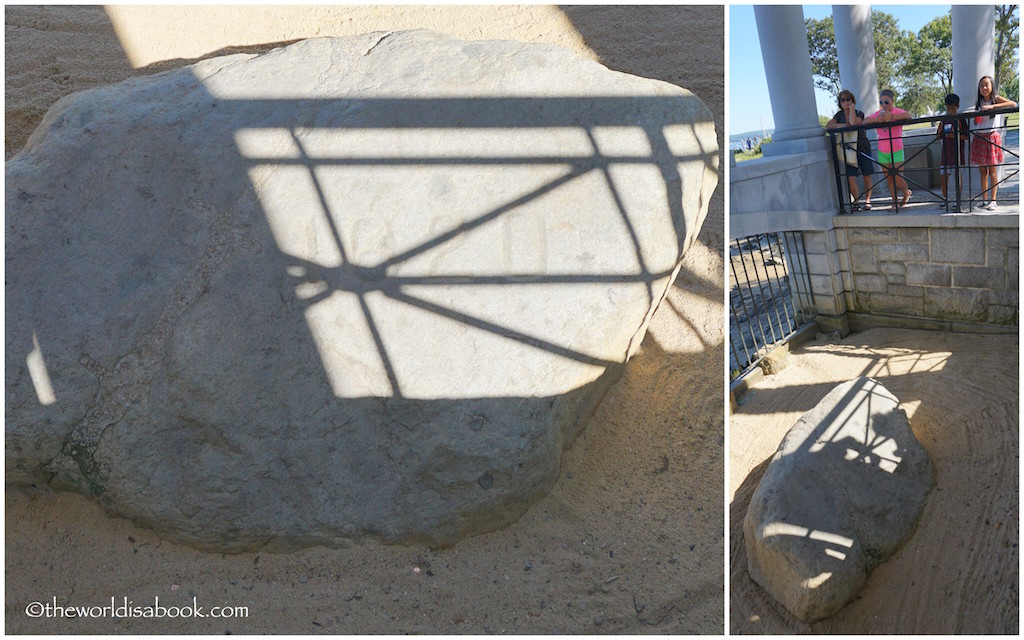 The current whole rock weighs 10 tons. But, this boulder was actually only a third of its original size. The boulder has split a couple of times during moves to different locations. It was cemented back together. Souvenir hunters also broke and chipped away at the rock before it was protected in the 19th century.
1620 was carved into the top of rock in 1880 to permanently mark when the Pilgrims landed here. A small white building that resembled a Roman temple was built to house and protect the rock during the 300th anniversary of when the Pilgrims landed. Taking all of its history into account, we saw Plymouth Rock in a whole new light. Visitors can touch a piece of Plymouth Rock at the nearby Pilgrim Hall Museum.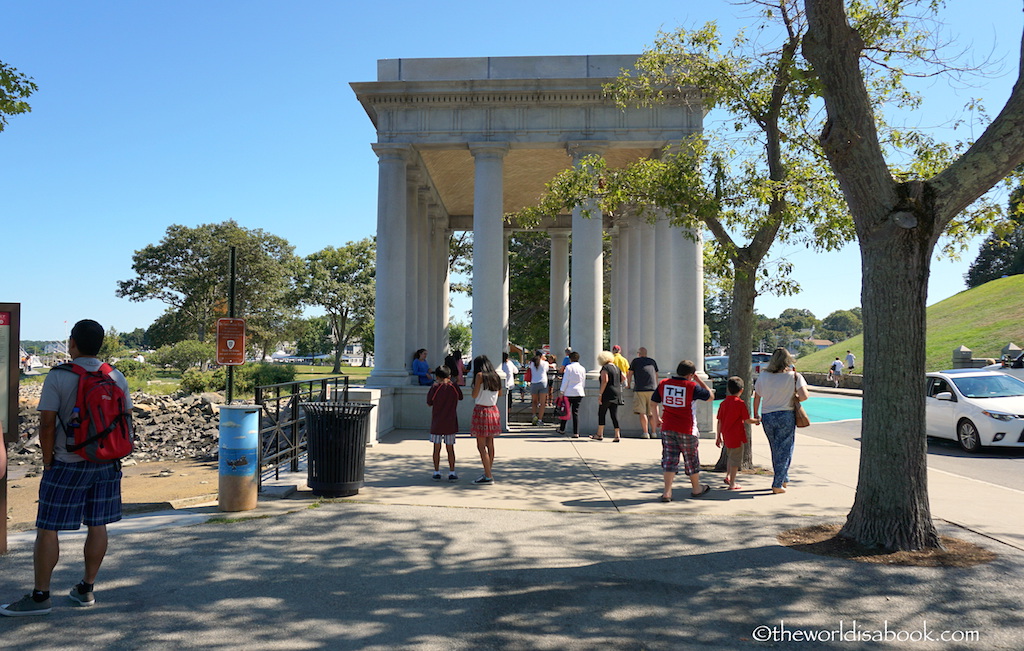 Visiting the Mayflower II
A short walk down the seaside park took us to the docked Mayflower II. This was a full-scale reproduction of the Mayflower ship, which brought the Pilgrims from England across the Atlantic Ocean to this harbor in 1620. The original Mayflower disappeared after 1624, with no historical records, but did return to England.
We explored various exhibits on the dockside that told the history of the passengers and the ship. It was also interesting to see photos of how this ship was constructed. There was even a small boat that kids could go on and raise a sail. I liked that there was this area that helped the kids interact with the ship and exhibits with some questions to get the conversation going. Although, it would probably help to add a little bit more activities.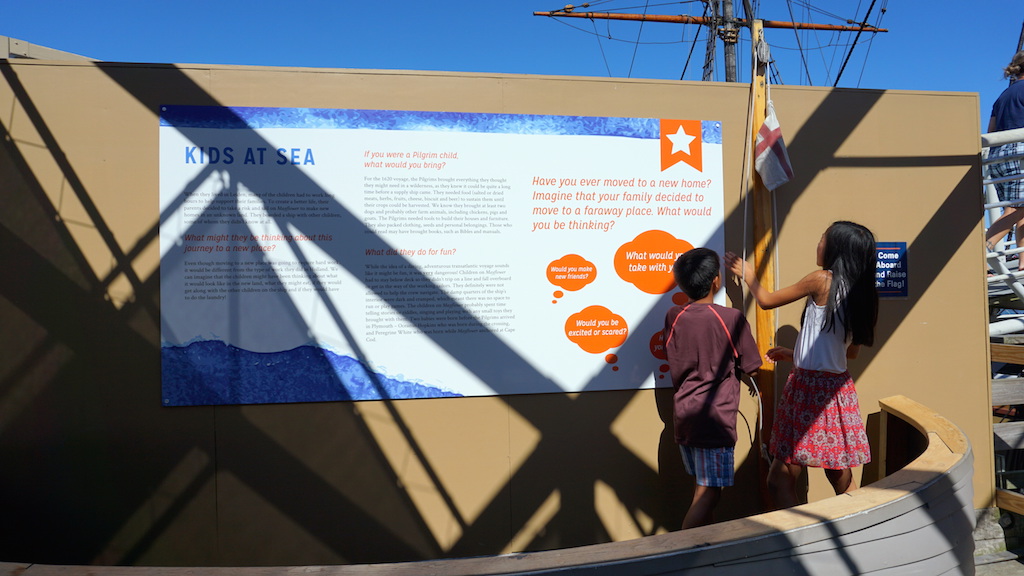 There were no guided tours here but we were left to explore the ship and ask as many questions as much as we wanted. We really liked that there were docents and guides to answer questions about the ship. But, there were also people in costumes who were role-playing one of the Pilgrim passengers aboard the original Mayflower. It was interesting to hear them tell about their journey and answer our questions about the difficult life on the ship and their life in England. This perspective added a bit of realism which the kids enjoyed hearing.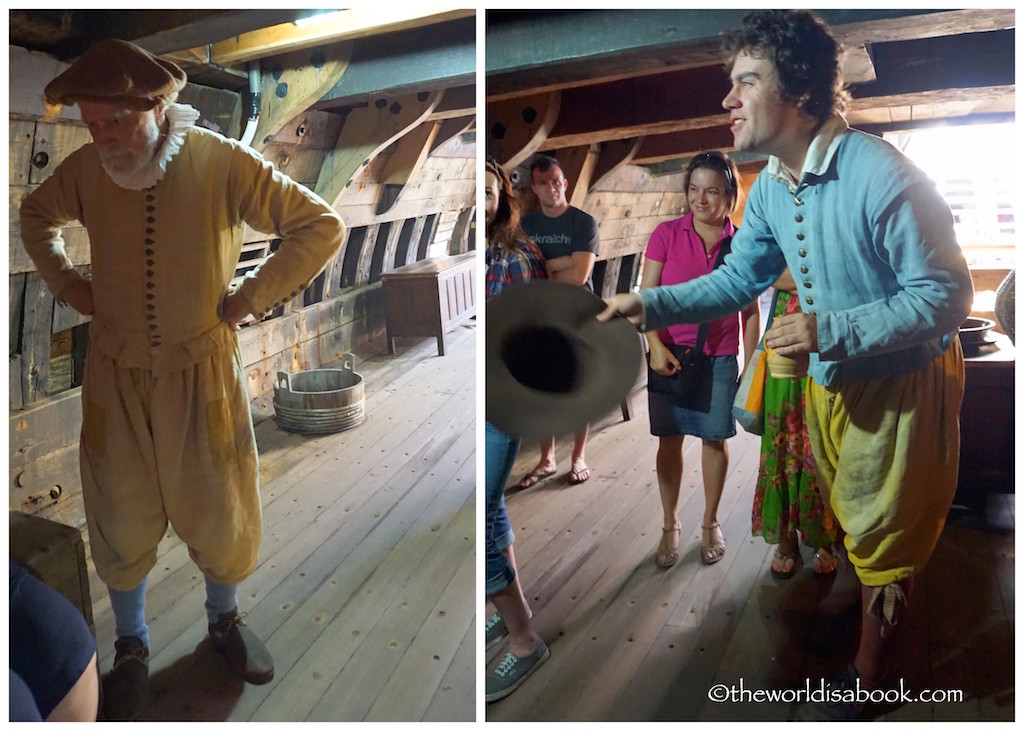 There were 102 passengers and 26 crew members aboard the Mayflower including three pregnant women and some children. Their Atlantic Ocean crossing took 66 days. Most of the passengers were part of the Leiden congregation who moved to Holland from England for religious freedom.
They decided to immigrate to an English colony in the Americas backed financially by an English joint stock company who they'd later repay. There were also some English people onboard who wanted to seek riches and a better life. Some of the Pilgrims were already living on the ship for over a month before it sailed.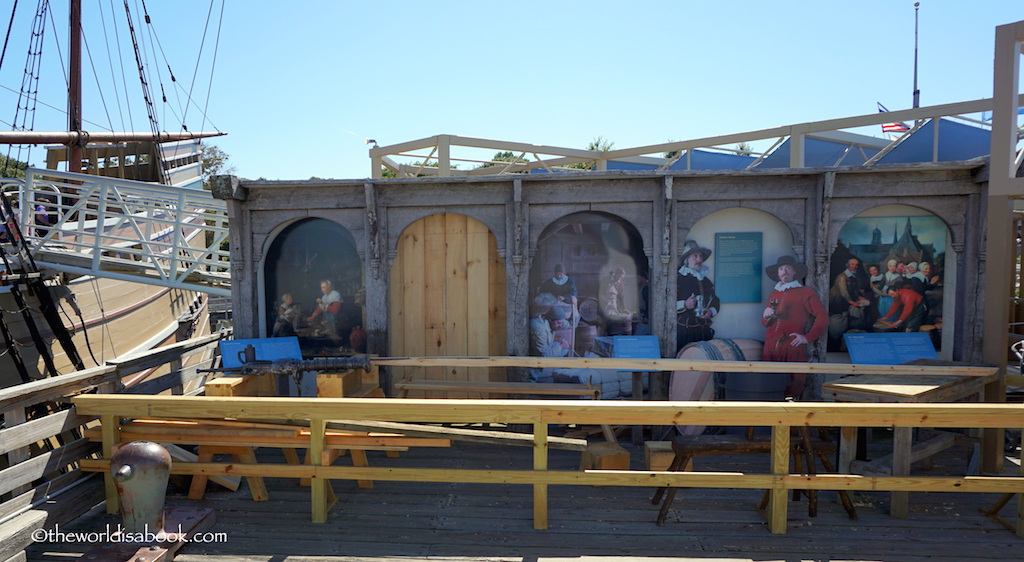 Walking around this ship, it was hard to fathom how they were able to fit over 100 people on a 25 feet wide and 106 feet long wooden ship. There were barely any beds and the beds were tiny. My very thin 12-year old girl barely fit in them.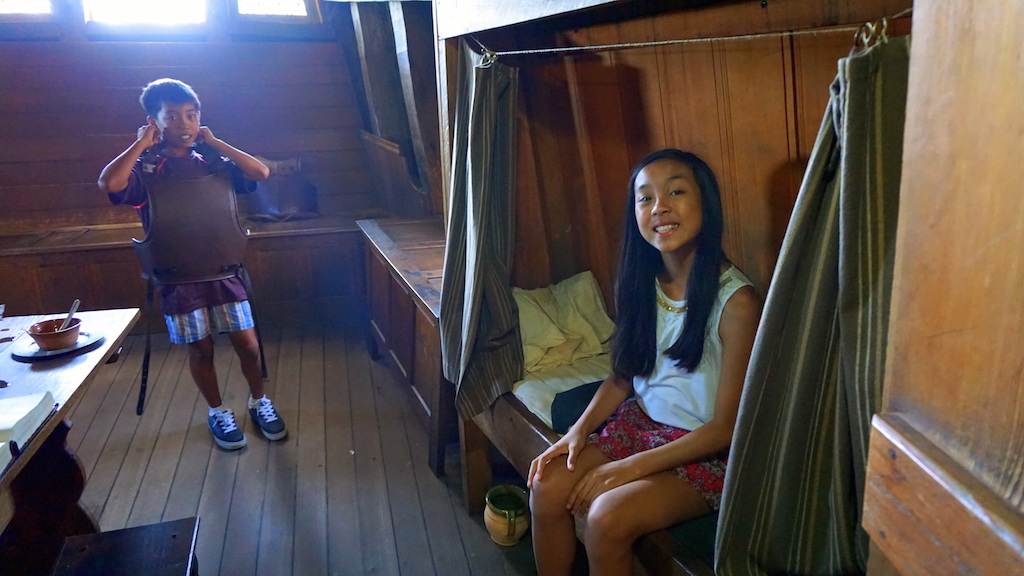 The ship was originally a cargo ship meant to transport supplies and not people. Unfortunately, the passengers were confined to the lower deck with no bathroom facilities, no ventilation, limited provisions, suffered through seasickness and in very close quarters with a hundred people. One can only imagine the smell and environment in this harrowing passage for over a two-month period. There was also livestock on board.
It really was a testament of endurance, faith and patience for these families to leave everything behind and set out to settle in unchartered and unknown lands. It made us appreciate the hardships they endured during that journey even more. Touring this ship gave us some perspective on the size and living conditions of their passage which was heartbreaking. There were two people who died during this particular voyage. Unfortunately, many more passengers succumbed to starvation and illness once they arrived here at the onset of winter.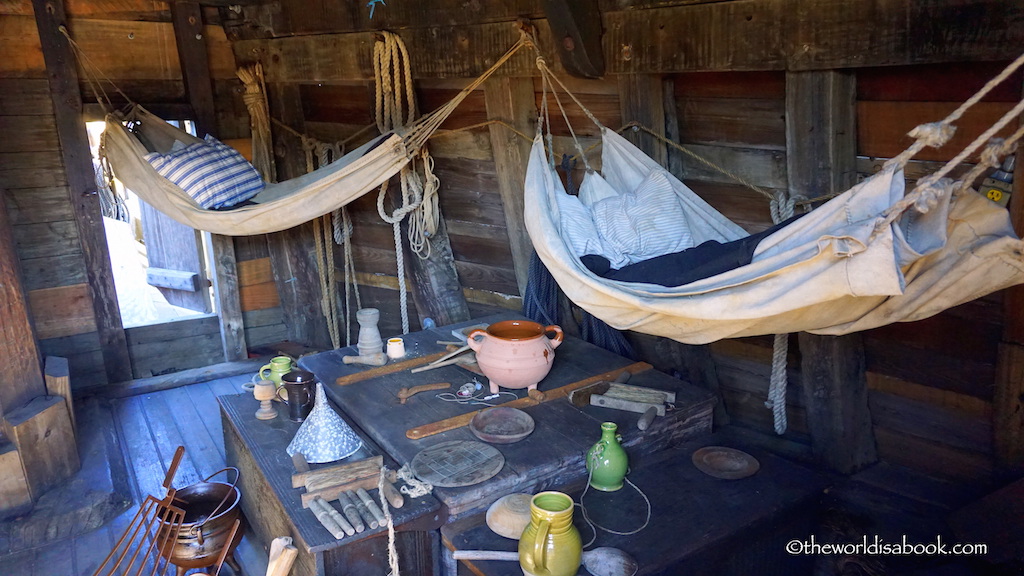 The First Thanksgiving
The Plymouth colony is also attributed for the origins of a beloved American holiday, Thanksgiving, celebrated every late November. Almost a year after they landed, the Pilgrims set up a three-day feast based on harvest festivals in England. They set aside a day for thanksgiving after their first fall harvest and invited the neighboring Native Americans,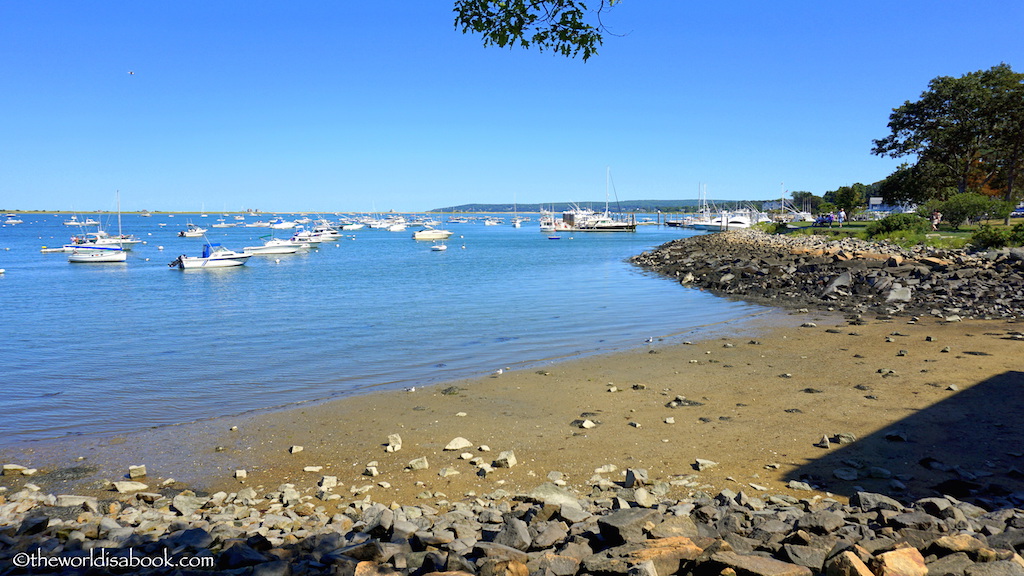 The Mayflower II was built over a two-year period in Devon, England with the same dimensions as the original ship. It set sail for two months to America in 1957 and landed in Plymouth again. Construction of the ship was largely made possible from the English people's donations.
This replica had some slight modifications including a large staircase that connected the decks, some lower deck electric lights and other features to make it more accessible for visitors. She has sailed numerous times along the Cape Cod Bay. Mayflower II actually made its return to Plymouth just a few months ago after it went through renovations in Mystic, Connecticut. Tours through here shouldn't take very long since the ship wasn't very big.
My kids are studying American History this year so this was worth a trip and a great educational experience. My husband and I learned some things too. Plymouth Rock may not live up to what most people expect but look past its simplicity and overhype and there stands an enduring symbol of freedom and new beginnings. The Mayflower II was an interesting walk through history. The kids enjoyed our self-guided tour and listening to the role players tell life aboard the ship and their tumultuous journey across the ocean.
Visiting Plymouth Rock and Mayflower II Basics and Tips
Seeing Plymouth Rock is free. Admission to the Mayflower II is $12 (Adults) and $8 (Kids ages 5-12). But, it can be combined with admission to the Plimoth Plantation which is three miles away. A blog post on our experience at Plimoth Plantation will be coming soon. We highly recommend visiting these two attractions along with Plimoth Plantation to get a better picture and story of what happened to the Pilgrims after they landed.
Strollers are not allowed aboard the ship but can be left at the dockside area.
Take some time to walk and explore Plymouth and especially around the seaside area. There are many seafood places to eat plus several cruises around the cape.
*Have you visited Plymouth and the Mayflower II?
Where to Stay in Boston (about an hour away)
Hilton Boston Downtown/Faneuil Hall – We stayed in this historic and centrally located hotel for several nights. It was convenient to the subway getting to/from the airport and within walking distance of many attractions in Boston. The rooms were spacious and views from the upper floor were great.
See the best Boston hotel prices from the major travel sites on HotelsCombined.
Find the best Boston hotels and read reviews on TripAdvisor.
Activities
Flights/Vacation Packages
Compare airlines, dates and prices all in one place with Skyscanner
Pin it for later!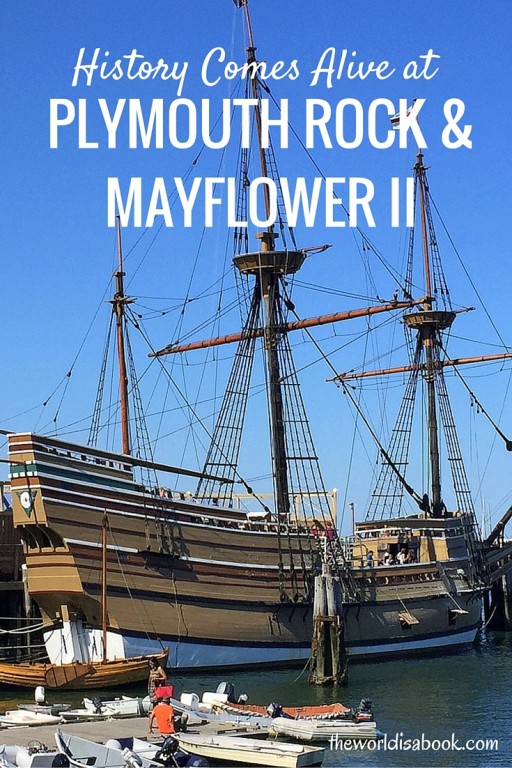 *There are affiliate links in this post to help support this website.