Colorful Isle: A Day in Burano, Italy
The Italian island of Burano off the coast of the Venetian lagoon is one of the most colorful places in the world. I fell in love with this island the first time I visited with my husband a few years ago and have longed to return. We were here during a multi-island tour that included Murano and Torcello. Burano was the last island we visited and was our favorite. Unfortunately, we only had a couple of hours here at almost dusk. We were lucky enough to return last year for a longer period, on a self-guided tour and this time, with the kids in tow. See why this island is so special.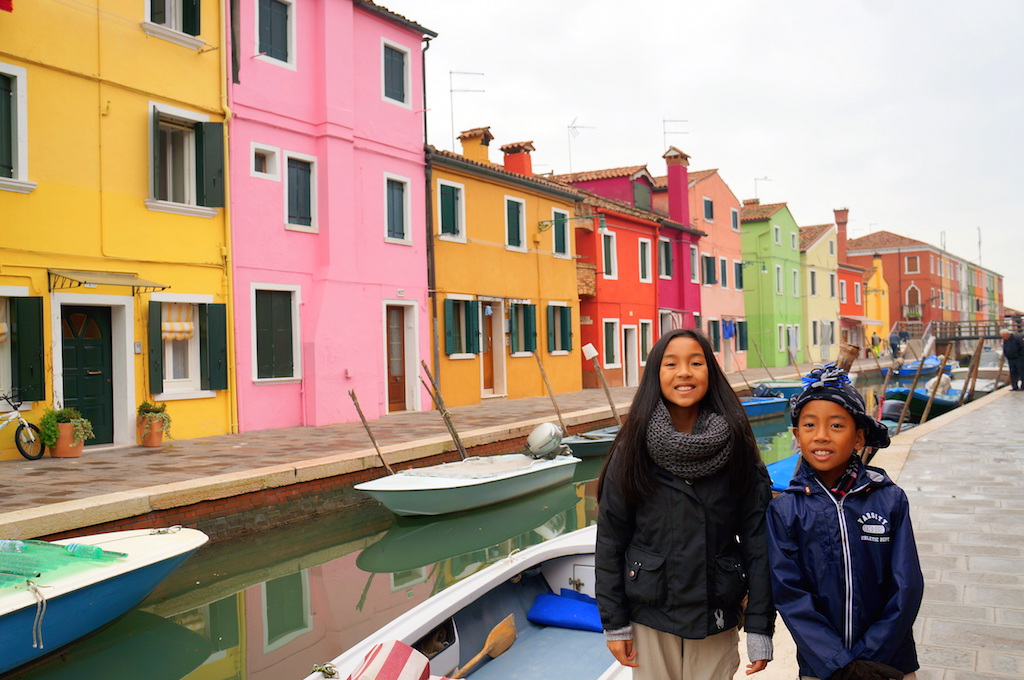 The island of Burano is about a 40-minute vaporetto ride from Venice situated on the lagoon's northern area. Burano was one of the settlements established by the Roman city of Altino's residents who were trying to escape from the barbarians' invasion. They named their island settlements after the six doors from their city and Burano was from "Porta Boreana" which was the northern one.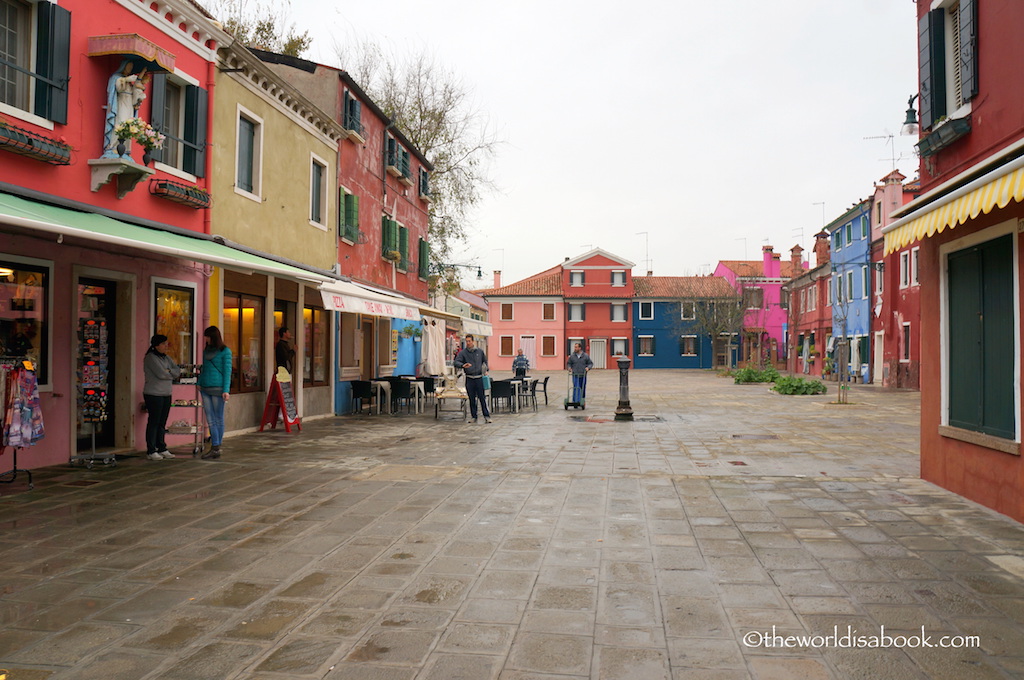 There are only about 3,000 residents on the island today. On some summer days, it's quite possible that tourists outnumber the residents. Burano is mainly known for its colorful houses, its food and its lace products.
Burano actually has four separate islands that were separated by canals and connected by small bridges. It made for a charming and picturesque scene to see these houses' reflection on the canals lined with small boats.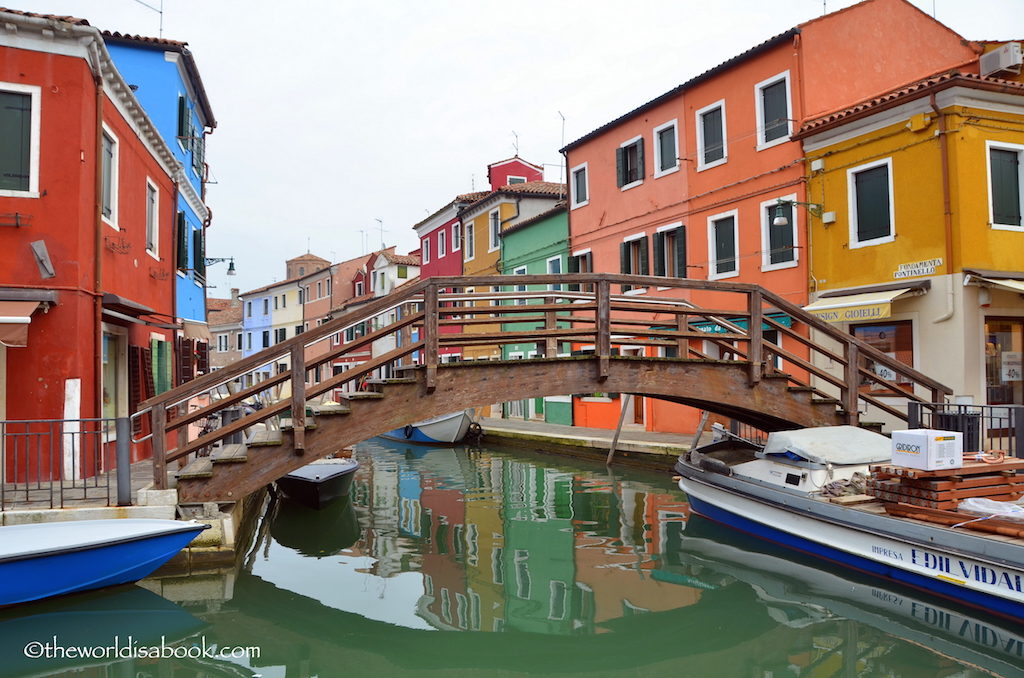 The Colorful Houses
This was our first glimpse of Burano's colorful houses on this trip. They're as remarkable and vivid as I remembered them. My kids were amazed and in disbelief as soon as they saw the rainbow rows. They immediately tried to pick their favorite house colors. We were here during late November and it was very cloudy. But, these colorful houses sure did wonders despite the lack of sunshine. They really did brighten our day.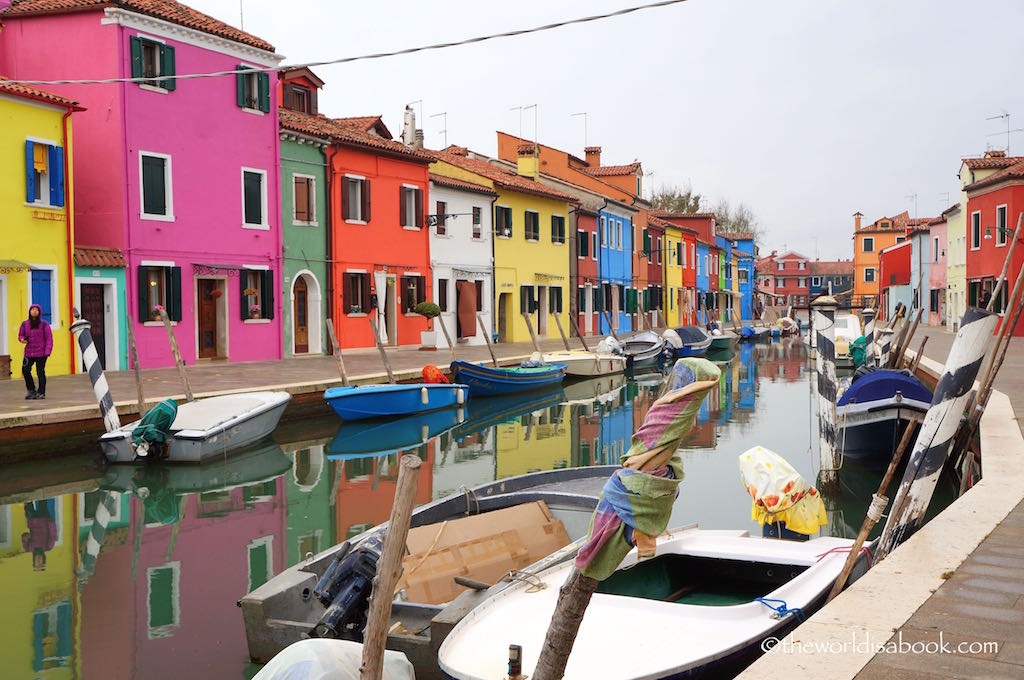 So, what's the story behind the multi-colored houses? The more interesting story, though believed to be a myth, was that the fishermen painted their houses in varied, bright colors so they could identify them from a distance amidst the thick fog and during dark hours. In reality, the colors were used to set boundaries between properties.
It became tradition to paint the houses in various colors. It was kept this way going forward since these colorful houses have become a part of the island's identity and allure.
But, the homeowners must abide by certain rules when painting their houses. A specific system was put in place that follows color patterns. If homeowners want to paint their houses, they must request approval from the local government to ensure the new colors meet what's permitted in their section.
It was also illegal for adjacent houses to have the same colors. The rules seem a bit strict but it has certainly paid off with making Burano unique and attractive. These houses have been with the families for centuries. It looked like some houses have stuck with their original colors that have added to the island's charm.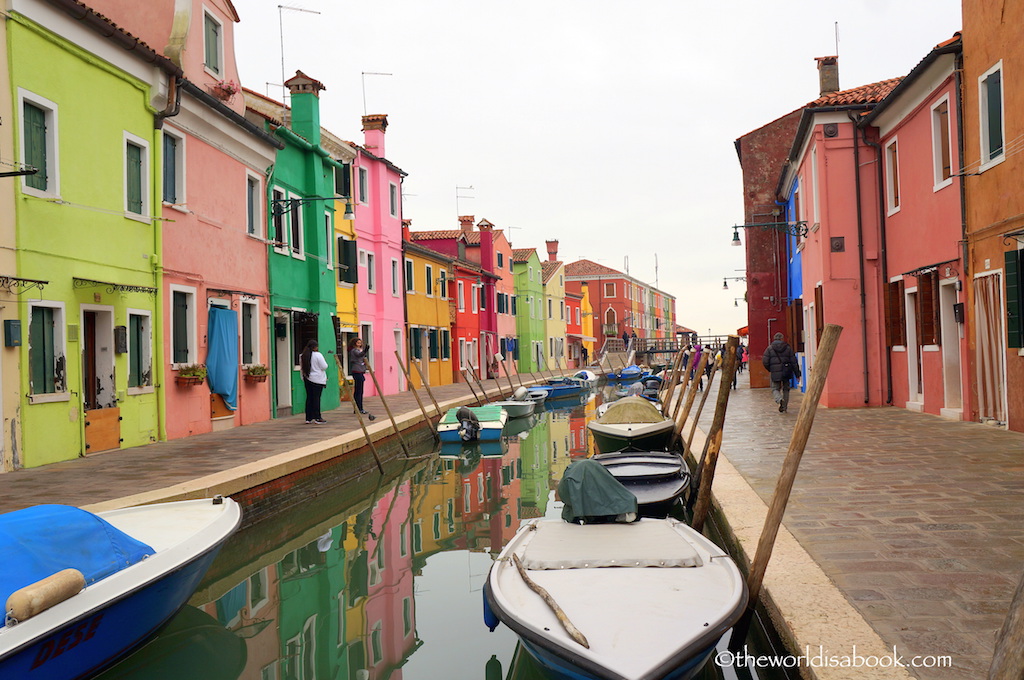 Most of Burano's houses were two or three stories and square-shaped. The kitchen, dining areas and toilets are primarily on the bottom floor. The bedrooms were on the upper floors. I loved how most of their windows were open and seemed welcoming. I wished we had the opportunity to go inside one of these houses and top it off with a home cooked meal.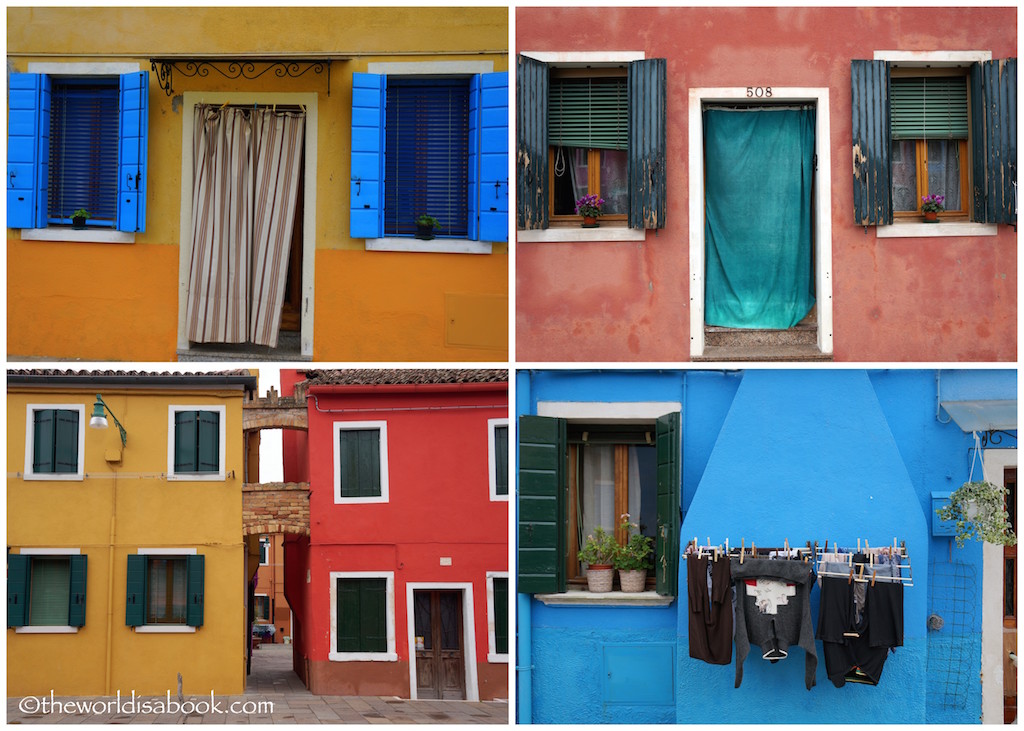 Much like Venice, I highly recommend just wandering around and exploring every street and alley. You never know what interesting things you'll see at the next corner. Plus, you can't really get lost here. It's the ideal place for kids to explore while learning a bit about Burano's lifestyle and culture.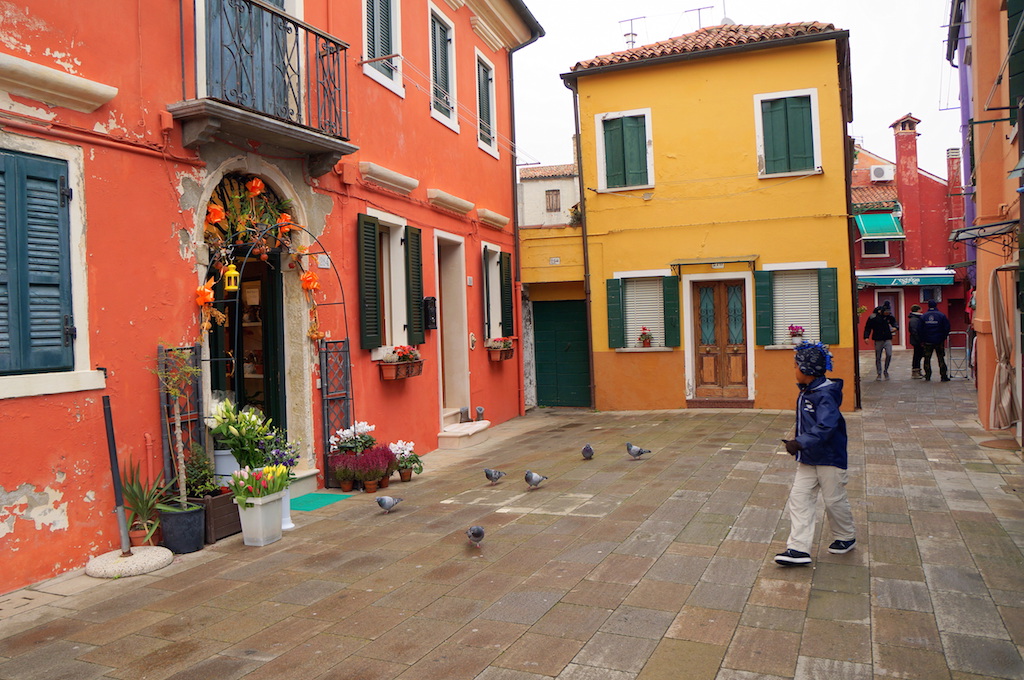 Burano's central area was Piazza Galuppi. The wide street was flanked on both sides by restaurants and souvenir and lace stores.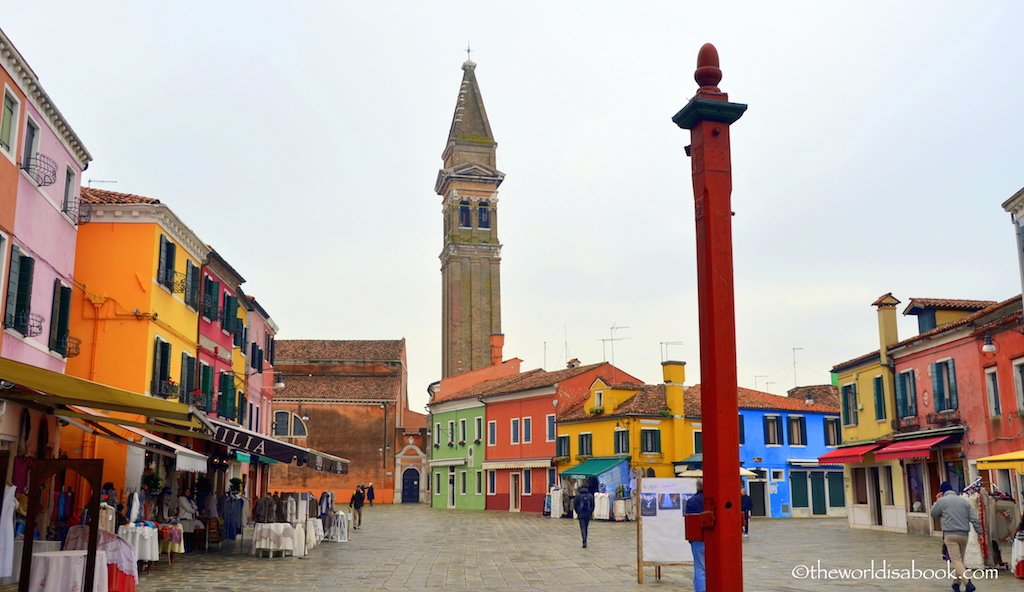 The tallest and most prominent structure on the island was the 16th century San Martino Bishop's church and its leaning bell tower. The 5+ degree lean seems more prominent from the water. It made for a fantastic marker as we walked around the island.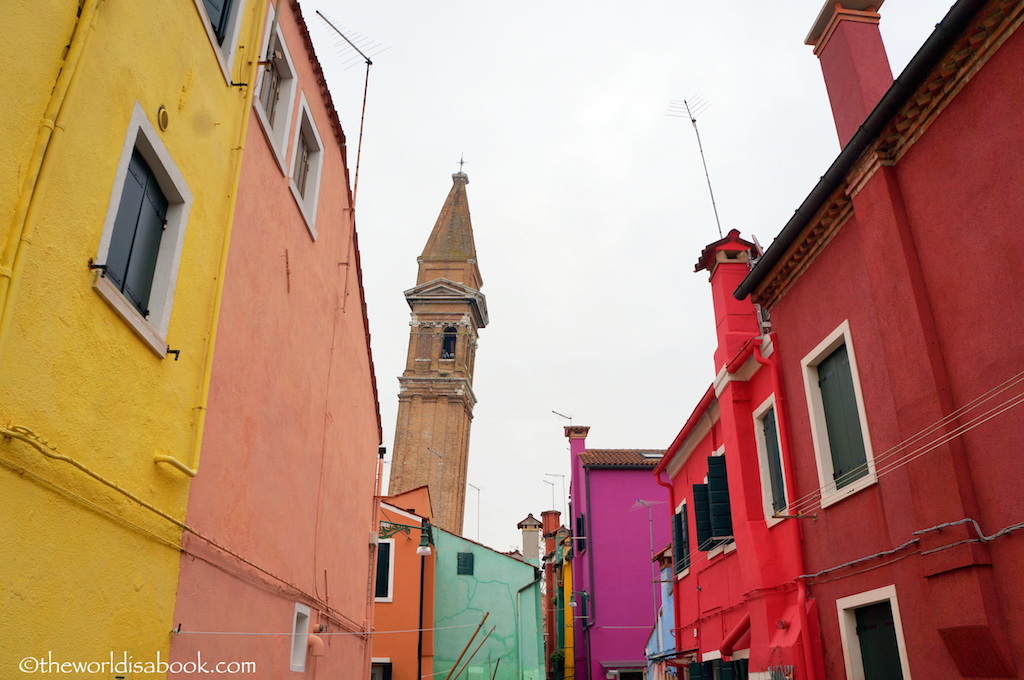 We decided to walk along the lagoon and found this small green space. It was also the only bit of grass we saw during our walk through most of the island.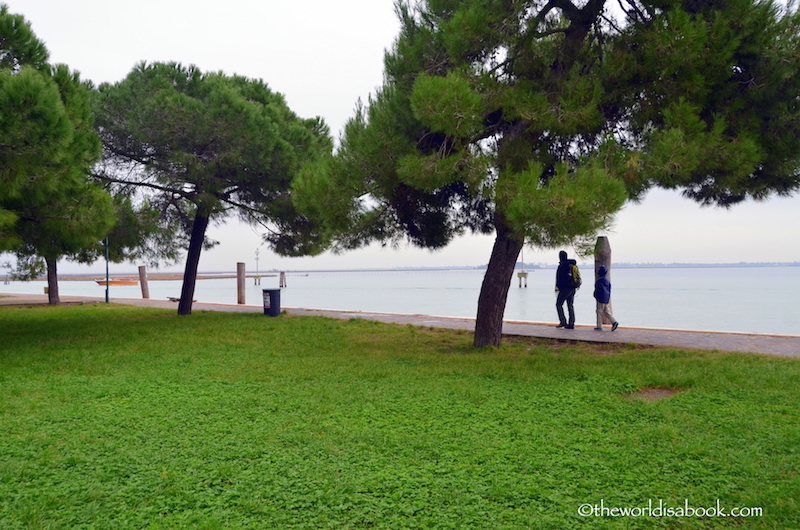 Eating in Burano
One of the things I was excited about on this return trip was finally getting the chance to eat at one of the island's restaurants. The most recommended island restaurant was Al Gatto Nero da Ruggero. Unfortunately, we found out before we got there that they were closed for renovations during our visit.
We found a hidden gem called Trattoria "Da Primo" on the main square instead. This was a family-owned and family-friendly restaurant. There were other restaurants around the area and we looked at the menu but this particularly place appealed to us. Paolo, his wife and three daughters ran the restaurant. We met one of the daughters outside and she was one of the reasons we went inside.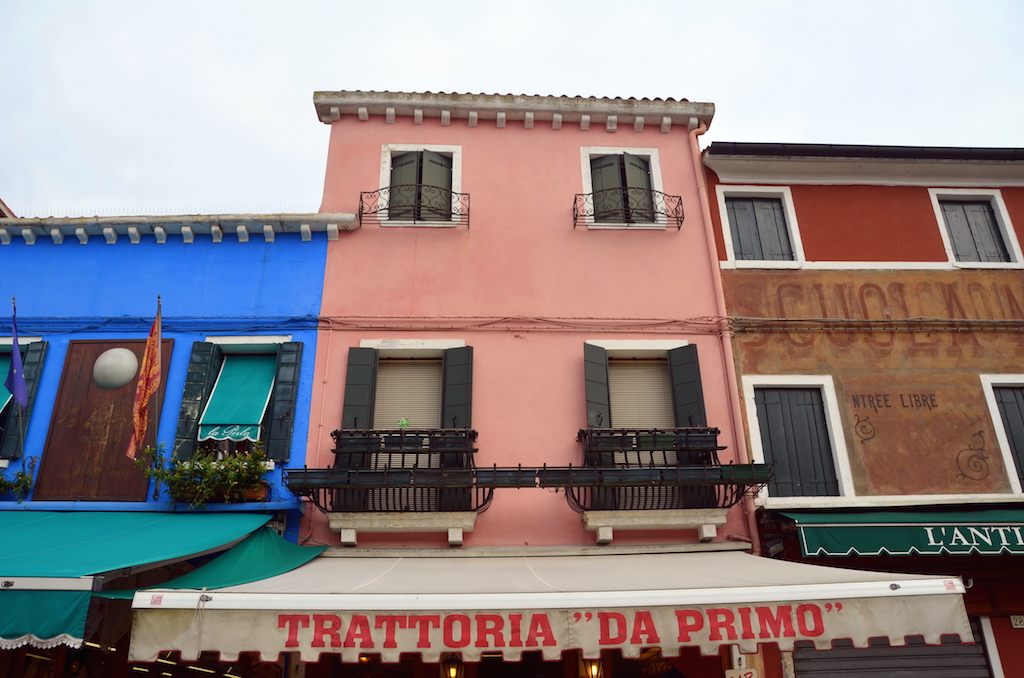 There were plenty of locals coming in and out who the owners enthusiastically greeted. It was cozy and welcoming inside. We felt like we were being invited to a big Italian get-together. Paolo came to greet us and took our order. He was very friendly and funny too. The prices were reasonable and service was fast.
We had a delicious meal from the pasta to the mixed grill lagoon fish platter and especially the shrimp. This was one of the best shrimp dishes we've ever eaten. The local shrimp was fresh and for some reason, sweet. We loved it so much we ordered another one after we devoured the first dish. The island's specialty is "risotto de gò" where the rice is cooked from a local fish's broth. (gò or goby in English). We'll have to save that dish for the return trip.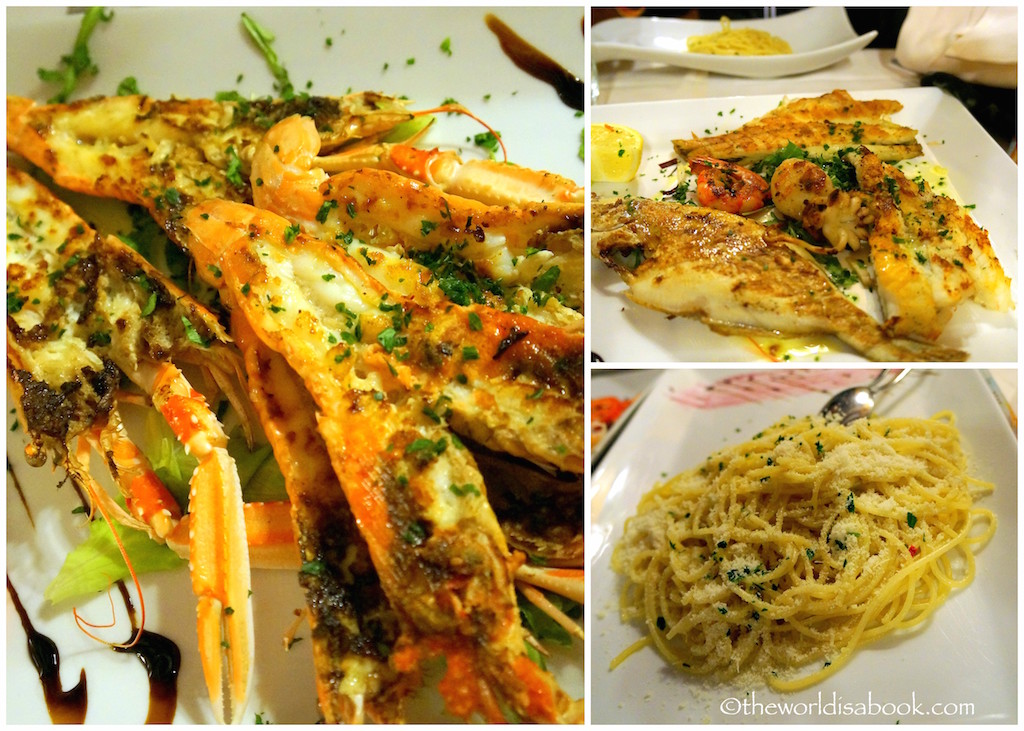 Of course, there were gelato shops here for dessert that my kids didn't pass up despite it being cold. The bakeries and souvenir stores also sold Burano's traditional pastries or Bussola Buranello sold in packages. The most common ones were the "Bussola" (meaning compass, hence, the O shaped ones) and the "Esse" (S shaped ones). They're more like sweet, buttery biscuits with a lemon aftertaste. They were great snacks and surprisingly a couple of packages made it home with us.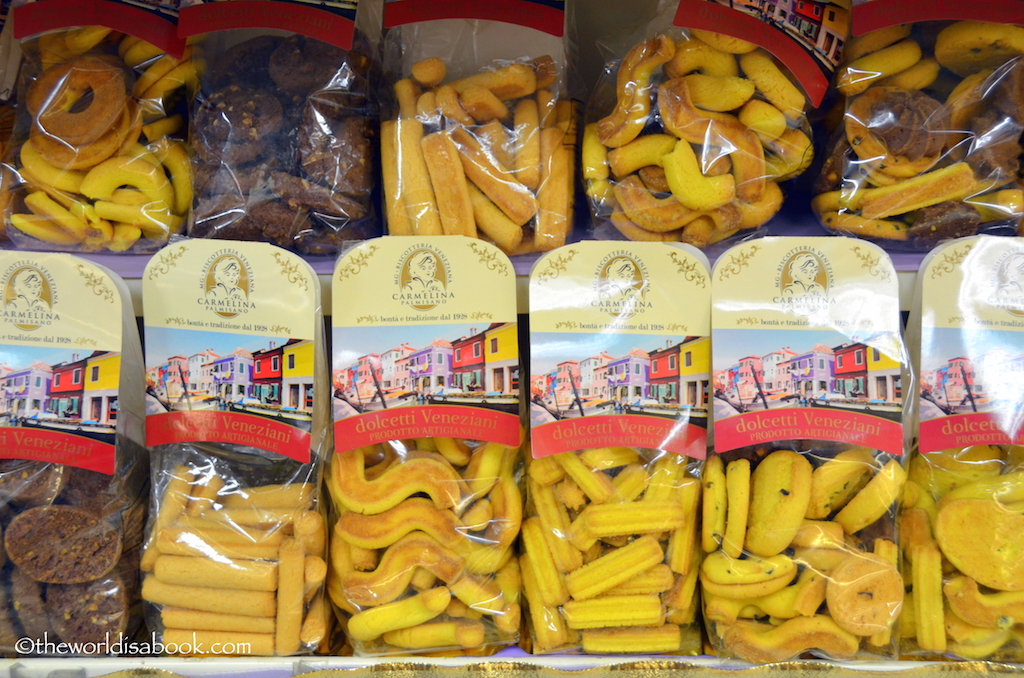 Thanks to Michele's Burano post at Malaysian Meanders, we knew we needed to also visit La Paticceria Carmelina Palmisano and get a Torta di Torrone. This bakery had an enticing cookie display in their windows. It was dessert heaven inside. We loved the Torta di Torrone that was made of vanilla nougat and almonds. It was chewy and so tasty. These didn't last very long nor made it home with us. My mouth is watering just thinking back and looking at this photo.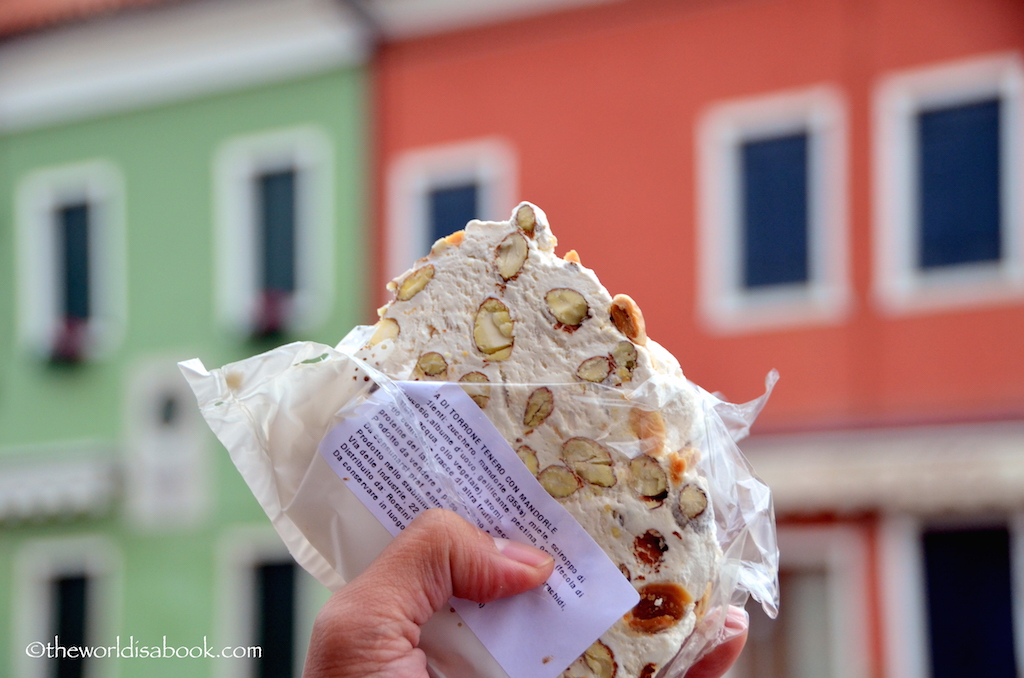 Lace Making Tradition
Burano is also known for its lace making through the centuries that goes all the way back to the 1500's. It was an intricate handmade process that produced such beautiful products. Some were even worn and purchased by royalty. There were plenty of stores selling various products that ranged from simple handkerchiefs to elegant dresses.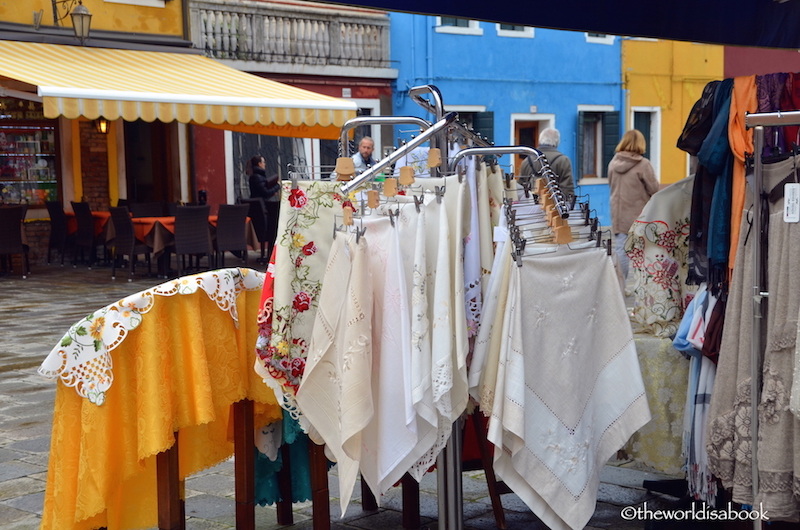 Some of the lace making here is now done with machines but some ladies still practice the art of lace making. Go into the lace stores and you may be lucky enough to watch one of the ladies at work. There's also a Lace Museum in town to learn more about this delicate process. Since I'm a souvenir hoarder, I added a bookmark, monogrammed handkerchiefs and another tablecloth to my lace products collection. They were great souvenirs and ones we'll treasure for years.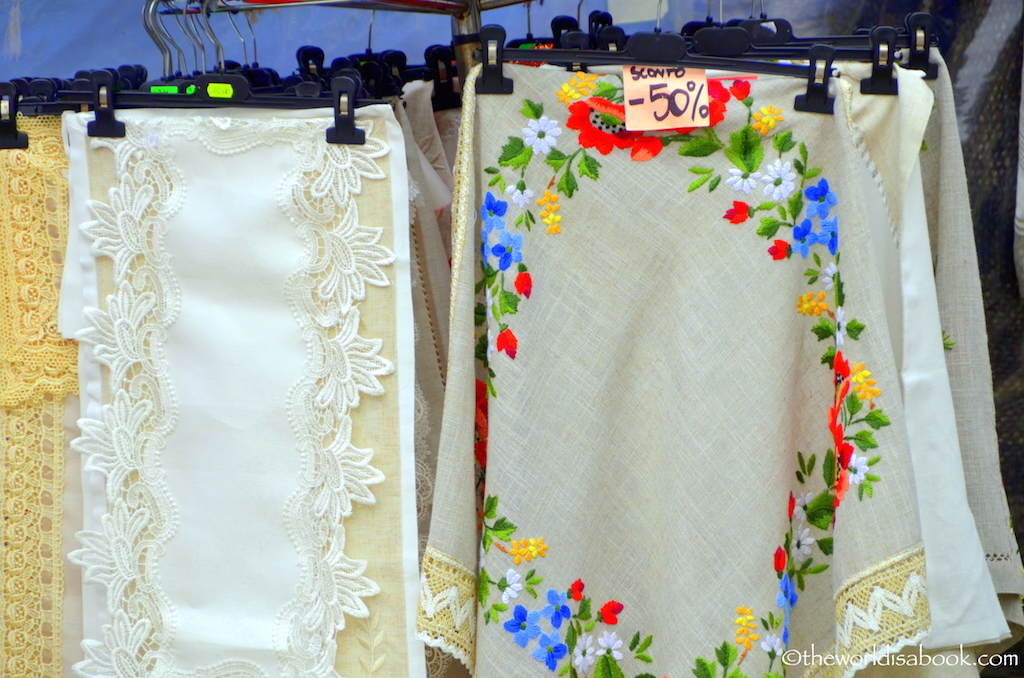 We highly recommend going to Burano on a day trip from Venice. I'm really glad my kids fell in love with this colorful island as much as I did. Burano is unforgettable. It's hard to believe a place like this exists. When you make it here, just wander and get lost but be sure to bring your camera.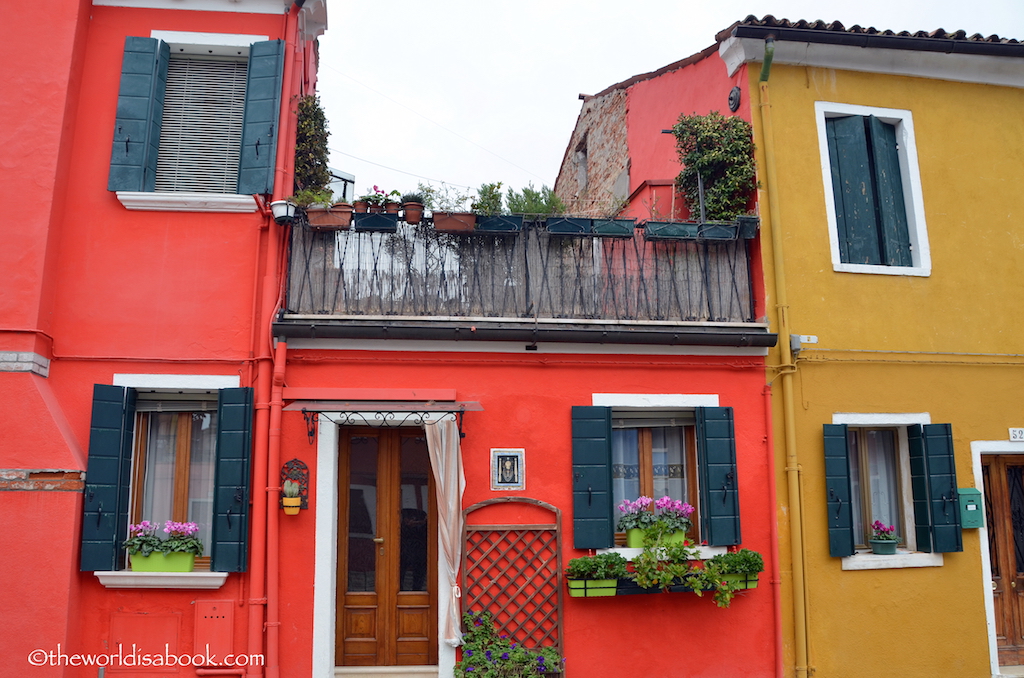 Tips for Spending A Day in Burano
Getting here: You can either take a three-island tour from Venice or take the public vaporetto or waterbus. Vaporetto line 12 is the express ferry from Venice to Burano. Board at San Zaccaria which is near St. Mark's Square. Tickets must be validated before boarding the vaporetto.
There is a street market near the church every Wednesday.
*Have you visited Burano? Is this on your travel wish list?
Pin it for later!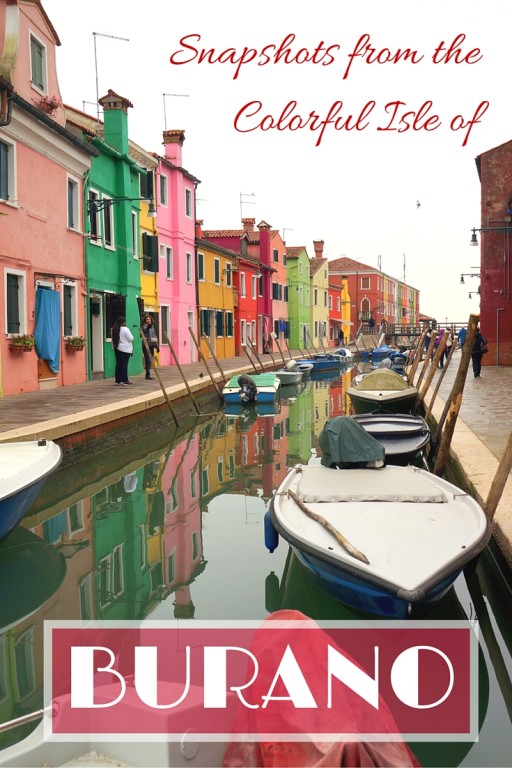 Check out these related posts: