13 Haunted Places In San Diego
It's the month of ghosts, goblins and spirits! Let's celebrate Halloween here this week by looking into the haunted places around my home area of San Diego, California. These places, some of which are popular tourist attractions, are considered haunted with evidence behind them. Several people have experienced paranormal incidents in these places over the years. Halloween time may be the most popular time to visit these for a creepy tour but they're open throughout the year for anyone to experience them. Some of these places actually gave me the chills while researching them.
1. Hotel del Coronado
This National Historic Landmark is one of America's largest wooden buildings and is located on Coronado Island across the bay from San Diego. The beautiful, 19th century Victorian hotel is also haunted. While there have been many reports of unexplained events, movements, flickering lights, voices and footsteps throughout the years around the hotel, Rooms 3502 and 3312 remain the most haunted. These were the rooms of two young pregnant women who supposedly committed suicide over a century ago. Kate Morgan is the hotel's resident ghost and was one of those women. There have been many sightings of Kate in hallways and by the windows.
We love going to Coronado Island and always make a stop at the Hotel del Coronado. It's right by one of the best beaches in San Diego. We've never stayed and I'm a little freaked out about spending the night here. But, I may need to conquer my fears one of these days to spend the night at one of the country's most historic hotels and a San Diego icon.
Address: 1500 Orange Ave, Coronado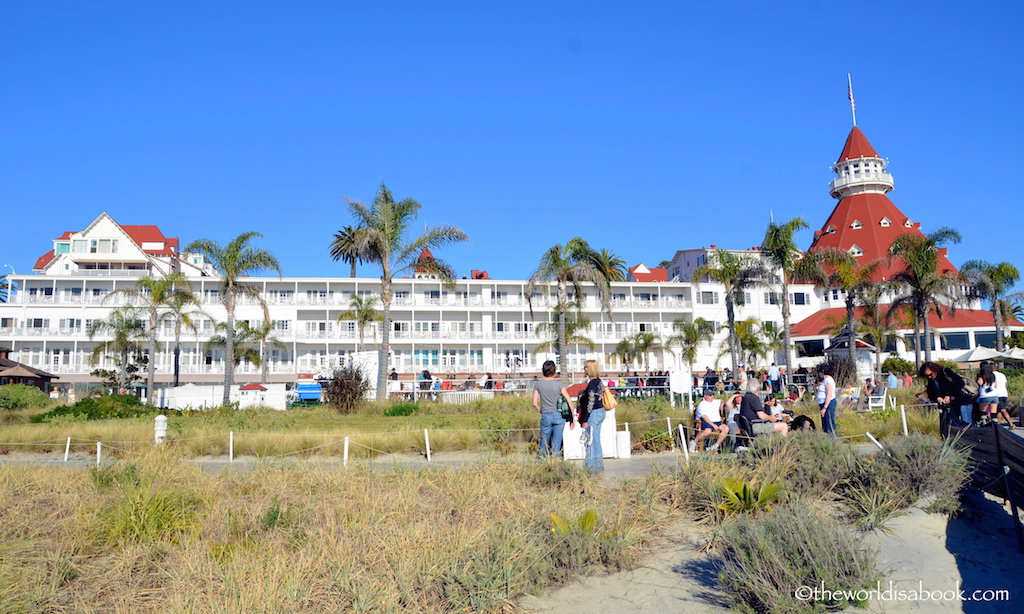 2. The Whaley House Museum
This unassuming house in San Diego's Old Town area has been considered and labeled by some sources as "America's Most Haunted House". This California State Historic Landmark has played many roles from the Whaley family home to a courthouse, commercial theater, general store and school. Over the years, it has been plagued by death that started with hangings on the property before the house was built to the suicide of Violet Whaley in 1885. She is one of the few ghosts believed to inhabit the house along with her parents and a Yankee Jim Robinson who was hung on the site.
Many television programs and publications have documented paranormal happenings over the years inside the house. Apparitions, walking noises, mysterious sounds and an eerie presence have all been reported here. I've passed by this museum many times and still can't bring myself to go in and do a tour.
Address: 2476 San Diego Ave, San Diego
3.  Star of India
This once cargo ship was built in 1863 and made many voyages across oceans. It is now docked in San Diego Harbor and was restored in 1976 and became part of the Maritime Museum. It's considered as the "world's oldest active iron-hull sailing ship." It's a popular field trip location for kids to learn what life was like for the sailors. My daughter even spent the night here as a fourth grader. Of course, she didn't know then it has many stories of ghosts and unexplained occurrences.
Its many voyages through the years saw some disasters and many deaths aboard the ship. One of the resident ghosts passengers and crew have reported was from a young stowaway who fell. There have been reports of cold spots, sounds of the boy's giggling and even phantom touches. The First Mate's Cabin is also considered haunted and occupied by the ghost of a captain who died there. There is also a ghost of a Chinese crewmember who makes himself known along the anchors chain locker where he died. The ship's lower deck and crew's quarters are also an area with many apparitions since many crewmembers died here. There's an eerie feeling below deck. Ghost hunters consider the Star of India an "active" area with quite a few ghosts on board who make their presence known especially at night.
4. Old Point Loma Lighthouse
This over 200-year-old lighthouse inside Cabrillo National Monument is one of the highlights here. Visitors can still go inside and see how the light keepers lived and operated it for 36 years. My kids particularly enjoy climbing the small spiral staircase almost to the top. There is an almost haunting feel to the place as it sits isolated on top of the peninsula.
There have been reported incidences of heavy footsteps and breathing, cold spots in some areas and eerie feelings of being watched or someone standing behind you. Some believe the spirits of Spanish explorer Juan Cabrillo (who this park was named after) and Captain Robert Israel (the last lighthouse keeper) watch over this historic lighthouse.
Address: Cabrillo National Monument 1800 Cabrillo Memorial Dr, San Diego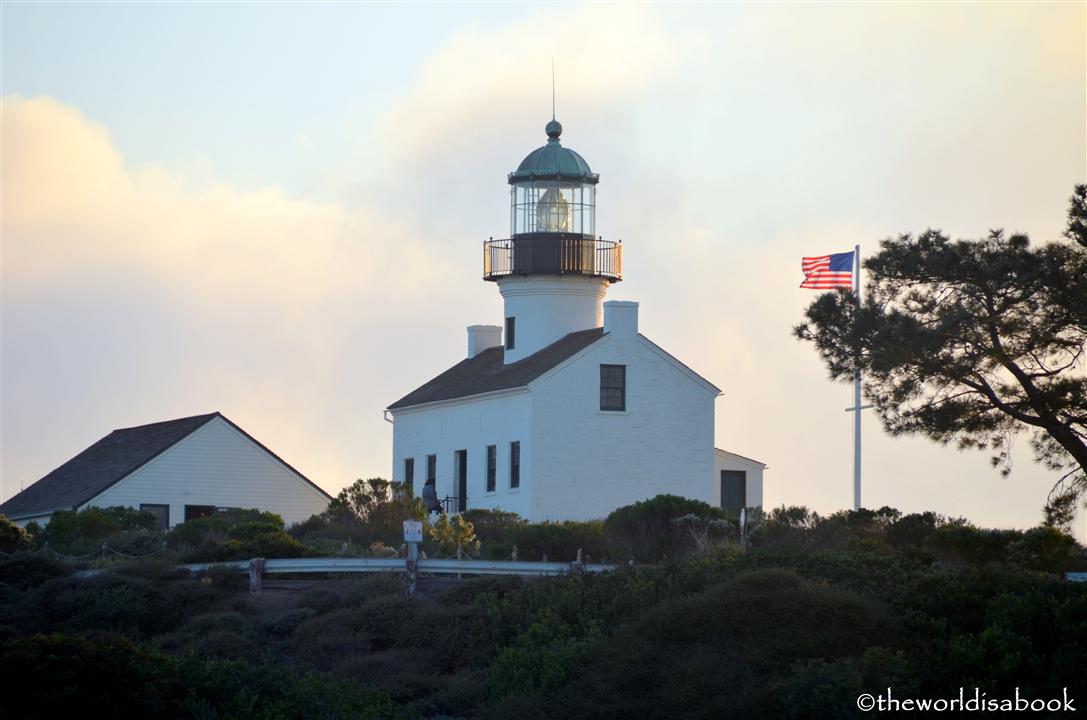 5. Horton Grand Hotel
Another haunted historic hotel is the downtown Horton Grand Hotel. This hotel was actually rebuilt from two different hotels that were demolished in the 1970s. This particular hotel was reopened in 1986 with some of the original features from the other hotels. It was added to the National Register of Historic Places in the 80s and still kept a lot of its old world charm.
Room #309 is said to be the residence of Roger Whittaker. He was a cheating gambler who died in this room. There have been reports of flickering lights, shaking beds, strange sounds and footsteps in the room. Ida Bailey, the former owner of the brothel that was once on this property, is also reported to be another ghost. The hotel even has a restaurant named for her.
Address: 311 Island Avenue (corner of 4th St.) San Diego
6. Pioneer Park
This urban park in the Mission Hills neighborhood was once the site of Calvary Cemetery where about 4,000 people were buried during the span of almost a century. When a newer cemetery was built in the early 1900s, the cemetery was neglected and eventually fell into disrepair and the land was given to the city in 1968. Some of the graves were moved by families elsewhere. Unfortunately, most of the graves remained underneath as the city built this community park over them and even an elementary school next door. Some of the tombstones were placed in one of the park's corners.
It's no surprise that this park is very haunted and a ghost hunter's favorite area with all the bodies buried here. Can you imagine the restless spirits of all those destroyed graves? There have been many reports of ghost lights and apparitions including one of a lady who is seen rising from a grave.
7. Rancho Buena Vista Adobe
This dwelling is located in a northern San Diego suburb of Vista. This 163-year-old house is open for tours. The adobe had several owners and saw many improvements throughout the years. Its rich history also lends itself to some spirits said to inhabit this place. There have been several reports of seeing a "lady in white", believed to be one of the owner's wife, roaming the grounds. An unknown male's bones were found in the walls during a restoration in the 1970s and were left there. Incidents like unexplained fog and noises have also been reported here.
The San Diego Paranormal Research Society conducts two-hour guided tours and paranormal investigations from October to December and March to August.
Address: 640 Alta Vista Drive, Vista
8. Del Mar Racetrack
This famous venue for the American Thoroughbred horseracing track has been around since 1937 and has played hosts to many celebrities. It also has a history of unexplained occurrences. Employees throughout the years have reported incidents like unexplained doors opening and closing, mirror shadows, strange noises, furniture moving, temperature changes and even unexplained hoofbeats on the track. Unfortunately, fans and jockeys have died here throughout the years. Paranormal investigators have captured unexplained noises and shadowy figures during their visits here.
Address: 2260 Jimmy Durante Blvd, Del Mar
9. USS Midway
This large ship was once a US Navy aircraft carrier that served for 47 years and was decommissioned in 1992. It is now docked in the downtown area and is a popular museum with a vast collection of aircraft. We love visiting the USS Midway Museum and touring this once giant floating city but didn't realize it was considered haunted by some paranormal groups.
I guess there is enough history inside this ship to warrant some spirits. There are no specific stories other than a few sources recording 30 ghosts or spirits onboard the ship over the last five years. The USS Midway was also listed as a haunted ship at the 2012 Maritime Ghost Conference. Who knew there was such a conference?
Address: 910 N Harbor Dr, San Diego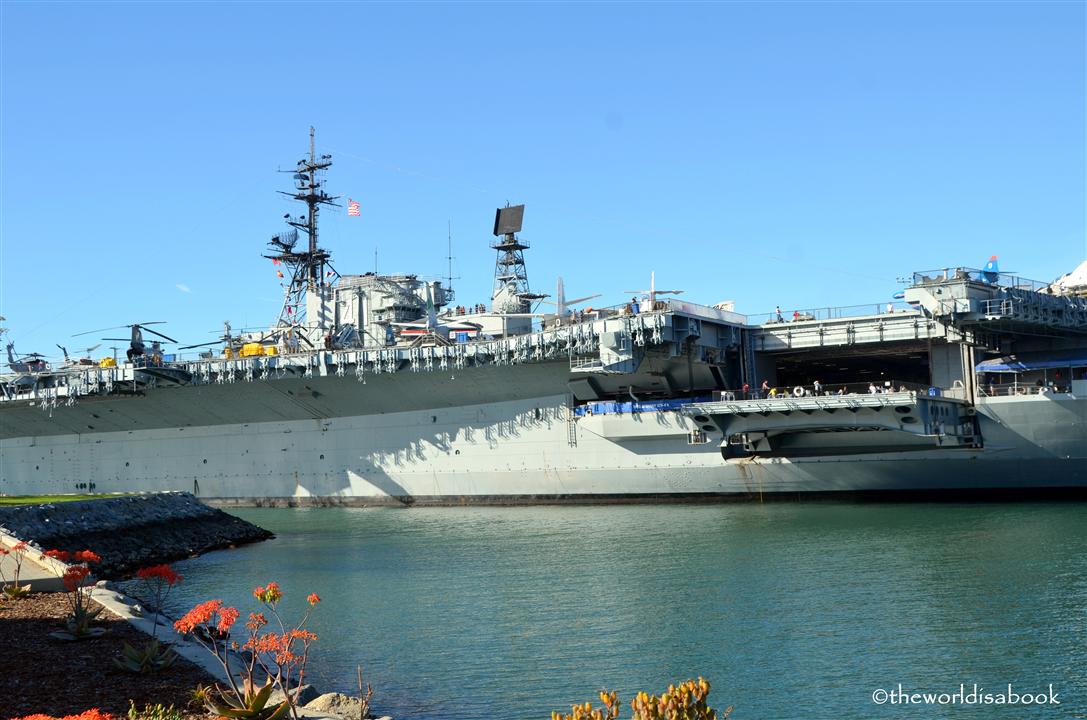 10 Presidio Park
This urban and historic park overlooks Old Town San Diego. The Junipero Serra Museum is a popular museum located here. This was the site of California's first mission and fort. Conflicts also happened and both Spaniards and Native Americans have died here.
There have been several sightings of a ghostly deer that once was a frequent visitor to the park and was killed here. There have been reports of shadows and sightings of a hooded figure at the witches tower which is a storage shed as well as at the museum's exterior area.
Address: 2727 Presidio Drive, San Diego
11. William Heath Davis House (Davis-Horton House)
This historic home is considered the oldest structure in downtown San Diego that was built in 1850. Davis was one of the founders of what later became the downtown area. Mr. Davis never lived in this house he built. It is the home of the Gaslamp Quarter Historical Foundation and renamed to the Gaslamp Museum and open for tours. Strange incidents like apparitions of a Victorian woman at the stair landing, old style gas lamps suddenly lighting up and unexplained lighting issues have been reported by employees.
Address: 410 Island Avenue, San Diego
12. Fort Rosecrans National Cemetery
Rows and rows of headstones dot this hillside area with some of the best views of the city and the bay. It is also known as Point Loma National Cemetery. Thousands of soldiers from several wars are buried here. It is estimated that there are about 91,000 burials along 77 acres. There have been reports of hazy figures seen after dark here as well as strange voices and sounds.
Address: 1800 Cabrillo Memorial Dr, San Diego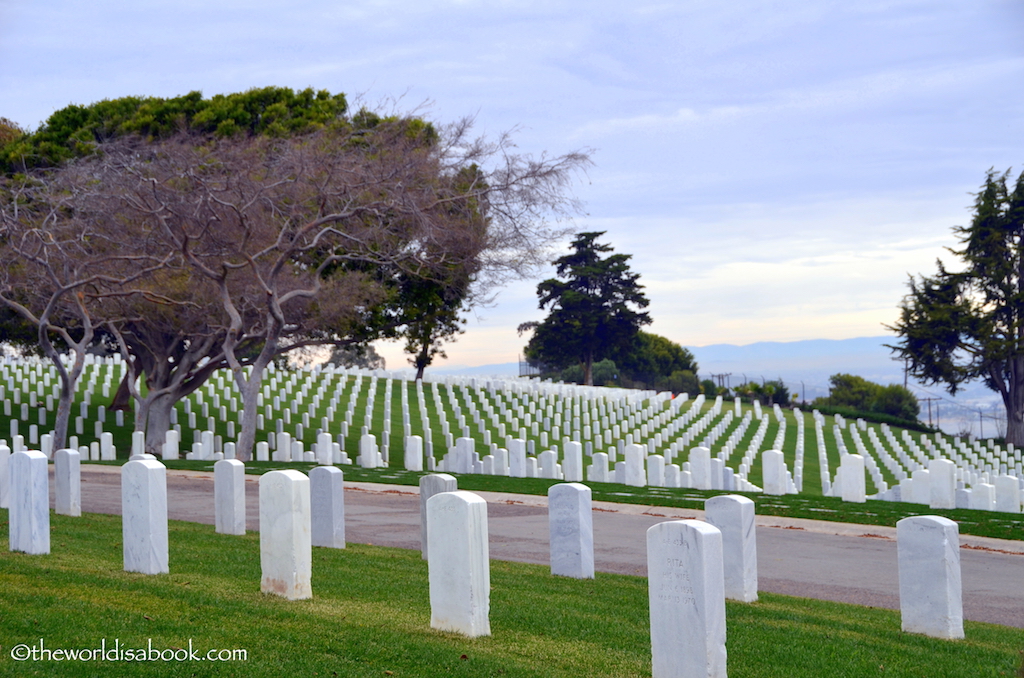 13. Carlsbad Lagoon
The Carlsbad Lagoon, along the Interstate 5, is usually filled with locals and visitors enjoying various water sports. Many residents around the lagoon have reported several cases of paranormal and ghostly activities. Land across the lagoon used to be the Buena Vista Cemetery that dated back to the first burials in the 1880s. Burials were stopped here in 1906 and tombs were moved to other cemeteries. The land was eventually purchased by developers but who really knows how many other bodies remain underneath? This may explain the restless spirits sightings.
Here are some companies offering tours of these haunted sites:
*Would you dare visit one of these places or go on a ghost tour? Any other haunted places in San Diego to add?
Where to Stay in San Diego
For the Bucket List:
North San Diego 
Downtown Area 
Packages
Attractions
Flights/Vacation Packages
If you liked this post, please get the latest posts and updates free.  Follow me on Twitter, Google+, or Facebook.  Thanks! 
Pin it for later!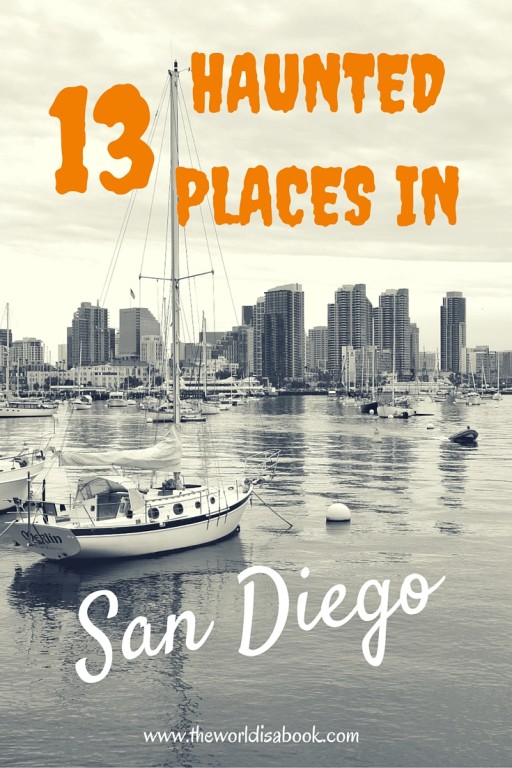 *There are affiliate links in this post to help support this website. 
Check out these related posts: