The Beauty of Boston Common and the Public Garden with kids
Urban parks are fantastic places to stretch out and have that moment of tranquility and get in touch with nature amidst the concrete jungle. Boston is one of America's great cities filled with many attractions and rich in history. It is also home to the country's oldest park. Boston Common along with the Public Garden are listed in the National Register of Historic Places and some of Boston's most popular landmarks. See why this was one of our favorite stops during our short visit.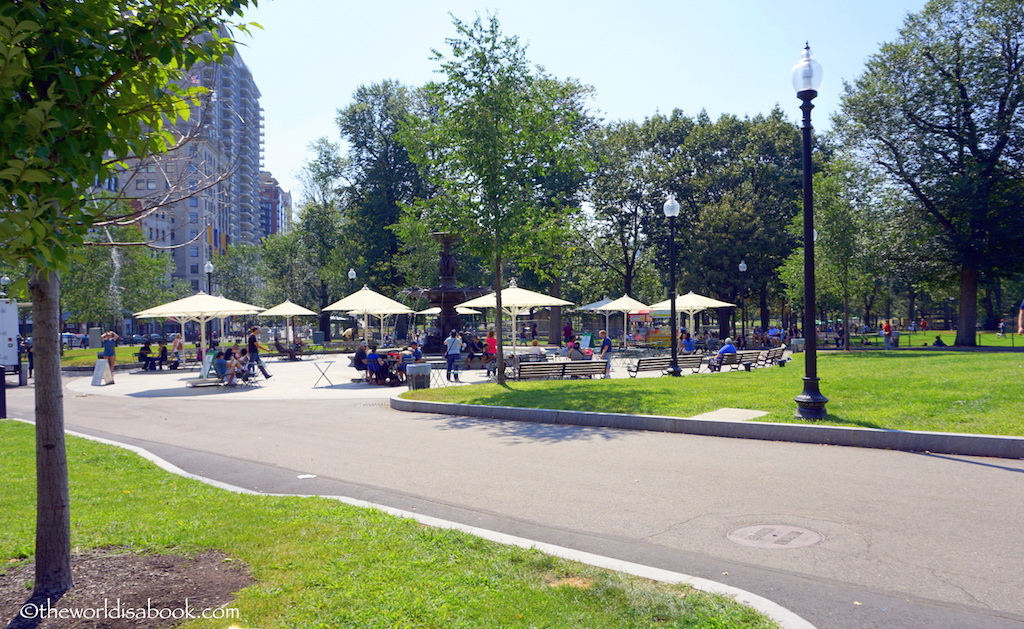 Spanning almost 50 acres, Boston Common was once used as a cattle pasture and its history can be traced back to 1634. The park was used for several purposes through the centuries. It was once used for military training grounds, for public hangings, protests, public gatherings and has even hosted Martin Luther King Jr. and Pope John Paul II. It eventually became a public park for the locals and visitors.
The adjacent Public Garden was America's first public botanical garden. It was originally part of Boston Common. A specific area known as the "marsh at the bottom of the Common" was reserved for the garden in 1837. This oasis, with its scenic lagoon, fountains and colorful shrubs and trees, has become one of the best places for a stroll in the city.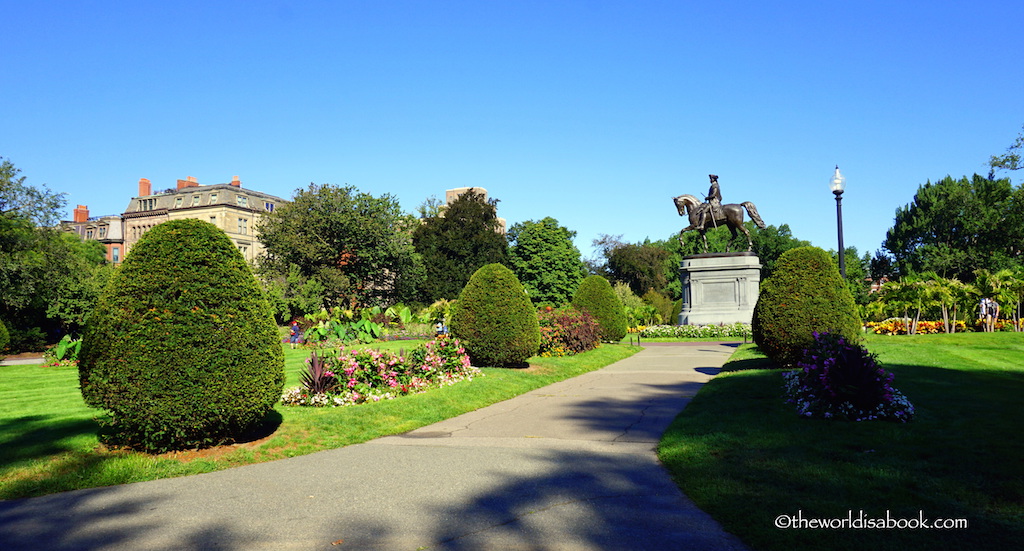 We ventured into the Beacon and Charles Streets gate near the gold domed State House to enter the park and garden. Chances are you may have probably seen these bronze figures from anyone who has visited Boston. This was one of the things my kids wanted to see the most here. The popular Duckling Sculpture featuring Mrs. Mallard and her eight ducklings is a hit with tourists and especially the kids.
My son didn't hesitate to jump on Mrs. Mallard and asked for several photos. It's not often you get to go on a duck and meet a character in a book you've read. These sculptures were based on a 1941 bestseller book by Robert McCloskey called Make Way for Ducklings. This was sculpted by Nancy Schön and has been here since 1987.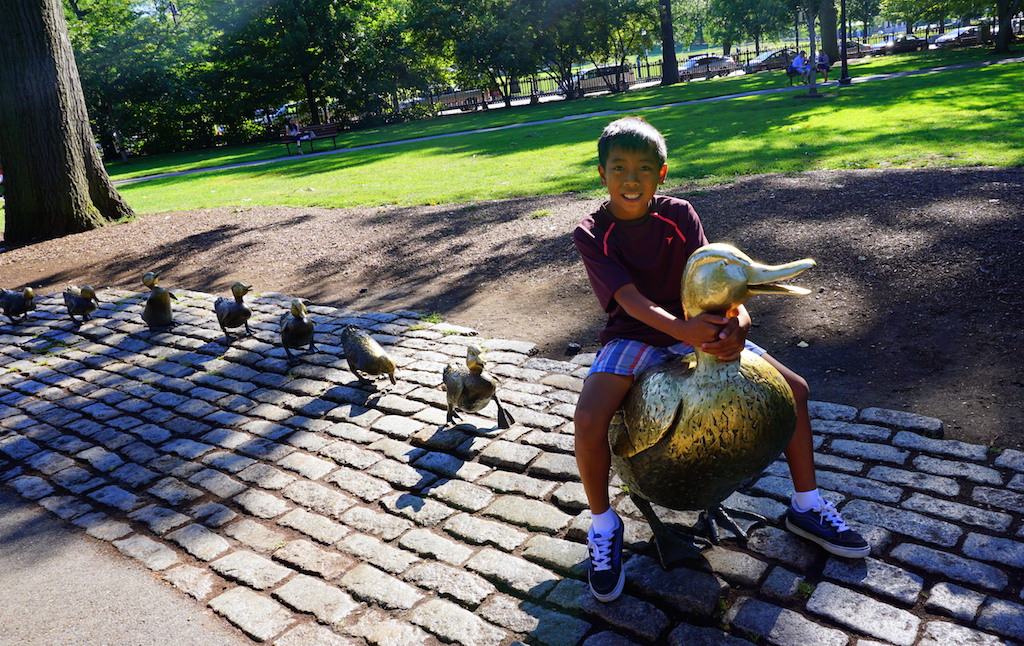 This lagoon or artificial lake is the Public Garden's centerpiece and was also home to some of the park's ducks. It totals about four acres and was pretty shallow at only 3-4 feet deep. It was interesting to read that the water was drained from here during Fall and refilled during Spring. Boston does have a reputation for some harsh winters. The lagoon was once as an ice skating area. I'm so glad we had the chance to see this beautiful lake before it became an empty pit.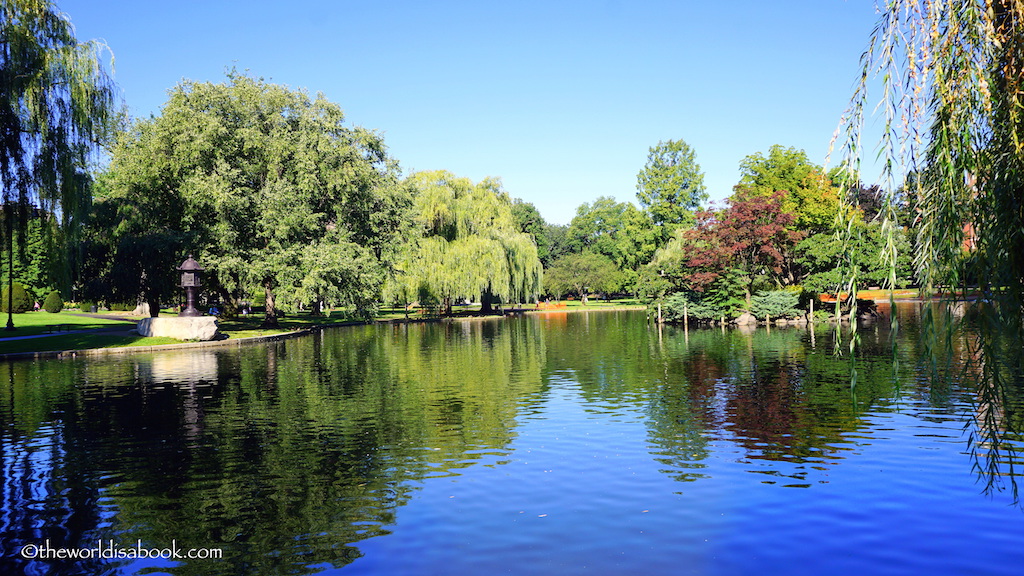 My kids were beyond excited to spot these two resident swans swimming along. They weren't shy and swam pretty close to people. I loved how shaded this area was and the lagoon exuded tranquility with the weeping willows trees along its shores.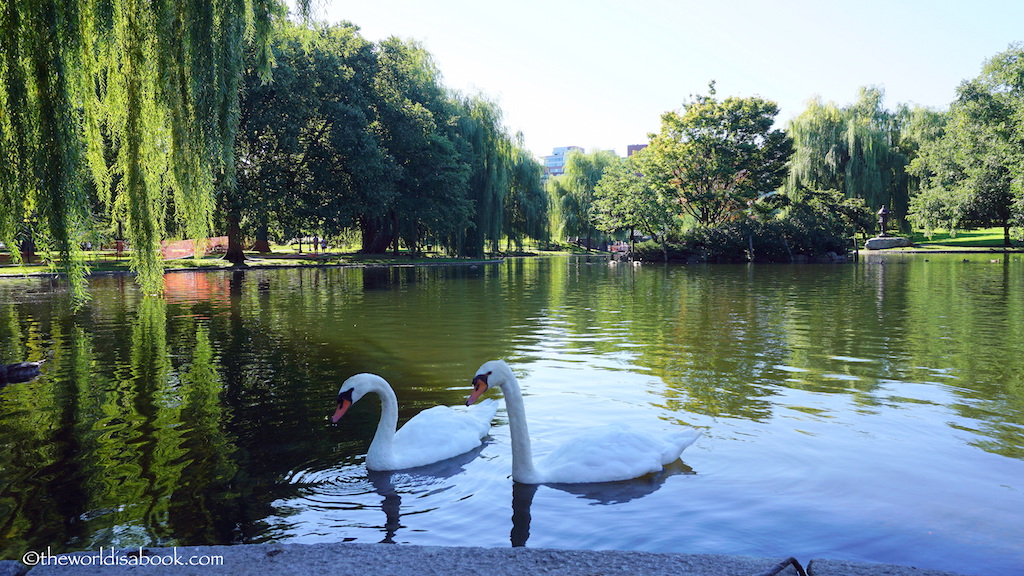 If you're strolling through the gardens, it's hard to miss the unique Swan Boats that have almost become synonymous to the park and garden. The original boats were launched here in 1877 that transported eight passengers around the lagoon back then. There are now six of these swan boats and could carry up to 20 passengers.
The Swan Boats were started by Robert Paget who was a shipbuilder. These boats were inspired by Richard Wagner's Lohengrin opera finale of the boat pulled by a swan. It was wonderful to read that the Paget family still operates these boats. These boats do a 15-minute around the lagoon from April to late September. Unfortunately, we were here early in the morning and the boats weren't operating yet. It's just one more reason to go back here during the summer.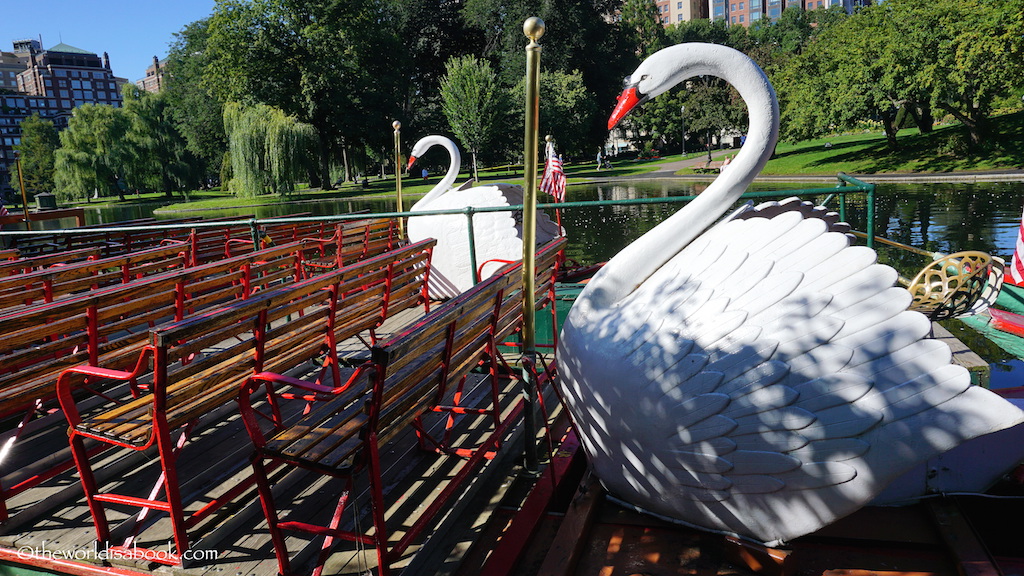 Near the Swan Boats was the busy and iconic iron footbridge. This was built in 1867 and considered as the world's smallest suspension bridge. We loved crossing this bridge and stopping in the middle to look out into the lagoon. It's a fantastic spot to fully see the vastness and beauty of the park.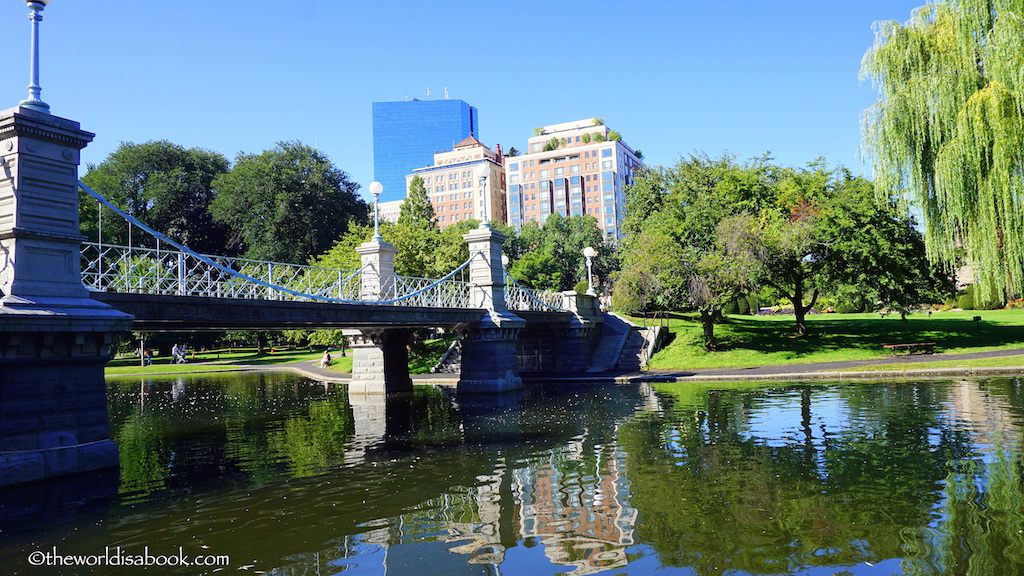 One of the best ways to truly enjoy the gardens is through a leisurely stroll and see where the floral paths take you. Smell the roses and admire the blooms and the monuments. The garden has over 750 shrubs, 80 plant and flower species and about 125 tree varieties which are planted twice annually.
It was surprising to find it so well maintained and clean for a park in the middle of a major city. We were lucky enough to be here in late summer with most of the flower beds still in bloom. I can only imagine how stunning this park looks with the Fall foliage display.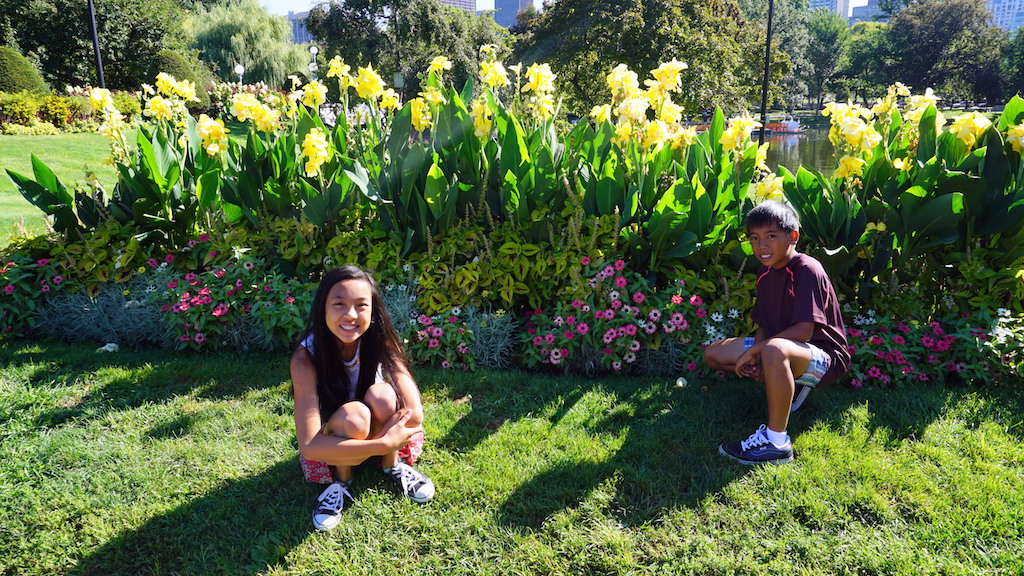 We enjoyed our walk around the lagoon and also found this large Japanese lantern on a small pedestal. A Japanese antique dealer gave this to the city in 1904. It looked a bit out of place but I guess that's one of the great things about the garden. You never know what will greet you at the next corner.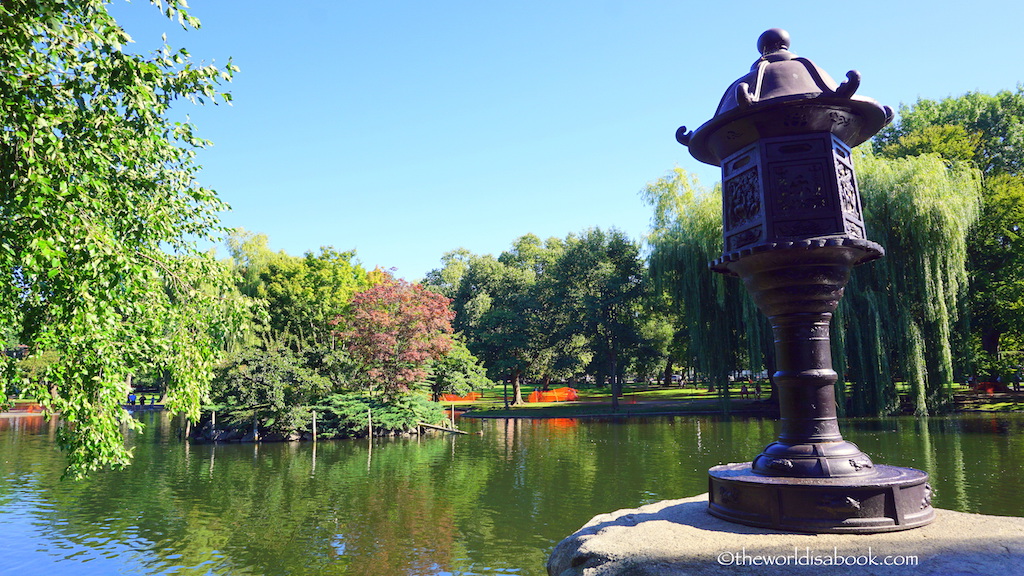 The garden has quite a few statues honoring some Boston statesmen and champion of causes. But, the most prominent statue here was surprisingly of George Washington who was America's first president. This bronze, equestrian statue has been here since 1869 and considered by many as one of the country's finest statues. A local sculptor named Thomas Ball built it.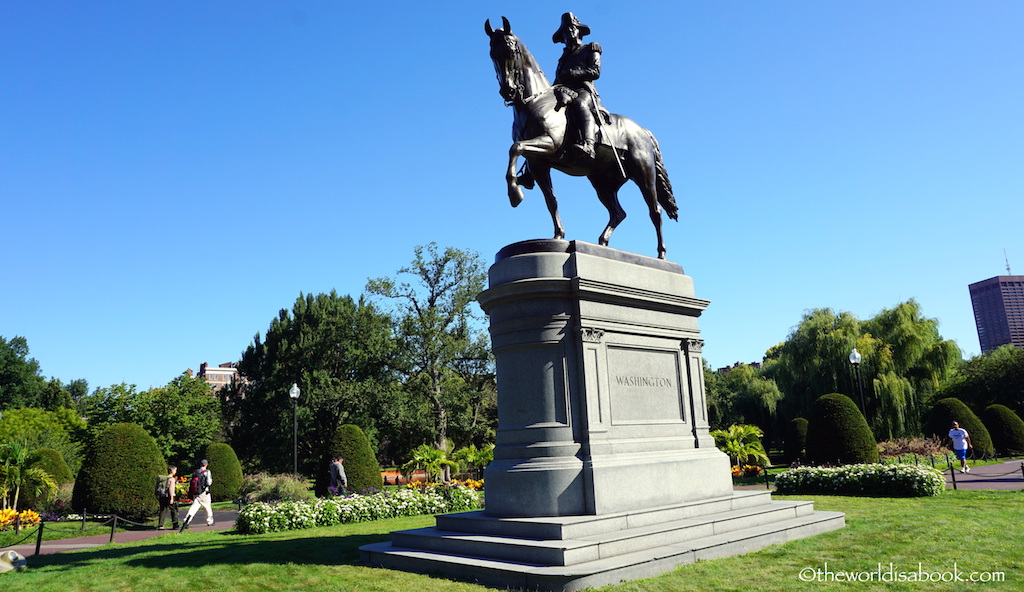 Boston is filled with numerous monuments and historical buildings. It's a wonderful city to learn about American history especially for kids currently studying it in school for some enhanced learning. With all the sightseeing we were doing, it was really nice to relax and enjoy nature at two of Boston's premiere green spaces. If you happen to be in Boston, don't miss stopping by Boston Common and the Public Garden. After all, I don't think there's nowhere else in the world you can cruise on a swan boat.
Tips for visiting Boston Common and Public Garden with kids
There is a visitor's center on the Tremont Street side of the park to get tour information, maps and brochures.

There is a Public Garden audio tour available. You can also print the map.
Boston Common's Frog Pond is open for ice skating during the winter and spray pool during the summer.
Boston Common is the start or end of the popular Freedom Trail tour with costumed tour guides that highlights historic sites. Stay tuned for our take on that tour.
*Have you visited this Boston gem? Would you like to visit?
Where to stay in Boston
Hilton Boston Downtown/Faneuil Hall – We stayed in this historic and centrally located hotel for several nights. It was convenient to the subway getting to/from the airport and within walking distance of many attractions in Boston. The rooms were spacious and views from the upper floor were great.
See the best Boston hotel prices from the major travel sites on HotelsCombined.
Find the best Boston hotels and read reviews on TripAdvisor.
Activities
Flights/Vacation Packages
Compare airlines, dates and prices all in one place with Skyscanner
Pin it for later!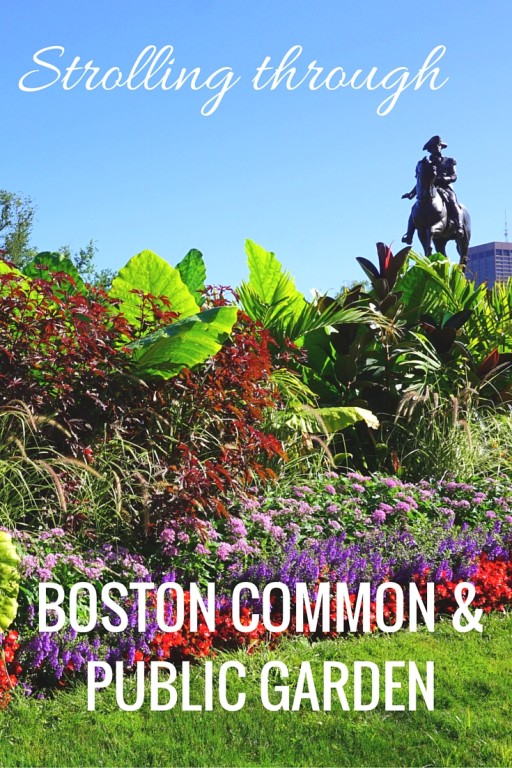 *There are affiliate links in this post to help support this website.