Templo de Debod: Ancient Egypt in Madrid
Madrid is thousands of miles from Egypt yet an authentic Egyptian temple sits in the middle of the city. The Debod Temple or Templo de Debod is one of Madrid's most popular attractions. We made it to the area last year to marvel at the temple and also found a hidden gem in its surrounding park. Read on to find out how this temple got here and what else one can do around this area.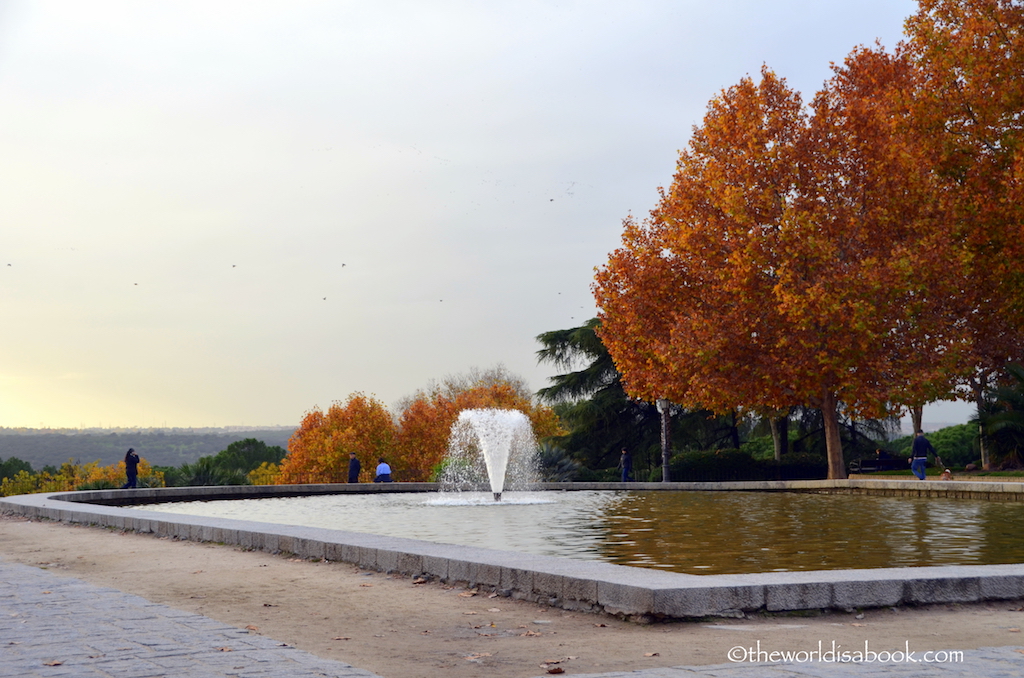 History
This Egyptian temple dates all the way back to the 2nd century BC. It was dedicated to the ancient King of the Gods, Amon, and the Goddess Isis. The temple's original site was at Debod, near the city of Aswan in the Nile Valley. The temple along with other priceless monuments and sites needed to be moved due to the construction of the Great Dam of Aswan in 1960.
UNESCO made an international appeal to salvage these monuments from being destroyed or going underwater due to the dam. Fortunately, many responded. The Egyptian government donated this particular temple to Spain in 1968 as gratitude for its aid especially in saving the Abu Simbel's sacred buildings.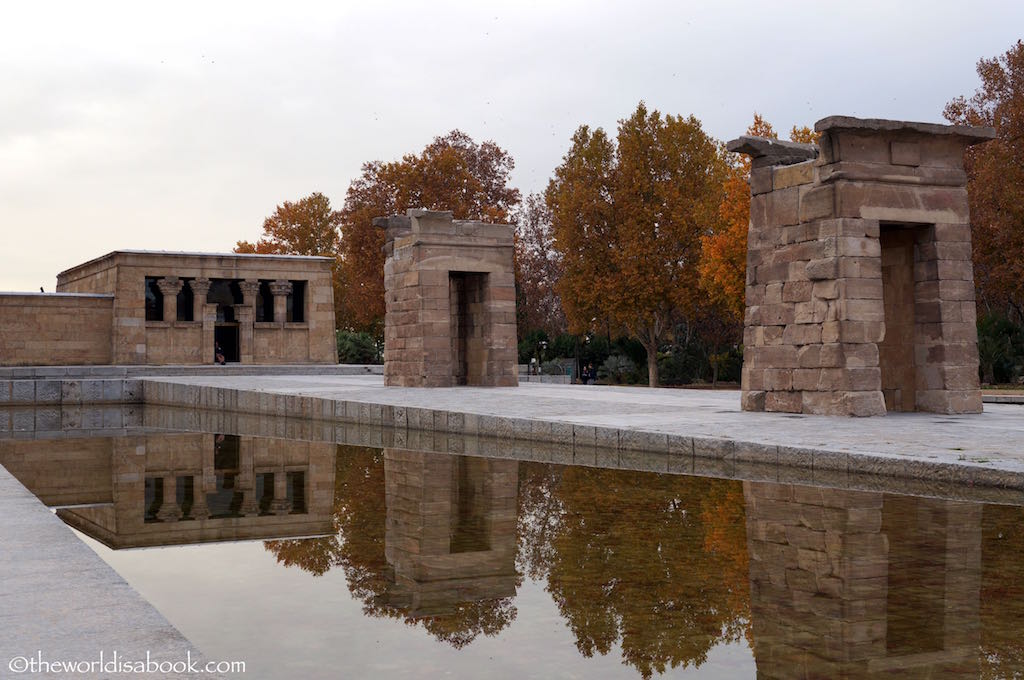 It was a large undertaking in 1969 to dismantle the temple stone by stone. It was then shipped to Valencia, Spain and then traveled by train to Madrid. It took a couple more years for the temple to be reconstructed here and was finally open for the public to visit in 1972. Cuartel de la Montaña Park has been Templo Debod's home since then.
We made our way to the park which was located next to the Paseo del Pintor Rosales and down the street from Plaza de España and near Madrid's Royal Palace. It was a clear and crisp late Autumn day in Madrid. We loved seeing all the red, yellow and orange colors that surrounded us from the bushes to the trees. We enjoyed the opportunity to actually be in an Autumn scene like this which we don't find at home in San Diego. It was also surprising to find that there weren't that many people around this park on a Sunday afternoon.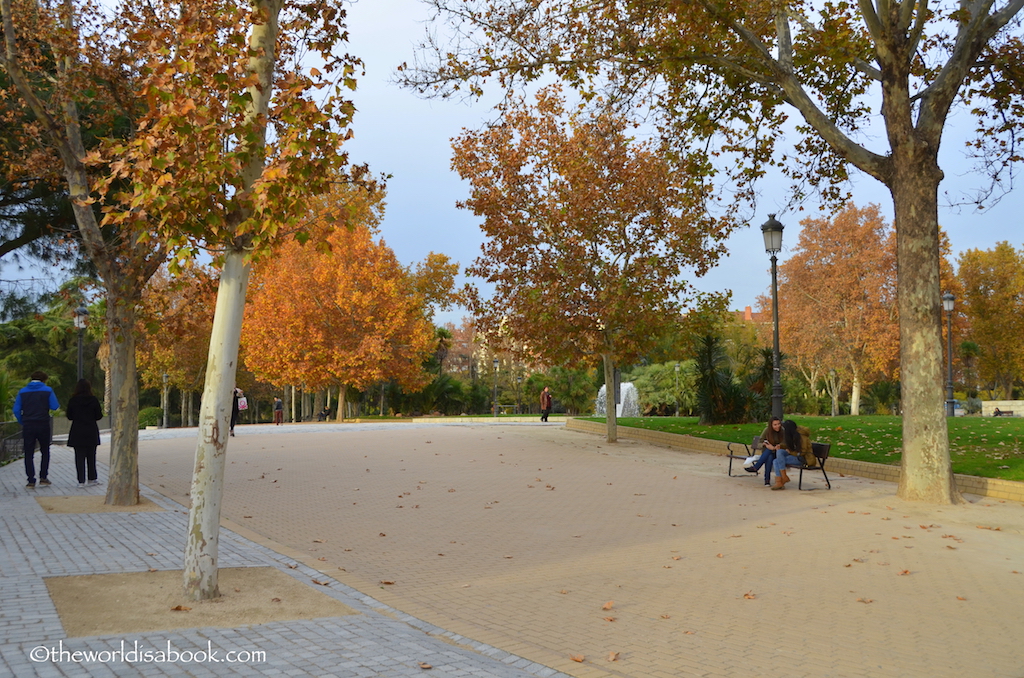 The Temple
The Temple of Debod was surrounded by water which made for some fantastic reflections. It was positioned from East to West similar to how it was laid out in Egypt. The complex included three stone gateways and the temple which was a lot smaller than what I expected. I'm sure it's also very beautiful at night.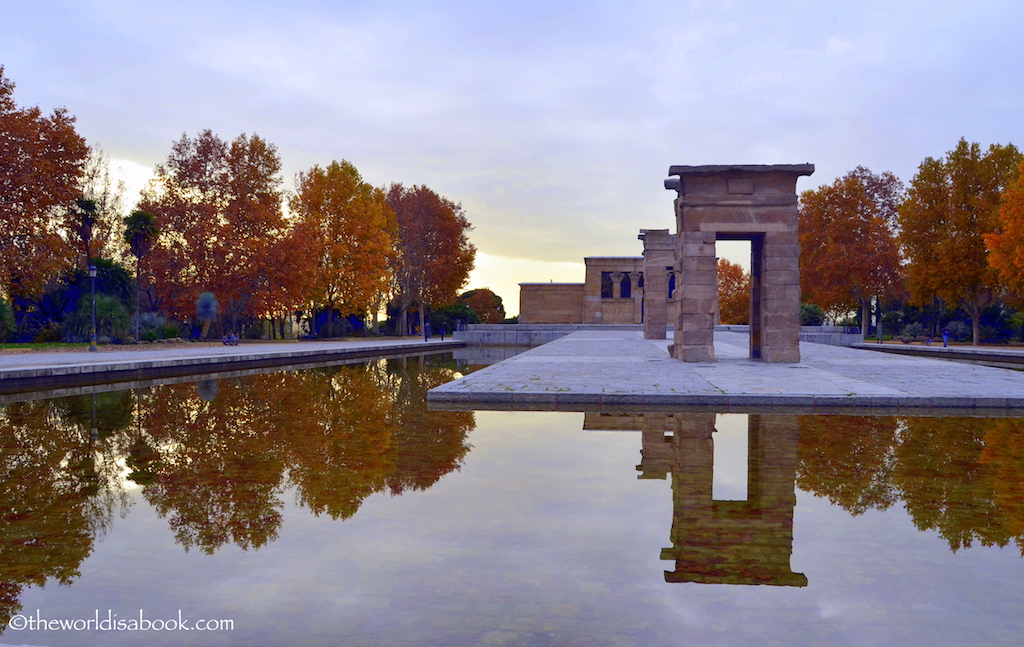 It is possible to go inside the temple for a little tour and see some hieroglyphics and artifacts. Due to its size, a limited number of people at a time are allowed inside. There are chapels, a terrace and a museum showing the monument's history and how it was moved here. Unfortunately, we didn't get the opportunity to go inside since it was closed.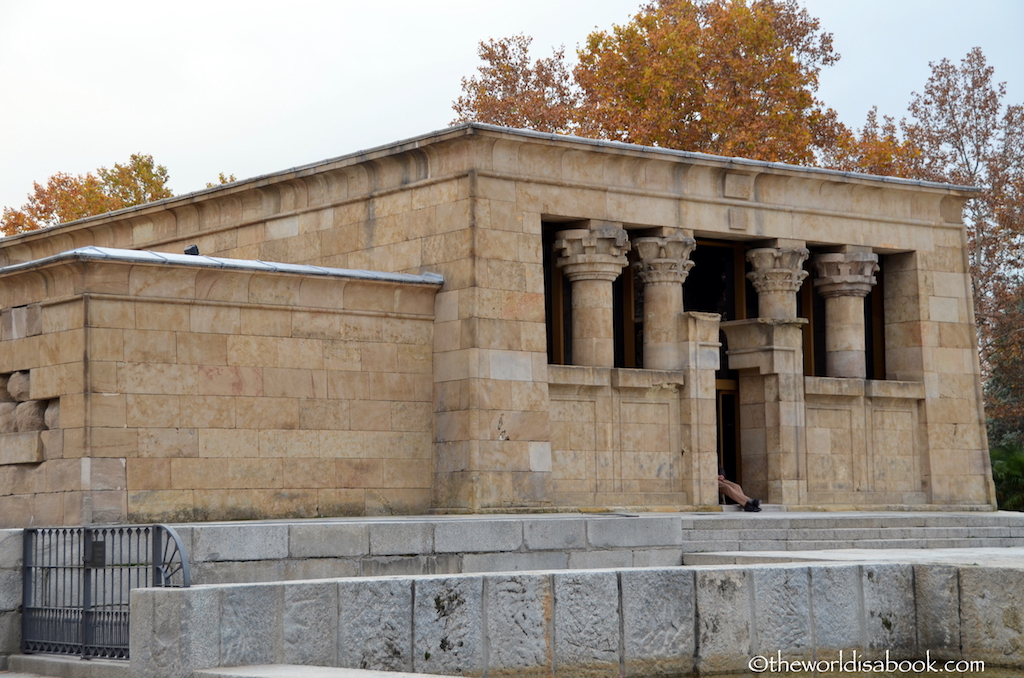 Beyond the Temple
There is a bit more to this park beyond the temple. We found neatly manicured lawns and hedges, fountains and plenty of seats. The historical Cuartel de la Montaña park was once the site of the 19th century Montaña military barracks.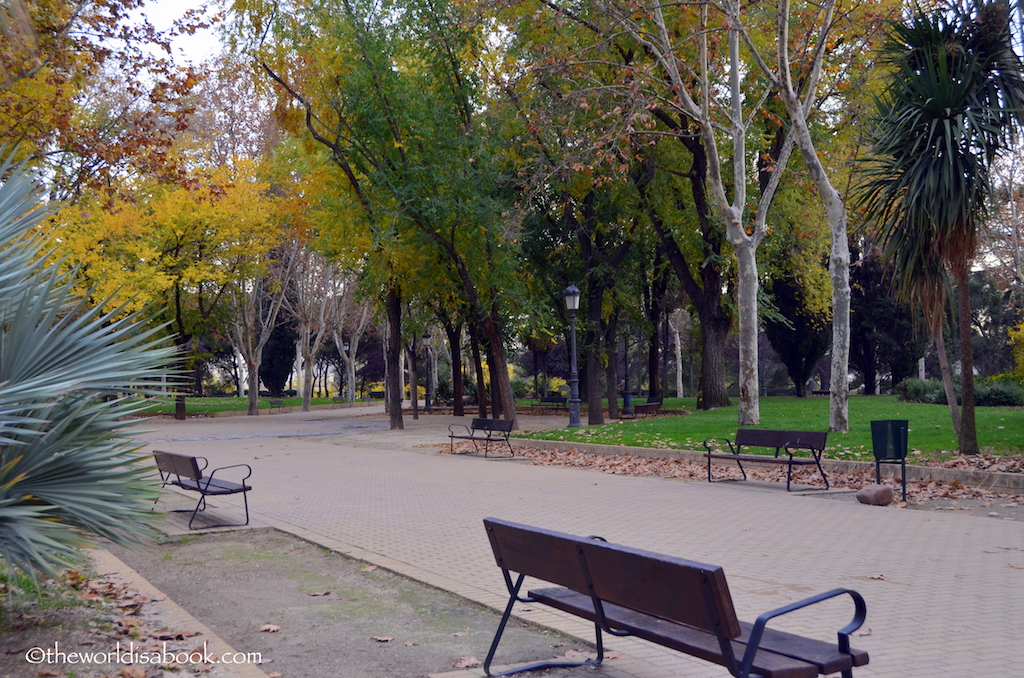 We followed some of the people who made their way to a lookout point. This is a popular area to watch the sunset as it looked out into the city. We loved the views of the Almudena Cathedral and El Palacio Real from here. I'm sure it's even more stunning during sunset hours and at night when the city lights are twinkling.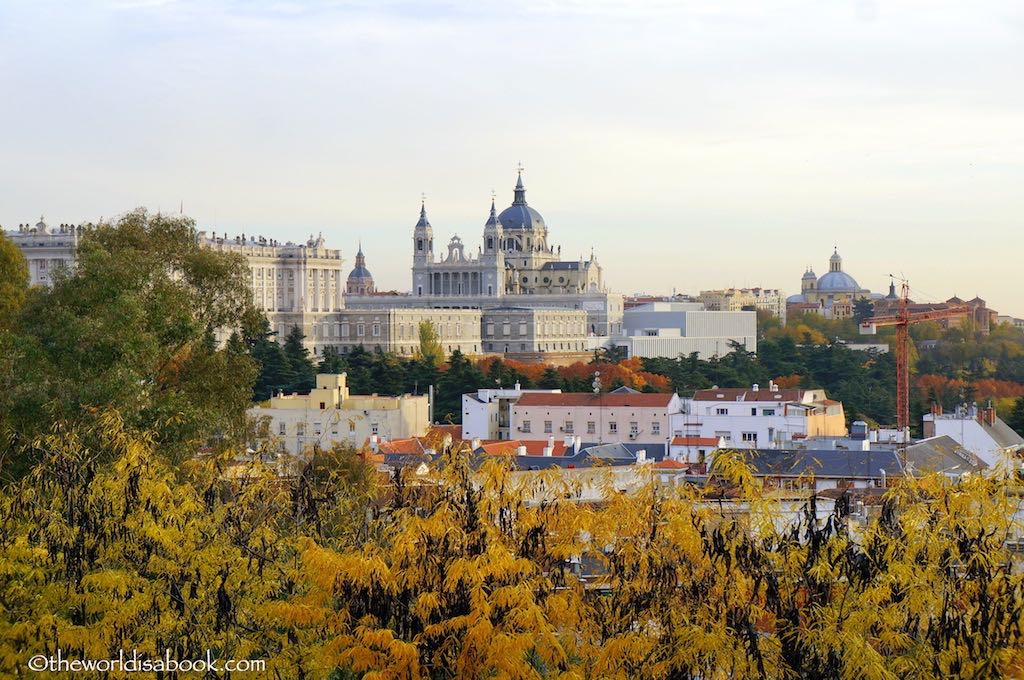 Here is a close-up of the Almudena Cathedral or Santa María la Real de La Almudena which is the seat of Madrid's Roman Catholic Archdiocese. It looks even more grand from this vantage point. This is a beautiful cathedral. Don't miss going inside if you're visiting Madrid.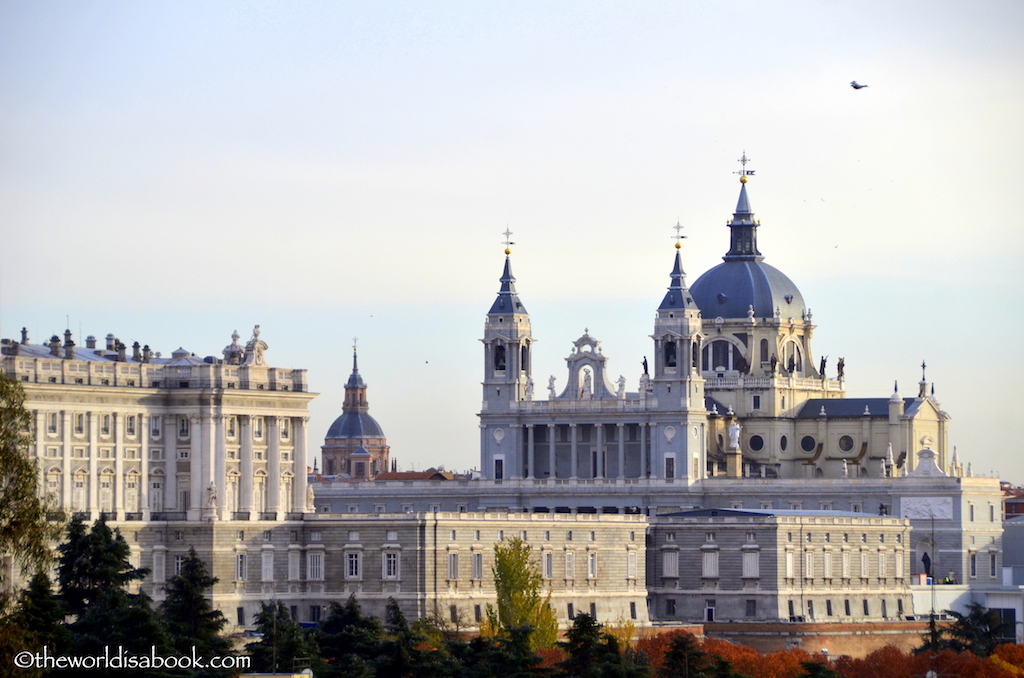 We spent less than an hour at the park but it was a relaxing and quiet stroll amidst the hustle and bustle of Madrid. My kids enjoyed seeing an actual Egyptian temple but also enjoyed the chance to run around in open areas. It's a unique attraction compared to the palaces, plazas and cathedrals around Spain. From pictures I've seen, going here around sunset and dusk makes for some dramatic pictures and the temple almost looks mystical. If you have some time and near the area, it is a good place to stop and enjoy the views.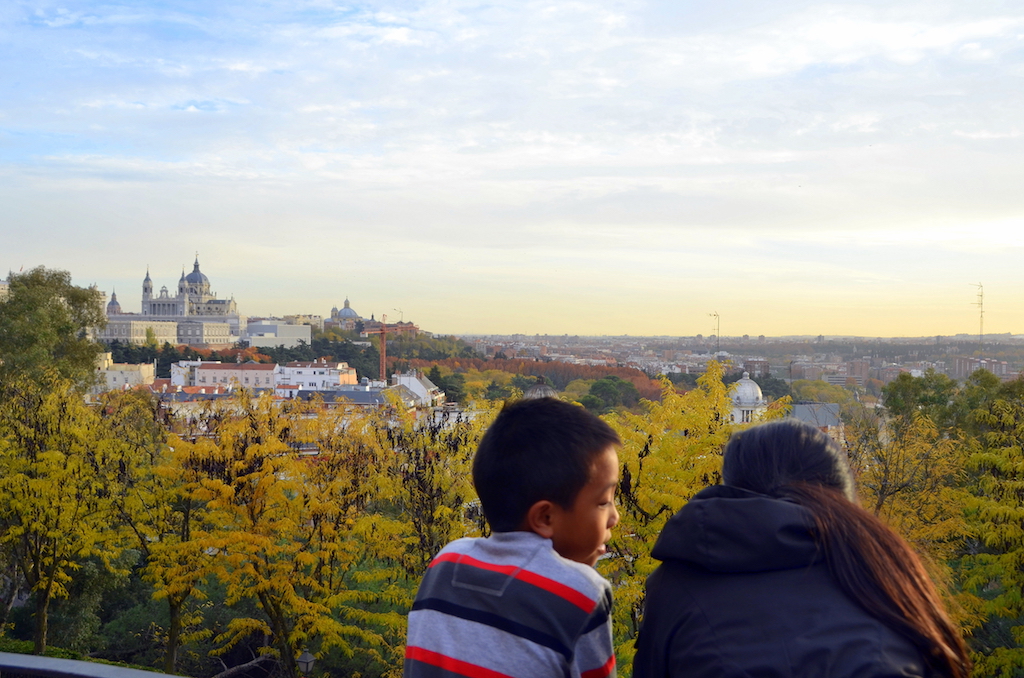 Visiting Templo de Debod Basic and Tips
Admission is FREE to the park and museum.
Getting There: Use Bus 74 and Plaza de España Metro Stop or the Madrid-Príncipe Pío train stop. The address is Ferraz, 1 28008 Madrid, Parque del Cuartel de la Montaña
Temple Hours: It is closed on Mondays and public holidays. Tuesday to Friday, April 1 to September 30: 10AM – 2PM and 6-8PM. October 1 to 31 March 31: 9:45am to 1:45pm and 4:15-6:15PM. Saturday and Sunday: 10AM – 2PM.

Guided tours are available every Saturday from 11:30AM-12:30PM with prior reservation. 
*Have you visited Templo de Debod?
Pin it for later!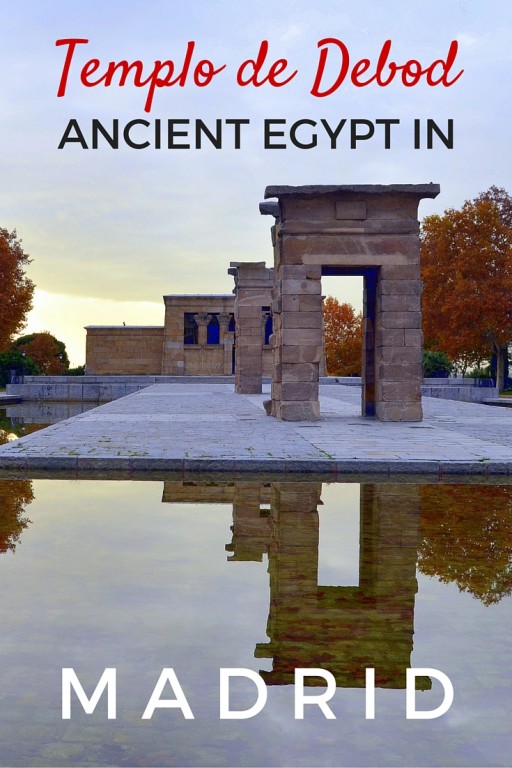 Check out these related posts: