Top Things to do in the Tower of London
It's hard to miss this imposing complex along the River Thames in London. We've visited the city twice before and never got around to visiting the Tower of London despite passing by it a few times. Well, the third time was the charm last month. We finally made it inside the Tower of London and it didn't disappoint. Come along with us as we traveled through the tower's interesting history and the wonderful surprises within its walls. These were the highlights of our visit and what to see at the Tower of London with kids (or without too).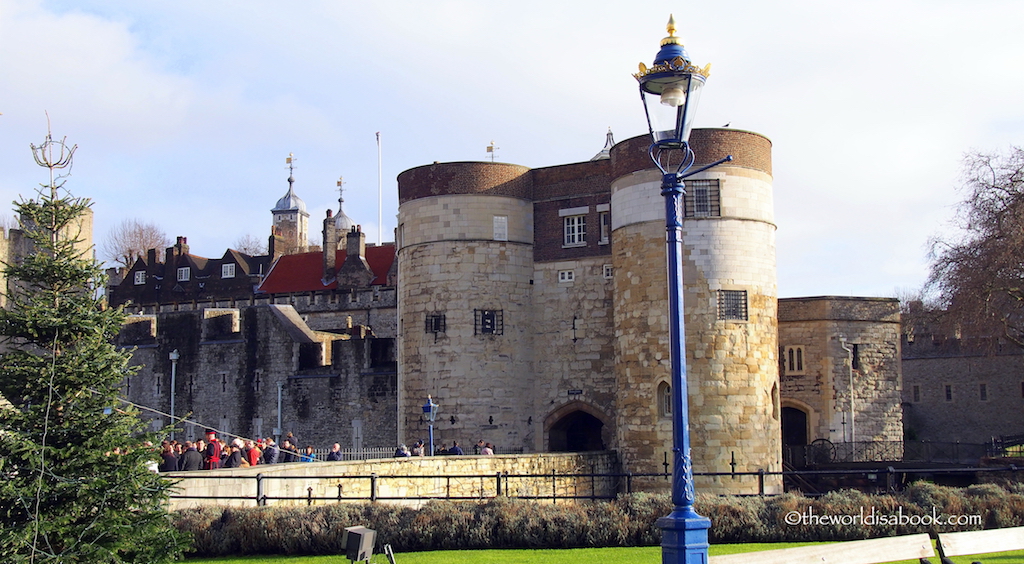 History
Construction on The Tower of London started in 1066 by William the Conqueror. Its primary purpose was as a fortress to protect the city and citizens of London with various fortifications or barricades. Contrary to its name, there are actually over 20 towers that make up the Tower of London complex.
This UNESCO World Heritage Site has also served many purposes throughout the centuries. It was used as a royal residence until the 17th century, had a royal mint to locally produce coins, was a records office for government documents, served as a state prison, jewel house, observatory, armory and even a zoo.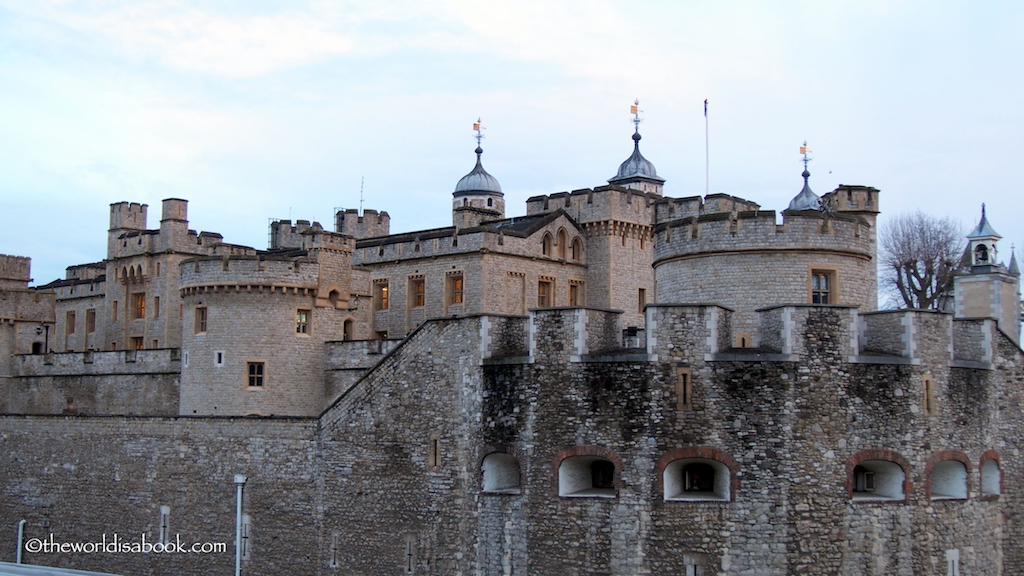 1. Yeoman Warder Tour
We believe this tour makes a big difference in one's overall experience while visiting the Tower of London. While it's perfectly doable to do a self-guided tour of the complex, we highly recommend the Yeoman Warder Tour to start off any visit.
The Yeoman Warders are also widely known as "Beefeaters". They have been very much a part of the tower as standing guards and distinguished symbols of the country. You can't miss them with their regal black and red uniforms. They are a part of the Royal Bodyguard since the 16th century. Their nickname was believed to have originated due to them being allowed to eat as much beef from the king's table due to their positions.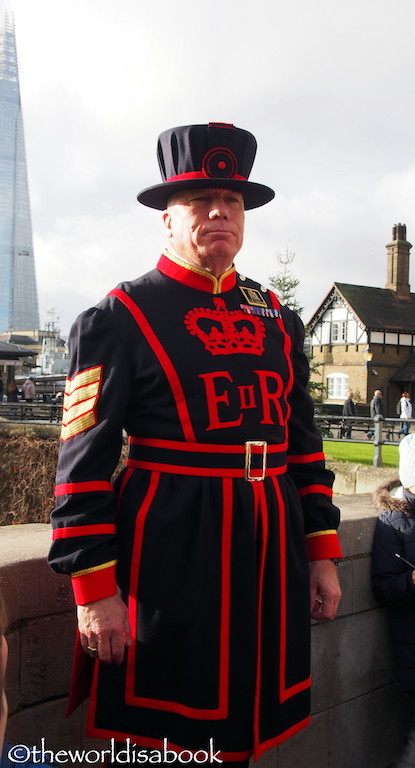 Their popular tours occur daily every 30 minutes. Keep in mind that it gets very crowded so try to get to the front by getting to the meeting post near the entrance early. Most of them have loud and booming voices but it's still helpful to be as close to them as possible. We really liked that they made sure the kids were way in the front among the crowd.
It was an hour filled with information, insight and humor as we learned about some of the interesting people who were imprisoned, tortured, executed. We also learned more about the Tower's fascinating history and places we shouldn't miss around the grounds. Our tour ended at the Chapel of St. Peter and Vincula where some notables were buried including Anne Boleyn and Sir Thomas More.
There was an overwhelming amount of history and information that I thoroughly enjoyed. My kids are a little older so they found some of the stories interesting and were aghast by some of the sordid tales of torture and execution. In a way, I'm glad we went here when they were a little older. I'm not sure toddlers will get much from this tour though.
2. Visit the White Tower
The White Tower is the oldest part of this complex and was also considered its most important building. It was built in the late 11th century to house its military personnel, armories and horses. It was also London's tallest building at that time and was used to display power and to scare London's uncontrollable and rowdy citizens and intimidate invaders.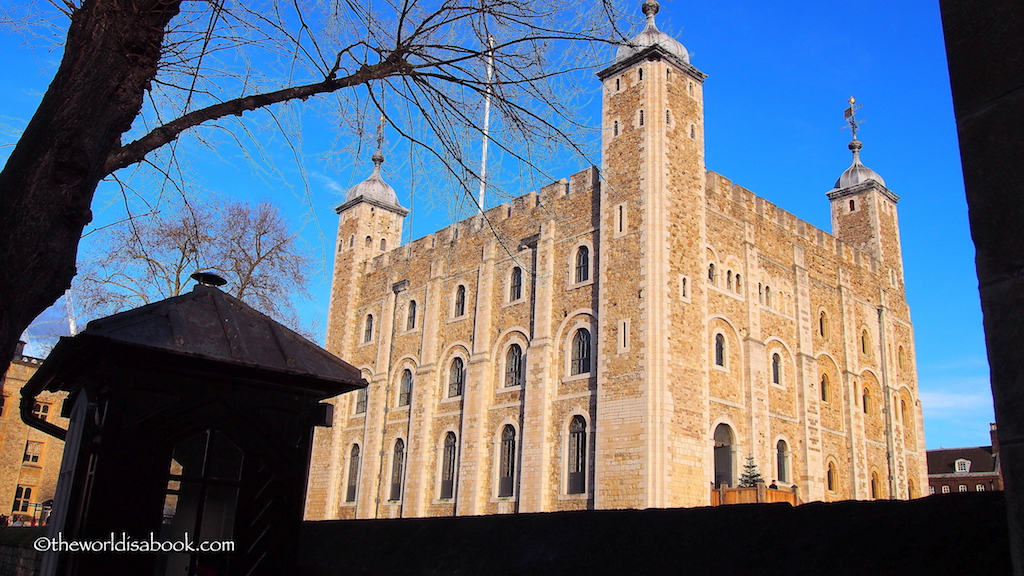 The tower is 90 feet high and its four floors now house a chapel and many exhibits but most of it included the "Line of Kings" exhibition. This exhibit has over 500 items and featured life-sized wooden horse, stunning armors and swords. This is considered the world's "longest running visitor attraction" and has delighted visitors for over 350 years. Needless to say, my husband and 10-year-old son were happy to wander around this impressive collection that included Henry VIII's royal armor which was quite remarkable.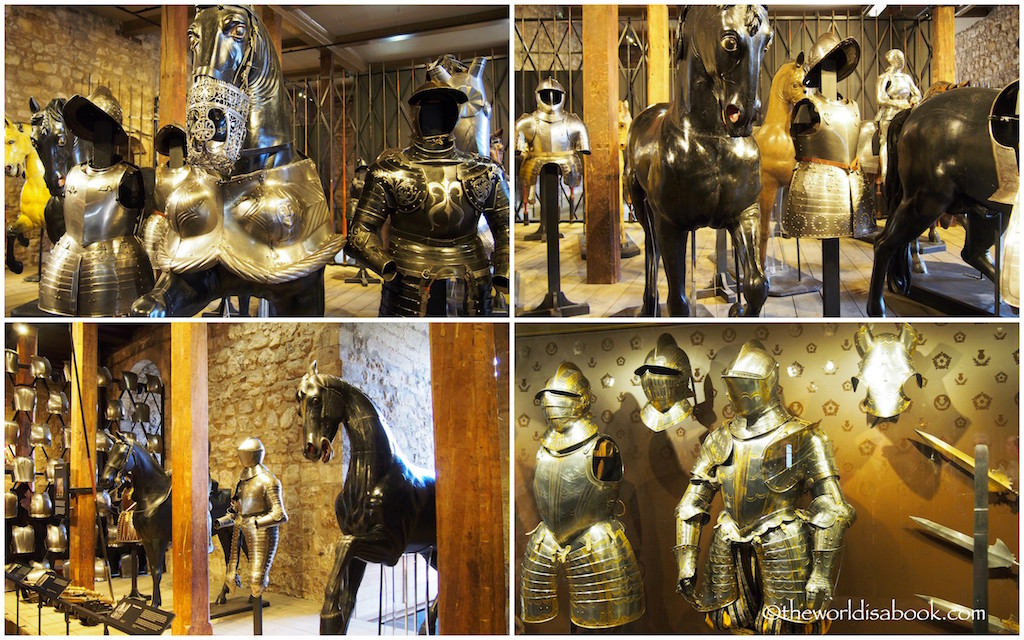 There was even a 10-foot Dragon on the top floor for an exhibit called Power House. The Dragon named "Keeper" was made up various items that represented the Tower's many roles and purpose throughout the years. It had telescope for legs for the observatory, rubies in its eyes for the jewel house, cage in the ribcage for the zoo and maps for wings for the records office (I'm assuming). It seemed almost fitting to have a dragon in this once dark fortress and medieval castle. He was a big hit with the kids!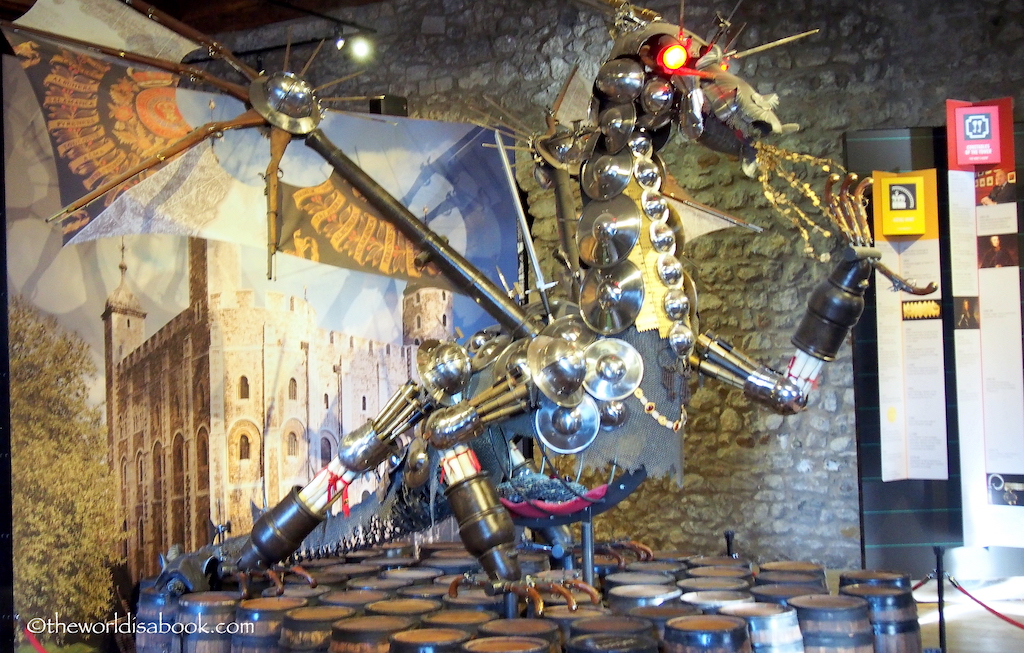 3. Best Tower Bridge view
The iconic Tower Bridge looms over the River Thames nearby. While many photos are possible from the river walk area, we found that the best photos and views of the Tower Bridge are actually from inside the complex and especially along the south wall walk. Our Yeoman Warder tour guide also verified this.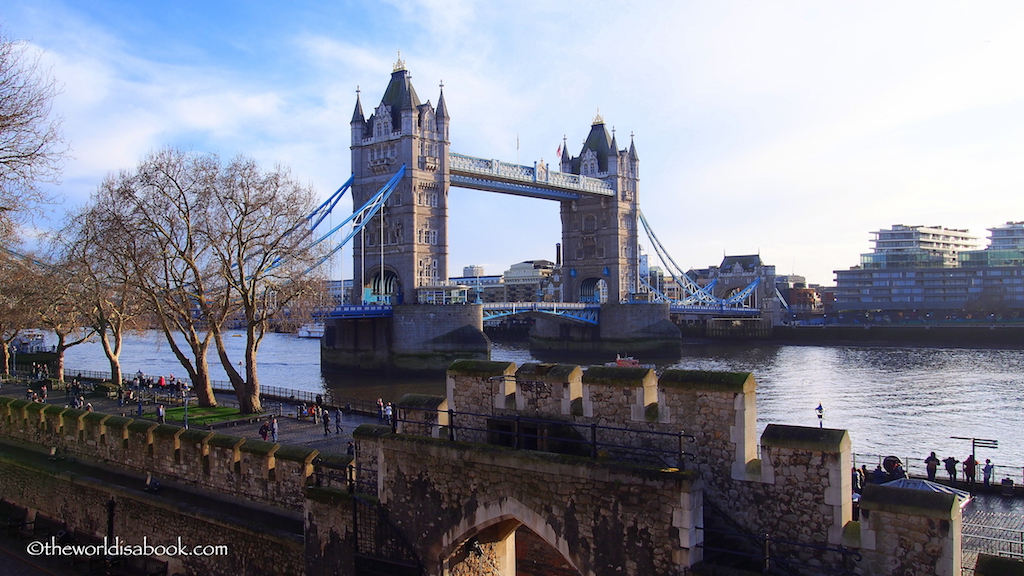 4. Gawk at the Crown Jewels
One of the things we looked forward to seeing here was the Crown Jewels collection. There weren't enough superlatives to sum up how incredible this collection was. The diamonds and jewels were spectacular and the opulence was mind-blowing.
These jewels were a big part of the British Monarchy and have long been a part of the Tower's history too. Since the tower was heavily armed and protected, it only made sense to bring treasures here for storage and safekeeping. Some are still actually used by Queen Elizabeth II during national ceremonies.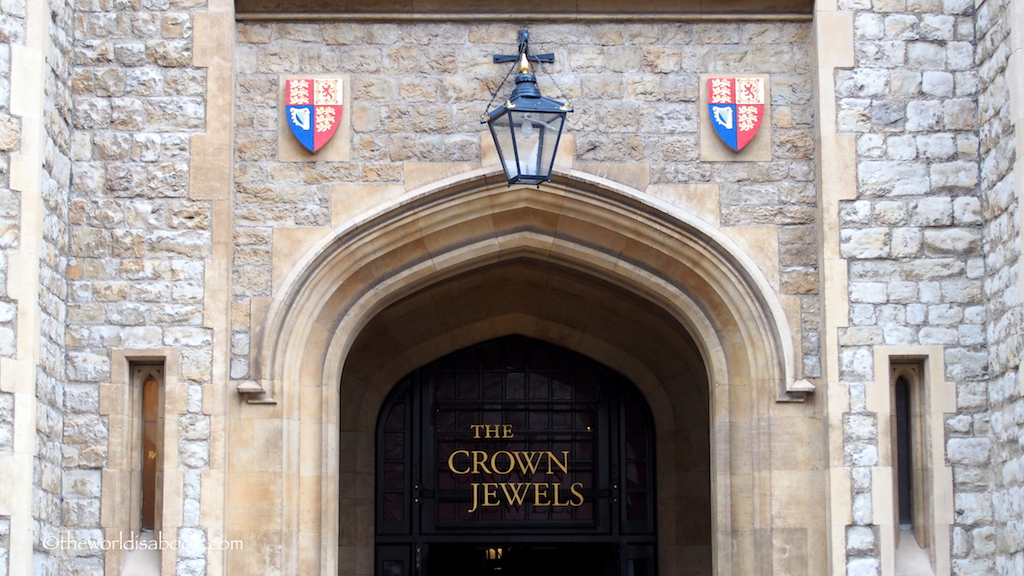 No photos were allowed inside and there were quite a few staffers roaming around to enforce this rule. The beginning was the exhibit on the history of the jewels. It was interesting to find out that many of the jewels and treasures were destroyed in the mid-1600s when the country became a republic.
There was also a movie but unfortunately wasn't working during our visit. There were people movers/ conveyor belts for visitors to go on to look at the jewelry collection closely on two levels. My kids were more than happy to have gone on this a few times.
We found many crowns, scepters, jewelry and even elegant housewares on display. Some of the memorable items in the collection included The Sovereign's Sceptre with Cross that had a 530.2-carat Cullinan I diamond on top. This was the world's largest colorless cut diamond and it was unbelievably stunning. There was also The Crown of Queen Elizabeth the Queen Mother that had 2,800 diamonds. We also learned about St. Edward's Crown used during the coronation ceremonies which weighs 4.9 lbs (2.23 kg) and made of solid gold. Can you imagine wearing that much weight on your head for hours?
5. Discover the Tower Beasts
One of the Tower's most interesting stories was the number and variety of animals that once lived here. Animals arrived at the tower around the 1100s. Over the years, animals like lions, emu, monkeys, elephants, grizzly bear, jaguar, kangaroos, leopard and even a polar bear were some of the Tower's residents. They were held in an area called the Royal Menagerie for over 600 years.
There were viewing platforms to see the animals and were mainly kept for entertainment. The animals were transferred to the Zoological Society of London in the 1830s and the Royal Menagerie eventually closed.
Remnants of where the animals were kept could still be seen. The Brick Tower has an exhibition and interactive displays that shows these animals' living conditions and behaviors exhibited during their stay here. It was a bit sad. We found these almost realistic looking monkeys located along one of the walls.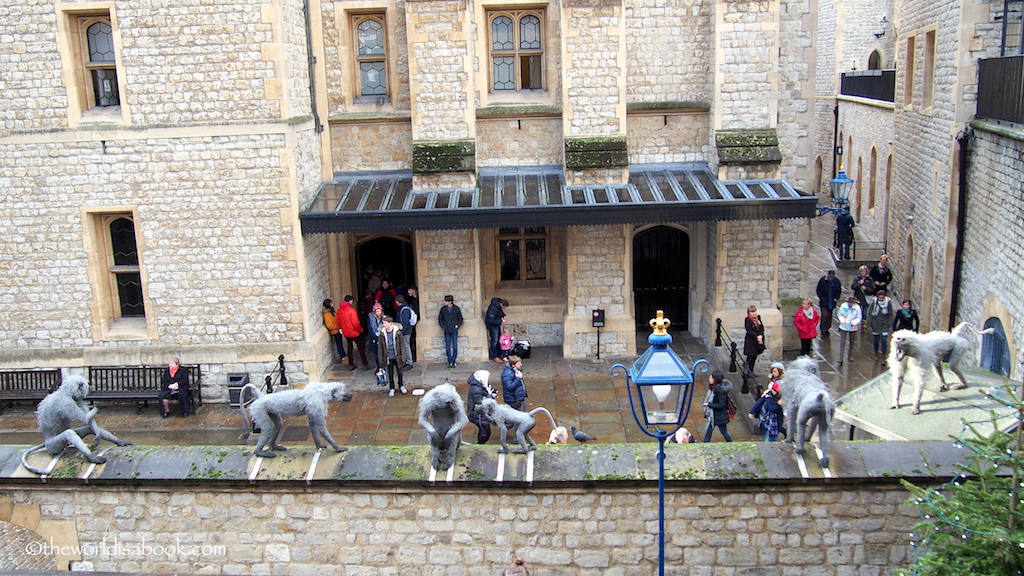 6. Look for the Ravens
For centuries, the ravens have been known as the Tower's guardians. The six resident ravens were originally kept and protected due to a legend stating that the kingdom and the Tower would fall if they ever left the fortress. Since then, six ravens must be kept at the Tower plus a spare one. We found a couple of them near their homes by Wakefield Tower.
There's even a Raven Master who takes care of them and seemed to be the only one they answer to. The ravens eat about .4 lbs (170 grams) of raw meat daily in addition to blood soaked bird biscuits. With a steady supply of food and attention, why would these ravens ever leave? We were warned not to get too close to them or attempt to feed them.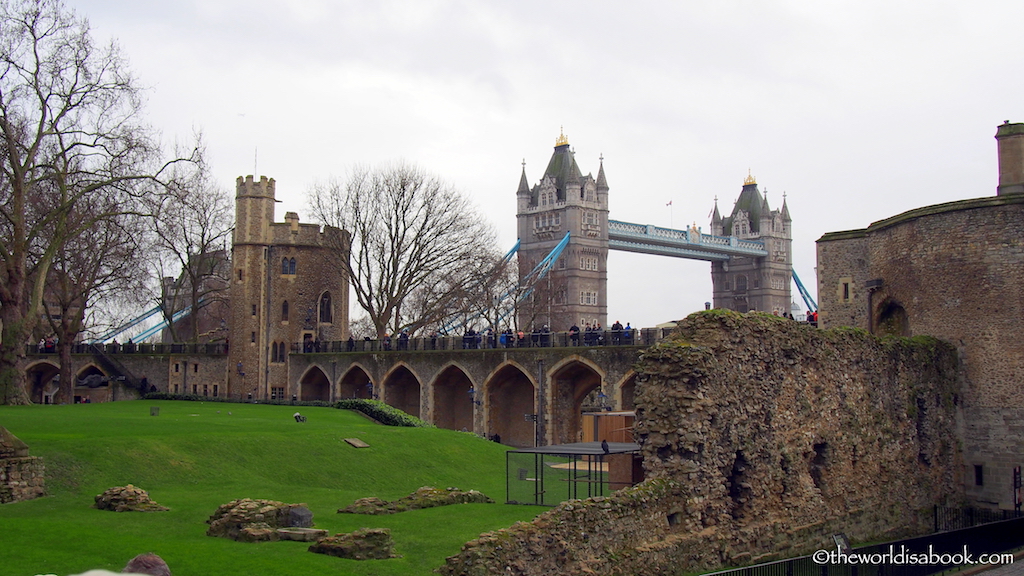 7. Stroll the Tower Green
The Tower of London was also used as a prison for common criminals, the clergy and even some monarchs. Its dark past included many stories of torture and executions. While many of the prisoners were executed on Tower Hill in front of crowds, some were spared this and were executed within the castle walls at the Tower Green. There was a circular memorial with a glass pillow to remember those who were executed here. Some of the infamous that were executed included nobles, Scottish solders and two of Henry VIII's wives – Anne Boleyn and Catherine Howard.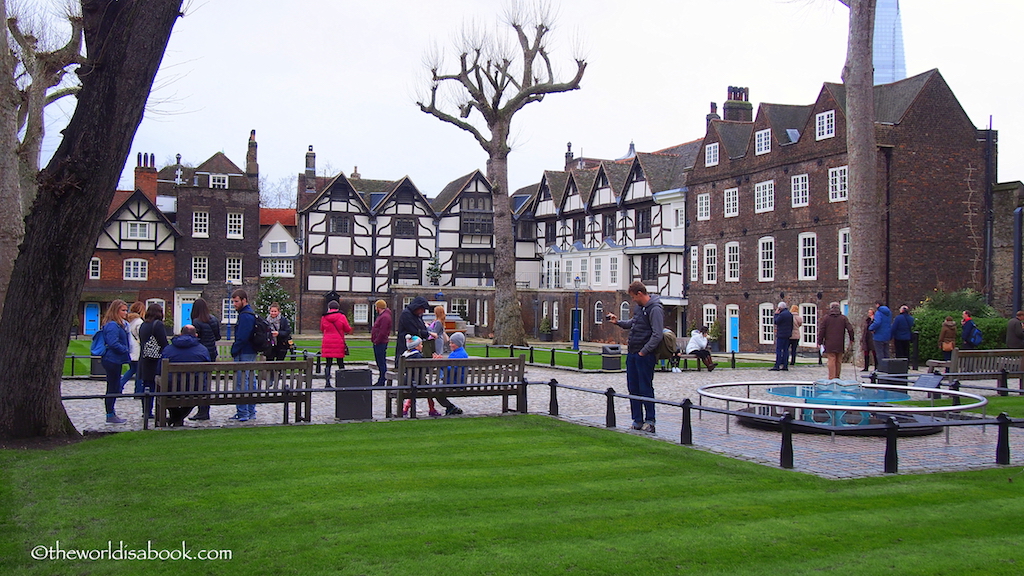 8. Walk the Tower's Walls
The large towers and inner walls used largely for defense purposes centuries ago are now one of the best attractions here and very popular with children. It's like a maze! My kids enjoyed following the inner walls to see where it led them. Some of them offered fantastic views of London's skyline that was a sharp contrast to the stone towers.
Strolling through the Wall Walk and the Medieval Palace with its seven towers made for quite an adventure. It was interesting to see some of the reconstructed rooms. Some rooms served dual purposes during conflict and peace times. We even found a room with character actors portraying one of the royals and citizens.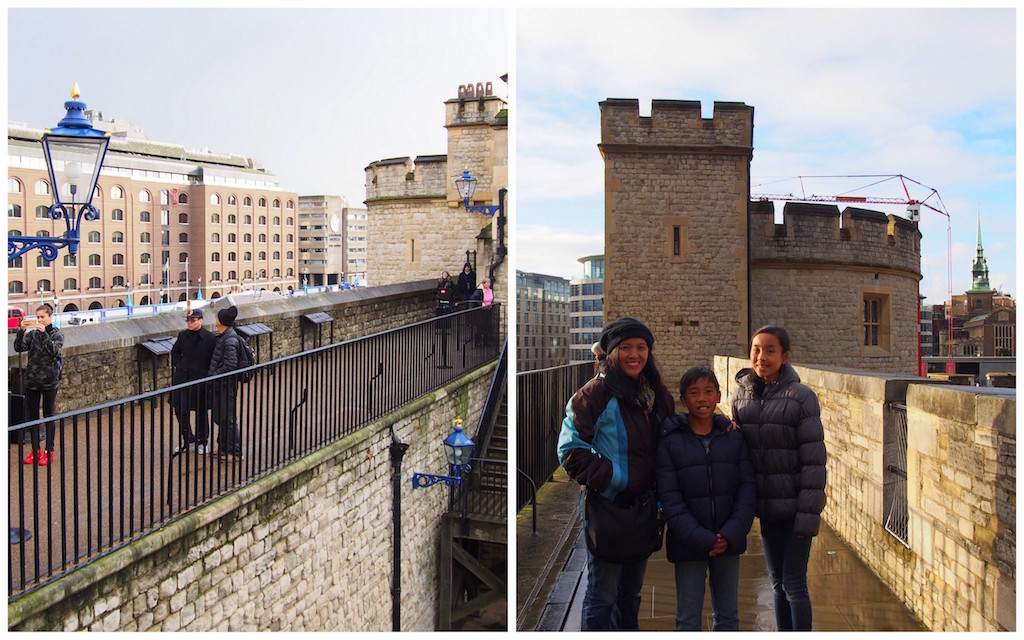 The Tower of London complex is one of the city's top attractions for many great reasons. History really comes to life for visitors here. There are so many interesting attractions and exhibits within the Tower for the whole family. We spent over three hours but I could also see how history buffs could spend a day here.We regret not visiting this sooner but happy we finally made it. We all learned a bit about English history but we really liked that there was something for everyone here whether your interests include jewels or swords and armors.
Visiting the Tower of London Basics and Tips
Ticket costs (as of January 2016): Adults: 24; Children (5-15 years old) – 11; Family discounts (2 adults, and 3 children) 60.70. Buy your tickets online for some savings and to avoid queues especially during the summer. Check the Tower of London website for updated prices.
Do the Yeoman War Tour first. It is included with price admission and does a wonderful introduction and orientation of the complex.
Get the Activity trails. These trails are available at the Welcome Center for free with quizzes and activities especially for families. Check these out before you visit.
Get the Audio guides with an option for five different tours that includes an in-depth experience into the Crown Jewels or the Tower's prisoners and executions or what's it like to live inside a fortress from the Chief Yeoman Warder's perspective. They're an additional £4.
Book the Ceremony of the Keys. Visitors can participate in this special ceremony to lock up the Tower of London nightly. Tickets are free but must be booked months in advance.
Various specific tours are available throughout the complex that include the Jewel House, White Tower, tower twilight tours occur throughout the year. Some tours are included with the admission price. Check the Tower's events Page.
*Have you visited the Tower of London? Will you add it to your travel list?
Pin it for later!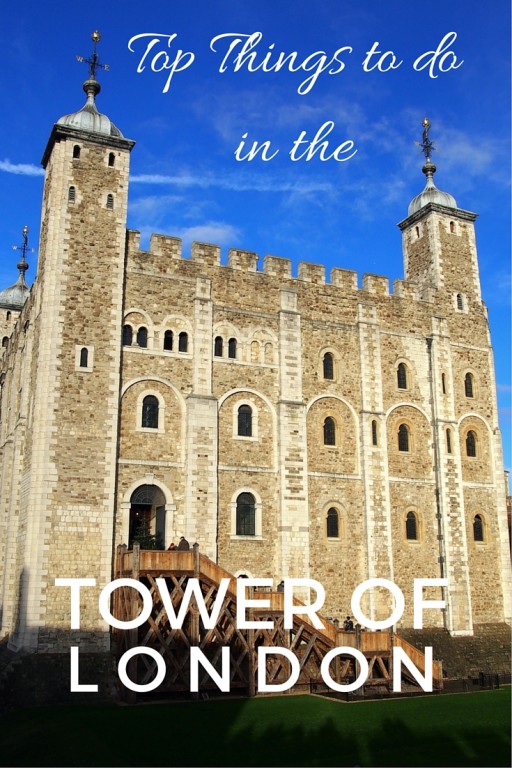 Disclaimer: The Historic Royal Palaces graciously provided us with a family pass. All photos and experiences are our own.