Winter Fun in Furenalp Switzerland
We spent the first day of 2016 in Engelberg and Mt. Titlis in Switzerland and enjoyed its second day in a nearby alpine gem. Furenalp is located just a short distance from the main village of Engelberg. It is the smallest and not as well known as the other local mountains. See what this winter wonderland in the central Swiss Alps had in store for us.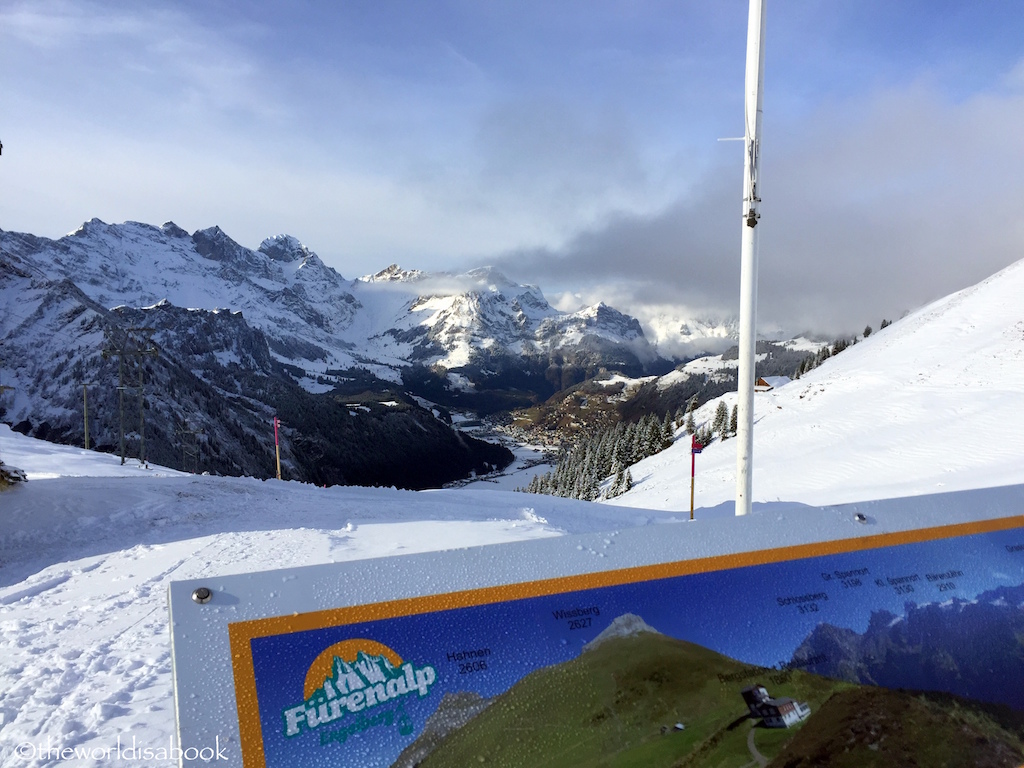 We visited Furenalp with one of my childhood friends who lives in Germany with her family. It was a short drive from town to the cable station. The cable car only occupies a maximum of eight people. Yes, it was that small and we felt every movement. These aren't for people with a fear of heights or are claustrophobic. The views going both ways were amazing though. We even saw a couple of waterfalls coming down the mountains.
There were two cable cars running at one time. We were lucky to have only waited a few minutes. I'm not sure how long the wait is during their busy times. The cable car ride took six minutes one way and climbed up very steeply fast to xx feet (1850 m) above sea level. Rest assured, it's quite reliable and safe with a long history of taking customers up to the mountains since 1978.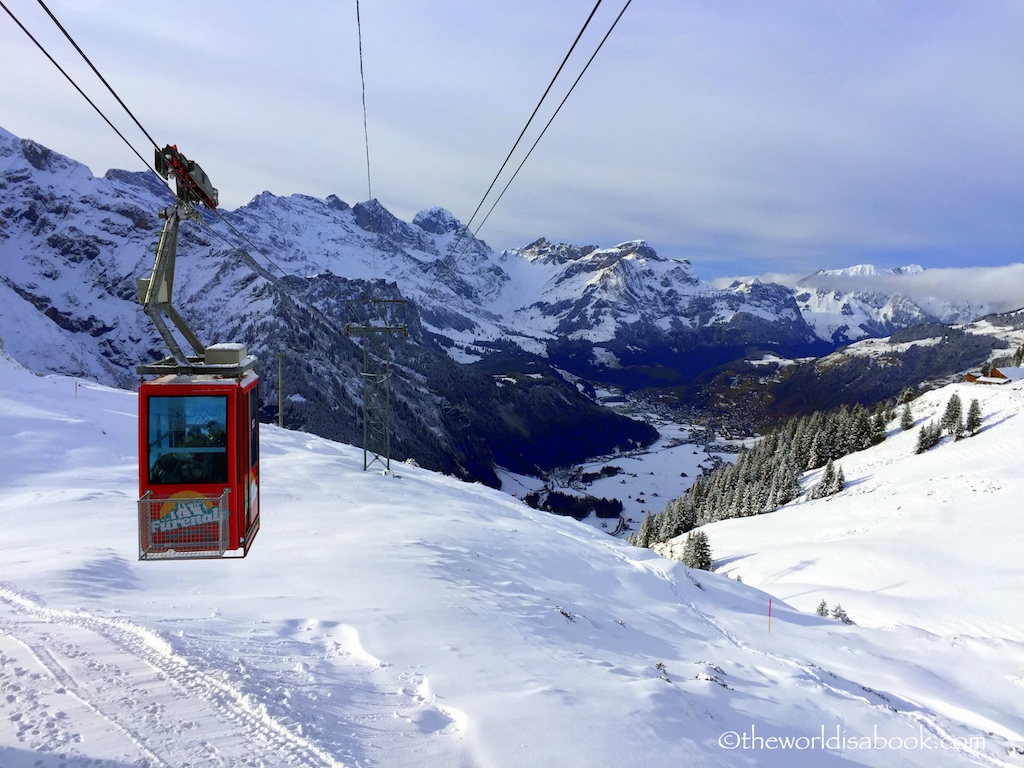 There were hardly any people when we reached the valley station on top. The mountains surrounding us were incredible even after the fog started to roll in. I can just imagine how breathtaking this place must look in the summer.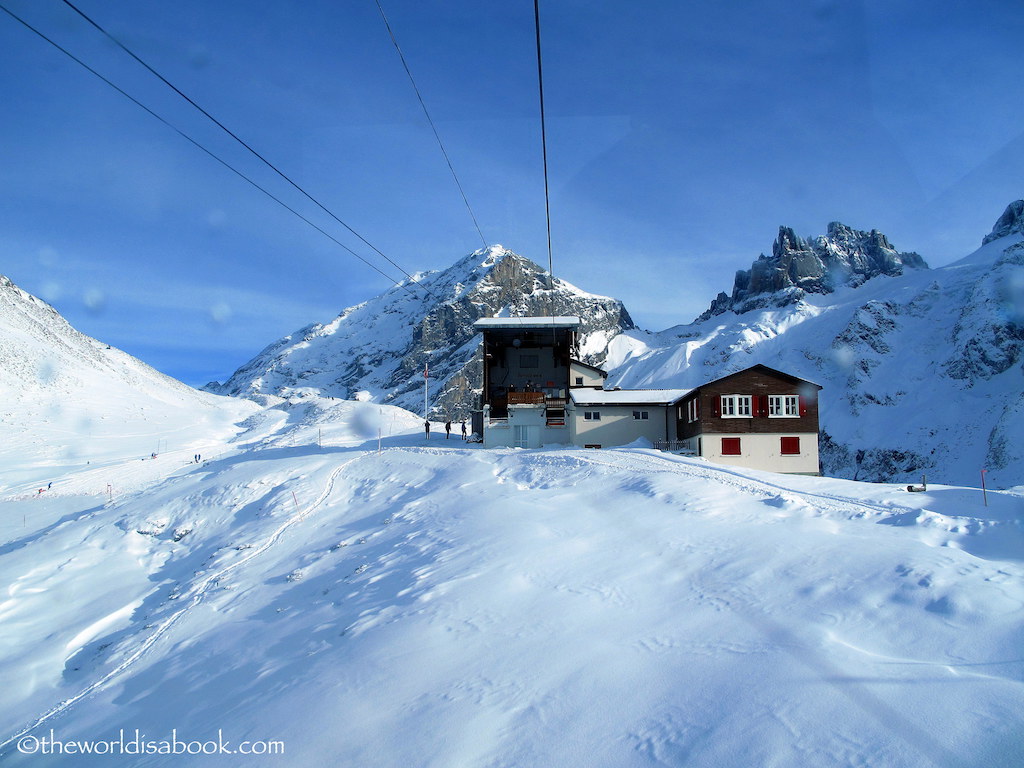 This was how I pictured being in the Swiss Alps and it didn't disappoint. The snow-covered mountains, with peaks rising high above the clouds, were majestic, imposing and magnificent.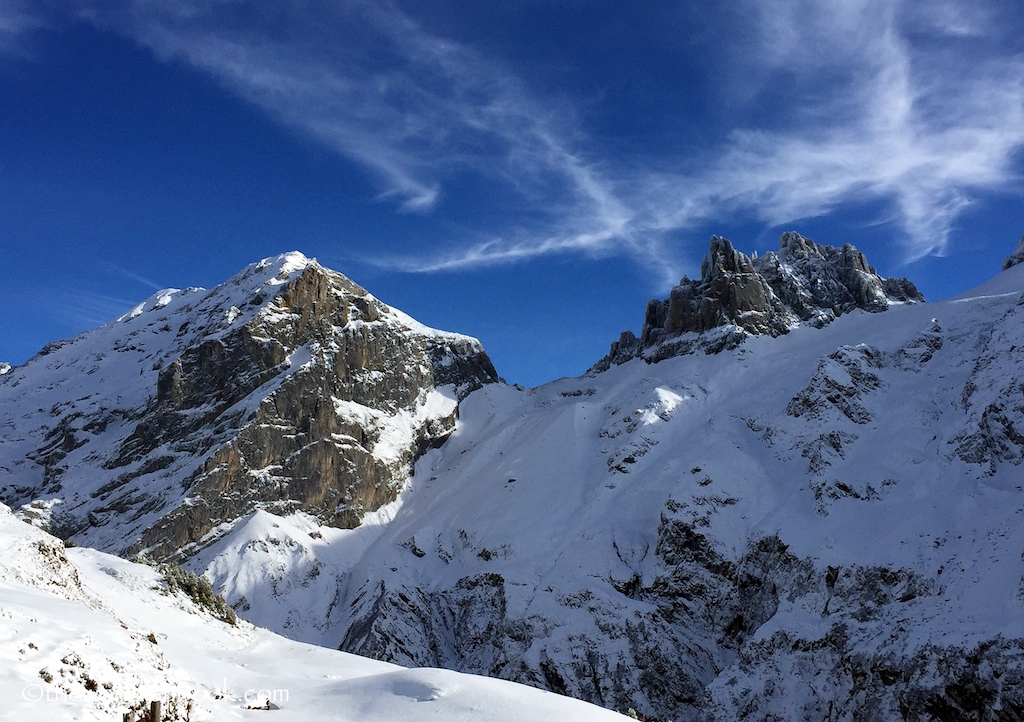 Sledding or also known as sledging was the most popular activity here. This was really the main reason we went up here. We were a bit worried when fog surrounded us when we first got up the mountain but thankfully, it slowly cleared up.
Sledges were free to borrow by the restaurant on a first come first serve basis. There were some small hills near the station but everyone decided to venture to the more challenging hills.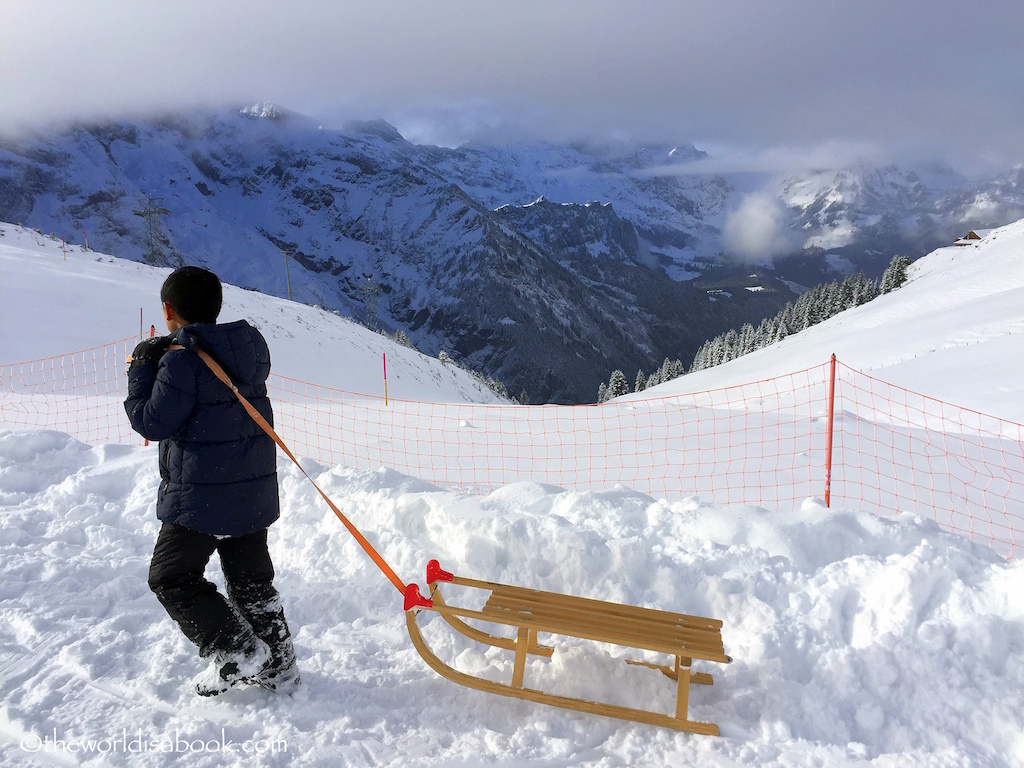 The major toboggan/sled area was about (0.6 mile) 1 km long that required at least twenty minutes to walk uphill. Keep in mind that the altitude also affects physical abilities so there was a bit of resting going on along the way. There were also some side hills if one chooses not to go all the way to the top.
My friend and I opted out and were content watching the kids and enjoying the views. Of course, never wanting to miss the adventure, my husband decided to join them. Apparently, it was as much fun for adults as it was for kids.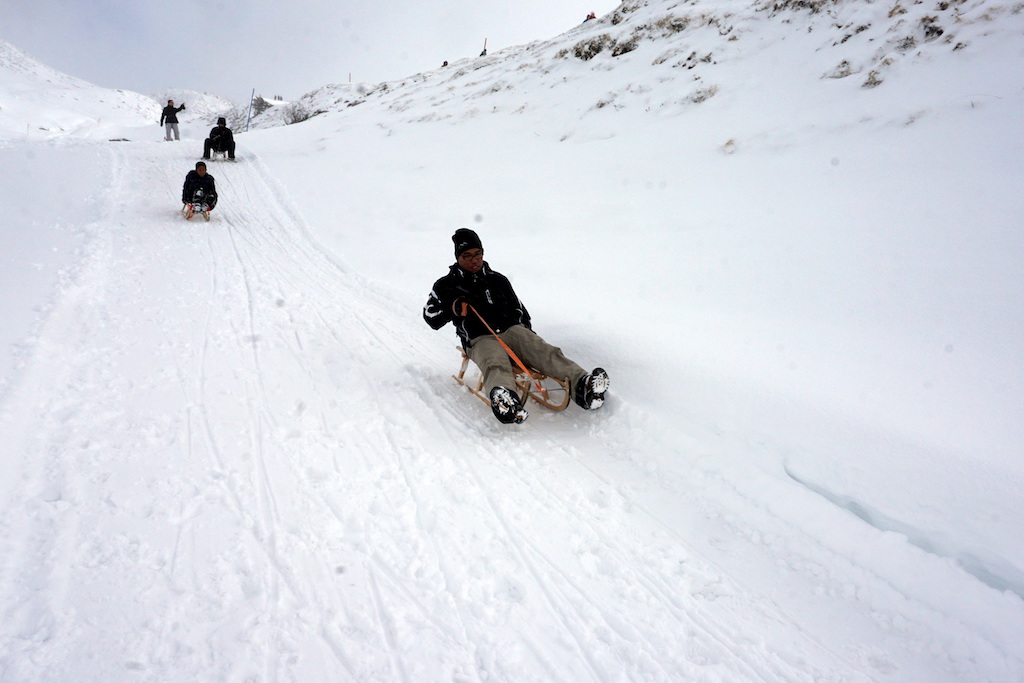 The squeals of joy and excitement were contagious from many of the people sledging downhill. The kids didn't even complain about the long climb back to the top since they were having so much fun.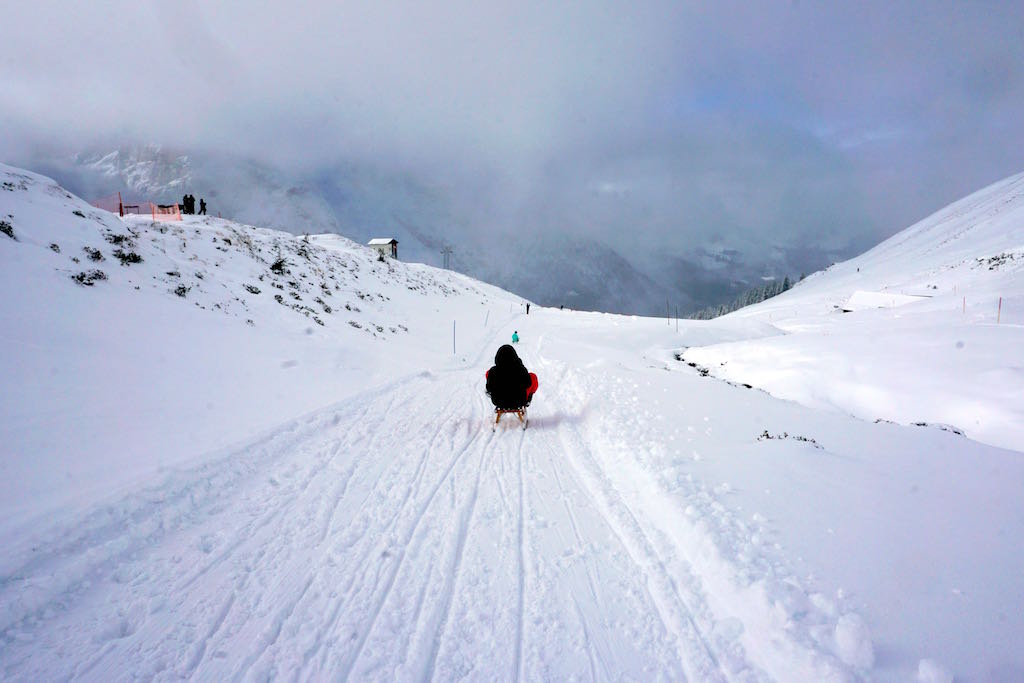 This was the impressive view of Engelberg below. There was a net and a wall of snow to stop sledge riders from going any farther. (See above photo of my son.)It was also far away from any cliffs, which was a big relief for all of us.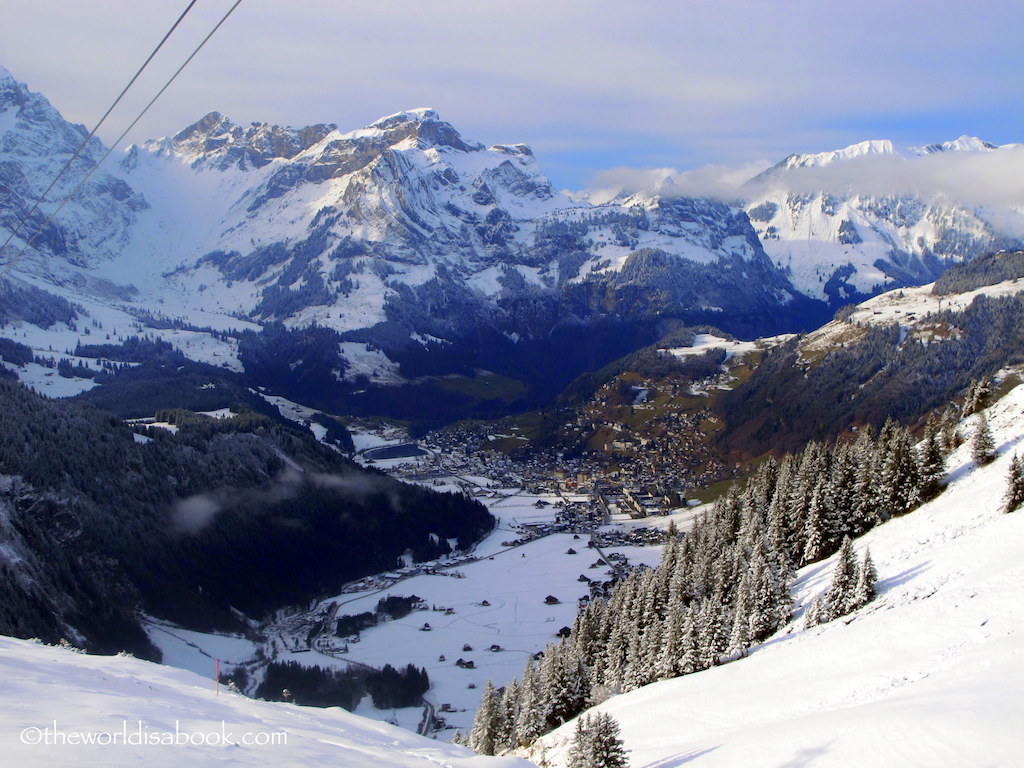 While sledging is the most popular pastime here, there were also other winter activities to do here. Two snowshoe trails are available. Titlis Trail was (1.4 miles) 2.25 km and Grotzil was (2.17 miles) 3.5 km and both were classified as easy trails. Hiking and walking are also other options during the winter here with some easy paths. We also saw a couple doing trail running here if that's your kind of activity.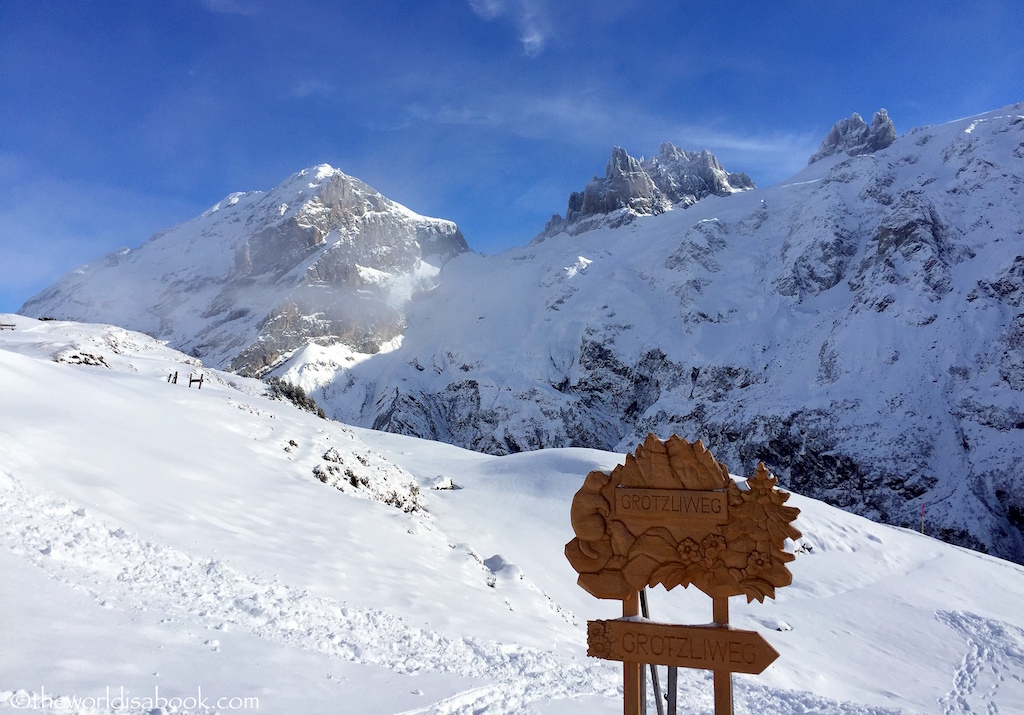 This is one of my favorite photos from our trip. It's two island girls from Guam, in the Swiss Alps, jumping for joy when the sun came out.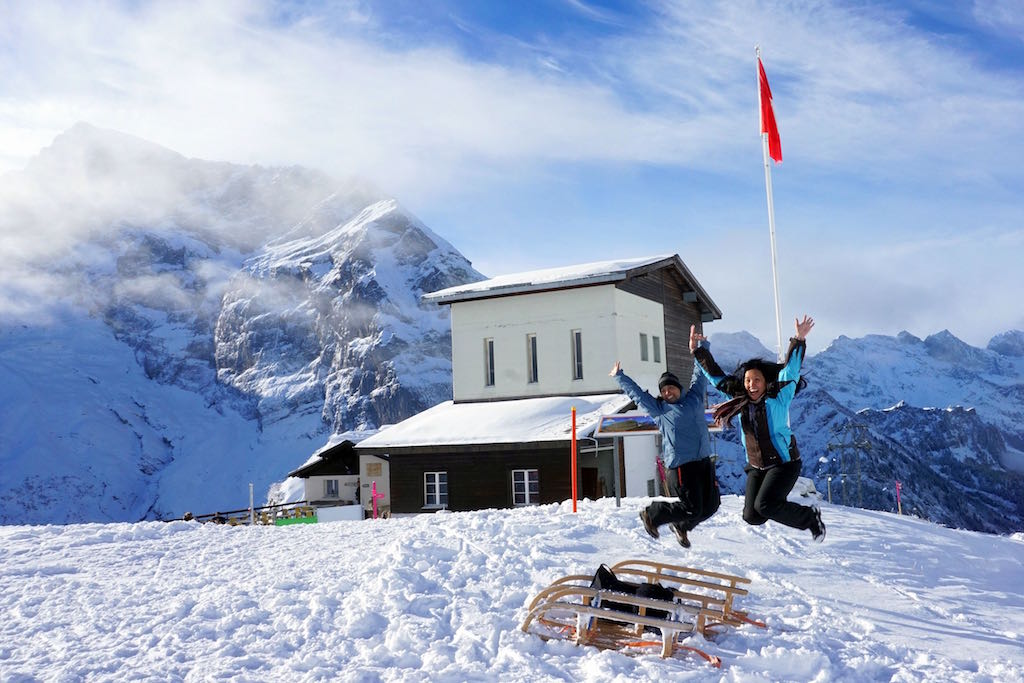 Our time in Furenalp ended with some hot chocolate at the Bergrestaurant. There were a variety of food choices here and the indoor dining area was pretty crowded. We opted to hang out in their outdoor dining area instead. The staff provided thick blankets to sit on and to keep us warm. This was definitely the most scenic backdrop we've ever had drinking hot chocolate. The tourist in me was really happy to have this picture of a Swiss hot cholocate with the Swiss Alps in the background.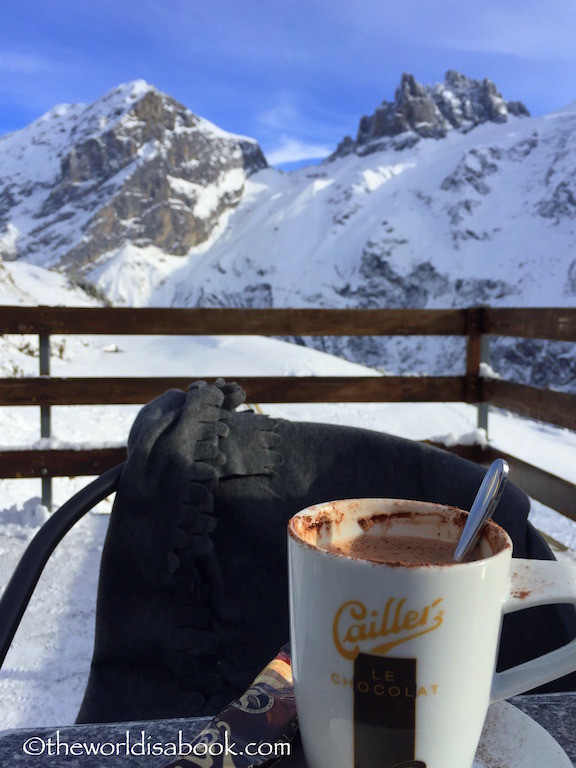 We had a brief visit in Furenalp but it was one of the most memorable days we had in Switzerland. If you happen to be in the central Switzerland area and visiting the more popular Mt. Titlis, take some time to also visit Furenalp even in winter. It's a great alternative especially for people who don't ski or snowboard. The beautiful scenery is a major bonus.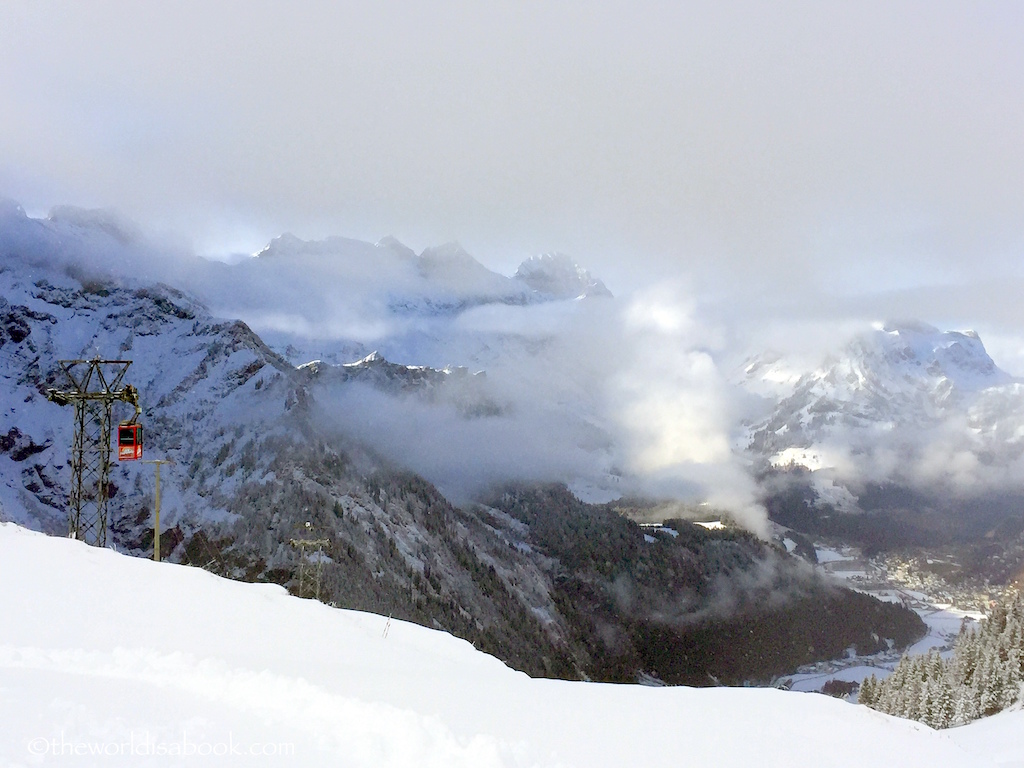 Basics and Tips for Visiting Furenalp
Getting here: It is 2 hours by train from Zurich or 1.5 hours of driving. Lucerne is 40 minutes by car. There is also a regular Engelberg – Lucerne express train that takes 45 minutes. There is a free shuttle bus to Furenalp from the Engelberg train station and or one can take a taxi.
Prices as of Jan 2016 based on round-trip fare: Adults 18 CHF($18 USD); Children (under 16 years old) 9 CHF ($9 USD) but travel during the Winter is FREE. There are discounts for visitors staying at any of the hotels in Engelberg. No pre-purchase or reservations necessary. Rides to the cable car are on a first come first served basis.
Free parking at cable car station base.
There are restrooms in the downstairs area of Bergrestaurant up in the mountain.
There was even a playground here for the kids with an unbelievable backdrop. It was perched a little too close to the edge for my liking though.
Visitors are welcome to bring their own sledges or sleds up the mountain.
*Have you visited Engelberg or Furenalp? Is Central Switzerland on your travel wish list?
Pin it for later!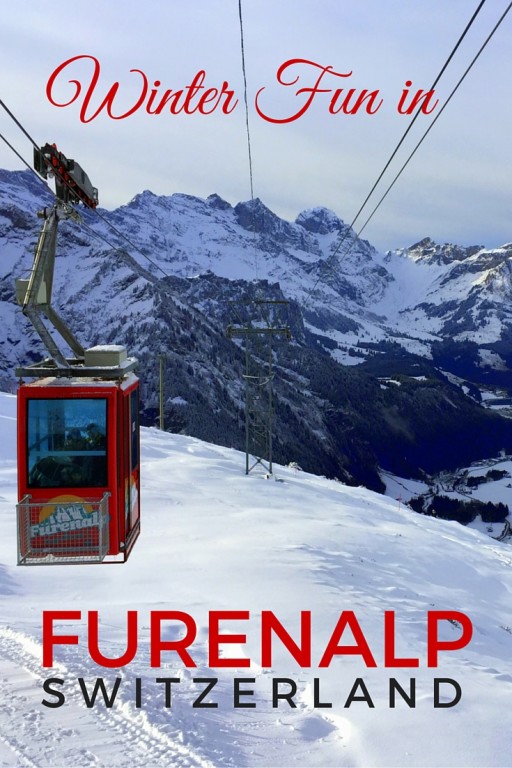 Disclaimer: We were graciously hosted by Engelberg-Titlis Tourism with complimentary tickets to Mt. Titlis and Furenalp for our family and a media rate stay at Hotel Bellevue Terminus . All photos and opinions are our own.
Check out these related posts: