A Day Trip to Belem Portugal
One of the highlights of our trip to Portugal during the last few days of 2015 was to Belém. This historical and scenic district, along the River Tagus, was about 3 miles (5 km) west of downtown Lisbon. It has some of the city's important and popular attractions and worth at least a few hours of exploring. Come along with us on a picturesque journey through land and water as we explored Belém with the kids.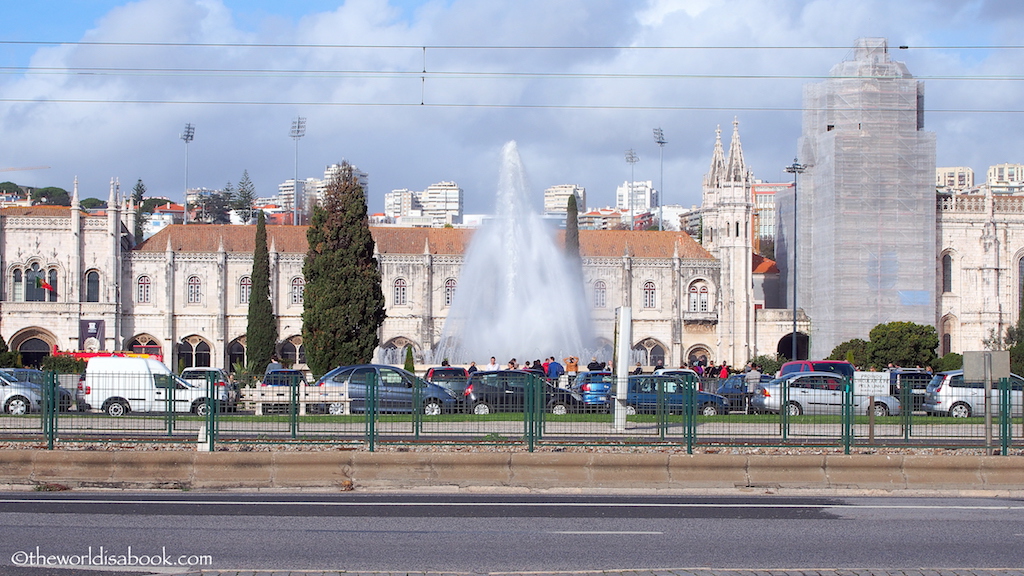 Portugal was a leading force in exploring the world from the early 1400s to the 16th century. This was known as the Age of Discoveries. The country was a huge success in discovering new trade routes and new lands and building colonies across three continents. Many of those explorers started their voyages from this area. This district was also where many of the city's rich citizens lived.
Coaches Museum
There are various transportation options to get to Belém. We went on one of Lisbon's modern trams (Tram 15E) which seemed the best way to get there. Our first stop was the Coaches Museum (Museu Nacional dos Coches). There are actually two buildings that need to be visited.
The smaller one near the Belem tram stop was the original location in the palace's royal riding school. We loved this unique museum displaying the Portuguese royalty's ceremonial coaches, horse drawn carriages and finer ways to travel back then. There weren't that many coaches here on its one floor but still worth a quick stop. We were here when it opened at 10 AM and enjoyed having the gallery all to ourselves and seeing these extravagant coaches up close.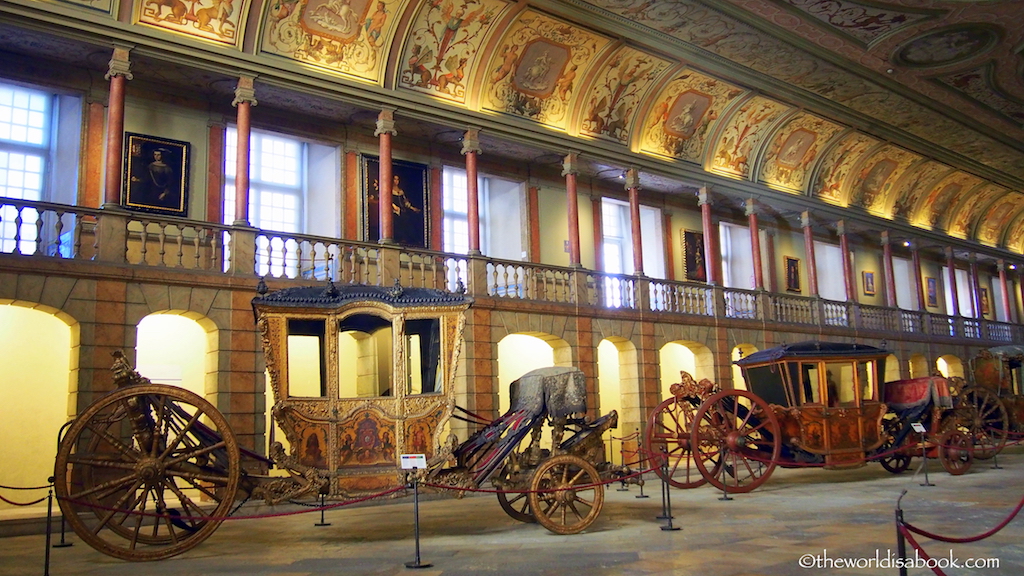 The newer building was across the street with many more exhibits. This opened in 2015 during the 110th anniversary of the museum. The multi-story building showcased some of the most beautiful and lavish royal coaches collection we've ever seen. We saw some at Nymphenburg Palace in Munich a few years ago and these were just as elegant and ornate. We loved the gilded ones which were preserved remarkably well. It was also interesting to see some of the other coaches from other royal families in Europe between the 16th and 19th century.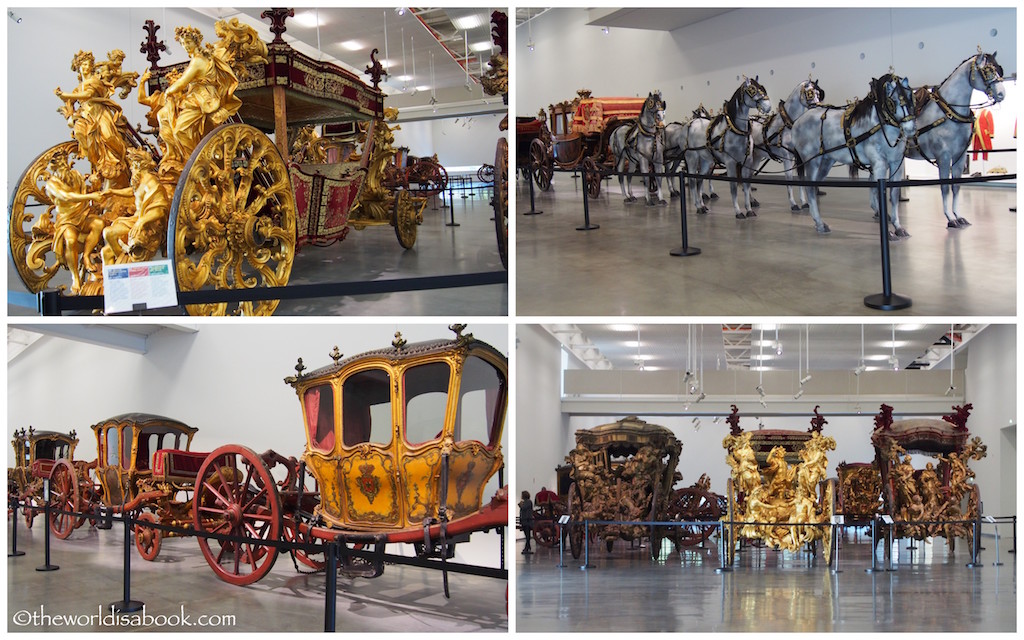 We passed by the Royal Palace of Belem which was barely visible from the street next to the old coach museum. This has been the official residence of Portugal's President since 1910. We saw two guards standing at the gate and saw a glimpse of a pink colored exterior. The Presidency Museum is open for visits everyday except Mondays and the palace is open to visitors on Saturday. We'd love to return here and explore the palace.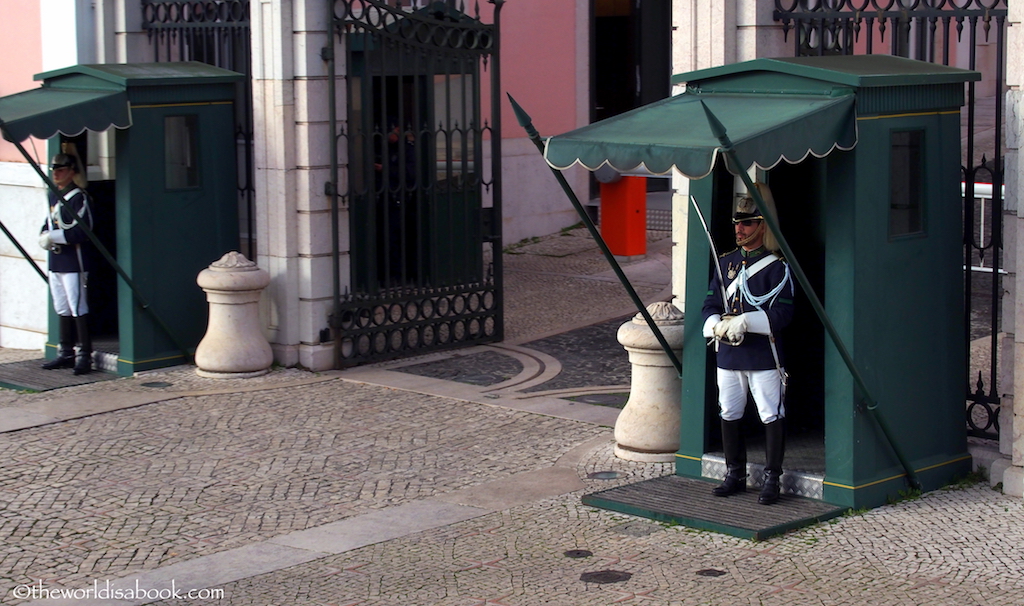 Pasteis de Belem
One of the main reasons we made the trip to Belem was to eat at Casa Pasteis De Belém. This was the original home of the delicious Pasteis de Nata or Pasteis de Belém . We found these custard tarts sprinkled with cinnamon and powdered sugar all over Lisbon. We ate these everyday, at all hours, and sampled from several bakeries. The Catholic nuns at the neighboring San Jeronimos Monastery were believed to have first made these treats to help raise money for the monastery's maintenance. This bakery refined the recipe and has been selling the treats for over 150 years.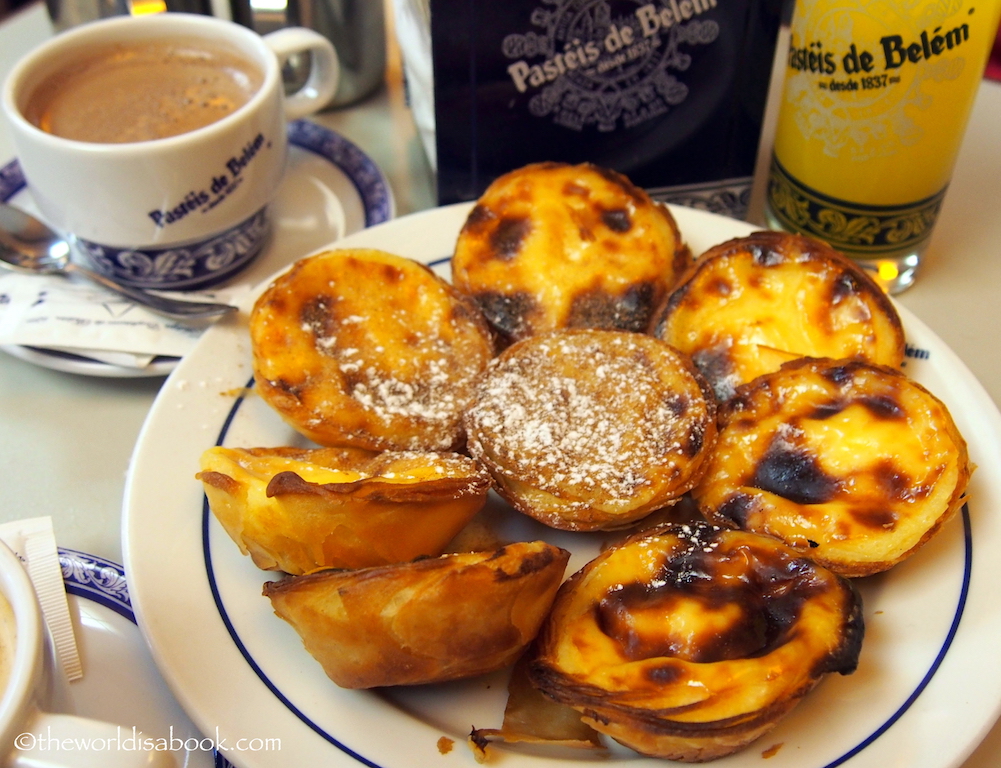 Don't let the line outside deter you. This is usually the line for buying the tarts as take aways/to go. There was a large cafe in the back with plenty of seating to eat and savor the tarts along with coffee, hot chocolate or juice. We didn't even bother looking to check if they had other items on their menu. Visitors can even see the bakers making the treats on the way to the cafe. We loved the Pasteis de Nata here and they were very tasty. These were served warm and right out of the oven that made a big difference with the ones we had all over Lisbon. Do not miss this cafe when in Belém!
Church and Monastery
The San Jeronimos Monastery or Mosteiro dos Jeronimos was a short walk down the street from the cafe. This was also one of Belém's most popular attractions. There was a long line to enter the monastery so we returned later in the day, an hour before their closing time. The queue was so much better and we didn't have to fight with the crowds for taking photos. But, there is also the Church of Santa Maria de Belem attached to the monastery. The colorful stained glass windows, towering pillars and impressive altar makes it worth visiting inside. Plus, there are usually no lines to enter and it's free.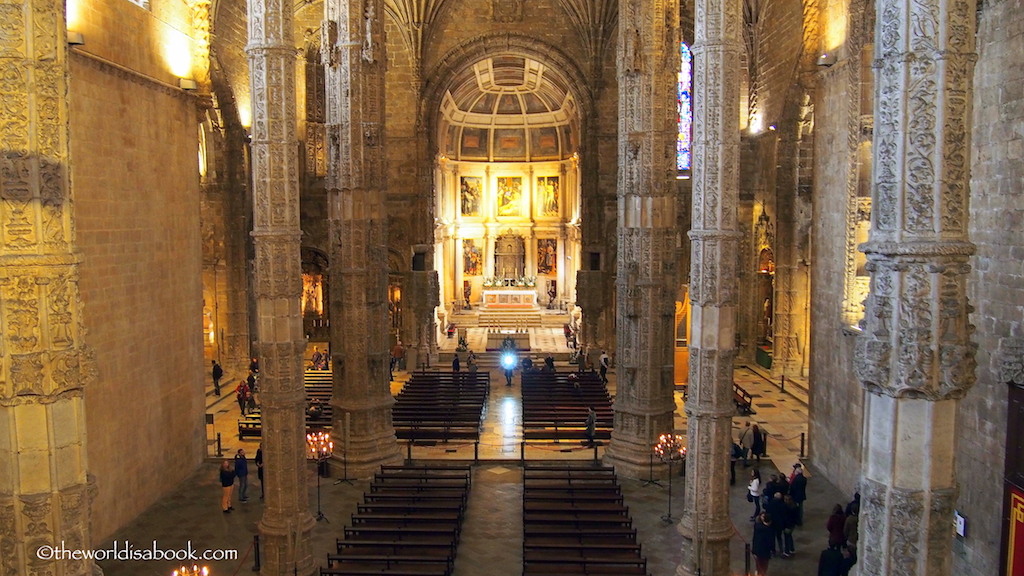 The monastery was built by King Manuel I to honor the Virgin Mary and occupied by the Order of St. Jerome monks. This UNESCO World Heritage Monument was a model of Manueline architecture. It's a design unique to Portugal that combined Moorish, Gothic and Renaissance architectural styles. The monastery's two-story cloisters are the centerpieces here. The sculptural details and carvings were incredible. Each column was filled with intricate and lavish designs that included mythical and nautical themes. There aren't many exhibits inside so it makes for a short visit. Read about our detailed post with several pictures of the monastery and church here.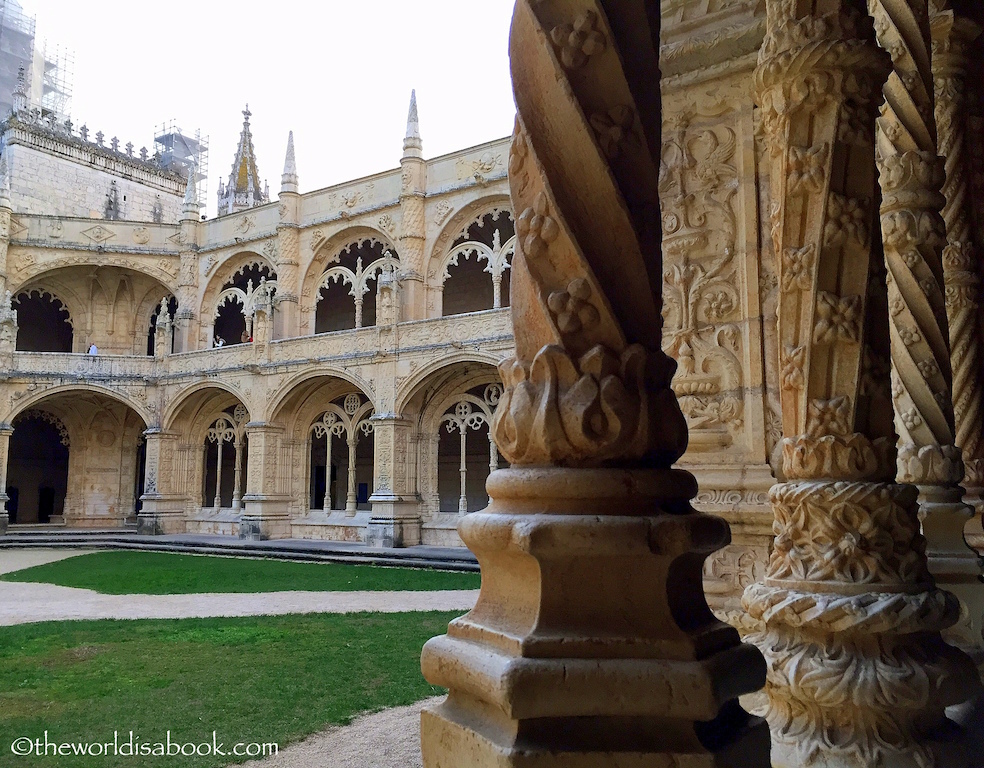 There was a small park with a large fountain across the street from the church and monastery. It was clean and maintained very well. We adored the well manicured lawns and hedges here. There were plenty of seating areas to rest tired feet and great scenic backdrop to enjoy.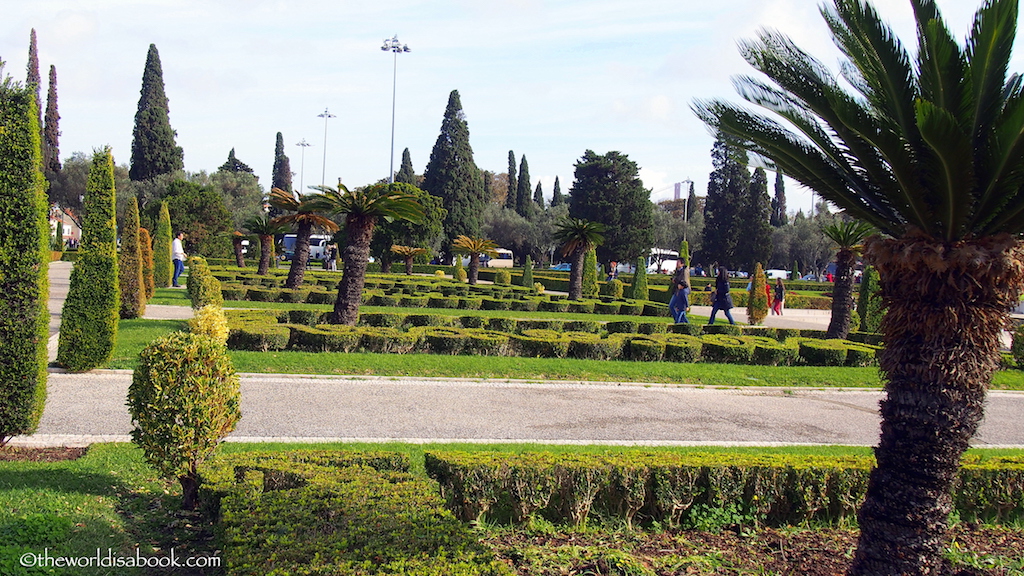 Discoveries Monument
Since there is a train track and busy road, visitors must go through an underpass by the gardens to reach one of Lisbon's most iconic symbols. The 171 ft (50 m) tall Discoveries Monument was built in 1960 to remember the 500th anniversary of Prince Henry the Navigator's death. It was shaped like a part of a ship getting ready to sail. There were over 30 sculptures of important and distinguished people who played a crucial role in Portugal's Age of Discoveries.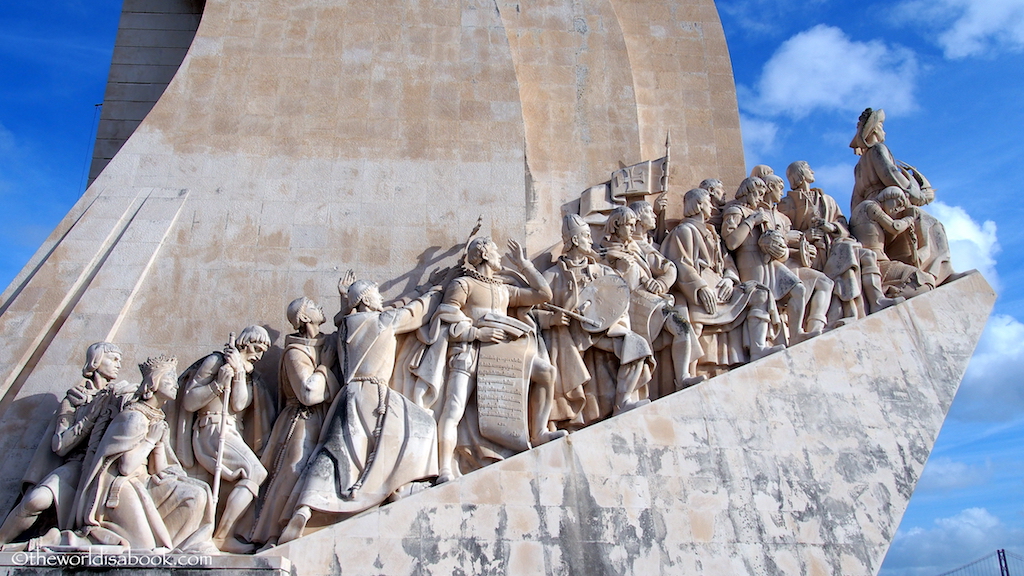 The sculptures lined both sides of the monument and are quite impressive up close. The figures included explorers like Vasco da Gama and Magellan, monks, cartographers, kings, writers, navigators, and missionaries among many other professions. Prince Henry the Navigator is at the helm. He played a key role in many of the Portuguese voyages including sponsoring and financing them. The only female sculpture is Queen Felipa of Lancaster who was Prince Henry's mother.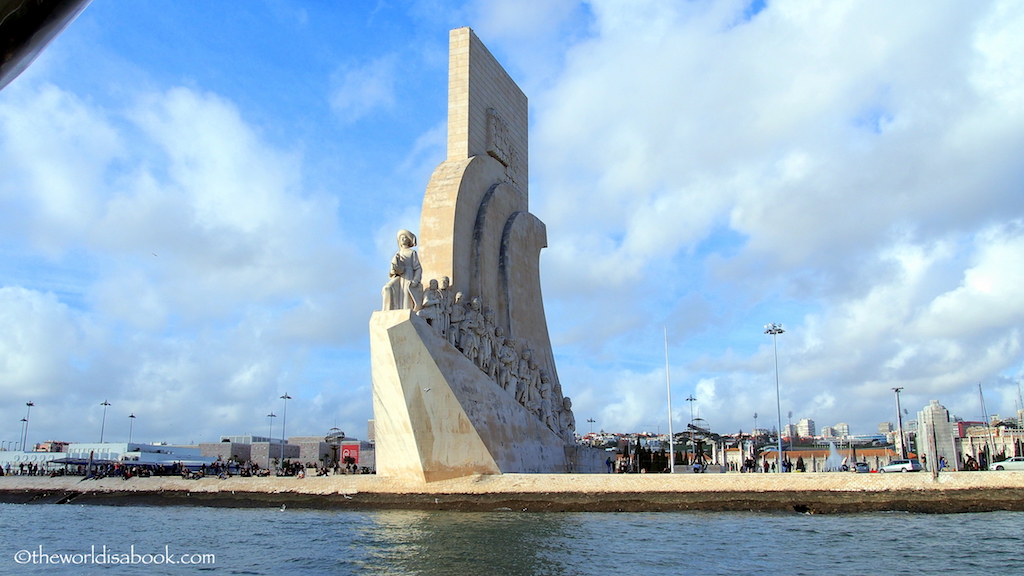 At the base of the monument was a large mosaic with a world map showing where the Portuguese explorers landed and important dates during their expeditions. It was amazing to see how much they accomplished and discovered during those trips. The monument's interior has some exhibitions and an elevator to the rooftop for some panoramic views. There was a bit of a line to go inside so we decided not to go in.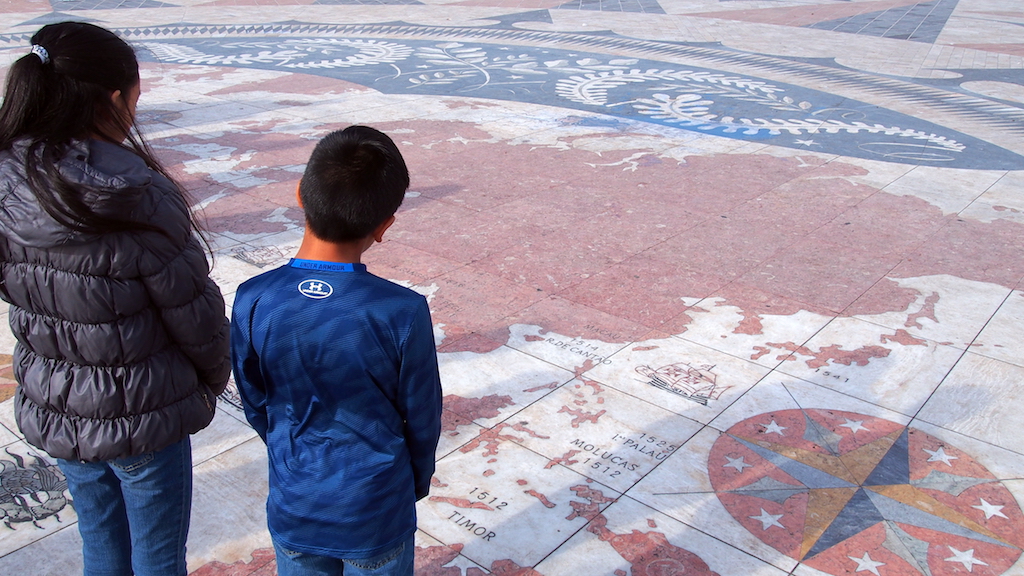 A Familiar Bridge
Looking out into the River Tagus from the Discoveries Monument, it was hard to miss a familiar looking bridge. I've seen pictures of this bridge but still did a double take at first glance.  The 25th of April Bridge or Ponte 25 de Abril suspension bridge looked a lot like the Golden Gate Bridge in San Francisco that we've seen many times.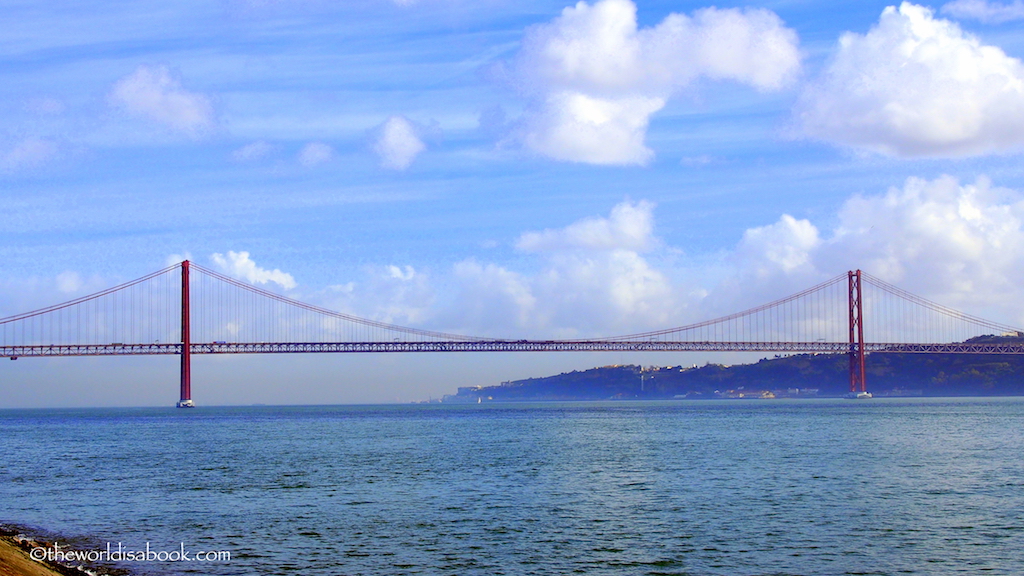 This bridge was completed in 1966 after 45 months of construction. Its name was changed from a dictator to a significant date in Portuguese history – the Portuguese Carnation Revolution of April 25, 1974. The bridge is about 1.5 miles (2.3 km) long and actually longer than its San Francisco "cousin". Though, Lisbon's bridge has two decks with the upper area used by cars and the bottom deck has two train tracks.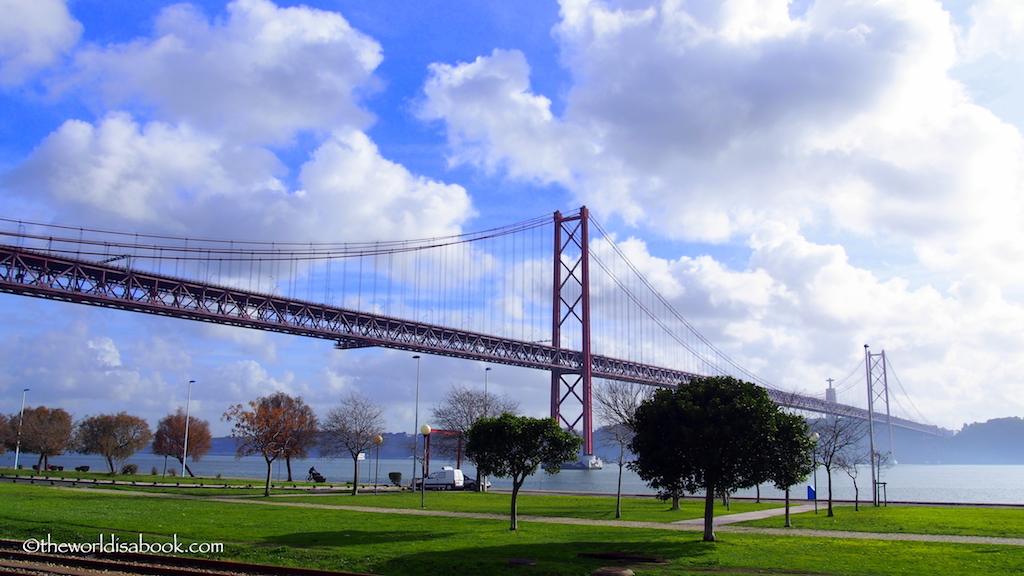 This was the walkway along the river that connected Discoveries Monument to the nearby Belem Tower that was another major attraction. We recommend sitting by and walking along the river especially on a beautiful day. We got lucky and had a sunny, winter day. The kids loved seeing all the activities on the river.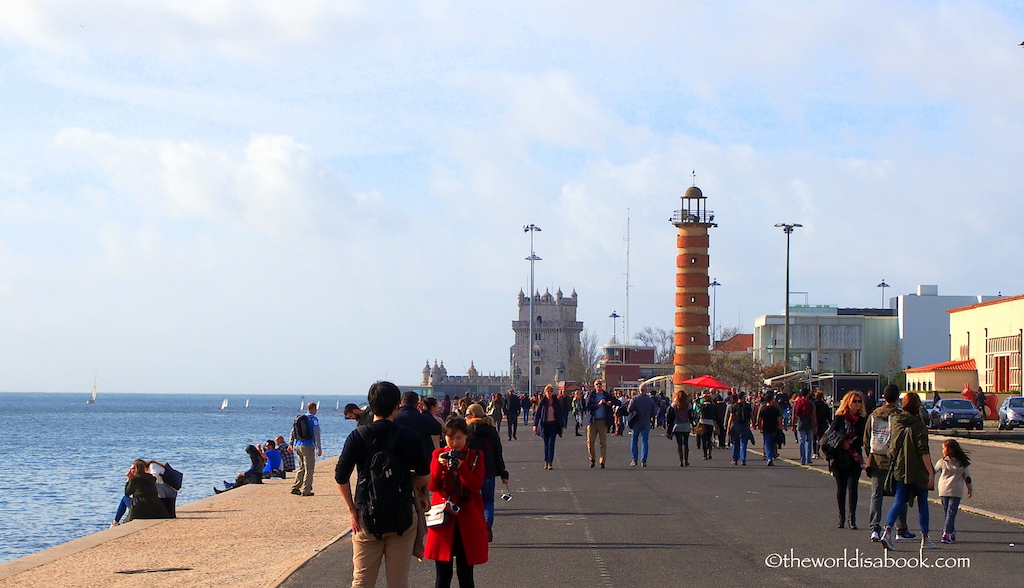 Belem Tower was a small white fort that was built in 1515 to defend the city's harbor from any attacks. Many of the voyages also started from this area. Like the monastery, this was also in Manueline architectural style with many Moorish influences. Visitors can also explore its interior.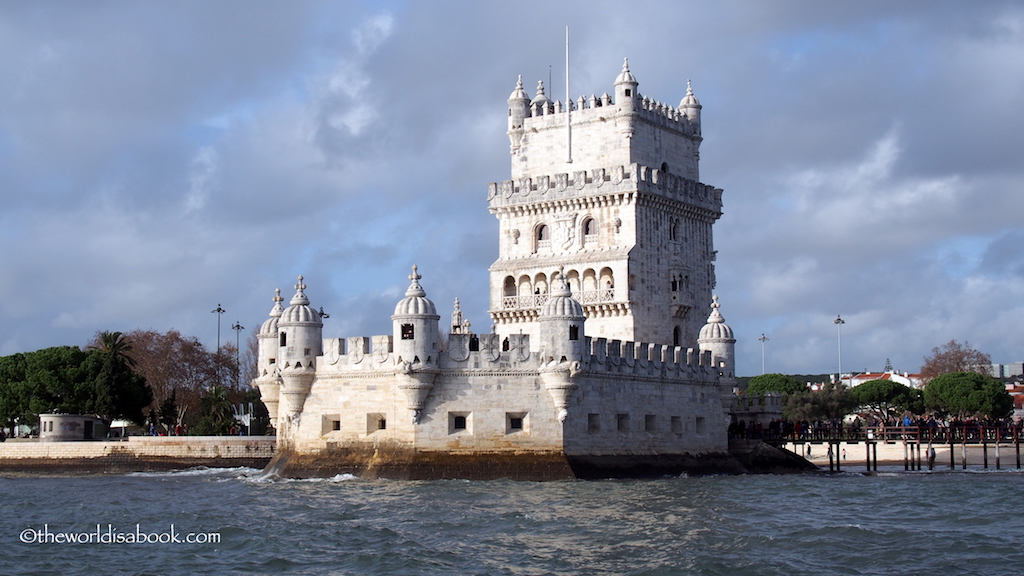 A Hippo Tour
Many visitors cover these main Belem attractions in about half a day. We wanted to pass some time before returning to the San Jeronimos Monastery. We saw an interesting vehicle parked near the monument and decided to approach them for more details. It was an amphibious vehicle (goes on both land and water) that did a circular route and narrated tour through Lisbon and Belem.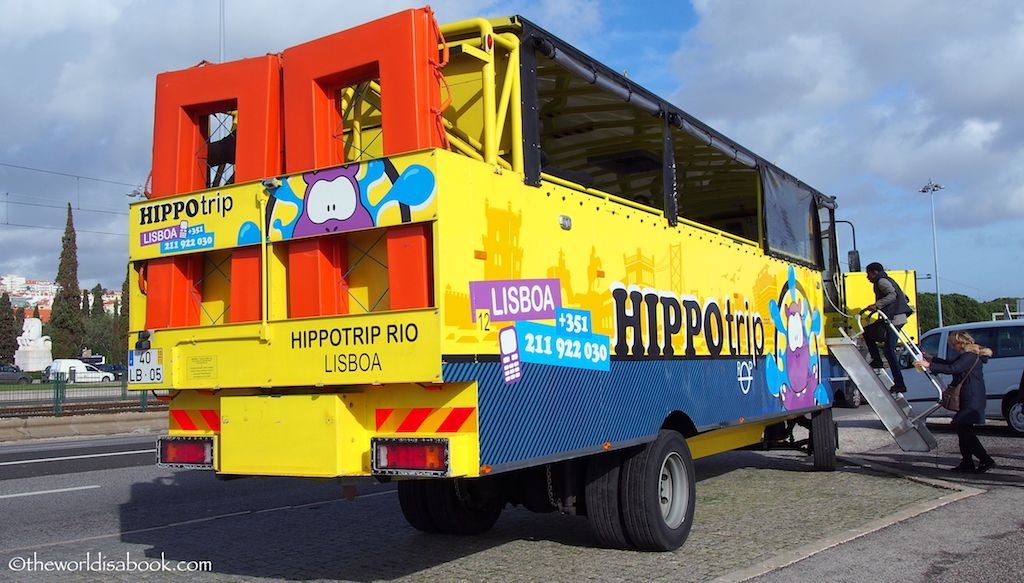 The kids have never been on these amphibious sightseeing tours which can be found in many American cities and go by seal or duck tours. It was called the Hippo Trip here in Lisbon. It was quite touristy but was also a wonderful and interesting way to sightsee. It was a different vantage point from an elevated vehicle with wide-open windows. We were at eye level with many of Lisbon's tiled buildings and were able to admire the details when we stopped.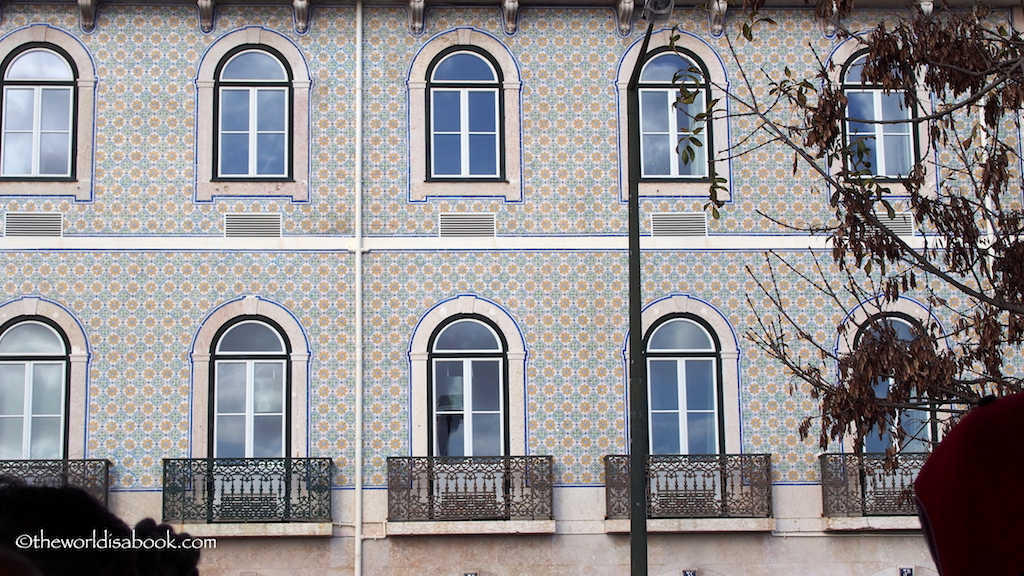 We also had great views of the monuments from the water.We learned a lot about Portuguese history, their resilience having survived a devastating earthquake in 1755 and more insights into some of the attractions. Our very enthusiastic and friendly guide, Anna, made this tour fun and memorable. We highly recommend doing this 90-minute tour (25 minutes in the river) especially if you're traveling with kids.
Belem deserves a few hours of sightseeing and exploring. There's a reason this is one of the most popular places to visit in Lisbon. It's filled with beautiful scenery by the river and stunning, historic buildings and monuments. It was easy to get around with many of the attractions near each other. Walk around, have a treat and do a tour but definitely set aside some time to visit Belem.
Basics and Tips on Visiting Belem
Getting There: Tram 15E is the easiest way to travel from Praca da Figueira or Praca do Comercio in central Lisbon. There are also several bus lines (28, 714, 727, 729, 751) or the Cascais Line Train stopping at Belem Station. Look into the 24-hour transportation card for unlimited travel on the metro, buses and trams.
Discounts! Check out the Lisboa Card for reduced admission to the attractions here plus free rides on the metro, trams and buses. Some attractions also have combined ticket discounts.
Some of the Belem attractions, like San Jeronimos Monastery, offer free admission on the first Sunday of the month. Expect crowds.
The Hippo Trip can be booked online for a specific date and time. They also had a small stand by the Discoveries Monument to purchase tickets. Prices (as of December 2015) were 25 euros for adults; Kids (2-16 years old) were 15 euros for the 90-minute tour. Check their website for more information including videos.
There were some restaurants along Rua de Belem street. You can also take the bus or tram to Santo Amaro docks underneath the bridge using the Avenue Infante stop. There was a marina there with many restaurants. The Hippo Trip Tours also started here.
*Have you visited the Belem area or Lisbon?
Pin it for later!