Cherry Blossom Viewing (Hanami) in Ueno Park Tokyo
Spring season is synonymous with cherry blossoms or sakura in Japan. It's a celebration for the Japanese. It's timing and luck for visitors. There is a small two-week window when the cherry blossoms open and are in full bloom. We were in Japan for a two-day stopover on our way to Guam last week (late March). Viewing cherry blossoms in Japan has always been on my travel wish list and we got very lucky with timing.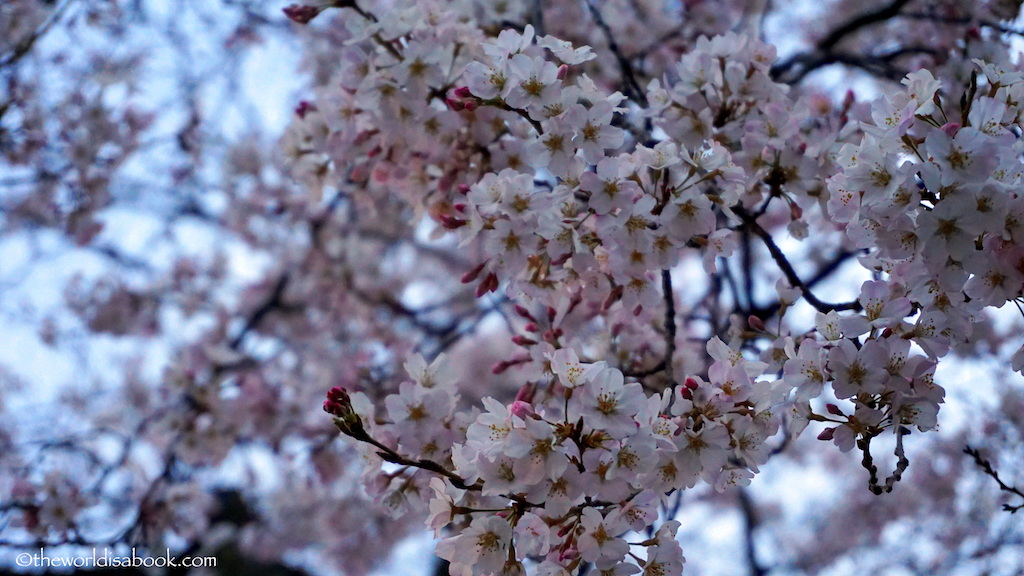 We landed in Narita International Airport which is about another hour from Tokyo. If you want to be closer to Tokyo, then fly into Haneda. There are several places to see the cherry blossoms but the most popular place is Ueno Park.
Ueno Park is Tokyo's most popular park and its cultural center. The 300-acre park has temples, shrines, schools, museums and the country's oldest zoo. During Spring and particularly when cherry blossoms are in bloom usually in late March and early April, visitors and locals flock here to witness the beauty of the park's over 1,000 trees.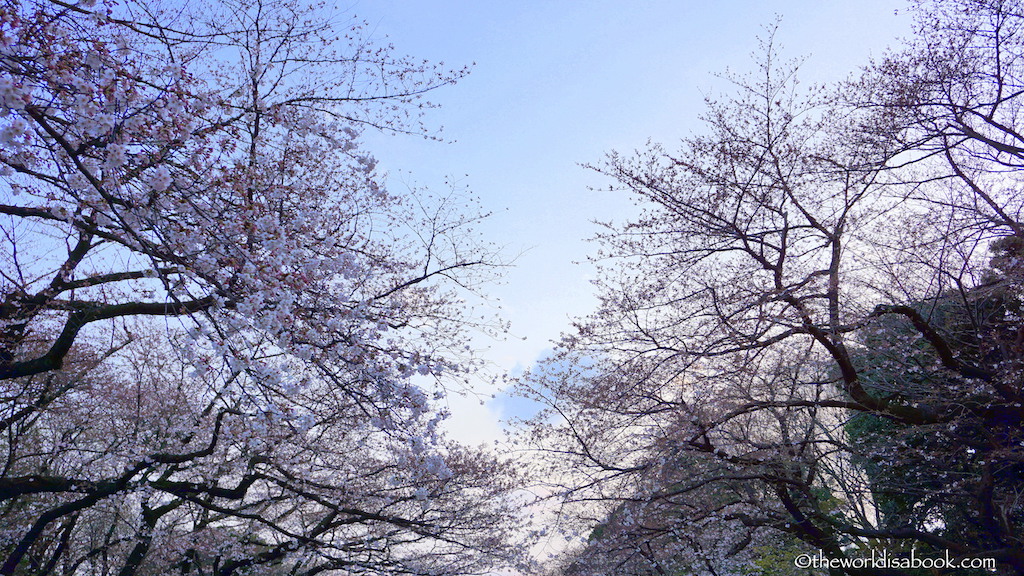 Hanami literally means, "flower viewing". Ueno Park is one of the best hanami places in Tokyo. The park has several sakura varieties and has some trees that bloom earlier than other places around the city.
The JR Ueno Station and the Keisei Ueno Station are located near the park. These are two different Japanese train lines. We rode the Keisei line so exited from this station. There are signs showing which door to exit and the park's direction so it's hard to get lost.
We followed the crowds and it led us to the main walkway filled with over 800 cherry blossom trees on both sides. There were also red and orange lanterns strung along the trees. We were here a few days after many of the trees started to bloom. We've seen pictures of this park when the trees are in full bloom and it looks spectacular.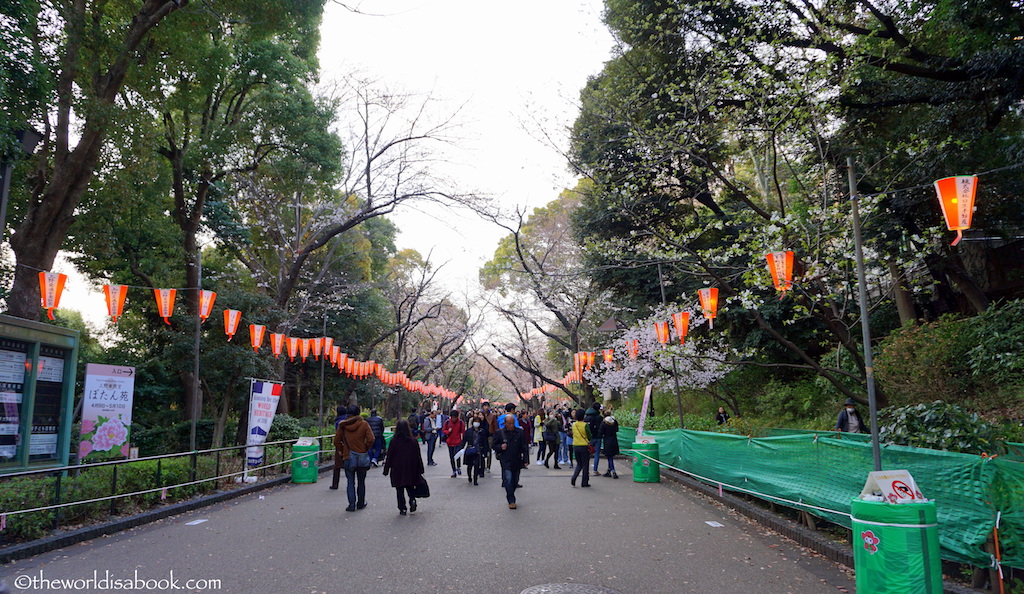 It was still beautiful though. The sakura trees almost created some sort of pink and white canopy. It was a bit crowded in some areas but the main pathway was wide. We still had some room for a relaxing stroll. Of course, we were here on a late Monday afternoon. I can only imagine how this place probably rivals a Disney park during the weekends.
It was quite easy to pick the trees that had some great blooms. We just followed the many people that were doing selfies and doing close-up shots of the blooms. My kids always find it amusing to watch the Asian tourists pose with the peace signs. This park isn't just for cherry blossom watching but also a prime area for people watching.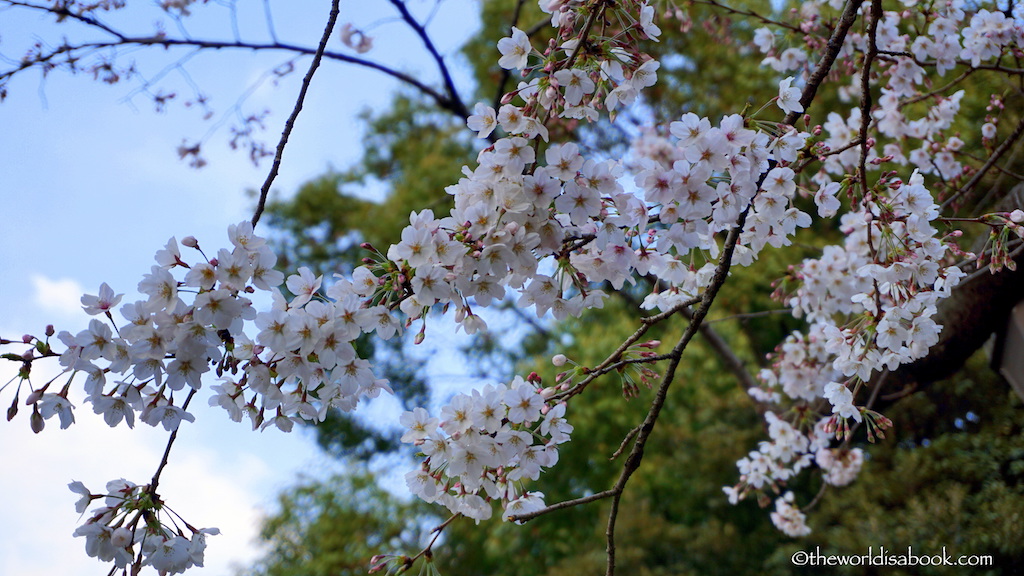 While we may take hanami to mean as a springtime stroll through the parks and under the trees, Japan takes it to a whole different meaning and level. It is customary and quite popular for the Japanese to have hanami parties under the blooming sakura trees during spring. Who can blame them with all the beauty surrounding them?
We passed through many hanami parties lining both sides along the central pathway. I loved the festive atmosphere filled with laughter and chatter. In true Japanese efficiency and organization, there were marked designated squares for people to have picnics under the trees. There was also a retaining wall for people to sit on.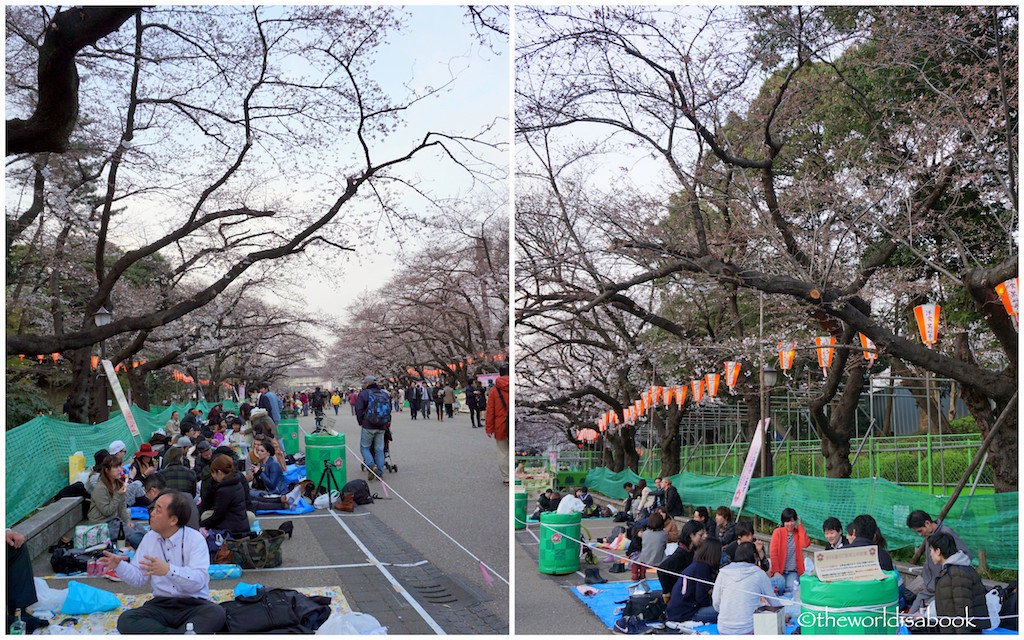 People were sitting on mats, blankets, tarps and cardboards. There were plenty of food and drinks on some cardboard tables. Food preparations ranged from simple bento boxes to some elaborate feasts. We also found plenty of sake or rice wine and beer.
It was like a giant block party and was so interesting to see. All that was missing was a band, DJ and some music, which I'm sure, was probably present during the weekend. The mats were treated much like when entering Japanese homes where shoes were left outside. We saw some empty spaces and wished we had a mat and picnic items too to join in.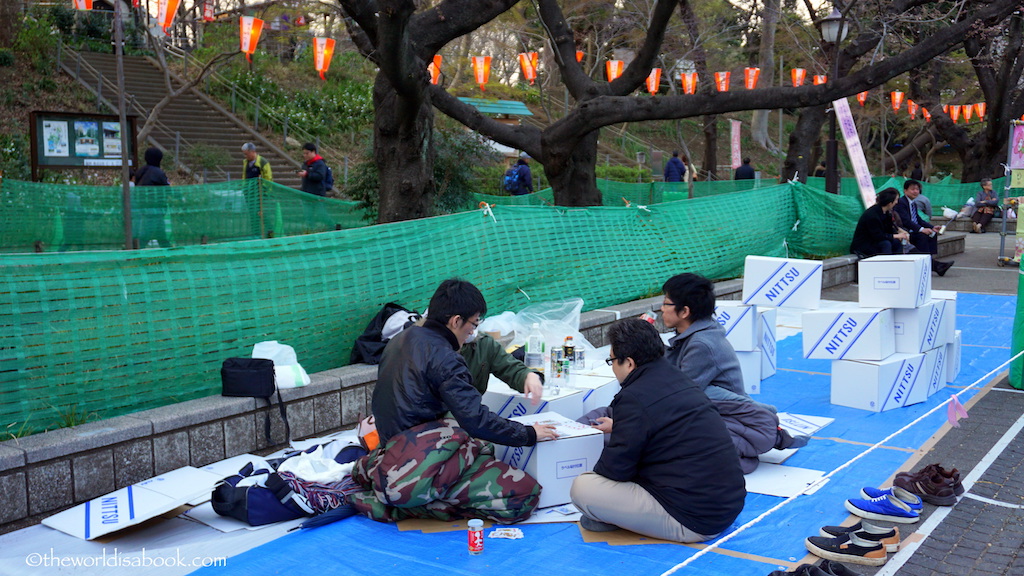 One would think with the crowd and picnics going on here, litter would be scattered in many places. But, it was spotless. We found many garbage and recyclable item repositories throughout the park. Some were a few feet from each other. There were clear signs for designated containers making it easy for everyone no matter what language you spoke. I've never seen garbage broken down to this level. Cleanliness is just one of the many things I love about Japan.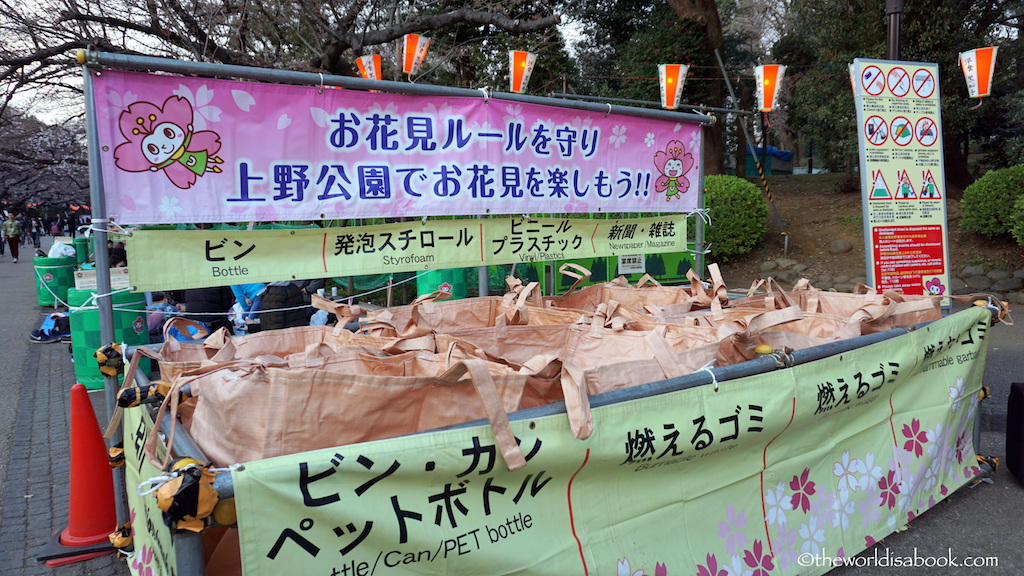 We visited about an hour before sunset and also witnessed the thousands of lanterns slowly lit up. There were about 1,300 lanterns here strung between branches to allow for some nighttime hanami and prolong the celebrations. Cherry blossoms at night are called yozakura.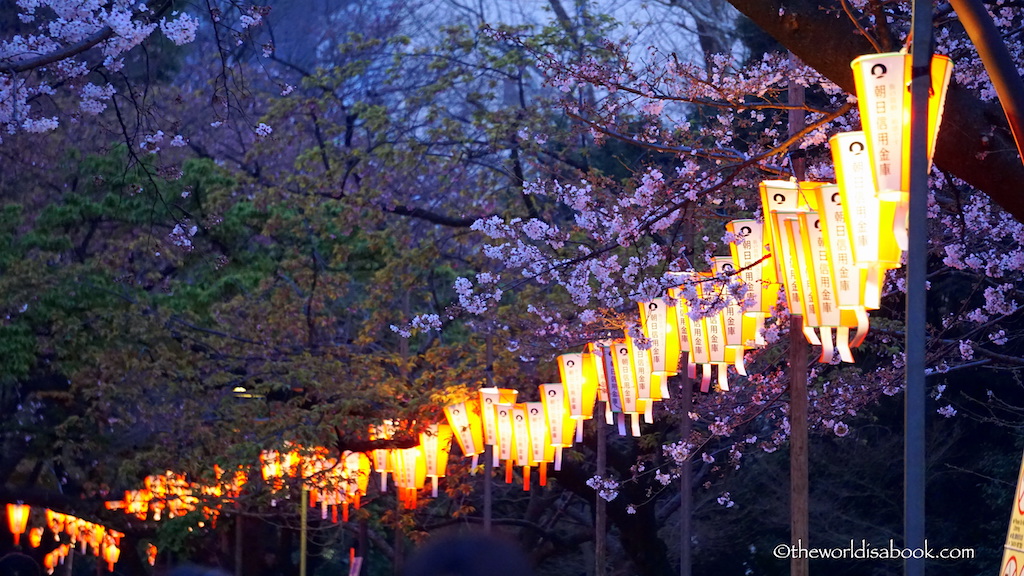 It was so delightful to see these lanterns light up the cherry blossoms and give it that magical glow. There was something enchanting about the pathways lit up with these lanterns. I don't know what the characters mean on them so if anyone can enlighten me, I would appreciate it.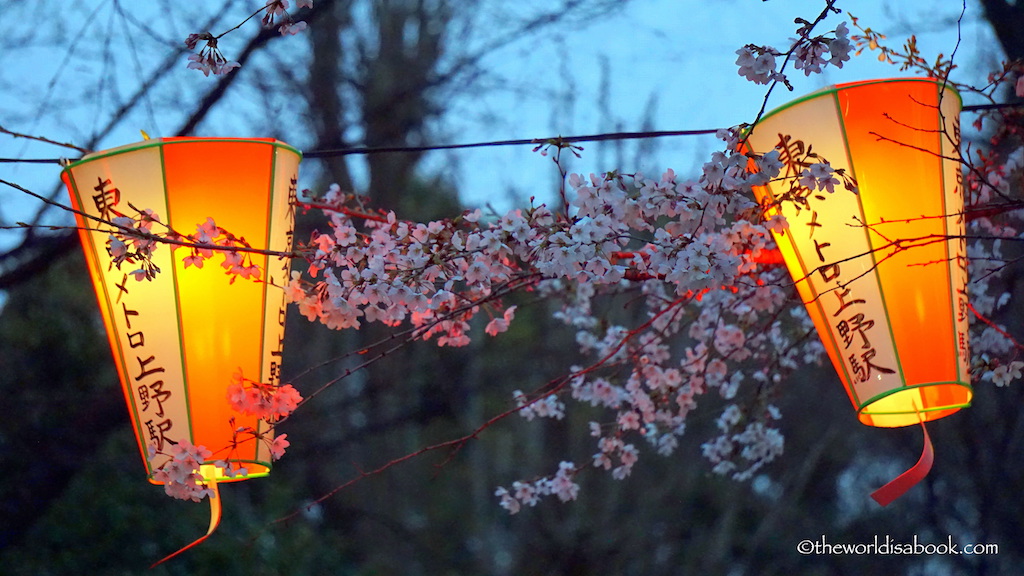 There are also many things around this park beyond the cherry blossoms especially for visitors and kids. Though, the cherry blossoms always provided a beautiful backdrop everywhere.
My kids were pleasantly surprised to find a small area filled with colorful characters and figures, rides and playground equipment next to the Ueno Zoo. Ueno Children's Amusement Park was filled with old school carnival rides for young kids. There was a ticket-dispensing machine outside to buy tickets. Unfortunately, my kids thought they were far too old for these rides.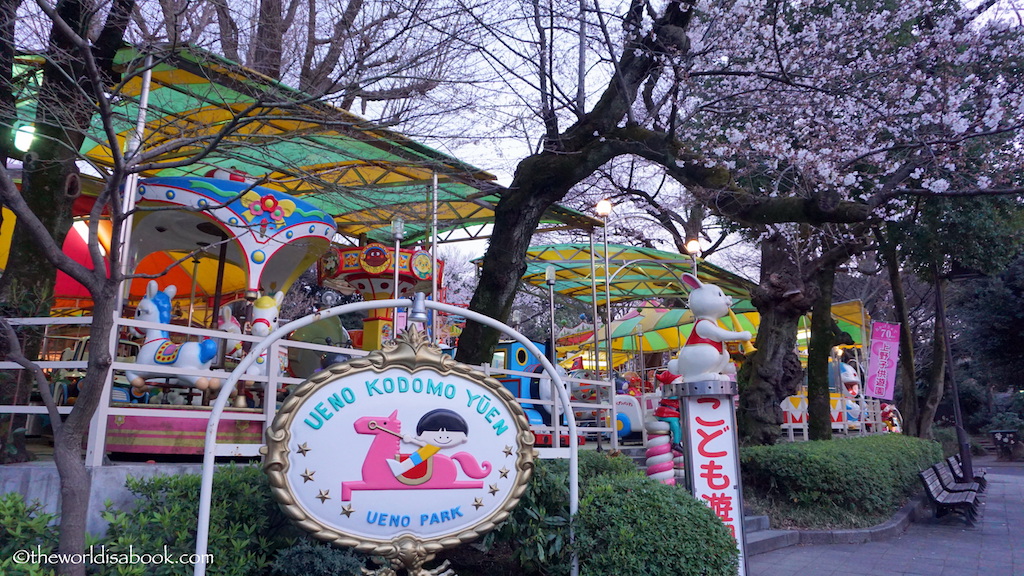 There were a few shrines and temples visible from the main path and spread out around Ueno Park. One of them on the hill was Kiyomizu Kannon-do Temple. It has a wooden balcony that extended from the hillside looking over the cherry blossoms. The Kiyomizu-dera in Kyoto inspired this balcony.
The temple houses Kosodate Kannon who is the goddess of conception. Many women come here to pray for fertility and to become pregnant. We didn't get the chance to go up the stairs to visit this temple since my kids were already complaining about food. Jetlag and hunger don't mix well.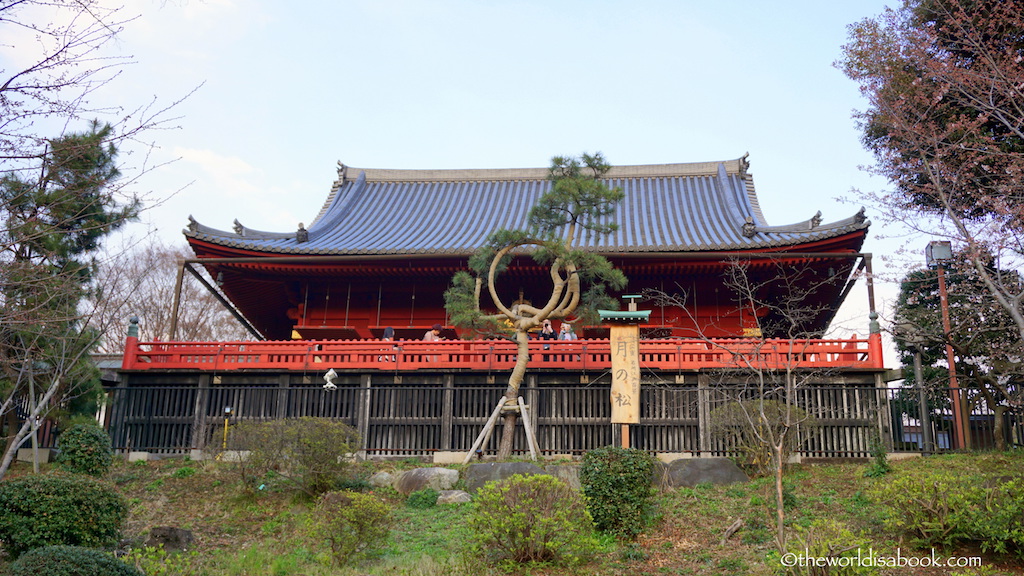 We also found this gated area with some torii or Japanese gates. It reminded us of a smaller version of the Fushimi Inari Shrine in Kyoto.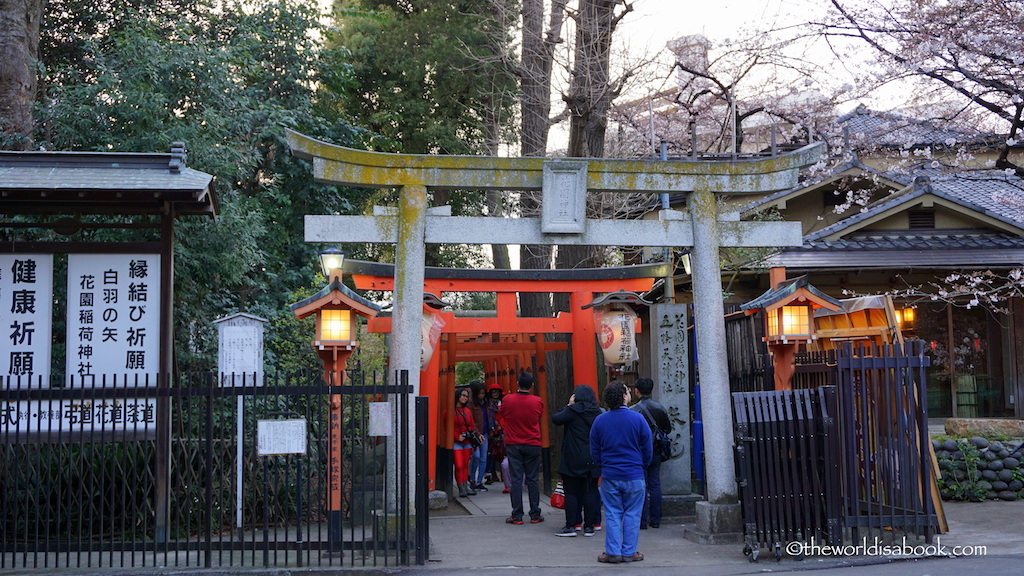 It was hard to miss the well-lit area by Shinobazu Pond. This large and popular pond was a wonderful oasis flanked by skyscrapers. There was a small island on the pond that had an octagonal temple hall called Bentendo. It was connected to the main area via a stone bridge.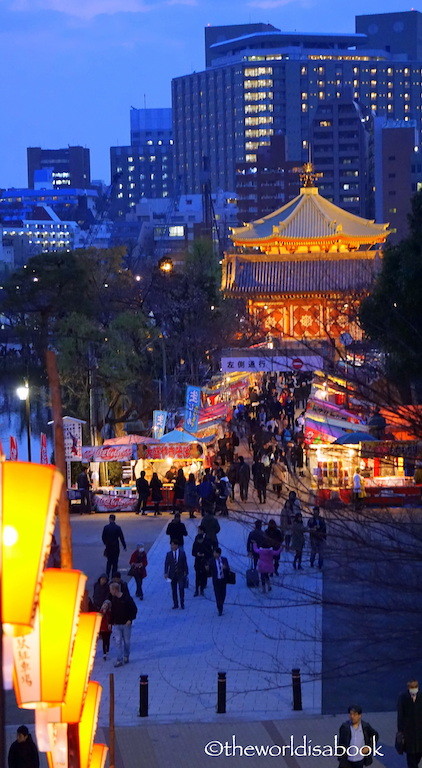 But, before reaching the temple, the grounds were filled with delicious aroma of a variety of food from the many stalls that lined the pathway. There was so much good food here it was hard for my kids to focus and choose. Whether you wanted something simple like roasted corn or a Japanese staple like yakisoba (stir fried noodles) or something adventurous like grilled octopus, they had it here. Most of the food was about 500 yen or $4.60 USD.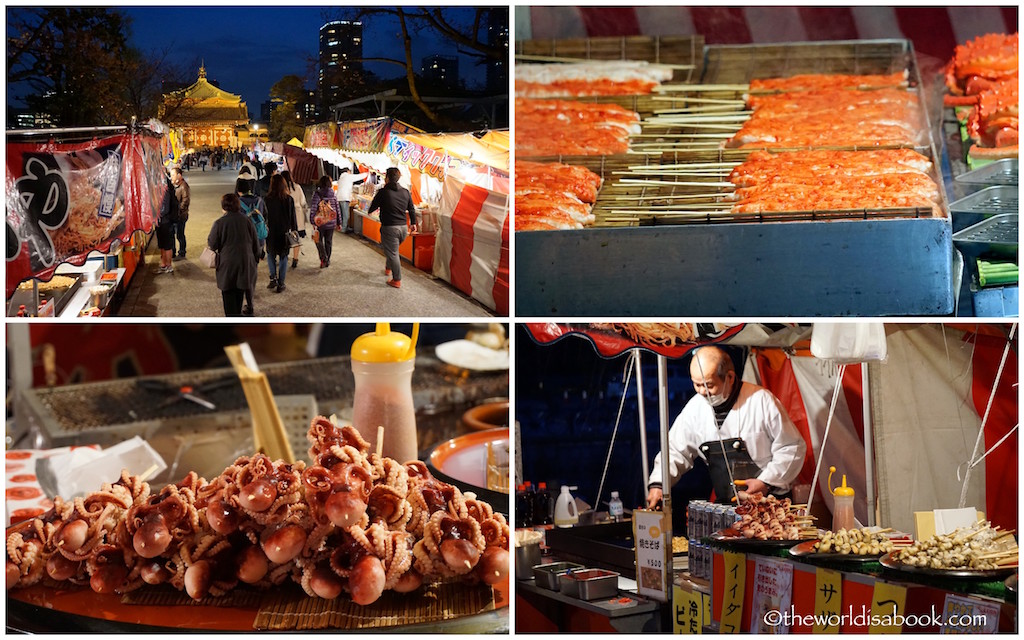 The Bentendo Temple is a Buddhist worship hall dedicated to Benten who is the goddess of wealth, good fortune, the arts and wisdom. Visitors come here to pray for success with money and passing tests. It was already closed during our visit but it was still worth walking around it to admire the architectural details.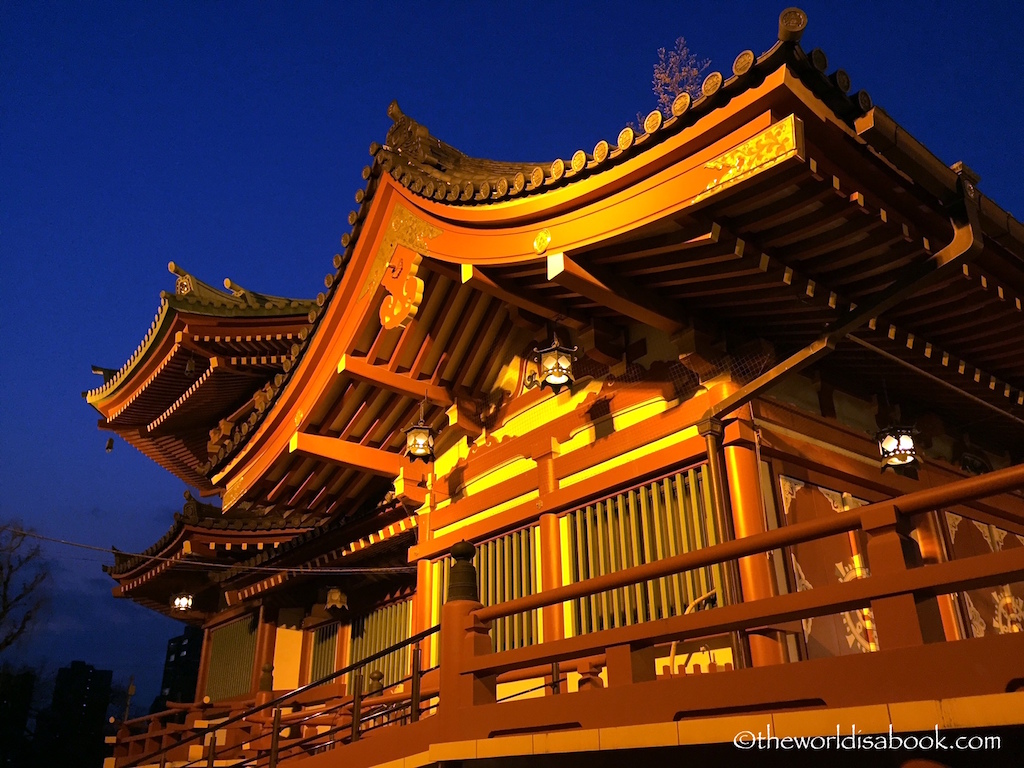 Cherry blossom viewing in Japan was such a memorable experience for us. We were so glad we decided to squeeze this into our short trip. Ueno Park was well worth the visit especially during spring. Despite the crowds, the park was well maintained, stunning and offered so much for visitors and locals. We'd love to return during a weekend with more festive activities and when the trees are in full bloom. Put cherry blossom viewing in Tokyo on your travel wish list and go straight to Ueno Park.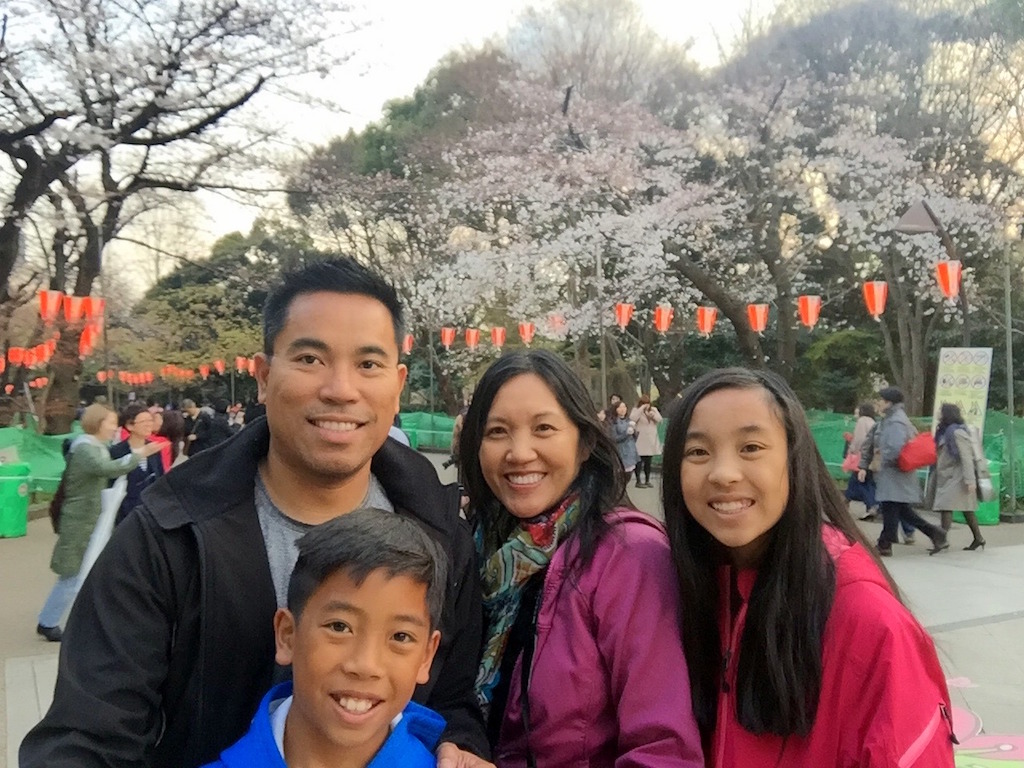 Cherry Blossom Viewing or Hanami at Ueno Park Basics and Tips
It's all about timing to see the cherry blossoms. The season generally starts in late March with a two-week window. Check the Japan Weather Association for the exact dates since weather affects the blooms.
If you want to do a hanami party/picnic, get to the park early especially during the weekends to reserve a spot under a blossoming tree. Ensure someone is there to stay with your picnic sheet, tarp, etc. and other belongings.
Row and pedal boats are available for rent at the southern portion of the pond.
Keep a close watch on your valuables. We saw warning signs of theft around the park that is understandable with all the people here.
There are a few restaurants around the park too including a Starbucks stand near the zoo entrance. There are many more around the surrounding area of the park.
Bring jackets or blankets since it got colder the later we stayed there.
Ueno Park is easily accessible from anywhere in Tokyo via the JR or Keisei train lines.
For some great shopping, head to the nearby Ameyoko Shopping Street for many vendors selling clothes, food, shoes, and souvenirs.
*Have you seen the cherry blossoms in Japan or anywhere else?
Pin it for later!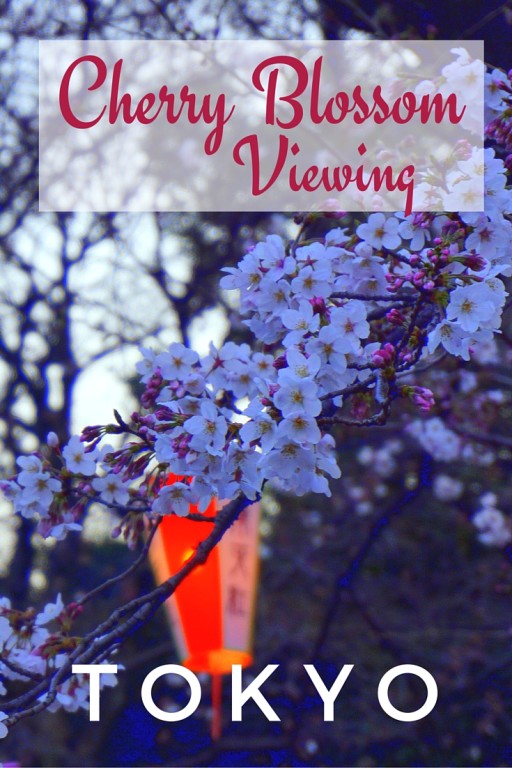 Check out these related posts: