Exploring Montezuma Castle National Monument
You wouldn't expect to see a castle in the middle of red rock country in Arizona! In honor of National Park Week in the USA on April 14-23 and the National Park Service's centennial in 2016, I'm starting off a week of celebrating here and on my social media channels with a park we visited last year. Located 50 miles south of Flagstaff and 26 miles from Sedona, Montezuma Castle was quite a surprise. See what this small park has to offer visitors.
The centerpiece of the park was built over 700 years ago. Montezuma Castle was constructed 100 feet (161 km) or five stories high above the valley in a sandstone cliff recess. It had over 20 rooms and was used as a home, storage unit and spiritual site much like other rock shelters in cliffs around this area.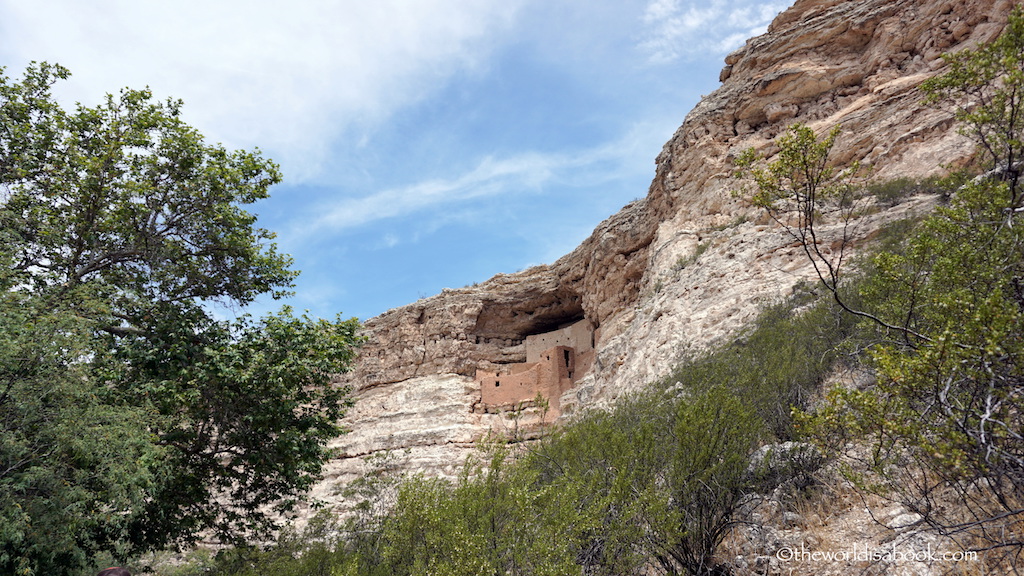 Well, the Montezuma castle name was actually a misnomer. As you can see, it was clearly not a castle. Some of the early European American settlers named many southwest sites based on their interests in the Aztec, Maya and Inca civilizations. They named this cliff dwelling after the Aztec emperor Motecuhzoma II who actually lived long after this structure was built. My kids were a little disappointed there was no semblance of a castle here but were still impressed with this cliff dwelling.
While not as large as Mesa Verde National Park in Colorado, this was still impressive. Though, visitors could not get close to the dwellings. Unfortunately, the structure was heavily looted and not much was left during the early 1900s. There was also damage from visitors walking around here through the years. It was ultimately closed for visiting and now only open to personnel for inspection and maintenance.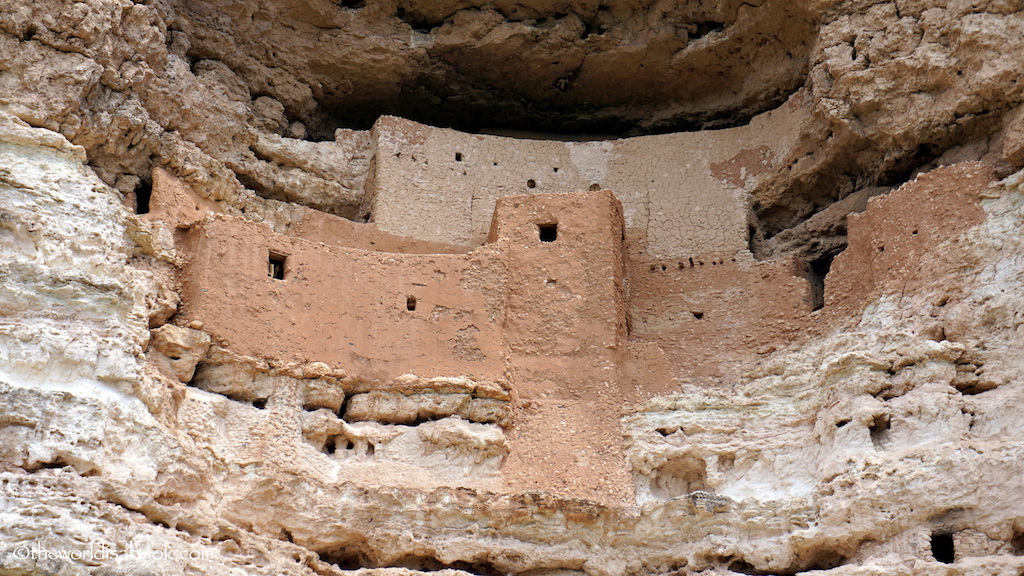 President Theodore Roosevelt preserved this area. This was one of the first national monuments in the country in 1906. Most of the dwellings were actualy still in their original parts. It is considered one of the best preserved sites from this era.
The park consisted of a short loop with paved walking trail that started from the Visitor's Center. The main loop was 1/3 of a mile long. It was flat, paved, easy and well maintained. It was great for every age and physical type including being stroller-friendly and wheelchair accessible. It was a pleasant walk to the base of the "castle" and loops back to an area to explore the surrounding area.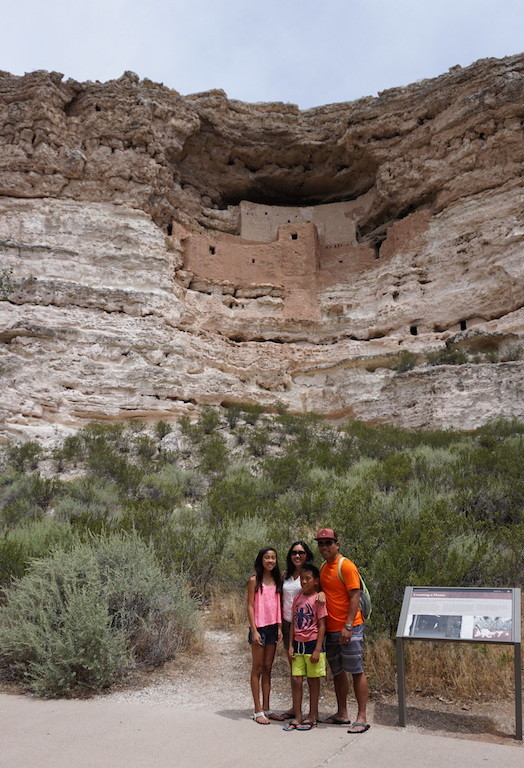 It was a wonderful place to learn and understand about the people who lived and thrived in this area 700-800 years ago. Without the use of modern technology and machinery, it was hard to imagine how they were able to build these dwellings.
They built on cliff alcoves that were already eroded. The builders fitted rooms according to the rocks' shapes. So, they didn't need as many walls or needed to build a roof. River cobblestones and limestone mixed with mud mortar created some of the walls. Trees like sycamore, alder, ash, pine and fir were used for roof beams and multi-storied floors.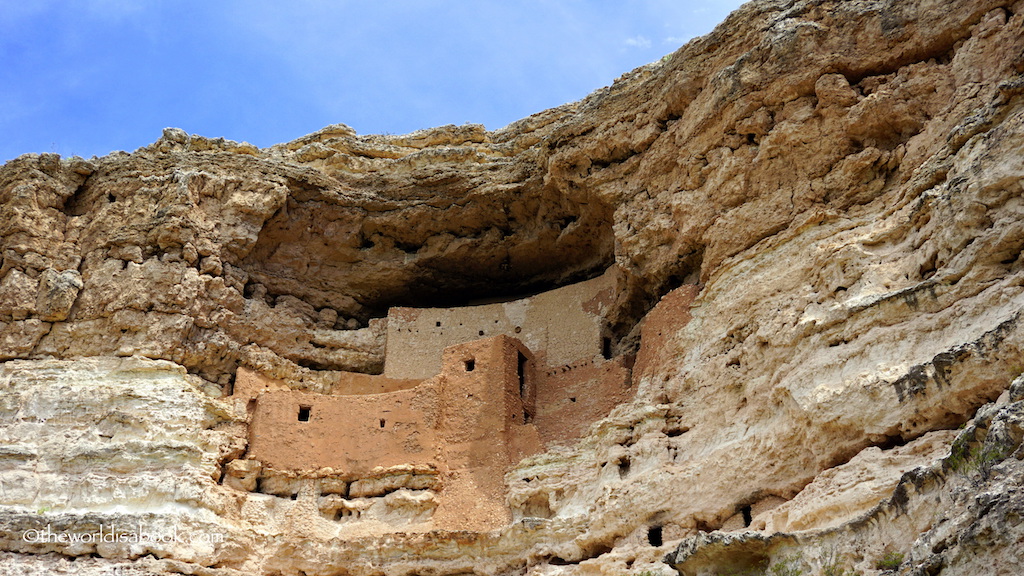 Why did they build here?
Researchers have listed many possibilities why this location was chosen. The cliff alcove faced the south so it had an opposite effect of being cold and shaded during the summer and warm and sunny during the winter. This area was an ideal location for survival. The land was good for farming fruits and vegetables for their food plus cotton for clothing.
Beaver Creek provided water for the village and irrigation for their crops. Being on the cliff also provided great views and protected them from flooding but still close enough to their farms. The natives left their homes here around the 1400s for unspecified reasons
Walking further down the trail, we came across a large group of dwellings. But, this was closer to the ground and not much was left. One of the areas was called Castle A. It was a pueblo with about 45 rooms. Much of what was learned about the natives that lived here was obtained from this site since Montezuma Castle was looted.
Castle A's excavations showed archaeologists how the Southern Sinagua Indians lived, what they ate and traded, etc. Some of the floor levels were still visible as well as sockets of the roof beams. This was also actually bigger than Montezuma Castle.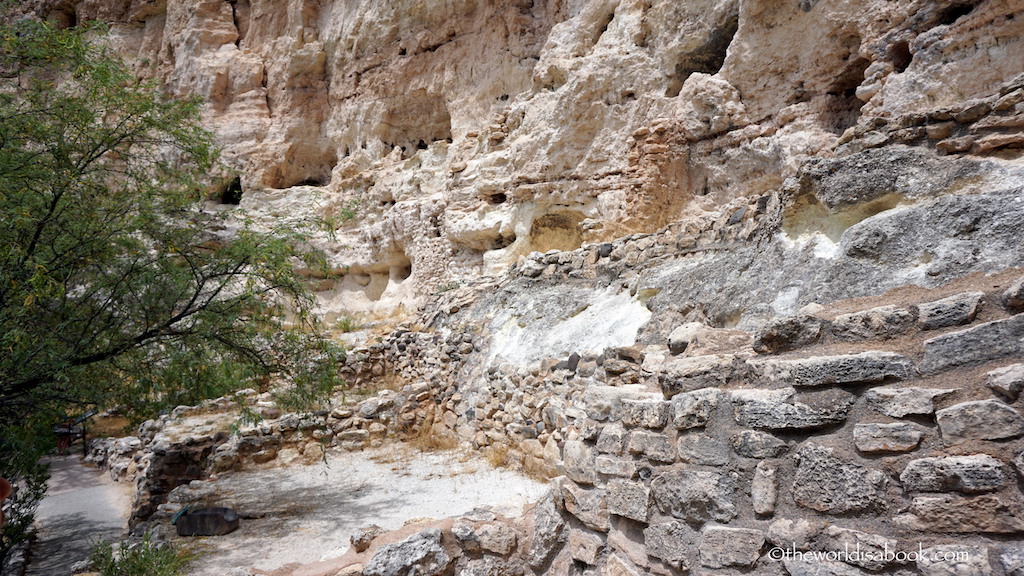 Don't just look around and run though. We found a nice, shaded area for the kids to sit quietly and listen as their Junior Rangers packet suggested. It was a wonderful way to try and imagine how the Indians lived here or even imagine how they climbed the cliffs to their homes.
Don't miss the Visitor's Center and the extensive exhibits on the Southern Sinagua people and their dwellings. Some of the interesting things we learned about them were that they found salt near the castle and used it for trading with other cultures around the Southwest. They were very good with farming and specialized in cotton weaving and also used that for trading. The center was also the place for kids to get Junior Ranger packets and for turning them in to get sworn in and earn that badge.
Montezuma Castle National Monument was a small park but worth a stop or a visit if you're in the area. Despite its size, it provided a fantastic glimpse into the lives of the Southern Sinagua Indians and an interesting look at their cliff dwellings.
Basics and Tips for Visiting Montezuma Castle National Monument
$10 entrance fee per person.Kids 15 and under were free. This includes admission to the Montezuma Castle and nearby Tuzigoot National Monuments for 7 days. Free with National Park pass or during Fee Free Days.
Be alert of snakes. We saw warning signs along the trail.
Bring binoculars to see the dwellings up close.
Go early to avoid the crowds including the tour buses.
There are restrooms and gift shop that sold snacks and water bottles in the Visitor's Center.
*Have you visited Montezuma Castle National Monument?
Pin it for later!