A Visit to Naritasan Shinshoji Temple
If you've flown to Southeast Asia, chances are you've had a long layover or a stopover in Narita International Airport in Japan. Going home to the island of Guam and its three hour flight time from Japan meant I've had plenty of stops at this airport over the years. Visitors can take the one hour or so train ride to Tokyo. But, if time doesn't permit, the nearby town of Narita City also offers quite a bit of attractions and cultural experiences for everyone. Our family went to Guam last month which allowed us to experience the cherry blossoms in Tokyo and also a day in Narita City. Go on a virtual tour with us among temples, pagodas and traditional Japanese streets.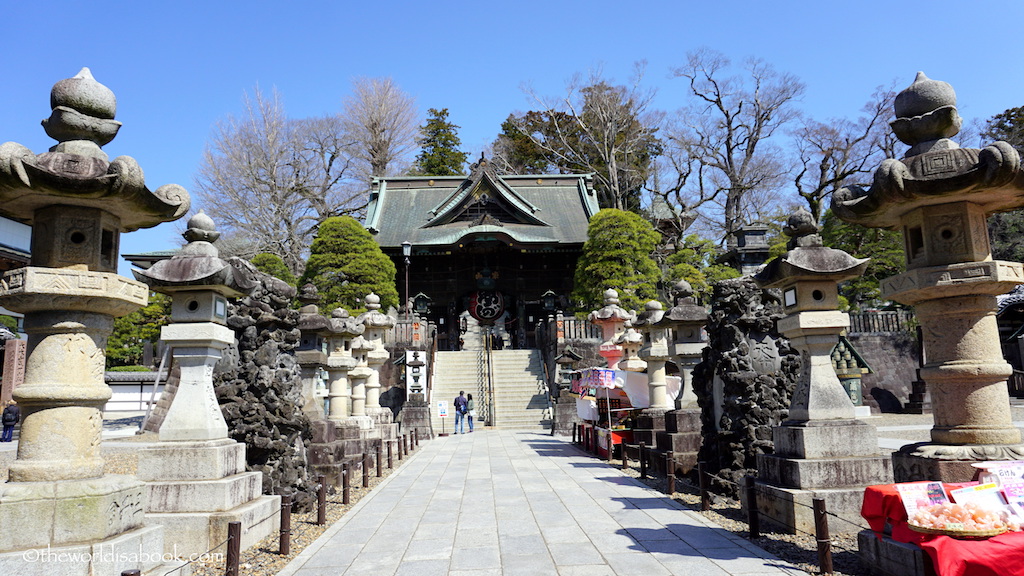 Narita City is only about 5 miles (8 km) from the international airport and located in the Chiba Perfecture. Understandably, many people bypass Narita to get to Tokyo. But, it's actually a charming city with so much history. Its most noteworthy attraction is the Naritasan Shinshoji Temple. The Buddhist temple complex was built in 940 BC. It was a popular place for pilgrimages and worshippers seeking blessing in the Edo period (1603-1867). It continues to be a major attraction that receives millions of visitors annually and one of Japan's most famous temples.
Since we spent the night in Narita City, we left our hotel around 8 AM which was near the Kesei Train Station. One good thing about jet lag was we were up and early to sightsee. There were some pastry shops around the area and many ranged between $1-$2. Everything we ate was delicious!
There was hardly anyone around which felt a bit eerie. From the two train stations, it is about a 15-minute walk to the temple grounds. There were plenty of signs pointing to the temple so it was hard to get lost. They had many of these statues along the way to keep my kids occupied.
Omotesando Road is a narrow street that leads to the temple complex. It was lined with restaurants, inns and many shops selling souvenirs and arts and crafts. We watched many of the shopkeepers getting their stores ready and cleaning.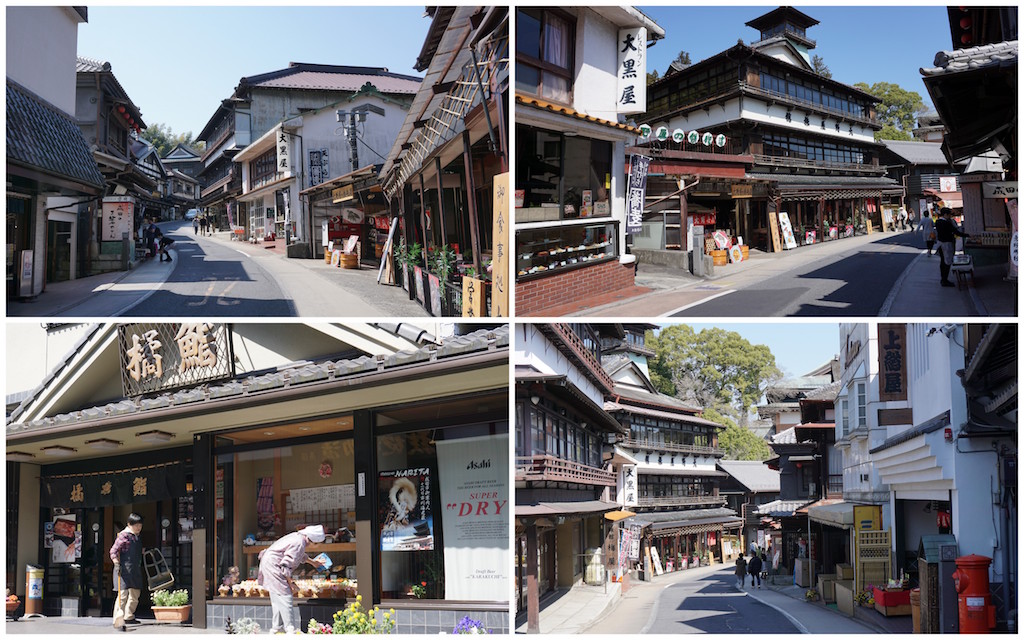 This was the Somon gate was the first entrance that led into the complex. There was a pathway lined with stone lanterns and a few vendors. There was also a small square surrounded by vendors selling souvenirs and some snacks. Unfortunately, most of them were still closed when we got there.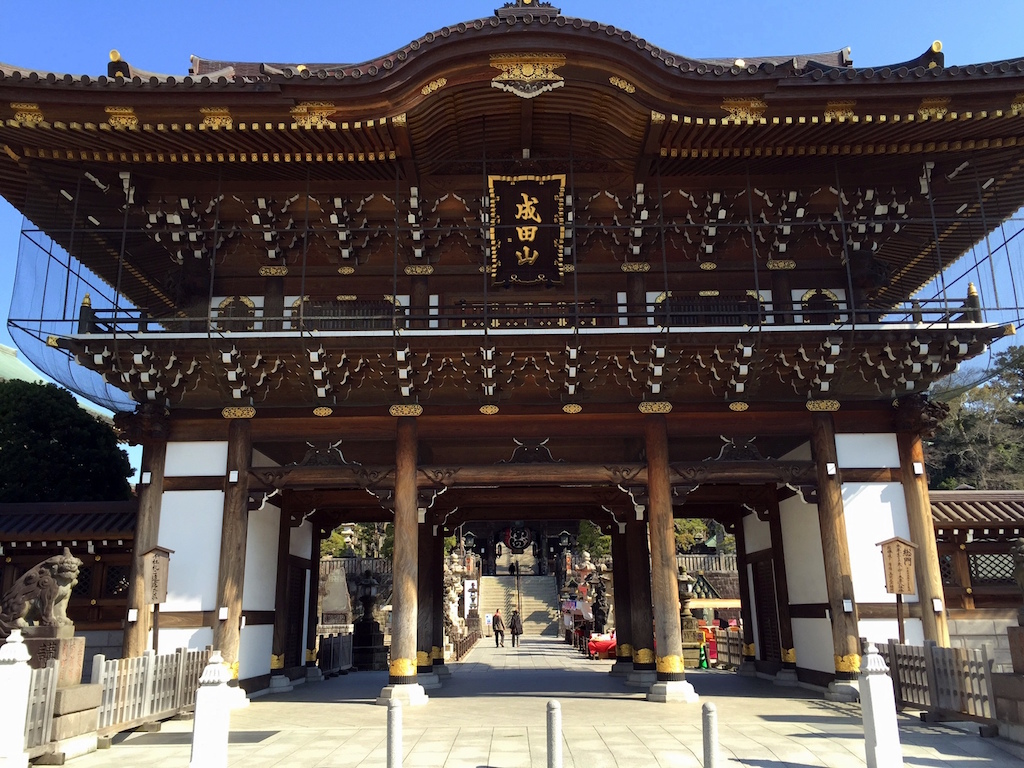 My kids were excited to see the temple cleansing station. Worshippers used cleansing stations to purify their hands and mouth before offering. There's a ritual involved here. They usually have signs for what the foreigners are supposed to do or if all else fails, watch what the locals do. My kids have a fascination with these stations. I wish they were as enthusiastic about washing their hands before meals but I guess this was more fun than a modern day faucet. Lucky for them, they had two stations within the complex.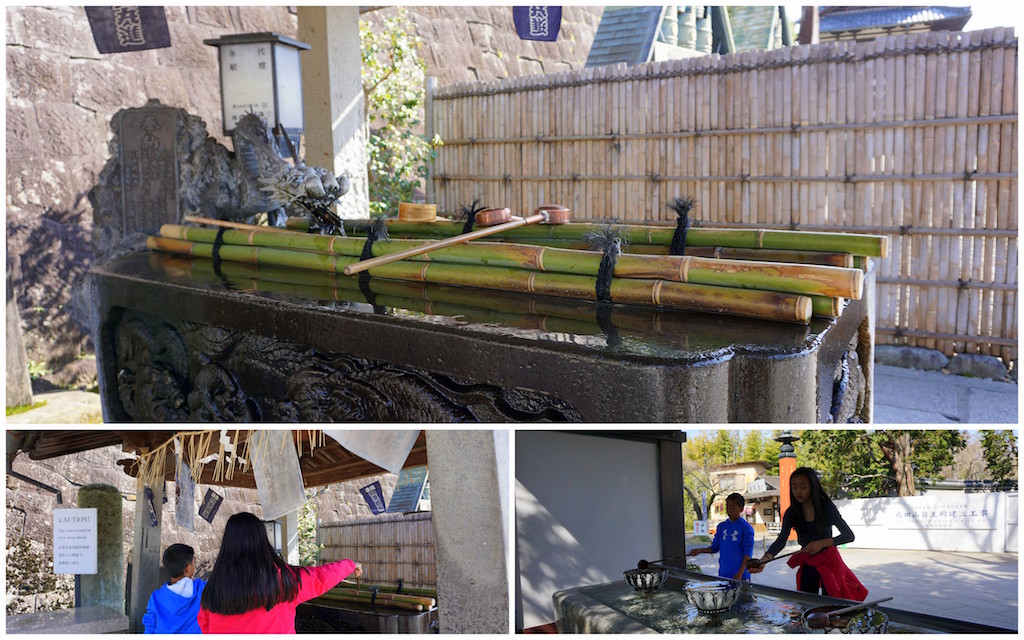 There was a steep staircase up to Niomon Gate which had a huge red lantern. The lantern was a donation from the Tshukiji fishmarket believers. It's hard to believe from how it looks but the lantern weighs about 1,763 lb (800 kg). There were also enshrined images of two deities along both sides of the lanterns.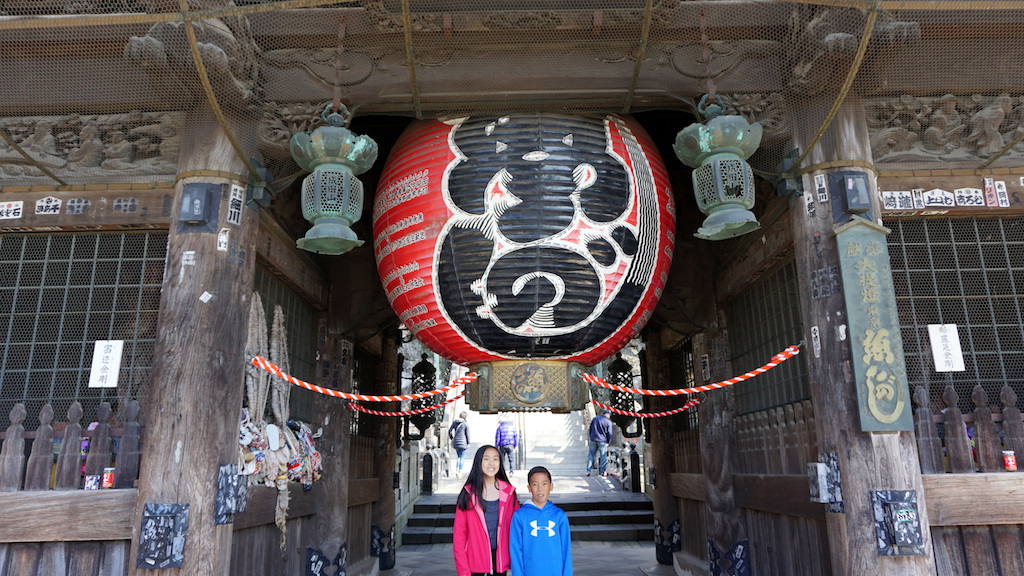 We joined a few of the visitors admiring the few turtles and carp on the Nioike Pond in between the staircases. It was a bit surprising to find them here but this bit of wildlife was used as a reminder and a symbol to the value of all living creatures. We also found many inscribed rocks lining the small hillside of the pond.
From the Niomon Gate, there was another set of steep staircases that finally opened up into the plaza and temple complex. This place looked a lot bigger than what I remembered from many years ago. It may be because there was hardly anyone around here yet.
The large wooden building or Great Main Hall is called Daihondo. This was the modern and latest version of the main hall and was built in 1968. It almost served as an anchor and was surrounded by several outlying pagodas and worship halls.
While walking around, we were startled with loud banging drum noises and chanting. It was a treat to see these monks, dressed in colorful attire, march across the square and into the main hall to start their daily prayer ceremony called Goma Prayer. The main hall has enshrined images of Fudomyoo or God of Fire who was the temple's main deity and who the monks pray to a few times a day. It was a very interesting ceremony that visitors can witness. No photos were allowed.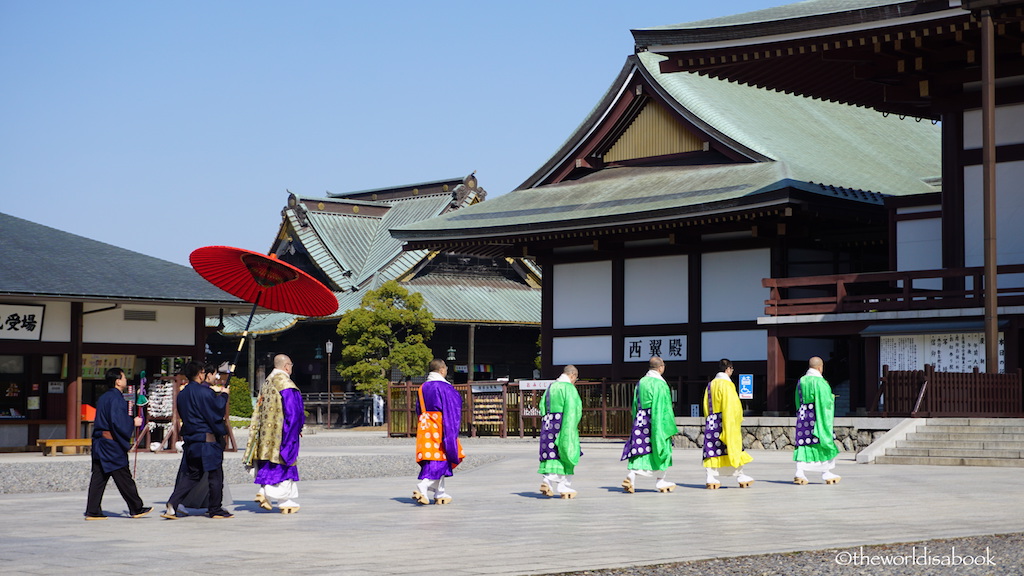 One of my favorite structures here was the colorful three-storied pagoda or Sanju-no-to. The details on this structure were astounding and quite possibly the most colorful pagoda we've ever seen. It was built in 1712 and stands at a stately 25 m high.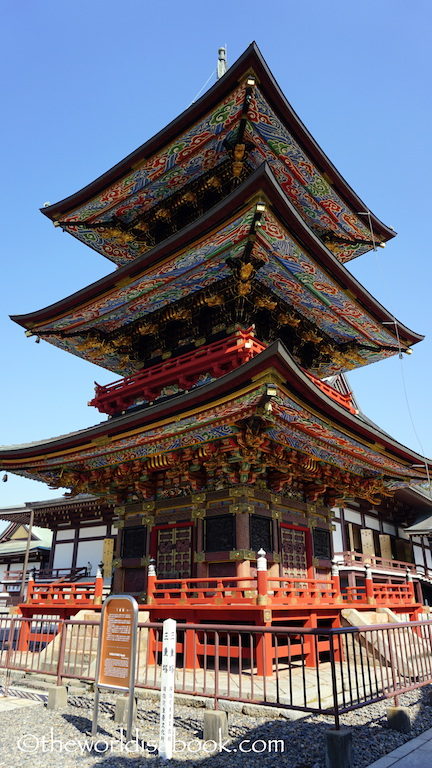 This was one of those times where I wished we had a tour guide. I would have loved to know the meaning of some of these carvings. There actually is a free tour of the complex in English. But, it was too early and even with my kids being older, they don't do well with tours of churches and temples.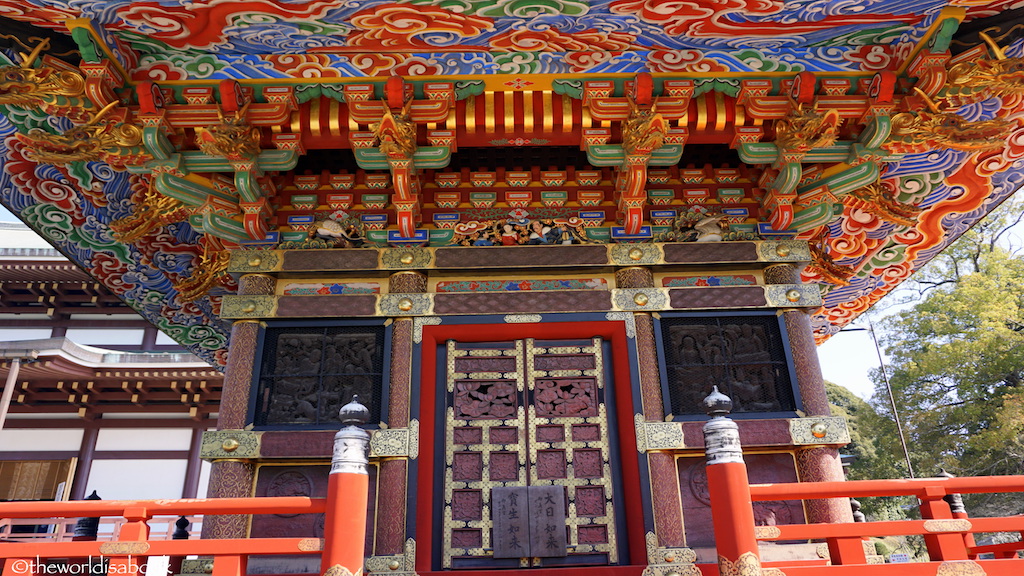 You could spend a lot of time in this extensive complex going into the halls and exploring the grounds depending on your interests. Some of structures were still closed during our visit which sped up our visit here. This was Shakado Hall, which was to the left of the main hall and was built in 1858. This was once the main temple hall.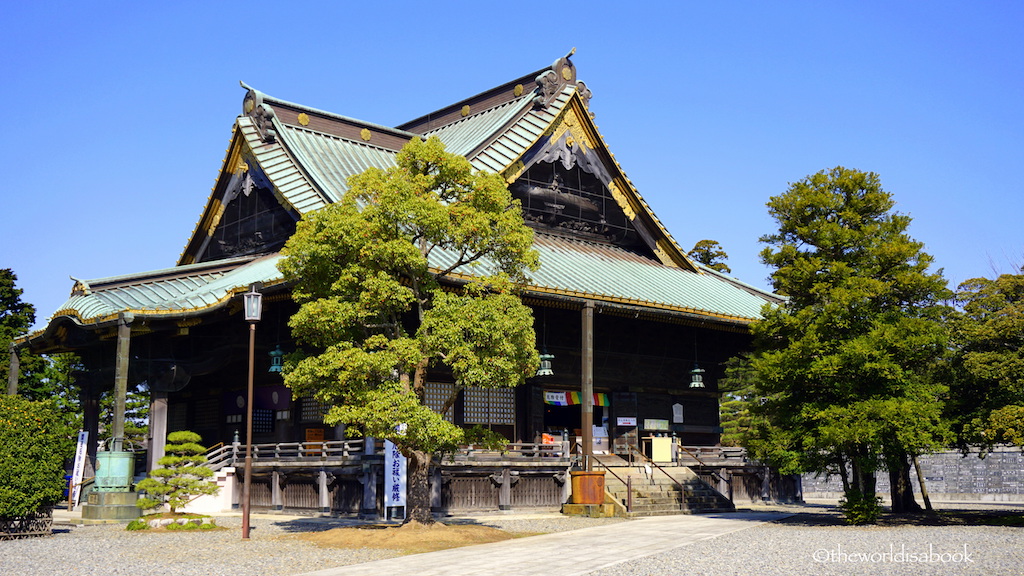 Behind Shakado is the Komyodo Hall. This was the oldest and the original main hall built in 1701. We like that the old buildings were kept in tact to see its construction period's architecture and how much this temple complex has changed through centuries.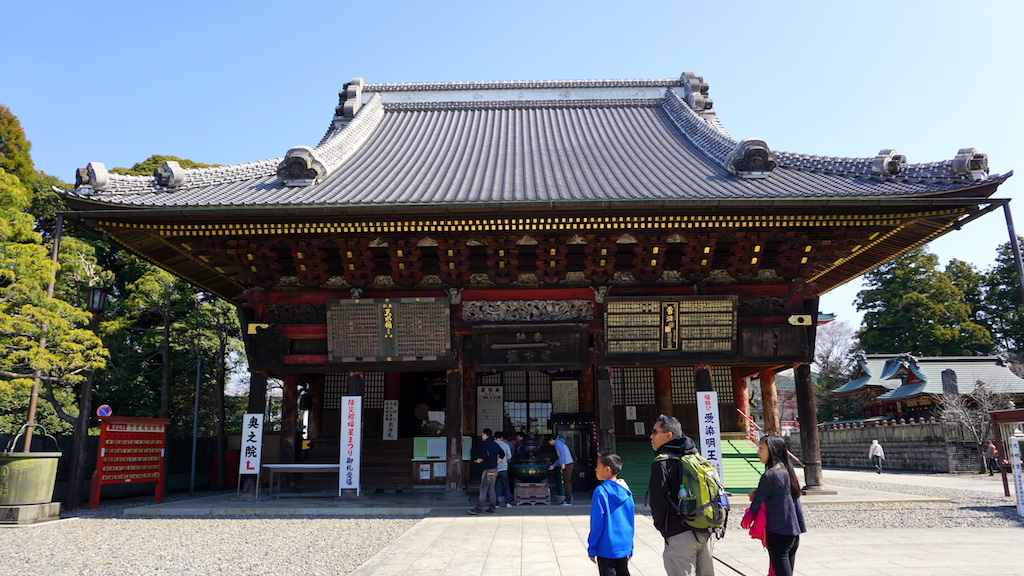 Following the path, it's hard to miss what has become the symbol of Naritasan Shinshoji Temple in the back area. We even saw this sticking out from the hillside while on the train. The Great Peace Pagoda was an imposing and remarkable structure at 190 ft (58 m) tall. This five-story pagoda was built in 1984 in honor of the temple's 1,150th anniversary.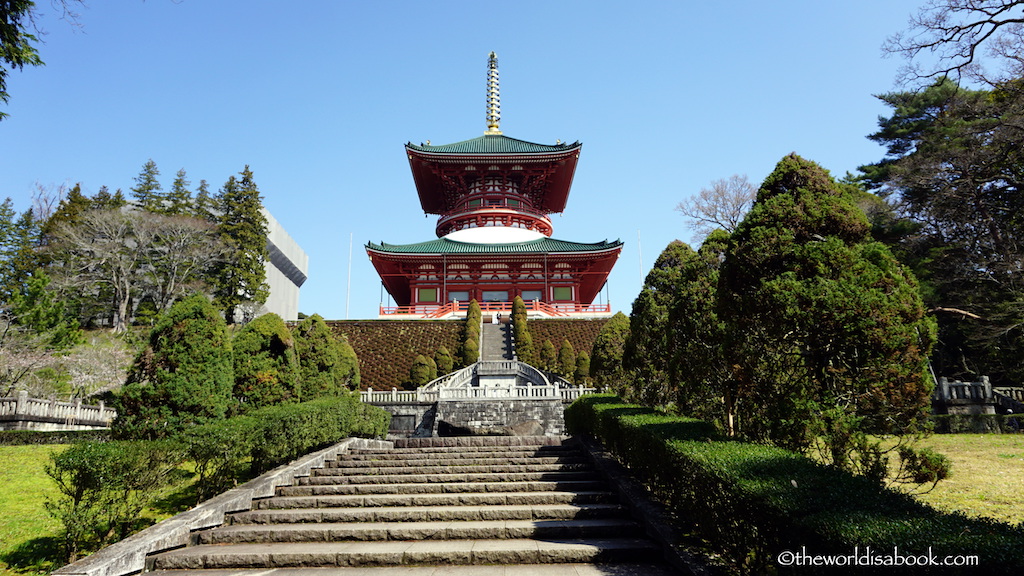 The pagoda houses some Asian sutras (type of religious literature), a Buddha hall and an observation deck on the top floor. The underground floor has a time capsule to honor world peace with messages from 11 world leaders in the 80s to be opened in 2034. How neat will it be to read those messages and see the contents of the time capsule.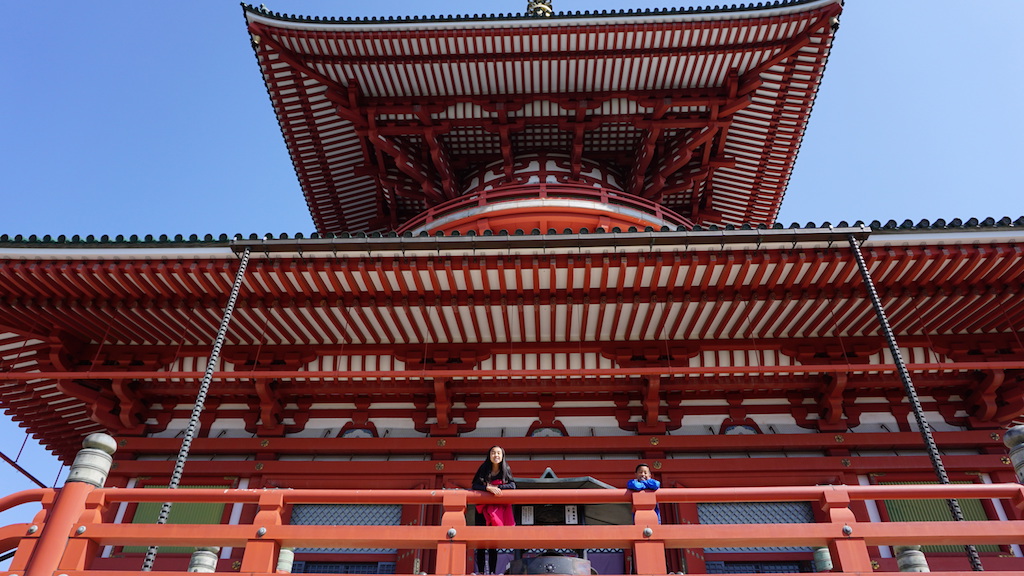 We love green spaces and Naritasan Koen Park didn't disappoint. It was just below the Great Peace Pagoda and behind the main hall. This was a lovely place for a relaxing stroll for its lush and tranquil surroundings. We found a waterfall, small river and beautiful pathways. The grounds were very clean and well maintained. It was wonderful to see some cherry blossoms almost blooming here too.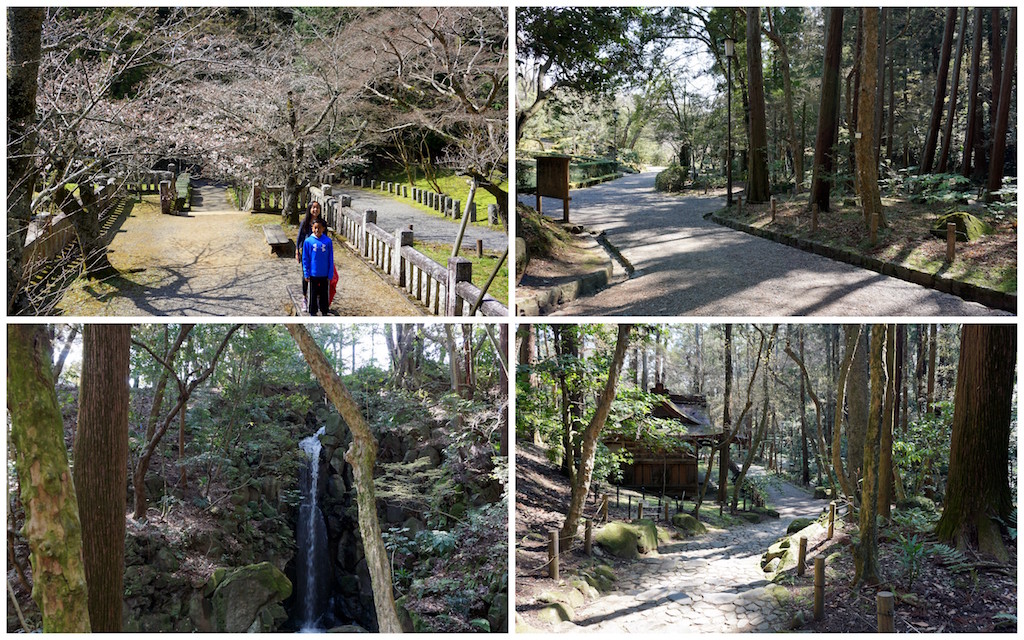 The shops were already open during our walk back to the hotel. It was fantastic to see all the activity and merchandise. I'm such a Japan fanatic that it took a lot of effort not to buy another souvenir. We found baskets, Hello Kitty items, tea pots, swords and other interesting items. There were also many vendors selling snacks like sembei (rice crackers), sweet azuki bean jelly, and snacks made of the local peanuts.
Broiled/grilled eel or Unagi is the specialty dish of Narita City. Eel is supposed to give people stamina and recover from fatigue. It only made sense to have this type of food here to serve hungry people on a pilgrimage. We watched these men expertly cut and skin eels rapidly. It was amazing.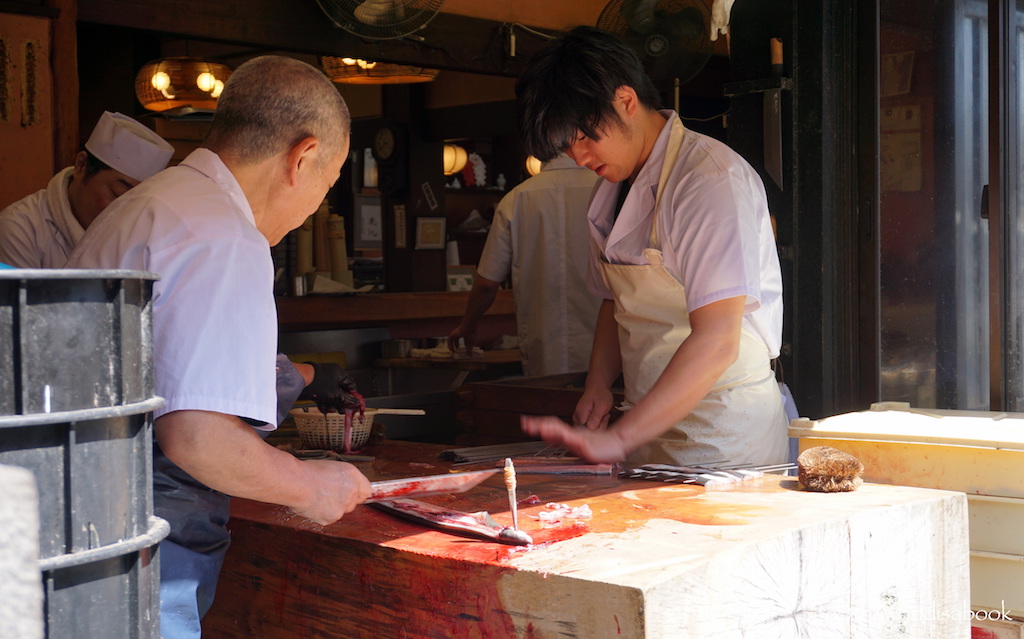 We timed it so we were at Omotesondo street around lunchtime. Plus, all that walking made us hungry. We went to the Visitor's center located in the middle of Omotesondo and asked for recommendations on family-friendly restaurants that served unagi and tempura (a must for my kids). They directed us to a couple of restaurants and we ended up at one almost across the street from their location called Kawatoya Honten.
There were mats on the floor for sitting. The food was delicious and service was fast. There was a menu in English. My husband liked the grilled eel a lot and said it was quite tasty. If you don't know what to get, most restaurants also have the plastic food models on the window as a guide.
If you find yourself in Narita for at least 8 hours, we highly recommend getting out of the airport and visiting Naritan Shinshoji temple for a bit of history and culture. It beats hanging out at the airport anytime. The temple complex, with its well-maintained grounds and structures built over different centuries, was impressive and well worth the short train ride. It was a wonderful place for a stroll and a tranquil stop and escape just minutes from the chaos of a busy international airport.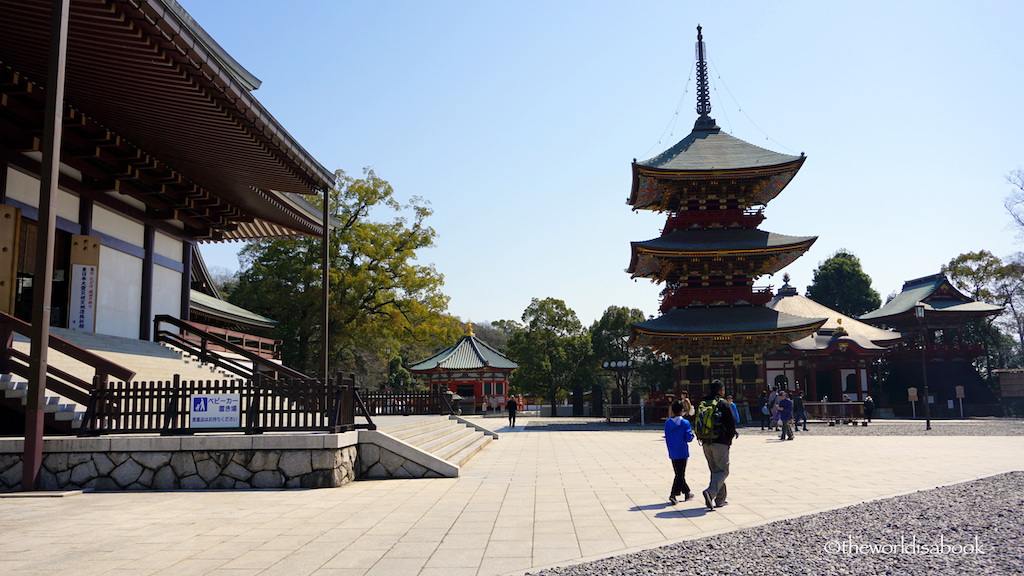 Basics and Tips for Visiting Naritasan Shinshoji Temple
The temple complex is free to visit. Opening Hours are 8 AM – 4 PM.
Free tours! The Narita Transit Program offers free guided tours with volunteers for anyone who has a long layover at Narita Airport. You just need to pay your roundtrip train ticket. There are several tour options to some nearby attractions including one to Narita-san Shinshoji Temple. The shortest tour lasts about three hours.
The Narita City Tourism also offers free guided tours in English everyday from 10AM to 3 PM except during the 25th of the month and some select dates. Book here.
Getting there from the Airport. You can ride either the JR or Kesei trains for about 425 yen ($3.87 USD) round trip. Tickets can be purchased from ticket desks (clerks are very helpful) or ticket machines. Luggage storage is available at various areas inside the airport including some lockers (500 yen – $4.56). The train ride is about 7 minutes and another 15 minutes walk to the temple.
Stop by the Visitors Center on Omotesando Street. There is free wifi and benches among flower boxes to rest tired feet. They had many brochures and were very helpful with restaurant recommendations.
The stairs to the complex are steep. Please keep that in mind when traveling with kids and strollers here. Look for signs with handicapped logos directing visitors to elevators to reach the complex.
Other attractions in Narita include the Aeon Mall which was a 15 minute walk behind the temple. There was also a calligraphy museum at the park, the National Museum about Japanese history and the Aeronautical Museum.
Staying overnight? Many hotel chains are around the area like Hilton, Radisson and Westin. But, they are further out from town and require waiting for shuttles to/from the airport and Narita City. We recommend actually staying in Narita City and near the train stations. We stayed at APA Hotel Keisei. It was a nice modern hotel with a convenient and excellent location but had the tiniest rooms we've ever stayed at. It was cheap and clean and served its purpose for an overnight stay. There were also Mercure and Comfort hotels nearby but cost a bit more.
*Have you visited Naritasan Shinshoji Temple?
Pin it now, Read later!