Visiting the National Tile Museum in Lisbon
Sometimes, there are certain items you identify with a city. For us, it was decorative ceramic tiles in Lisbon, Portugal. They were everywhere! The building facades were decorated with them and even the sidewalks were paved with tiles. They were very much a part of many murals and interior decor too. It was wonderful to walk around this city and see these tiles. So, it was no surprise to find out there was a Tile Museum here. This unique museum is its only kind in the world and well worth a visit.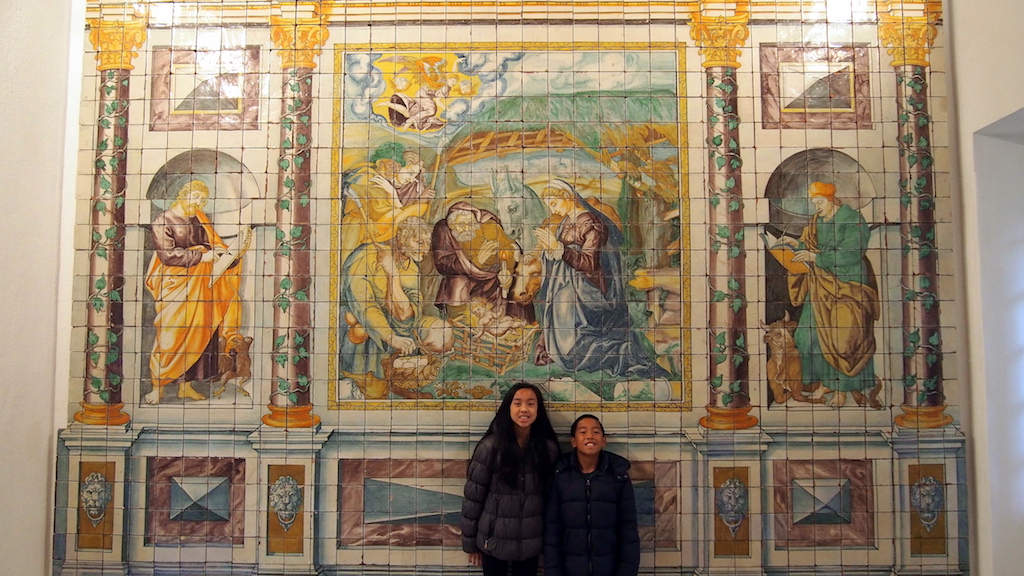 The Museu Nacional do Azulejo or National Tile Museum became an independent and national museum in 1980. It was created to preserve and present the history and culture of decorative tiles spanning five centuries. It has an amazing collection of mostly pieces from before the 19th century.
Azulejo (Portuguese pronunciation: ah-zoo-le-zhoo; Spanish version: ah-soo-le-haw) or painted ceramic tiles arrived in Portugal during the 15th century by way of the Moors who ruled this area. The word is derived from Arabic meaning "polished stone".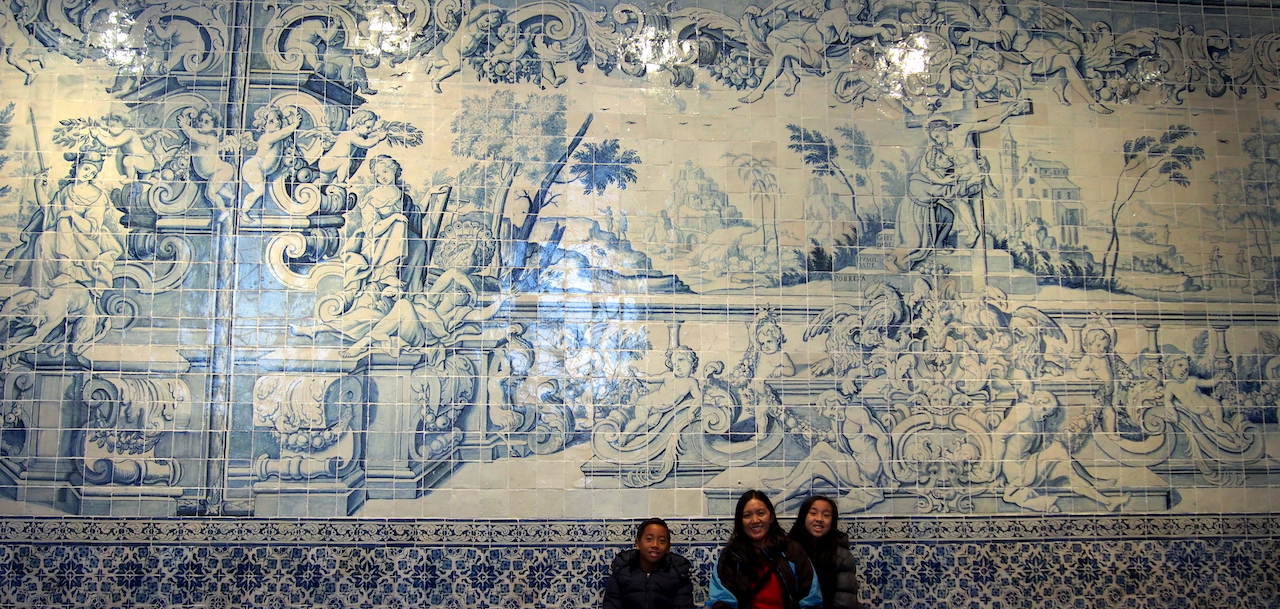 The museum is located in the former 16th century Convent of Madre de Deus (Mother of God) just a few minutes outside of the city center. It wasn't located anywhere near other attractions and was in a very quiet neighborhood. There was a small garden in the front and the entrance led to the gift shop and a well-decorated lobby.
The exhibits were laid out well showing how a tile was first made but didn't dwell too much on it. It was interesting to see how they were created from raw clay and how it was transformed with various cutting and glazing techniques. The process and techniques have evolved over the years. There was a bit more emphasis on how they put the tiles together to create colorful art pieces. The exhibits had English descriptions which were helpful to follow along.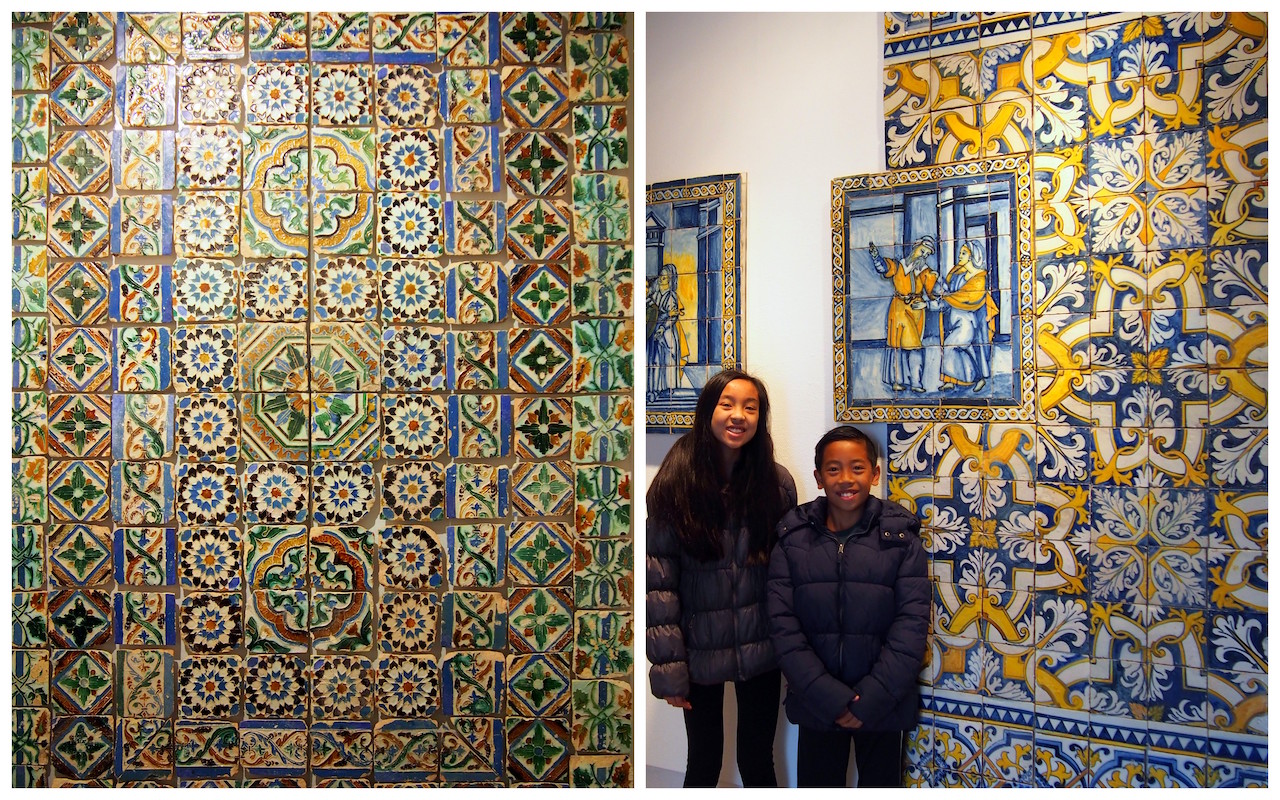 It was interesting how they incorporated paintings on the ceramic tiles. We didn't really think of tiles as an art form before our visit here but this museum changed that perspective. I don't think I've ever seen that many tiles in one area and some were quite unique and colorful and all handcrafted.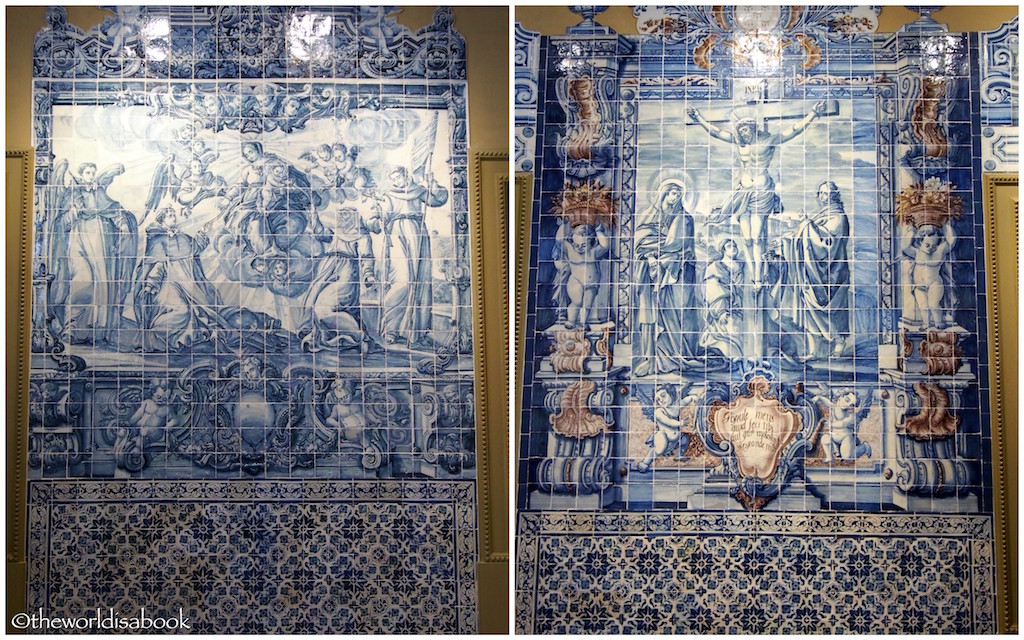 It felt like visiting an art museum or art gallery. Some museums are a hit or a miss with kids especially when there's nothing interactive. My kids actually enjoyed walking around here. My teen daughter loved examining the details on pieces that caught her attention.
We liked how they made some attempts to put some whimsy in the exhibits. It included some of these cutouts which my kids particularly liked. We do our best to add to our tacky tourist photo collection.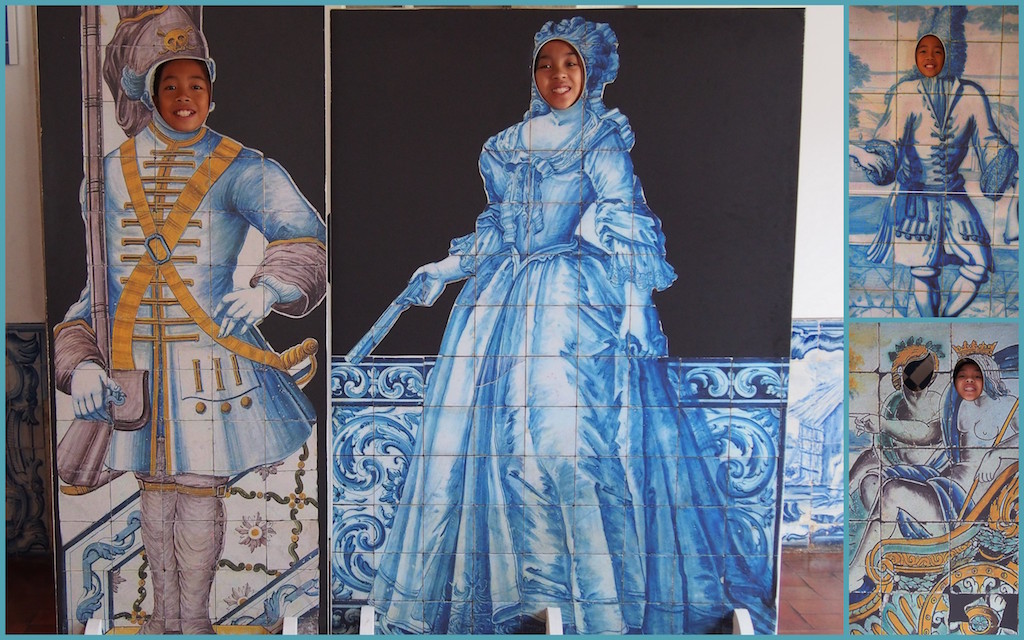 It wasn't just classic, mythological or religious scenes portrayed in the tile art though. We found an area full of contemporary art pieces too. Tile art is very much alive in Portugal and preserved for future generations.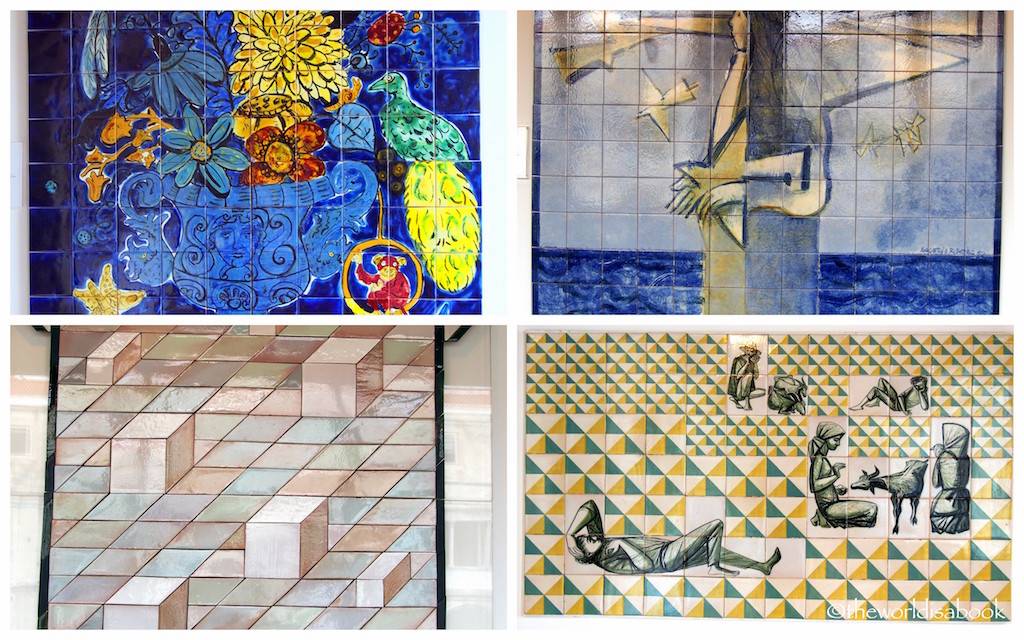 Of course, it was no surprise to find the stairway walls were decorated here.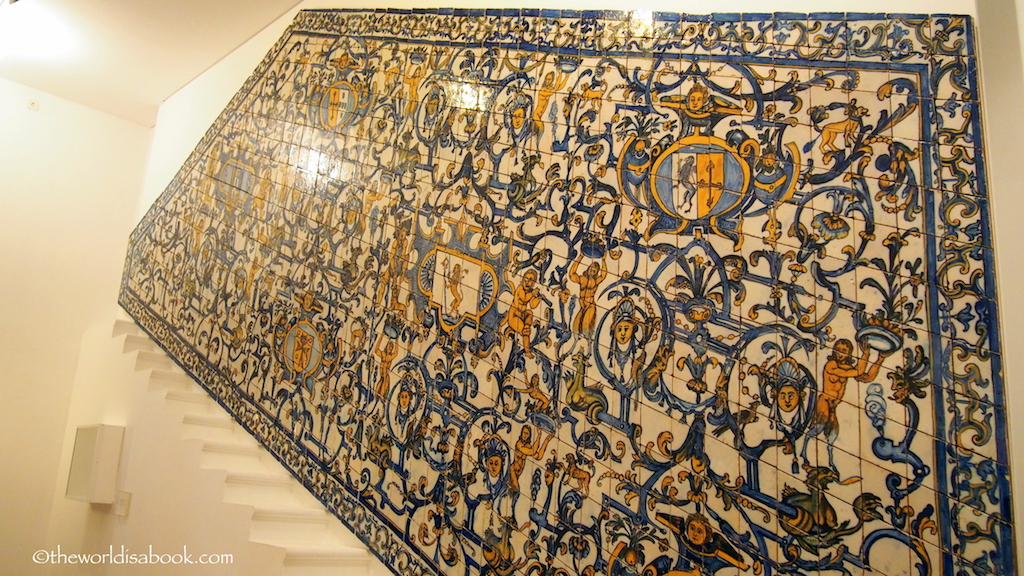 The museum's highlight piece was set in a large room and was hard to miss. The "Great View of Lisbon" was lined against a long wall made up of 1,300 tiles and 75 ft (23 m) long. This was a panoramic shot of Lisbon in blue and white tiles that was made in 1738. It was made before the Great Earthquake in 1755 that changed Lisbon's landscape. This was considered Portugal's longest tile piece. This was part of the piece.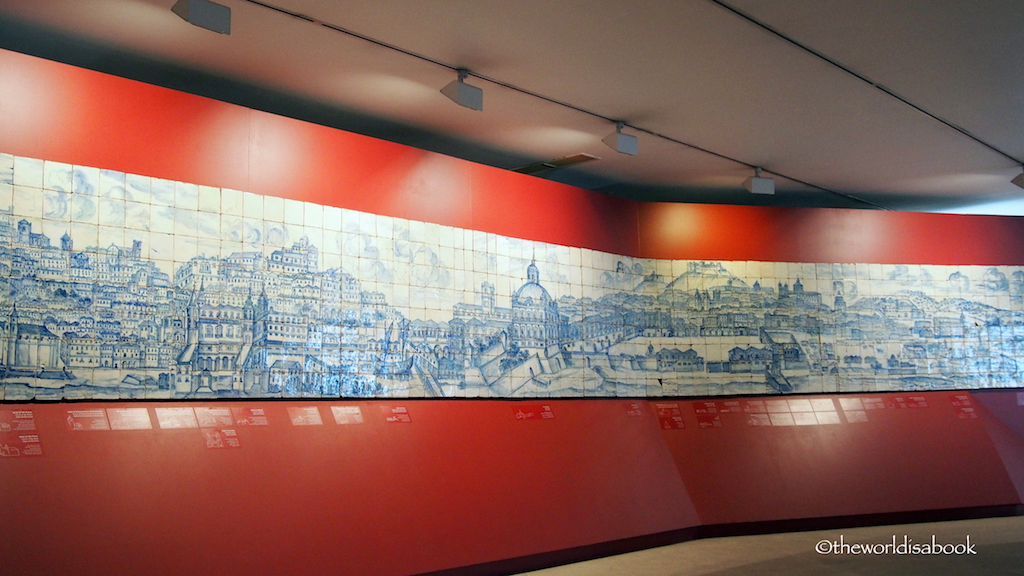 It was impressive and amazing to think how they painstakingly put this piece together. The details were incredible.The display provided a great overview of Lisbon and was a fun way to see places we've already visited. There wasn't much else in the room but some places to sit.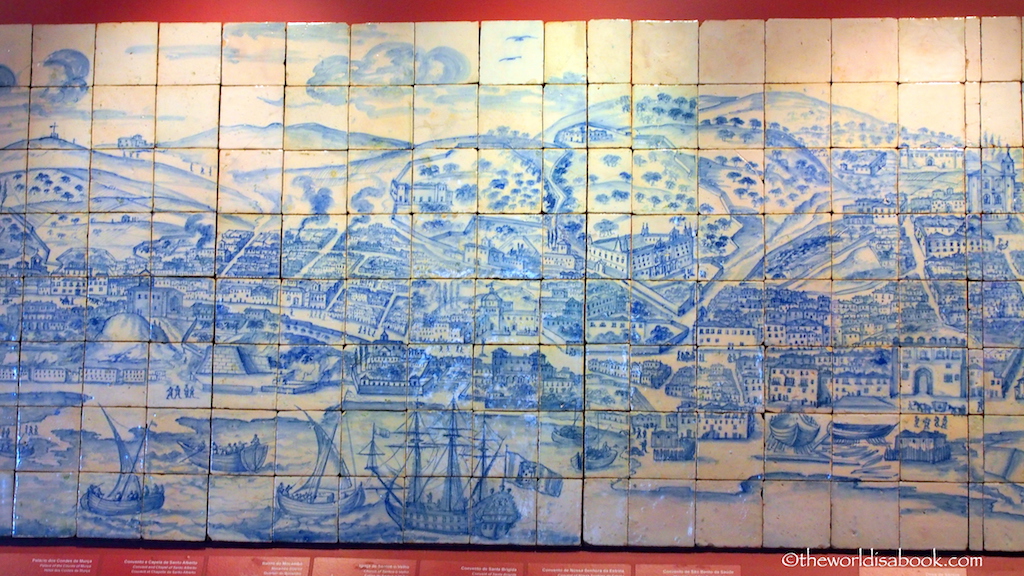 The Church
Our favorite place in the Tile Museum turned out surprisingly to be the small, baroque-style Madere de Deus church. It was a convent long before it became a museum and glad they kept the chapel. It looked very well preserved.
This opulent chapel was dedicated to St. Anthony (who was born in Lisbon). This was one of the most beautiful churches we've visited and if you've followed our trips, you know I've dragged my family to enough European churches. The gilded decorations along the walls and ceilings were incredible. It was almost gleaming in here.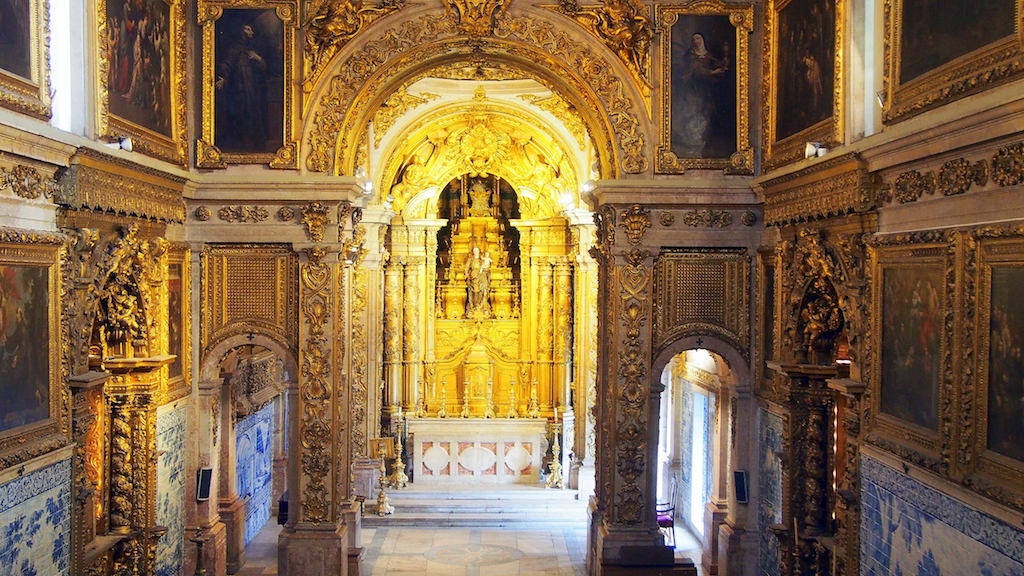 The colorful frescoes on the upper part of the walls were stunning. There were also two stories of original oil paintings. It was hard to pick a favorite.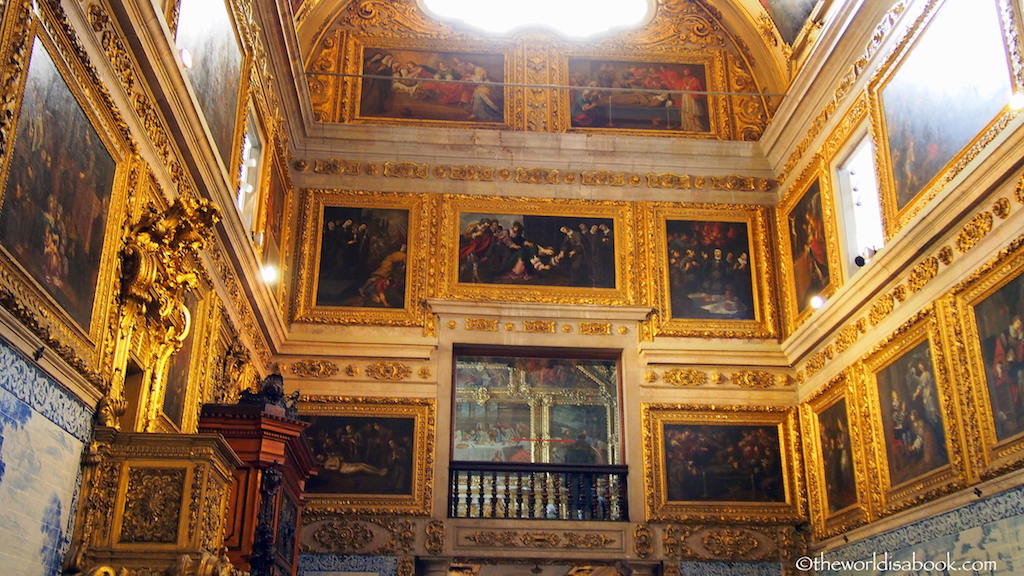 We loved the beautiful tile decorations and panels along the walls which were mostly in white and blue tiles. I think I would have a hard time concentrating going to a mass here. There were too many things to admire.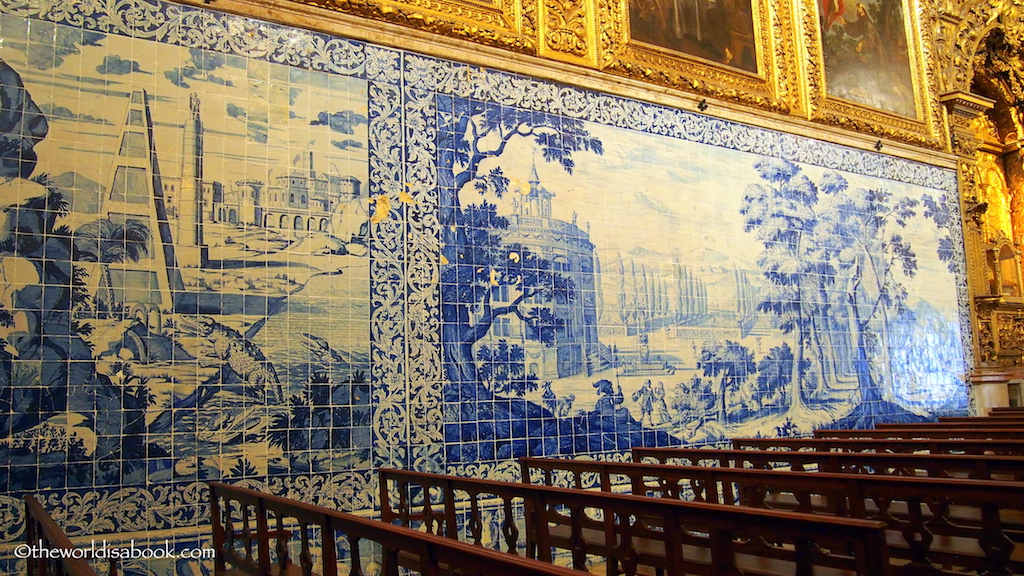 The details were astounding and the pictures can't really do them any justice. The craftsmanship involved was unbelievable. I highly recommend sitting on one of the pews for a few minutes to admire the details and all the beauty this church has to offer. We got lucky and we were the only ones in here for a few minutes. Take the time to also walk around and the see the tile work closely.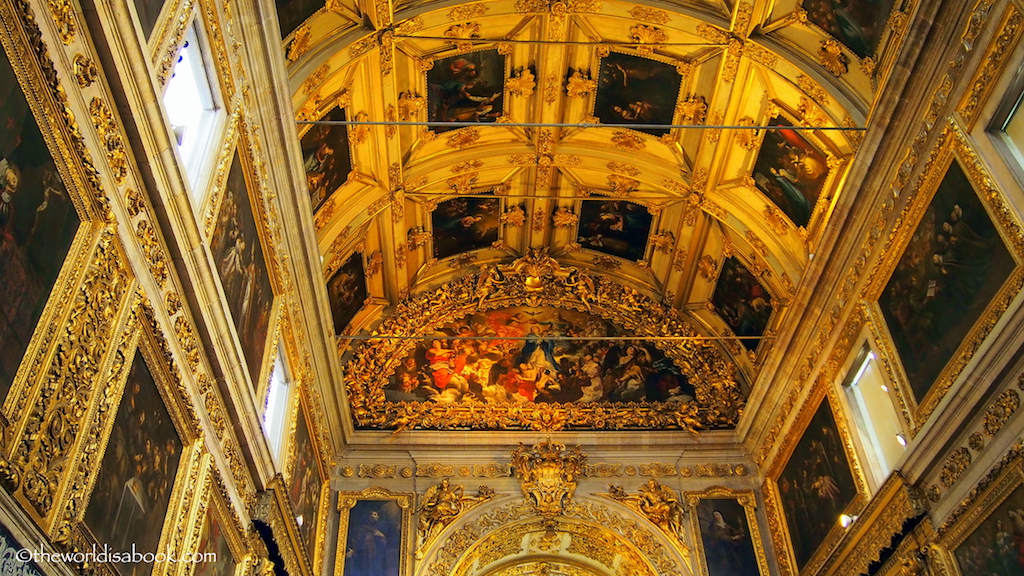 Lisbon has many great museums. But, the National Tile Museum shouldn't be missed despite its secluded location. We enjoyed learning about the tile's history and seeing various ways they could turn tiles into remarkable works of art. If you're a fan of stunning places of worship, then the chapel is worth a visit alone. We spent about two hours here and it was enough to fully appreciate this unique museum. The museum was a pleasant surprise. We looked at Lisbon's tiled buildings a little differently after this visit. Who knew tiles could be so interesting?
Basics and Tips for visiting the National Tile Museum
Getting There: Visitors can take Bus 794 from Comercio Square or Bus 742. We took the taxi from Comercio Square and it was about 5 euros for a fast and convenient way to get there.
Price: 5 € Adults – (as of June 2016); 50% off for Seniors (62+), Students and Youth.
Free admission with the Lisboa Card.
Entrance is free during the first Sunday of the month.
Hours: 10AM-6PM (Wed.-Sun.), 2PM-6PM (Tuesday) It is closed on Monday.
Free audioguides in English and Portuguese.
There was a café, a gift shop and a small outdoor garden.
*Have you visited this Tile Museum? What other unique museums have you seen?
Pin it now, Read later!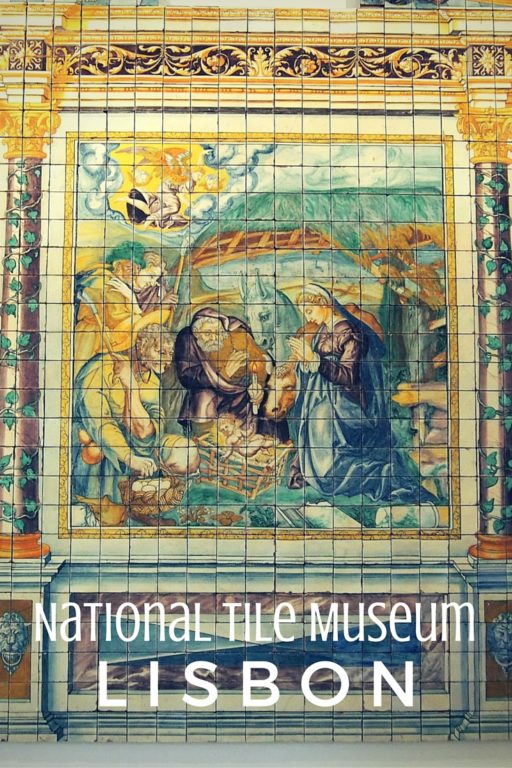 Check out these related posts: