Review: A $99 WOW Air Flight to Iceland with a 15-hour Delay
Nothing like starting off a family summer vacation with a 15-hour flight delay! Our photos across social media and my recap of our vacation across Scandinavia showed a really incredible and memorable trip. But, it started with a lot of anxiety and stress. This is unlike any post I've written here but felt that I needed to share our experience so readers know what they're getting into with a particular airline. I hope you bear with me on this flight review and read through this ordeal.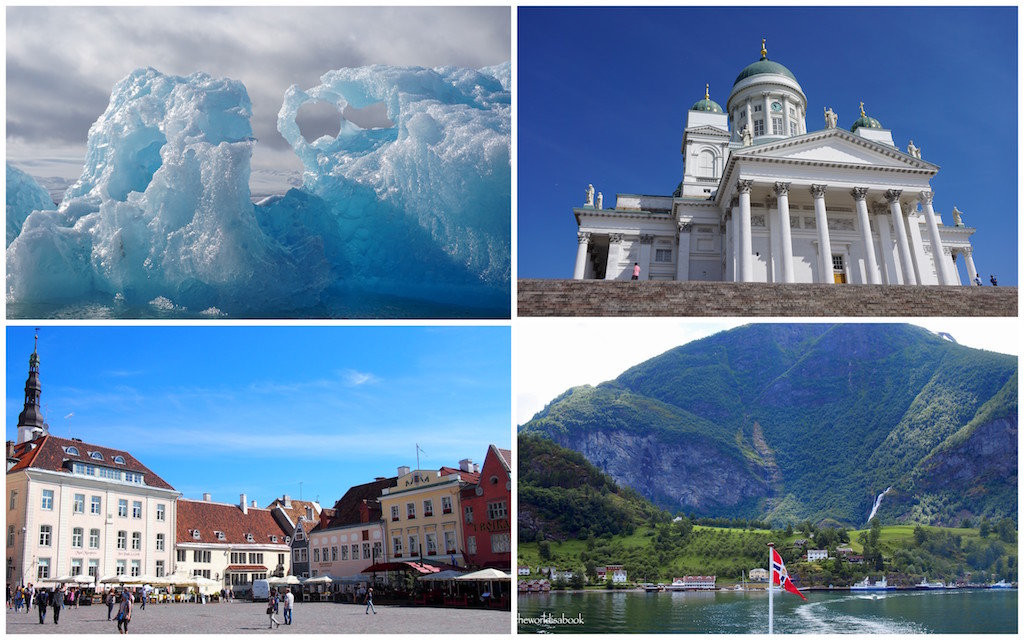 You may have heard of WOW Air, an Icelandic company, and its entry into the US market. They also offer many intra-European flights. It's a no-frills, budget airline that entices customers with $99 (including taxes) one way flights from America to Iceland. They started their non-stop flights from Los Angeles and San Francisco to Reykjavik (KEF) in June. We flew the LAX-KEF route a week after their inaugural flight.
We were lucky to snag four of the $99 promotional flights. Much like Europe's budget airlines, this is an a la carte pricing where you pay for things you needed. This meant paying for seat assignments, food and luggages. But, even with all the extras, it is usually cheaper than the major carriers.
Our flight was scheduled to depart on Tuesday, June 21 at 12:40 PM. We live over 90 miles away from Los Angeles International airport and morning traffic commute is horrendous. We left our house at 6:30 AM to be safe. Unfortunately, we got the below text message at 8:40 AM that our flight was not departing until 11:20 PM/23:20. That's an almost 11 hour delay.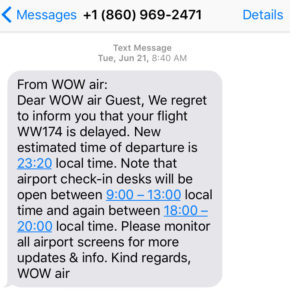 We were in the midst of rush hour traffic and were about 10 miles to the airport. Do we return home? We had already fought through horrible morning traffic. We'll need to drive back again that night and that's at least four hours of driving. In our idealistic mind, what if it gets changed to an earlier time?
Checking in
So, we decided to go to the airport and check in our luggage. It was interesting to see that the airport screens and their website was still showing that our flight was leaving at 12:40 PM when we got there.  Apparently, some passengers around us in line didn't got a text message or an email about the severe delay.
The people checking us in (not WOW employees but contracting personnel) verified that our flight was indeed leaving 11 hours later when we got to the counter. They didn't know the reason for the delay and no, they can't offer alternate flights for us to take to Iceland since WOW didn't have a partnership with other airlines. At this point, we decided to hold on to our luggage and not check-in.
We found other flights that would arrive in Iceland two or three hours after our original arrival time even with stopovers. So, planes were landing and taking off from Iceland with no issues. Unfortunately, our travel insurance was no help as we tried to claim for a trip interruption. They pretty much told us we had to cough up about $5,000 to go on a last minute Iceland Air flight and we may or may not get reimbursed. We scratched that idea quickly. We cancelled our horse riding tour and hopes of a day of sightseeing and a leisurely three-hour drive to Vik for our first night evaporated.
I went back to the counter to ask when they would open it again for luggage check in. This was when I heard a neighboring customer mention something about meal vouchers. Funny, the previous staffer didn't mention that to us. I learned that the lone WOW employee there negotiated to give passengers $12 per person per meal voucher for lunch and dinner. The company initially tried to give us $8 per meal. I'm glad they came through for some of the passengers. But, some passengers who checked in before us never got those meal vouchers.
By this time, the line had considerably grown towards the door of the terminal. Out of curiosity, I asked several people at the back of the line if they knew about the delay and of course, they hadn't. There were some staffers there who weren't helping customers at the counter. It probably could have taken a couple of minutes to go down the line and inform the passengers and give them an option to check-in or leave. It was common courtesy considering they hadn't updated their website or the flight status screens.
We still had our car at the long-term parking lot and decided to get it and hang out around the airport neighborhood.  You know that gut feeling that things just aren't going to turn out well? I felt that all day. This was the text message we got at 2:13 PM. New departure time is 2:00 AM, June 22, Wednesday – 13.5 hours from the original departure.
As we went about our day, my husband decided to look at WOW's schedule and started to follow the plane that was supposed to land at LAX (assuming this was our plane) from KEF. That flight was delayed about five hours. It was quite disturbing to see this flight pattern. Did that plane reverse somewhere on that route?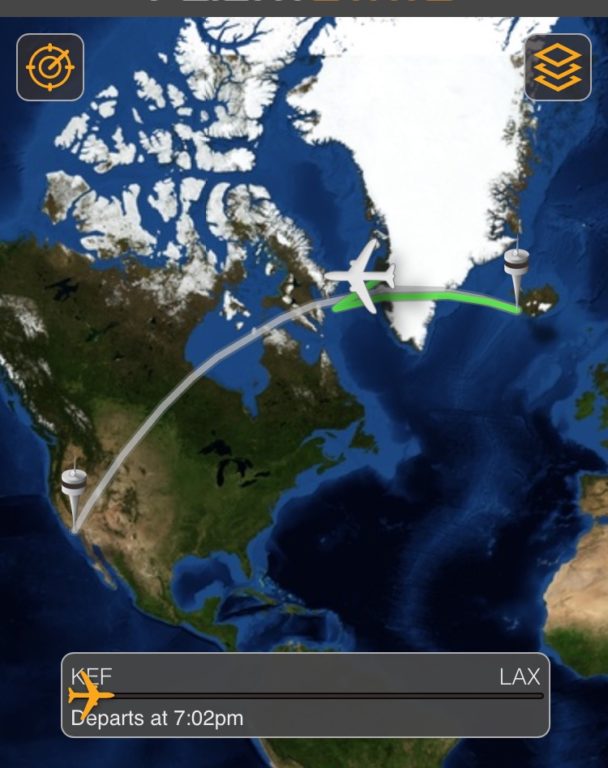 4:21 PM – We got another text message that our new departure is at 1:30 AM. We'll take 30 minutes earlier. By then, every text message notification I got made me a nervous wreck expecting the worst. It was a dreadful feeling and wasn't the best way to start a vacation at all.
We went back to the airport around 8 PM to eat dinner and prayed our flight didn't get further delayed or worse, get cancelled. It was welcome news to learn that the flight from KEF landed around 9:00 PM at LAX. At least, a WOW plane was there so we may actually leave for Iceland.
Many of us gathered to board the plane after midnight at the gate. Surprise, the plane wasn't there. There were more mutterings, more nervous looks and more anxiety. The lone WOW employee, who got us the meal vouchers, was apologizing profusely as passengers were still trying to get answers about their connecting flights. She told us that two-thirds of the passengers on the plane (that's about 200 people) missed their connecting flights and now have to spend the night in Iceland.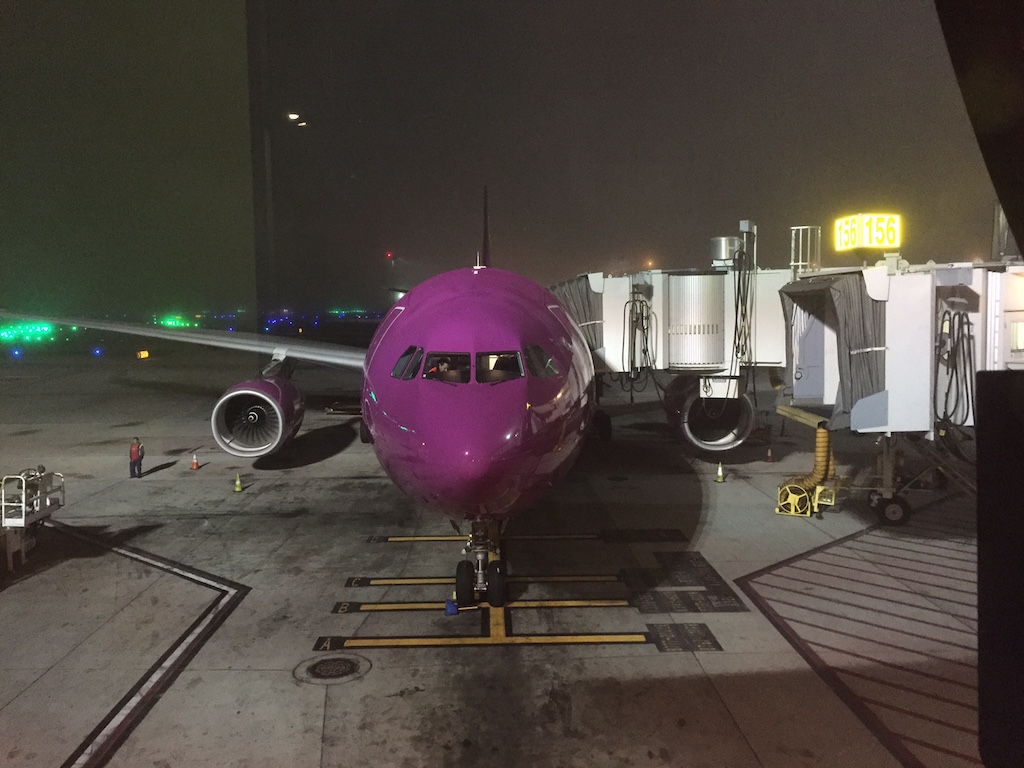 12:30 AM – The plane finally got to the gate. That's a good sign, right?
12:40 AM – We heard another announcement. Paraphrasing here – Hey, guess what passengers. Your crew is on their way (meaning they're not even at the airport yet). They will be here in about 15 minutes (hopefully). Then, they still have to do their inspections and preparations that will take another 15 minutes or so. Then, you can board the plane.
Well, there goes that 1:30 AM departure. If we all knew the flight was leaving at 1:30 AM based on WOW's messages 8 hours earlier, their website and LAX flight status board, why did the flight attendants arrive at 1:20 AM? Why didn't they have the courtesy to be here way before the departure time? Of course, no explanation was given to us.
I wondered why some passengers started clapping when the flight attendants arrived. Are they relieved to see them? Or are they sarcastically clapping that they finally made it? The flight attendants had that confused look too and none of them smiled at all. They must have picked up on all that bad energy there.
Surprisingly, boarding went smoothly. Some positives about this experience was that the plane was new and clean. There was plenty of leg room and I liked their seating configurations of 2-4-2. There were power outlets under the seats. The flight attendants, for the most part, were friendly and courteous during the flight. They tend to pitch their duty-free items more than the other airlines.
They had some quirky sayings around the plane meant to be fun and lighthearted. I would have really appreciated these and would have shared their uniqueness on social media another time and under different circumstances. By then, I was going on 22 hours of no sleep plus an increased stress level. So, even cute, purple smiley faces didn't do anything for me at this point.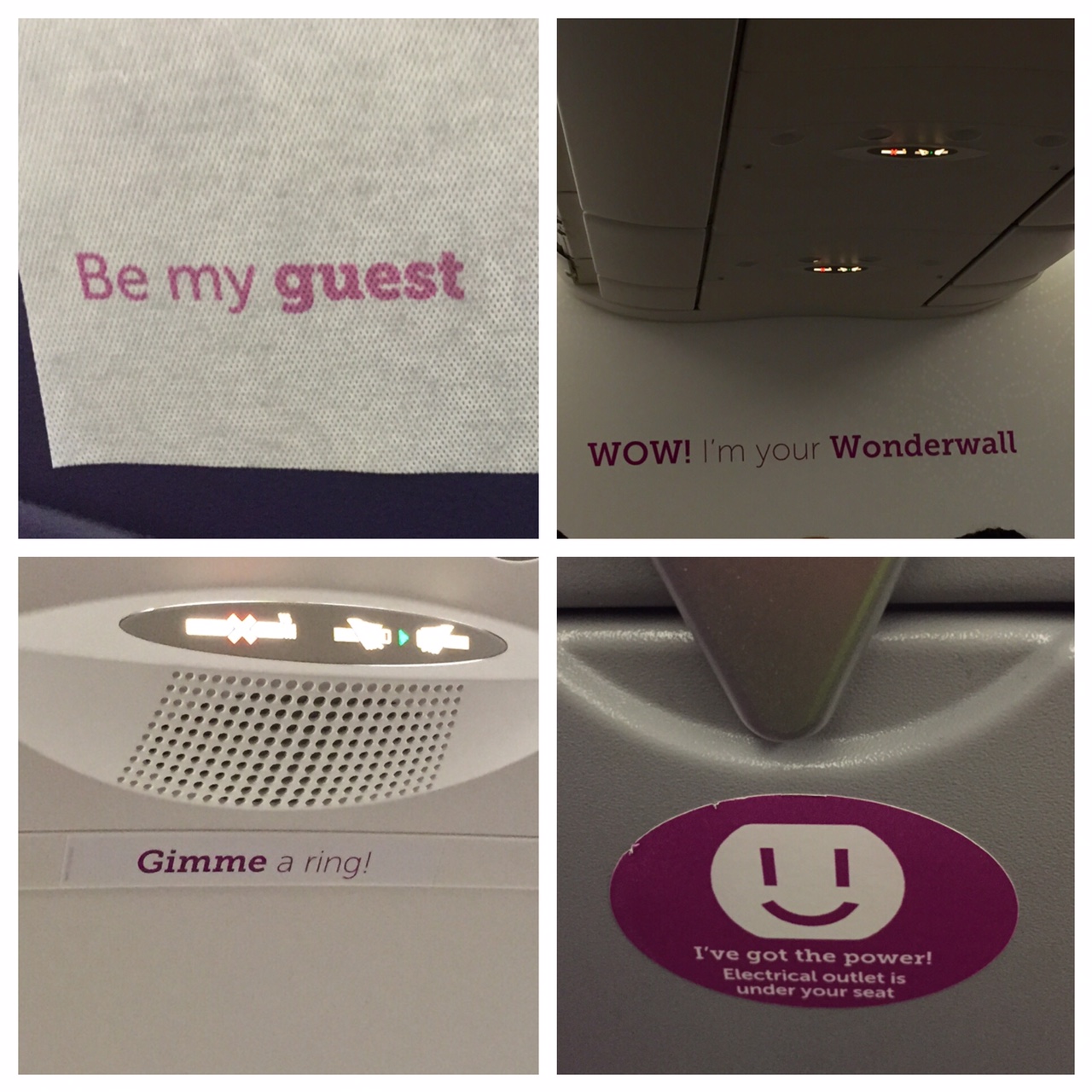 Since this flight was already so delayed, why not extend it a bit more? We sat on the plane for another 40 minutes. We were told their passenger manifest didn't match their boarding passes count so we watched the flight attendants go up and down the aisle repeatedly counting every passenger at least five times.
Perhaps, the counts did not match because passengers kept going to the bathrooms while the flight attendants counted. It should be enforced that passengers stay in their seats during this process which they finally did and the numbers finally matched.
3:30 AM, Wednesday, June 22 – We finally took off ! This was almost 15 hours after our initial departure time. It was a relief but I also had a lot of apprehension of actually landing in Iceland considering our streak of bad luck.
This was the longest and one of the most stressful travel days we've ever had in all our years of traveling. And it was before we left the airport!
During the flight, I was aghast to hear the flight attendant charge the man across the aisle from me for coffee after everything we went through already. We knew going in they would charge us for everything but a little goodwill could ease some of the tension. .
Landing in Iceland
Thankfully, the flight was smooth and we actually got to sleep. We finally landed in Iceland at around 6:36 PM local time. We were supposed to have arrived at 4:10 AM. To no surprise to everyone there, we waited almost an hour for our luggages. We were the only passengers at the baggage claim area meaning our plane was the only one that landed. I was grateful our luggage actually showed up.
We left the KEF airport parking lot at 8:05 PM (20:05). My husband had already gotten our rental car during our baggage wait. We lost a whole day of sightseeing, vacation time, wasted time hanging around the airport plus all that added stress. We were now rushing through our three-hour drive to South Iceland. We went on five other flights on three other airlines (Iceland Air, SAS and Norwegian) around the Scandinavian region after we left Iceland. Everything else went smoothly and with no major delays.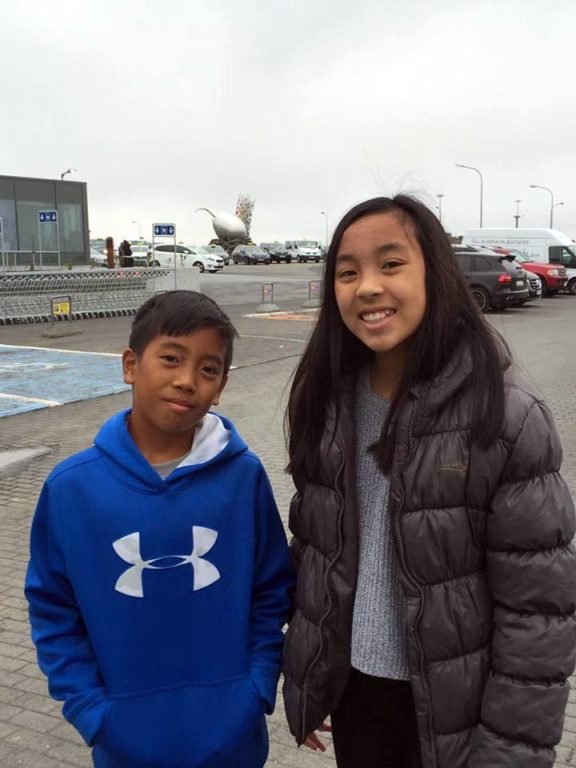 Our whole day lost pales in comparison to what other passengers experienced. We kinda formed a bond with the other passengers and talked quite a bit while waiting. We were all stuck under these bad circumstances and sharing this unpleasant travel experience together. Many didn't know what time their WOW connecting flights were the day after or where they were sleeping in Iceland. Many of those traveling the next day were understandably nervous, frustrated, anxious and upset. Some dreaded getting on another WOW flight and having to return home in one.
We found a counter with one staff member. I was surprised that there was no one screaming given the circumstances. But, someone pointed out to me that many of us were just so relieved to finally land in Iceland. Most of us were also so exhausted and sleep deprived.
We heard stories of a missed cruise, missed family events and tours, a missed Euro cup football/soccer game that they paid a lot of money for, paying for hotel rooms they didn't use, etc.
Were we victims of the travel bad luck? Maybe. Go to TripAdvisor, Skytrax and Yelp and read through the reviews or just browse their Twitter account. Some travel stories are sad and horrifying of what some passengers endured from severe delays to lost luggage to lack of responses from customer service. Please know exactly what you are getting into in exchange for a cheap airfare. This was the worst flight delay we've ever encountered after flying for many years. It was unfortunate it was during the start of a much anticipated vacation.
'You get what you pay for' came into play here for us. It almost felt like a punishment for snagging that $99 deal. One of their slogan is 'We promise to give you that "wow" feeling.'  It was more like, "Wow, I can't believe this is happening". I heard far worse things said about that slogan from others. Unfortunately, first impressions count and mean a great deal.
Here are my thoughts to WOW Airlines' management which may or may not get to them. 
Improve customer service. The overwhelming complaints is the lack of customer service or non-empathy to passengers during missed connections and delays. You can offer low fares and still have great customer service. We've experienced it with Southwest, RyanAir and Norwegian.
Better communication. We got lucky to have received text messages and emails throughout the day. Many others did not. Maybe, make it mandatory to have an email or phone number when booking. Have a staff member quickly tell passengers waiting in line to check-in about these delays.
Meal Vouchers. If you're going to offer meal vouchers for severe delays, please announce it or offer it to everyone instead of waiting for people to ask for it or accidentally hear about it.
Give us a reason. If it's not your fault for the delays, please tell us when you first announce the delays instead of letting us speculate and blame the airline for everything. We know things can happen out of your control sometimes. Don't tell us the reason many, many hours later and right before we were supposed to take off . By then, it fell on deaf ears due to the stress and exhaustion.
Goodwill. If we're waiting in the tarmac for almost an hour because of counting issues in addition to already being substantially delayed and inconvenienced from all our travel plans, at least offer complimentary water and coffee for the duration of the flight. We were exhausted and sleepy, and to add insult to injury, the staff still charged the passengers for water. A little goodwill goes a long way.
Improve signage. I've read a few tweets that your seats don't recline on long distance flights which wasn't true. The button wasn't on the armrest, like most airplanes, but was somewhere below the seat. I only found out after seeing a flight attendant show it to a passenger. It may help to announce that or put a quirky sign somewhere by the seats.
If you decide to take your chances, here are some things to know and tips for flying WOW Airlines. I hope you have a much more pleasant experience than we did.
You can do a free stopover in Iceland on your way to Europe if you book a round trip ticket with WOW.
Know all the fees before buying. While you're guaranteed a seat, everything else is extra. This includes pre-assigned seats, luggage, food and entertainment. Calculate everything to ensure you're getting a better deal than the other carriers.
Be prepared for delays. I think the post above and reviews speak for themselves.
Pack light. Each passenger is allowed a personal item and one 22 lbs (10 kg) carry-on luggage for free. Check the dimensions carefully. I've read that some airports are more strict than others with dimensions and weights. Check-in luggage is up to 44 lbs (20 kg). Pre-pay for luggage online. They will charge you more at check-in.
Bring your own food and beverage. Food and beverage is available for purchase onboard. The water at the airport terminals is guaranteed to be cheaper than during the flight. WOW will charge you for a cup of water. You also risk running out of food selection in flight. They sold turkey sandwich, baguette, flatbread, pizza ranging in price from $6 – $9 USD.
Be prepared to sit separately. Seats are randomly assigned and I don't know how much they adhere to seating people or families on the same ticket/purchase together. You can pay to select seats beforehand and prices differ depending on leg room and location (i.e. exit row). I suggest paying for pre-assigned seats when traveling with children to ensure you're sitting together.
Layer up. Bring a jacket, travel blanket and travel pillow. Blankets and pillows aren't provided and I didn't see any for sale onboard.
Bring entertainment. Our 8.5-hour flight and their shorter flights don't come with entertainment but you can rent an iPad with some movies from them for about $20. Bring your own books, laptops, iPads, etc.
Know your passenger rights. In all that delay chaos, I forgot we were entitled to some things during delays and cancellations. Here's a guide.
*Have you flown WOW Air? What was your experience? Any bad travel stories to share from other airlines?
Pin it for later!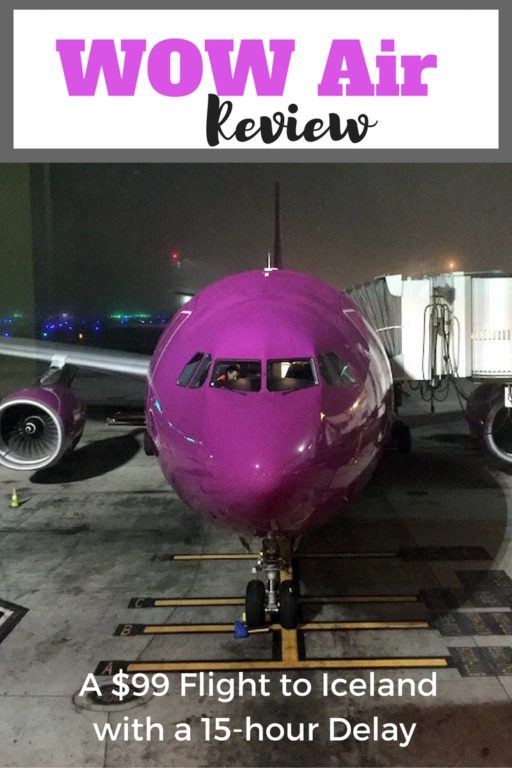 Disclosure: WOW Air provided our family with pre-assigned seats, extra weight on carry-ons and an extra check-in luggage. All opinions are my own.