Blue Ice Experience: Glacier Hiking in South Iceland
There are 269 named glaciers in Iceland. About 11% of its land area is covered in glaciers. I guess that shouldn't be a surprise considering its name. The biggest glacier in Europe, Vatnajokull, is also located here.
It's reportedly the same size of all mainland Europe's glaciers put together. We enjoy hiking in National Parks especially so it was hard to pass up some glacier hiking while visiting South Iceland a couple of weeks ago. Come along with us on this unforgettable hiking adventure.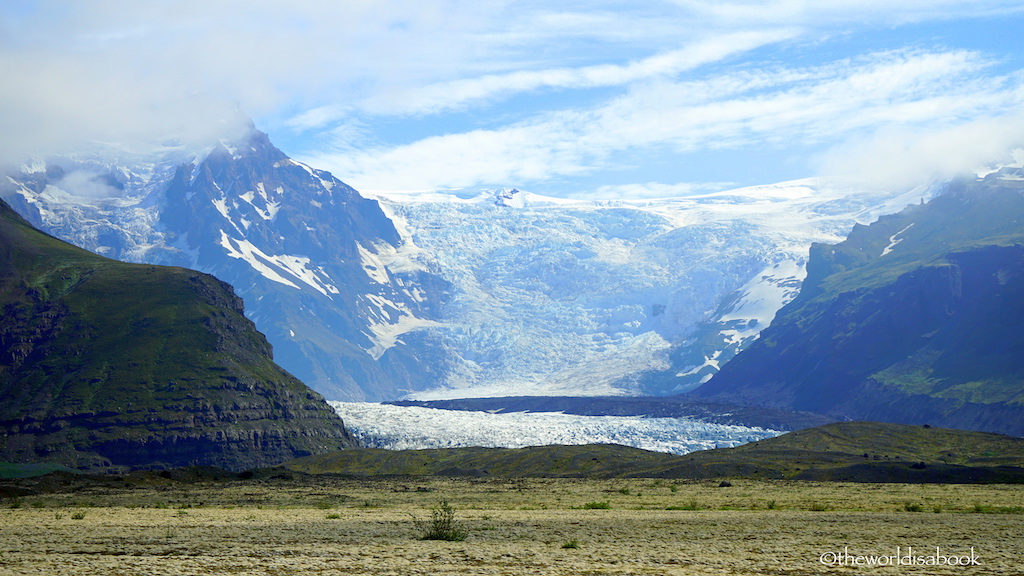 The starting point of our glacier hiking tour also known as the Blue Ice Experience was by the Skaftafell National Park Visitor's Center. It was hard to miss this area with large glaciers visible from the main road.
The park also had a lot of people hiking and camping. We would love to go back here and actually visit the area to see waterfalls and explore more of the park beyond the glaciers.
We decided to do the 10 AM tour which was the first one of the day. We were still a bit jet lagged so what better way to get the day started. The tour company asked that we arrive 15 minutes before the tour starts to get outfitted for crampons.
Crampons are necessary traction devices to safely and easily walk on ice and snow. It was a metal plate with spikes attached to the bottom of shoes. The staff measured our feet to give us the appropriate crampons.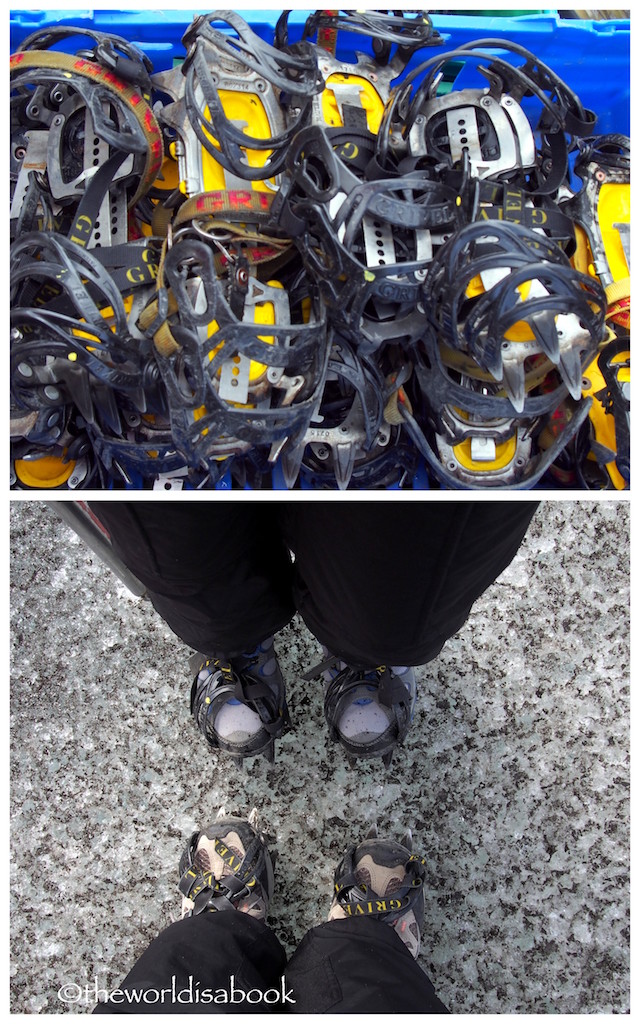 There was a glacier visible from the parking lot which we assumed was the one we were going on. But, we boarded a bus out of the park and rode for about 10 minutes to an area with our tour guide. In all that excitement, I feel bad that I now forgot his name but he was from France and he was great.
We hiked for about five minutes through a dirt area filled with rocks and gravel which was the glacier's tongue or entry point. The glacier was already visible from this trail.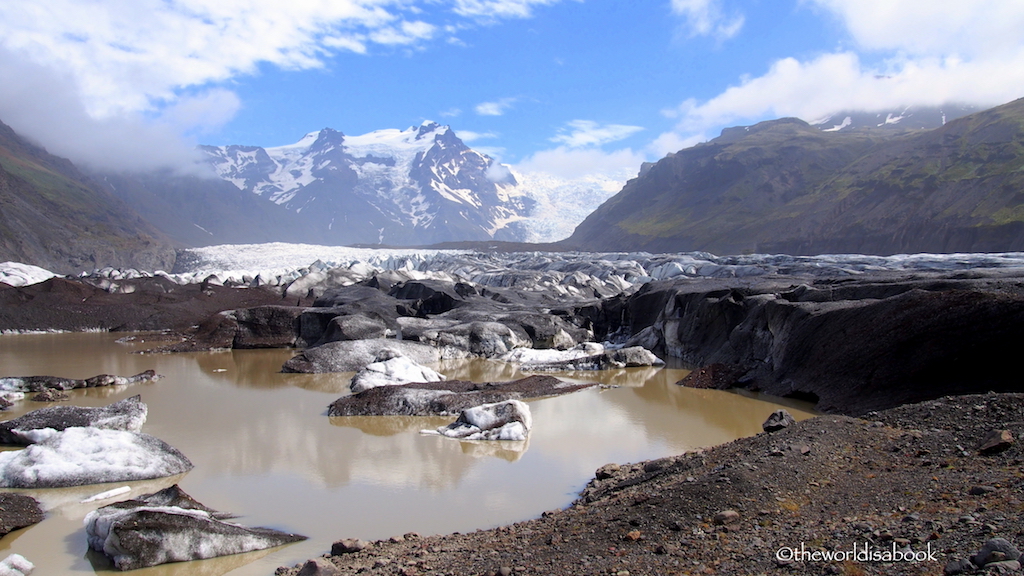 At the start of the trail, our guide taught us how to put the crampons on our shoes. It was quite easy that even my kids were able to do it without any help.
We really like that this was a small group. There were only 13 of us plus the guide. My kids were the only little ones in the group. The minimum age for children to go on this hike is 8 years old. It's classified as an easy to moderate hike.
He taught us how to walk with the crampons on. It was sort of an exaggerated walk where we had to lift our feet a bit higher in order to sink into the ice. They were so light that we often forgot we had them on our shoes.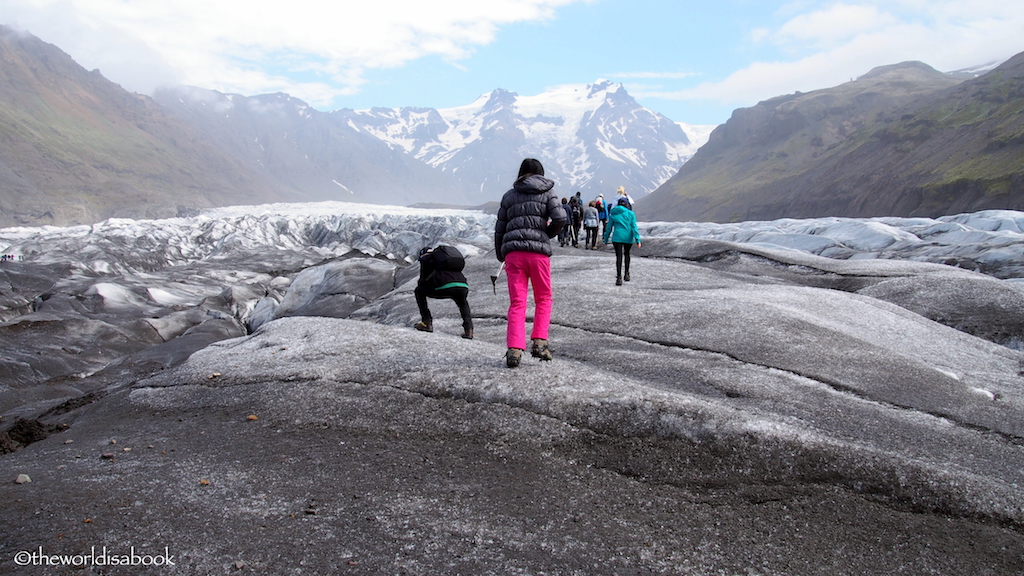 I was envisioning walking on a blanket of a white snow field. We were surprised at seeing the black material covering the glacier.
We were told that it was a combination of dirt and ash remnants from the famous Eyjafjallajökull volcano eruption in 2010 plus a recent eruption from another volcano. Iceland, after all, is the "Land of Fire and Ice".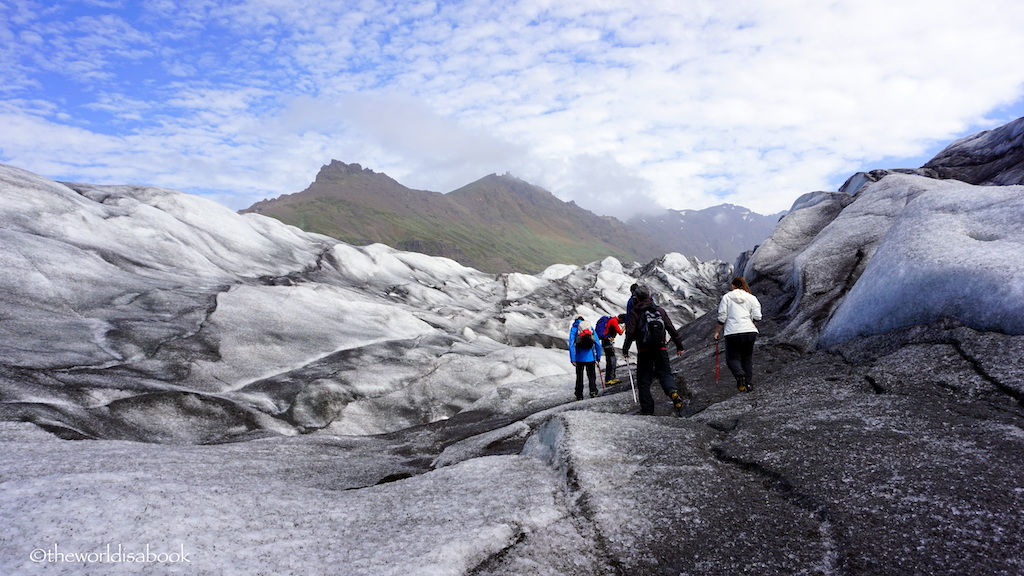 We walked on the Svinafellsjokull Glacier Tongue in Skaftafell National Park. This was an outlet glacier of the large Vatnajokull glacier. I know, the names are quite a mouthful. But, no matter how you pronounce it, the glacier was spectacular.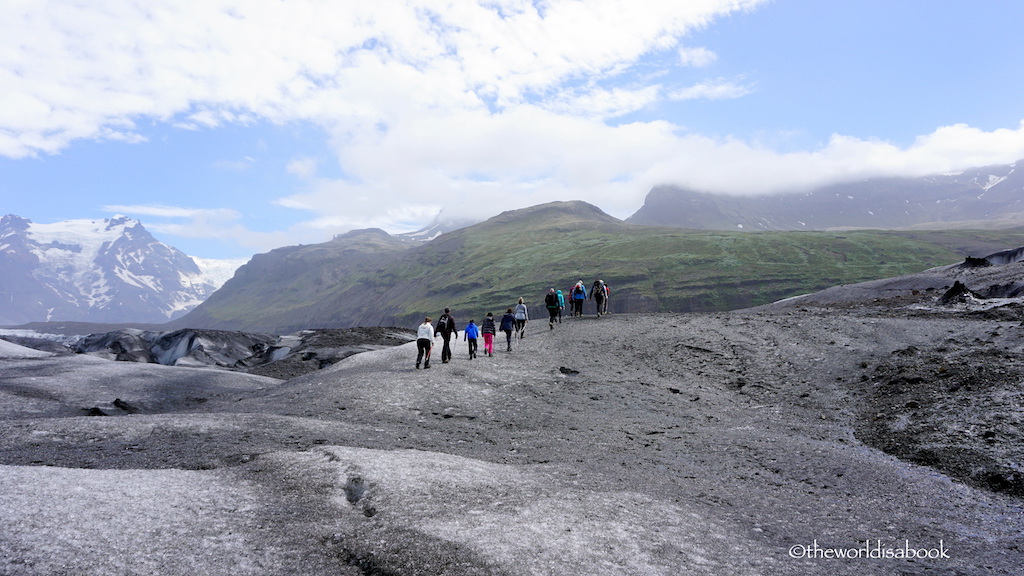 Our guide also told us that this landscape changes during winter when all the black soot is covered. It really becomes a winter wonderland with snow blanketing the glacier and in some areas, quite blue.
Since the surface is smoother, it's also a bit more challenging to do this hike. I guess we'll need to make a return trip during winter one of these days.
We got really lucky that the mountain fog lifted and the sun was shining brightly. At some point, many of us even took off our jackets. The view of the snow-capped mountains surrounding us and all this glacier was incredible.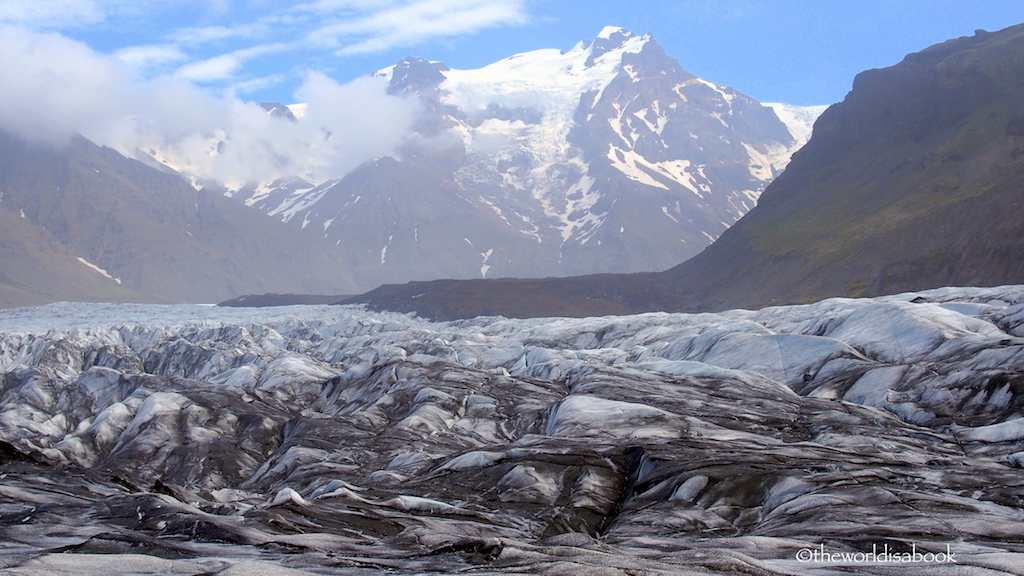 It may not look like it but this glacier is constantly moving. Our guide pointed out that where we were standing will definitely not be in the same spot soon. Unfortunately, global warming and climate change is melting Iceland's glaciers at a quicker pace than before.
This was called the Blue Ice Experience tour but we had to look harder to find the blue ice during our summer visit. Somewhere along our trail, we caught glimpses of the blue glacial ice hidden underneath all the ash and dirt on the glacier. The blue in the glacial ice is due to its dense surface absorbing all the other colors in the spectrum with the exception of blue.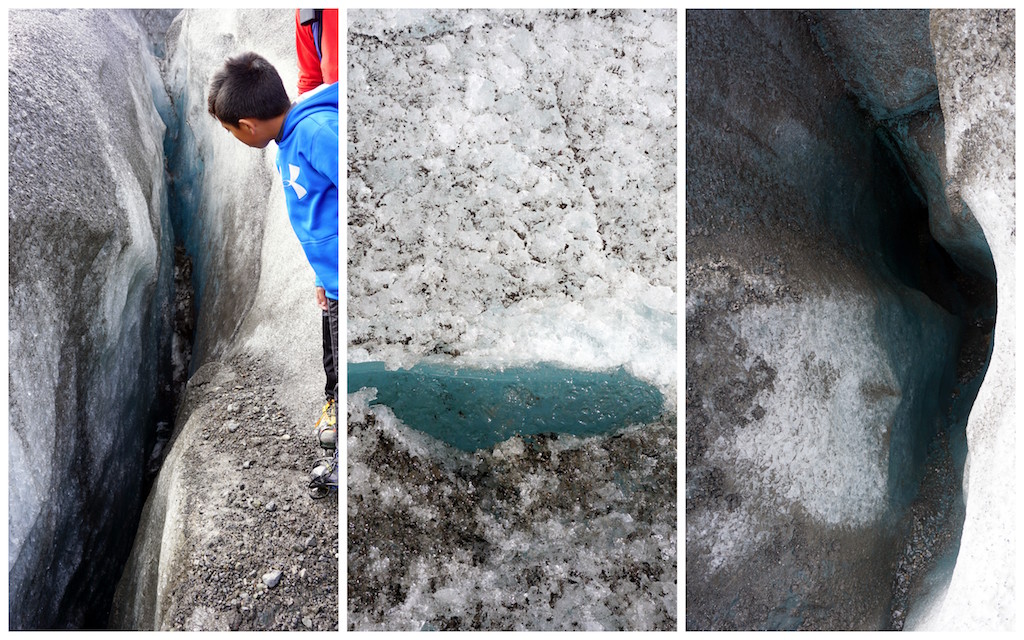 We also came across some areas where the ice was melting due to the warmer temperature. We could see the water slowly dripping from the massive ice block creating a puddle underneath and in one area, a little creek.
It was captivating to see nature at work. It was too bad we couldn't find a clean enough glacier block and glacial water to extract some water for a taste test. This is beyond frozen snow. As it moves towards a body of water, it also gathers dirt, rocks and gravel.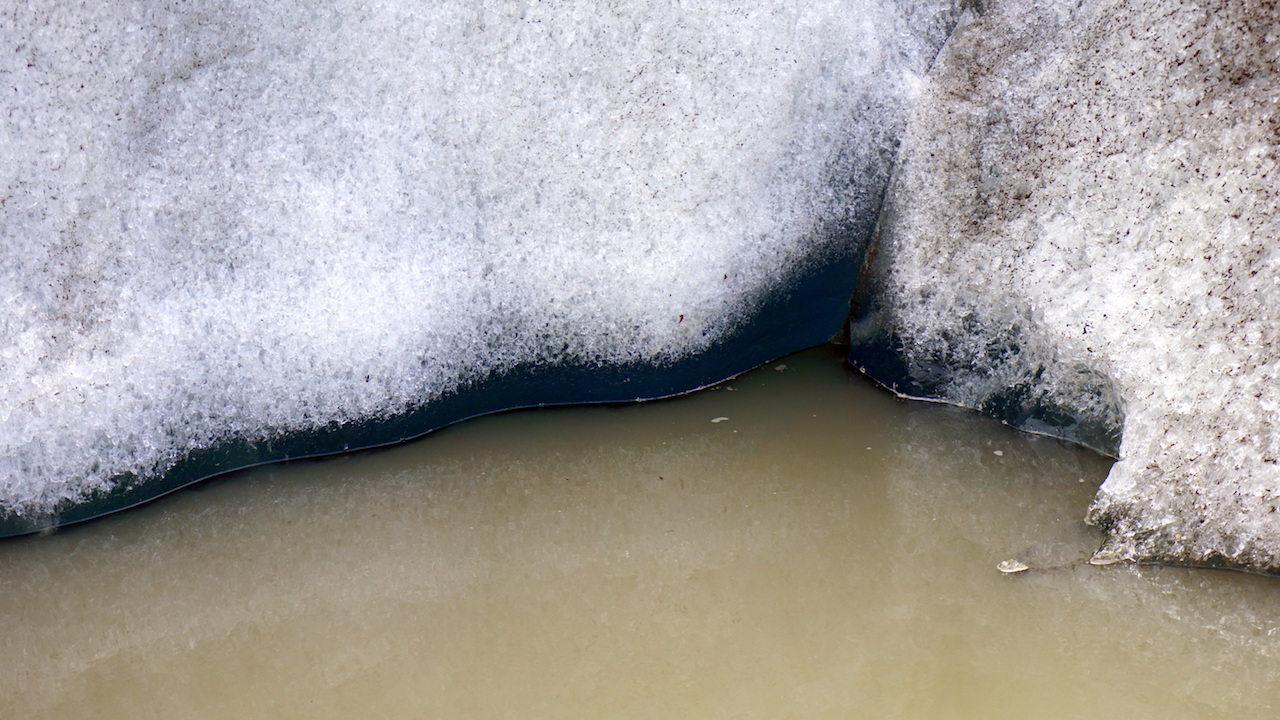 We saw a couple of tour groups pass by but they were on another trail. We really had the area to ourselves most of the time. It provided a much better experience not to share this with a large group of people. There were some moments when we stopped just to admire the views in silence.
They handed ice axes when we got off the bus to carry with us along the hike. My 10-year old son's eyes lit up at the sight of this equipment. Meanwhile, I had visions of him accidentally hitting one of us while he swung the thing around.
My son was so fascinated with having this equipment that the panoramic views almost became secondary during our hike. He found every opportunity to pick on ice and just to see just how far he could dig through that glacier.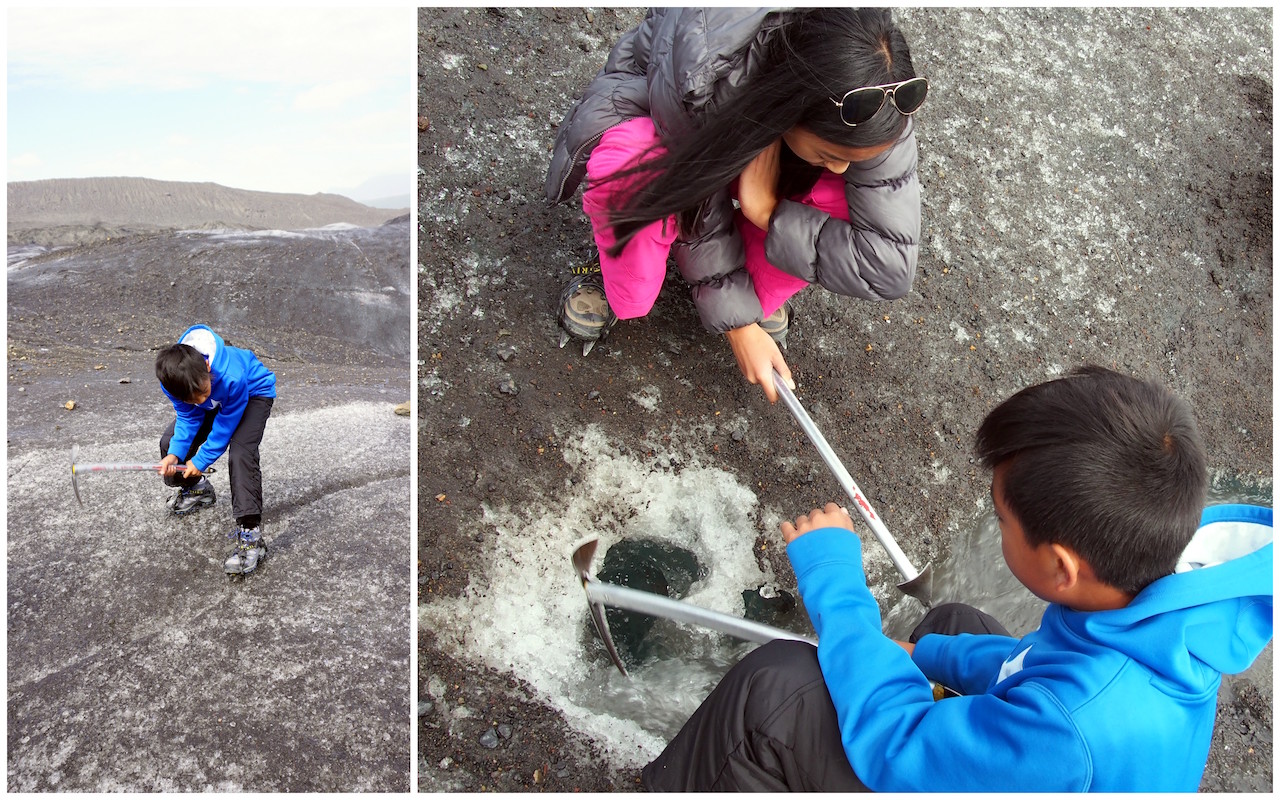 The ice axes were mainly for show for the most part. I remember using it a couple of times to climb a small hill. I admit our pictures look better, more outdoorsy and rugged with us carrying the ice axes though.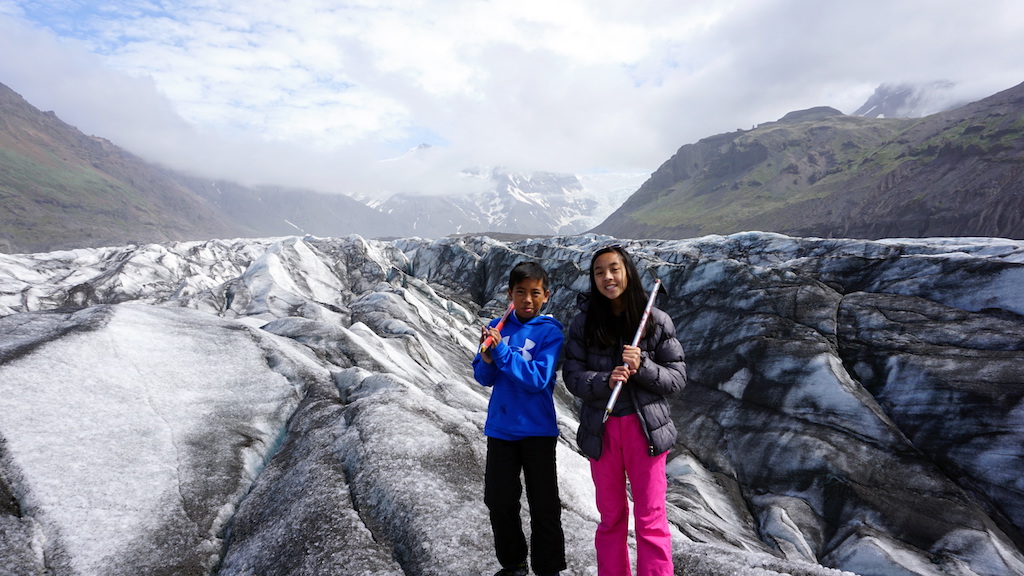 We spent almost two hours on the glacier but the time there went by quickly. We'd love to do a longer hike next time. Some treks and longer hikes take visitors further up the glacier. How many places can one hike on a glacier with such an amazing panoramic backdrop of majestic snow-capped mountains?
The trail wasn't hard and the hike wasn't strenuous. We felt perfectly safe during the entire hike. The staff was great and helpful from the moment we met them to the end of the tour. Our guide was informative, patient, helpful – took photos of us, held us on areas for a clearer look at crevasse or helped look for blue ice, etc.
We highly recommend this tour for anyone going through South Iceland and especially for families who have kids 8 years old and up. This was such a fun, amazing and an unforgettable experience.
Basics and Tips for Glacier Hiking
The Guide to Iceland Blue Ice Experience is offered all year at 10 AM and 14:00 (2 PM); It is offered every hour from 10 AM to 15:00 during the summer.
Duration: Allot 2.5-3 hours for the whole tour.1.5-2 hours is spent on the glacier.
Prices as of July 2016: Adults 10.900 ISK ($89 US) Children ages 8-15 – 5.950 ISK ($49 US)
Meeting Point: Icelandic Mountain Guides Sales Lodge next to Skaftafell National Park Visitor Center 15 minutes prior to tour departure.
What to bring: Camera, warm clothing, rain gear, hiking boots, water and snack bars (if you've got kids who need to always be chewing on something).
What to wear: We highly recommend layering up. You never know what temperature it will be at the glacier even in the summer. It became cold and foggy as we were leaving the glacier. We actually wore our snow pants and wore thermals underneath. Well, we do live in San Diego so I was expecting COLD.
Depending on your tolerance for cold weather, layer accordingly. My husband just wore a thermal underneath his travel pants. I brought gloves but we didn't need it. Make sure your jackets have hoods and they're waterproof. Hiking boots are much better to fit into the crampons.
Boots and rain gear can be rented for 1.000 ISK ($8 USD) with them.
If you get hungry after the tour, there was a lunch truck (quite pricey) at the park. The Visitor's center also had a good selection of cafe items and plenty of indoor seating and offered free wi-fi.
*Have you visited Iceland or gone glacier hiking?
Where to Stay
Hotel Berg in Keflavik

 – This was the first hotel we stayed during our first visit and loved it. It's close to the airport (2 miles), by the marina and offers free Wi-fi and airport transfer. It's a small family-owned hotel. We had a split-level suite which fit our family comfortably.
Hilton Reykjavik Nordica 

– 

This hotel is located in the city and within walking distance of the center but shuttle buses are also provided. If you want the comforts of a modern hotel, this has it with buffet breakfast and Executive Lounge for Hilton Honors Gold and Diamond members. A couple of friends have stayed here and recommend it.

Hlemmur Apartments  

– We loved this spacious, two bedroom apartment located within walking distance to Reykjavik's city center. It looked like an IKEA showroom, It was clean, well-equipped and furnished well with all the amenities we needed for our stay. It had free WI-fi and the owners were friendly. 
Save up to 50% on Iceland hotels on Booking.com 

(the #1 Accommodation site)

Find the best Iceland hotels and read reviews on TripAdvisor.
Car Rntals
Flights/Vacation Packages
Disclosure:  I received a complimentary Blue Ice Experience Tour and my family received a discounted rate from Guide to Iceland but all opinions and photos are my own. Guide to Iceland is the largest online marketplace of car rentals and tours in Iceland. Check out all their many tours and they have so much information about Iceland.
Pin for later!