Exploring Everglades National Park
America's National Park Service turns 100 years old this coming August 25th. This governing agency manages over 400 national parks, monuments, historic sites and seashores. In honor of centennial week, I'm featuring Everglades National Park in south Florida which we visited a few weeks ago. This has been on my travel wish list for a long time because of its unique scenery, flora and fauna. The park has 1.5 million acres and considered America's "largest subtropical wilderness ". It is a UNESCO World Heritage Site and an International Biosphere Reserve.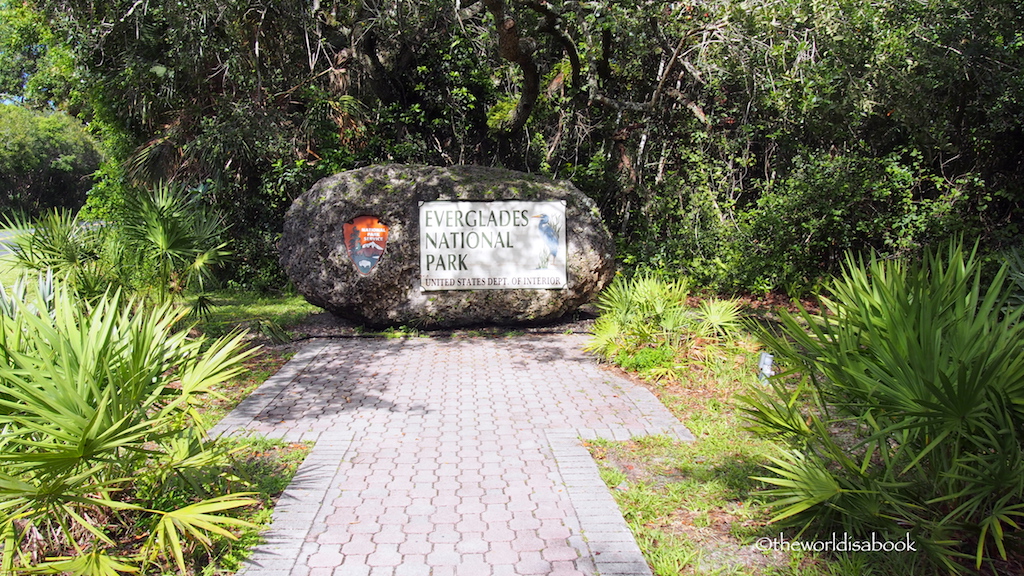 The park has three entrances. The main one and most accessible from Miami is through Florida City and Homestead. This was the route we took and covered the southern area of the park. The Ernest Coe Visitor's Center should be everyone's first stop.
They had various exhibits and orientation films to learn more about the park. Get the Junior Ranger packets for kids here. It's a great place to talk to the park rangers to see which trails are open, find special ranger-led programs and any recent animal sightings.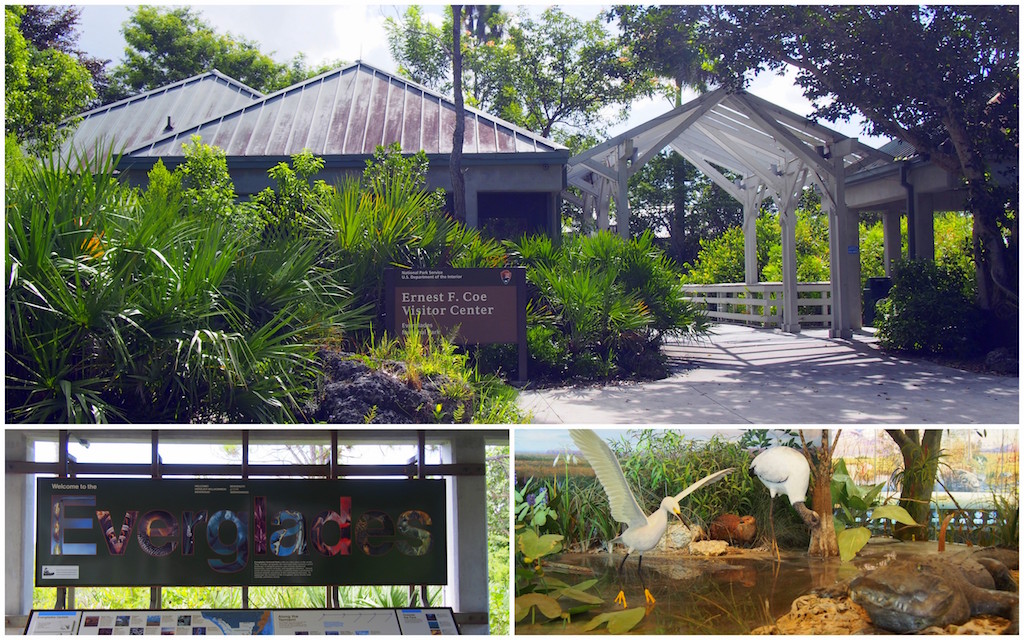 Royal Palm/Anhinga Trail
There is only one main road so it's pretty straightforward to get to the other attractions. The friendly park ranger recommended a ranger-guided walk on the Anhinga Trail that was starting by the Royal Palm Visitor Center located four miles from the park entrance.
Unfortunately, the boardwalk that went out into the sawgrass marsh was under construction during our visit and we couldn't get further out into the trail.
The Anhinga Trail is one of the park's most popular trails. It was less than a mile round trip and a great place to spot wildlife especially during the winter months. This is usually a self-guided tour but we were so glad there was someone from the staff there to give us some science lessons.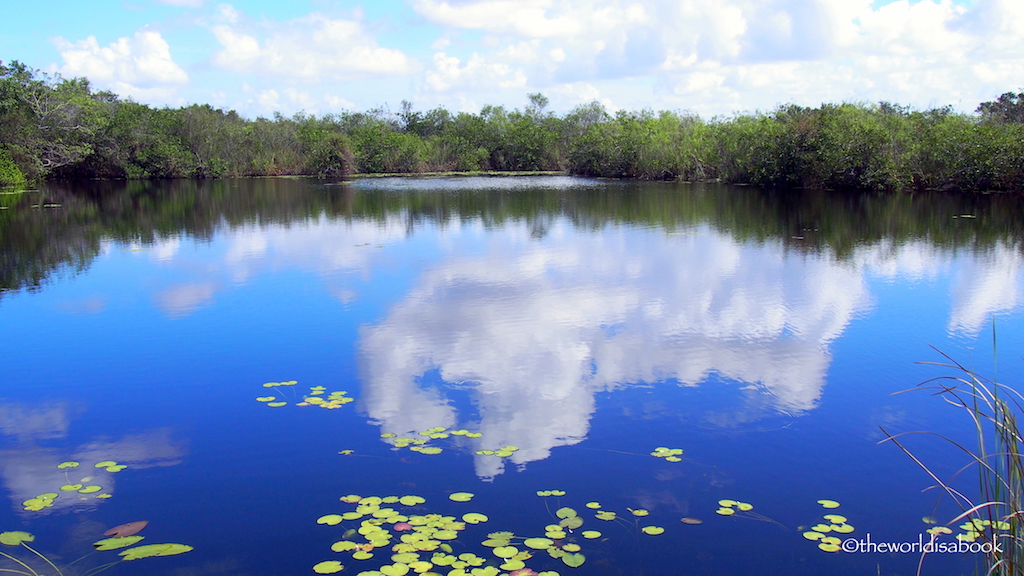 Within a few minutes, she spotted turtles and an alligator swimming along. It was around 10 AM and very hot so it wasn't the best time for wildlife spotting here. Dusk is considered the best time to see the alligators out. We were lucky enough to spot this egret from a distance. This trail was named for the anhinga birds.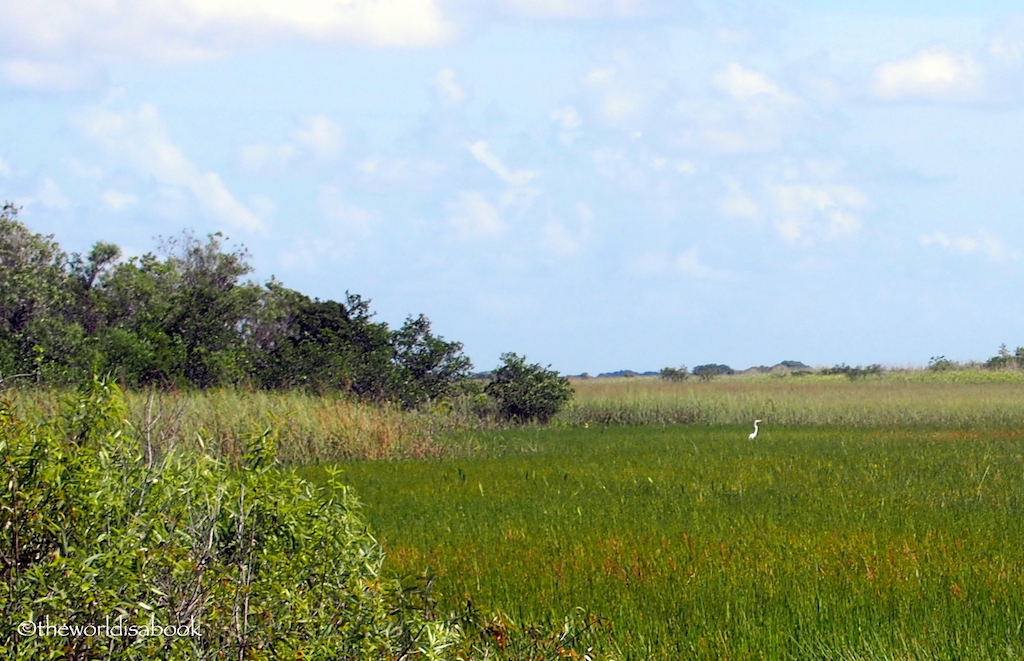 We saw these colorful grasshoppers everywhere during our walk. We've never seen this type before. I was a bit nervous we were going to step on them. We learned that these were called lubber grasshoppers. Apparently, it was mating season. These grasshoppers were considered one of the largest and slowest types since they are flightless. Their bright colors aren't used as a defense mechanism but more to warn predators they're toxic if eaten.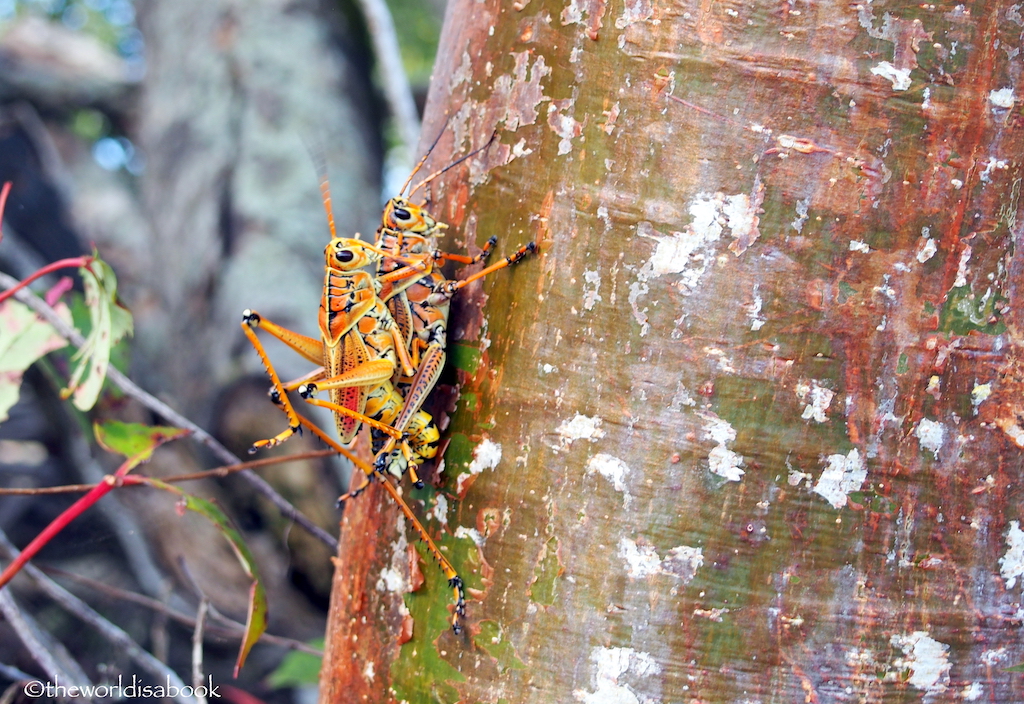 There's also the Gumbo Limbo trail here. This was a short circular shady trail, named for the Gumbo limbo trees with the peeling red bark. Our guide told us that these were also called tourist trees by the locals because is was how tourists look after spending a few days in the Florida sun – red and peeling from the sunburn.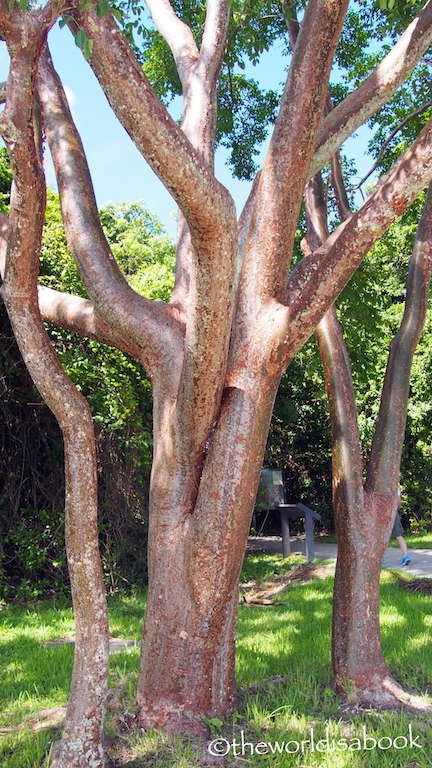 Pa-hay-okee Overlook
We decided to drive about an hour south to Flamingo, which is the only other major destination along this route, and to see attractions near the water. There were plenty of overlooks and rivers along the two-lane road if one has more time to explore. Two people recommended a stop at Pa-hay-okee Overlook about 15 miles from the entrance. It was easy to see why this was worth a side trip.
The trail was about .2 miles round trip on an elevated boardwalk. Pa-hay-Okee means "grassy waters" in Seminole (a Native American tribe). There were also some dwarf cypress trees here. This area was a sawgrass prairie and grasslands as far as the eye could see. We heard a couple of other visitors exclaimed that it reminded them of an African savannah. Since we haven't visited yet, we'll take their word for it.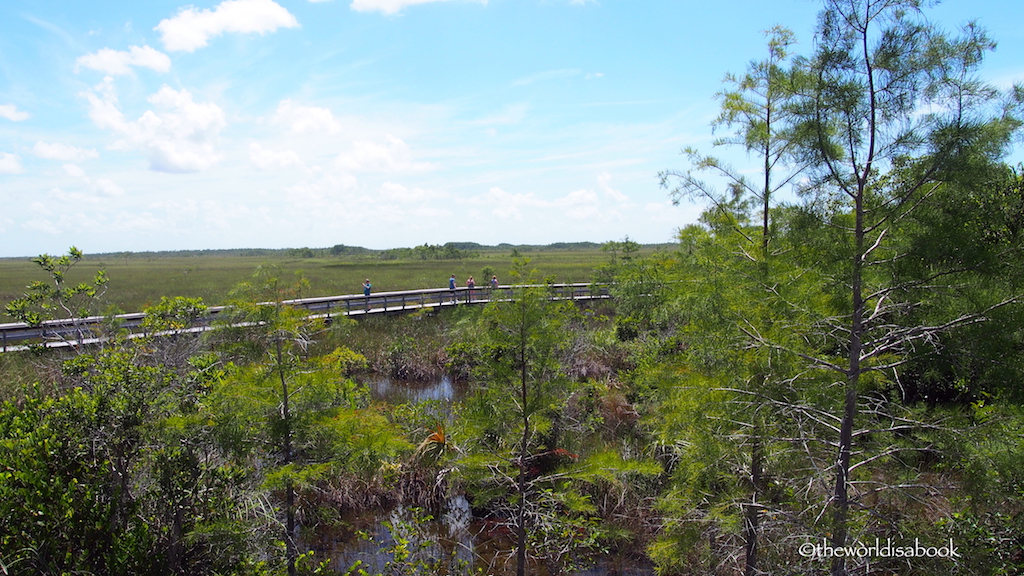 Walk along the boardwalk slowly and see what flowers or wildlife you spot. We saw some birds at a distance and my kids tried looking hard for alligators but weren't successful. The ranger told us this was one of the best places to see a sunset with some wildlife.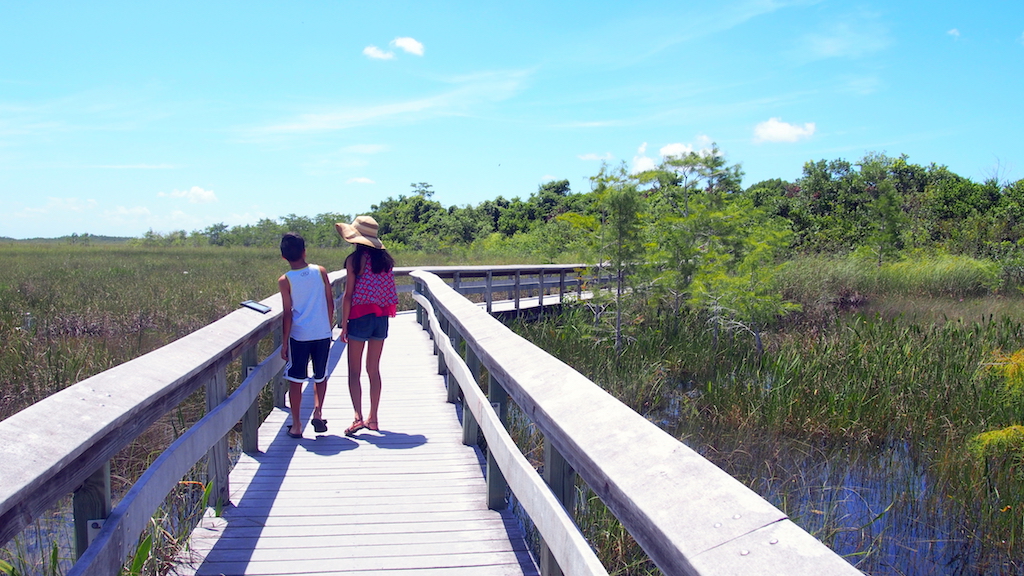 One of the things I like about this park was the straight and uncrowded roads. This may be a different scenario on weekends and winter but we found ourselves being the only ones on the road on an August Friday here. This was one of the most relaxing drives we've ever had at a national park. The only wildlife we saw during our drive were some birds flying overhead and a turtle crossing the road. One visitor, with good intentions, was moving it off the road away from the cars.
Flamingo Area
The Flamingo Visitors Center was situated on the shores of Florida Bay. This was about 38 miles from the main entrance. They had a walkway that looked out into the bay where we spotted more aquatic birds. We were told there are some manatees around the nearby dock and marina area most of the time but we didn't get lucky. Maybe, they're here earlier or later in the day.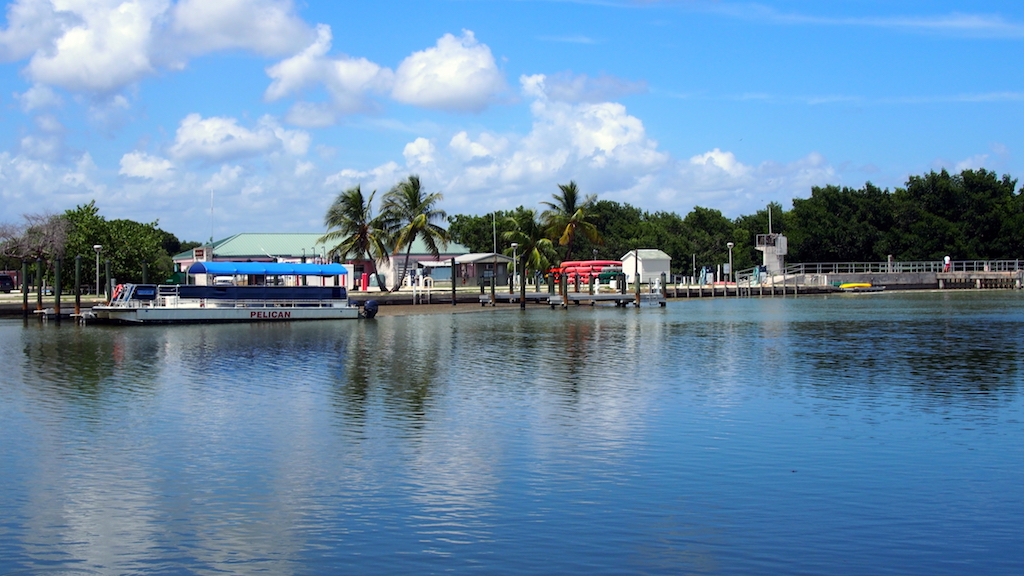 There were actually a few buildings around this area. But, the major attractions here are the boat tours to Florida Bay and the Backcountry. If you're going to drive all the way here, it's probably best to do one of the boat tours to get a better feel of this part of the park and its diverse ecosystem. These guided boat tours must be booked with an authorized national park concession. They're not affiliated with the National Park Service but they donate part of their proceeds to the park. We didn't reserve tour in advance and got lucky there was one leaving a few minutes when we got there.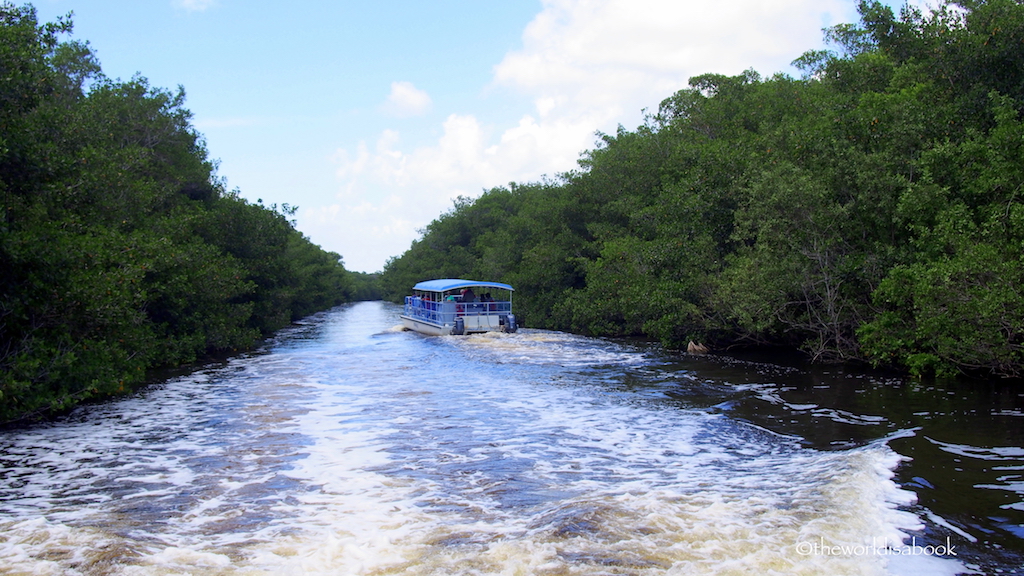 Both of the tours were almost two hours. Our Backcountry tour started on the man made canal from the Flamingo marina and the park's backwaters. Our captain also served as our naturalist guide on this fully narrated tour. We saw many mangroves during our drive so it was interesting to learn a bit more about them. Did you know there are white, black and red mangrove trees?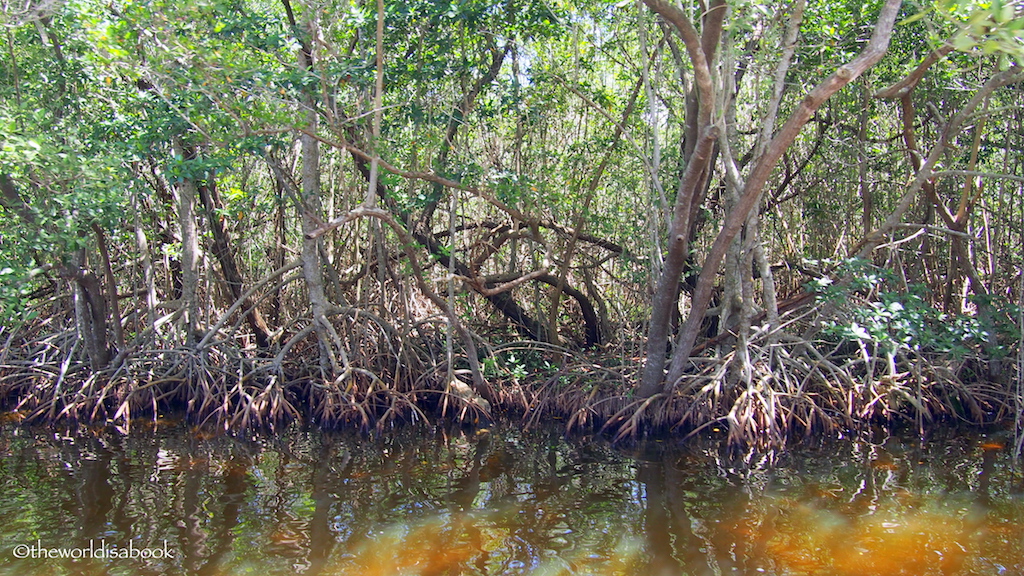 We also saw several air plants, mahogany trees and orchids. We learned all about the poisonous manchineel tree, known sometimes as the beach apple. It actually has fruits that when eaten can be toxic and its milky sap can cause blisters and burns. It's something to look out for when kayaking or canoeing here.
It was amazing how the guide/spotter saw a snake and a baby alligator amidst all those rocks and trees. They sometimes see manatees here but the lake area sees more action during winter when they're migrating.
This was a very relaxing and scenic cruise. It was a slow ride most of the time and only went fast once we reached an open area. But, being on the boat and shade was definitely cooler than hiking the trails.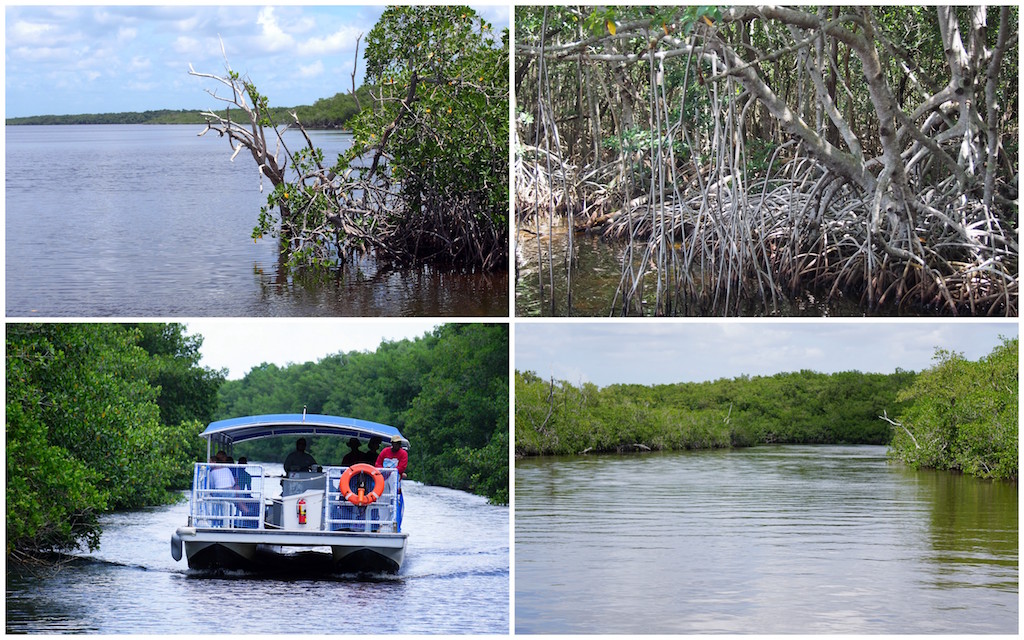 Though our wildlife sighting may have been sparse, our visit to Everglades National Park gave us a glimpse of what this vast park offers. We were happy we finally got to visit this park and see its unique features and landscape. The park is a great day trip from Miami and the upper Florida Keys. Don't miss it if you're visiting southern Florida.
Basics and Tips for Visiting Everglades National Park
Admission Price: $20 per car and is good for seven consecutive days. Free admission with the America the Beautiful pass.
Check the Everglades National Park website for any ranger-led programs.
Bring food and drinks. Stop by the "Robert Is Here" fruit stand for some key lime goodies before entering the park. You can't miss the sign! There were some vending machines at the visitors' centers and a small convenience store at Flamingo.
Bring mosquito repellant and plenty of sunscreen especially in the summer.
Boat tours can be reserved in advance. You can also show up and book it there if you're unsure of your itinerary. Tickets can be purchased at the general store (pink building). Prices (as of August 2016) Adults: $37.63 Children (ages 5-12) $19.35
Kayaks and canoes can also be rented at the Flamingo marina area.
Bring binoculars. We forgot ours and wished many times we had it to look at the birds.
Gas up before entering the park.
Look into other attractions at the park from the other two entrances if you have time.
The best time for wildlife spotting is probably early in the morning or around dusk. We were in the area during mid-day which was too hot. Our guide also mentioned that winter is a better time to explore and see more wildlife.
*Have you visited Everglades National Park?
Pin it for later!