A Horseback Riding Tour in Iceland
My kids have declared that Icelandic horses are the prettiest horses out there. It's almost hard to argue once you've seen these majestic animals in person. It was hard not to stop every few feet during our past two road trips in Iceland to admire the horses.
These beautiful horses were always hanging around and looked so welcoming. Our road trips were a little longer with all the stops but so worth it. We regretted not doing a horseback riding tour during our first visit. So, one of the first tours we booked this past summer was a horse riding tour. Learn more about the Icelandic horse and our horseback riding experience.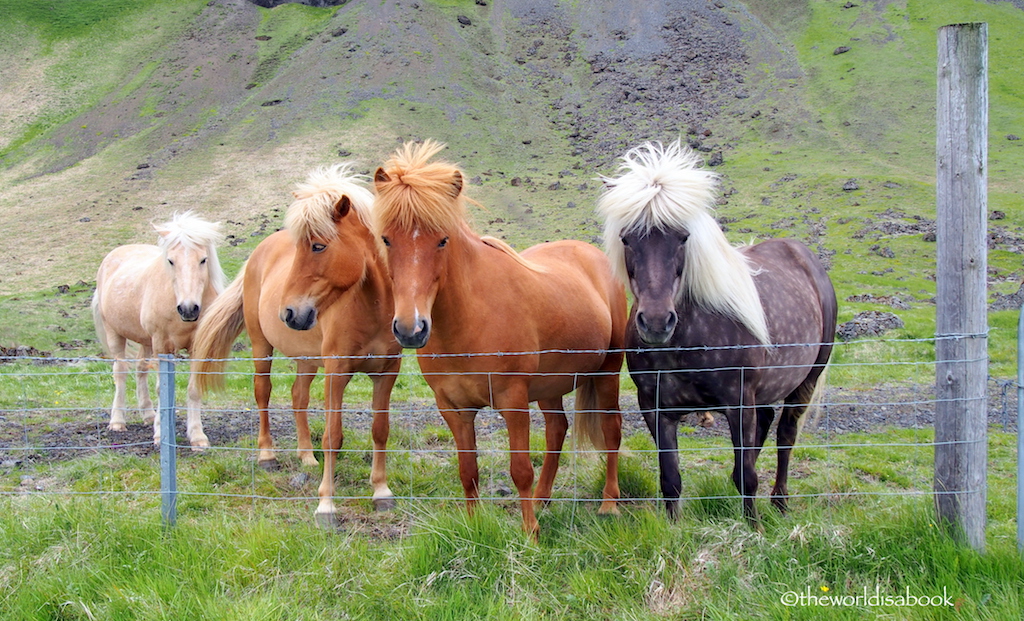 What makes the Icelandic horses unique?
These horses are smaller and stockier than the horses we're accustomed to seeing. Most horses average 52-56 inches (132-142 cm). This unique breed arrived in Iceland in the 10th century along with the first settlers from Norway.
Most of the other horse breeds walk, trot and gallop. The Icelandic horses also have two additional gaits (their pace) which are tölt and skeið, or "flying pace". The tölt is four-beat gait and said to be comfortable despite its speed. The flying pace is fast and used for races where speed can go up to 30 mph (50 km/h).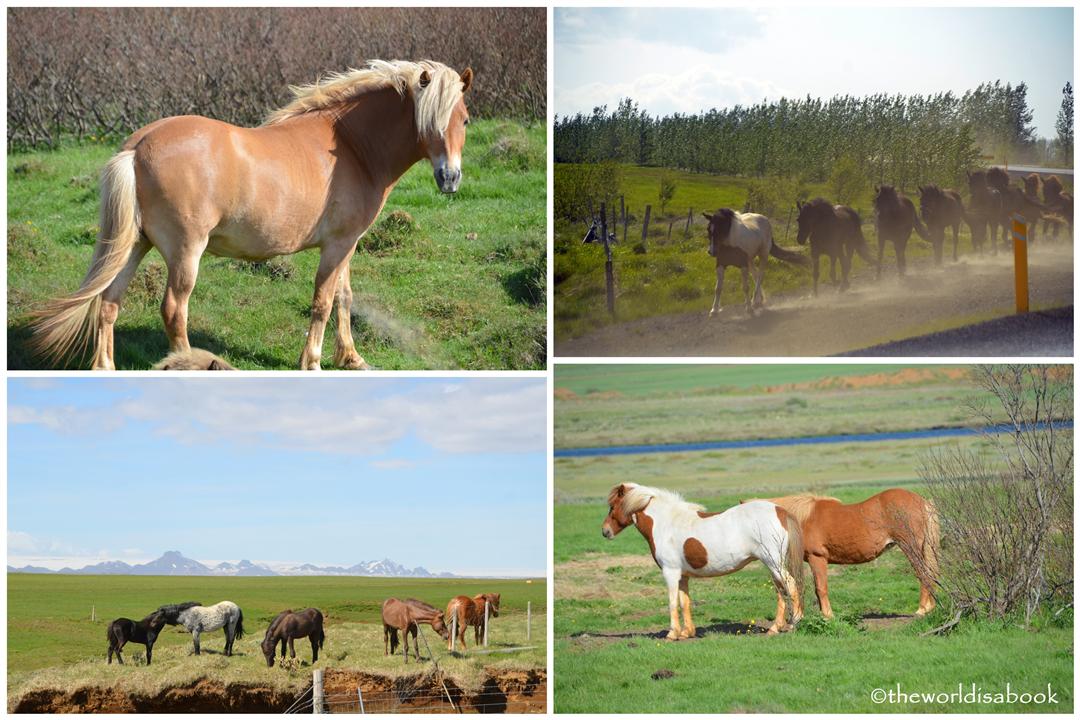 This particular breed has been well preserved due to its isolation from the rest of the world. There is a law that prevents horses from returning to Iceland once leaving and horses cannot be imported into the country.
We saw a variety of horses including some that my daughter swears could pass for unicorns. We especially loved the ones with think and long manes that almost looked like mullets. It was interesting to find out that the Icelandic language has over 100 names for all the different colors and color patterns on those horses.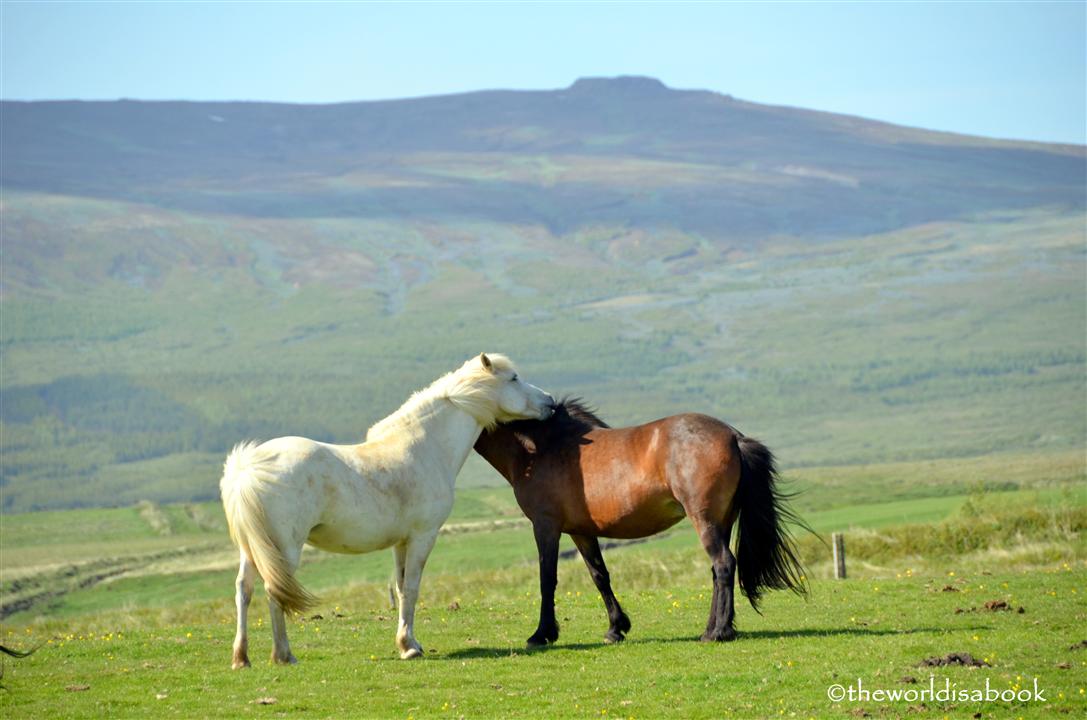 Our horseback riding tour
Our tour started at 8:00 AM at Ridingtours South Iceland during our last day. This was located near the Golden Circle route. We opted for the one-hour tour due to our schedule. But, they do offer two-hour tours, half days and even full day tours.
My kids have done the short pony rides before but this was the first time for my husband and me to ride horses. Somehow, horse riding never made the list after all these years of adventures. So, what better place to have such a memorable experience than in Iceland? And we heard the horses are much gentler and more patient here.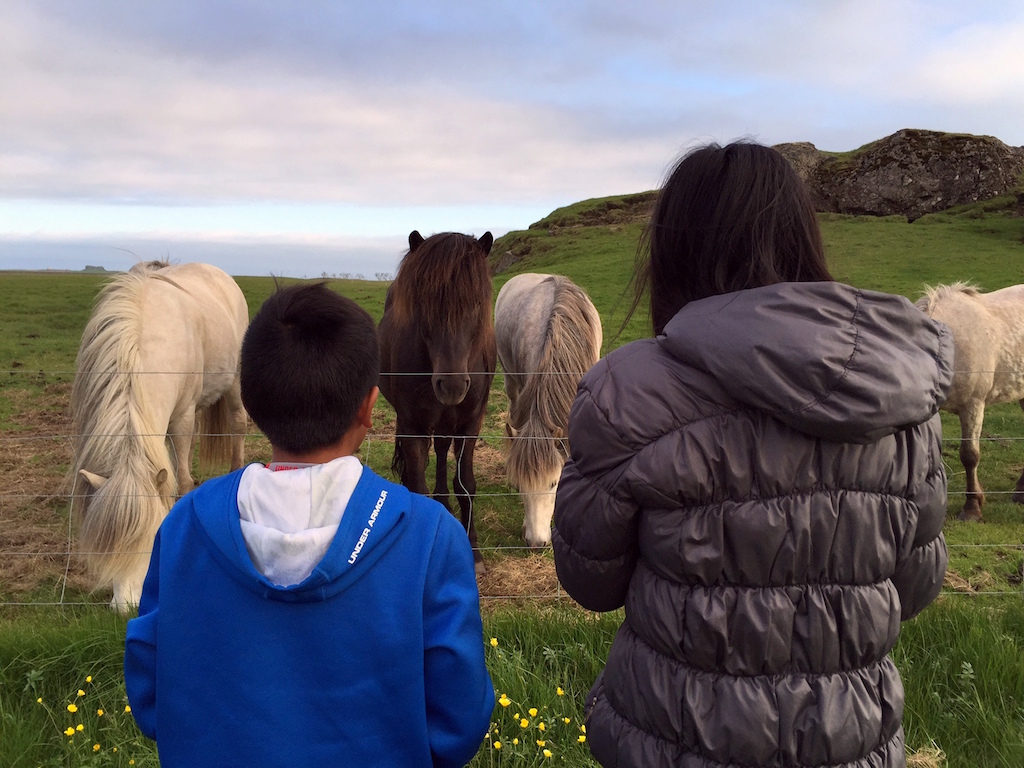 It was a scenic and tranquil ride along the roads flanked by ranches and open fields. We found plenty of these covered hay rolls. Some were very colorful including these pink ones we found on a nearby ranch. We learned that part of the proceeds benefit breast cancer research.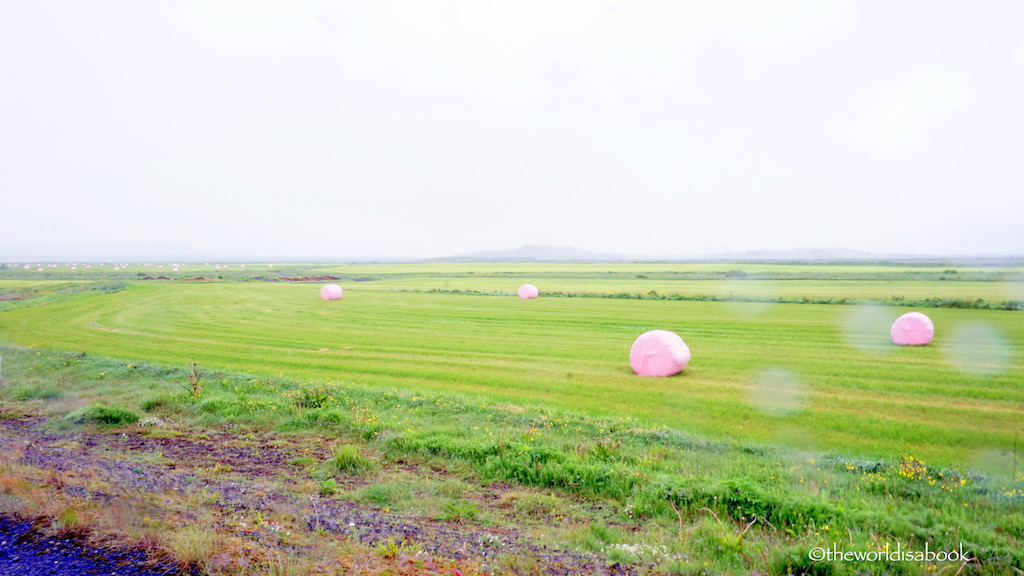 It was only my family on this tour along with our guides which was a big relief. This made it easier to learn without feeling like we were holding other people up. We waited as they led the horses we'd be riding on out of the stables.
There was a small room, by the stables, with couches, cocoa, coffee and even toys for kids where visitors could hang out. They had some jackets and ponchos to borrow and they provided us with helmets.
The horses were basically chosen according to size for us. My son was happy he got a white horse. By this time, I was nervous about trying on this new experience that I don't even remember my horse's name. I'm a control freak and it was very unsettling to know my fate rested on a horse I didn't fully know how to control.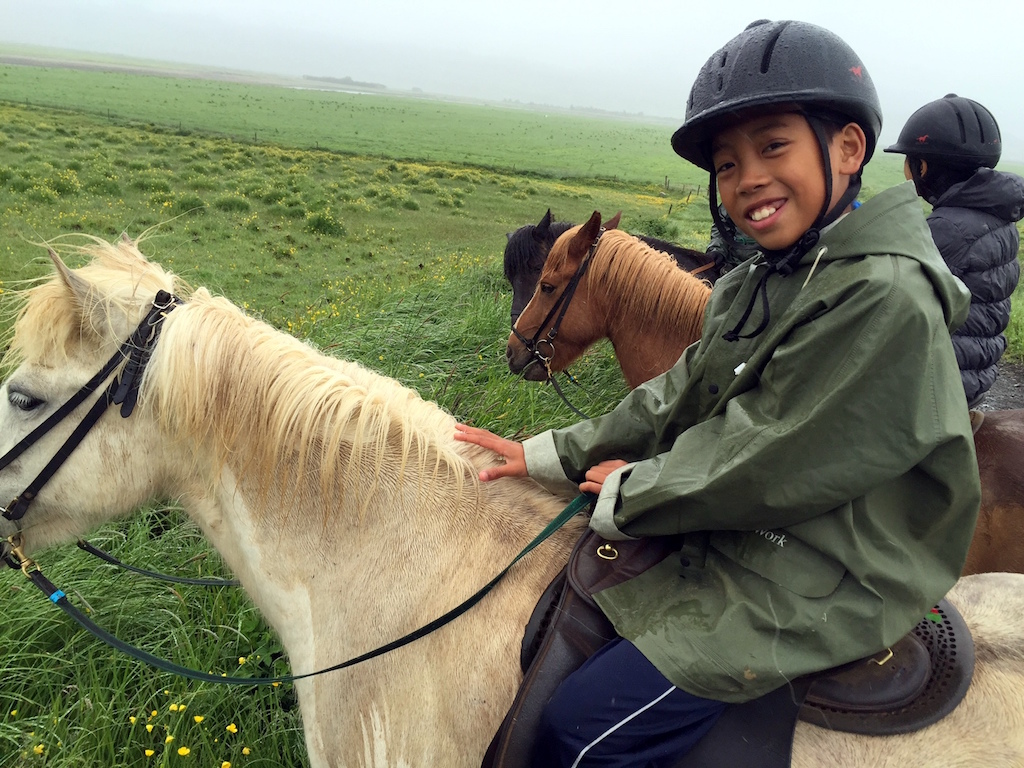 Thank goodness, Martina and Arna gave us a great orientation before we even moved. I was just relieved I didn't fall off when we first mounted the horse. It wasn't the most graceful mounts but we all managed to get on the horses and no one fell. Thankfully, the horses didn't move during mounting.
They told us how to mount properly and how to make the horses move, turn and stop. This was my biggest worry – making sure that horse stops. But, it wasn't as complicated as I had imagined.
I was worried I'd forget all of the instructions halfway on the trail but they kept a close eye on us and reminded us every so often. It was so appreciated. My 10-year-old son got the hang of it probably a lot faster than his nervous mom.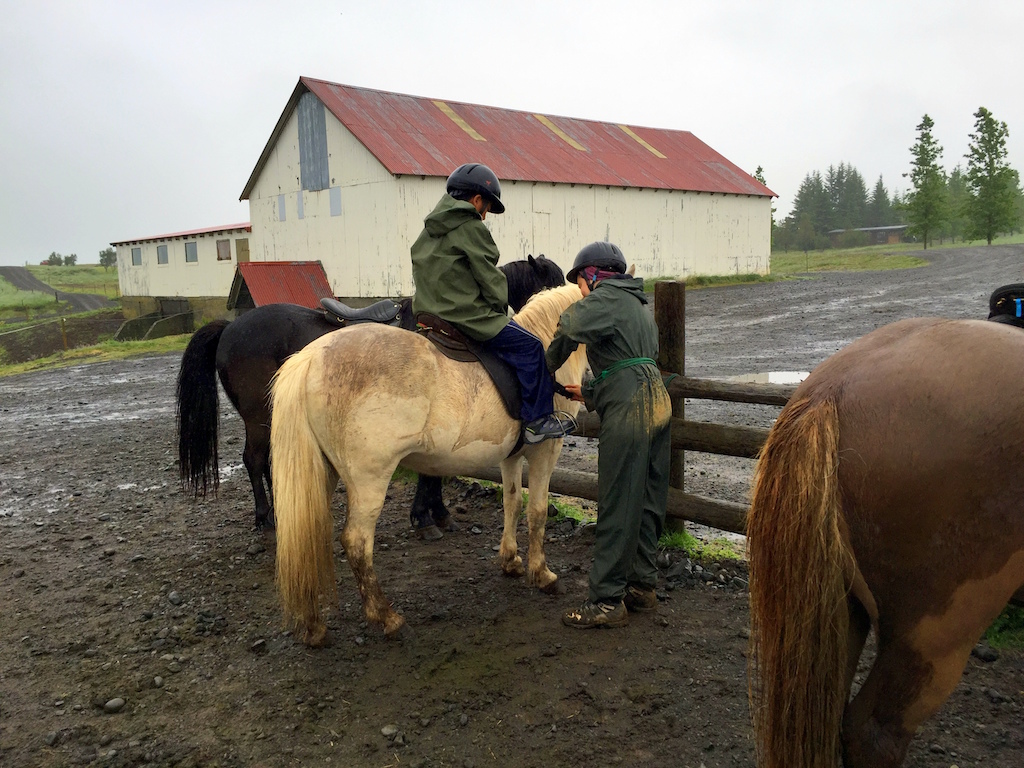 We slowly made our way out of the stable to a trail. It was quite a bumpy and bouncy ride at first. I was more worried about my less than 100 lbs kids getting bounced off the horses. But, we got used to it after awhile. There really wasn't much of anything to hold us in place or to hold on.
Unfortunately, it was raining during our riding tour. The pictures I had imagined of us on horseback with the green pastures and picturesque landscape didn't materialize. Our GoPro videos and many photos didn't turn out so well with all the water spots. But, we were here for the experience so it was all worth it and etched in our memories.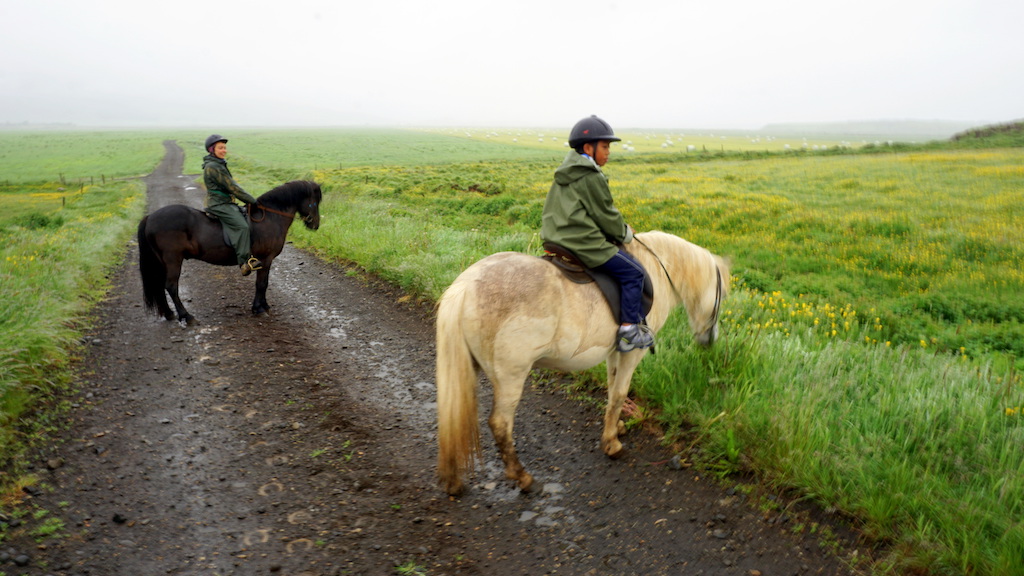 It became surprisingly comfortable, even with the bouncing, throughout the ride as we got used to it. Now, it made me wonder why we hadn't ridden horses in any of our trips or sought out ranches near home.
The horses would stop once in awhile to nibble on the grass and rub against each other. It gave us an opportunity to learn more about the horses and the farm that was quite large. We even got to see some of the foals towards the end of our tour.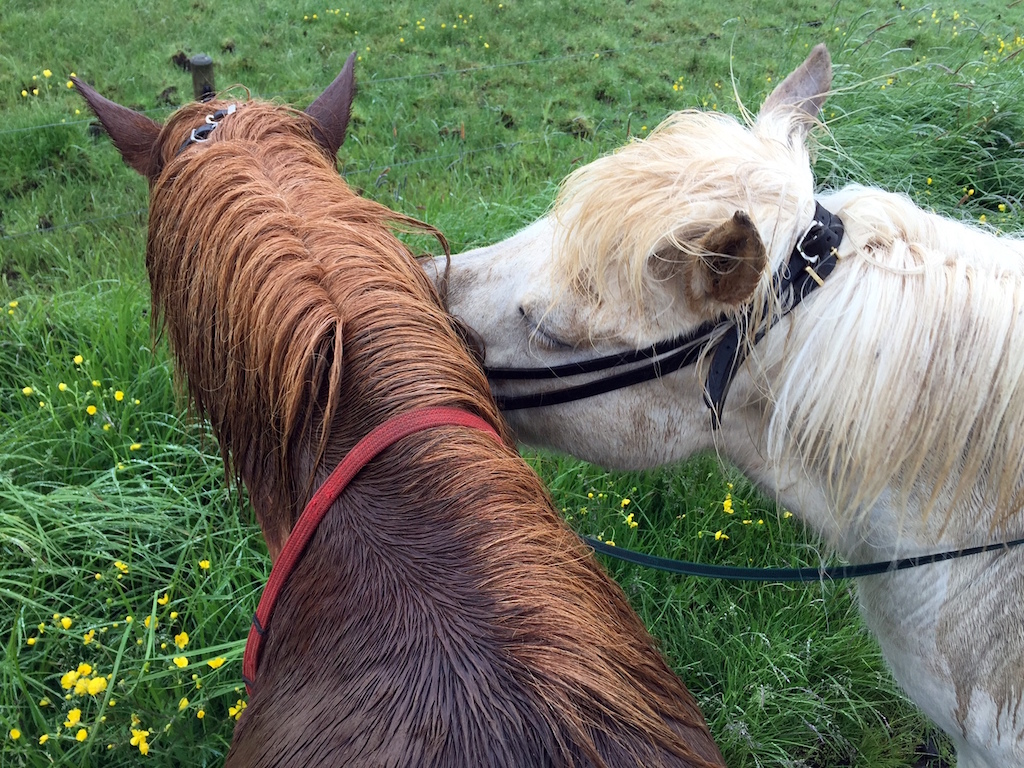 Halfway through the ride, Martina taught us how to tolt on a long stretch of road. The horses accelerated quickly but it was comfortable and not once did I feel like I was going to fall off. I heard my kids squeal with delight when they did this. They pretty much did a tolt every chance they got.
We later learned how to gallop which made my heart race a bit. It was exhilarating and probably would have been preferable when it wasn't raining. We got quite some mud splashes on us but the kids loved it.
They even complained that "Mom" wasn't going fast enough. Martina really set the pace well for us and made sure we were comfortable and were enjoying ourselves. The countryside, with some wildflowers, was beautiful despite some fog.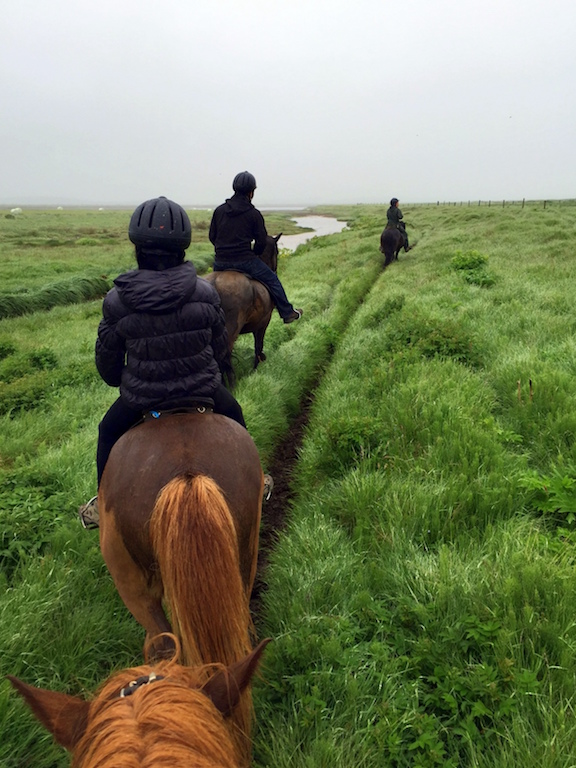 Despite the rain, this was one of our favorite experiences during our Scandinavia Summer 2016 trip. We would love to ride horses in the Icelandic landscape again and hoping for a much nicer weather next time.
Overall, it was a wonderful first experience and no one fell off. Horse riding gave us an opportunity to get up close to these remarkable animals and see part of the farms and landscape of South Iceland. We highly recommend doing a horse riding tour when you visit Iceland.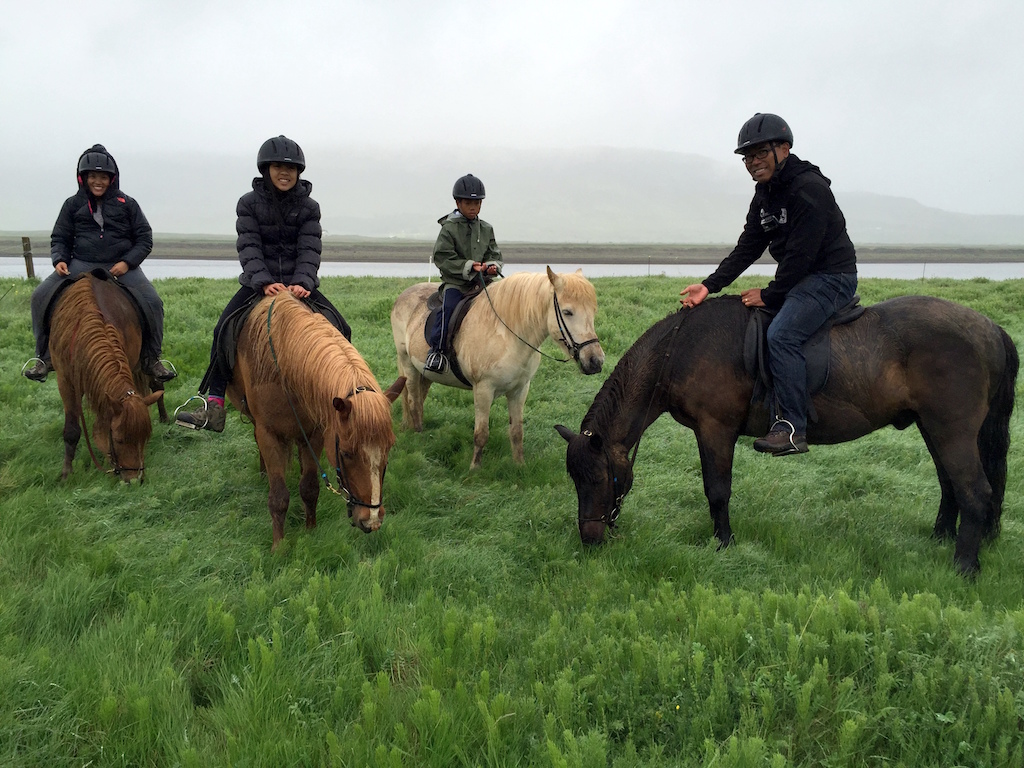 Iceland Horseback Riding Tour Basics and Tips
Book tours in advance to get your designated time and date. We booked our horse riding tour directly with

Guide to Iceland.

We were supposed to do this tour during our first day. But, we missed it due to that that whole WOW Air fiasco and delay. Guide to Iceland made it so easy to reschedule this tour.
Go bathing afterwards. We didn't really plan it but due to some circumstances, it ended up that our geothermal bath was right after our horse riding tour. It was the best timing. We were dirty and wet. So, I highly recommend visiting a spa or bath house after the horse riding tour. Laugarvatn Fontana Geothermal Bath was only 36 minutes away.
Wear comfortable clothes. We wore travel pants and my husband wore jeans. He regretted not wearing something more comfortable. Since weather can be unpredictable, be prepared and have a waterproof jacket.
Bring a change of clothes. We were a bit smelly afterwards. They loan rain clothes.
You may be sore. I must have had a lot of tension holding on to the reins because my shoulders were sore afterwards. Our backsides were a bit sore from all the bouncing with the exception of my son who had no pains at all.
Minimum age for children is 6 years old.
*Have you seen the Icelandic horses or gone horseback riding in Iceland?
Where to Stay
Hotel Berg in Keflavik

 – This was the first hotel we stayed during our first visit and loved it. It's close to the airport (2 miles), by the marina and offers free Wi-fi and airport transfer. It's a small family-owned hotel. We had a split-level suite which fit our family comfortably.
Hilton Reykjavik Nordica 

– 

This hotel is located in the city and within walking distance of the center but shuttle buses are also provided. If you want the comforts of a modern hotel, this has it with buffet breakfast and Executive Lounge for Hilton Honors Gold and Diamond members. A couple of friends have stayed here and recommend it.

Hlemmur Apartments  

– We loved this spacious, two bedroom apartment located within walking distance to Reykjavik's city center. It looked like an IKEA showroom, It was clean, well-equipped and furnished well with all the amenities we needed for our stay. It had free WI-fi and the owners were friendly. 
Save up to 50% on Iceland hotels on Booking.com 

(the #1 Accommodation site)

Find the best Iceland hotels and read reviews on TripAdvisor.
Car Rntals
Flights/Vacation Packages
Pin it for later!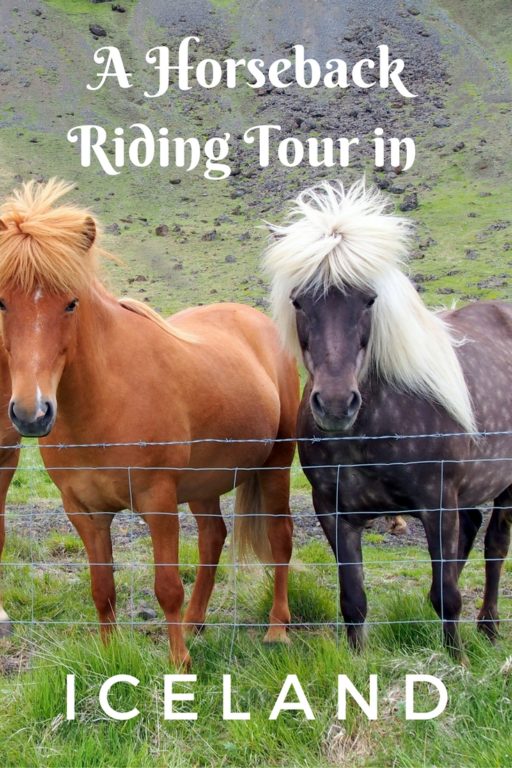 Disclosure: I received a complimentary 1-hour Horseback Riding Tour and my family received a discounted rate from Guide to Iceland but all opinions and photos are my own. Guide to Iceland is the largest online marketplace of car rentals and tours in Iceland. Check out all their many tours and they have so much information about Iceland.