Fun at Linnanmäki Amusement Park Helsinki
Amusement parks may not be at the top of many people's list when visiting Scandinavian countries rich in culture and scenery. But, when my 13-year-old daughter was helping me research of where to go in Helsinki, Finland last June she specifically highlighted Linnanmäki as the #1 place we shouldn't miss. Theme parks can still offer a bit of local culture, right? See what this charming and colorful theme park has to offer families.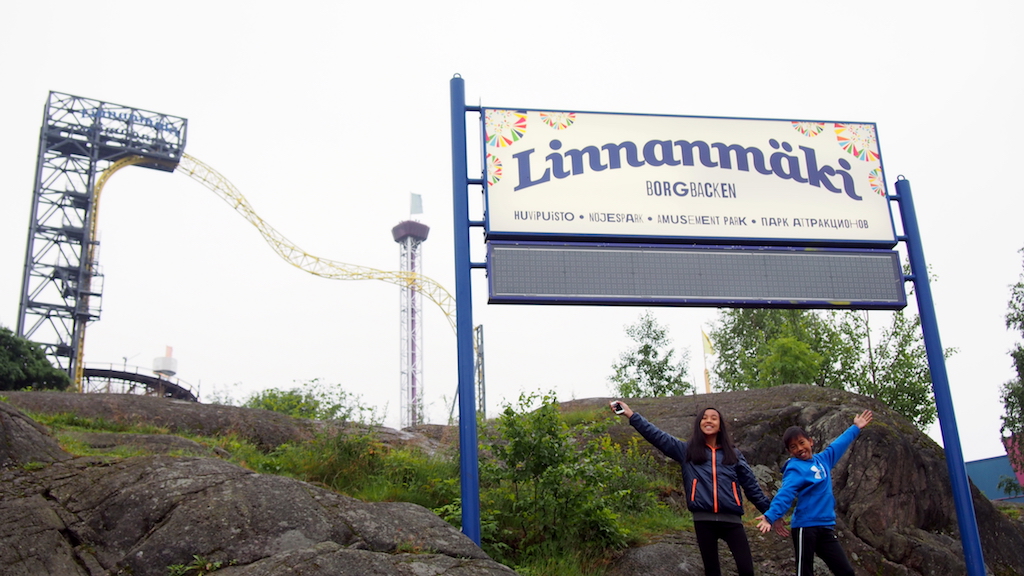 This amusement park has been around since 1950 and is Finland's oldest and most popular park. It is owned by a non-profit group called Children's Day Foundation who raise funds to support the Finnish child welfare work. I loved that while we were having fun, we were also supporting a great cause.
We visited on a Monday afternoon in late June. It was cloudy with a bit of drizzle. The whole park was almost empty. It was almost eerie. I guess the Finns have better things to do on a summer evening or the light rain is a deterrent. Living near the Southern California theme parks, my kids were beyond excited and in disbelief to NOT line up for any rides.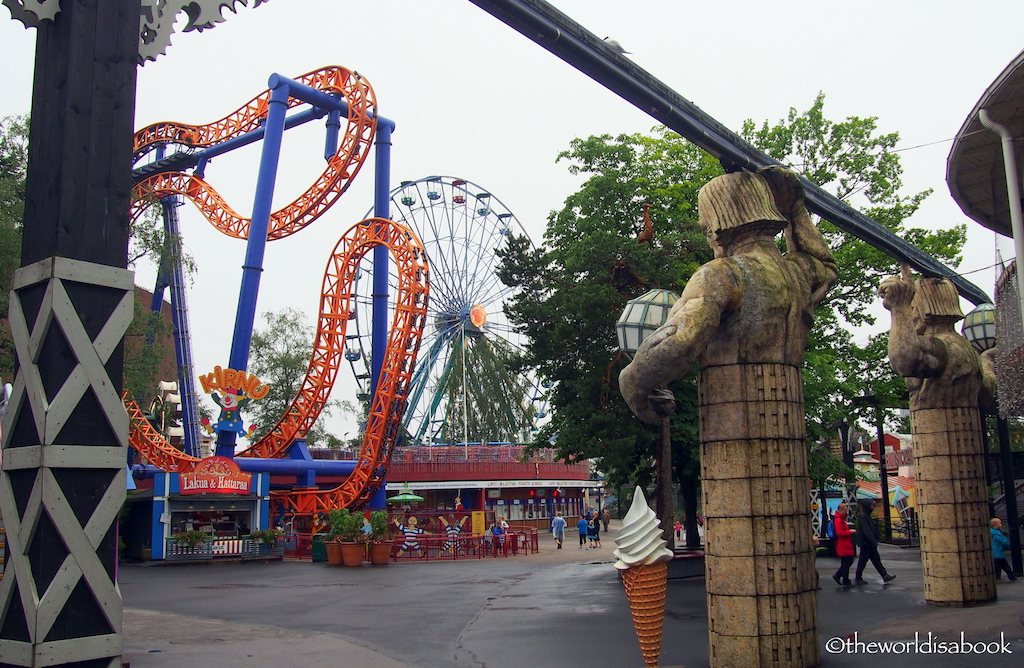 Entrance is free to the park so families can actually just go in, stroll and enjoy the atmosphere. Tickets for each ride can be purchased separately or buy a wristband for 39 euros for unlimited rides which is still a great deal.
There were actually 10 free rides in the park. Though, most are for ages 7 and under and have to be under 4.6 ft (140 cm) height restriction. Some young riders must be accompanied by someone who is at least 15 years old. These rides included a carousel, train ride and mini ferris wheel. There was also a free Panorama sightseeing tower soaring to a 174 ft (53 m) to see Helsinki's landscape. It's unheard of in America to offer free admission and what more free rides in amusement parks.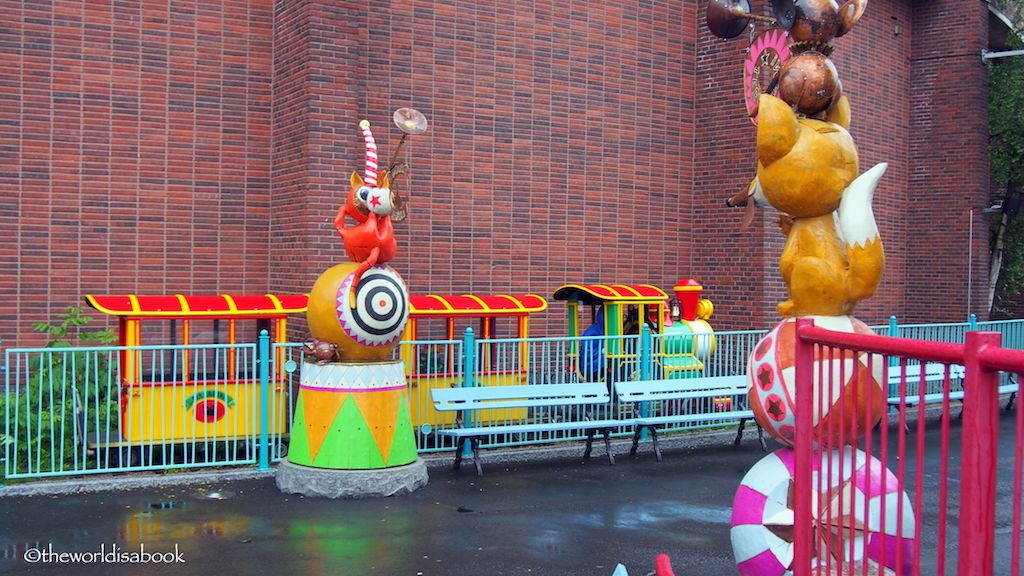 The Rides
There are over 40 rides in the park for various ages and heights and with different intensities and thrill levels. Many of the rides are near each other which makes it easy for everyone. This is my kids' top 5 recommendations.
The wooden rollercoaster is the most popular ride and has been in operation since 1951. It's hard to find these types of rollercoasters anymore. There was even a man controlling the brakes standing behind the ride. My kids rode this twice.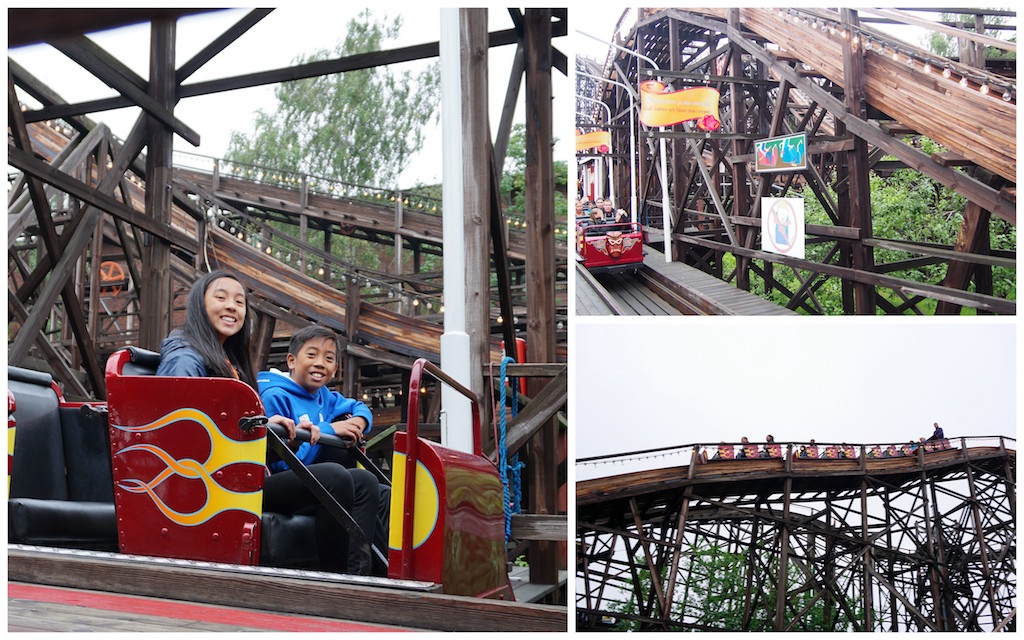 Kingi Free Fall Tower – This tower is almost visible from many areas of the park. This is Linnanmäki's highest ride at 246 ft (75 m) tall and its name actually means King of the Hill. We watched the kids slowly go up to the top of the tower and then quickly dropped. My heart skipped a beat watching that sudden drop. It's a quick ride but they said worth it for the thrills.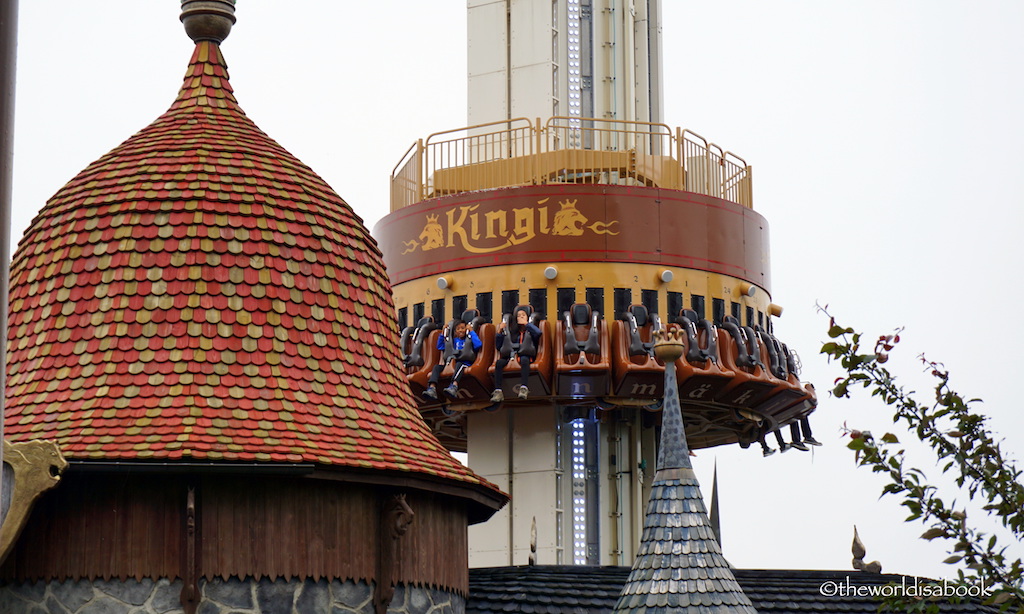 Kieppi – The word Kieppi means coil which spins visitors in every direction. I watched as my kids were spun around yet hearing them squeal with joy. There was also loud rock n roll music blaring. It get dizzying if you stand there long enough and watch this ride.
Salama rollercoaster has cars that seat four passengers with a small steering wheel. The 1,388 ft (420 m) long rollercoaster has sharp turns and steep drops but the cars also rotate horizontally. The kids said they liked this because it was unique.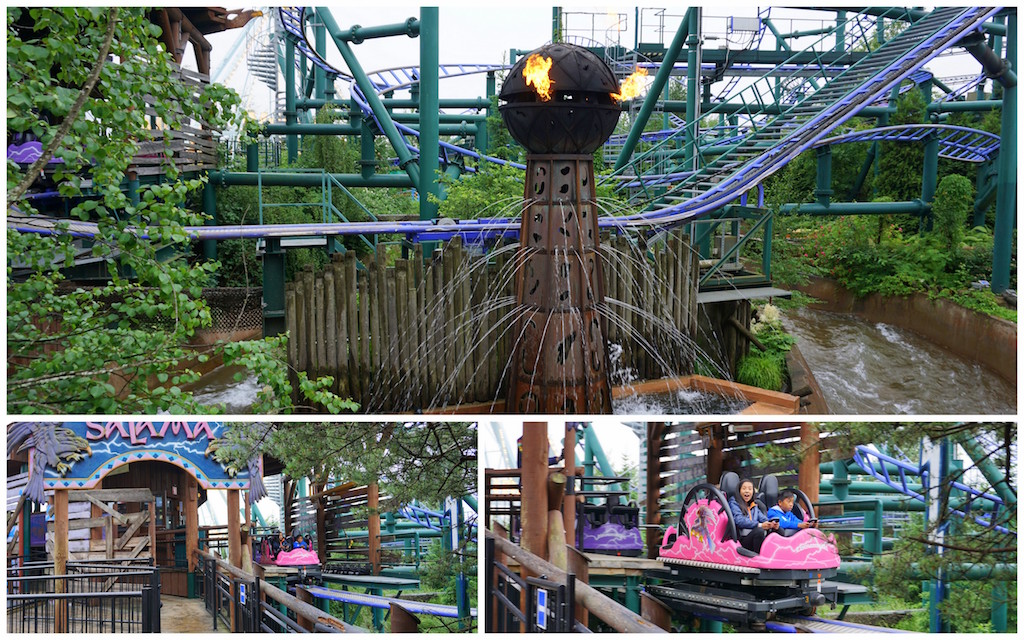 Linnunrata Extra – This was a combination of virtual reality and roller coaster. It was an indoor rollercoaster inside what was once a water tower. It's a great way to repurpose a building and a great way to pass the rain. Samsung Gear VR glasses/headset are provided for an even better experience in the virtual reality world. Guests also have an option not to wear the headgear.
Both of them also highly recommend the Fun house or Vekkula. They went inside this house at least three times. It's every kids' happy place filled with special effects, slides, stairs, bridges and tunnels among other things.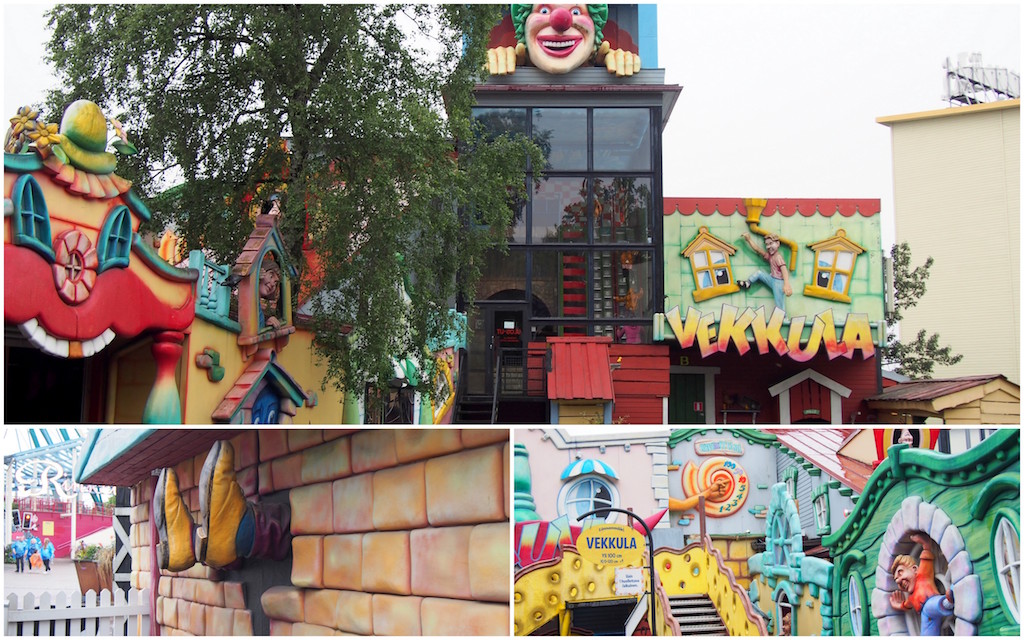 My husband and I didn't ride anything and were content watching the kids enjoying the rides and attractions. It was the most relaxing amusement park visit we ever had. This was also a wonderful place to walk around the park attractions. As we've gotten older, riding rollercoasters isn't as fun as it used to be. The backache or whiplash that follows aren't fun either. There were some small gardens scattered around and even this waterfall.
Disney parks may have their popular tea cups rides but Linnanmäki's Kahvikuppikaruselli put a twist on it and made it into a coffee cup carousel. It rotated pretty fast but how charming do these cups look?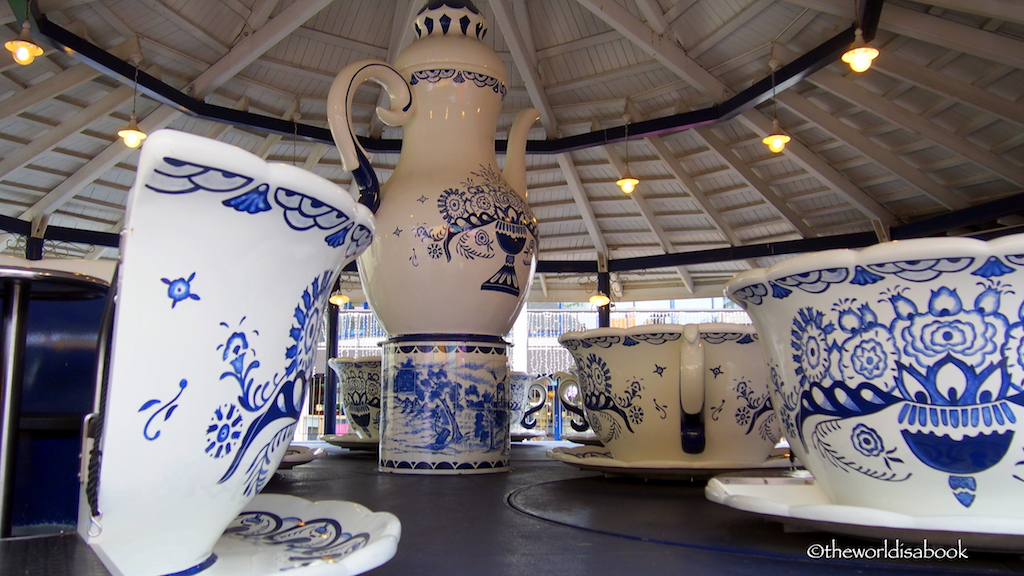 I'm a fan of old fashion carousels. Linnanmäki didn't disappoint with their colorful carousel . This is actually a German carousel and is the park's oldest ride and has been here since 1954. It was longingly waiting for passengers. I was a bit sad my kids decided to skip it for the more thrilling rides.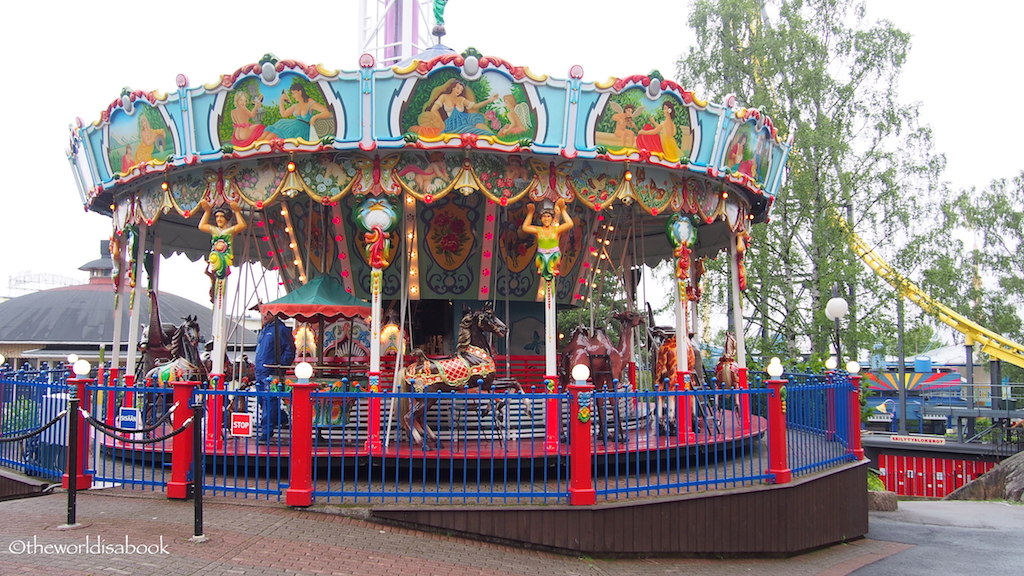 Games
Like many theme parks these days, there are various carnival game booths to win prizes. Though, this park actually has 'Win Every Time' games. This means visitors will always get a prize, whether small or large, just for paying and playing. No skills involved in pulling strings or a fishing game. Most of the booths were located by the entrance.
SeaLife Aquarium
For just a few extra euros and some indoor fun, Sea Life Helsinki is located within Linnanmäki. But, it is a separate admission price and discounts are available if your bough the wristband. There was someone walking around offering discounts to SeaLife. This looked like a small aquarium and we didn't go in since we have one near us inside Legoland. But, it is a great supplement to the theme park where kids can observe various fish, sharks, sea turtles and other marine animals. They also have a discovery pool where visitors can watch and feel the animals and observe feeding times. Sea Life is open all year.
Food
It was surprising to find a few American style foods here in addition to pasta, pizza and Mexican and a buffet. There's even a Ben & Jerry's Ice cream kiosk. We actually ended up eating at LintsiBurger and had chicken nuggets for snacks. Most of the restaurants were closed or were sit down but there was also a buffet restaurant. A majority of the restaurants were near the Peacock Theater.
We actually liked the Street Food kiosk across from the Tulireki rollercoaster. The ribs and pulled pork were delicious. There's a lot more variety in this kiosk compared to the typical burgers and hotdogs found in most other eateries around the park.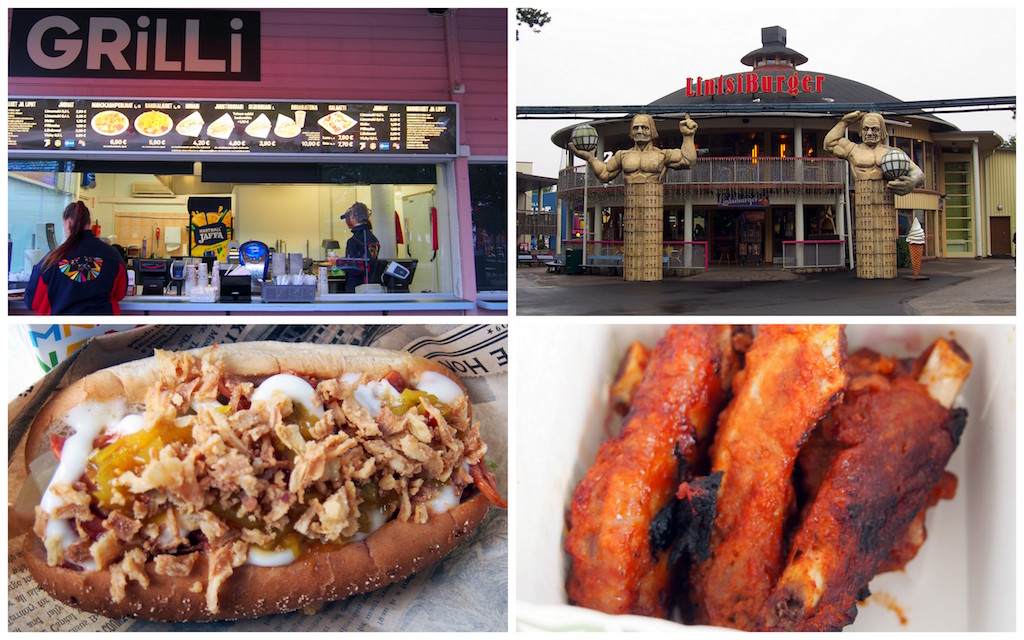 Cotton Candy School
Looking through this pink and white window, you know good sweet things come out of here. This is Finland's first cotton candy school. I don't think I've ever seen one anywhere else. It's always fascInating to watch people spin sugar into a large cotton candy and this school will teach you how. Classes start hourly and cost 7 Euros ($7.85 USD) per person. My kids decided to skip this for more candy goodies instead at the adjacent Shop Caramelli.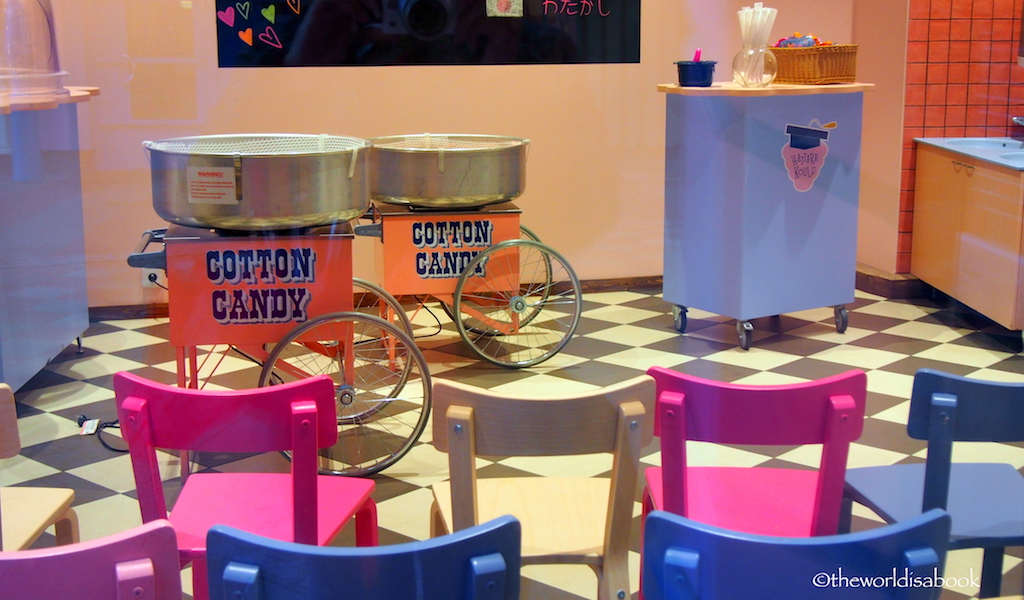 We loved the traditional and charming atmosphere of this park. The rides and attractions were so varied that toddlers, teens and even parents can have fun here. This is a modest size compared to many we have in the USA. We spent about four hours here and my kids did most of the rides since there were no queues. They have declared this one of their favorite amusement parks. If you are visiting Helsinki with kids, put Linnanmäki on your list of places to visit for a day or for a few hours. I guarantee your kids will have fun even with a little rain.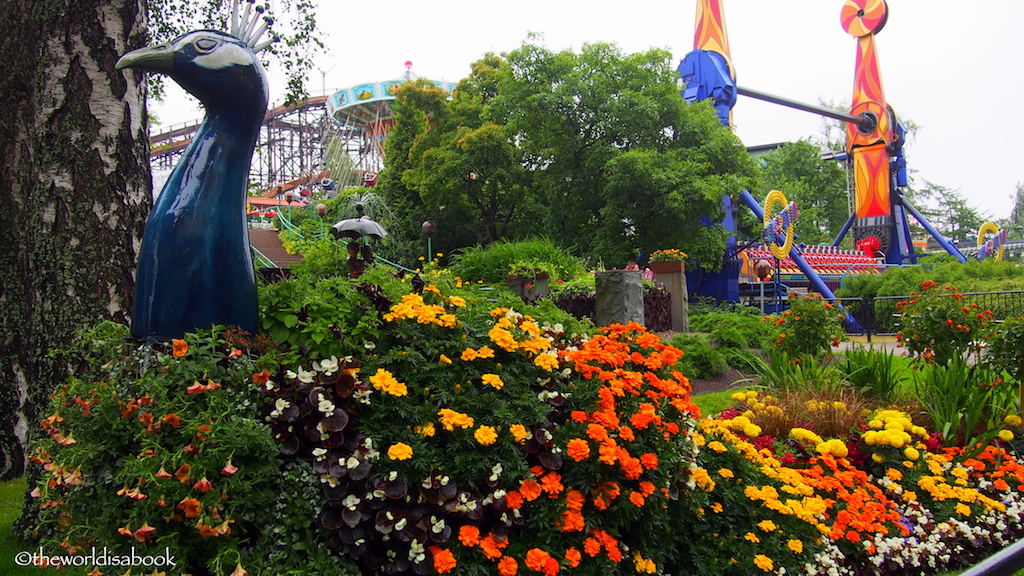 Basics and Tips for Visiting Linnanmäki
Prices (as of Sept 2016): The unlimited ride wristband for a day prices vary between 37-39 euros ($41.47 – 43.72 USD) depending on season. There is also a multi-ticket for 6 rides. Individual ride ticket is 8 Euros ($8.97 USD)
Discounted wristbands are sold for the day's last three opening hours. Game coupon booklets for six booths are also sold for 10 euros ($11.21 USD).
Opening hours vary depending on season. Check their website when you decide to visit.
Like many theme park tips, I would recommend visiting during the weekdays or even when they first open. It doesn't look like long queues are a big problem during most days from many reviews I've read.
Bring your own snacks or sandwiches to save some money. Food was expensive and in line with theme park prices.
Attraction Buddies. I love this concept. Attractions buddies are available from June to August to go with children whose parents or guardians "cannot or does not want to go on rides themselves." So, if your little ones really want to go on that fast and steep roller coaster and you can't handle it, attraction buddies come to the rescue. There are between 2-5 buddies available daily and cannot be booked ahead. Parents and guardians must be nearby.
How to get here: The park is located in the Alppiharju district. Take the tram number 3 or the bus number 23 from downtown Helsinki. The stop is called Alppila / Alphyddan.
Linnanmäki hosts special events all the time especially on weekends. Check their website for details.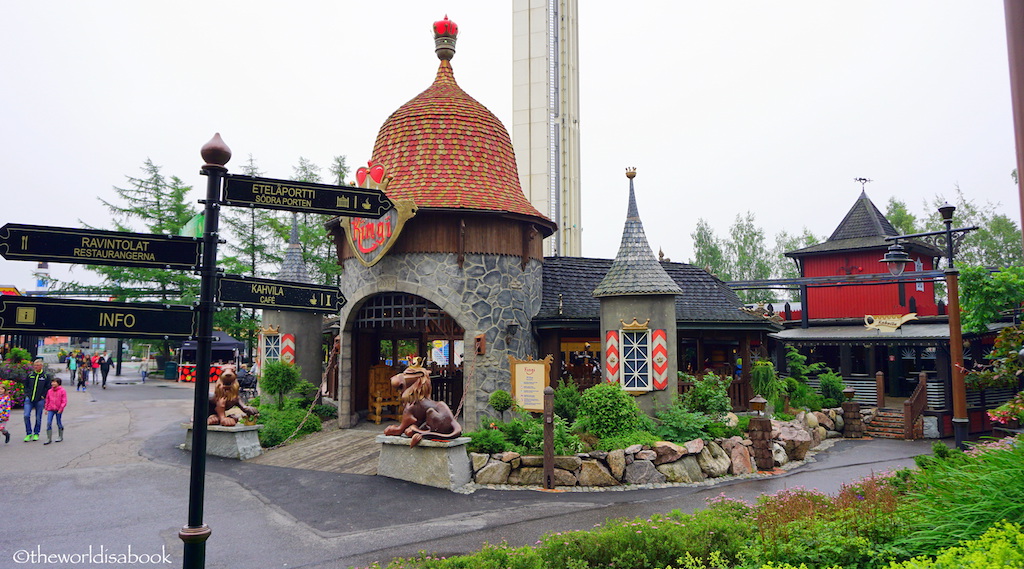 *Have you visited Linnenmaki? What's your favorite theme park?
Pin it for later!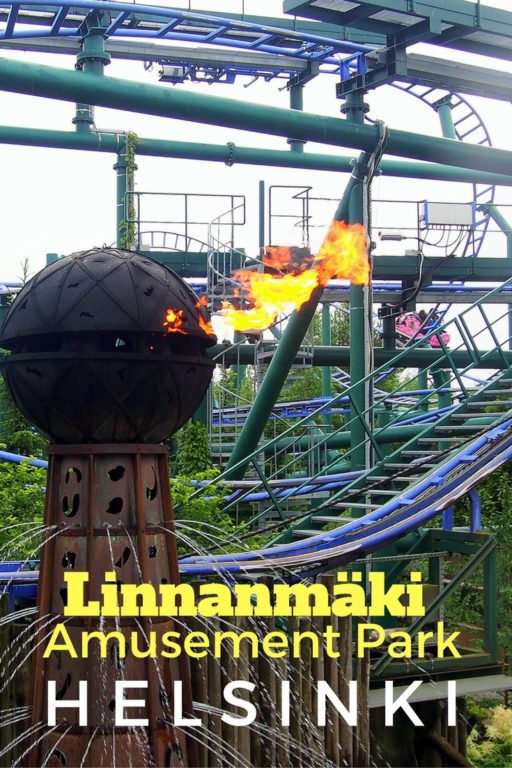 Check out these related posts: