5 Free Things to do in Florence, Italy with Kids
Florence, Italy exudes charm, history and amazing architecture. It was the center of the Italian Renaissance with many masterpieces still intact to admire. Like many major cities in Europe, it takes a bit of money and budgeting to get that dream Italian vacation. We were only in Florence for a short time but managed to see a lot of the city and enjoyed some free attractions. We fell in love with this Renaissance city and can't wait to return. Here are some recommendations on what to see and do in Florence for free with or without kids.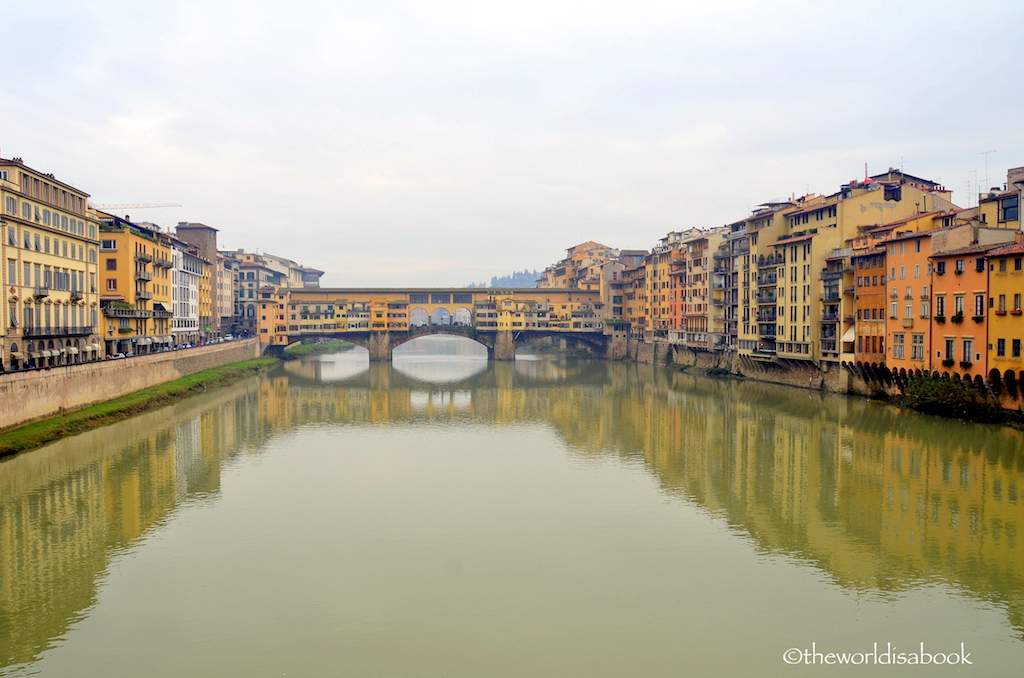 1. Enjoy Outdoor Art
While visiting the real David sculpture by Michelangelo at the Accademia isn't free and comes with long queues, seeing a marble replica for free at Piazza della Signoria (Florence's most famous square) may be the next best thing. Don't miss Neptune and the fountain on the square too. There is also a plaza under the Loggia dei Lanzi here which was a treat to explore and was sort of an outdoor sculpture museum . Some are replicas of famous sculptures but still a joy to see and learn about. These replicas are amazing works of art.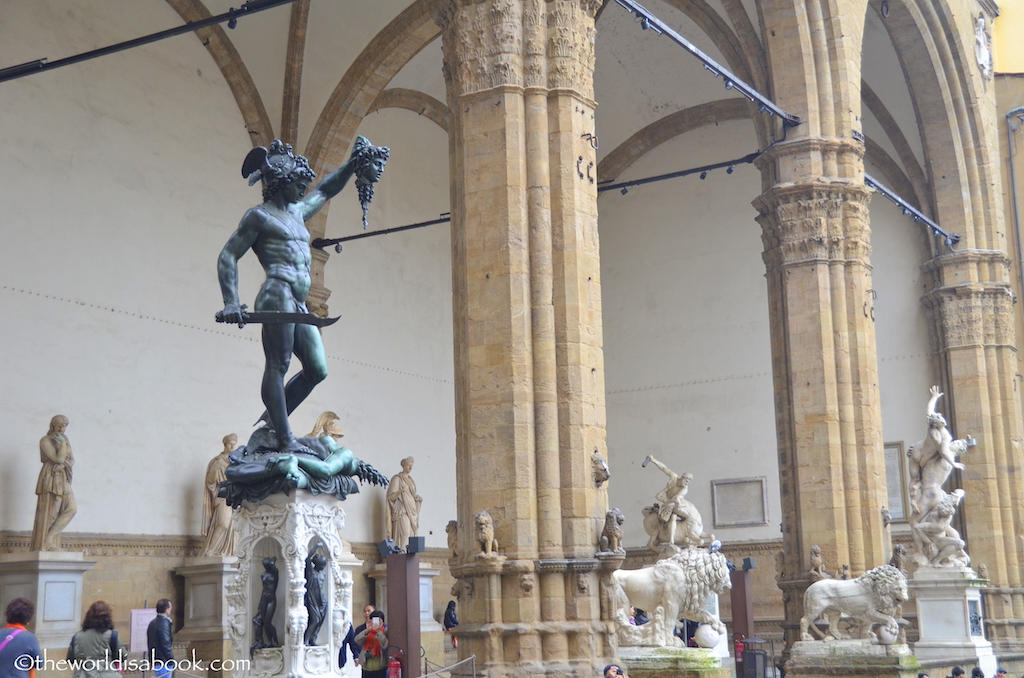 You can also look for the other David replicas around the city. There's a bronze replica at the Piazzale Michelangelo parking lot and a plaster cast at Gipsoteca di Porta Romana Art School. Keep your eyes open while walking through Florence and you'll definitely see art everywhere from sculptures to ornate facades.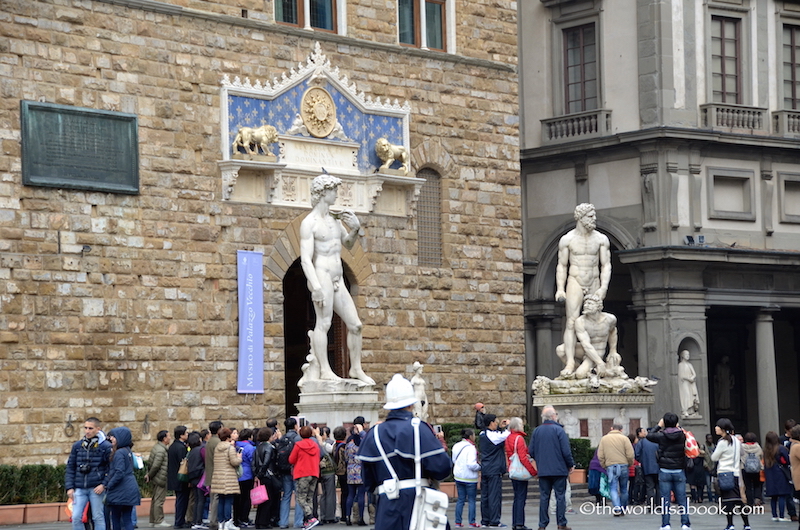 2. Visit Churches
Florence has a lot of beautiful churches and some are free to enter to admire the magnificent architecture, art and learn a bit about its history. The most popular church and landmark and one that's hard to miss is the Cathedrale de Santa Maria del Fiore or the Duomo. It offers free admission. The exterior details of pink, green and white marble is astonishing. Don't miss the details on its doors or the 11th century Baptistery inside. Fees apply to climb the dome and campanile.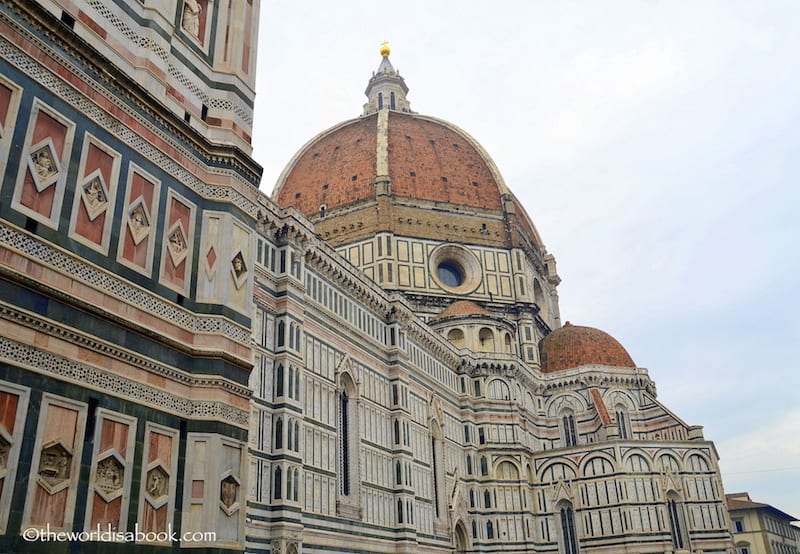 My kids have learned to appreciate visiting European churches and its art and architecture thanks to many years of being dragged inside. Colorful frescoes can ignite kids' imaginations and interests. I love opening the doors to churches when walking around. You never know what treasures await behind them. Some of the other churches with free entrance are the Orsanmichele with an attached museum and several sculptures, Church of Santa Trinita for its many artworks, San Miniato Church with impressive views of Florence and the Baroque church of San Michele degli Antinori.
3. Explore Markets
The vibrant outdoor markets in Florence are worth some time to explore whether you're searching for special items to take home or just wandering around. They're filled with souvenirs, fresh fruits and vegetables, clothing, crafts and culinary treats. We love visiting overseas markets for a fantastic cultural experience. They're totally free to explore and window shopping can be fun.
San Lorenzo Central Market or Mercato Centrale is a popular one. You never really know what interesting things you'll find here. They have many local Tuscan products that made me wish I had a bigger luggage and stomach. The ground floor indoor market mainly sells produce, cheese and meat. It is open everyday except Sundays and Mondays.
Don't miss the second story for some amazing restaurants and food stalls and even a cooking school. The upper floor is open everyday late into the night and has cafeteria style tables in the middle. We ate here three times due to the variety of food choices. The outdoor area is the prime spot to shop for clothing, leather goods and souvenirs. Bargaining is expected.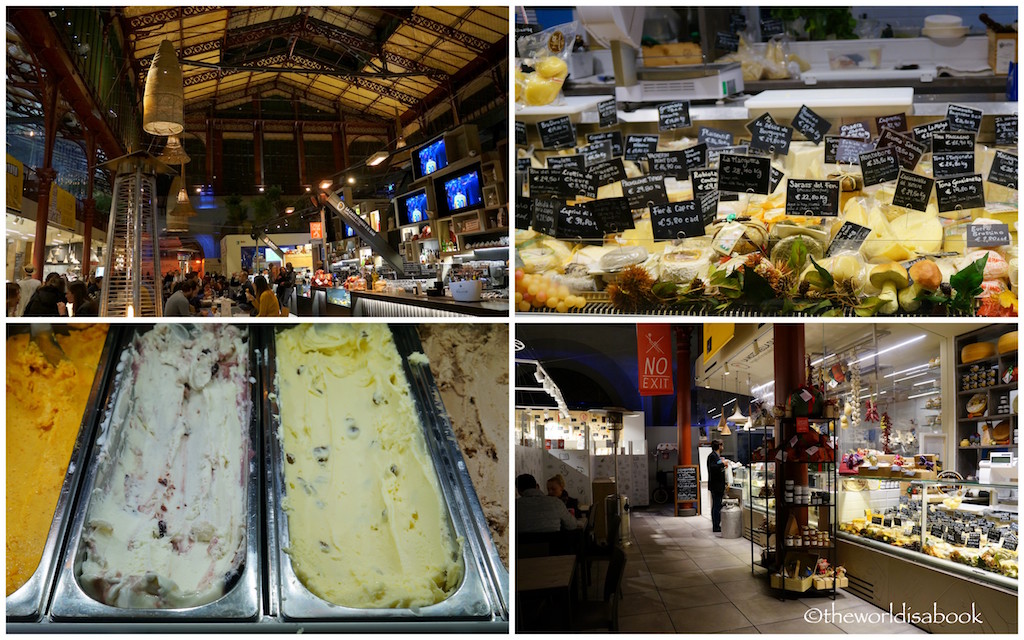 Other notable markets to explore are:
Mercato Delle Cascine is located in Florence's largest park, Parco delle Cascine. It's a great place to let kids run around the park afterwards. The market is open every Tuesday from 7-14.
Sant'Ambrogio also offers an indoor and outdoor section similar to San Lorenzo (but smaller) with fresh produce, meats, cheese, leather goods, household items and clothes.
Porcellino Market or Mercato Nuovo is much more famous for the wild boar statue (rub the snout for good luck) than its many leather goods. This is open Tuesday to Sunday.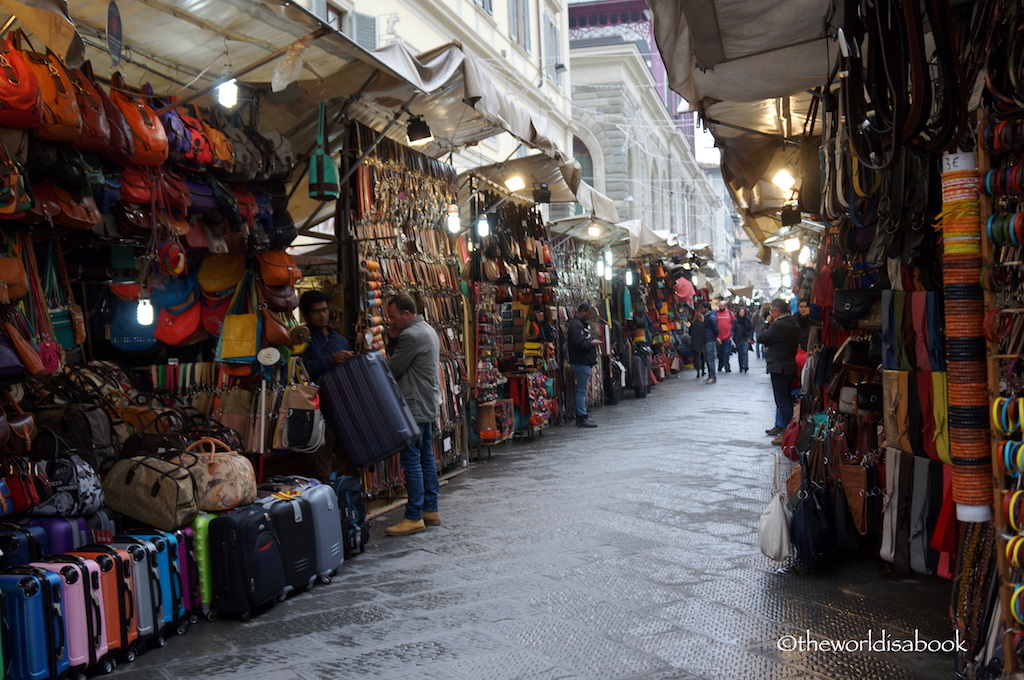 4. Visit the Florence Leather School
Leather markets and goods are fairly common around Florence. Leather-making is huge business here and has been for centuries. We loved our visit to Scuola del Cuoio or Leather School behind the Santa Croce church (where Galileo and Michelangelo are buried). The intoxicating smell of leather was heavenly as we walked through here.
This school has been in operation since World War II as a way to teach orphans a trade to make them self-sufficient. We enjoyed watching the master artisans make high-quality purses, belts, wallets. This is a famous school that trains students all over the world to create high-quality and unique products. It was incredible to watch the skilled craftsmen in action at their various workstations. I can't guarantee, you'll leave the school empty handed though. It was a wonderful educational experience for the whole family and yes, even my kids enjoyed it.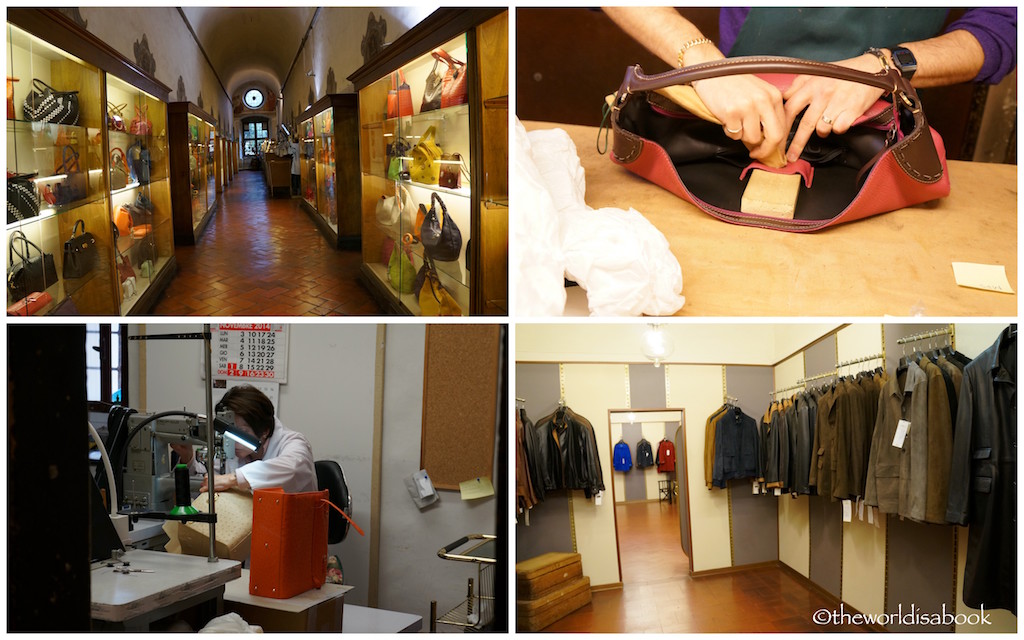 5. Go on a walking tour
Walking through the historic center and discovering its charm, architecture, art and history is quite possibly Florence's best freebie. The city is best explored by walking and luckily, they have several pedestrianized streets. It almost felt like touring a big outdoor museum. There are plenty of do-it-yourself guides floating around which you can easily download depending on your interest. We did a mini DIY version of this walking tour following the route that covered the Duomo, Piazza della Signoria, Ponte Veccho but ended in Santa Croce Church. Here are a few self-guided tours.
If you're more into the guided tours, Florencefreetour offers free local and professional guides who work on tips basis only. While not completely free, it's a small price to pay to see Florence with a local and gain some wonderful insights. There are two daily tours that start at Santa Maria Novella Central Railway station. The tours include the Renaissance or Medici Family tour.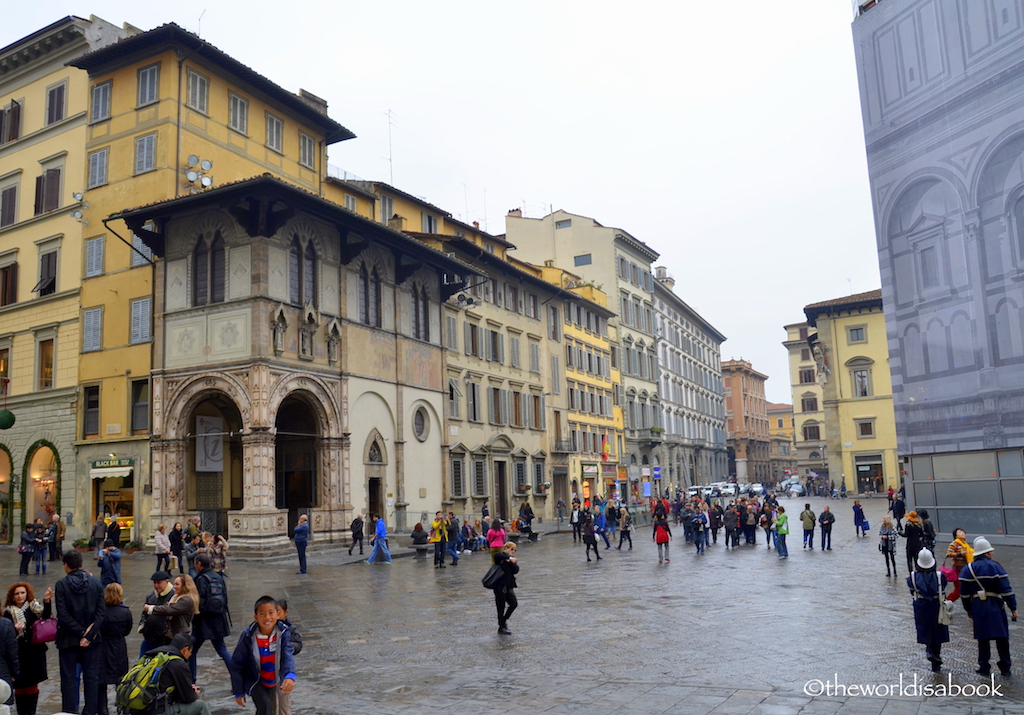 Bonus Freebies
Every first Sunday of every month has been designated as "Sunday at the Museum" which means Free admission to several museums in Florence. This includes the popular museums like the Uffizi and Accademia (where David resides). Get there early since it gets very crowded. (list of state-run museums in Tuscany region)
There is free entry to Exhibition of Contemporary Art in Palace Rooms at Strozzi Palace every Thursday from 18-22.
*Have you visited Florence?
Haven't booked your hotel yet?  See the best prices from the major travel sites on

HotelsCombined

.
 This is a part of a series called Five Free Family Friday which is a collective guide of free family-friendly attractions from places all over the world.  If you'd like to contribute with the free attractions in your home city, I would love your guest posts. Thanks!
Pin it for later!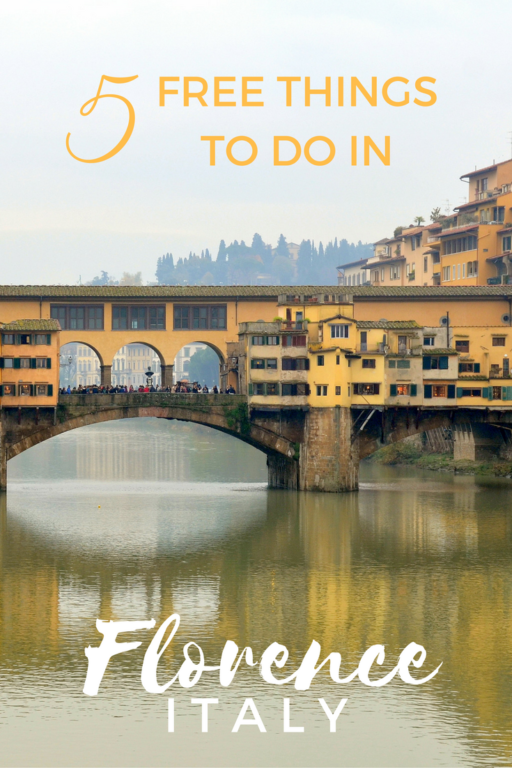 *There are affiliate links in this post to help support this website. 
Check out these related posts: