Visiting the Turtle Hospital in the Florida Keys
Did you know that there are seven sea turtle species around the world and five of the species are found in Florida? One of the best places to see them is the veterinary turtle hospital that cares for sick and injured sea turtles in the Florida Keys. The Keys evoke sunshine, palm trees and beaches. But, we also did our share of some wildlife sightings and I'll be sharing more about a couple of them here. It was hard to pass up such an opportunity and experience. See what this unique place has to offer.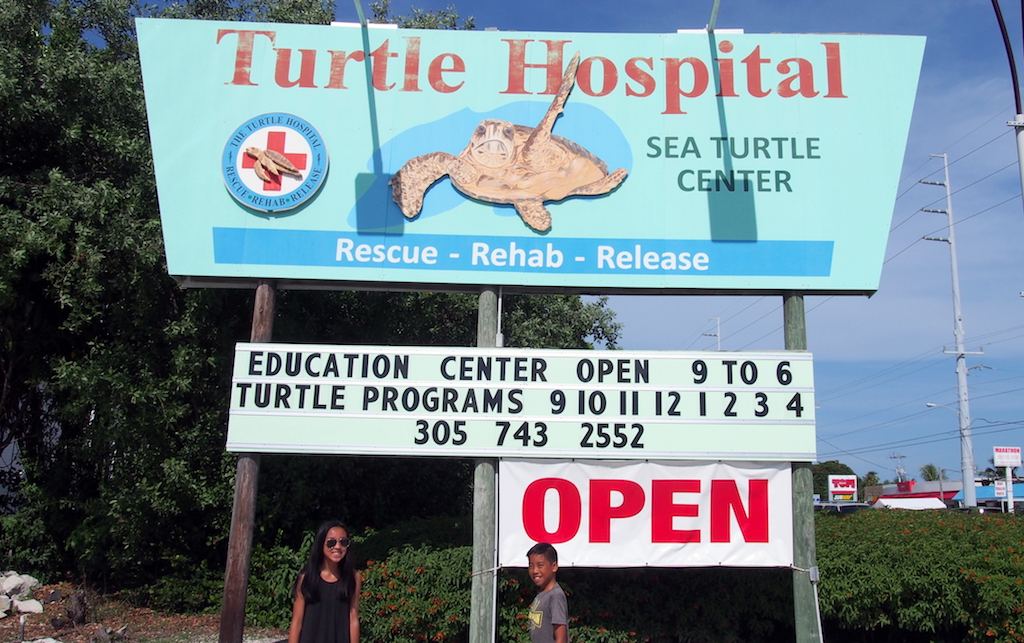 The Turtle Hospital first opened in 1986 and has maintained its motto of "Rescue, Rehab and Release". They have cared for and released over 1500 sea turtles. The fully functional hospital is located in the buildings and grounds of the former Hidden Harbor Motel along prime beachfront property. They offer a 90-minute educational tour of its facilities and rehabilitation area plus many insights into the sea turtles. There's also turtle feeding at the end of the tour.
We joined about 30 other people at the gift shop that also served as a small informational center before our designated tour time. Our guide first led us to a room to watch a short slideshow about the sea turtles and how many of the turtles ended up at the hospital.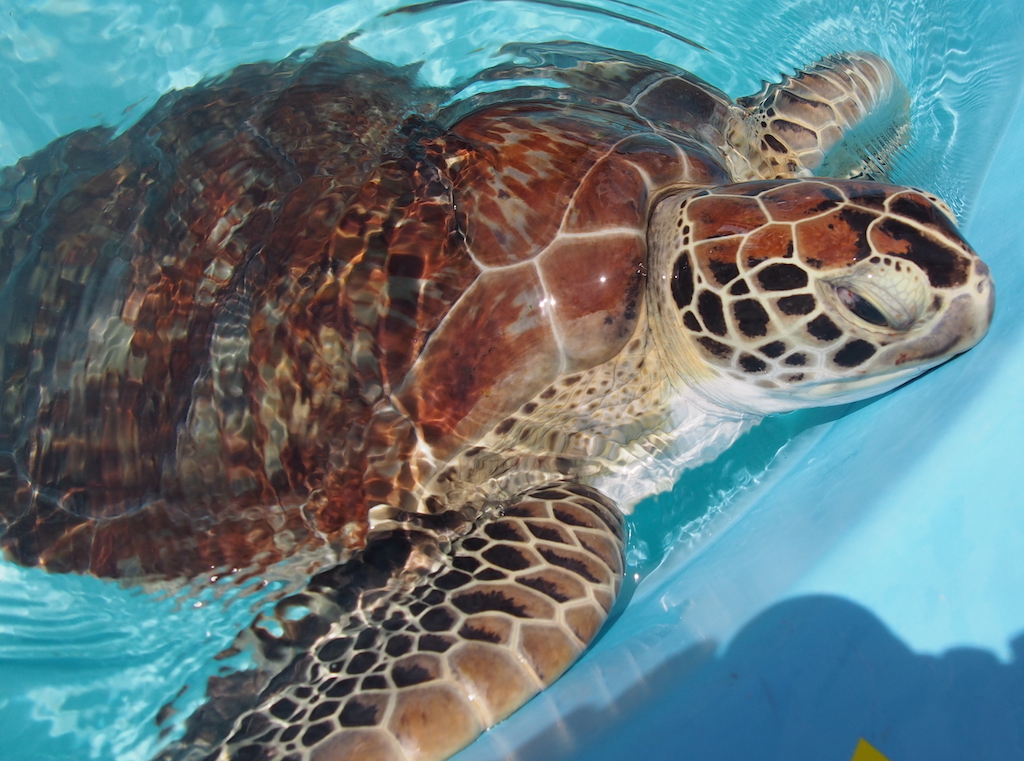 It was quite disturbing to see how many of our actions and activities as humans have put these turtles at the hospital. We learned that sea turtles eat almost anything they come across meaning they're opportunistic feeders. They also eat fishing hooks that were left behind. Unfortunately, this makes it hard for them to digest and break down unnatural and man-made materials ultimately causing an intestinal blockage called impaction.
Ingesting these items eventually lead to starvation or damage to their digestive system. This was a photo of a small sample of trash one turtle had ingested and the hospital had removed from their intestines. Turtles with impactions are treated with a mixture of Metamucil, Beano, Fiber and Vegetable Oil.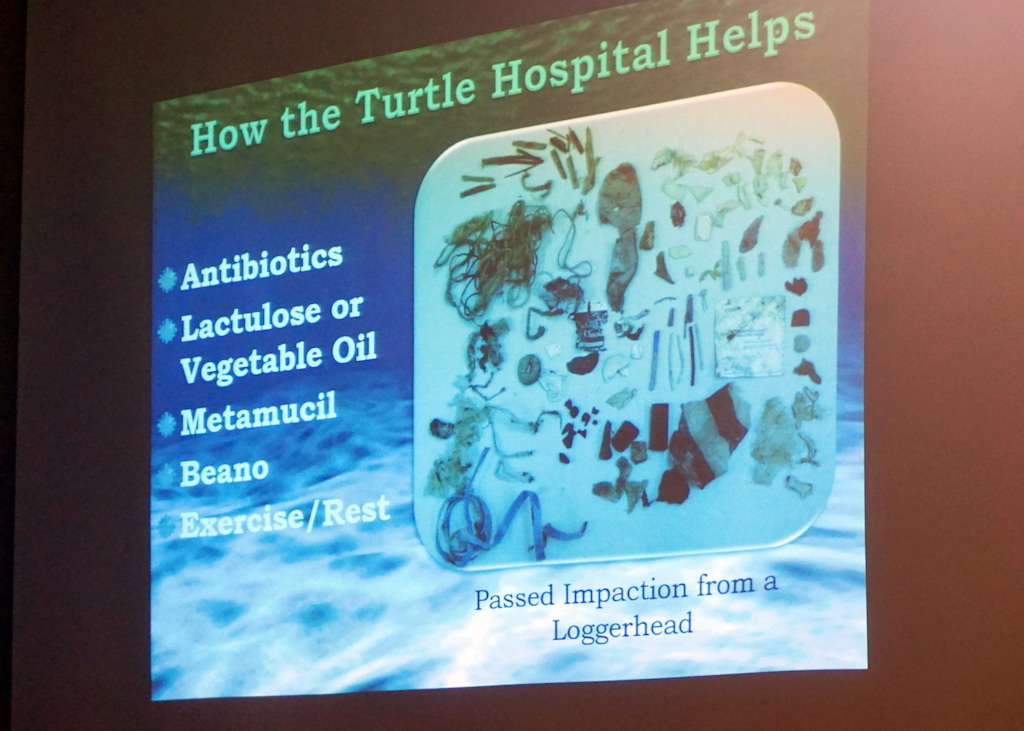 We also saw the effects of turtles getting caught in fishing and buoy lines. Turtles have drowned or lost flippers as a result. The fishing lines also affect other marine animals like dolphins, sharks and fish. It was heartbreaking to see turtles whose shells have been damaged from boat propellers or boat strikes.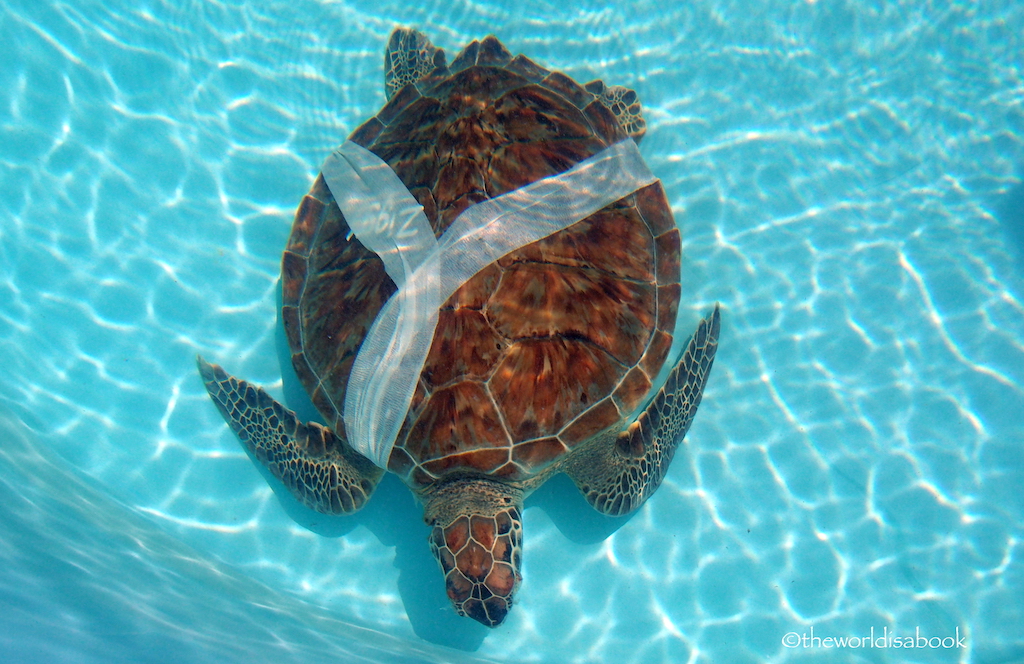 At times, turtles float after being struck by a boat that may be the result of organ and nerve damages. The hospital has called this problem "Bubble Butt Syndrome" and has named one of their permanent residents, Bubble Butt. Of course, my kids had a good chuckle with this one. Turtles with this syndrome become permanent residents since it will be difficult for them to live in the wild.
It was also sad to see green sea turtles suffering from fibropapillomatosis which is a virus resulting in tumors that affect their eyesight and movements. This makes it hard for them to survive in the wild. There is no vaccine or cure for this virus. The external tumors are removed through surgery. Unfortunately, the cause and how the virus is transmitted is still a mystery. This also affects over half of the sea turtles.
The slideshow and the question and answer session that followed was very educational and enlightening. It was a wonderful orientation before touring the facilities. Our tour continued through rooms where they perform various surgeries. Most of the equipment here was donated by organizations and hospitals.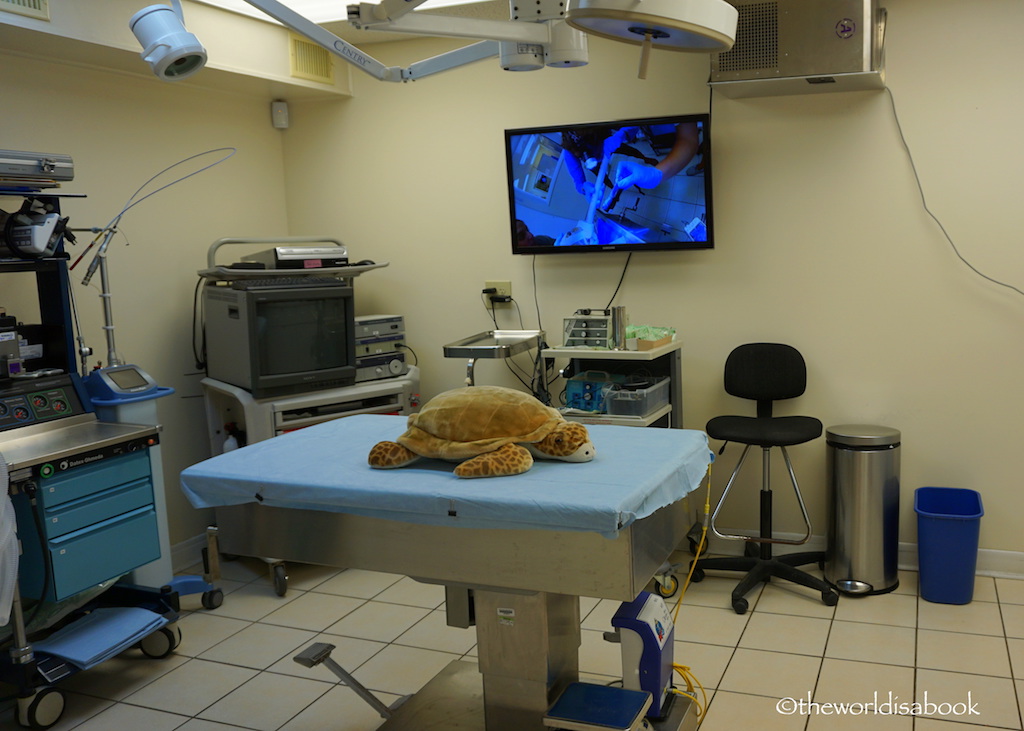 During our visit, they had about 56 turtles in the facility including 14 permanent residents. We first encountered the turtles in an area with two large tanks. Each turtle had their names written on their shells. This area was used as a sort of physical therapy for the turtles to emulate their swimming abilities after injuries in deeper water.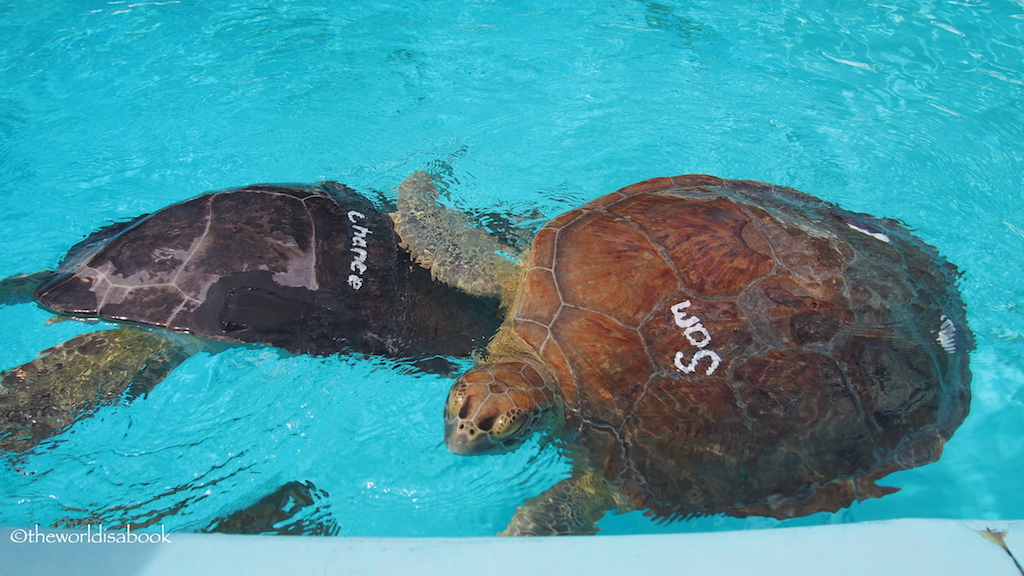 It was a joy to see many of the kids so excited to be quite close to the turtles. The turtles swam pretty close to all of us and seemed to love the attention. We learned some of the residents' histories. We were told that people (including kids) who had found or rescued the sea turtles had the privilege of naming them. This explained amusing names like Salty, Lumpy, Dirty, Smelly Cat, Hiccup and Captain Morgan.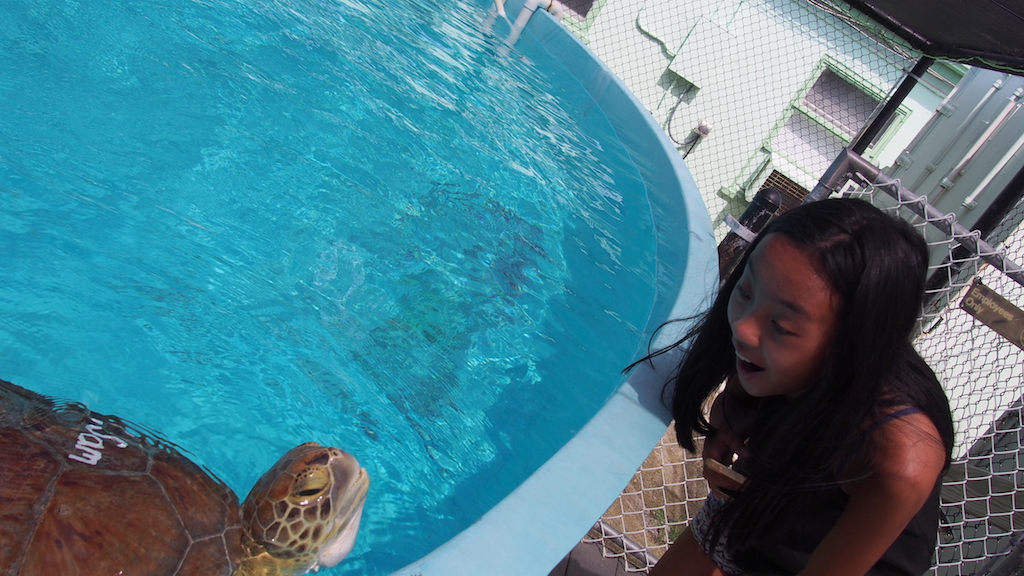 We also walked to an area that reminded us this used to be a motel. These rooms are sometimes used by researchers and staff too.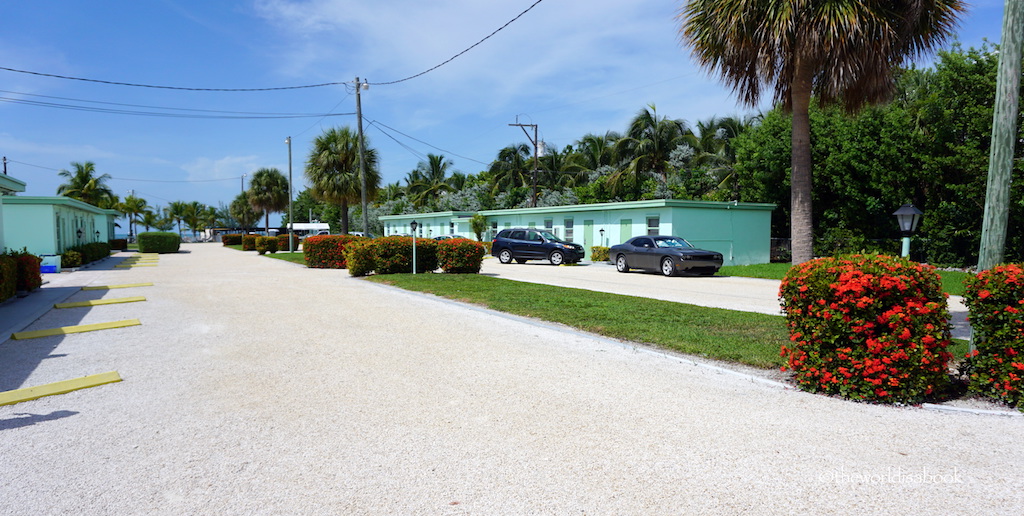 There was a small grassy area and had a lot of iguanas sunbathing. It was a surprising find.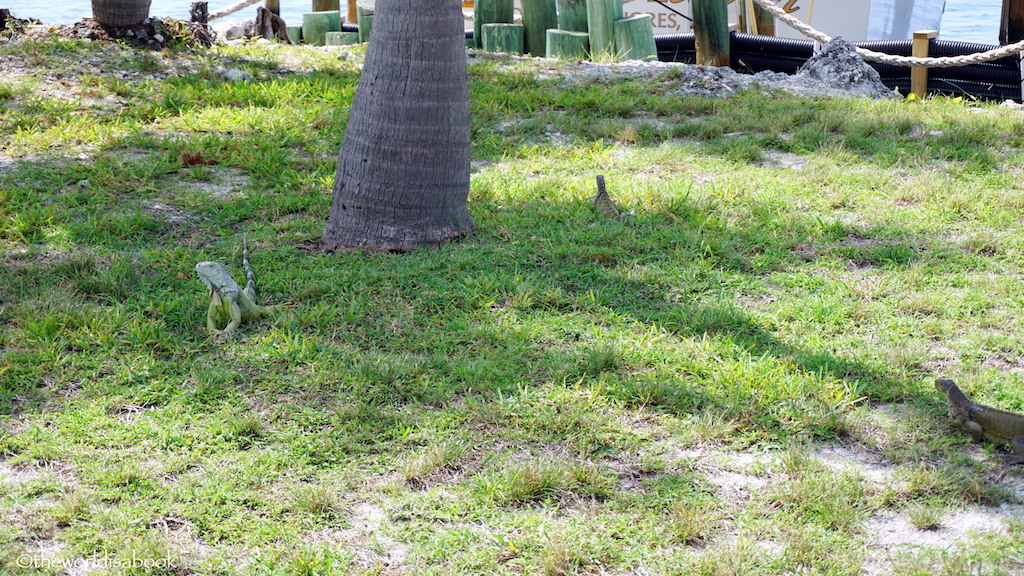 We entered an enclosure used as a rehab facility that had 23 individual tanks with two different sections. The turtles were in different recovery levels. The top part served more like an intensive care unit. These tanks had turtles that were hit by boats or were tangled on fishing lines or suffered from impactions. The other section was for turtles with the fibropapilloma virus.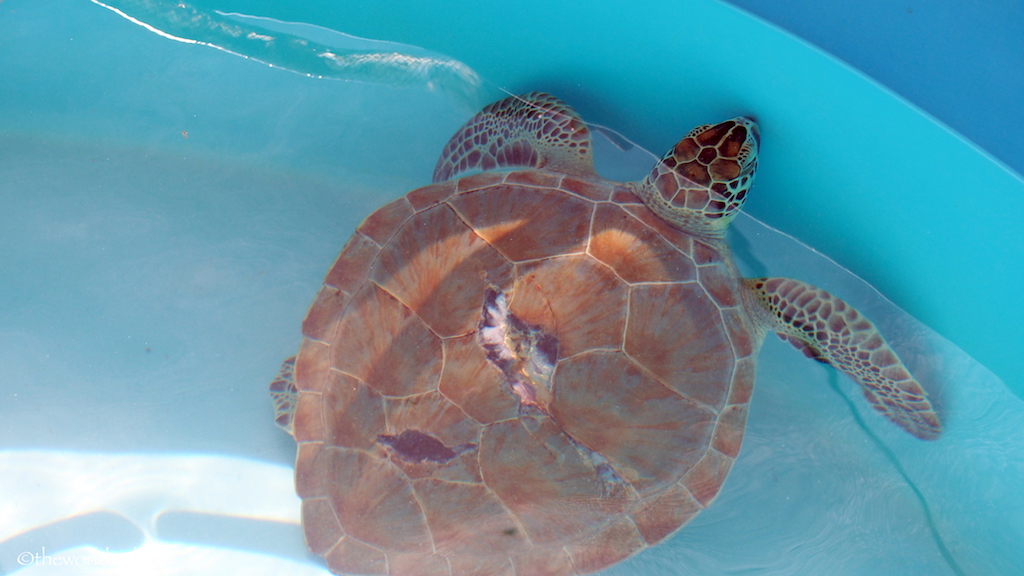 Nearby was the 100,000-gallon salt-water pool. What a great way to make use of the motel's old pool! Many of the kids were so excited to see some tanks that had hatchlings in them on one area of the pool. The hospital gets over a hundred hatchlings during the summer for safe keeping purposes and away from predators.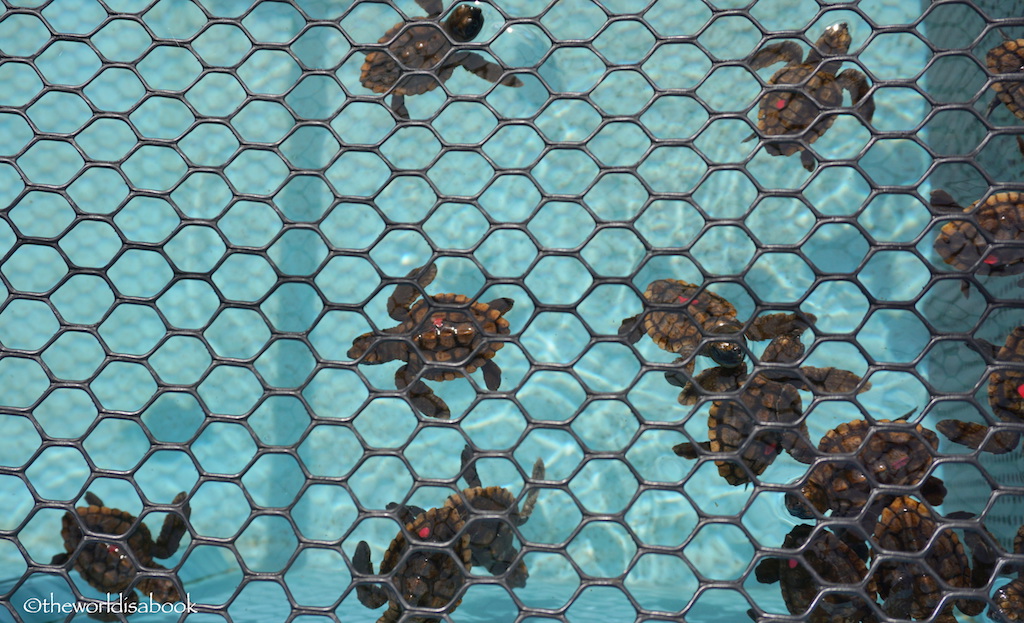 This pool is now the home to many of the hospital's permanent residents. These are turtles with the bubble butt syndrome or have severe injuries that would make it hard for them to survive in the open ocean. While aquariums adopted some turtles, others ended up staying here permanently.
These turtles also loved the attention from the onlookers. They swam right up to us. The guide gave all of us food to throw in. The food looked like am puffed grain cereal. If you're familiar with Kix cereal, they looked like that. It was so interesting to watch the turtles scrambled to get them.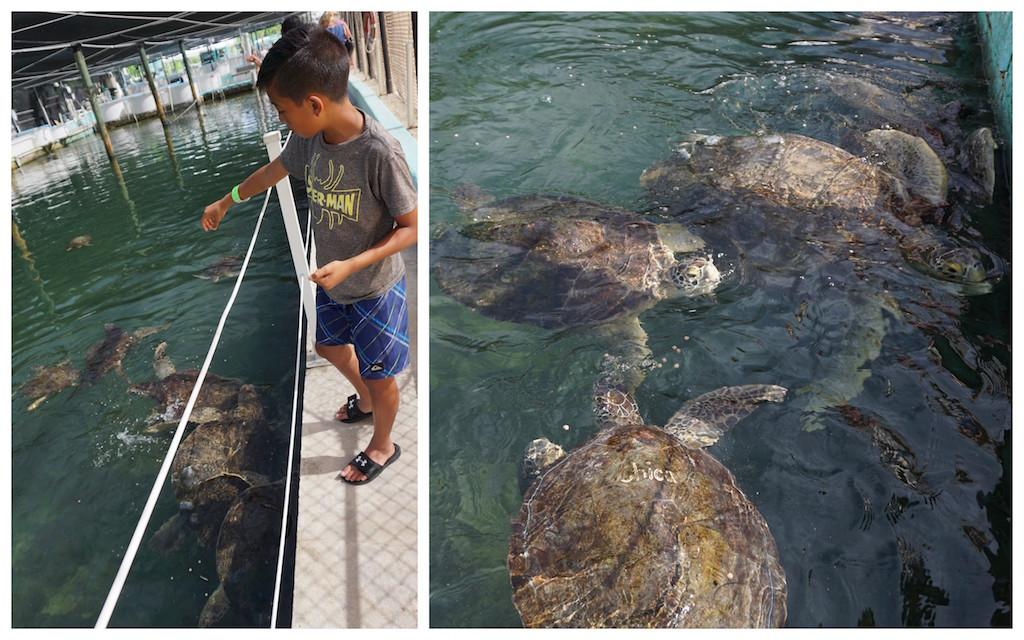 The Turtle Hospital was a wonderful place to interact with the sea turtles. It inspired us to be more aware of what we leave behind especially when we're near the water. My kids were so engrossed in this visit and actually learned quite a bit. The sea turtles are facing many challenges in today's world and every awareness and action helps. It's such a well-run and maintained facility. This is definitely worth a stop if you're visiting the Florida Keys.
How to help the sea turtles
There are many ways we can help the sea turtles no matter where you are in the world and it can start with some changes in our daily habits.

Reduce, Reuse, Recycle. We saw first hand how trash and packaging, including plastic water bottles, have affected sea turtles when they ingest them. Be mindful of your trash especially when you are at beaches. Reuse and recycle as much as possible to cut down on waste.
Do not leave fishing lines in the water. Use the available recycling bins to dispose them and many are available especially in the Florida Keys area. Marine creatures do get caught in them.
When boating, check your speed and look out for floating or injured sea turtles.
Donate your time and money to places like this turtle hospital or other animal rehabilitation centers. You can even adopt one of their permanent resident sea turtles.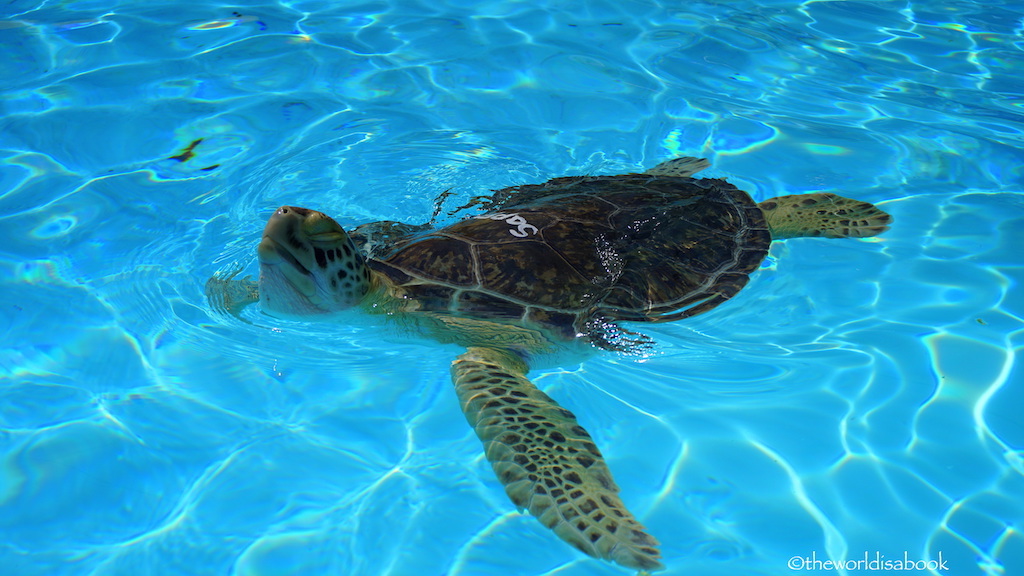 Basics and Tips for Visiting the Turtle Hospital
The Turtle Hospital is located in Marathon, Florida. It is right off the Overseas highway at mile marker 48.5. It is about 50 miles from Key West.

Ticket Prices (as of Oct. 2016): Adult: $22.00; Children (4-12 years old): $11.00; Children under 4 are free.
Guided educational programs/tours run at the top of the hour from 9 AM to 4 PM everyday and run for about 90 minutes. The hospital and gift shop are open daily from 9AM – 6 PM. Reservations are highly recommended to get your desired time. Please call (305) 743-2552.
We were provided with cold water bottles once we reached the outdoor facilities.
Fun fact: The five sea turtle species found in Florida are: Green, Loggerhead, Leatherback, Hawksbill, and Kemp's Ridley.
Visit their website for updated information on current patients. If you're in the area, you may even see public releases of some turtles back into the wild.
*Have you visited the Turtle Hospital or a similar place?
PIN IT FOR LATER!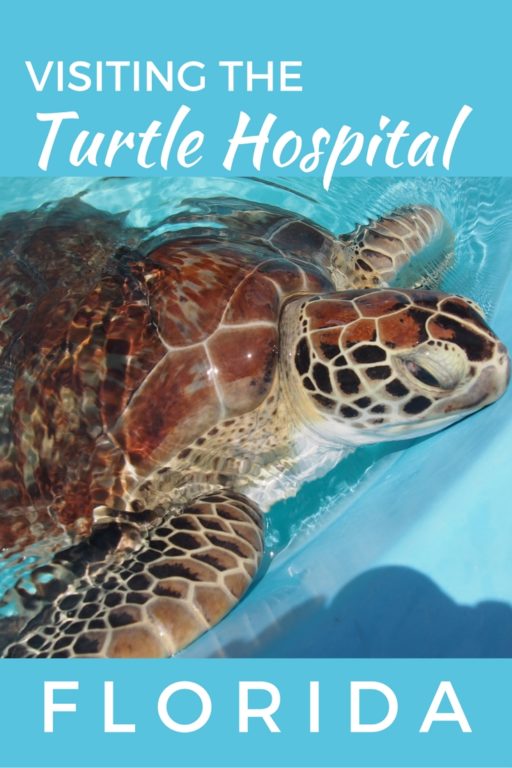 Disclosure: The Florida Keys and Key West Tourism and the Turtle Hospital graciously hosted us for a complimentary visit. We appreciate their hospitality. All opinions and photos are our own.