Walking Reynisfjara Black Sand Beach in Iceland
Iceland is commonly known as the "Land of Fire and Ice" with its glaciers and geysers. But, all these volcanic activities have also resulted in some unique rock formations and attractions around the country. One of those sites is Reynisfjara Black Sand Beach. See what's beyond the beach and why this is one of South Iceland's most popular stops.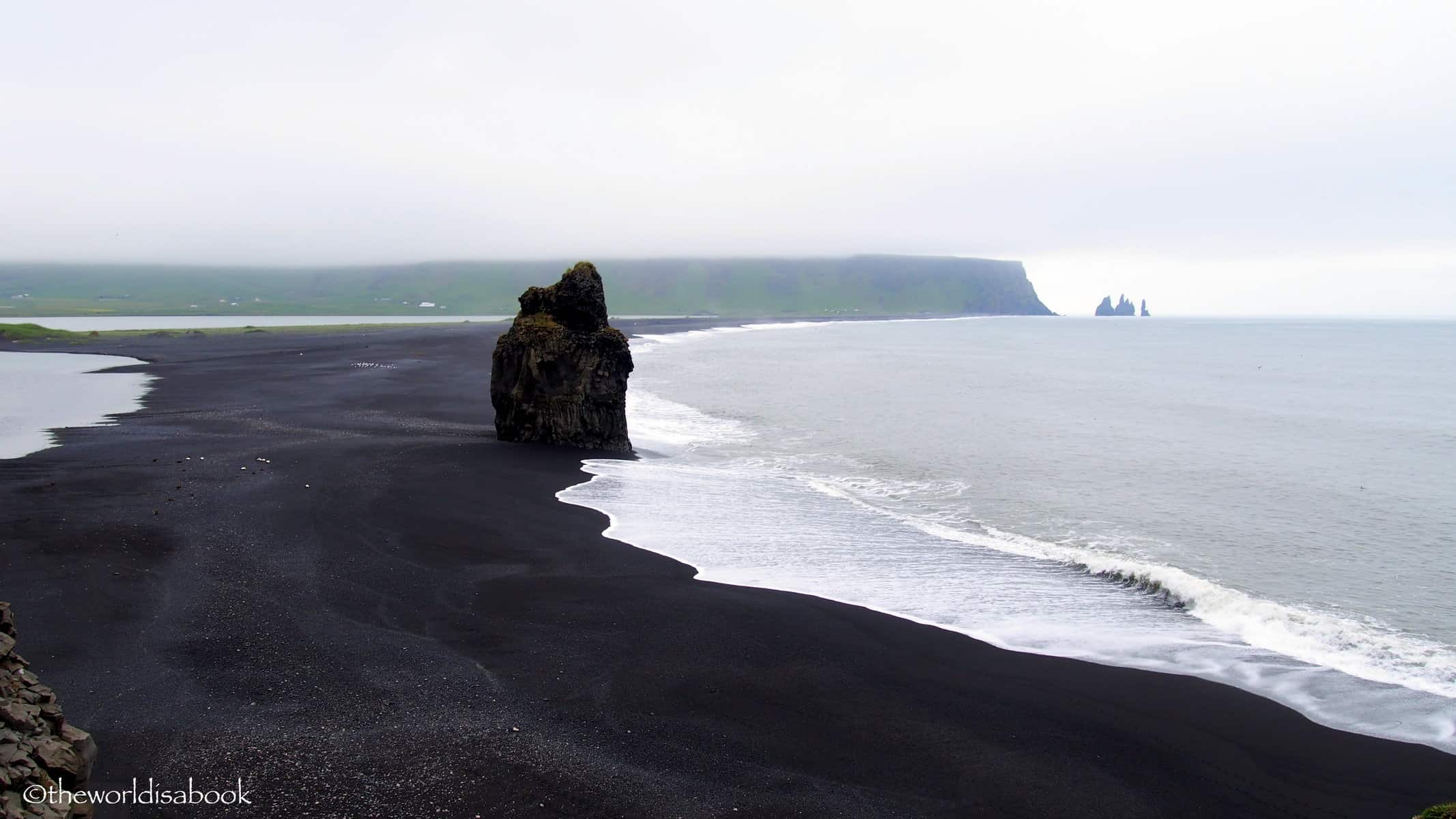 This was located near the town of Vik which is Iceland's southernmost town and about 110 miles (180 km) from the capital of Reykjavik. We were glad to finally visit this black sand beach this past summer after running out of time during our last visit. There's a sign from the Ring Road so you can't miss it.
This was one of the landscapes we saw on the way to the beach. We saw some farms, a church and even some B&Bs and hostels along the way. It was so lovely to see all those rolling green hills covered by fog.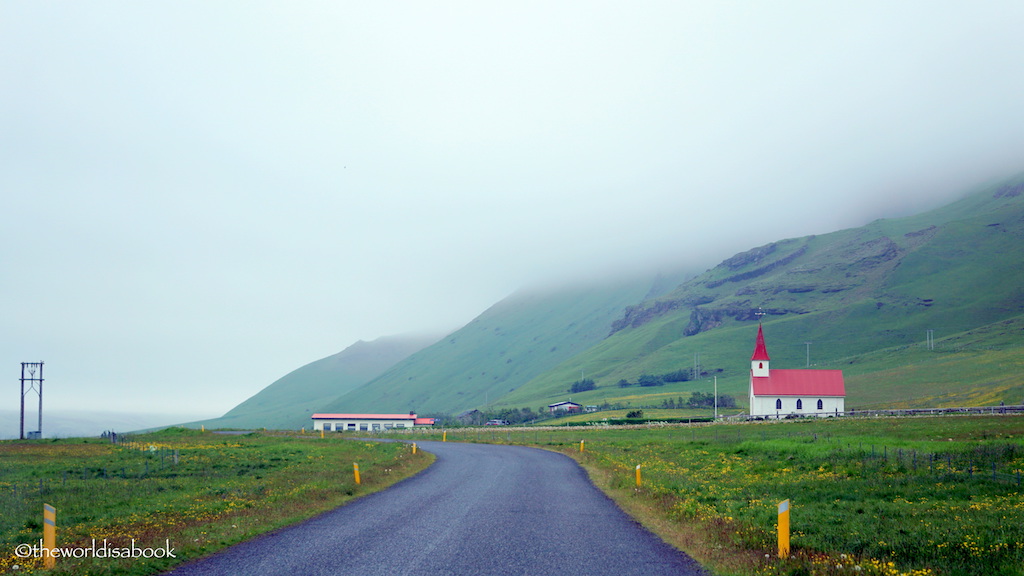 The road ended on a field and a makeshift parking lot. There was a small pathway that opened into the beach. We were expecting fine black sand. But, we were surprised to find most of the beach was actually various sizes of smooth black pebbles and stones.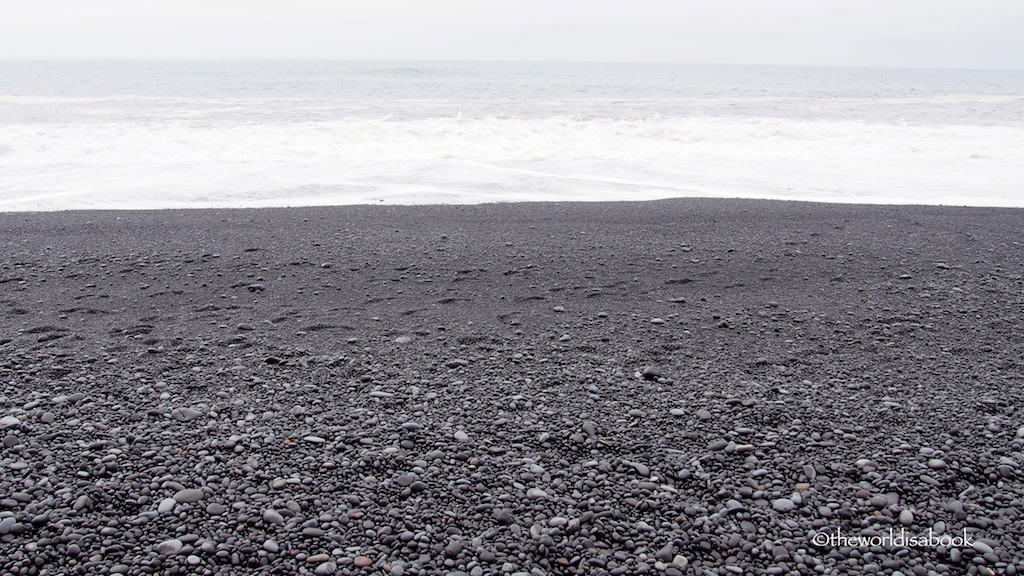 The black sand and stones were remnants of basalt lava that covered most of Iceland at one time. It almost felt otherworldly walking around here. It was wild, rugged and majestic. The contrast of the crashing waves with the black sand made for some interesting photos. It was definitely very different from the beaches we were used to frequenting.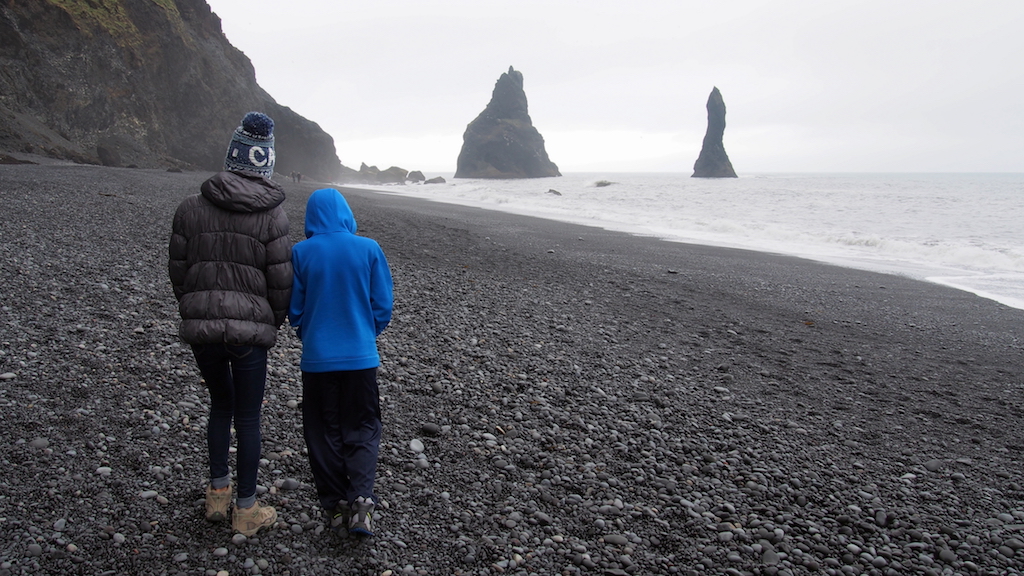 Be careful when going anywhere near the water. Waves and currents are particularly strong here especially the "sneaky waves". Fatal accidents have occurred where unsuspecting people have been swept into the ocean.
There were warning signs and more prominent signs have been added recently. Pay close attention to the waves, don't turn your back and keep your distance. This beach wasn't made for swimming.
It was hard to miss the cliff made of hexagonal shaped basalt columns. They are very similar to the famous Giant's Causeway in Northern Ireland or the ones we've seen at Devil's Postpile National Monument in central California.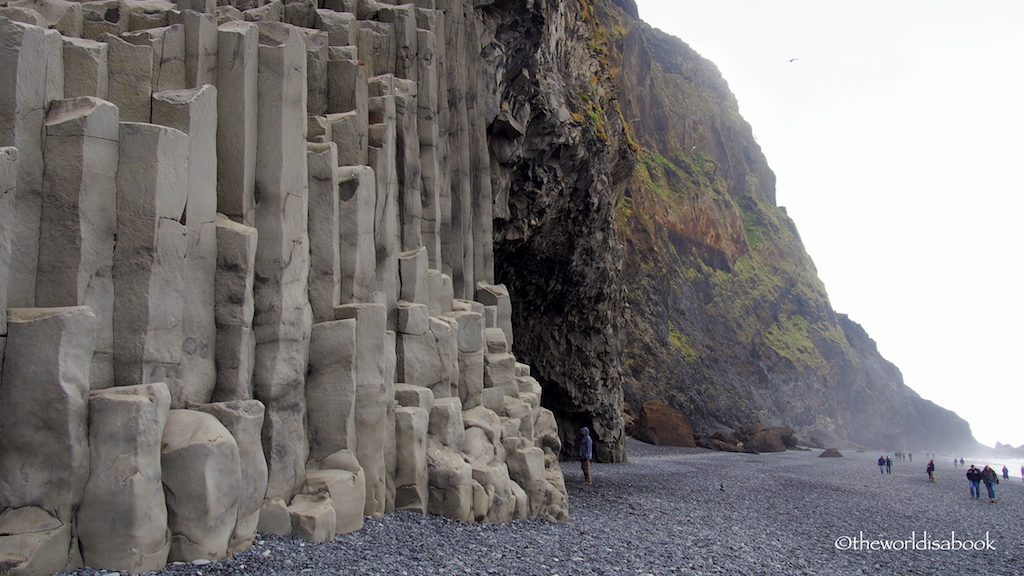 These were at different levels that created something that looked like a step pyramid. This was called Gardar. It was hard to believe Mother Nature created these perfectly shaped and symmetrical columns. It was almost magical!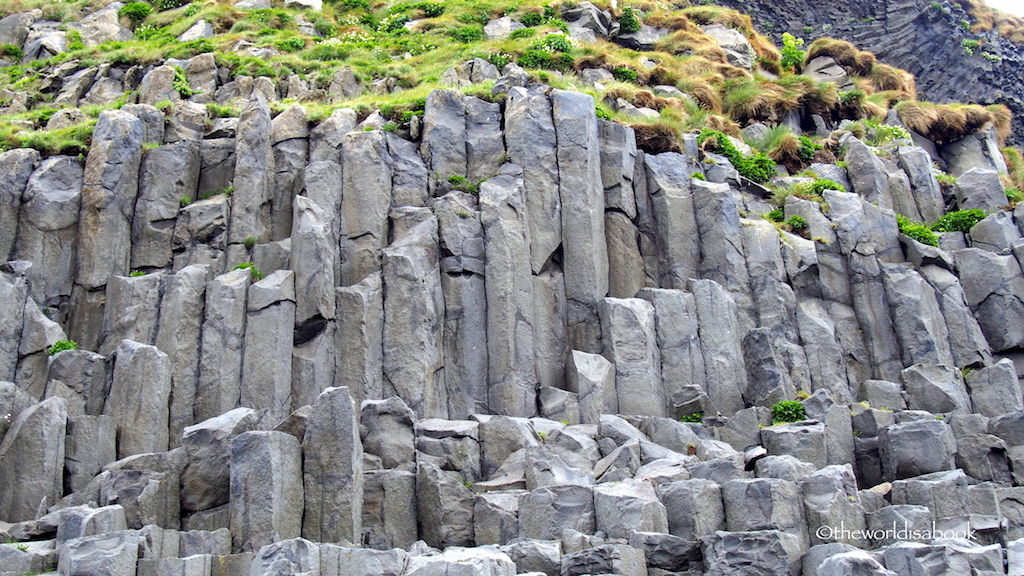 Basalt columns were formed when lava flows out and cool over a period of time. It's an interesting process called columnar jointing. Read this explanation of the columnar jointing if you're interested because it'll offer a far better explanation than I ever could.
Gardar was a very popular place for photos. The column spaces were big enough for sitting or standing. It also made for an ideal natural playground for kids. Though, it was a bit nerve wracking watching my hyperactive 10-year-old son climb these rocks.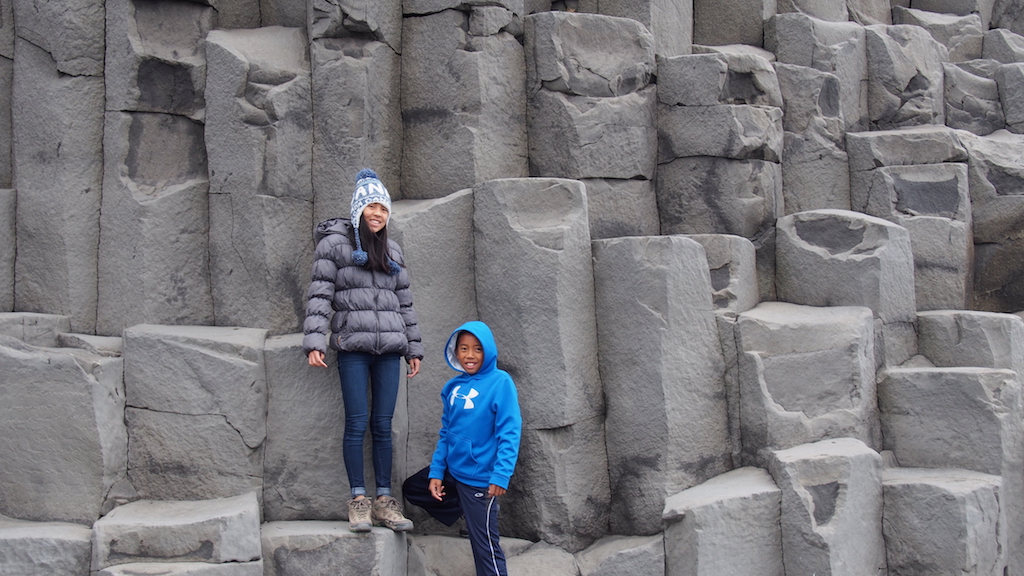 The basalt sea stacks known as Reynisdrangar prominently stood out as we looked out into the Atlantic Ocean. According to local legend, there were two Icelandic sea trolls who tried to drag a three-masted ship to land. Unfortunately, daylight broke and they were turned into stone when the sun hit them and became these stone formations.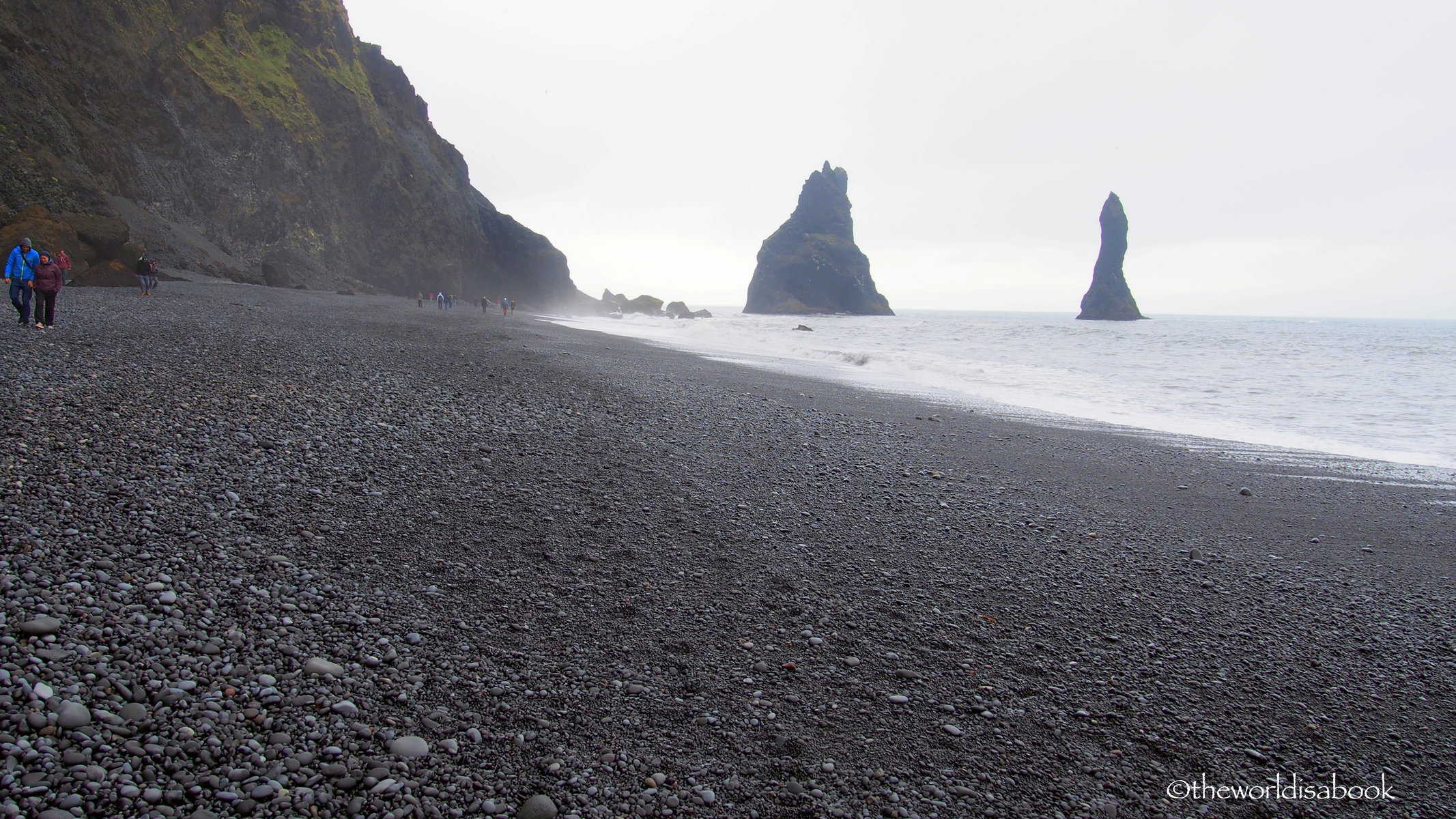 We were here during low tide so we had a bit more space to explore along the shore. On the other side of the step pyramids was a shallow cave along the shoreline.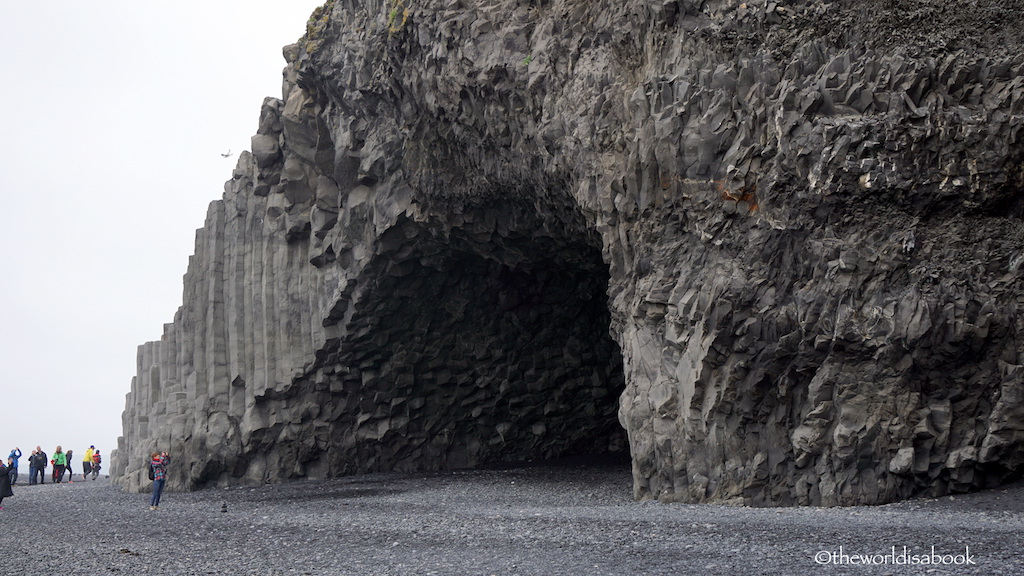 I loved how the basalt columns formed on the outside of this sea cave known as Halsanefshiller.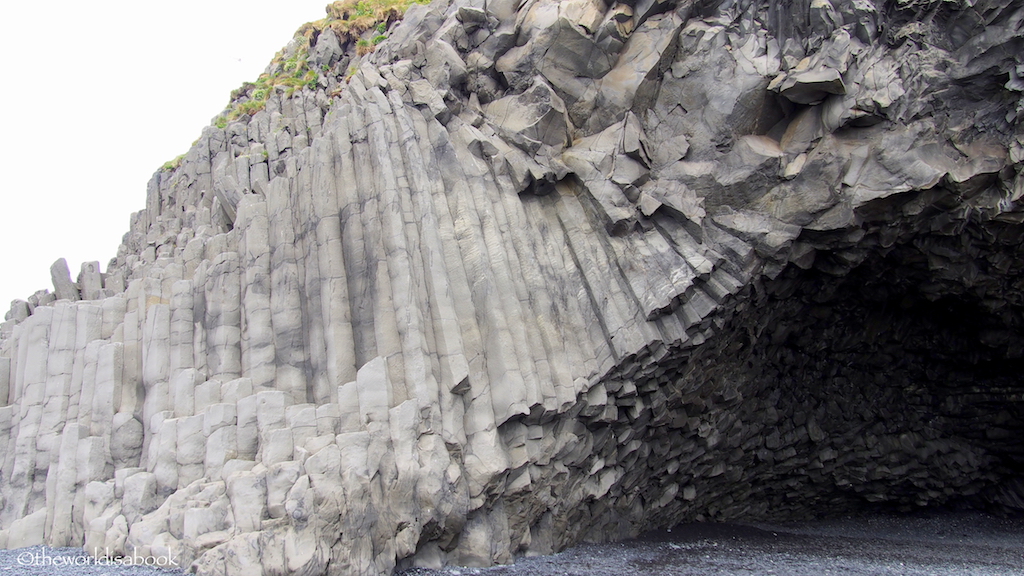 Birds were also everywhere here. The cliffside behind the beach was full of them. We didn't know a lot of them or actually have seen some of them before except for the adorable puffins and the Arctic terns. It was so fun to spot them doing their routines and nesting from a distance.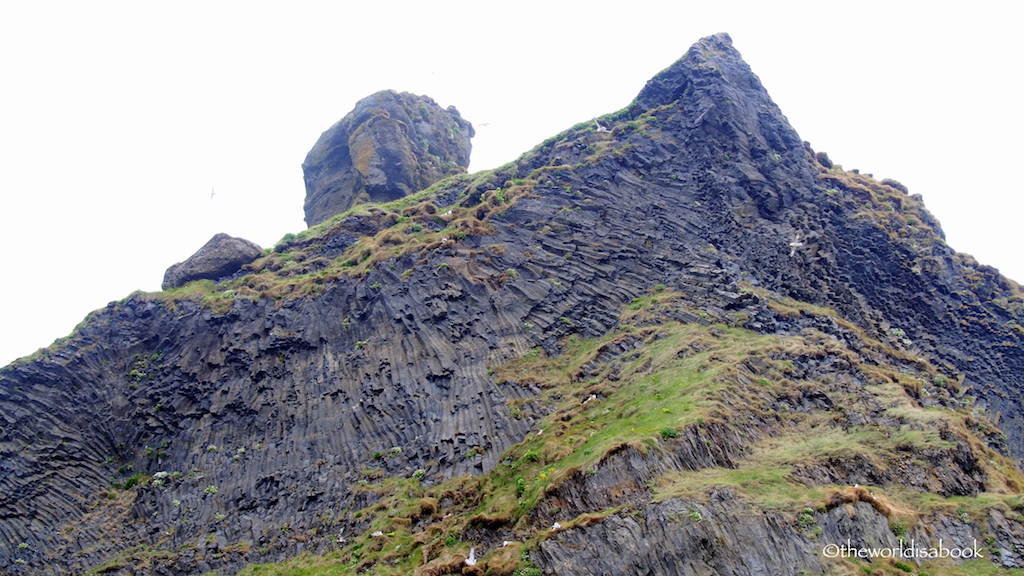 If one feels the need to stay near the beach, we saw these charming cottages (Reynisfjara Guesthouses) that even came with turf house near it. We would have loved to stay in one of these and do some morning strolls before the crowds arrived. It was near Vik so you'd still be near some stores and restaurants.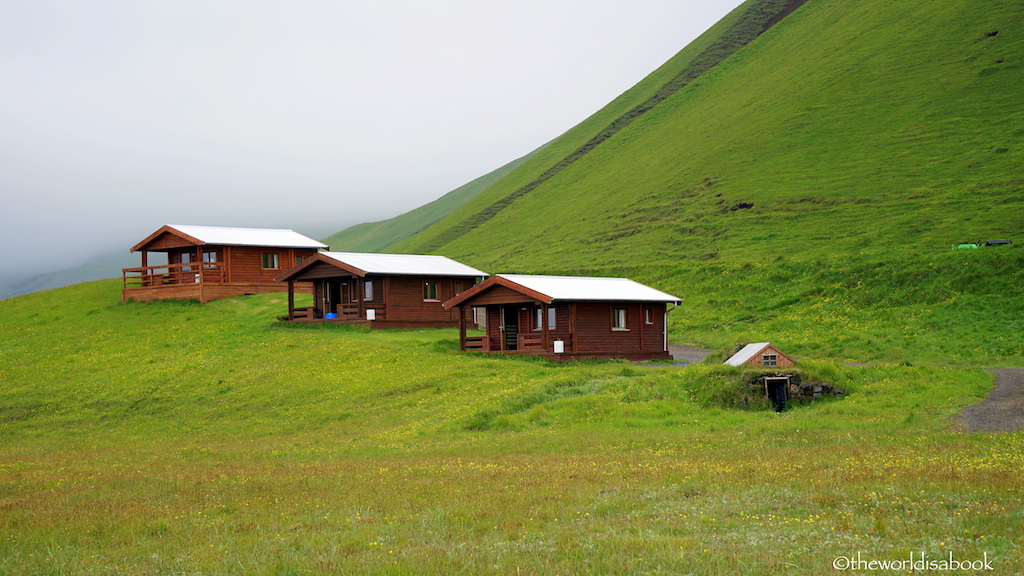 We recommend a walk along the nearby green pasture if you're visiting during the summer. This field filled with yellow wildflowers was just off the parking lot. It was a great place to let kids burn off any extra energy.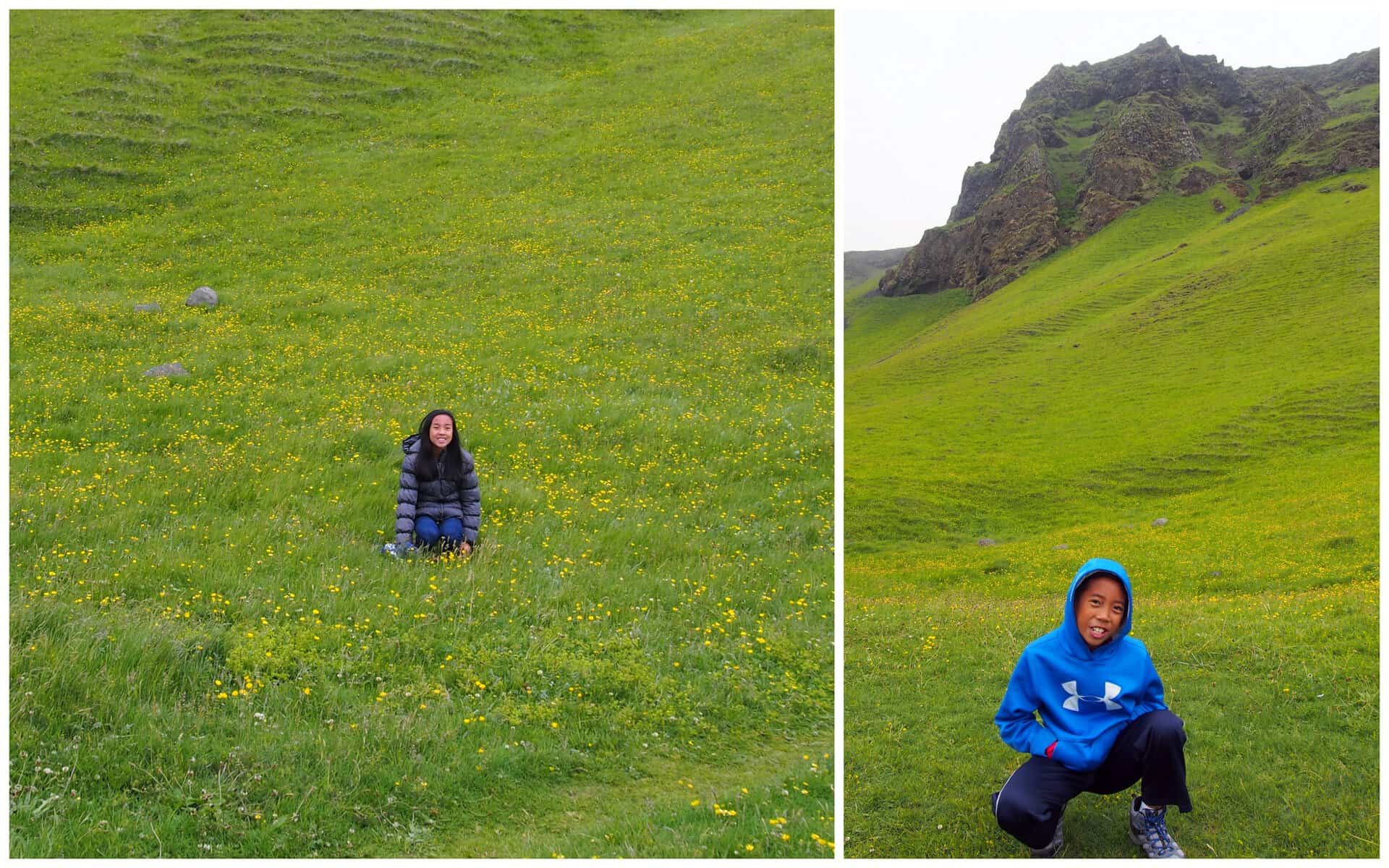 Reynisfjara is one of the must stop attractions during a South Iceland drive. Iceland has so many unique and beautiful features and this was one of them. It was an amazing experience to be surrounded by so many incredible geologic wonder of black sand, basalt columns and sea stacks.
It's easily accessible and makes for some unforgettable memories and photos. We spent about an hour here. When you visit, stay as long as you can, listen and gawk at the geologic wonders here.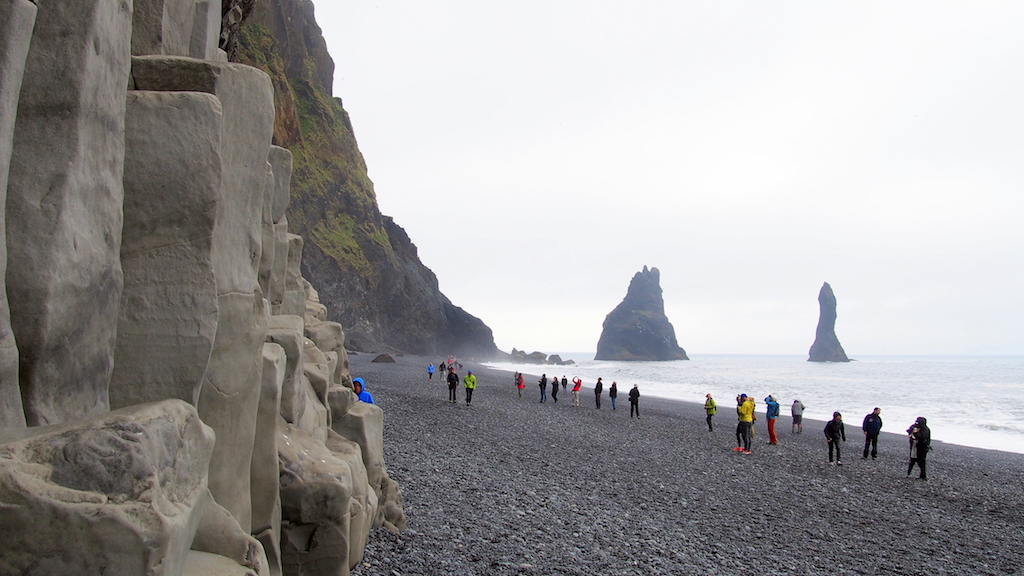 Basics and Tips for Visiting Reynisfjara Black Sand Beach
How to get here: This was right off the Ring Road with the Reynisfjari sign to Route 215 with an additional 10 minute drive.
Free Admission and Parking
Tours are available from Reykjavik through South Iceland and this is one of the stops. We highly recommend renting a car and doing this drive yourself. It's an easy and scenic drive and you can stop whenever and wherever you want.
There was a small café at the entrance of the beach. Restrooms available in the restaurant but toilets outside were not.
Layer up! Wear clothing layers and dress warmly. It was very cold and windy here even in late June.
Wear sturdy shoes. It was cold and the pebbles weren't particularly easy to walk on. But, we do recommend walking a little further along the shore to experience this area.
This is a favorite stop for tour buses. Try to go early. If you're here when the buses stop, just wait for a bit. They don't stay very long. I've also read that later during the day is a great time with less people and more birds returning from their daily tasks.
Bring binoculars. It was easier to see the birds flying overhead and perched on the cliffs with the binoculars we brought.
*Have you visited Reynisfjara Black Sand Beach or another black sand beach?
Where to Stay
Hotel Berg in Keflavik

 – This was the first hotel we stayed during our first visit and loved it. It's close to the airport (2 miles), by the marina and offers free Wi-fi and airport transfer. It's a small family-owned hotel. We had a split-level suite which fit our family comfortably.
Hilton Reykjavik Nordica 

– 

This hotel is located in the city and within walking distance of the center but shuttle buses are also provided. If you want the comforts of a modern hotel, this has it with buffet breakfast and Executive Lounge for Hilton Honors Gold and Diamond members. A couple of friends have stayed here and recommend it.

Hlemmur Apartments  

– We loved this spacious, two bedroom apartment located within walking distance to Reykjavik's city center. It looked like an IKEA showroom, It was clean, well-equipped and furnished well with all the amenities we needed for our stay. It had free WI-fi and the owners were friendly. 
Save up to 50% on Iceland hotels on Booking.com 

(the #1 Accommodation site)

Find the best Iceland hotels and read reviews on TripAdvisor.
Car Rntals
Flights/Vacation Packages
—————————–
Pin it for later!