Highlights & Itinerary of a Land Based Galapagos Trip
The Galapagos Islands, 620 miles (1,000 km) off the coast of Ecuador, is widely known for its unique and diverse wildlife. It is made up of 127 islands and islets and known as a "living museum and showcase of evolution". It is a UNESCO World Heritage site and 97% of the archipelago is reserved as a national park. This archipelago has been on our family's travel wish list for awhile now. We finally made it to this incredible place for a one week trip in late November. These are the highlights from our trip. It also serves as our itinerary on this land based tour. A post on tips for visiting the Galapagos will be coming as well as detailed posts on some of these attractions.
We didn't go with a tour company or a cruise which are the popular options to see the Galapagos Islands and what many people assumed we did. Most of the cruises didn't fit our schedule. My kids only had a week break for the US Thanksgiving holiday and my husband and I are short on vacation days. We also didn't want to book a last minute cruise when we got there. And some of the cruises are so expensive, it would blow our whole vacation budget for the year. But, a DIY, land based Galapagos trip is perfectly doable and also provides unforgettable experiences and wildlife encounters.
It's a two-hour flight to the Galapagos Islands from the Ecuadorian cities of Guayaquil or Quito. The Galapagos has two airports – Baltra across from Santa Cruz Island and one on San Cristobal. We flew into Baltra airport from Guayaquil. Surprisingly, Baltra is quite nice and modern with a VIP lounge, food court and many shops though you do have to walk on the tarmacs to the plane.
We based ourselves in Santa Cruz island and the Galapagos' most populated town of Puerto Ayora. It reminded us of a Caribbean cruise port with restaurants, souvenir shops, tour operators and hotels with a mix of local life and busy activities on the port. We found it quite charming. It's easy to get around and if you need to get from some place around town, it cost $1 for a taxi ride. Ecuador uses the US dollar as its currency.
We spent our first afternoon visiting the Charles Darwin Research Station (CDRS). Admission is free. This was a wonderful place for an orientation of the Galapagos Islands. We saw exhibits on some of the plants and animals only found on the islands as well as the tortoises and iguanas. It was wonderful to see the many conservation efforts and research to help them.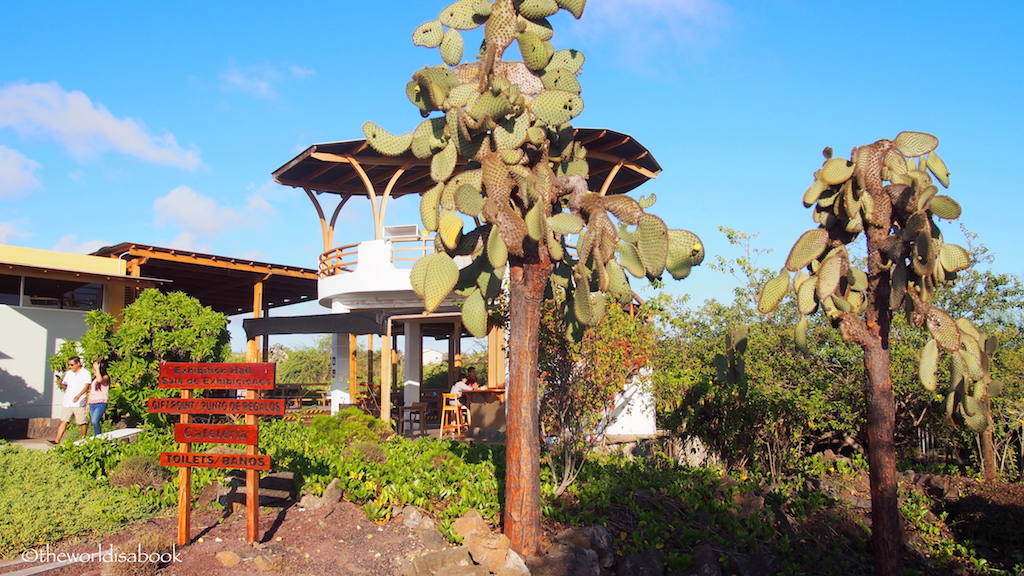 This was our first encounter with many of the animals who call these islands home. We found enclosures with several tortoises in different growth stages. Did you know that Galapagos was named for the giant tortoises found here?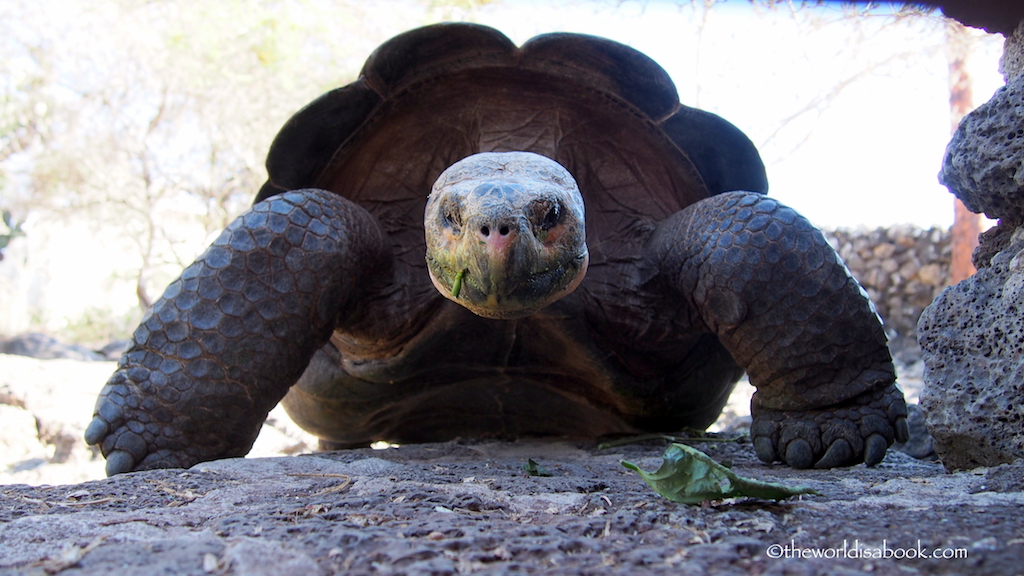 Unfortunately, we didn't get to see the baby tortoises. The center was known for breeding them. We found out that they were temporarily moved to Isabella Island due to the center's renovations. It was so disappointing to find out we missed them by a few weeks.
The beach behind the Charles Darwin Research Station was also our first encounter with the marine iguanas endemic to the Galapagos. It was nesting season, and we saw a few of them. They blended with the black volcanic rocks so well that my daughter almost stepped on one. We heard a sort of hissing sound and later found they were actually snorting and releasing salt water from their body.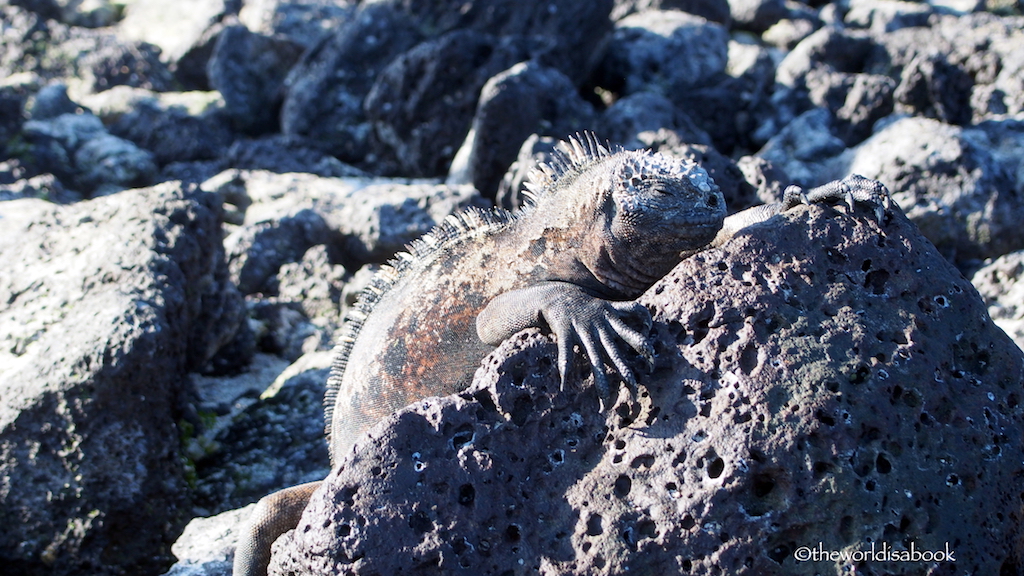 Early morning or late afternoon means a flurry of activity at Puerto Ayora's fish market. My kids looked forward to going here everyday. We enjoyed watching all the brown pelicans, an occasional heron and a sea lion or two fight for scraps from the fishermen cutting up the fish. This was the place to buy fresh fish and lobster for cheap ($6 per lb)especially if you have an apartment. A restaurant across the street will also cook your lobster.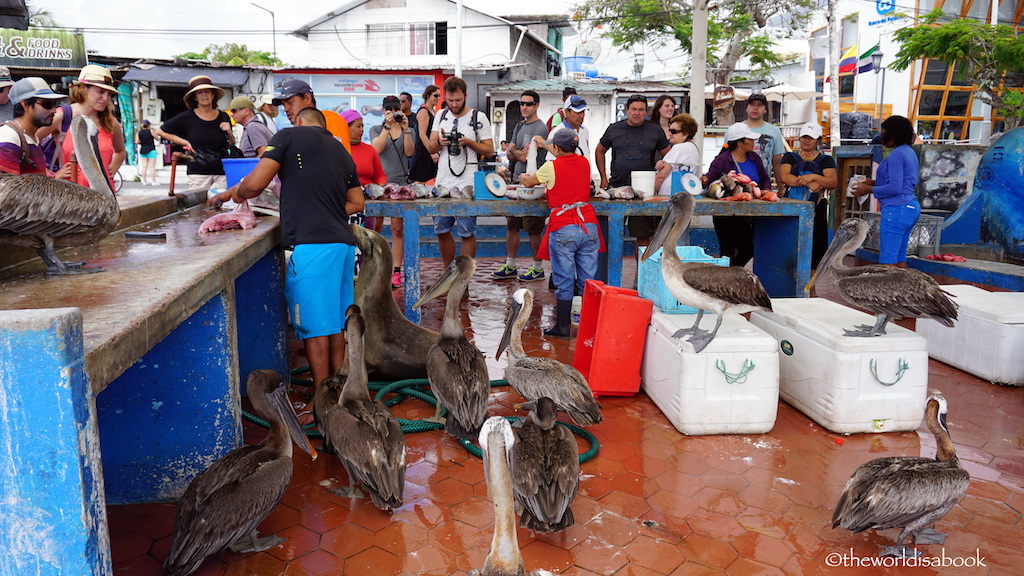 We ate dinner almost every night at the "kioscos". This was a section of Charles Binford Avenue, mainly made up of small mom and pop restaurants. They set up tables with their fresh fish and lobster. Pick any size you want and most come with rice, beans and plantains or salad. They can cook the lobster and fish with different sauces and however else you like. We love the pan fried ones with garlic (Al ajillo).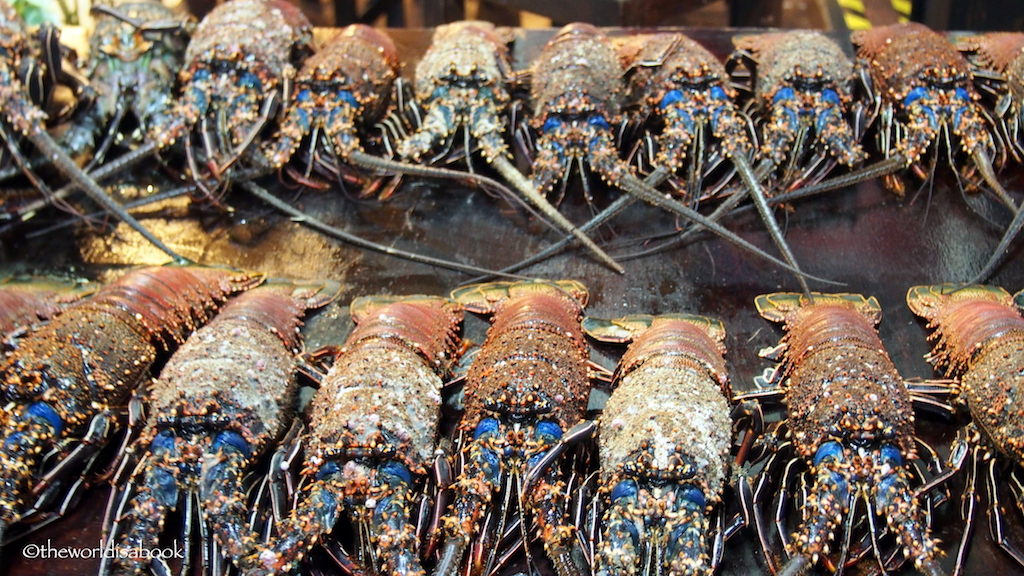 An average lobster plate cost $15-$20 and can feed two people. Lobster is fairly common and they were very meaty though not as sweet as the Maine lobsters we're used to. The block is closed off and tables and chairs are set up on the street. It's community dining at its best and one of the best ways to meet fellow travelers. Here's a sample of what we feasted on.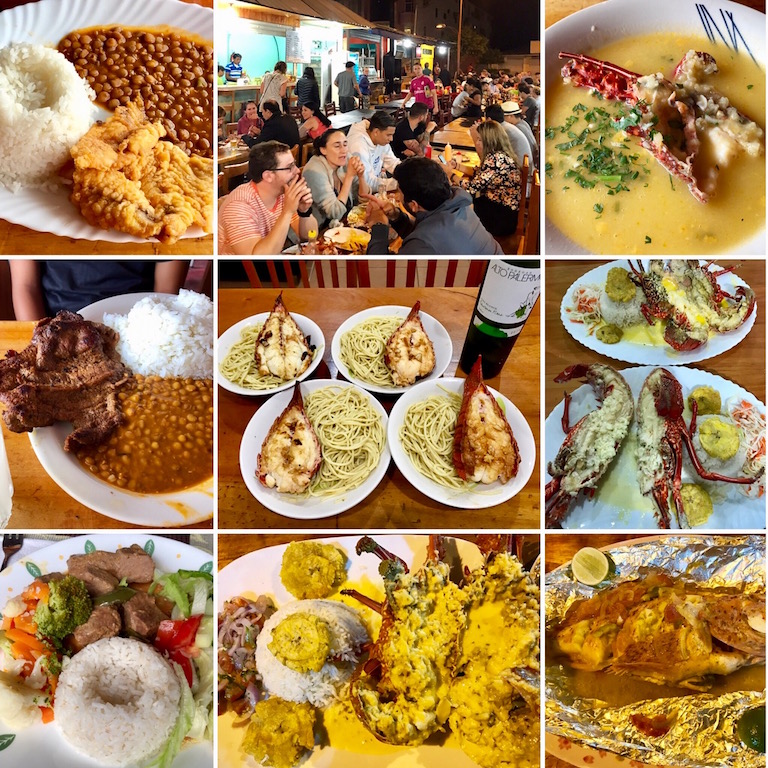 Day 2
The wildlife that was at the top of our list to see were the giant tortoises. Our hotel manager called us a taxi and for $35 RT took us to the Tortoise Reserve to get up close to the Galapagos' famous residents in their natural habitat. The reserve was in the highlands where many of the farms were located.
Our driver who also acted as sort of our tour guide brought us to the adjacent Rancho Primicias. Based on our elementary Spanish and Google translate app, he said the farms were similar since the tortoises just roam freely separated by a flimsy fence. He made the right decision since we saw a couple of tour buses in the other ranch.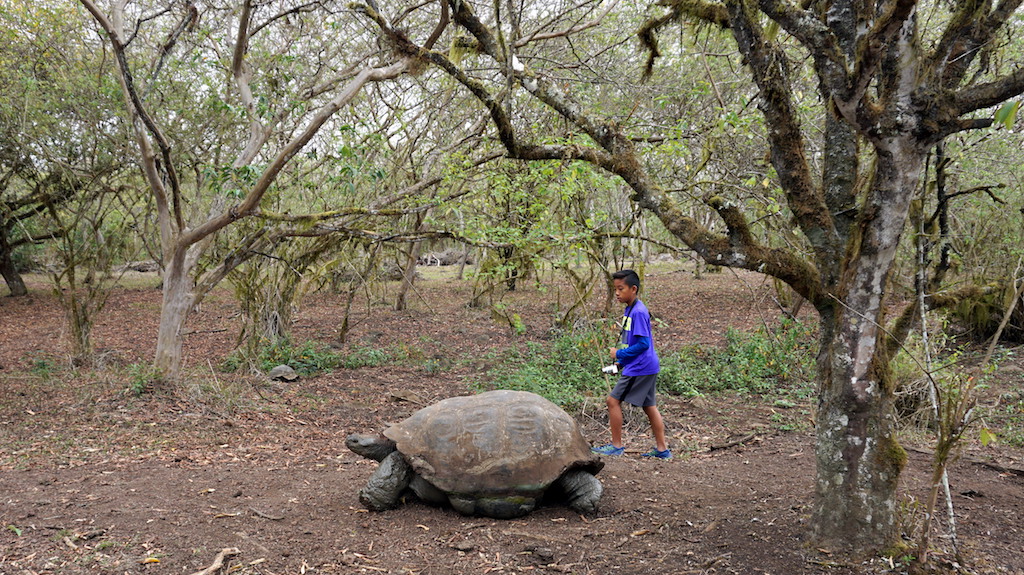 It didn't take long to spot tortoises along the roads. But, it was even more impressive to see the massive tortoises roaming slooowly around the property. It was like pre-historic wonderland! We were free to walk the property and observe the tortoises. They just ask that you don't use flash, stay a distance of 6.5  feet (2 meters) and no touching whatsoever.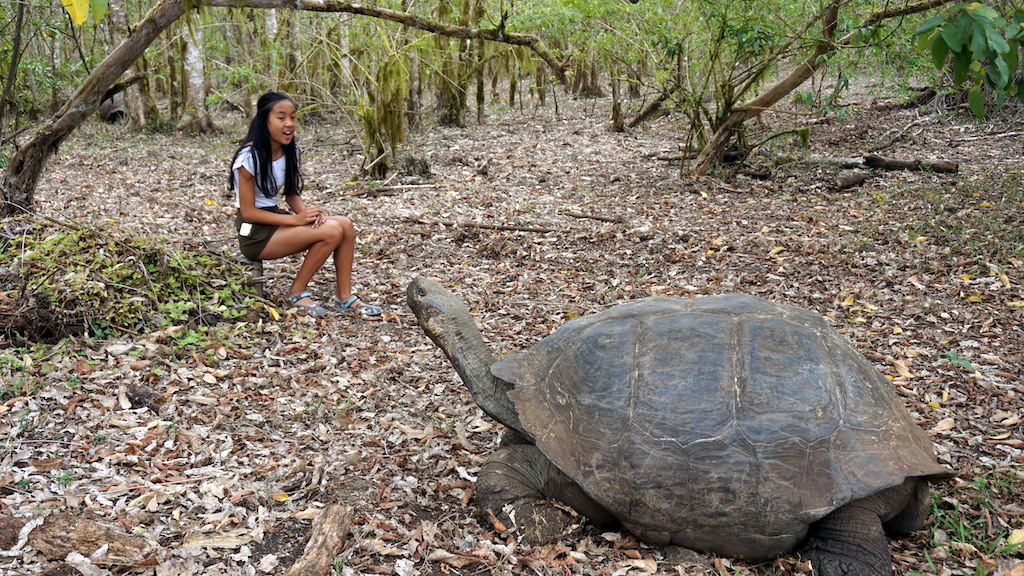 There were hundreds of tortoises here. It was amazing to think their average life span was 100 years old, and they can weigh up to 500 pounds. We had to stay quiet since they retreated into their shells when startled and also made a hissing sound.
It was so interesting to watch them. We came across small ponds with several tortoises submerged in the mud. We were at the farm for a couple of hours but really could have stayed longer watching these fascinating creatures.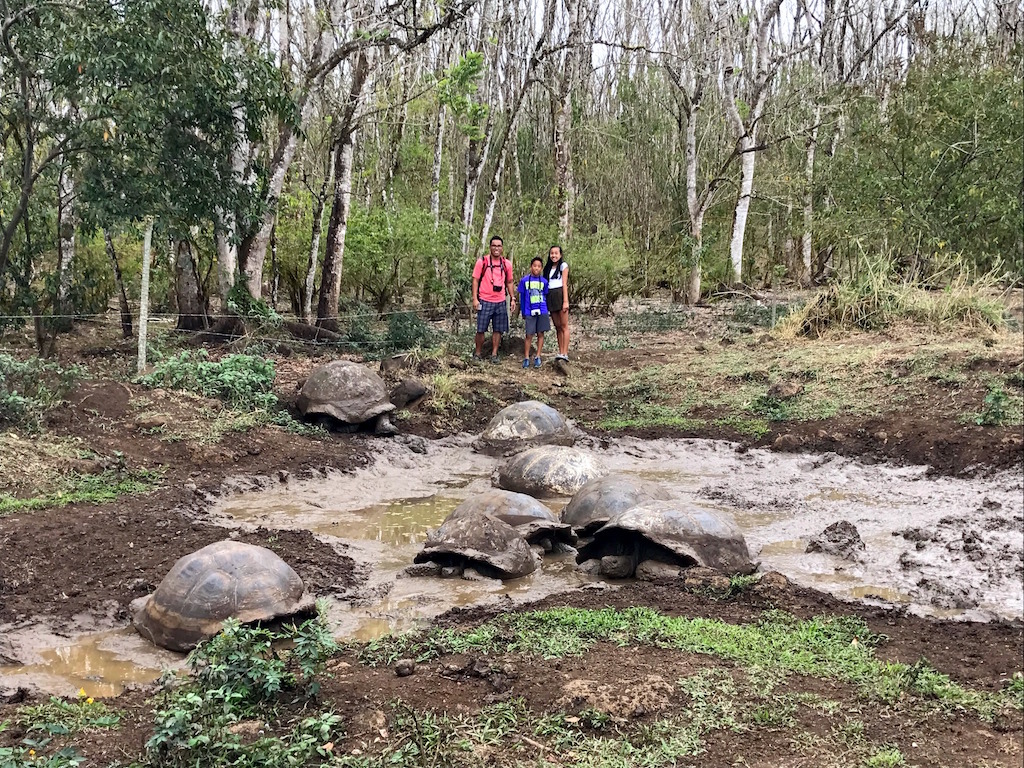 Our guide then took us to a nearby lava tunnel. He said this was longer than the other ranch. This included crawling into a really small opening to get to the other side. Needless to say, my kids loved walking through here and exploring every corner.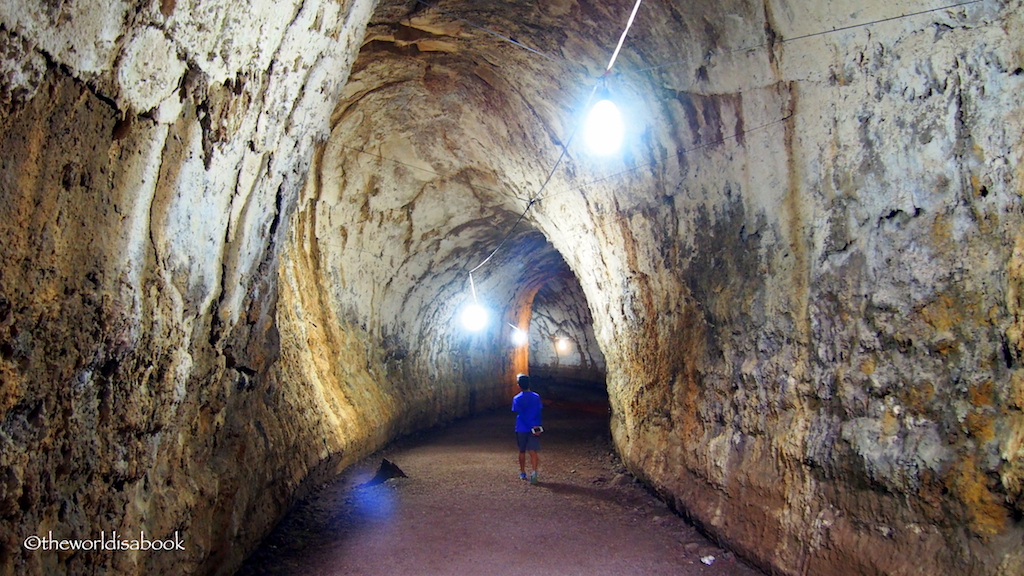 We spent our afternoon at a "secret" swimming hole that was featured in the Travel Channel. Las Grietas or "the crack" was worth the hike. This was a pool of clear, turquoise waters nestled between two volcanic cliffs, where ocean saltwater mixes with rainwater. My kids were lucky enough to have it to themselves for about 15 minutes. Cold water didn't stop these two for this neat and refreshing experience.
Day 3
Many of the tour operators offer several day trips to neighboring islands. The all day trips aren't cheap and average about $150 per person. This includes transportation, a naturalist guide and lunch onboard the yacht/boat. Uninhabited islands must be visited with a naturalist guide.Each island offers something unique. Only a few tours are allowed on these islands, occur on specific dates and heavily regulated by the Galapagos National Park Service.
We chose North Seymour Island since it only took 45 minutes from Santa Cruz and what many have told us is the best place for wildlife viewing. This was the day trip we looked forward to the most and it didn't disappoint. We loved seeing blue-footed boobies, frigate birds nesting and baby sea lions on the island. It was amazing to see so much wildlife.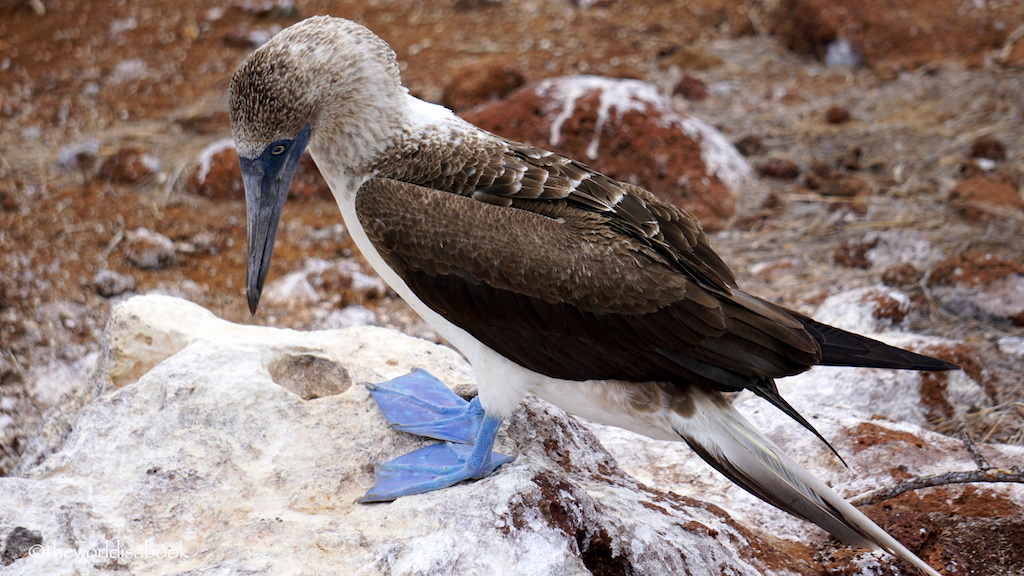 Seriously, look at this precious pup. My heart melts every time I look at this picture.
We also stopped at a nearby islet called Isole de Mosquera inhabited by A LOT of sea lions unafraid of humans. They were everywhere and they didn't hesitate in approaching us.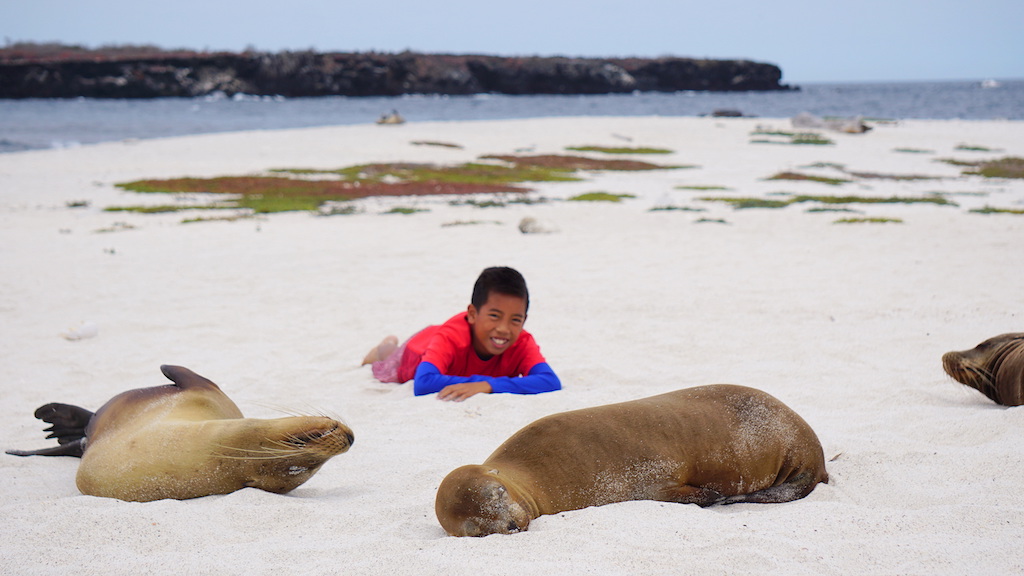 One young one even kept following my 11 year old son and they had a chasing game going on for awhile. This was one of his favorite memories and he decided to call the pup "Sammy".
Day 4
There's a reason Tortuga Bay is the top rated attraction in Santa Cruz Island. It was absolutely gorgeous! It is worth the long walk among cacti trees and endemic plants for 1.5 miles (2.5 km) one way. It opened into fine, powder white sand beach with an expansive shoreline. This was one of the best beaches we have ever visited.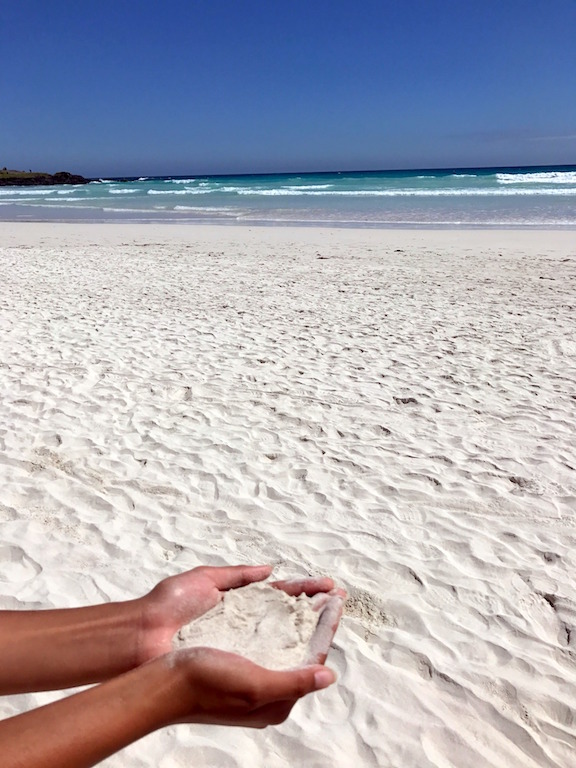 There were so many marine iguanas here walking along the shore. It was even more fascinating to watch them swim and attempt to get on the lava rocks. It almost felt like we were watching a National Geographic show on TV. Simply amazing!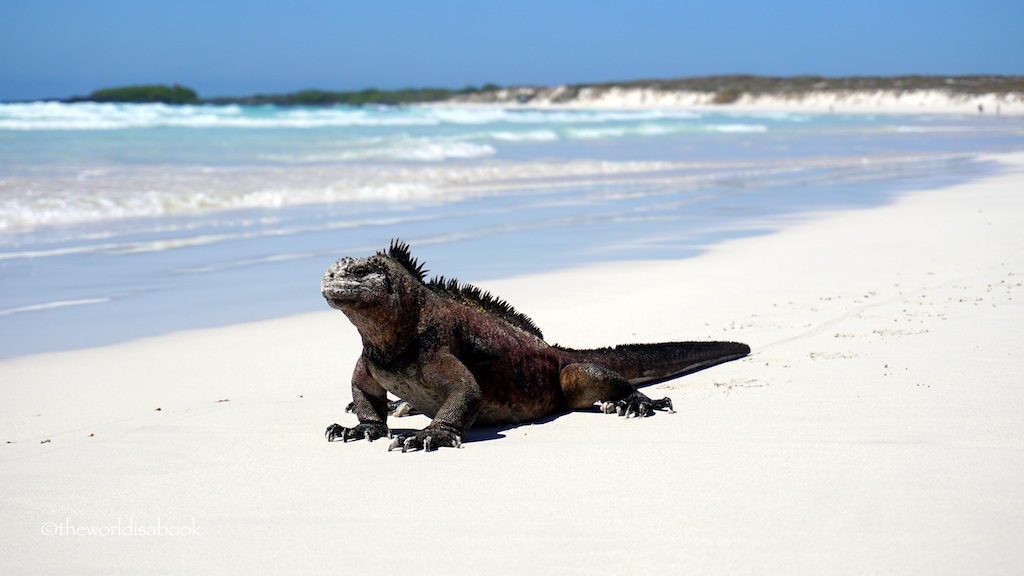 There was a beach area for surfing and a smaller beach/lagoon area. The lagoon was a beautiful place to relax with calm, clear turquoise waters. It was a bit unnerving but also quite remarkable to have unidentifiable birds and marine iguanas check us out every once in awhile while relaxing. My daughter and I loved kayaking here and spotted sea turtles, sting rays and more marine iguanas. It was almost a surreal landscape of mangroves and cacti trees surrounding the bay. The water was calm and clear and an ideal place to kayak.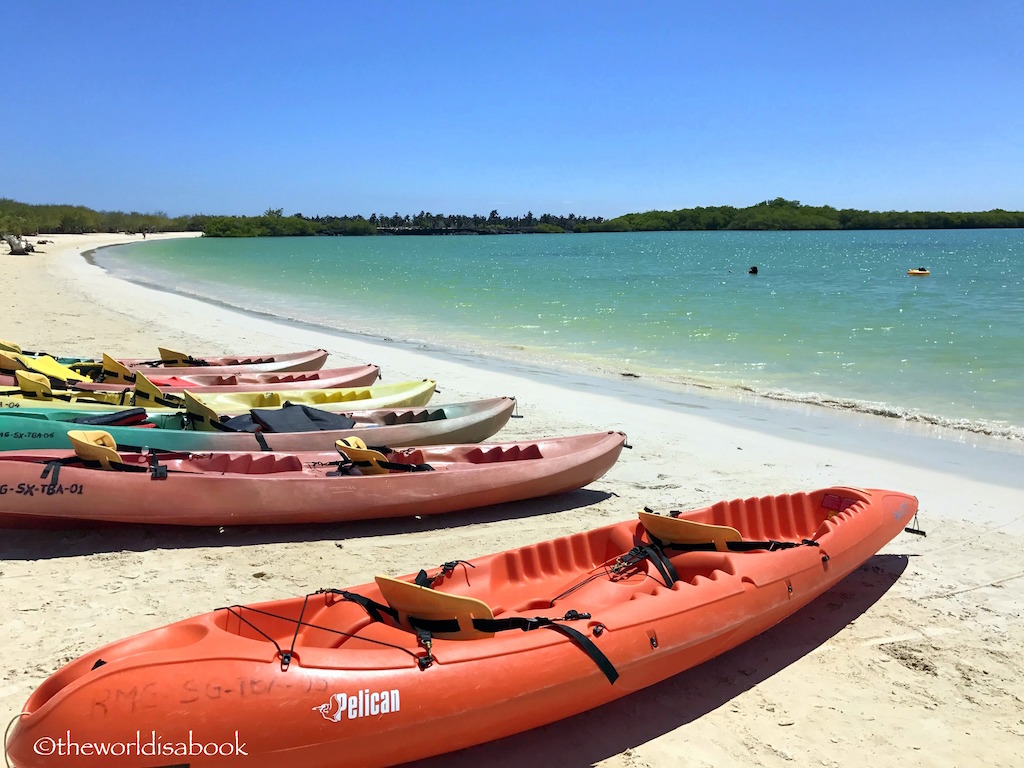 Day 5
We never expected a relaxing beach vacation to go with wildlife sightings at the Galapagos. But, to our surprise, we were able to play and relax on some pristine beaches for a couple of days. El Garrapatero Beach is easily more accessible than Tortuga Bay. It was a 30-minute taxi ride from Puerto Ayora. This also had an expansive, white sand area with turquoise waters. One of the reasons we wanted to visit was in hopes of spotting flamingoes at the adjacent lagoon. Unfortunately, they migrated somewhere else during our visit.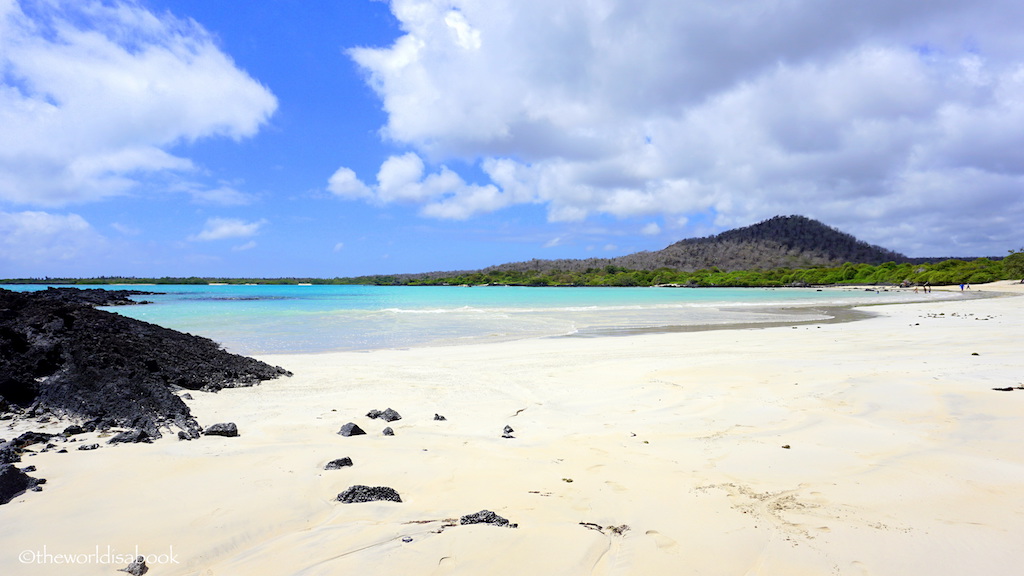 We had this beach to ourselves on a weekday along with a photographer and his drone and the marine iguanas and many birds. Snorkeling wasn't ideal but a great place for swimming in some areas. We were later joined by a group of elementary school kids on a field trip. This was a wonderful place to relax.
Our afternoon was spent on a three-hour  glass-bottom boat, bay and snorkeling tour from Puerto Ayora. This gave us a different perspective of Santa Cruz Island seeing it from the bay surrounding it. The water was a little too cold for me but my family didn't hesitate to snorkel in the designated stops. My husband and daughter even went into one spot where they saw "harmless" (according to our naturalist guide) but quite large white tip sharks. This tour ended on a small island and a visit to the lava rocks to observe some of the largest marine iguanas we've seen sunbathing in the volcanic rocks.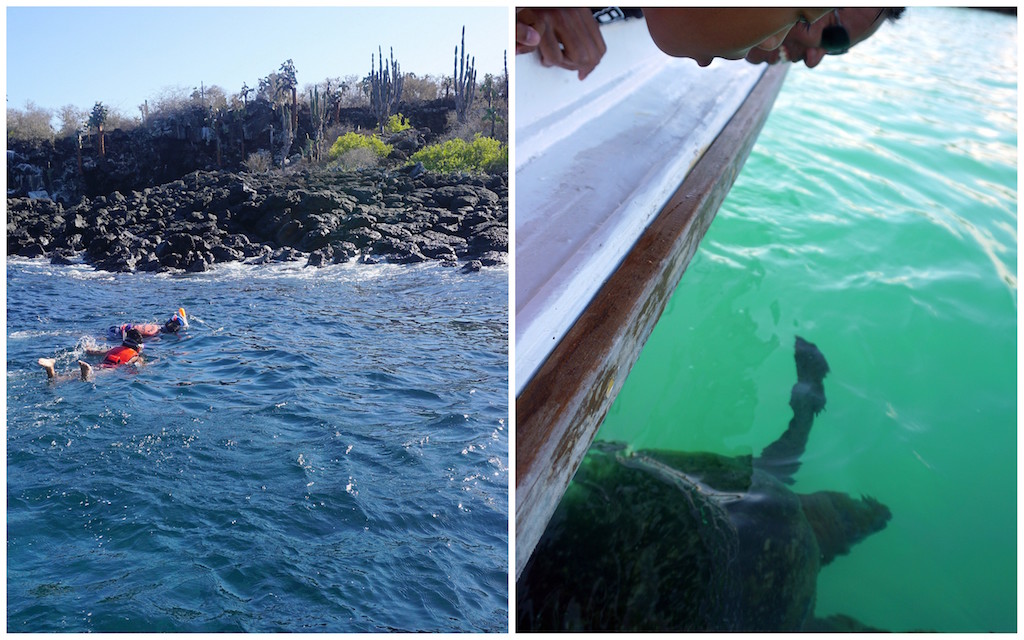 Day 6
We flew out of Baltra in the afternoon. So, we had the morning to do some shopping, hang out at the pier area and visited Laguna las Ninfas. This small lagoon was a quiet oasis within the hustle and bustle of Puerto Ayora. There was an elevated deck to walk among mangroves. There were some big fish here in the lagoon and the area attracts quite a few birds.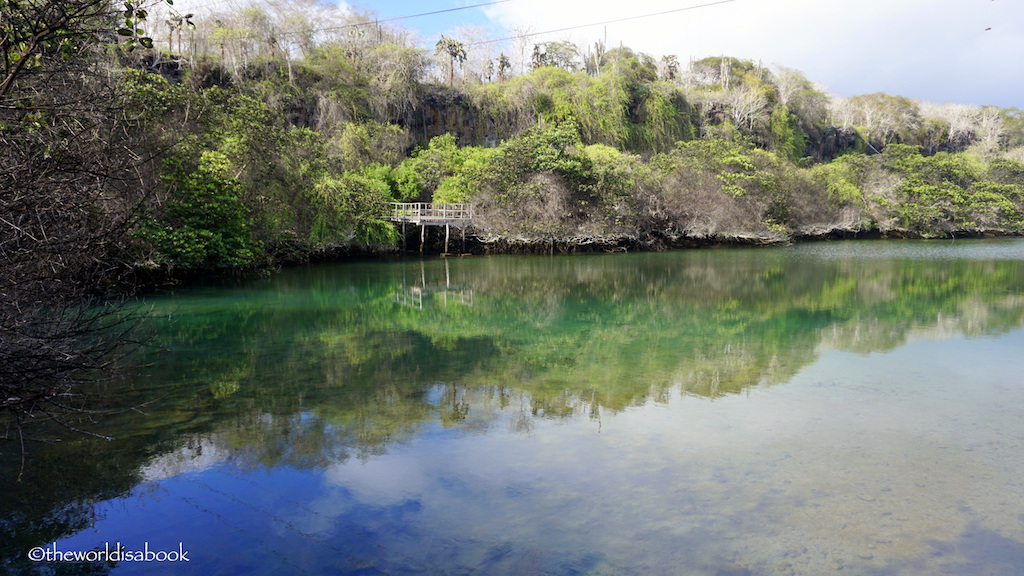 We hope these highlights will inspire you to visit the Galapagos Islands soon. If you're planning a trip there, we hope this helps with your itinerary. We had a short stay but it gave us a taste of what the Galapagos has to offer and made us a dream of a return visit soon. We've been to some pretty incredible places all over the world. The Galapagos Islands has shot up to one of the top places we highly recommend to visit whether you have kids or not. Stay tuned for more posts and tips.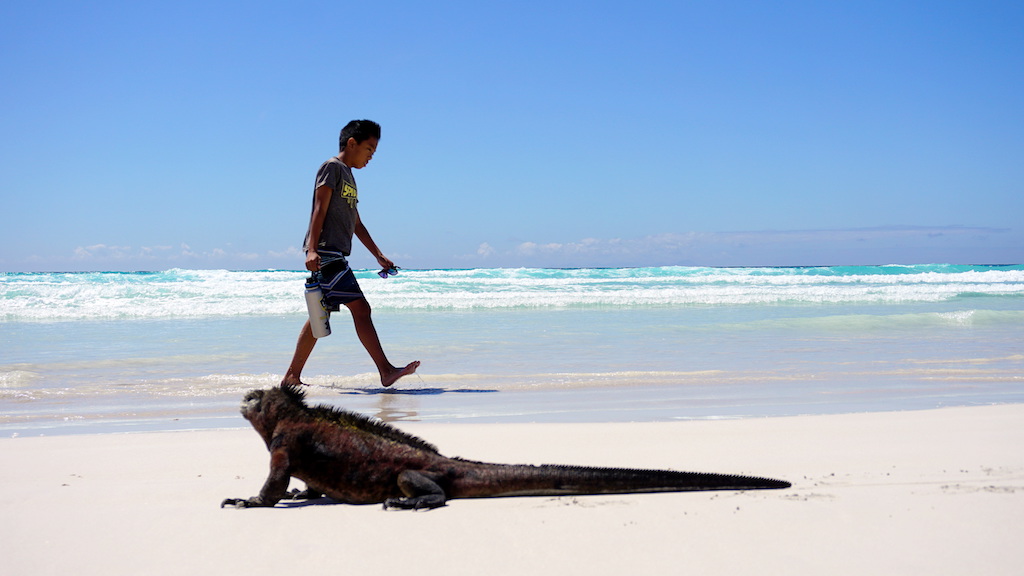 *Have you visited the Galapagos Islands or is it on your travel wish list?
Pin it for later!