Hanging out with Marine Iguanas at Tortuga Bay Galapagos
One of the reasons we were happy to have done a land-based Galapagos trip several weeks ago was the chance to explore more of its most populated island of Santa Cruz. Tortuga Bay is the island's number one rated attraction. We didn't expect to be lounging on a pristine beach in the Galapagos but this is also unlike any beach we've visited. See why…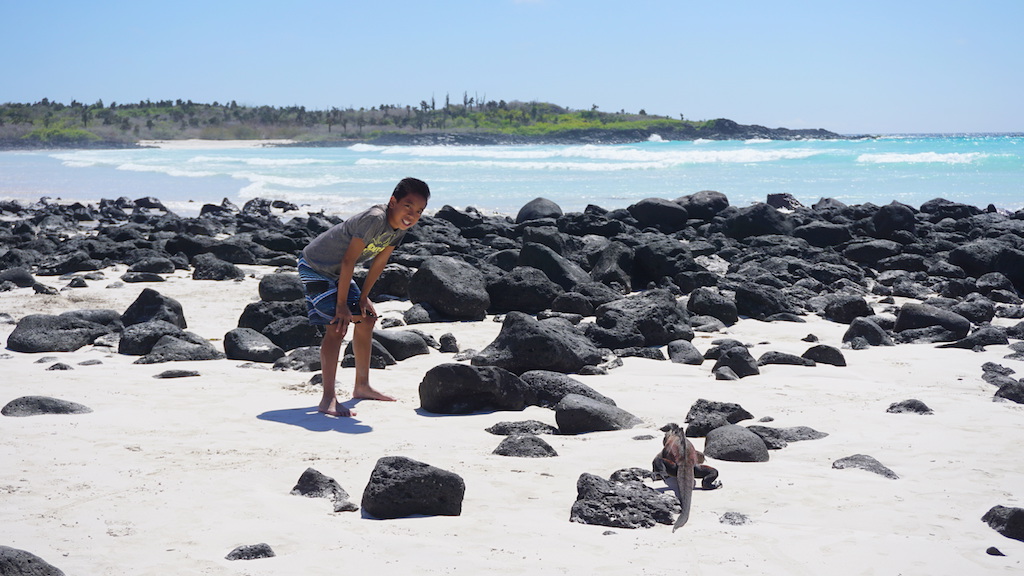 The Walk
Unlike many beaches, it takes some effort or expense to get to Tortuga Bay. Visitors can take a water taxi from Puerto Ayora which is about $10 per person one way. Many, like us, opted for walking the 1.55 mile (2.5 km) one way to get to the beach. A taxi (cost about $1 to get around town) dropped us at the entrance of the walkway.
There are some stone steps to climb to the top. Every visitor must sign in and sign out with the park service before entering the area inside the small building. It was quite interesting to see how diverse the visitors were that signed the book before us. There were a few from South America, Europe, USA and even a family from Indonesia. This is also the last chance to buy any refreshments and use the restroom.
The stone pathway was clean and wide. Most of it was flat terrain so it was pretty easy to walk even with small children. My kids enjoyed spotting the many lava lizards and small birds along the path. It made time pass more quickly and interesting for the kids.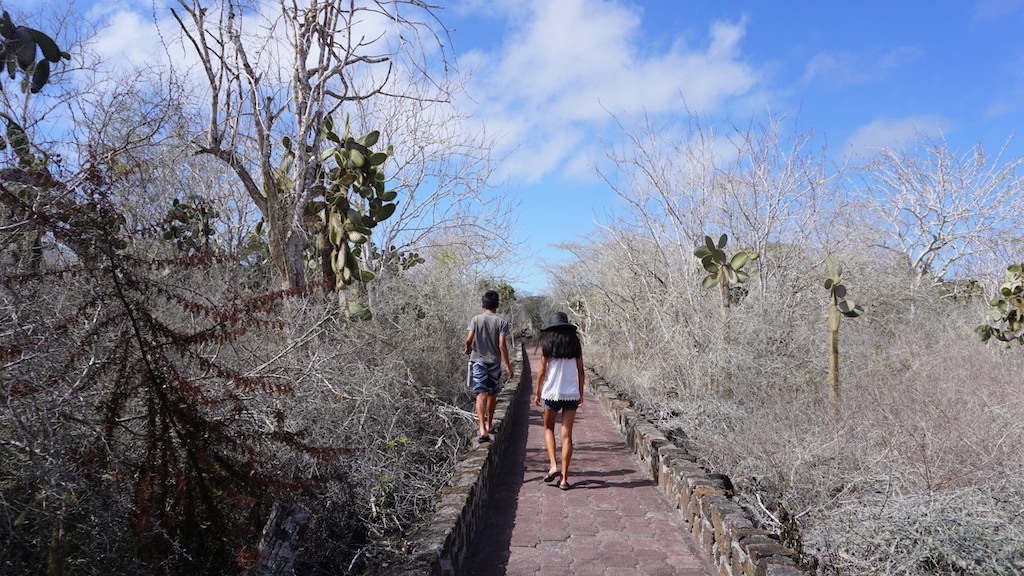 The foliage that surrounded us was a combination of tree canopies and cacti forest. We were here during dry season (November) so some trees were a bit bare. We enjoyed seeing some trees, plants and flowers that we've never seen before. It was a bit odd to find large cacti alongside the poisonous manzanillo tree endemic to these islands.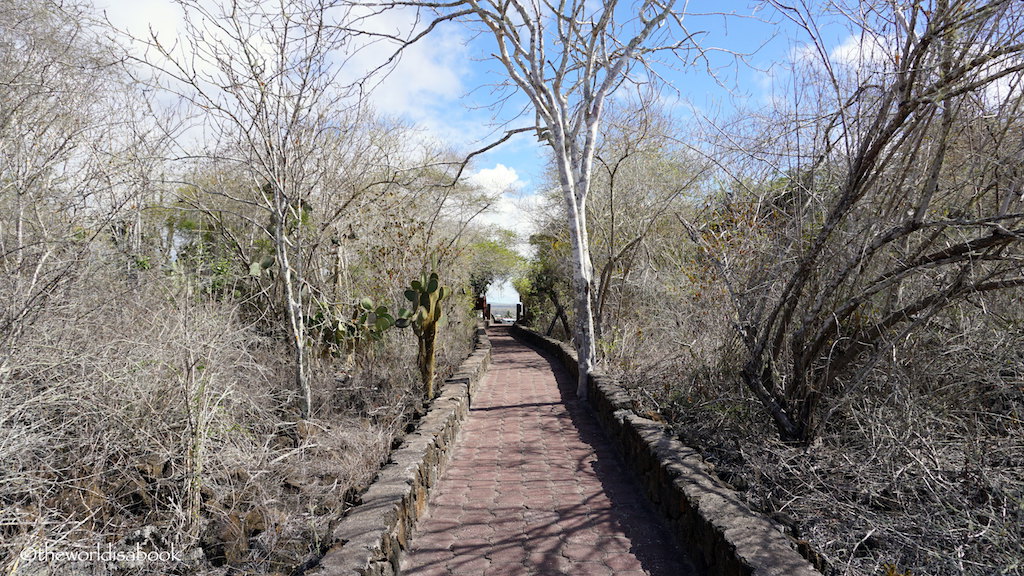 The weather was fairly cool and comfortable but we were here around 9 AM. Considering the area is quite close to the equator, it does get hot and humid during some months. So, this walk can become tiring and uncomfortable. There is a gazebo on a small hill to rest halfway through the walk. There is a very nice breeze that passes through here.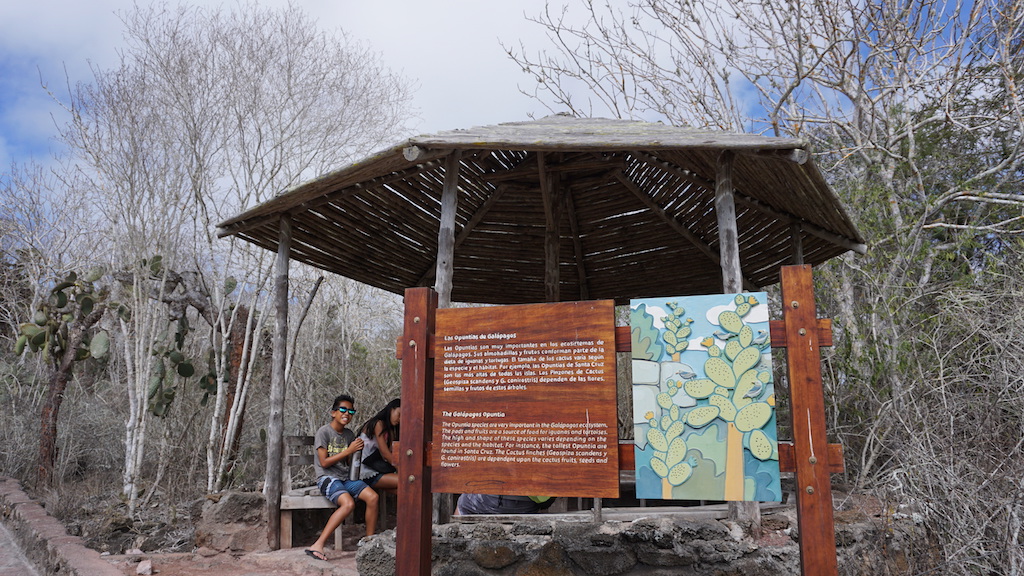 The Beach
The white sand and turquoise waters were a welcome relief and a sight to behold. Our walk took about 45 minutes at a leisurely pace with some photo ops. This beach (Playa Brava) was stunning. There were warning signs and red flags indicating rough waves and no swimming.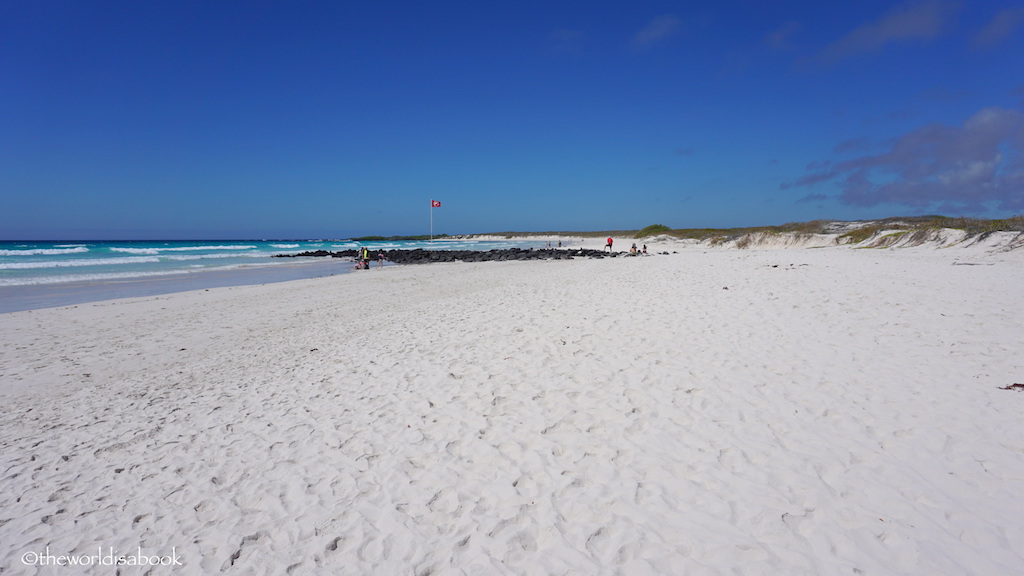 The shoreline was wide and filled with the soft, white sand. It almost felt like powder!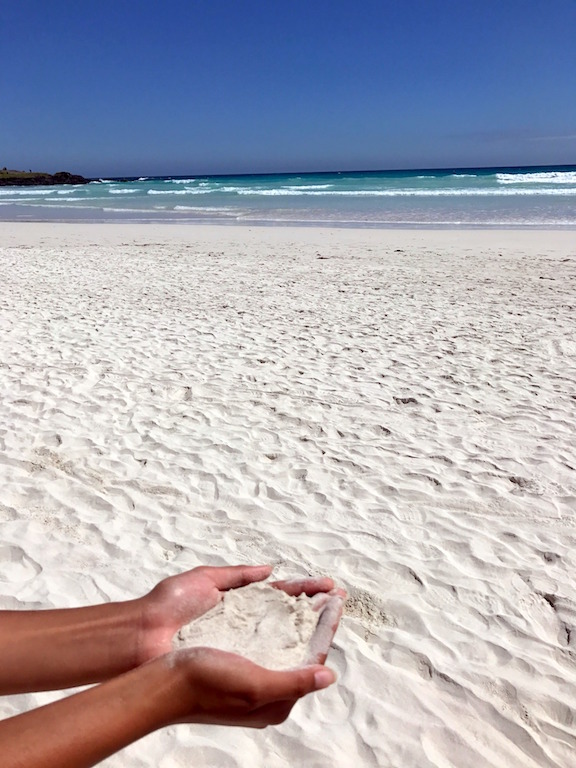 The most unique thing about this beach was seeing the many marine iguanas, which are endemic to the Galapagos Islands, walking along the sand. They are the only marine lizards in the world.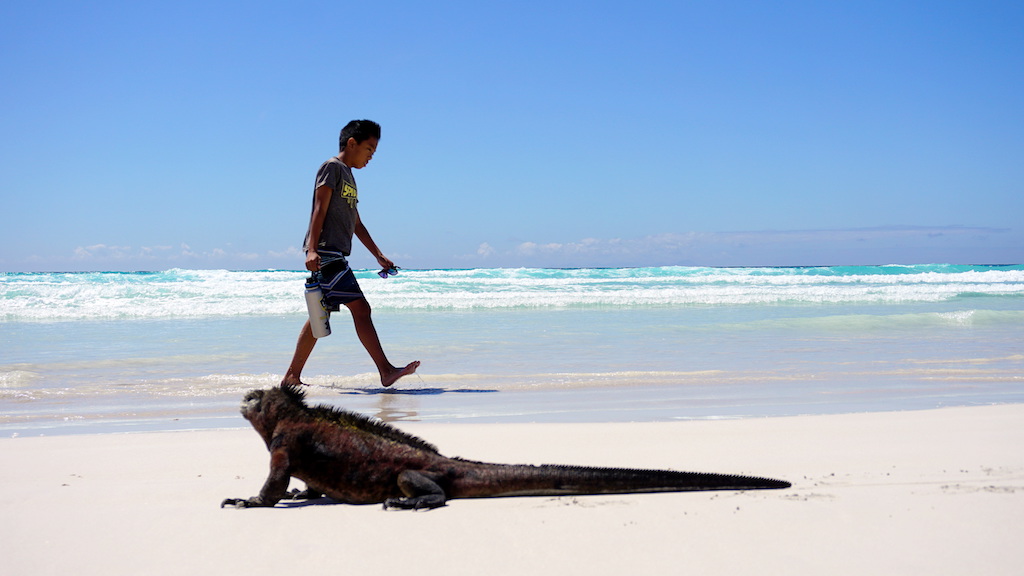 We loved seeing them sunbathing on the rocks and hearing them sneeze salt water out. They're not the most attractive animals to look at but they are very interesting. Some of the really large ones look very intimidating.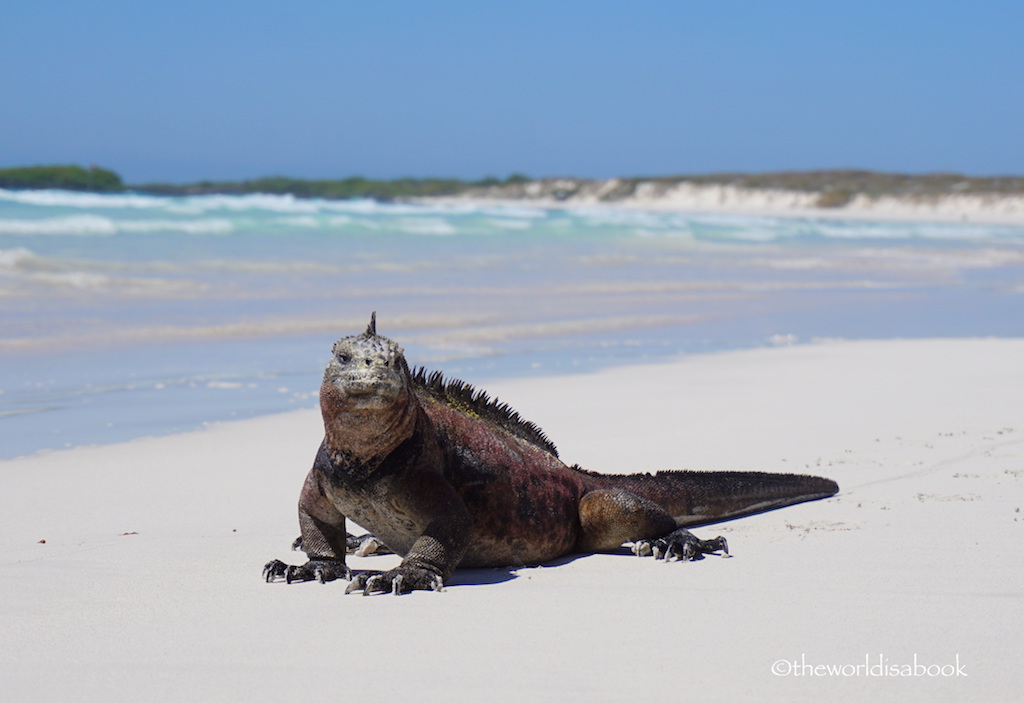 It was so fascinating to watch them swim against these waves, float and finally get to shore. Their long, flattened tail enables them to swim. Marine iguanas are herbivores who live on land. They go out to the sea to mainly eat algae and seaweed.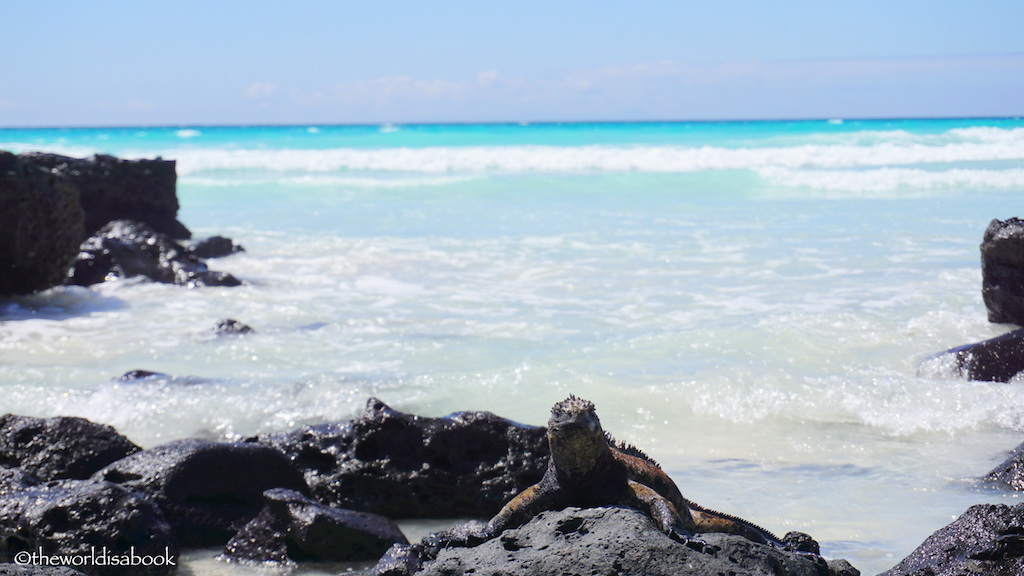 Here's a glimpse of a small portion of this beach. Can you spot some of the marine iguanas?

Since this area wasn't safe for swimming and based on recommendations, we kept walking another 20 minutes along the beach to the safer area. It was a fantastic walk as we encountered many more marine iguanas and birds along the way. And one can't really complain walking barefoot on the softest sand. We came upon some mangroves and found dozens of marine iguanas resting in the shade.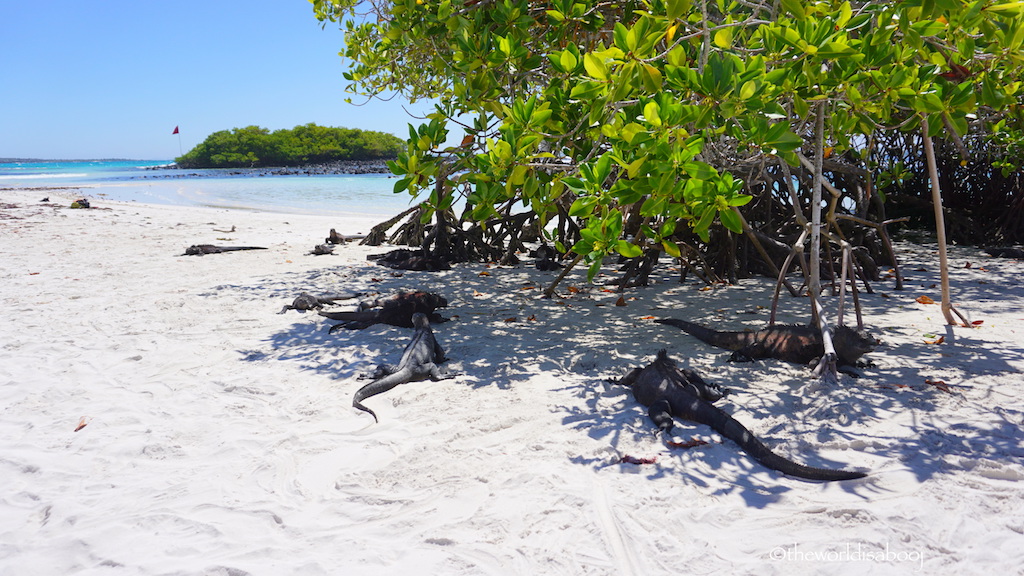 The Lagoon
Playa Mansa is the area for swimming and located on the lagoon. The lagoon was a protected area surrounded by mangroves and cacti trees that was almost like a barrier. The water was very calm which was perfect for kayaking and swimming. It almost looked like a large lake. Though, there was plenty of that soft, powder white sand here too.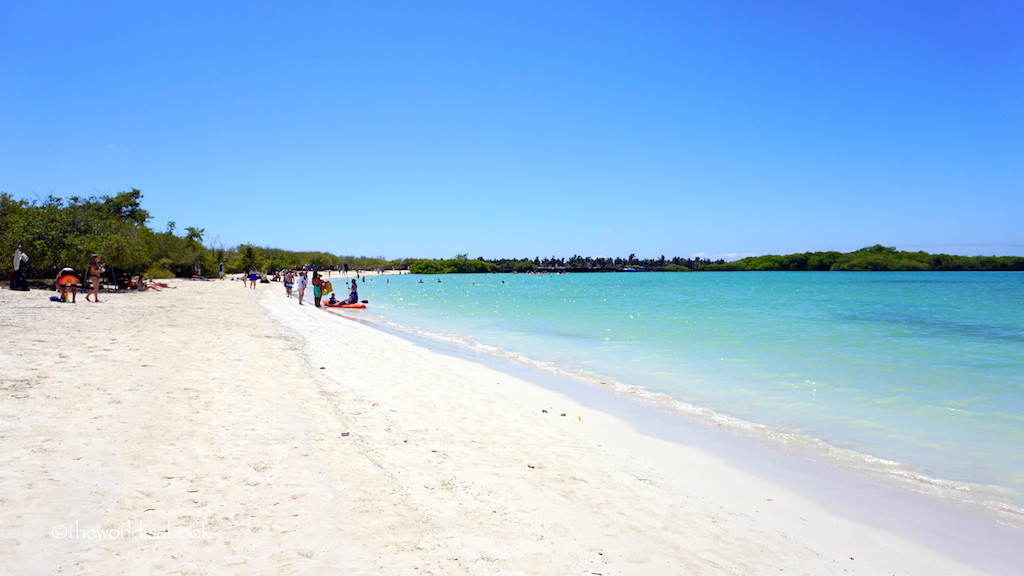 We brought our own snorkel gears and attempted to snorkel but these weren't the best water conditions. The water was clear when we first waded into it. Since it's mostly sand underwater, the water got murky quickly. Visibility was pretty bad with the presence of green algae too. I don't know if this was due to the time of year or if it actually clears up during other months.
One of the best ways to fully enjoy the bay is to kayak parts of it. Kayak rentals are available for $10 per person per hour. Though, they weren't really very strict with the time.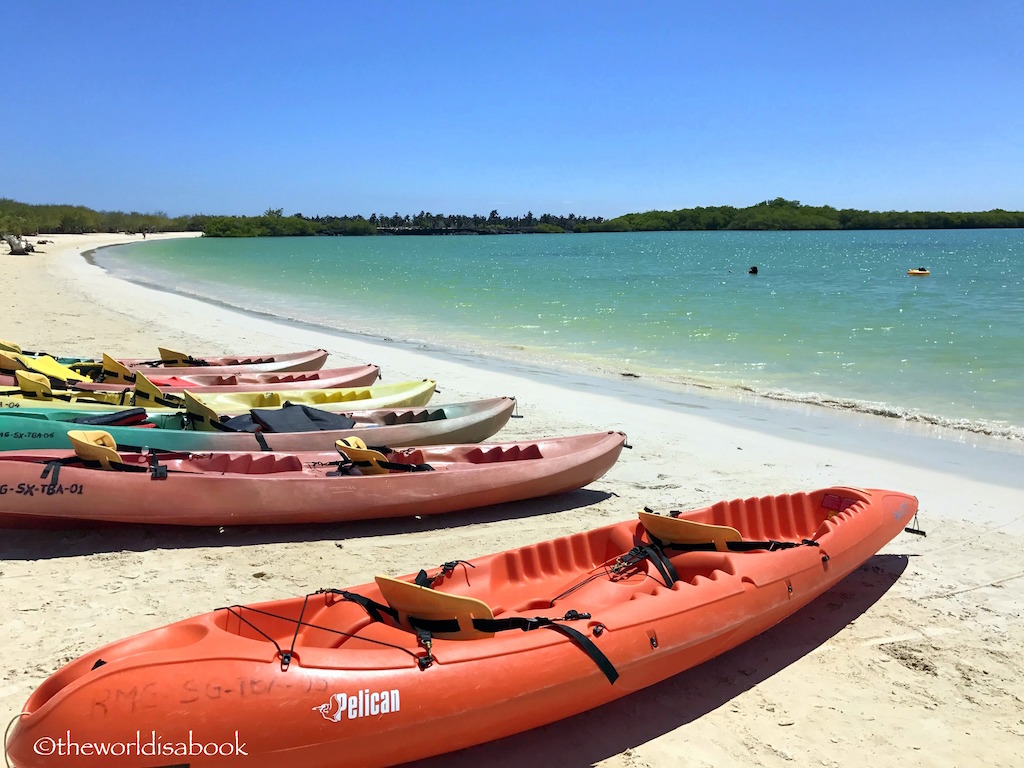 The man showed us which areas to kayak to see particular animals. My daughter almost flipped our kayak after getting so excited when she spotted a sea turtle swimming alongside us. This picturesque bay was one of the best places we have kayaked. It wasn't crowded and busy, and the water was calm. The best part was there were plenty of fish along with small white tipped sharks, sea turtles, stingrays and marine iguanas.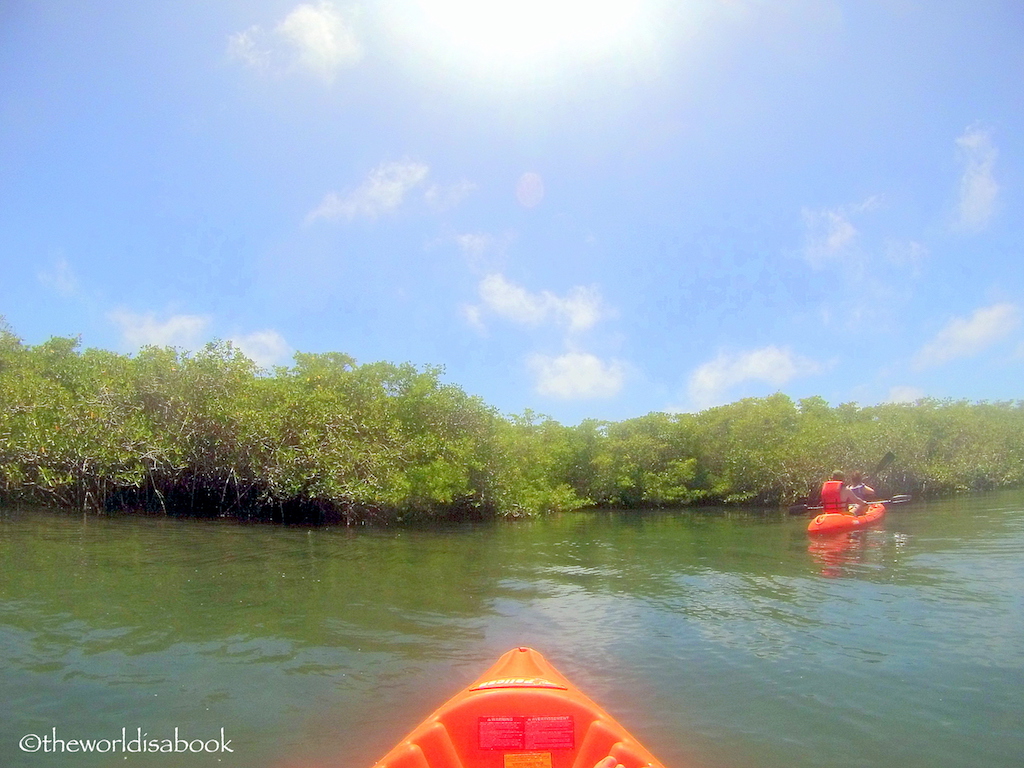 There were some benches and shaded trees on the shore perfect for relaxing and sunbathing. There were a lot of small birds here including some Darwin finches and they didn't hesitate to come up to us especially when we were eating. It made us very careful not to drop anything for fear they eat something they're not supposed to.
It was a bit surreal to be sunbathing and marine iguanas slowly walked past me. A couple stopped and stared and the others simply ignored us. If you have any fear or anxieties of reptiles, this isn't the place to relax on the beach.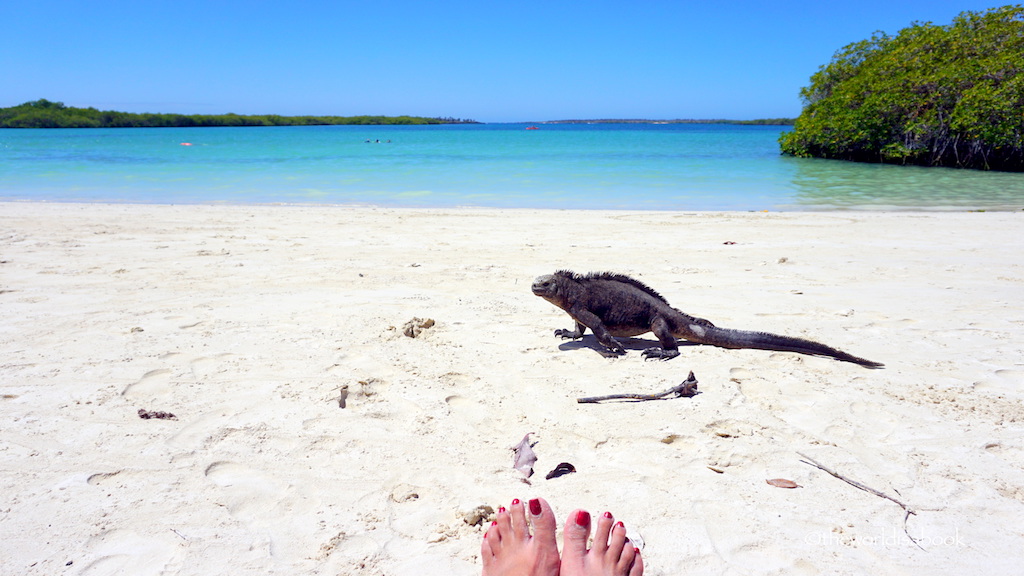 Some of the Galapagos cruises only make a day trip to Santa Cruz and visit the Charles Darwin Center and one of the giant tortoise preserve farms. If you're looking at cruises, check for ones leaving out of Santa Cruz too and spend some time before or after on this island. Who knew we'd find one of the most unique and beautiful beaches in the world in the islands known mainly for their wildlife. We highly recommend a visit here if you're staying in Santa Cruz for a few days. Tortuga Bay was definitely worth the long walk and an unforgettable natural attraction.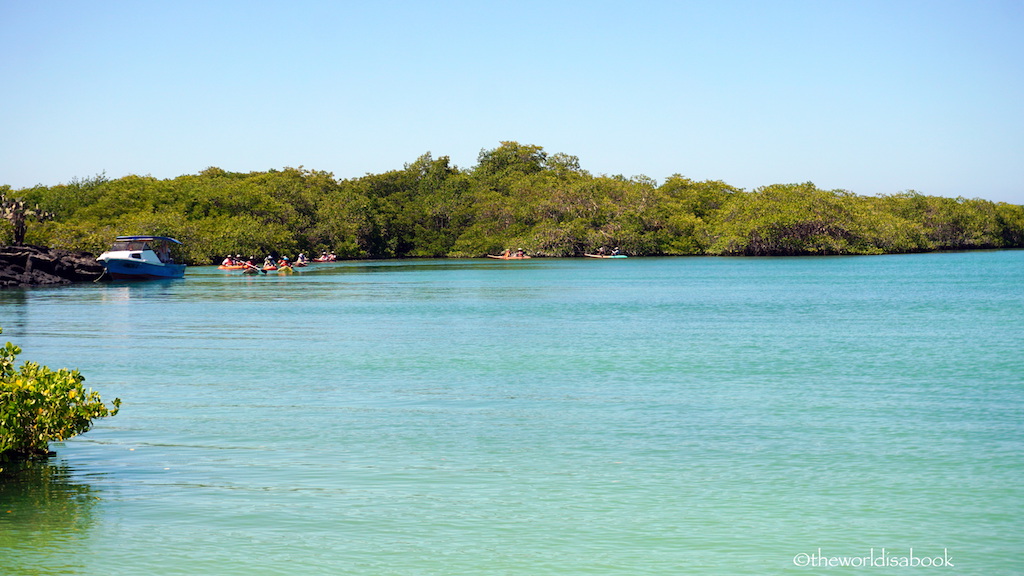 Tips for Visiting Tortuga Bay Galapagos
Tortuga Bay is open daily from 6 AM – 6 PM.
Use the restroom before starting the walk to the beach. Facilities are by the small building used for signing in/out at the entrance. There are no facilities at all on the beach areas.
Buy/bring plenty of water and snacks. The walk coupled with the hot and humid temperatures will make you go through your supplies fast. There are no stores/kiosks at the beach areas.
Bring hats, beach towels, insect repellant and plenty of sunscreen lotion.
Getting to entrance via water taxi. Tickets are available at a kiosk by Puerto Ayora pier. The ride takes about 20 minutes. A few people we met did a combination of walking and taking the taxi back. We saw the kiosk a couple of days after. As of this writing, boats leave Puerto Ayora at 9AM and 2 PM. Pick up times at Tortuga Bay are 2 and 5 PM.
If you're traveling here with babies or toddlers, bring sturdy umbrella strollers that can easily be folded or go via water taxi for a faster and easier way.
Wear comfortable walking shoes. The pathway can take 40-50 minutes in a leisurely pace and an additional 20-25 minutes to the calmer beach/lagoon area.
Go early. By the time, we were walking back in the afternoon, there were a lot more people walking to the beach.
*Have you been to the Galapagos or is it on your travel wish list?
Pin it for later!