Tips for a DIY Land Based Galapagos trip
The Galapagos Islands seemed like an unattainable bucket list destination for a long time. I was under the impression, as I've found along with many others, that the only way to see the islands was through expensive cruises (averaging $3-4K per person for 5-7 day cruises) or through guided tours. Fortunately, the travel blogging community is such a great resource. I loved finding solo and traveling backpackers who did land based Galapagos trips on a budget. Land based or hotel based trips are great alternatives to cruising allowing for a personalized itinerary and flexible schedule while saving some money.
The following tips and budget are based on our DIY five-night land based trip last November using Santa Cruz Island as our base. A land based trip is also ideal for visitors who have time restrictions and/or are on a budget. It's particularly appealing for families, like us, who have limited vacation times and working around the kids' school schedules. We hope some of these tips we learned and used can help you plan a land based trip to the Galapagos Islands (with or without kids).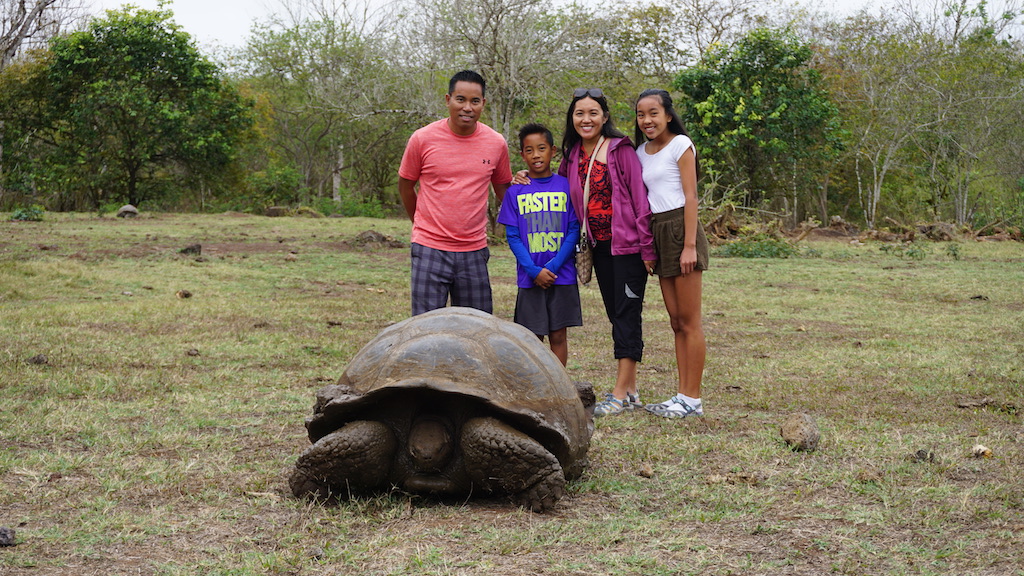 Getting to the Galapagos
The Galapagos Islands are an archipelago and marine reserve located 600 miles from mainland Ecuador. It is home to unique plants and animals found nowhere else in the world. Flights to the islands begin from the Ecuadorian cities of Quito or Guayaquil. It's another two hour flight from these cities to the islands. Both airports are actually very nice and modern. Bonus: Quito has a shopping mall attached to it. If you have a VIP lounge pass, they do have lounges. We liked the Quito one much better than Guayaquil's lounge. It was larger and better food variety.
We flew from Los Angeles, California to Lima, Peru (8 hour flight) then to Guayaquil via LATAM(once LAN) Airlines. We spent the night in Guayaquil due to the flight schedules. We stayed at Hilton Colon Guayaquil going there and Holiday Inn Guayaquil Airport coming back. The Hilton is a very nice hotel with a resort feel and provides shuttle since it's about 5-10 minutes away. The breakfast buffet is one of the best we've seen throughout our stays at many Hilton properties worldwide. Holiday Inn is walkable from the airport and is convenient.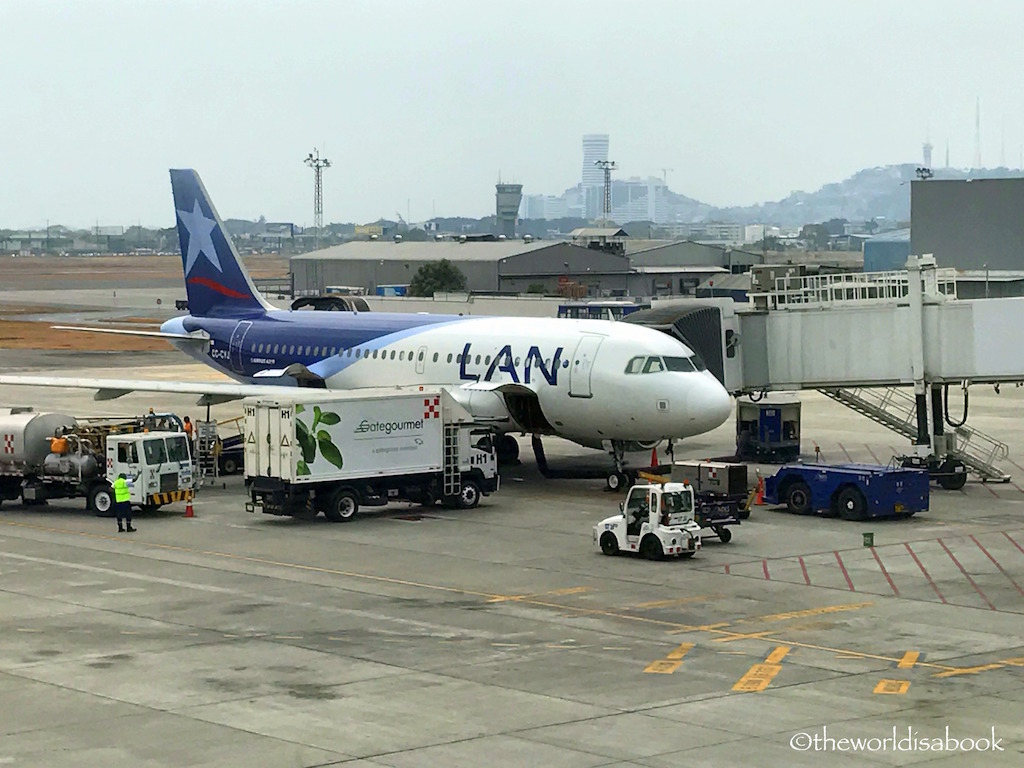 There are two airports on the islands – Baltra (code: GPS) and San Cristobal (code: SCY). You can fly to either one depending on where you want to go and spend some time. We flew into Baltra because our destination was Santa Cruz Island.
Look into setting up airfare alerts for flights to these two airports. Another option we used for some savings was flying using miles and points to get to the Galapagos from Guayaquil or Quito. There are many websites out there telling everyone how to accumulate these points. We have the Chase Reward credit cards which allows us to transfer points/miles to several airlines. British Airways (BA) uses a distance based award chart and redemption is much less than the other airlines. We transferred points to BA and used Avios points (7,500 miles one way per person) for our flights to the Galapagos and only paying tax. Airfare prices are usually around $350-$400.
The Airport Process
If you stop overnight in Quito or Guayaquil, get to the airport at least two to three hours before your  Galapagos flight. The airlines won't check you in unless you have a Galapagos Transit Control Card so you have to get in line to buy it first. In Guayaquil, there were only three windows and they had to type in all your information from your passport. We were in line for 30 minutes on a Monday morning in late November. I can only imagine the long line during busy season from June-August.
Getting the Galapagos Transit Control Card
This transit card is used to monitor who is leaving and entering the islands. There are no exceptions and everyone must pay for it and you can't board flights without it. We paid $20 USD per person (no children discount) and is CASH only. It is important to keep the card and receipt because you may be asked for it when leaving. FYI: Ecuador uses the US dollar as its currency.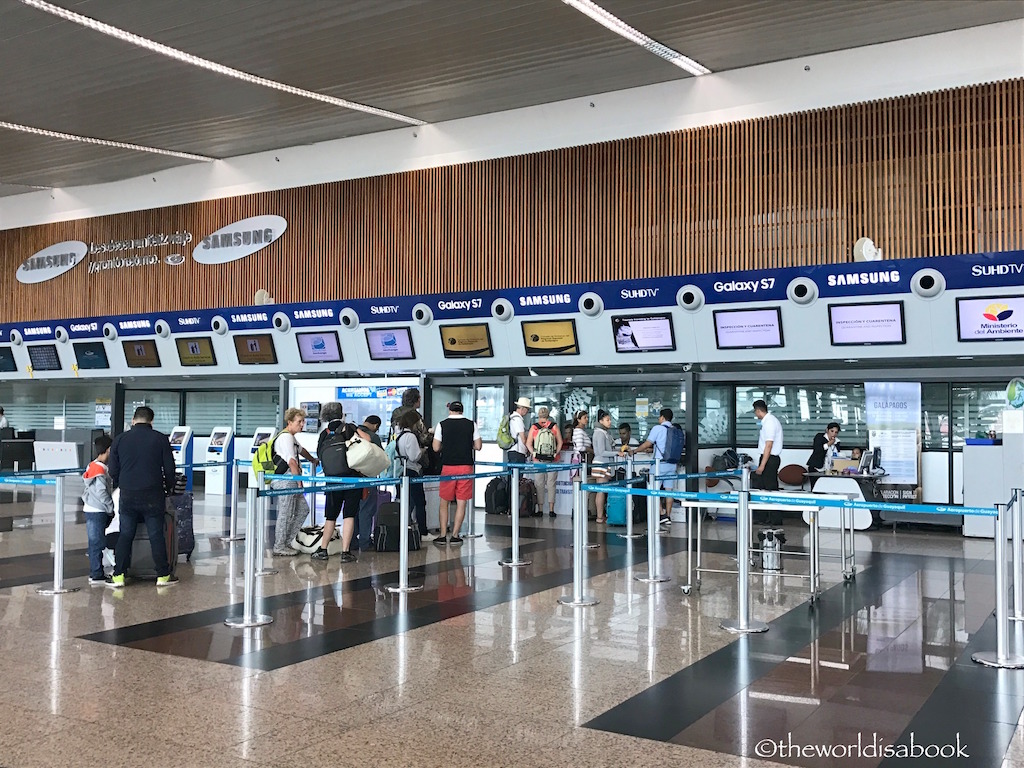 Luggage
Due to the threats that non-native plants and animals can pose to the flora and fauna of the Galapagos Islands, every luggage checked or carried onboard, plus carry-on items like purses and backpacks are checked and screened for seeds, plants, fruits, vegetables, animals and biohazard materials. The items are tagged for clearance. The luggage screening is located next to the transit card areas. Check with the airlines you're flying for luggage weight restrictions.
Flying LATAM
This was our first time flying with this airline and we really liked them. Their Dreamliners could use more legroom but the entertainment options were great and their food was delicious. Download their app before your flight to view movies and shows on your smartphone on flights between Ecuador and the Galapagos. We had food and drinks even on our two hour flights (one more reason I love non-US airlines). We really liked how they organized lining up by rows. They allowed families to board first including us traveling with a teen and tween.
Arriving at the Baltra Airport in Galapagos Islands
Baltra is a small airport but very modern and clean. Passengers walk on the tarmac to get off and on the plane. All visitors must pay a Galapagos Islands entry fee/tax. Most tourists pay $100. Children under 12 years old pay $50. Ecuadorian nationals over 12 years old only pay $6 and children 12 and under pay $3. According to the Galapagos National Park, these fees are used to help protect the islands' plants and animals and the local community.
The Galapagos entry tax must be paid in cash only. There is an ATM right outside the terminal if you need more cash. These lines can get very long depending on the number of passengers deplaning and number of planes arriving. Walk fast once you deplane or try to sit near the front of the plane.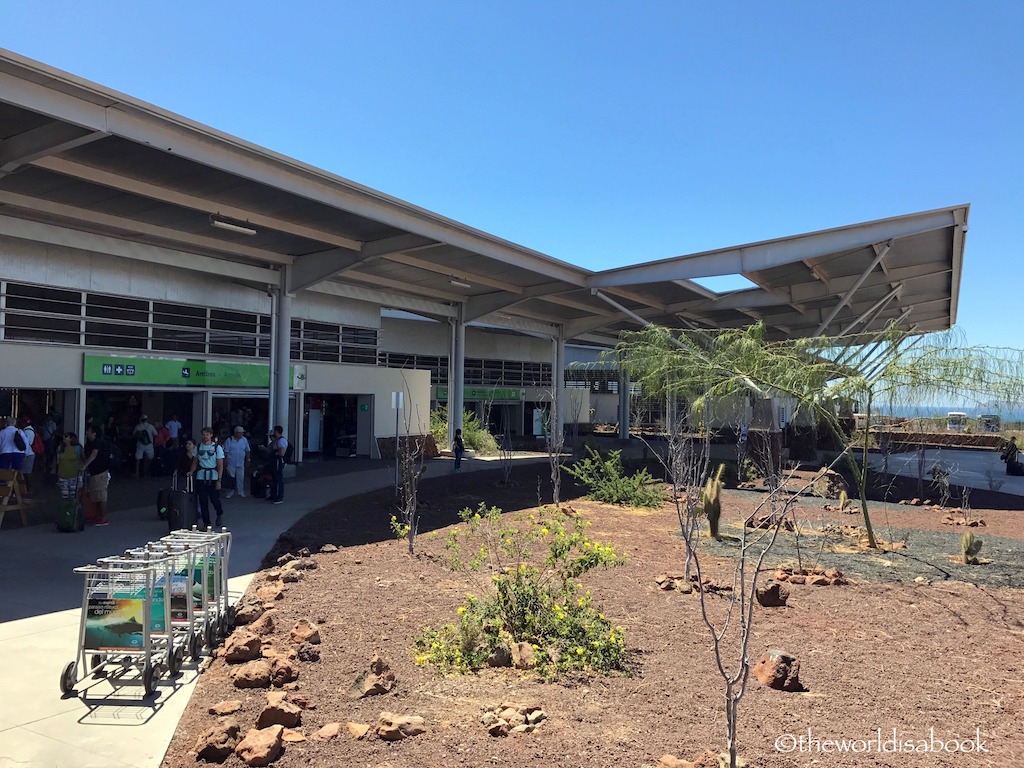 Getting from Baltra Airport to Puerto Ayora
Baltra airport is located on South Seymour Island near Santa Cruz. Some tour companies pick up passengers at the airport. For the DIYers, it's a combination of Bus -> Ferry –> Bus/taxi to get to the main town of Puerto Ayora in Santa Cruz Island. Use the restrooms at the airport before you make your way. It'll take close to 1.5 hour to get to your destination.
There is a free, large bus outside of the terminals that takes visitors to the dock. The bus ride takes about 5-10 minutes. Once you get to the dock, take your luggages to the boat waiting. The staff there will load all luggages on the boat's roof. This looked alarming but don't worry, they won't fall off.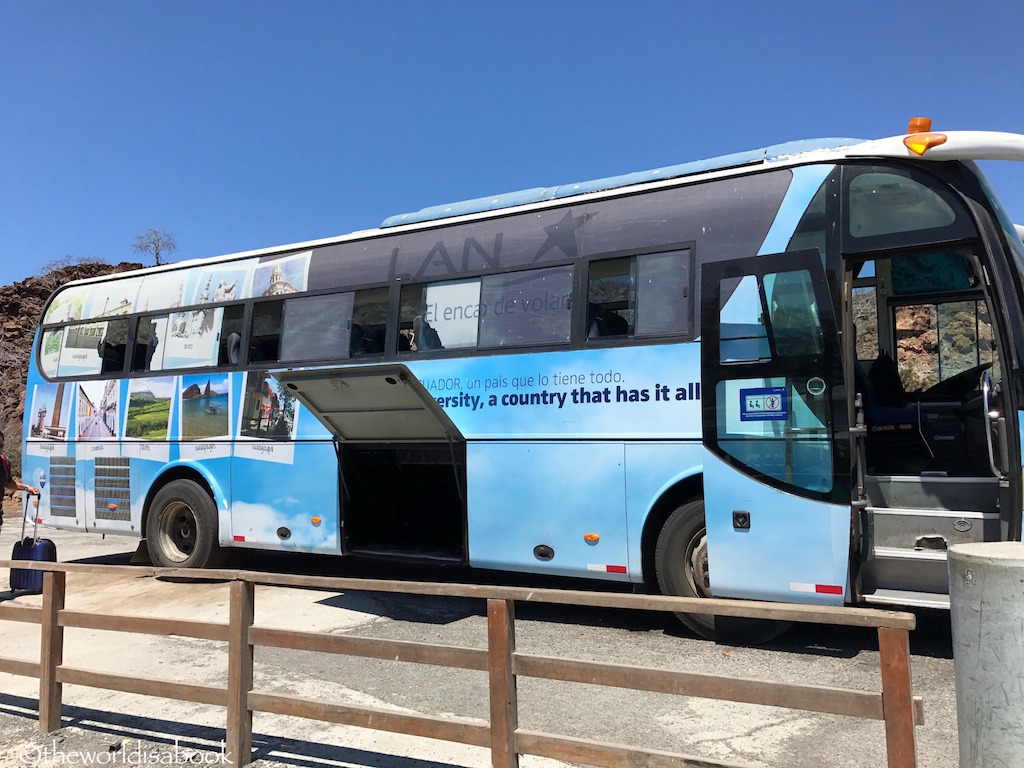 The boat/ferry costs 80 cents US per person/one way for the ten minute ride to cross the Itabaca Channel. Someone collects the fares once you're on your way. Look around! The water here is gorgeous.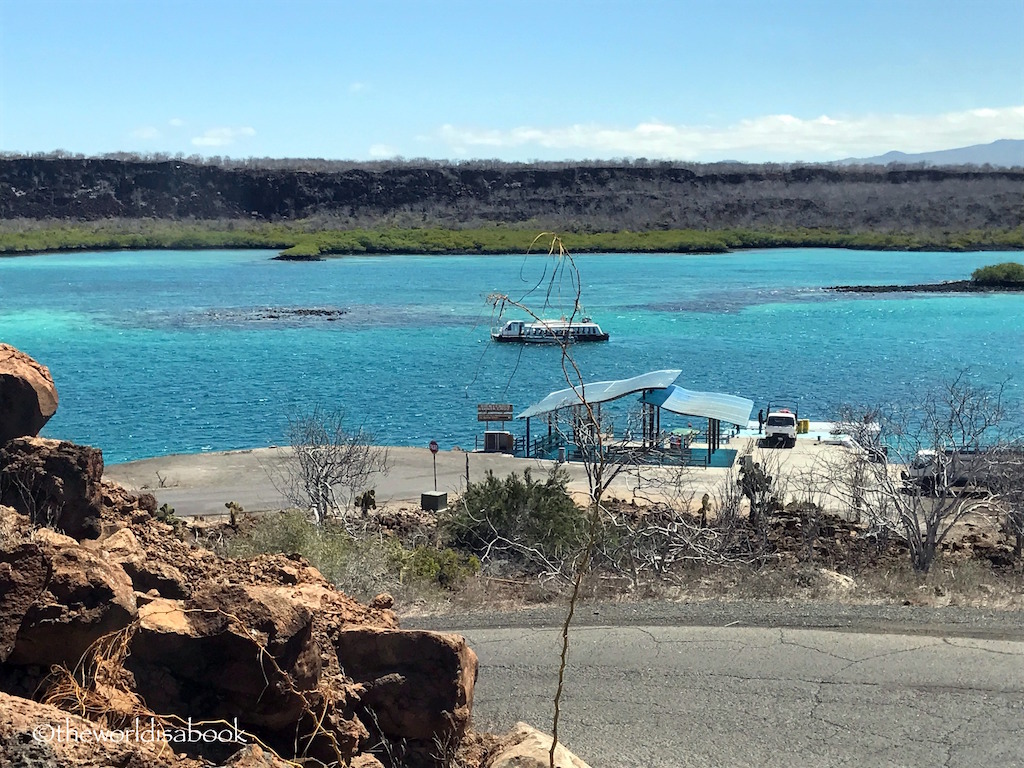 There are two options to get to Puerto Ayora.
Bus – Several buses were waiting for passengers by the dock. Buses cost $2 per person. This was already crowded when we got there. There is no air conditioning. Buses drop off passengers at Avenida Charles Darwin and Ave Baltra.
Taxi – All taxis on Santa Cruz are white pickup trucks with a cab. It's a bit odd considering how much fuel these trucks use and the Galapagos is big with conservancy efforts. We didn't want to wait for the next bus to fill up and we wanted to be dropped off by our hotel so we chose to take the taxi. The cost was $18 for the four of us from the dock to town. Pick taxis that are a little bit newer model trucks for a more comfortable ride. Some older ones also didn't have functioning seat belts in the back seats. It takes about 45 minutes to get to Puerto Ayora.
If you're arriving early in the day, try negotiating with the taxi driver to make a stop at the giant tortoise farms on the way. Our flight got in around noon and we weren't comfortable leaving our luggage in back of the taxi.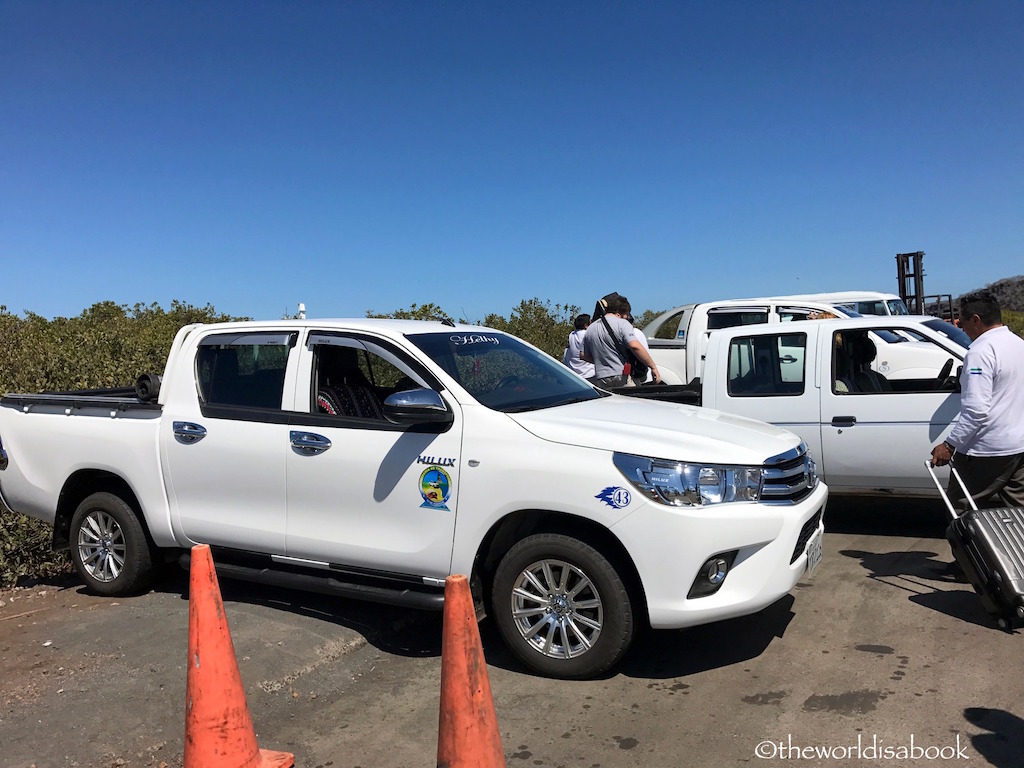 Where to stay in Puerto Ayora
Puerto Ayora in Santa Cruz Island is the largest town and most populated in the Galapagos Islands. Many cruise ships and ferries to neighboring islands also leave from here. There are about 15,000 locals that live in this coastal town. There are many tour operators, souvenir shops, hotels/hostels, bars and restaurants that line its streets.
There were surprisingly a lot of hostels in Puerto Ayora. You won't find hotel chains here. Most lodging are locally owned. We recommend staying along or near Avenida Charles Darwin or Avenida Baltra to easily walk around town. Though, we did take the taxis when we wanted to get back faster.
We stayed at a two bedroom, two bathroom apartment which we highly recommend for families. The Galapagos Aparthotel and Suites aka Hostal Baltra was cheap, clean and had a fully functional kitchen with dishes, utensils, stove and refrigerator. The cleaners came everyday and there was even a pool on property that we never got to use. Another plus was they accepted credit cards. The hotels charge 14% VAT.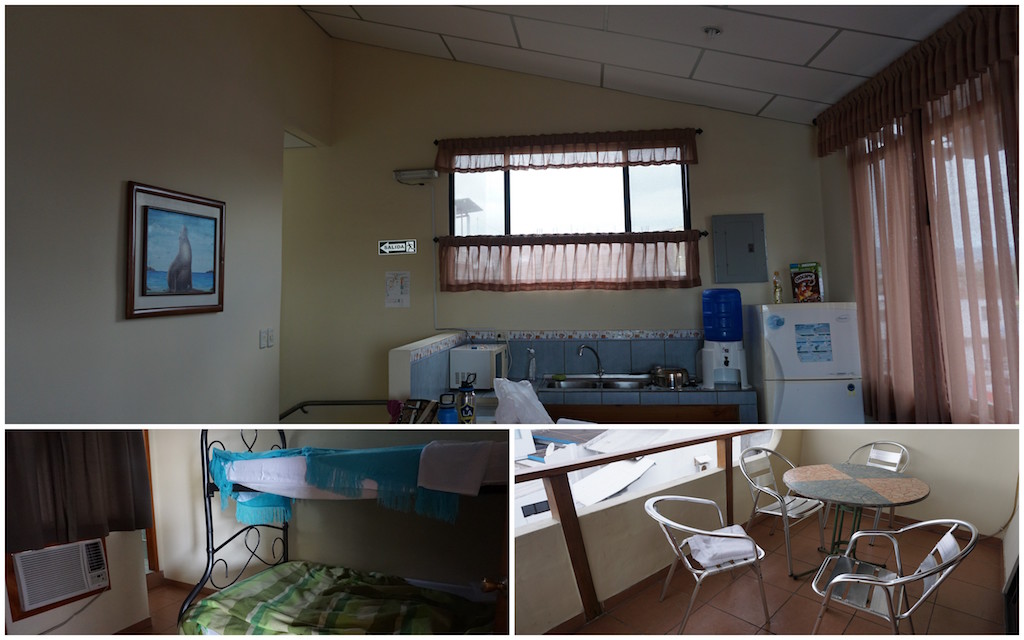 Grocery Shopping
Puerto Ayora's main grocery story is the two-story Proinsular and is near the pier. The upstairs has a cafeteria and the non-food items including toiletries. Downstairs is the grocery store. We loved their pastries section! This was also the best place to stock up on water gallons to refill our water bottles. There isn't a lot of selection for produce and meats so food like bacon was over $5.
There is also a small Primavera store along Ave Baltra across from San Francisco School. For fresh fruit and vegetables, head to Mercado Municipal on Ave Baltra. The stores don't provide plastic or paper bags with your groceries. Bring your own reusable bag from home for grocery shopping.
Eating in Puerto Ayora
There are many restaurants around Puerto Ayora from bars to restaurants serving sushi, pizza and local cuisine. There are no fastfood restaurants here. But, we repeatedly went to the "kioscos" which is a section of Charles Binford Avenue by Ave Baltra that has small local eateries. The area really came alive at night when the street was closed off and tables and chairs were set up for community style dining.
The various restaurants set up tables outside showing their fresh fish and lobster. Prices vary depending on weight and size but they will cook it however you like. The plates usually come with rice, beans, potatoes, plantains or salad. Lobster plates typically cost between $15-$20 which adequately fed my teen daughter and me. We loved the garlic sauce (al ajillo). They also have other dishes to order beyond shrimp and lobster.
We also loved eating at the kiosco for lunch. Most of the restaurants had almuerzo (set lunch menu) for $4. We had a variety of food from fried fish, chicken, beef and shrimp. The plate usually came with soup, rice, beans, plantains or salad and a drink. It was such a great deal and everything we ate was delicious. Most of them even got the stamp of approval from my picky eaters.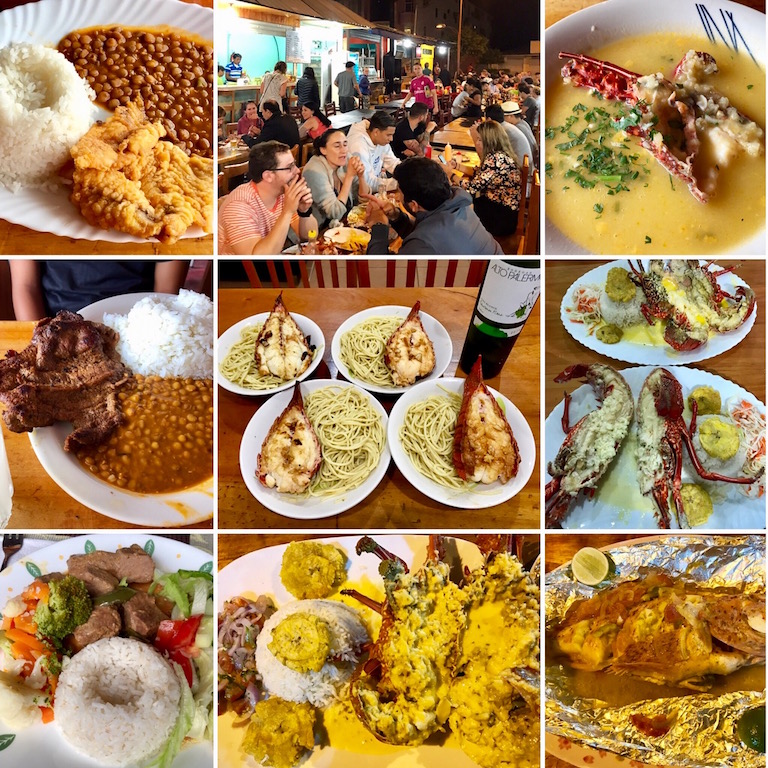 These were the restaurants we ate at at the kiosco (some we ate at twice):
Blue Booby
El Rincon del Sabor
Restaurant Sol Y Luna
Kiosko Voluntad de Dios
If you are renting an apartment and love seafood, the fish market is a great place to get some fresh ones and can save you money too. Go in the morning to get the best choice. We loved coming here to watch the birds and the sea lions fight for fish scraps. We're lobster lovers so we bought four lobsters here twice to cook for dinner which came out to about $35. The lobsters here had a lot of meat.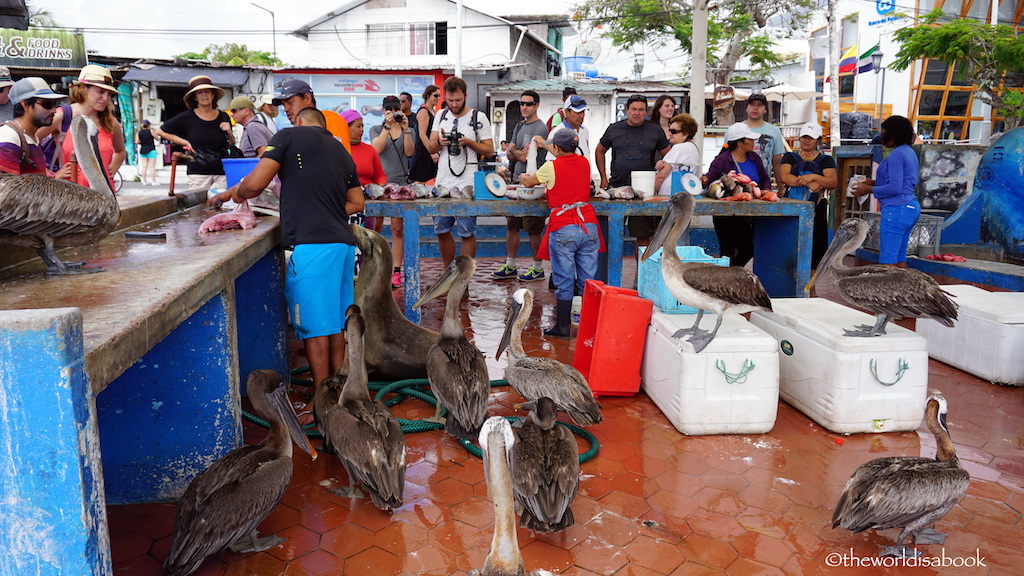 Banking/Money Matters
Bring plenty of small change like one dollar bills and $5 bills especially for taxis and food. We found a couple of ATMs by Proinsular Supermarket near the pier. There was also Banco del Pacifico on Charles Darwin Avenue across the street from the fish market and CNT or Pacific Bank on Ave Baltra. But, most of the ATMs only accept debit cards with chips. Unfortunately, our debit cards didn't have them. A tour operator recommended Banco Pichincha along Ave Baltra which we used twice.
We heard that you can also go inside the backs for cash withdrawals with credit cards. We didn't have any issues using our credit cards. But, cash is still king here. Some of the souvenir stores accepted credit cards but ask first.
Getting in Touch
Internet connection is quite slow around the island and was mostly 3G for our wi-fi connection at our apartment rental. We saw some Internet cafes around town. If you have an unlocked phone, Claro store sold SIM cards for $7 plus $20 for 1 Gb of data. There was a store on Ave. Baltra.
Getting Around
Puerto Ayora isn't a very big town. Many places are easily walkable. There are sidewalks on the main streets and they were clean and paved. The main street is Avenida Charles Darwin where you can find almost anything. We didn't encounter any stray animals on the streets except for a marine iguana or some birds near the water. It is also very easy to flag down any of the white pickup taxis (max four passengers) and they'll take you around town for $1.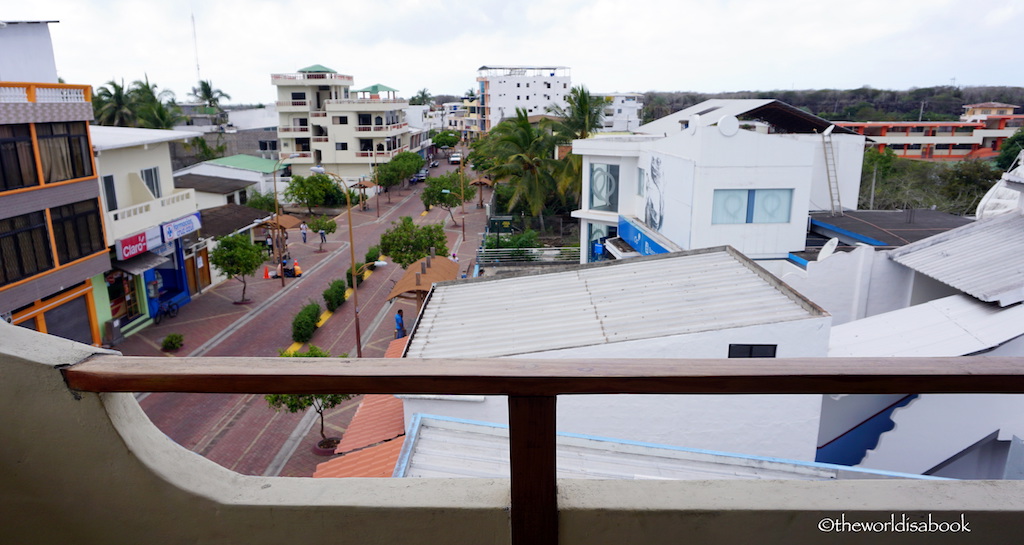 Day Tours/Trips from Puerto Ayora
We recommend Galapagos Dreams Adventures. The office is located by the turtle statue along Avenida Charles Darwin. We booked two tours with them because they were very helpful and prices were almost the same as the other tour operators. We had a great experience on our tours with prompt pickups. Some of the tour operators we spoke with charged an extra 10% if paying with a credit card versus cash.
Many people we met also didn't have anything pre-booked. We recommend booking the tours when you get to Puerto Ayora for some last minute discounts and to gauge the weather on days you want to do the tours. Though, you risk availability on some of the boats. Ask your hostel/hotel/apartment managers for tour operator recommendations.
Ask the tour operators what type of yacht/boat will be used and what's included if you're doing a trip to the uninhabited islands with naturalists. Tour prices generally differed between $5-$10 and be sure to ask for children discounts. Remember to pay cash to get the best price. The most popular tours are going to the uninhabited islands, diving and snorkeling tours and bay tours.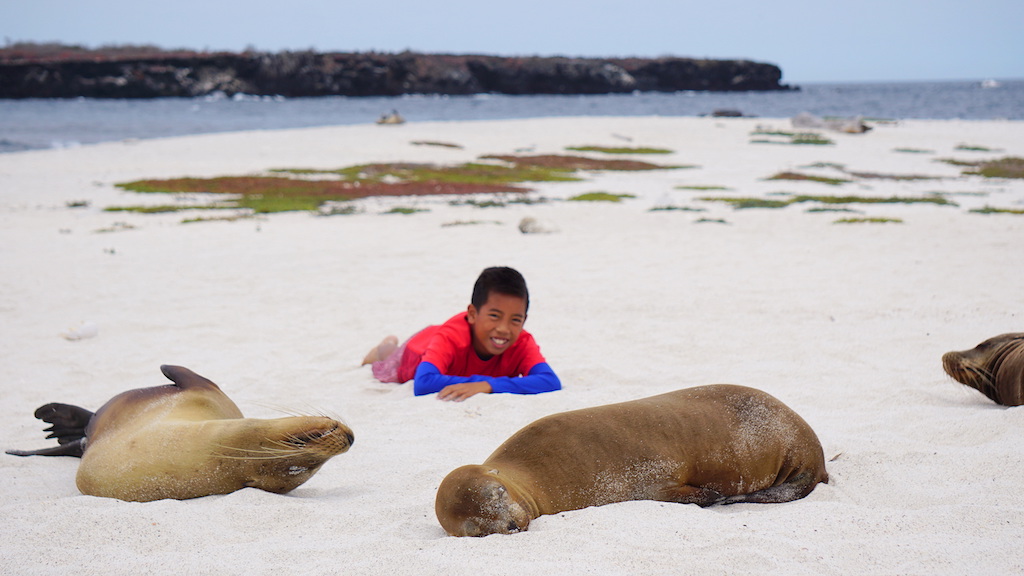 Souvenir Shopping
Wondering what to take home? Aside from the usual T-shirts, bags, beach items and magnets, there are actually some unique items from Ecuador and the Galapagos worth bringing home. Organic coffee from the Santa Cruz highlands or San Cristobal is a wonderful souvenir. We found some at a couple of souvenir stores but also at Proinsular grocery store.
We love our food souvenirs from our travels so local candy and cookies were a hit. Ecuador is known as one of the world's leading producers of cacao beans, particularly a special kind called Arriba cocoa that is considered high quality with fine aroma. This translates into some of the best chocolates around. We bought most of our chocolates at the Republica del Cacao stores at the Baltra airport. They have samples!
Please do not buy any souvenirs made from the native plants and animals like tortoise shells, black coral or volcanic rocks. And if you really want that T-shirt, my husband bought my son an "I Love Boobies" shirt (in reference to the blue and red-footed boobies found on the islands).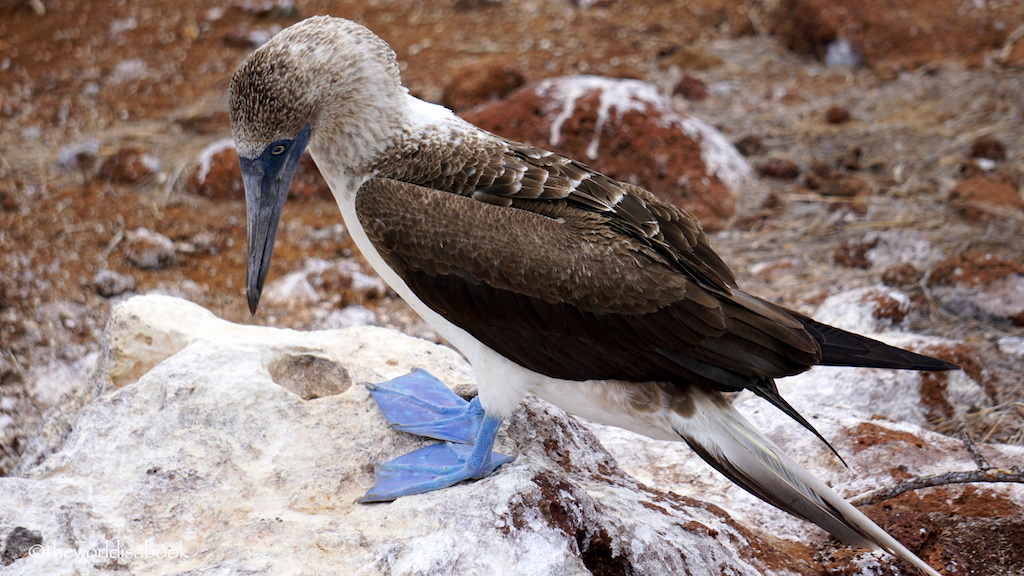 Learn some Spanish
It is always a good idea to learn some basic phrases in local languages when visiting abroad. At the very least, learn the numbers and to ask how much. Get offline apps like google translate app and duolingo to help with learning. Many of the locals we encountered, including taxi drivers, spoke very little English. Though, workers in the tourism industry like naturalist guides and tour operators spoke English well.
Siesta time
Some restaurants and stores (including Primavera grocery) observe siesta time between 2-4 PM. Keep this in mind when eating out or shopping in the afternoon.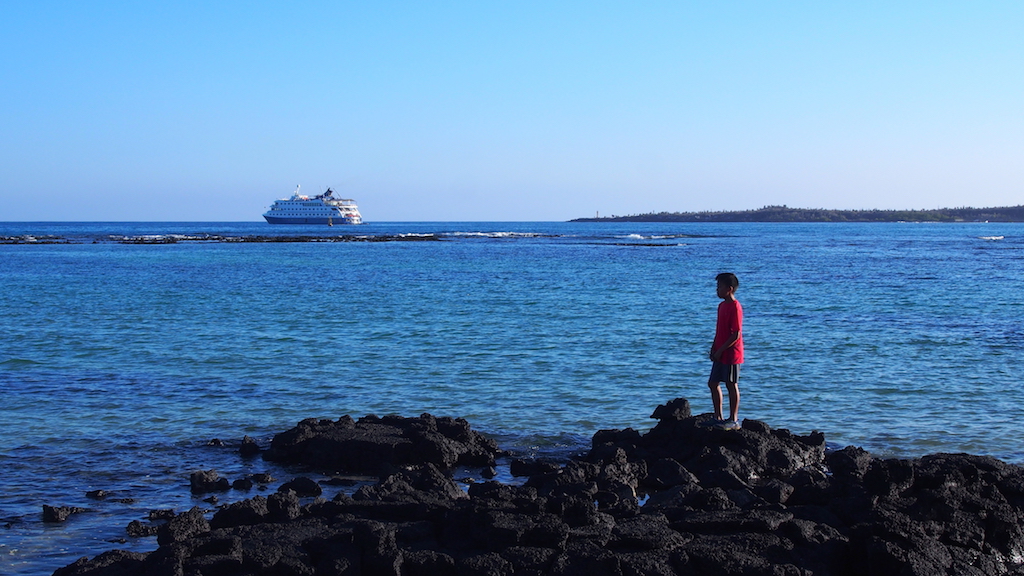 When to Go
Doing a land-based vacation means paying a little bit more attention to weather than the cruisers who visit a different island each day. The Galapagos Islands generally have a subtropical climate.
January to May is considered the warm season with possible rain but the ocean is warmer for swimming and snorkeling. Temperatures range from 80 F (27 C) to 90 C (32 C)
June to September – Temperatures range from 60 – 70 F (15 to 21 C) with possible rain.
October to December – Temperatures range from 70 – 80 F (21 to 27 C) and considered the dry season. Many of the trees around the islands were bare. The ocean was a bit cooler for swimming and snorkeling.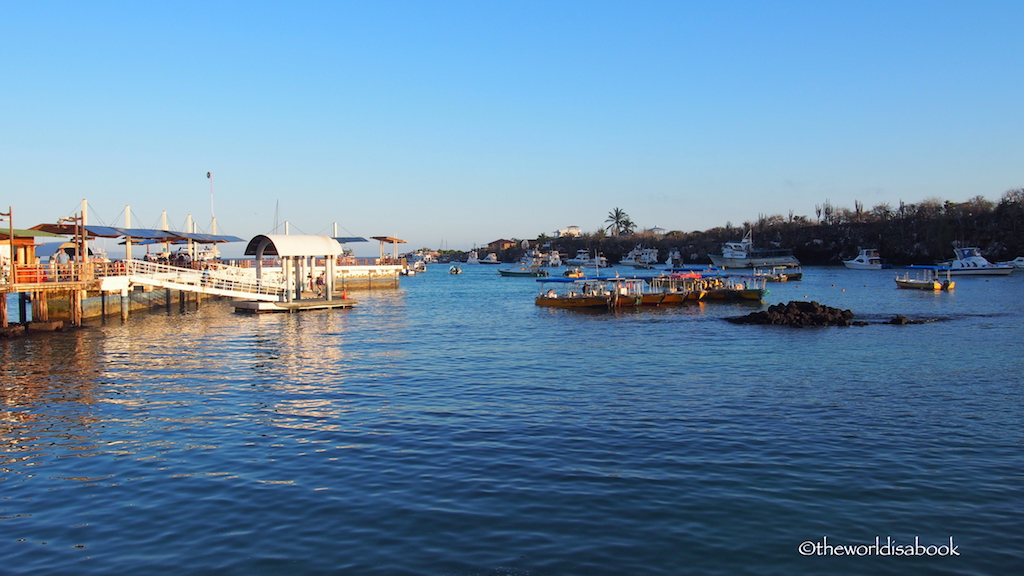 Safety
Crime rate is very low in the Galapagos Islands. We felt perfectly safe walking everywhere including at night around Puerto Ayora.
Getting to the Other Islands
If you have more time than we did, it is totally doable to visit the other populated islands like San Cristobal and Isabela and stay there a few nights. I've also seen other itineraries that start in San Cristobal by landing at this airport and end in Puerto Ayora or vice versa. Ferries and boats depart daily from the Puerto Ayora pier. You can book your tickets with any of the tour operators when you get here.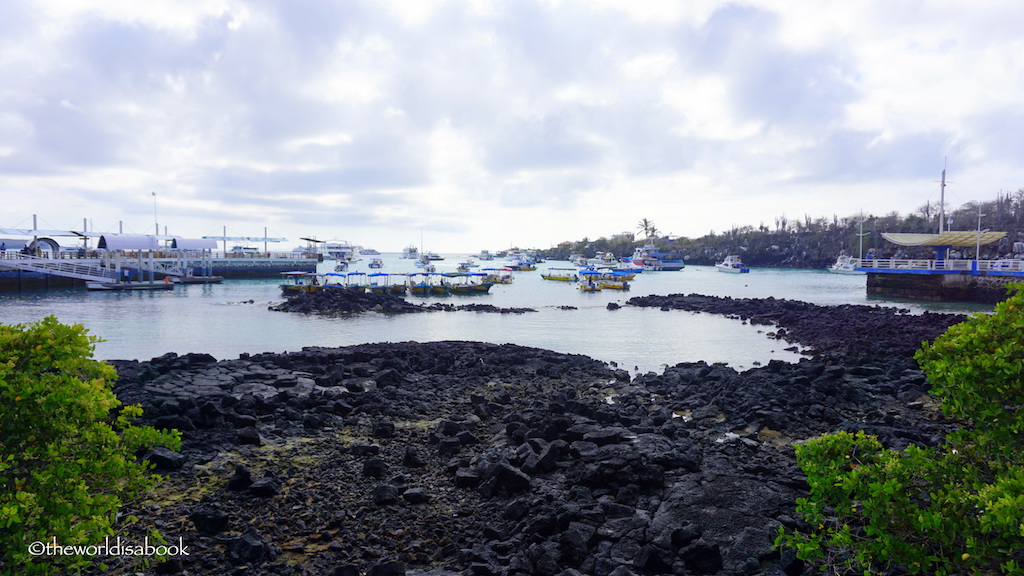 This was our itinerary for 6 days/5 nights on Santa Cruz Island. There are more details on this land based Galapagos itinerary post of our activities.
Day 1 – Arrived at noon in Baltra; Walked from our apartment to Charles Darwin Research Station. Allow about two hours here to look at the exhibits/enclosures and see the baby tortoises. Free admission. Don't miss the beach area to see the marine iguanas.
Stopped to see the sea lions and birds at the fish market. It is located at Avenida Charles Darwin near the turtle statue and Banco Pacifico.
Day 2 – Visited Rancho Primicias at the Highlands to see the giant tortoises up close and go through a lava tunnel in the morning. Read more about our encounters with the giant tortoises.
We explored the "secret" swimming hole of Las Grietas. Take a water taxi from the Puerto Ayora dock to Angermeyer Point for 80 cents per person one way. You can also tell the water taxi your destination is to Playa de los Alemanes (German Beach). It's just a few minutes across Academy Bay. Follow the signs to Las Grietas along a boardwalk and a volcanic rock trail past the salt lake.
Day 3 – Day trip to North Seymour Island and Isla Mosquera to see wildlife including blue-footed boobies, sea lions and frigate birds. We chose North Seymour Island since it only took 45 minutes from Santa Cruz Island. It was recommended by tour operators and previous visitors as the best place for wildlife viewing.
Day 4 – Spent a few hours at Tortuga Bay in Santa Cruz Island. Snorkeling and kayaking are available at the bay. Read more on what to do in Tortuga Bay.
Day 5 – Visited El Garrapatero beach via a taxi. We spent around 2-3 hours here and came back to town for lunch.
The afternoon was spent on a three-hour glass bottom boat ride along the bay with some stops for snorkeling and a stop on an island to see marine iguanas.
Day 6 – Our flight was at 3 PM (15:00). We spent the morning shopping for souvenirs and hanging out at the dock to watch wildlife. We also spent about an hour at Laguna Las Ninfas.
In hindsight, we should have gone to an additional island instead of El Garrapatero and do the glass bottom boat tour on the afternoon of Day 4.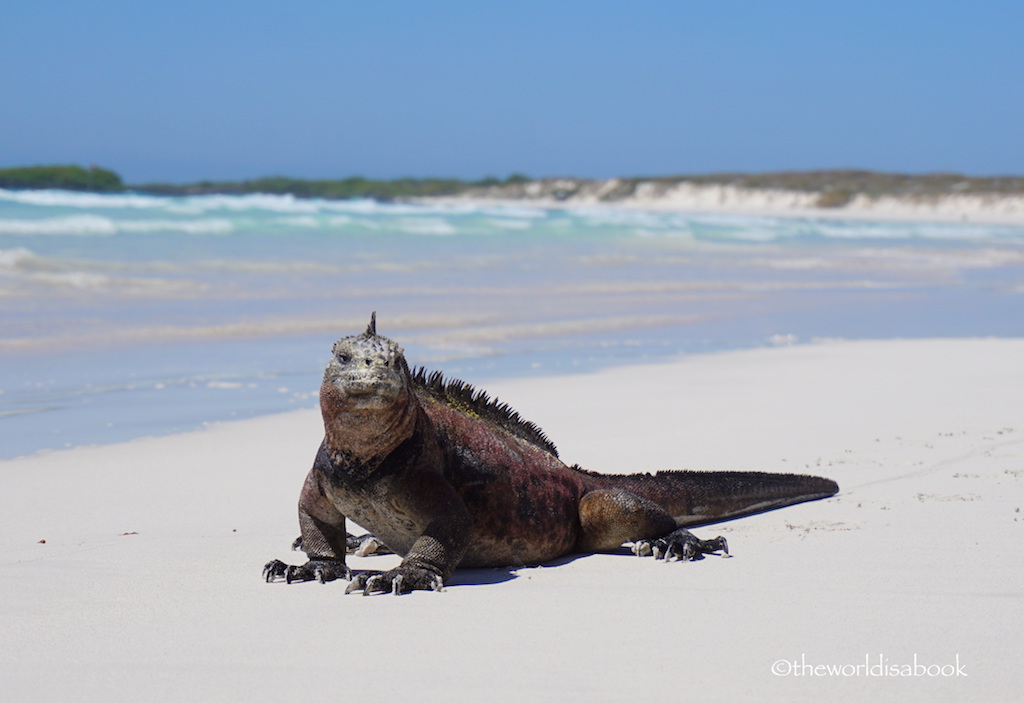 Budget of major expenses for our family of four
| | | |
| --- | --- | --- |
| ITEM | BREAKDOWN  |  TOTAL COST |
| LATAM Airfare – LAX – GYE |  (519.54*3) + 444.54 (1 child) |  2003.16 |
| GYE – Baltra; British Airways Avios redemption tax |  15K points RT + ($100 tax * 4) |  401.66 |
| Galapagos Transit Control Card |   20 * 4 |  80 |
| Galapagos NP Entrance Fee |   (100 * 3) + 50 (child) |  350 |
| Taxi to/from airport and Puerto Ayora |   18 each way |  36 |
| Taxi to Giant Tortoise Farm |  set price for roundtrip |  35 |
| Taxi to El Garrapatero Beach |  set price for roundtrip |  30 |
| Extra taxi fares + water taxi |  Used to get around town |  10 |
| Lodging* – Galapagos Aparthotel & Suites 2 bedroom/2 bathroom |  5 nights |  586 |
| Day trip to North Seymour Island (included naturalist guide and lunch aboard the yacht) | (3 * 150) + (1 * 130 [child]) |  580 |
| Bay and snorkeling tour | (3*40) + ( 1* 30 [child]) |  150 |
| Kayaking at Tortuga Bay |  1 hour for 2 people |  20 |
| Lunch & Dinner for 4 people |  Lunch 4*4 = 16 * 3 days=48; Dinner 40 *3 = 120; 2 nights with fresh lobster 35*2=70 |  238 |
| Groceries (includes water gallons, breakfast and food souvenirs) |  Water gallons, breakfast, food souvenirs |  81.38 |
| Non-food Souvenirs | |  150 |
| Tips for Naturalists and Dining | |  70 |
Total: $4821.20
*We initially had a quadruple room for $25 per night less but opted for bigger space which we don't regret.
You can save money by taking the bus instead of taxi from the dock to Puerto Ayora, staying at hostels, cooking more if you have an apartment rental, ordering cheaper food items and not splurging on lobster (like us) and using points and miles for your airfare.
Have you visited the Galapagos Islands or is it on your travel wish list?
Pin it for later!