5 Free Things to do in Nice with Kids
I'm happy to share this post from Phoebe from Lou Messugo blog who is lucky enough to be a resident of Nice, the French Riviera's famous town.  I'm always envious of the photos she shares on social media showing just how beautiful this area is and why I'm dying to visit soon. See the other side of this glamour town – family-friendly and free things to do in Nice with kids! 
Nice, the heart of the French Riviera (Côte d'Azur), possibly more famous for the glamorous, hedonistic lifestyle of the rich and famous than budget-friendly family holidays, is a wonderful playground for all ages and has something for everyone. Let me show you how Nice, France's 5th biggest city, has much more to offer than its reputation might assume, and it's certainly not just a summer destination. With 300 days of sunshine a year, this is a perfect place to visit at any time of year, and kids are well catered for. Nice is a very child-friendly destination with plenty of free, or very reasonably priced, activities and attractions. This selection is only a small example of what's on offer. For more ideas of things to do with children in Nice and the Côte d'Azur please browse around my website starting with this post.
1. PROMENADE DES ANGLAIS – SEAFRONT
The most obvious and famous of all Nice's landmarks is the enormous boulevard "la Promenade des Anglais" running the length of the Baie des Anges (the Bay of Angels). It's the lifeline of the city and its wide seafront pavement is where residents and visitors come out to play. Walking along the Prom (as it's known to locals) is fun at all ages and absolutely free.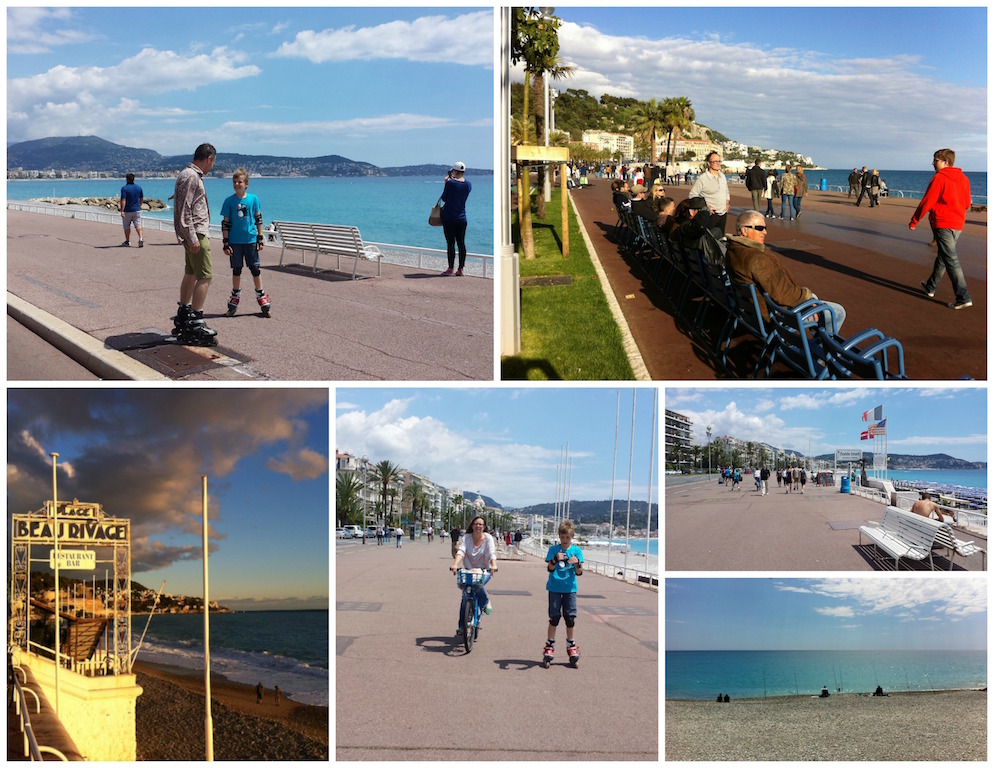 You'll find all sorts out for a stroll, jog, cycle, skate and if you have your own wheels (rollerblades, scooter, bicycle, skateboard) it continues to be free. Otherwise all these are available to rent (at Roller Station, 49 Quai des Etats-Unis) if you want to travel faster/take more exercise/have more fun. Along the Prom you'll often see street performers, impromptu dancers, skaters showing off and other spectacles.
There's public art (including a mini Statue of Liberty) and blue metal chairs, an iconic symbol of the city, on which to sit and watch the world go by. But let's not forget of course that this boulevard runs the length of the beach which is an 8 km stretch of pale grey pebbles and bright azure water; a fun and free playground for kids at any time of year. The Promenade is lined with magnificent palm trees, white pergolas, cafés, beach restaurants and luxurious hotels. It's the number one must-see location in the city and a perfect place for kids to run around and enjoy themselves.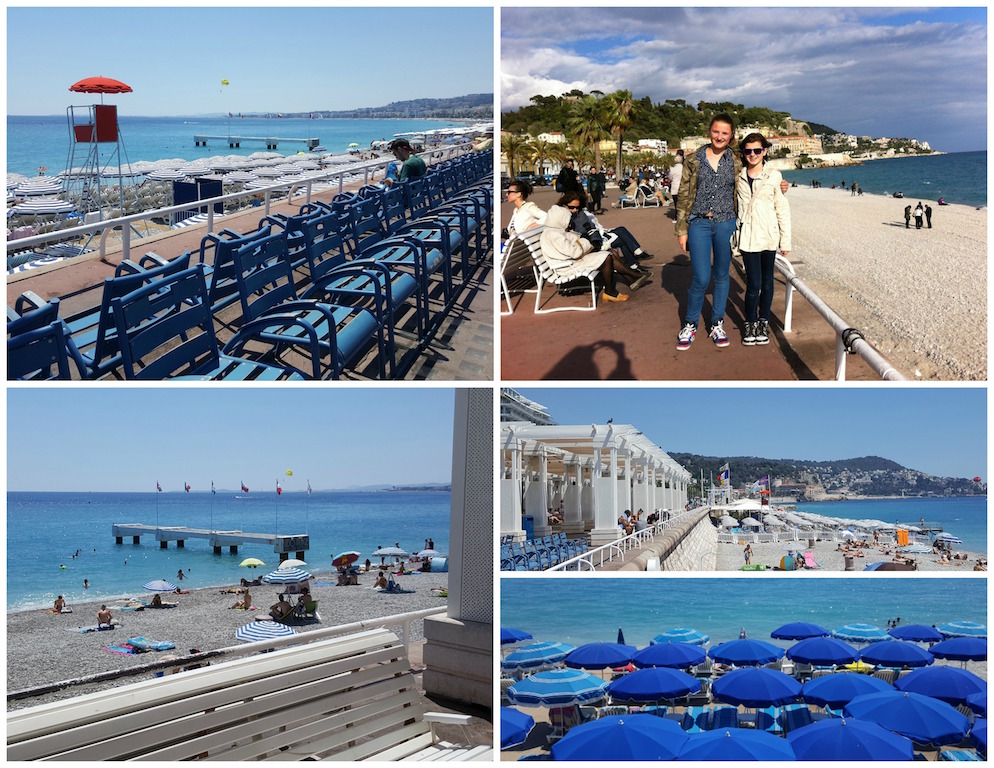 2. PROMENADE DU PAILLON « COULEE VERTE »
The Promenade du Paillon (often referred to as the « coulée verte ») is a 2 km stretch of park dividing the old and new towns of Nice. As it meanders from the Promenade des Anglais (at the corner of Ave de Verdun) to the National Theatre, crossing Place Massena, it comprises areas of lawns, art work, unusual and interesting flowerbeds planted with specimens from around the globe and most importantly for kids, a wonderfully innovative play area and plenty of water jet fountains and misters.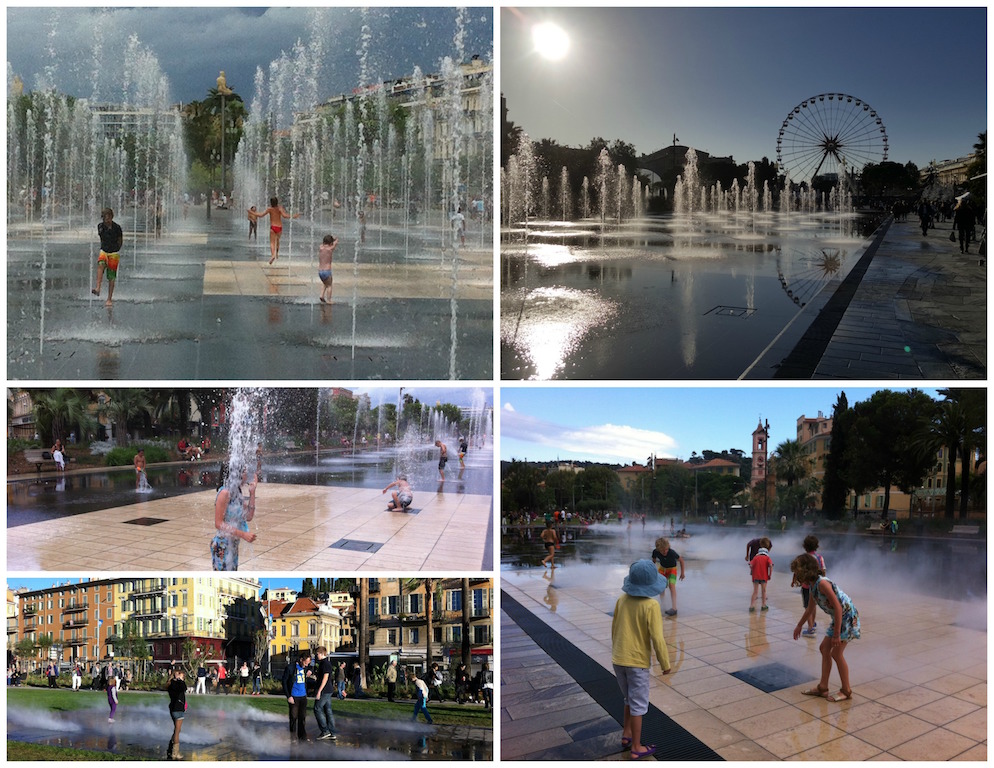 The play park consists of a giant whale, pirate boat, octopus swings and other marine themed structures, all made out of wood. It gets crowded but kids love it nevertheless. When they get too hot playing on the sea monsters, they can cool off dodging the water jets in the large water mirror fountain area next to Place Massena. No matter what the time of year, I recommend bringing a towel or change of clothing as there's almost not a kid in the world who can resist the temptation of playing in this water feature (and it's fully allowed/expected and completely free).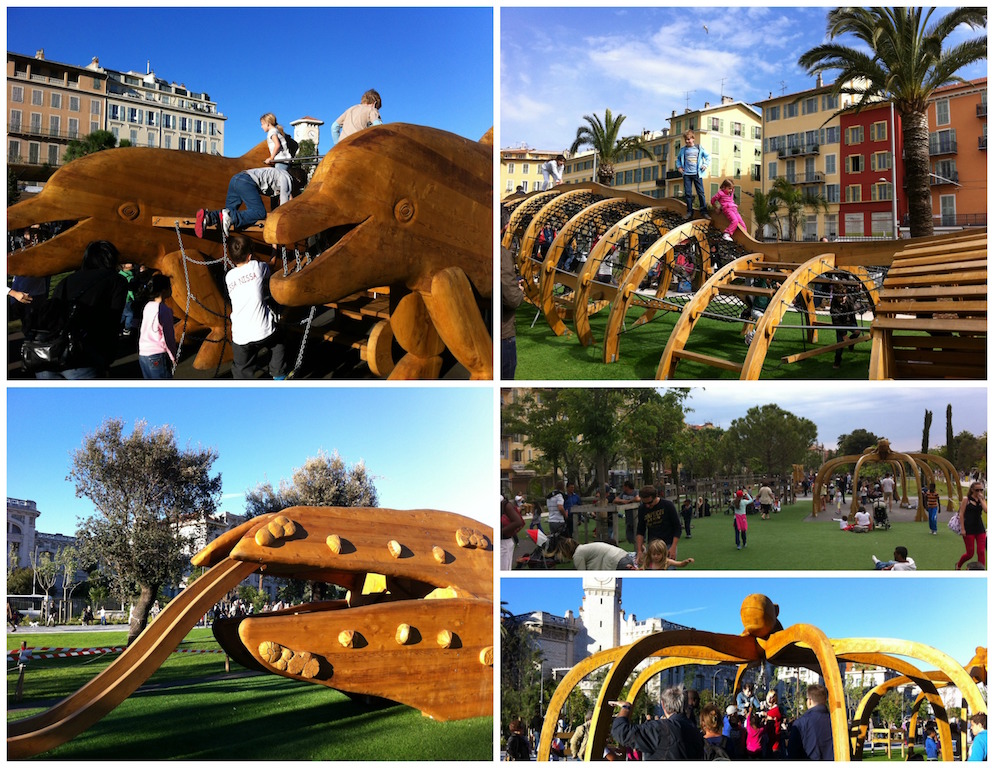 3. COLLINE DU CHATEAU – « CASTLE » HILL
Castle Hill is somewhat of a misleading name as there is no castle on this hill, just some ruins, a waterfall, a cemetery, some wooded walking paths, a good play area and some wonderful views! There's a small café for snacks and ice-creams and a huge rope climbing frame as well as long jump sandpits and a playpark for much younger kids. You'll notice the paths are decorated with ancient Greek art as a reference to Nice's Greek origins. The views really are superb, both west over the Promenade des Anglais and east over the Port.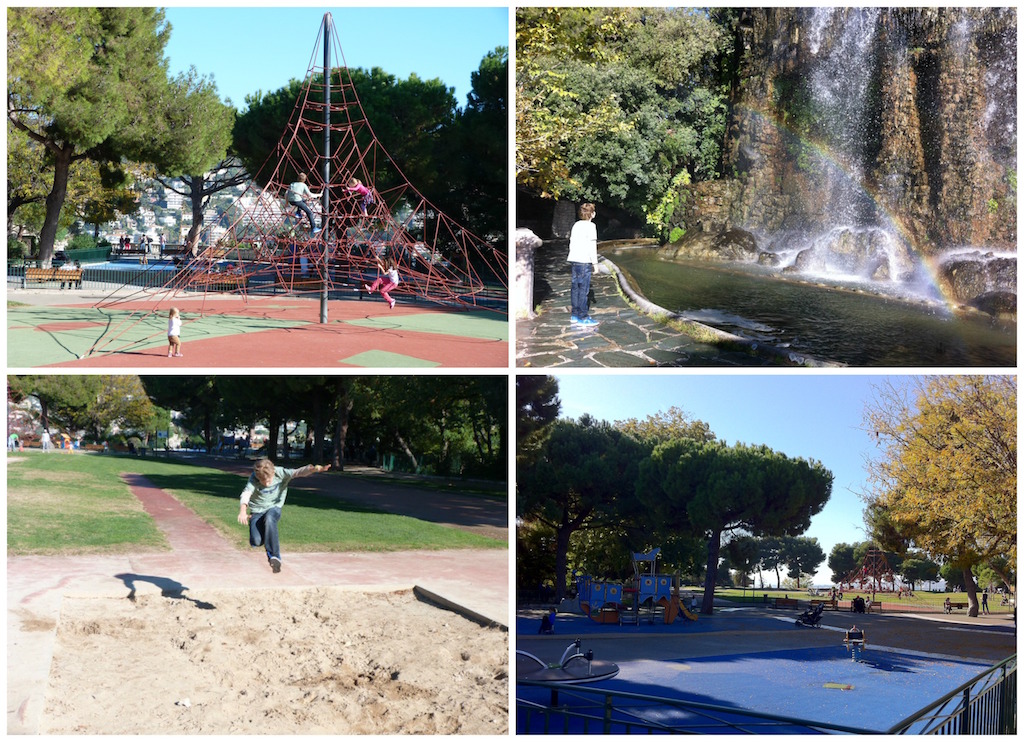 Kids can run around, while adults enjoy the views. The waterfall usually appeals to children too. To get up to the Colline du Château which is located at the far eastern end of the Baie des Anges, separating it from the port of Nice, you can walk up from the old town or Place Garibaldi, or take the free lift (elevator) which can be found tucked in across from the far end of the beach near the Hotel Suisse (at 15 Quai Rauba Capeu), look for the 'ascenseur du château' sign. (There are also steps up from here). The whole area is absolutely free.
4. VIEILLE VILLE – VIEUX NICE – OLD TOWN
The old town of Nice (referred to as both le vieux Nice and la vieille ville) is an enchanting warren of colourful narrow streets, packed with restaurants, shops, galleries, cafés and unusual boutiques. The alleyways are for the most part pedestrianised and perfectly safe for children to run around in, though they do get crowded in the summer months. Start at the lovely market in Cours Saleya with its stripy awnings and beautiful displays of flowers, fruit and vegetables (in the morning) and then simply duck into one of the streets leading off it, to wander around and get lost.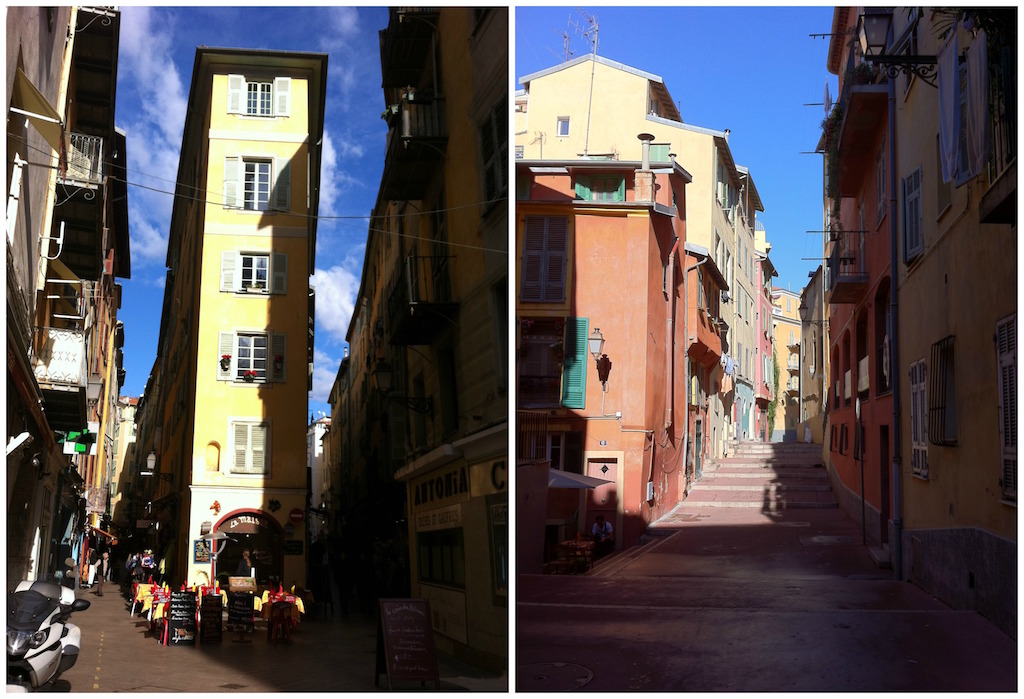 Look out for unusual architectural features and decorations, such as a cannonball, and the metal grills above the doorways which serve as an ancient system of rudimentary air-conditioning. The street names are all in French and Nissart, the local language. One of my favourite streets is rue Droite (literally "straight street", a misnomer if ever there was, as it bends its way through the heart of the old town!) Look up at the facades of the buildings, particularly Palais Lascaris, with its faces peering down.
Don't worry about getting too lost, the area isn't big and you'll always find your way out either to the Promenade du Paillon or seafront, having undoubtedly stumbled upon one of the squares, such as Place Rosetti. Here you'll find St Réparate Cathedral, worth a visit, and more importantly for kids, the biggest ice-cream place in Nice, Fenocchio, with a mouth-watering 94 flavours, including tomato, basil, cactus and lavender (as well as the regulars, don't worry!) There's definitely something for everyone in old Nice.
There are plenty of car parks under the Old Town, just follow the blue signs until you find one with space. These car parks are good for visiting the Promenade du Paillon and Promenade des Anglais too. Tram line 1 stop Opéra vieille ville or Cathédrale vieille ville.
5. PARC PHOENIX
This park is free for under 12 but costs a symbolic 3€ for anyone older. It consists of 7 hectares of exotic gardens with 2500 plant species and one of the biggest glass-houses in Europe. Inside the pyramid-shaped glass-house there are 6 different climatic zones full of enormous exotic plants and a number of animals either wandering/flying freely like the iguanas and kookaburras or enclosed like the giant tortoises and crocodiles.
This is a good place to come on a rare wet weather day. In the rest of the park there are several more species of animal such as otters, wallabies, marmoset monkeys, lemurs, flamingoes and other birds living in sympathetically designed enclosures dotted throughout the park. There is also an excellent play area with a small bamboo maze.
The whole place is beautifully landscaped, with sculptures and fountains, and designed for a fun and fascinating day out. Picnics are allowed and there's a café too. The entry ticket also gets you into the Museum of Asian Art which contains a small but interesting collection of art works from Vietnam, India, Korea, China and Japan.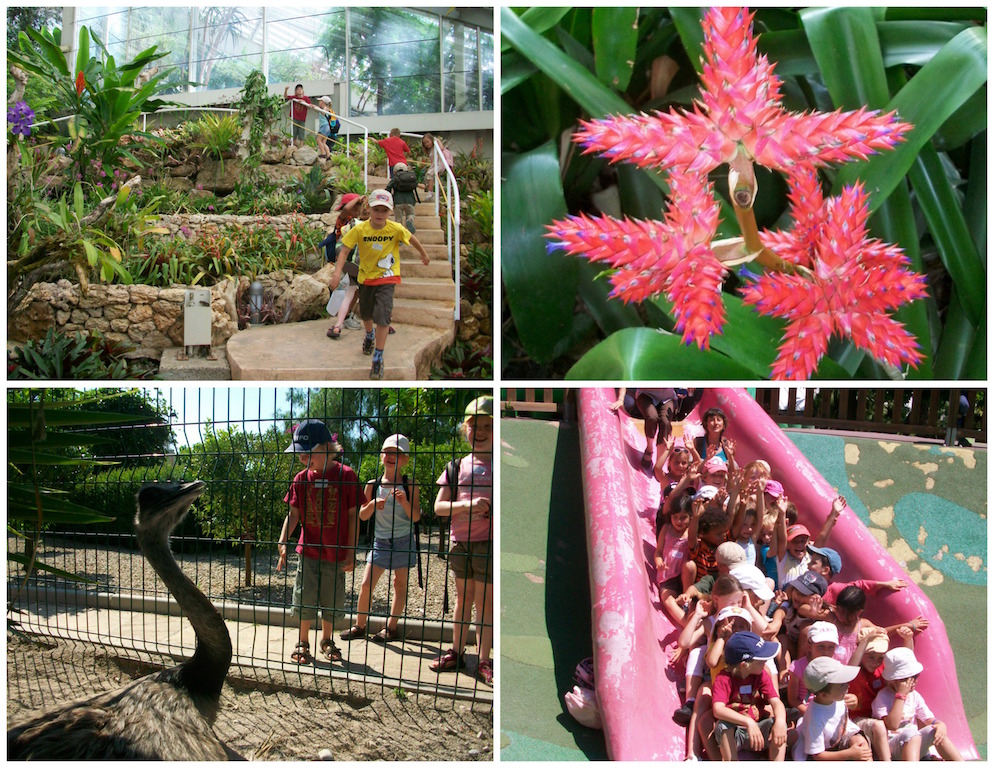 The park is located on the western edge of Nice, opposite the airport at 405 Promenade des Anglais. Opening hours are 9.30am – 6pm in winter, and 9.30am – 7.30pm in summer. 2 hours free parking offered at Arenas car park. Bus: 9, 10 or 23, or train: Nice St-Augustin.
BONUS: MAMAC (Museum of Modern and Contemporary Art)
As a sneaky extra, I'm adding this museum, particularly worthwhile visiting if the weather isn't good (rare though it is, it can happen!) The Museum of Modern & Contemporary Art in Nice is perhaps not the most obvious place to visit with a family but it's free for under 18s (10€ for adults for a 24 hour pass to many of Nice's museums). Children tend to enjoy the building itself which is a contemporary hive of concrete towers, rooftop walkways, arches, terraces, roof gardens and glass bridges. The permanent collections inside focus mainly on local artists such as Niki St Phalle and Ben and are very child-friendly as the works of art are colourful, playful and accessible.  The museum is not large and easily doable in the timeframe of a young child's attention span.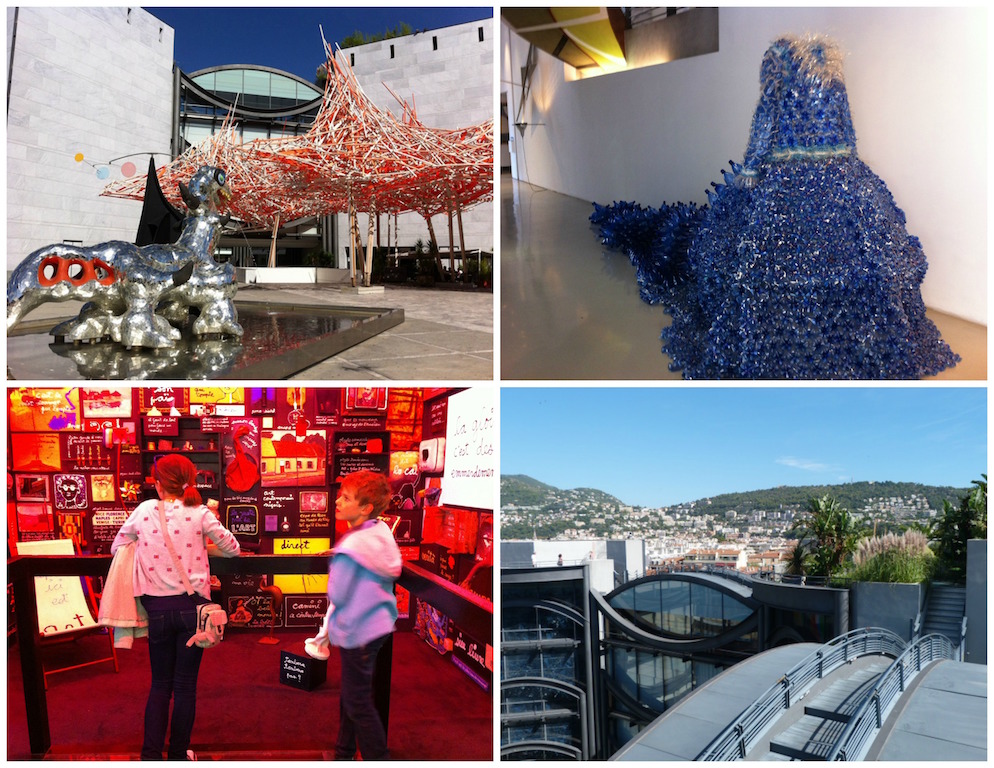 The museum is located at the end of the Promenade du Paillon, next to the National Theatre at Place Yves Klein. Opening hours are 11am – 6pm 16 Oct – 22 June, and 10am – 6pm 23 June – 15 Oct closed on Mondays, 1st Jan, Easter Sunday, 1st May and 25 Dec. Car park: Promenade des Arts, Tram line 1 stop Promenade des Arts, Bus: 3, 7, 9/10
An expat since birth, Phoebe has lived in 9 countries around the world and is now reasonably settled near Nice in the South of France where she runs a vacation rental "Lou Messugo".  She shares her life and passion for travel with her French husband and two boys and together they explore their local area and further afield as often as they can.  You can find out more about her business here and follow her family travels on her blog, Facebook, Instagram, Twitter and Pinterest.
Have you visited Nice, France? Any other free things to add?
Pin it for later!