Doing a DIY Norway In A Nutshell Tour – Bergen Roundtrip
Norway has been near the top of my travel wish list for a long time and it didn't disappoint during our visit last summer. It is one of the most spectacular and scenic countries we have visited. If you're short on time and want to get a sense of what the country has to offer, the 'Norway In a Nutshell Tour' is a great way to see the fjords, scenery and Nordic villages.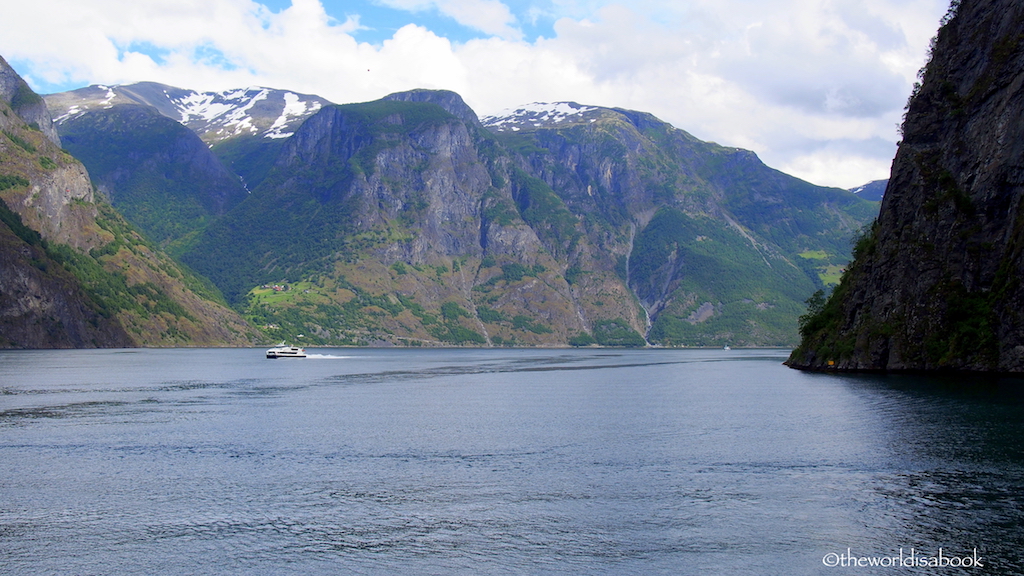 When I started planning our trip, Norway In A Nutshell came up a lot. It was a bit confusing to call it a tour when it actually was not and mostly due to a tour company's purpose.
This was a series of coordinated public transportation options that allowed visitors to see some of Western Norway's treasures in a short time. It's customizable and visitors have the flexibility to do this in a day or multiple days by spending nights in some of the towns.
Our itinerary was only for a day which spanned about 12 hours in early July last year. We left from and returned to Bergen since we had lodging there for 5 days. There are also itineraries for Bergen to Oslo or vice-versa. This was our route:
Bergen –> Myrdal –> Flam –>Gudvangen –> Voss –> Bergen
This can also be done in reverse. We chose our route to get away from the main crowd because going to Voss first seemed a bit more popular with a shorter train ride in the beginning.
You can let Fjord Tours do everything for you or you can book everything yourself. We decided to do a DIY approach to have a little bit more flexibility and save some money.
Our DIY approach saved us about $30 per person overall compared to booking everything with them. We just followed their itinerary and used the transportations' timetables. This tour was expensive and we'll take any savings we could get. But, it is totally worth the price!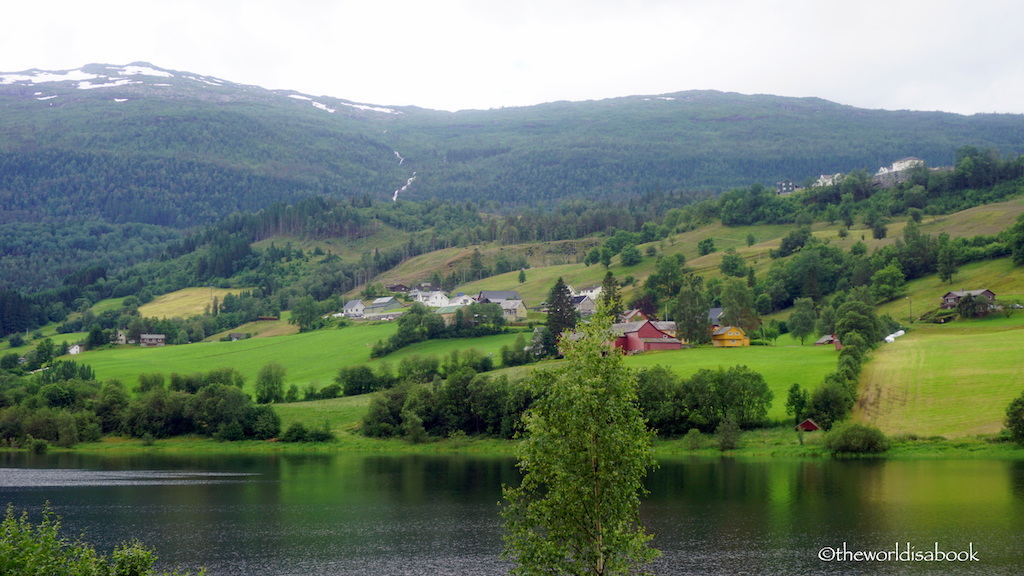 Part 1: Bergen to Myrdal via NSB train – 8:43 AM to 10:51 AM
We went to the Bergen train station the day before our actual trip to book our train tickets including the Flam Railway portion. There was a family discount and the kids traveled for free. We couldn't book our train tickets online at that time and it looks like the NSB website has improved.
It's also possible to call them and to book and pay for tickets. The trains were very comfortable. It had spacious seats and large panoramic windows to enjoy the scenery.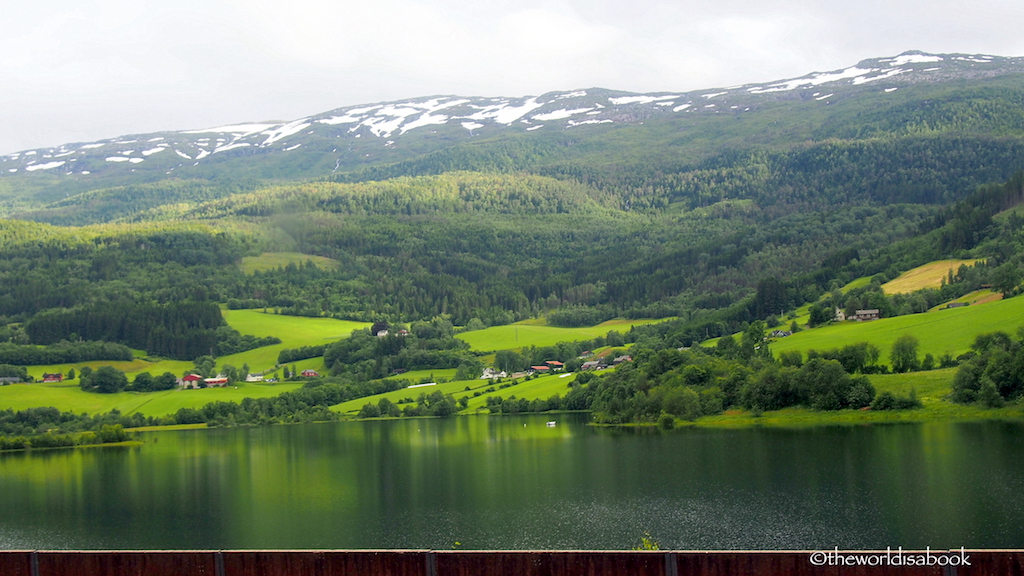 Though, another benefit with using a DIY approach is determining the best day to do this tour with weather a big factor. Even during the summer, Bergen and the surrounding areas were rainy.
We wanted to have a better chance of cruising the fjords and doing the scenic train ride with some sun. We didn't want to be tied down to a day that may have less than ideal weather conditions so decided to not book ahead.
We also stopped in Voss to let passengers off who were doing the tour in the other direction. There was a lot of them, with several buses waiting, and glad we decided to do the other way.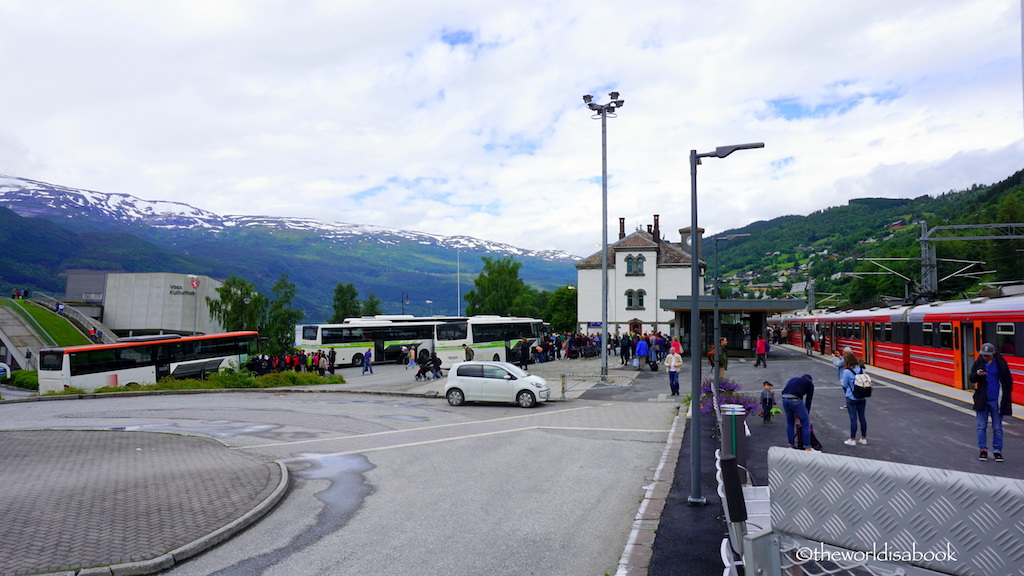 The Bergen railway and the Flam Railway merge on the Myrdal Plateau. Myrdal was a very small train station and we walked from our train to the Flam Railway by crossing a small platform. Myrdal station is 867 meters above sea level.
Part 2: Myrdal to Flam via Flam Railway – 10:58 AM – 11:55 AM
The Flam railway is considered one of the most scenic train journeys in the world. Lonely Planet named it the "world's best train journey" in 2014. It was hard to get seats together but be sure to get one by the left hand side when going down to Flam for the best views. This 12.4 mile (20 km) stretched from the mountain to sea level with about a 2,950 ft (900 m) elevation.
We crossed through about 20 tunnels along the way and one of them even had a window into Flam Valley. This was one of the world's steepest normal gauge railway line.
We felt it too as it slowly made its way down the mountain. It made me curious just how the ride going up to the mountain would be. I guess we'll have to do this the other way next time.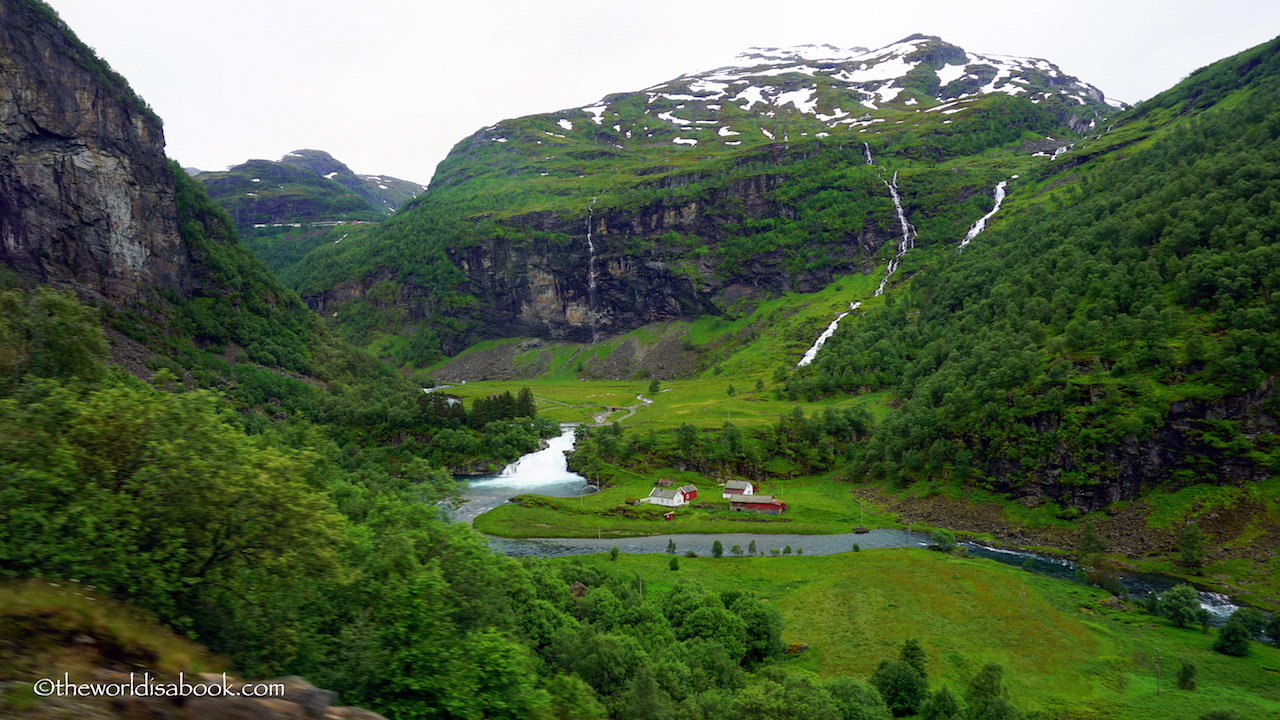 We saw plenty of waterfalls during the ride but our stop at the Kjosfoseen was the most impressive. The train stopped for about 10 minutes and all the guests went on a platform in front of the very powerful waterfall. The platform got very crowded with all passengers trying to get their selfies and poses.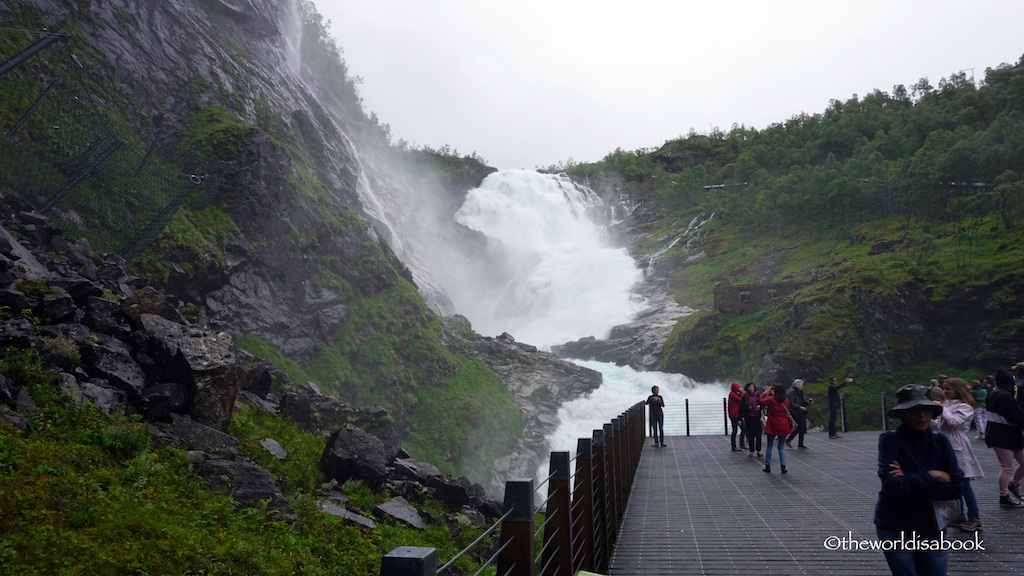 There is a legend of a temptress that lives among the mountains here. It was a pleasant surprise to suddenly find this woman in red who came out singing and dancing. Can you spot her? What an unforgettable sight!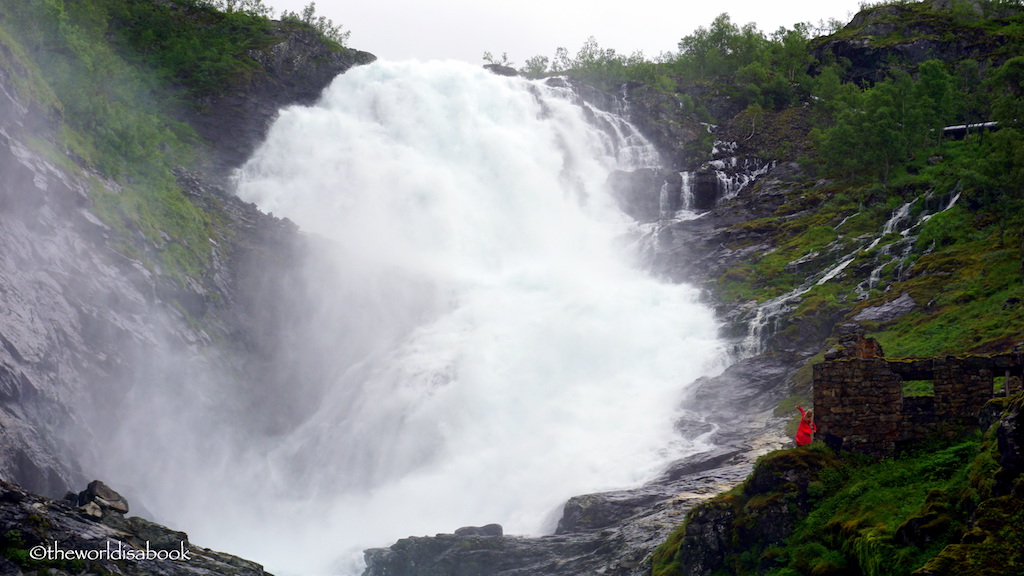 The Rallarvegen road with 21 sharp turns looks quite challenging as it zig zagged towards Myrdal mountain.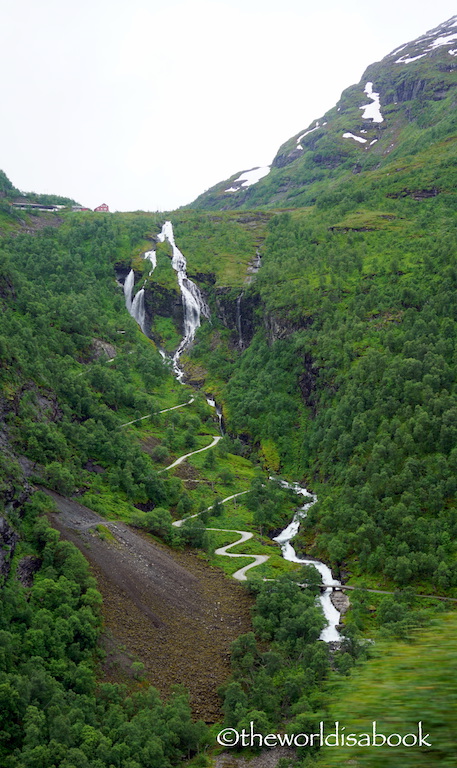 During a span of the 55 minute journey downhill, we saw some of the most breathtaking sceneries. Passengers stood up to take photos or gasped at the views we passed by. Some of the cluster of houses almost look like miniature villages on those toy train sets.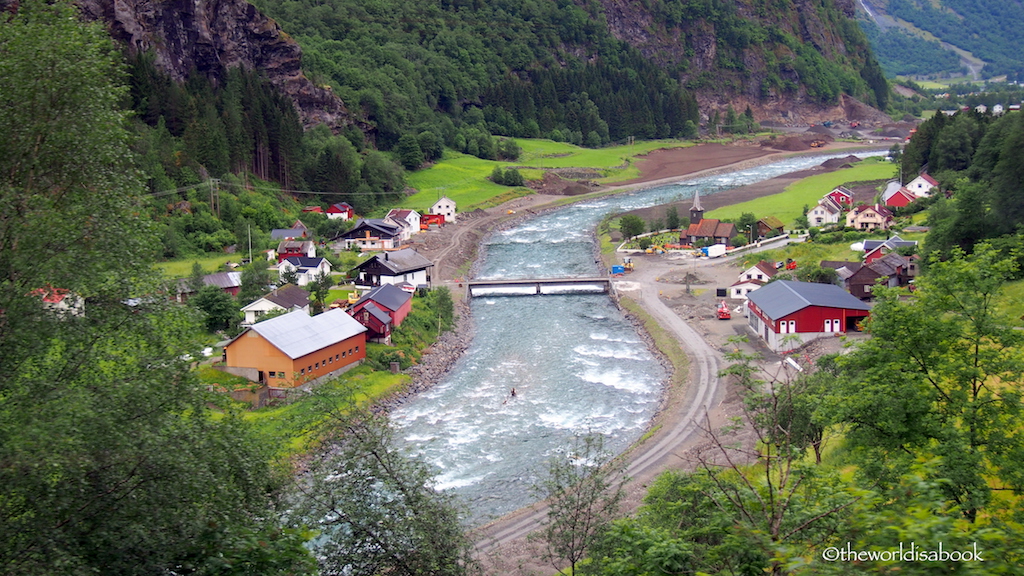 Part 3: Stopover in Flam – 3 hours
Flam was a village of about 450 residents worth spending a few days and wished we had more time to stay overnight. This area was so beautiful and charming. It is located at the end of Aurlandsfjord and surrounded by mountains, waterfalls and scenic valleys.
It was postcard perfect. Many multi-day fjord cruises stop here as a port. This was also a major stop or start of Norway in a Nutshell and other fjord tours.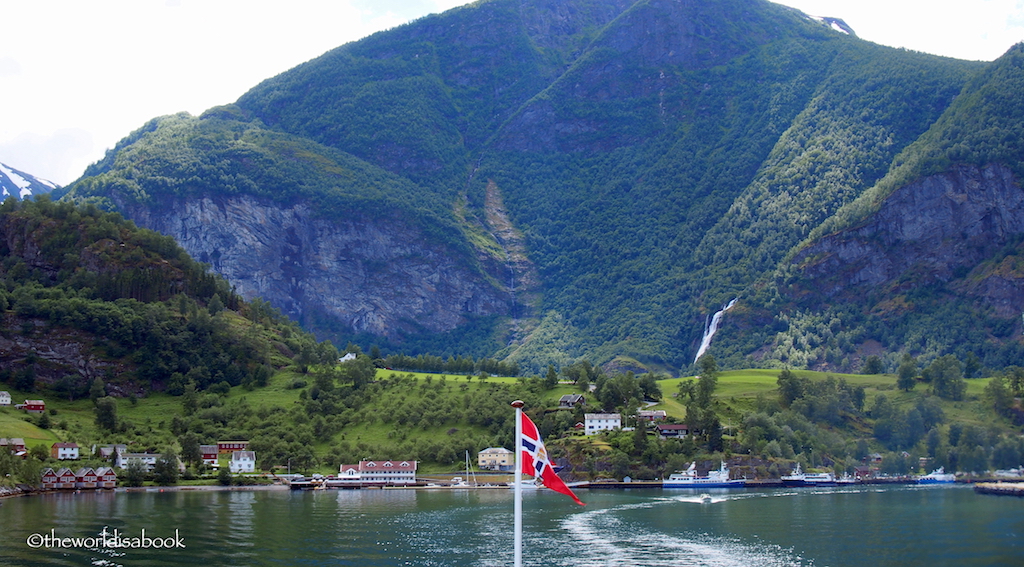 We decided to stop in Flam for a few hours for a glimpse of what it has to offer. This area is a hub of shops, restaurants and activities that include biking, hiking, canoeing and a boat safari.
In addition to the restaurants, there were also food stalls that offered seafood, paella and Thai food. We tried all the food stalls and they were all delicious!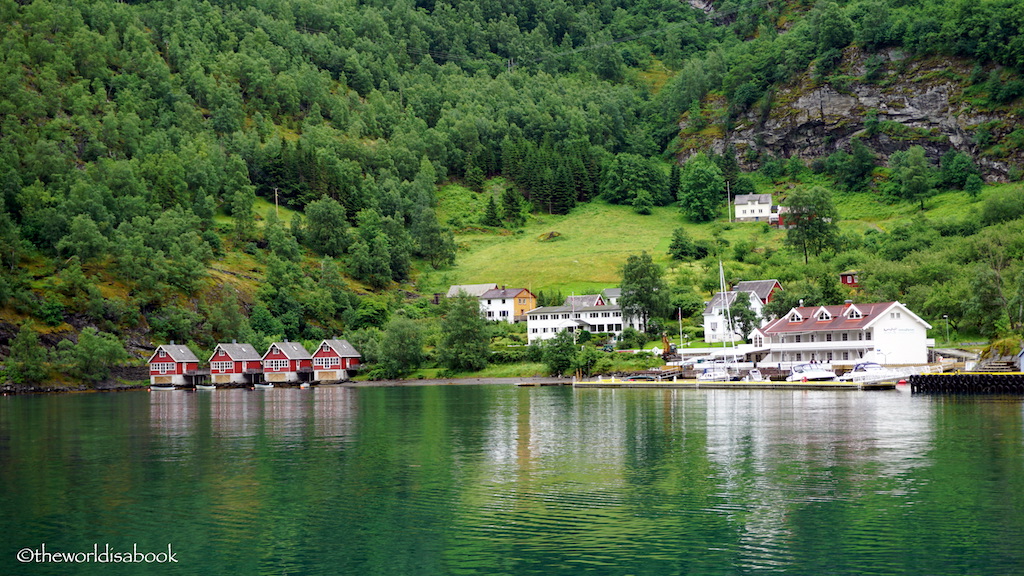 We bought our ferry tickets at the Visitor's Center since we couldn't book online due to bad Internet connection at our hotel. Ferry tickets can be purchased on VisitFlam which we recommend you buy in advance.
There's also an ATM, post office and COOP Supermarket here. Don't miss the free Flam Railway Museum. It offered a wonderful insight into how much effort it took to build the railway and the workers who sacrificed a lot.
Like many kids, mine loved Disney's Frozen movie and its characters. One of the reasons they were excited to go to Norway was because of its Frozen connection. Norway has many of these troll statues and we found plenty in Bergen and some in Flam too.
My kids didn't hesitate to find them and pose with each one. Trolls were "supernatural beings" and have been part of Norwegian mythology and folklore for centuries.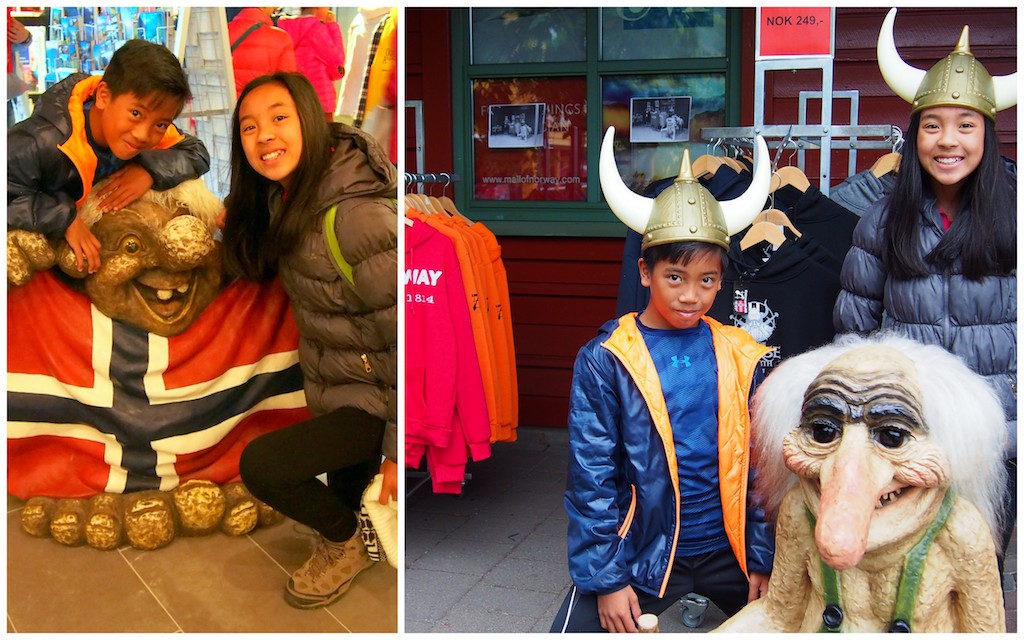 There are several hiking trails in Flam. It's such a spectacular place to hike and be in touch with nature. We did the almost half mile circular loop that's perfect for families.
It started behind the white and historic Freithem Hotel. This led us to an area with some unique art and great viewpoints. This was also around the Freithem Cultural park which had an activity area and playground.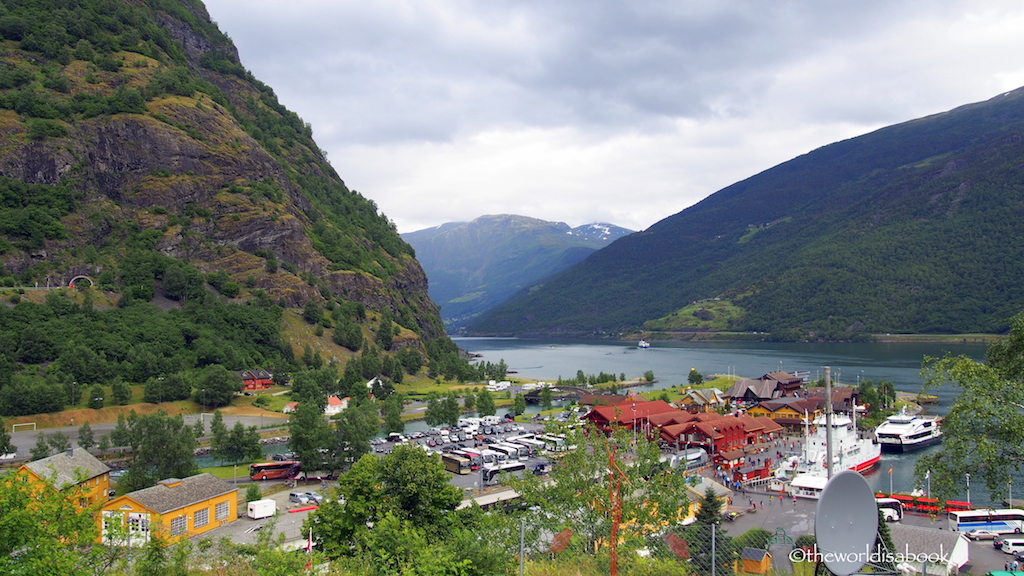 Part 4: Cruising the fjords from Flam to Gudvangen via ferry – 3:00 PM – 5: 15 PM
This cruise along UNESCO World Heritage listed fjords was the highlight of the Norway in a Nutshell tour. It sailed through Aurlandsfjord and the Nærøyfjord which is one of Europe's narrowest fjord and a branch of the famous Sognefjord. Nærøyfjord is 10.6 miles (17 km) long and only 820 ft (250 meters) at its narrowest point. We stopped at a few fjordside villages along the way.
There were three small decks and deck chairs all around the open area. Grab seats outside as soon as you can. We liked the back area which had a bit more room and wasn't as crowded. But, you're also free to walk around.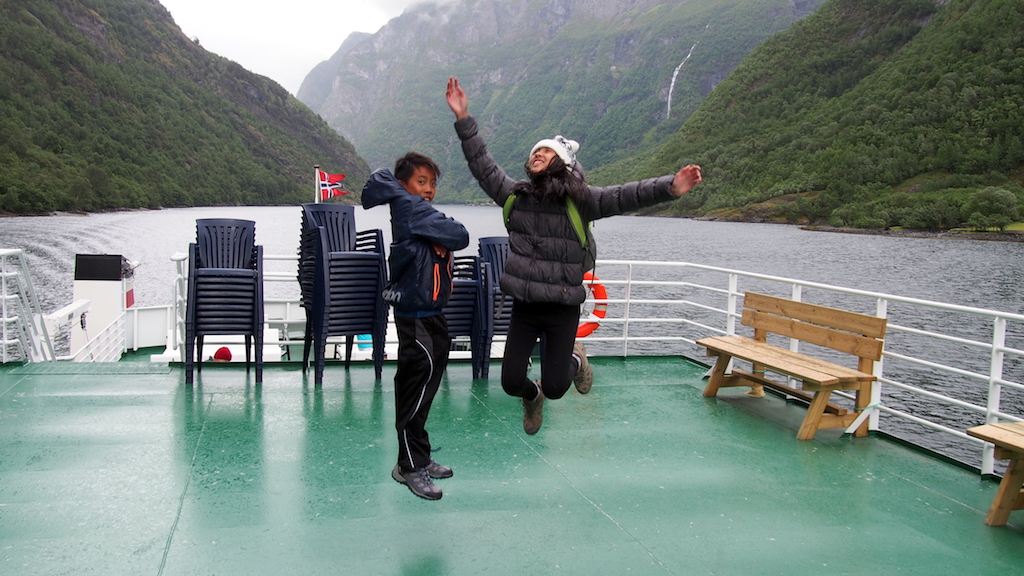 We recommend lining up early to get on the ferry boat. There were designated lines depending on your tour or ticket type. Since we weren't part of any group, we actually boarded before those with prepaid and arranged Norway in a Nutshell tickets. Another score for the DIYers.
Our first stop was the small village of Aurland. Surrounded by snowy mountain peaks, verdant valleys and lakes, it's easy to see why this village is popular with hikers.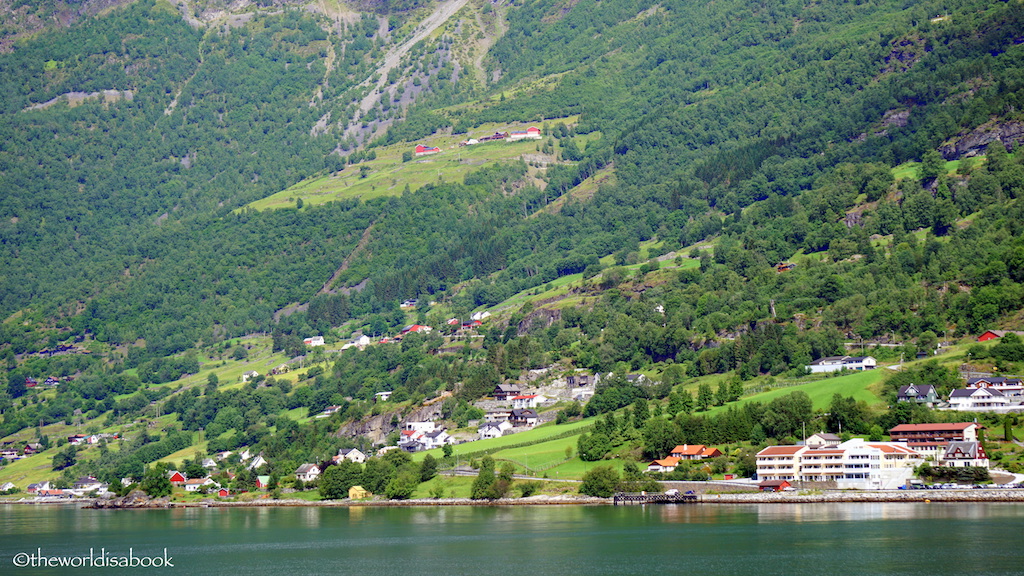 Undredal was our second stop and was one of the most scenic villages along this route. Tucked between the water and the mountain, the isolated village almost looked enchanting. This was how I pictured these Nordic fjord villages with a stave church in the center. Though, this was only actually a 10 minute drive from Flam.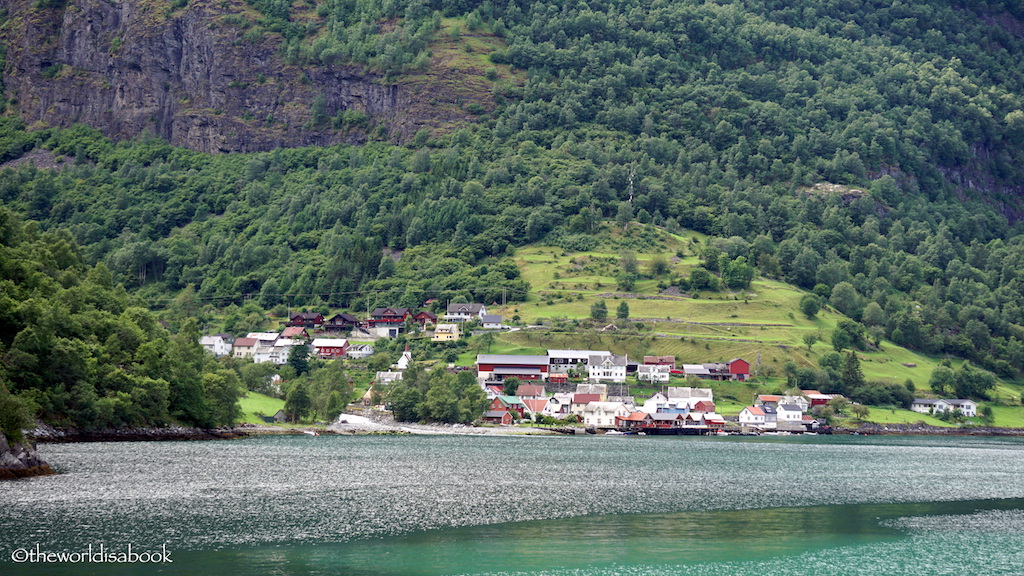 The village is famous for its local white and brown goat's cheese. There are about 85 residents but almost 500 goats. We saw some of these goats dotting the hillside.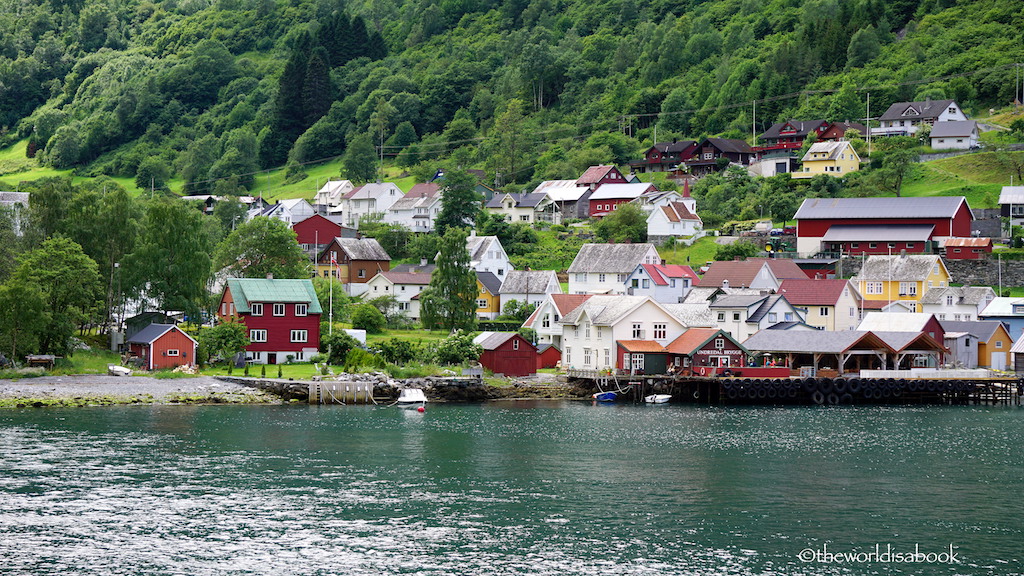 During our over two hour journey, we admired mountains around the fjord with cascading waterfalls. We've never seen so many waterfalls in one day during this trip.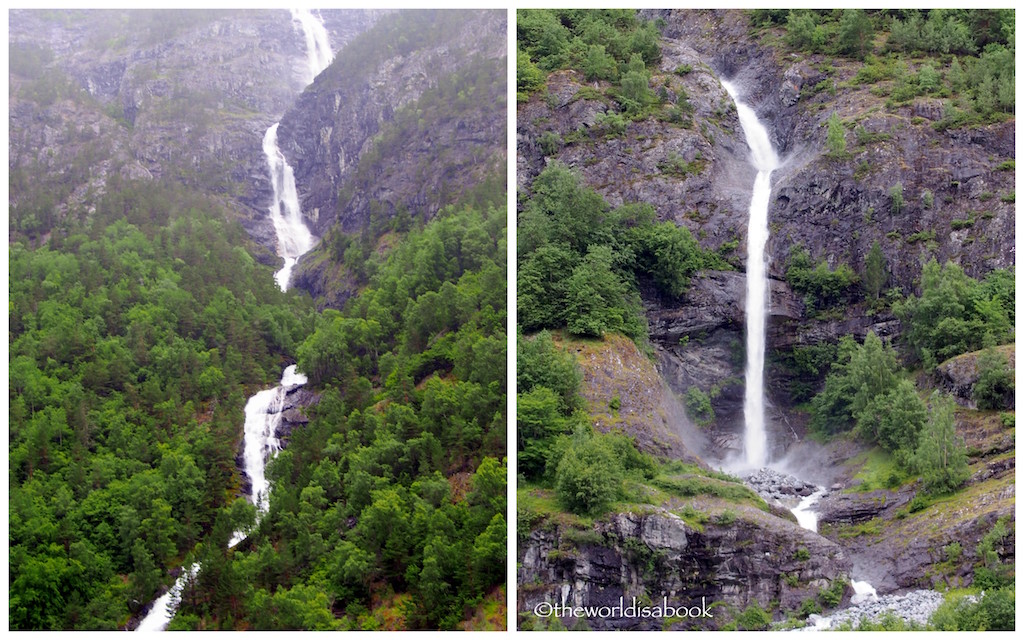 It was hard to stop taking photos here. I also didn't want to take my eyes off the scenery fearing I'd miss out on something. We never really knew what greeted us at each turn.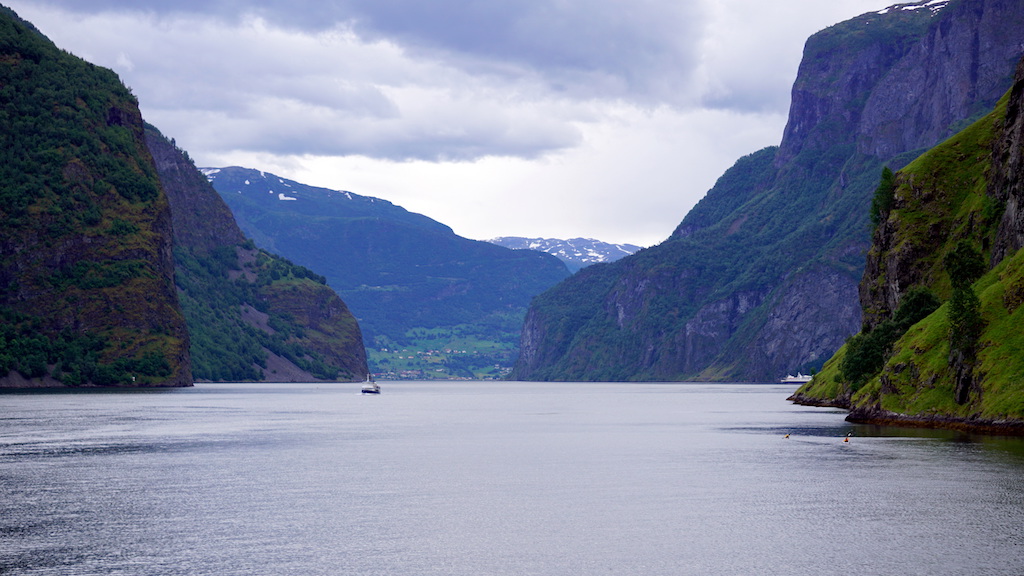 We loved seeing that remote house with a waterfall in its backyard to kayakers, camps with colorful tents to small farms scattered around the valleys.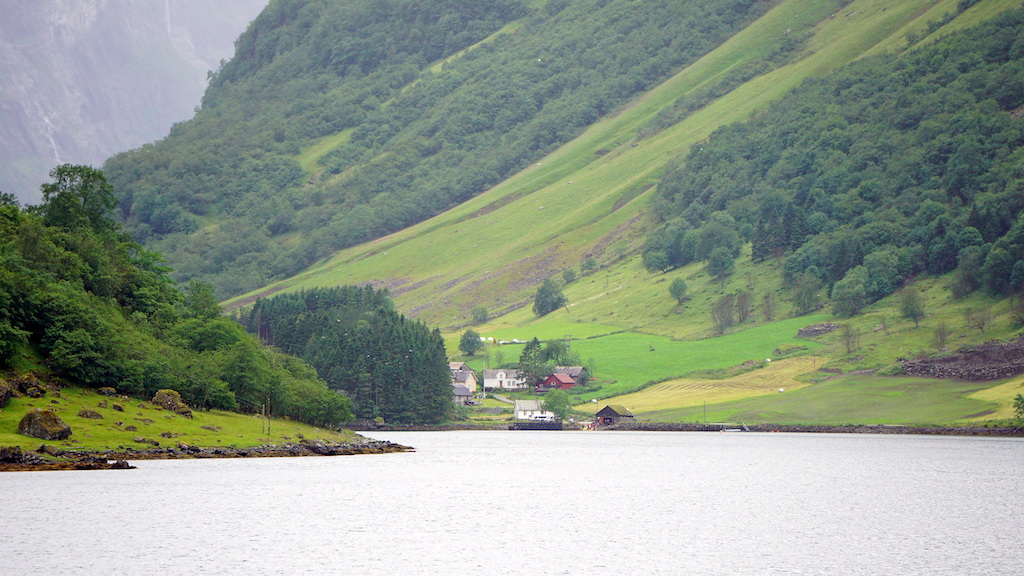 Our cruise ended with a lot of rain and wind in some points as we sailed into the narrow Nærøyfjord.
Part 5: Gudvangen to Voss train Station via Skyss bus – about 55 minutes to 1 hr 15 minutes depending on bus schedule
After getting off the ferry boat, there were supposed to be Skyss buses which would take us to the Voss train station. Unfortunately, none of the public buses were there yet which gave us some time to look around Gudvangen. This was a village with about 60 residents.
The main building from the dock was a souvenir shop with a cafeteria. It was surrounded by snowy mountain peaks and waterfalls cascading all around us.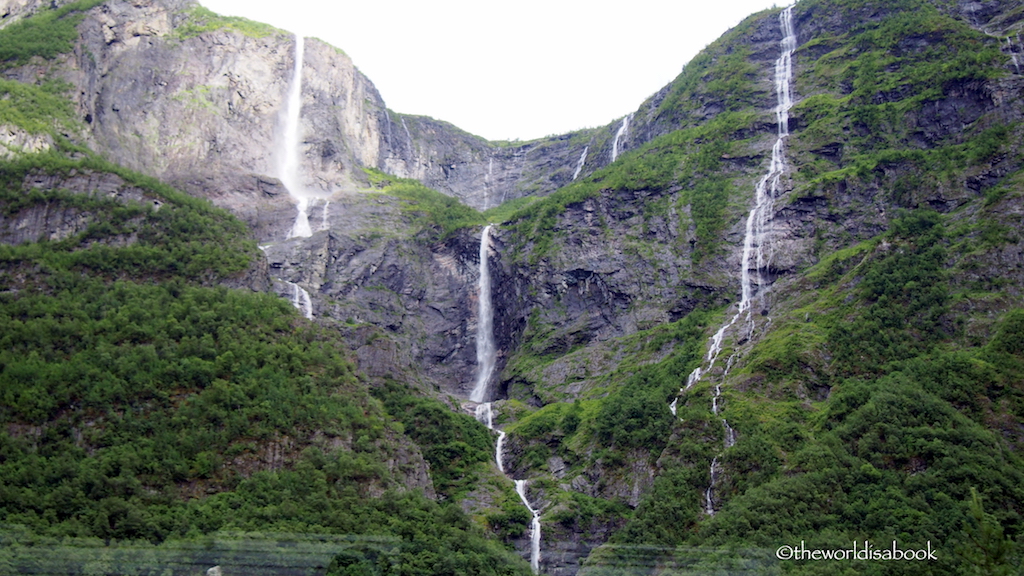 We didn't spot any troll statues here but did find some Viking statues. Apparently, this was an important meeting area during the Viking days. Recent news says that a Viking Village is being built here. They also host an annual Viking market around mid-July. If you're a fan of Vikings, this is the village to visit in this area.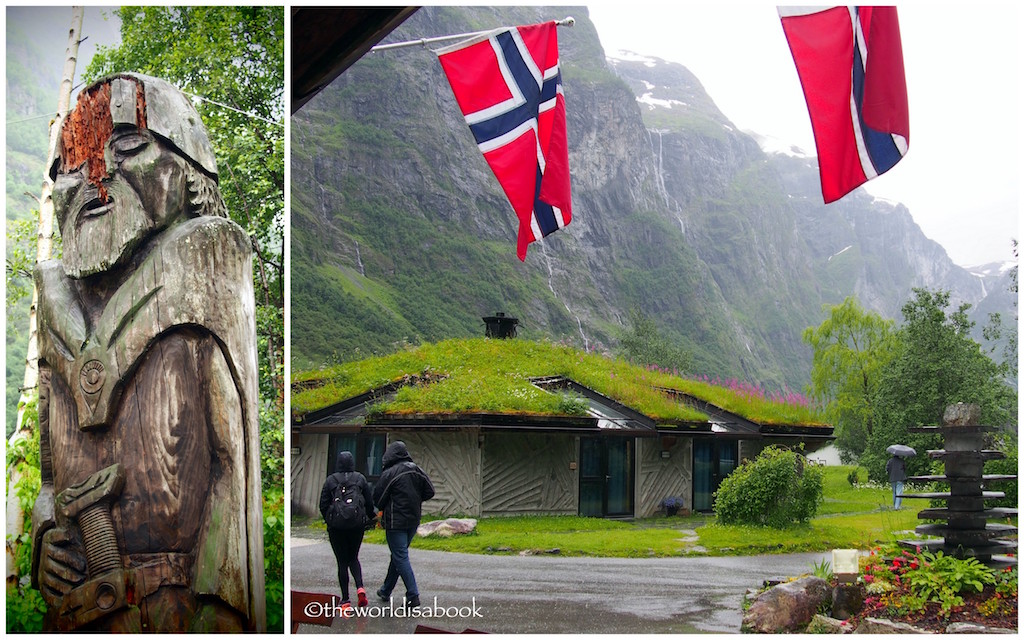 The Norway in a Nutshell bus stop is by the parking area and just a few steps from the harbor and souvenir shop. Our bus eventually came which looked like those big tourist buses that can store luggage underneath.
Bus tickets cannot be purchased in advance. We bought the tickets onboard from the bus driver. Use cash and preferably with exact change.
The highlight of this bus ride was the winding road on Stalheimskleiva. This .9 mile (1.5) km long road is one of Northern Europe's steepest with at least 13 sharp hairpin bends.
This may not bode well for anyone prone to being carsick easily. But, the bus went very slowly long enough for us to enjoy this incredible view. The bus tour is only available from May to September.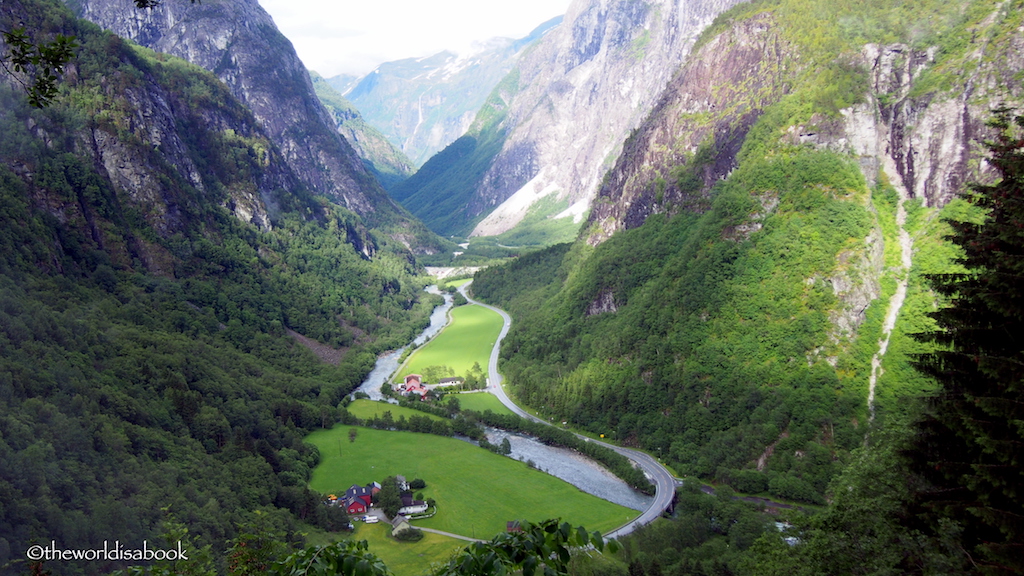 Part 6: Voss to Bergen via NSB train – 7:40 PM – 9:04 PM
Voss looked like such a great town to explore. It looked like an outdoor enthusiast's paradise and has been labeled the "adrenaline capital of Norway".
Outdoor adventures are offered all year that include white water rafting, bungee jumping to downhill skiing at its winter resort. This was the much more calming scenery that we saw.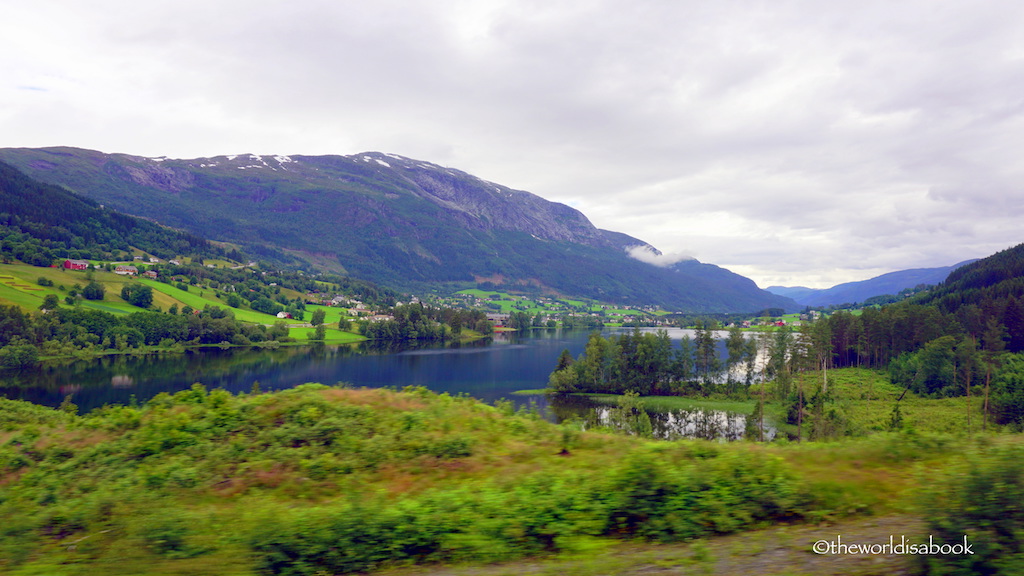 It was a whirlwind 12-hour trip but our Norway In A Nutshell tour was one of the best day trips we've ever taken. This was really more about the journey than each destination. The scenery along the Flam Railway and the fjord cruise was magnificent and beauty beyond words.
I know it's a bit cliched to say that photos really don't do this area justice and this scenery really should be seen in person. We highly recommend visiting Norway for its unforgettable and stunning vistas, great seafood, fascinating culture and friendly people. This particular tour is a must do activity for every visitor.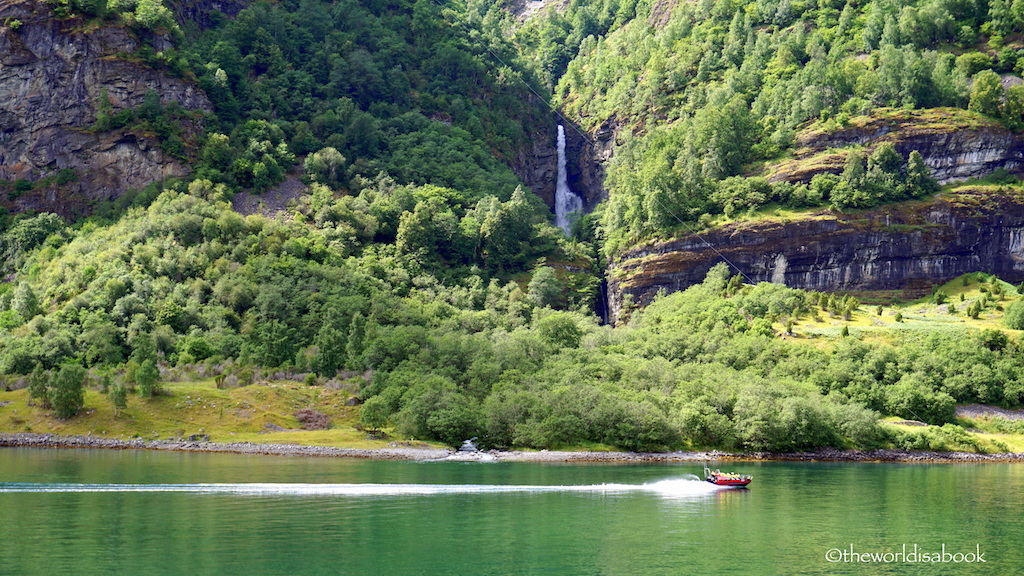 This was a breakdown of our tour (prices from July 2016). Prices can vary depending on your itinerary.
| | | |
| --- | --- | --- |
| Transportation | Cost (in NOK) | Total Price (in NOK) |
| Bergen to Myrdal train | Adults (2*300); Kids Free | 600 |
| Myrdal to Flam (Flam railway) | Adults (2*340) + Kids 50% (2*170) | 1020 |
| Fjord Cruise Nærøyfjord | 945 (4 people) | 945 |
| Skyss Bus | Family Ticket | 224 |
| Voss to Bergen train | Adults (2*199); Kids Free | 398 |
| | DIY TOTAL: | 3187 NOK ($371 USD) |
Norway In A Nutshell Tour package 4360 – Adults (2 * 1440) and Kids (2*740)
Tour Package – DIY Option:
4360 – 3187 = 1173 NOK or $136 USD (about $34 savings per person)
Tips for doing a DIY Norway in a Nutshell Tour
The tour is available daily all year. Check the Norway In A Nutshell tour website if you want them to book everything for you. Children under 4 years old travel free. Children 4-15 years old are discounted.
For the DIYers (I highly encourage doing this trip on your own instead of letting a company sell you the same thing for a markup) – Follow the tour itineraries and use the timetables to schedule your trips.
Know that some times may be sold out during really busy days with many tour groups so book in advance. If weather is a big factor for your trip, you can always take a chance and book within days of getting there or when you get to the area. Don't pick the last ferry in/out of Flam. Allow for some transfer time.
Roundtrip options available from Voss, Bergen and Oslo (via Bergen or via Voss). One way trips possible between Oslo and Bergen. Use these sites to book tickets online in advance:
Layer up! Wear a waterproof jacket with a hood or hat and gloves. It was cold in some areas especially if you want to sit outside during the cruise.
It rained and was very windy during our cruise in early July but was sunny in some areas. If you need one before the cruise, the souvenir shops sell those waterproof puffy jackets that fold compactly.
Bring plenty of snacks and water. This is an all day tour and food on the ferry, trains and towns was expensive.
Bring binoculars and cameras and load it up with memory cards. You'll need it for all the photos you can't stop taking.
*Have you visited Norway or is it on your travel wish list?
Where to Stay
Scandic Bergen City

 – We enjoyed our stay at this hotel. We ended up in a family room with a full kitchen and it was so spacious. The hotel is in a great location and within a 10-15 minute walk to most attractions. Breakfast was included and it was a good spread.
Scandic Strand 

– 

This hotel had a great location and within steps from the Fish Market and other attractions and located right by the harbor. Kids under 13 years stay free and receive a welcome gift upon check-in.
Radisson Blu Royal Hotel

 

– If you want the most convenient location to most attractions, this hotel was perfectly situated in Bryggen at Bergen's historic and colorful wharf area. Free access to fitness center and sauna. Breakfast buffet had plenty of offerings and the hotel offers free wifi.
Flights/Vacation Packages
Compare airlines, dates and prices all in one place with Vayama
Pin it for later!
Check out these related posts: